This vegan apple pie recipe is so easy to make, with a delicious flaky crust and sweet and savory filling. I learned how to make this recipe from my Italian grandmother who learned to make it from her mother before her!
Grandma was far from vegan, but her apple pie recipe was "accidentally" vegan. Meaning, she didn't try to make it vegan on purpose, that is just how it ended up!
This recipe calls for my Grandma's Oil Pie Crust which uses only 4-ingredients and is super simple to make, even if you are a beginner.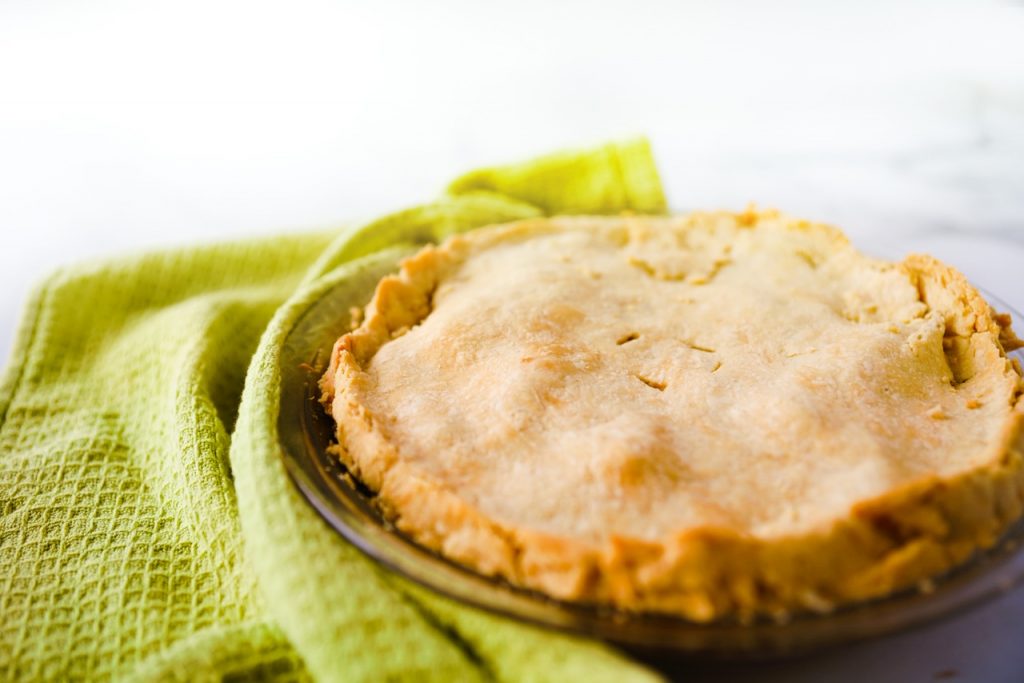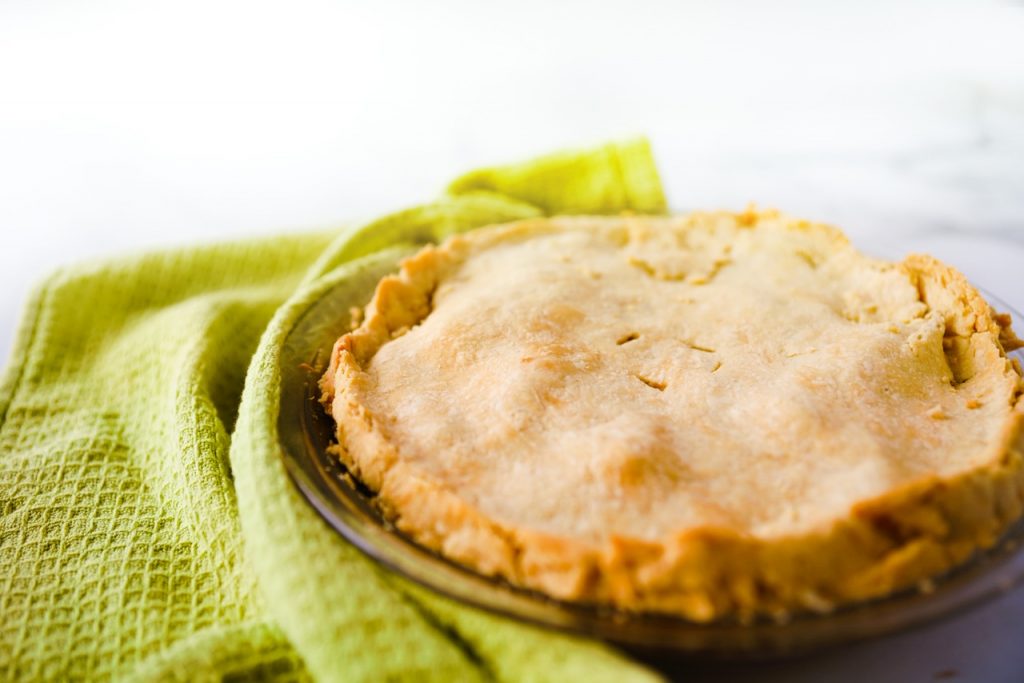 Pies are a big part of my family and my Grandma would make a variety, but this vegan apple pie was always her staple.
In case you didn't believe me, here is my handwritten pie crust recipe that we used for the vegan apple pie crust. Straight from my childhood handwriting and my Grandma teaching me how to make it. I have kept this paper for decades!
I also want to assure you that Grandma did not care about what her pie looked like. She was never one for perfect lattice or fancy work.
As an immigrant's daughter, steel worker's wife, and mother of 4, she didn't have time to waste. She needed a pie that was quick and easy. That is why she created this rustic (accidentally) vegan apple pie!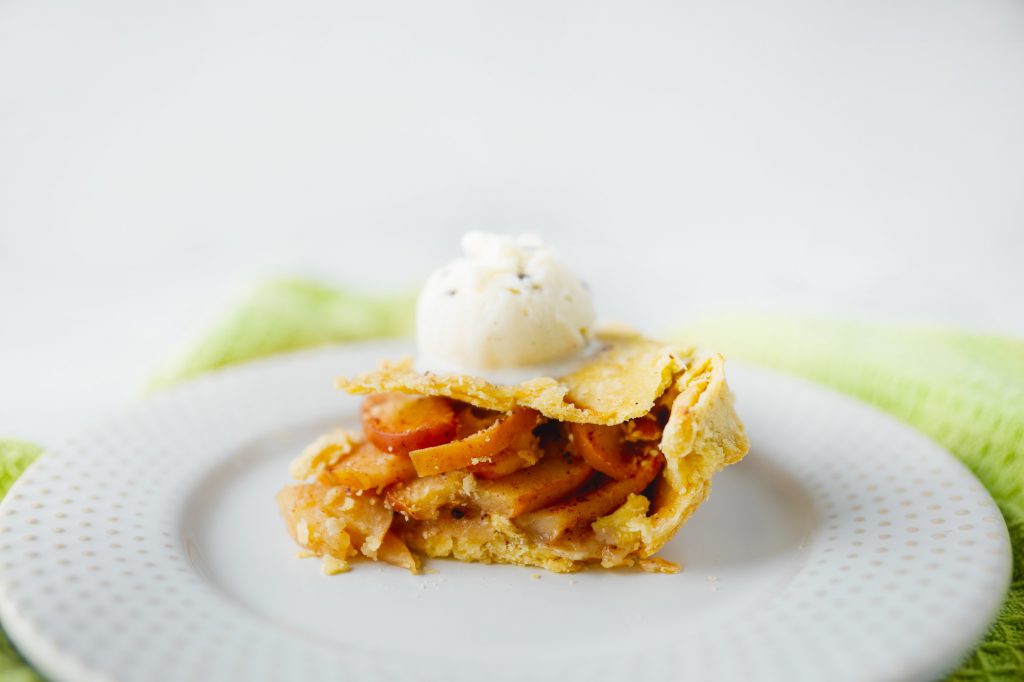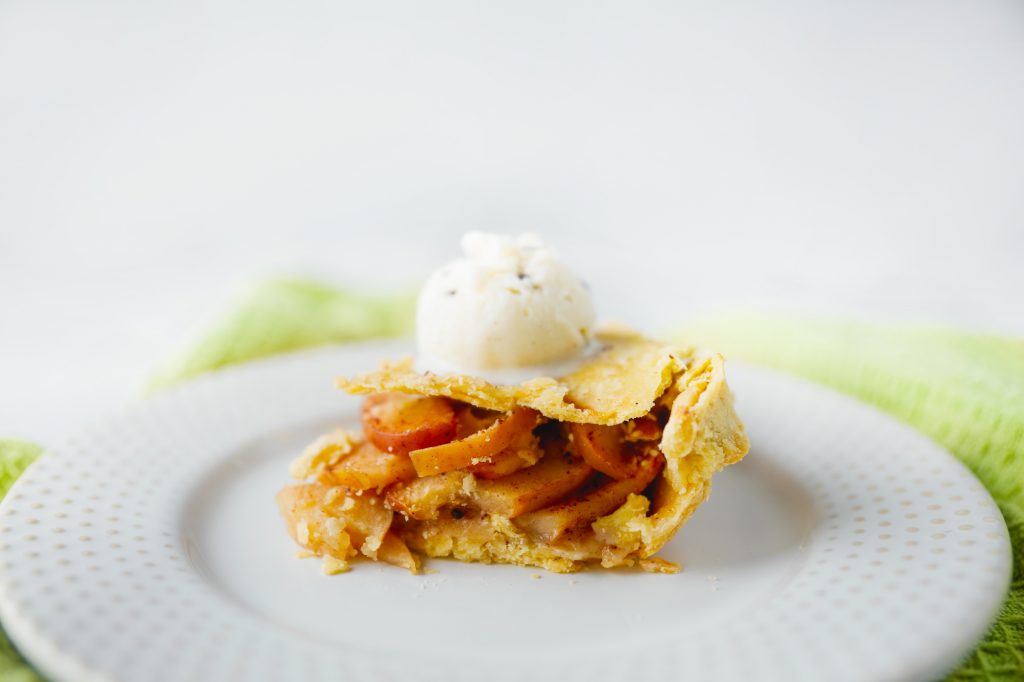 How To Make The Pie Crust For Vegan Apple Pie
The pie crust for this vegan apple pie recipe is actually a pie crust made with oil, not butter or shortening.
It uses only 4 ingredients and is flaky and simple to make. I put together an entire post about the process and what you need to know.
>>GRANDMA's OIL PIE CRUST RECIPE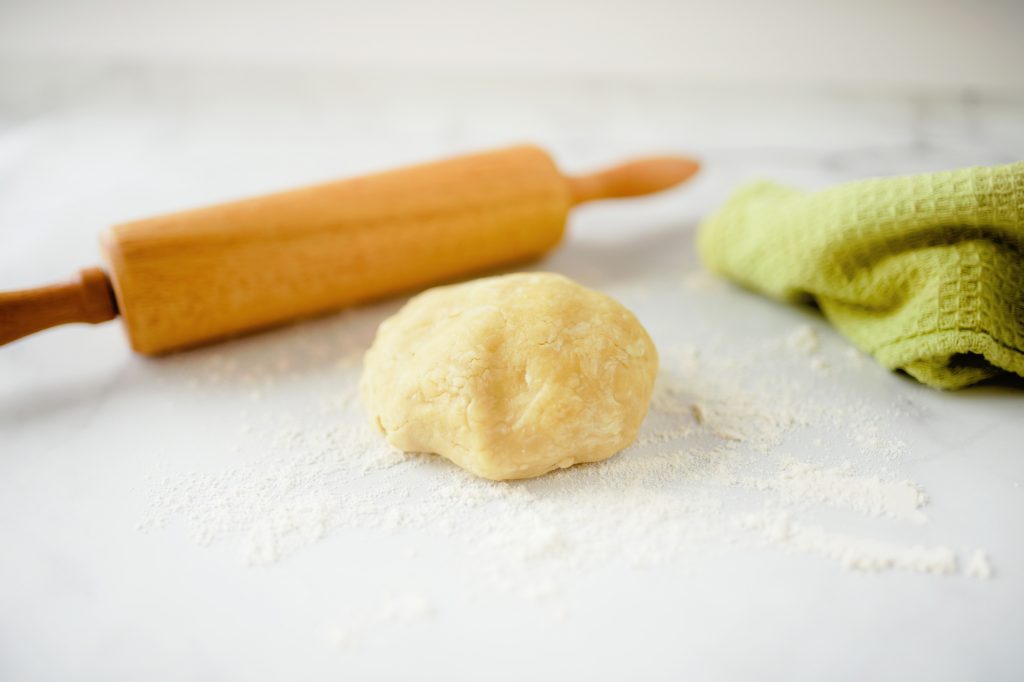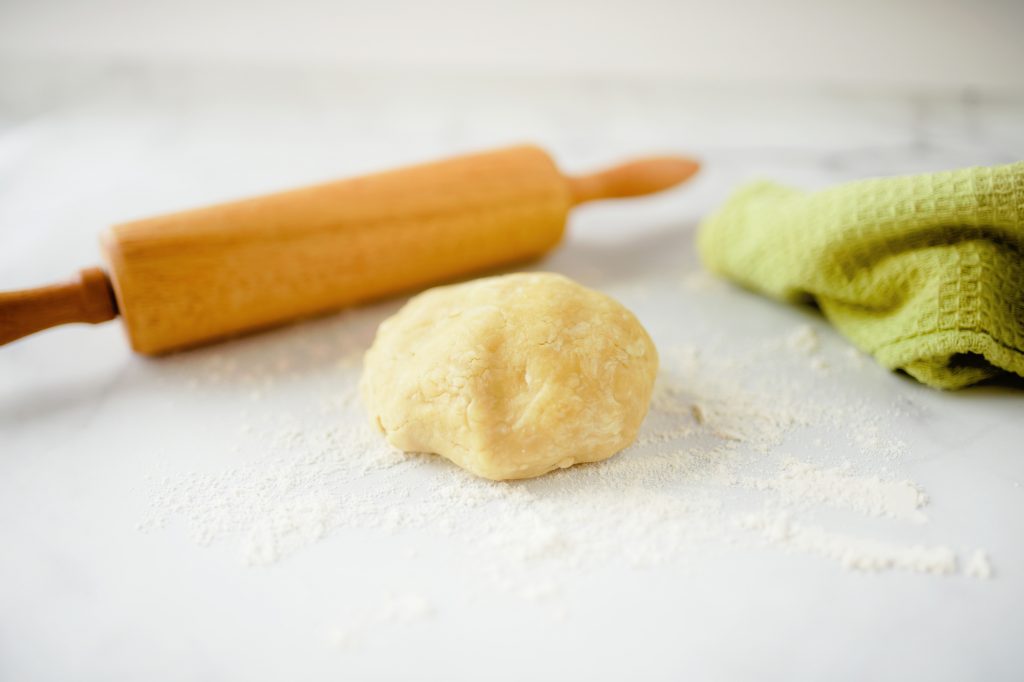 I will include the most important parts here! Mainly, you want to work quickly and you do not want to let the dough sit. As soon as you combine the wet and dry ingredients, you want to prepare the pie.
You also want to use your hands to mix the ingredients and form them into a dough ball.
Finally, you will want to use a rolling pin or simply your wet hands to roll out the pie crust. I do recommend a rolling pin or water glass if you don't have a rolling pin on hand.
The vegan pie crust recipe is so easy and fail-safe so if you are a beginner, don't worry!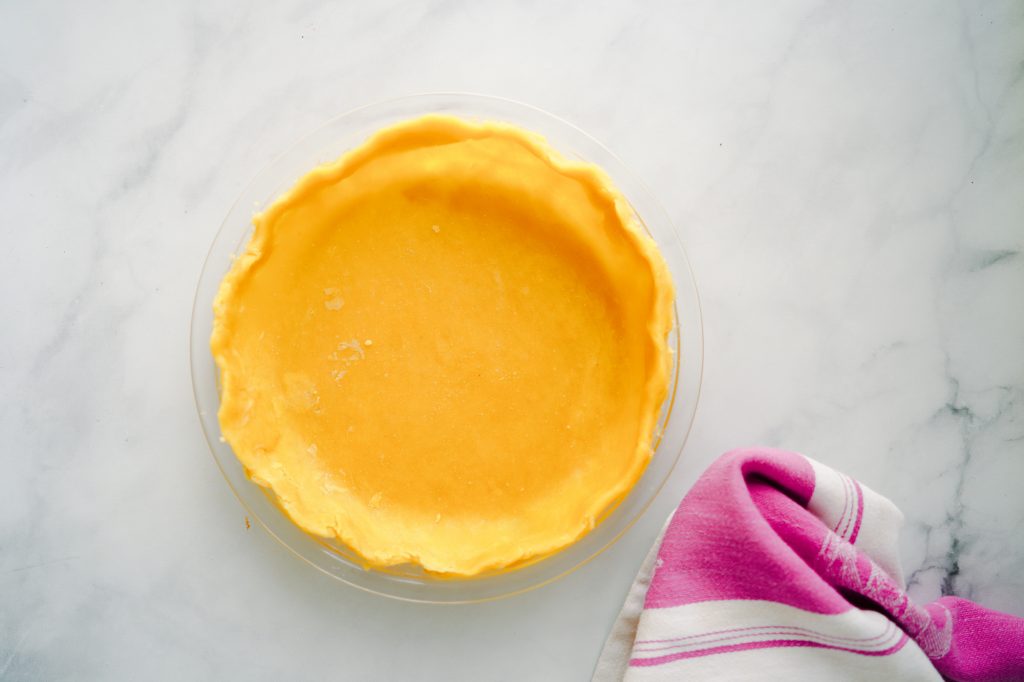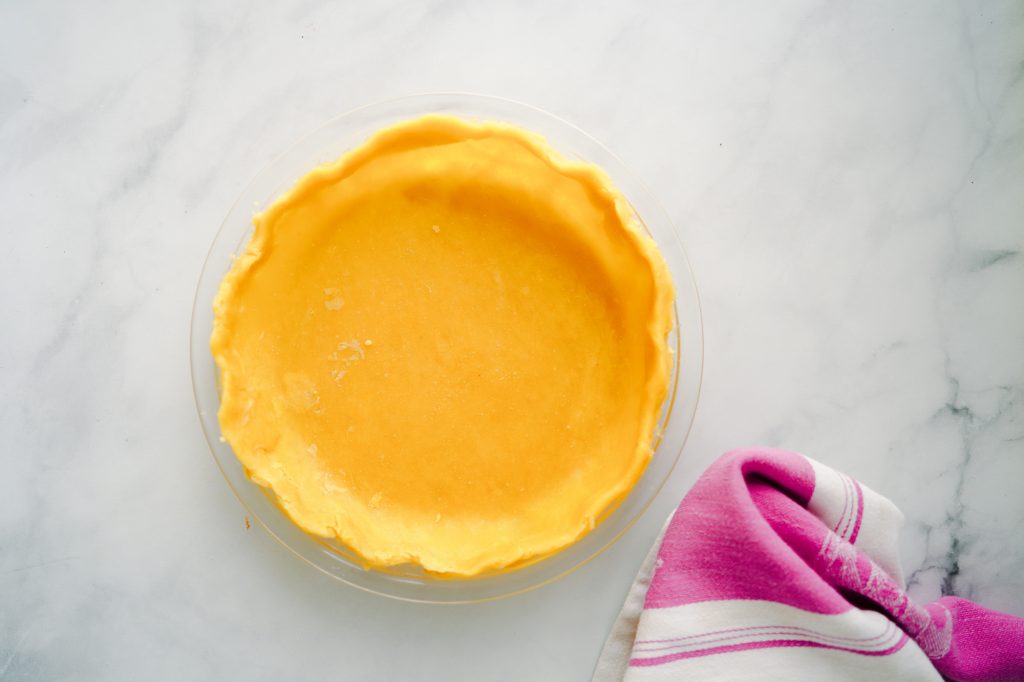 Can You Make Vegan Apple Pie Using Store Bought Dough?
Yes, of course! That being said, Grandma always made her own dough and I think you should too!
Vegan apple pie is so darn easy to make and the dough takes all but 5 minutes to put together.
It uses four household ingredients that I am sure you most likely have on hand and it is really easy!
I have made this vegan apple pie recipe using this same pie crust around the world, in countries like Iceland and Hungary, using nothing more than my hands and a baking dish.
But if you want to use store-bought dough, I won't judge you! But I can't speak for Grandma!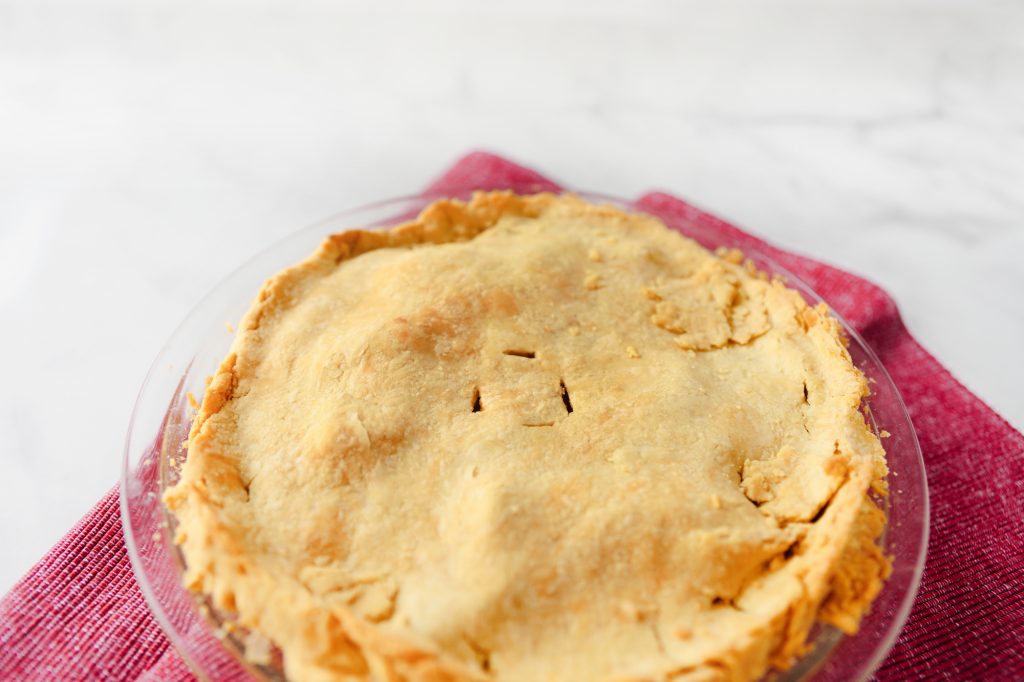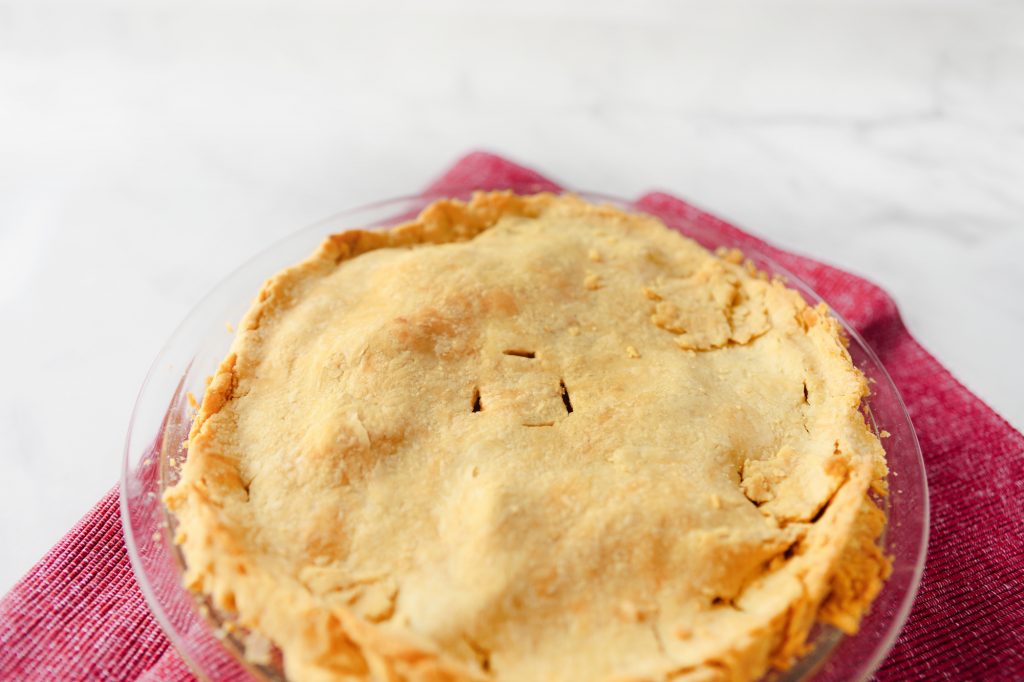 How To Prepare The Apple Pie Filling
Preparing the filling is so easy! All you have to do is slice your apples into thin slices lengthwise.
You can see what I mean in the photo below. This is the method Grandma always used.
When I am traveling, I don't slice my apples like this, I actually slice them in chunks. While apple slices are prettier and probably work a little better, I haven't noticed much of a difference.
If you can't slice thin length-wise slices like me, then go ahead and do small cubes!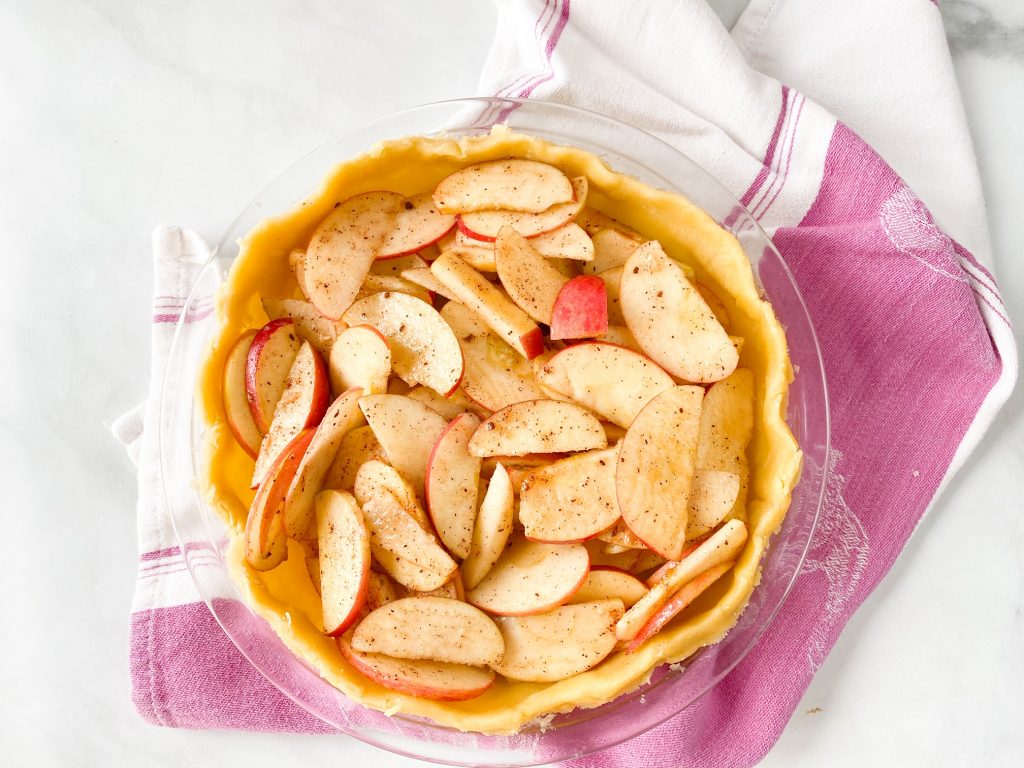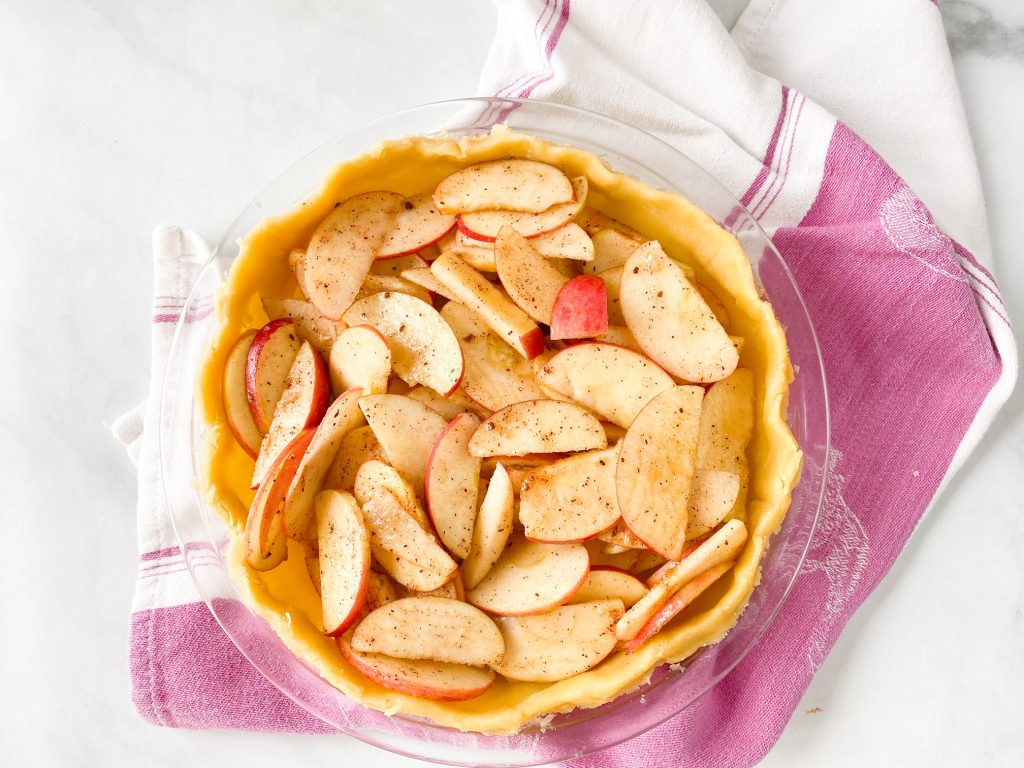 After you cut your apples, you are going to add sugar and spice. I only add sugar and cinnamon, but you can also choose to add an even dash of nutmeg.
You can do what I do and sugar your apples just before you add them to the pie (because I am lazy what can I say) or you can do what Grandma did and sugar her apples in advance so they can sit in the fridge for a little bit.
Personally, I don't notice a difference. A happy medium is to cut and sugar the apples first so they can sit in their flavors while you make the pie crust.
If you loved this recipe, you may love my Best Vegan Apple Crisp Recipe too!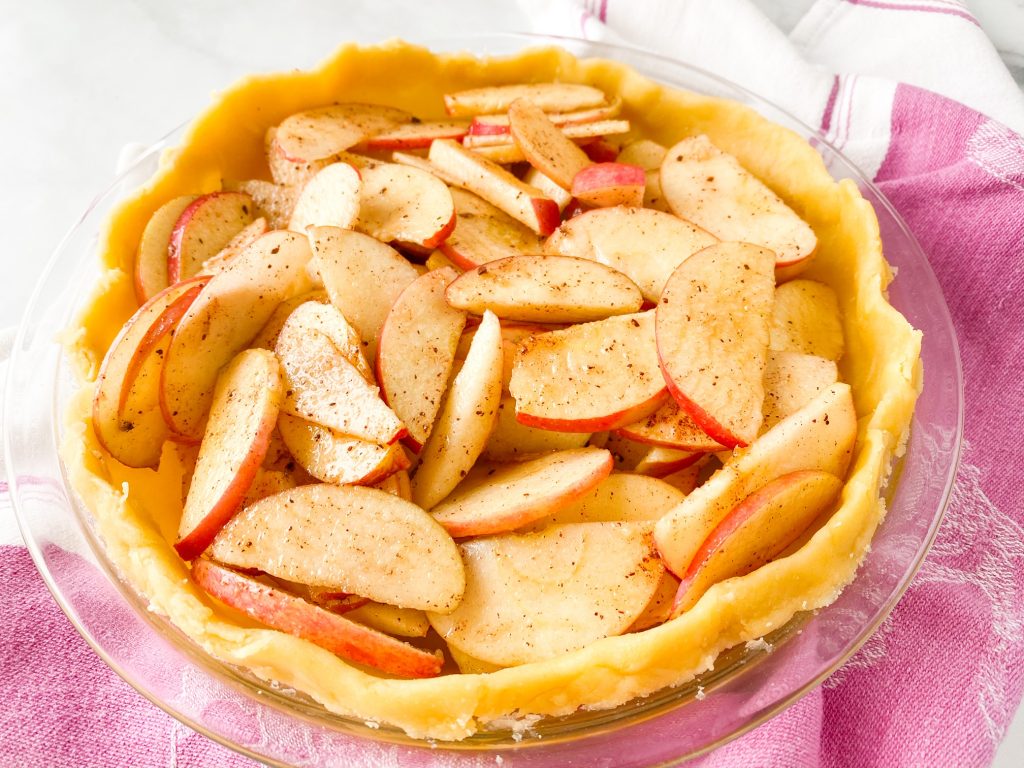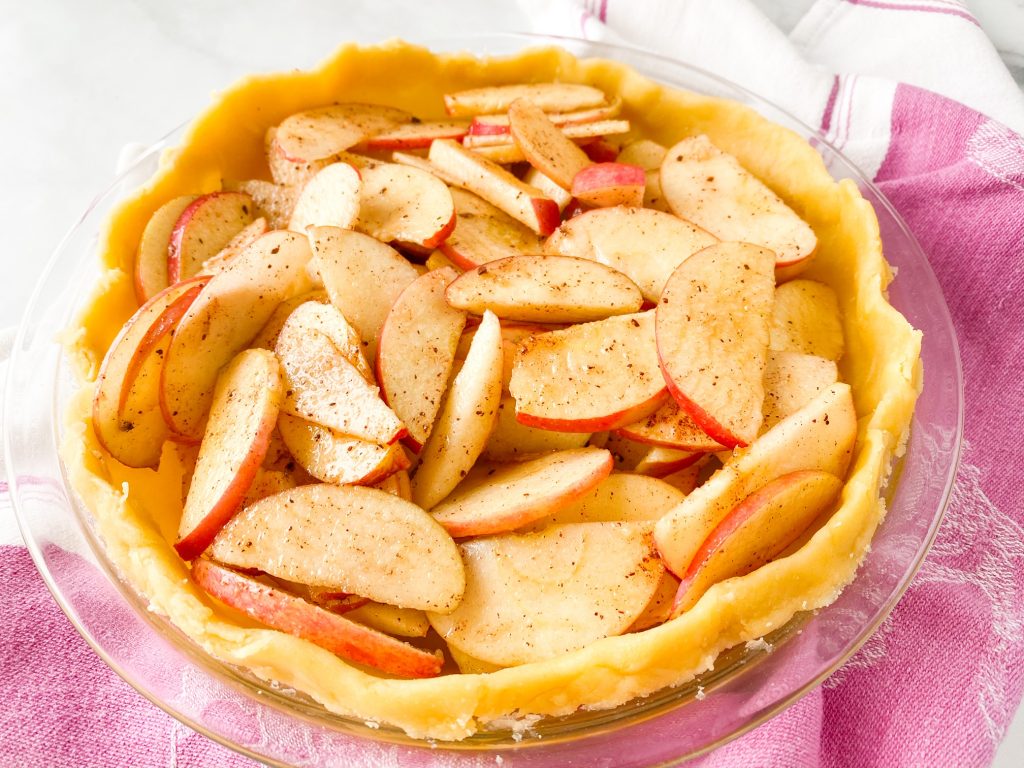 How To Make Vegan Apple Pie
Vegan apple pie with homemade pie crust is so easy that a young child could literally do it. How do I know? Because I was that young child, tasked by my Grandmother to make the pie crust while she prepared the filling.
First, cut up your apples and leave the skin ON! The skin is filled with nutrients and you know Grandma would want you to be healthy!
Then, cut your apples and add sugar and spices. Set the mixture aside.
Next, all you have to do is put your salt and flour in a bowl and then using a measuring cup, pour your milk and oil into that same bowl. You do not need to whisk or combine in another bowl.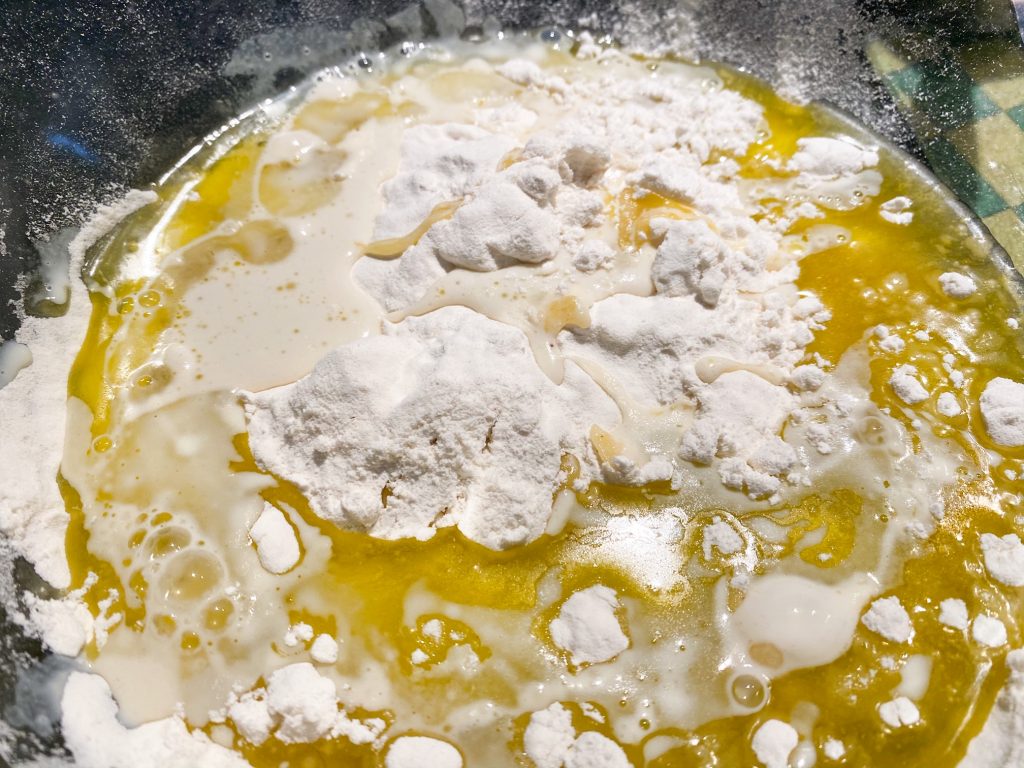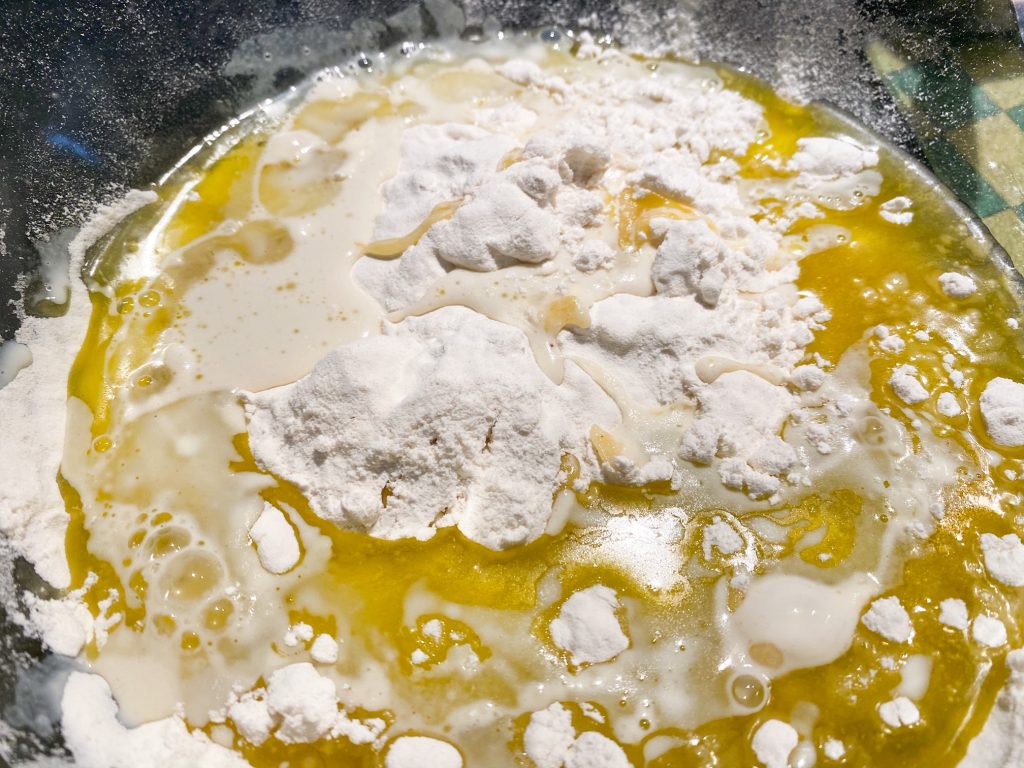 Then, using your hands, you combine the wet and dry ingredients until a ball of dough forms.
Be careful not to over mix. The minute it forms a ball, go ahead and take it out of the pan and began to roll it out of press it into your pie plate.
I personally roll mine between two pieces of parchment paper as I prefer to use this whole recipe for a bottom and top of a pie and it does work to cover the whole pie.
Once you add the pie crust to the bottom of your pie plate, go ahead and add in as many apples as you want. You can make the vegan apple pie very full with apples and I do recommend it!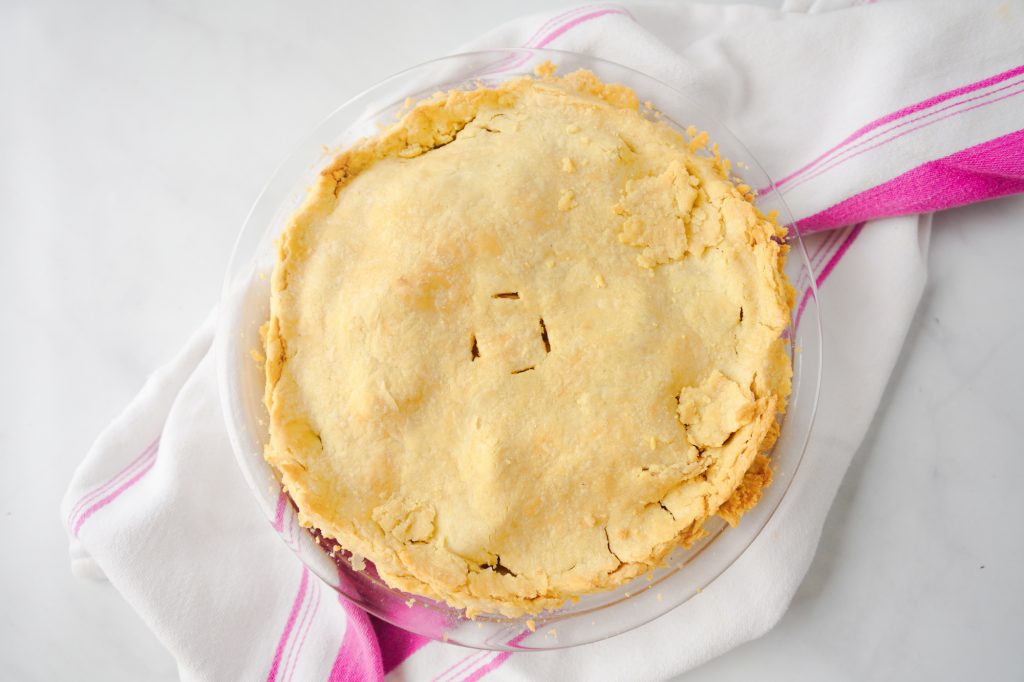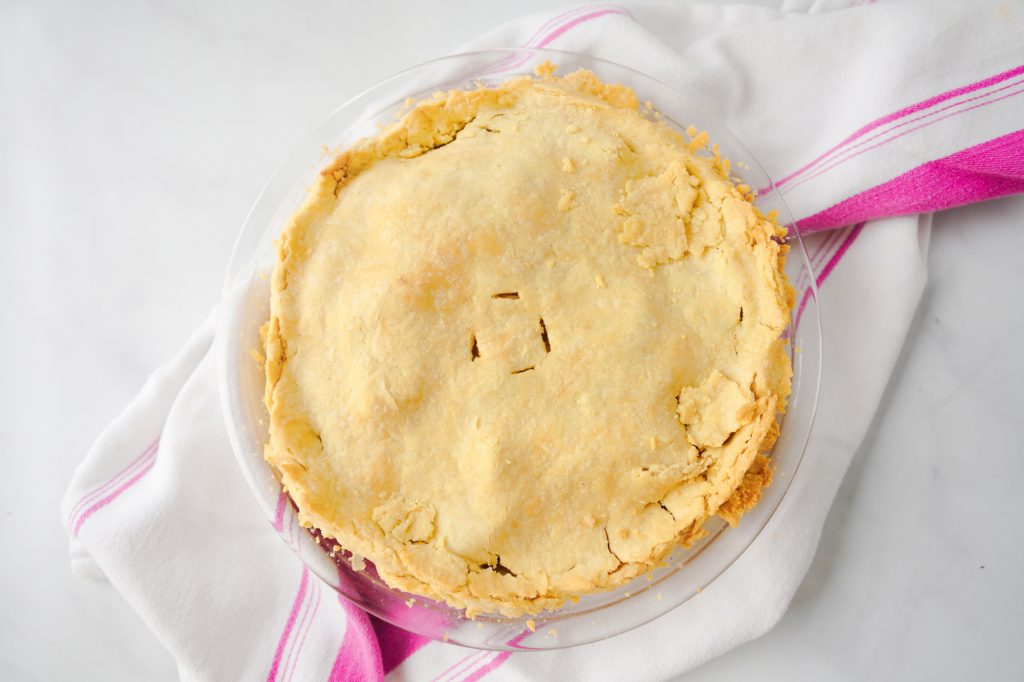 Next, you will roll out the excess pie dough, see the Oil Pie Crust recipe if you don't know what I am talking about, and you will place it over the bottom pie crust and apples.
If you want a crumble topping, check out my Easy Vegan Crumble Topping! I have topped pie recipes with this and it is so good! Use the oil pie crust for the bottom and this for the top!
Finally, you are going to want to "vent" the top of the dough so that it can breathe when cooking. To do this, simply stick a knife or fork in the top of the dough and prick it about 4 times.
Sometimes Grandma would carve my initials into it, so you can do that if you want something fun!
Don't worry if this recipe is perfect, this isn't the time for perfection! That is why this is a rustic vegan apple pie. Grandma didn't have time for a perfect look, she just had time for the perfect taste! If you loved this recipe, you may also love my Vegan Pecan Pie With No Corn Syrup!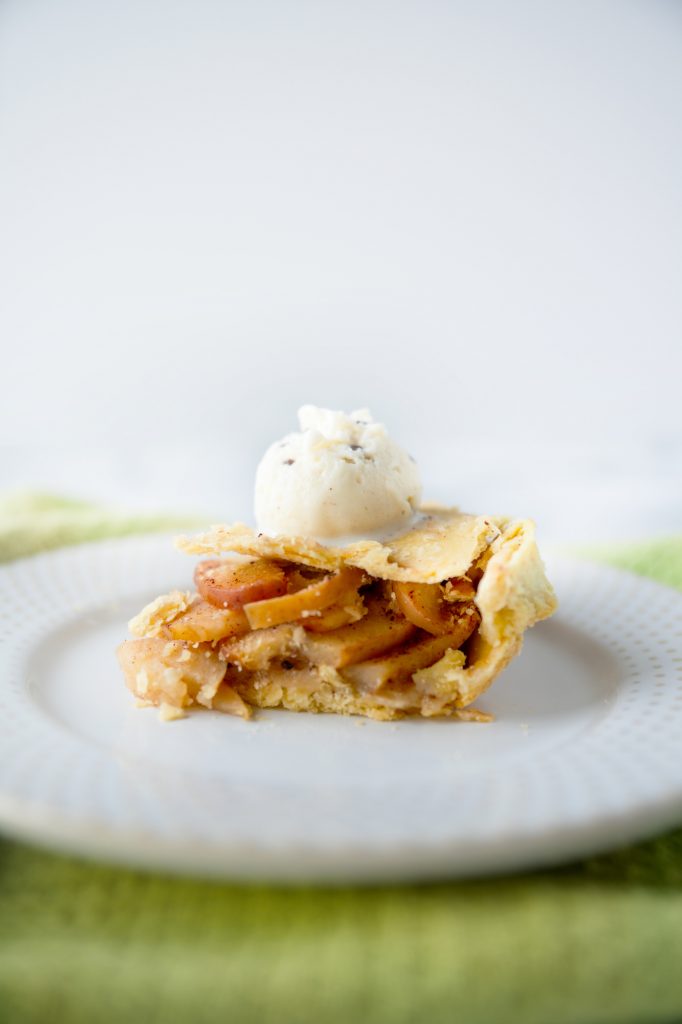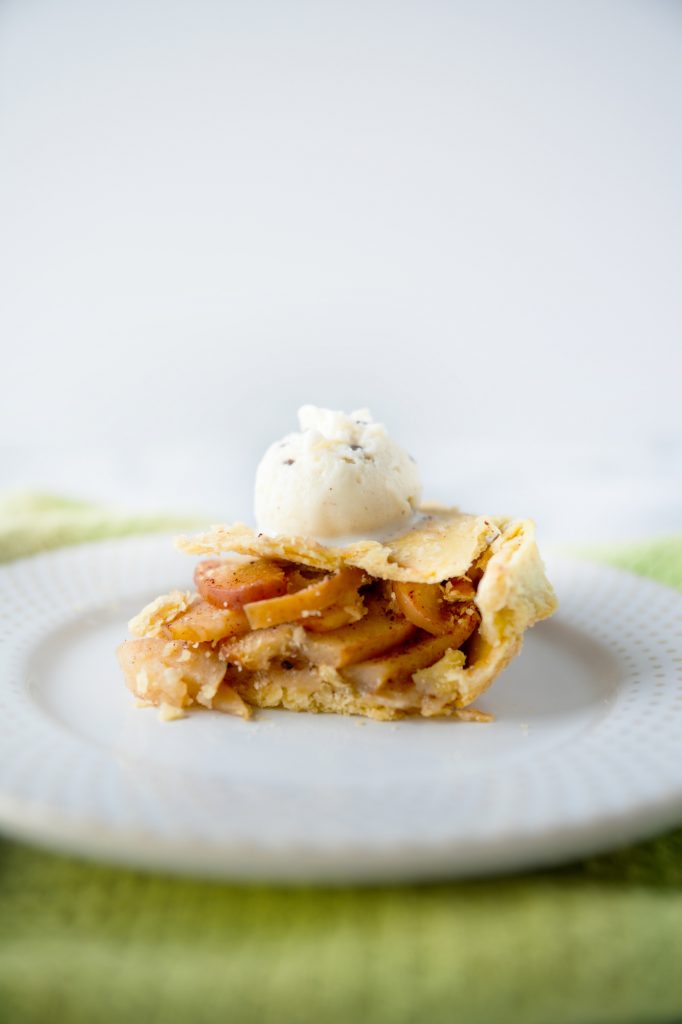 How To Store The Vegan Apple Pie
You can store the vegan apple pie on the counter for 1-3 days covered by a clean dish cloth.
Then, the pie can store in an airtight container in the fridge for 3-5 days!
I have never frozen this vegan apple pie so I really can't speak to how it will hold up in the freezer. It never really lasts long enough to be frozen!
If you freeze it, let me know how it goes in the comments! If you loved this recipe, you may love my Vegan Apple Turnovers too!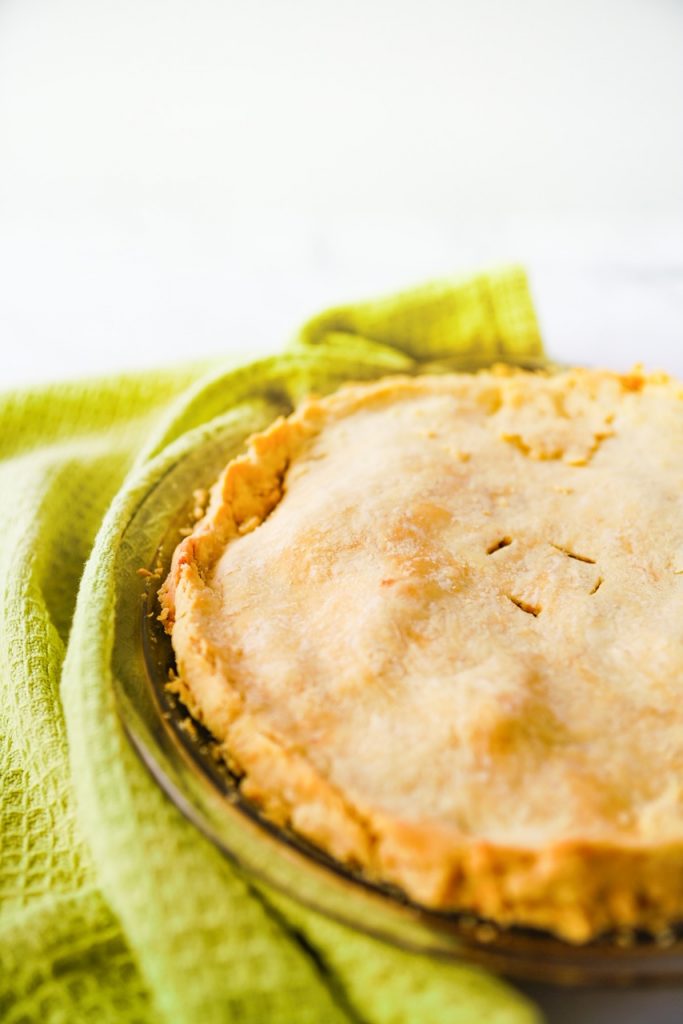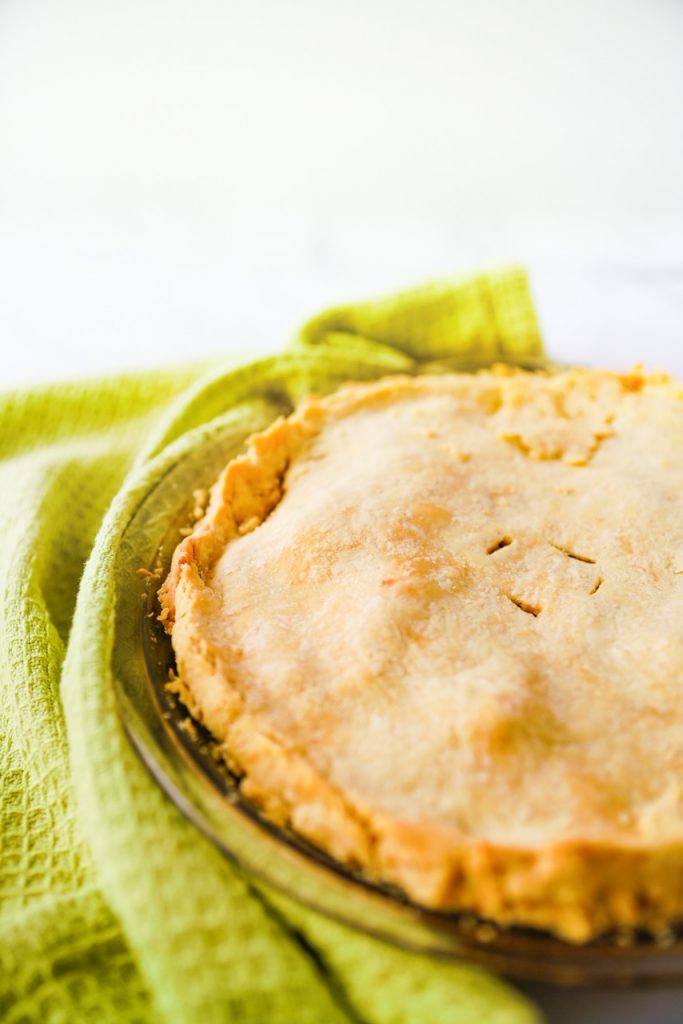 Yield: 1 9-Inch Pie
Grandma's Vegan Apple Pie Recipe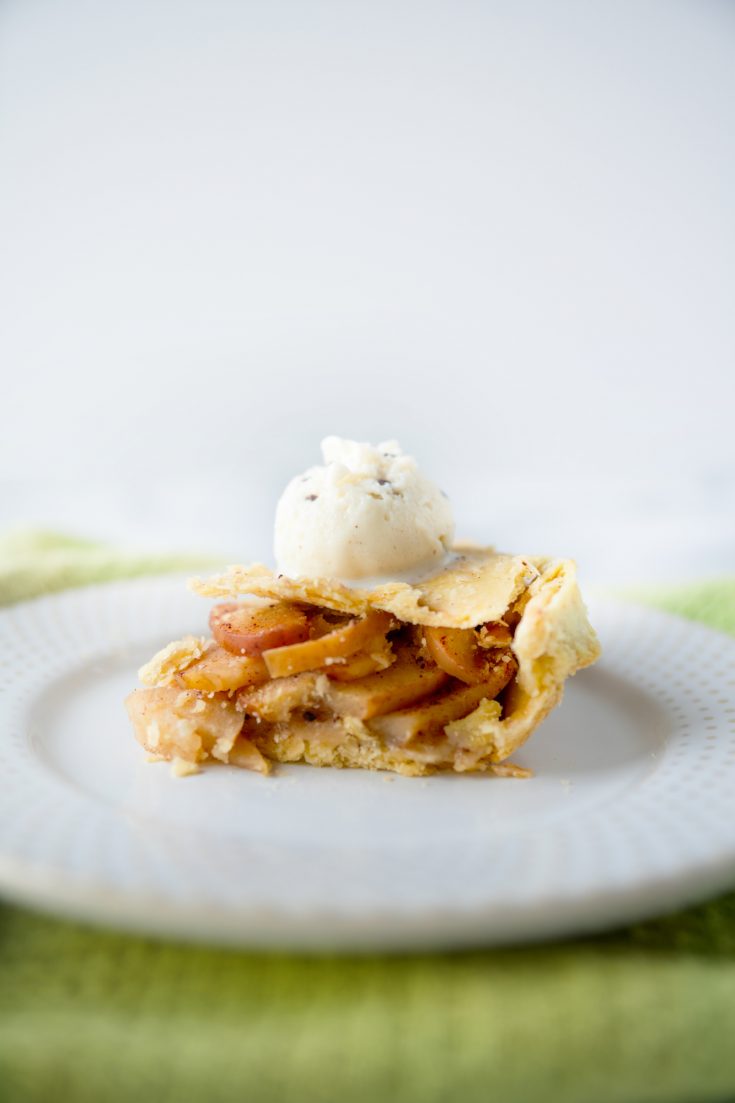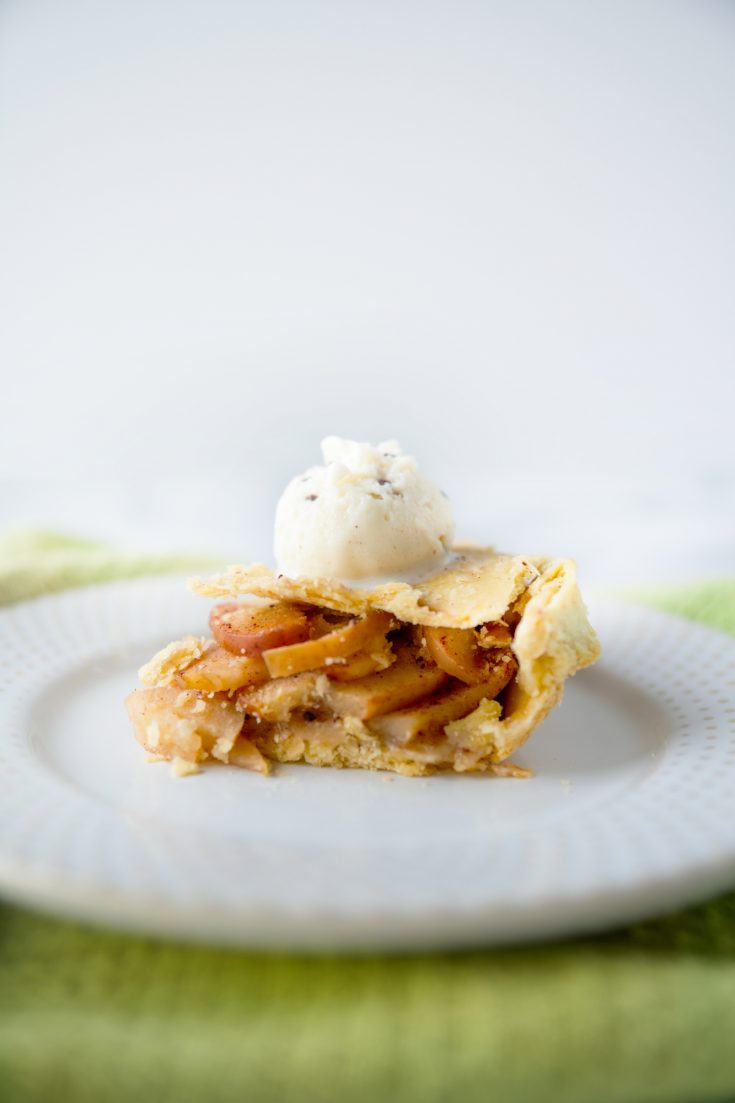 Grandma's vegan apple pie is rustic and delicious! It is easy for beginners and tasty, just as Grandma designed it! The pie crust is flaky and the filling is sweet and tender. The perfect dessert for fall or any time of year!
Ingredients
2 Cups Flour [Any Flour Works]
1 Pinch Of Salt
1/2 Cup Oil
1/4 Cup Milk [Dairy Or Nondairy, Both Work]
6 Medium Apples, Sliced Or Cubed
1/2 Cup Of Sugar
1 Teaspoon Cinnamon
Instructions
Preheat oven to 400 F
In a large bowl, slice or cube apples and toss them in sugar and cinnamon. Set them aside
In a large mixing bowl, add flour and salt. Using a measuring cup, add in oil and milk to the bowl of flour.
Using your clean hands, mix pie crust until a dough forms. Be careful not to overmix. When it is just formed, you are done.
Immediately transfer to your counter and roll dough using a rolling pin with dough between two pieces of parchment or wax paper or press into a pie plate using your hands if you do not have a rolling pin.
Carefully peel the top layer of parchment paper off and place your pie plate over the dough. Then invert and take off excess dough. Roll excess dough again for the top of the pie.
Add the sugared apples on the bottom of the pie crust. If you have too many apples, take some out, the apples should be slightly higher than the side of your pie plate, but not too high.
Roll out the remaining dough and invert the parchment over the prepared apples and dough. Using your hands, pinch the top and bottom layers of the pie crust together.
Using a knife or fork, prick 4-5 "vents" in the top of the pie so that it can breathe when cooking.
Bake pie crust for 15 minutes at 400 degrees and then lower the heat to 350 degrees until done, about 20-30 minutes more, depending on your oven.
Vegan apple pie is done when top and bottom of the crust are golden brown.