This vegan Oreo cake is so delicious and will surely become the centerpiece of your next party or event! Even better, it uses Vegan Buttercream for frosting making it so indulgent and delicious!
In case you didn't already know, Oreos are "accidentally vegan" which means that while they aren't a product specifically made for vegans, they contain no animal products or ingredients! This means that vegans can use Oreos to their heart's content!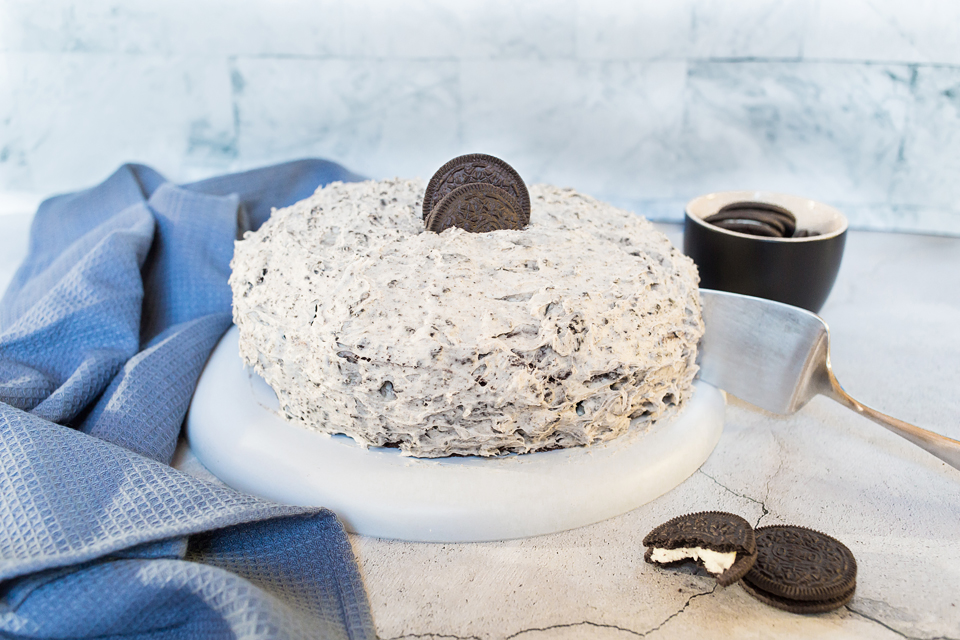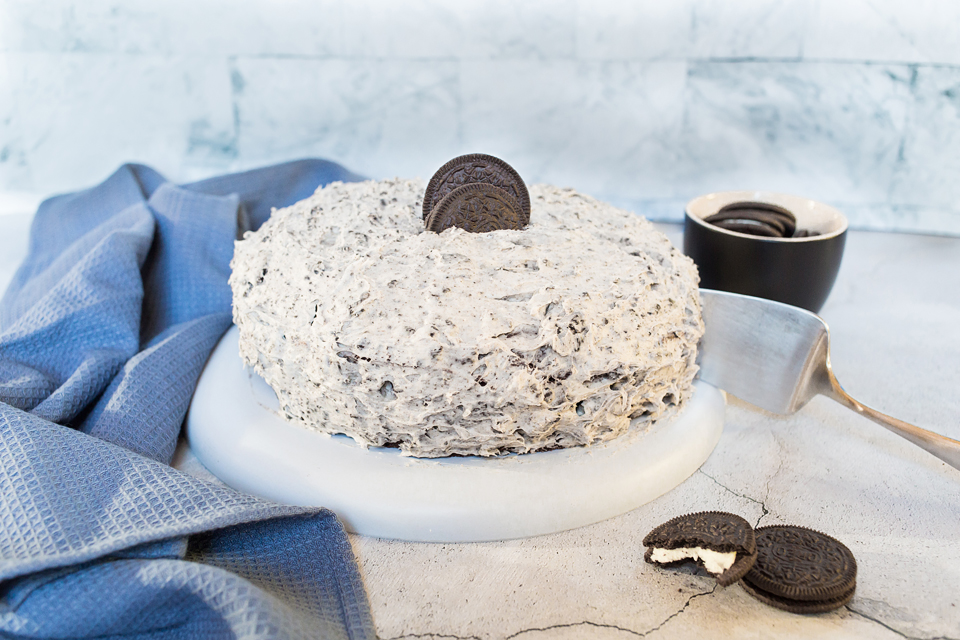 This is one of our go-to family birthday cakes. We usually make a vegan Oreo cake or a vegan chocolate cake. One year, I didn't have the ingredients for the chocolate frosting, so I surprised my mom with the vegan Oreo cake and she loved it!
While the vegan Oreo cake may seem overwhelming at first because there are so many steps, I promise that this is an easy recipe. It is very forgiving and as long as you follow the recipe as it is below!
There are a few very interesting twists in the chocolate cake base, mainly our secret ingredient of vegan mayonnaise, so read on and I will tell you exactly how to make this moist and delicious Oreo cake!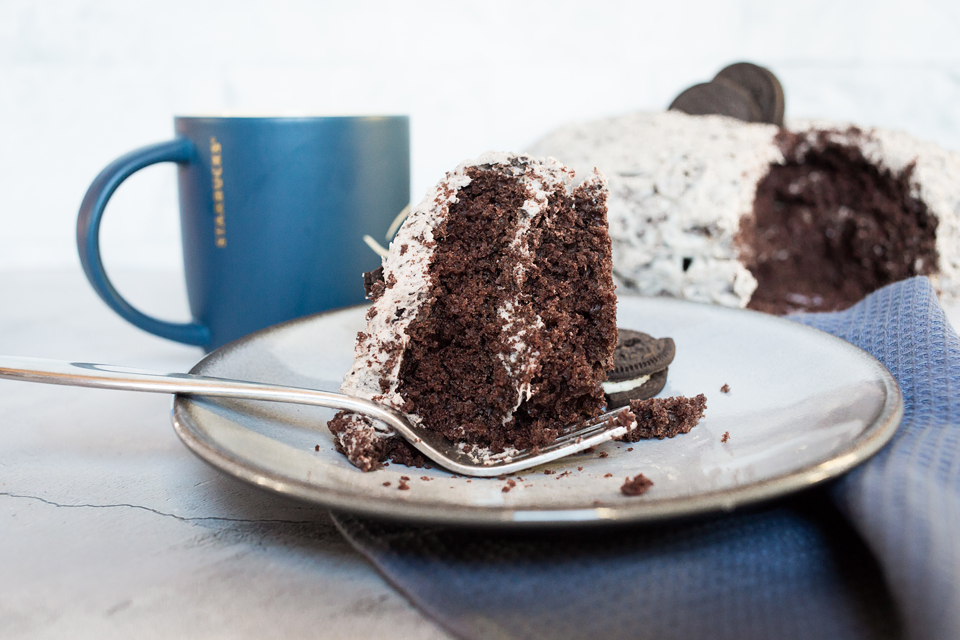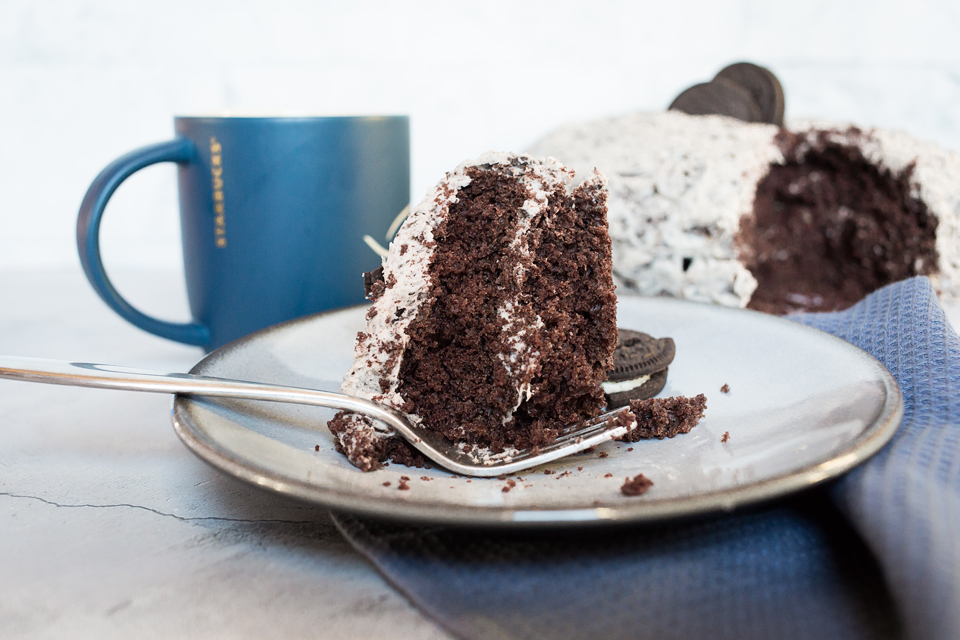 How To Crush The Oreos
For this vegan Oreo cake recipe, you are going to want to use one entire standard size package of Oreos. You can use even more if you want which I usually do. What can I say, I love Oreos!
Anyway! When crushing the Oreos for the frosting, you do not want huge chunks of cookies. You also do not want a fine powder or meal.
You want to try to achieve the gritty in-between of these two polar opposites.
In order to crush the Oreos, place all of your ingredients in a plastic baggie and then use the back of a fork or rolling pin to go over the Oreos until they are crushed just enough.
If you do not have a plastic bag on hand, you can always place the Oreos between two pieces of parchment paper and smash them gently with a rolling pin or utensil.
Either way, I want to make sure that you don't over or under smash the Oreos! The buttercream frosting for this vegan Oreo cake won't come out quite right if you over or under crush them.
When crushing the Oreos for the cake itself, you are going to want to give them a small crush but you will want fairly decent size chunks so that you can taste them in the cake.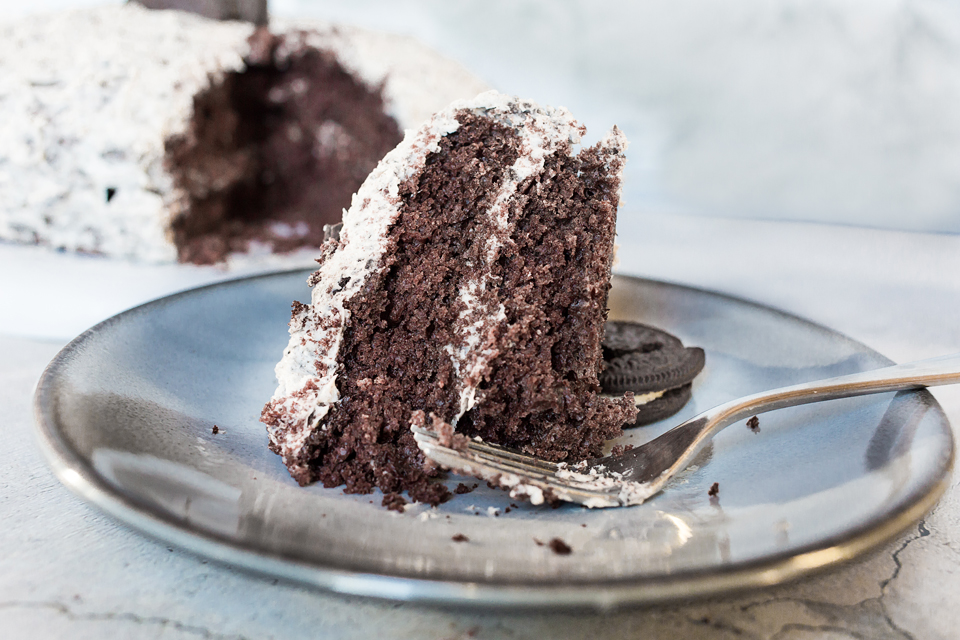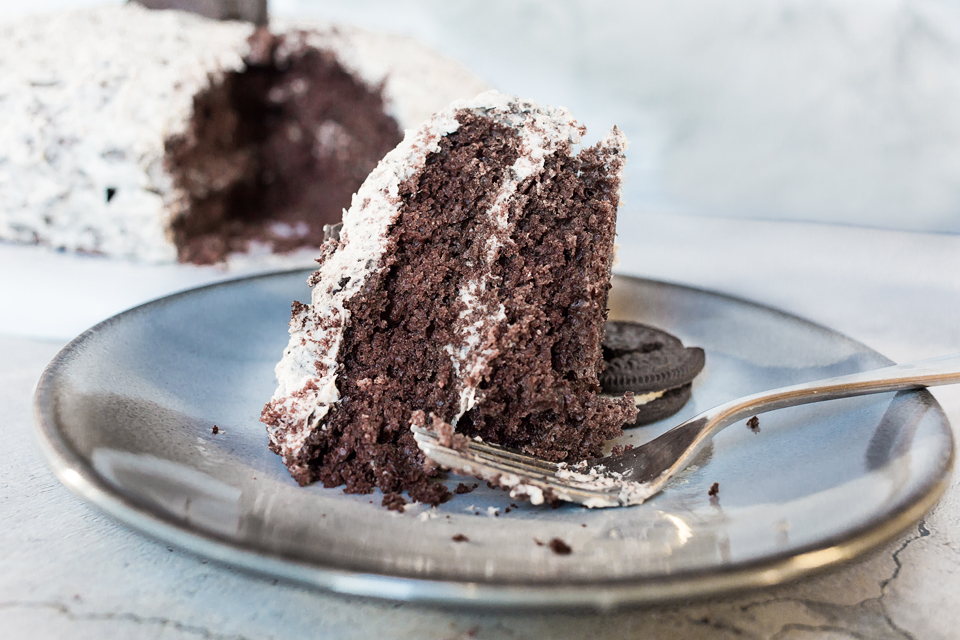 How To Make The Vegan Oreo Cake
Making the vegan Oreo cake is pretty simple. Believe it or not, the cake itself doesn't have any Oreos in it at all! How can that be possible, you say?
The Oreo flavor comes from the buttercream. The cake itself is just a chocolate cake.
But this is no ordinary chocolate cake. This is the vegan chocolate cake I grew up with that my mom has made for every birthday and holiday since before I can remember.
And it uses one secret ingredient. And that ingredient is Vegan Mayonnaise.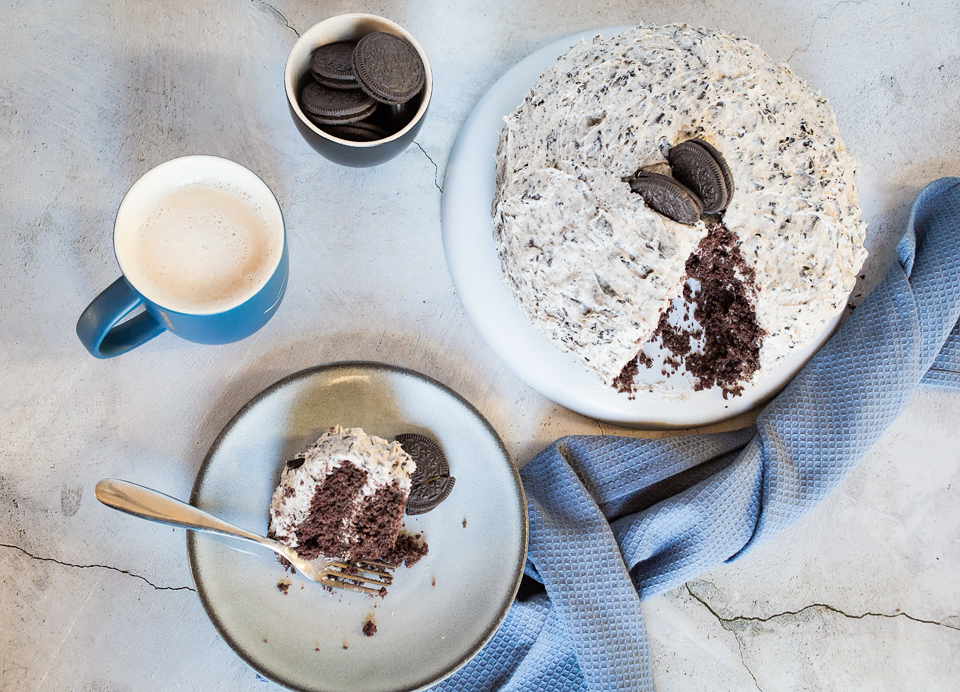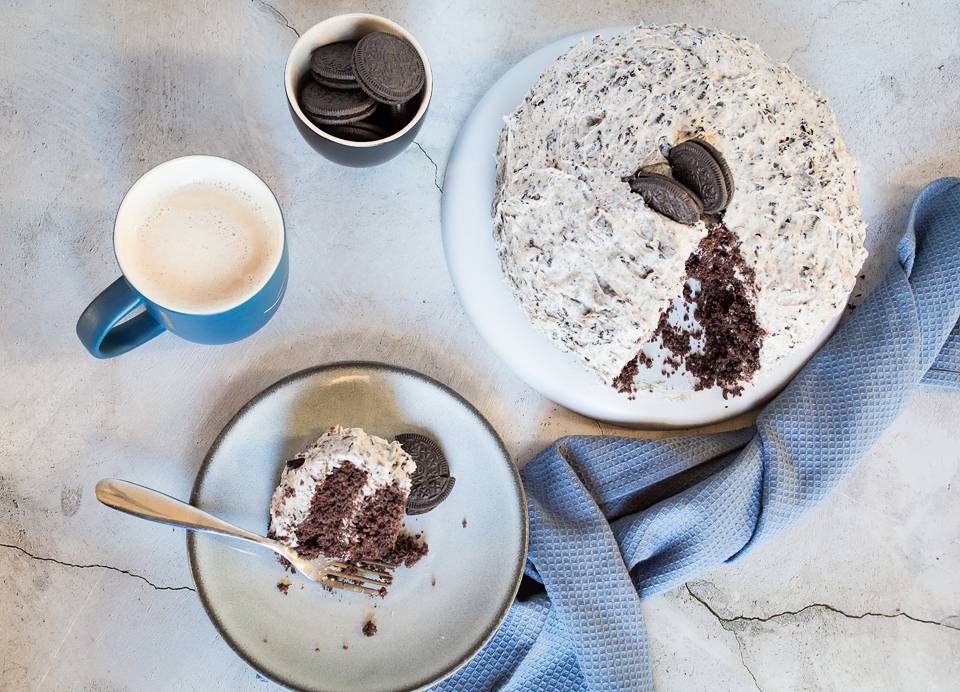 I know it sounds very very weird, but it is SO good and the texture for the vegan Oreo cake is moist and delicious!
First, you are going to want to follow the instructions for making the chocolate cake base. The chocolate cake base makes two 8-inch cake pans.
For the vegan Oreo cake, you will make a full recipe and then will "stack" the two cakes for a double layer finished confection.
Essentially, you will just mix the wet and dry ingredients together and stir in the chocolate chips and Oreo chunks. The Oreo chunks should be about the size of Oreo chunks you would sprinkle over ice cream.
While your cake is cooking, you can work on the Vegan buttercream which is super easy to make!
All you have to do is cream vegan butter and powdered sugar using an electric hand mixer and then add in the crushed Oreos and the rest of the ingredients.
You can even use my Homemade Vegan Butter recipe if you want to make your own! It is super quick and easy to do too!
If you do end up making your own vegan butter, follow the instructions for making the "spreadable" kind down in the notes of the recipe!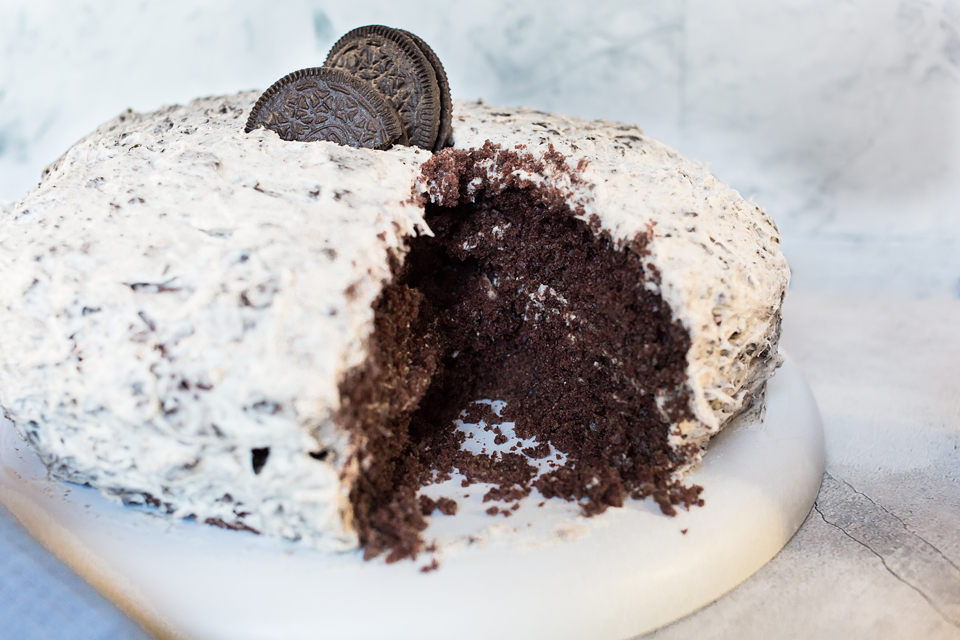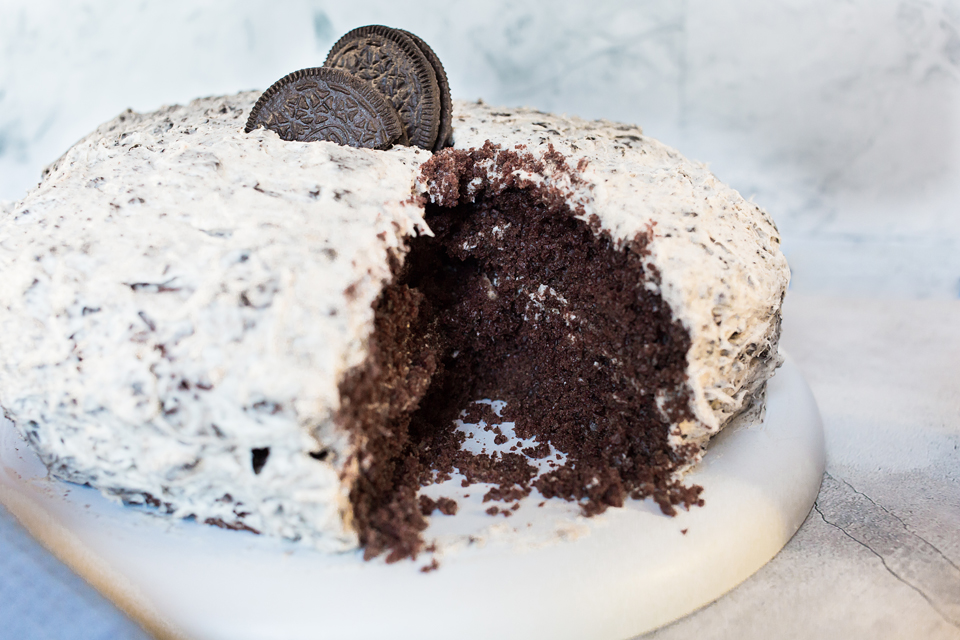 How To Assemble The Vegan Oreo Cake
Assembling the vegan Oreo cake is easy but you will want to wait until the cake is totally cooled down and the frosting is chilled.
If you want, you can use a large and sharp knife to cut off the top of each of the cake layers so that the cake is more flat instead of round. I know this is bad, but I rarely ever do this.
That goes against all baking advice ever, so I will encourage you to cut and level the top of the cakes to do it the proper way. If you are lazy like me, just ice the cake as-is.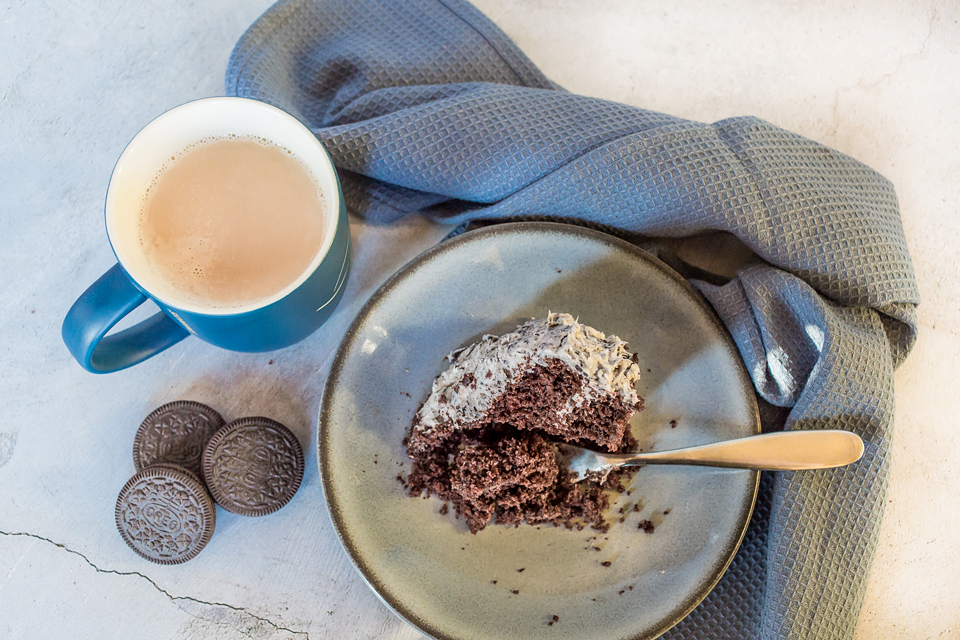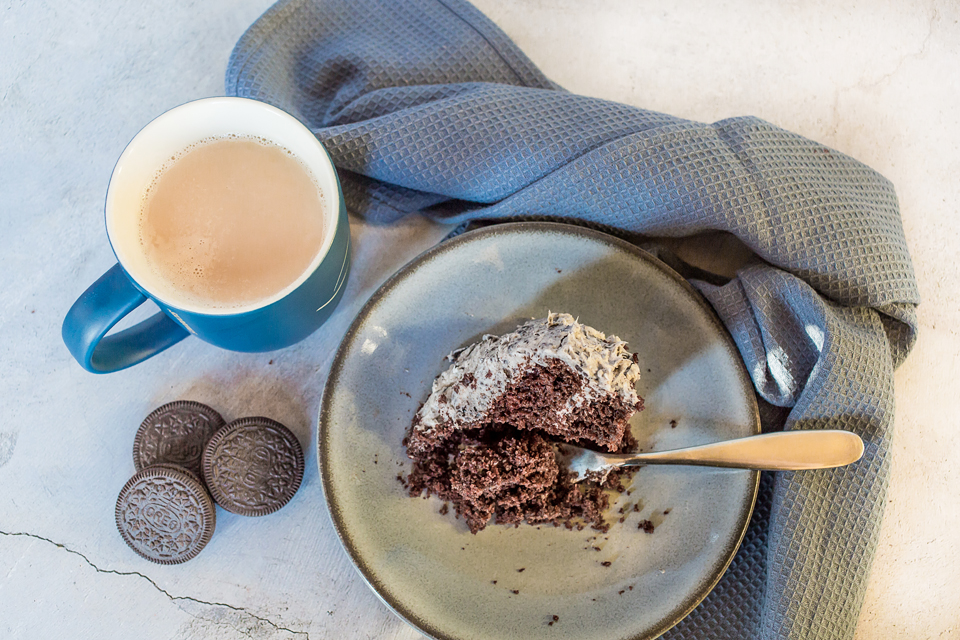 On the first layer of cake you are going to want to spread the Oreo buttercream frosting generously on top and around the sides of the cake.
I recommend sprinkling larger Oreo chunks between the layers of cake if you are a true Oreo lover like myself!
Second, you are going to add the second layer of cake on top of the first. Now you will frost the top and all down the sides of the double layer vegan Oreo cake until the whole thing is covered with frosting.
It does work better when the cakes are cooled so that they don't crumble. If they begin to crumble, stop and let them cool completely.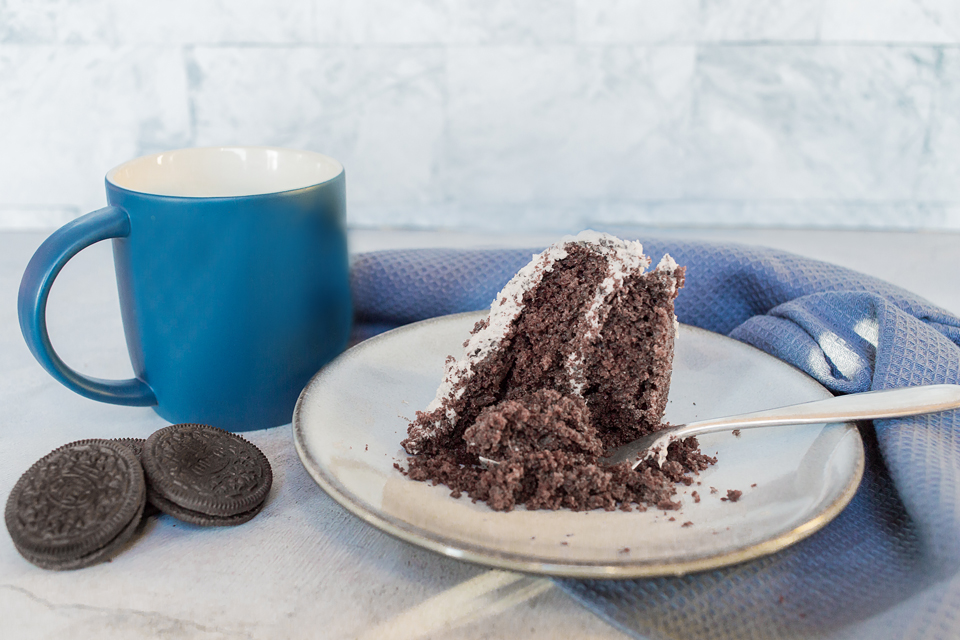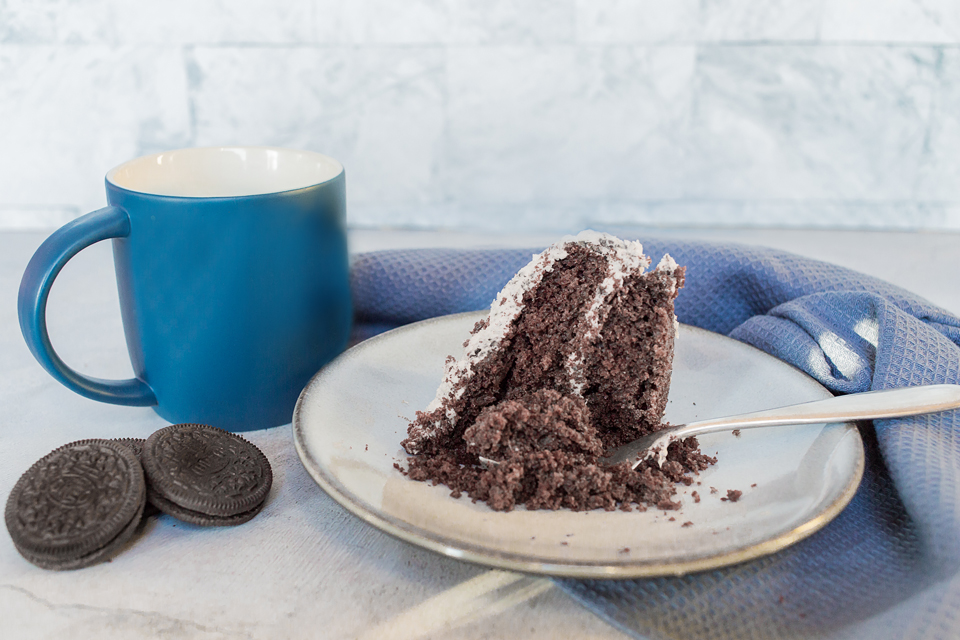 Storing The Vegan Oreo Cake
The vegan Oreo cake stores well covered and on the counter overnight. After that, you are going to want to put it in the fridge in a container or under a cake dome.
We often store ours on a cake stand with a dome covering and it lasts between 3-5 days this way without drying it out. If you want to make the cake last even longer, I do recommend storing in an airtight container.
You can freeze the chocolate cake rounds for 1-2 months in the freezer and then just make the buttercream and frost the cake when you are ready if you want to save time.
I do not recommend storing the entire buttercream frosted Oreo cake in the freezer.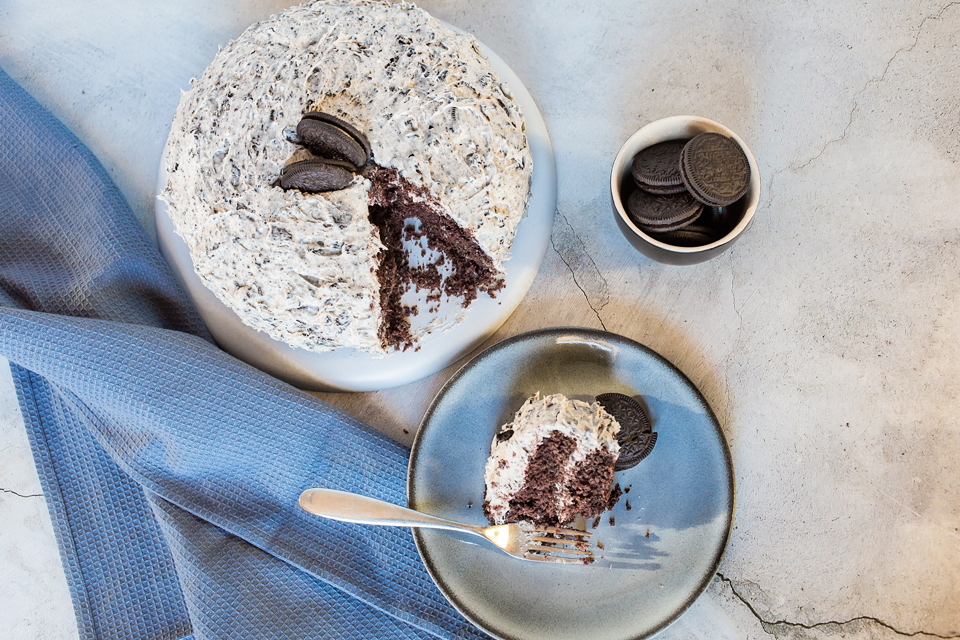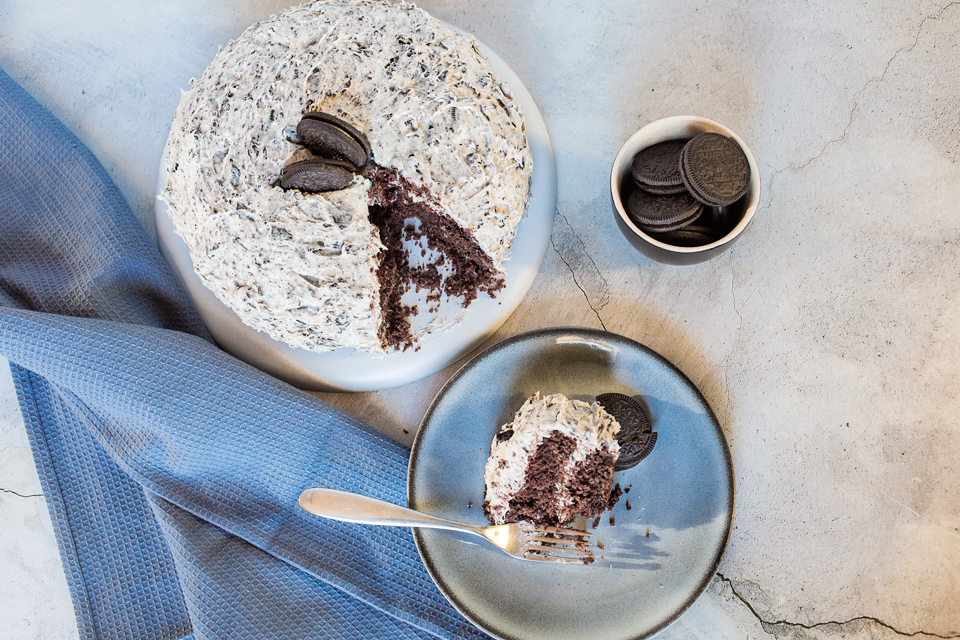 Yield: 1 Double Layer 8-Inch Cake
Best-Ever Vegan Oreo Cake With Buttercream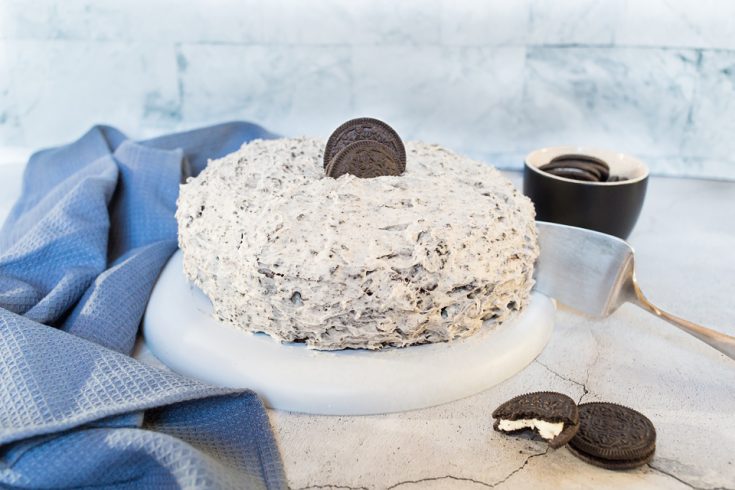 This vegan Oreo cake is so moist and delicious! It is the perfect centerpiece for birthday parties and holidays. The chocolate cake is smothered in delicious vegan buttercream frosting. Feel free to decorate with as many Oreos as you want!
Ingredients
CHOCOLATE CAKE INGREDIENTS:
2 Cups Flour (Can Be Gluten-Free)
4 Tablespoons Cocoa Powder
2 Teaspoons Baking Soda
1/2 Teaspoon Salt
1 Cup Vegan Mayonnaise
1 Cup Cold Water
1 Cup Vegan Sugar
2 Teaspoons Vanilla Extract
1/2 Cup Chocolate Chips
1/4 Cup Crushed Oreos
OREO BUTTERCREAM INGREDIENTS:
1.5 Cups Non-Dairy Butter
8 Tablespoons Non-Dairy Milk
6 Cups Powdered Sugar
1 Package Of Crushed Oreos
Instructions
Preheat oven to 350 degrees F.
In a large bowl, whisk the mayonnaise, water, sugar, and vanilla. Slowly sift in flour to combine. Stir in the chocolate chips and Oreos until spread throughout batter.
Grease 2 8-inch cake pans using oil or parchment paper. Pour batter evenly into each pan.
Bake for 20-25 minutes until a knife or cake tester comes out clean.
To make the buttercream frosting, use an electric mixer to whip vegan butter until stiff peaks form. Slowly add in the powdered sugar, milk, and crushed Oreos until combined and creamy.
Once the cake cools, ice the bottom cake and sprinkle additional Oreos on top of it. Stack the second cake on top of the first and then ice the top and sides until both cakes are covered in buttercream.