These vegan apple turnovers are a non-dairy take on the popular classic! They are so warming and delicious and super easy to make!
The apple turnovers are flaky and cinnamony filled with warm apple chunks and topped with a creamy glaze! Perfectly delectable to eat warm or cold.
My secret weapon in order to make easy vegan apple turnovers is to use store-bought puff pastry for the dough! It transforms into amazing apple turnovers and is so flaky and delicious! If you have never made apple turnovers with puff pastry, you are in for a real treat.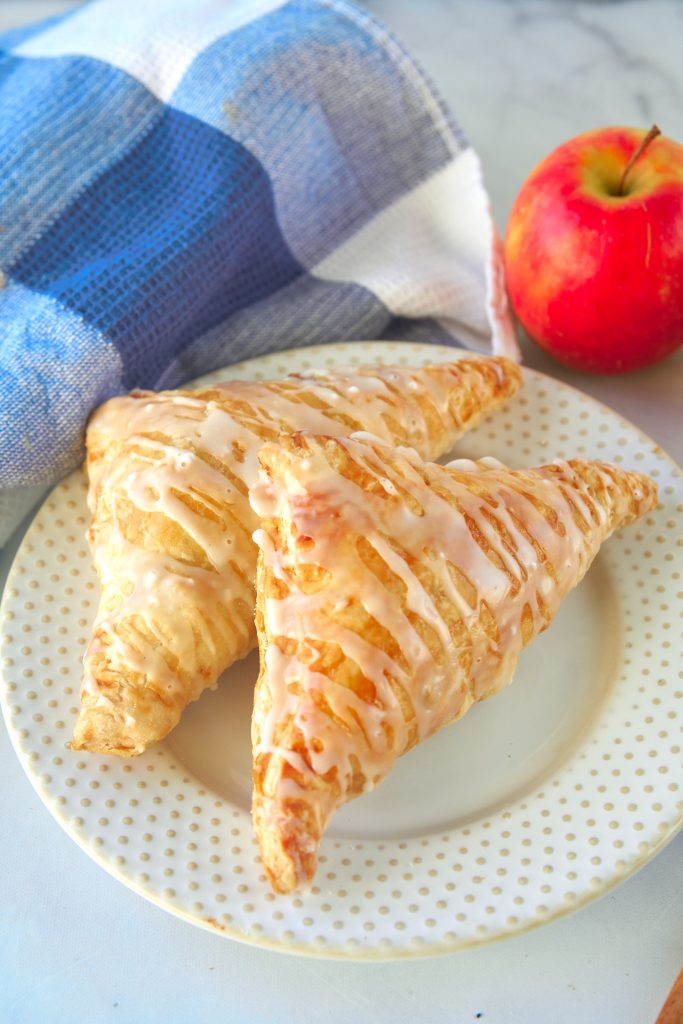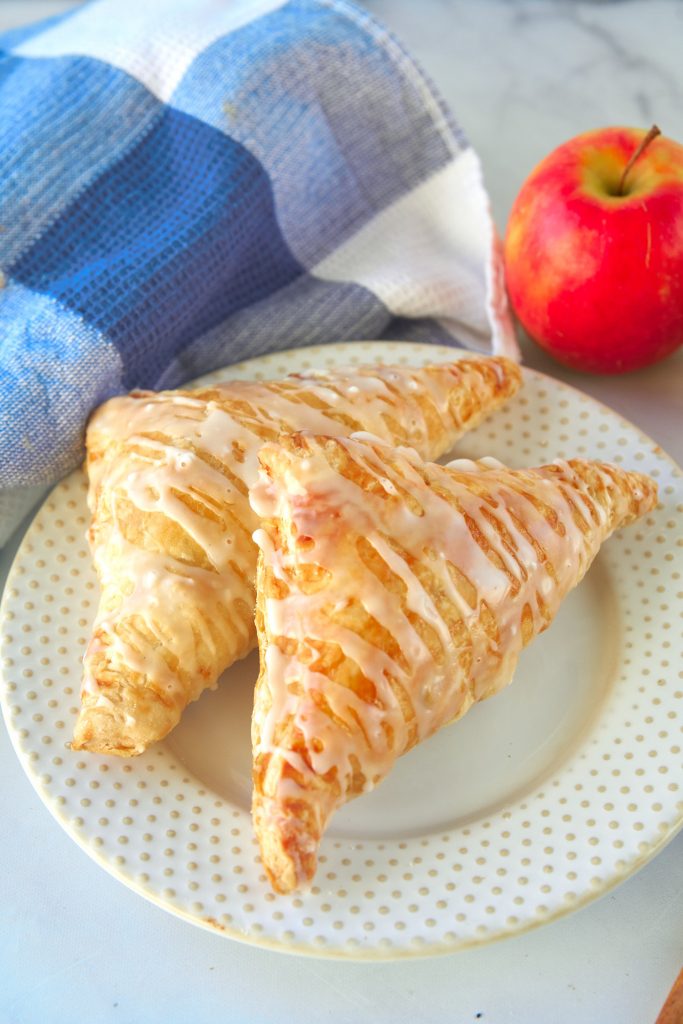 Many people also use phyllo dough but phyllo dough is a lot pickier to work with and you can't let it dry out. Puff pastry achieves similar results with less of the hassle.
Puff pastry will literally make the flakiest apple turnovers vegan you will ever taste and it is sinfully easy to work with. The way puff pastry bakes is perfect and the finished recipe will melt in your mouth!
I love working with puff pastry and think every vegan should give it a try at least one time! For example, I use it in my Vegan Cinnamon Rolls and my Vegan Wellington recipes to make delicious and easy crust!
A lot of apple turnover recipes require cooking the apple filling first on the stove. But I figured I wouldn't want extra steps so that the recipe takes longer and I don't want to give you extra steps either!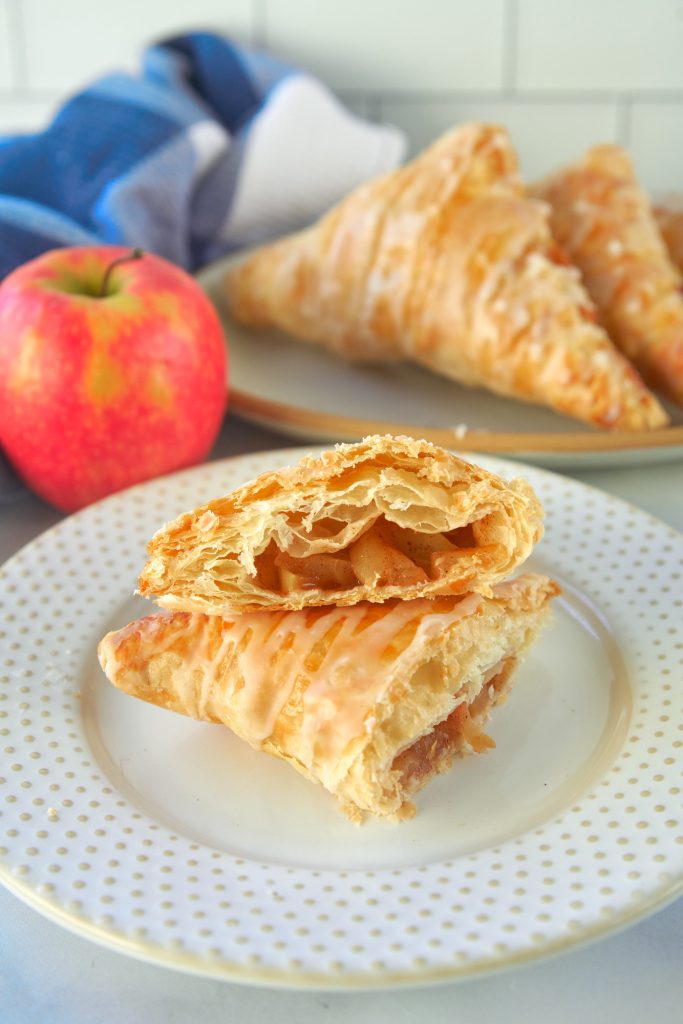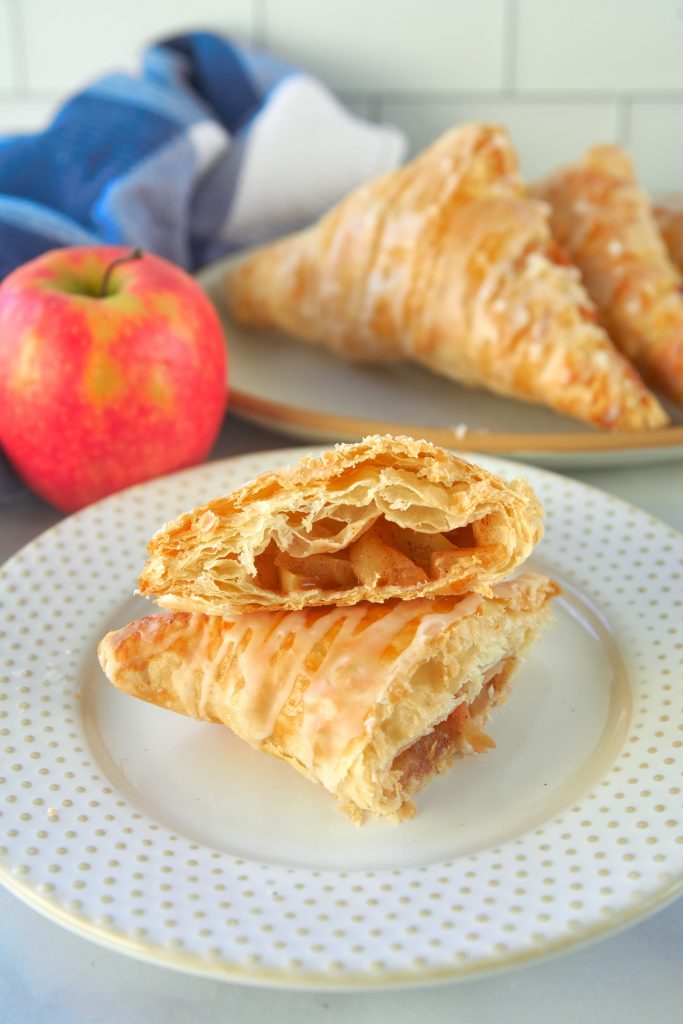 I don't require baking the filling first for my Vegan Apple Pie so why would I have to bake the filling for the vegan apple turnovers?
Turns out, you 100% don't have to cook the apples for a succulent and delicious apple turnover from scratch!
I created this recipe to be incredibly easy to make so that you can decide one minute that you want some vegan apple turnovers and then in about 30 minutes you will be waiting to glaze them and you are done!
I hope you enjoy these healthy apple turnovers as much as I do! They are perfect for any time of year, but especially during the fall when apples are in season!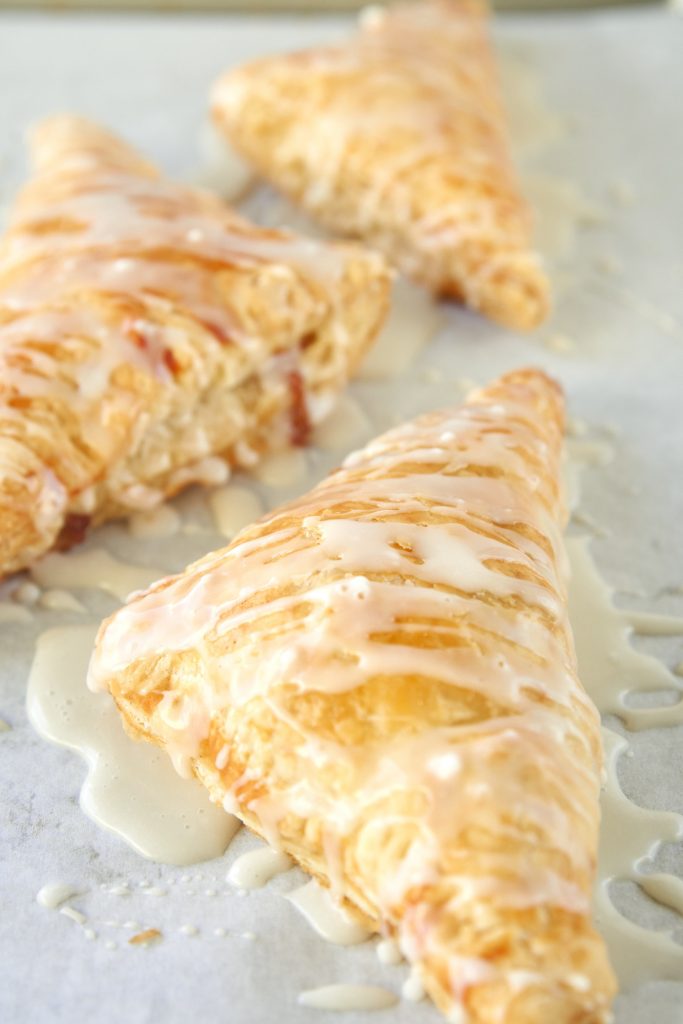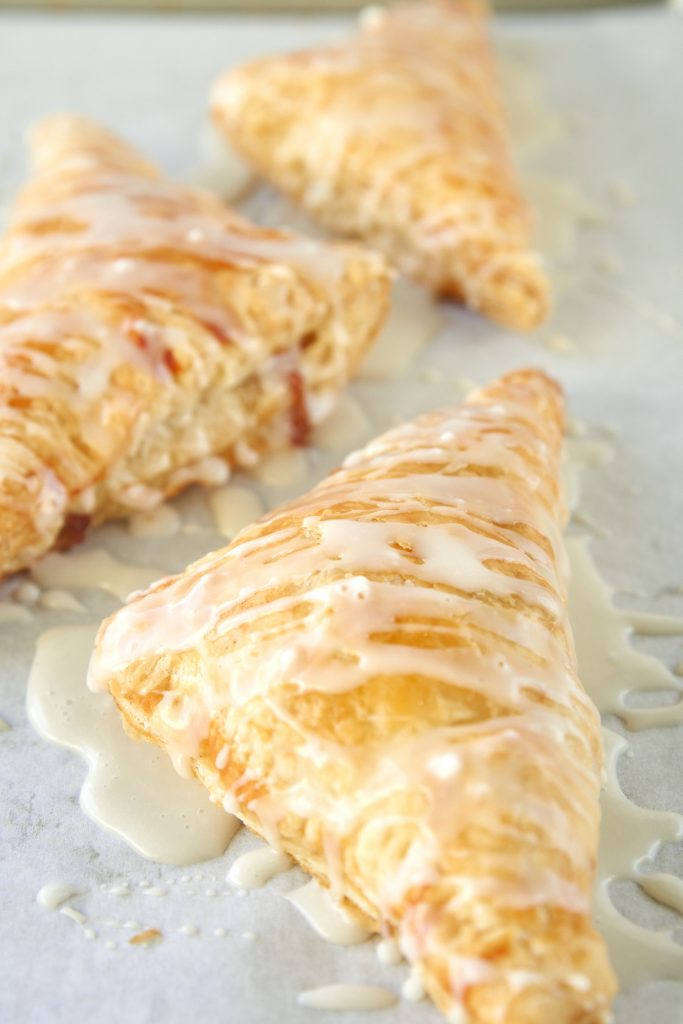 Why You Will Love This Vegan Apple Turnover Recipe
It whips up super quickly. This vegan apple turnover recipe literally takes 30 minutes to make! And out of that time, there is only 10 minutes of prep time. Perfect for a morning breakfast surprise or when you want a new treat!
Perfect for new cooks. If you are new to cooking and want something that sounds fancy but is super easy, this is the recipe for you! It is truly hard to fail when making this apple turnover. Puff pastry is an easy thing to work with too, so if you are worried about phyllo dough, this is the recipe for you!
Kids love it. If you are trying to snake more fruit into your kid's diet, making apple turnovers vegan is a good way for them to eat more fruit. The best part? you control the sugar when you are making these from scratch, so feel free to use as much or as little sugar as you want!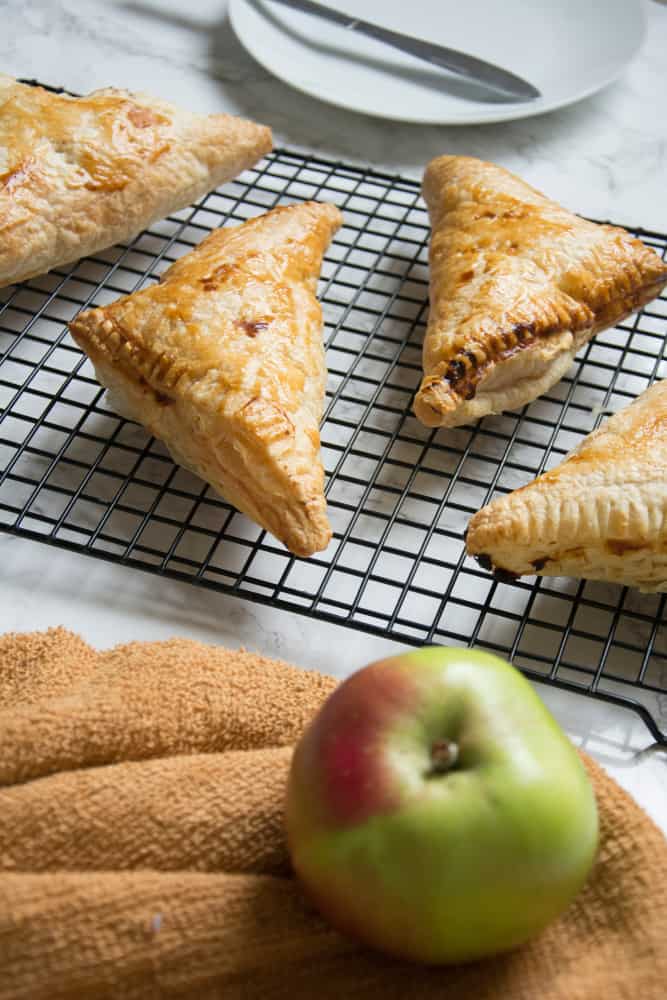 Where To Find Vegan Puff Pastry
When I was making these vegan apple turnovers, I first sent my mom to Whole Foods to get vegan puff pastry.
Whole Foods had one option and it was $12 and had butter in it. Needless to say, it wasn't vegan and was $$$!!
Then, she headed to Walmart and there it was! Accidentally vegan puff pastry for $4 and you got two sheets! This recipe only calls for one.
You can find vegan puff pastry at your local grocery store by simply looking at the ingredients.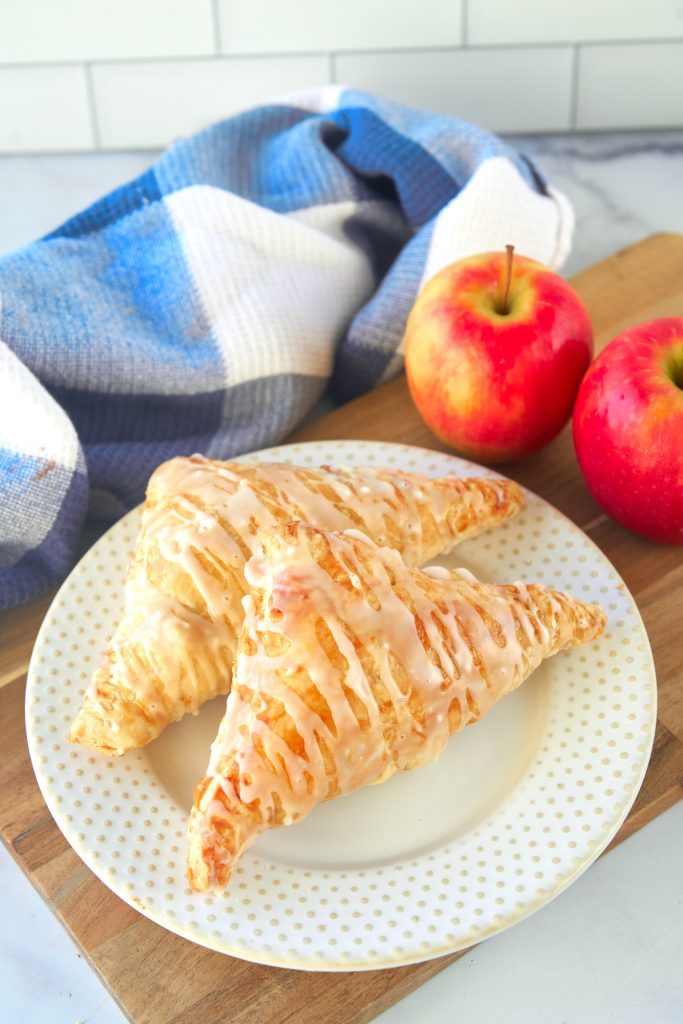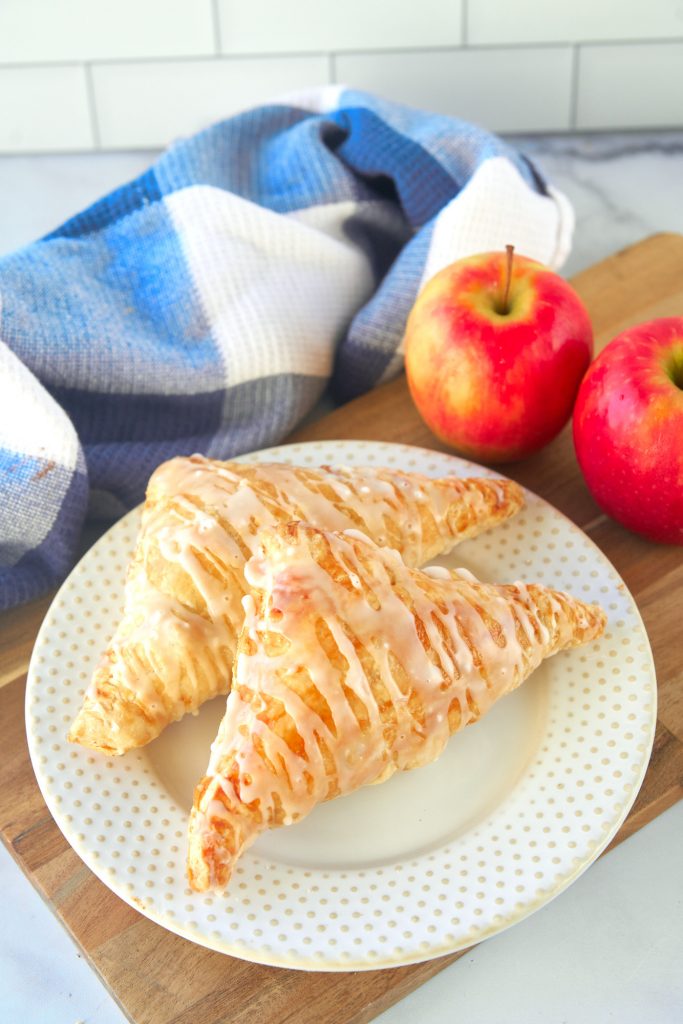 Pepperidge Farm is the easiest brand to find and is what I used when making these vegan apple turnovers. It is pretty affordable and you get two sheets.
I thought puff pastry would be hard and scary to work with, but it was so forgiving and easy and produced fabulous results!
When you are looking at your local grocery store, just look at the puff pastry ingredients. Most of them are accidentally vegan which is kind of wild!
Don't be afraid of working with puff pastry, it was actually way easier than I originally thought!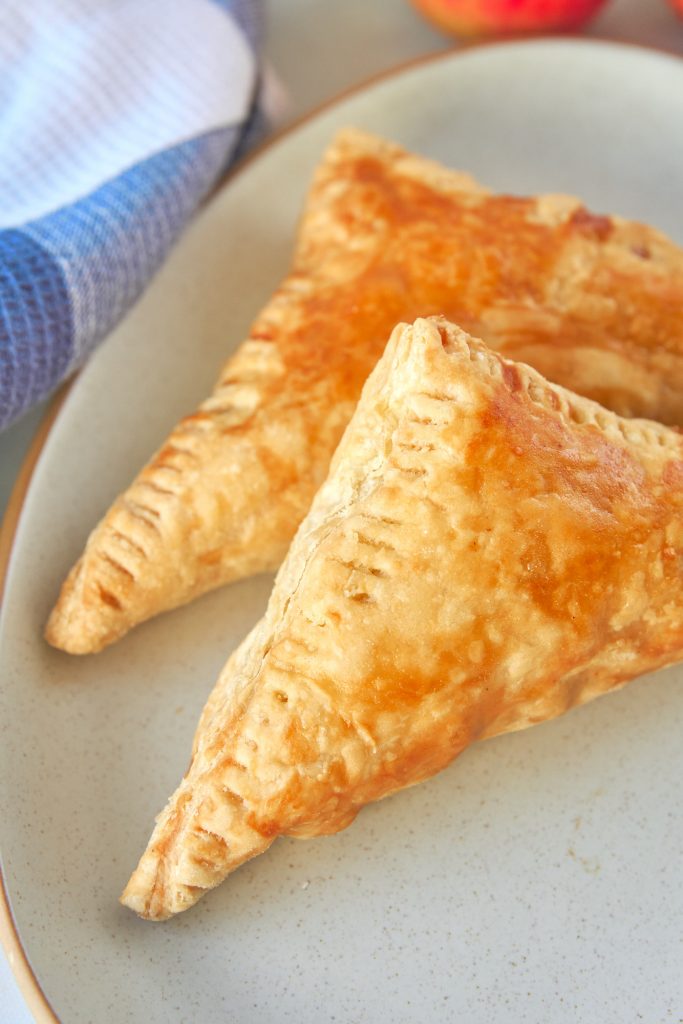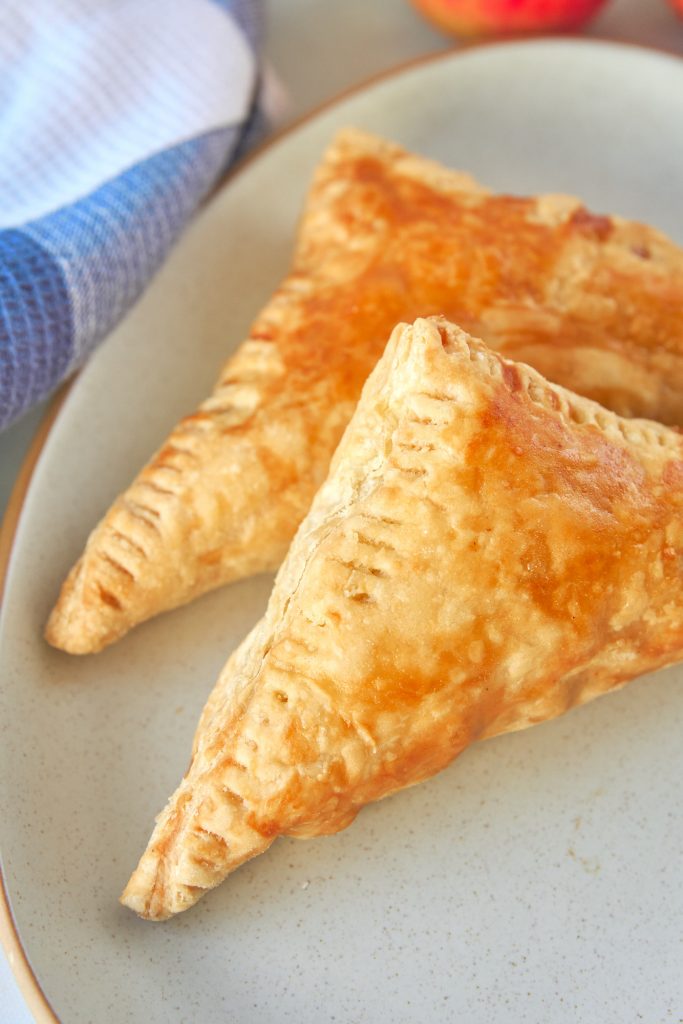 What Kind Of Apples To Use For The Vegan Apple Turnovers
Many recipes require a certain type of apple such as Granny Smith or Honeycrisp.
If you know me and follow my work, you know that I am a VERY CHILL cook.
As a result, you can use whatever apples you have on hand for the vegan apple turnovers!
I have used a variety from gala to pink lady apples and have had every single recipe turn out perfectly fine.
Nobody who ate it complained or even noticed that there was a difference!
Also, I do not peel my apples! Apple peels give you lots of health benefits and look pretty too! Save yourself time and make healthy apple turnovers by leaving the skins on for these vegan turnovers.
Don't stress about it! If you have a bag of apples at home, use them! Don't go out and buy another one for this recipe. It is supposed to be simple and easy!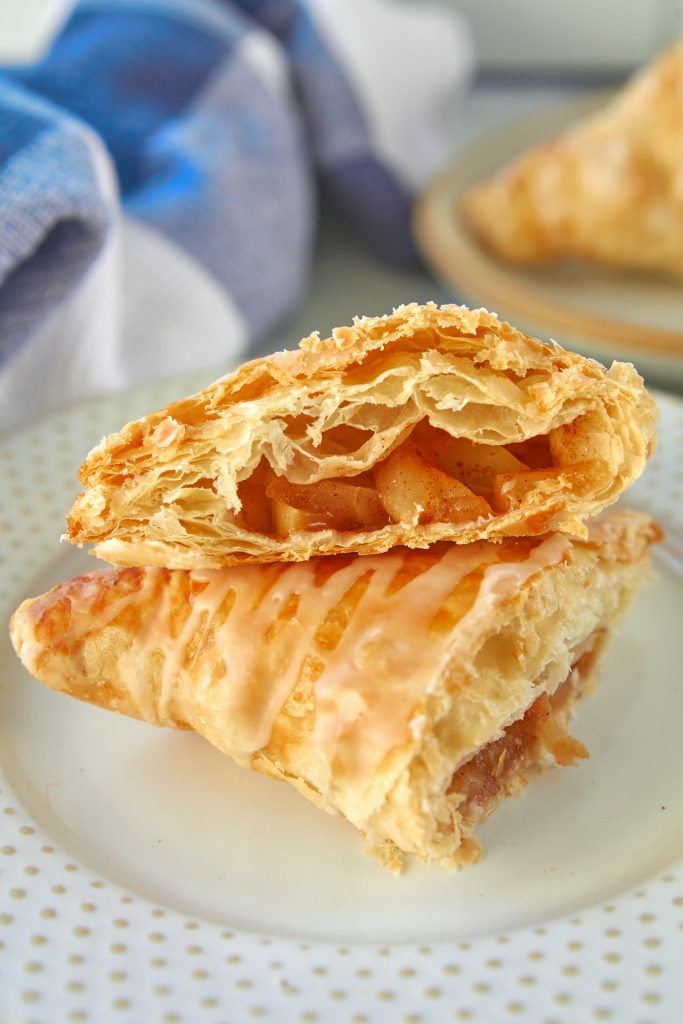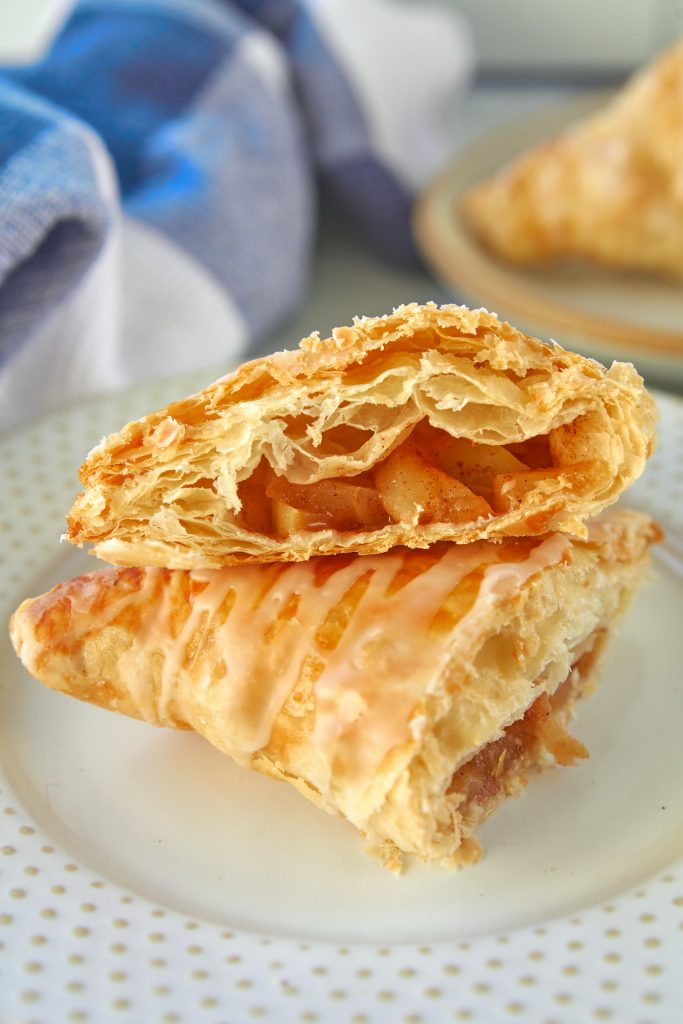 How To Make The Vegan Apple Turnovers
Making the vegan apple turnovers is super simple and easy!
You should know that one sheet of puff pastry will make four apple turnovers. So if you want 8 to feed a larger crew, you are going to want one package or two sheets of puff pastry!
First you are going to chop your apple into small pieces. One recipe calls for 1 cup of apples or 1 apple, whichever is more. Usually 1 apple will take up a heaping cup full and that is perfectly fine!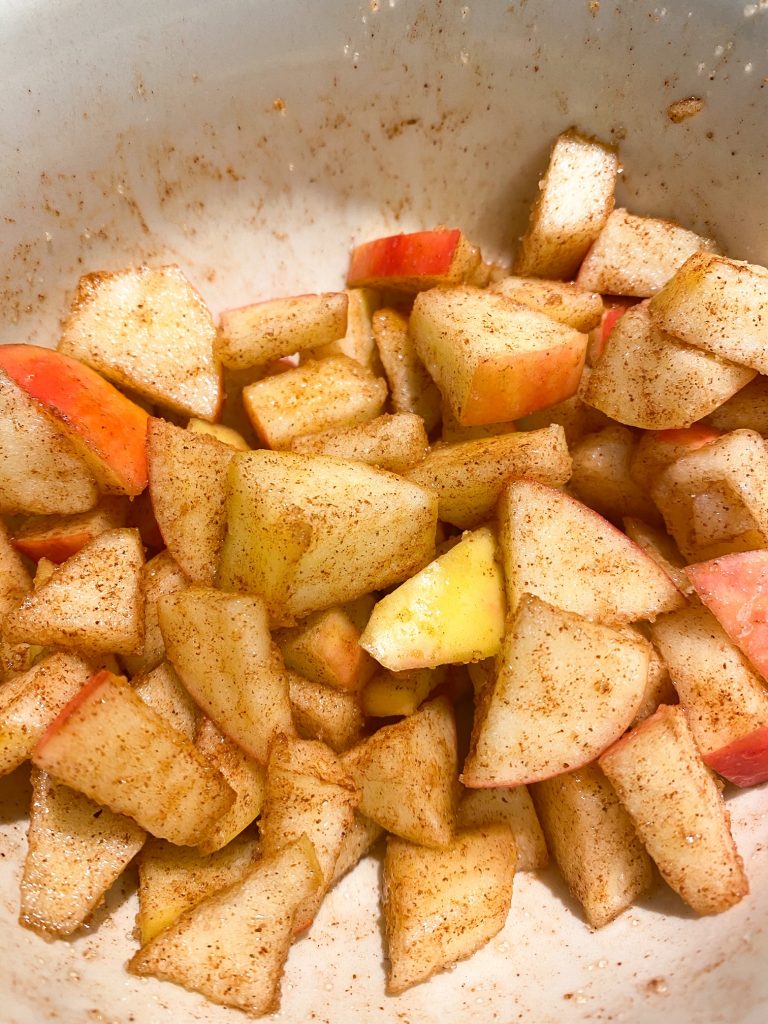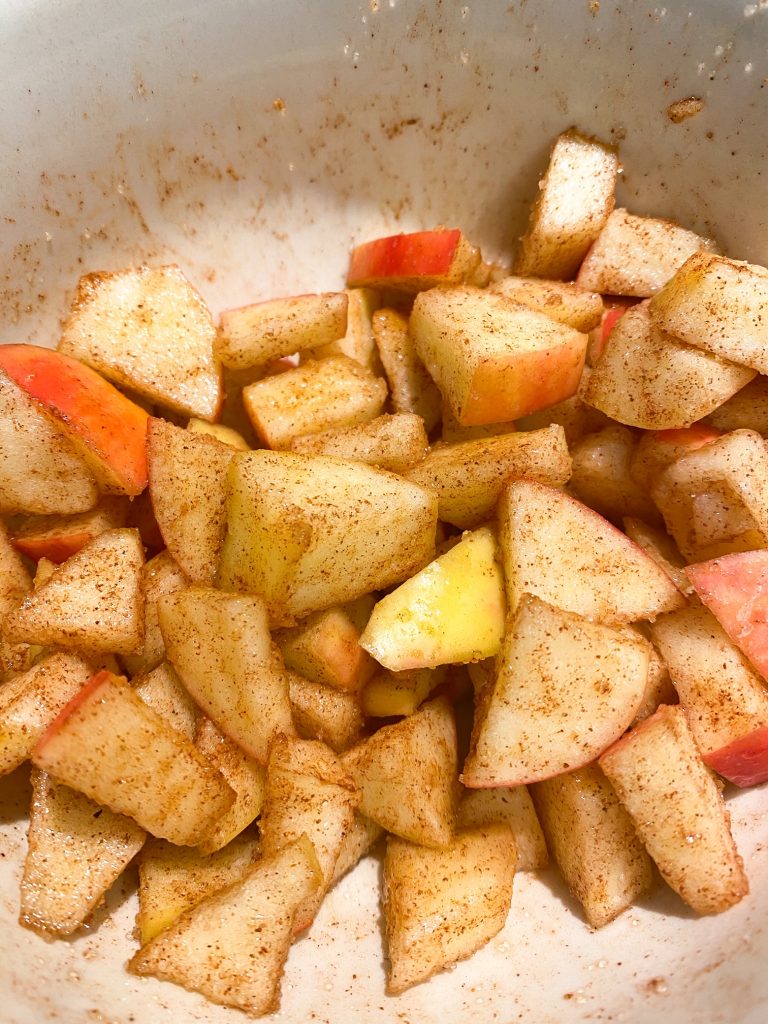 Put your apples in a bowl and add your spices. In this case, I use cinnamon, lemon juice, and salt. Never forget your salt!
Stir and then set aside to marinade while you are preparing the puff pastry.
Flour a piece of parchment paper and then put the thawed puff pastry sheet on the floured parchment paper.
Put another piece of parchment paper over the top. Make sure that the seams are facing up and down to your body.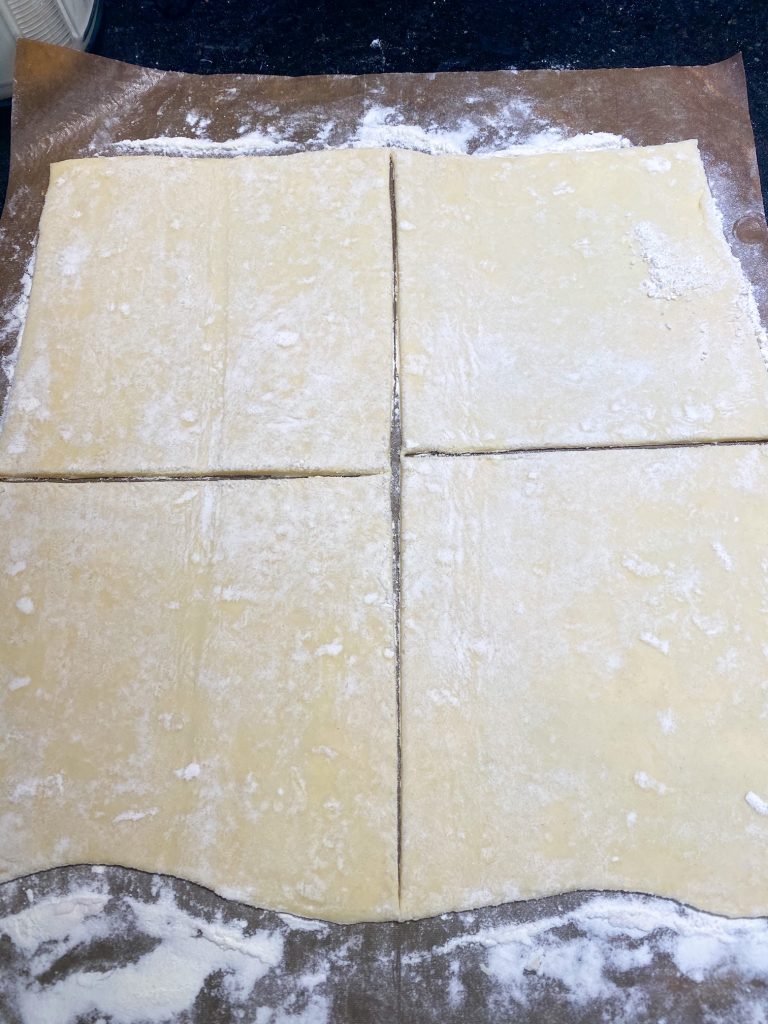 You will want to roll out the puff pastry until it is a square, usually about 10×10 in size.
Then, using a sharp knife, cut down the center. When cutting puff pastry, you want to make sure to use a "chop" motion instead of a "sawing" motion so that the puff pastry doesn't come apart.
Next, cut each side in half again so that you have four even squares. You can see from my photos here that my vegan apple turnovers aren't quite even but that is okay and they still all cooked just fine.
Just do the best you can when cutting your squares out of the dough!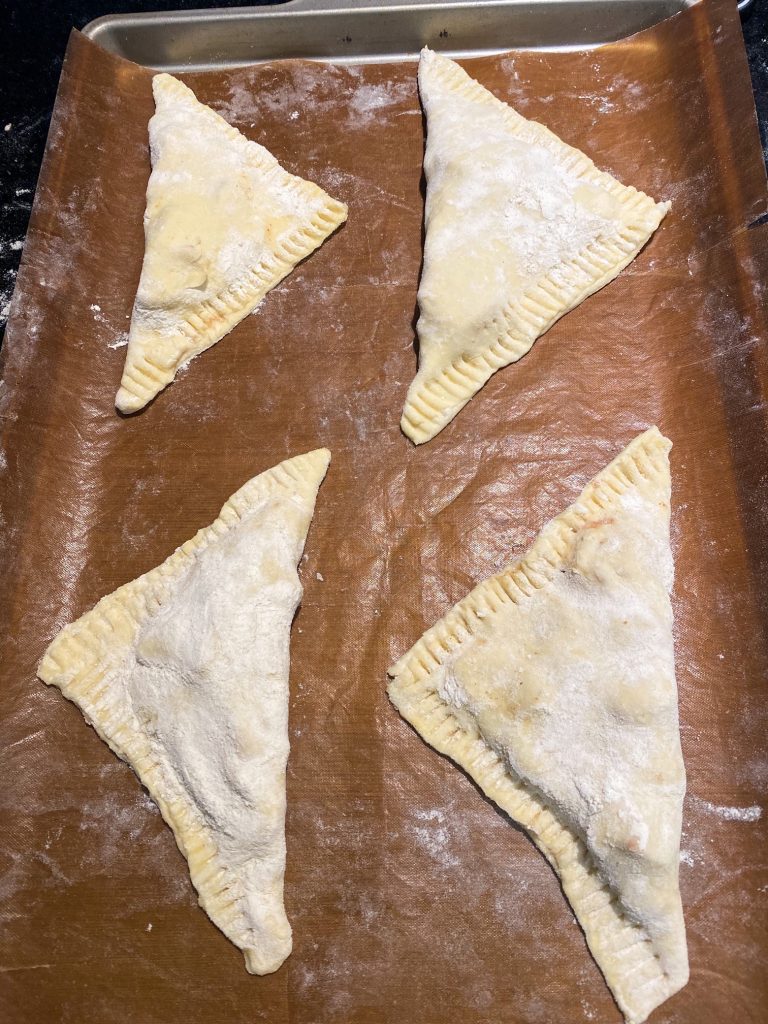 Then, portion out 1/4 of the apple mixture in one of the corners of the dough. You can go ahead and just spread all of the apples evenly throughout all of the puff pastry squares.
Next, take one corner and fold it across diagonally to form a triangle. If there are too many apples, take some out.
Wet your fingers and run them along the seam. Wetting the edge of puff pastry helps it stick together!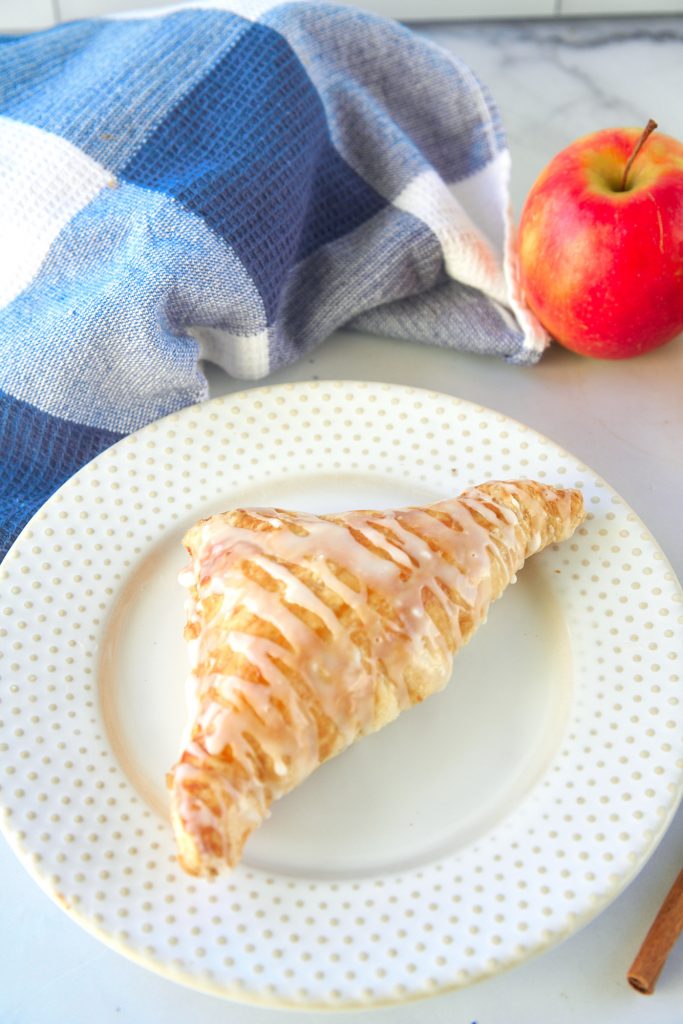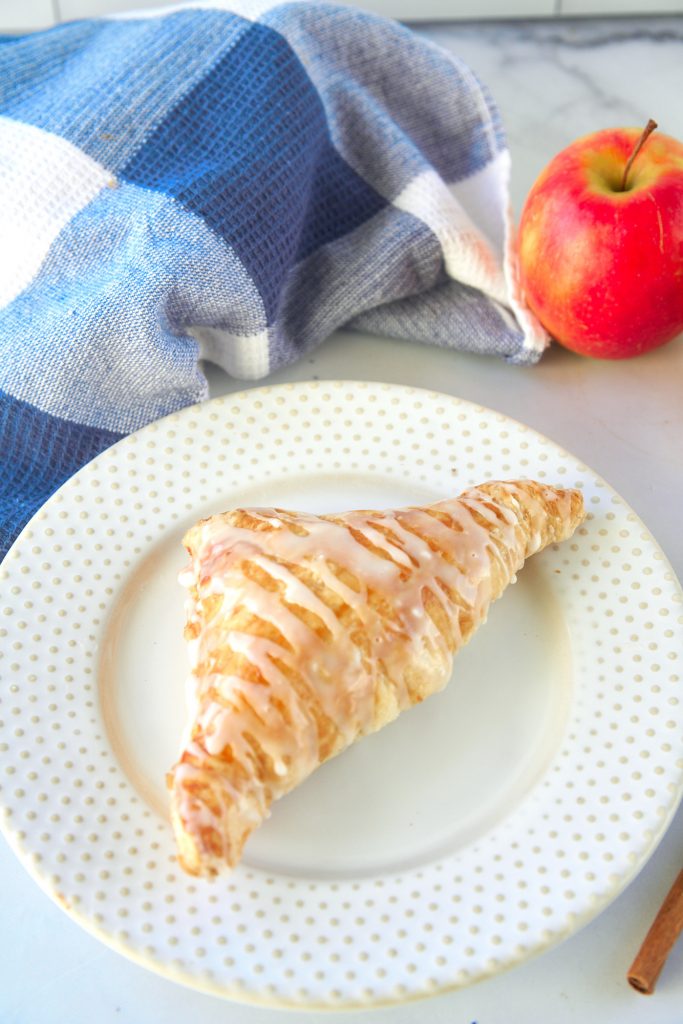 Use a fork to crimp the edges of the vegan apple turnovers and then transfer them to a baking sheet.
Brush each turnover with vegan egg wash. This could be 2 TBS non-dairy milk and 1 TBS maple syrup or aquafaba [chickpea liquid] or simply a little bit of oil. You can read this post for the BEST EVER Vegan Egg Wash Substitute!
Bake the vegan apple turnovers until golden grown, usually 20 minutes but it can be a little longer.
Let them cool for at least 10 minutes before trying to glaze them!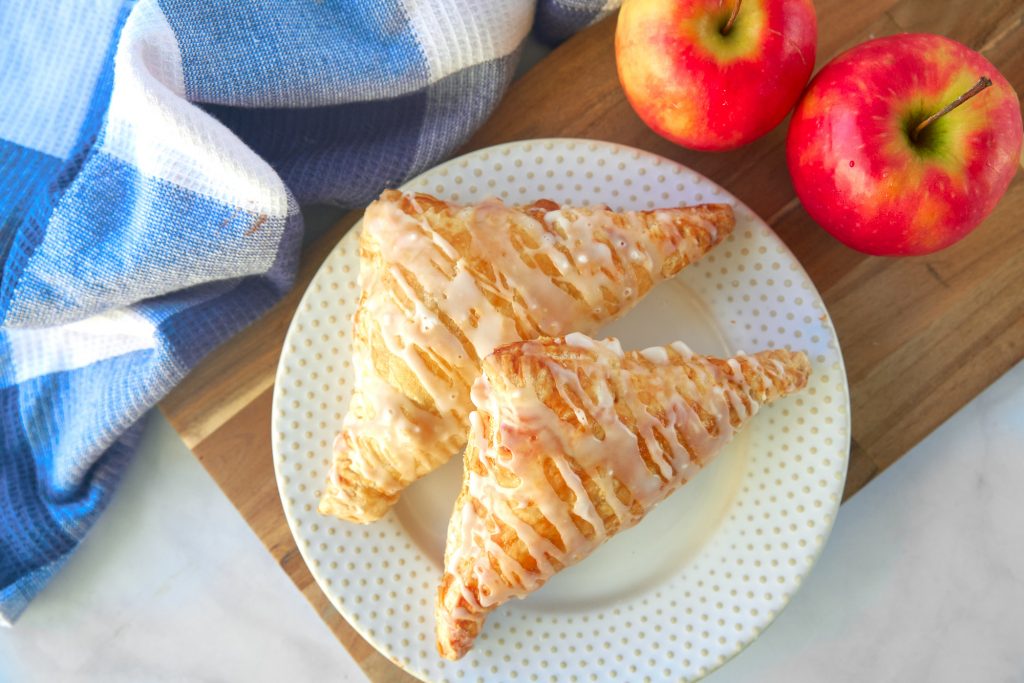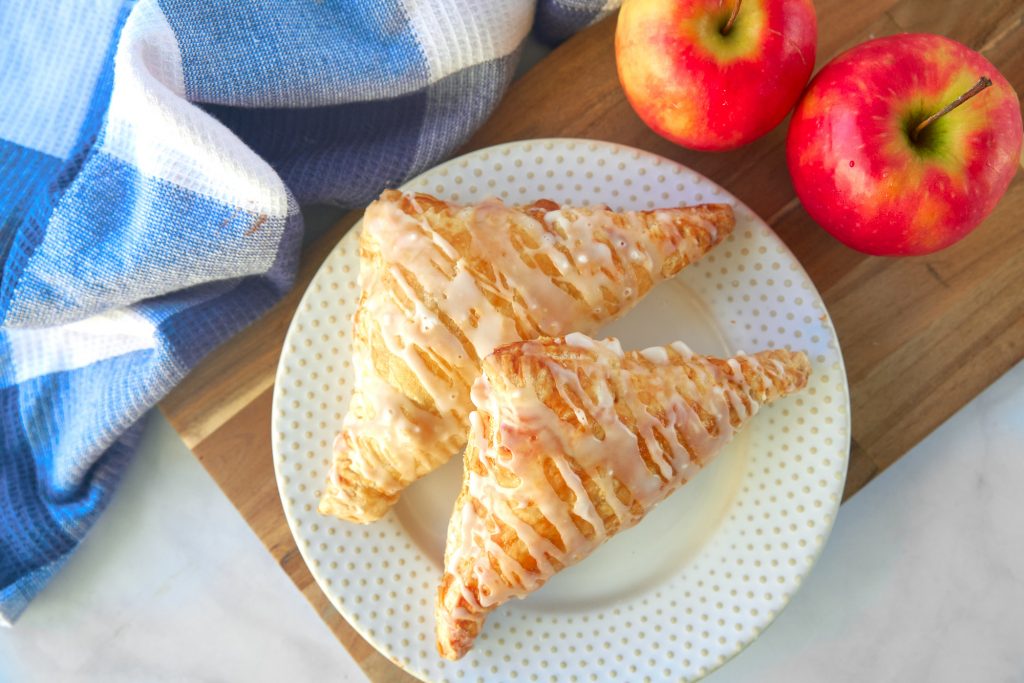 Making The Glaze For Vegan Apple Turnovers
This glaze recipe couldn't be easier if it tried! You can go ahead and make the glaze while the apple turnovers are in the oven.
You simply mix vanilla, powdered sugar, and non-dairy milk together and pour it over your turnovers.
The way the powdered sugar absorbs the milk and vanilla is some sort of magic! You don't think it would work, and then suddenly, it does!
If you want a thinner glaze, add more milk 1 teaspoon at a time. If you want a thicker glaze, add more powdered sugar. I like a thicker glaze that is just runny enough for me to drizzle.
Finally, you will want to let the vegan apple turnovers cool for about 10 minutes or else the glaze will just melt into the buns and you won't get that "white" glazed look you want to achieve!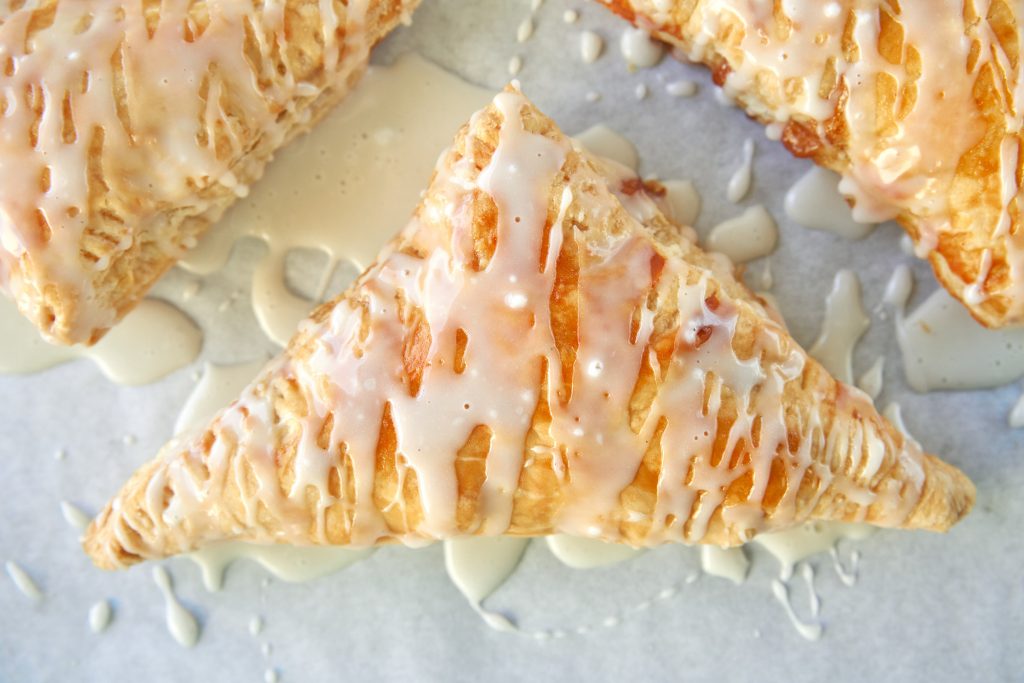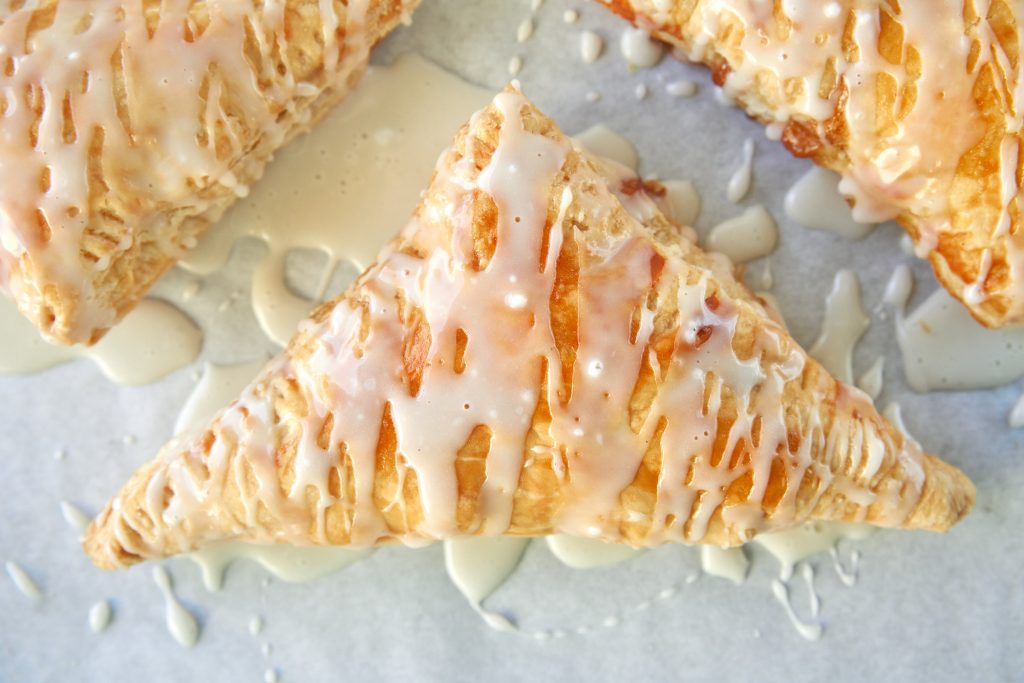 Storing The Healthy Apple Turnovers
You can store the vegan apple turnovers on the counter for 2-3 days. The key is to store then in an air-tight container and not just with a dish towel over them.
Once they are done on the counter, you can move them to an air-tight container in the fridge for a few more days and they still taste fine.
If you want to freeze the apple turnovers, I recommend doing it without the glaze. When you thaw them out, you can add the glaze for the best results!
If you loved this recipe, you may love my Best Vegan Apple Crisp Recipe too!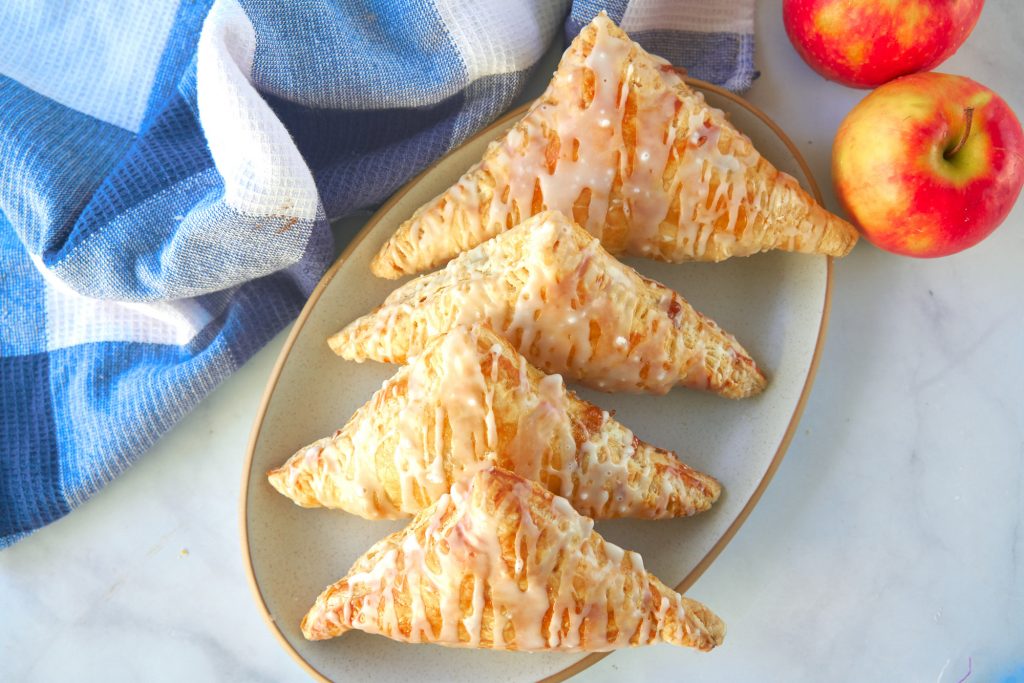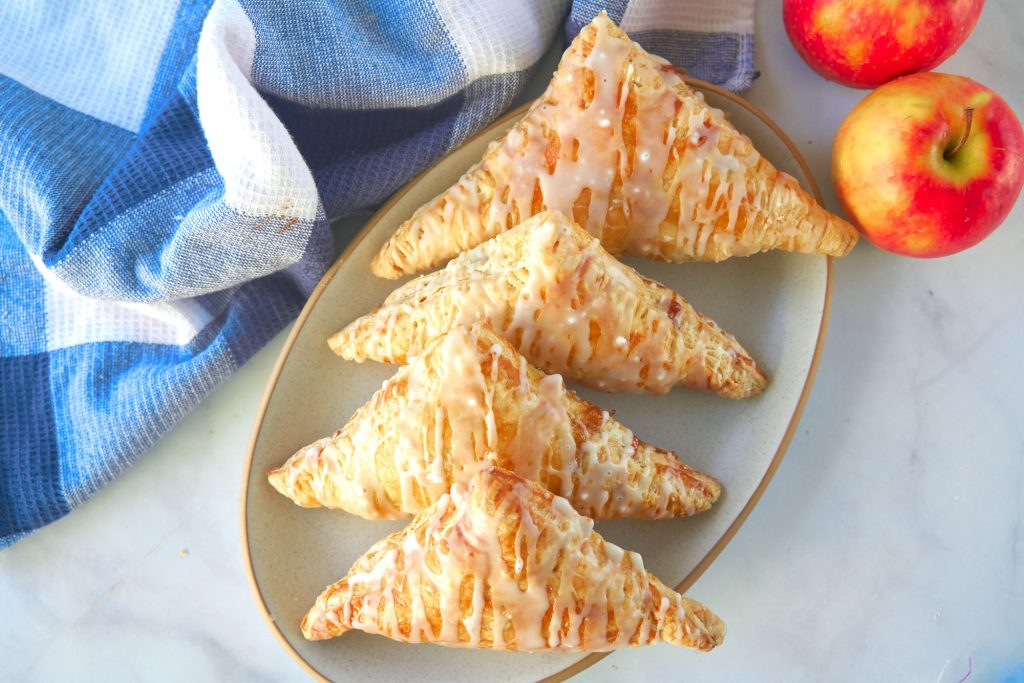 Did You Try This Recipe?
If so, I would love to keep in touch! I enjoy seeing photos and comments about the recipes that you make! You can follow me on Instagram and I will repost your goodies in my stories and comment on it too! Just tag me at @wowitsveggie and hashtag #wowitsveggie. I can't wait to see what you make!
Yield: 4 Turnovers
Classic Vegan Apple Turnovers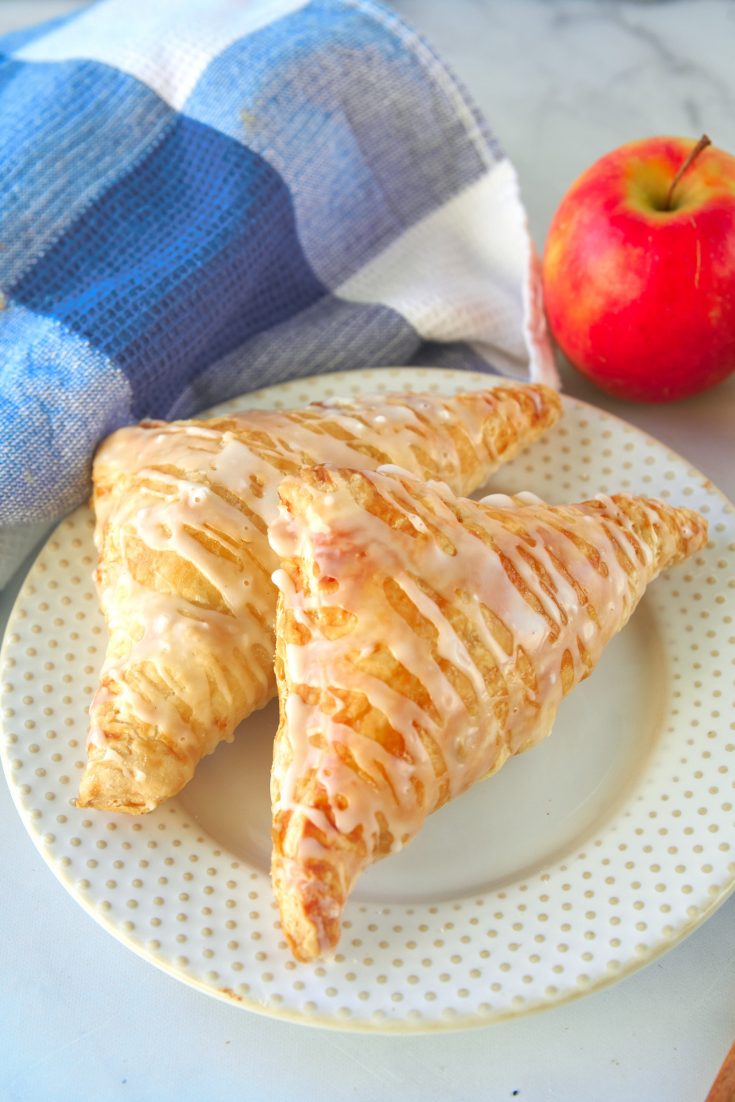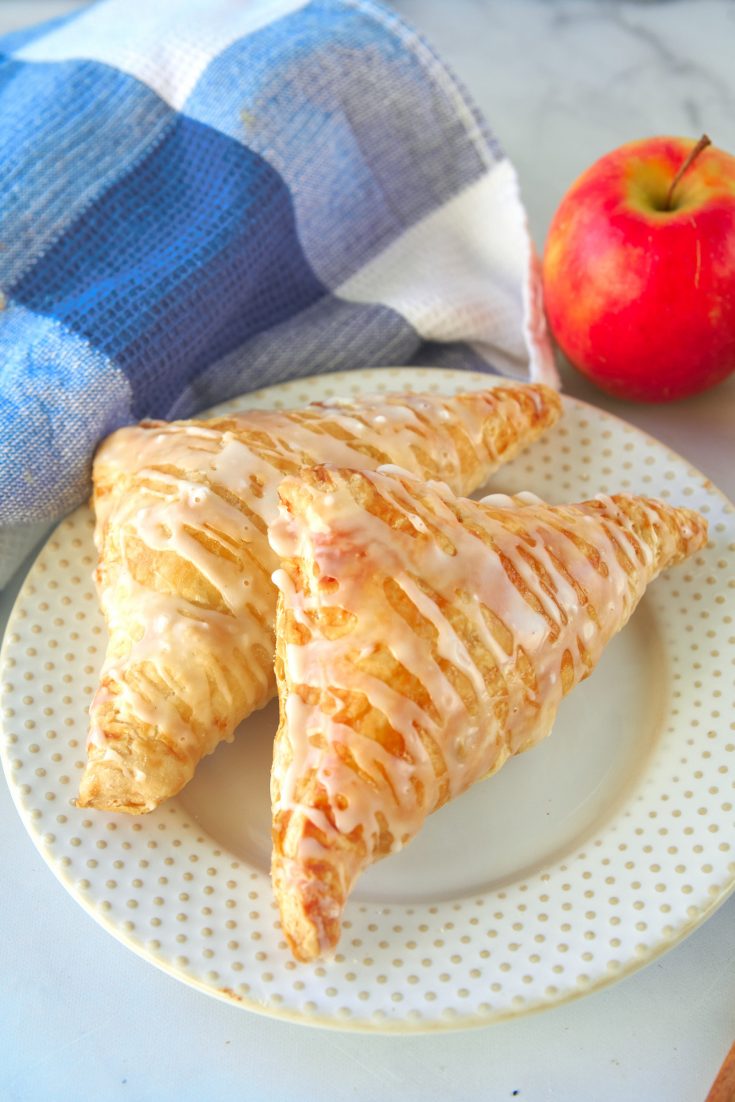 These vegan apple turnovers are an easy take on the classic recipe! They use puff pastry to cut down on time and you do not have to cook the apples in advance. The end result is showstopping and nobody will ever know that no animal products were used! They are even on the healthier side too.
Ingredients
1 sheet puff pastry, thawed [Pepperidge Farm is vegan!]
1 heaping cup of apples, chopped [1 apple usually comes to 1 heaping cup]
1 tsp cinnamon
2 teaspoons sugar
1/2 tsp salt
1 tsp lemon juice
1 cup powdered sugar
2 tablespoons non-dairy milk
1 teaspoon vanilla
Aquafaba/non-dairy milk/oil for brushing
Instructions
Preheat oven to 350F and unwrap 1 sheet of puff pastry to thaw.
In a small bowl, combine chopped apples [any kind works] with cinnamon, lemon juice, sugar, and salt. Stir until well combined and set aside.
Flour a piece of parchment paper and place your sheet of puff pastry on it. Place another piece of parchment paper on top and use a rolling pin to roll the puff pastry into about a 10x10 inch square.
Using a sharp knife, cut the puff pastry in half and then cut each side in half again to form four squares. When cutting puff pastry, remember to use a "chop" motion and not a "sawing" motion or else the puff pastry will tear.
Scoop the apple mixture evenly onto one corner of the four squares of puff pastry. Fold the pastry across diagonally to form a triangle. Make sure to wet your fingers to wet the seam which will help the puff pastry to stick together. Using a fork, crimp the edges together.
Place vegan apple turnovers on a baking sheet a few inches apart.
Brush the tops with vegan egg wash to help them brown in the oven. Options for vegan egg wash include aquafaba [liquid from the chickpea can] 2 TBS milk mixed with 2 TBS maple syrup, or plain oil brushed on top!
Bake vegan apple turnovers for 20 minutes or until golden brown!
Remove and let cool for about 10 minutes.
To make the glaze, combine powdered sugar, non-dairy milk, and vanilla in a bowl and whisk until combined and a thick liquid forms. Use a spoon to drizzle over the apple fritters. Be sure the apple fritters aren't too hot or else the glaze will melt into the dough.
Serve immediately or eat at room temperature! You can't go wrong!
Nutrition Information
Yield
4
Serving Size
1
Amount Per Serving
Calories

105
Total Fat

3g
Saturated Fat

1g
Trans Fat

0g
Cholesterol

1mg
Sodium

35mg
Carbohydrates

19g
Fiber

2g
Sugar

16g
Protein

3g