This vegan cranberry sauce is a classic take on the Thanksgiving favorite!
Of course, there is canned cranberry sauce, but it is filled with icky things like high fructose corn syrup and a lot of preservatives. Of course, it tastes amazing, but it isn't exactly healthy.
Making cranberry sauce vegan is both healthy and super tasty!
It is very easy to make and only requires 4 main ingredients which means that you can whip it up so quickly!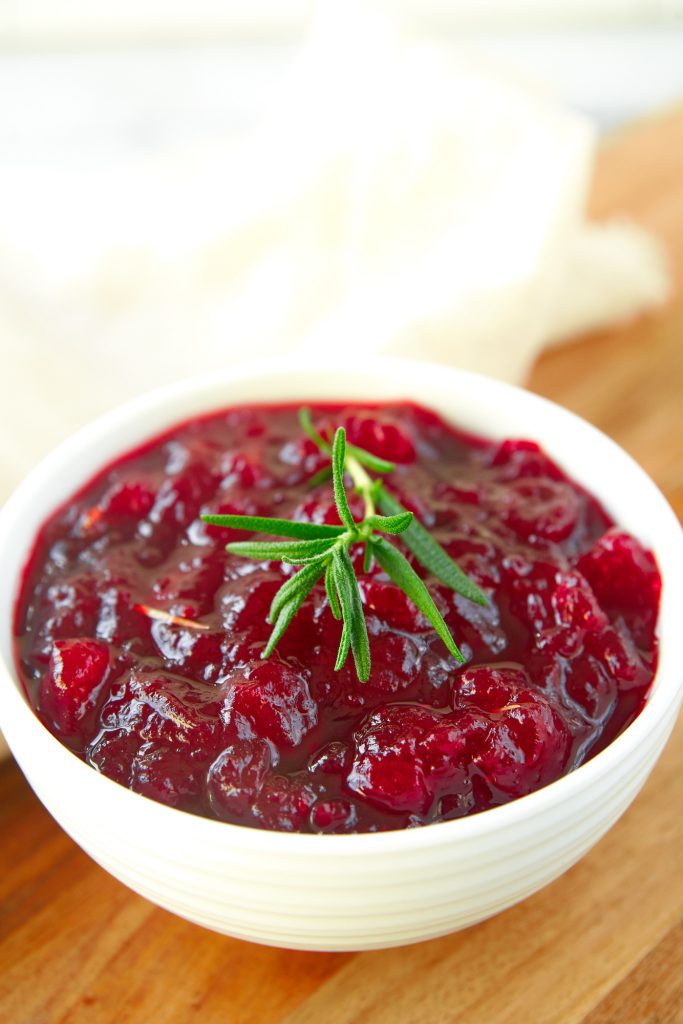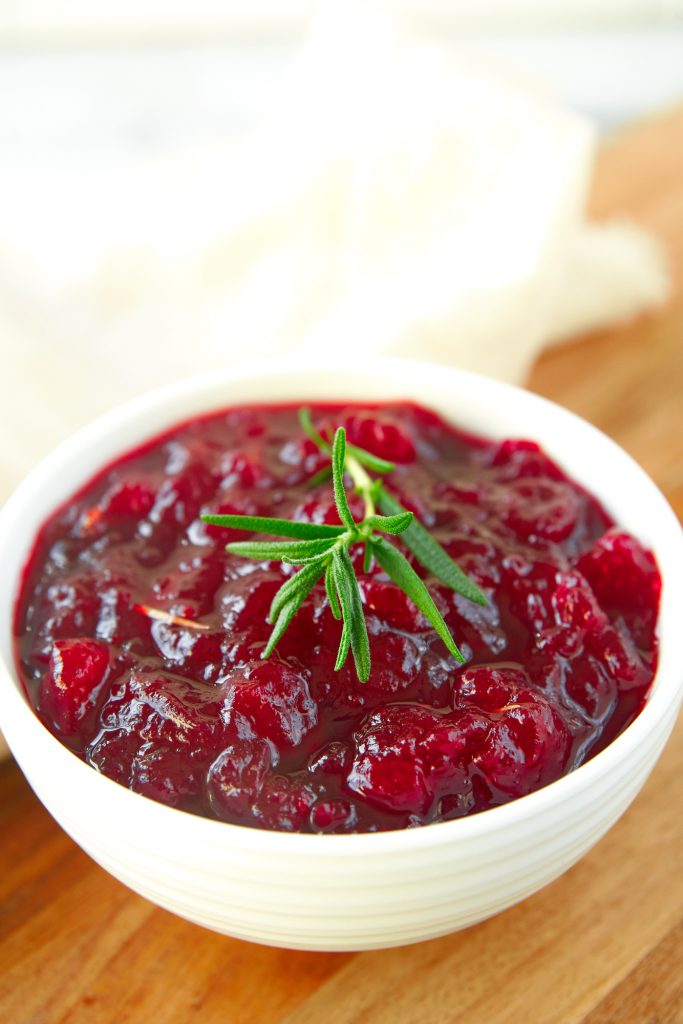 I also added a few spices to mine such as dried rosemary because I like to be fancy, but if you don't want any changes from the classic, you can leave it off and just do it the way you want to!
This vegan Thanksgiving cranberry sauce also has no sugar! It is naturally sweetened with only good whole ingredients which actually add to the festive flavor even more than plain old white sugar would!
This no-sugar cranberry sauce is perfect so that everyone at your Vegan Thanksgiving Dinner can enjoy!
If you are in charge of bringing the fixings such as the cranberry sauce and Vegan Stuffing, this is a great recipe so that everyone, from those who eat whatever they want and those who are trying to cut back on sugar, can enjoy! If you loved this recipe, you may also love my Vegan Sweet Potato Casserole Recipe!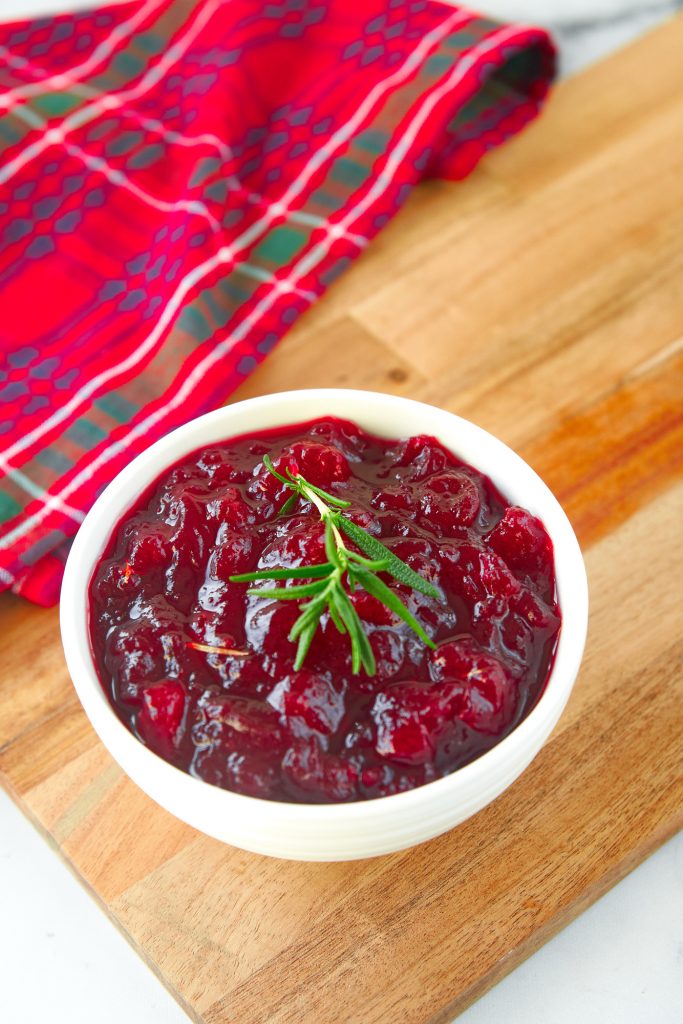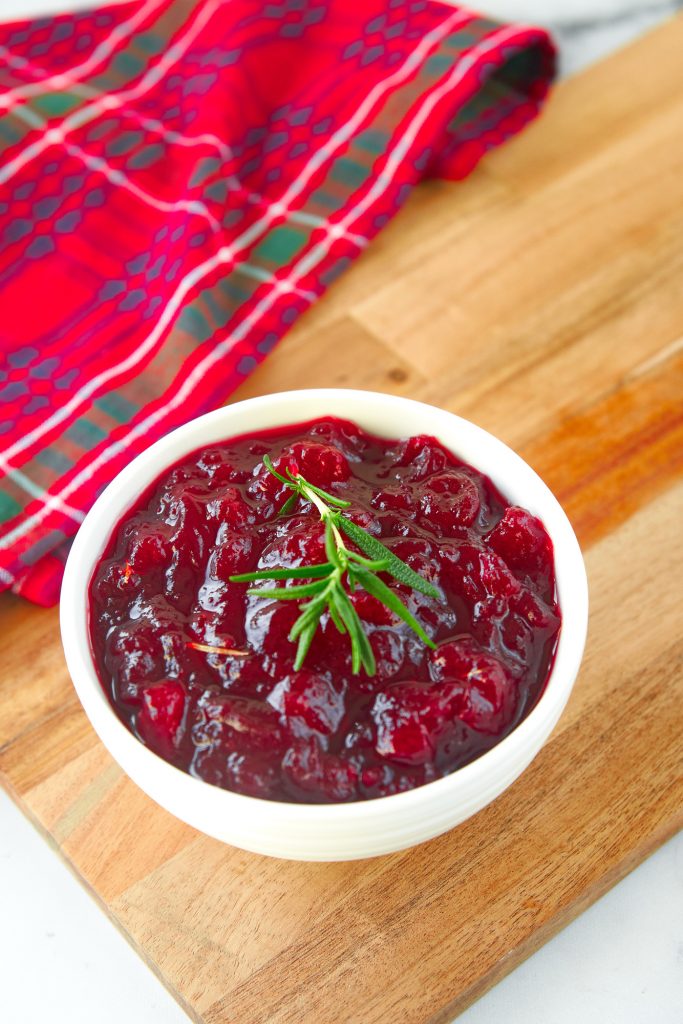 This is a great healthy cranberry sauce recipe if you are new to making it homemade. I promise it is incredibly easy!
I know that sometimes fresh cranberries can be hard to come by, so you can totally use frozen cranberries too!
You can find frozen cranberries all year so technically you don't have to wait until Fall to make this dish!
I hope you enjoy this sugar-free and healthy vegan cranberry sauce with your Thanksgiving dishes as much as I do!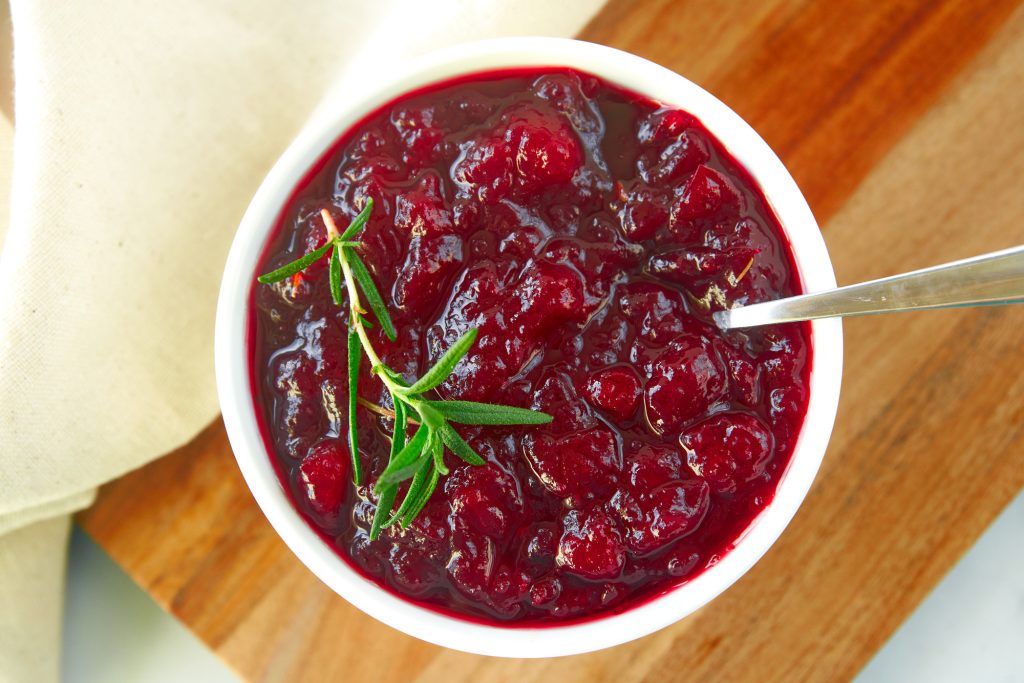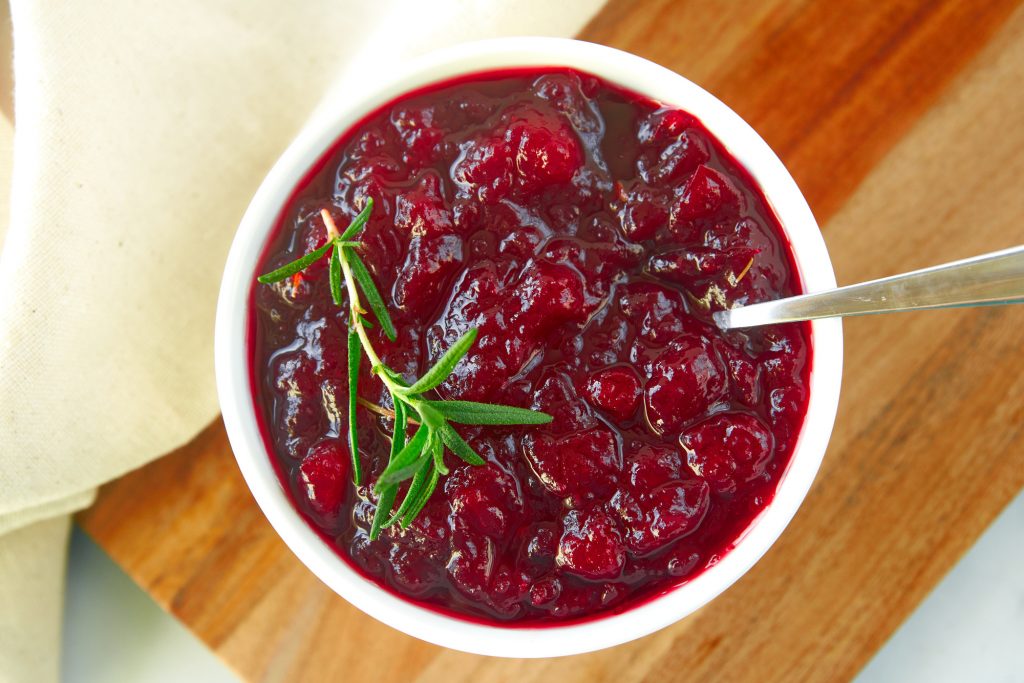 Why You Will Love This Homemade Vegan Cranberry Sauce
It whips up super quickly. This vegan Thanksgiving cranberry sauce literally takes 15 minutes to make! And there is only 5 minutes of prep time and 10 minutes of cook time. This recipe can cook on the stove while you are preparing the rest of your food!
Perfect for new cooks. If you are new to cooking and want something that sounds fancy but is super easy, this is the recipe for you! It is truly hard to fail when making this tasty cranberry sauce.
There are very few ingredients. The goal of this dish is to allow the flavors of the cranberry to shine! As a result, there are very few ingredients. This means that when you make your cranberry sauce vegan at home, you won't need to spend a lot of time shopping.
It is healthier than canned stuff. This isn't medical advice, but making cranberry sauce vegan at home is better [in my opinion] than buying it from the store in a can. Fewer additives, more flavor!
How To Sweeten No Sugar Cranberry Sauce
Of course you can use sugar, but this is the healthier cranberry sauce option!
But this cranberry sauce is made with maple syrup instead!
First, this takes out using corn syrup which I personally avoid at all costs. Most canned cranberry sauce brands use high fructose corn syrup and this is a great alternative. This is a super easy way to make vegan cranberry sauce with no sugar!
Maple Syrup is a wonderful alternative to corn syrup and I use it in many recipes including my Vegan Pecan Pie.
The maple flavor of the maple syrup adds a depth of flavor that regular sugar just can't touch and I think it really improves the flavor of this recipe.
Maple syrup is a wonderful way to make vegan cranberry sauce with no sugar and still have it taste amazingly!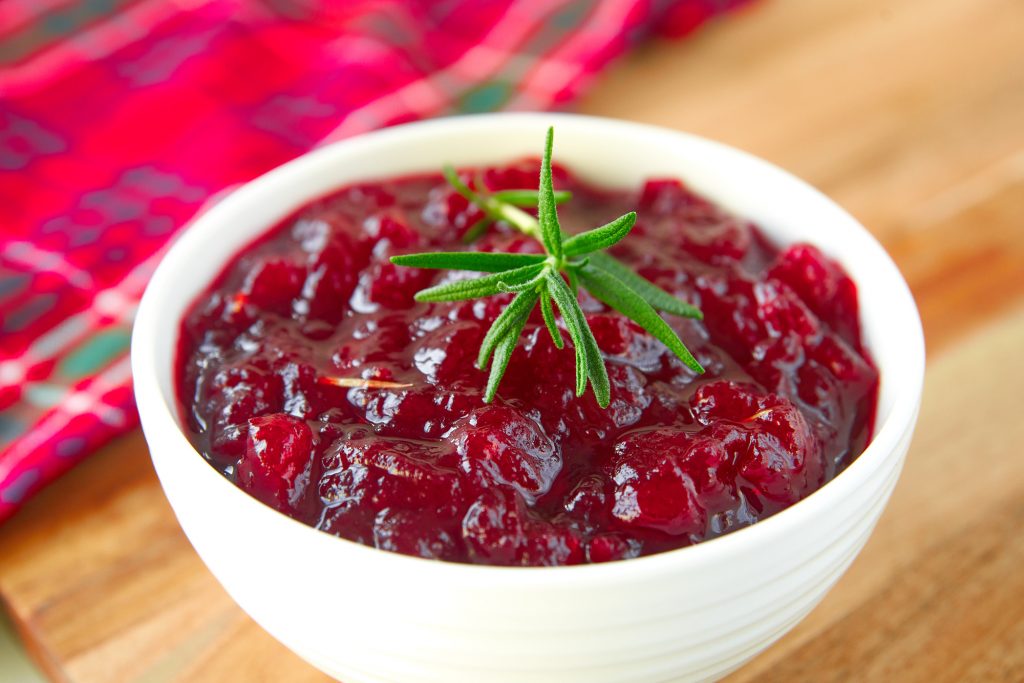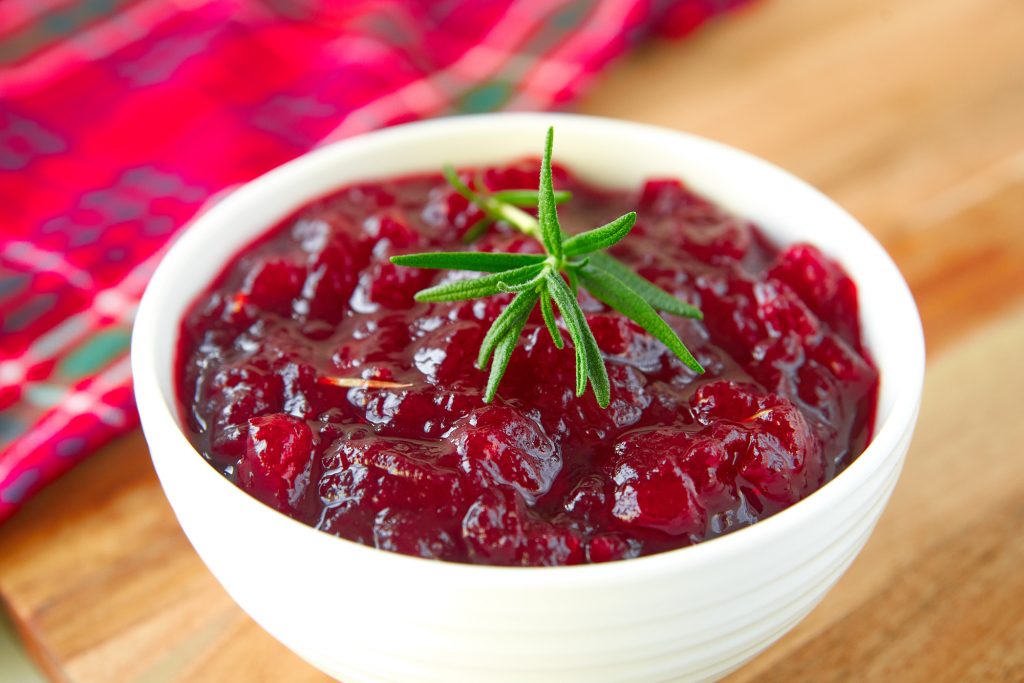 How To Make Vegan Cranberry Sauce
Honestly, vegan cranberry sauce takes no more than 10 minutes to make!
It is so quick and easy and uses no added sugar which makes it pretty healthy for you too!
As I mentioned above, you can use either fresh or frozen cranberries, depending on what you have in your grocery store.
All you have to do is combine the cranberries, maple syrup, cranberry juice, orange zest, and spices in a medium saucepan.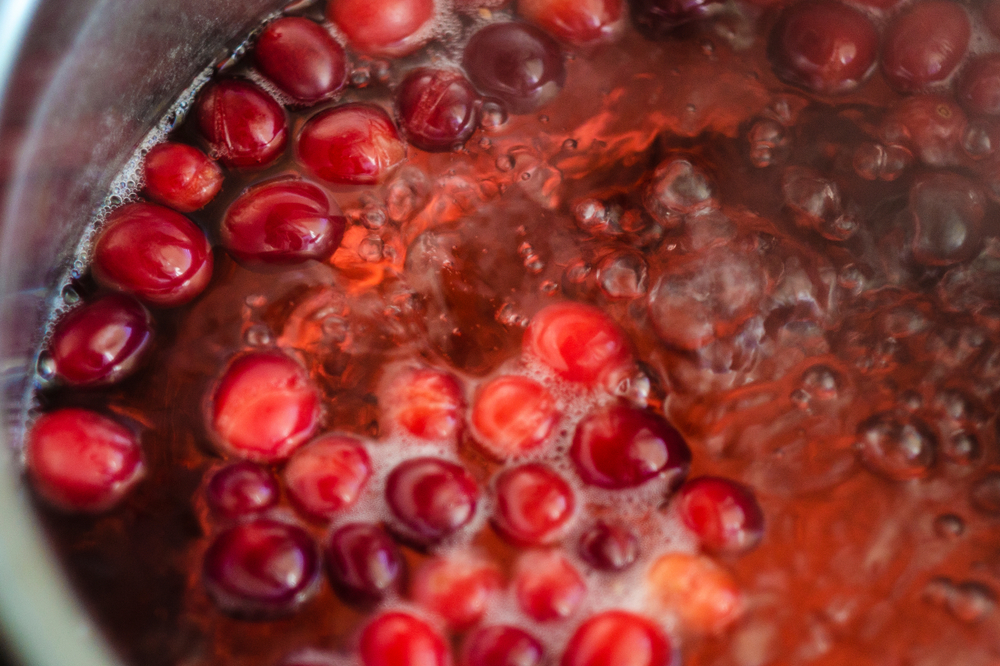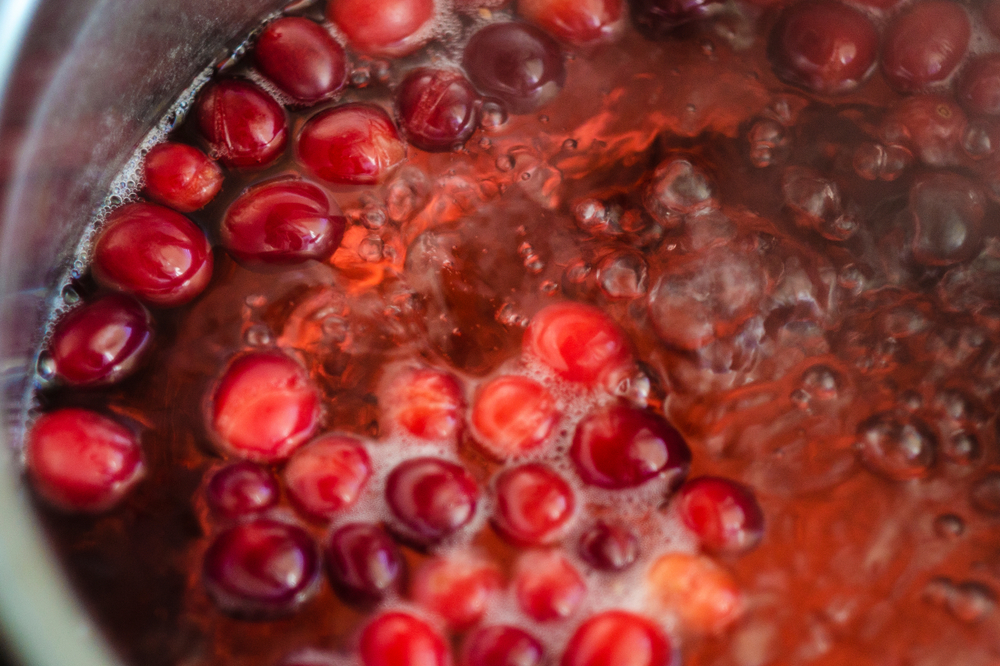 You are going to simmer it for 10 minutes or until the cranberries pop open.
I know that every cranberry sauce recipe ever tells you to wait "until the cranberries pop open" but it is true!
You will know when this happens as it is a very noticeable change in the look of the cranberries.
Once they pop open, you will know that the mixture is done.
If a foam forms on the top, use a spoon to scoop it off and get rid of it. Foam has no place in yummy vegan cranberry sauce.
And that is it! That is all it takes to make your own healthy cranberry sauce with no added sugar!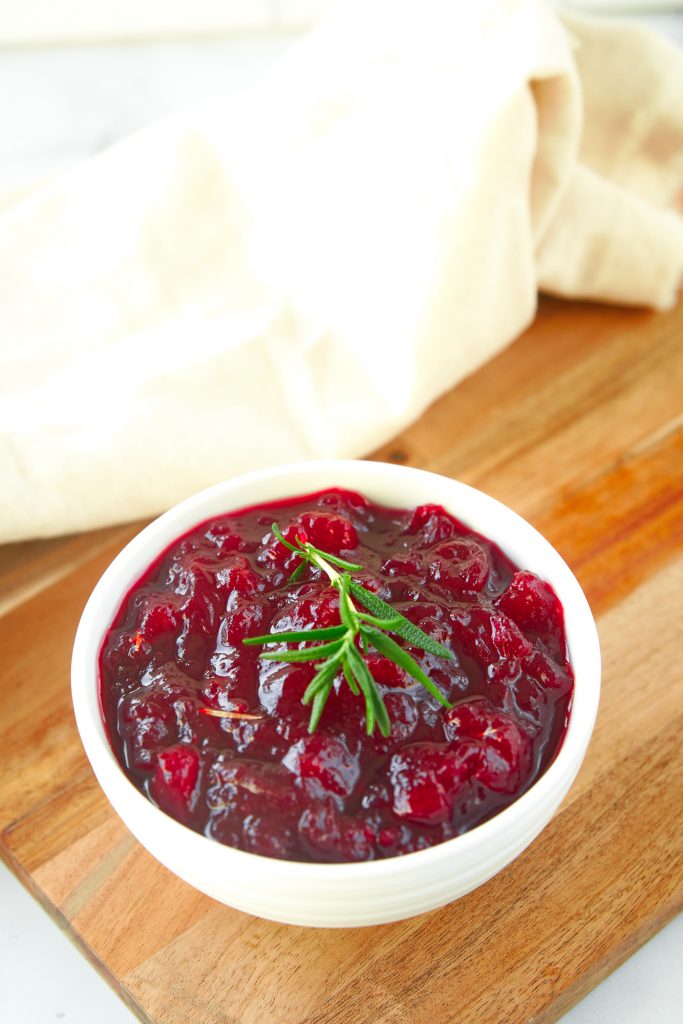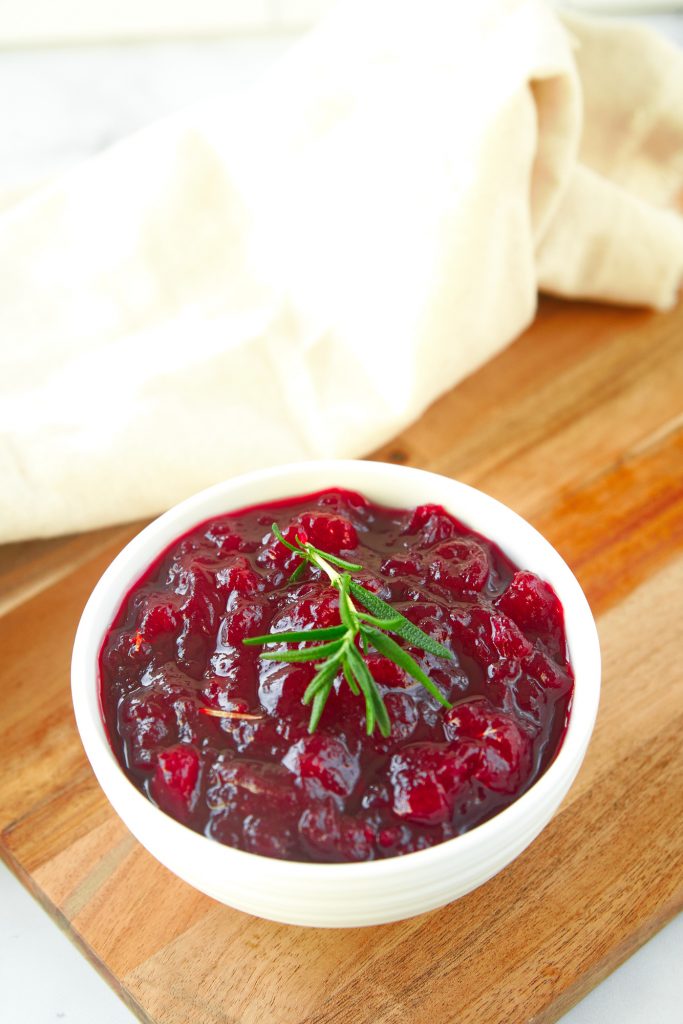 How To Store The Vegan Cranberry Sauce
Homemade cranberry sauce stores so wonderfully and it is perfect to make ahead in advance of your big holiday event!
When stored correctly, vegan cranberry sauce can last in the fridge for 10-14 days! This is so so helpful when making your Thanksgiving feast!
All you have to do is let it cool and store it in an air-tight container in the fridge!
If you really want to store the cranberry sauce for a long time, you can store it in a freezer-safe container for up to two months!
This way, you can enjoy this tasty vegan cranberry sauce all year if you want! But at the very least, you can make it well in advance of your holiday meal.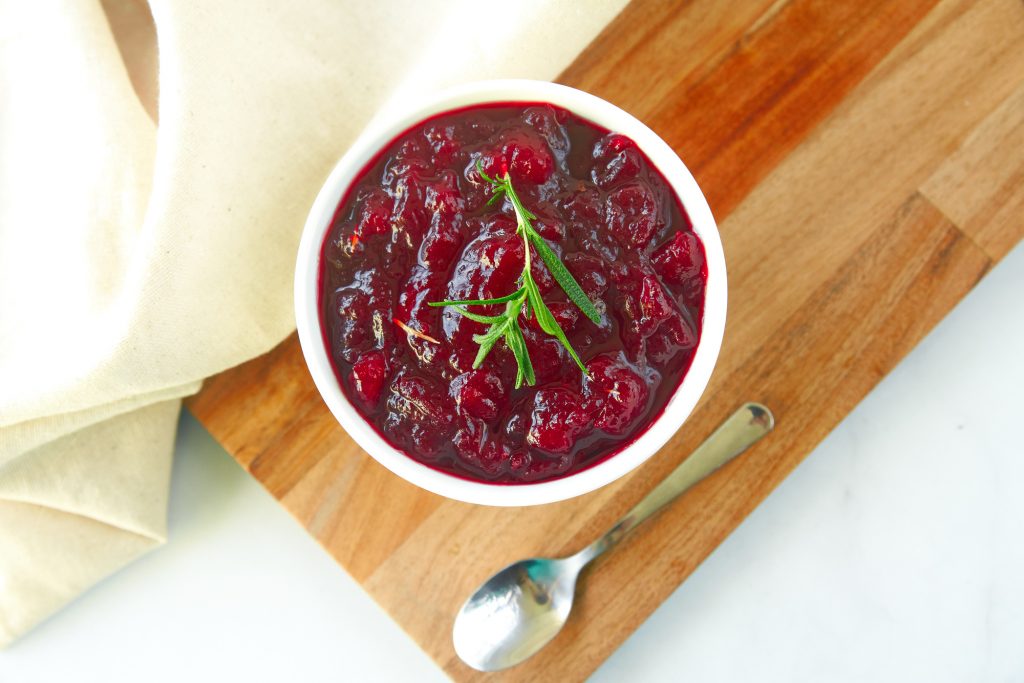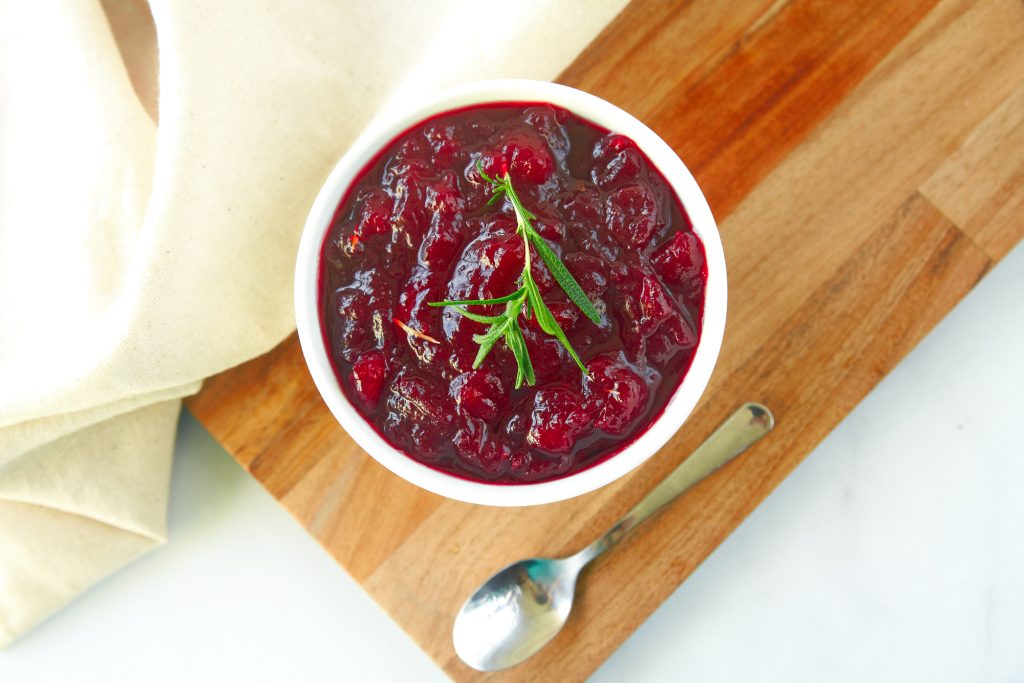 Did You Try This Recipe?
If so, I would love to keep in touch! I enjoy seeing photos and comments about the recipes that you make! You can follow me on Instagram and I will repost your goodies in my stories and comment on it too! Just tag me at @wowitsveggie and hashtag #wowitsveggie. I can't wait to see what you make!
Yield: 4-6 servings
Classic Vegan Cranberry Sauce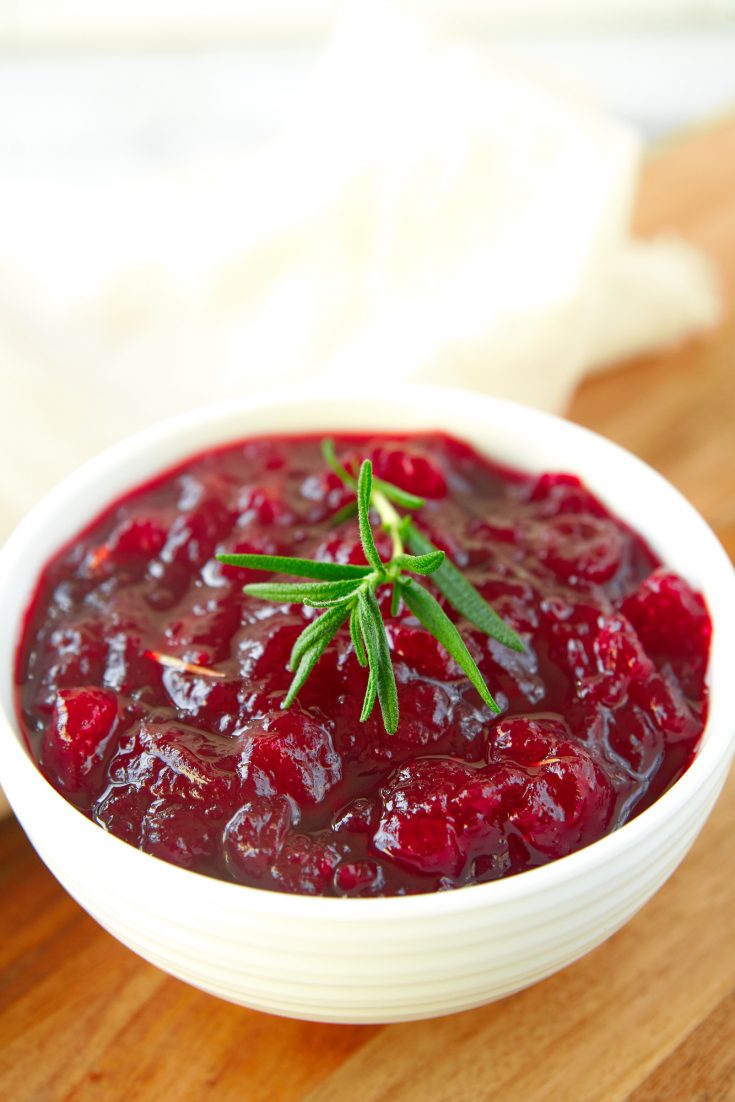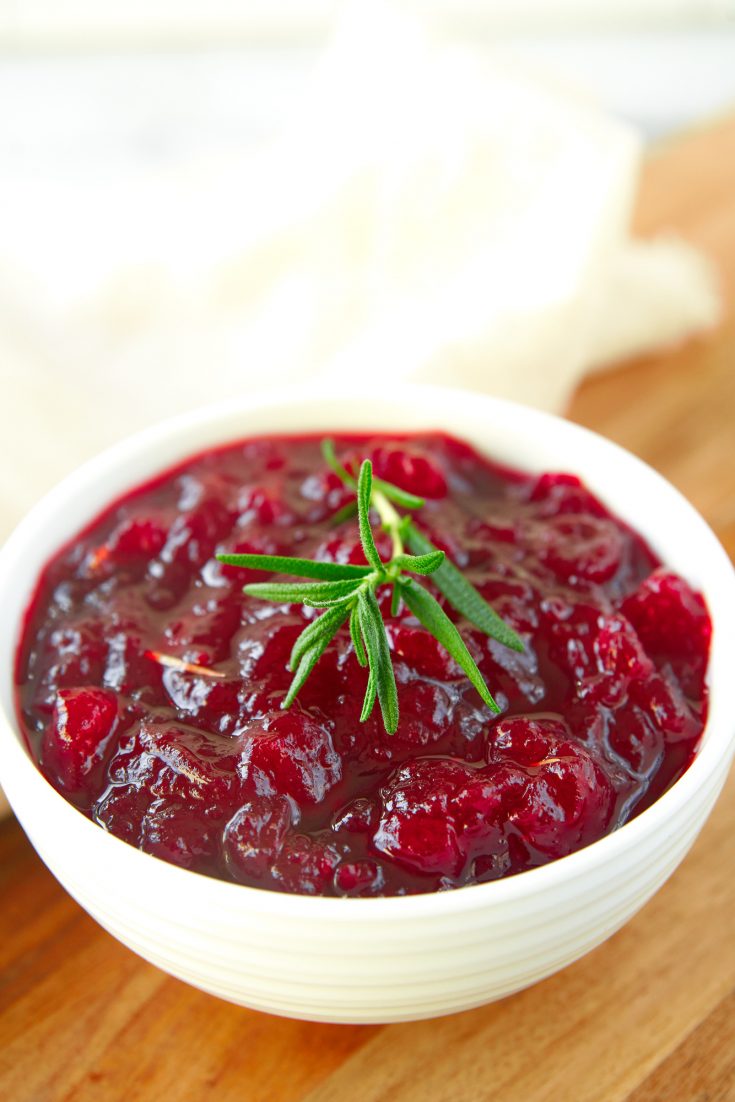 This vegan cranberry sauce is a healthy take on the Thanksgiving classic! There is no added sugar in this cranberry sauce and it is sweetened and thickened with maple syrup instead of corn syrup which improves the flavor all around! Serve it for your holiday feast or drizzle it over vanilla ice cream if you are really looking to get fancy!
Ingredients
1 1/2 cups fresh or frozen (thawed) cranberries
1 cup pure maple syrup
1 cup cranberry juice
grated orange zest (to taste)
1 tsp dried rosemary (optional)
1/2 tsp dried thyme (optional)
Instructions
In a medium saucepan, bring the cranberries, maple syrup, cranberry juice, orange zest, and all of the spices to a boil.
Lower the heat to medium and simmer for about 10 minutes or until the cranberries pop open. It may be slightly longer or shorter depending on your stove. The cranberry sauce will thicken greatly during this time.
If any foam forms on top of your cranberry sauce, use a spoon or spatula to skim it off and remove it.
Remove from heat and let cool. Chill the cranberry sauce before serving for best results!
Nutrition Information
Yield
6
Serving Size
1
Amount Per Serving
Calories

80
Total Fat

0g
Saturated Fat

0g
Trans Fat

0g
Unsaturated Fat

0g
Cholesterol

0mg
Sodium

2mg
Carbohydrates

21g
Fiber

0g
Sugar

13g
Protein

0g