If you are looking for the perfect classic vegan sweet potato casserole recipe, you have come to the right place!
My mom is a huge fan of sweet potatoes, and although they aren't my favorite, they are a huge classic Vegan Fall Recipe. The best part? It is very easy to make sweet potato casserole veagan. Let me show you how.
After all, how can you have fall or a Vegan Thanksgiving without sweet potato casserole?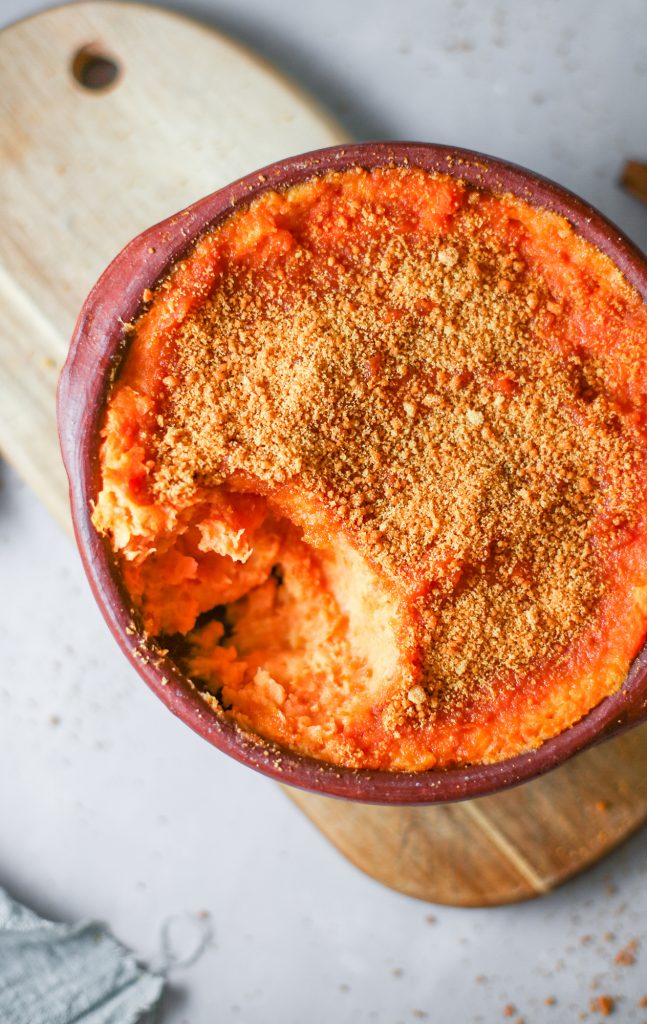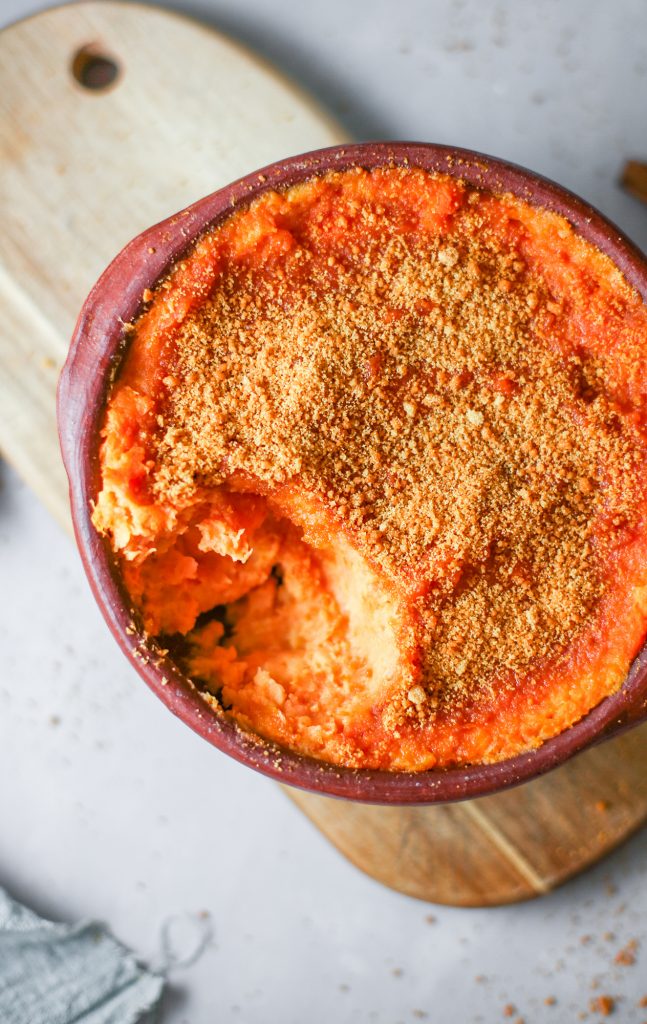 This is the perfect recipe for the holidays because it is so easy and takes almost no time at all.
If you are looking for a gluten-free sweet potato casserole, this is also the recipe for you as it uses no gluten and is yummy for everyone to enjoy.
All you have to do is throw it together and bake it for just 20 minutes. What could be easier? When the kitchen is overrun with recipes, this is a refreshingly easy side dish to make for the holidays.
This vegan sweet potato casserole is filled with sweet and savory sweet potatoes and topped with a buttery brown sugar topping which crisps up for the perfect crunchy crust.
If you don't tell anyone you made this sweet potato casserole vegan, nobody will know!
I am confident that this eggless sweet potato casserole will be the star side dish of your holidays, along with my Vegan Stuffing Recipe. I hope you enjoy it as much as I do. If you enjoy this recipe, don't forget to check out my Vegan Green Bean Casserole!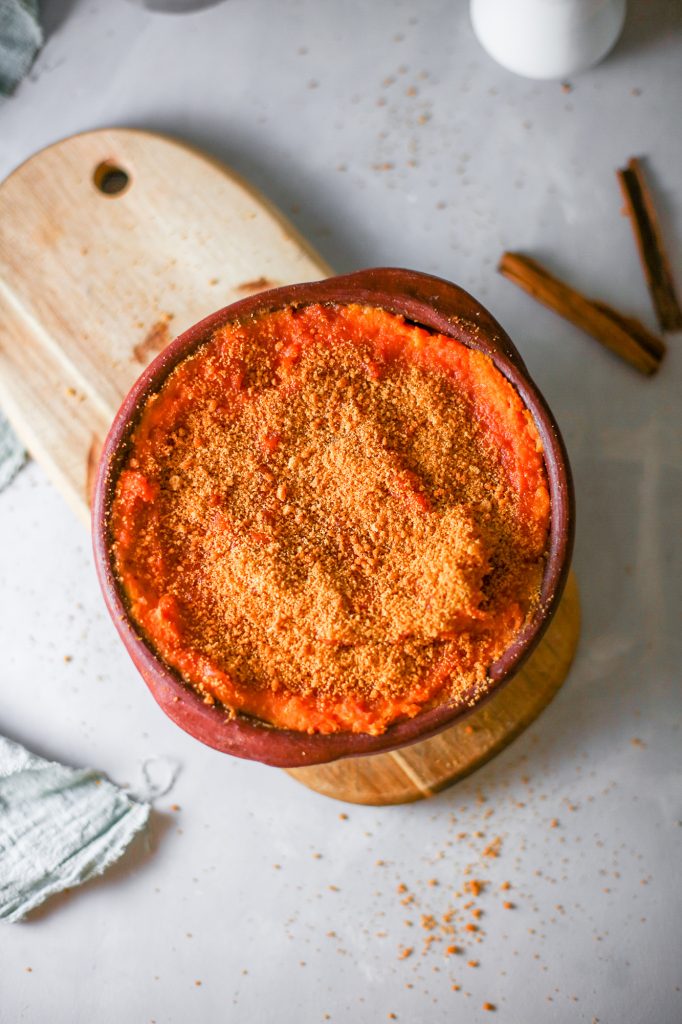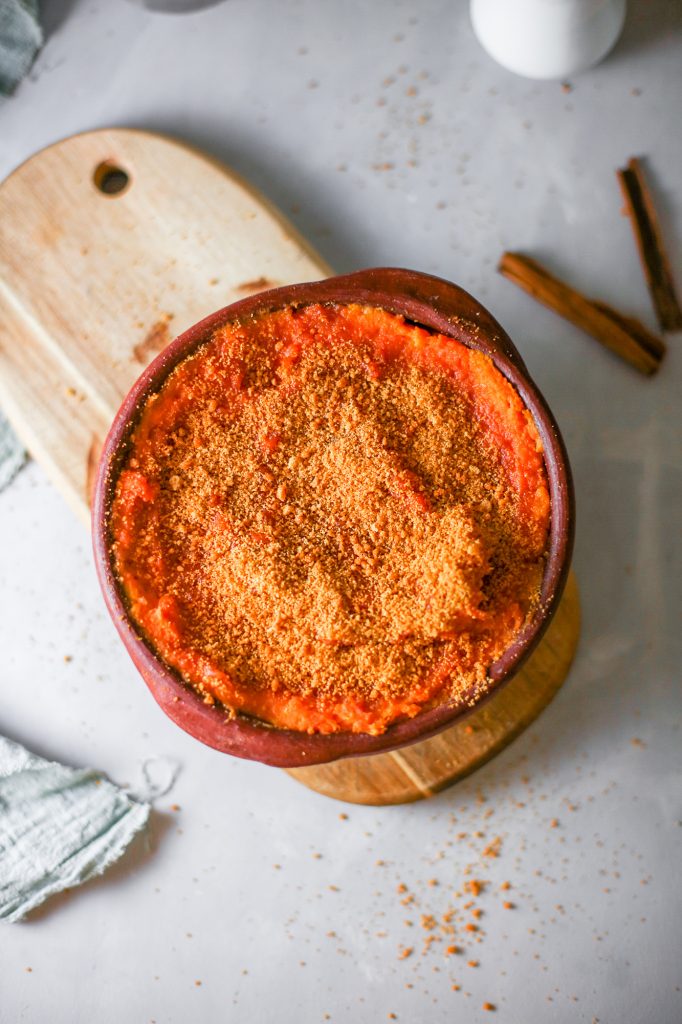 Why You Will Love This Vegan Sweet Potato Casserole
It whips up super quickly. What if I told you that making sweet potato casserole vegan literally takes 10 minutes of active prep time? that is not a lot! This is perfect to make in advance and pop in the fridge until you are ready to cook. It takes no time at all.
It is also Gluten-Free! If you are new to cooking for a group that includes multiple food allergies, this recipe is also sweet potato casserole that is gluten-free so that everyone at your table can enjoy.
Seasoned to perfection If you are afraid to use a lot of seasoning because it will "ruin" the dish, never fear! I will walk you through the exact measurements for a variety of seasonings when making this sweet potato casserole vegan. If you are seasoning shy, don't worry. I've got you!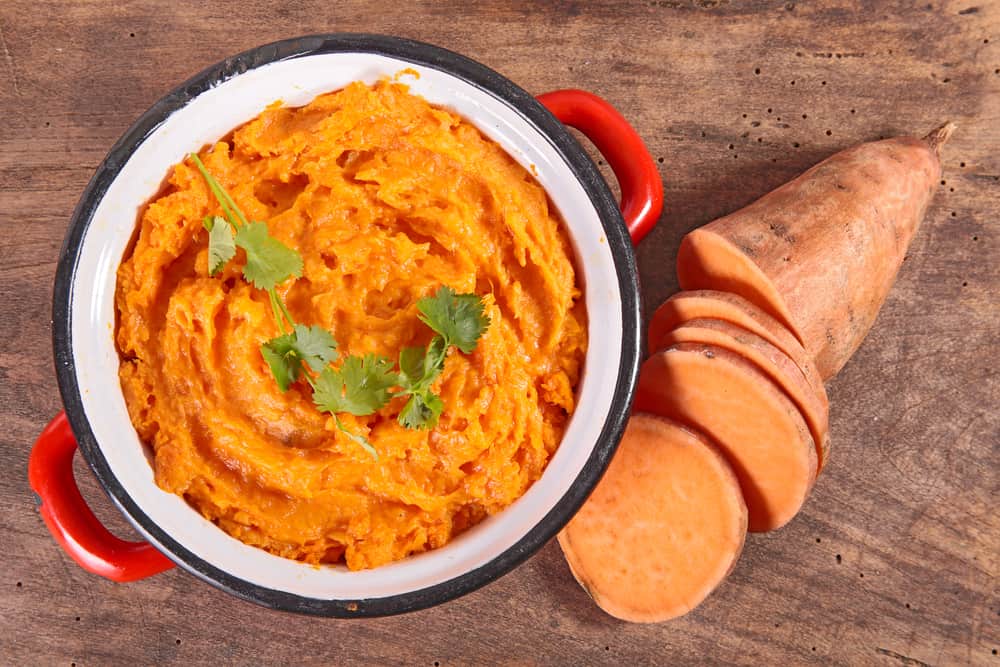 Preparing The Potatoes
You can choose to prepare your potatoes however you want. I personally do not peel my sweet potatoes as the skins give it extra flavor.
Bonus: The skins are very nutritious!
I recommend cubing the sweet potatoes to cut down on the boiling time. If you boil them whole, you will expect about 20-25 minutes for them to be ready.
You can also cook a whole sweet potato in the slow cooker, and that is a popular option that my mom often chooses too!
And yes, you can 100% boil the sweet potatoes in advance of making your eggless sweet potato casserole.
How To Make Vegan Sweet Potato Casserole
As I mentioned above, making this vegan sweet potato casserole is the easiest thing ever.
First, you are going to want to boil your sweet potatoes until fork tender. You want to make sure to cube them and sprinkle the water with salt.
You can choose to peel your sweet potatoes or not. The skin on potatoes is actually very nutritious, so there is no reason at all that you have to peel your sweet potatoes, unless you want to.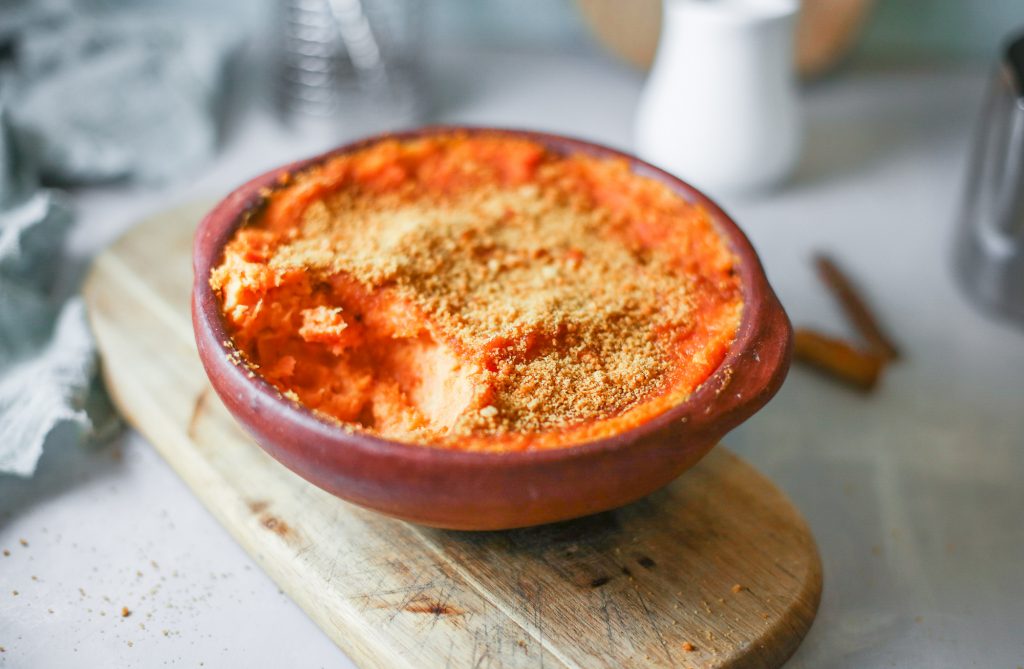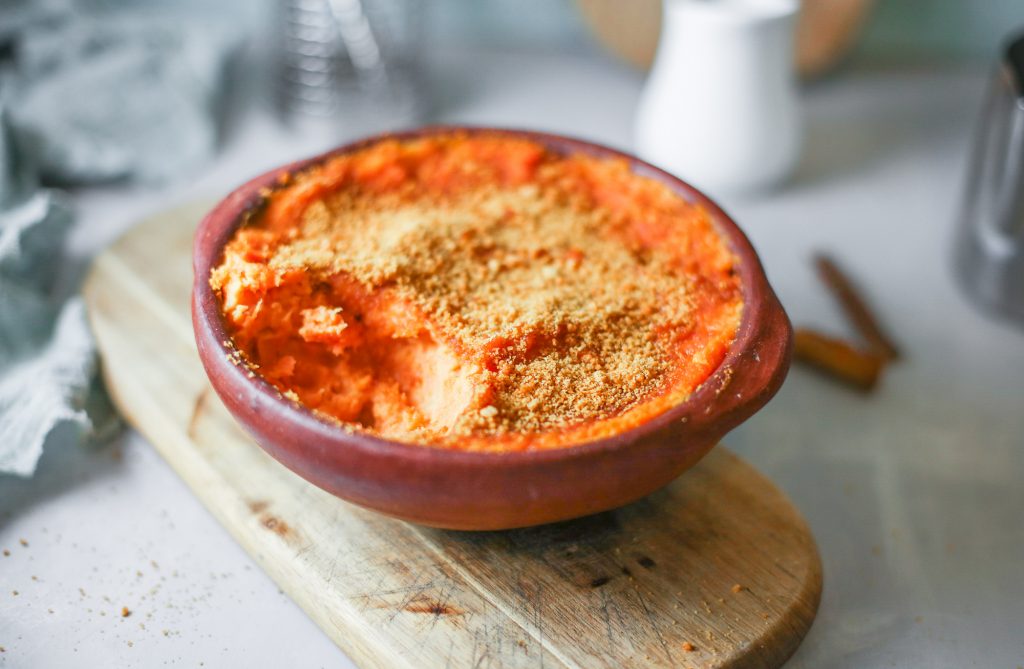 Leaving the skin on just makes this vegan sweet potato casserole even more healthy!
Once you boil the sweet potatoes which should take about 10 minutes, you will simply use a potato masher or food processor to mash the sweet potatoes.
Then, add your non-dairy milk, Vegan Butter, salt, pepper, and spices. Mash or whir the food processor to combine.
The potatoes should be tender and fluffy, sort of like mashed potatoes.
I have an easy recipe for making your own Vegan Butter that you may enjoy to go along with this recipe.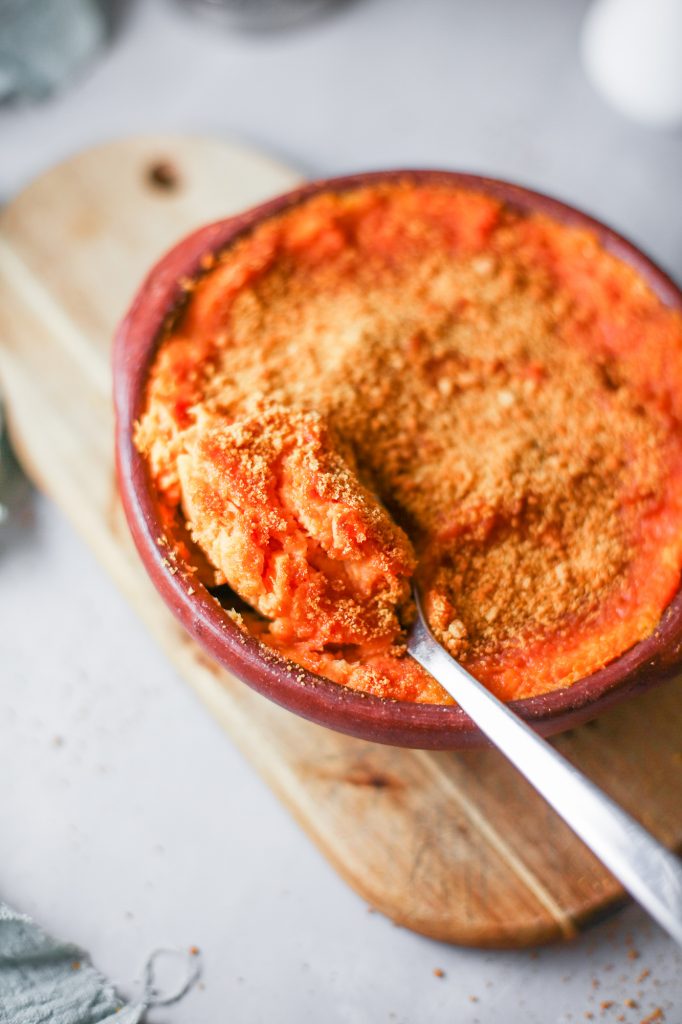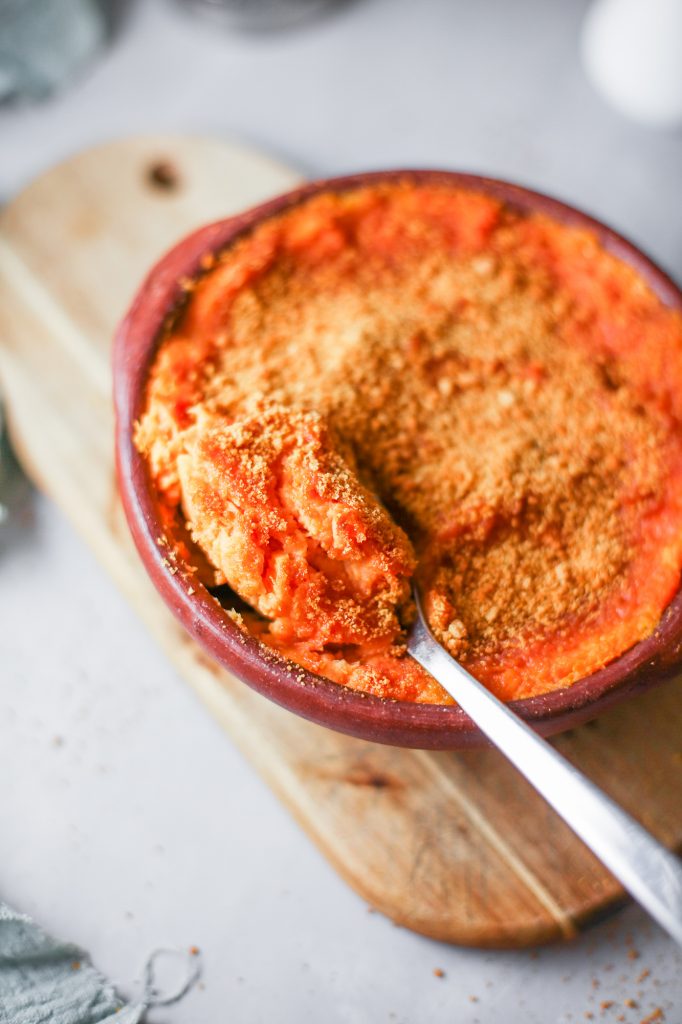 Transfer your sweet potato puree to a casserole dish. You will want to use a spoon to smooth it out so that it is all in one layer on the dish. This will be the base of your vegan sweet potato souffle.
In another bowl, combine your brown sugar and vegan butter. You can also choose to add chopped nuts such as walnuts or pecans to this mixture, depending on your taste.
Sprinkle the brown sugar topping on top of your dairy free sweet potato casserole until totally covered.
If you are making your sweet potato casserole vegan but you still want marshmallow topping [not shown here] you can buy Dandies from your local health food store or online!
They are expensive and can be hard to find, which is why I made this vegan sweet potato casserole have an easy brown sugar topping so that everyone can enjoy.
Simply bake the healthy sweet potato casserole for 20 minutes and you are done! You want to make sure that the crumble topping is caramelized and browned.
Since the sweet potatoes are already baked, you don't have to worry about under cooking this recipe!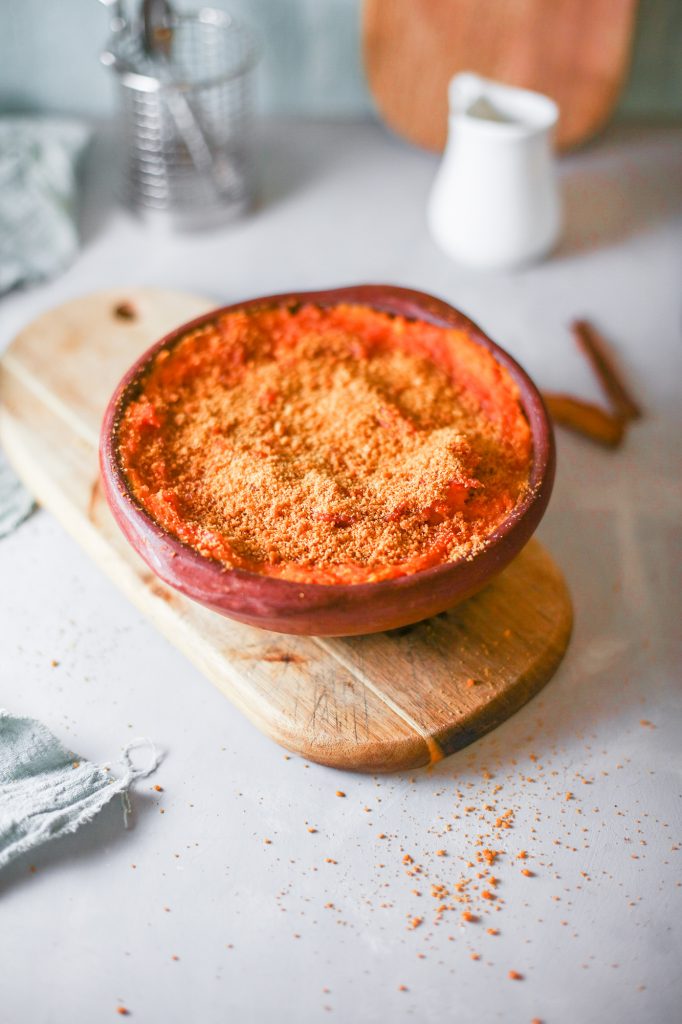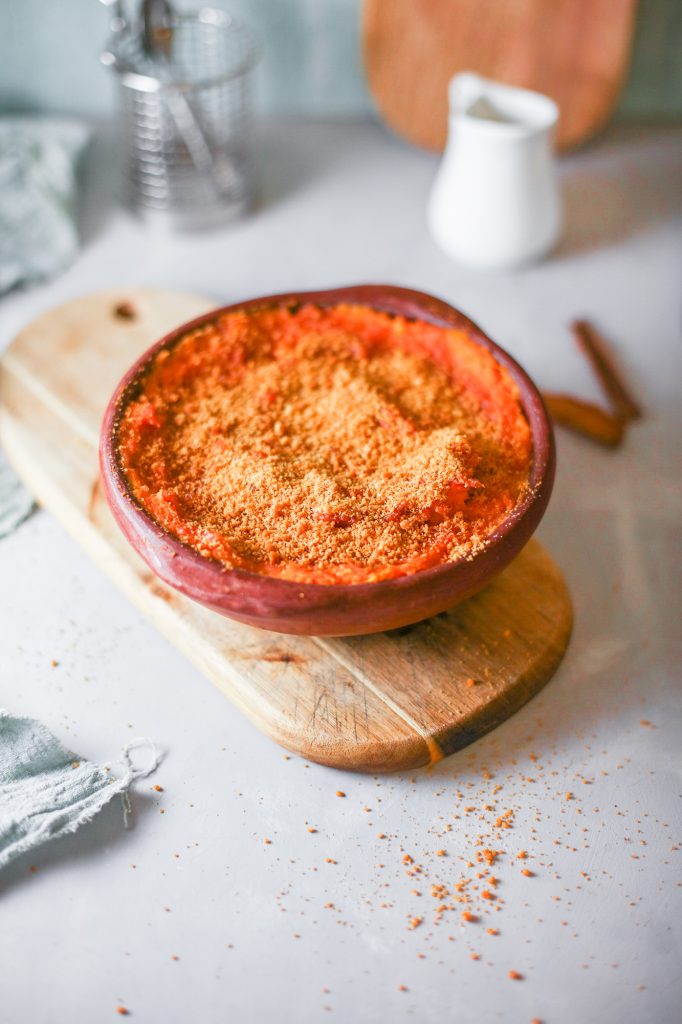 Making The Gluten-Free Sweet Potato Casserole In Advance
Whether you are making this healthy and gluten-free sweet potato casserole for Thanksgiving, Christmas, or any other time of year, you may want to make it in advance!
You can totally do the first half which is making the filling in advance! Boil the potatoes, mash or puree, and then spread them in your casserole dish.
On the day of your event, assemble the vegan sweet potato casserole by simply putting the brown sugar crust on top and popping it in to bake for 20 minutes.
I do not recommend storing the topping on the casserole as it will get funky in the fridge. It is super easy to make the brown sugar topping the day you want to make this recipe, and I highly recommend doing that! This is truly the best recipe to serve alongside my Vegan Meatloaf for any occasion.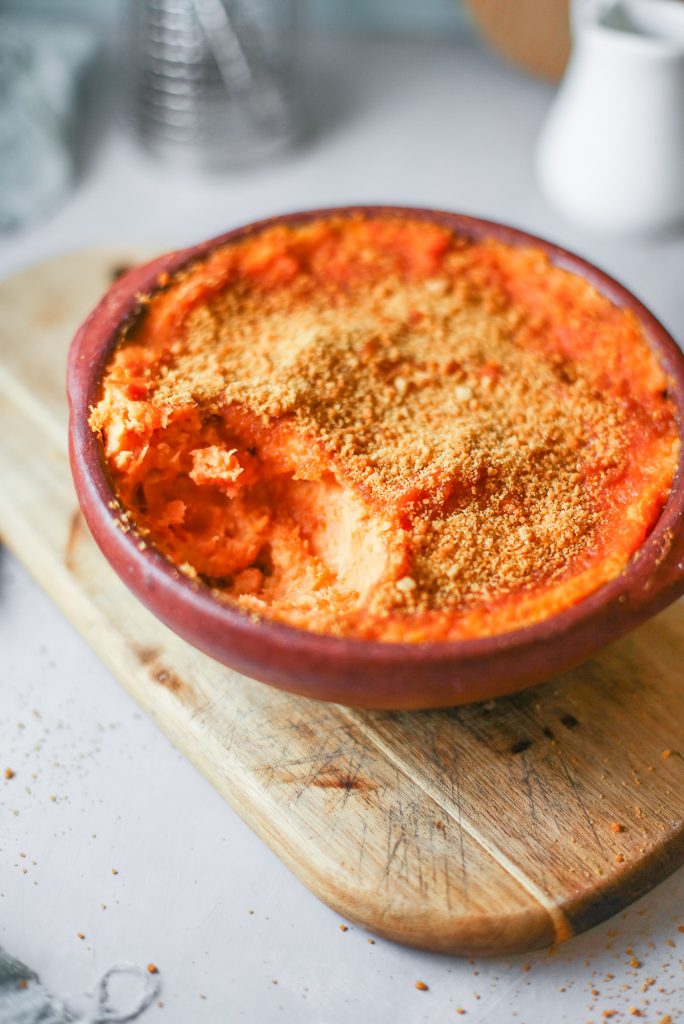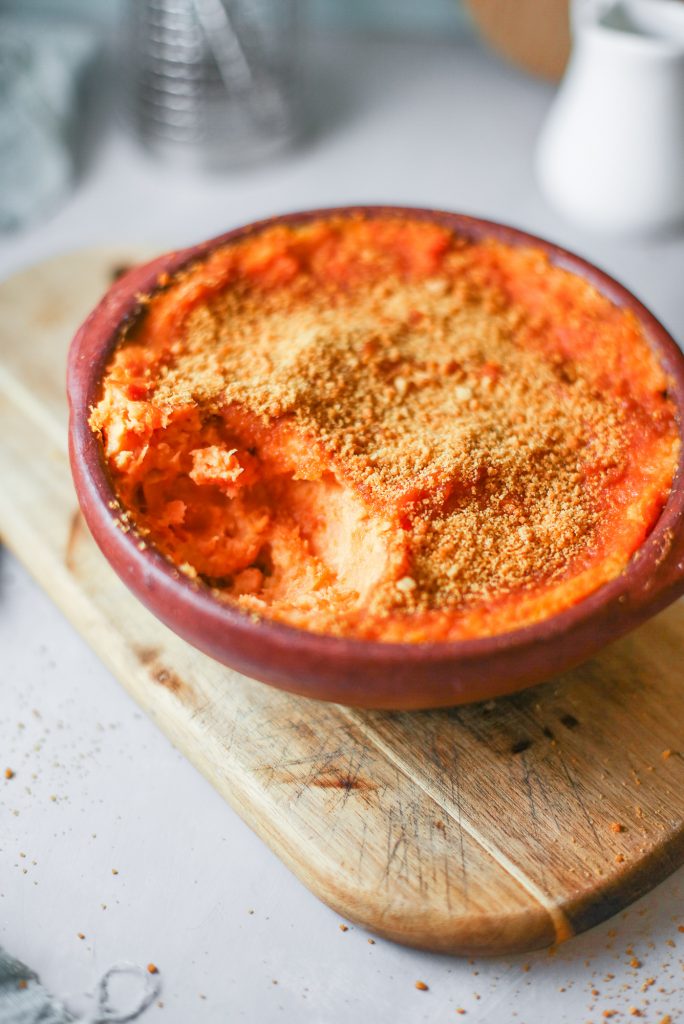 Did You Try This Recipe?
If so, I would love to keep in touch! I enjoy seeing photos and comments about the recipes that you make! You can follow me on Instagram and I will repost your goodies in my stories and comment on it too! Just tag me at @wowitsveggie and hashtag #wowitsveggie. I can't wait to see what you make!
Yield: 8 Servings
Easy Vegan Sweet Potato Casserole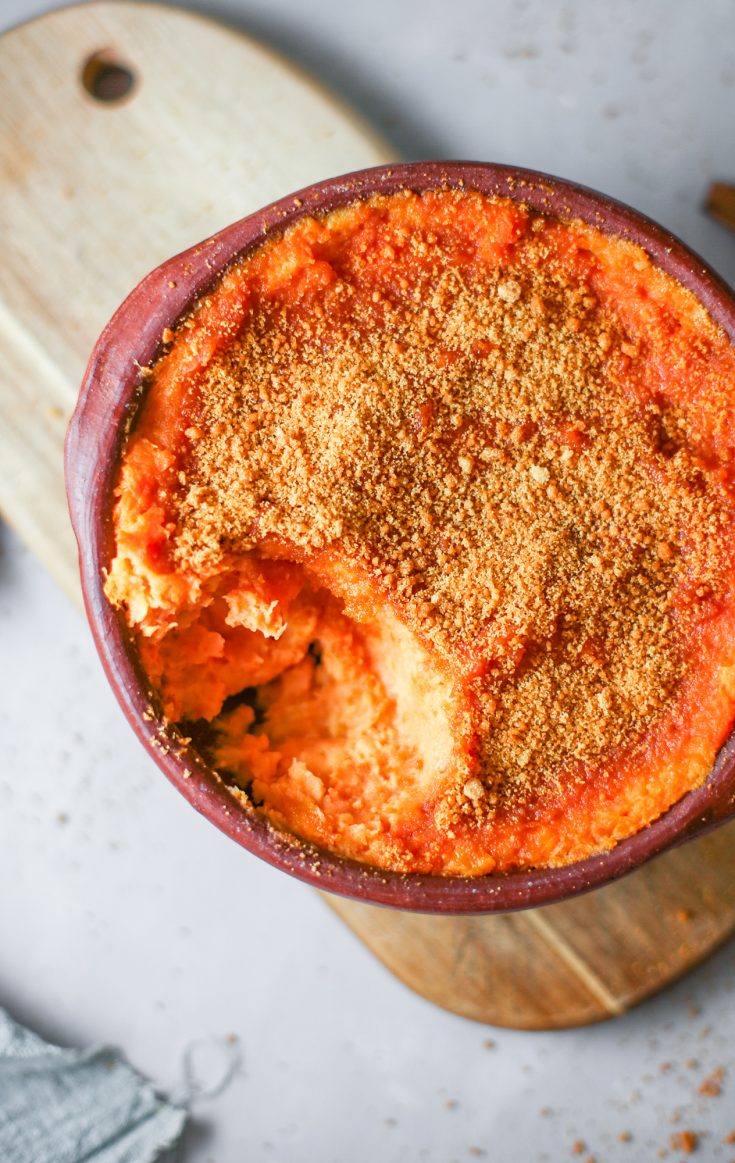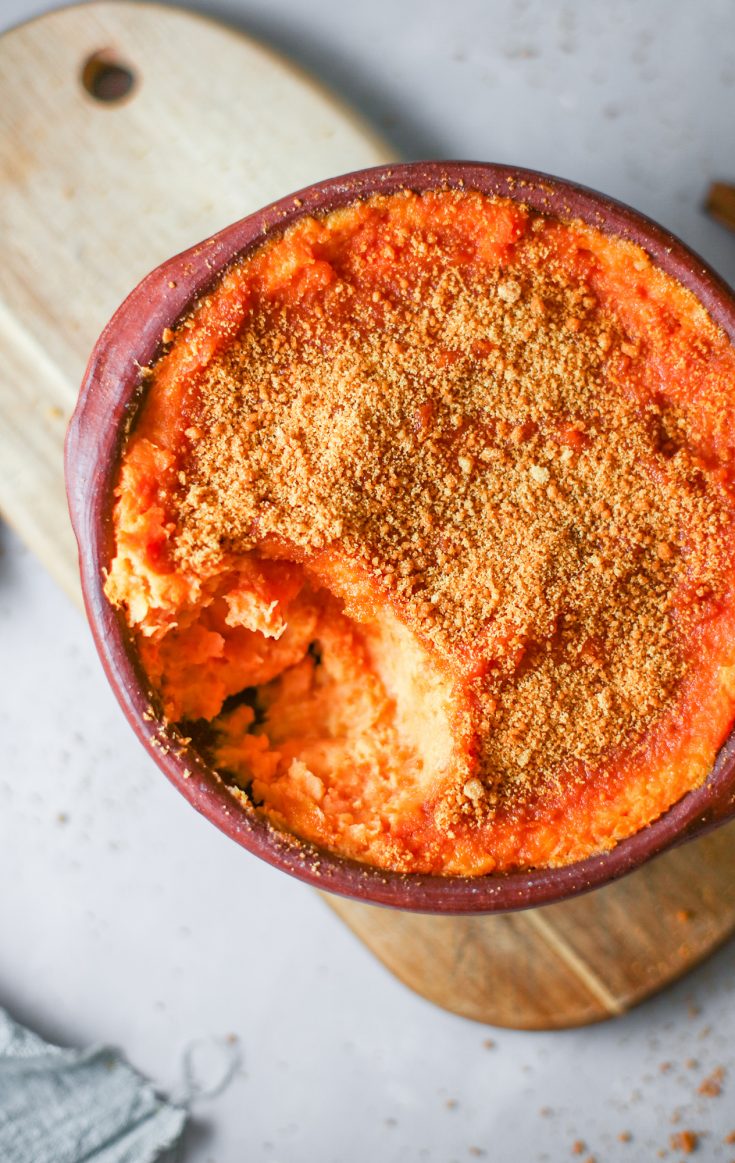 This classic vegan sweet potato casserole is so easy to make and whips up in no time. It is healthy and gluten-free too. You can even make it in advance of your event to save some time. The brown sugar topping really adds a delicious flavor and the spices bring it all together.
Ingredients
4 Large sweet potatoes, washed and diced
1 Cup non-dairy
1/4 Cup vegan butter
Salt and pepper to taste
1 Tsp garlic powder
1 Tsp onion powder
1 tsp cinnamon
1/2 tsp nutmeg
For the topping:
1/3 Cup brown sugar
3 Tbsp vegan butter
Instructions
Fill a pot with water and bring to a simmer. Add the sweet potatoes and a generous salt sprinkle. Cook until the potatoes are fork tender. Drain and discard the water.
Preheat the oven to 350 degrees
Use a potato masher or a food processor to mash/puree the sweet potatoes.
Add the non-dairy milk, vegan butter, salt and pepper and spices and stir to combine. The potatoes should be tender and fluffy, sort of like mashed potatoes.
Transfer to a baking dish and use a spoon to ensure that the sweet potato mixture is smooth in the dish.
In a separate bowl combine the brown sugar with the vegan butter. Sprinkle on top of the casserole and take to the oven. Of course, you can always add more brown sugar if you want a sweeter topping. You can also add chopped nuts.
Bake for 20 minutes or until the crumble is caramelized on top.
Nutrition Information
Yield
8
Serving Size
1
Amount Per Serving
Calories

193
Total Fat

10g
Saturated Fat

6g
Trans Fat

0g
Unsaturated Fat

3g
Cholesterol

27mg
Sodium

152mg
Carbohydrates

27g
Fiber

3g
Sugar

13g
Protein

2g