These vegan pumpkin brownies are decadent yet healthy for you at the same time. They are so easy to make and whip up really quickly when you want a nice treat.
The best part is that nobody will ever know you made these pumpkin brownies vegan if you don't say anything, they are that good.
With a few simple substitutions, you can also make these keto pumpkin brownies and they are gluten-free when you use almond flour instead of regular flour!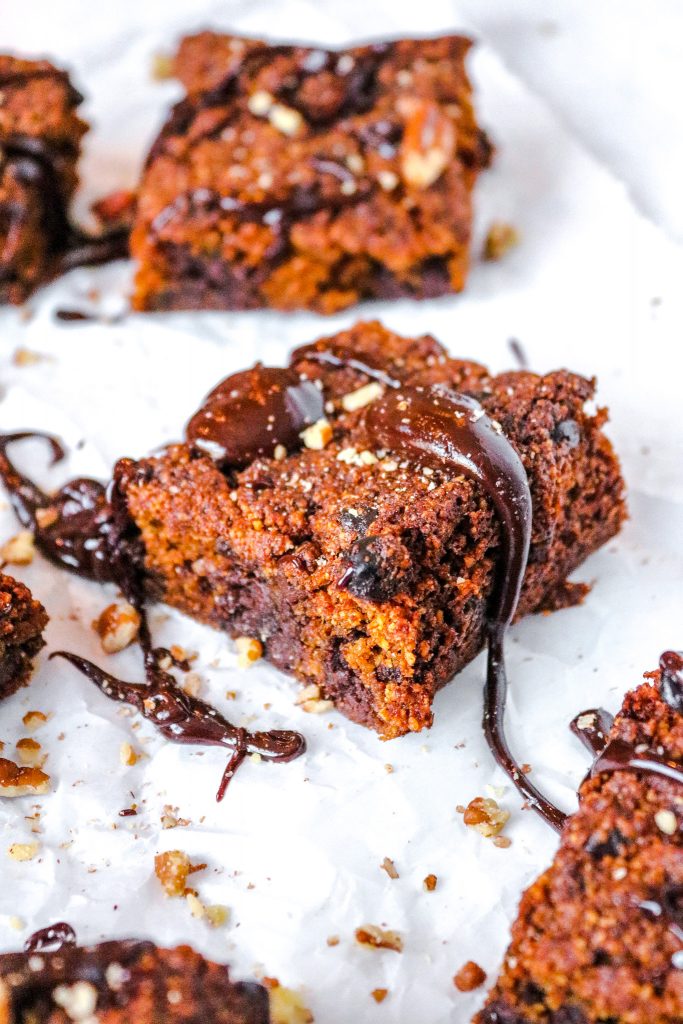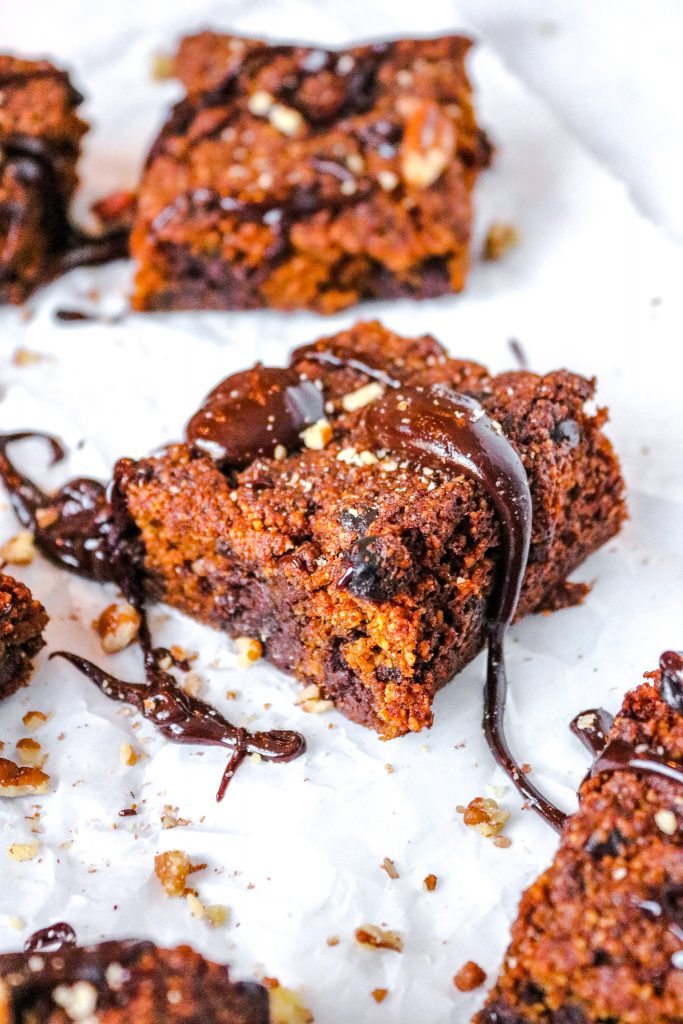 There are a variety of ways that you can make brownies with pumpkin puree, depending on your dietary needs, so they are easily customizable for everyone!
I include the vegan recipe below, but will also include gluten-free and keto pumpkin brownie substitutions for anyone wanting to indulge. This is truly one of my favorite Cozy Vegan Fall Recipes and I know you are going to love it!
My favorite part about these brownies is that they are delightfully fudgy. Some people prefer cakey brownies, but not me! I love a fudgy brownie and why not add a pumpkin twist? Make sure not to leave them in the oven too long, or you will be in for a cakey surprise. Don't forget to check out my Vegan Pumpkin Cheesecake recipe too!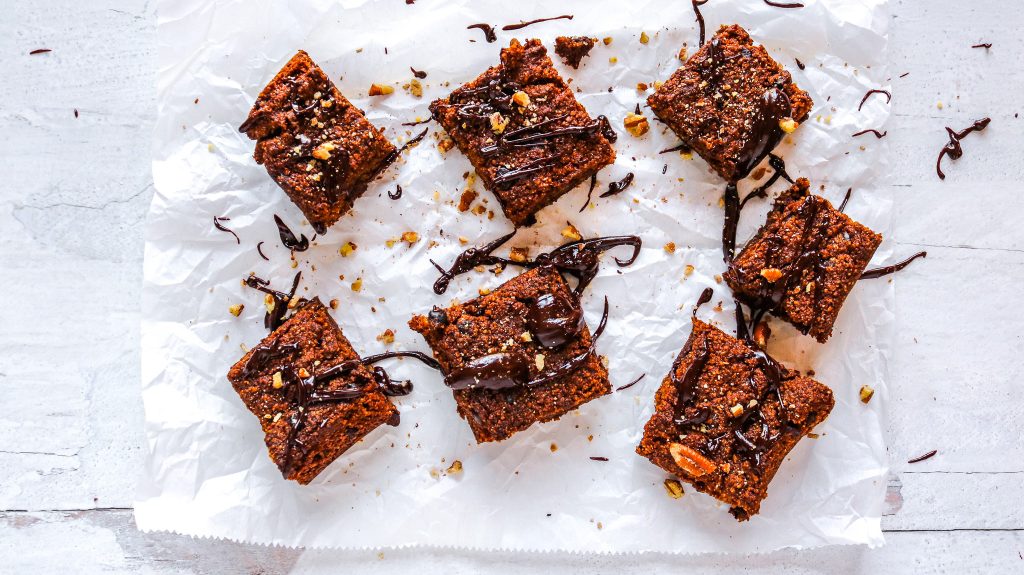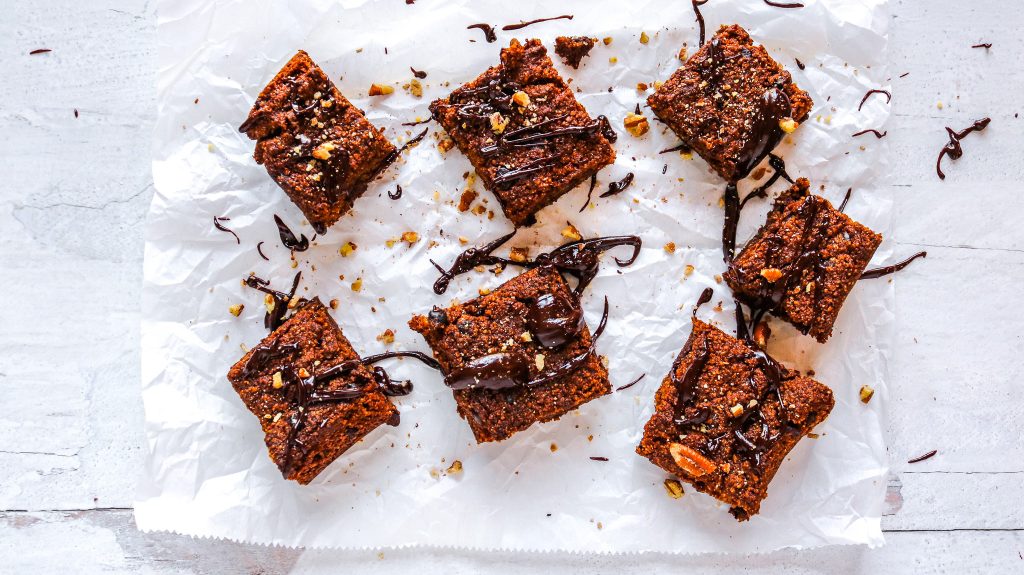 These vegan chocolate pumpkin brownies use only two bowls, one to make the brownies and one to make the topping.
If you don't want to make a drizzle topping then it is even less mess and they use one bowl!
I hope you enjoy this delightful recipe and that pumpkin brownies rule your dessert table at your Vegan Thanksgiving this fall season!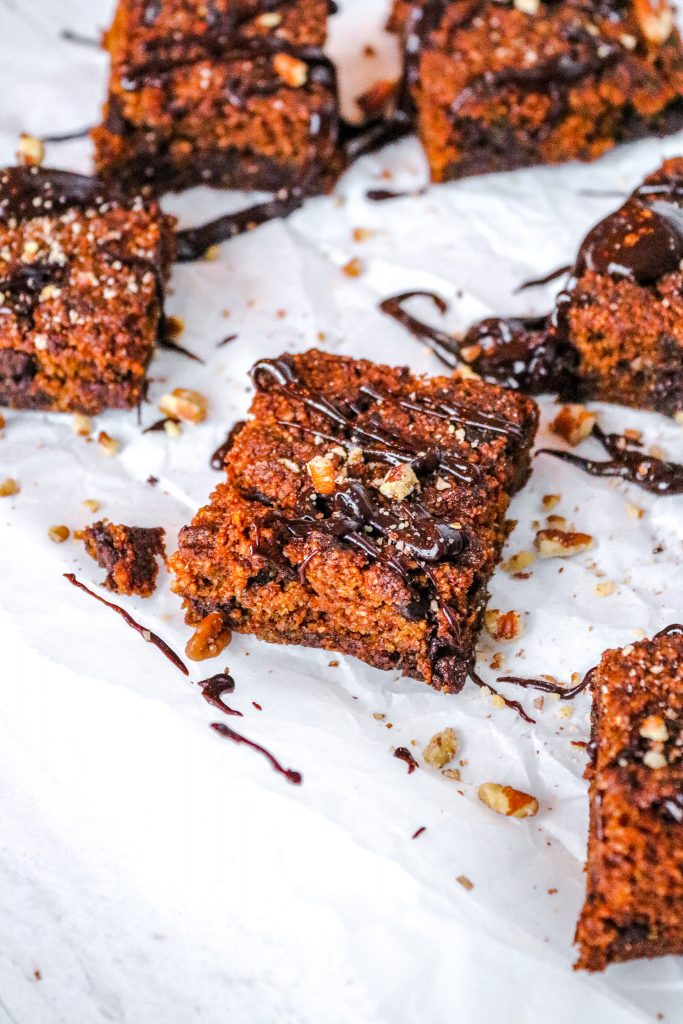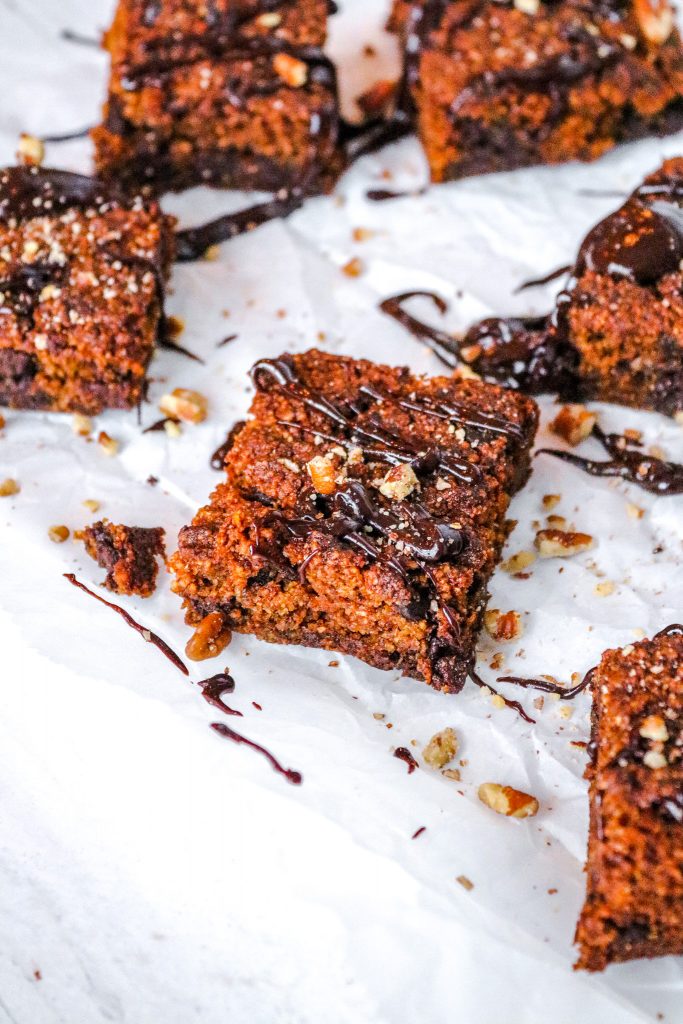 Why You Will Love This Vegan Pumpkin Brownie Recipe
It whips up super quickly. This dairy free pumpkin brownies recipe requires only 10 minutes of prep time! This means that it can cook while you are doing other things and preparing your fall feast!
It can be made keto and Gluten-free. Many healthy brownie recipes with pumpkin use ingredients that make them unfriendly to people with allergies or dietary requirements. This recipe is not only dairy free, but can be made keto and gluten-free that all can safely enjoy making pumpkin brownies vegan!
Pumpkin puree makes it easy. Making brownies with pumpkin puree is the perfect easy shortcut! You don't have to use baking pumpkins and prepare it yourself, but the flavor is still amazing.
Fudgy, chocolaty goodness. I am a sucker for chocolate, and there is nothing better than vegan chocolate pumpkin brownies with a drizzle of extra chocolate. These brownies are perfectly fudgy, so if you are a fudgy brownie lover, this is the recipe for you!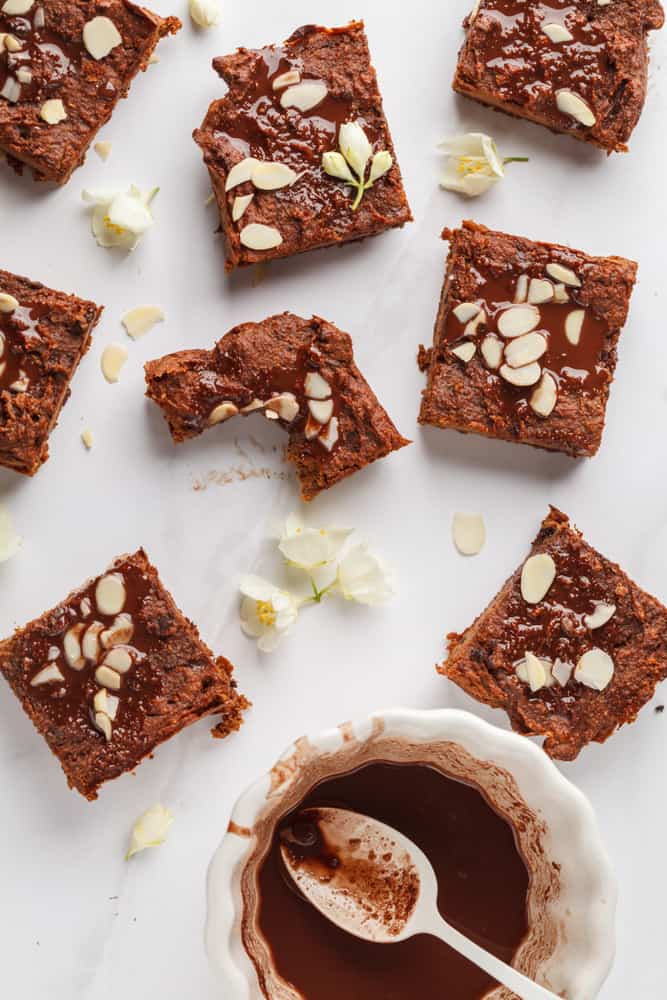 Gluten-Free And Keto Pumpkin Brownie Substitutions
If you are gluten-free or keto, you can sub 2 cups of almond flour for the regular all-purpose flour in this recipe!
If you are making keto pumpkin brownies, you can substitute 1 cup of swerve brown sugar for the regular brown sugar included in this recipe.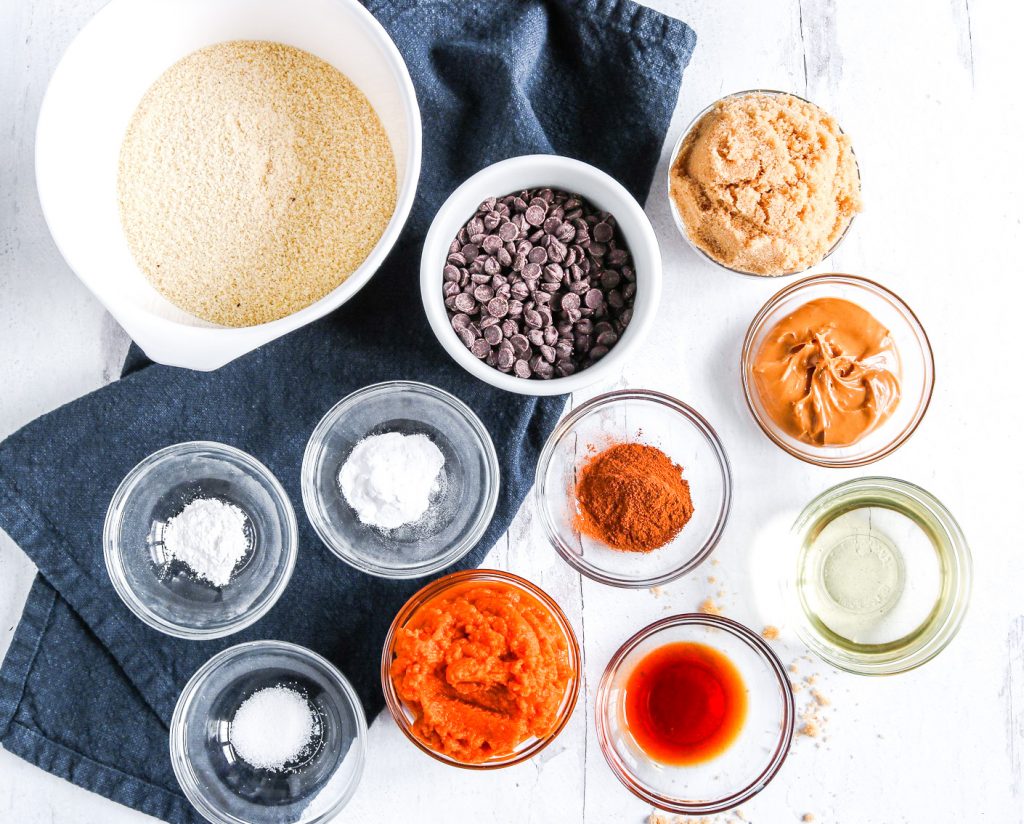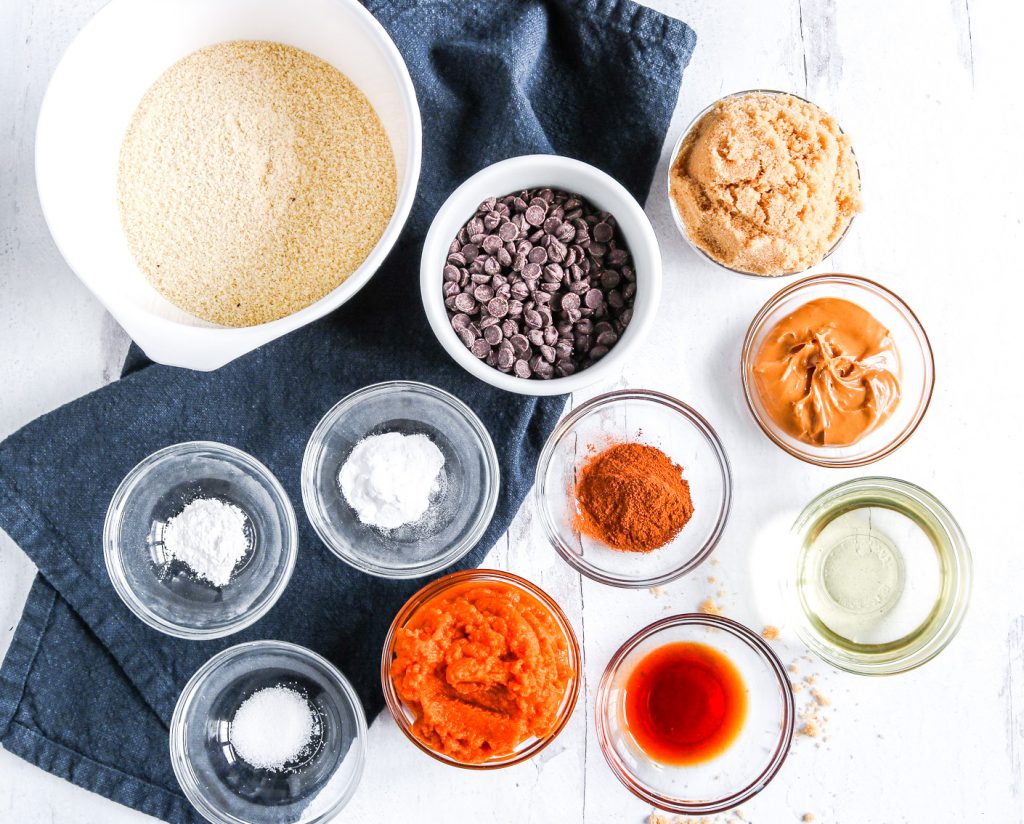 If you are keto you can also sub 1 cup of Lily's baking chips for the chocolate chips in this brownie recipe. I have made these chocolate pumpkin brownies vegan and keto or gluten-free many times and the result is truly tasty.
And finally, if you don't want to use peanut butter, you can sub almond butter or sunflower butter, depending on your tastes and needs! This also works well for people who can't do nuts.
I love that this recipe for vegan pumpkin brownies is so flexible and easy so that you can customize to your dietary preference!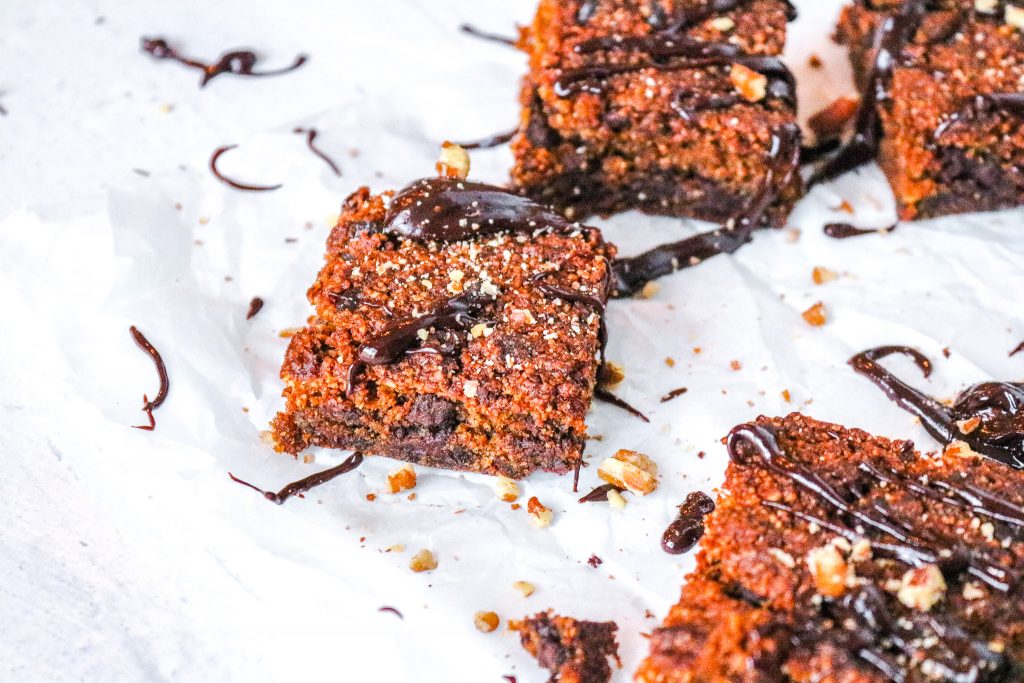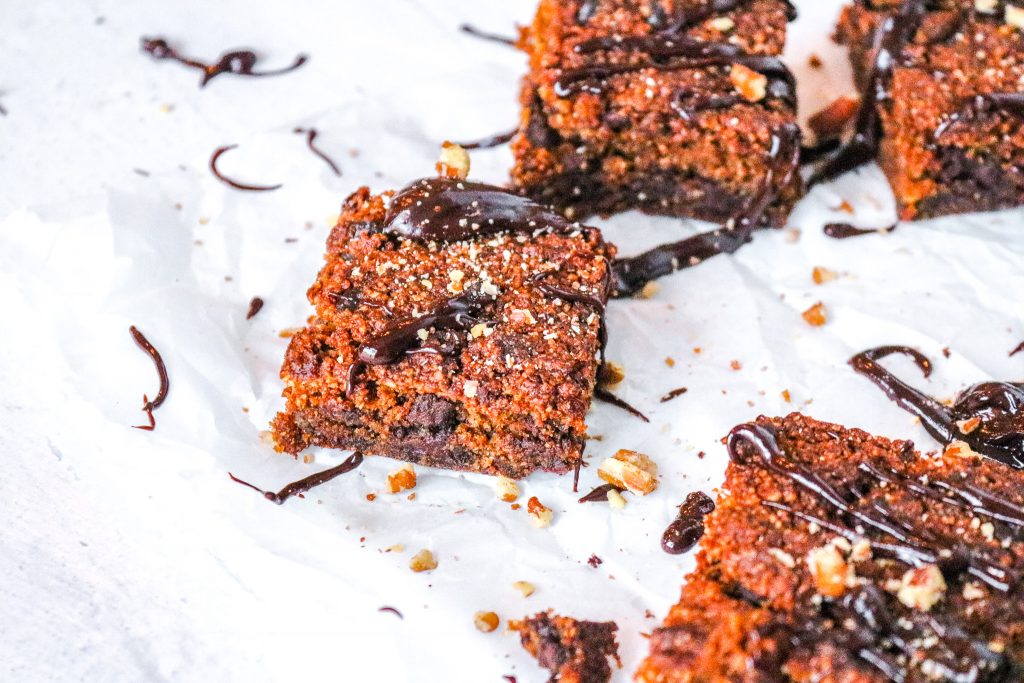 How To Make Vegan Pumpkin Brownies
I promise that making pumpkin brownies vegan has never been easier!
All you have to do is use a hand mixer to combine your wet ingredients which are your coconut oil, pumpkin puree, nut butter and vanilla extract.
Then you combine the wet and dry ingredients and use a wooden spoon to combine and fold the mixture together.
Do not add the chocolate chips until after the wet and dry ingredients are mixed together well. Again, if you are going keto, you can use Lily's baking chips instead of chocolate for keto pumpkin brownies.
After this, fold in your chocolate chips until they are evenly combined and distributed throughout the pumpkin brownie dough.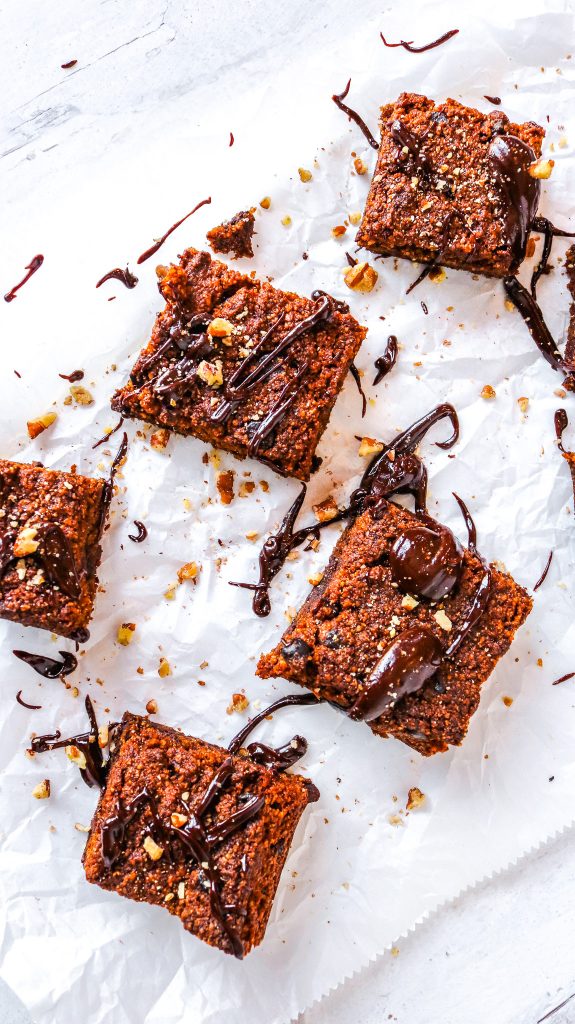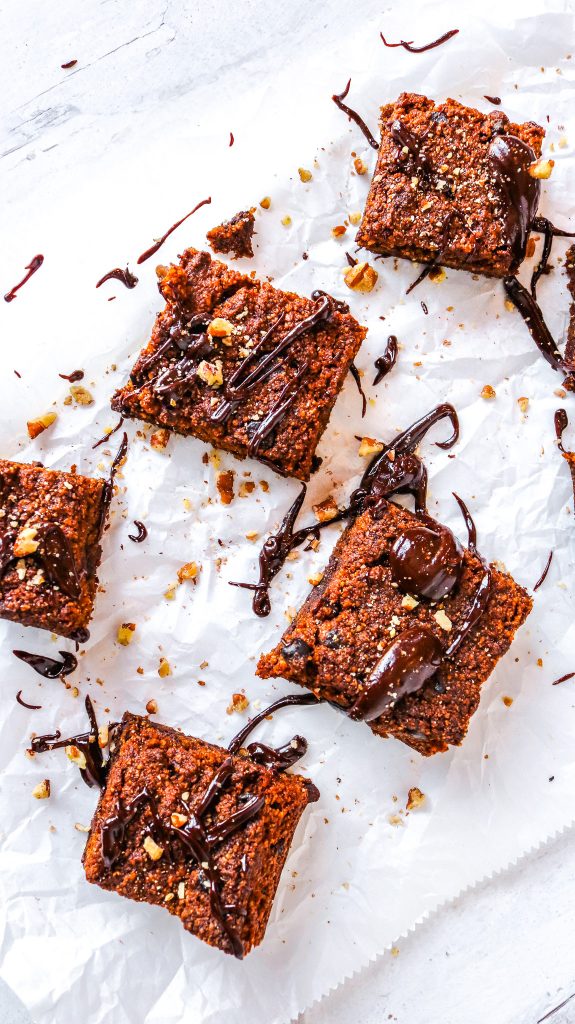 Pour your batter into an 8×8 baking dish and bake for 35-40 minutes or until a toothpick comes out clean! If you are looking for truly fudgy chocolate vegan pumpkin brownies, you do not want to leave these in too long or else they will overcook.
You will want also want your dairy free pumpkin brownies to cool down completely or else they will fall apart.
Now, I don't usually mind brownies that fall apart because I hate waiting for them to cool, but this is important to note as I don't want them to fall apart on you without you knowing!
After they cool, melt your chocolate in a small saucepan on the stove and drizzle over the pumpkin brownies.
I like to add in walnuts and a little shake of pumpkin pie spice.
If you are nut-free, you can skip the walnuts and just drizzle the chocolate.
You don't have to add a topping at all, but I think that it adds to the flavor and is so tasty. Who doesn't love a bite of fudgy goodness when they bite into a vegan chocolate pumpkin brownie?
Don't forget to serve them with a Vegan Pumpkin Spice Latte!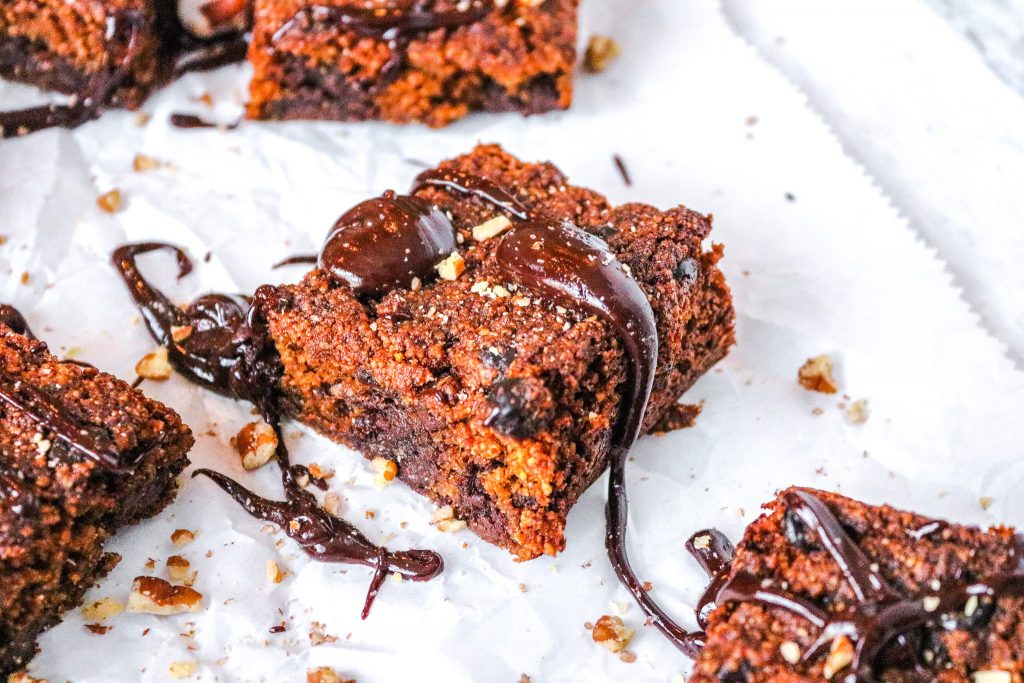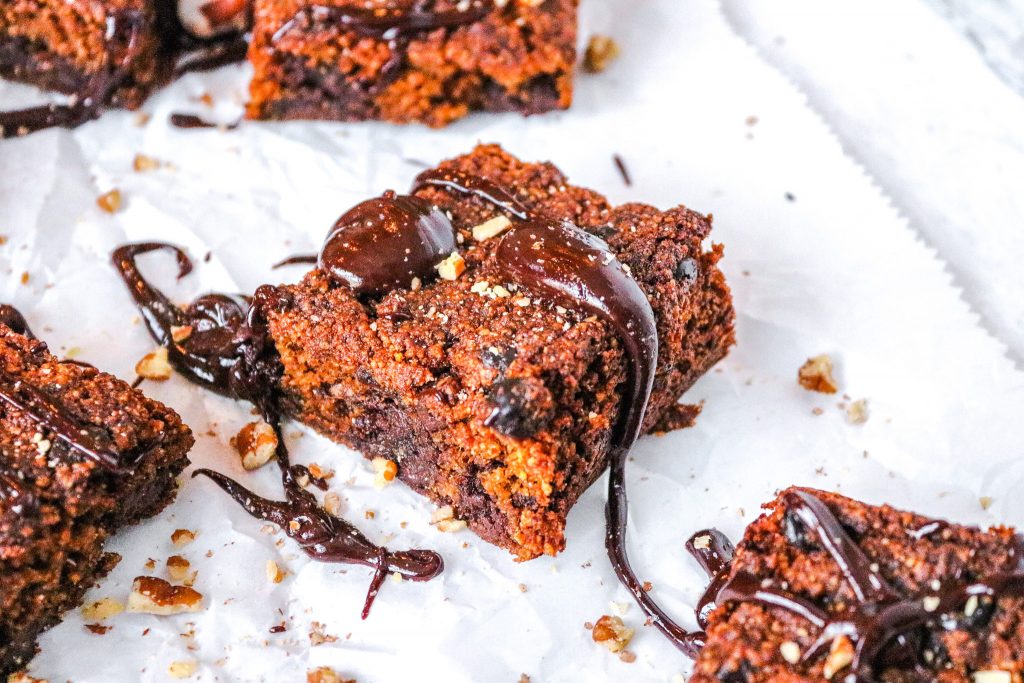 How To Store The Vegan Pumpkin Brownies
Storing the pumpkin brownies are so easy!
First, wait for them to cool and then wrap the entire baking dish in a plastic bag and store in the fridge for 1-2 days.
To serve, just cut a piece from the baking dish and then cover it back up.
After 1-2 days, you will want to cut the brownies into squares and then store them in an airtight container for 3-5 days.
Making pumpkin brownies vegan at home means they are healthier with less preservatives than the store-bought kind, so while these keep for a while, they won't keep for weeks on the shelf like the kind with preservatives!
To reheat, you can use the microwave or simply pop in a Toaster Oven until just warm.
Either way, these vegan pumpkin brownies taste good either cold or warm! I won't judge you either way and you really can't go wrong!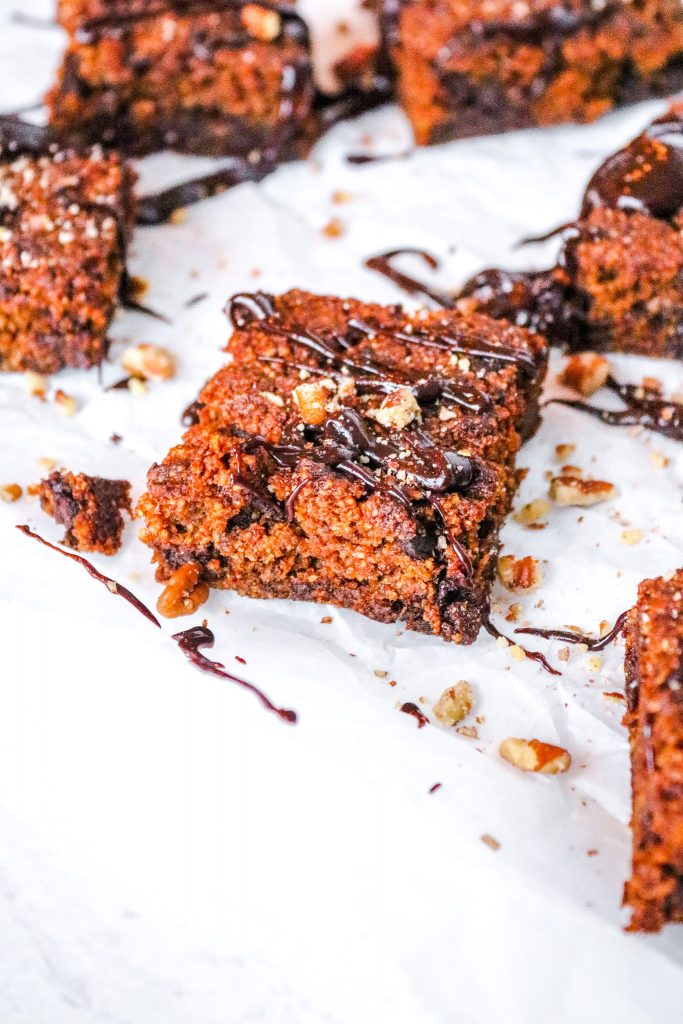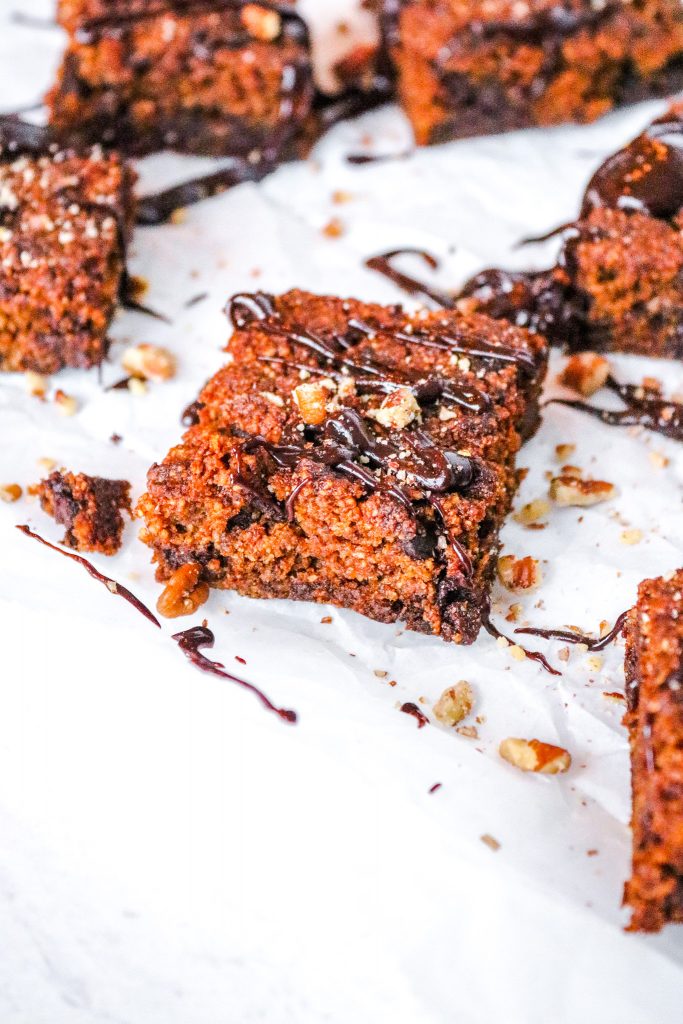 Did You Try This Recipe?
If so, I would love to keep in touch! I enjoy seeing photos and comments about the recipes that you make! You can follow me on Instagram and I will repost your goodies in my stories and comment on it too! Just tag me at @wowitsveggie and hashtag #wowitsveggie. I can't wait to see what you make!
Yield: 16 Brownies
Easy Vegan Pumpkin Brownies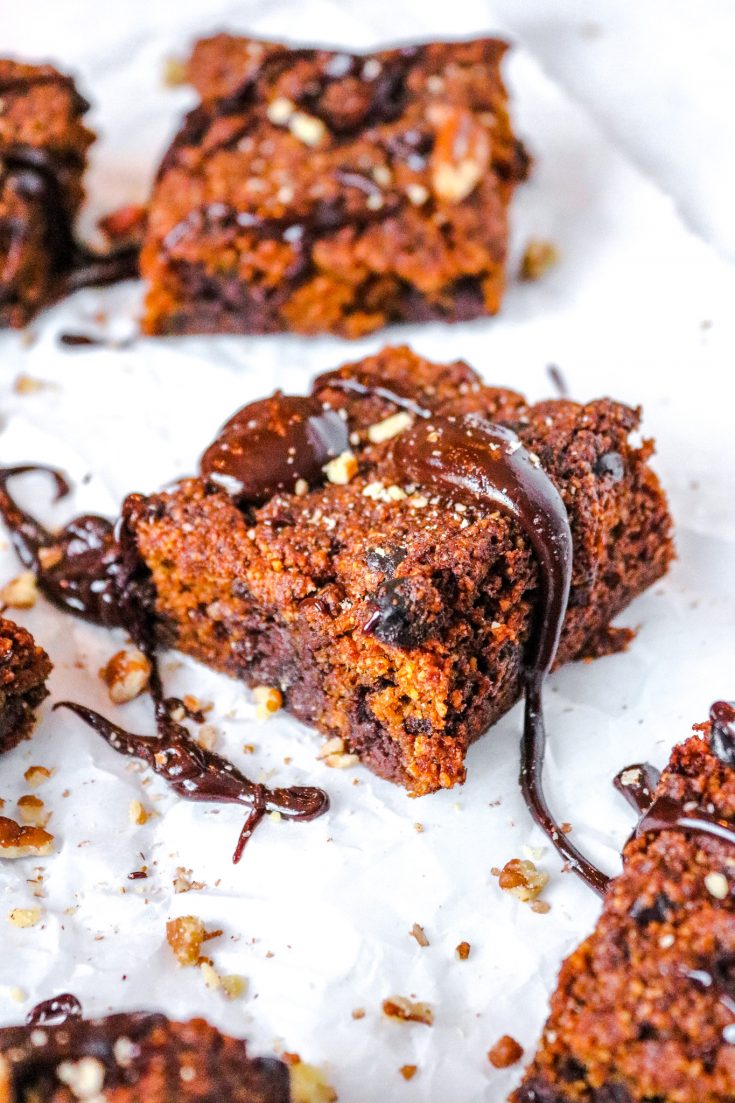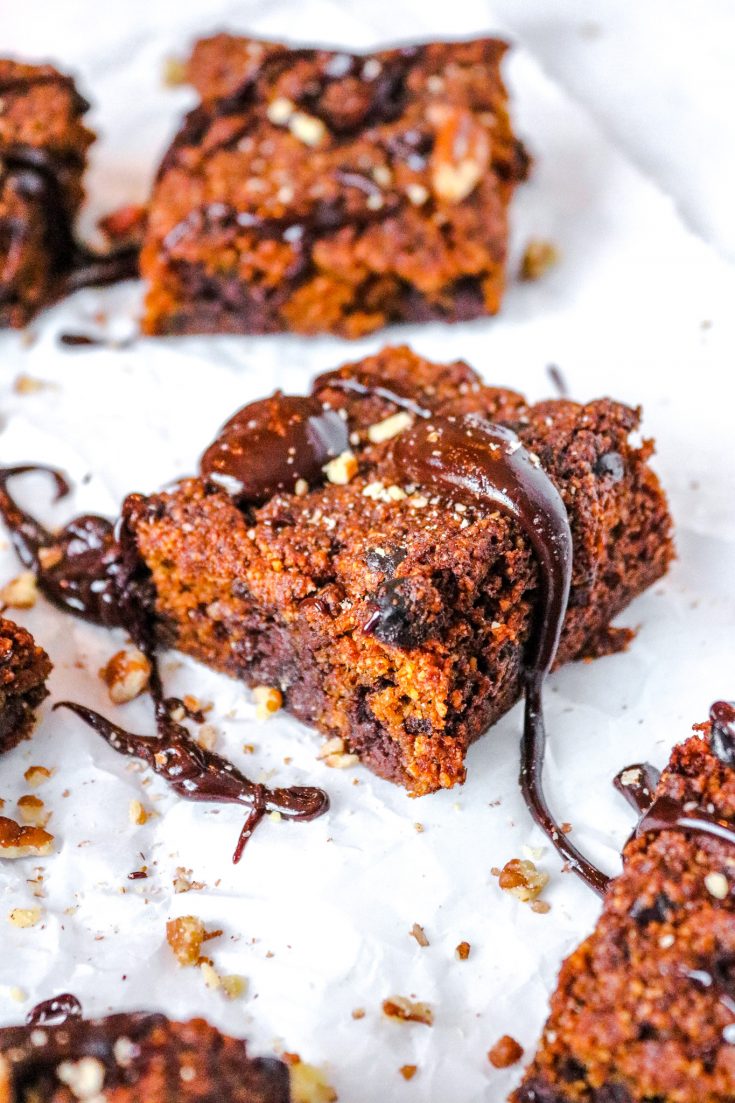 These vegan pumpkin brownies are fudgy and decadent! They are the perfect thing to serve on your fall table and really please a crowd. With a few simple substitutions, you can make these pumpkin brownies keto and gluten-free too so that everyone can enjoy.
Ingredients
2 cups all-purpose flour (or almond flour)
½ cup coconut oil melted
½ cup pumpkin puree
2 tablespoons pumpkin pie spice
1 cup brown sugar (or swerve brown sugar for keto)
1 cup chocolate chips (Lily's baking chips for keto)
1 teaspoon baking soda
1 teaspoon baking powder
1 tablespoon vanilla extract
½ teaspoon of salt
¼ cup nut-butter of your choice
Topping
½ cup chocolate chips (Lily's baking chips for keto)
2 tablespoons crushed walnuts
Pumpkin pie spice (optional)
Instructions
1. Preheat oven to 350 degrees F and line an 8x8 pan with parchment paper.
2. Using a hand mixer, combine melted and cooled coconut oil with pumpkin puree, nut butter, and vanilla extract. Mix until well combined.
3. Sift the dry ingredients together until combined (do not add the chocolate chips yet)
4. Add the dry ingredients to the wet ingredients and mix for 2 minutes until fully combined. Then, using a wooden spoon, fold in the chocolate chips until evenly distributed throughout the batter.
5. Pour batter evenly into 8x8 pan and cook for 35-40 minutes or until a toothpick comes out clean. You want the brownie to cool completely before cutting it. It will be moist and fudgy.
6. After the brownies are completely cooled, melt your chocolate (which will be on the thick side) and drizzle over brownies. You can then add the walnuts and pumpkin pie spice if you want.
7. Serve immediately and enjoy!
Nutrition Information
Yield
16
Serving Size
1
Amount Per Serving
Calories

135
Total Fat

7g
Saturated Fat

9g
Trans Fat

0g
Unsaturated Fat

4g
Cholesterol

2mg
Sodium

193mg
Carbohydrates

15g
Fiber

2g
Sugar

13g
Protein

3g