These easy vegan snickerdoodles are soft and puffy with a delicious inside! The cinnamon-sugar coating is a simple comfort and appeals to all ages because who doesn't love this timeless cookie?!
They only require 8 ingredients that you most likely have around your house so they are easily accessible to make too! It is actually quite easy to make snickerdoodles vegan too. You will love it!
Vegan snickerdoodle cookies are one of the best Vegan Christmas Cookies that I know of!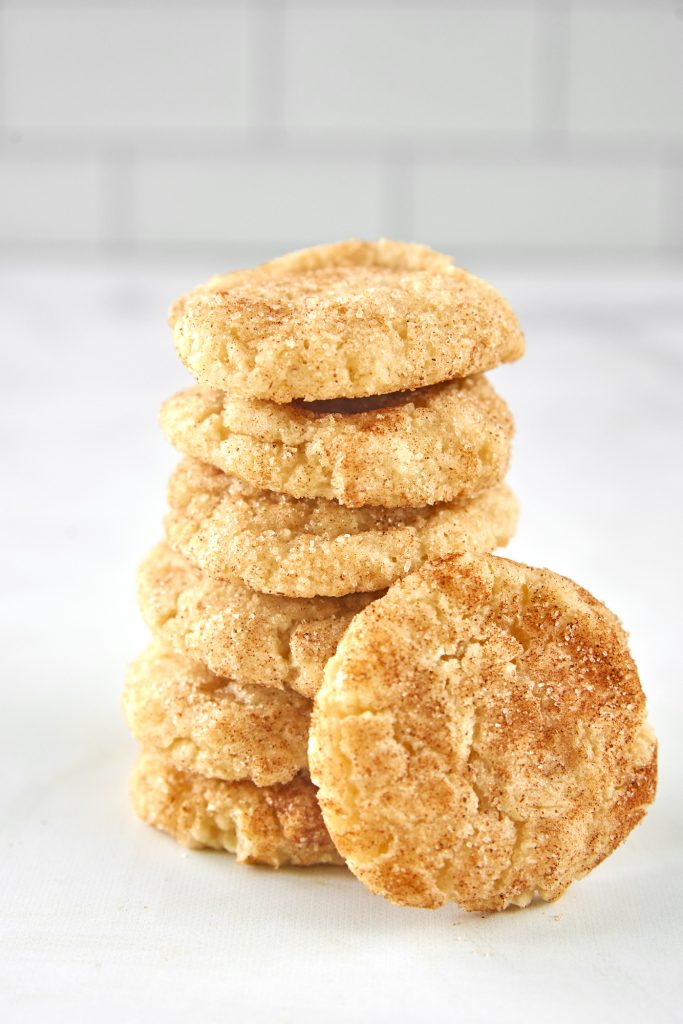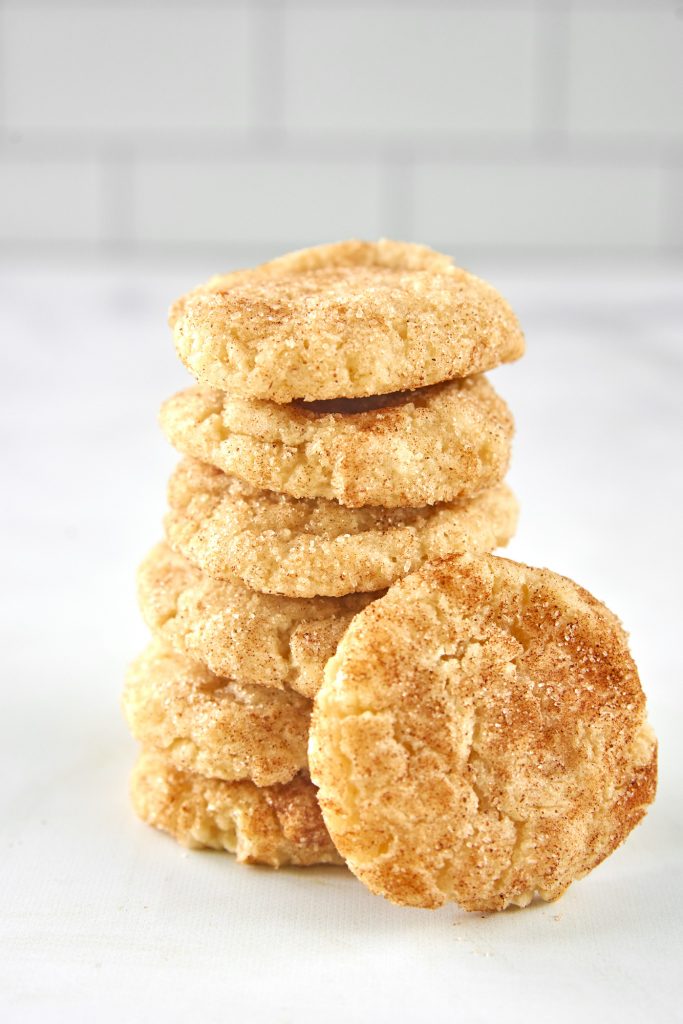 Of course, you can make them any time of year, but they are almost expected for Christmas! People almost expect them to show up on the cookie tray and these delicious bites of heaven won't disappoint.
My favorite thing about making snickerdoodles vegan is that this recipe is quick and easy! It takes only about 20 minutes to make, maybe 25 minutes if you are slow on rolling out the cookies!
When you are making any cookies, but especially cookies during the holidays, you don't have time to mess around with picky recipes that take forever!
You want something quick, easy, delicious, and something that is a huge crowd pleaser.
This vegan snickerdoodle cookies recipe is just that and will become your new family favorite to make.
It is also a wonderful Vegan Recipe For Kids because you can get the kids involved in rolling out the balls of dough for the cookies! They can help roll them in the cinnamon sugar and put them on the cookie sheet.
This is something I did a lot growing up and is an easy way to get kids or anyone else cooking with you involved!
I hope you enjoy these warm and pillowy bites of vegan cinnamon cookie goodness as much as I do!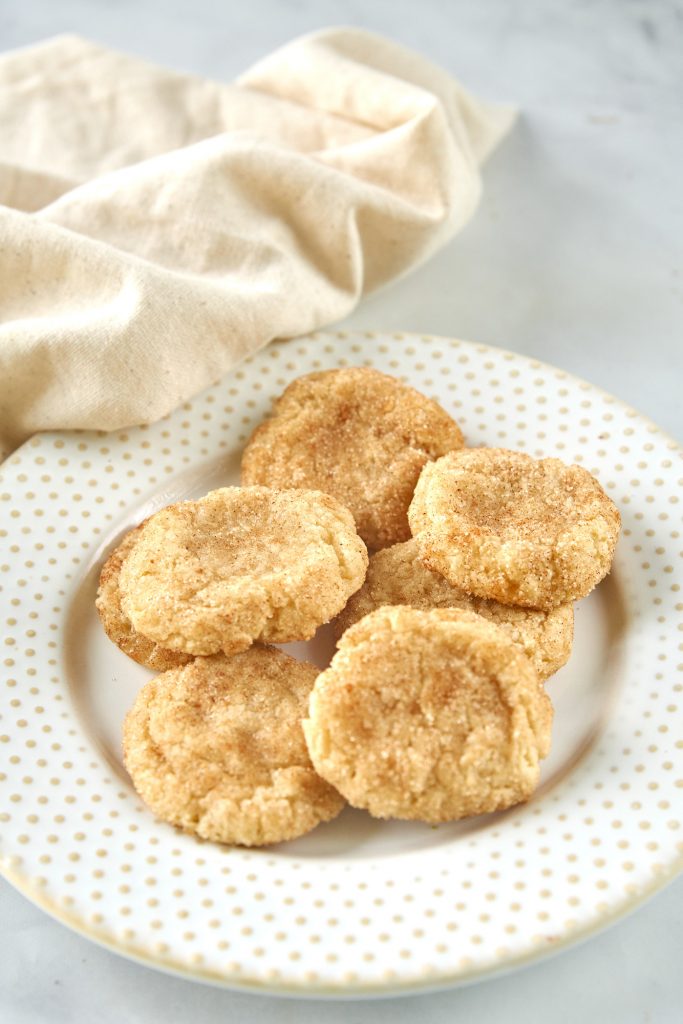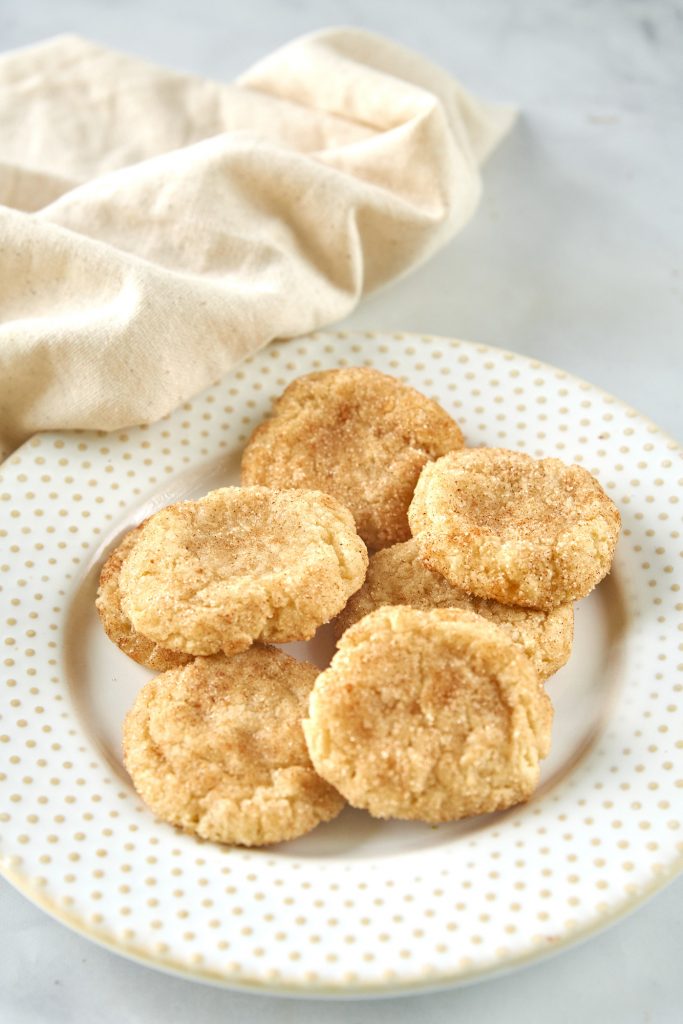 Why You Will Love Vegan Snickerdoodles Cookies
It whips up super quickly. Making snickerdoodles vegan literally takes 20 minutes to make! And there is only 10 minutes of prep time and 10 minutes of bake time. This is truly one of the easiest and fastest cinnamon cookie recipes for the holidays!
Perfect for new cooks. If you are new to cooking and want something that will please a crowd but is super easy, this is the recipe for you! It is truly hard to fail when making this tasty recipe.
There are very few ingredients. The goal of these snickerdoodles is to let the cinnamon and sugar flavor shine! As a result, there are very few weird ingredients (actually none at all!) This means that when you make your snickerdoodles vegan at home, you won't need to spend a lot of time shopping.
The perfect holiday crowd pleaser. These are perfect to bring to your holiday gathering. In fact, it probably would be expected that at least someone would bring snickerdoodles to an event. And if you don't tell anyone, they won't ever know that you made the snickerdoodles vegan! They really are that good.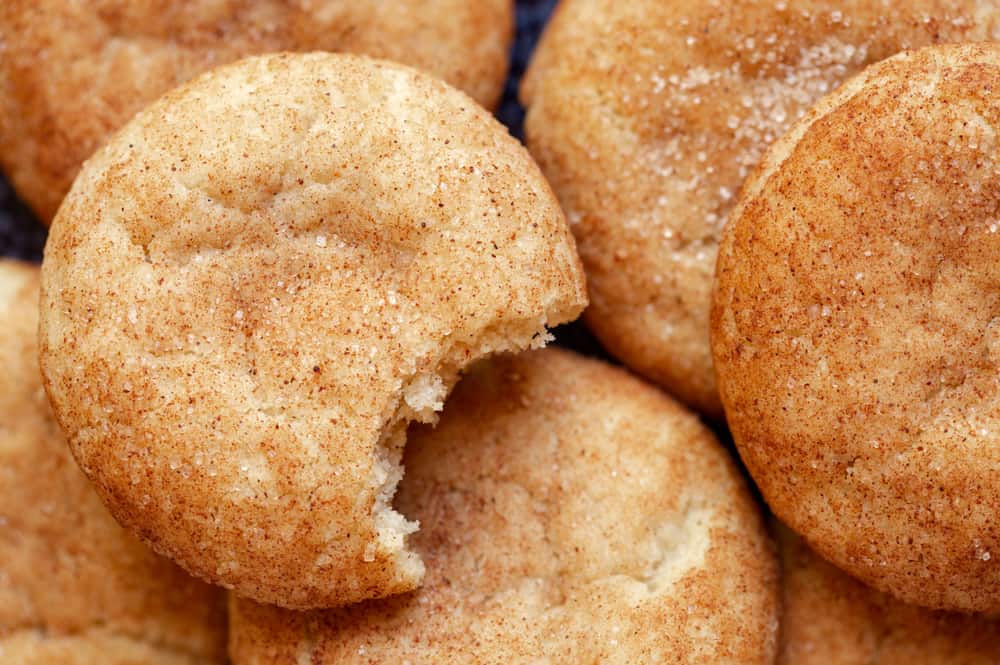 Can You Really Make Vegan Snickerdoodles Without Cream Of Tarter?
YES!! You can easily make vegan snickerdoodles without cream of tarter!
In regular snickerdoodle recipes, the cream of tarter is used to stabilize egg whites or cream when whipping or beating.
It also helps activate baking soda in baking.
This recipe is vegan so there are no egg whites that need stabilizing and there is no baking soda in this recipe either so you 100% do not need cream of tarter. Eggless snickerdoodle cookies for the win, right?!
Although cream of tarter can be fairly easy to find, I love creating recipes from ingredients that you probably already have in your pantry or can easily find at any grocery store!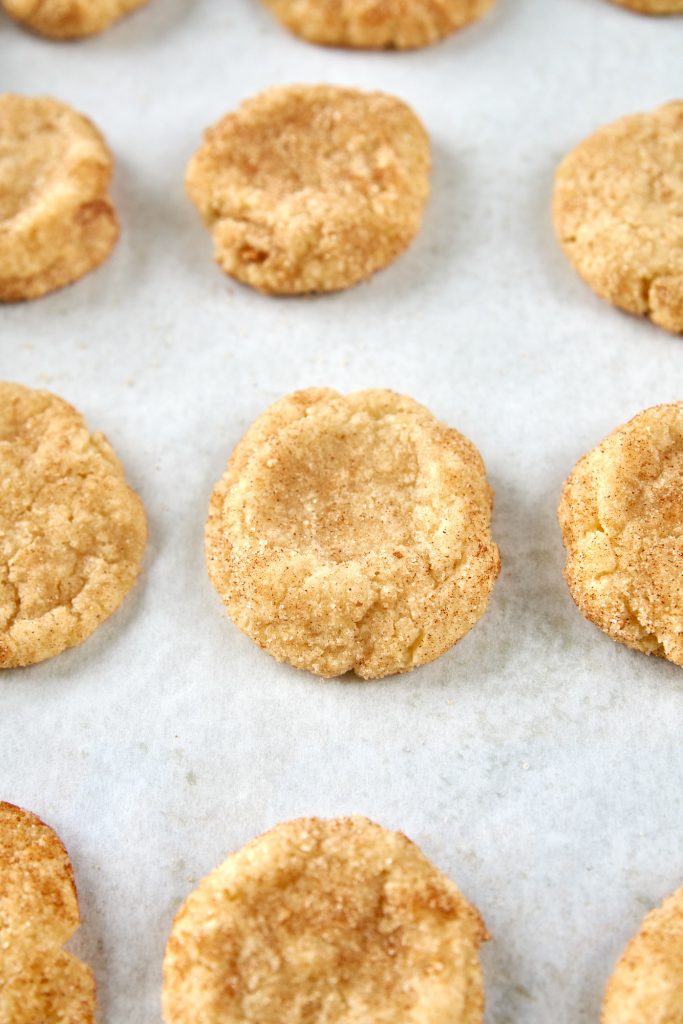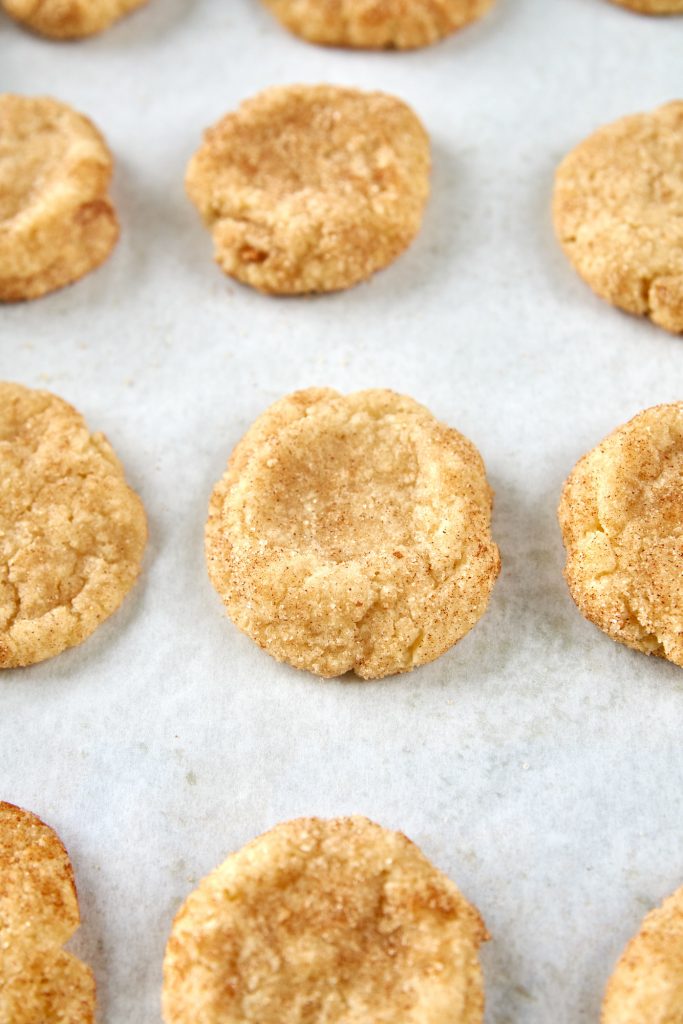 Why Are My Snickerdoodles Flat?
Ah, the common problem when making snickerdoodles. And no, vegan snickerdoodle cookies are not immune from this problem!
Believe it or not, there are actually two camps of snickerdoodle lovers! Those who actually prefer flat ones and those who like the soft and pillowy kind. If you search on google or Pinterest, you will see photos from both types!
The most common reason the vegan snickerdoodles cookies will be flat is that too much Vegan Butter has been used. How do I know? Because I have failed before myself!
If you follow this recipe exactly as I have it written, you should not have flat eggless snickerdoodles!
Another reason is that you over-creamed the sugar and butter mixture. Be careful to cream it together until well combined, but don't overdo it.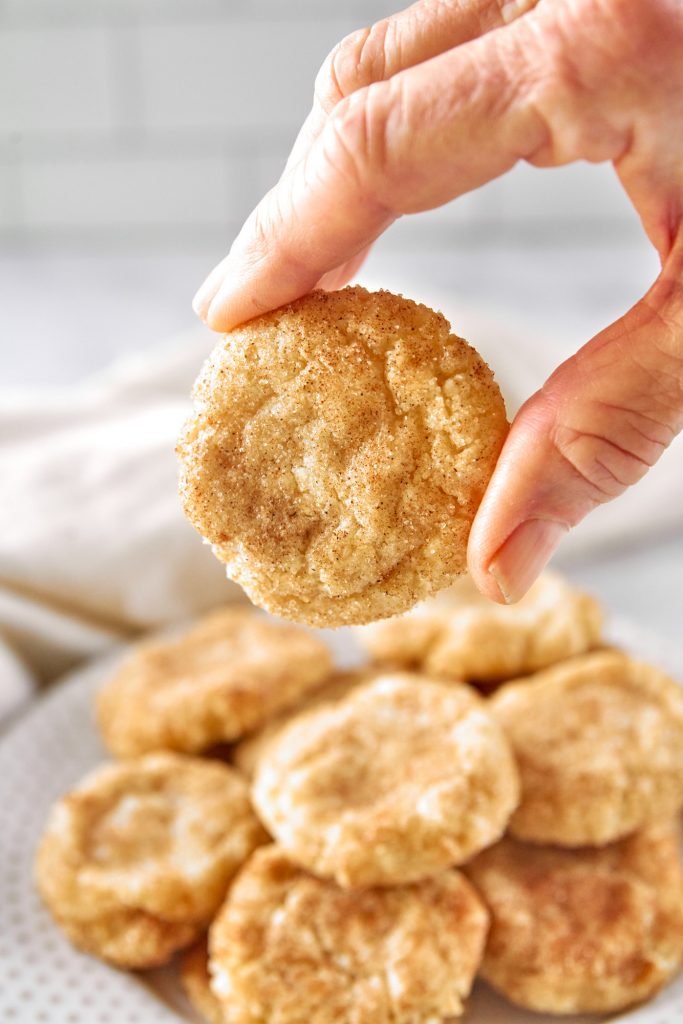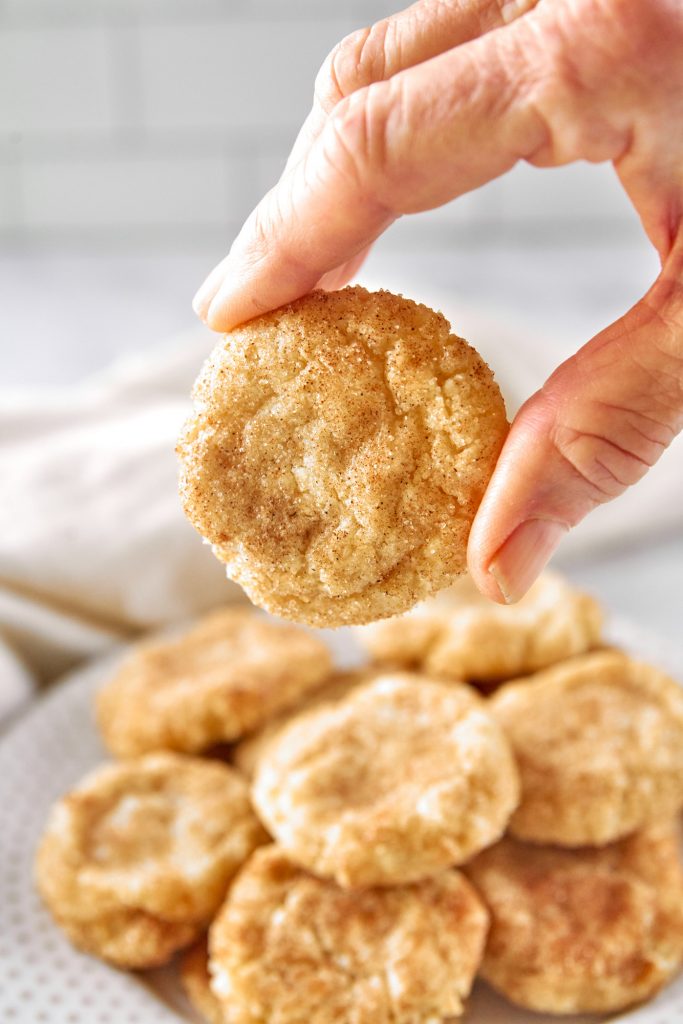 How To Make Snickerdoodle Cookies Vegan
Making these vegan snickerdoodle cookies is so simple! There are a few steps to follow, but it is simple.
If you follow my recipe exactly, it is pretty fool-proof and fail-safe and you will have lovely vegan cinnamon cookies as a result.
First, we are going to whisk together flour, baking powder, and salt in a medium brown.
Then, in another bowl, we are going to cream together Vegan Butter and sugar.
Creaming vegan butter and sugar is pretty easy so don't get scared by the "big" words. All you have to do is use a wooden spoon or whisk to mix it together until it is completely combined before adding other ingredients.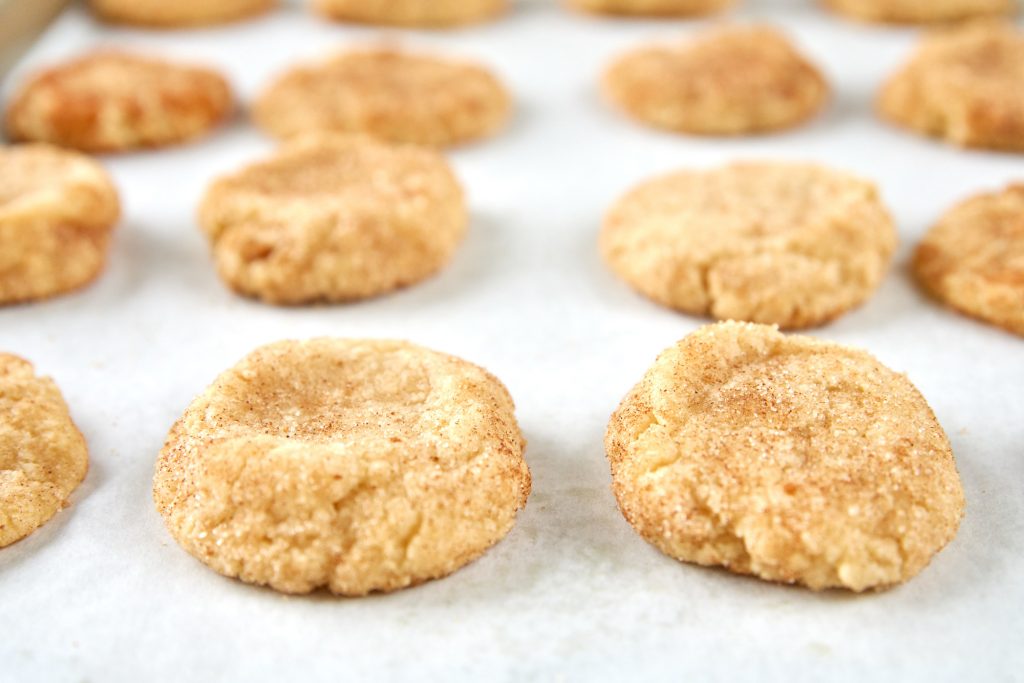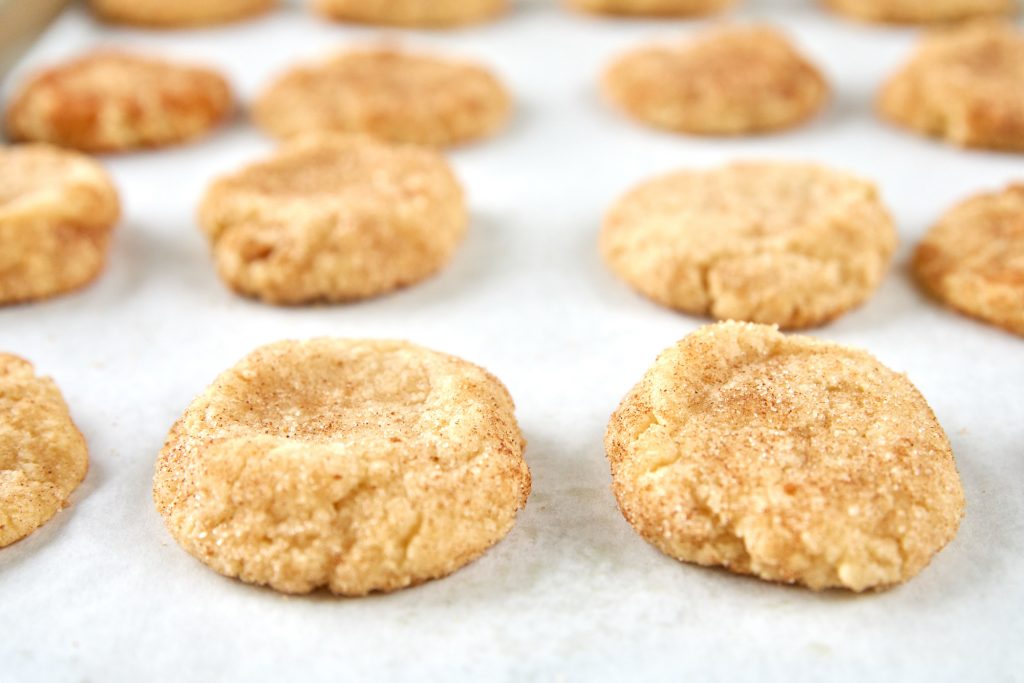 You do not have to use an electric hand mixer or anything fancy!
Next, add applesauce and vanilla and mix until well blended.
Now, slowly add the dry ingredients to the wet ingredients in batches.
I usually mix about 1/3 of the dry ingredients into the wet at a time.
Add a little bit, give it a mix, and then add a little bit more. This way, your vegan snickerdoodle dough won't be too tough and overmixed!
In a small bowl, combine cinnamon and sugar to create your cinnamon sugar topping.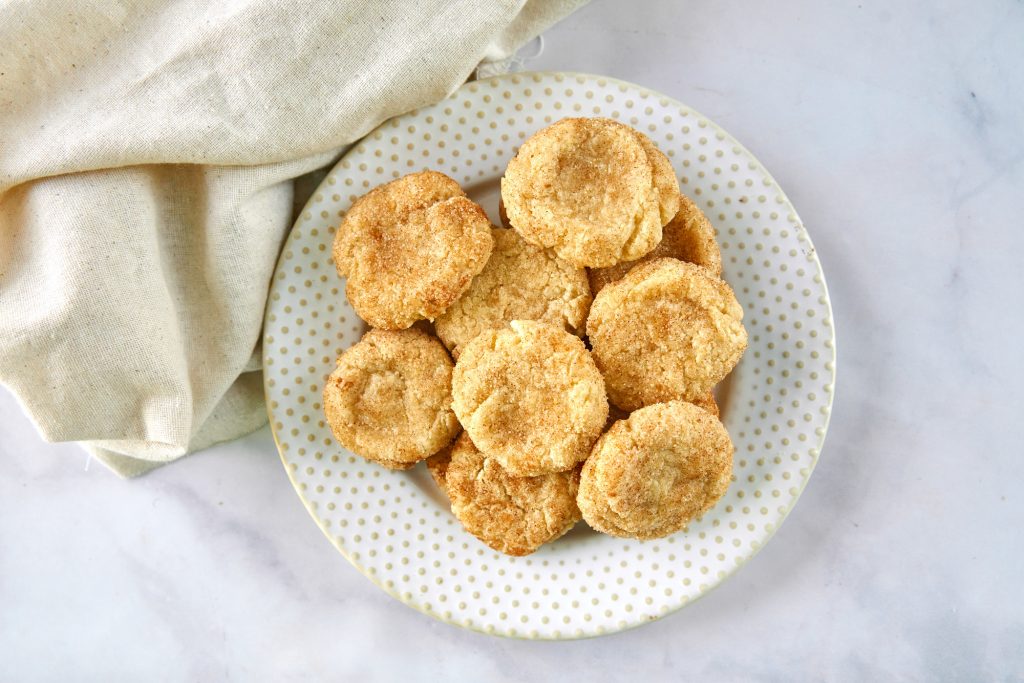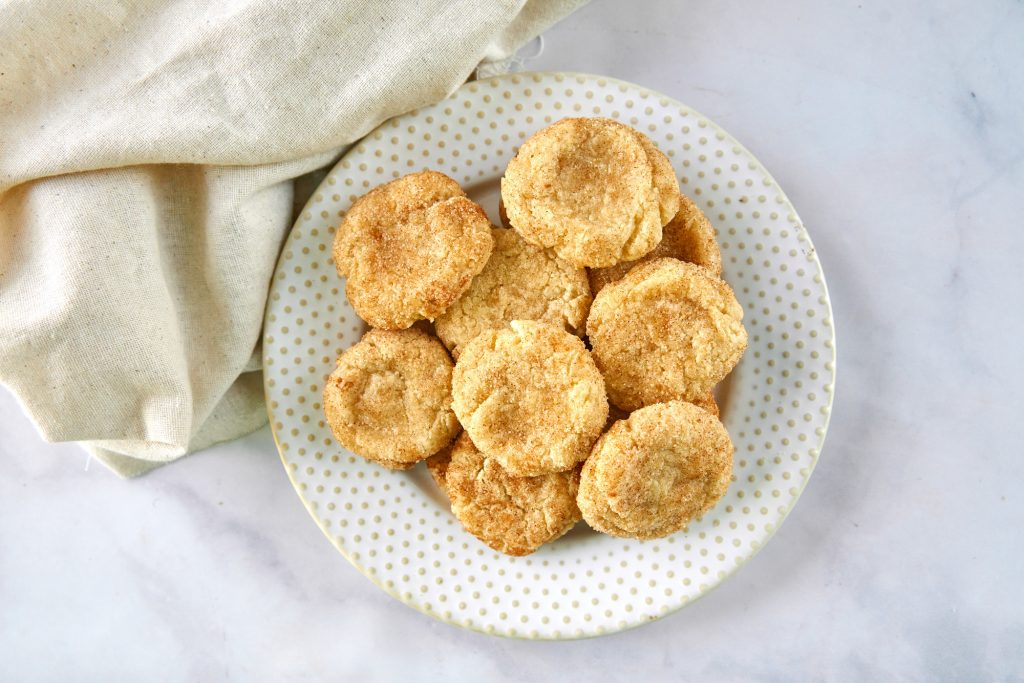 Scoop out tablespoon-size balls of snickerdoodle dough and roll them between your clean washed hands to form a ball. Then, roll them in the cinnamon-sugar mixture before placing them on your baking sheet.
This method of rolling the balls by hand is the same method I use for my Vegan Butterball Cookies and it is super easy.
Don't worry if your snickerdoodle dough seems flaky or doesn't combine together completely with a wooden spoon. It will easily squish together into a ball when you use your hands to form them.
If it still seems dry, add a little non-dairy milk 1-2 tablespoons at a time to help it come together. You may or may not need this. It depends on the dough for me but it is always better to add a little if you think you need it!
Make sure to place the vegan snickerdoodles on the baking sheet at least 1 inch apart.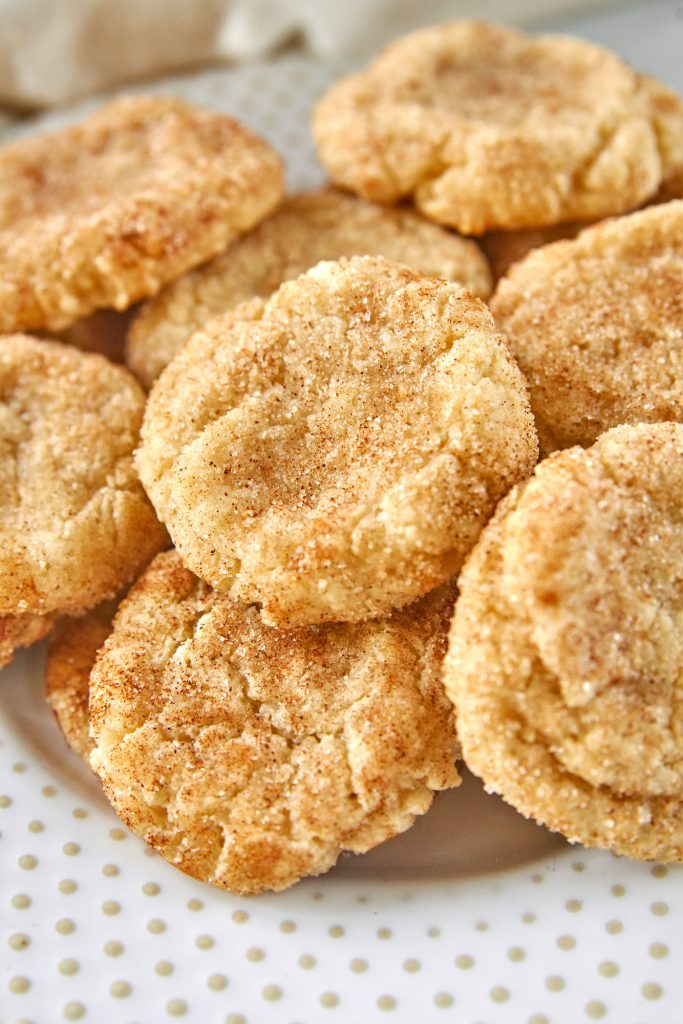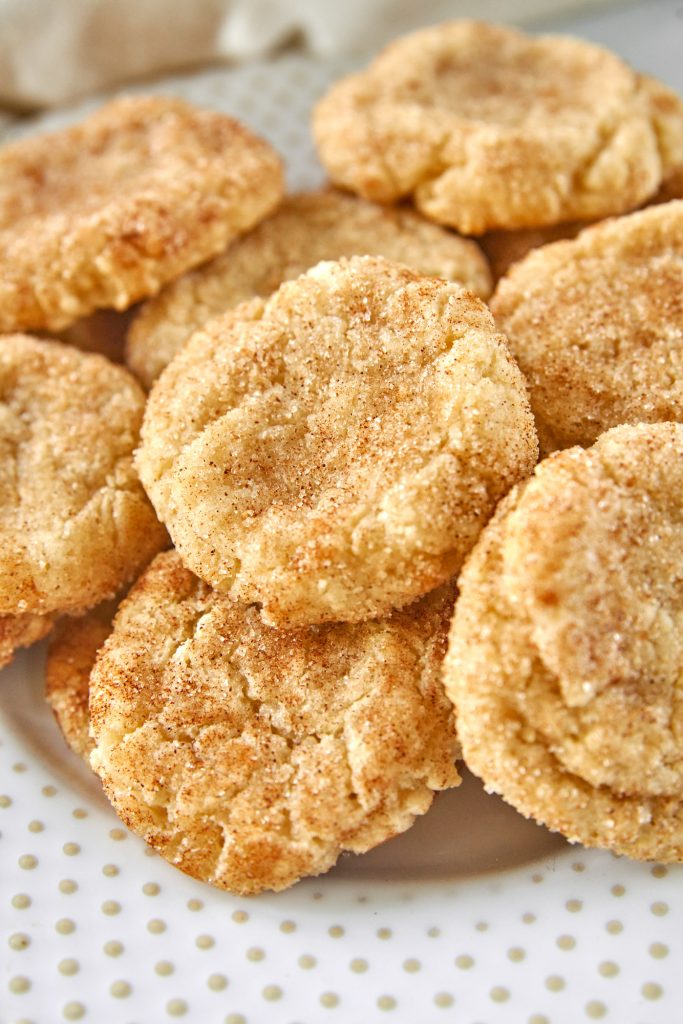 IMPORTANT: Use the back of a spoon or your hand to gently push down on the tops of the snickerdoodles to flatten them a little bit.
This will help them spread while baking.
You do not have to do this, but they won't flatten as much as the ones in my photos.
You don't want to smash them down completely, just gently smoosh them a little bit!
Bake the vegan snickerdoodle cookies for 8-10 minutes until they have cracked and the edges have set.
This will be very apparent when you are baking them!
Let the snickerdoodles cool on the baking sheet for 10 minutes and then transfer to a cooling rack until completely cool.
Then enjoy! I love eating these easy vegan snickerdoodles with a delicious Chai Latte or Chai Frappuccino if you prefer something cool!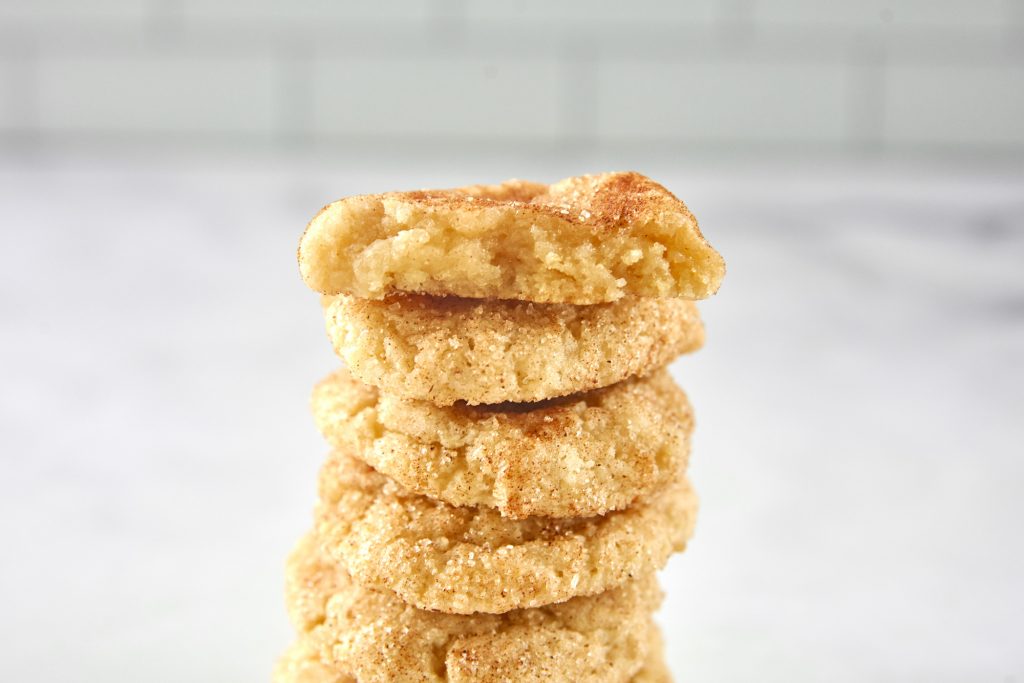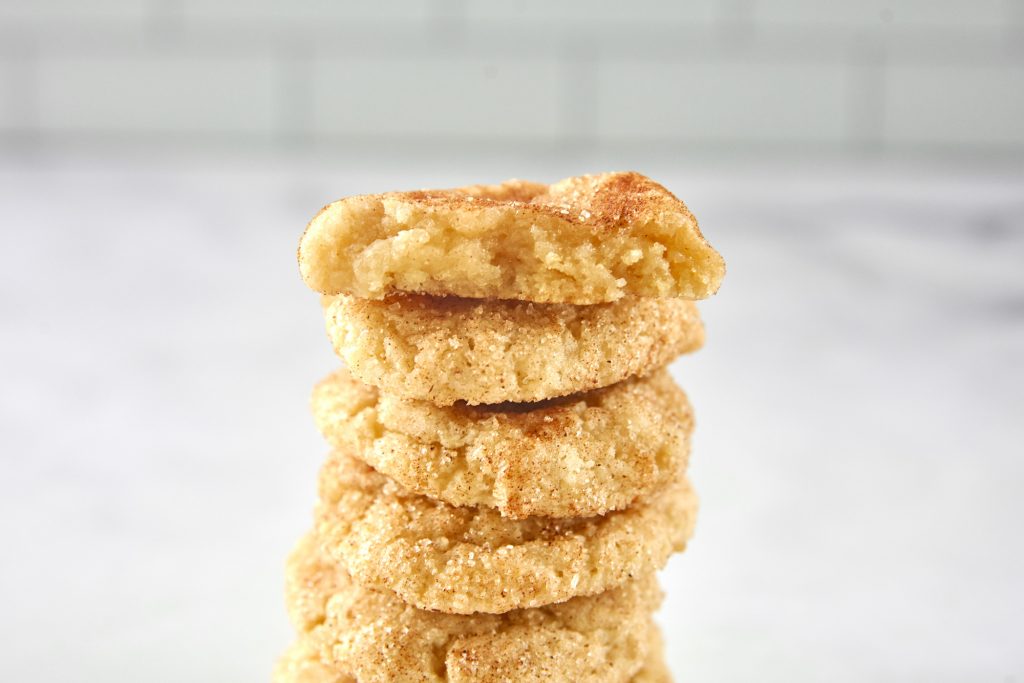 How To Store The Vegan Snickerdoodle Cookies
These vegan snickerdoodles store well on the counter in an air-tight container for 2-3 days.
They store well in the fridge for 3-5 additional days.
For best results, store the snickerdoodles in the freezer! I love making a batch ahead of time for the holidays and freezing them.
They can store in an air-tight container in the freezer for 1-2 months. To thaw, simply take them out and wait until they return to room temperature.
Then, they are as good as the day you made them!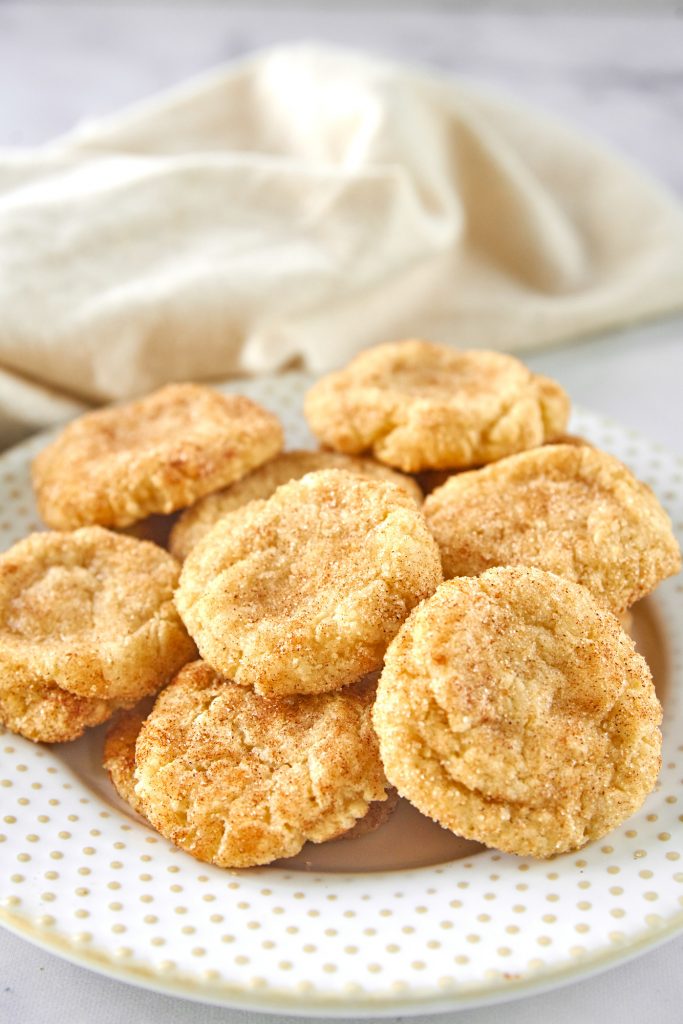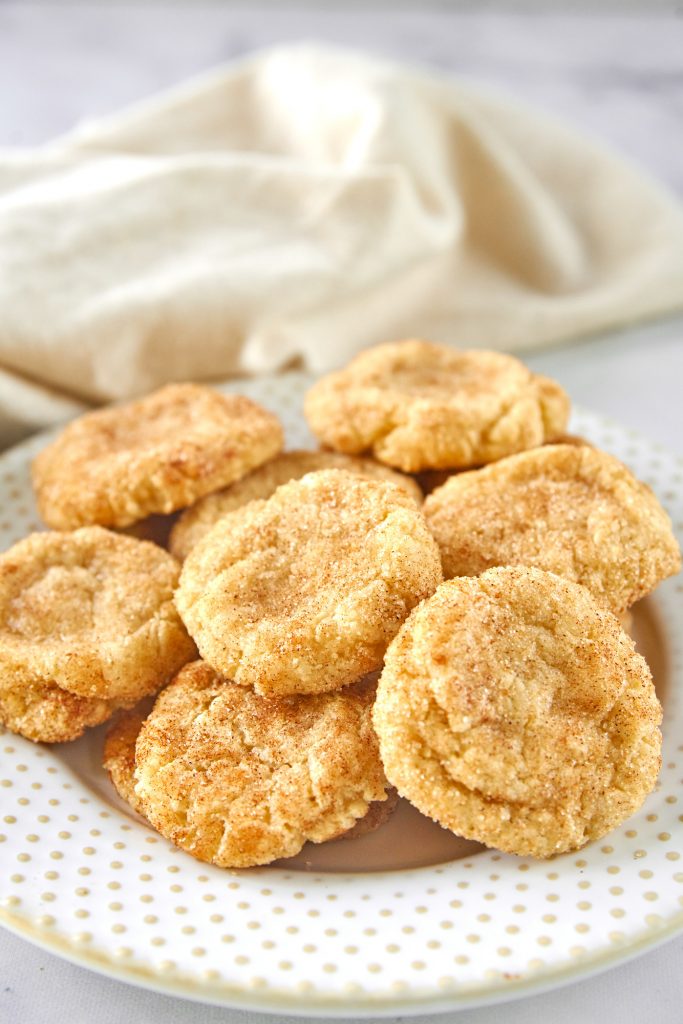 Did You Try This Recipe?
If so, I would love to keep in touch! I enjoy seeing photos and comments about the recipes that you make! You can follow me on Instagram and I will repost your goodies in my stories and comment on it too! Just tag me at @wowitsveggie and hashtag #wowitsveggie. I can't wait to see what you make!
Yield: 24 coockies
20-Minute Vegan Snickerdoodles
These vegan snickerdoodles are soft and pillowy and always a crowd favorite! The cinnamon-sugar coating is a simple comfort that everyone always loves. They only take 20 minutes to make and use 8 easy-to-find ingredients. Enjoy!
Ingredients
2 1/2 cups flour
2 teaspoons baking powder
1/2 teaspoon salt
1 1/2 cups sugar
1/2 cup vegan butter, softened
1/4 cup applesauce
1/2 teaspoon vanilla
For topping:
2 tablespoons cinnamon
1/4 cup sugar
Instructions
Preheat oven to 375F and line two baking sheets with parchment paper.
In a medium bowl, whisk together flour, baking powder, and salt.
In a large bowl, cream together Vegan Butter and 1 1/2 cups sugar. Don't be scared by the word "cream together" it is simply a fancy way to say mix. You can use a wooden spoon to mix the soft vegan butter with the sugar until fully combined. You do not need an electric mixer.
Add applesauce and vanilla to the sugar and vegan butter and mix until well combined.
In batches, add the dry ingredients to the wet ingredients and stir until incorporated. I like to do it 1/3 at a time until fully combined.
In a bowl or on a large plate, combine cinnamon and 1/4 cup of sugar and mix.
Scoop out tablespoon-size balls of dough and roll them in your hands to form a ball. Then roll them in the cinnamon-sugar mixture and place on the baking sheet 1 inch apart. If your dough is flaky, that is okay it will still form a ball when squished with your hands. If it is still too dry, add a little non-dairy milk 1-2 tablespoons at a time until just barely wet enough to form balls.
Using the back of a spoon or your hand, lightly press each ball down a little bit to help it spread in the oven. You don't have to do this, but to get vegan snickerdoodles like in my pictures, this is what I did.
Bake the cookies for 8-10 minutes or until they have cracked and spread and the edges have set. If you are baking two cookie sheets or more, rotate the sheets halfway through baking.
Let the snickerdoodles cool on the cookie sheet for 10 minutes before transferring them to a cooling rack. Enjoy!
Notes
You can add 3-4 tablespoons of cocoa powder to the flour mixture if you want a spiced Meixcan-chocolate-inspired snickerdoodle!
Nutrition Information
Yield
24
Serving Size
1
Amount Per Serving
Calories

142
Total Fat

4g
Saturated Fat

2g
Trans Fat

0g
Unsaturated Fat

1g
Cholesterol

10mg
Sodium

116mg
Carbohydrates

26g
Fiber

1g
Sugar

15g
Protein

1g