This vegan meatloaf recipe is so yummy and just like Grandma used to make it!
I will admit, when looking at meat "meatloaf" I was never really that interested. But my Mom always said it was a highly regarded comfort food like Baked Mac And Cheese [mine is vegan of course!]
But vegan meatloaf? Sign me up!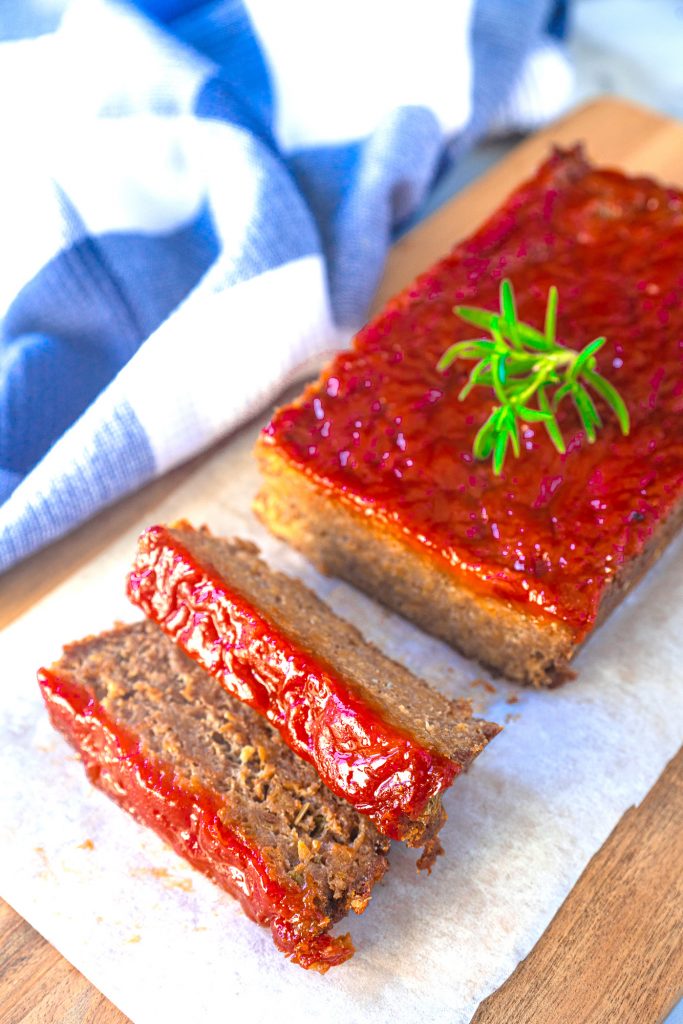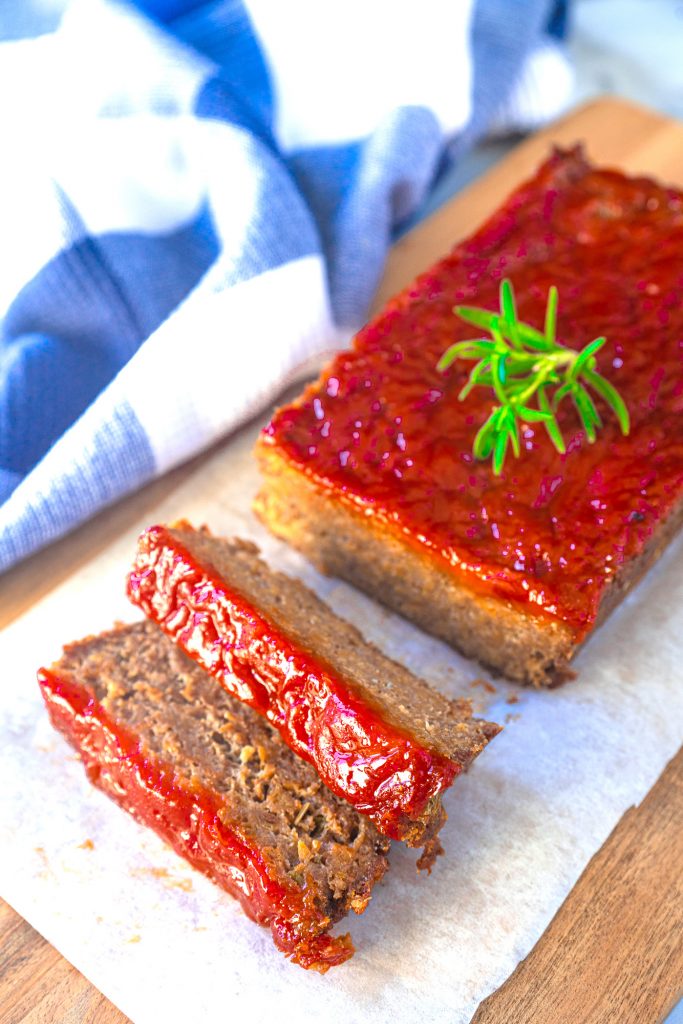 Making meatloaf vegan at home is beyond easy to make and super yummy too. It is perfect for any time of year, but works great as a hearty side of main for your Vegan Thanksgiving too!
This vegan meatloaf recipe is the closest you will get to actual meatloaf, if authenticity is what you are looking for.
I have tried lentils and mushrooms like in my Vegan Wellington, and while they are beyond good, they aren't a stand-in for vegan ground meat which is what I use in this recipe. So if you are looking for a lentil meatloaf, this isn't the recipe for you.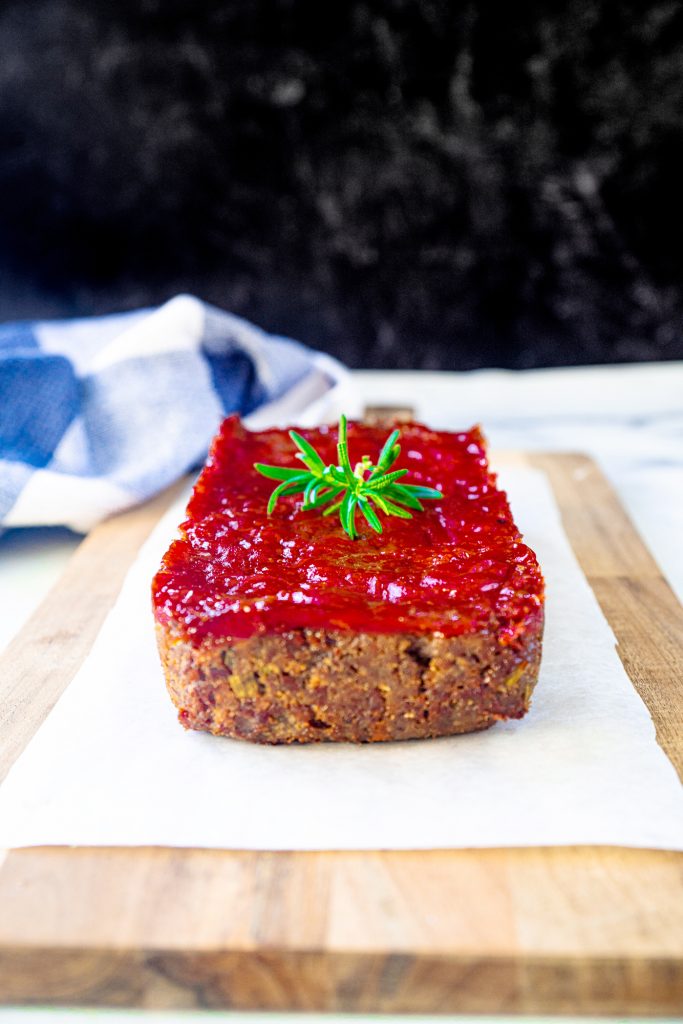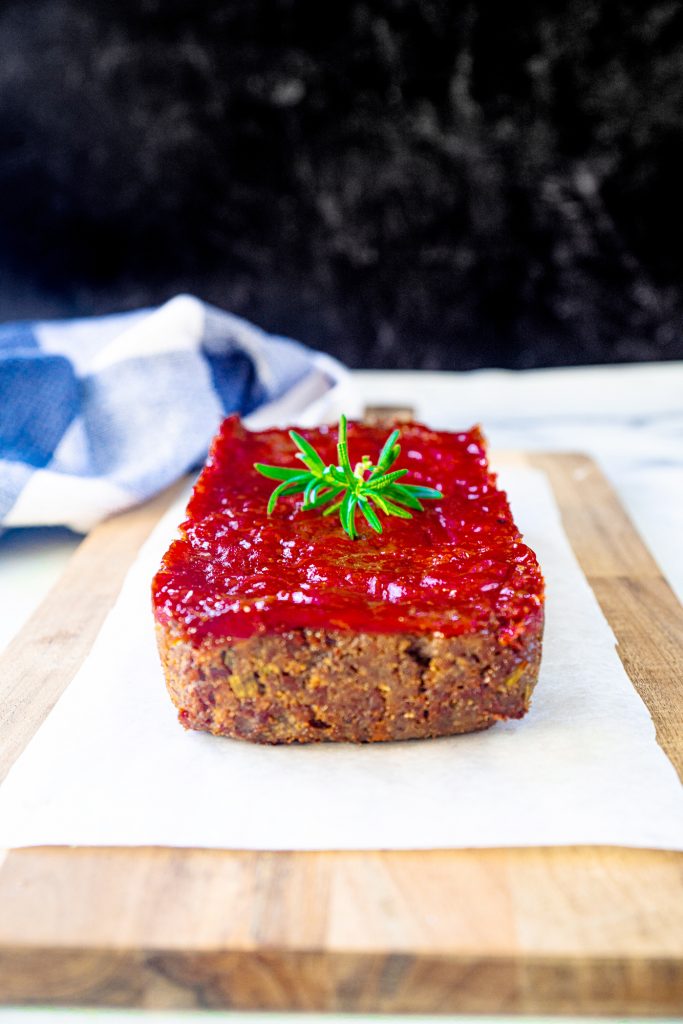 As you may know from reading my site, you know that I am all about speed and not spending too long making each recipe, but still having it come out tasting amazing!
The vegan meatloaf is truly the perfect blend of yummy and hearty with speed!
Although you do have to bake this yummy loaf for about 1 hour, the prep time takes less than 10 minutes and is super quick.
This is the perfect vegan recipe for kids after school or work when you are in a rush!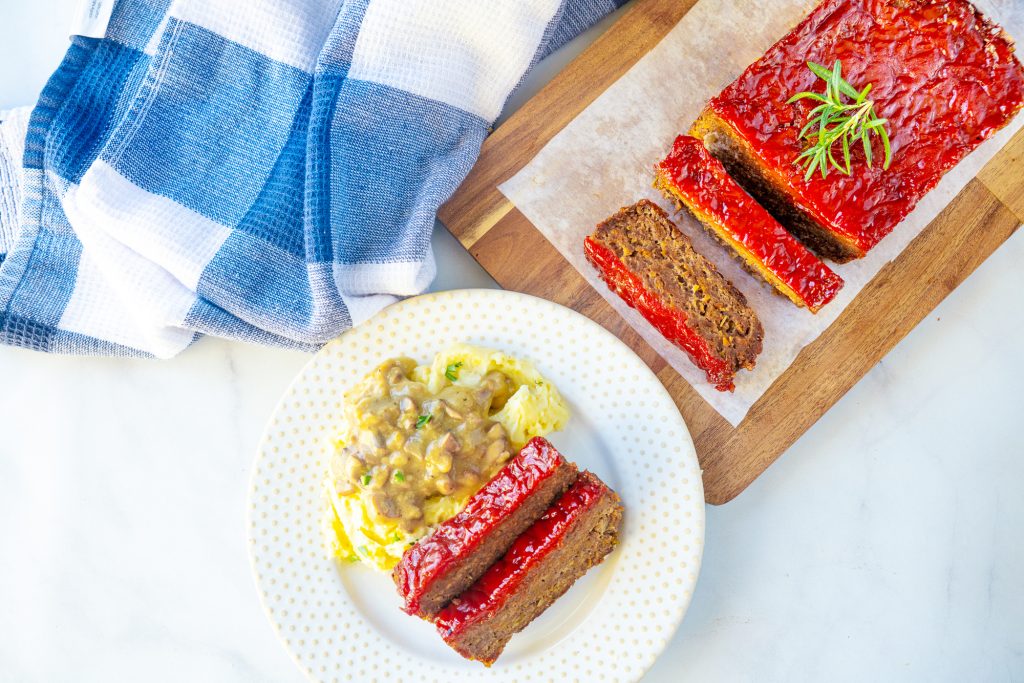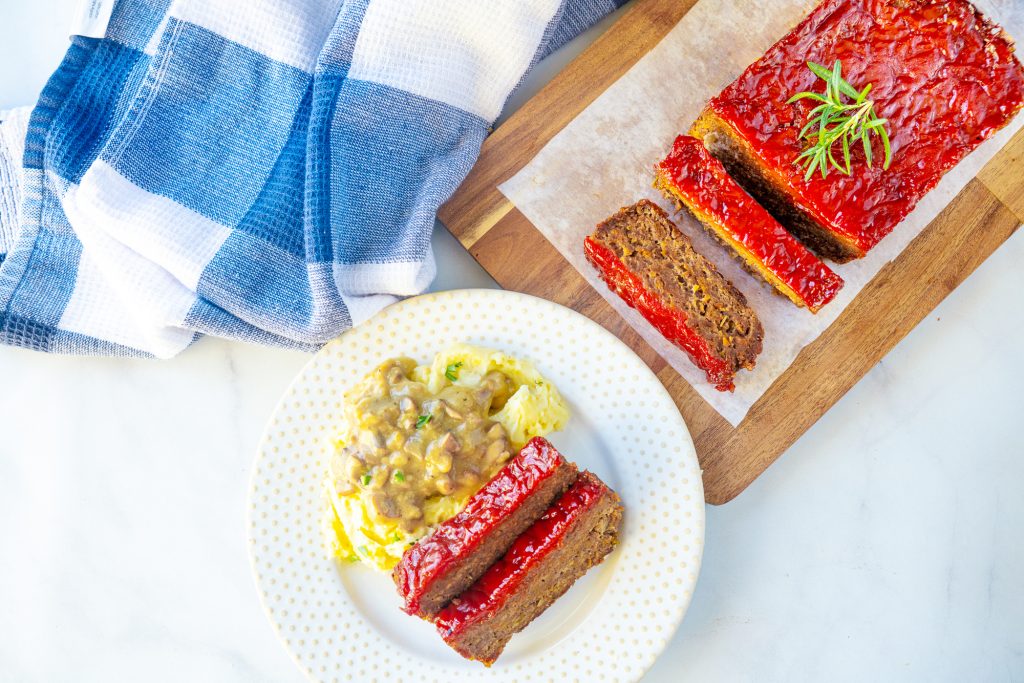 Come home, throw it together in less than 10 minutes, and pop it in the oven while you work out, decompress, or prepare for the next day. Making meatloaf vegan at home is just that simple.
The sweet glaze topping really pulls this meatless meatloaf recipe together. It is the perfect blend between sweet and salty and goes together really well with the meaty vegan loaf.
Serve this meatless meatloaf with some of my Vegan Mashed Potatoes and Vegan Brown Gravy and a side of Garlic Roasted Brussels Sprouts for a well-rounded homestyle meal!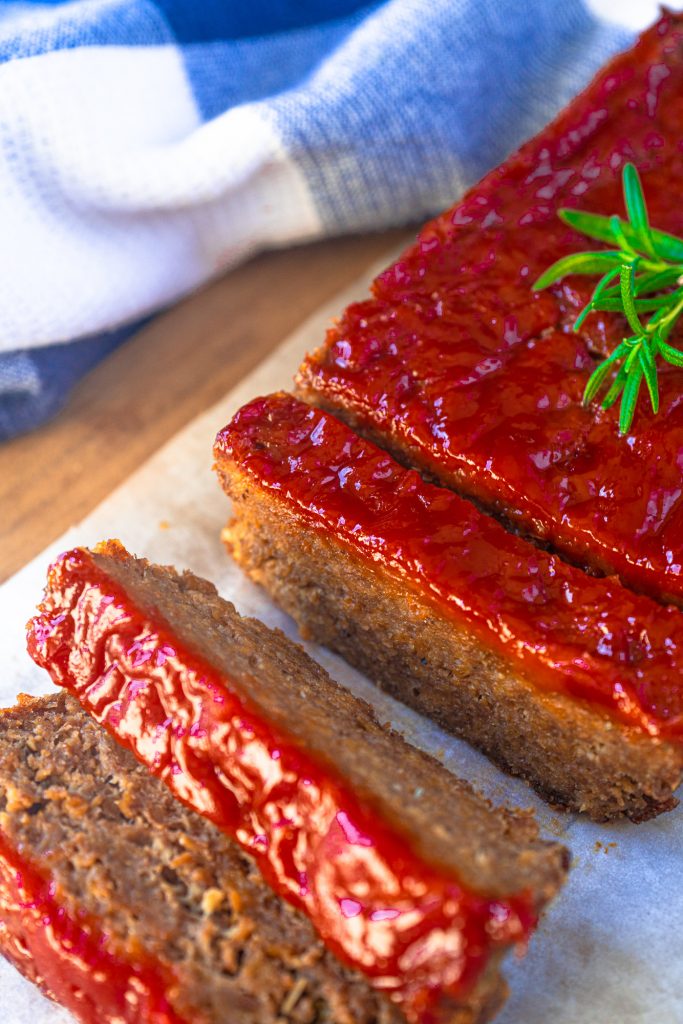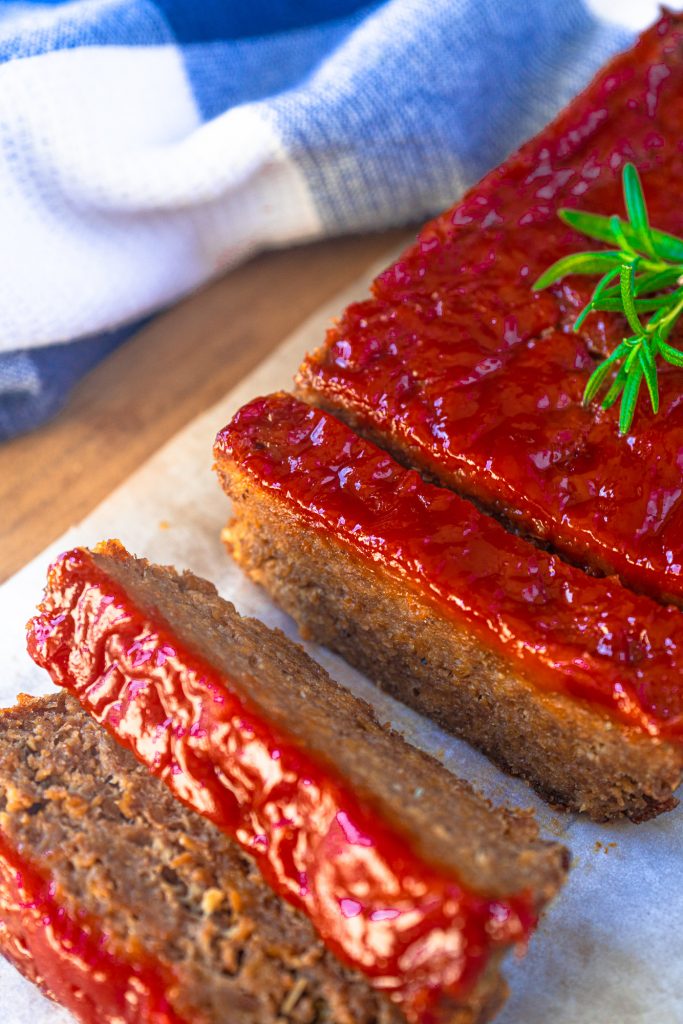 Why You Will Love This Vegan Meatloaf Recipe
It whips up super quickly. Making meatloaf vegan at home doesn't have to take forever. This recipe only takes 10 minutes of active prep time. Sure, the cooking time is longer, but the amount of work you actually have to invest isn't much. You will have dinner on the table in no time and while it cooks, you can shower, exercise, or prepare the rest of the meal.
It tastes so comforting and delicious. This vegan loaf recipe really tastes so good and will make the perfect centerpiece for your holiday meal, or anytime you want. The seasoning and spices are perfect and the end result is a showstopper.
Perfect for meal prep. You can make this veggie meatloaf without eggs and use it for meal prep throughout the week. Just slice it into individual portions, freeze, and store in a freezer-safe container. Then you can take it out and reheat it and have a yummy meal whenever you want it. You can also make a meatloaf sandwich, yes it is a thing!
It is healthier than the store-bought stuff. This isn't medical advice, but making the best vegan meatloaf you have ever had at home is just better than buying it pre-made from the freezer or the health food store.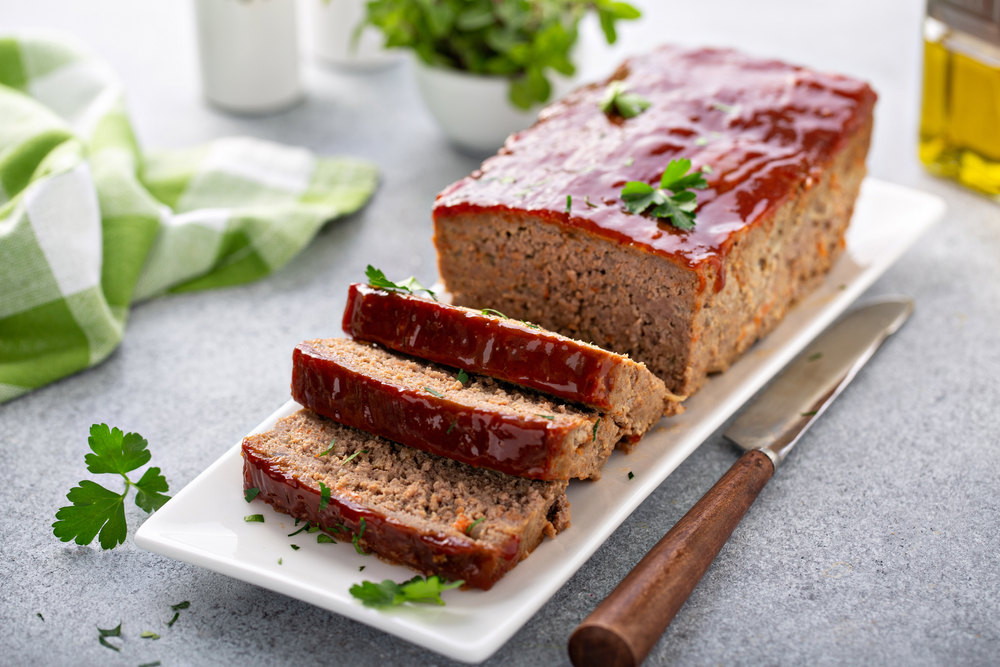 What Kind Of Beefless Crumbles To Use For The Vegan Meatloaf
I am usually a huge fan of Gardein frozen beefless crumbles. They are so good and I use them in a lot of recipes such as my Vegan Burrito Bowl.
However, unless you can otherwise avoid it, I do not recommend using a frozen vegan ground meat for this vegan loaf.
I like to make things easy, so you can use whatever meatless crumbles you can get at your local grocery store.
The only thing that I ask for this recipe is that you make sure that they are in the refrigerated section, not the frozen section.
The meatless crumbles in the refrigerated section are a more sticky texture which works well when making vegan meatloaf.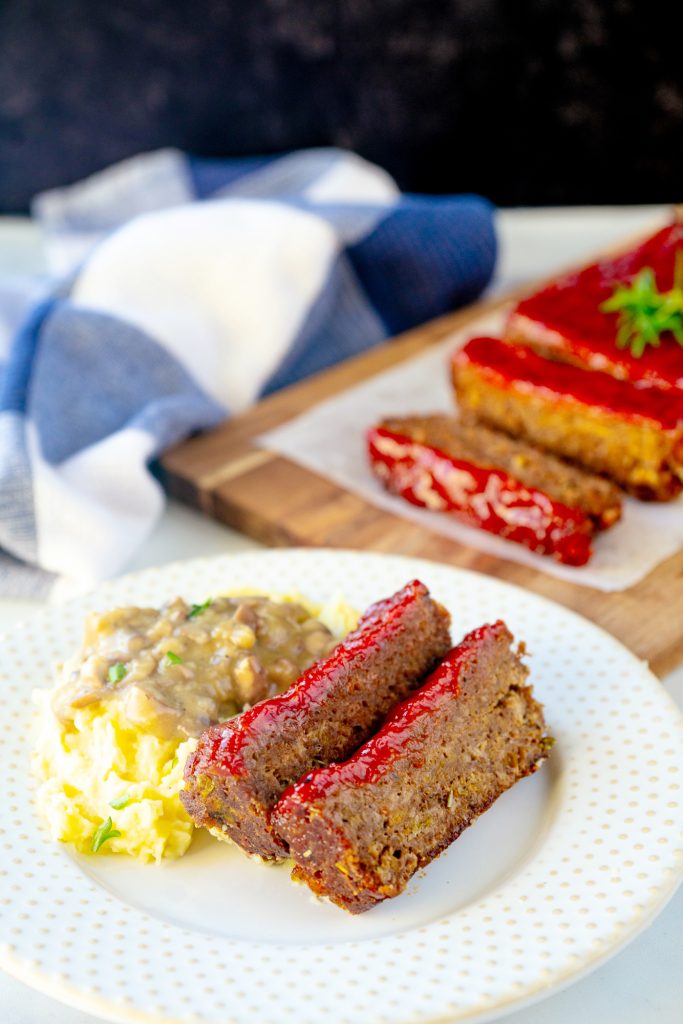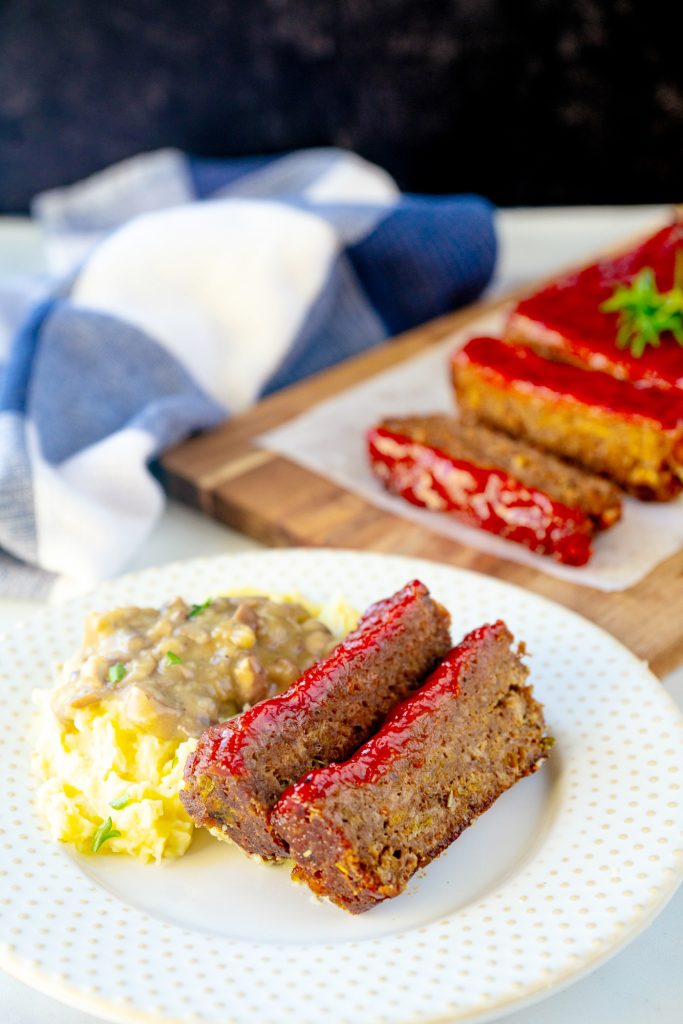 This texture helps the meatloaf to stay together in a loaf.
I absolutely love using Beyond Meat Beefless Crumbles for this recipe and it tastes SO GOOD! But it is also like $10 for a package which I know not everyone can afford or wants to spend money on. Of course, you can also make an Impossible meatloaf at home too.
There are plenty of other brands in the $3-4 range such as Lightlife Smartgrounds which have been around for a long time and are a vegan staple.
Whatever you do, just make sure that you ideally use crumbles from the fridge, not the frozen section for best results on your vegan meatloaf recipe!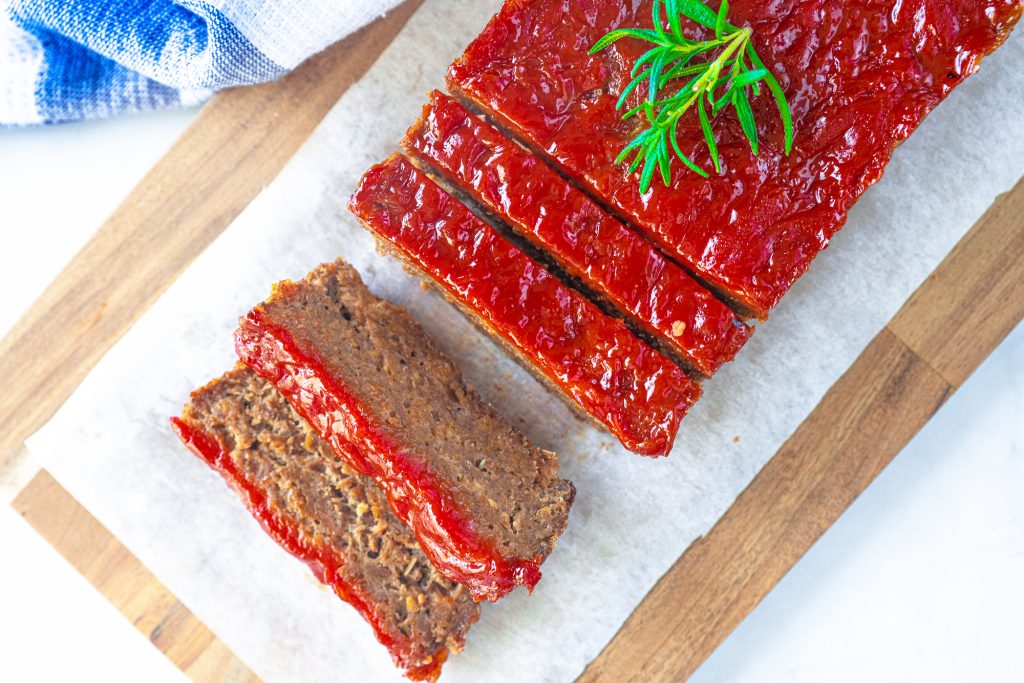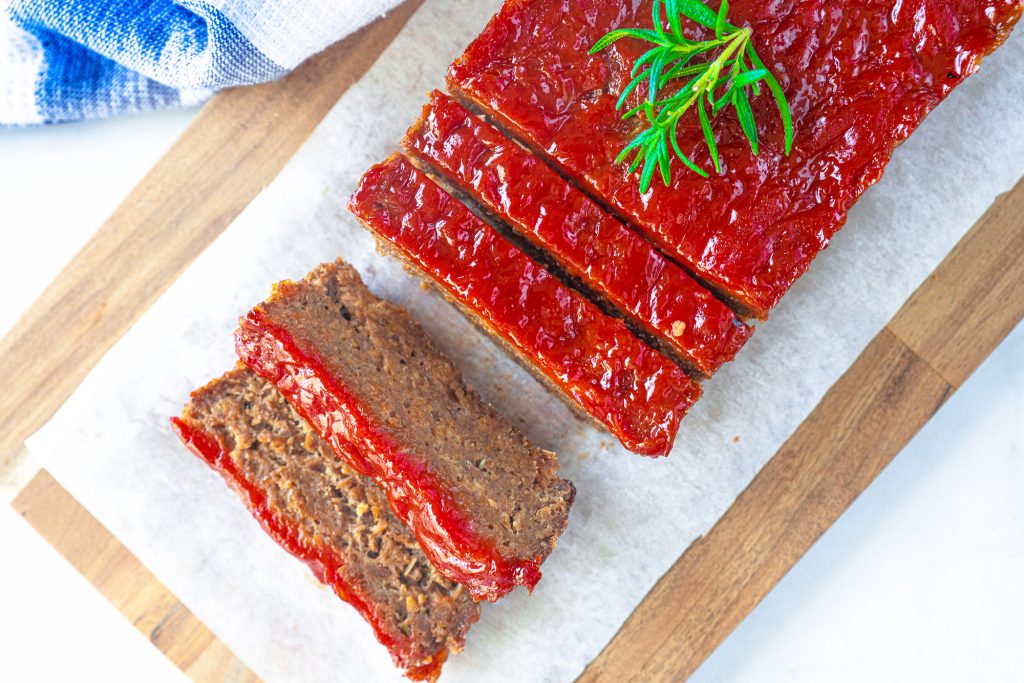 How To Make Meatloaf Vegan
As I said above, putting together the best vegan meatloaf recipe is quick and easy!
While the baking time is around 60 minutes, the prep time is so beyond easy and fast!
First, I highly recommend putting a piece of parchment paper inside your loaf pan. This will allow you to easily take the vegan meatloaf out to cool when you are done!
If you don't have parchment paper handy, you can grease the bread pan, but I do love using parchment paper the best!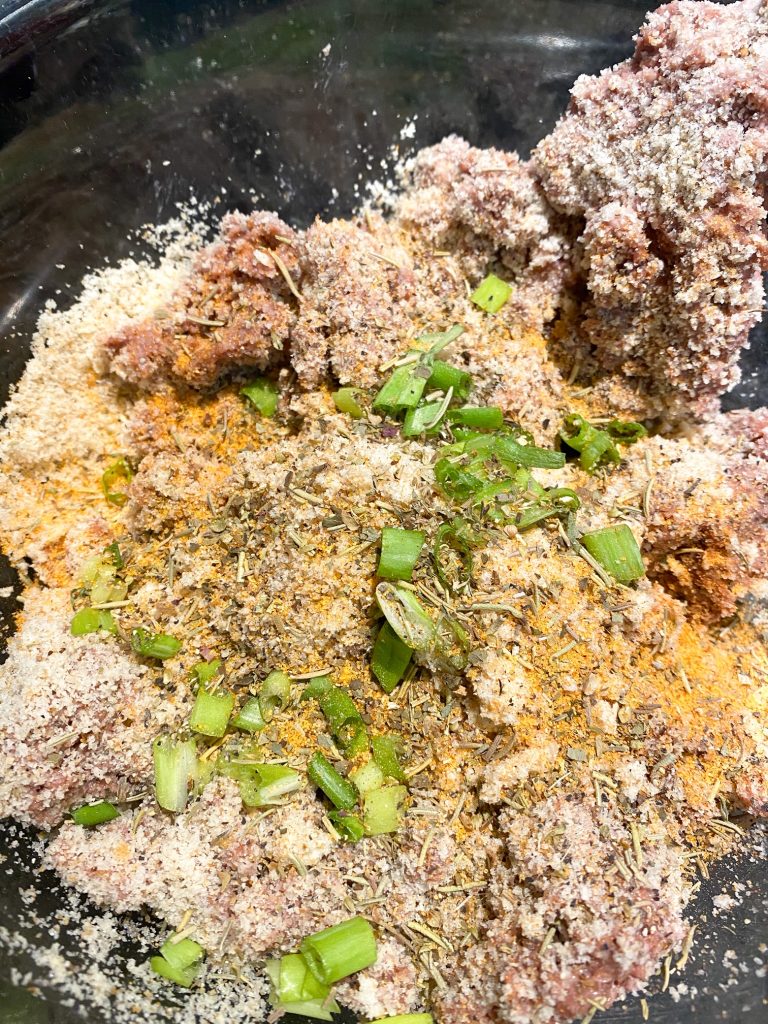 In a large bowl, you are going to combine your vegan beef crumbles [I love Beyond or Lightlife] green onions, bread crumbs, salt, pepper, rosemary, and parsley. You can use seasoning salt if you want, but it is optional!
In a small container, mix together 2 tablespoons of flaxseed and 2 tablespoons of water.
This is what we call a "flax egg" in vegan cooking as it allows you to mimic the results of cooking with a real egg.
Once you make your flax egg, combine it with the remaining ingredients and mix well.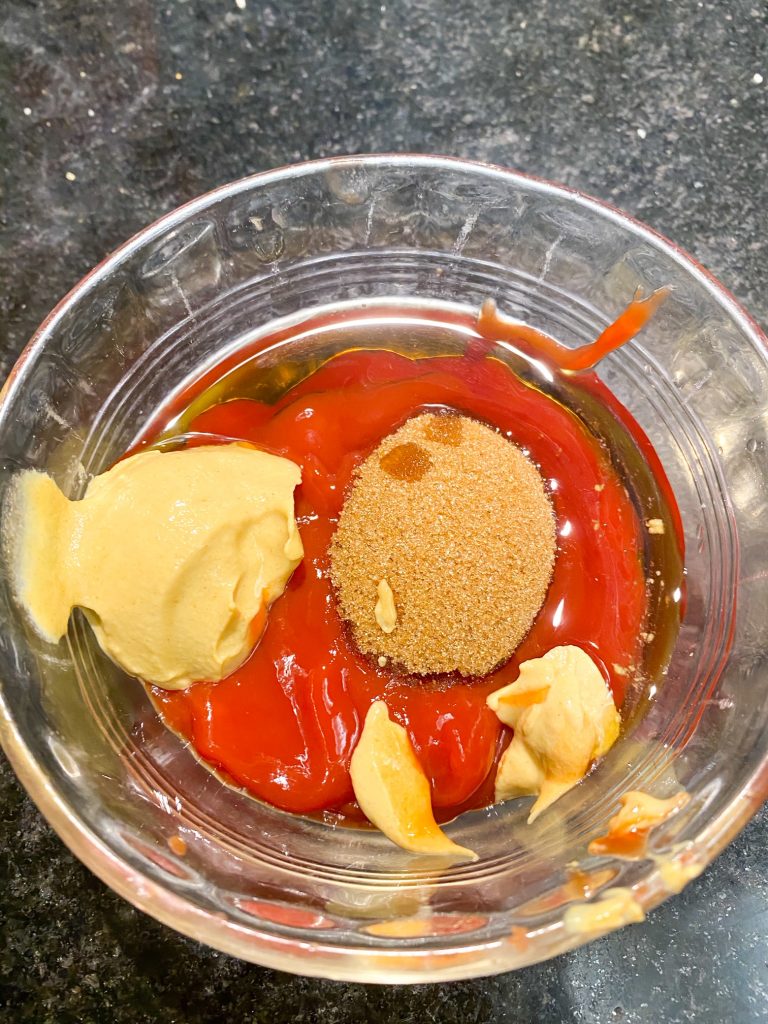 I tried to mix it with a spoon and it didn't come out. My mom reminded me that when my Grandma used to make meatloaf, she would use her hands.
So I washed my hands and dug in!
I highly recommend using your clean hands to mix and shape the meatless meatloaf into a loaf shape.
Once you combine everything, go ahead and form it into a loaf shape in the bread pan. Use your hands to press the mixture evenly into the loaf dish.
In a small mixing bowl, add ketchup, brown sugar, maple syrup, and dijon mustard to make the best vegan meatloaf glaze ever!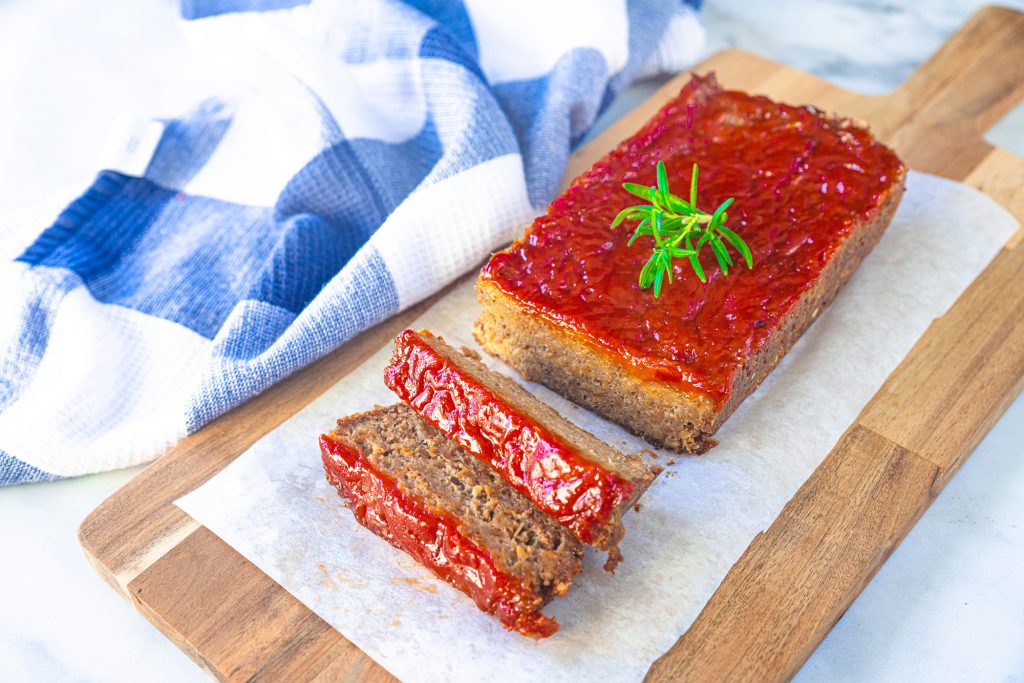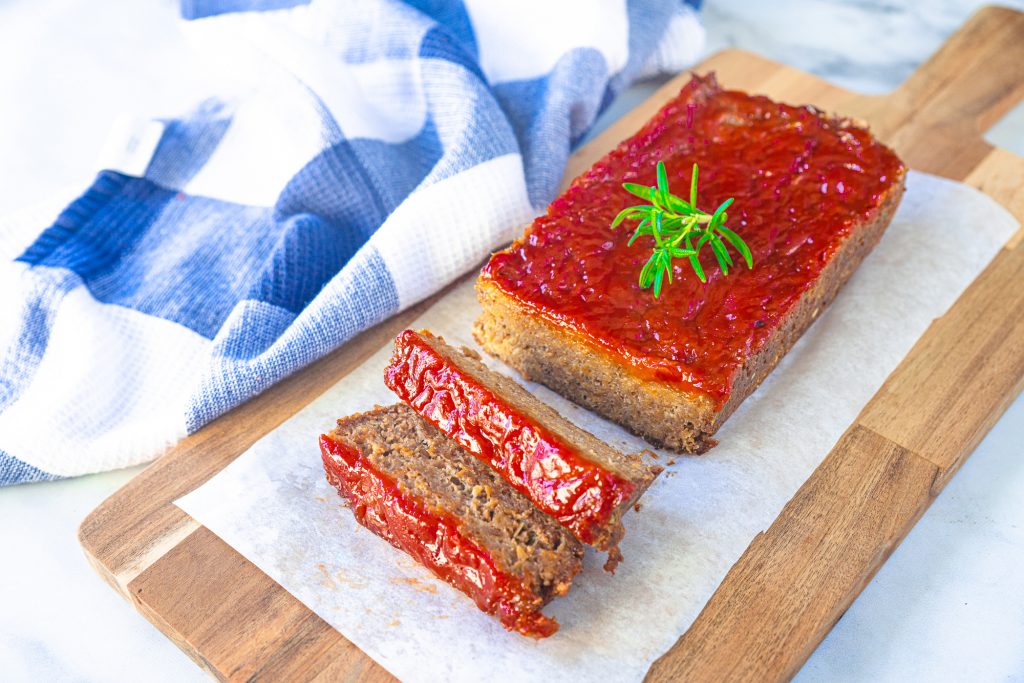 Pour the glaze over the top of the veggie loaf and use a spatula or knife to spread it around and ensure that it covers the entire top of the loaf.
All you have to do is bake it covered for 40 minutes and then uncovered for 15-20 minutes.
As it cooks, you will see the entire meatloaf bubbling. This is okay! This is what is supposed to happen!
Taking the cover off allows the glaze to firm up and makes the perfect texture for your vegan loaf.
After it is done baking, remove the vegan meatloaf and let it cook in the loaf pan for about 10 minutes and then remove it to cool on a cooling rack!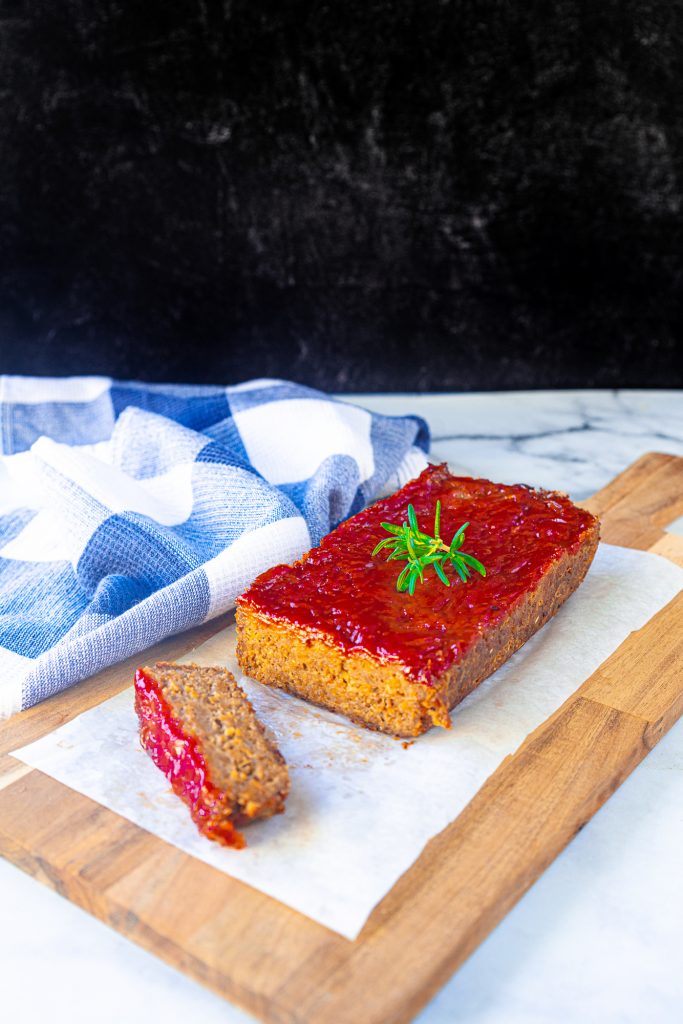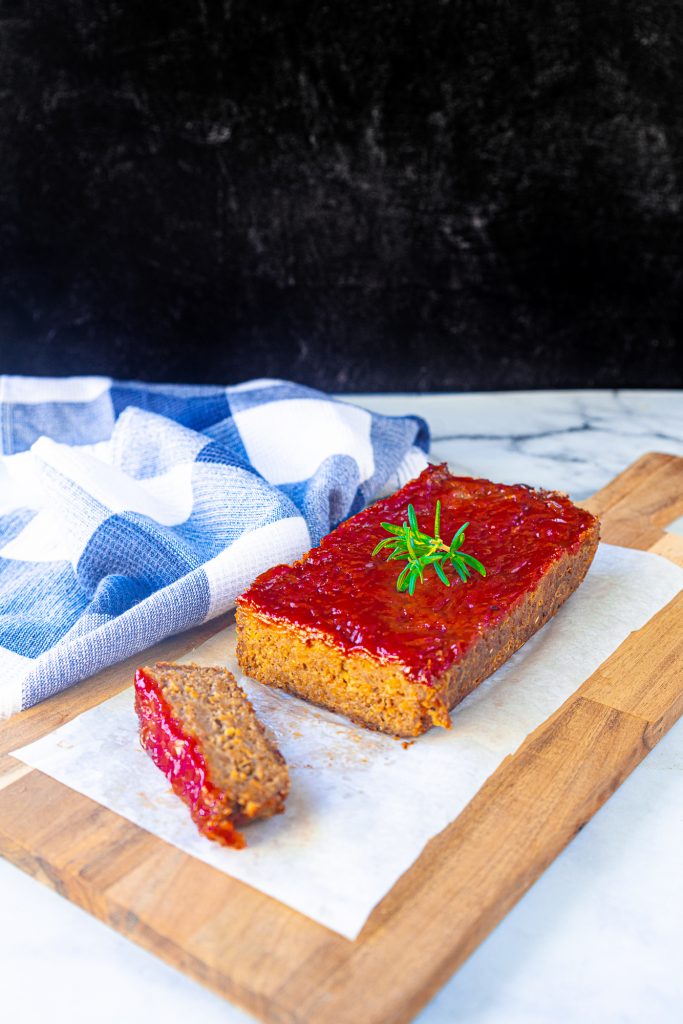 What To Serve With The Vegan Meatloaf
Oh the options are endless! First, you can go simple and just eat the vegetarian meatloaf with some ketchup and call it a day!
Some of my favorite sides to eat with the meatless meatloaf are:
Roasted Garlic Brussels Sprouts
Of course, the meatloaf tastes amazing as a standalone dish if you are in a rush. I at least like making some mashed potatoes or a side salad to eat with it though!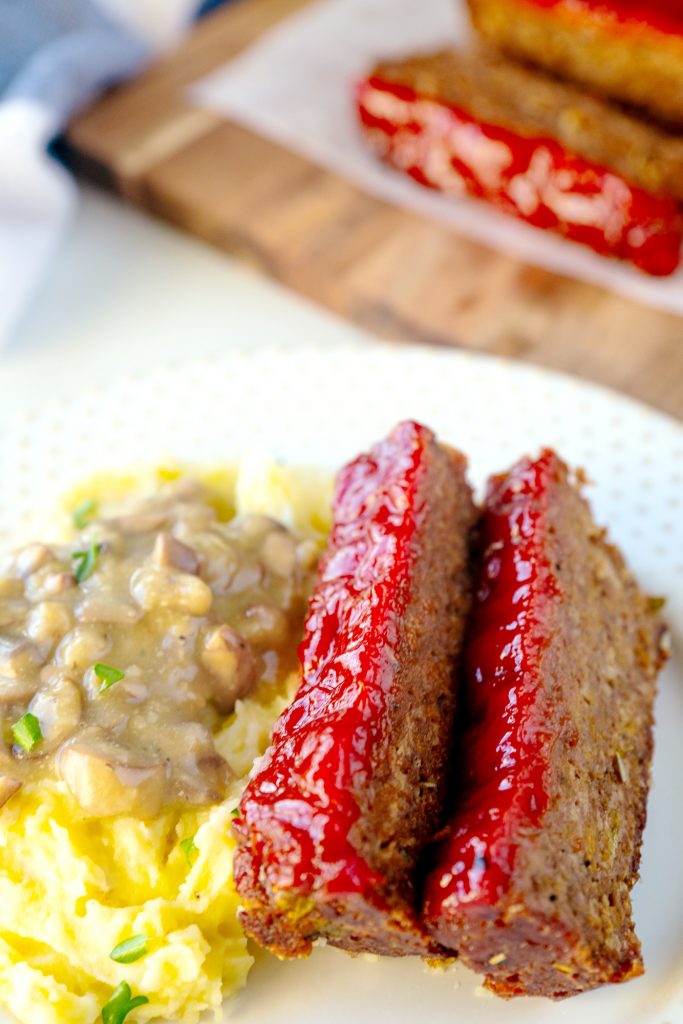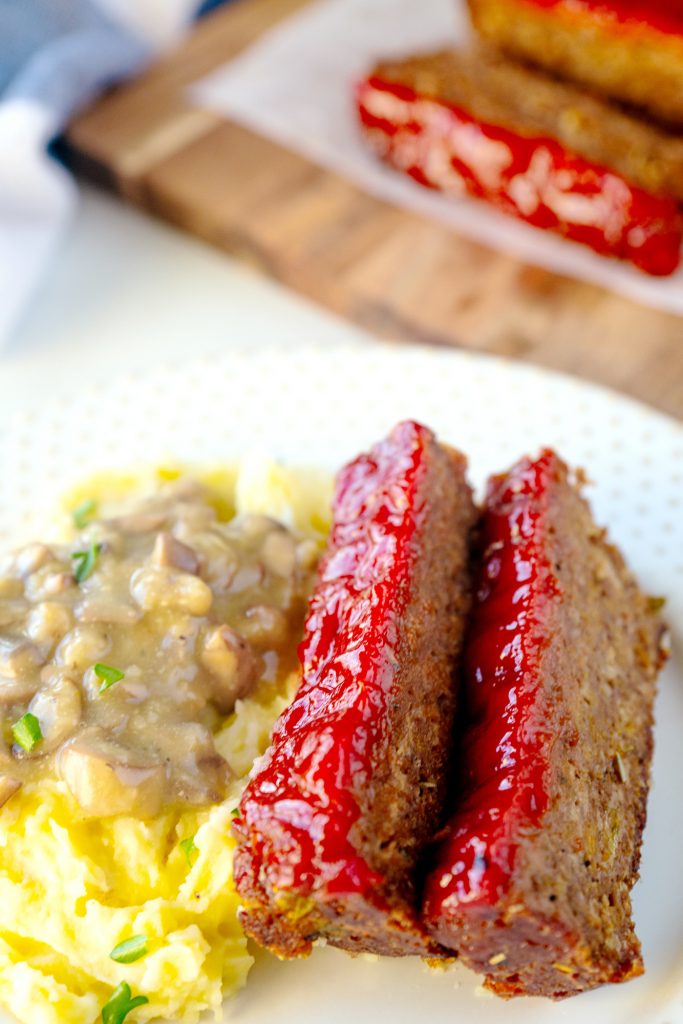 How To Store The Veggie Loaf Recipe
This veggie loaf recipe keeps wonderfully!
You can store it in an air-tight container in the fridge for 3-5 days.
To reheat, simply heat your oven to 350F and warm for about 10 minutes until heated throughout.
Yes, this will brown the meatless meatloaf a little more, but it just makes it taste even better!
Of course, you can always microwave it, but heating it in the oven is just delicious!
You can make this recipe in advance by simply putting all the ingredients in the loaf pan and wrapping them in an air-tight container in the fridge.
When it is time to eat, just take out the vegan loaf and bake! You may need to bake an additional 10 minutes as it will be coming from the cold fridge! You can serve this for any fancy meal with Vegan Stuffing on the side!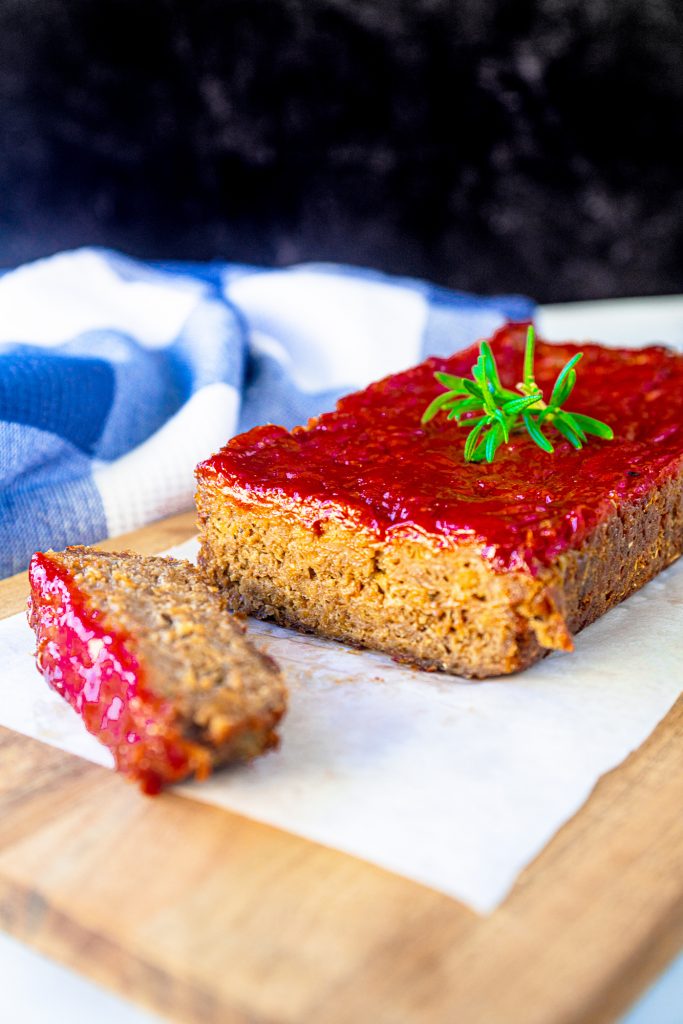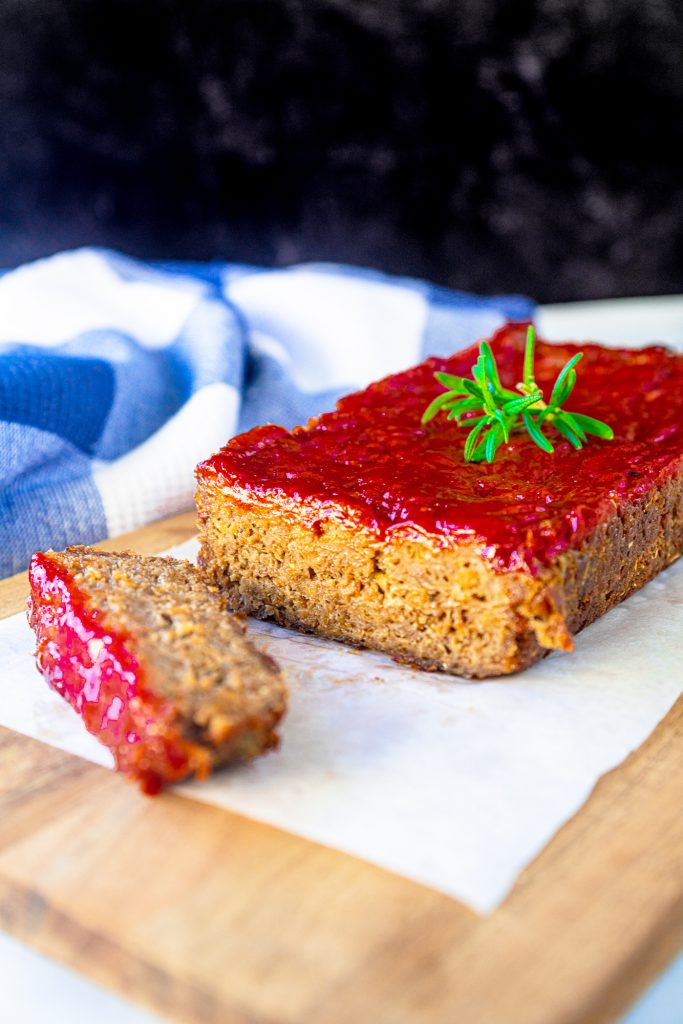 Did You Try This Recipe?
If so, I would love to keep in touch! I enjoy seeing photos and comments about the recipes that you make! You can follow me on Instagram and I will repost your goodies in my stories and comment on it too! Just tag me at @wowitsveggie and hashtag #wowitsveggie. I can't wait to see what you make!
Yield: 4 Servings
Classic Homestyle Vegan Meatloaf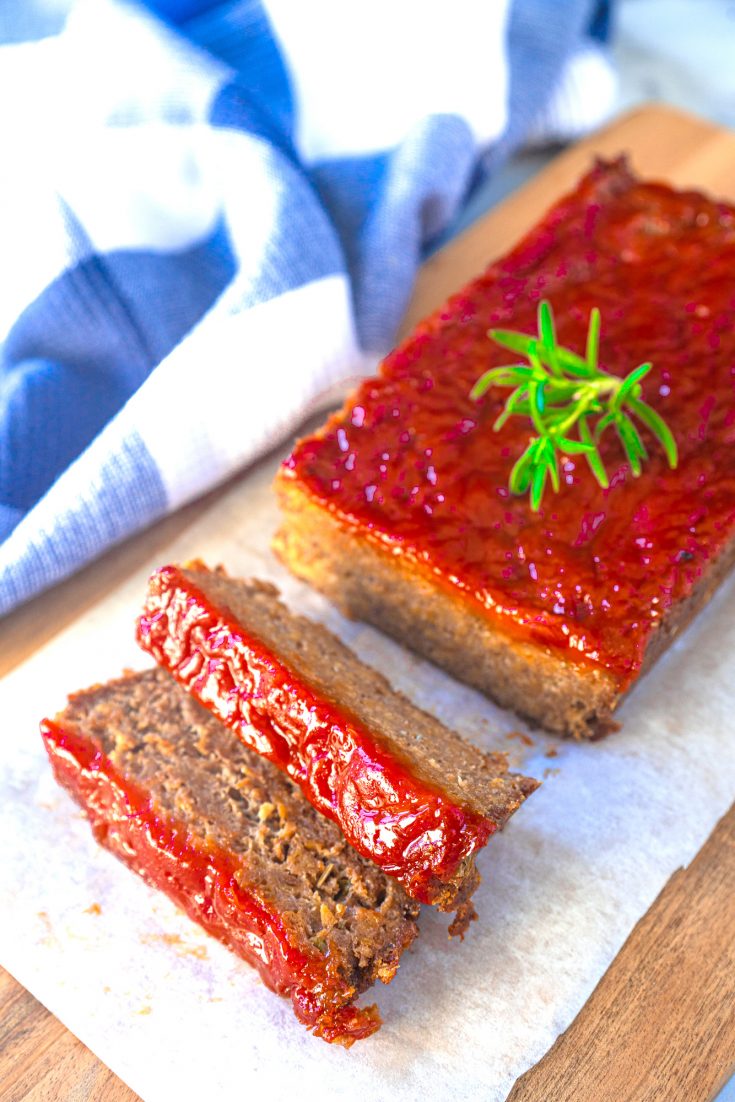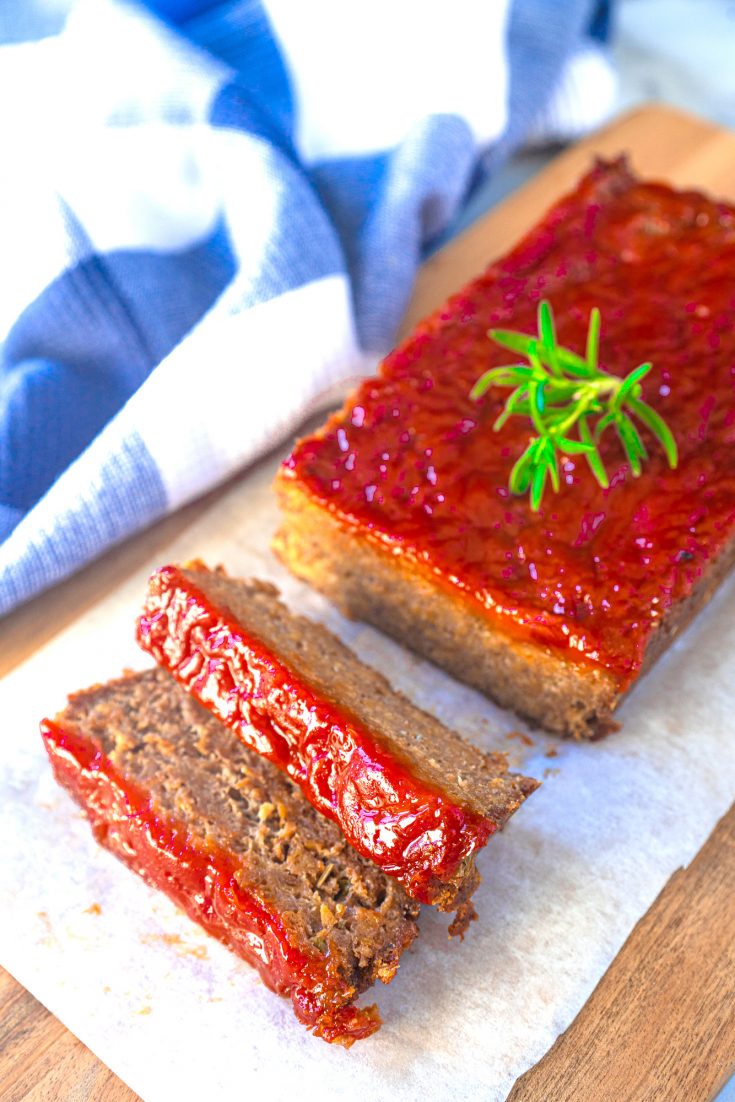 This classic vegan meatloaf is just like Grandma used to make it! Filled with yummy breadcrumbs, beefless crumbles, and veggies and topped with a sweet glaze, it is sure to be a hit at your next dinner or holiday!
Total Time
1 hour
10 minutes
Ingredients
1 14-16 ounce package vegan ground meat [Beyond/Lightlife brands work well]
2 tablespoons ground flaxseed
2 tablespoons water
3 green onion tops
1 cup breadcrumbs [homemade or store-bought is fine]
1 tsp dried rosemary
1 tsp parsley
1/3 cup ketchup
1 tablespoon brown sugar
1 tablespoon maple syrup
1 tablespoon dijon mustard
1 teaspoon salt
1 teaspoon pepper
Optional: Seasoning salt to taste
Instructions
Preheat oven to 350F and line a loaf pan with parchment paper. You can use a 5x9 inch or a 4.5x8.5 inch loaf pan both work okay.
In a small bowl you are going to combine the ground flaxseed and water to create a "flax egg." Set aside.
In a large bowl, combine meatless crumbles, green onion, bread crumbs, salt, pepper, rosemary, parsley, and the flax egg. Use your clean hands to combine and form into a loaf shape. I highly suggest using your hands as this is the way my Grandma did it and the way that works best!
Once the vegan meatloaf mixture is combined, form it evenly into the loaf pan and press it in to make sure it covers the whole baking dish.
In a small bowl, whisk together ketchup, sugar, mustard, and maple syrup until well combined. Pour the glaze over the top of the meatloaf mixture in the loaf pan and use a spatula or the back of a spoon to spread evenly and coat the top.
Bake your vegan meatloaf covered for 40 minutes and then uncovered for 15-20 minutes. It will bubble during cooking. The last 15-20 minutes allow the glaze to firm up so don't skip this step!
Let cool for about 10 minutes and then serve immediately from the bread pan or use the parchment paper lining to remove and serve on a platter.
Nutrition Information
Yield
4
Serving Size
1
Amount Per Serving
Calories

187
Total Fat

4g
Saturated Fat

1g
Trans Fat

0g
Unsaturated Fat

3g
Cholesterol

0mg
Sodium

1011mg
Carbohydrates

35g
Fiber

3g
Sugar

12g
Protein

5g