This vegan gnocchi recipe is so tasty and delicious and uses no animal products at all!
Making gnocchi vegan at home has never been easier and this recipe only uses 3 ingredients.
Of course, you can top it with whatever sauce you like, such as my Vegan Alfredo Sauce, but I recommend a delightful garlic white wine sauce in this easy recipe!
Prefer a red sauce? I also have a very easy Vegan Tomato Sauce you may love.
As someone with Italian grandparents, I have had my fair share of gnocchi and a the majority of gnocchi that I've had has been made with eggs and various other animal products.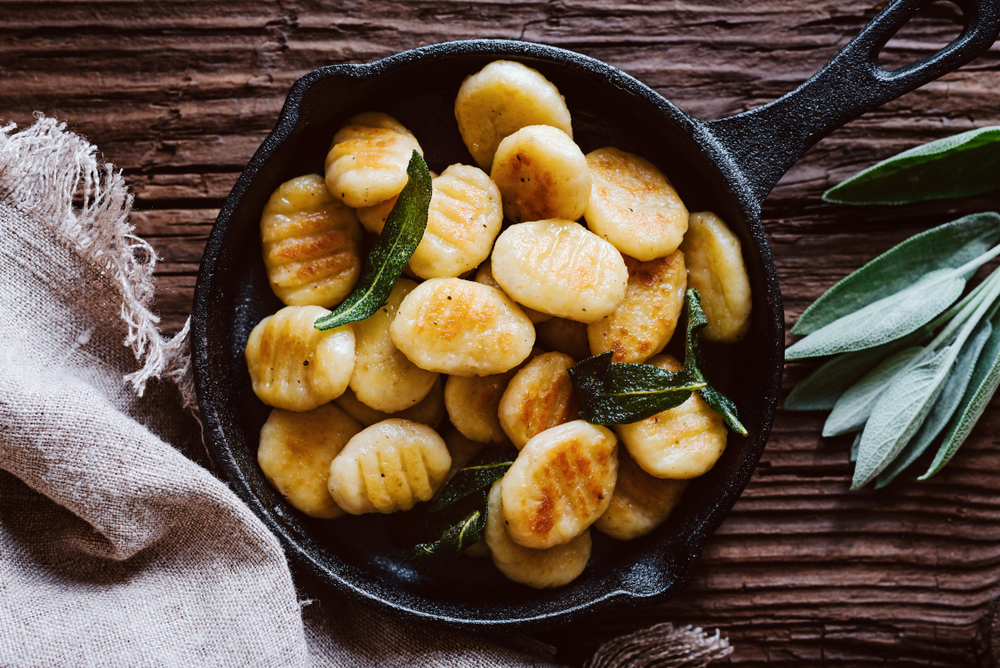 This eggless gnocchi recipe is so pillowy and soft and is some of the easiest pasta to make at home so if you are new to pasta making, never fear!
Believe it or not, making homemade gnocchi recipe vegan at home is actually pretty easy and almost fail-safe as there are just a few ingredients that you need.
I will even go so far as saying that making vegan gnocchi can be done quickly if you are in a rush or it is a weeknight.
You can even make the dairy-free gnocchi in advance so that you can eat it throughout the week and the longer it sits the better and firmer it gets.
Of course, you can customize your sauce, but I highly recommend my white whine sauce below which has garlic, mushrooms, onions, and white wine topped with some fresh walnuts which lead to a very unique and interesting taste!
Either way, you can't go wrong with any toppings when you are making this easy vegan gnocchi recipe!
This is also one of the best Vegan Recipes For Kids and kids love to help shape the gnocchi which makes it fun for the whole family.
I hope you enjoy this recipe as much as I do! Learning how to make gnocchi vegan at home has truly never been easier.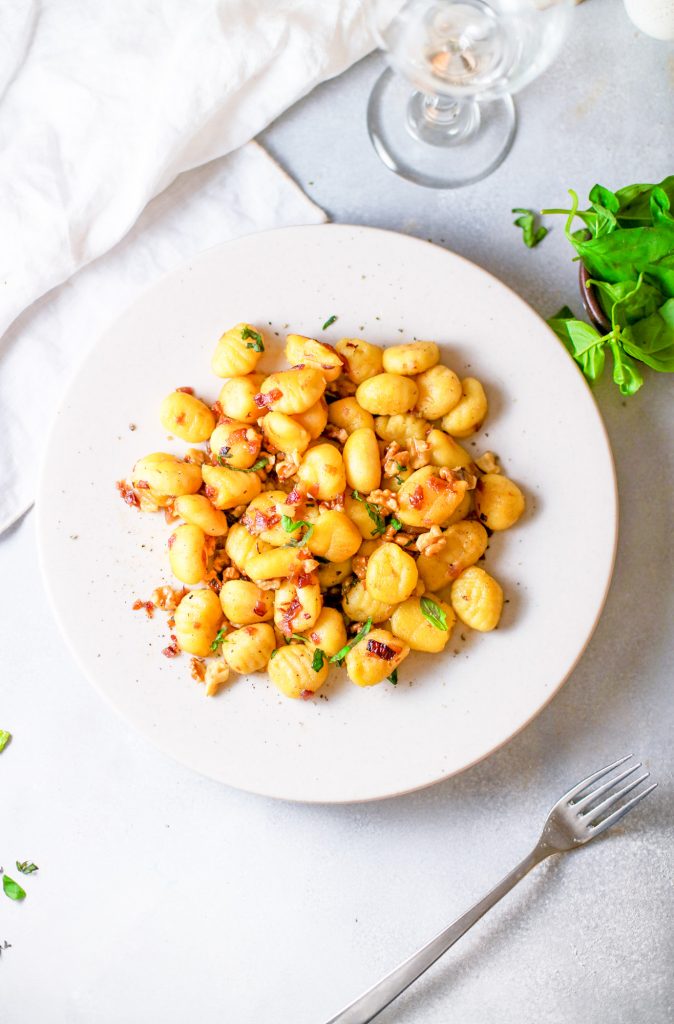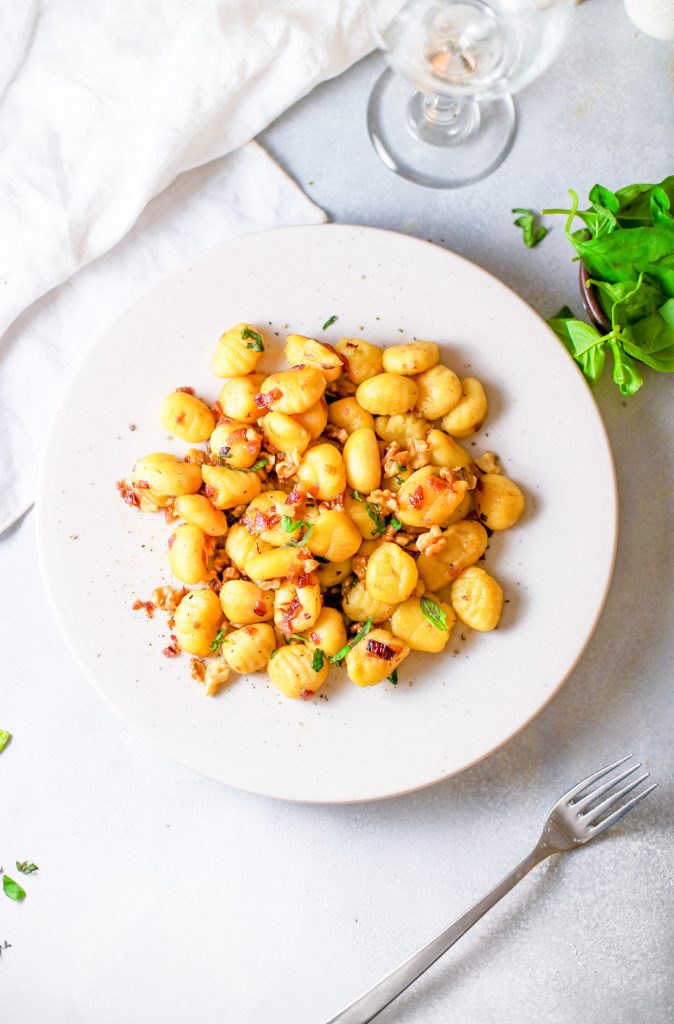 Why You Will Love This Easy Vegan Gnocchi
It only uses 3 ingredients! You know you are getting only the good stuff! When making gnocchi vegan at home, you only use 3 humble ingredients for the tastiest result ever. No additives. No weird things. Just 3 ingredients you will probably have around your kitchen for the easiest gnocchi without eggs.
Kids love it. This vegan potato gnocchi is perfect for kids because they see pasta and they are all in. You can even allow the kids to dress it up however they want. Add a different sauce that they prefer. Making gnocchi vegan is for the whole family!
Perfect for meal prep. You can make a big batch of this eggless gnocchi recipe and use it for meal prep throughout the week. Simply freeze the gnocchi on a cookie sheet individually and then once they are frozen, pop them in a freezer-safe container. Then, on a busy night, you will have homemade plant-based gnocchi for a home-cooked meal.
It is healthier than the store-bought stuff. This isn't medical advice, but making gnocchi vegan at home is better [in my opinion] than buying it from the store in the freezer section. Fewer additives, more flavor!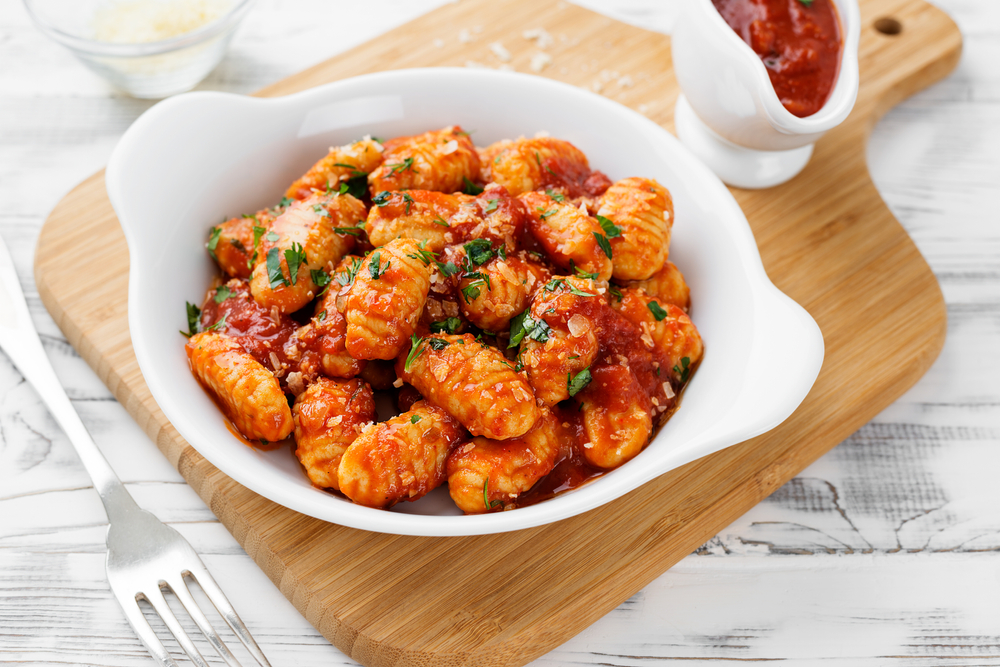 How To Prepare The Potatoes For The Vegan Gnocchi
In case you didn't know, potatoes are the main ingredient in vegan gnocchi.
And like every recipe, there is a special way to prepare the potatoes.
You are going to want to chop the potatoes and cook them in salted boiling water. You just want to make sure that the potatoes are soft and easy to pierce with a fork.
This is the same exact way I make my Vegan Mashed Potatoes.
Once your potatoes are cooked, it is time to prepare them for the vegan potato gnocchi recipe.
Now, traditionally, you will use a potato ricer which the majority of us do not own and have probably never seen!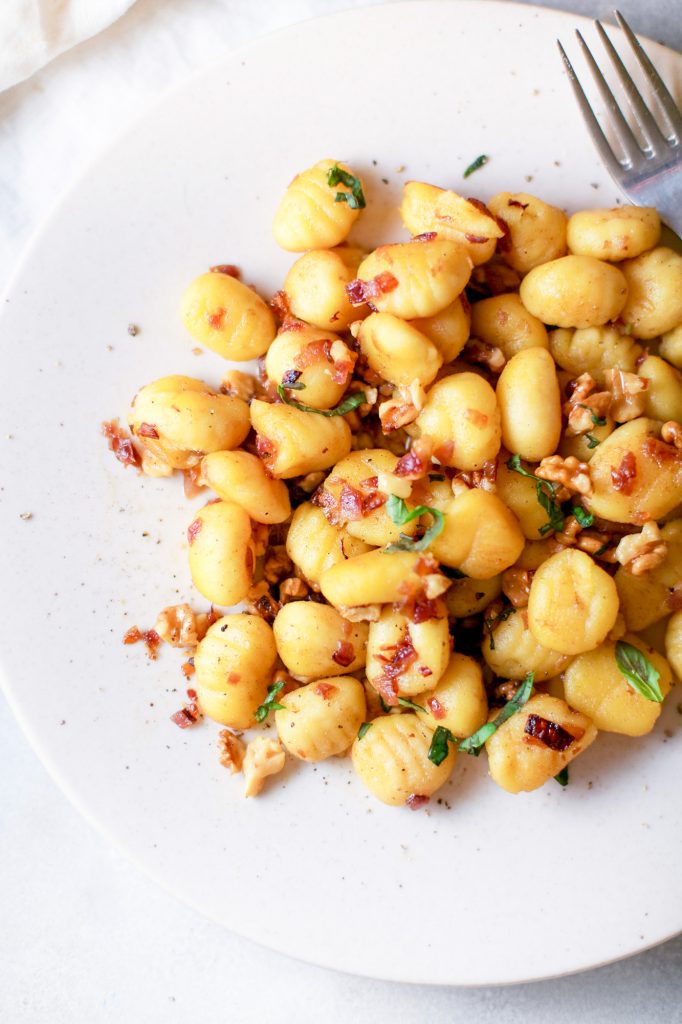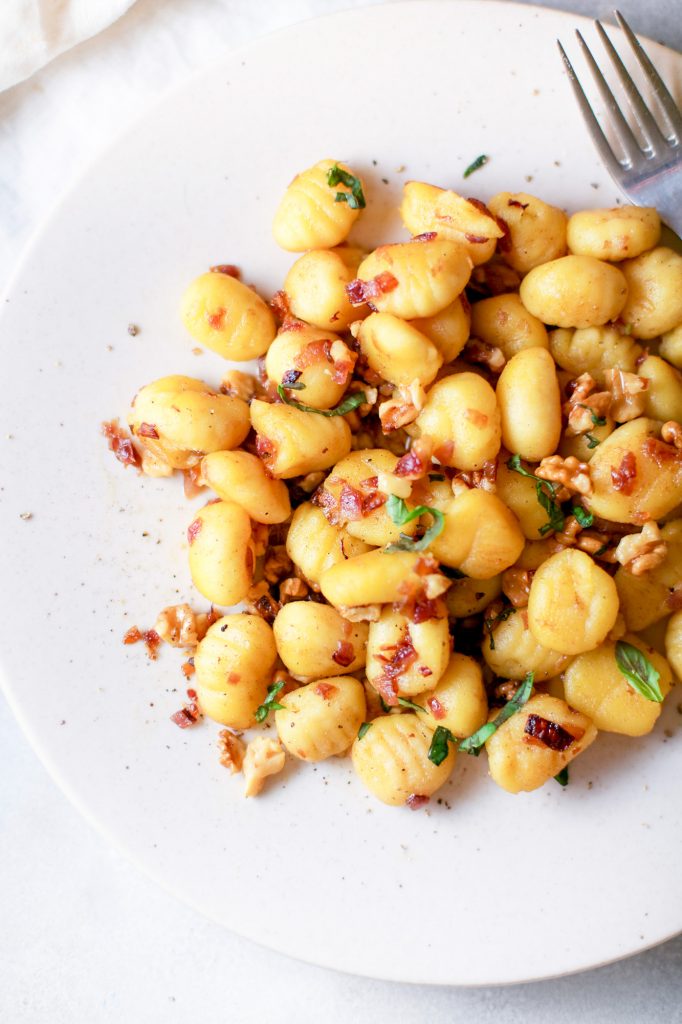 If you want, you can Buy A Potato Ricer From Amazon.
If you still want to make vegan potato gnocchi with what you have on hand, I recommend using a potato masher!
It is easy and you probably already have it on hand! When mashing your potatoes, it is important that you do not have any chunks in them as this will show up in the texture of the vegan gnocchi and will make the pasta pieces weird!
Try the best you can to mash the potatoes until they are as smooth as possible. Of course, they can have the texture of a potato, but you don't want any large chunks. When making potato gnocchi vegan, you really have to get the texture right for it to taste authentic.
You can also pop the cooked potatoes into a food processor or food chopper and pulse until smooth which is another way to ensure you get a perfect texture
Either way, don't be too hard on yourself as most of us don't have a potato ricer so a potato masher is the way to go!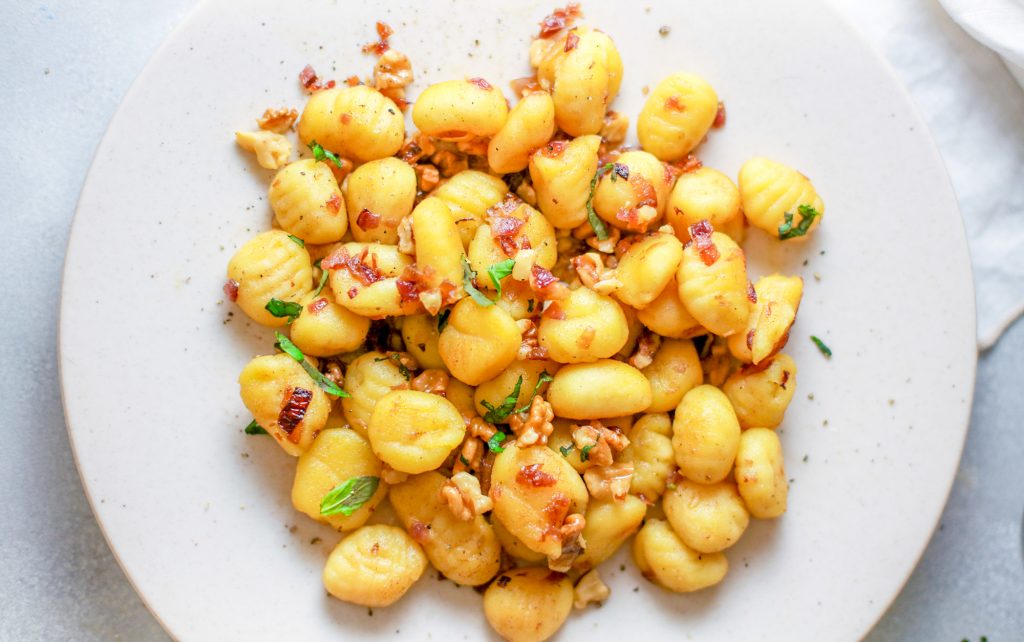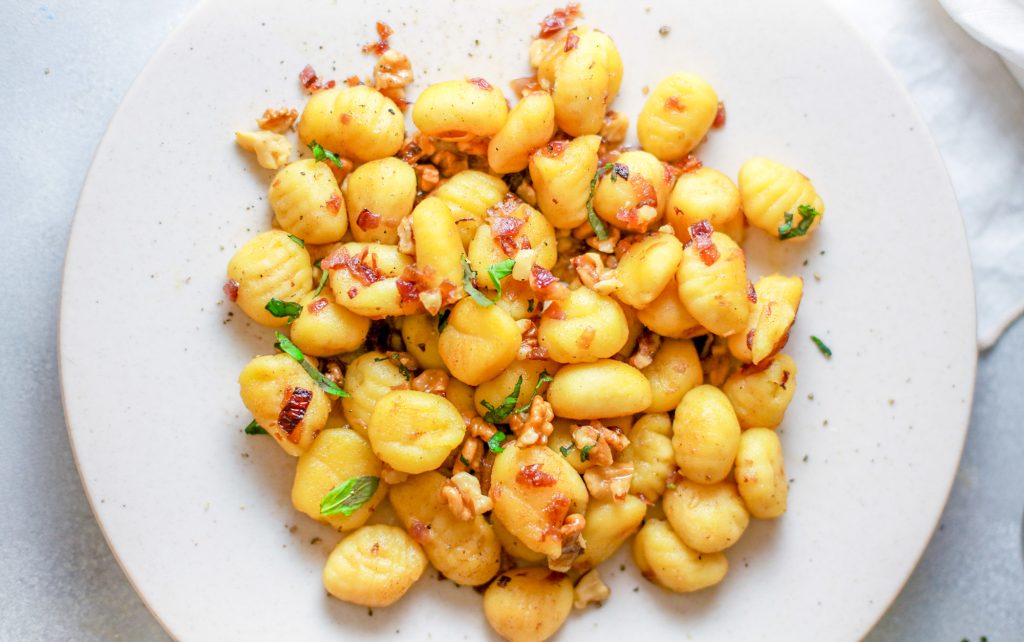 How To Add Flour To The Eggless Gnocchi Dough
If you are still learning how to make gnocchi, this is an important section!
This recipe calls for 2 cups of flour. YES you can use gluten-free flour and this homemade vegan gnocchi still works.
May I repeat! You can make vegan gluten-free gnocchi using this same recipe!
Once you mash or rice the potatoes, you will combine the flour.
You do NOT want to just dump the flour into the potatoes as it will not combine as well as it should and will leave you with weird dough.
This is the last thing you want!
You will want to add your olive oil and then incorporate flour in 1/2 cup increments.
Add 1/2 cup your flour and then mix to combine. I like using my clean and washed hands to mix and knead the dough.
Once the first 1/2 cup is combined, go ahead to continue adding in 1/2 cup increments until all of the flour is added and the potatoes and flour blend together into a nice vegan gnocchi dough.
Let the dough rest for 10 minutes as you prepare your sauce or side for this meal.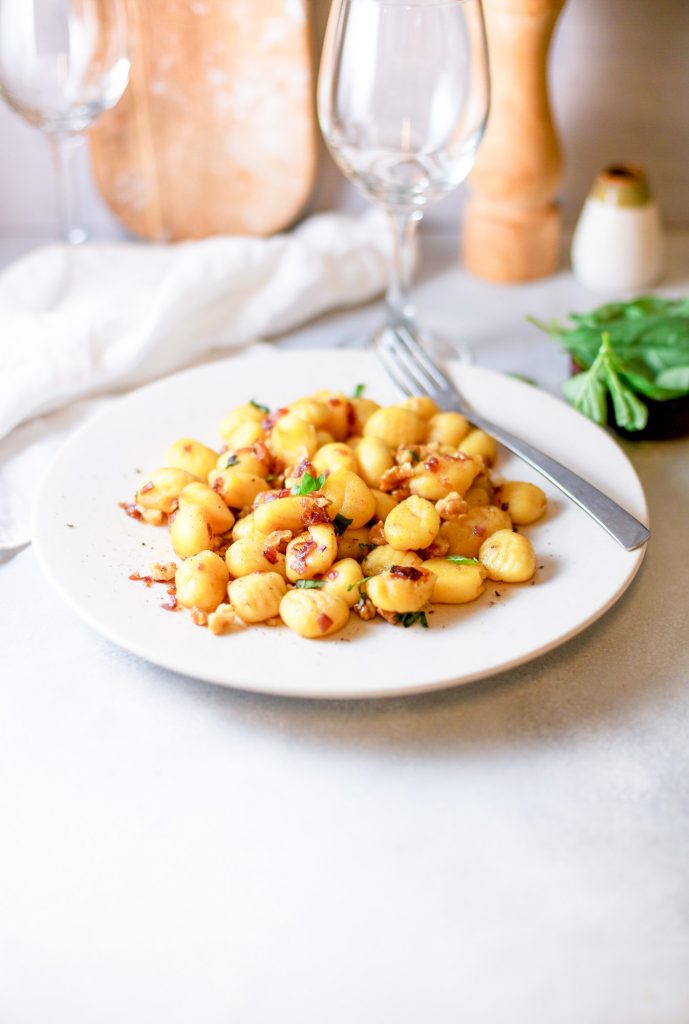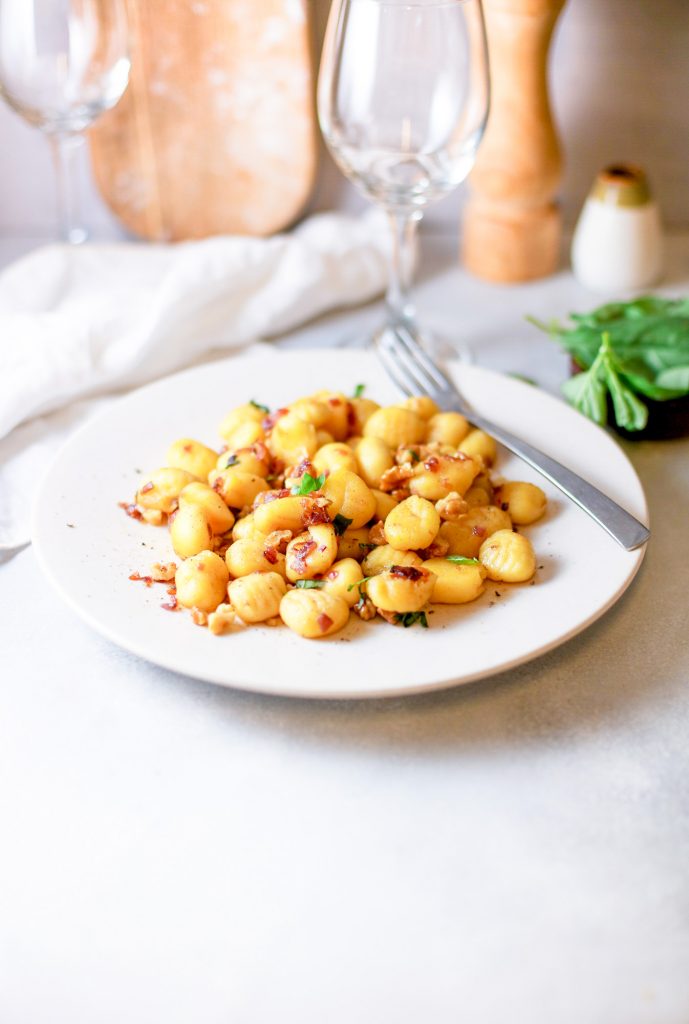 How To Shape The Homemade Dairy-Free Gnocchi
Shaping the homemade gnocchi recipe is the fun part and this is the part that kids love!
Once your dough is done resting, you simply take the dough out and form it into a 3/4 inch thick log or rope.
Then you are going to cut it into small rectangles that are going to be about bite-sized pieces.
Once you have your bite-sized pieces, you are going to use the tines of a fork and roll the vegan gnocchi over it to form the shape of the pasta pieces.
If you have kids, give each kid a pile of gnocchi dough and a fork and let them have at it!
If you are doing it by yourself, it may take a little longer, but the process isn't super bad and it is actually kind of fun.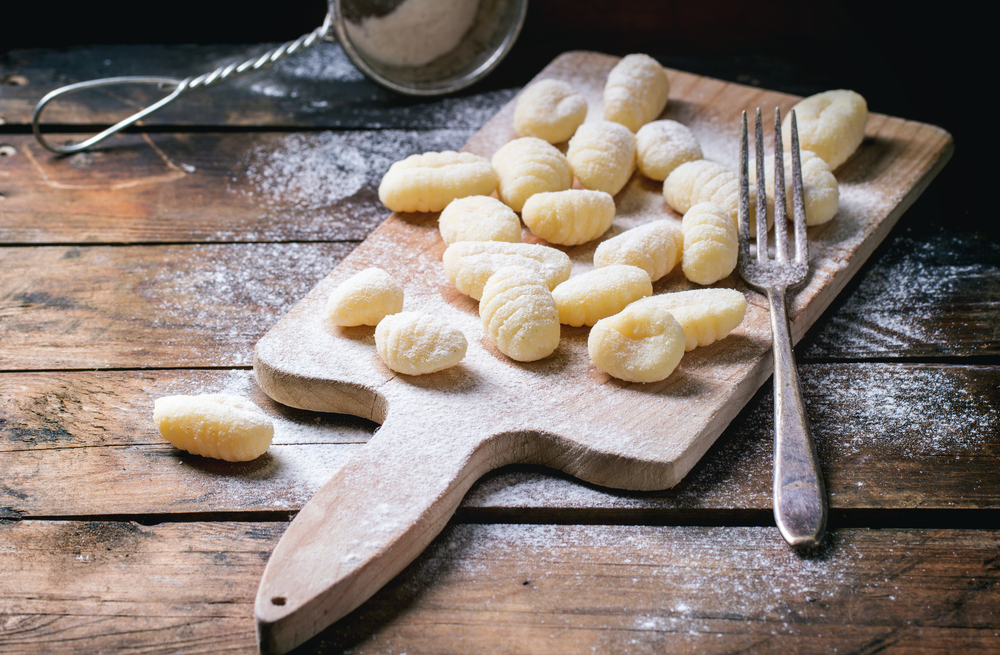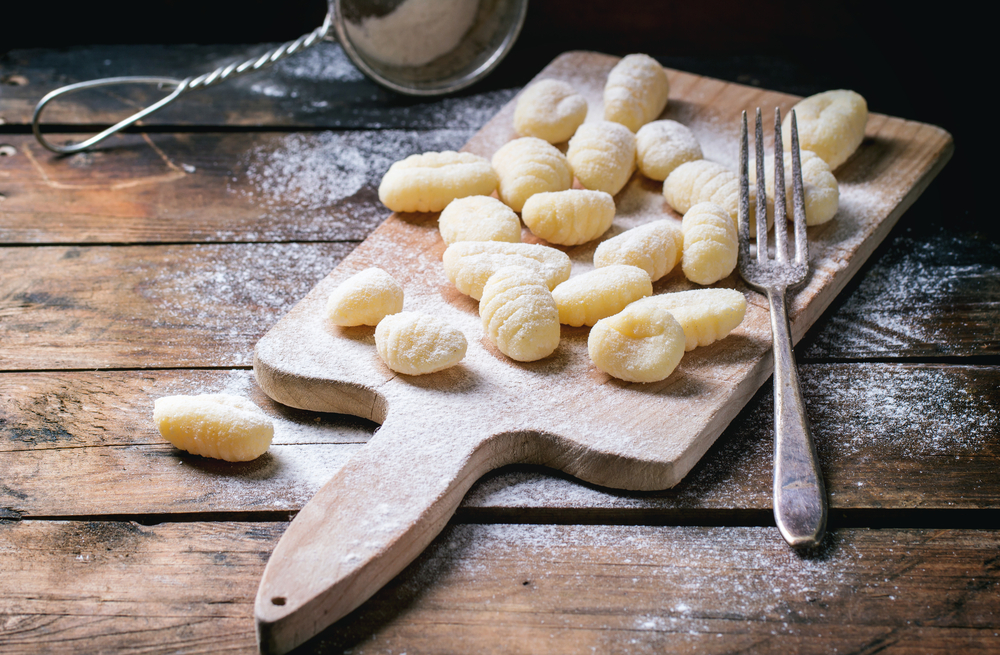 How To Cook The Vegan Gnocchi
Cooking the eggless gnocchi is so easy all you have to do is bring a large pot of water to a boil and cook the pasta for 2 minutes.
You do NOT want to overcook when making gnocchi vegan and you should keep in mind that the potatoes which make up most of the dough have already been cooked.
Overcooking the dairy-free gnocchi will lead to ruining the recipe!
Set a timer for 2 minutes and then drain!
You can also choose to fry the vegan gnocchi in a frying pan using oil.
This is how my aunt cooks her gnocchi and it brings out a different flavor and gives the pasta a different type of coating.
I always boil mine because it is quick and easy and healthier too as you use less oil.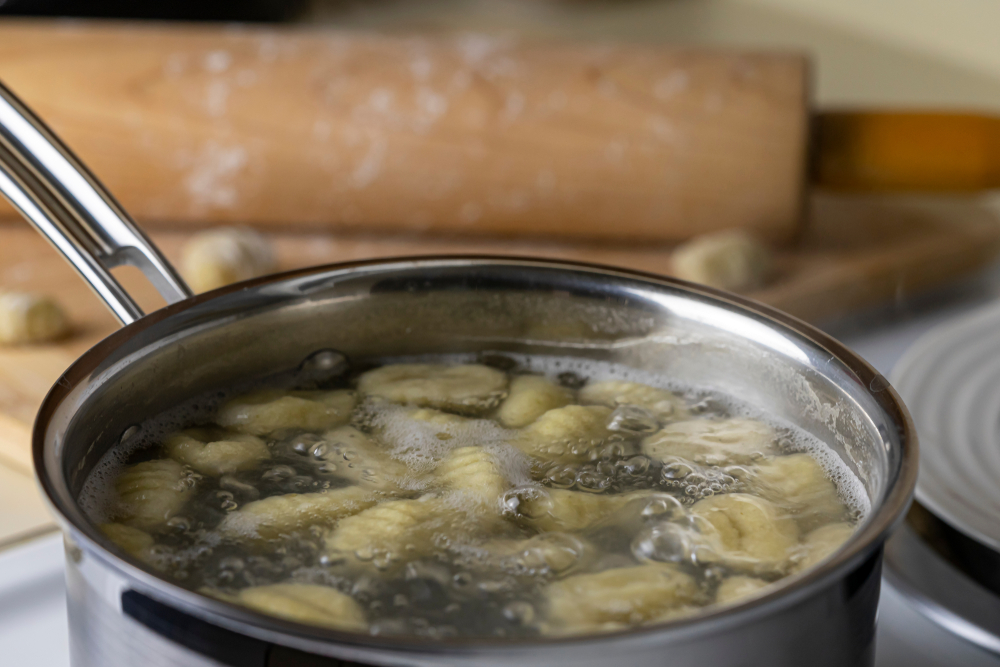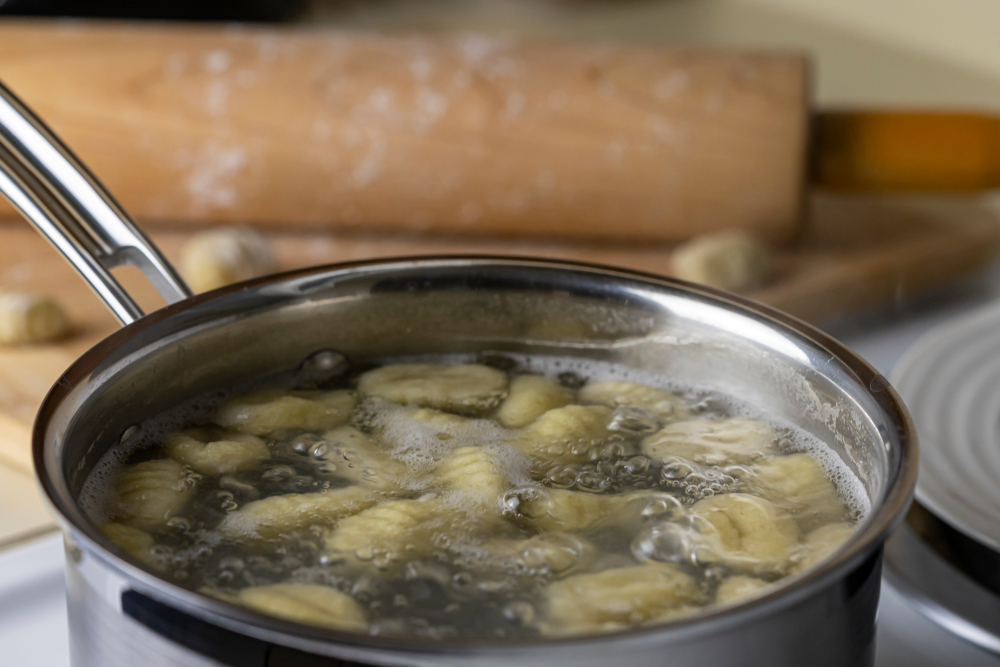 How To Prepare The Vegan Gnocchi Sauce
Once you have cooked the vegan gnocchi, head oil in a large pan and saute your onion for 5 minutes.
My favorite part about vegan gnocchi sauce is that you can truly use almost anything and it still tastes oh so good!
Then, add your chopped mushrooms and cook for 5 minutes until the mushrooms and your added garlic cloves are fragrant.
Pour in your white wine and continue cooking until the sauce is reduced.
Add the vegan gnocchi and the reserved pasta water. If you forget to reserve your pasta water, go ahead and just use regular water or broth if you have any on hand.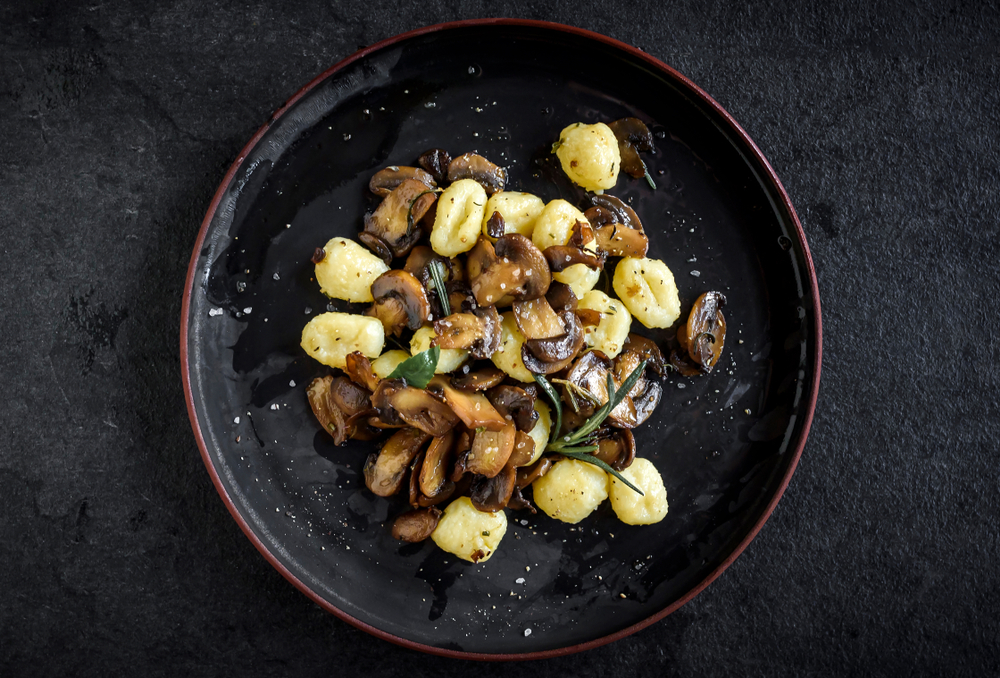 Toss until the vegan gnocchi sauce coats all of the pasta and season with salt and pepper.
You can keep your gnocchi on the stove for about 3 minutes just to swirl in the mixture or you can toss to coat and be done with it.
I love topping my vegan gnocchi with chopped fresh basil and walnuts.
Believe it or not, walnuts add a really wonderful flavor to this dish! If you don't have any on hand, don't worry! Just use the basil!
You can also top this dish with Vegan Alfredo Sauce which is just as tasty!
Did You Try This Recipe?
If so, I would love to keep in touch! I enjoy seeing photos and comments about the recipes that you make! You can follow me on Instagram and I will repost your goodies in my stories and comment on it too! Just tag me at @wowitsveggie and hashtag #wowitsveggie. I can't wait to see what you make!
Yield: 3-4 Servings
3-Ingredient Vegan Gnocchi Recipe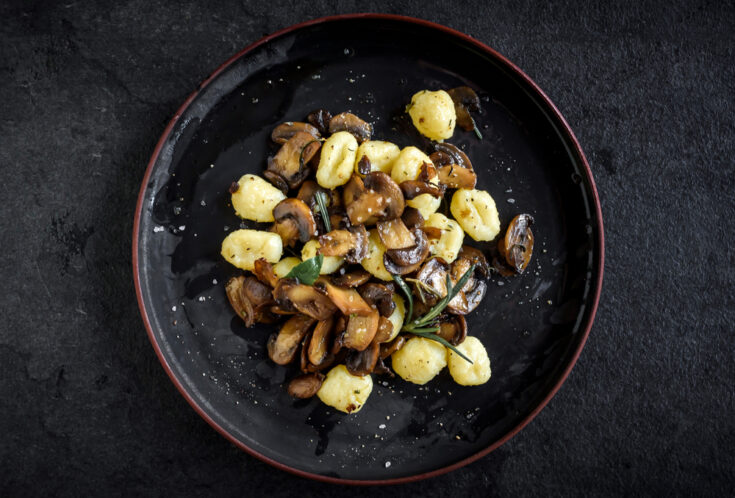 This vegan gnocchi recipe is so easy and delicious! The homemade gnocchi only uses 3 ingredients and is pillowy and soft when finished. I love using the garlic white wine sauce with chopped red onions and fresh basil for topping the vegan gnocchi, but you can use whatever topping you want such as a nice creamy Vegan Alfredo Sauce!
Ingredients
3 Potatoes, peeled, cooked and mashed
1 Tsp salt
1 1/2 Tbsp olive oil
2 Cups flour + more for rolling
For the white wine sauce:
3 Tbsp olive oil
1/4 red onion, chopped
1 Cup mushrooms, thinly chopped
3 Garlic cloves, minced
1/4 Cup white wine
Salt and pepper to taste
1/4 Cup walnuts, toasted and chopped
Instructions
To prepare the gnocchi dough, you want to first boil potato cubes and then mash them until there are no chunks or lumps. Use a potato masher or potato ricer if you have one on hand.
In a bowl combine the riced potato with the salt. Add the olive oil and flour and knead until incorporated. Add the flour in 1/2 cup increments and use your clean hands to combine until all flour is added. The dough should be soft and slightly sticky. Cover with a cloth and let it rest for 10 minutes.
Take out a piece of dough and roll it until you have a 3/4 inch thick rope. Cut out small rectangles that are the size of bite-sized pieces. Roll and press each piece through a fork to shape the gnocchi.
Bring a large pot of water to a boil and cook the gnocchi for around 2 minutes. Drain reserving 3 Tsp cooking water. Make sure not to cook for too long so set a timer!
Toss gnocchi with any sauce you like such as my Vegan Alfredo Sauce or my garlic white wine sauce below!
For the white wine sauce:
Heat the olive oil in a large pan over medium heat. Add the onion and sauté until translucent. Add the mushrooms and garlic and cook for 5 more minutes until fragrant. Pour the white wine and continue cooking until reduced.
Add the vegan gnocchi and the reserved cooking water. If you forgot to reserve, use regular water or stock. Sprinkle with salt and pepper and sauté for 3 more minutes.
Serve topped with chopped basil and walnuts.
Nutrition Information
Yield
4
Serving Size
1
Amount Per Serving
Calories

480
Total Fat

20g
Saturated Fat

3g
Trans Fat

0g
Unsaturated Fat

17g
Cholesterol

0mg
Sodium

674mg
Carbohydrates

81g
Fiber

6g
Sugar

4g
Protein

12g