If you are looking for a decadent, easy vegan Alfredo sauce recipe, you have come to the right place!
Finding vegan fettuccine Alfredo at a restaurant is basically impossible, that is why I created this recipe for you to easily make it yourself at home!
The reason I love this vegan Alfredo sauce is because it is nut-free and gluten-free. You will agree this is the best creamy vegan sauce!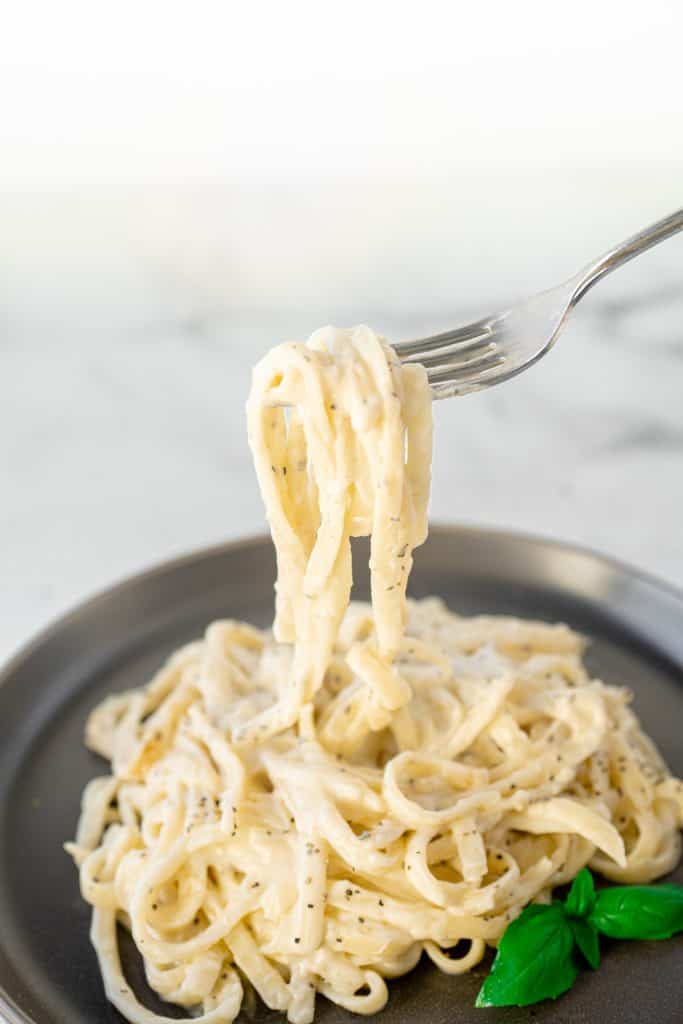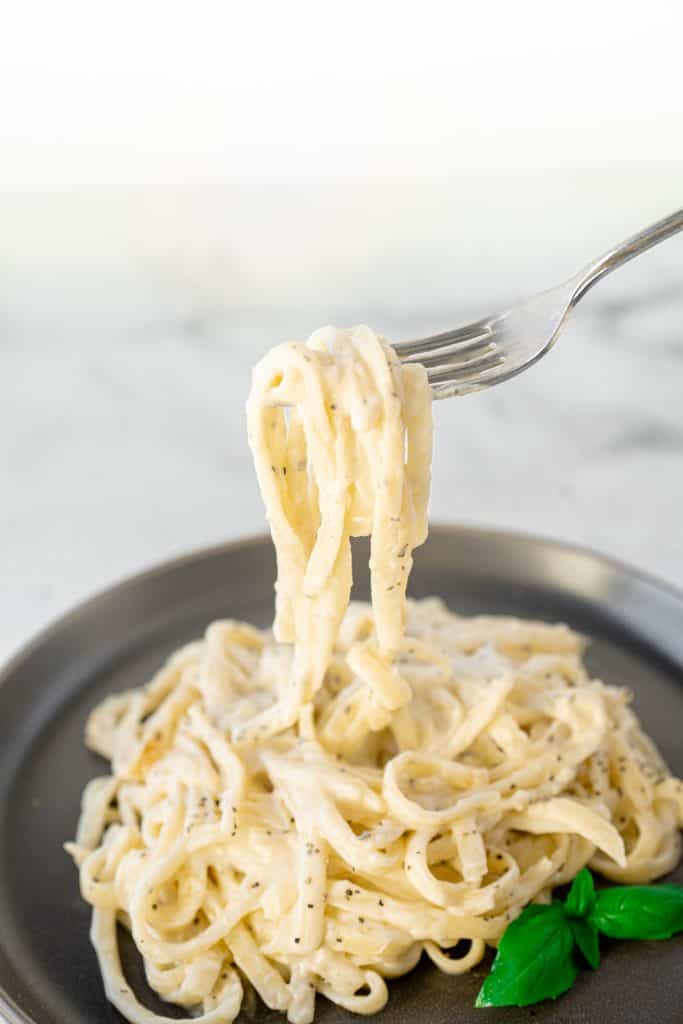 There are a lot of cashew Alfredo sauce recipes out there, and while they work great, not everyone's tummies can handle nuts.
Some people are allergic. And some people just plain can't afford to spend money on pricey cashews.
I want a creamy vegan fettuccine Alfredo dish to be accessible to everyone and that is why I created this recipe!
The secret ingredient here is cauliflower. Yes, you can buy it frozen from the store, but the key to a freaking amazing Alfredo sauce is to roast it low and slow for 30 minutes.
Yes, this makes the recipe take a bit longer to make, but it is so worth it when you taste the intensity of the flavor!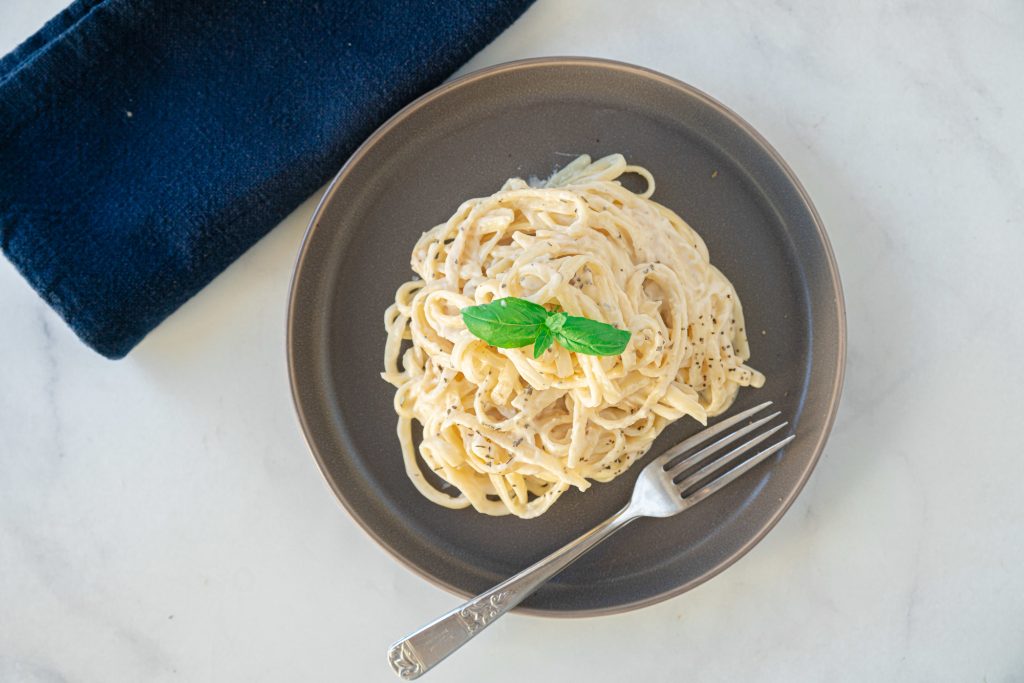 If you are short on time, you can simply steam the cauliflower until it is tender.
If you want to make this recipe oil-free, you can simply steam the cauliflower and veggies instead of baking it with oil.
You won't get quite the depth of flavor baking it provides, but it is still tasty and creamy!
If you are feeding picky eaters, rest assured that this is a super kid-friendly vegan recipe! Who doesn't like creamy pasta?!
If you have never made a vegan cream sauce using cauliflower, you are in for a real treat as it has a very neutral taste and is easier to digest than cashews.
Finally, you can go ahead and whip up some Vegan Bread Sticks or Cheesy Vegan Garlic Knots to serve as a side with the vegan Alfredo pasta. Because you can never have enough carbs!
Keep reading to learn how to make Alfredo sauce vegan!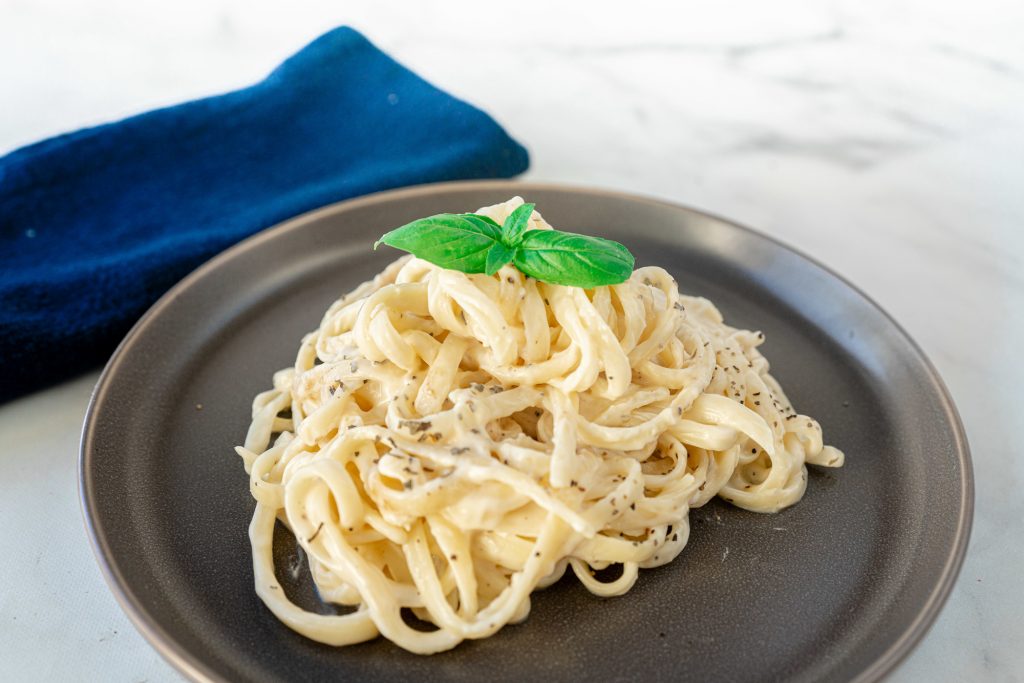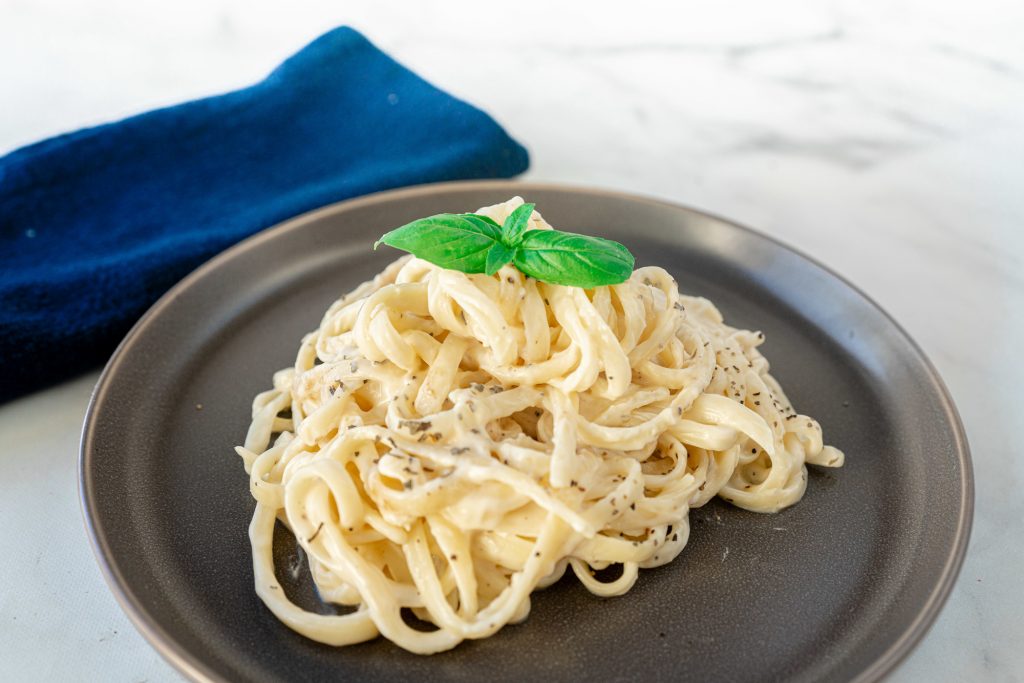 Is Vegan Alfredo Sauce Healthier Than Regular Alfredo Sauce?
Ummm…that would be a resounding YES! Regular Alfredo sauce is loaded with butter, cream, milk, cheese [probably multiple kinds] and who knows what else!
While it may taste good, it is laden with tons of calories, fat, and dairy. Now, of course, if you aren't vegan regular Alfredo may be good for a treat once in a while, but it surely isn't healthy!
My nut-free Alfredo sauce recipe is loaded with the good stuff and high-quality ingredients!
Every single ingredient you put in you can pronounce and it is good for your heart and your health!
Cauliflower, garlic, onion, non-dairy milk and more. Everything is pure and simple and very good for you!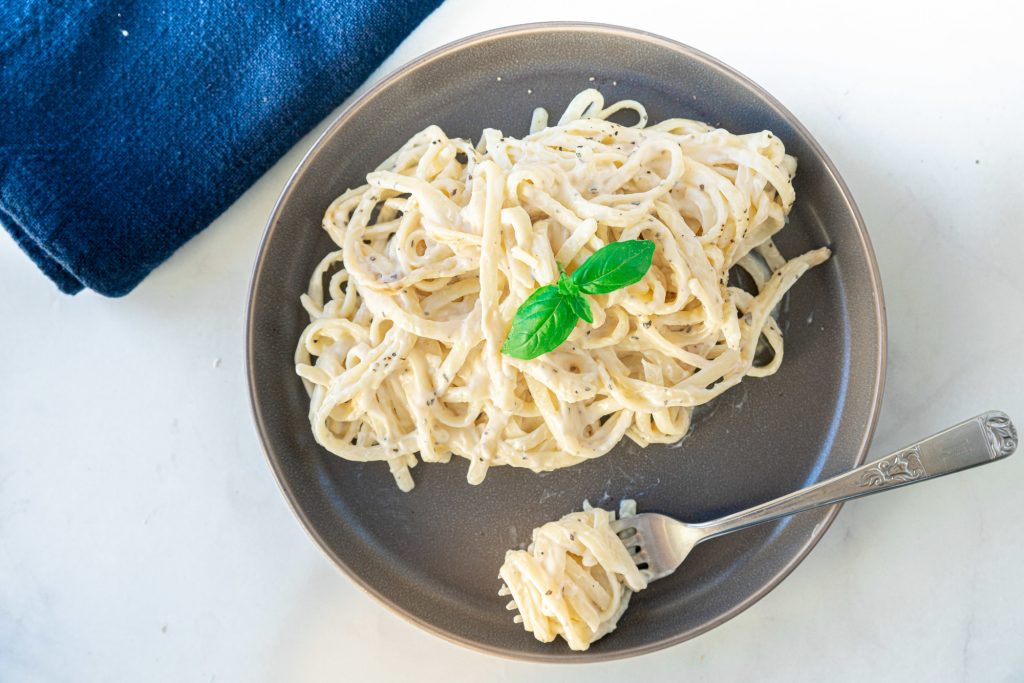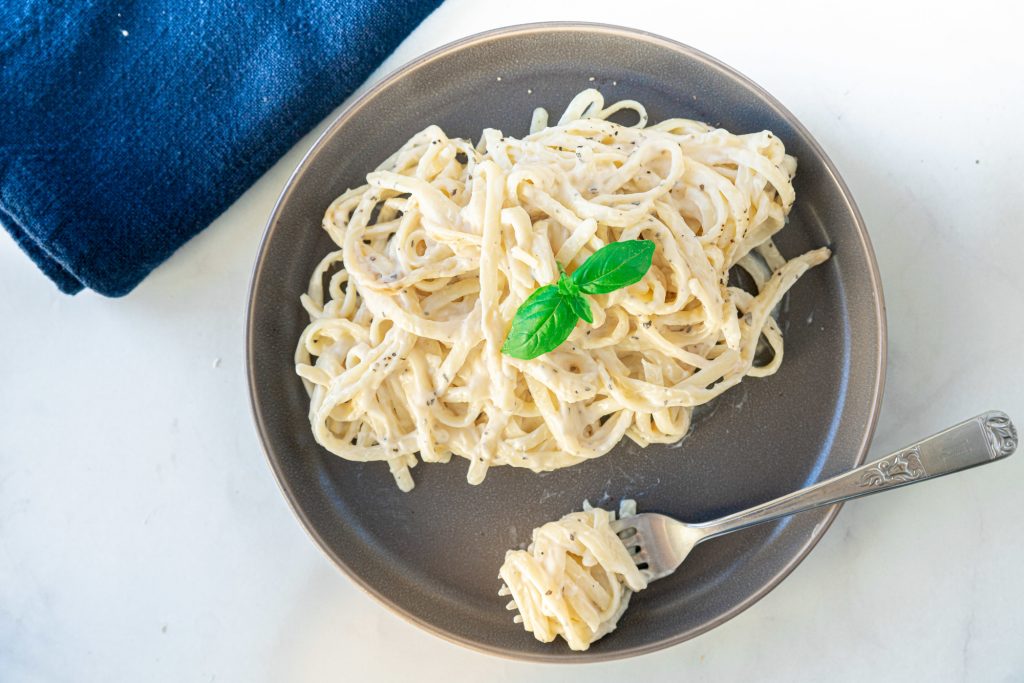 Vegan Alfredo Sauce Ingredients
Cauliflower. Used for the base of the sauce.
Garlic Cloves. These are essential for the classic Alfredo flavor.
Onion. To add great flavor to the sauce.
Oil. For roasting the vegetables and cooking them evenly.
Salt. To add flavor to the vegetables.
Non-Dairy Milk. You're choice of non-dairy milk to make the sauce creamy. Water can be substituted.
Lemon Juice. To add a hint of lemon flavor.
Pepper. To taste for seasoning.
Parsley and Basil. This is optional for a garnish.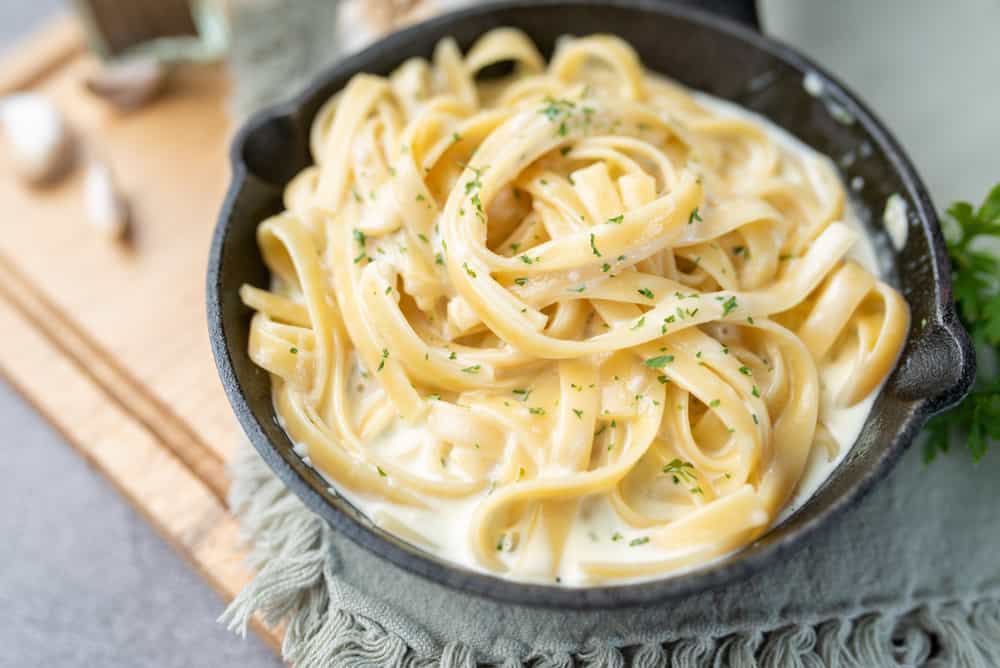 How to Make Vegan Alfredo Pasta
I said it before and I will say it again!
Making this plant-based Alfredo sauce is so easy and healthy!
First, you are going to want to roast cauliflower, garlic, and onion for about 20-30 minutes until the cauliflower is tender.
This is an important step to giving the vegan Alfredo recipe a unique depth of flavor.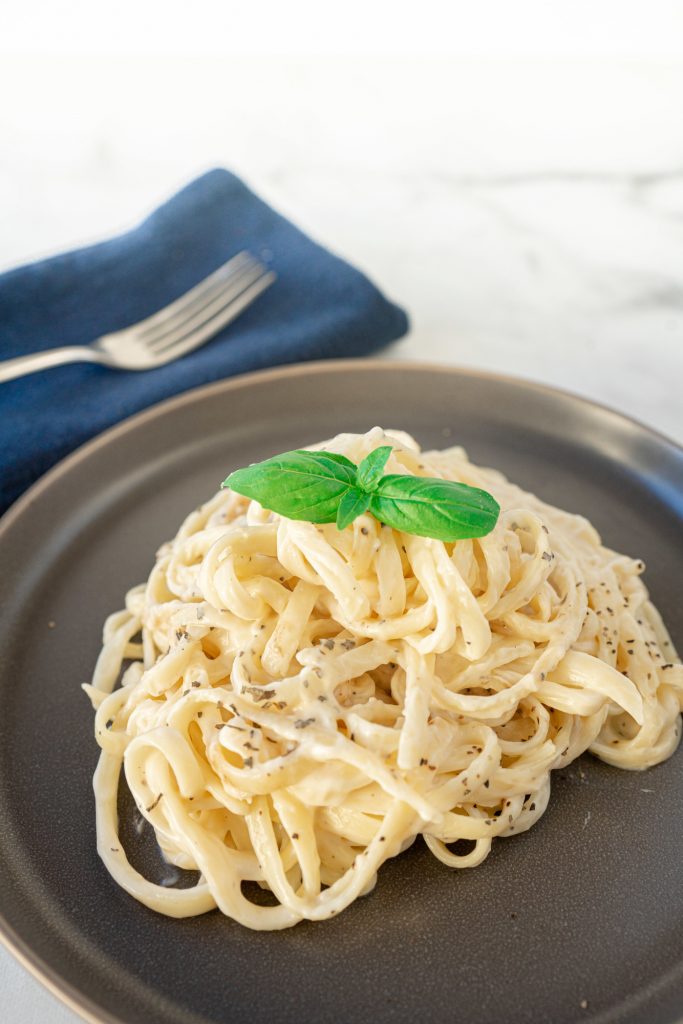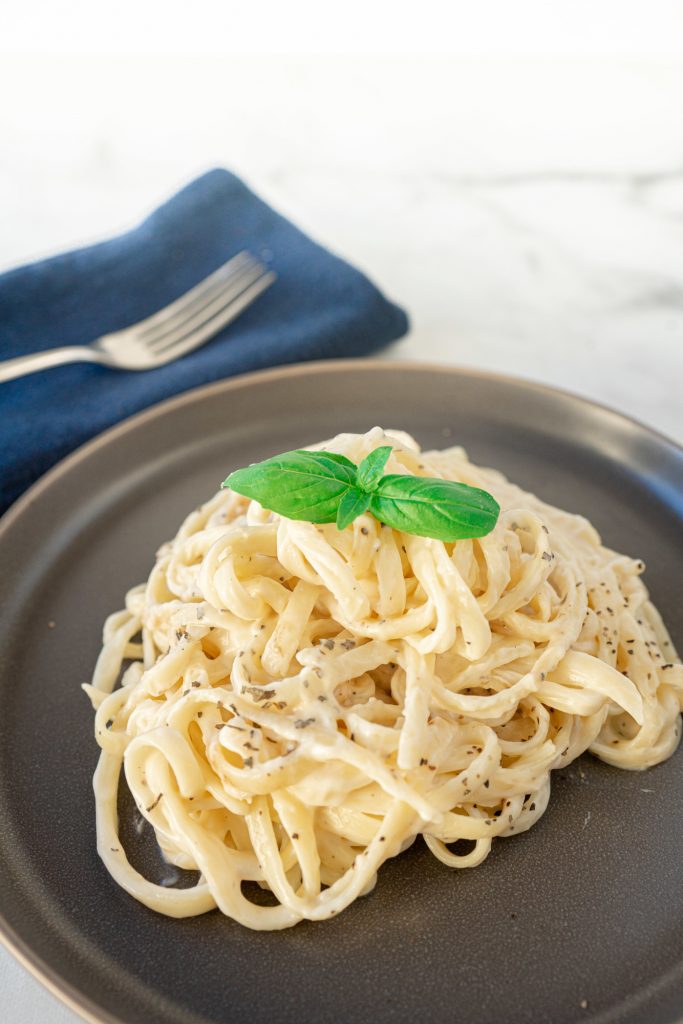 Again, since this isn't a cashew Alfredo sauce, we want to give the cauliflower a little TLC for flavor!
If you are short on time or oil-free, you can simply steam your veggies until tender. This won't taste quite the same, but if you are strictly oil-free, it is an easy modification.
Make sure to generously salt your veggies before roasting!
When making vegan sauce adjustments, using a lot of salt will help your recipe retain flavor.
I usually salt when cooking and then again to taste before serving. If something tastes "weird" it is probably because it hasn't been salted enough!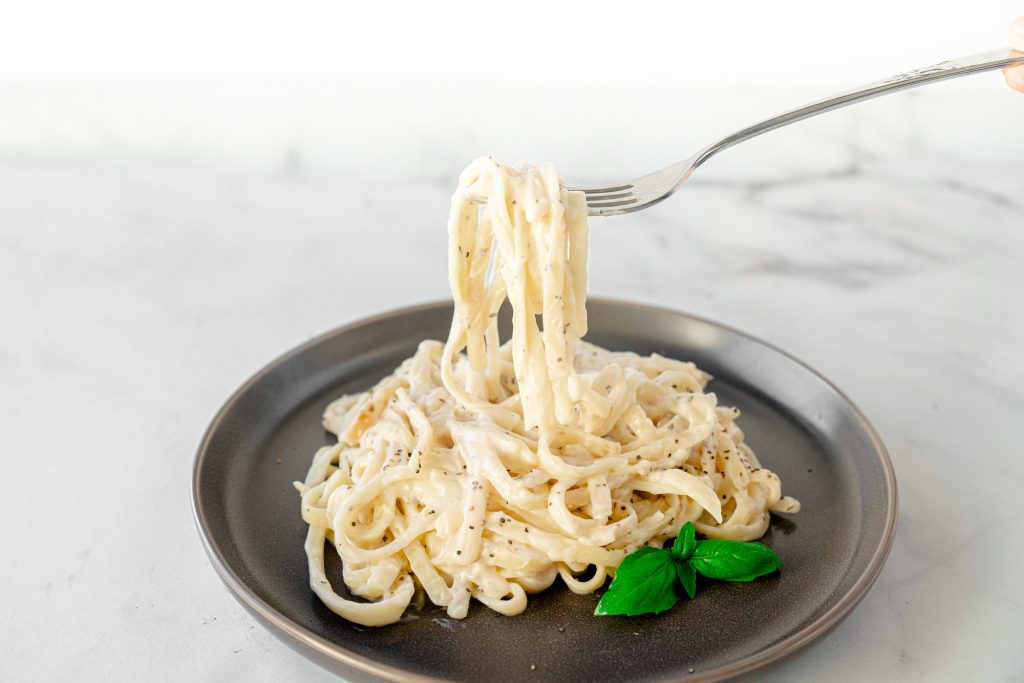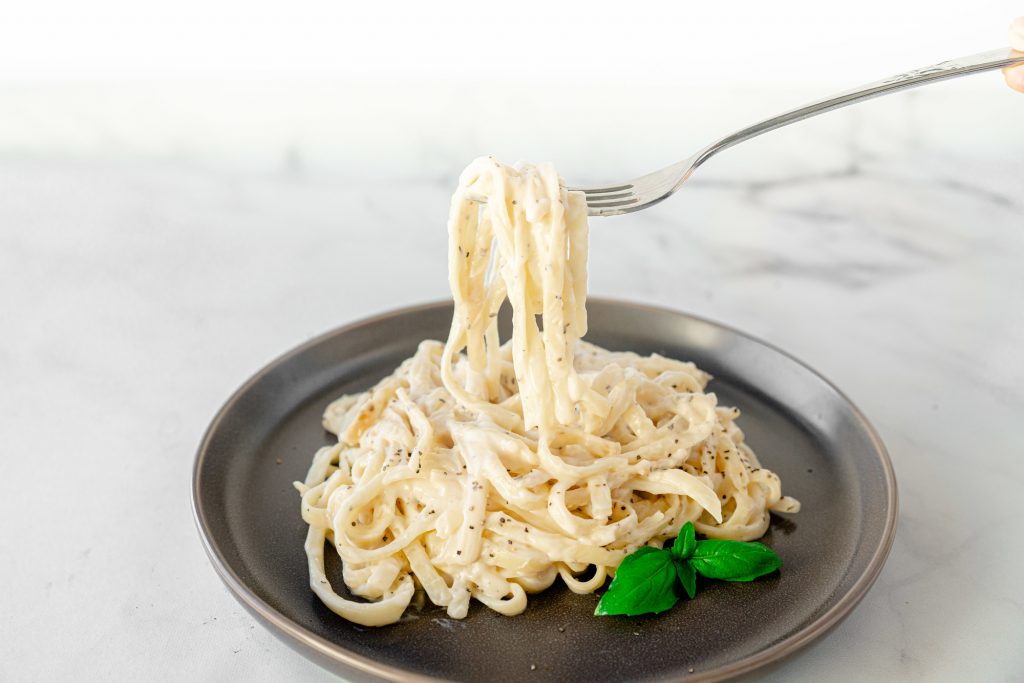 Transfer your roasted veggies to a blender and add your non-dairy milk, lemon juice, and more salt.
Blend until smooth and adjust your salt to taste. If you want to throw in a little black pepper, now is the time!
And that is it! You've made your Alfredo vegan!
Top your pasta with the creamy vegan Alfredo sauce, and you are on your way to delighting your guests or your tummy with this yummy creation.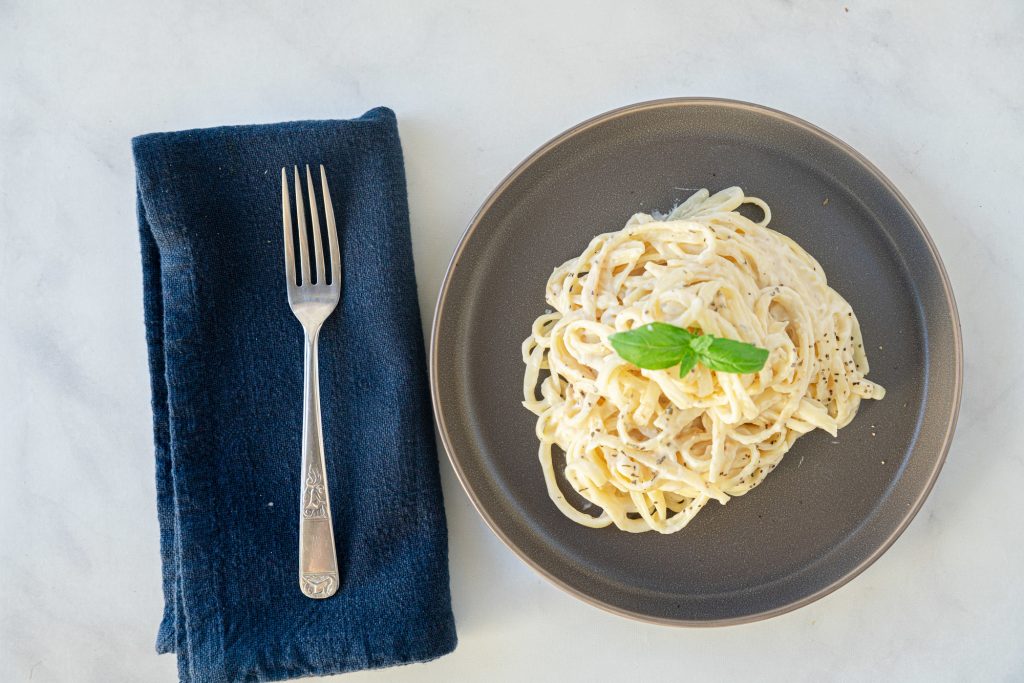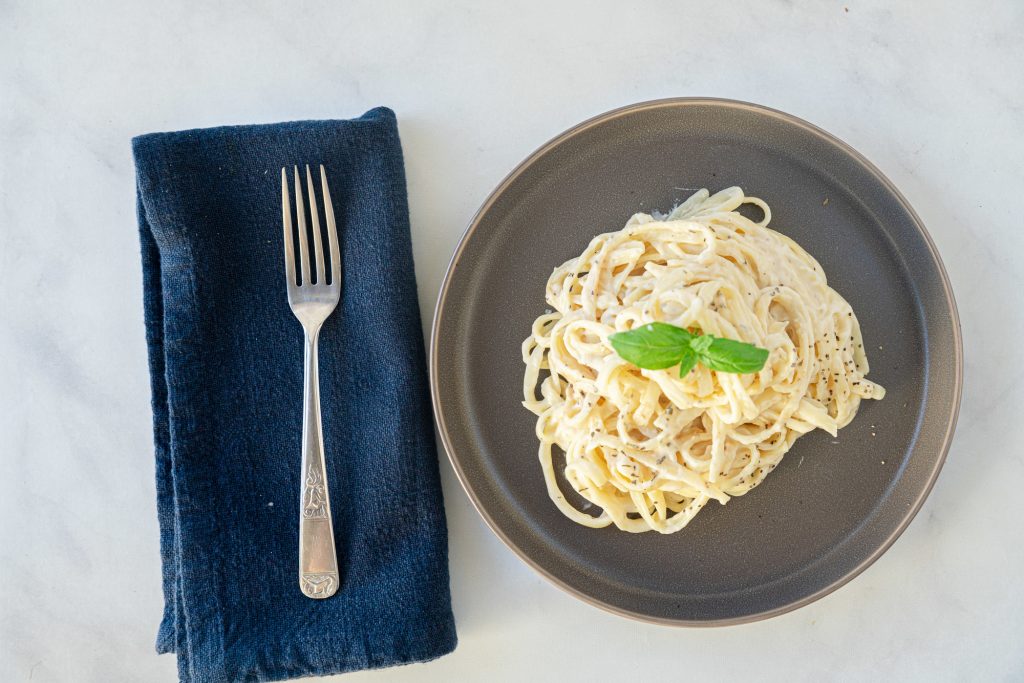 Believe it or not, the lemon juice and roasted garlic and onion are what add the punch and pizzazz to the vegan pasta Alfredo.
Although it does take about 20-30 minutes to roast the veggies, it only takes about 1 minute to puree it all together.
Don't forget to top with fresh parsley or basil.
If you are feeling really fancy, you can make my Vegan Scallops Recipe and top your vegan fettuccine Alfredo with succulent vegan scallops.
You can even make my 3-Ingredient Vegan Gnocchi and toss the gnocchi in this Alfredo sauce for a truly decadent dinner.
Either way, you really can't go wrong when making this recipe!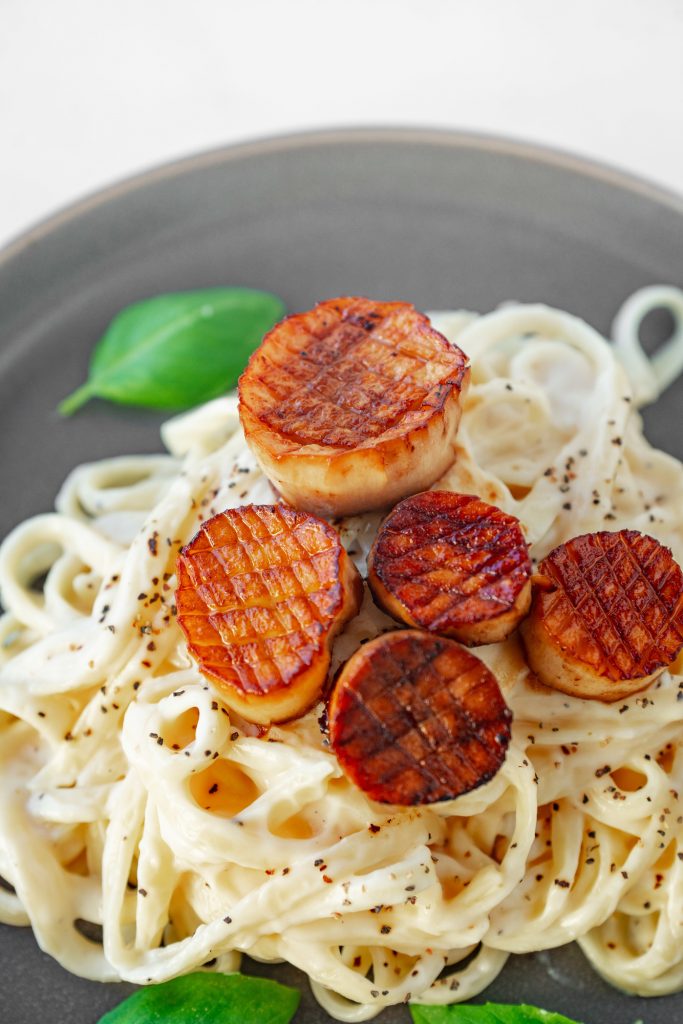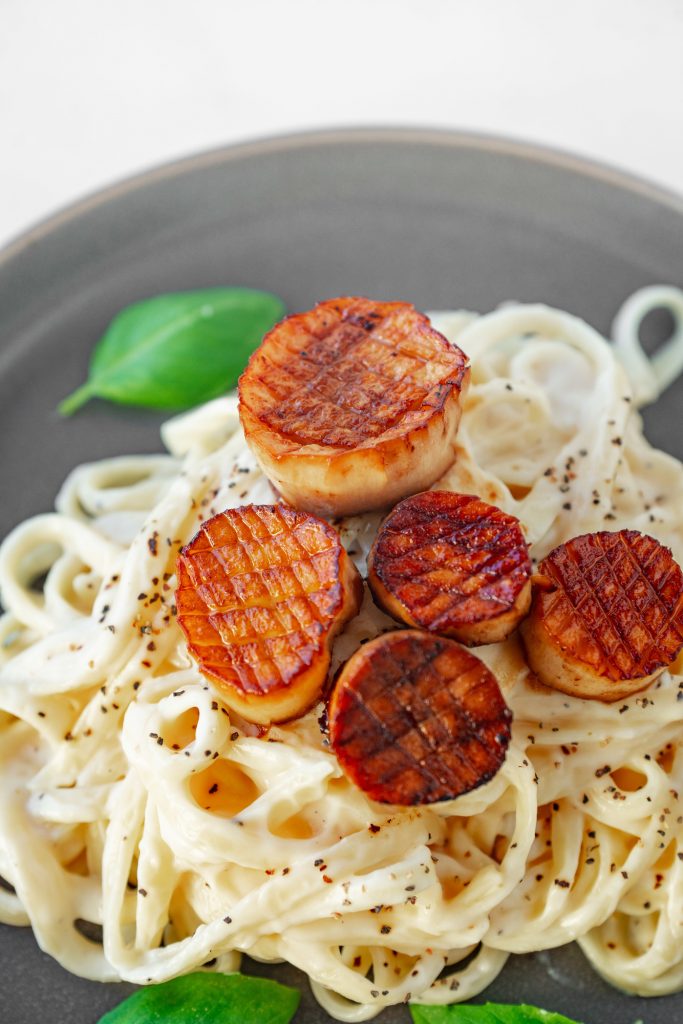 How To Store And Reheat The Vegan Alfredo
You can store the non-dairy Alfredo sauce in the fridge for about 3-4 days.
It may thicken in the fridge and that is okay!
To reheat, simply dump the remaining Alfredo sauce in a small saucepan and reconstitute with water or non-dairy milk until smooth.
Start by adding a little bit of milk or water at a time so that you don't make the sauce too thin.
Once again, you will want to adjust the seasoning to taste!
This really is the best vegan fettuccine Alfredo recipe!
If you loved this recipe, you may also like my 1-Pot Vegan Tomato Sauce too!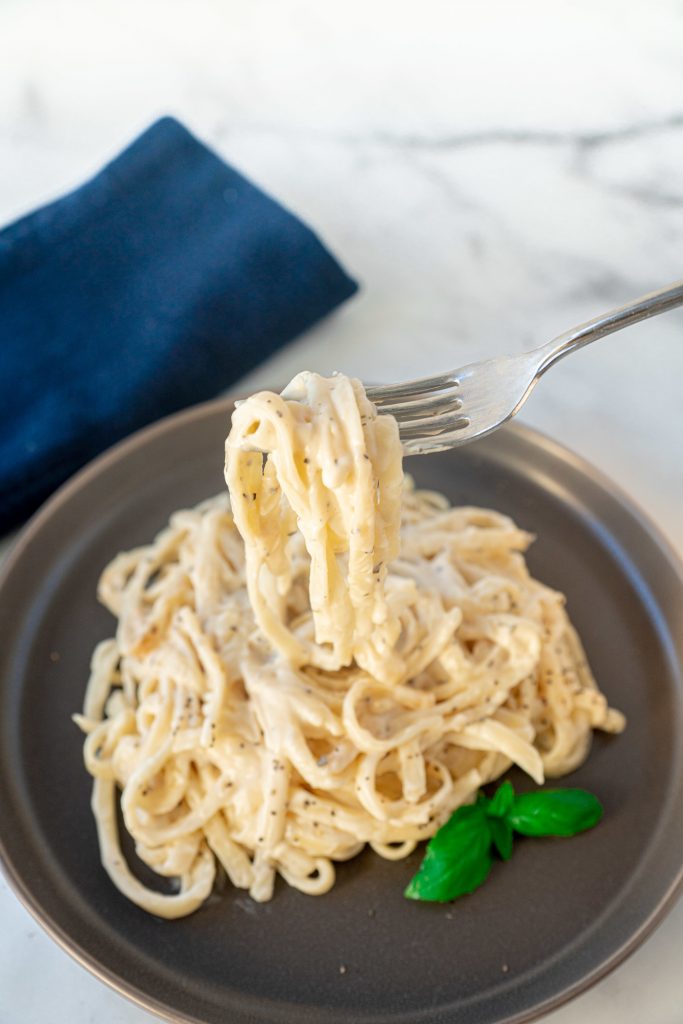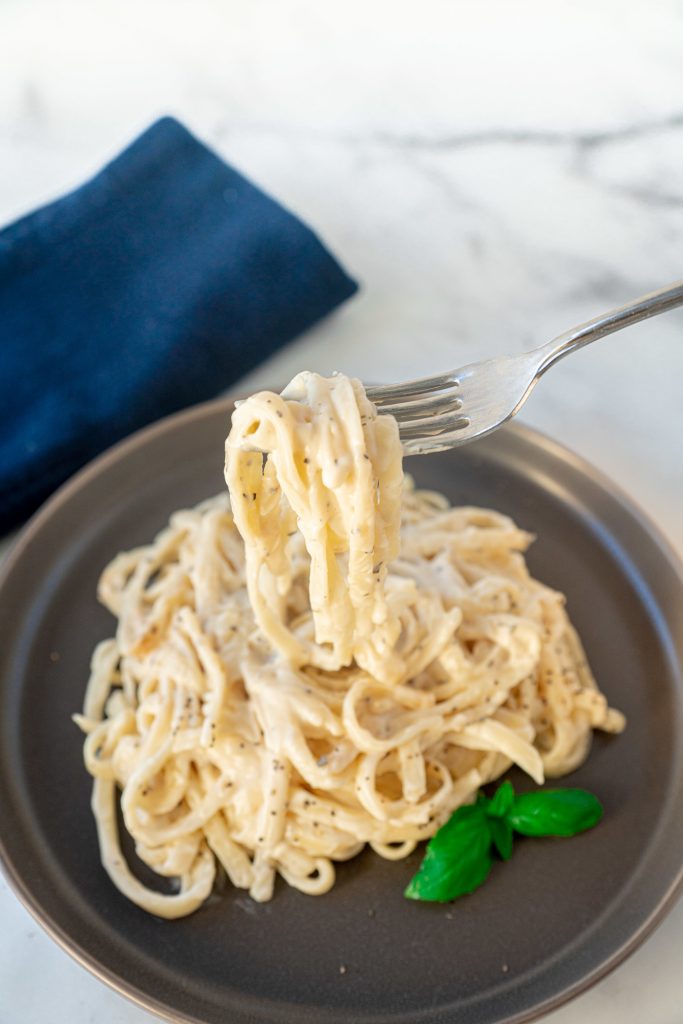 Did You Try This Recipe?
If so, I would love to keep in touch! I enjoy seeing photos and comments about the recipes that you make! You can follow me on Instagram and I will repost your goodies in my stories and comment on it too! Just tag me at @wowitsveggie and hashtag #wowitsveggie. I can't wait to see what you make!
Yield: 4 Servings
Creamy Vegan Alfredo Sauce (Nut-Free & Gluten-Free)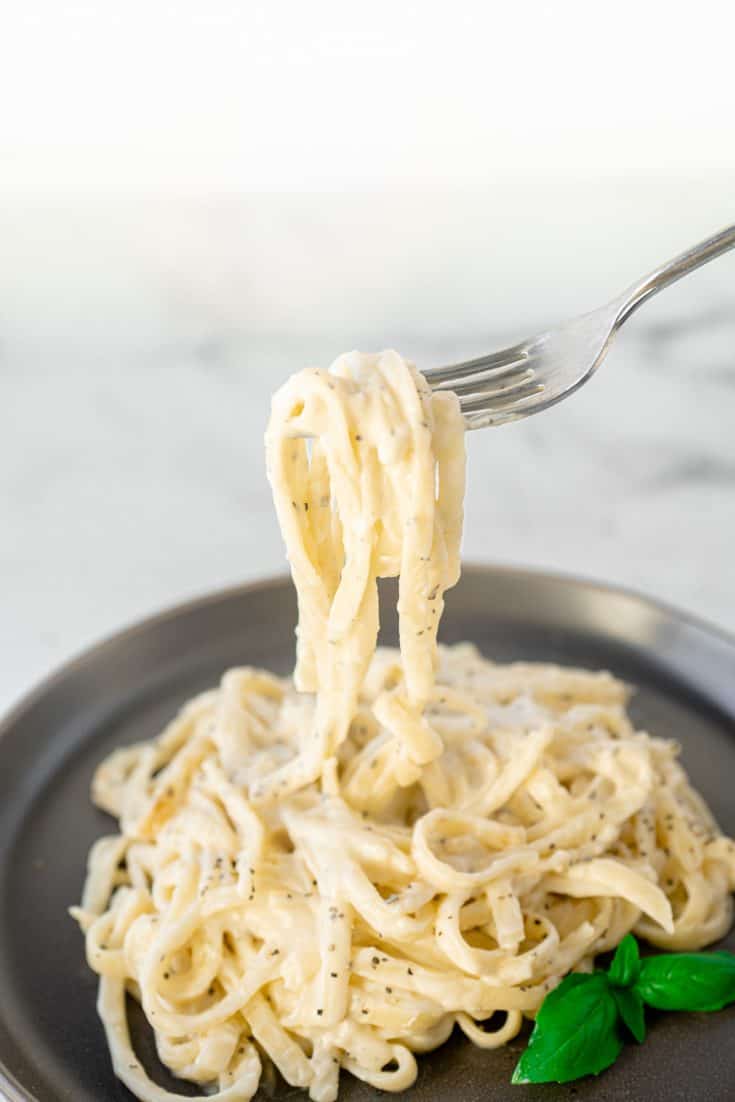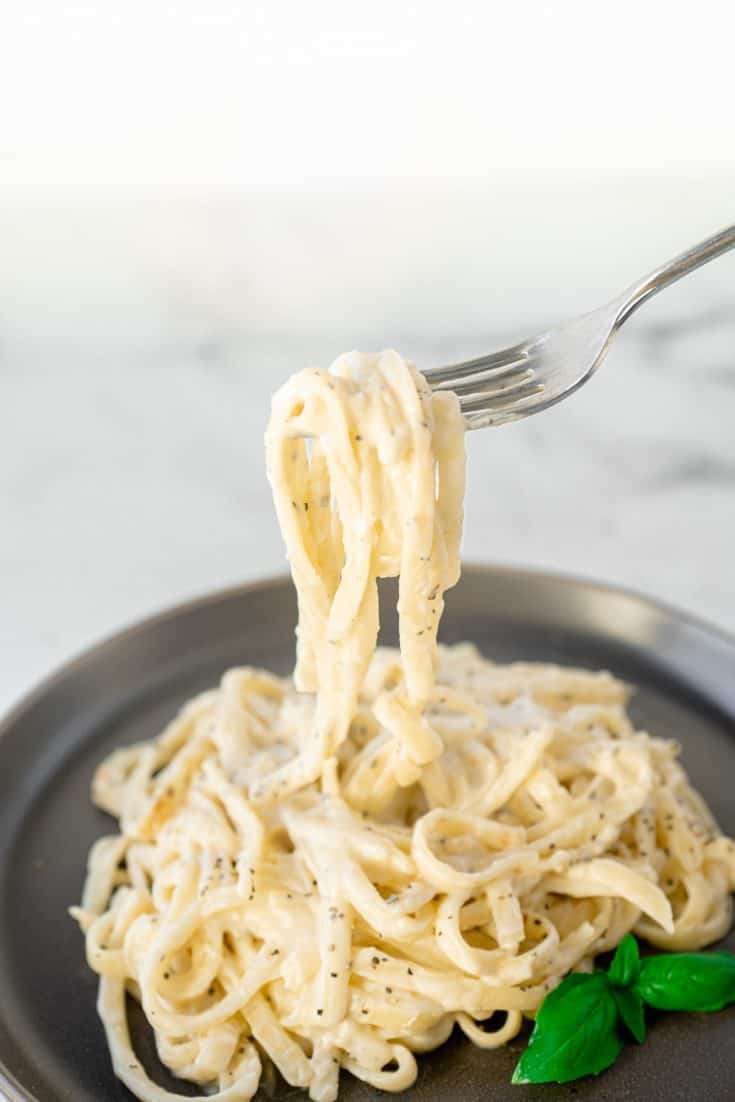 This vegan alfredo sauce is so creamy and delicious! It is also nut-free and gluten-free using my secret ingredient, roasted cauliflower! Yes, roasted cauliflower mixed with spices and a bunch of other roasted veggies produces a decadent vegan alfredo pasta like you have never seen before!
Ingredients
12 ounces fresh cauliflower florets
5 garlic cloves, whole and peeled
1 medium onion, chopped
1/4 cup oil
2 teaspoons salt
2 cups non-dairy milk
2 tablespoons lemon juice
Salt, pepper, parsley, and basil for garnish
Instructions
Preheat oven to 425F/218C
Spread cauliflower, garlic, and chopped onion on a lined baking sheet and drizzle with oil. Use 1 teaspoon of salt for seasoning.
Bake uncovered for 30 minutes until roasted and tender. Turn cauliflower 1-2 times during the roasting process.
Transfer your roasted veggies to a high-powered blender and add your non-dairy milk, 1 teaspoon of salt, and lemon juice. Blend until smooth and creamy. Adjust seasoning to taste.
Pour over hot pasta and garnish with pepper, basil, parsley, or Vegan Scallops.
Notes
To make this recipe oil-free, you can steam your cauliflower or simply roast it without any oil. Flavoring outcomes may differ.
Nutrition Information
Yield
4
Serving Size
1
Amount Per Serving
Calories

223
Total Fat

17g
Saturated Fat

3g
Trans Fat

0g
Unsaturated Fat

14g
Cholesterol

10mg
Sodium

1277mg
Carbohydrates

14g
Fiber

3g
Sugar

9g
Protein

6g