This vegan tomato sauce is completely homemade and is easy to make. If you have never made vegan marinara sauce before, you may be worried that it is difficult, but I promise that it isn't!
Making homemade marinara sauce is way healthier than buying it from the store and all of the ingredients are whole foods and good-for you. It is also EASY!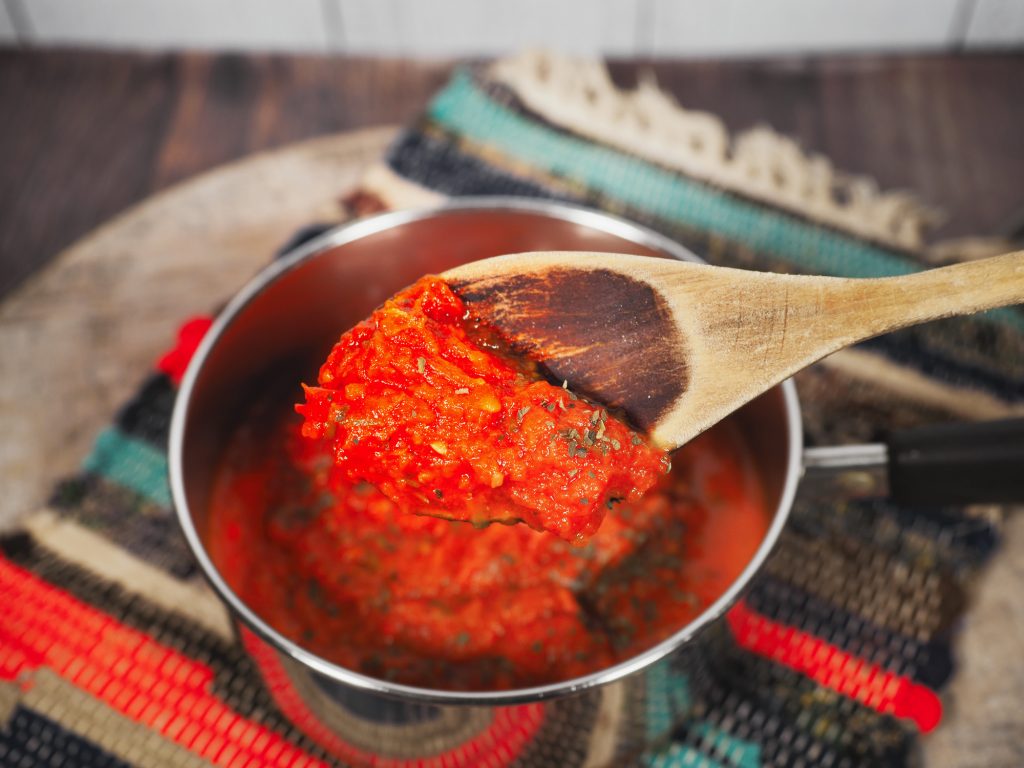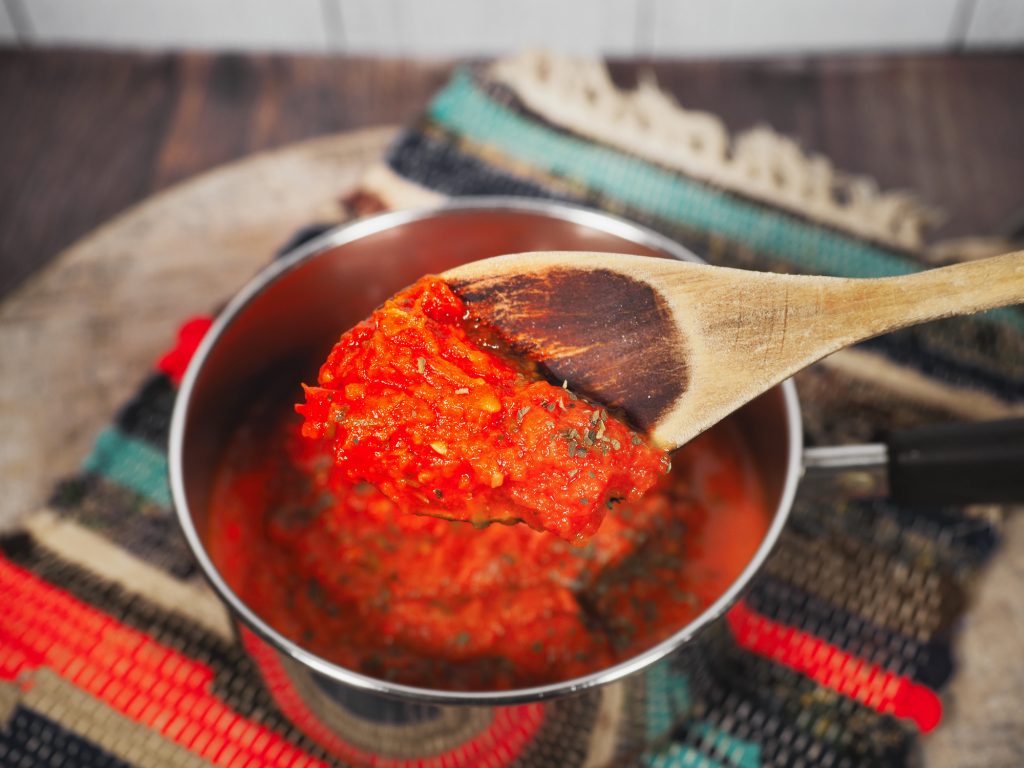 While we do use store-bought pasta sauce from time to time, this is our go-to vegan tomato sauce recipe that my mom has made ever since I was little. You can use it for pasta or even on top of our Vegan Stuffed Peppers!
The vegan marinara sauce recipe uses FRESH tomatoes. Many tomato sauce recipes call for canned and peeled tomatoes. This recipe uses neither. It uses 100% fresh tomatoes.
The only canned thing in this recipe is a bit of tomato paste, but otherwise it is all fresh. If you have never made homemade vegan tomato sauce before, you are in for a real treat as you pour this over a tasty dish once it is finished!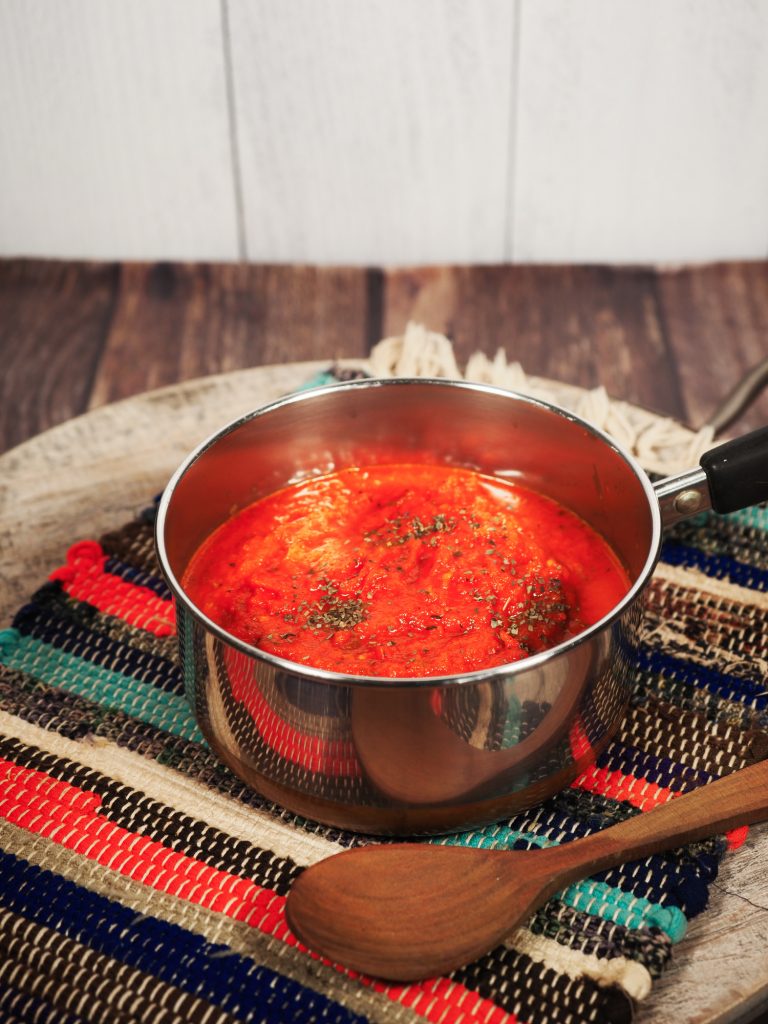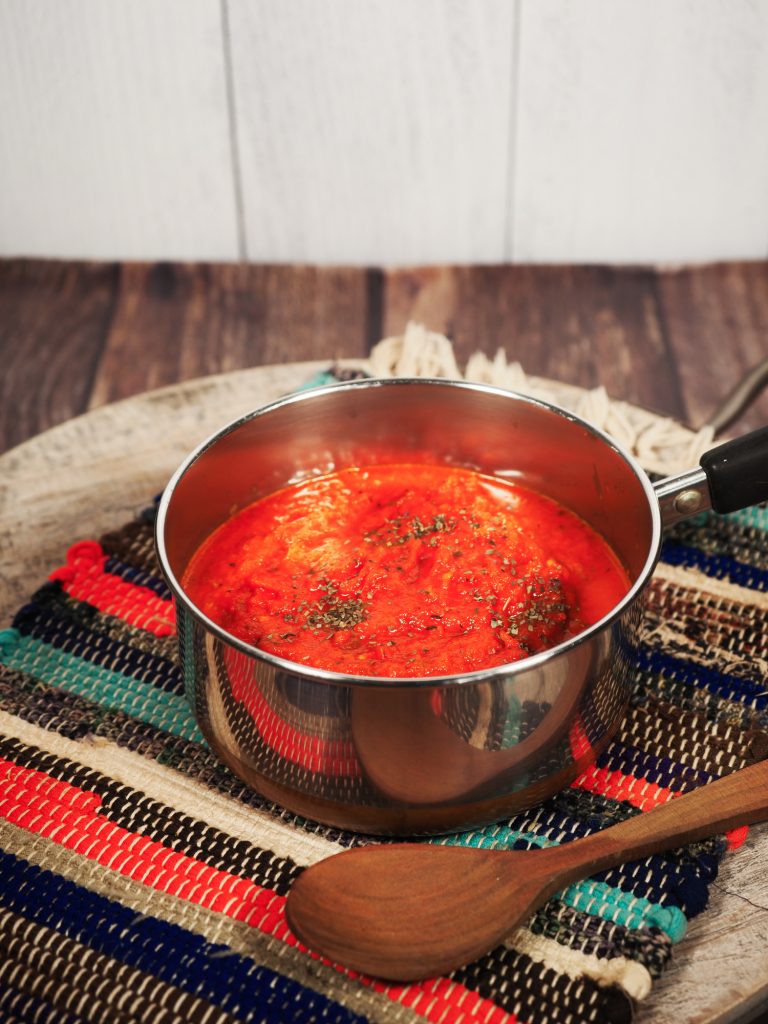 Choosing The Tomatoes For Vegan Marinara Sauce
The tomatoes are the star of the show. You are NOT using canned tomatoes and you will NOT be peeling these tomatoes. They are the centerpice of this recipe and therefore, you are going to want the best of the best.
I have tried making vegan tomato sauce with a vareity of different types of tomatoes. Roma tomatoes have 110% been the best of the best for making sauce with.
Something about the flavor and the way they cook down make them perfect.
You can halve this vegan marinara sauce recipe, but if you are making the whole batch, you will need 5 pounds of tomatoes which comes out to be about 15-20 medium size roma tomatoes.
Choose high-quality and firm tomatoes from your store that don't have any age spots on them. Remember, you want the best of the best so this recipe shines!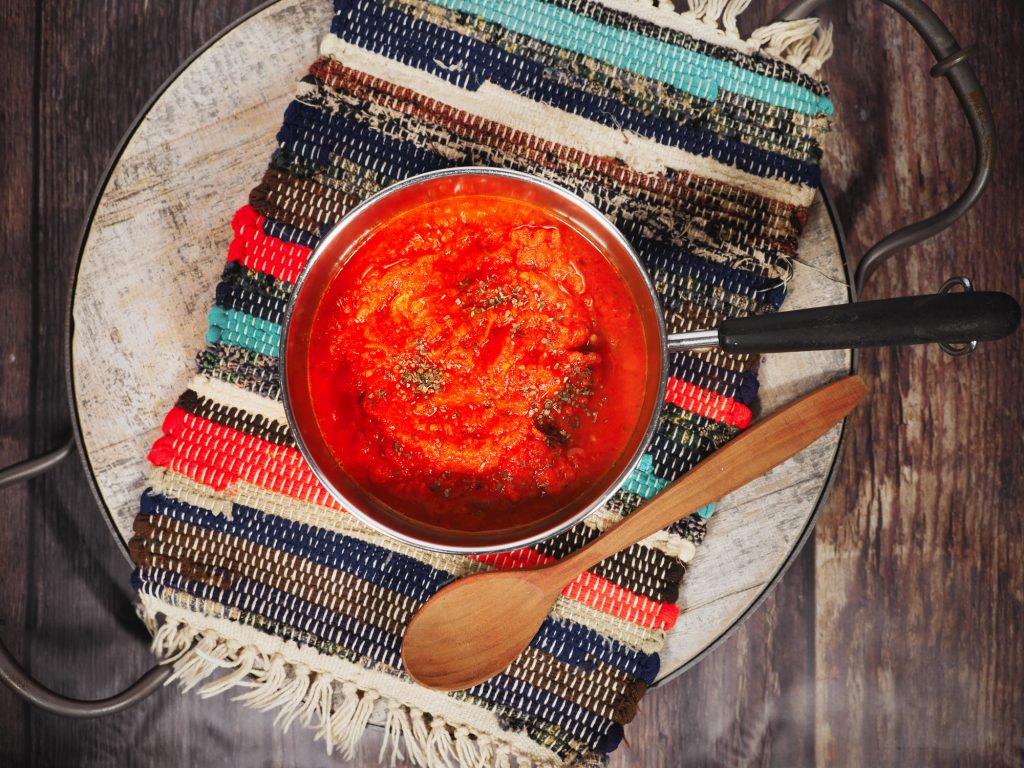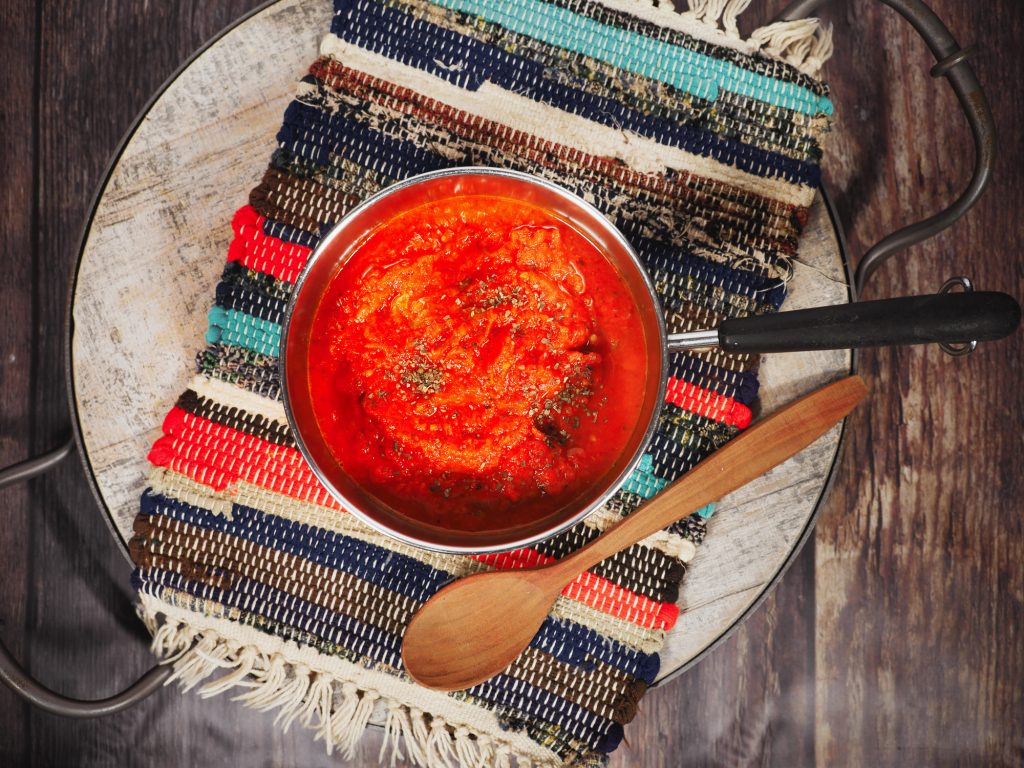 How To Prepare The Tomatoes For The Vegan Spaghetti Sauce
First, you will wash your tomatoes and then cut them in half.
In order for the vegan spaghetti sauce to come out correctly, you are going to need to remove the seeds from the tomatoes. You don't have to get every single seed, but you should try to get the majority out.
The seeds and insides of a tomato have a weird texture, so if texture bothers you this may not be your favorite part of the process, but it is necessary.
Simply press your fingers inside the tomato and scoop out the seeds. The sees are held in the tomato by a very thin liquid-like texture so it is very easy to remove them.
It is essential to remove these bits so that they do not water down the vegan tomato sauce. We are not making a tomato soup where water is okay and even included in the recipe.
In order to make this recipe work, all the liquid parts of the tomato and the seeds should be removed to the best of your ablity!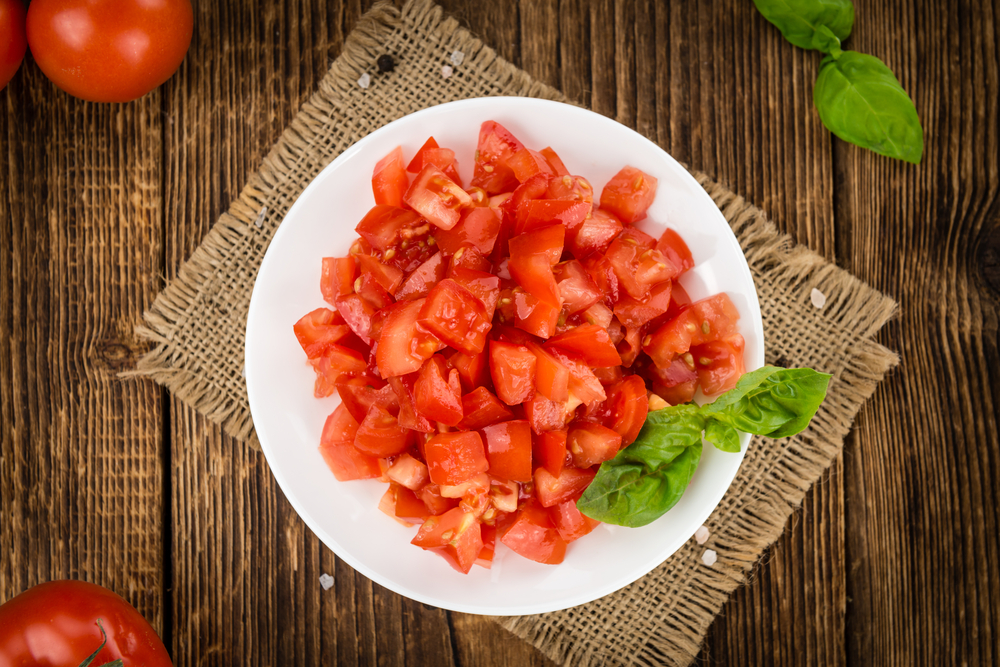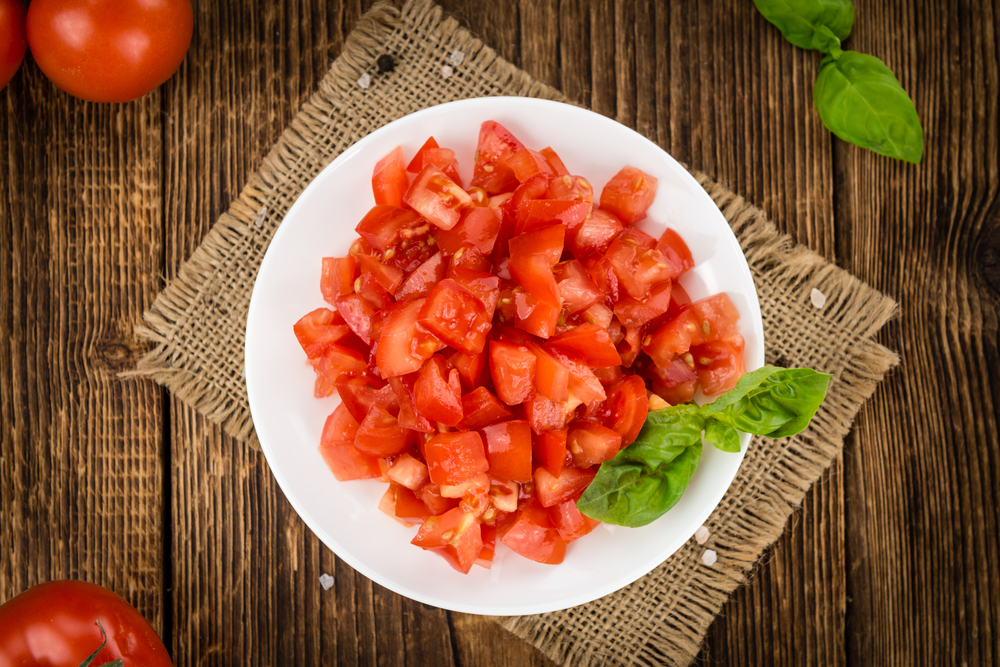 How To Make Vegan Tomato Sauce
Once you take the seeds out of the tomatoes, as explained above, heat olive oil in a large pot and add your onions. You will saute the onions until fragrant, usually for a few minutes.
Then you will add in the garlic and the tomato paste as well as all of your spices and continue to cook until combined.
Now, you will add the fresh tomatoes that you prepared above. You will NOT add any liquid to this recipe. I know it is hard to conceive how a bunch of mushy tomatoes will become delicious vegan tomato sauce, but stay the course!
You will simmer the tomatoes and the rest of the ingredients for about 10 minutes and then you will transfer the mixture to a blender to blend until smooth.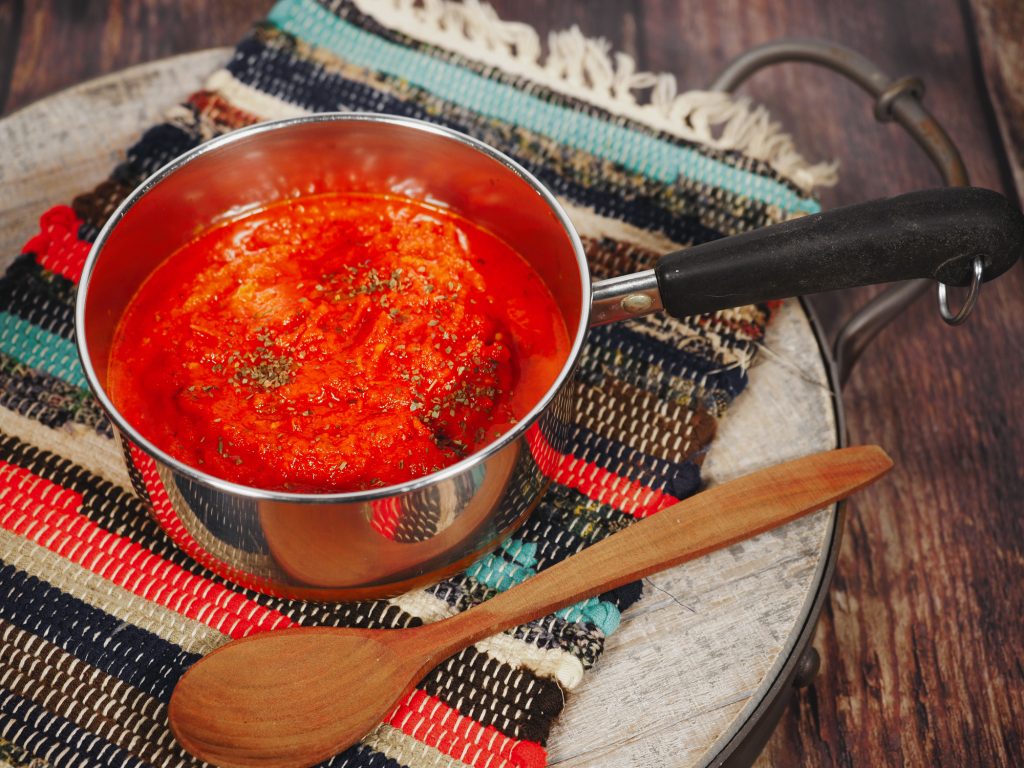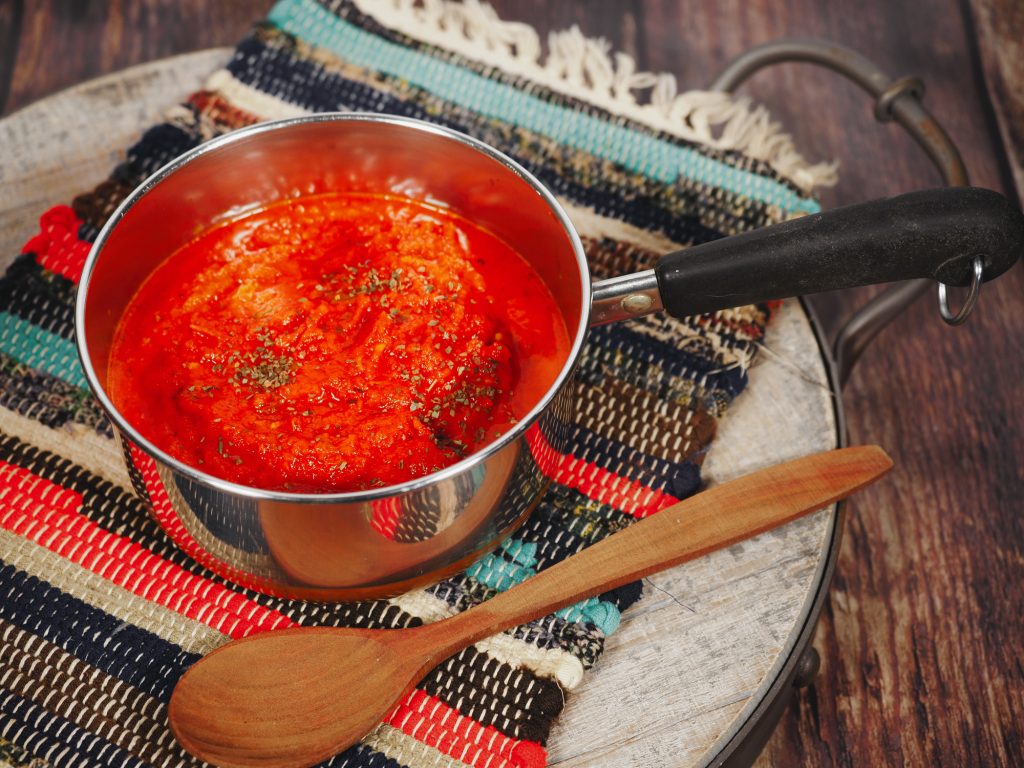 You can also use an immersion blender to puree the mixture right in the pot if you have one on hand. If you are using a bay leaf for seasoning, take it out before you blend up the mixture and return it to the pot once you are done.
Finlly, continue to simmer the vegan spaghetti sauce for an additional 20-30 minutes until fully cooked.
That is all there is to it! Vegan marinara sauce is so easy to make with just a few steps! Prepare the tomatoes, saute everything in a pan, cook the tomatoes in the pot, and blend it up and let cook until the flavors combine.
I hope you enjoy this easy vegan tomato sauce recipe on your next plate of pasta or to accompany your next entree!
Yield: 6 Cups Of Sauce
Easy Vegan Tomato Sauce Recipe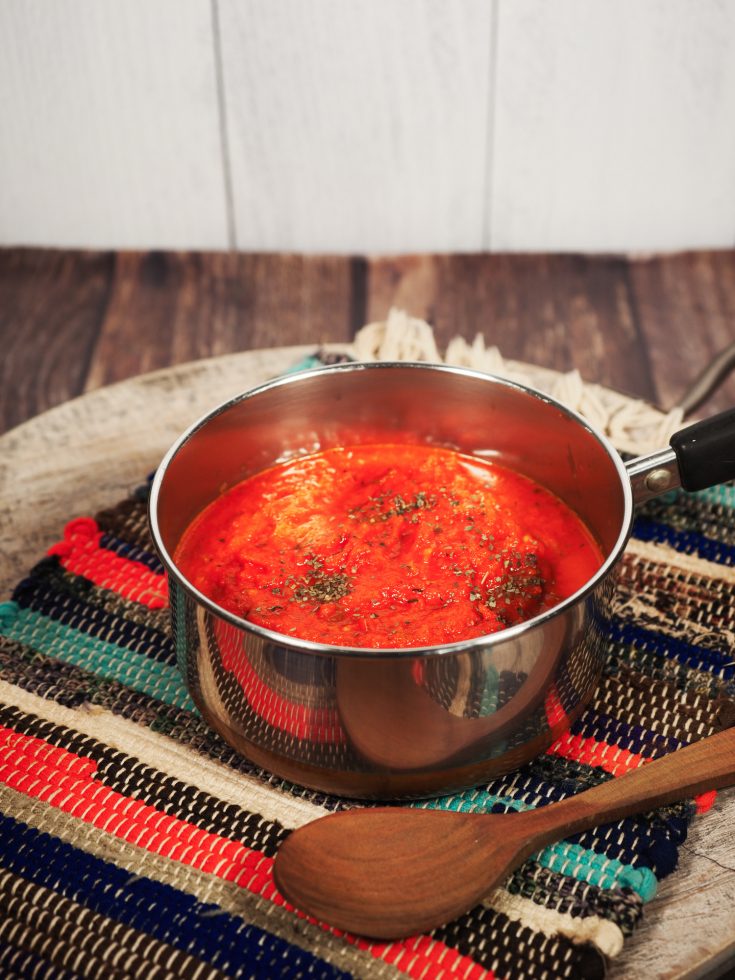 This vegan tomato sauce is so easy to make and uses only one pot! The vegan spaghetti sauce is fool-proof, so if this is your first time making homemade sauce, you can't mess it up! This recipe uses fresh tomatoes, not canned, to bring you a healthy and delicious vegan marinara sauce right at home!
Ingredients
5 Pounds Fresh Roma Tomatoes [15-20 Medium Tomatoes]
1 Cup Onion, Chopped
Olive Oil [to saute]
1/2 Cup Fresh Basil OR 2 Tablespoons Dried Basil
3 Cloves Of Garlic
2 Tablespoons Tomato Paste
1 Bay Leaf [If You Have On Hand]
1 Teaspoon Oregano
1 Teaspoon Salt
Pepper To Taste
Instructions
Wash tomatoes and cut them in half. Scoop out the seeds with your hand and then chop up the tomatoes into small pieces.
Head a large pot over medium-heat and saute the chopped onion and garlic until fragrant, about 2 minutes. Add in tomato paste, bay leaf, oregano, and salt. Stir to combine and saute for 2 more minutes.
Add chopped and seeded tomatoes to the pot. If you are using fresh basil, tear the basil into strips. If not, add the dried basil to the pot. Stir to combine and bring mixture to a simmer. Do not add water.
Simmer for about 10 minutes then transfer mixture to a blender to puree it into a smooth sauce. You can also use an immersion blender to puree the sauce in the pot. Remove the bay leaf before blending.
Once the sauce is smooth, return it to the pot and simmer on low for 15 more minutes. Store in the fridge or freezer and reheat over the stove for serving.
Nutrition Information
Yield
6 cups
Serving Size
1
Amount Per Serving
Calories

117
Total Fat

3g
Saturated Fat

1g
Trans Fat

0g
Unsaturated Fat

2g
Cholesterol

0mg
Sodium

380mg
Carbohydrates

21g
Fiber

6g
Sugar

12g
Protein

5g