These Halloween pretzel rods are the cutest thing ever and so easy to make!
Of course, the spooky ghost is the star of the show and you can play it up with the faces to give each ghost pretzel character!
If you have never tried chocolate-dipped pretzels, you are in for a real treat. These Halloween pretzel sticks are so delicious and incredibly easy to make.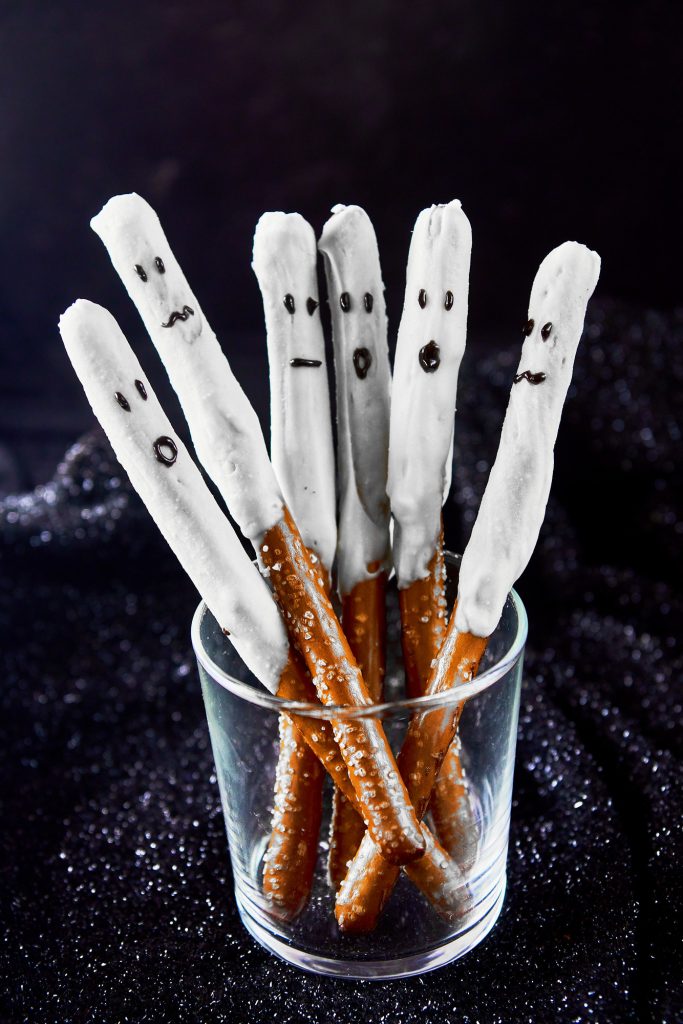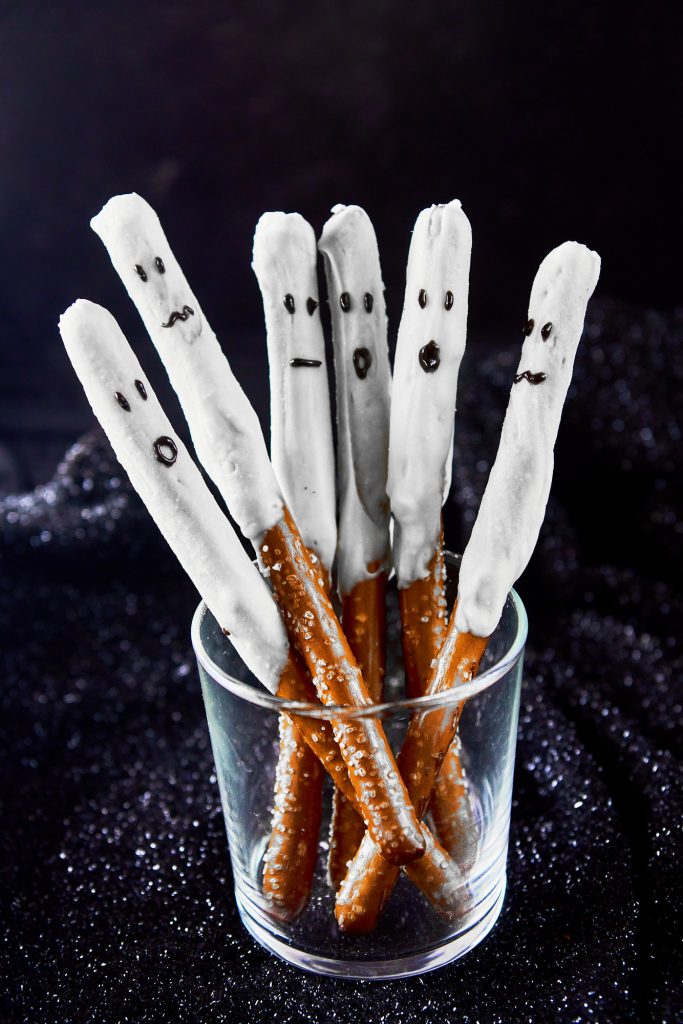 The white chocolate and pretzel combine for the perfect blend of salty and sweet and it is such a cute snack to enjoy by yourself or with your family.
They are also a crowd favorite at parties and these little ghosts are perfect for your Halloween Party!
These ghost Halloween pretzel rods are 100% vegan if you use vegan white chocolate chips and aren't entirely unhealthy either. They aren't apples of course, but they also aren't reaching into a bag full of candy!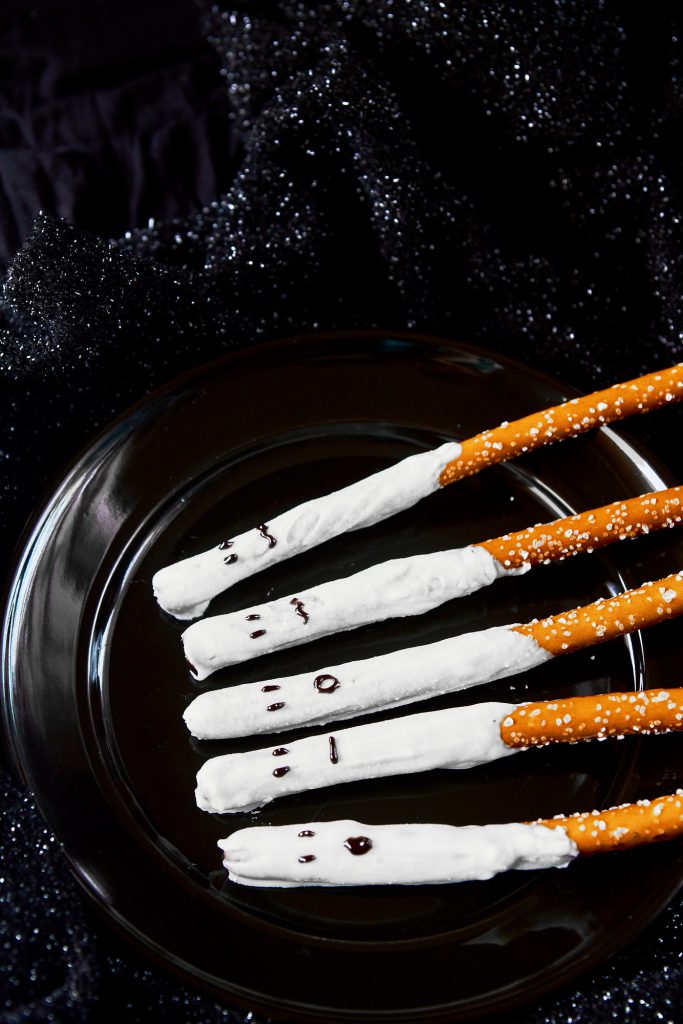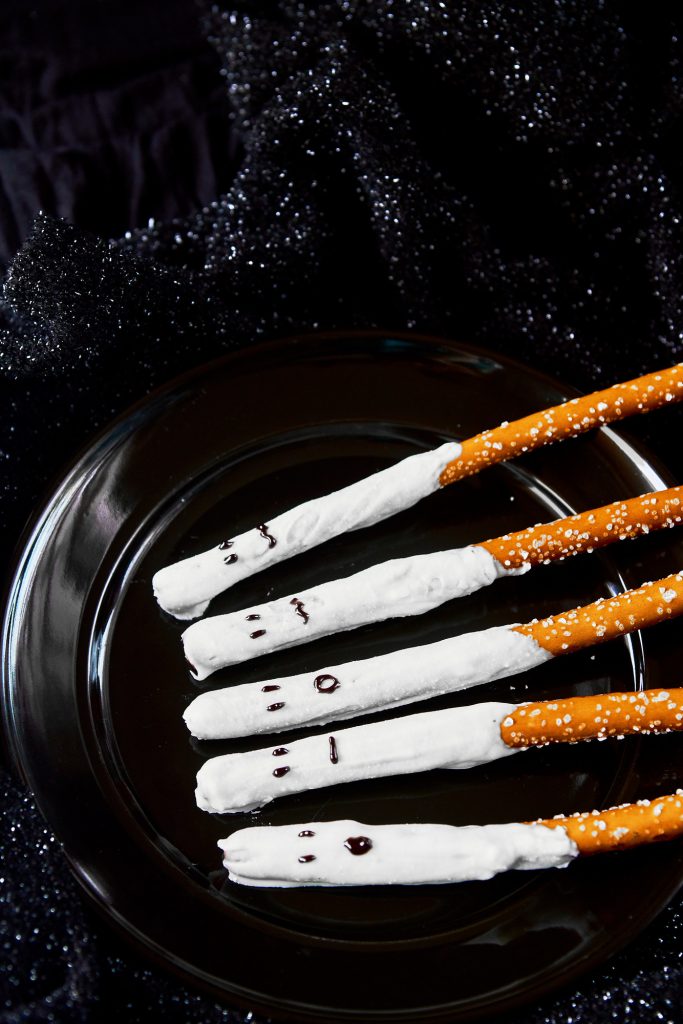 The Halloween pretzel rods are of course a kid-favorite, but adults love them just as much. I am an adult and I am obsessed as well as my whole family!
A lot of Halloween pretzel recipes are quite detailed in the way that you decorate the pretzels.
I am very basic and not the most creative person in the world, so I used a simple white chocolate dip and then used decorating icing [which is vegan] to dot on the eyes and mouth!
It is the easiest and cutest recipe for Halloween pretzel rods you will ever see!
They also serve so well with my Sparkly Hocus Pocus pretzels which you can see in the background in the photo below.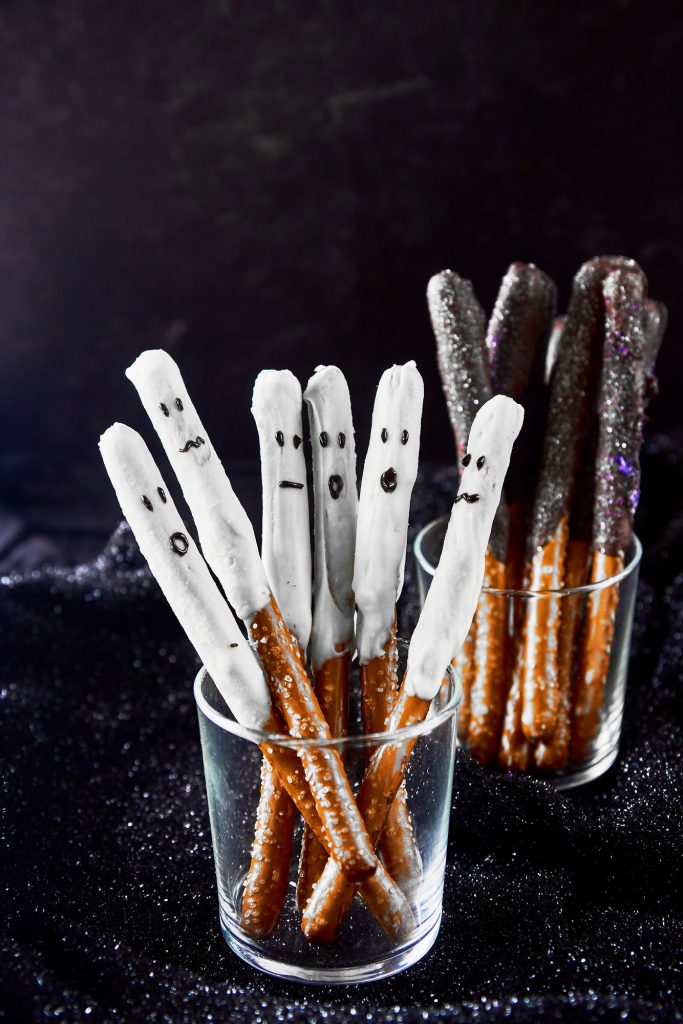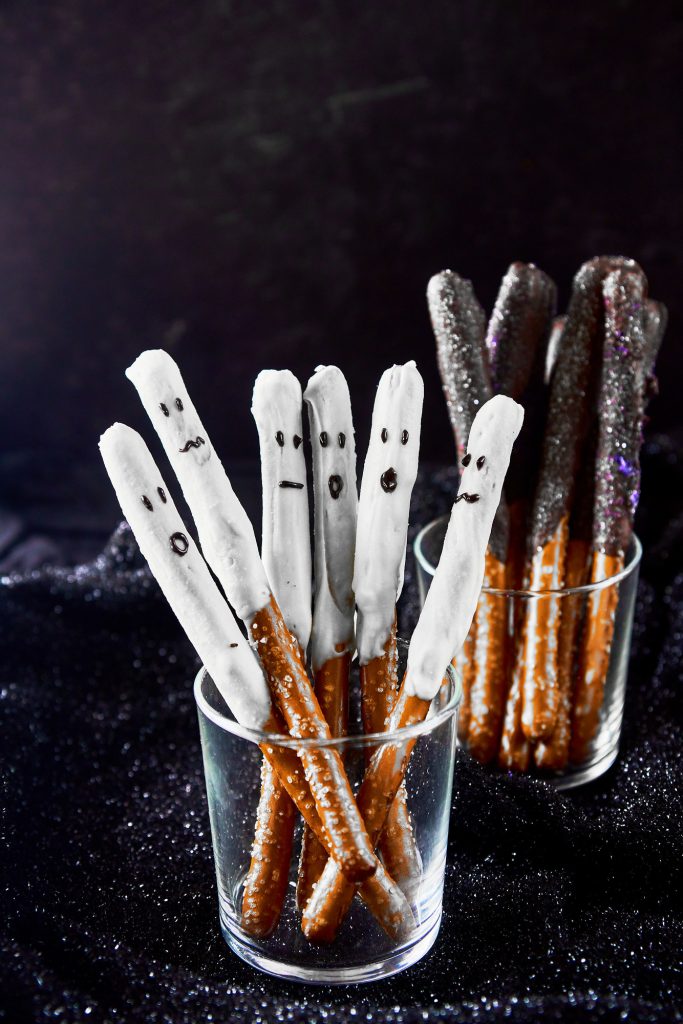 Why You Will Love These Halloween Pretzel Rods
Perfect for new cooks. If you are new to cooking or making "cute" things for events or holidays, this is the perfect recipe for you! Making these Halloween pretzel sticks has never been easier. Even if you are like me and not traditionally a "crafty" person.
They last a long time. You can make a big batch of these Halloween pretzel rods at the beginning of the month and use them for a variety of parties and events throughout the month. They stay fresh for 2-3 weeks, which is really amazing for busy people!
Kids and adults love them. Who doesn't love a Halloween chocolate-covered pretzel that looks like a ghost? These are family-friendly and everyone who tries them enjoys them.
They actually taste good. These Halloween chocolate pretzels actually taste good, unlike the kind you buy from the store that is stale. You can choose the chocolate you want, and even use a good high-quality white chocolate for a fancier "adult" vibe.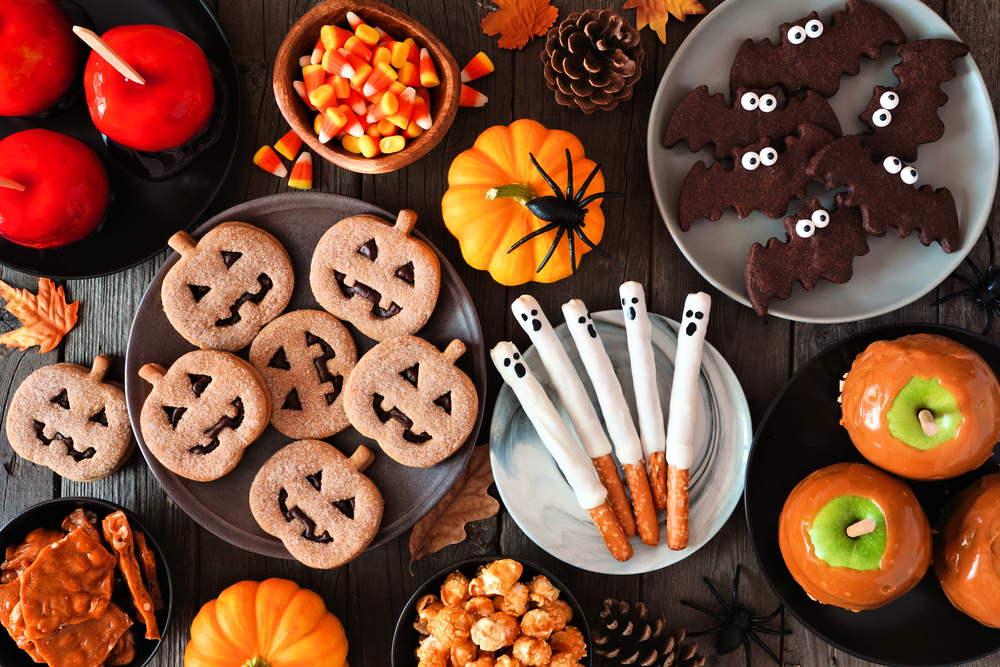 Where To Find Vegan White Chocolate Chips
When you read the title of this, you may be confused how these cute spooky ghosts with white chocolate are vegan as white chocolate chips that are vegan seem impossible to find.
This isn't true anymore and they are actually quite easy to source!
Did you know that you can easily find plenty of Vegan White Chocolate Chips On Amazon!
But did you know that WALMART and your regular grocery store has vegan white chocolate chips too?!
Nestle makes a brand called "Simply Delicious" and they are a vegan line of White Chocolate Chips!
These are your two best bets! To try and order some vegan white chocolate chips from Amazon or Walmart!
Sometimes Whole Foods or your local grocery store will also carry vegan white chocolate chips as well so you just have to ask or look at the ingredients!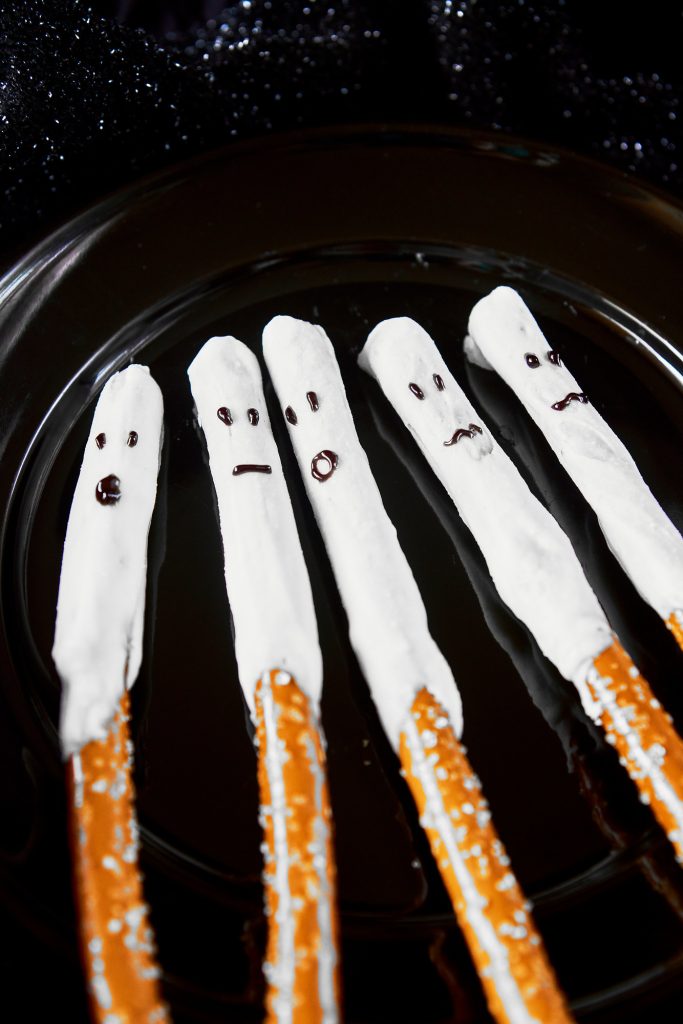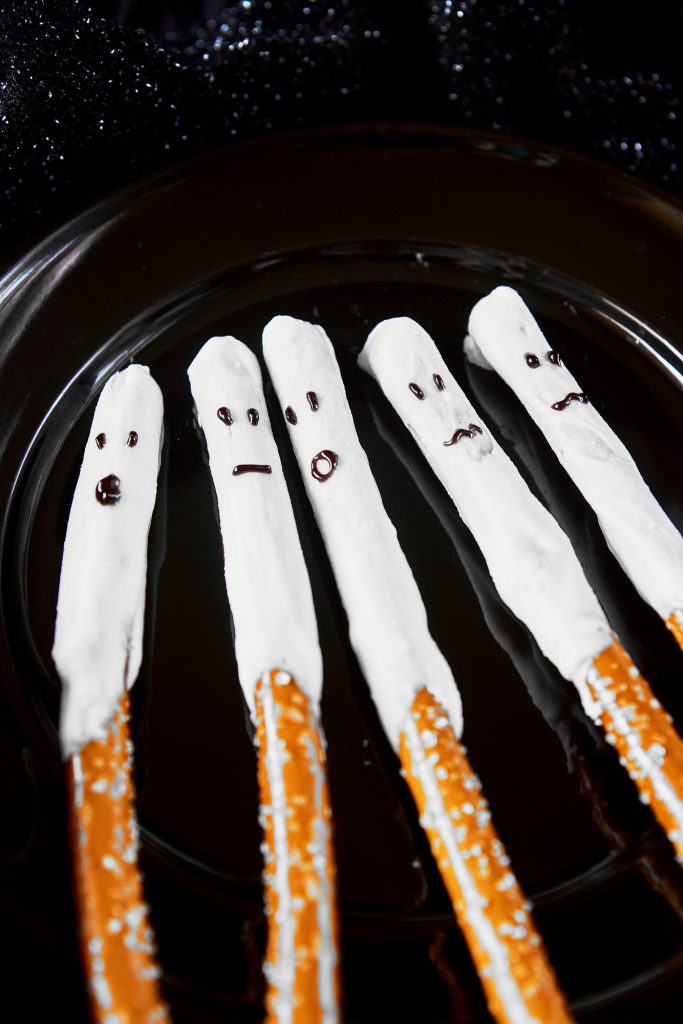 How To Make Spooky Ghost Halloween Pretzel Sticks
When I said above that making Halloween pretzel rods was easy and anyone could do it, even us non-crafty folks, I wasn't kidding.
I am going to walk you through the process.
If you have never melted chocolate to use for dipping, read on!
It is fairly easy and you can do it with vegan chocolate chips or non-vegan if you happen to be reading this and you aren't vegan, that is okay too!
You can melt you white chocolate chips either over the stove or in the microwave.
The key is to put the melted chocolate in a tall glass or other tall container so that you can easily dip the whole pretzel in!
The glass or container should be tall and skinny to make the chocolate stretch further!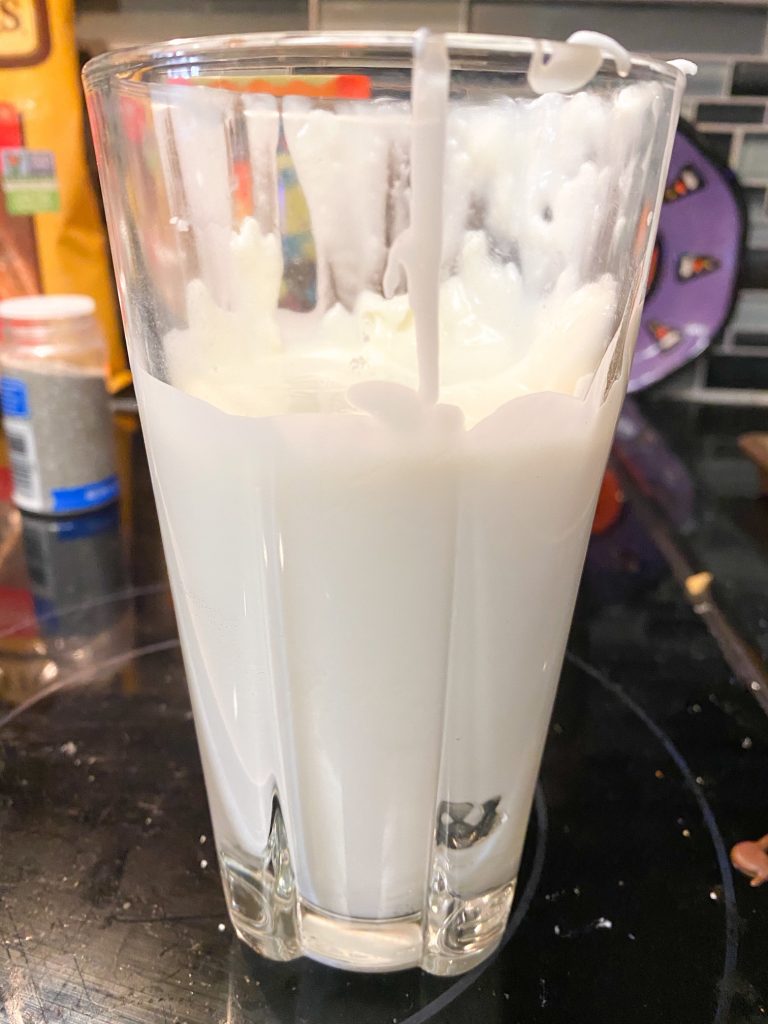 I often use an entire bag of white chocolate chips to dip the ghost Halloween pretzels in if I am making a lot so you may want to buy 1-2 bags depending on how many ghosts you want to make!
You can either melt in the microwave which I don't really like to do as I like to be in control of the melting process, or you can melt on the stove and then pour the melted white chocolate into a glass. This is my preferred method!
Once you have your white chocolate melted and in a tall glass, line a cookie sheet with parchment paper and put your glass of chocolate near.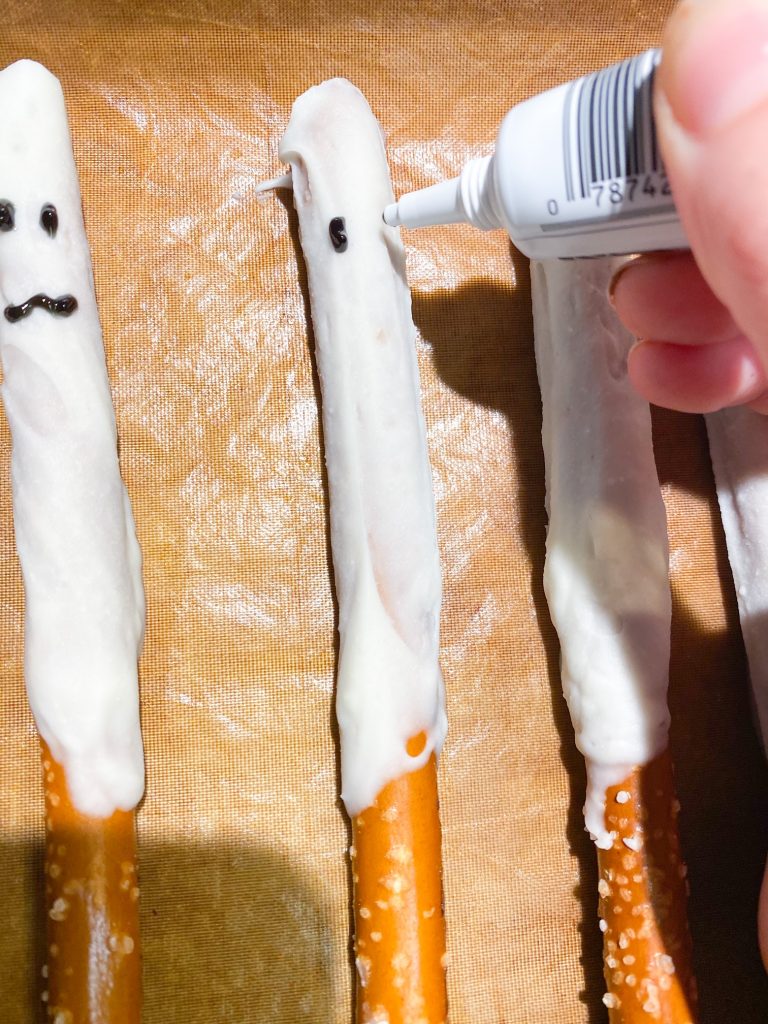 Dip your pretzel rod into the white chocolate and then lay it on the cookie sheet to drain off.
You want to make sure that the ghost Halloween pretzels aren't super runny with a lot of chocolate pooling off.
Once all of the pretzel rods are dipped in white chocolate, you will put them in the fridge until they harden!
Once the white chocolate is hardened, you can use black icing to dot on the face.
I got my icing in a tiny tube from Walmart and it is 100% vegan [despite the fact that it is filled with chemicals]
Have fun with the faces and play it up! I did a few versions as you can see in the photos!
How To Store The Spooky Ghost Pretzels
While you do put the ghost pretzels in the fridge to harden the chocolate, you should not store chocolate-dipped pretzels in the fridge!
How do I know? Because I tried it once and they were disgusting and soggy.
You should simply store the ghost Halloween pretzel rods on the counter in an air-tight container!
If they are in an air-tight container at room temperature, the white chocolate dipped pretzels should store for 2-3 weeks and still keep fresh!
This is a great way to make the Halloween ghost pretzel sticks ahead of your event or party without worrying!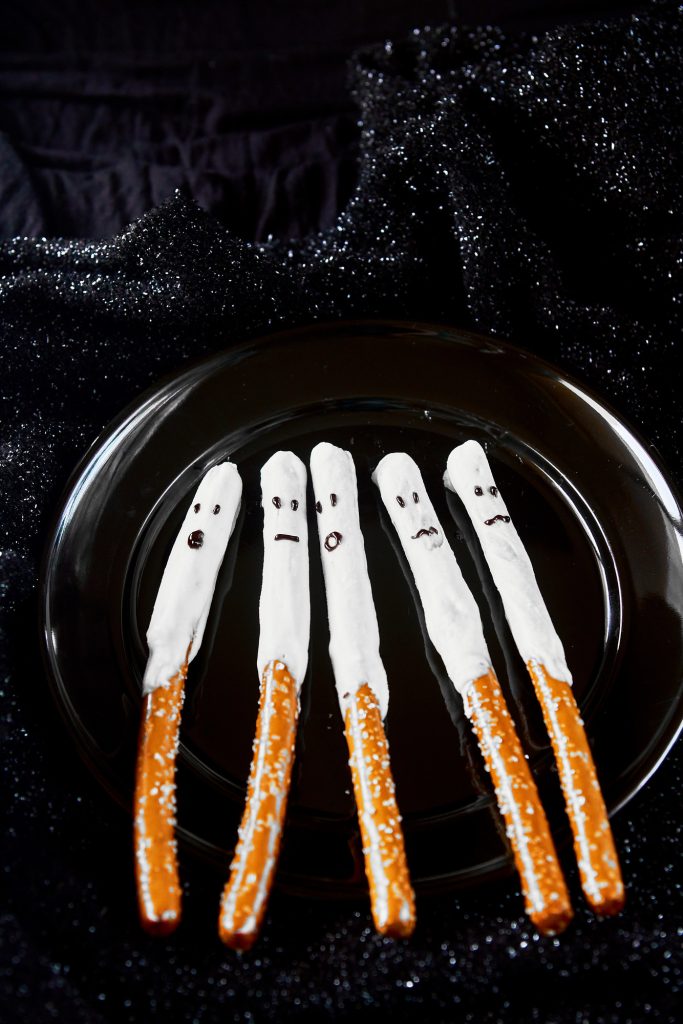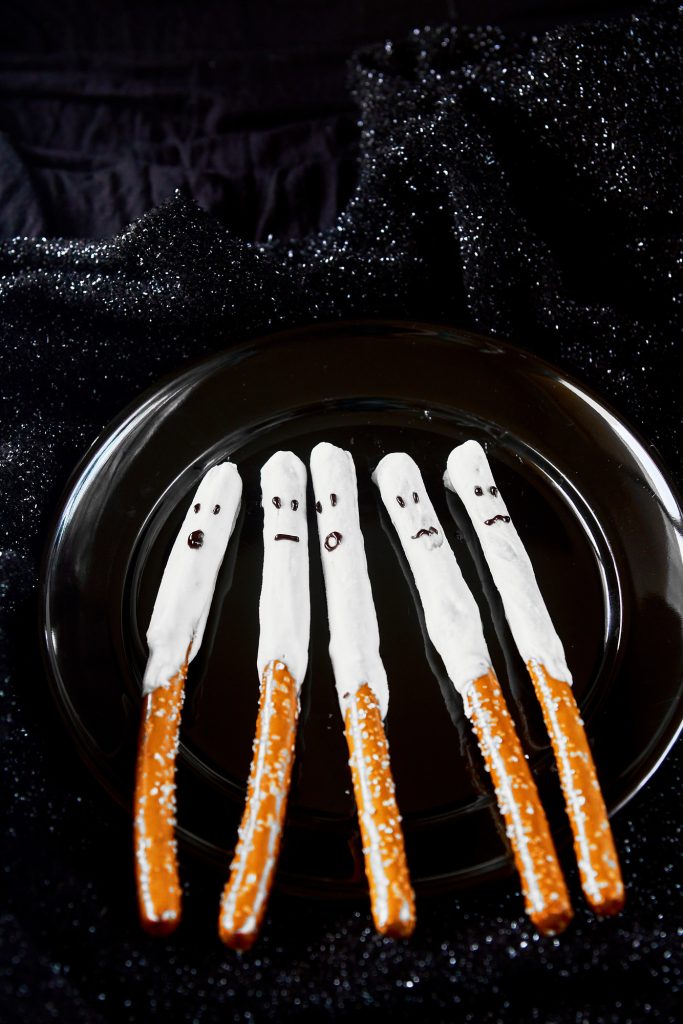 Did You Try This Recipe?
If so, I would love to keep in touch! I enjoy seeing photos and comments about the recipes that you make! You can follow me on Instagram and I will repost your goodies in my stories and comment on it too! Just tag me at @wowitsveggie and hashtag #wowitsveggie. I can't wait to see what you make!
Yield: 20 Pretzels
Spooky Ghost Halloween Pretzel Rods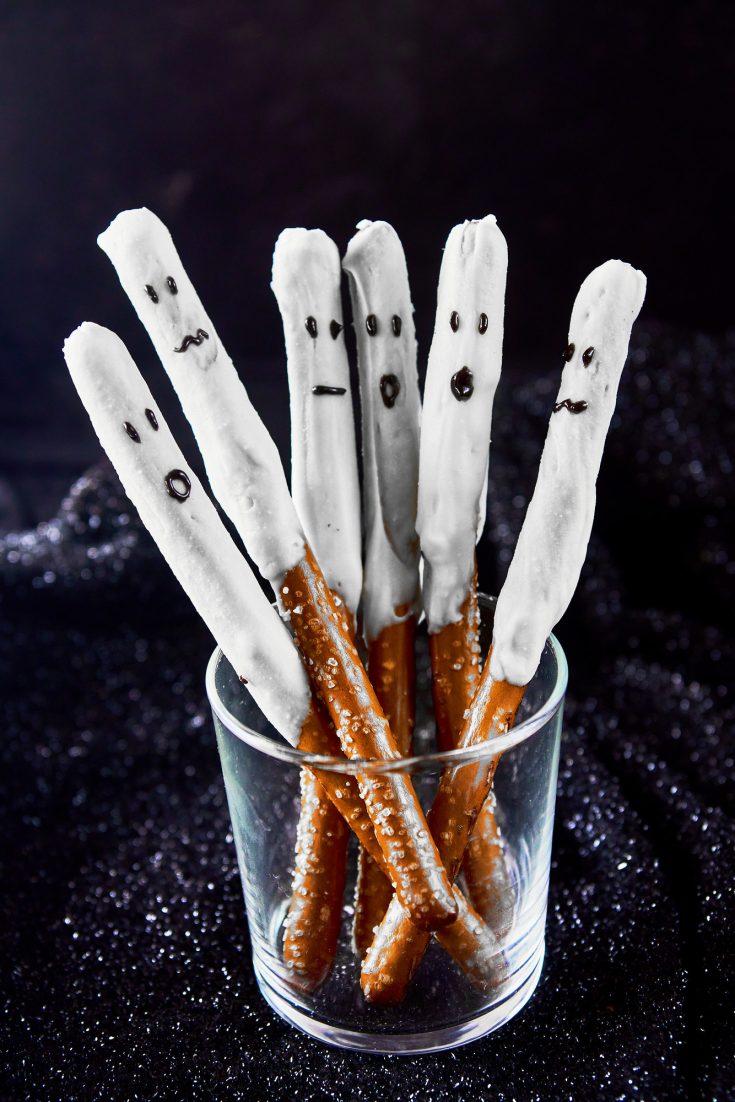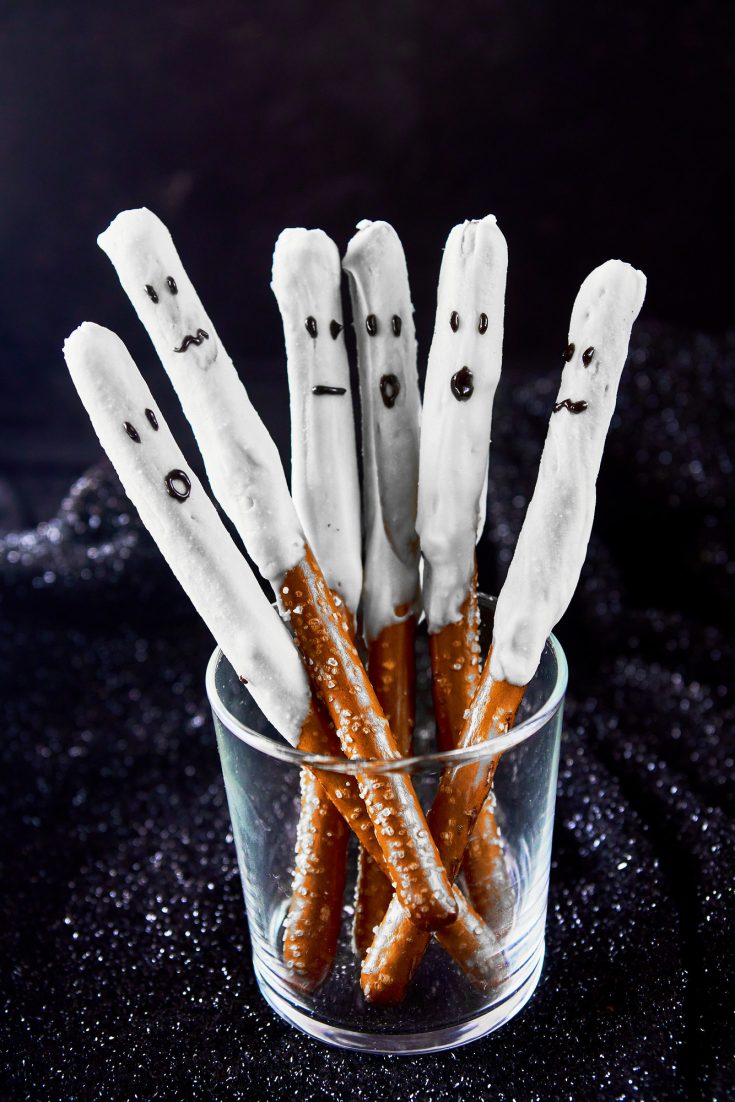 These spooky ghost Halloween pretzels are the cutest addition to your holiday snack table! They are 100% vegan when you use vegan white chocolate chips and the blend between salty and sweet is so tasty. They are low-fuss and very easy to make and store well!
Ingredients
2 cups vegan white chocolate chips [or regular white chocolate chips if you don't care] + more if necessary
1 bag pretzel rods
1 tube black decorating gel
Instructions
Line a cookie sheet with parchment paper and set aside.
Melt your vegan white chocolate chips either on the stove or using the microwave.
Once melted, pour into a tall and thin container such as a tall drinking glass. If you are using the microwave, you can melt the white chocolate chips in the tall glass to cut down on one step.
Dip your pretzel rods into the melted white chocolate and place on the cookie sheet.
Once you dip all the pretzels, place the baking sheet in the fridge to cool until the white chocolate is hard.
Once the white chocolate is hard, remove the ghost pretzels from the fridge and use the black decorating gel to dot on faces for your ghosts. Feel free to be creative!
Enjoy! The ghosts can store at room temperature in an air-tight container for 2-3 weeks.