If you are looking for authentic and delicious Italian butterball cookies, this is the recipe for you!
In case you aren't familiar, Italian butterball cookies are soft and buttery and melt in your mouth with ease! Despite the name, they are made using margarine, not butter.
These Italian butterball cookies are 100% vegan. This is NOT a veganized recipe. This is how my Italian Grandma has made them for the past 60+ years.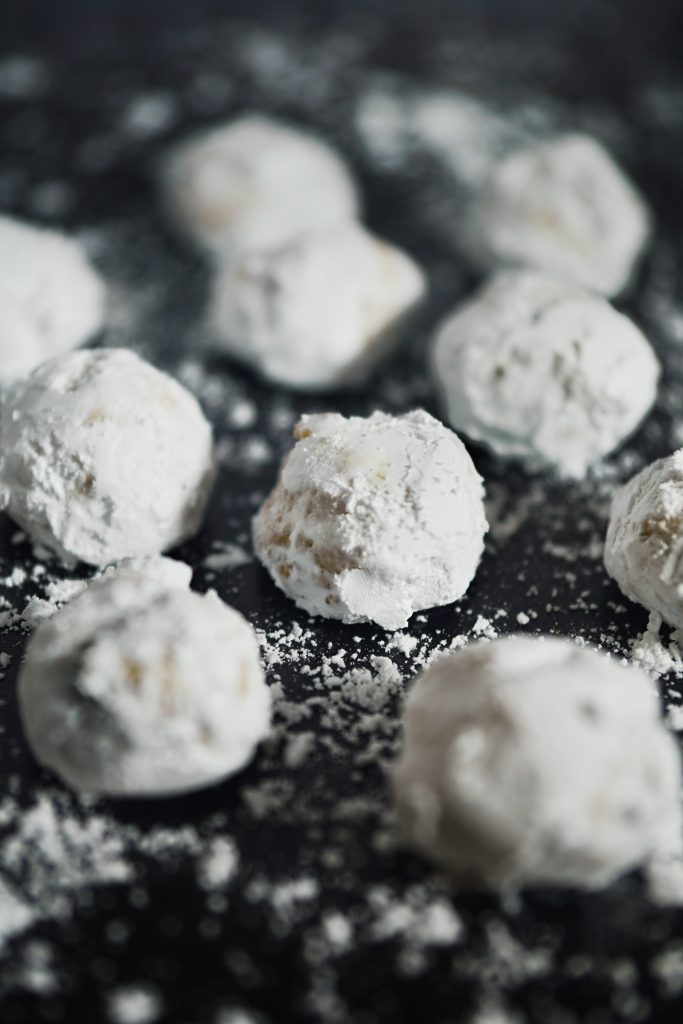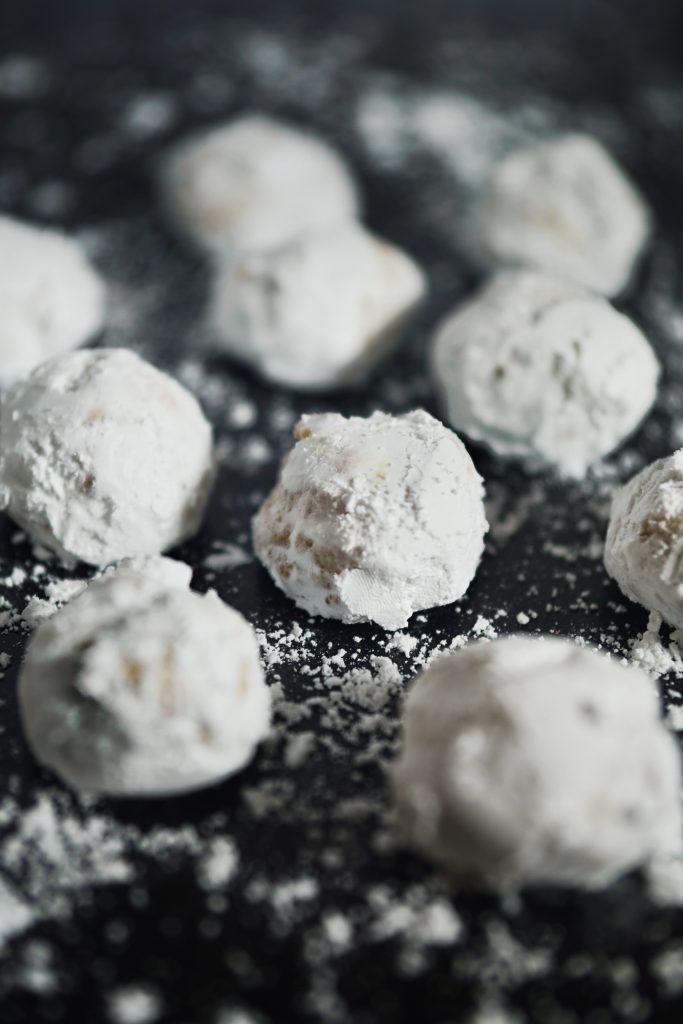 She never used butter in her round powdered sugar cookies. She actually used margarine but "back in the day" it was called oleo. Oleo first entered the food scene in France back in 1869!
You can even use my Homemade Vegan Butter recipe if you want to make your own! It is super quick and easy to do too!
This is my Italian Grandma's Butterball Recipe. It is over 70 years old and has been baked for weddings, Christmas cookie trays, graduations and more.
As I write this, the handwritten note that is stained and passed down for generations is beside me.
Here is a photocopy that was given to me. As you can see this butterball cookies recipe is also well-loved!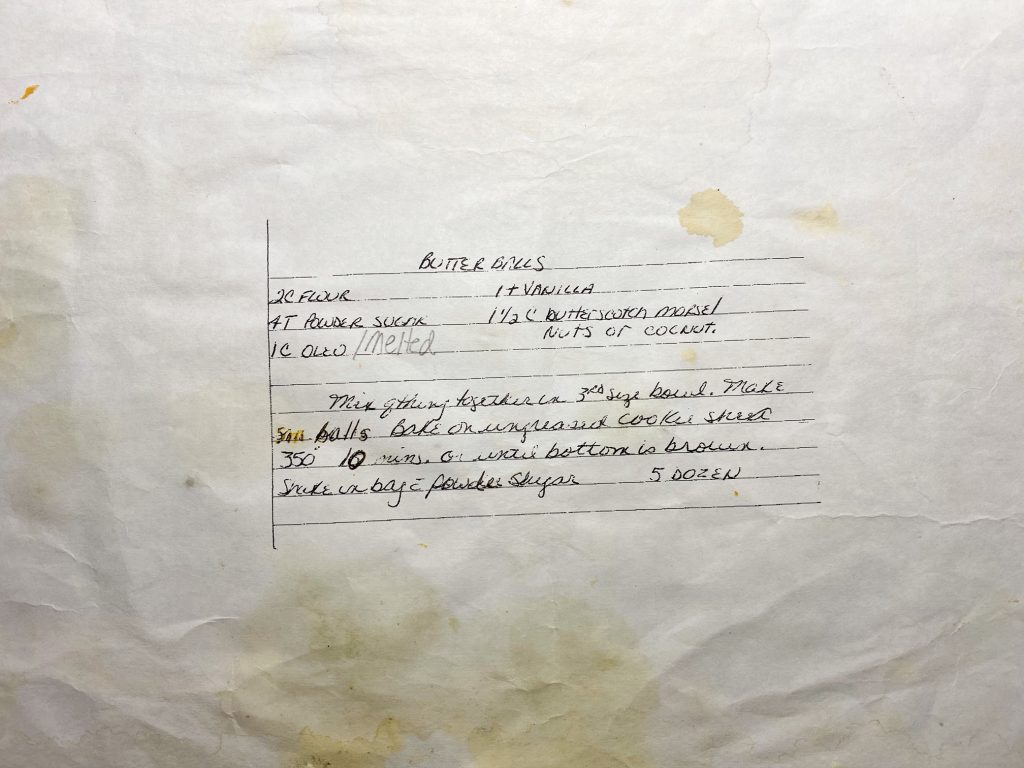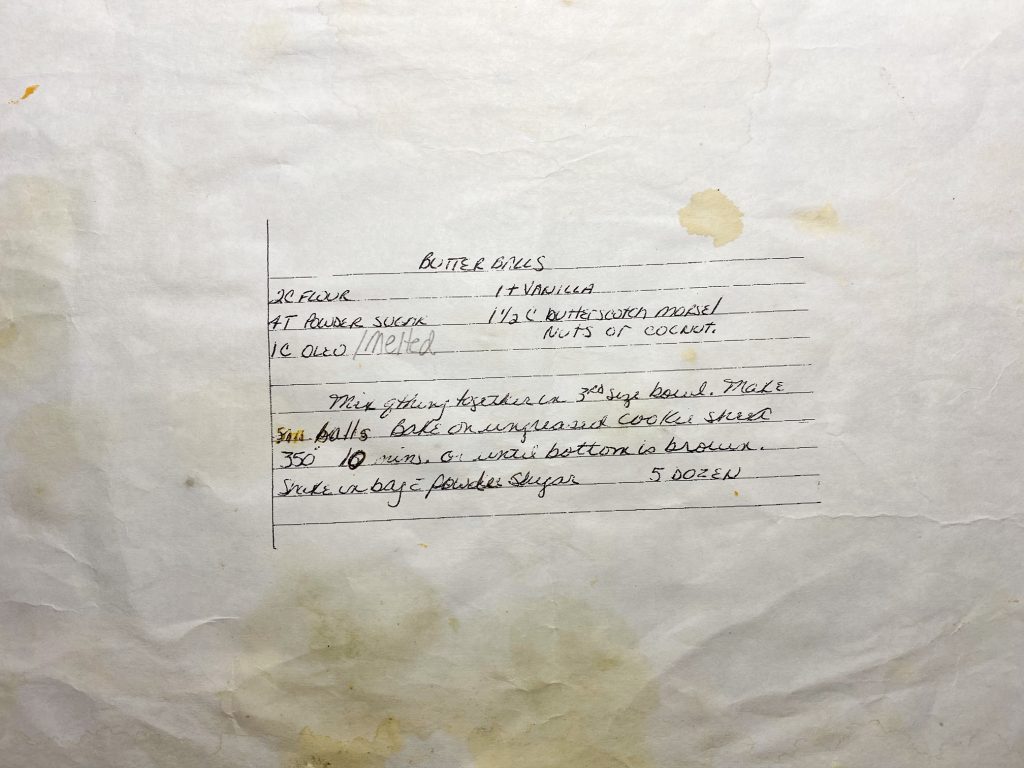 If you aren't vegan or have never baked vegan cookies before, don't be afraid! My Grandma was about as far away from being vegan [and healthy] as you could ever get, so I promise that these cookies are 100% decadent!
You can make as many or as few powdered sugar butterball cookies as you want. This recipe bakes 5 dozen as it is, but the balls must be very tiny! You can choose to make them larger if you want larger cookies and don't want to roll out 5 dozen, but the joy of eating butterballs is the fact that you can easily pop them in your mouth!
I hope you enjoy these Italian butterball cookies and think of my grandma each time you make them. I hope that they become YOUR new "grandma cookies" too!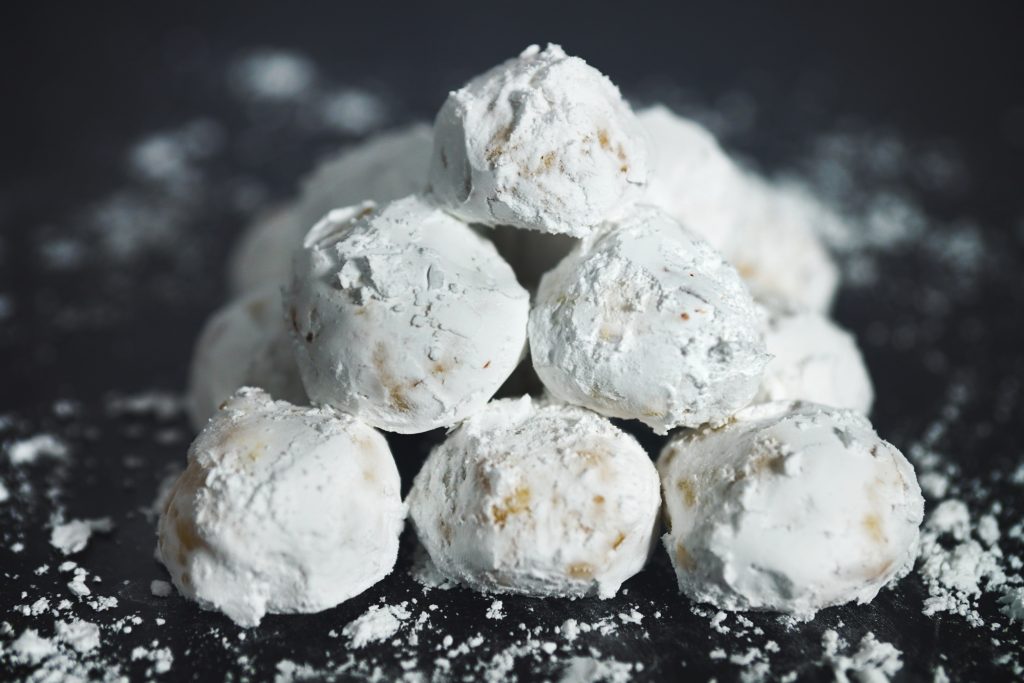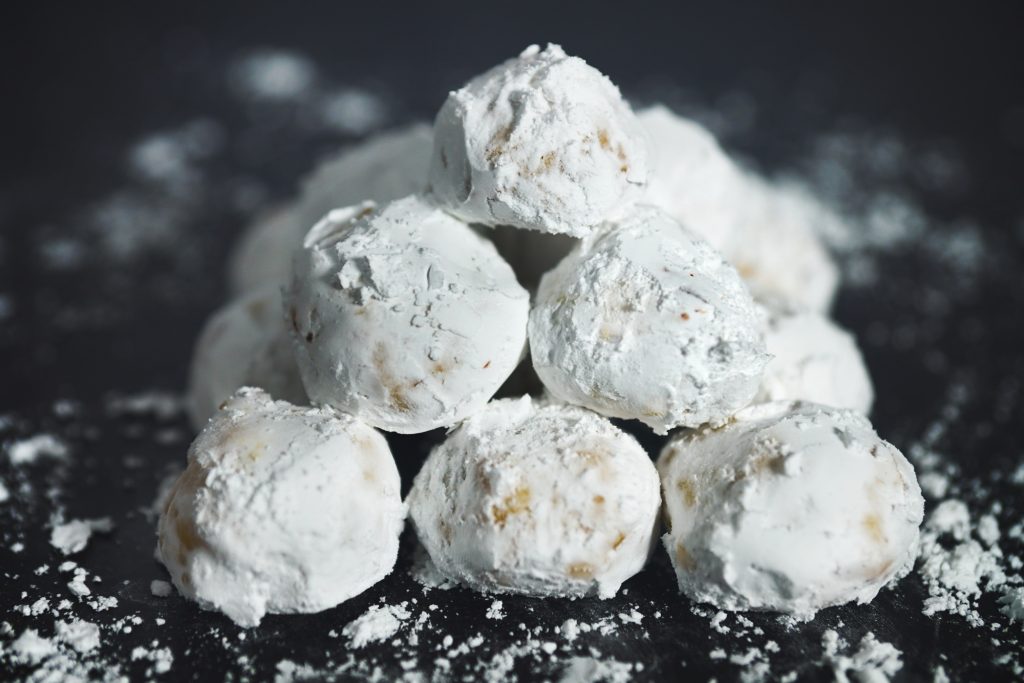 Other Names for Italian Butterball Cookies
Butterball cookies go by all sorts of different names depending on where you are from. However, they are basically all the same.
Snowball Cookies
Russian Tea Cakes
Mexican Wedding Cookies
Italian Wedding Cookies
Polish Snowballs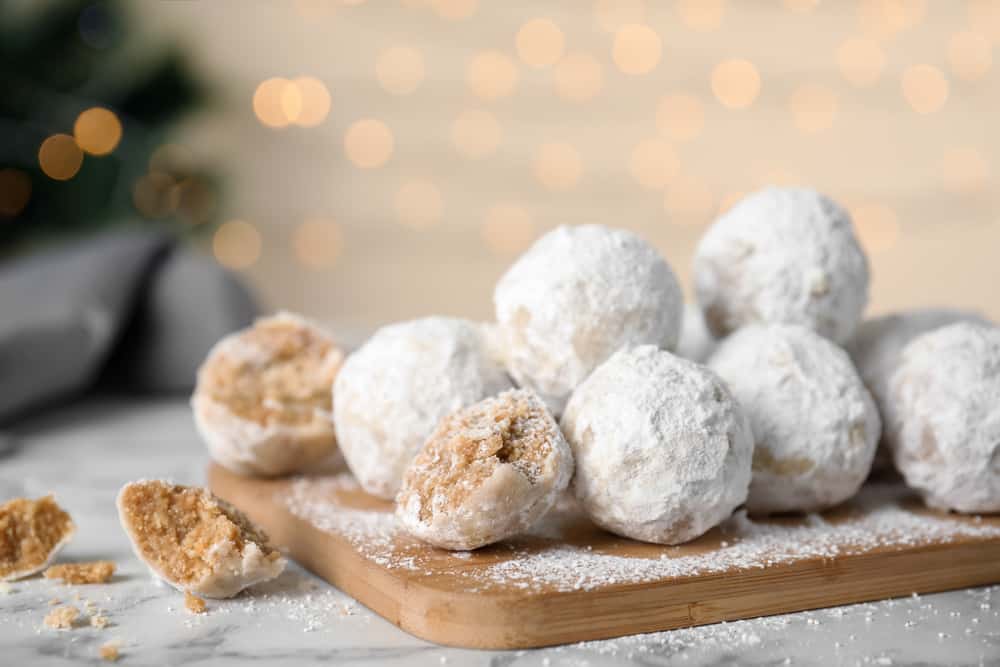 How To Make Italian Butterball Cookies
Making Italian butterball Christmas cookies is so super easy!
It is actually one of the best Vegan Recipes for Kids to help make! Of course, anyone can enjoy the cookies, not just vegans, but this recipe does have no dairy in it at all!
This recipe is truly so simple and perfect for making for the holidays as you can make a big batch all at one time!
All you have to do is combine all of your ingredients in a bowl and mix together until a dough is formed.
You can use your clean hands to do this like Grandma used to do, or you can use an electric hand mixer.
Personally, I like using my clean hands.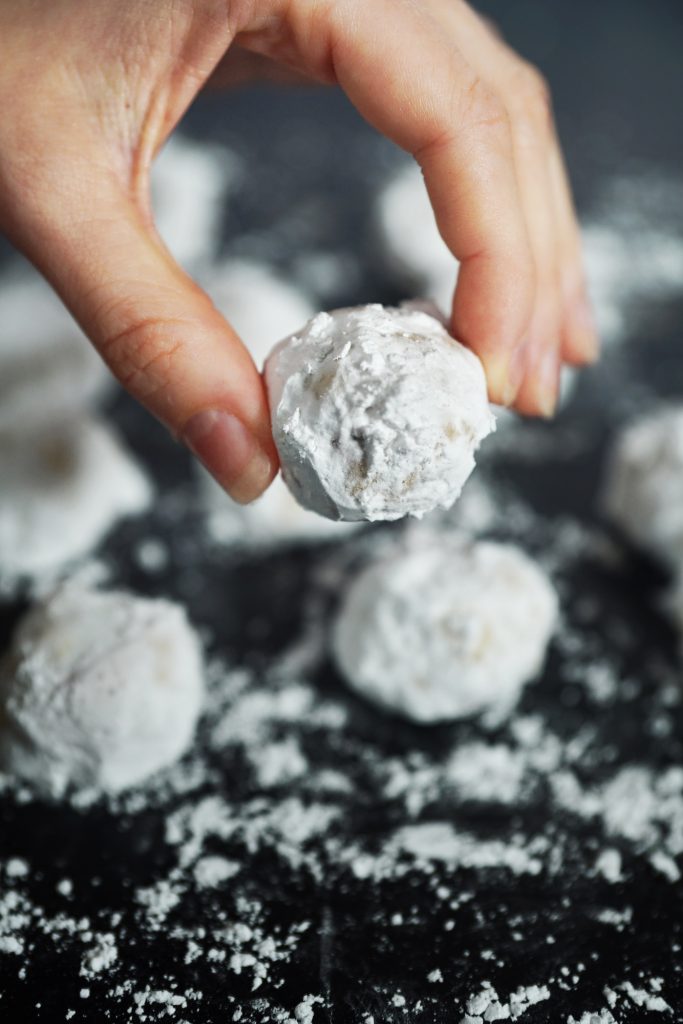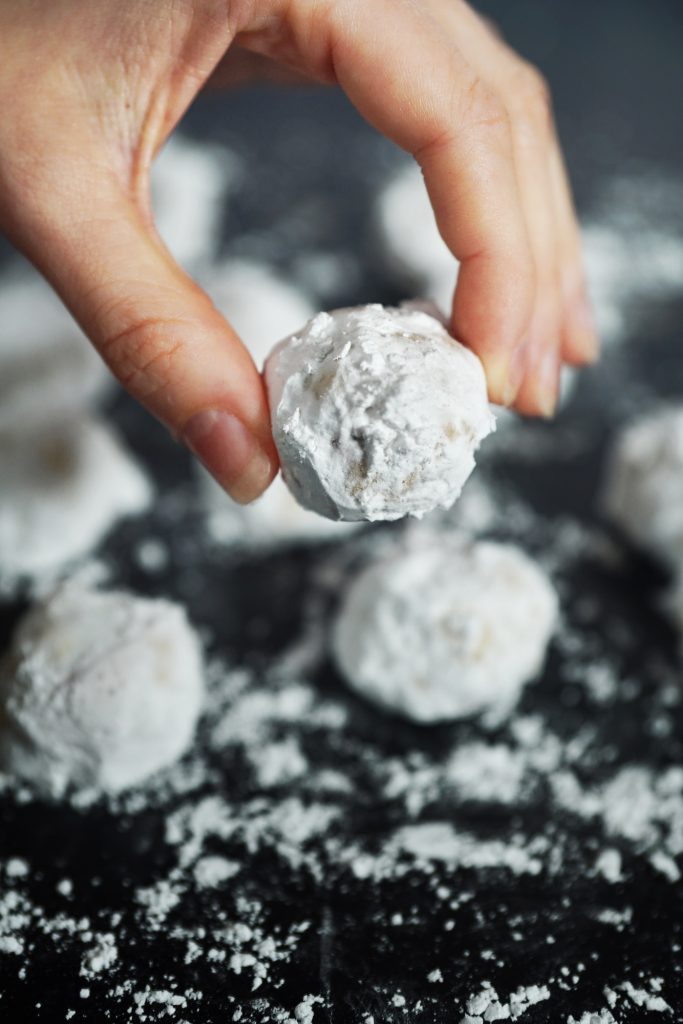 The butterball cookie dough may be a little crumbly, so make sure to press it together with your hands to form the dough. Don't worry about it if it is a little bit crumbly, it will still turn out lovely cookies.
Next, form the dough into small balls.
This recipe gets 5 dozen butterball cookies so the balls should be very small, smaller than 1 tablespoon in size.
They are meant to be bite-sized pieces.
If you make them about a tablespoon size, you may get less than 5 dozen, but the result will still be the same and they will taste just as good being slightly larger!
Bake the cookies at 350 for 10-12 minutes until the bottoms are golden brown.
Since the Italian butterball cookies do not spread too much when baking, you can put them within 1/2 inch of each other and you won't risk them fusing together.
Once the cookies have cooled completely, shake the cookies in a bag filled with powdered sugar.
Alternatively, you can sprinkle the powdered sugar over the cookies on a cookie sheet using a sieve. I have done both methods with great results!
Do not sprinkle the cookies with powdered sugar until after they cool or else the sugar will melt into the old-fashioned butterball cookies and you won't even be able to see the dusting on them!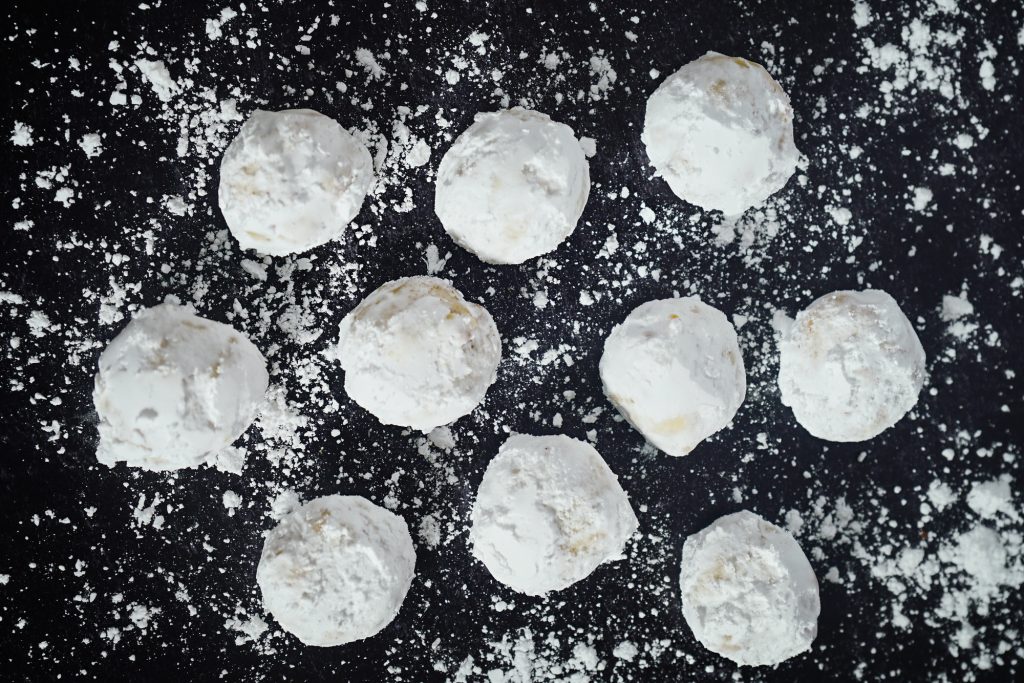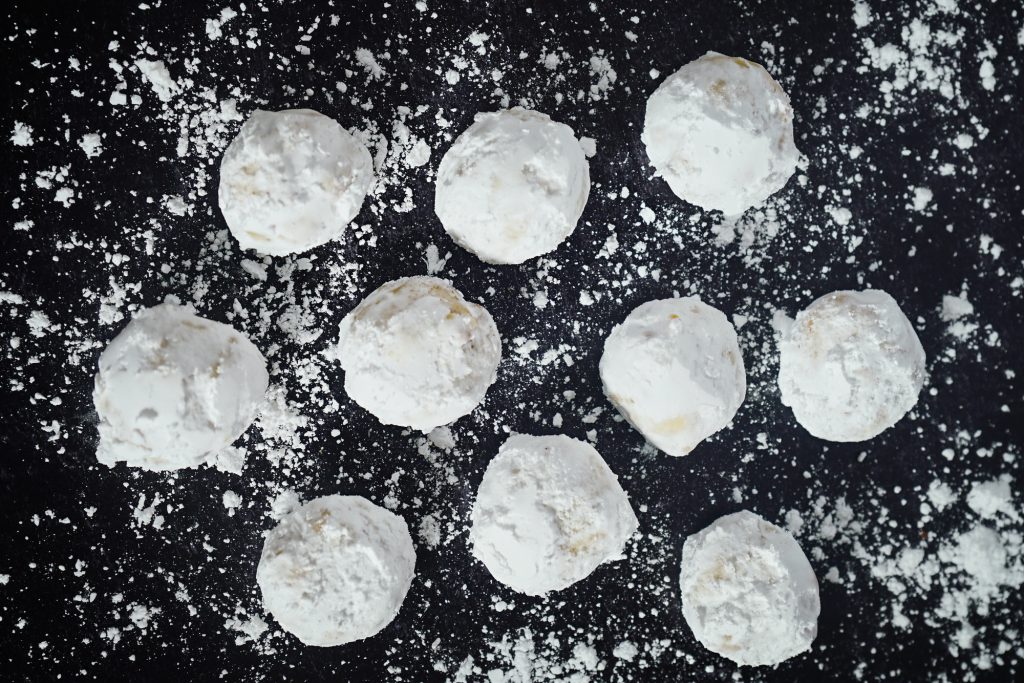 Where To Find Vegan Butterscotch Morsels
If you do happen to be a strict vegan and you do happen to want to make this recipe, welcome!
I say this as Grandma's recipe is accidentally vegan because it uses no eggs or butter.
That being said, not all butterscotch morsels are vegan! You should carefully check in your grocery store and read the ingredients!
I have found them from time to time, but it is always hit or miss!
However, King David's Butterscotch Morsels from Amazon is a great find and perfect for making these Italian Butterball Cookies!
If you can't find them in-store, they are easily accessible from Amazon so you don't have to worry.
Finally, don't try and substitute the butterscotch morsels for chocolate chips. You would think that it would make them better, but it makes them worse.
Growing up, my mom said my grandma tried to make them with chocolate chips and the entire family revolted!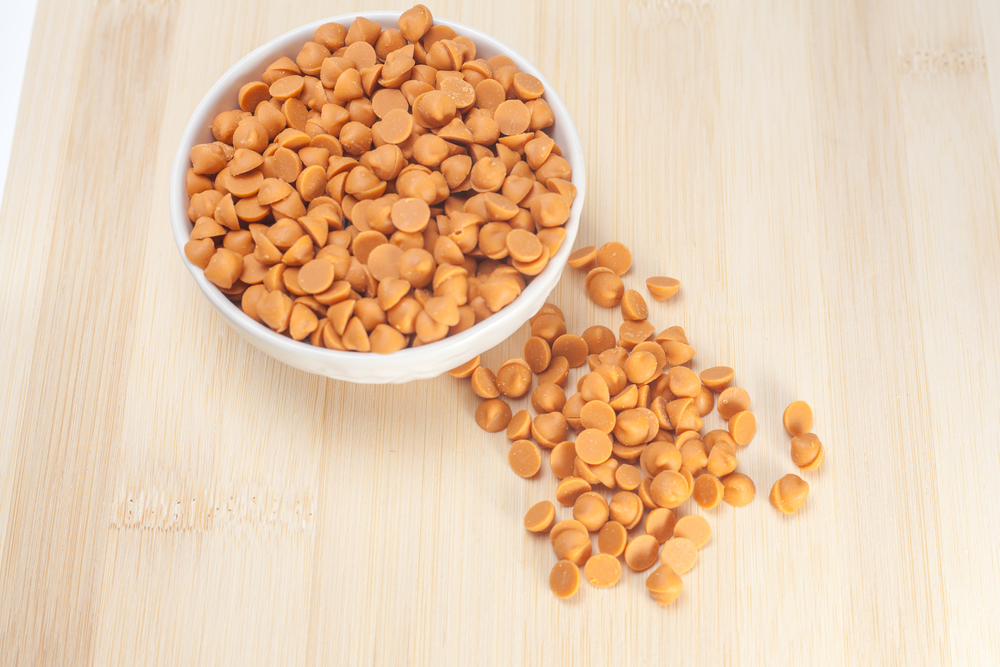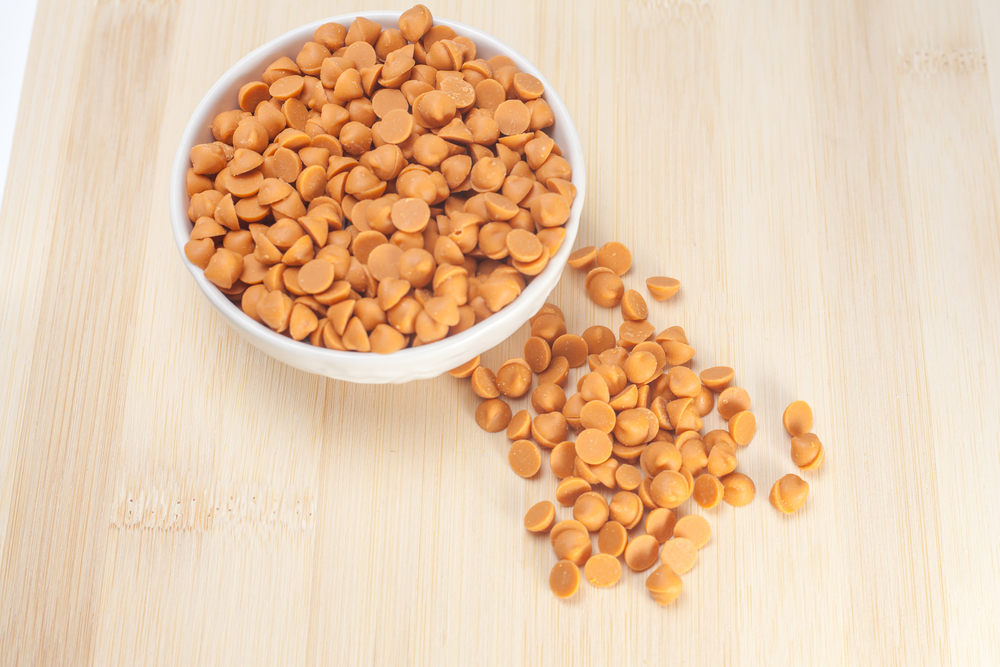 Butterball Ingredient Substitutions
Some ingredients for this Italian butterball cookies recipe can be substituted as needed.
Butter. In place of margarine, you can use salted or unsalted butter. If using unsalted, add a pinch of salt.
Confectioners Sugar. We suggest powdered sugar, but either will work.
Almond Extract or Vanilla Sugar. These can be used instead of vanilla extract or to add extra flavor.
Pecans. Crushed pecans or another nut of your choice is a popular addition to butterballs.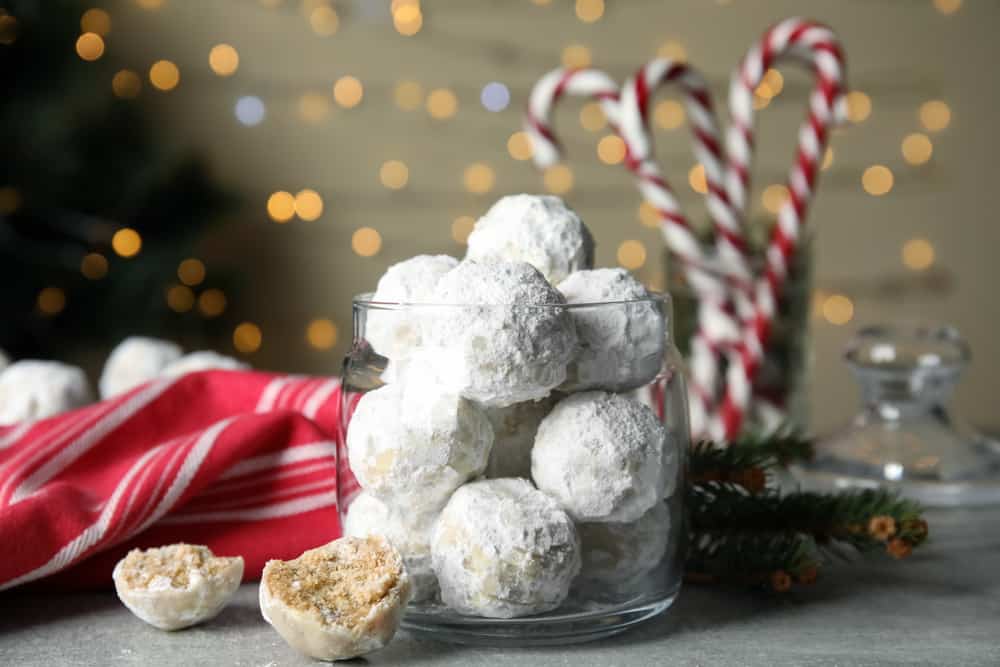 How To Store The Butterball Cookies
The thing that my family loves about this butterball cookie recipe is that they seem to keep forever!
You can store them on the counter for 1-2 days and then in the fridge for up to 7 days.
However, the butterball cookies with no nuts really shine when they are frozen as they retain their original flavor beautifully!
The Italian butterballs keep well in the freezer for 1-2 months. When storing them, store the baked cookies in a sealed container, but do not dust/shake them with powdered sugar.
When you defrost and prepare for serving, finish the recipe by shaking them with powdered sugar. Do not store with powdered sugar or else the sugar will "melt" into the cookies and will disappear visually.
If you have leftover butterball cookies, it is okay to store them with the powdered sugar on, of course, as it is the only way, but you will need to "refresh" them with more sugar once you pull them out to serve!
We always make these ahead of Christmas or a big family event and freeze them until the day of when we defrost them and add them to the cookie tray!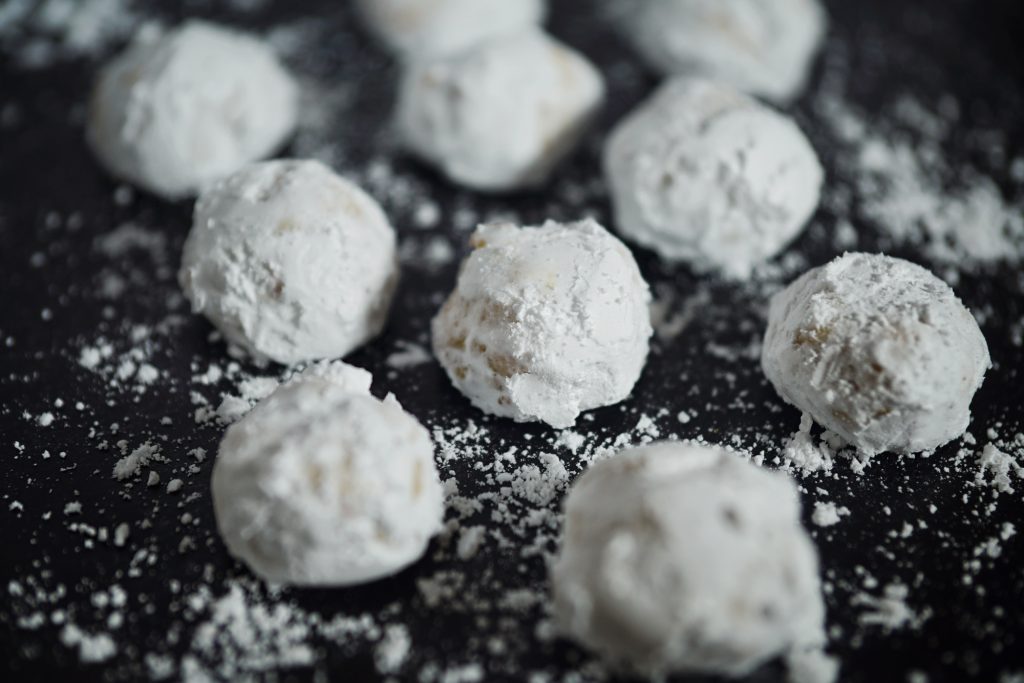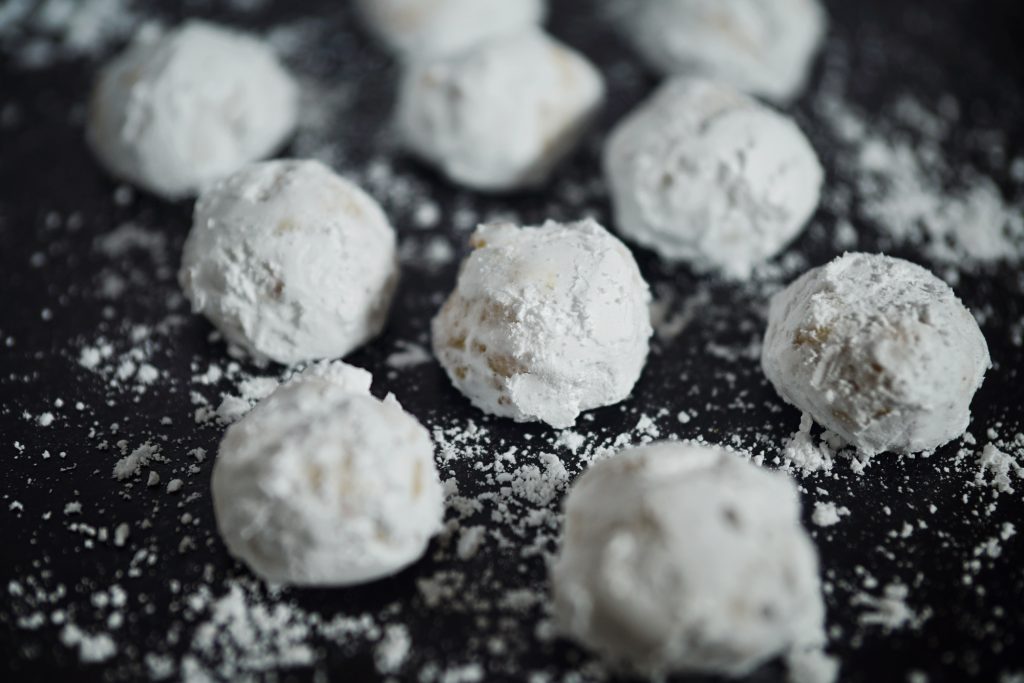 Did You Try This Recipe?
If so, I would love to keep in touch! I enjoy seeing photos and comments about the recipes that you make! You can follow me on Instagram and I will repost your goodies in my stories and comment on it too! Just tag me at @wowitsveggie and hashtag #wowitsveggie. I can't wait to see what you make!
Yield: 5 dozen
Italian Butterball Cookies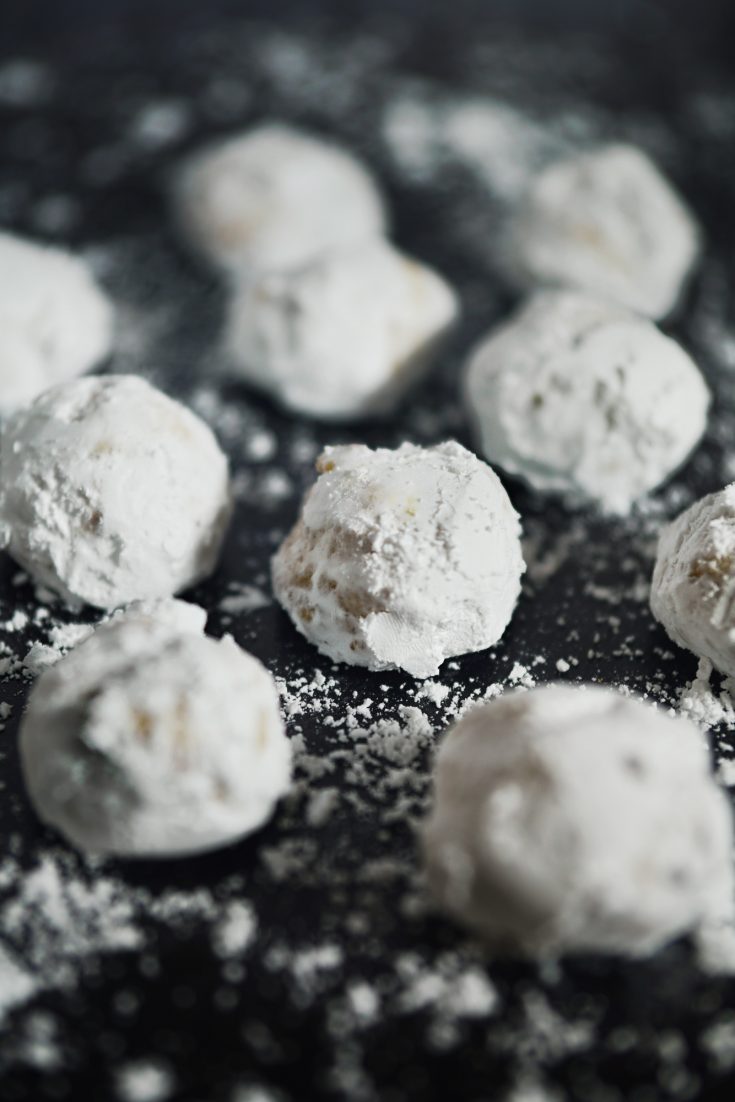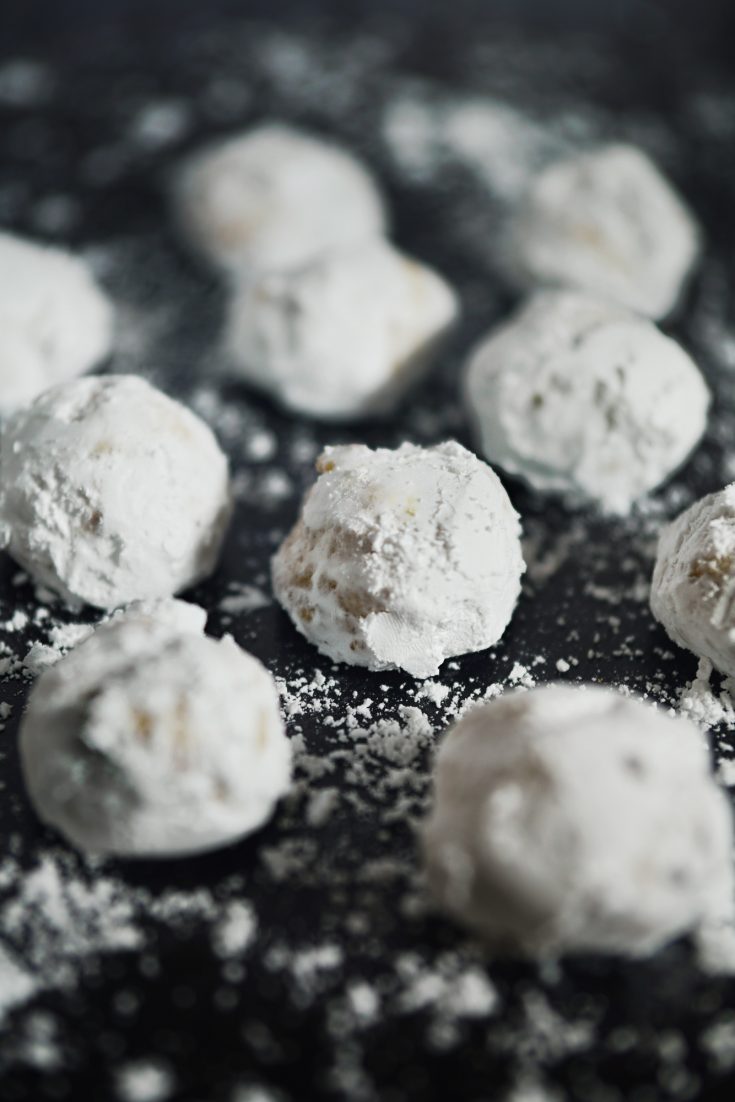 These Italian butterball cookies melt in your mouth with their sugary and buttery taste. They are naturally vegan due to the fact that you use margarine in this recipe. The butterball cookies are flaky, soft, and covered in powdered sugar perfection!
Ingredients
2 cups of flour
4 tablespoons of powdered sugar
1 cup of margarine (use sticks)
1 teaspoon of vanilla
1 1/2 cup butterscotch morsels
(More powdered sugar for dusting)
Instructions
Preheat oven to 350F and line your baking sheets with parchment paper.
Combine ingredients in a bowl and mix together by hand or using a food processor until a dough is formed. The dough may be crumbly, so just use your hands to form it together!
Form butterball dough into small balls. To get 5 dozen, you will need each ball to be smaller than 1 tablespoon in size. If you do form the cookies with 1 tablespoon of dough, they will be slightly larger and they may not make 5 dozen, but they will still come out great with this cooking time.
Bake on ungreased or parchment-lined cookie sheet on 350 degrees for 10-12 minutes or until bottoms are golden brown. Do not overbake too much longer than 12 minutes or else the bottoms will burn.
Remove the cookies from the oven and let them cool completely. Do not dust with sugar until they are completely cool or else the sugar will melt into them and disappear.
Once the Butterball cookies are completely cooled, Shake finished cookies in a bag with powdered sugar or use a sieve to sprinkle the powdered sugar over the cookies on the cookie sheet.
Enjoy!
Notes
Grandma used to add nuts or coconut shreds to the butterball cookies so you can modify by adding them if you want. My family isn't a fan of the recipe this way, but if you want to give it a try, feel free!
This recipe keeps well in the freezer for 1-2 months in a sealed container. Freeze baked butterball cookies without the powdered sugar and then add the powdered sugar once you thaw!
Nutrition Information
Yield
60
Serving Size
1
Amount Per Serving
Calories

67
Total Fat

3g
Saturated Fat

1g
Trans Fat

1g
Unsaturated Fat

2g
Cholesterol

1mg
Sodium

22mg
Carbohydrates

9g
Fiber

0g
Sugar

5g
Protein

0g