Oil pie crust is so easy to make. I learned how to make it from my Italian grandmother who learned how to make this easy pie crust with oil from her mother before her.
This is a traditional family recipe for oil pie crust and each family member has variations of it written in my grandma's handwriting.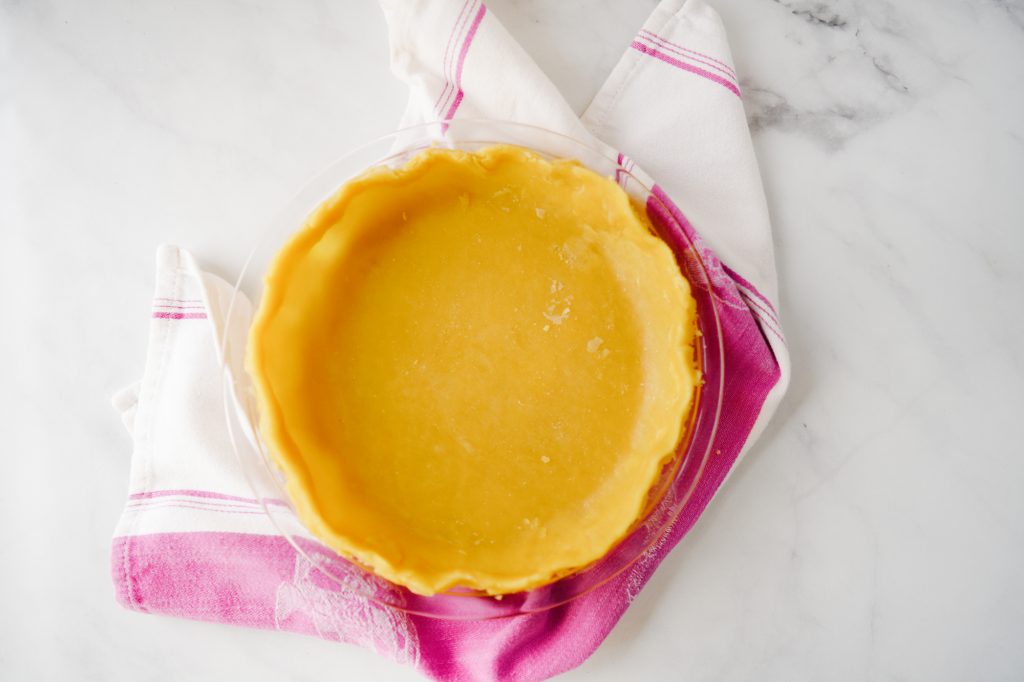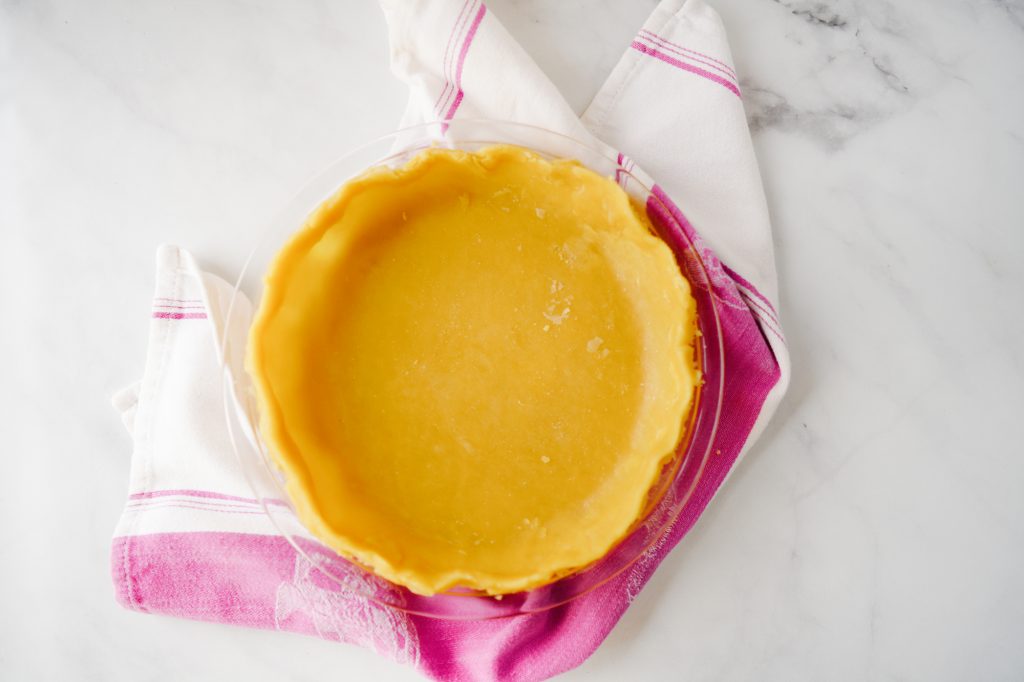 Pies are big in my family and my grandma would make varying types of pies, from her Accidentally Vegan Apple Pie to cherry and pecan pie for every holiday and sometimes just because!
In case you didn't believe me, here is my handwritten oil-based pie crust recipe as a child, straight from Grandma teaching me how to make it, on a random piece of paper that I have kept for years!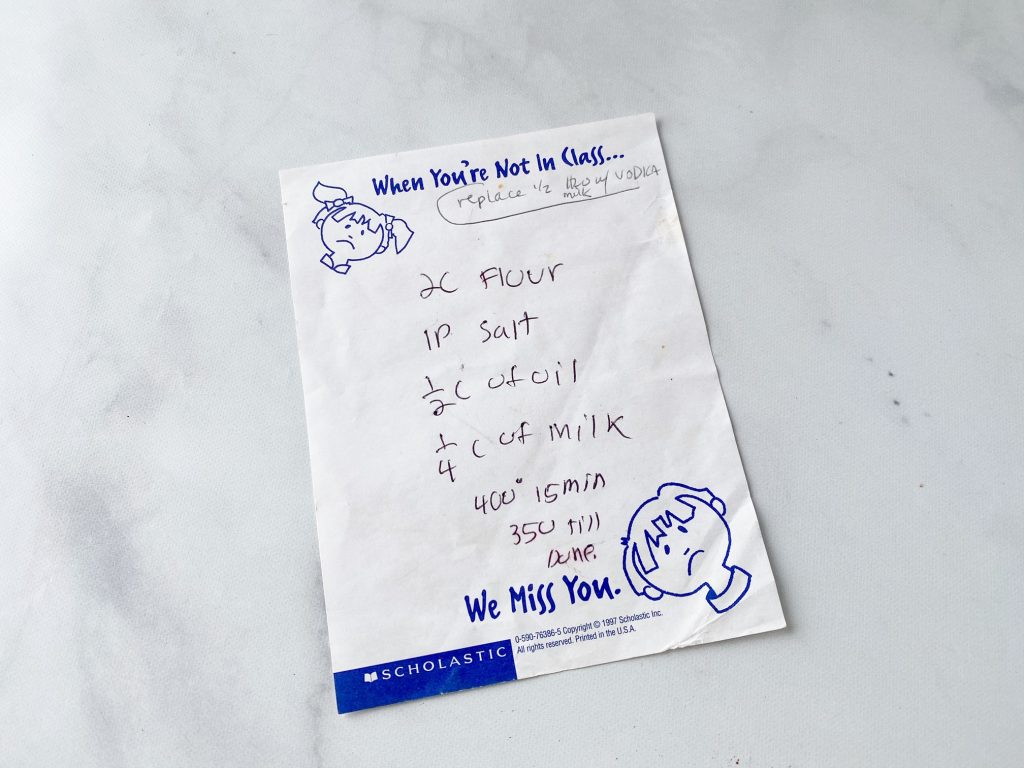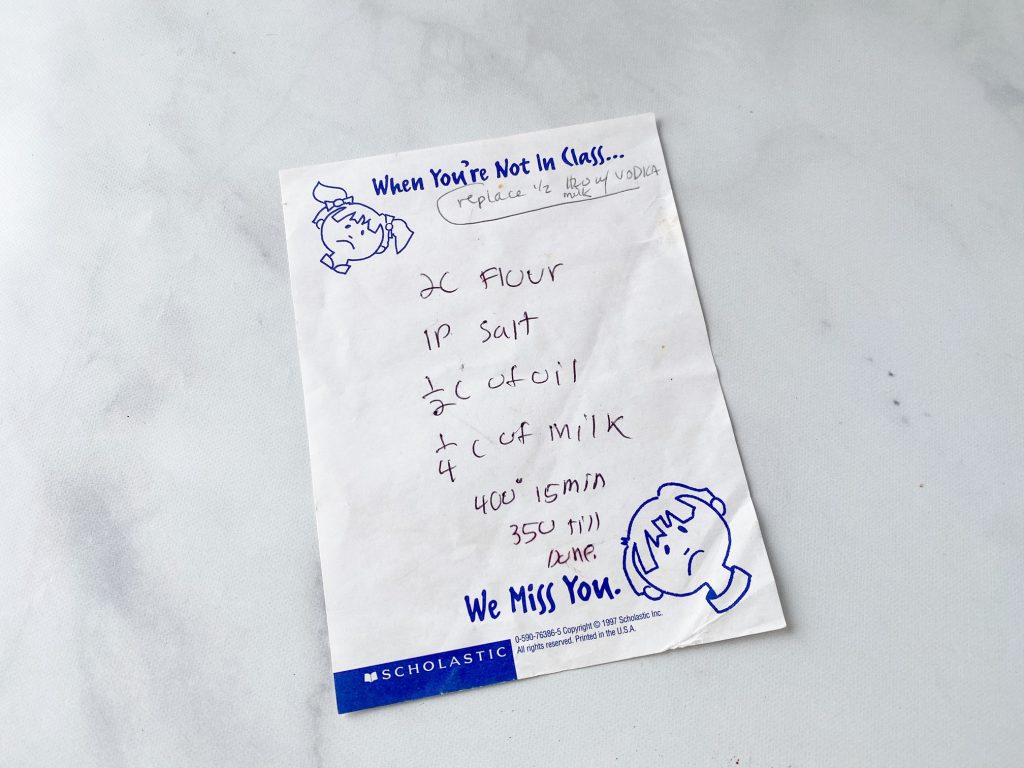 This pie crust recipe uses oil instead of butter, making it easier to make and healthier to make.
It is also more forgiving than a butter pie crust. You can easily roll this recipe out but there are a few tricks to know when making the perfect pie crust with oil!
Believe it or not, this recipe also has no sugar in it at all. Grandma designed it this way so that she could use it for other savory cooking options such as pot pies, not just sweet pies!
Come learn how to make pie crust without butter!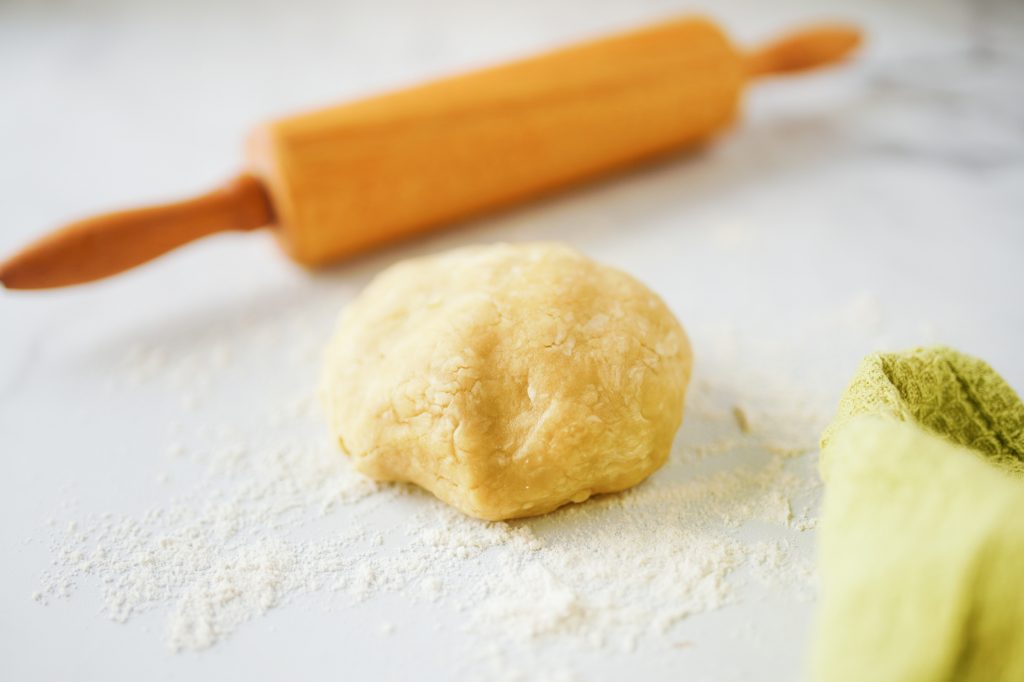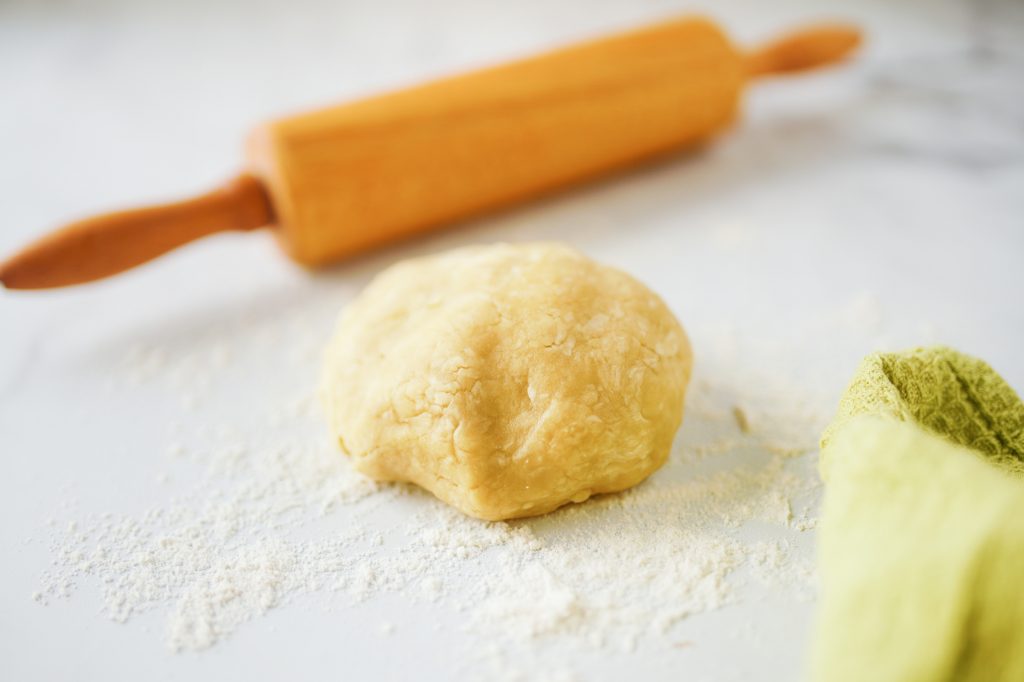 Reasons Why You Will Love This Recipe
It is quick and easy. This recipe is super easy and needs no baking experience. With a prep time of only 10 minutes, it does not take long to whip it up and stick it in the oven.
There are very few ingredients. There are only 4 basic ingredients for this oil dough recipe. They are kitchen staples you probably have on hand so there is no need to run to the store.
It is versatile. This recipe can be used for many pies or other pastries. Knowing this recipe will up your baking game.
Healthier than store-bought. This pie crust is healthier than store-bought options or alternative recipes since it uses no butter or sugar.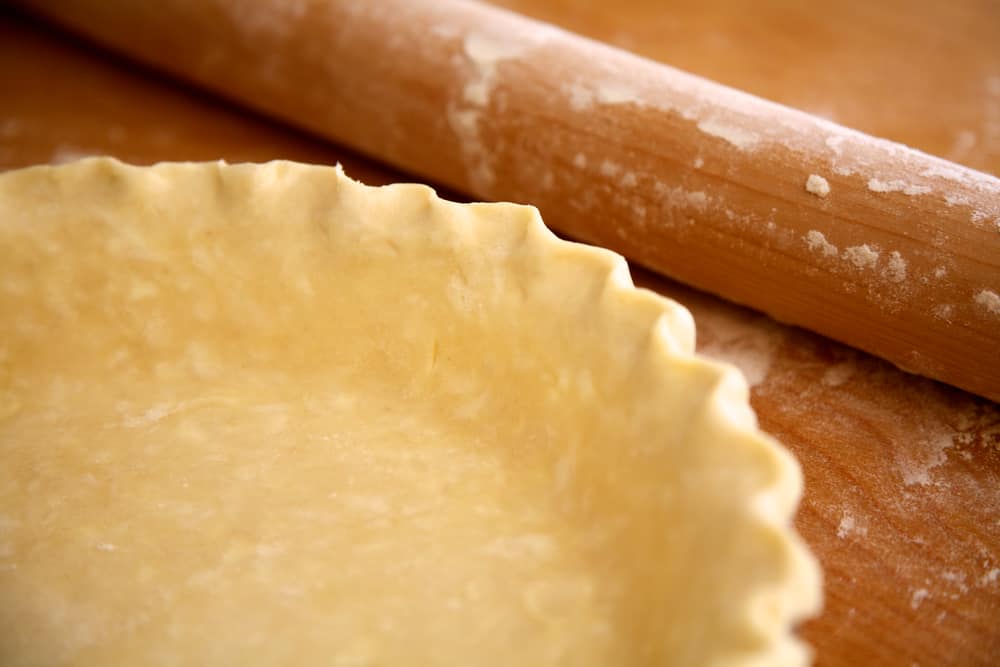 Why Use Oil For Pie Crust?
If you are wondering why we use oil for pie crust instead of shortening or butter, there are a few reasons.
First, it makes for an incredibly flaky crust. Isn't the crust the best part of both sweet and savory pies? I like to think that it is!
Second, an oil pie crust is easier to make than a pie crust with shortening or butter because it is more forgiving and you don't need a pastry blender or any special kitchen tools to make it.
It is perfectly forgiving and easy. If this is your first pie, you will want to make your pie crust with oil. It is practically a fail-safe.
Honestly, you will love this easy pie crust recipe without butter!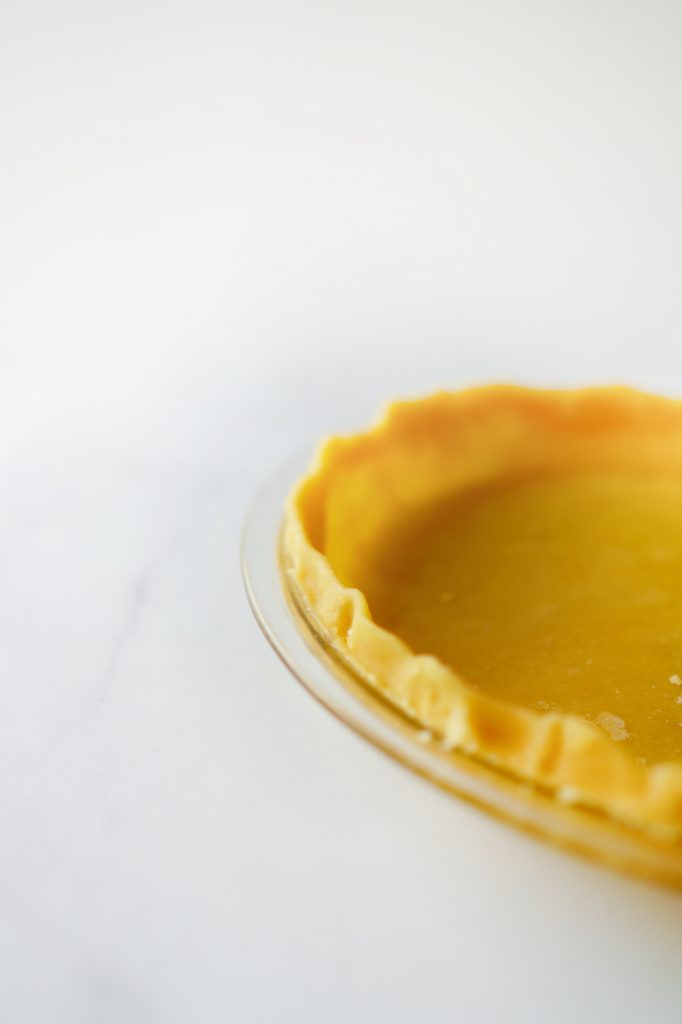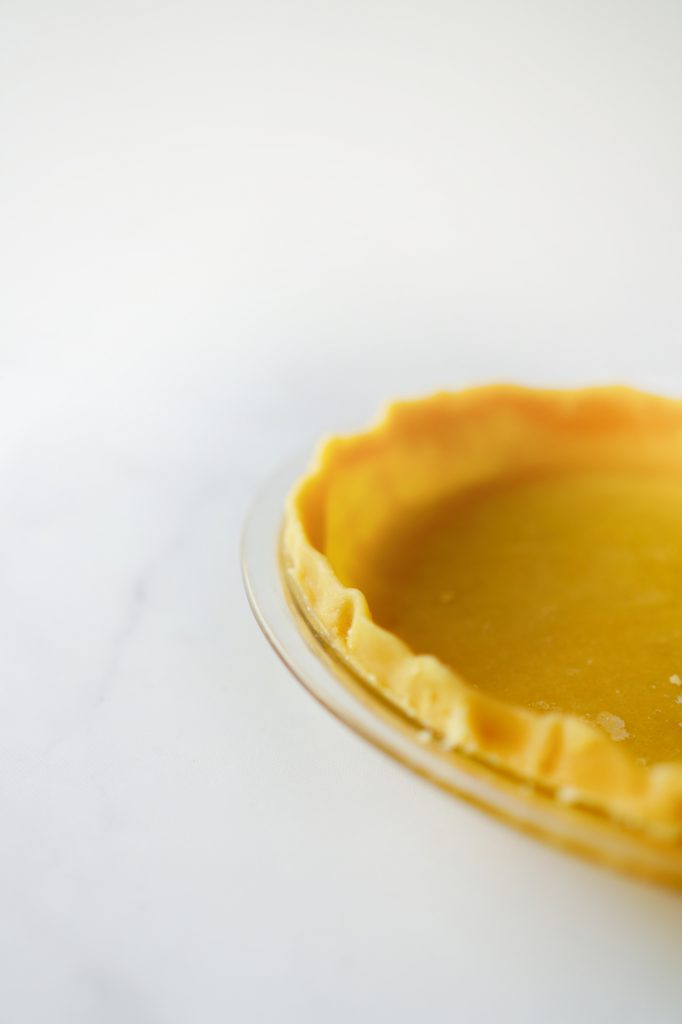 Best Type Of Oil For Pie Crust
I recommend using a hearty oil such as olive oil or avocado oil. My family normally uses olive oil when making a pie crust with no butter. You can't taste it and it is a thick and healthy oil.
I do not recommend using thinner cooking oils such as vegetable oil or canola oil, as they are unhealthy and thinner for the pie crust recipe.
When making this pie crust with oil recipe, you can pretty much use whatever oil you have on hand and it will work, but for best results, use a high-quality olive oil or avocado oil.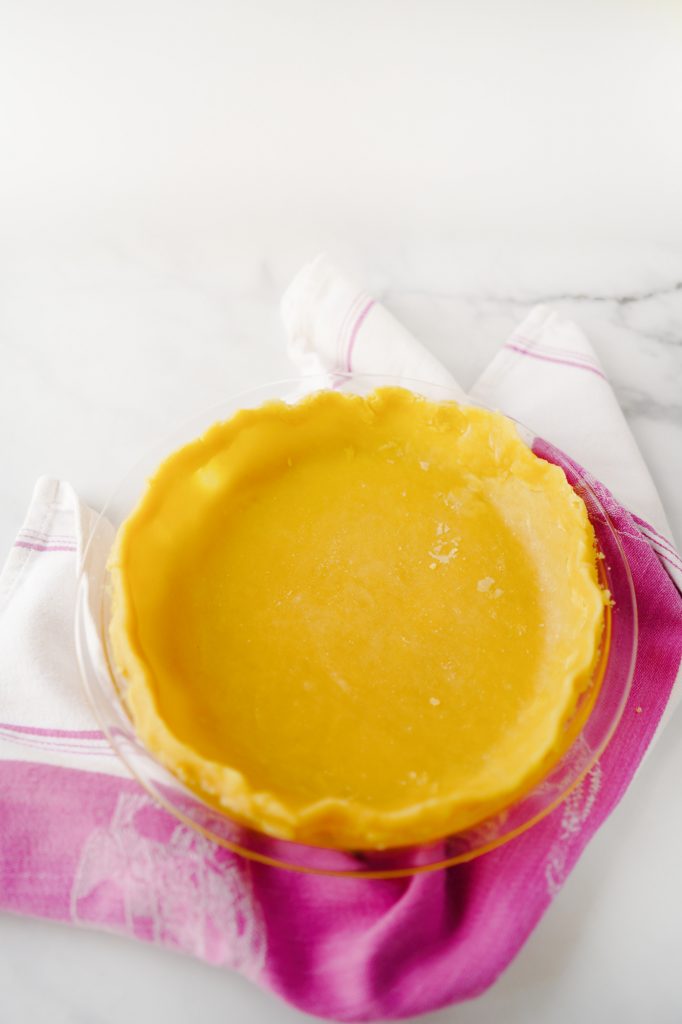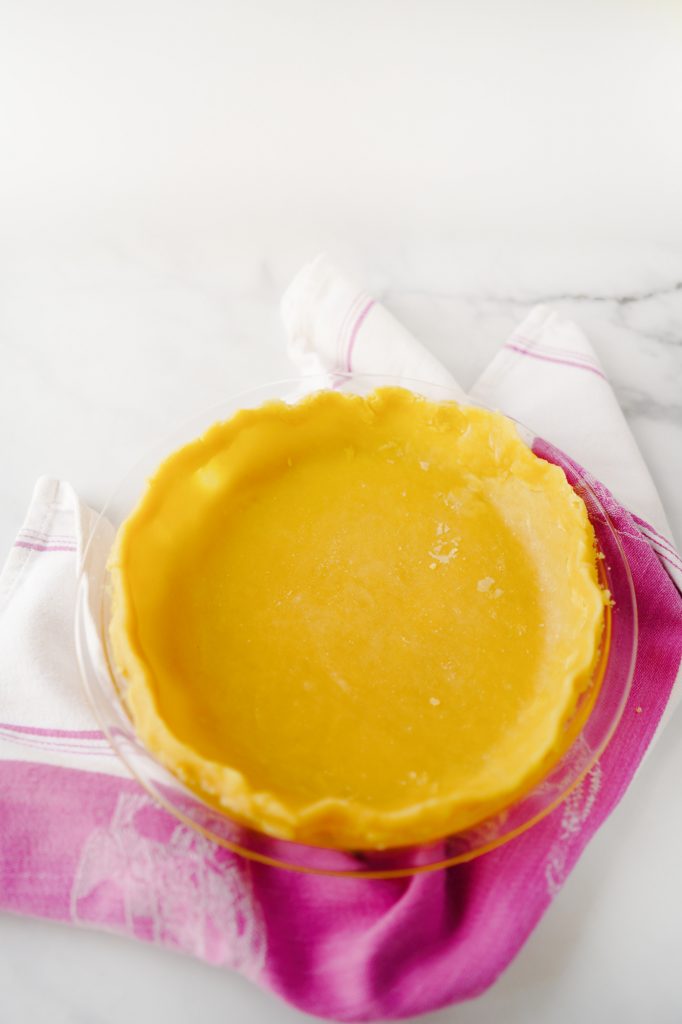 Best Type Of Milk To Use For Pie Crust
Over the years, we have used everything from regular milk to soy milk, almond milk, flax milk, cashew milk, oat milk, and more.
This is an easy vegan pie crust recipe, so all you have to do is add non-dairy milk and you are good to go.
Grandma has used both. The type of milk really doesn't make a difference to the outcome of the pie crust, as long as the milk is cold, not room temperature.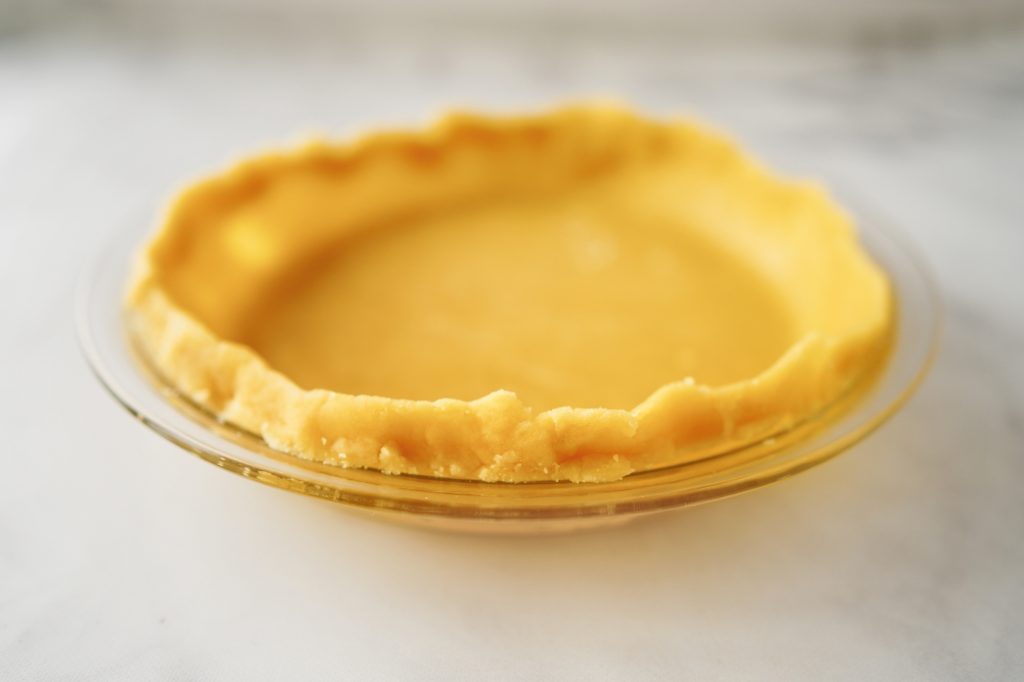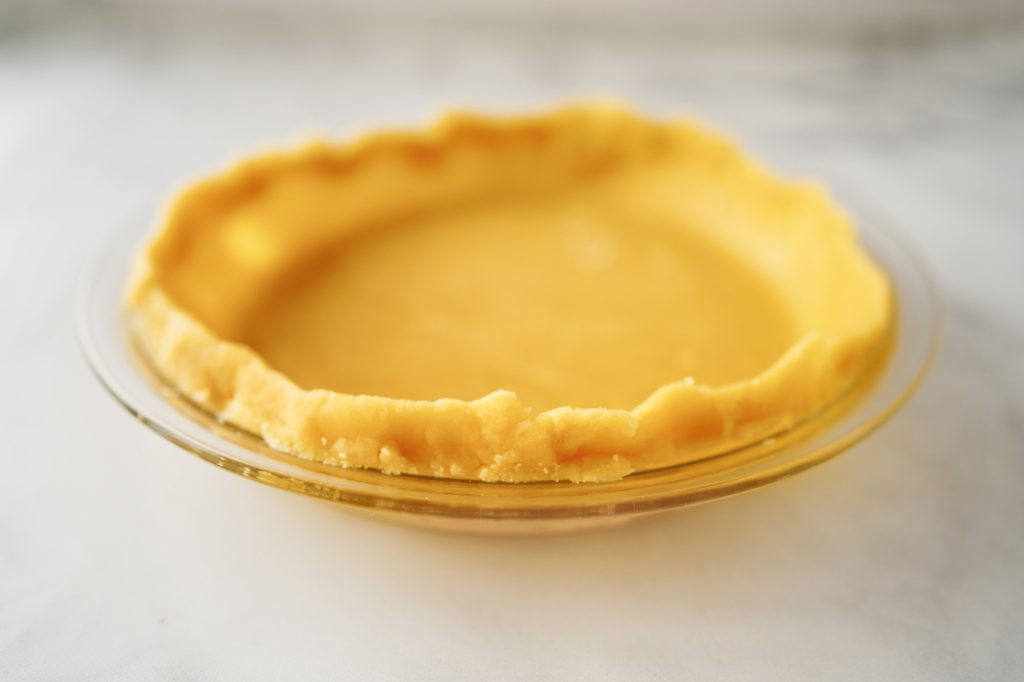 Do NOT Let The Oil Pie Crust Rest
Repeat after me: DO NOT LET THE OIL PIE CRUST REST! If you let it rest it will become hard and too flaky where it won't hold its shape.
The moment you are ready to make your pie crust with oil is the moment you need to mix all the dry and wet ingredients together. You can get to rolling it out immediately.
You can even press out the olive oil pie crust dough with your hands. I travel a lot and have used this pie crust recipe to easily make pies around the world from my Airbnbs in places like Budapest and Iceland!
If you don't have a rolling pin, no worries. Just press it out with your hands or roll it using a cup or jar.
Whatever you do, do not let the pie crust with oil "rest." Once you combine wet and dry, you should immediately roll it out and put it into your desired pie pan.
When I was photographing this recipe, I went to make the pie with this pie crust, and I had waited too long and the oil pastry crust was unusable so I had to make another recipe to make the pie!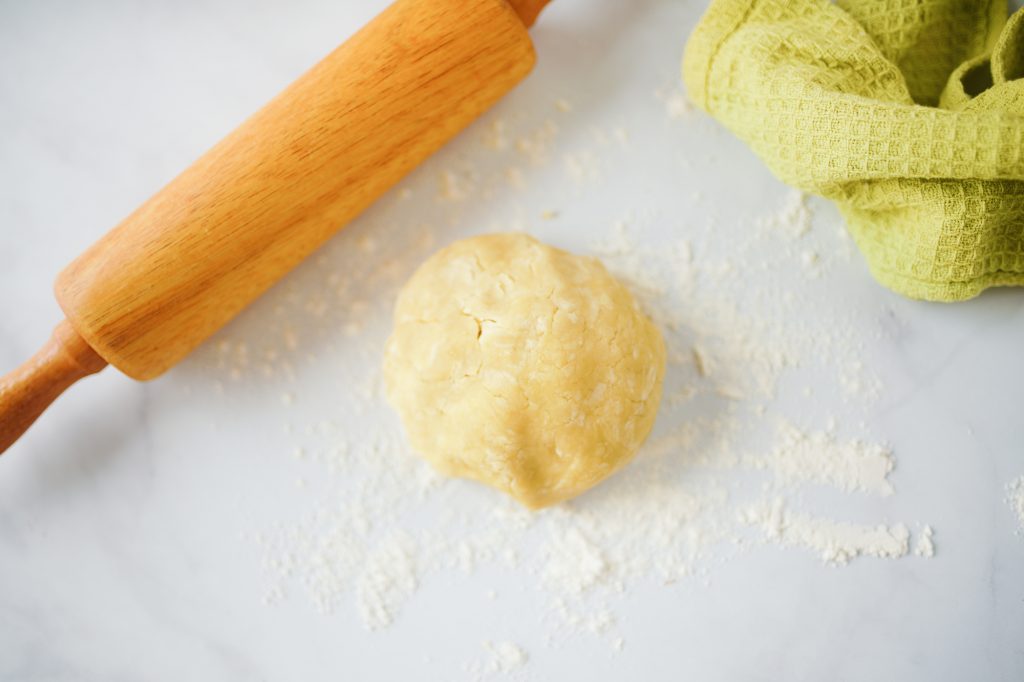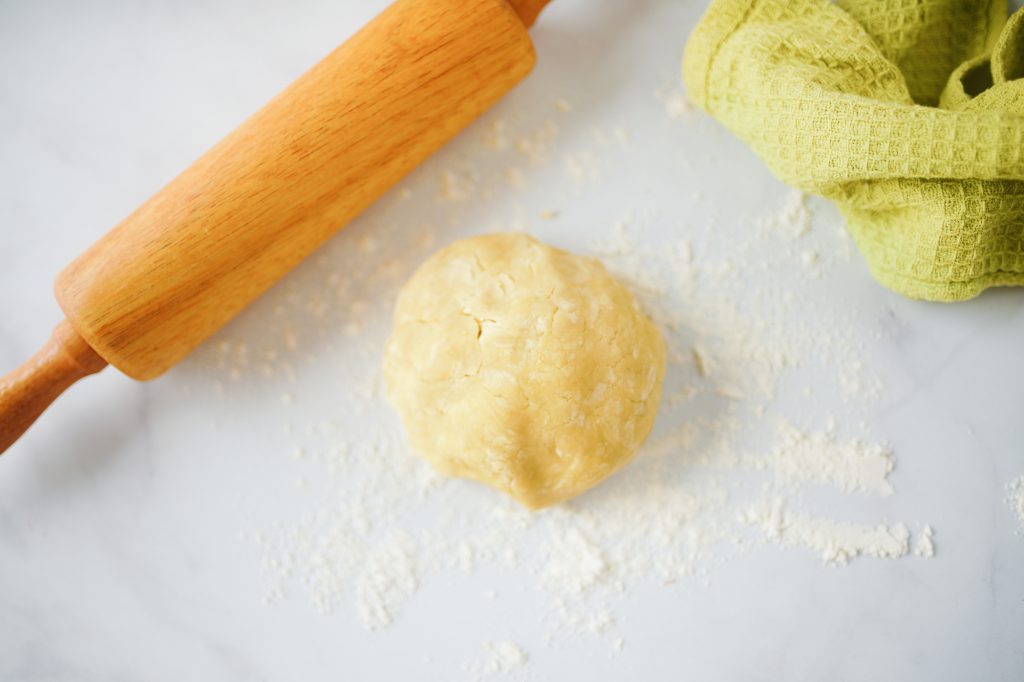 How To Easily Make Pie Crust With Oil
Pie crust with oil is so easy that a young child could literally do it. How do I know? Because I was that young child, tasked by my Grandmother to make the pie crust while she prepared the filling.
All you have to do is put your salt and flour in a bowl and then using a measuring cup, pour your milk and oil into that same bowl. You do not need to whisk or combine in another bowl.
When I am making this pie crust recipe with oil, I will use a 1/4 cup measuring cup and will add the oil first by adding two 1/4 cup amounts and then I will add the milk in after using the same measuring cup.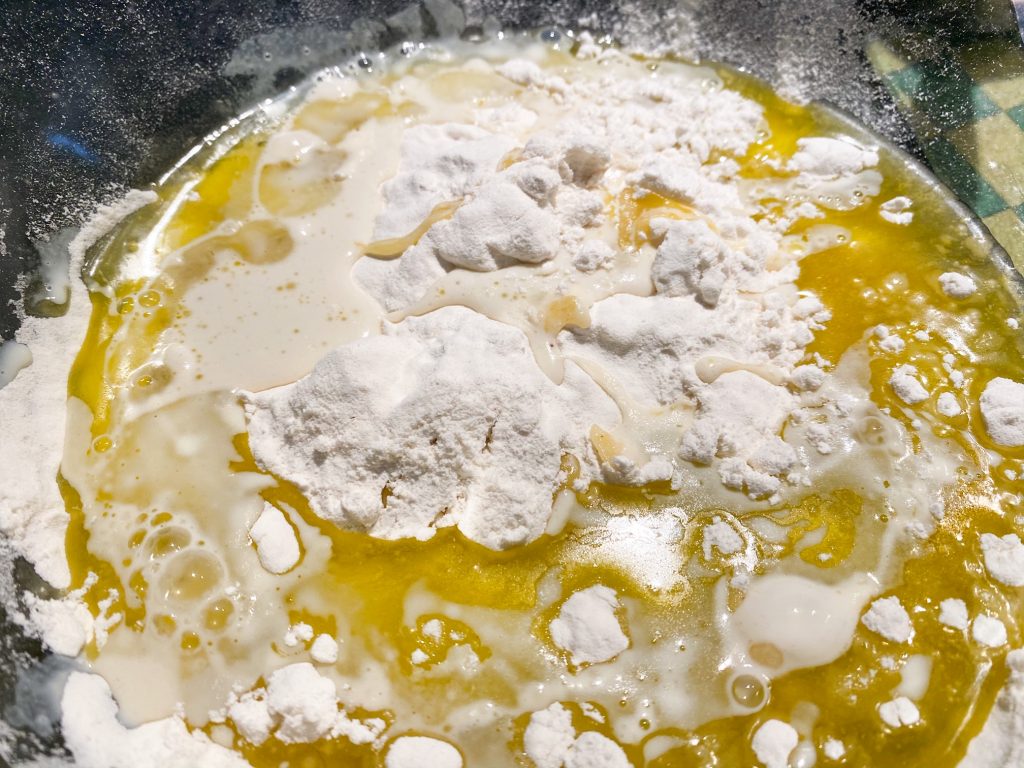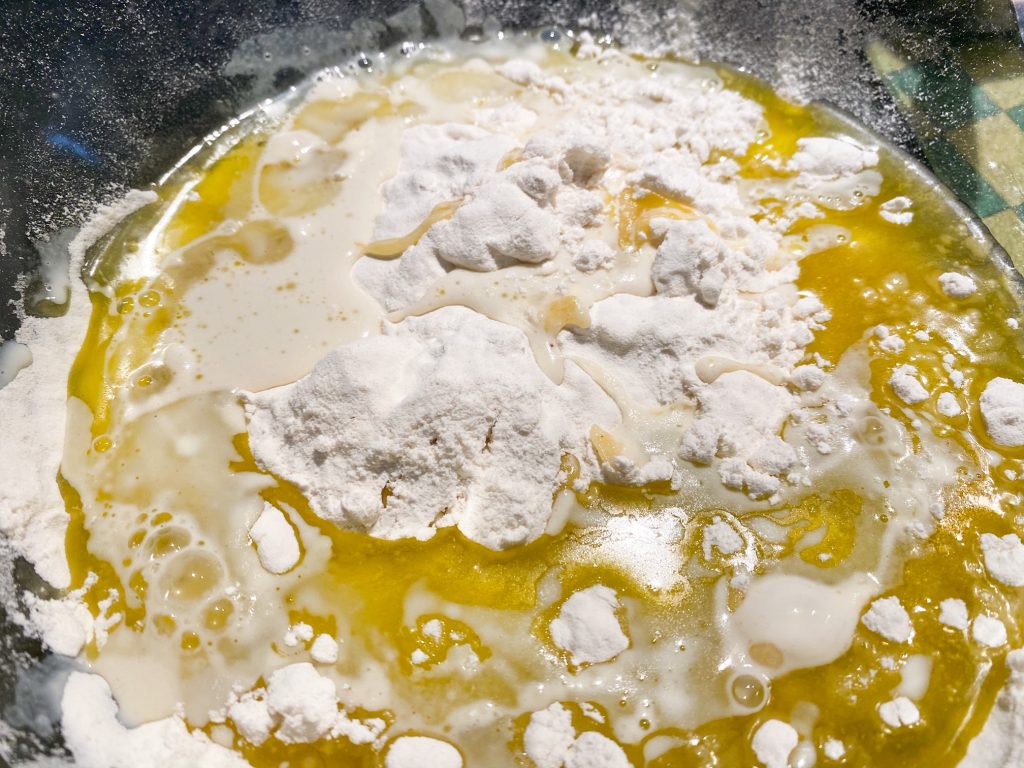 Oil and milk repel from each other so the milk pushes the oil to the top and will get all the rest of the oil out of the measuring cup and into your bowl which is why I do it second.
Next, you will knead the ingredients together until it forms a dough. I use my hands for this.
Make sure to clean your hands and then get them down and dirty in the olive oil crust mixture. You want to use your fingers to combine all of the ingredients and "squish" them together so that they form a ball of pie crust.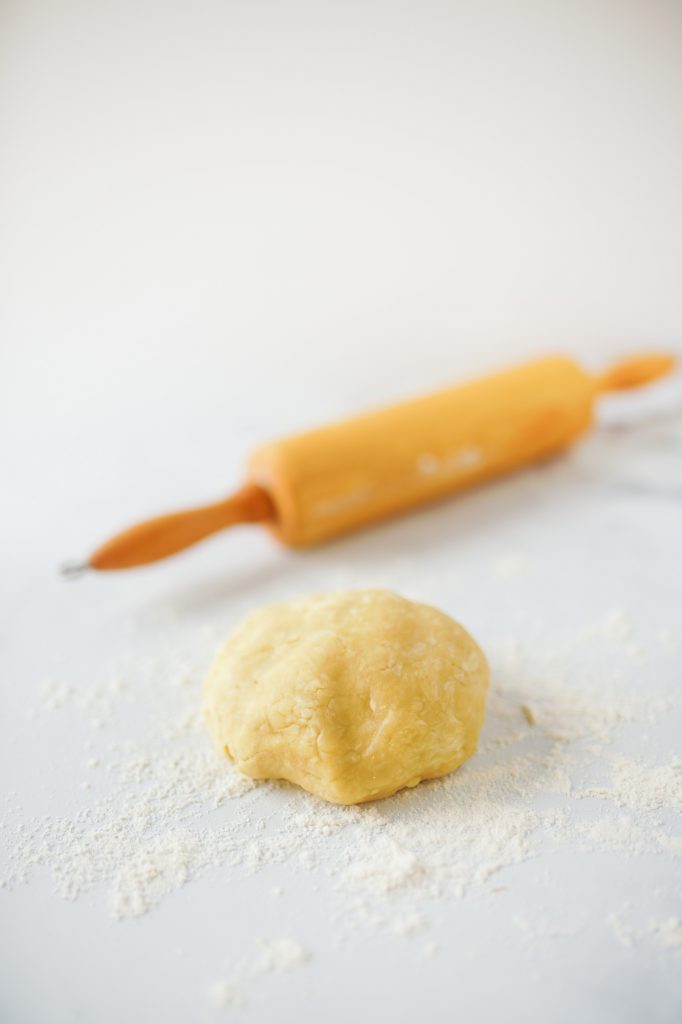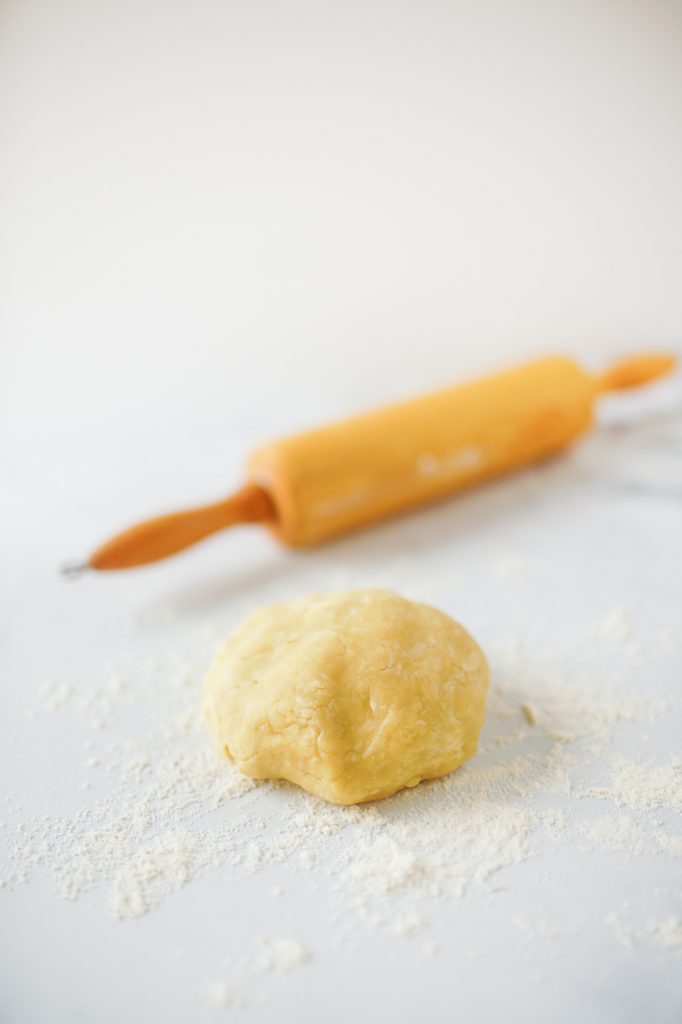 I do NOT recommend using a spoon to mix, Grandma always used her hands and that is what I do too. It works the best as you can squish it all together.
Be careful not to over-mix. The minute it forms a ball, go ahead and take it out of the pan and begin to roll it out or press it into your pie plate.
Personally, I roll mine between two pieces of parchment paper as I prefer to use this whole recipe for the bottom and top of a pie and it does work to cover the whole pie.
I will roll out the pie crust and then put it on the bottom of the pie plate. I will then cut off the remaining edges and roll a second time for the top part of the pie.
If you follow this method, you should have a pretty fail-safe oil and flour pie crust!
For whatever reason, if your dough is too flaky, go ahead and add a tiny bit more oil, 1/2 teaspoon at a time, and then form the pie dough without butter together until it sticks.
You can use this no-butter pie crust recipe with many different pies including Grandma's Rustic Vegan Apple Pie or Best-Ever Vegan Cherry Pie.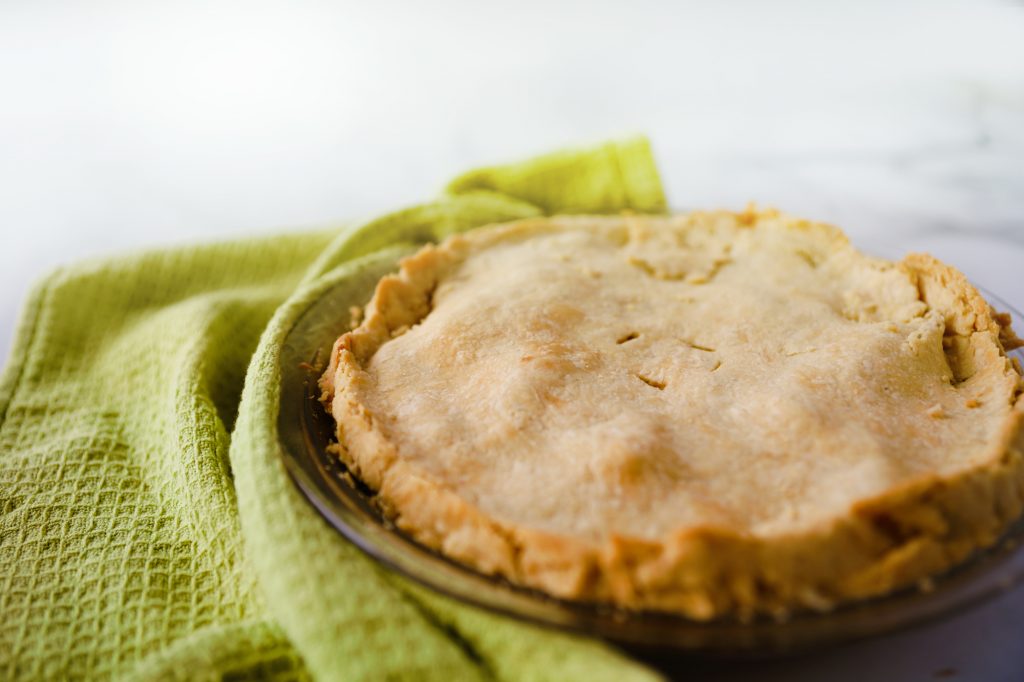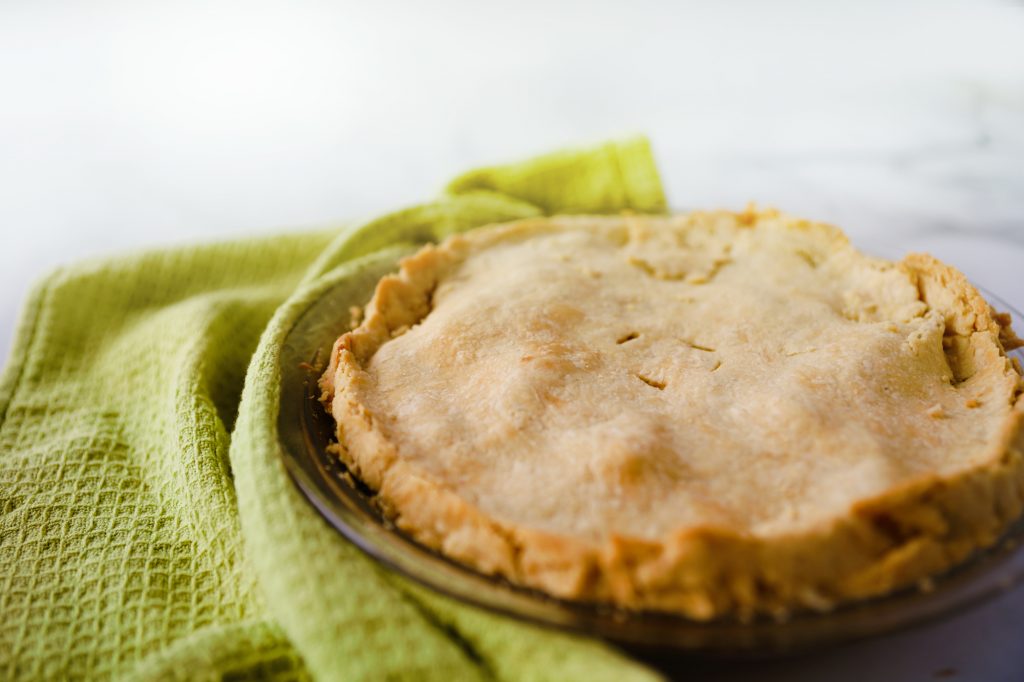 Yield: 1 Pie Crust (Top And Bottom)
Easy Oil Pie Crust Recipe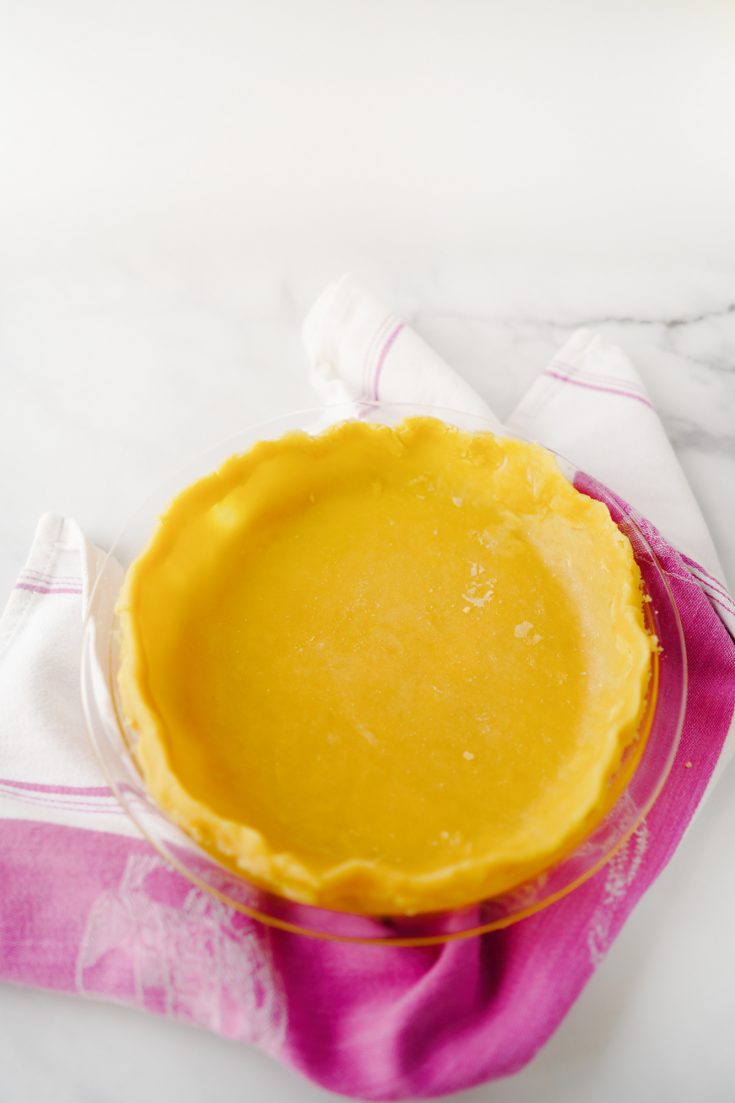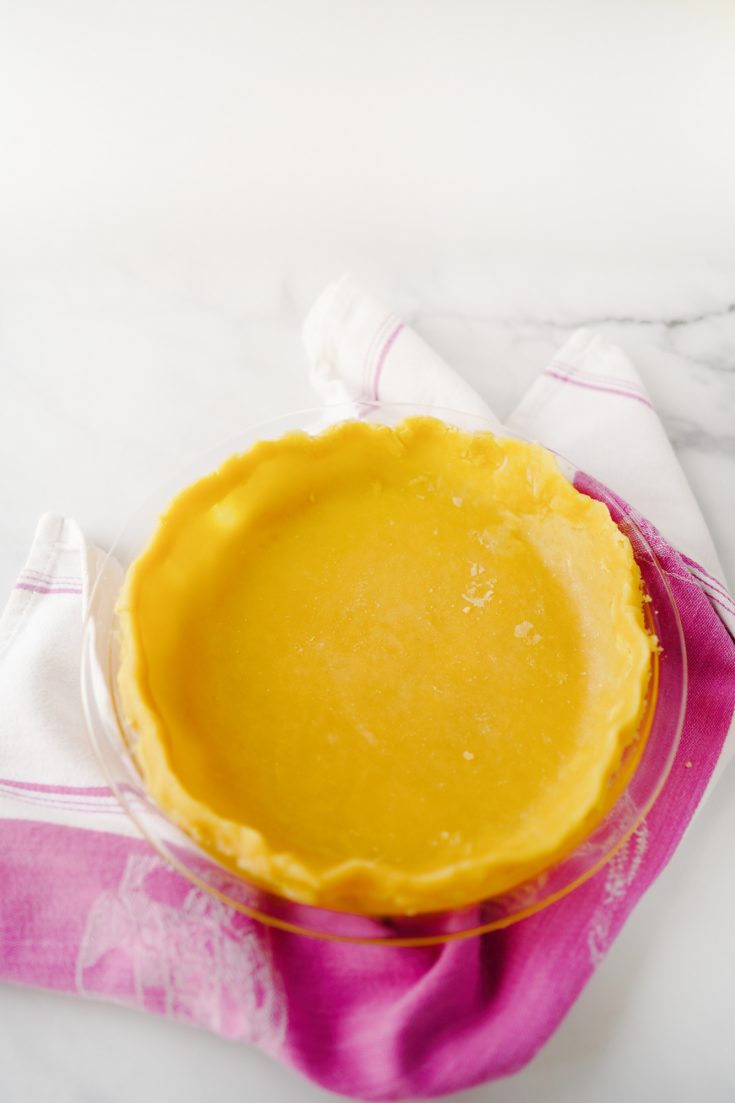 Grandma's oil pie crust recipe has been in the family for generations and is flaky and delicious. The best part is that this recipe is very forgiving so don't worry if this is your first time trying to make pie crust! You can use this pie crust with oil for both sweet and savory recipes!
Ingredients
2 Cups Flour [Any Flour Works]
1 Pinch Of Salt
1/2 Cup Oil
1/4 Cup Milk [Dairy Or Nondairy, Both Work]
Instructions
Preheat oven to 400 F
In a large mixing bowl, add flour and salt. Using a measuring cup, add in oil and milk to the bowl of flour.
Using your clean hands, mix pie crust until a dough forms. Be careful not to overmix. When it is just formed, you are done.
Immediately transfer to your counter and roll dough using a rolling pin with dough between two pieces of parchment or wax paper or press into a pie plate using your hands if you do not have a rolling pin.
Carefully peel the top layer of parchment paper off and place your pie plate over the dough. Then invert and take off excess dough. Roll excess dough again for the top of the pie.
Add in whatever fillings you want.
Bake pie crust for 15 minutes at 400 degrees and then lower the heat to 350 degrees until done, about 20-30 minutes more, depending on your oven.
Pie is done when top and bottom of the crust are golden brown.