If you are looking for the best and easiest vegan cherry pie recipe, you have come to the right place!
Of course, you can use vegan cherry pie using the filling from the can, and I have done it countless times throughout my life [just check the ingredients]
But what is better than making your own homemade cherry pie filling that just happens to be vegan?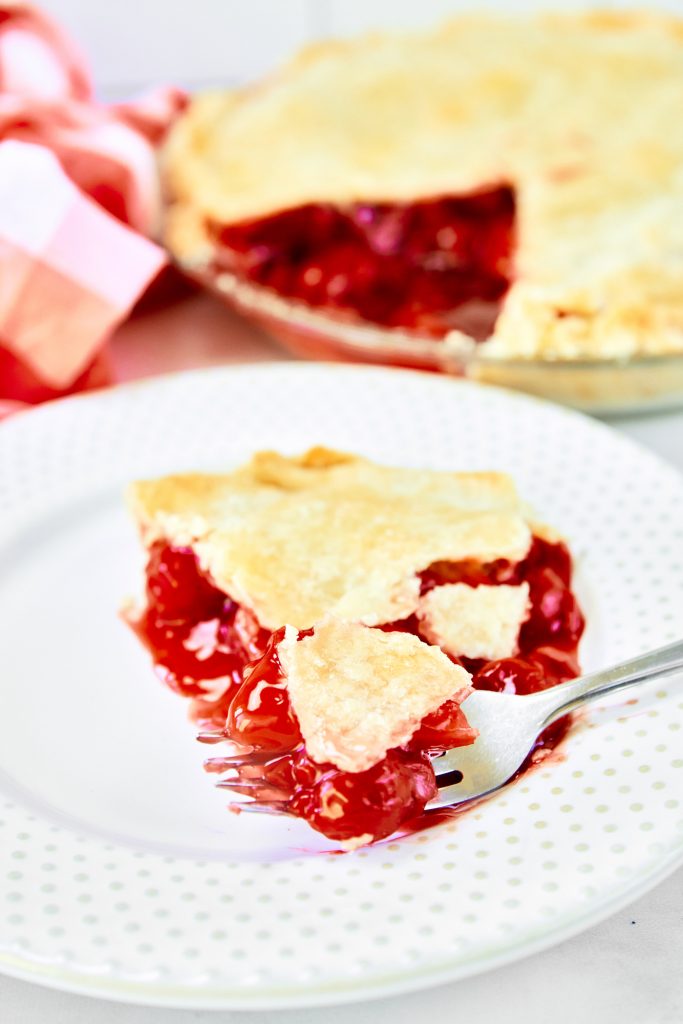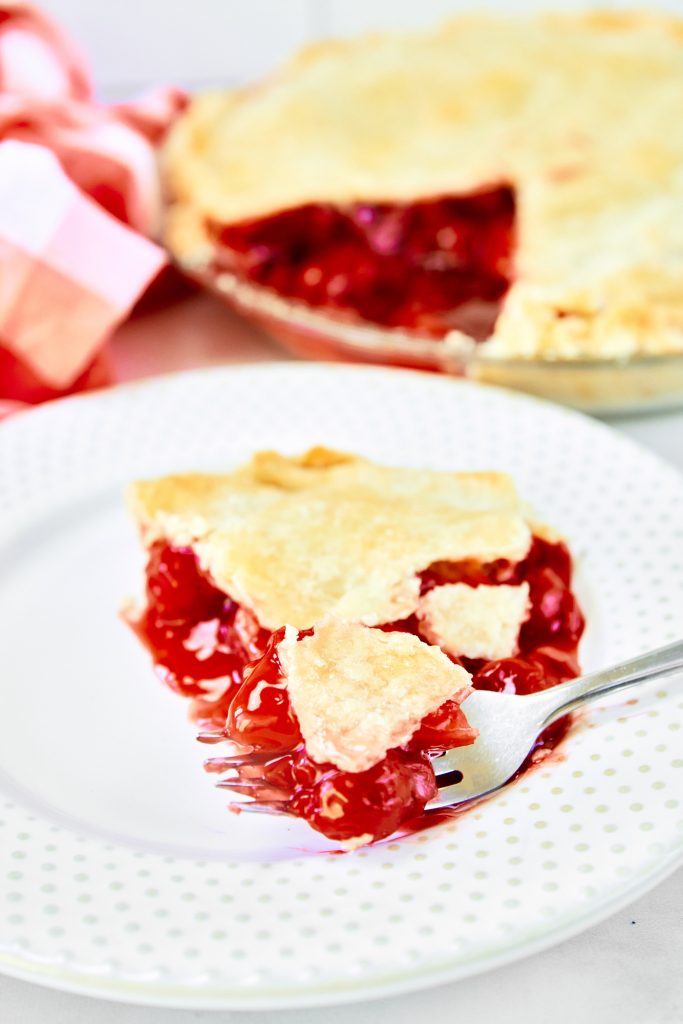 My aunt reminded me that my cousin makes his own cherry pie filling all the time and it got me thinking on how I could veganize the process.
This pie tastes delicious and looks gorgeous if you do a lattice or cut-out crust.
Personally, I am not talented in the lattice department and as you can see from my photos, my vegan cherry pie often tastes better than it looks design wise.
This healthy cherry pie is for those of us who want something easy and delicious without spending hours making it but also without sacrificing our health [ahah!] and using the stuff from a can.
I am not going to show you any fancy way to do lattice work or design work on the top of the crust. I am simply going to show you easy vegan cherry pie filling and an easy pie crust and you can go as simple or as fancy as you want!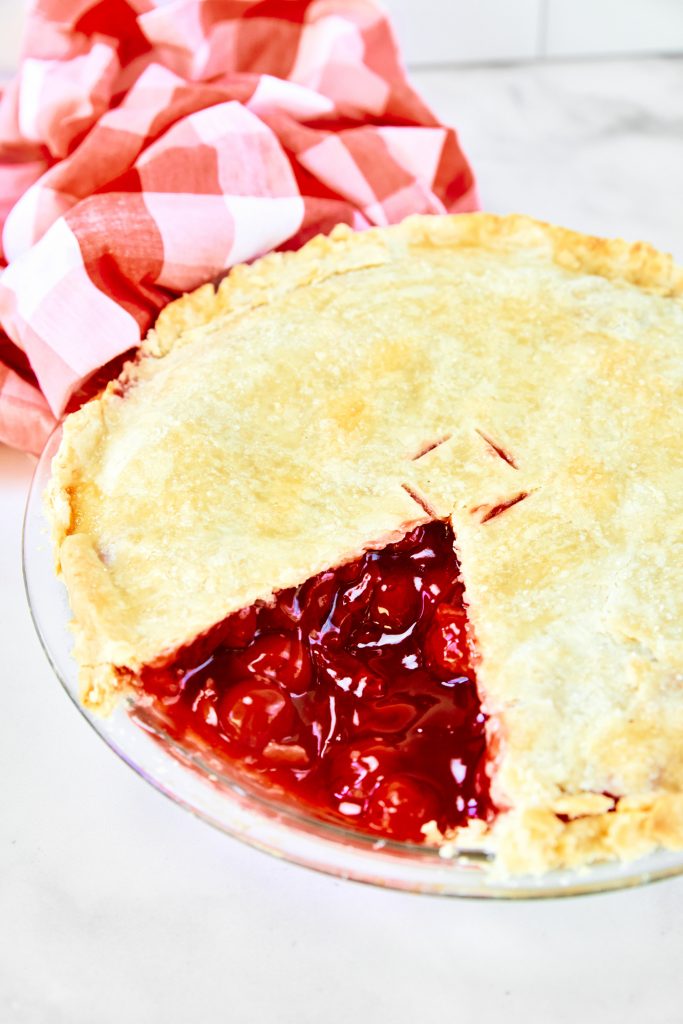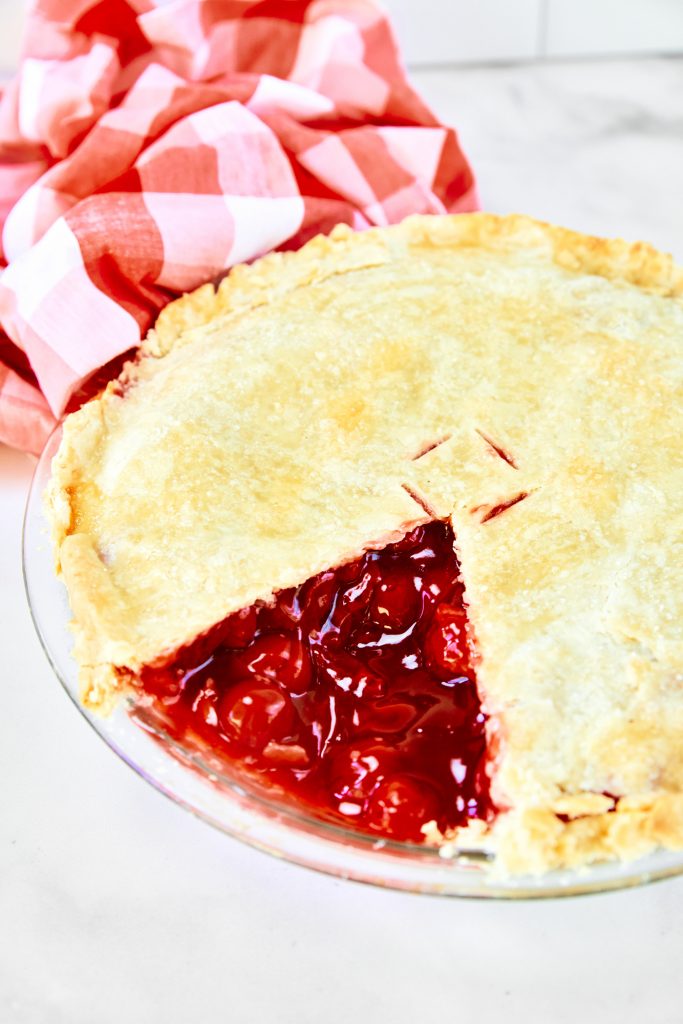 Frozen Vs Fresh Cherries
Did you know that you can make vegan cherry pie using EITHER frozen or fresh cherries?
That is my cousin's secret! Frozen cherries!
Fresh cherries require pitting, and although I have done it in the past before when making pies, it does take a little bit of extra time and you have to be careful.
Frozen cherries work just as well and come pre-pitted so you can skip that entire step.
The taste is similar and frozen cherries aren't any less healthy than fresh cherries.
You also do not have to thaw the frozen cherries before using. Simply keep them frozen and then add them to the rest of the ingredients for the filling as directed in this recipe.
A quick note about working with frozen cherries: You may have to add a little more cornstarch or arrowroot to thicken the mixture as opposed to using fresh cherries. About 1/3 cup instead of 1/4 cup!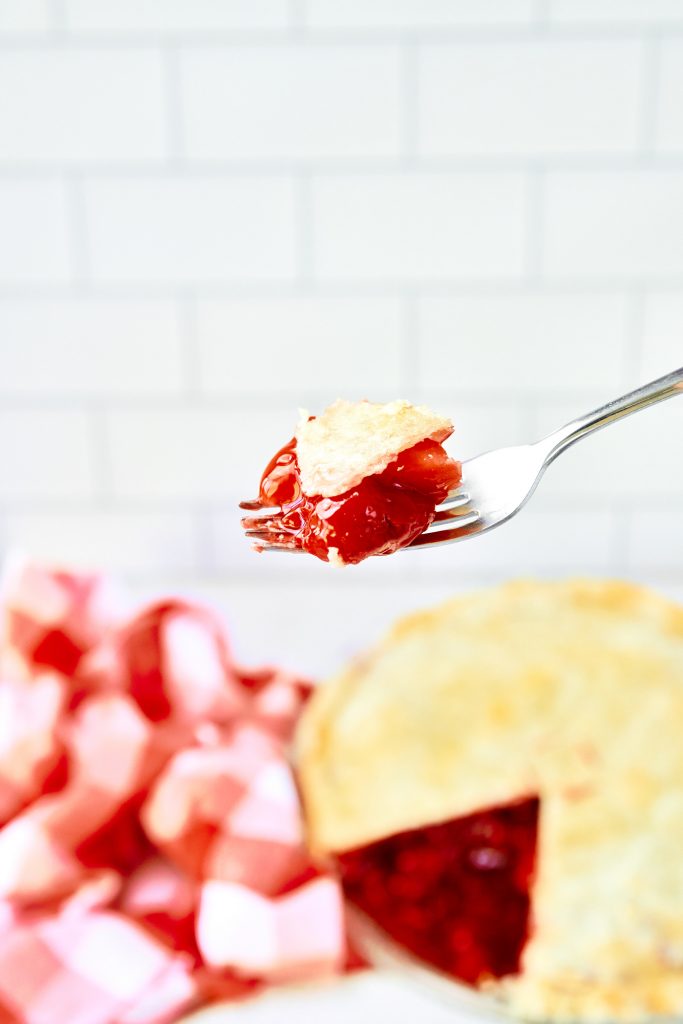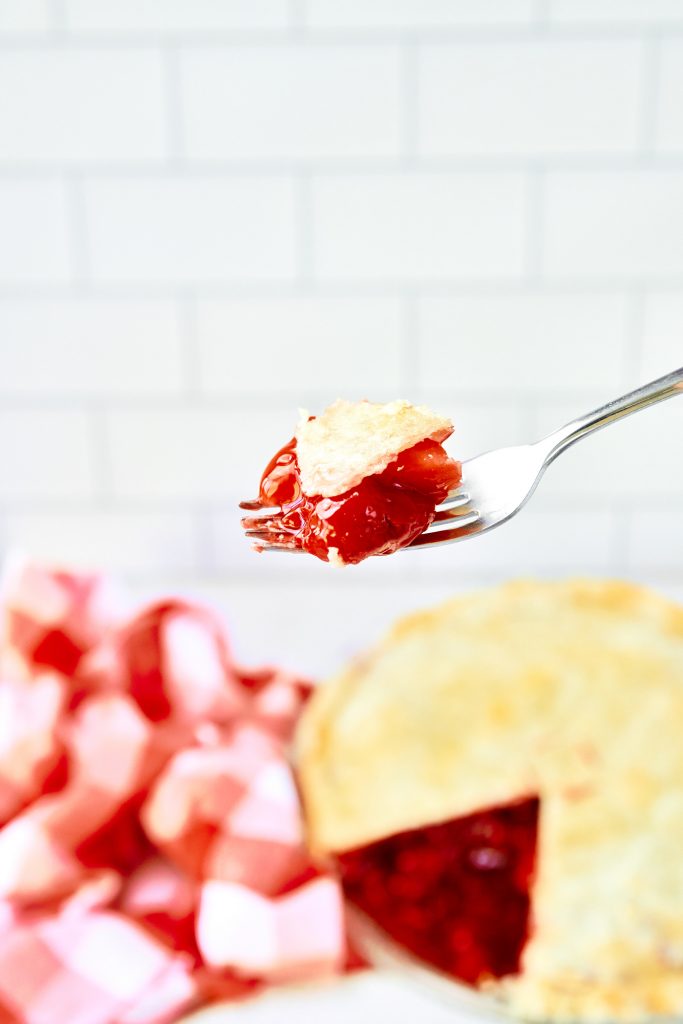 How To Make Vegan Cherry Pie
Making homemade cherry pie filling from scratch is quite easy and I am going to show you how.
For this recipe, we are going to use my 4-Ingredient Vegan Pie Crust Recipe. I am NOT going to write out all the instructions here, just know that you will need 1 recipe of the pie crust for this!
First, if you are going to be using FROZEN cherries, you will need to cook them down until the juice has been extracted which takes about 10 minutes.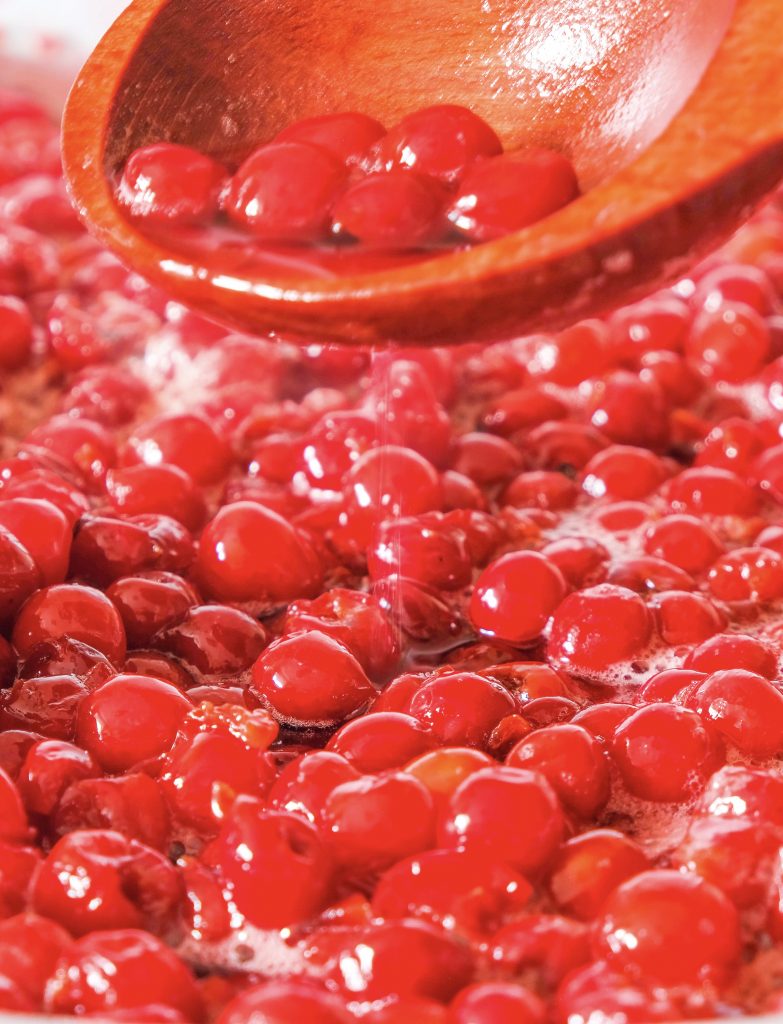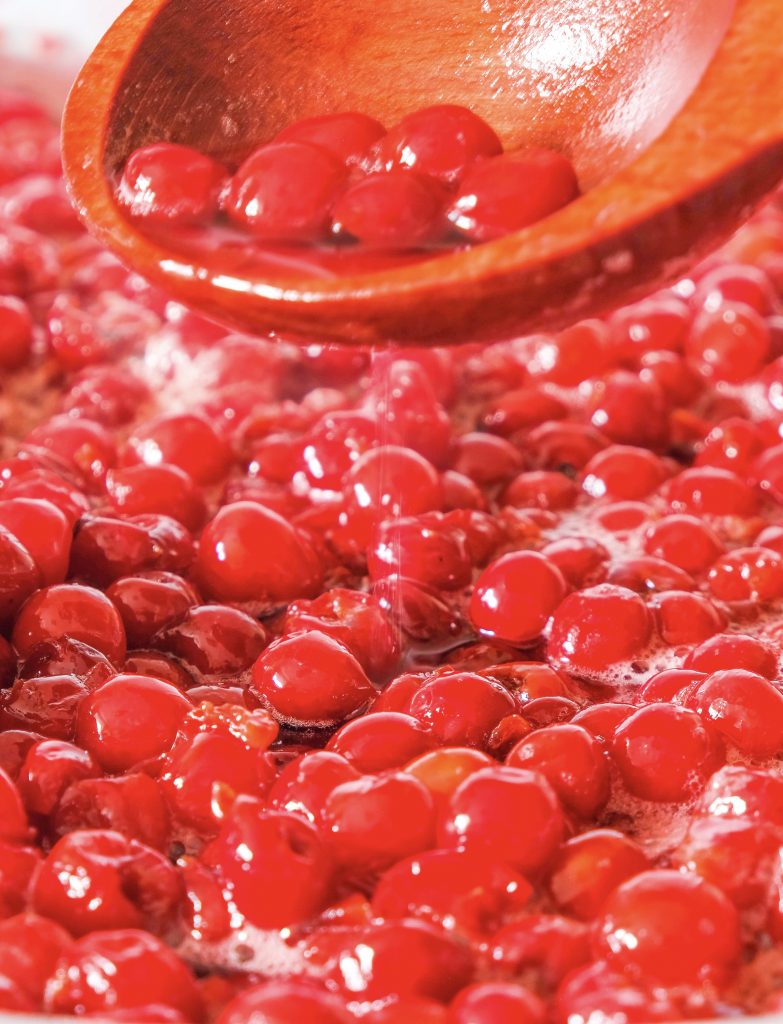 Simply place frozen cherries in a medium saucepan and bring to a simmer and reduce to low and set aside to cool while you make your pie crust.
Then, combine the cherries with the remaining ingredients to make the filling.
If you are going to be using FRESH cherries, you do NOT have to cook them. You can simply use a large mixing bowl to combine all ingredients together and set it aside to thicken while you are working on the crust.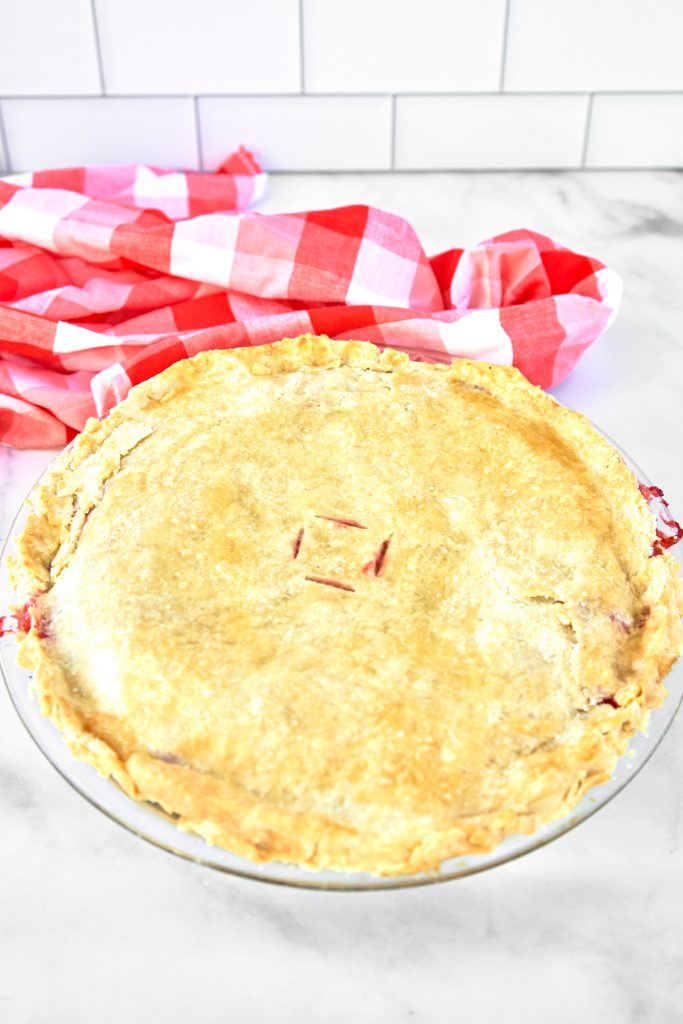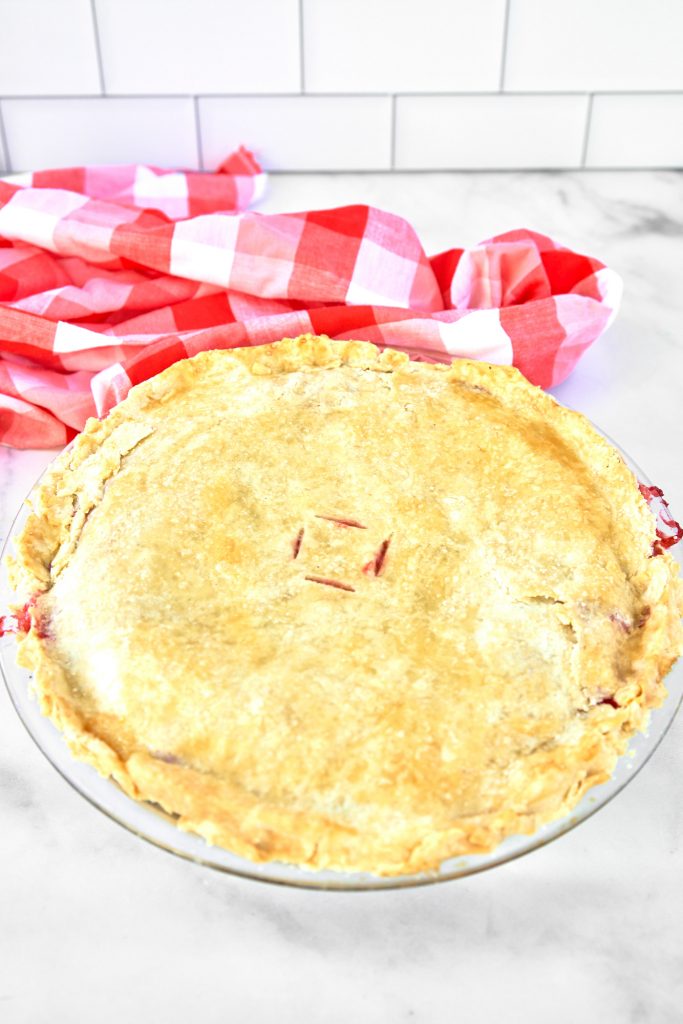 For the crust, simply follow the instructions for my Vegan Pie Crust and roll out the bottom of the crust, and put it in your 9-inch pie plate.
For the top, I usually just roll out the remaining pie crust and make a fully covered top as I am too bad at lattice to attempt it [although I have before, it is usually a big failure!]
Once you do the top of your vegan cherry pie, whether it is lattice or a full top, you will want to brush it with vegan egg wash.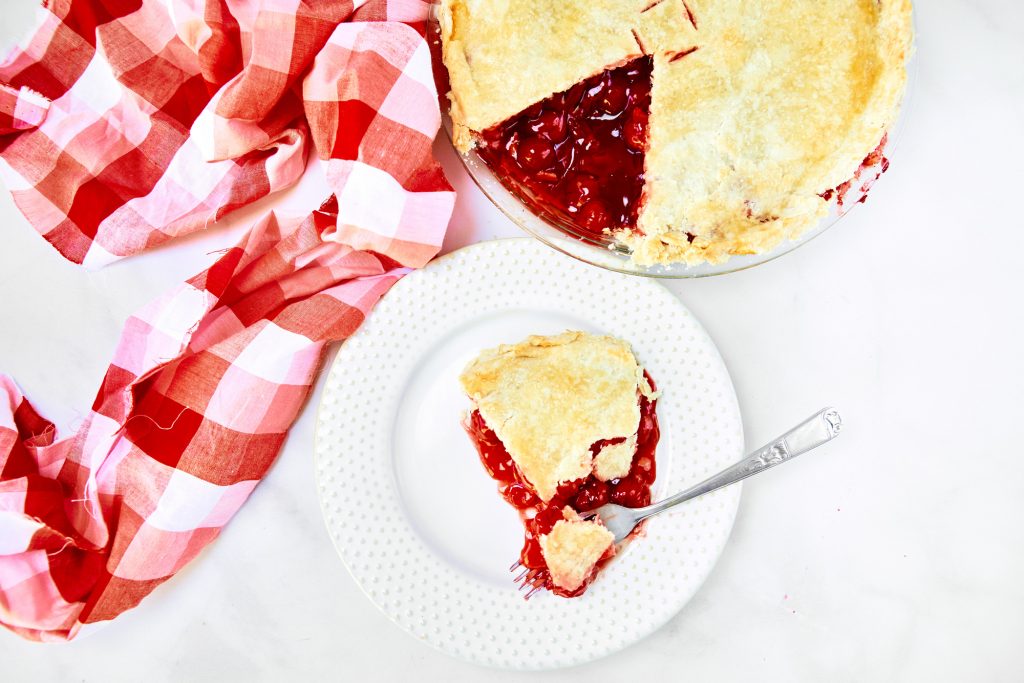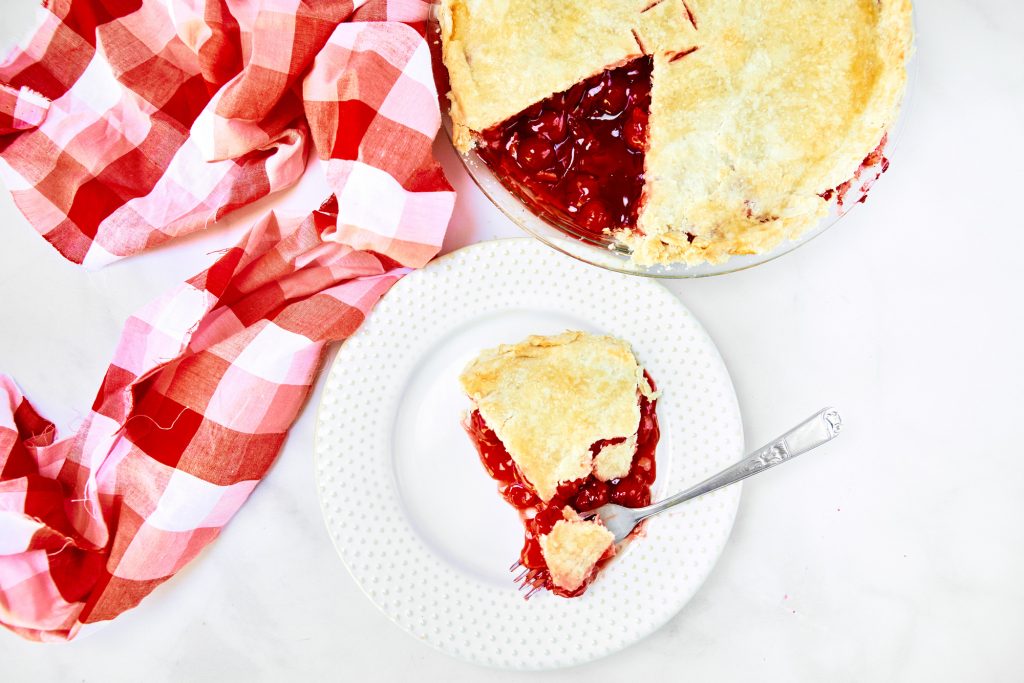 My favorite vegan egg wash is first brushing the top of the pie crust with aquafaba [liquid from the chickpea can] and then brushing over it again with non-dairy milk.
This combo browns beautifully in the oven.
Finally, sprinkle some sugar over the top of the wet vegan cherry pie crust for a beautifully crystalized top!
Of course, you can skip the sugar, but it is never more than a few small sprinkles to make a fantastic crust that everyone loves!
Then, simply bake for 15 minutes at 400 and 20-30 minutes at 350 degrees until done and the top is golden brown!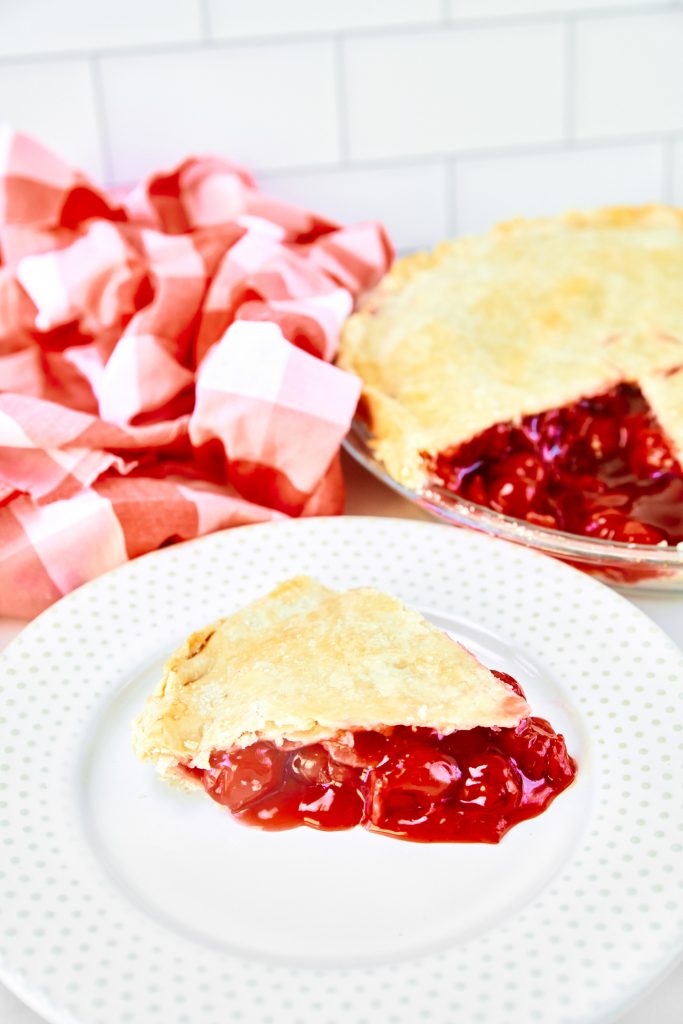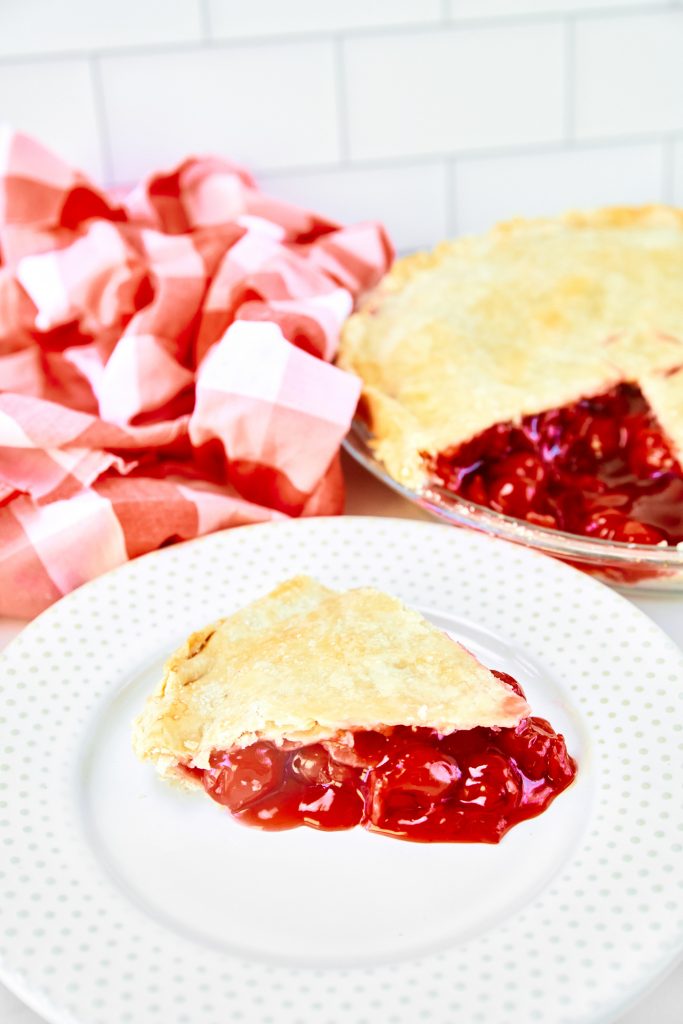 How To Store The Vegan Cherry Pie
The vegan cherry pie stores well for 2-3 days in the fridge in the pie plate.
To store, simply pop the pie plate with the leftover cherry pie in the fridge in a plastic bag with a twist tie. It can stay this way for 2-3 days.
After 2-3 days are done, you will want to cut the cherry pie into individual pieces and store them in an airtight container in the fridge where it will keep for a few more days.
I do not recommend freezing the pie as it does not produce best results! If you loved this recipe, you may also love my Vegan Pecan Pie With No Corn Syrup!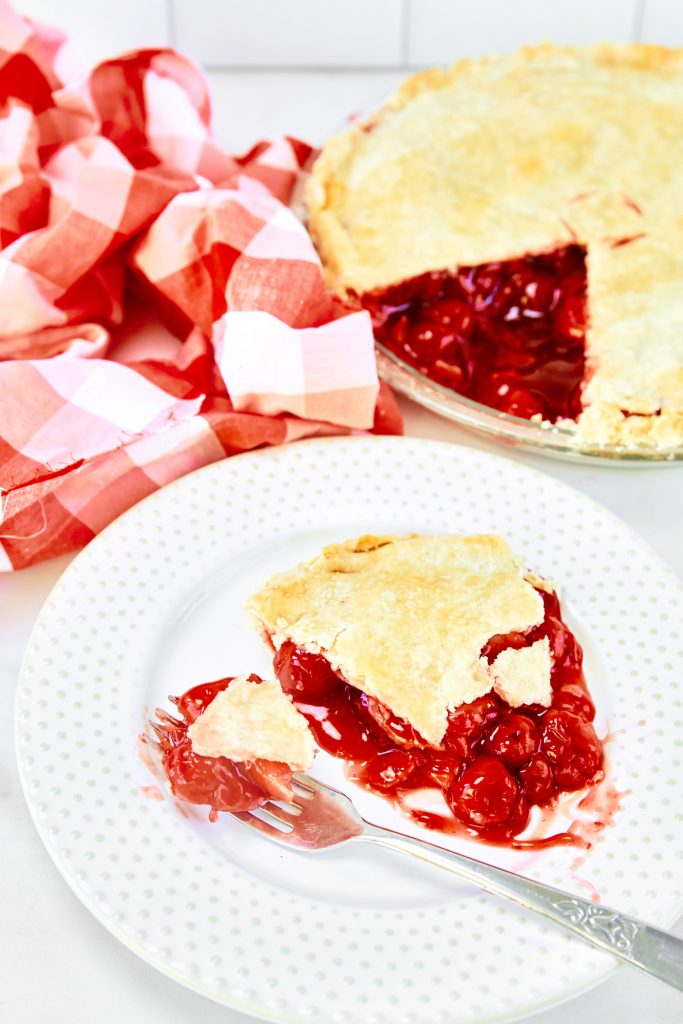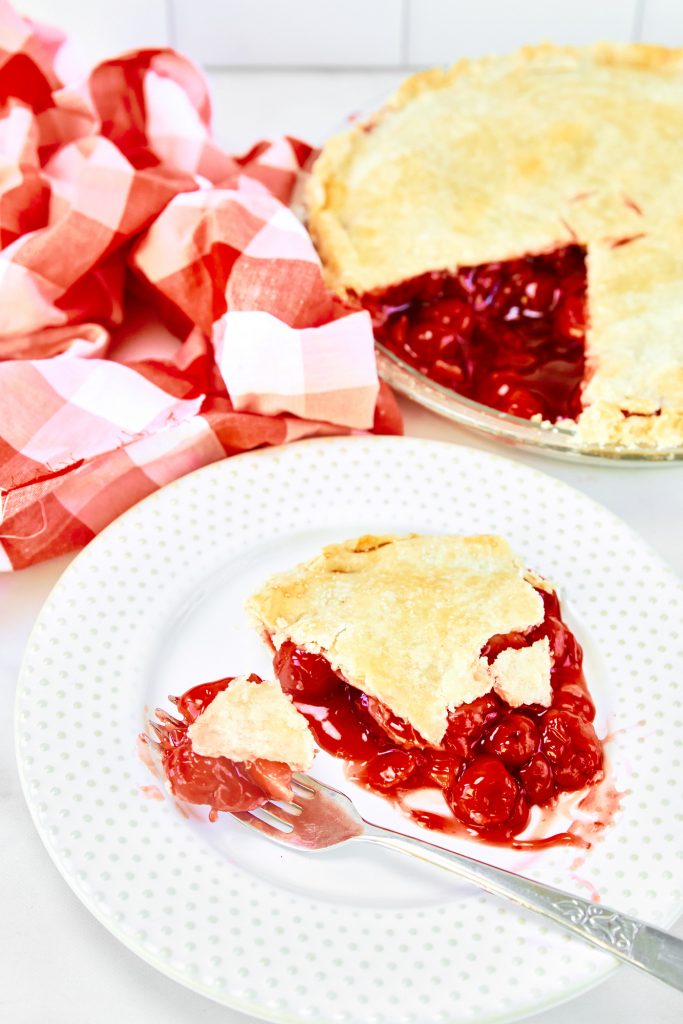 Did You Try This Recipe?
If so, I would love to keep in touch! I enjoy seeing photos and comments about the recipes that you make! You can follow me on Instagram and I will repost your goodies in my stories and comment on it too! Just tag me at @wowitsveggie and hashtag #wowitsveggie. I can't wait to see what you make!
Yield: 1 9-inch pie
Best-Ever Vegan Cherry Pie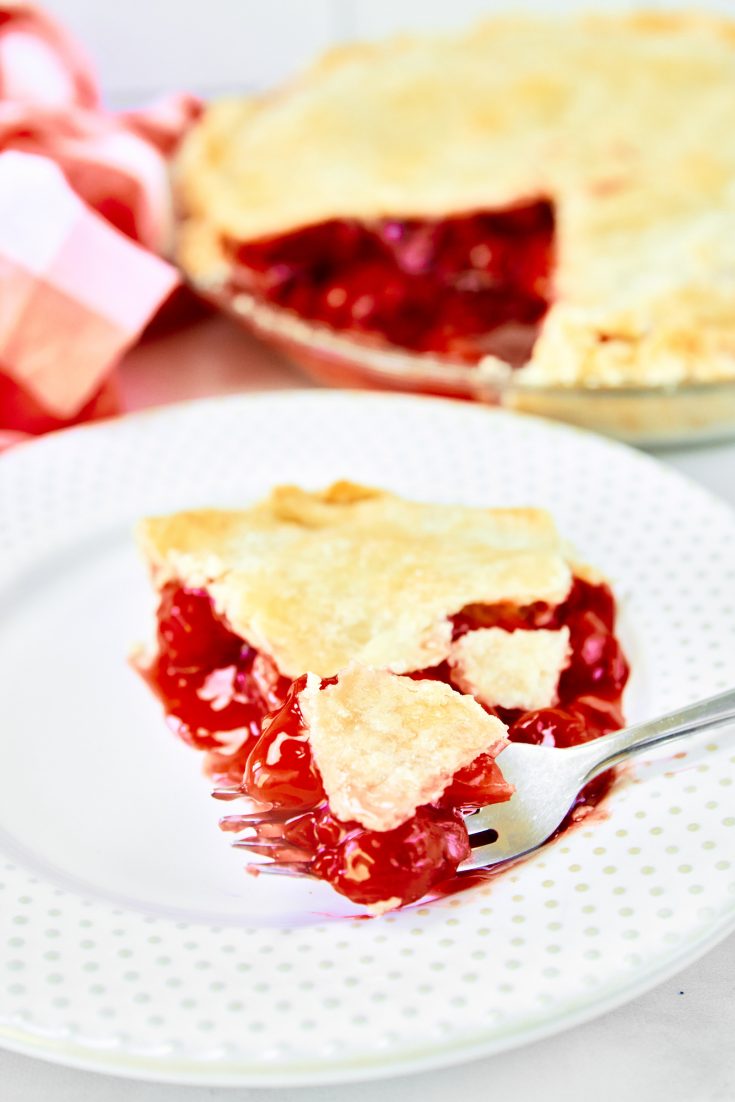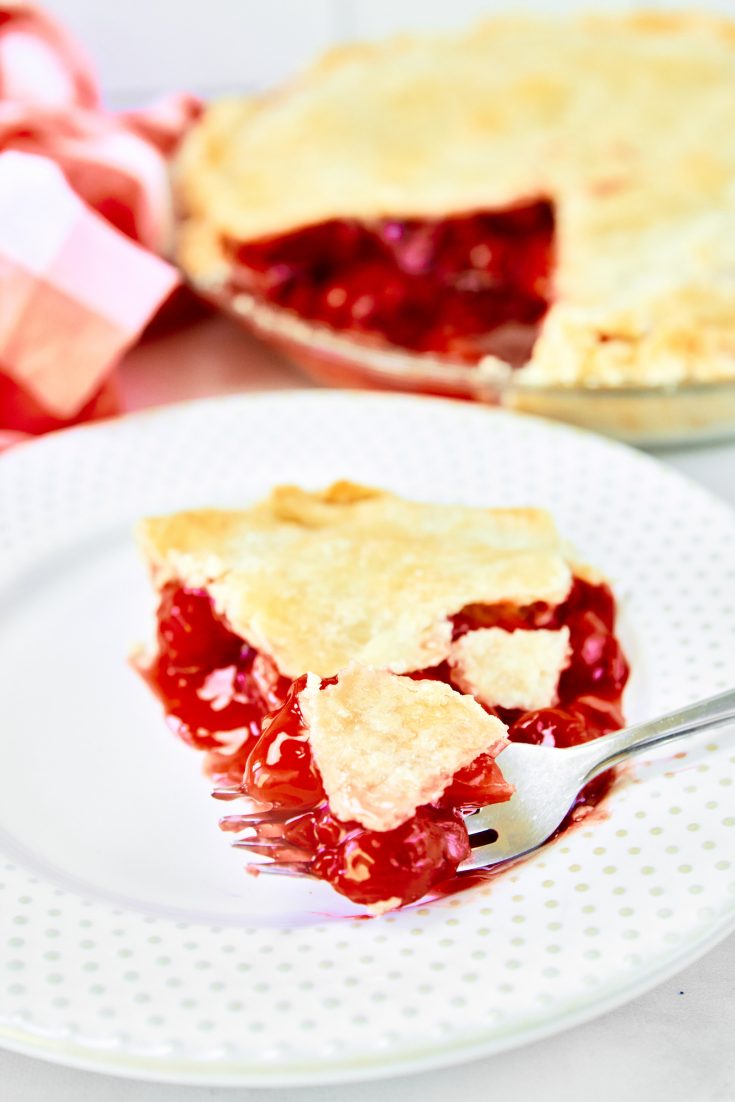 This vegan cherry pie is a crowd favorite and so easy to make! There are two methods for making homemade cherry pie filling, you can use either frozen or fresh cherries and there is minimal difference. This cherry pie is surely the best you will ever try and it is simple to make with a big payoff. Don't worry about the lattice top, we don't judge if you can't do it because we can't either!
Ingredients
For the cherry filling:
5 cups pitted cherries (fresh or frozen)
3/4 cup sugar
1/4 cup cornstarch
1/2 teaspoon salt
For the pie crust:
2 Cups Flour [Any Flour Works]
1 Pinch Of Salt
1/2 Cup Oil
1/4 Cup Milk [Dairy Or Nondairy, Both Work]
Instructions
Preheat oven to 400F
If using FROZEN cherries, add frozen cherries to a medium pot along with all of the filling ingredients (sugar, cornstarch/arrowroot, and salt) and simmer until warm, about 10 minutes. Set aside to cool.
If using FRESH cherries, simply add all ingredients for the filling to a large mixing bowl, stir until combined, and set aside to thicken while you make the pie crust.
Follow my instructions to make Vegan Pie Crust [ingredients listed above]
Once your pie crust is made, place the bottom half of the crust in the pie plate and then fill with the cherry pie filling.
Roll out the remaining dough and top with a full top pie crust or lattice work if you prefer.
Before cooking, first brush the top of the pie crust with aquafaba [liquid from the chickpea can] and then again with non-dairy milk for a vegan egg wash. Sprinkle with a little bit of sugar before cooking for a tasty browned top.
Bake vegan cherry pie for 15 minutes at 400 degrees and then lower the heat to 350 degrees until done, about 20-30 minutes depending on your oven. The pie is done when the crust is golden brown.
To serve, let the pie cool completely for the filling to set for best results! Of course, you can eat it hot too, the filling will just fall out a little as it has in my photos!