If you have never tried marinated mozzarella balls, you are in for a real treat!
Fresh mozzarella balls marinated in olive oil and tons of spices for flavoring make the best appetizer or snack you could ever find.
They are perfect for parties, gatherings, dinners, and holidays and are incredibly easy to make.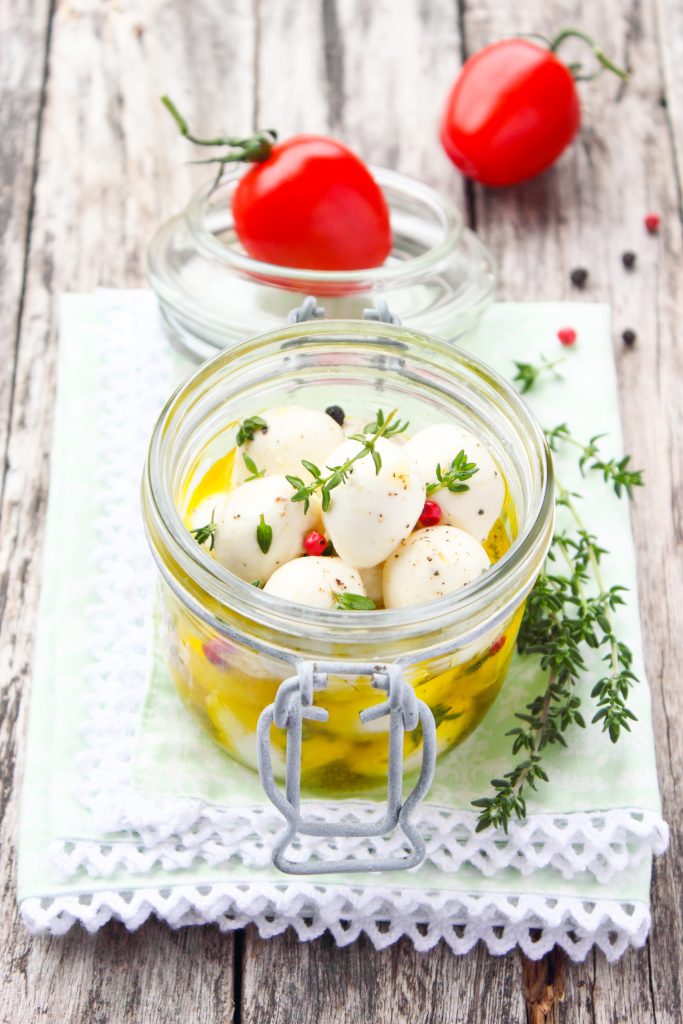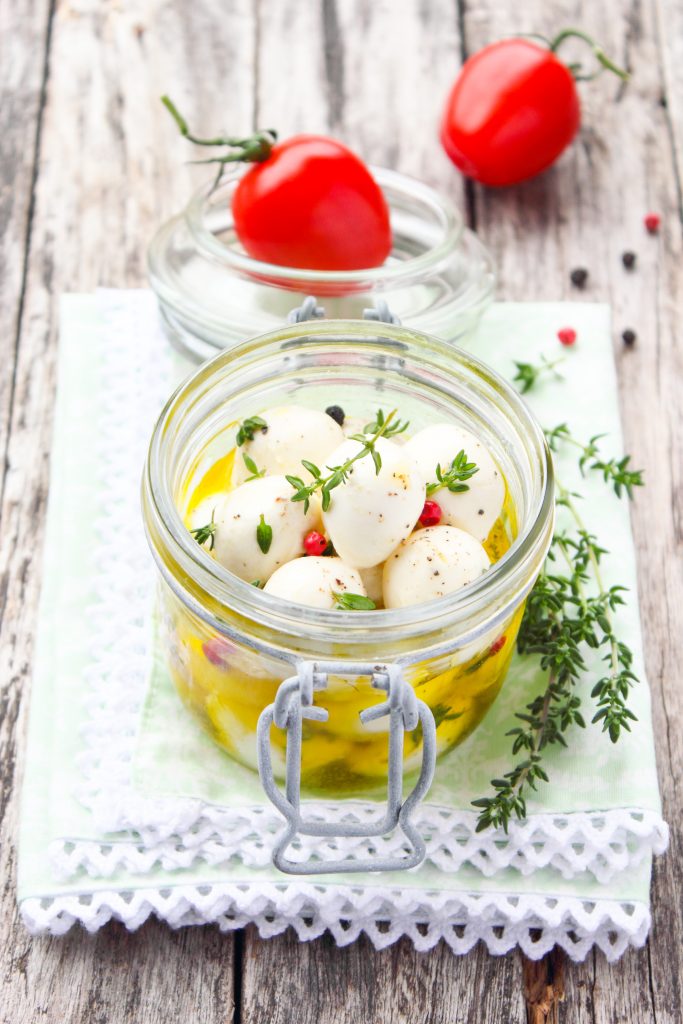 My favorite part about making marinated mozzarella balls is that they come together quickly!
You can have the whole thing done from start to finish and everyone loves cheese at a party!
You wouldn't believe how fast this tasty vegetarian appetizer flies off the plates the moment people take a taste.
As they come, mozzarella balls don't have much of a taste and the white color is pretty simple and boring. But with a few easy fixes, they make for a stunning small plate or bite-sized food at your next event.
I hope you enjoy making these marinated mozzarella balls as much as I do!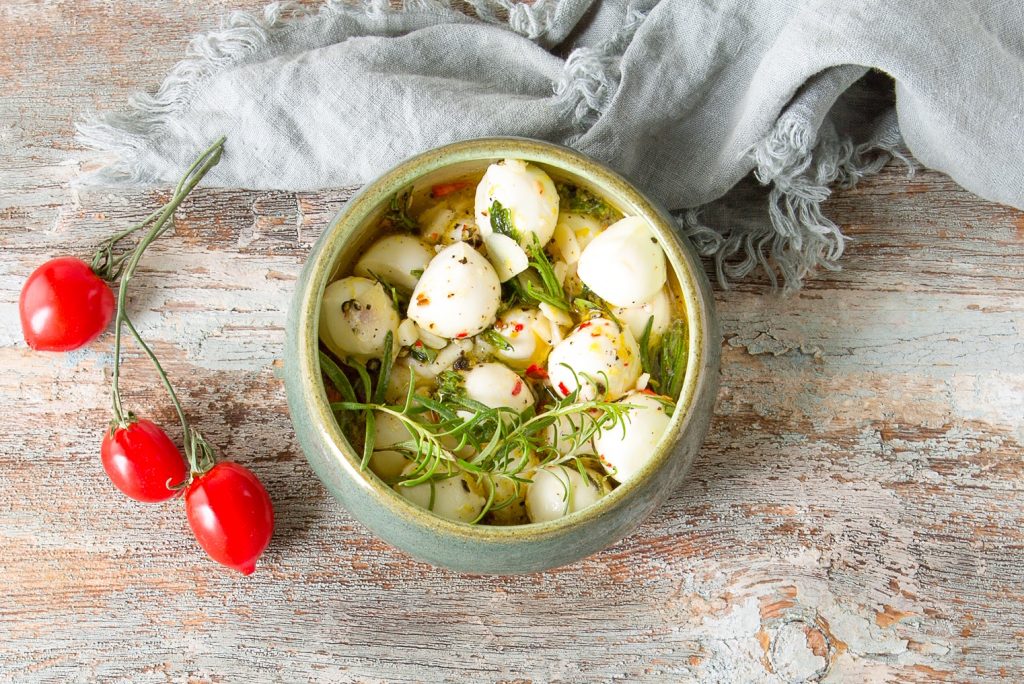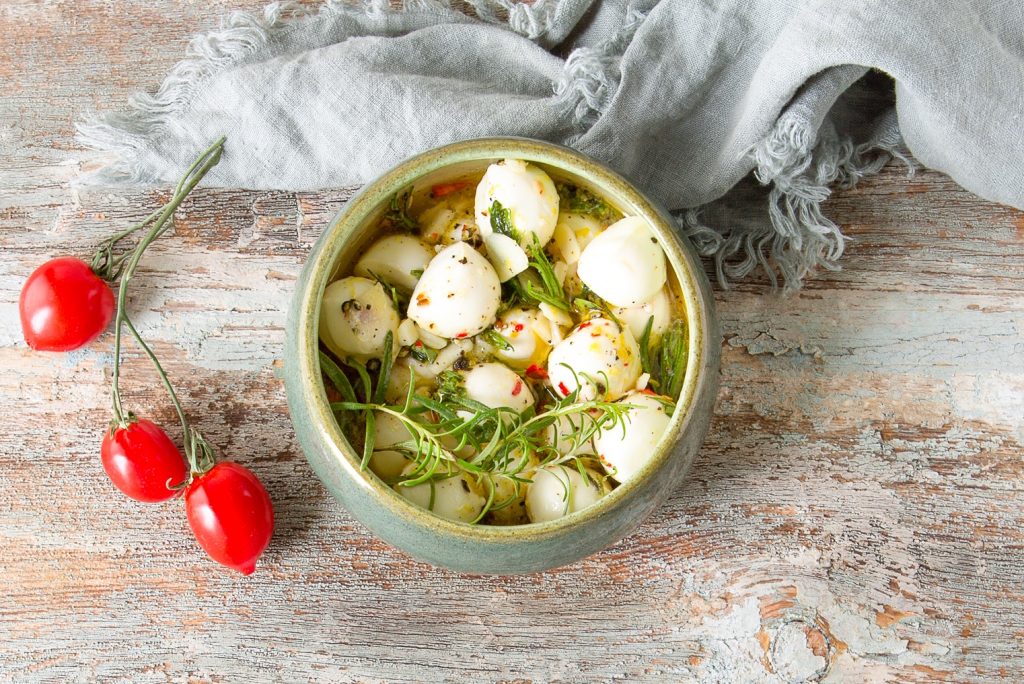 What Kind Of Olive Oil To Use
Of course you can use whatever kind of olive oil you have on hand, but the mozzarella balls recipe works better when you are careful with what you choose.
I suggest a cold-pressed olive oil and my family uses organic. You do not have to use organic, but I wouldn't use the bottom of the barrel either.
A nice $8-$10 olive oil works well when making these marinated mozzarella balls.
I also recommend getting olive oil in a glass container instead of a plastic container as the flavor is usually better as well.
Olive oils do change in flavor based on how they are made, so make sure you choose when that you love. But again, you basic $10 olive oil in a glass bottle should work well for the mini mozzarella balls.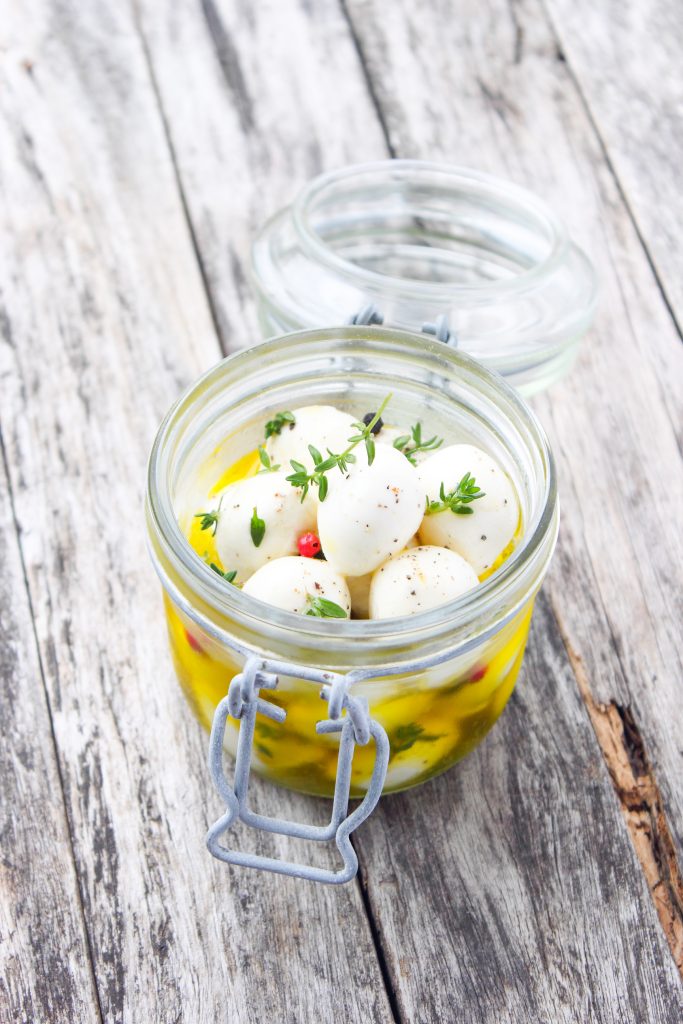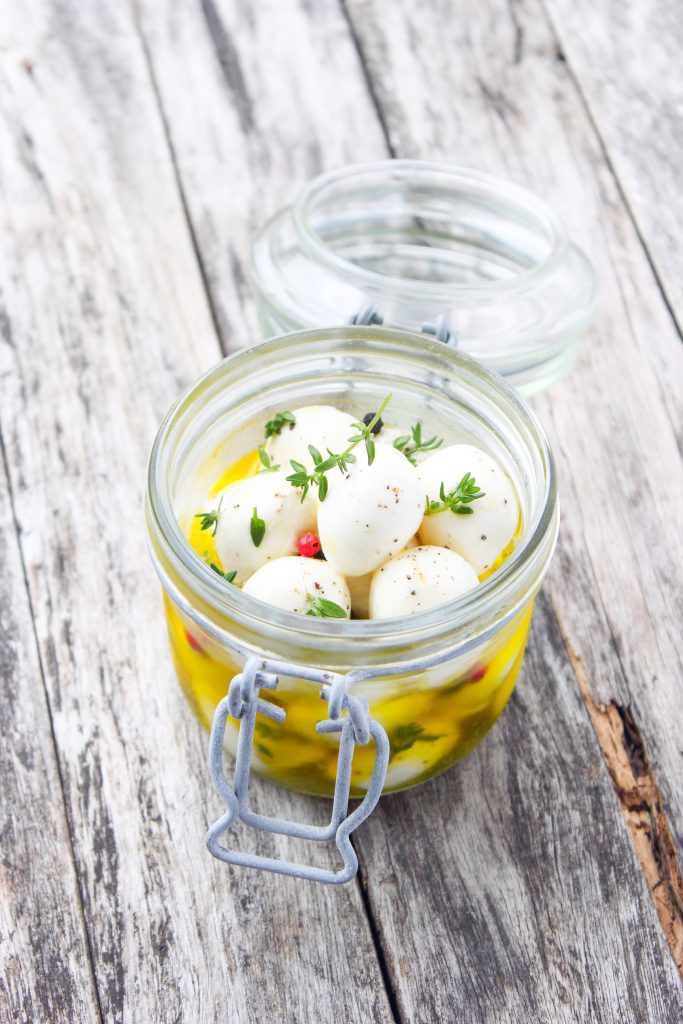 How To Make Marinated Mozzarella Balls
These marinated mozzarella balls are so easy to make because they require minimal active time and they don't have to be baked.
You won't have to watch over them instead of tending to your guests! Simply prepare and move on until they are ready!
All you have to do is start with mini mozzarella balls. Most grocery stores have them and large stores such as Costco and Sam's Club have them in huge amounts if you are making for many people!
Simply put your mozzarella balls in a big bowl or jar and then add in your oil, garlic, spices, dried tomatoes, fire roasted bell peppers, and chili flakes if you prefer.
You can add as much or as little "extras" as you want.
Sometimes I will add sundried tomatoes, fire-roasted bell peppers, red pepper flakes and more.
Sometimes I just feel like adding some tomatoes and spices and calling it a day because I don't feel like a spicy or peppery flavor.
If you want, you can add a drizzle of fresh balsamic vinegar to the marinade mixture too for a real Italian flair.
It is up to you and you can customize the marinated mozzarella balls to your taste!
Once you place all ingredients in a large jar or bowl, make sure the balls are covered or coated as much as possible with the oil.
Then marinate the mozzarella for 30 minutes up to 1.5 hours!
When you are done, you can serve skewered with a cherry tomato and basil leaf or simply leave out the mozzarella balls and toothpicks so everyone can serve themselves.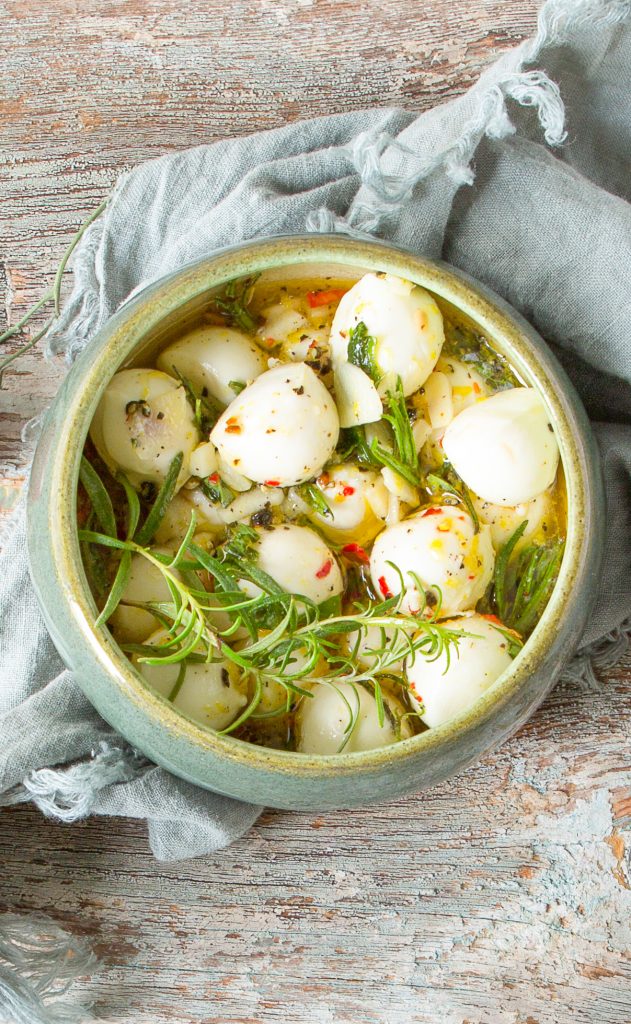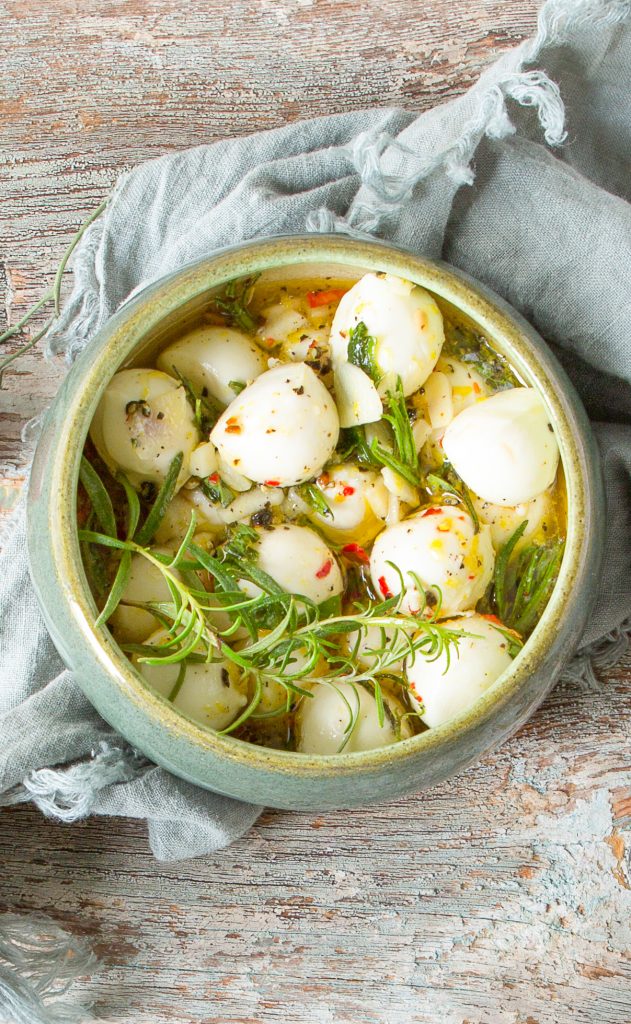 How To Serve Mozzarella Balls
You may think of only one or two ways that you can serve fresh mozzarella balls, but I have here to tell you you are wrong!
You can whip up a big batch of them and then eat them as a healthy snack throughout the week.
You can also make them in advance of a party or having a family gathering and let guests enjoy them multiple ways.
Sometimes you may have more time to get the platter ready, and sometimes you may want to let people eat them straight out of the oil if you are short on time!
Here are some of my favorite ways to serve marinated mozzarella balls:
Keep them in the marinade and serve with a slotted spoon
Skewer a mozzarella ball with a cherry tomato and basil leaf
Pour entire mixture onto a plate and serve with crusty bread slices
Sprinkle the mozzarella balls over a fresh salad
Add them to a charcuterie or cheese board
Toss them in a pasta dish
Add them on top of pizza before you cook
As you can see, there are tons of ways that you can enjoy marinated mozzarella balls more than just skewering them or eating them whole.
Make sure to play up with the flavor and texture of the appetizer! You may want to add balsamic vinegar some days and some days you may want to do without it. The choice is yours.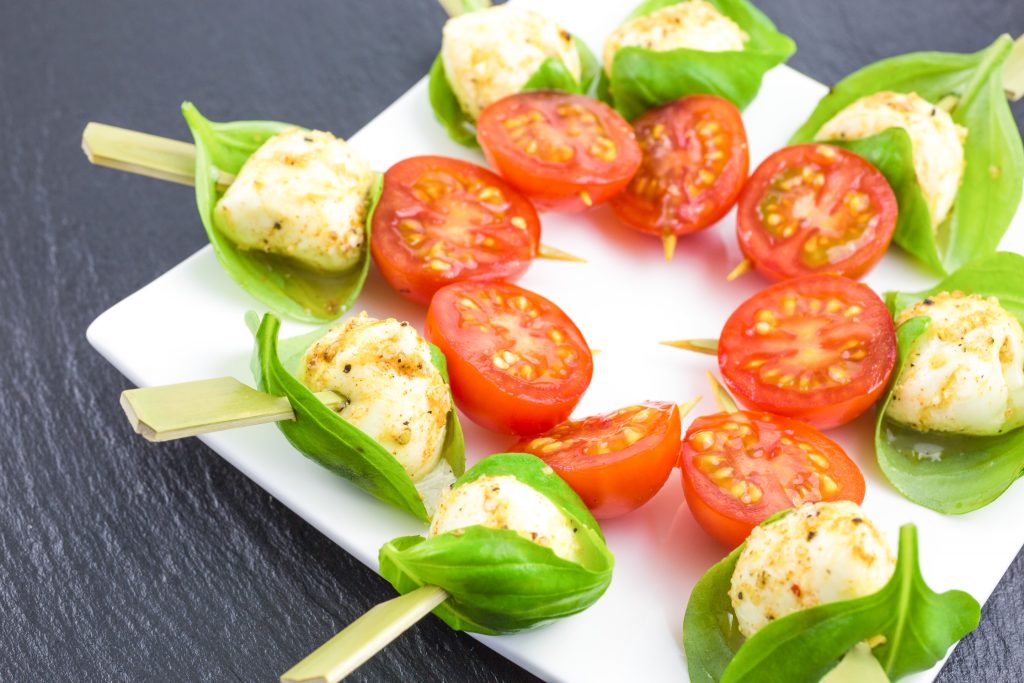 How To Store Marinated Mozzarella Balls
If you choose to marinate the mozzarella balls for longer than 1 hour, I would not recommend using balsamic vinegar. Balsamic vinegar will break down the cheese which will make the balls fall apart.
Just keep this in mind if you choose to use balsamic in your marinade.
If you are making the marinated mozzarella balls in advance, you can simply add the balsamic vinegar about 30 minutes before you are ready to serve to add that extra flavor.
Otherwise, marinated mozzarella balls can be stored in an air-tight container in the fridge for up to 5 days after you make them.
Olive oil will congeal in the fridge so make sure to remove the mozzarella balls and let them sit on the counter for 1-2 hours before you serve to allow the olive oil to return to room temperature.
As you can imagine, freezing the mozzarella balls is not a good idea and I do not recommend it.
You can store the cheese at room temperature if you are going to be eating it the same day, but any more than one day you should put it in the fridge.
Did You Try This Recipe?
If so, I would love to keep in touch! I enjoy seeing photos and comments about the recipes that you make! You can follow me on Instagram and I will repost your goodies in my stories and comment on it too! Just tag me at @wowitsveggie and hashtag #wowitsveggie. I can't wait to see what you make!
Yield: 12-15 servings
30-Minute Marinated Mozzarella Balls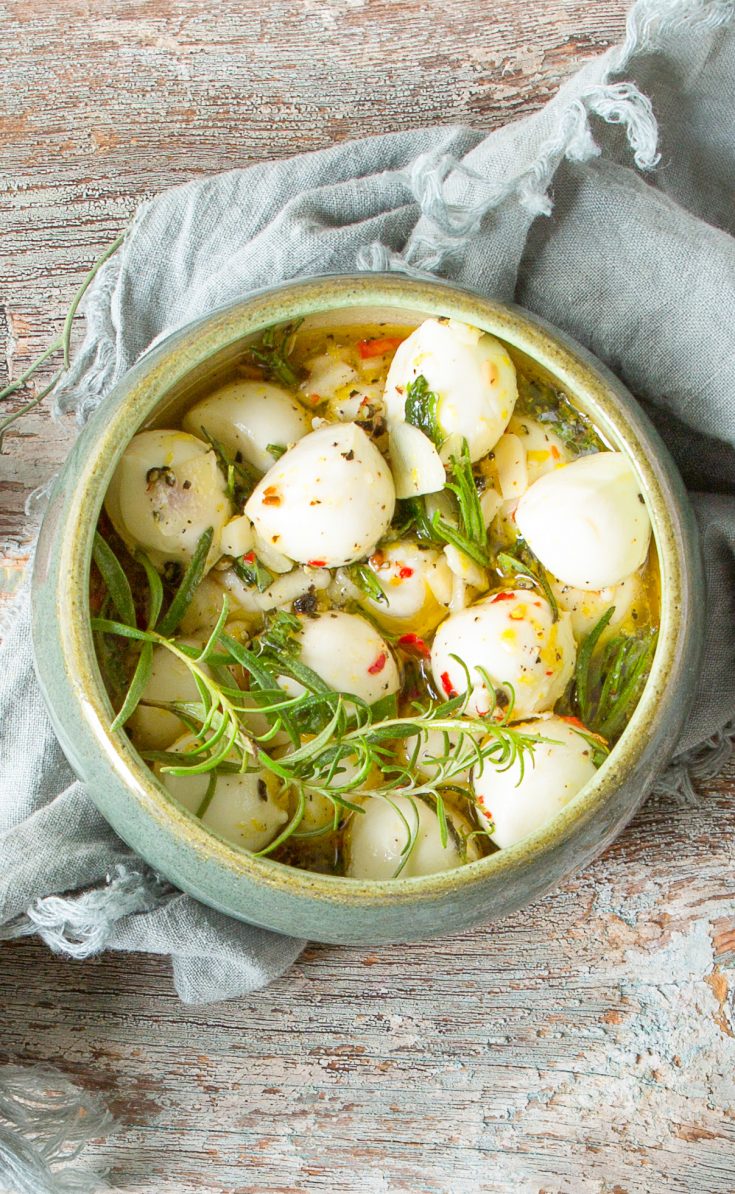 These marinated mozzarella balls come together quickly and make a really tasty finished result. You can eat them straight from the marinade, skewer them with cherry tomatoes, sprinkle them over a salad and more! They are always a favorite at parties too.
Additional Time
25 minutes
Ingredients
8-10 ounces mini mozzarella balls
3/4 cup extra virgin olive oil
5 cloves of garlic, minced
1 tablespoon parsley, chopped
2 tablespoons dried oregano
1 tablespoon dried basil (fresh optional!)
1 teaspoon dried rosemary (fresh optional!)
1 teaspoon salt
1/2 teaspoon black pepper
2-3 tablespoons balsamic vinegar (optional to taste)
Optional: 1 tablespoon sun-dried tomatoes, 1 tablespoon fire-roasted bell peppers, dried red pepper flakes, all to taste.
Instructions
In a medium-sized bowl or jar, add all ingredients except the oil. Use a spoon to mix the spices in with the cheese and then pour the oil over until the mozzarella balls are mostly covered with oil and at least coated!
If you are adding balsamic vinegar, add it within the last 30 minutes of marinading or else it will cause the cheese to break down.
Marinade mixture at room temperature for 30 minutes and serve as desired! For longer, you can marinate in the fridge for up to 5 days but keep in mind that the olive oil will harden in the fridge. Set it on the counter for at least 30-60 minutes to return to room temperature.