Pink vodka lemonade is the perfect tasty adult beverage for any time you are looking for something easy and delicious!
It uses just 5 ingredients and has such a light and pretty pink color.
This pink vodka lemonade recipe is perfect for Valentine's Day, Easter, Mother's Day Brunch and more when a pink drink is required.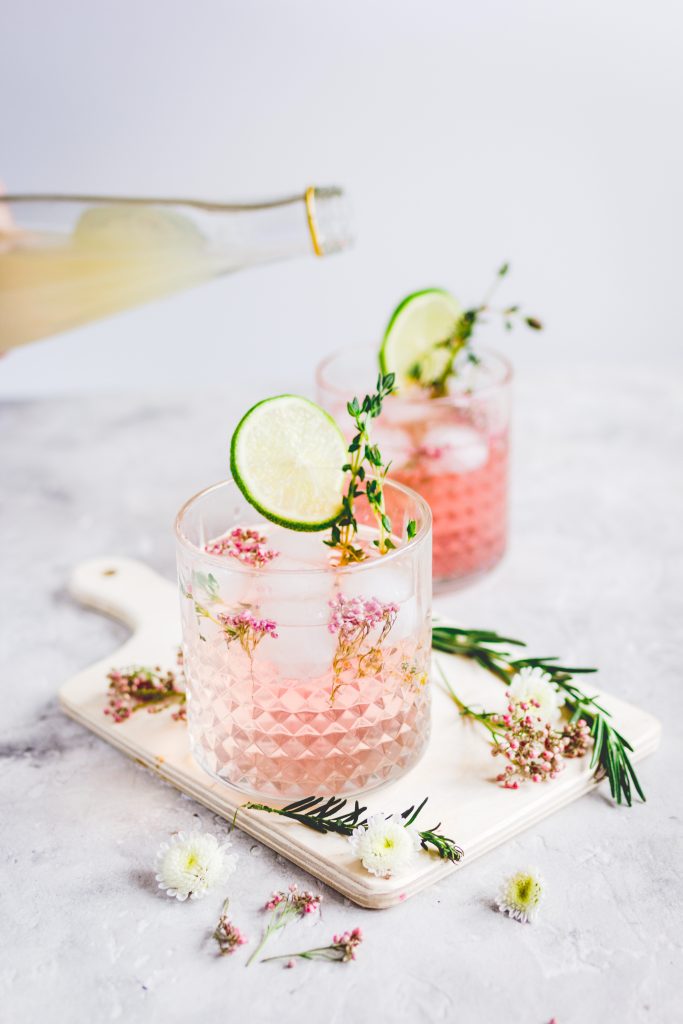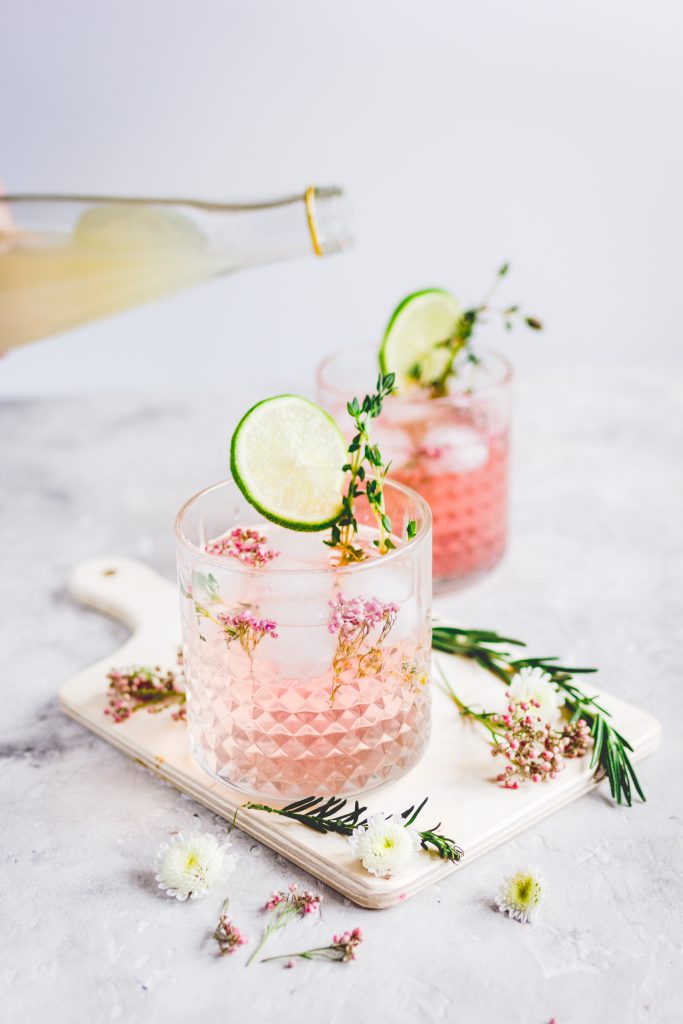 Now, there are a few ways that you can make pink lemonade and vodka and that is what I am going to show you in this post!
Of course, if you want to make this into a gorgeous mocktail, you can simply leave off the liquor and make it virgin and just decorate it really pretty with herbs and garnish so all can enjoy!
Finally, my pink vodka lemonade whips up quick and easy so you don't have to take time away from your guests to mix it up.
It uses simple ingredients and the taste is enjoyed by all.
You can go as fancy or as basic as you want, and I show you how below!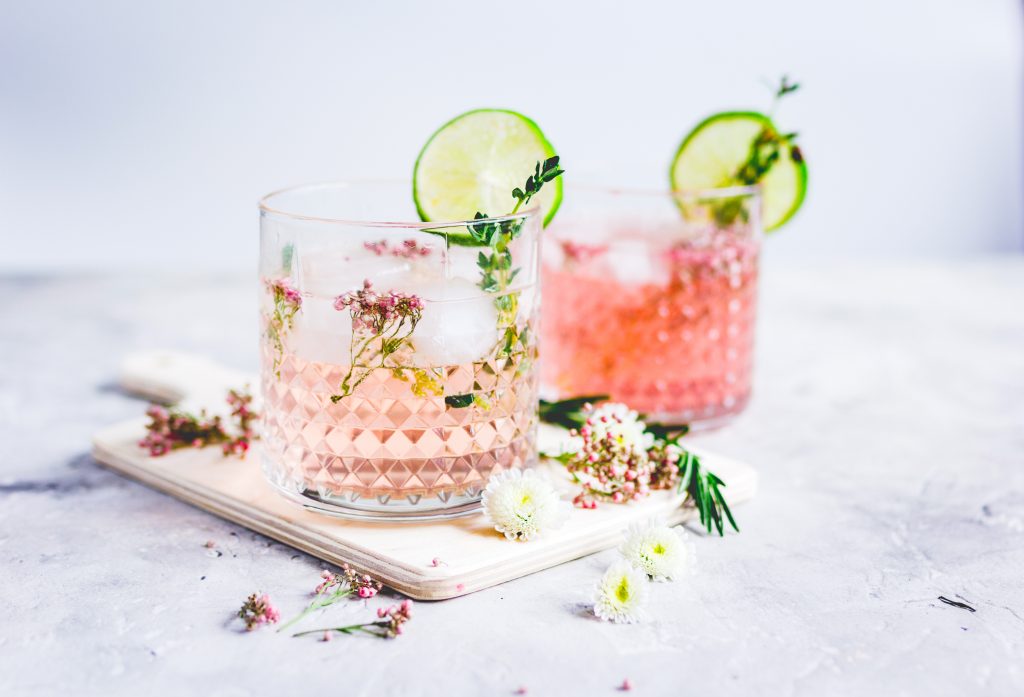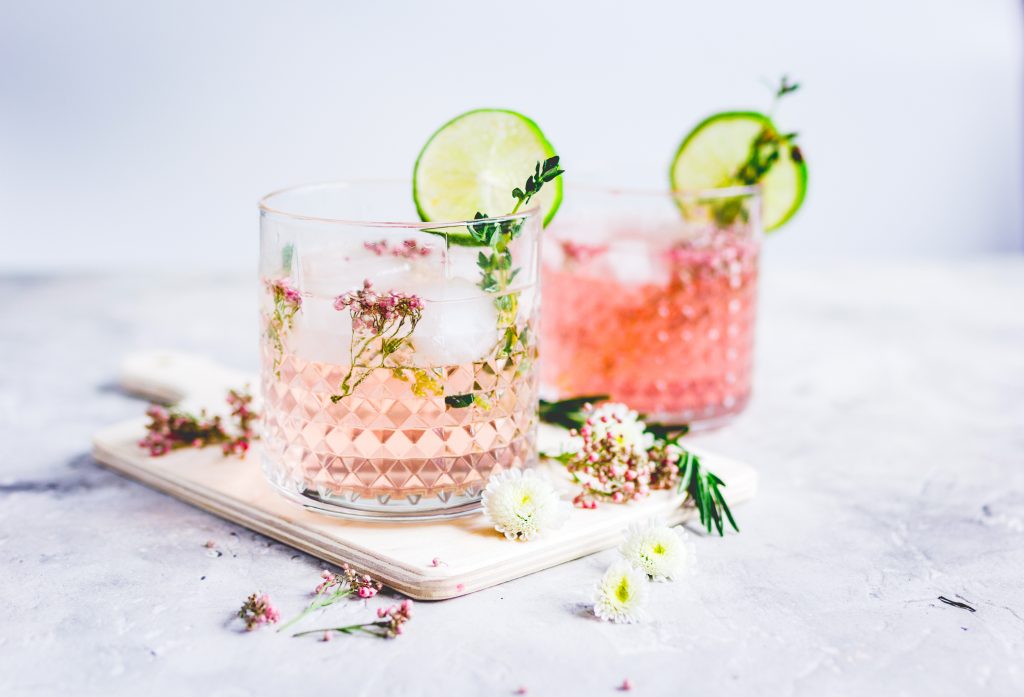 How To Make Pink Vodka Lemonade
If you want to make the basic pink vodka lemonade, all you have to do is add all of the ingredients to a pitcher or bowl and serve!
If you want to be fancier, you can muddle some herbs such as rosemary and thyme in the bottle of a shaker and then mix it with the liquor and pour it into the bowl to add more flavoring!
Now, you have two options! You can use either sprite for a lemonade flavor and use no actual lemonade! It will give you that bubbly flavor.
Personally, I don't love sparkling drinks so I would not make this my first choice, but others love a sparkling pink vodka lemonade!
Or, you can squeeze your own fresh lemonade. That is how to get the pale look like in the images here.
Fresh squeezed lemonade is a much paler color than the kind you get at the store which has dye in it.
Finally, you can use lemonade from the store! Simple and easy peasy.
This pink vodka lemonade recipe uses a blend of mainly vodka and rum to flavor additionally. Feel free to use flavored rum for an added kick!
I like to use a splash of cranberry juice to help get the pink color.
You can add as little or as much cranberry juice as you want! You may want to add only the tiniest splash to get very pale pink drinks. If you want to go this route, only start with 1-2 tablespoons and see if you like it and then add more!
The more cranberry juice you add the darker pink your pink vodka lemonade will be!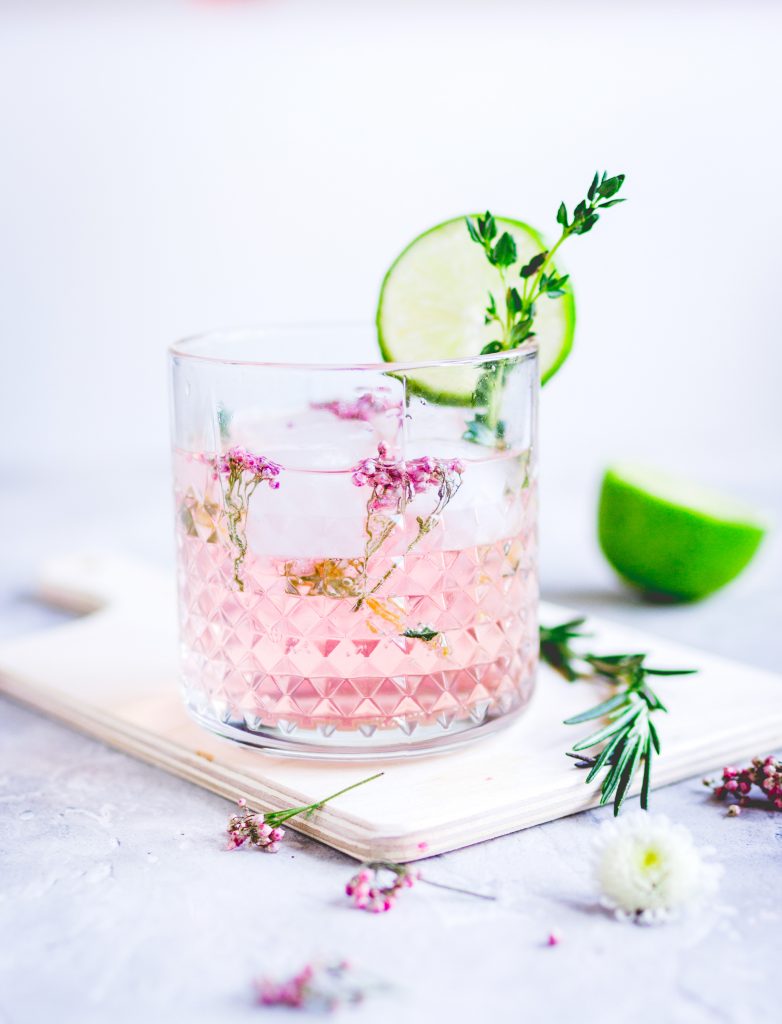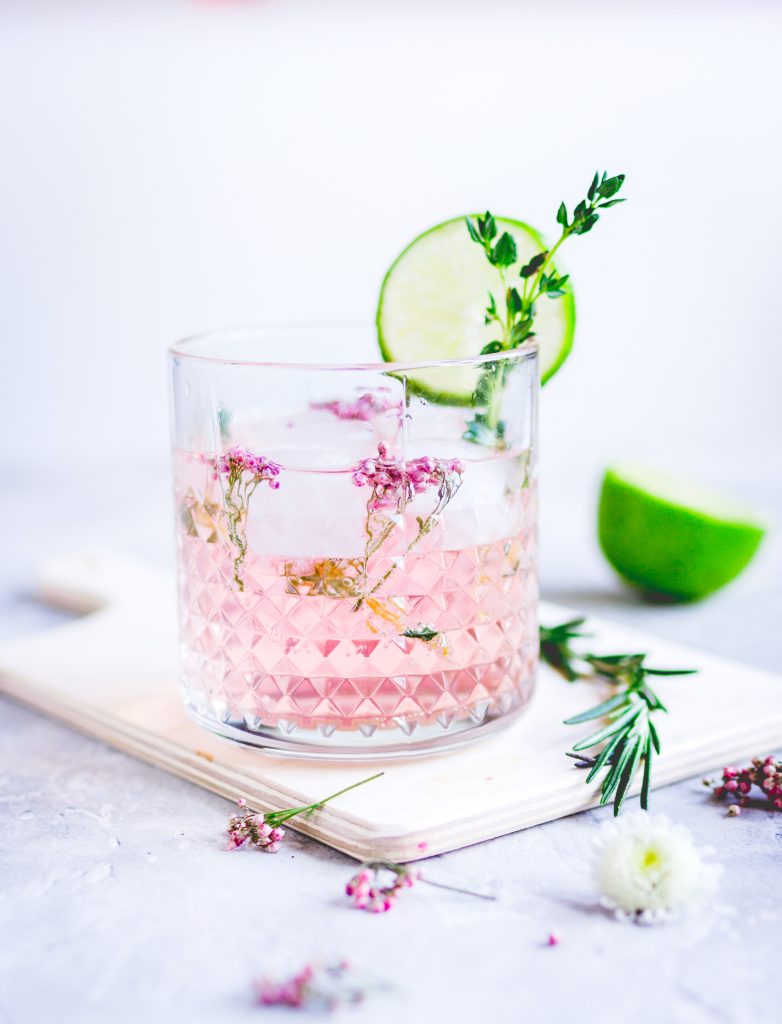 Garnishes For The Pink Vodka Lemonade
I love garnishing my pink vodka lemonade with a variety of herbs and fresh flowers.
It is pretty and feminine and you can add as little or as few as you want.
Like my Pink Grapefruit Cocktail, muddling and garnishing with herbs is a lovely way!
I like to use fresh lemon and lime wedges but you can also go for fresh thyme and rosemary.
For an extra kick, muddle the herbs and then combine with the liquor, shake, and pour into the jug you are making the recipe in!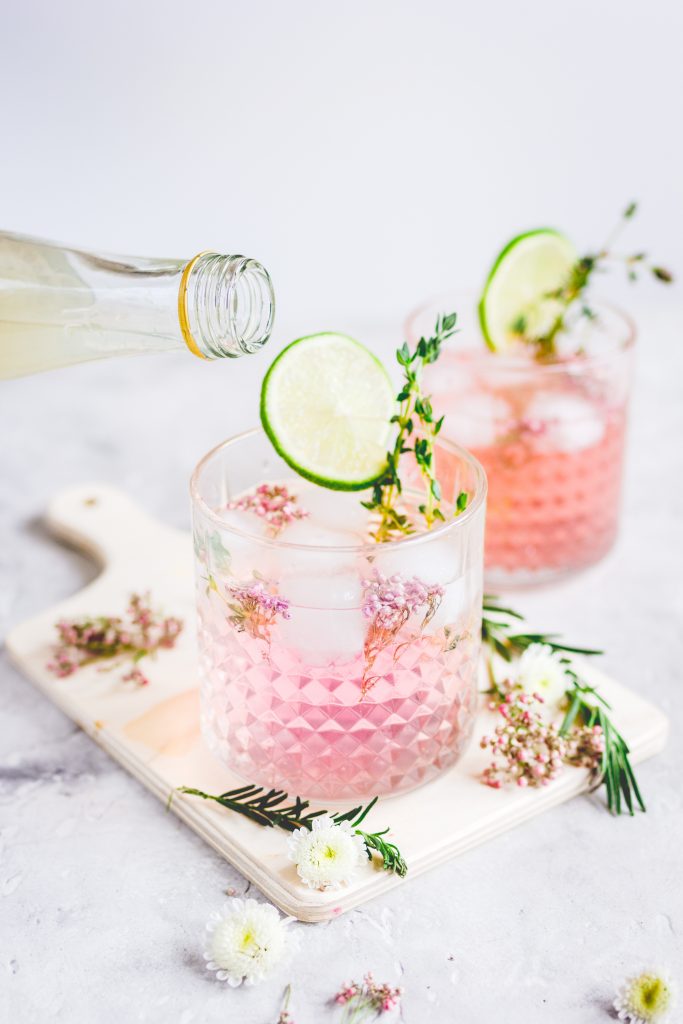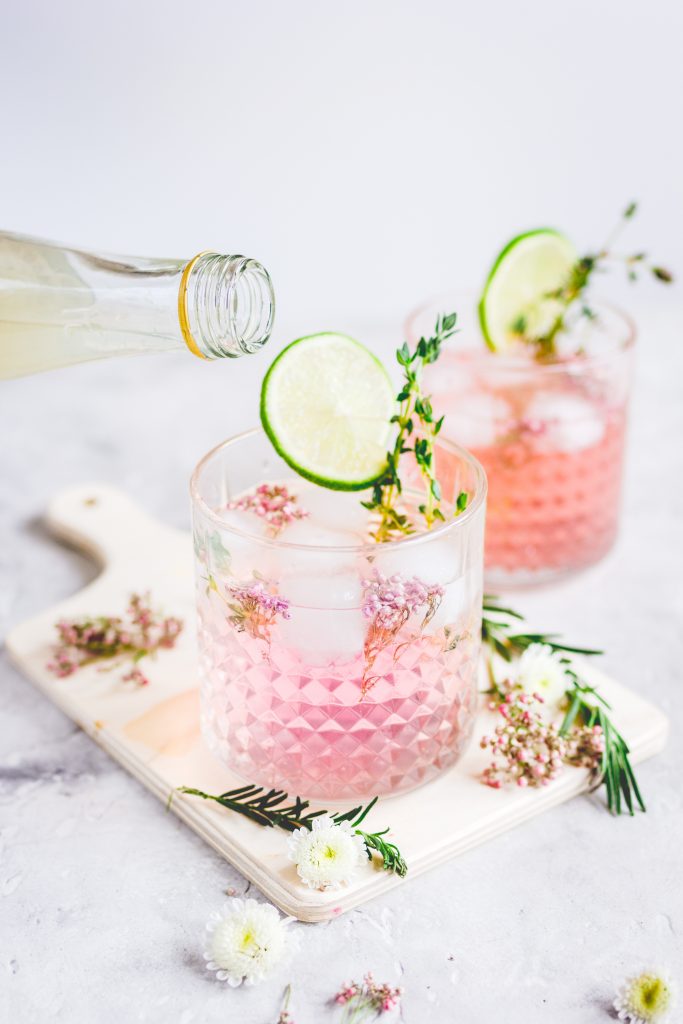 Did You Try This Recipe?
If so, I would love to keep in touch! I enjoy seeing photos and comments about the recipes that you make! You can follow me on Instagram and I will repost your goodies in my stories and comment on it too! Just tag me at @wowitsveggie and hashtag #wowitsveggie. I can't wait to see what you make!
Yield: 3-4
5-Ingredient Pink Vodka Lemonade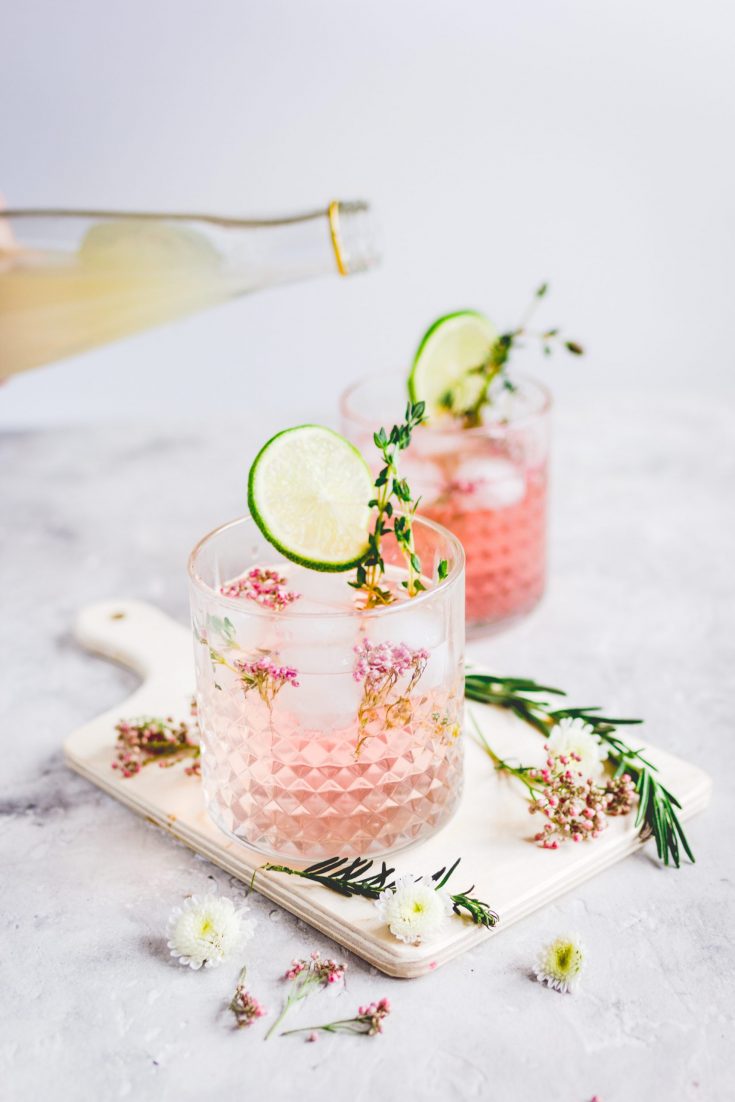 This pink vodka lemonade is so delicious and easy to make! It is perfect for any time you are looking for a light and refreshing adult beverage such as Mother's Day, Easter, Valentine's Day and more!
Ingredients
1/2 cup vodka
1/4 cup lime juice [fresh squeezed preferred]
1/4 cup cranberry juice [for color, less for a pale pink color]
3 tablespoons rum
3 cups sprite, freshly squeezed lemonade, or store-bought lemonade
Garnish: Fresh thyme, rosemary, dried flowers, lemon and lime wedges
Instructions
Combine all ingredients in a large bowl or pitcher filled with ice. If you are using Sprite, add it last.
If you want a more enhanced flavor, muddle thyme and rosemary, and 2 lime wedges in a shaker. Pour in vodka and rum and shake with ice until combined. Pour into the pitcher with the remaining ingredients.