This vegan peppermint fudge is some of the best stuff you will ever eat! You may also know it by the term candy cane fudge, but you can make it any time of year!
It is the perfect balance between chocolate and peppermint. I really like this vegan fudge as the peppermint isn't overwhelming, but just enough.
Like, you want it to taste delicious, without being smacked in the face by a peppermint flavor. That is exactly what this vegan peppermint fudge recipe is!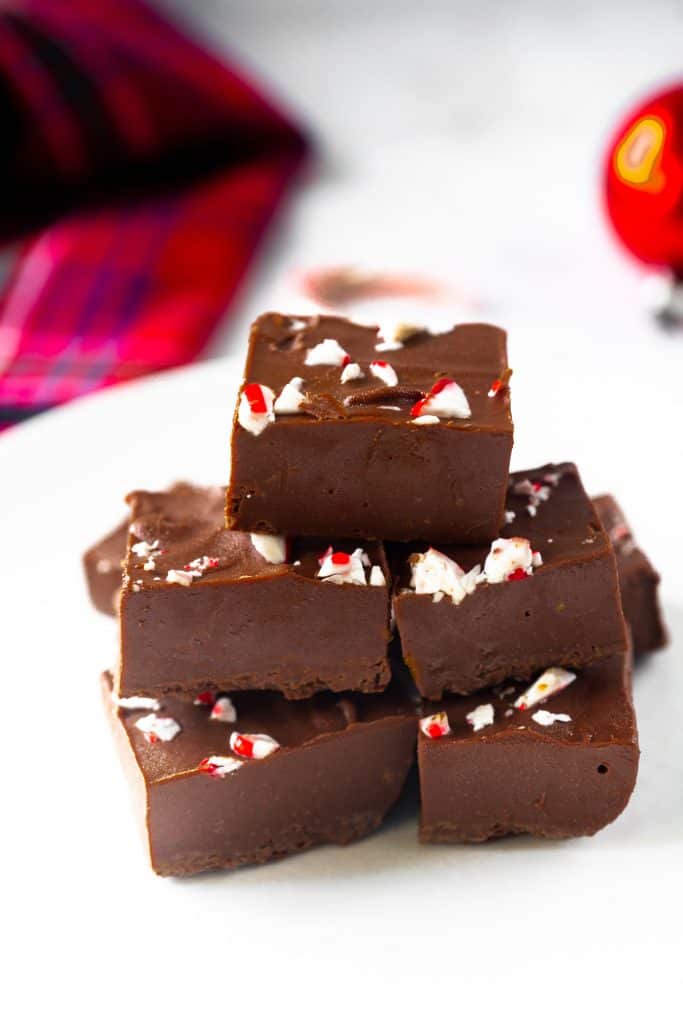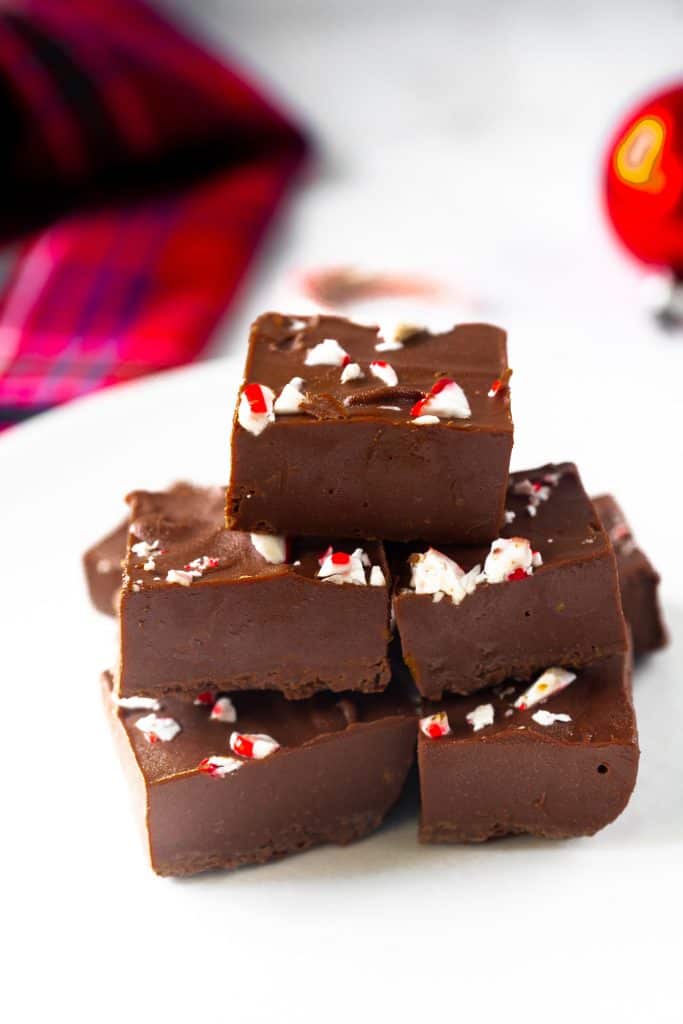 Now, I am not going to call this candy cane fudge "healthy" per say, but it is 100% keto [with the appropriate substititions] and vegan and doesn't have any added sugar!
Another thing I love about this recipe is that the nut/seed butter really balances out the sugar from the chocolate and gives a nice flavor with the peppermint blended all together.
I personally use peanut butter, but if you are allergic or just don't eat peanut butter, you can easily make this vegan peppermint fudge with a different butter of your choice.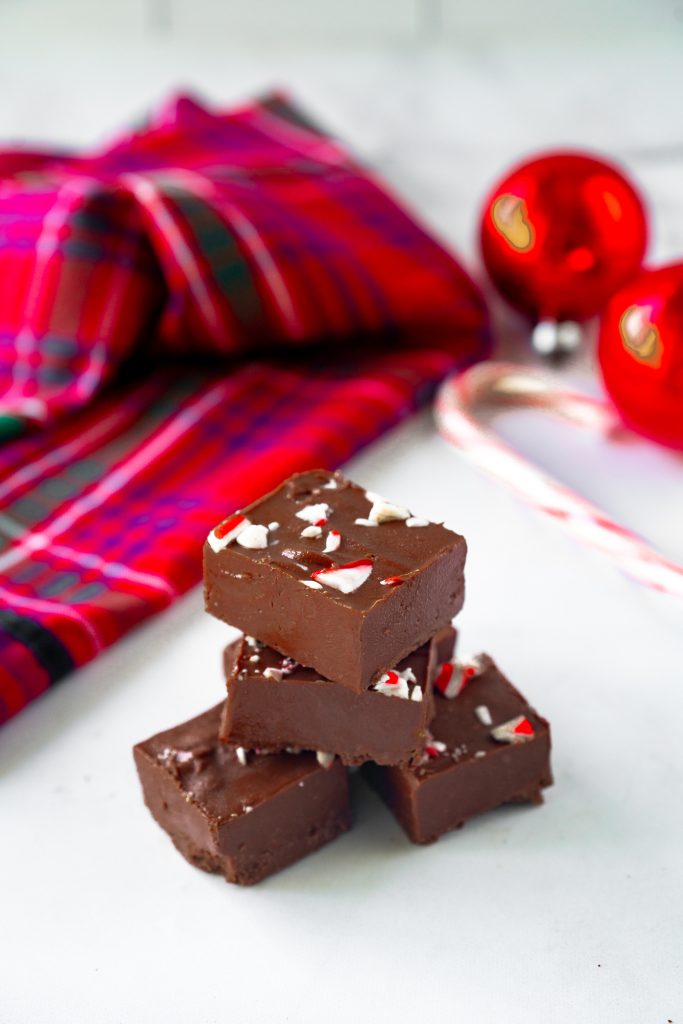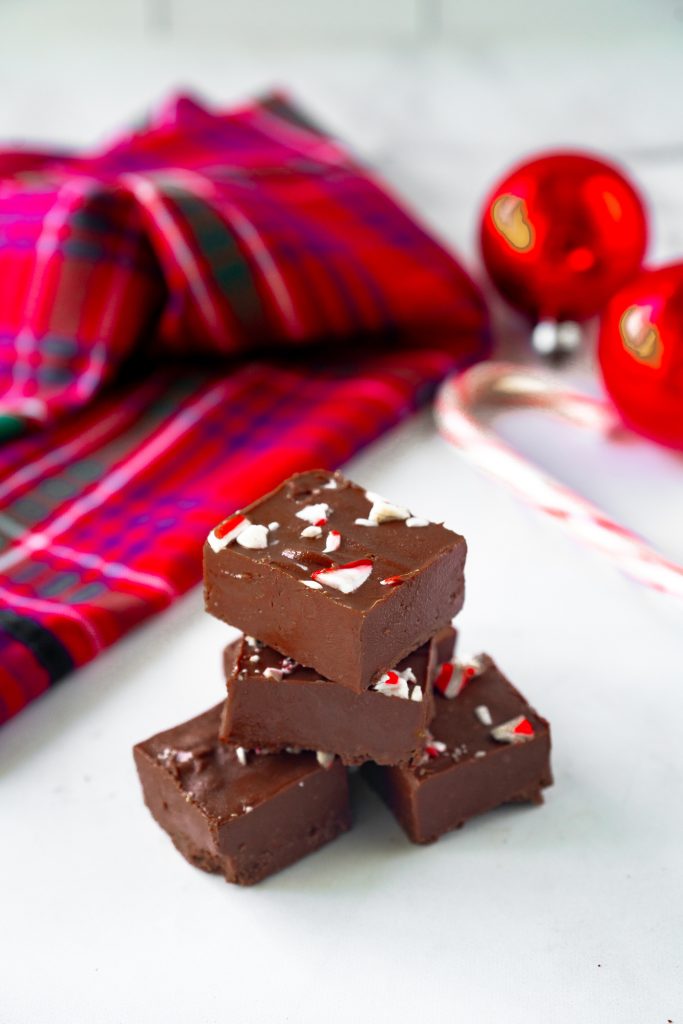 You can use sunflower butter, almond butter, cashew butter, really anything! The flavor may change ever so slightly, but the predominant flavors in this vegan fudge recipe are the chocolate and the splash of peppermint!
Now, people associate peppermint with Christmas, but you don't have to make this fudge only around the holidays! You can make it any time of year, but you may not have the candy canes to top it with [if desires!]
Finally, it is the perfect dessert to bring to your holiday party or any event throughout the year.
For some reason, people gravitate towards chocolate and these little nuggets of velvety goodness just fly off the plate!
I highly recommend cutting them into bite sized squares if you are feeding a larger crowd so that everyone has a taste!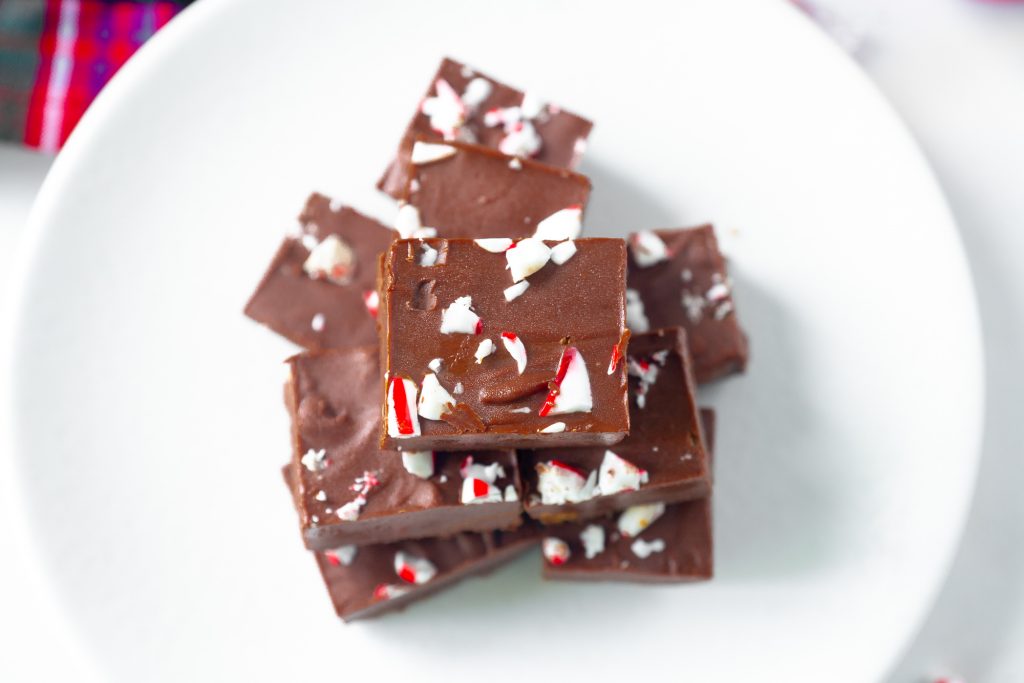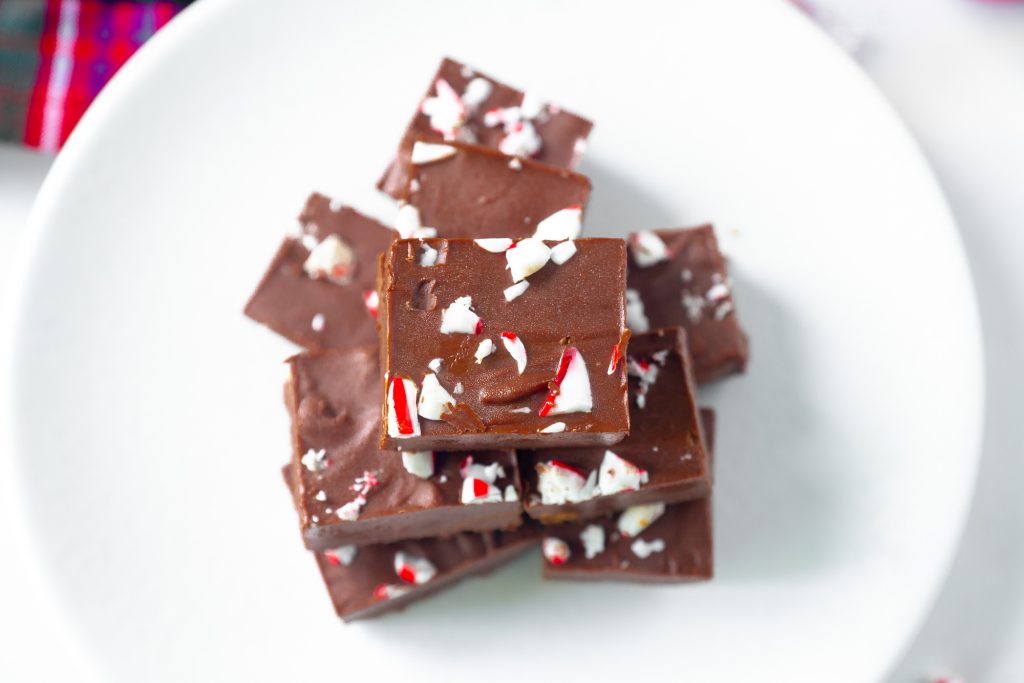 How To Make Vegan Peppermint Fudge
Making vegan peppermint fudge is so easy and only requires 3 ingredients and about 5 minutes of your time.
The 4th ingredient is crushed candy canes, but that is totally optional and you can omit that if you don't want to eat additional sugar and chemicals [no but for real, I can't even imagine what is in them!]
If you want thick velvety vegan candy cane fudge, the first thing you are going to want to do is choose the correct dish!
And by that I mean, oftentimes we make chocolate dishes or fudge in a 8×8 pan. Not for this recipe!
For this recipe you will want to use a bread or loaf pan so that your fudge will be tall and thick instead of flat and thin.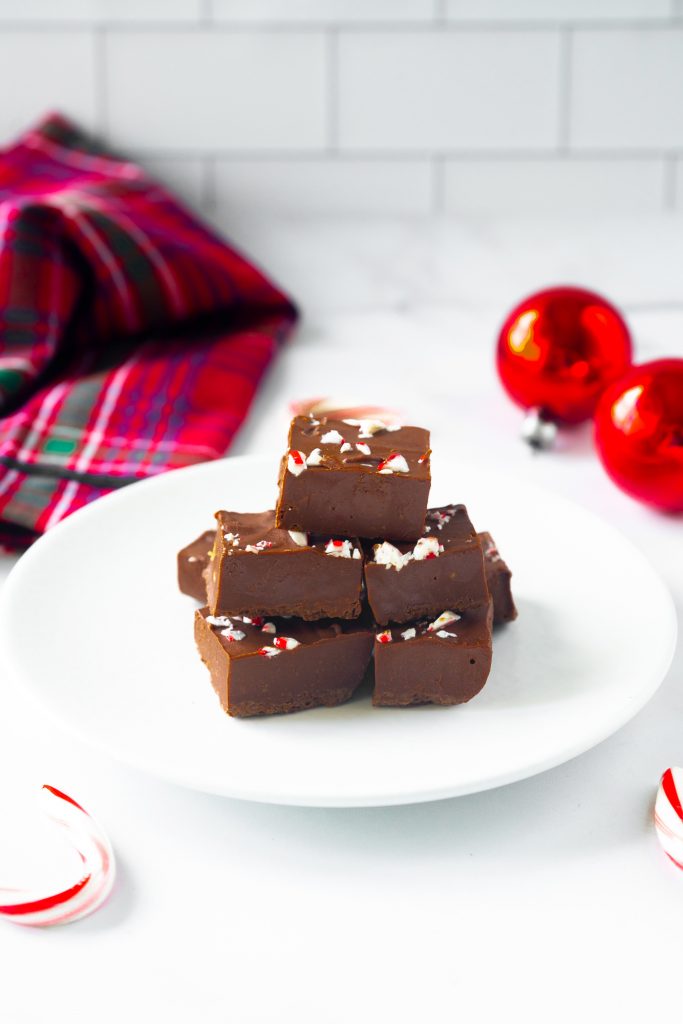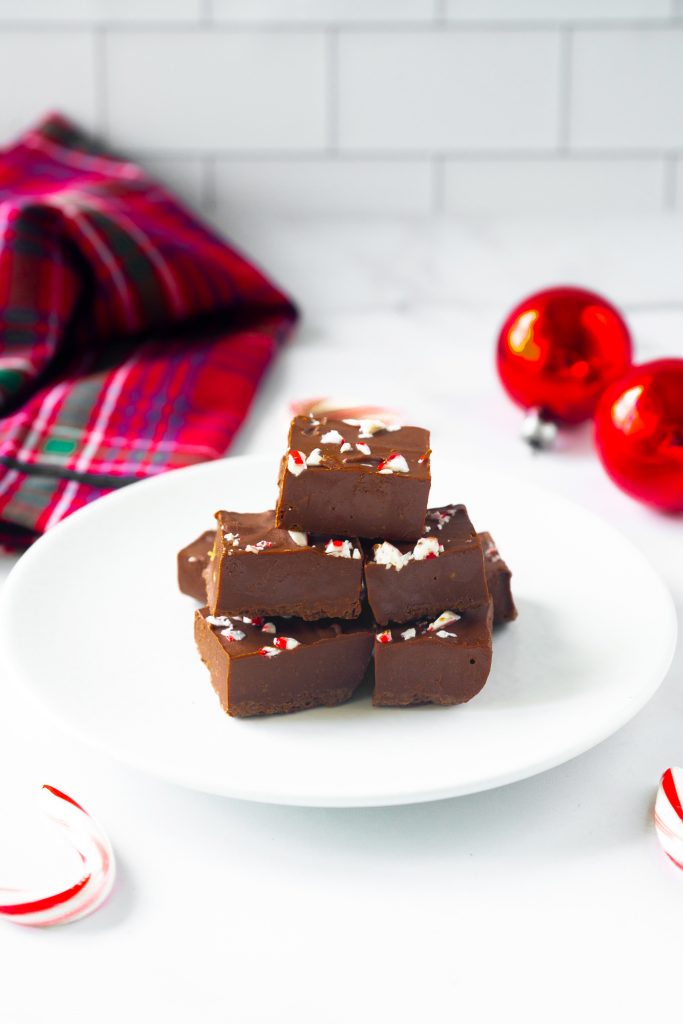 A bread pan will allow you to do this as it is smaller and an 8×8 dish is much larger. If you must use an 8×8 pan, double or triple this recipe!
Next, you are going to want to melt your vegan chocolate chips and nut butter together in a pan on the stove.
Now, a lot of people [including my mom] are very scared to melt chocolate on the stove. I have done it for years and think it is the easiest and healthiest method!
If you are scared and don't want to try, you can heat it in the microwave for 20-30 seconds at a time until fully melted.
If you want to melt the chocolate and nut butter my way, simply turn your pan on medium heat and put the vegan chocolate chips and peanut butter [or your choice] in the pot on the stove.
Then, use a wooden spoon to stir until melted and combined. Do not leave the pan or else the entire thing will burn and turn into a huge mess.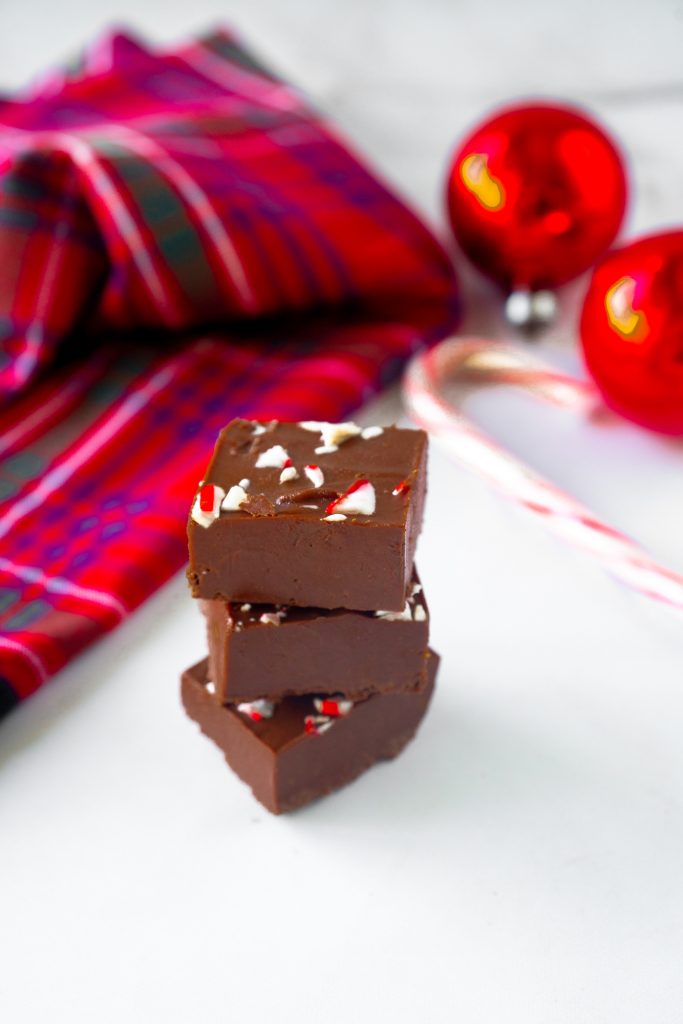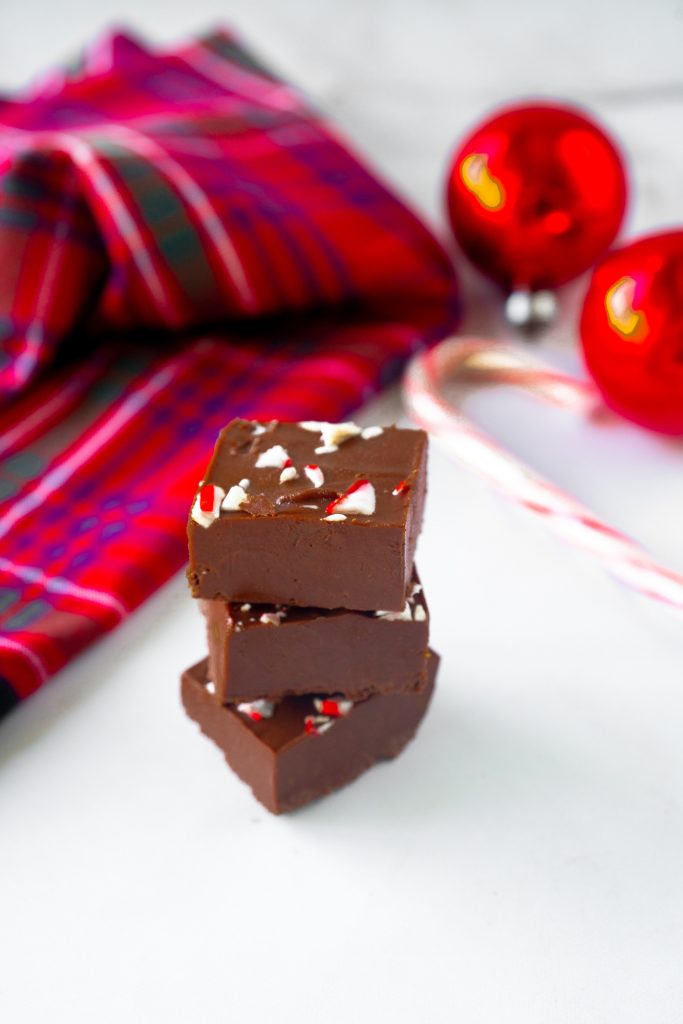 It takes no more than 5 minutes for the chocolate and peanut butter to melt together. It happens like magic before your very eyes.
Just don't forget to never stop stirring the vegan peppermint fudge or else it won't come out correctly! If you do this method on medium heat, you should have success!
Take the mixture off the heat and stir in Vegan Peppermint Extract For Baking!
I personally use Frontier Peppermint Extract and have shopped with Frontier basically my whole life, even when I was like 7 and wasn't doing the shopping myself.
Once you combine the peppermint, chocolate, and nut butter, line a bread pan with parchment paper. I highly recommend this as you want to make removal super easy.
Pour your vegan peppermint fudge into the baking dish and use a spatula to smooth the top.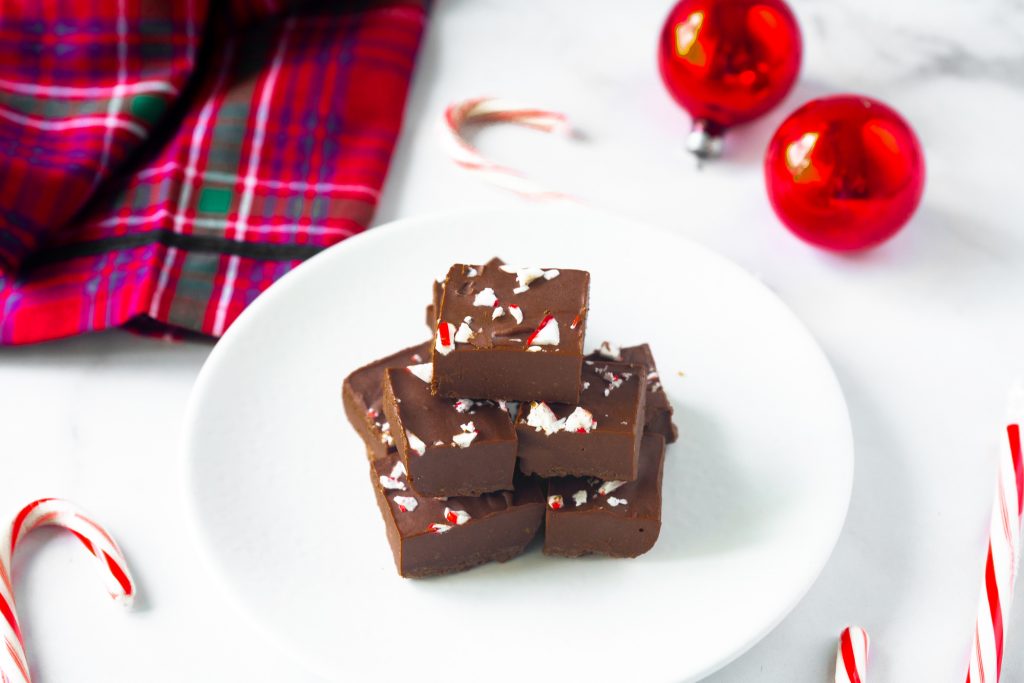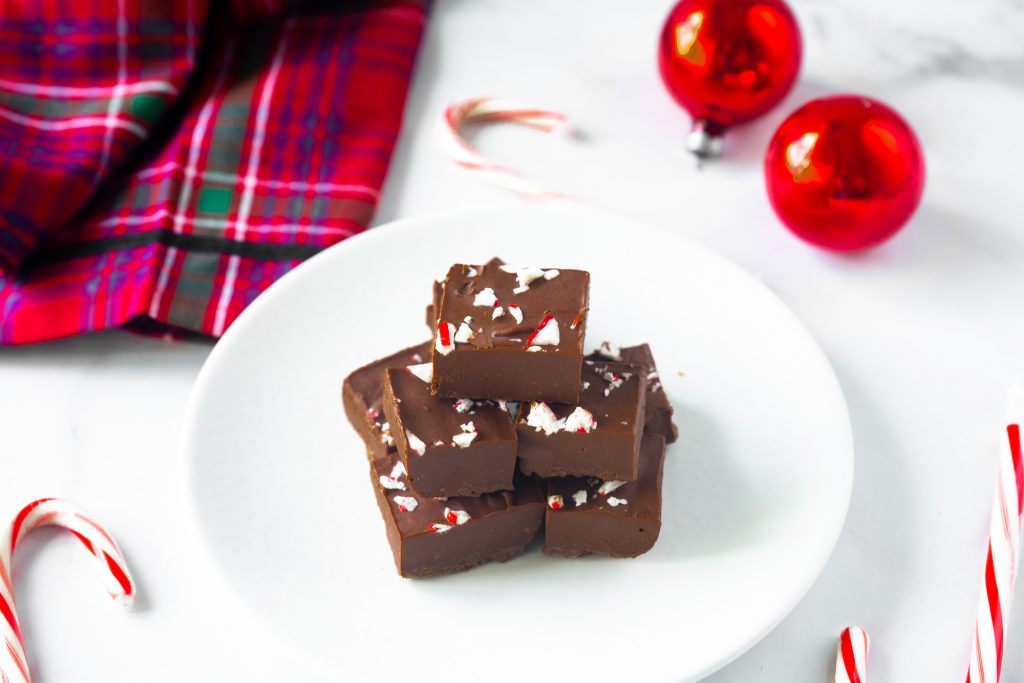 Then, unwrap candy canes and put them in a plastic baggie. Use a rolling pin or metal spoon to crush them.
If you are making candy cane fudge, go ahead and sprinkle your crushed candy canes on top of the fudge while it is still hot.
I try not to add too many candy canes, but just the right amount that the flavor isn't too much.
Finally, you will want to cool the vegan peppermint fudge in the freezer until solid.
This usually takes about 50-70 minutes, depending on your freezer.
To serve, simply take the peppermint fudge out of the bread pan using the parchment paper you put in originally.
Use a very sharp and large knife to cut down on it and cut it into little squares.
You want to cut the fudge before the chocolate starts melting, so be sure to cut it right when you take it out of the fridge!
Arrange it on a plate and enjoy!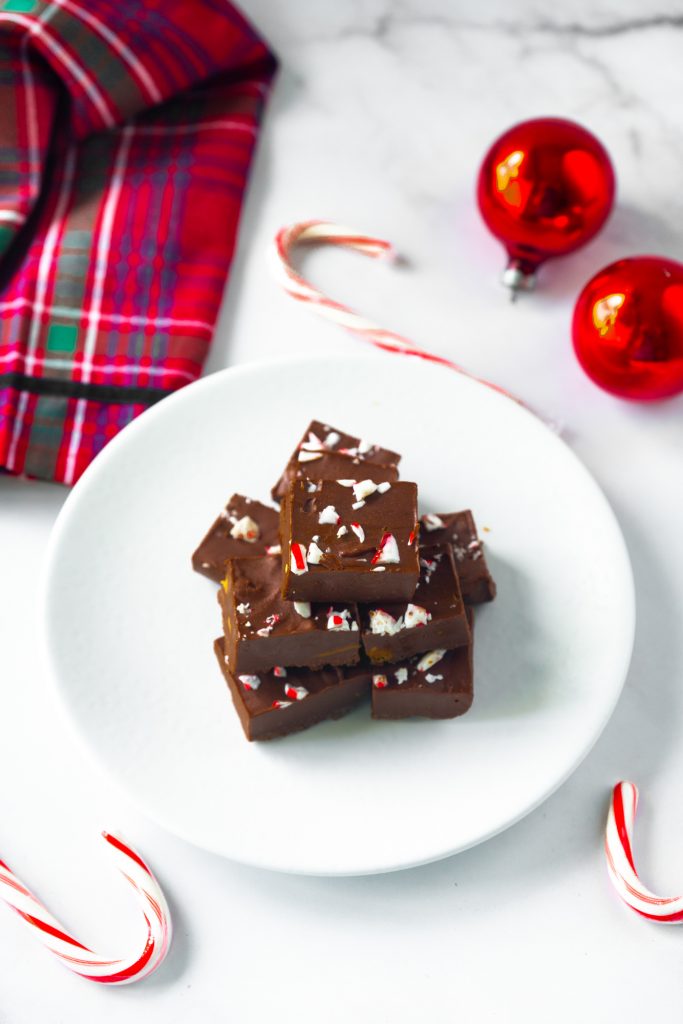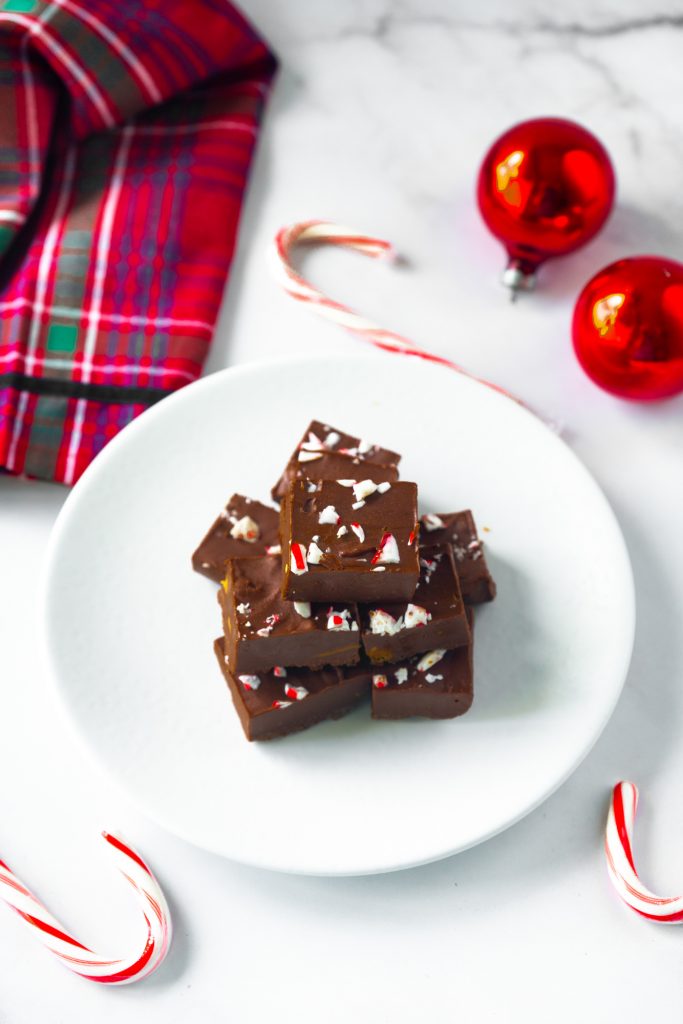 How To Store Vegan Peppermint Fudge
There are two ways to store the vegan peppermint fudge.
The first is in the freezer. I highly recommend storing the fudge in the freezer if you are going to be leaving it out for long periods of time like at a party!
You can cut the fudge and put it on a plate and then wrap the plate in plastic to seal it and store it in the fridge until your party.
If you are just making the vegan peppermint fudge for you, you can store it in the fridge in an air-tight container.
This will make it melt a little faster, but you are just going to be taking it out when you want to eat it, so it shouldn't be too bad!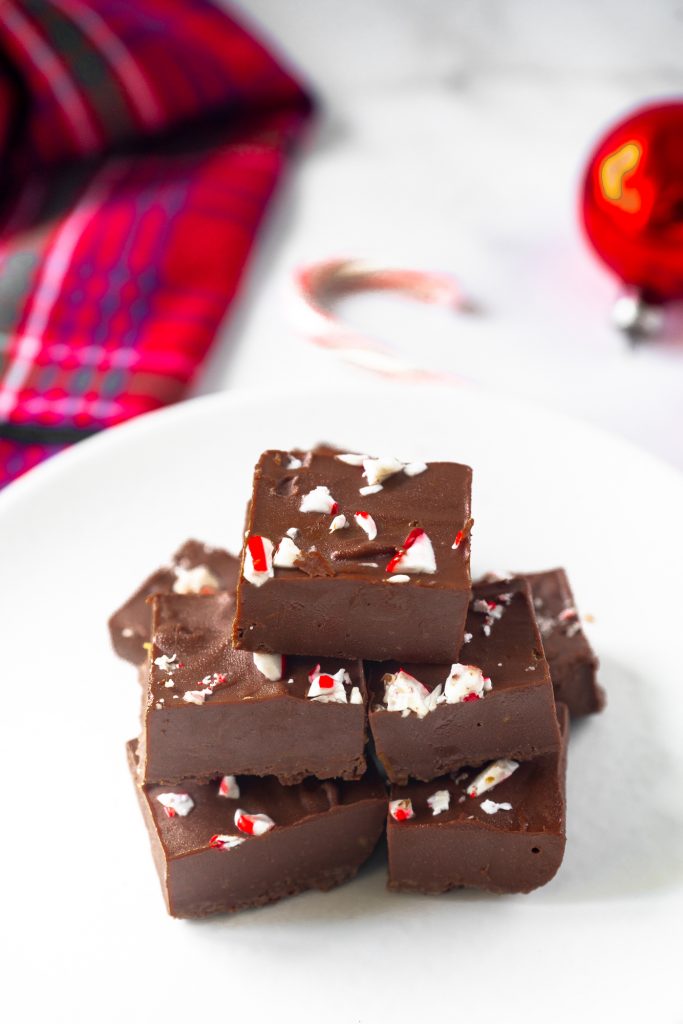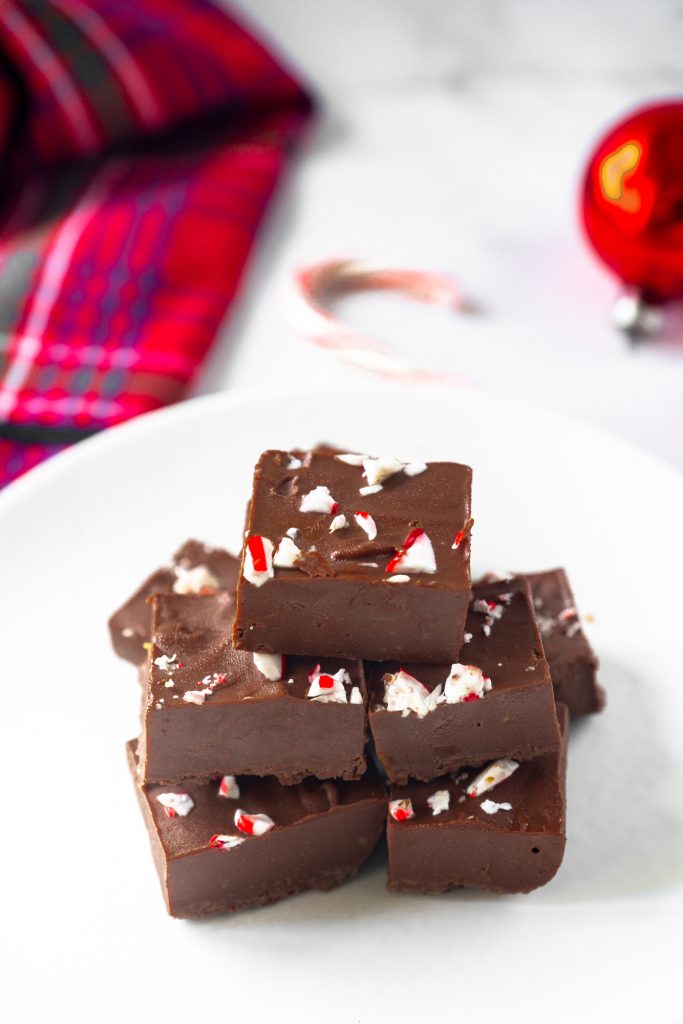 Did You Try This Recipe?
If so, I would love to keep in touch! I enjoy seeing photos and comments about the recipes that you make! You can follow me on Instagram and I will repost your goodies in my stories and comment on it too! Just tag me at @wowitsveggie and hashtag #wowitsveggie. I can't wait to see what you make!
Yield: 14 Medium Squares
3-Ingredient Vegan Peppermint Fudge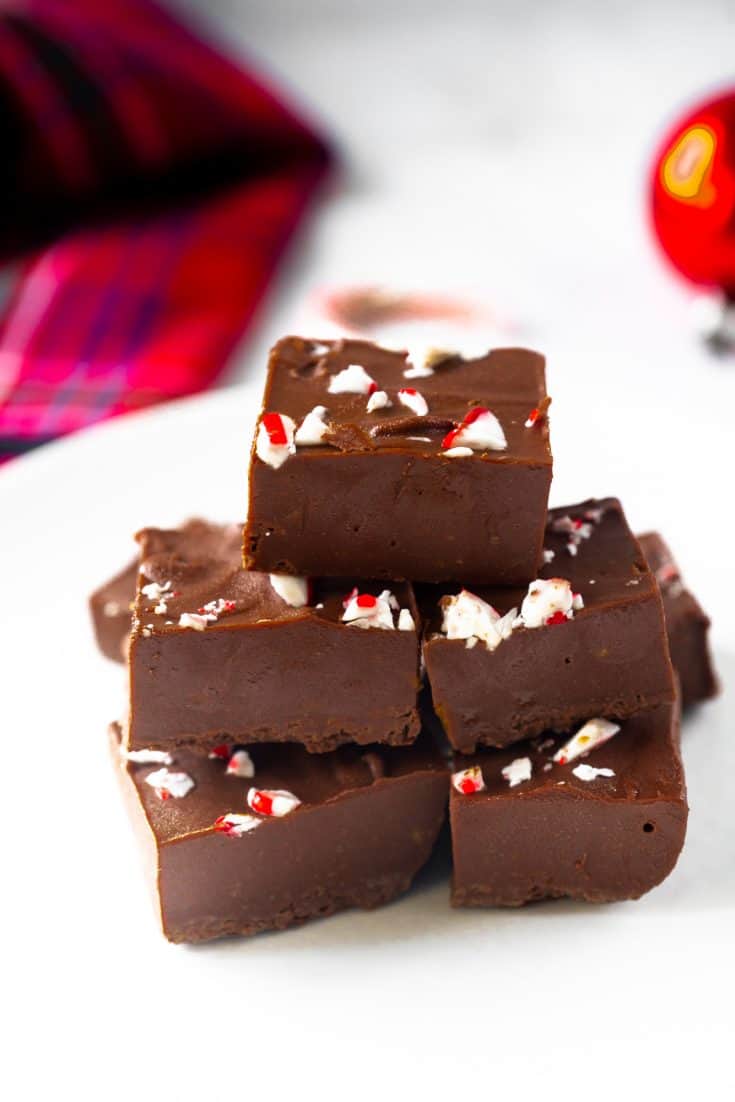 This vegan peppermint fudge uses just 3 ingredients and 5 minutes of your time to make! It combines velvety chocolate, indulgent peanut butter or the nut butter of your choice, and peppermint extract for the perfect flavor. Don't just eat it around the holidays, it is simply that yummy!
This recipe can also be made keto by subbing chocolate chips for Lily's Keto Chocolate Chips
Ingredients
1 twelve-ounce package vegan chocolate chips [about 1 3/4 cups]
3/4 cup nut or seed butter of your choice [I love using peanut butter]
2 teaspoons peppermint extract for baking
Optional: crushed candy canes for garnish
Instructions
Line a bread pan or other small dish with parchment paper. You want to use a small dish and not an 8x8 so that the vegan peppermint fudge can form in a smaller container and be tall and thick instead of shorter and thin.
In a small saucepan on medium heat, melt the chocolate chips and nut butter until combined and smooth. When melting chocolate on the stove, be sure to stir it constantly so that it doesn't burn or seize up. Alternatively, you can melt the chocolate and nut butter in the microwave at 20-30 second increments, stirring between. I prefer heating on the stove!
Once the vegan chocolate chips and peanut butter are melted, remove from heat and stir in Peppermint Extract For Baking. I prefer Frontier Brand!
Pour the peppermint fudge mixture into the parchment-lined dish. Use a spatula to smooth out the top.
If you are using candy canes, put them in a plastic bag and use a rolling pin or metal spoon to crush them into large pieces. While the mixture is still soft, sprinkle them onto the top of the fudge.
Chill the vegan peppermint fudge in the freezer until hard, usually around 60-70 minutes.
To serve, use the parchment paper to remove the fudge from the bread pan. Use a sharp knife to cut into small squares. Serve immediately or store in the freezer until you are ready!
Nutrition Information
Yield
14
Serving Size
1
Amount Per Serving
Calories

121
Total Fat

10g
Saturated Fat

5g
Trans Fat

0g
Unsaturated Fat

6g
Cholesterol

2mg
Sodium

30mg
Carbohydrates

18g
Fiber

2g
Sugar

3 gramsg
Protein

2g