If you are looking for the the best and easiest vegan pecan pie recipe, you have come to the right place!
Making pecan pie vegan is actually way easier than you think and I am going to show you how.
My Dad was a HUGE pecan pie lover before his death, but the least vegan person I know. I wanted to try a vegan pecan pie recipe to see his thoughts. I also never use corn syrup in cooking so that was out too.
This is truly an easy pecan pie without corn syrup and the results are so tasty.
The results: Dad LOVED it and doesn't understand why everyone else doesn't make it without corn syrup too! [his words not mine!]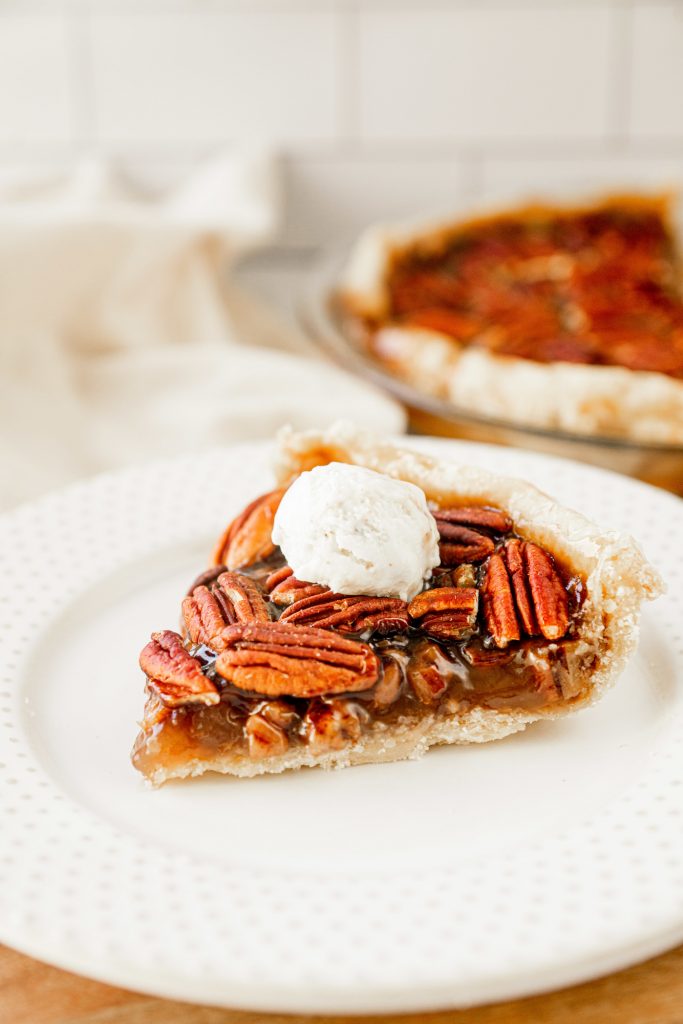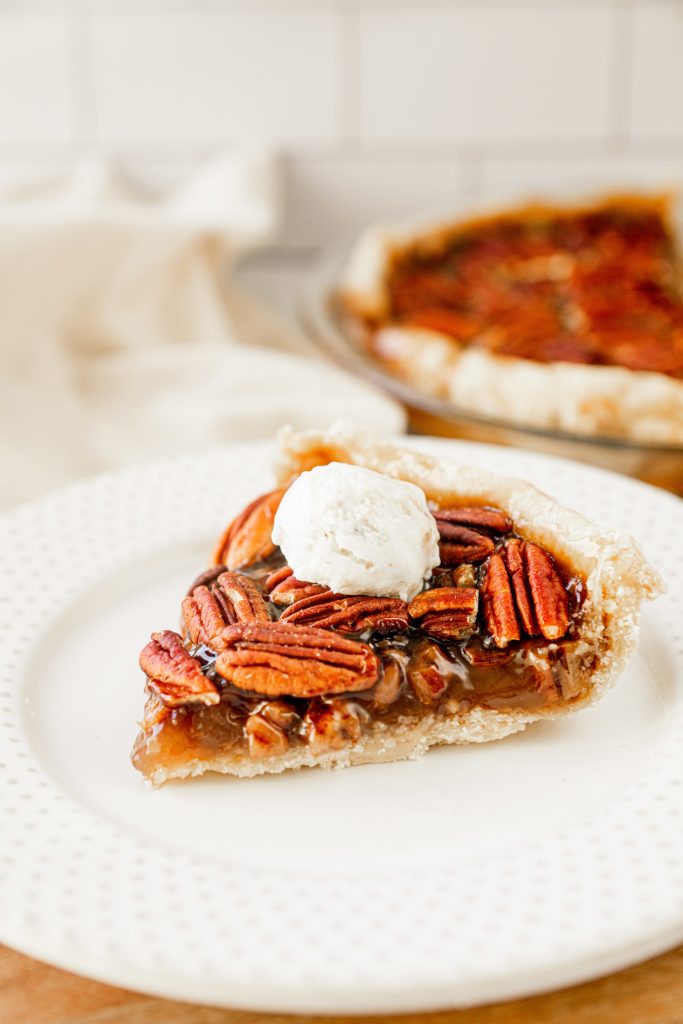 This is a super rich and eggless pecan pie that has all the best flavors of fall.
If you are a beginner at making pecan pie vegan, don't be worried. There are a few steps, but at the end of the day it is quite an easy and simple process.
You are going to use any pie crust recipe that you like, I recommend my 4-Ingredient Vegan Pie Crust because it is super easy to make.
In order for the healthy vegan pecan pie to come out correctly, you are going to have to pre-bake the crust which is nothing more than popping the pie dough in the oven [in the pan] for about 10 minutes.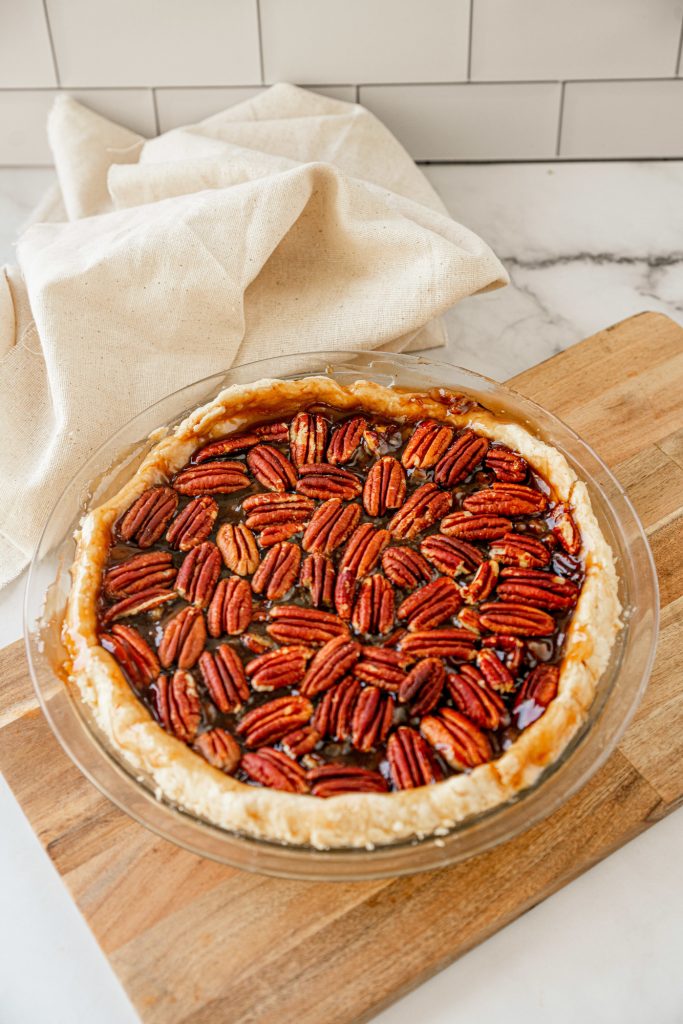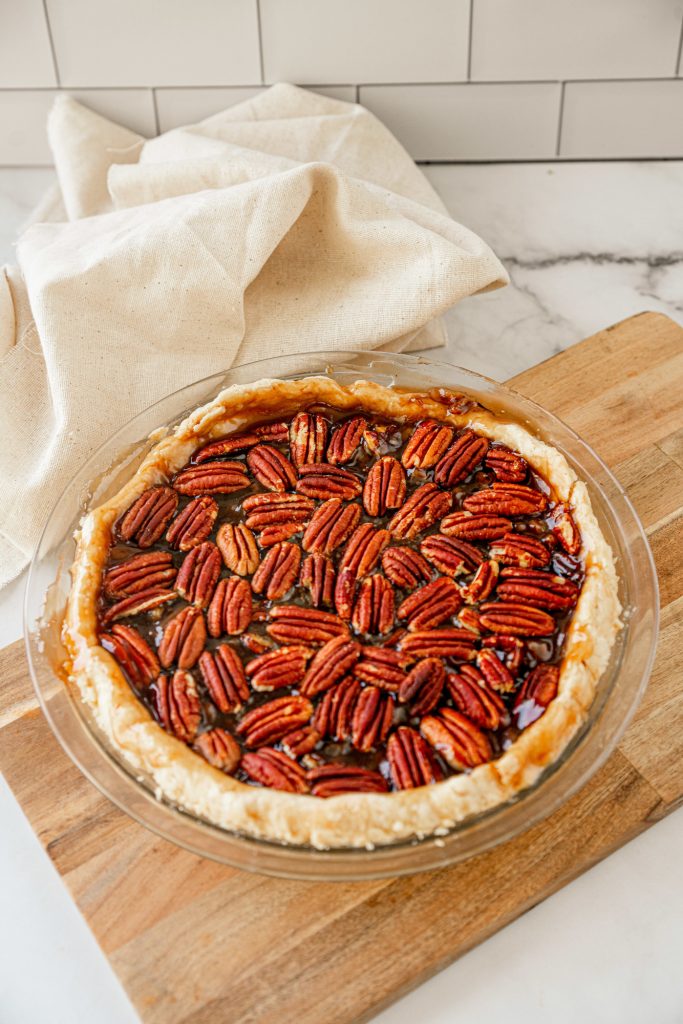 Since pecan pie is a "wet" pie, you won't get a flaky golden-brown crust without pre-baking it.
This is an additional step but it is so super simple and easy. You can use the time while the pie crust is baking to prepare your pie crust ingredients.
A lot of eggless pecan pie recipes call for toasting your pecans. This is not necessary at all in order to get a delicious flavor and I am all about the speed.
Store-bought pecan halves are totally fine just as they are. The top of the pie will brown naturally during the baking process.
Finally, you are going to want to top your easy vegan pecan pie recipe with either whipped cream of vanilla ice cream.
This is the absolutely perfect dessert to finish off your Vegan Thanksgiving Dinner! It will be the real star of your dessert table for any holiday function.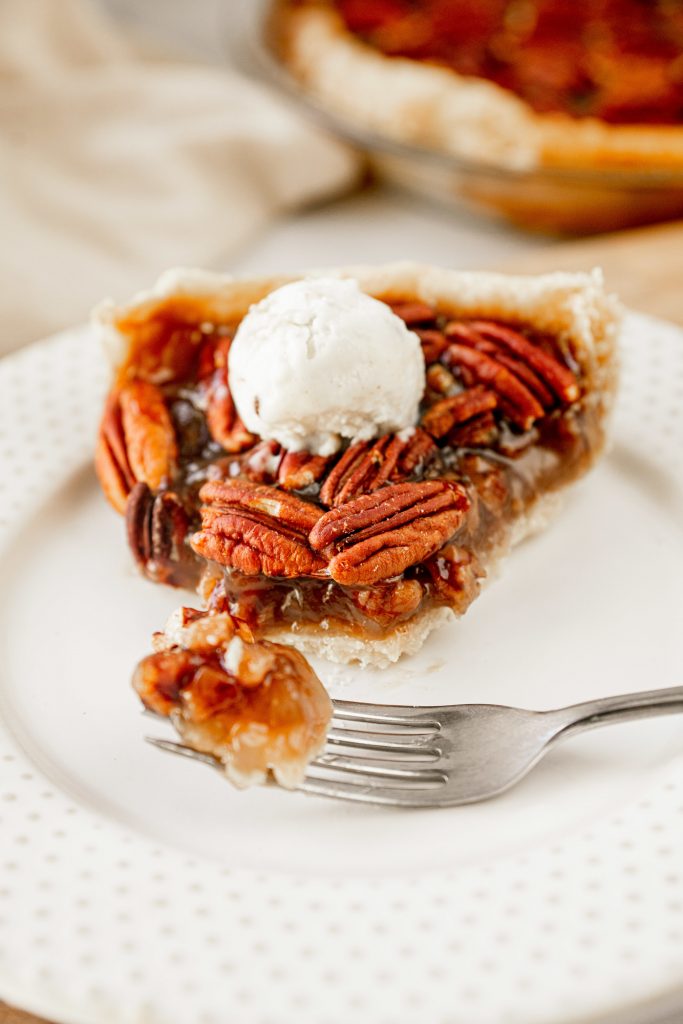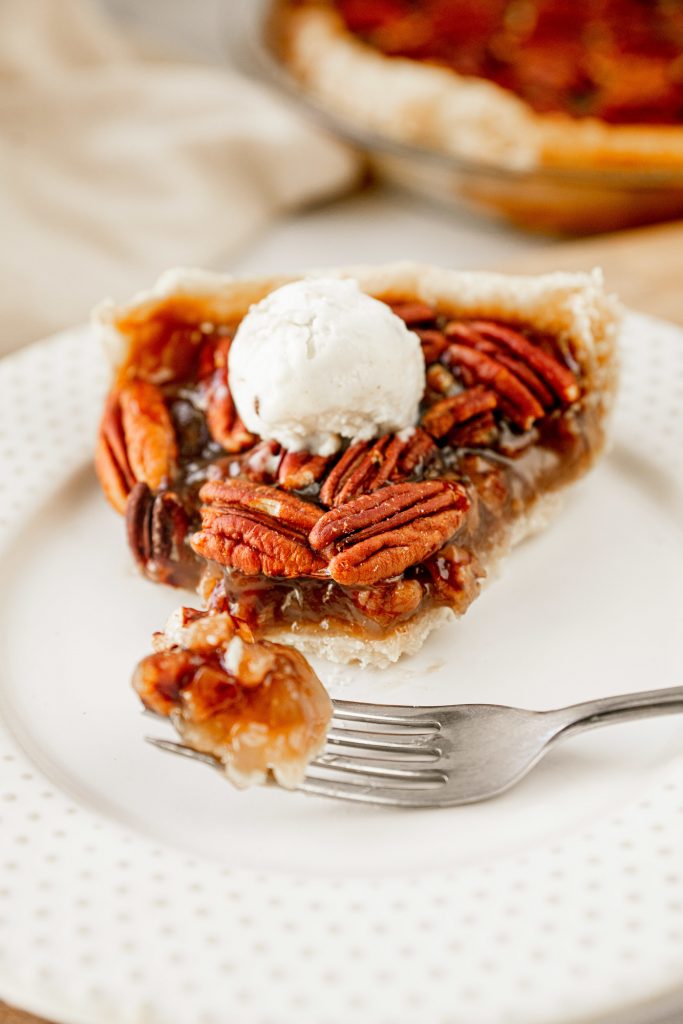 Why You Will Love This Vegan Pecan Pie
Pecan Pie with no corn syrup! Making pecan pie vegan at home means you can do it any way you want. I show you how to make pecan pie with no corn syrup and it still tastes amazing, maybe even better than the normal way.
Showstopping dessert for any holiday. This eggless pecan pie is the perfect showstopping dessert for any holiday. It will wow a crowd and people will wonder how you made a pecan pie recipe vegan.
No added sugar. Would you believe me if I told you that you can make vegan pecan pie without sugar? This recipe only uses maple syrup for sweetener and the result is amazing. I recommend using high-quality pure maple syrup.
Healthier than the store-bought kind. This isn't medical advice, but even if you find vegan pecan pie from the store, it will probably have a lot of additives in it to make it shelf-stable. This no corn syrup pecan pie allows you to choose what ingredients you add and what you leave out!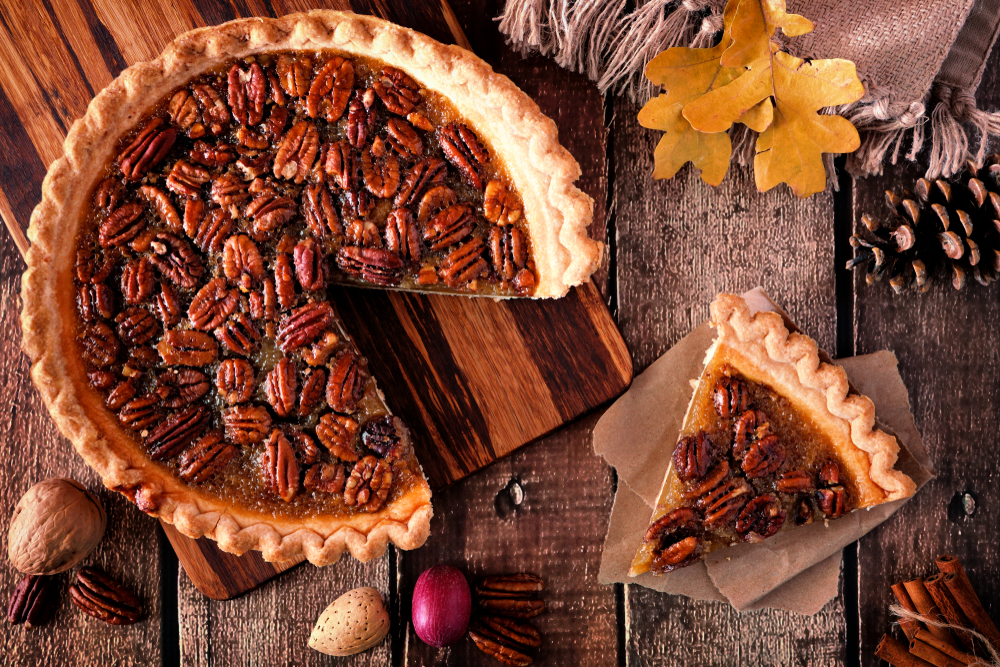 Is Pecan Pie Vegan?
This pecan pie is vegan, but 99.9% the majority of other pecan pies you will see at the store or restaurant will not be.
This is because they will use animal products such as eggs for the filling and lard or butter for the pie crust. This eggless pecan pie will still taste so amazing you won't know the difference.
There is absolutely no reason to use lard/butter for a pie crust and my easy vegan pie crust recipe proves that!
And I don't even know where or why you would need eggs to make this delicious pecan pie filling.
Neither of these ingredients are necessary in order to make a delicious eggless pecan pie, perfect for any season!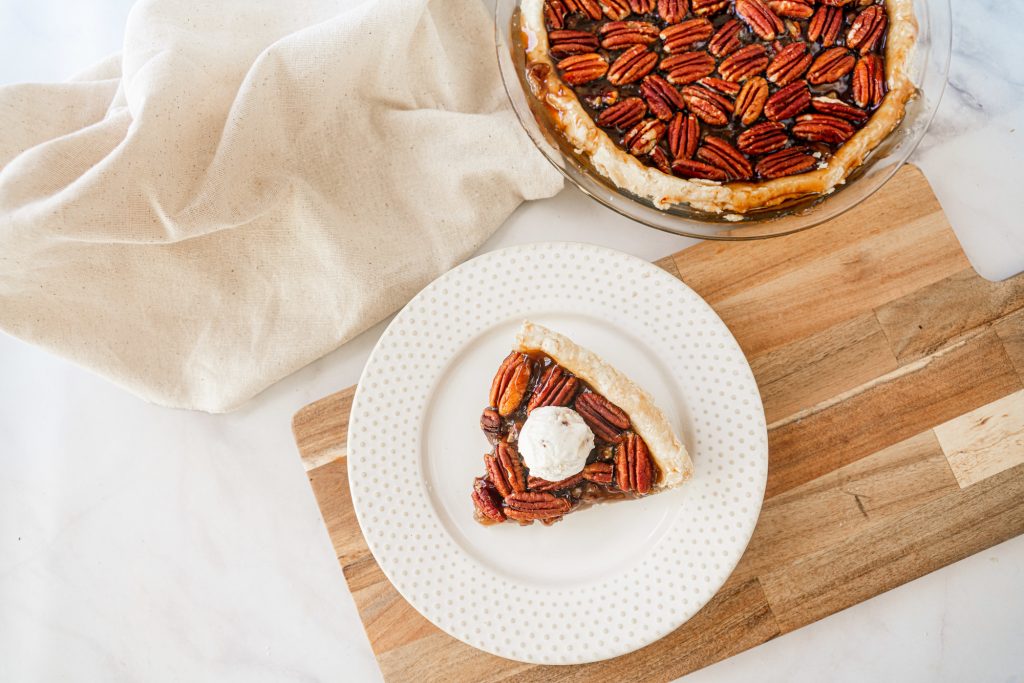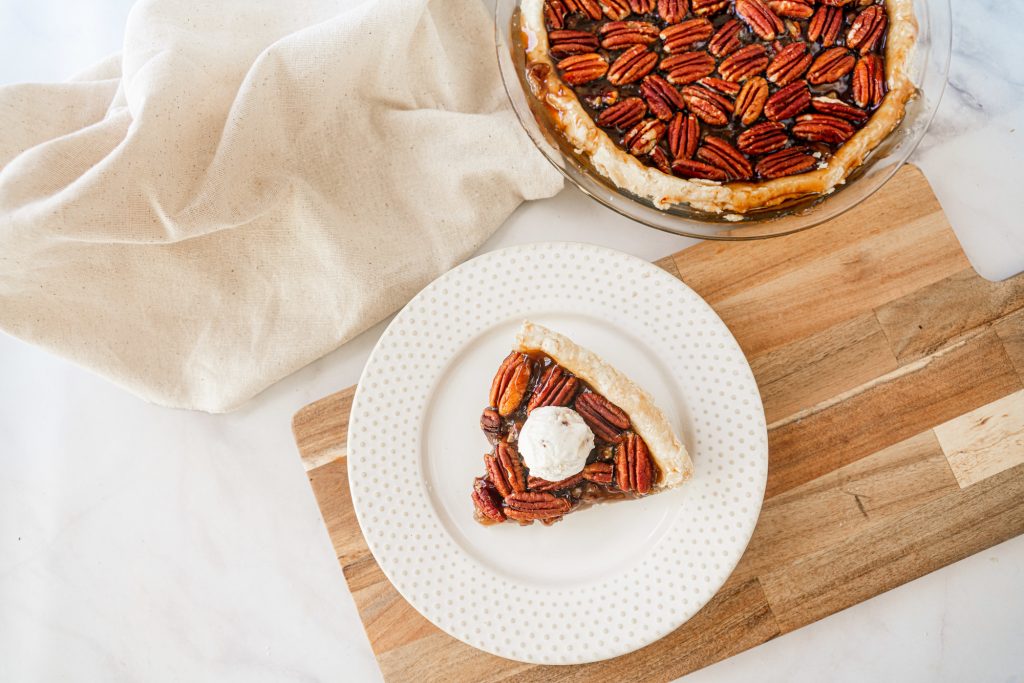 Corn Syrup Substitutions
So, this is a no corn syrup pecan pie so what do I use instead?
Maple syrup of course!
This is why my Dad loved pecan pie without corn syrup! Because the maple syrup added to the fall flavor and really enhanced the taste of the pie.
Since you use maple syrup for this recipe, there is no added sugar beyond what is naturally in the maple syrup.
This is why I recommend choosing a very high quality maple syrup, and not just a crappy cheap store brand kind.
You want a really nice and smooth flavor and maple syrup provides that even better than corn syrup does.
You can also choose to use brown rice syrup or honey [if you eat it] but you will have to sub in brown sugar in order to make the pie sweeter.
You really can't go wrong by using maple syrup in a no karo syrup pecan pie!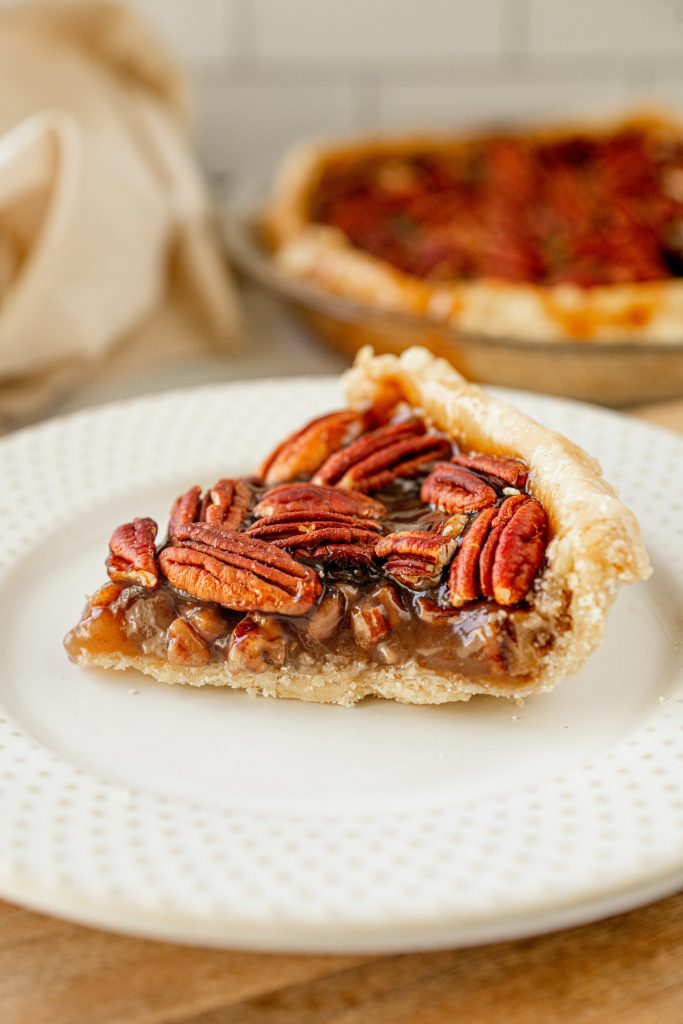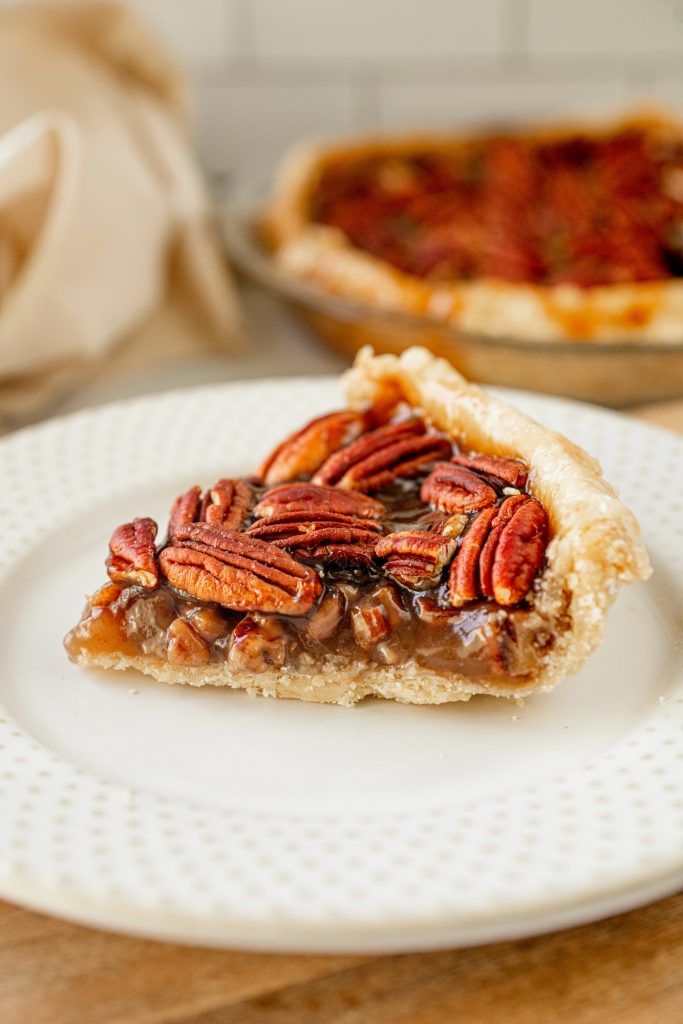 How To Make Pecan Pie Vegan
As I said above, making pecan pie vegan is pretty easy, it just takes a few steps!
First, you are going to want to make your vegan pie crust and pop it in the oven on 400F for about 10 minutes until the pie crust is golden.
My pie crust recipe is just 4-ingredients and there is no rest/rising period which makes it perfect for this pecan pie base.
To make the vegan pecan pie filling, you are going to combine cornstarch and water and set it aside. This is essentially your thickening agent and it will help bind the filling together.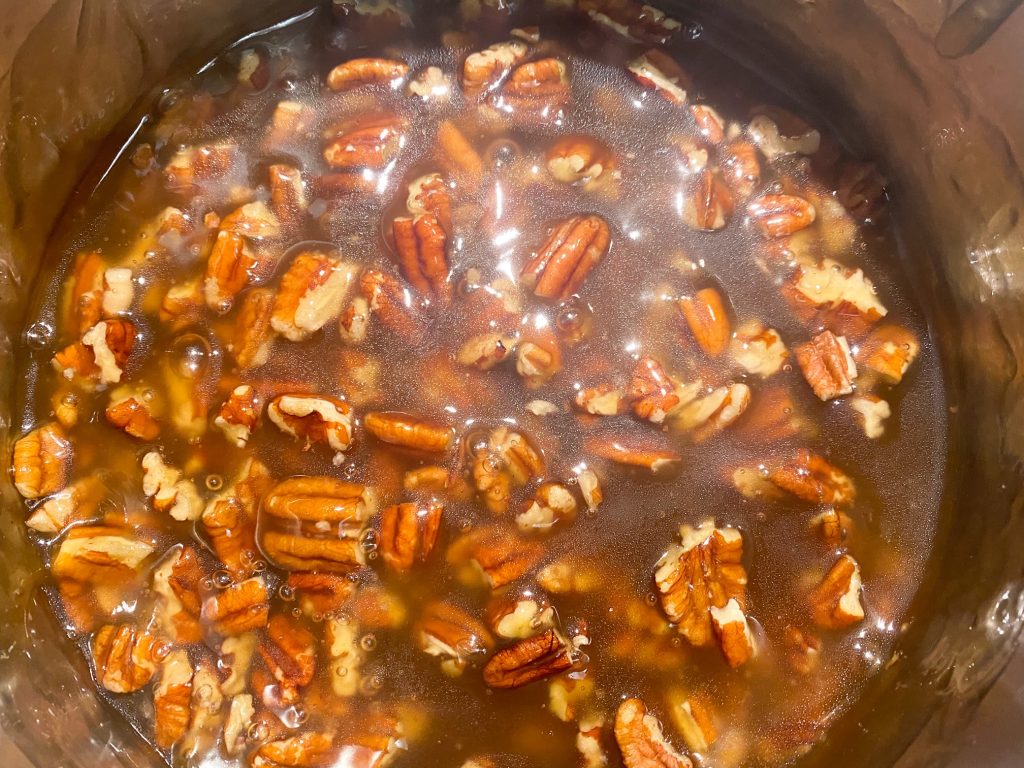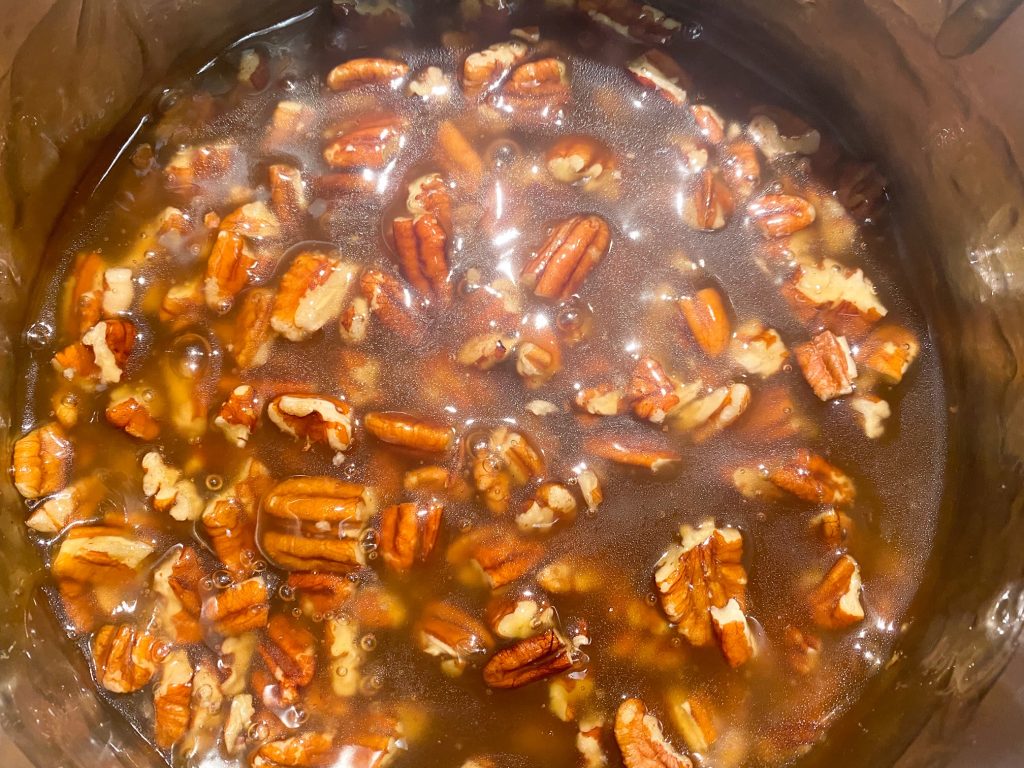 Next, in a medium saucepan, you will combine water and maple syrup and bring it to a boil over high heat. This will be the base for your no corn syrup pecan pie.
You will boil the mixture for 5 minutes and it should be a good rolling boil. Make sure to whisk during this time.
Then add your salt and the cornstarch mixture and continue to whisk.
Keep stirring and cook the eggless pecan pie filling over high heat until the mixture thickens and becomes clear.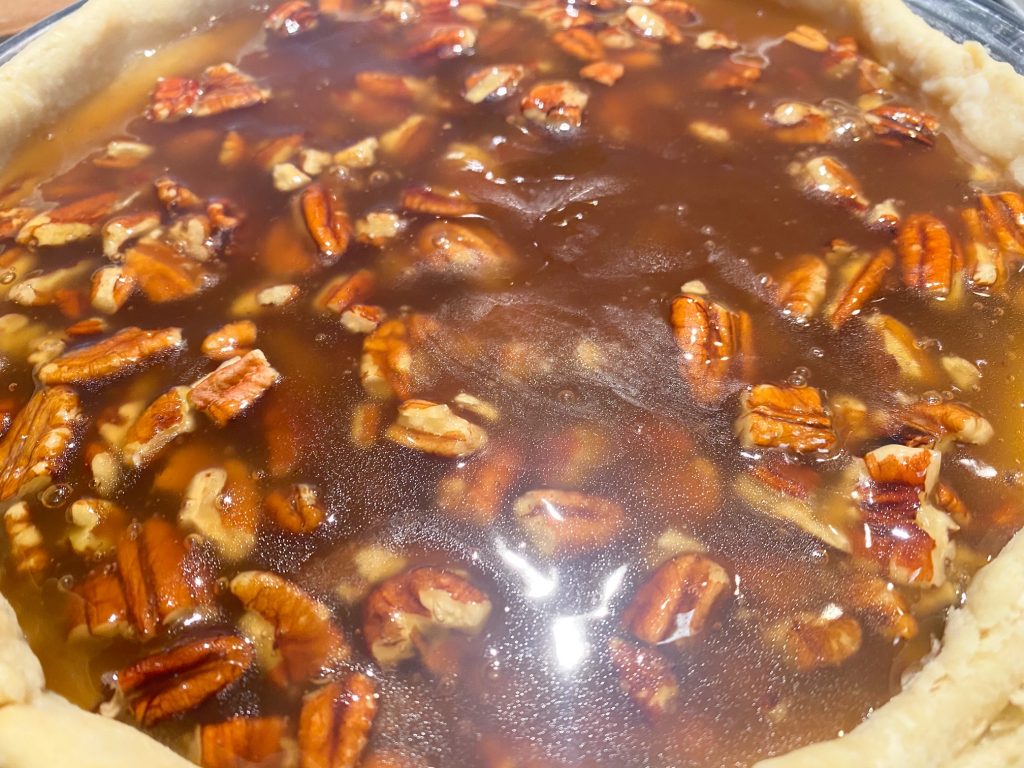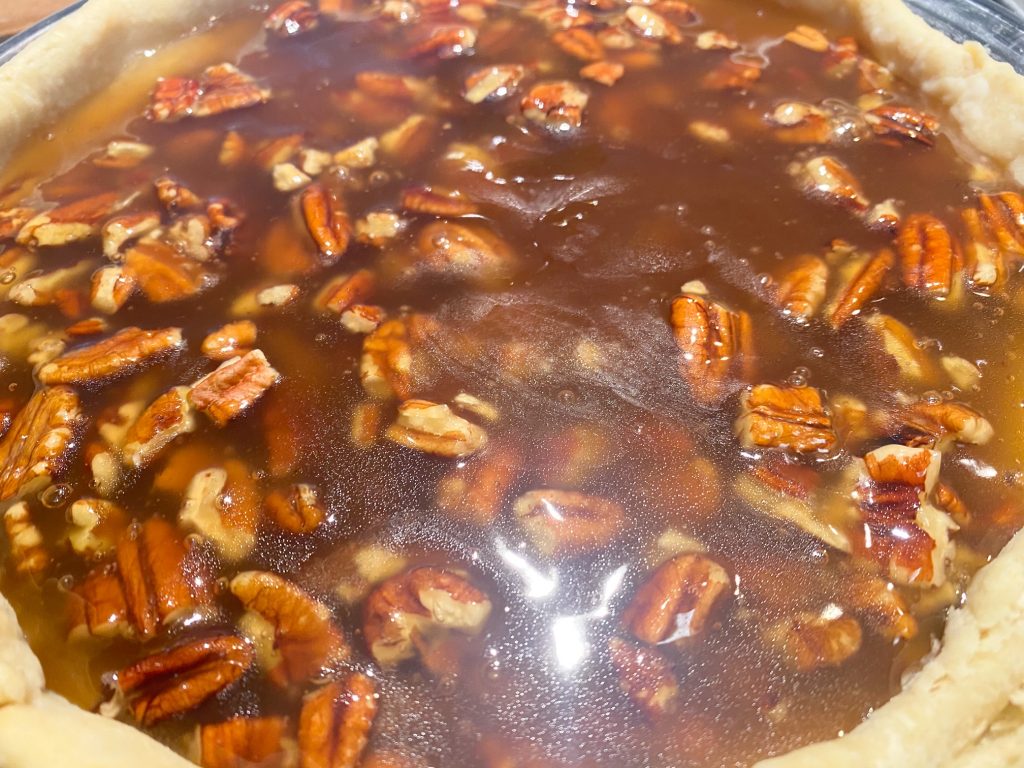 I know that this is really weird but it will become more clear than it originally was. You can easily see the change so just wait for that.
If you don't see the change or can't tell as much, just make sure the mixture is thickened, like a really thick sauce.
Remove the filling from the heat and add in your vanilla, margarine or Vegan Butter and 1 cup of chopped pecans.
Stir until combined and the chopped pecans are mixed throughout the filling.
At this point, your vegan pie crust will be done pre-baking in the oven.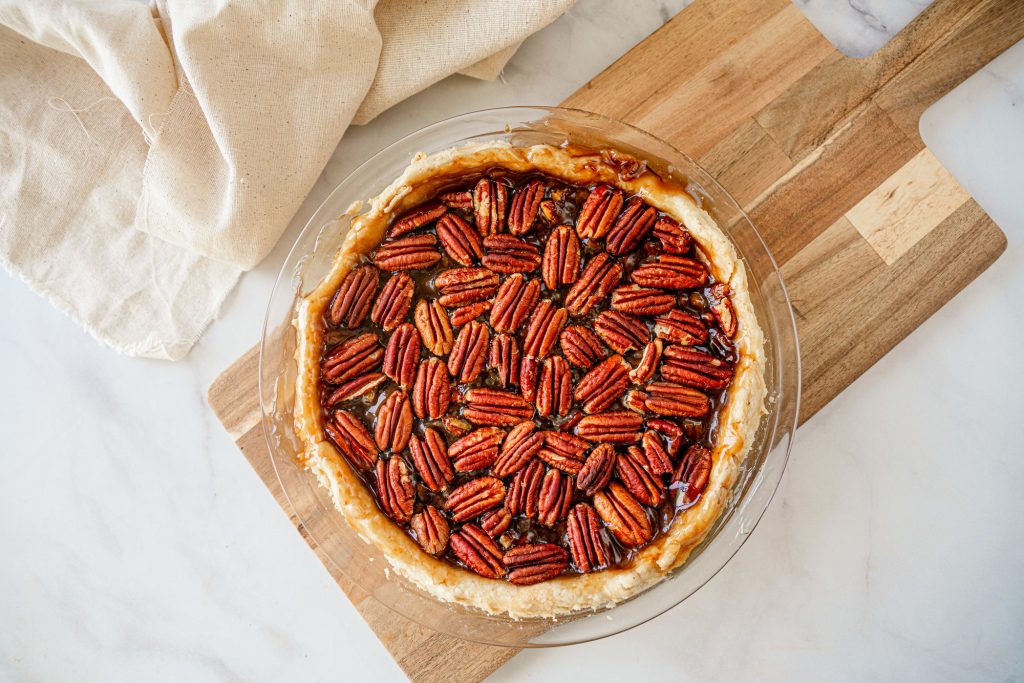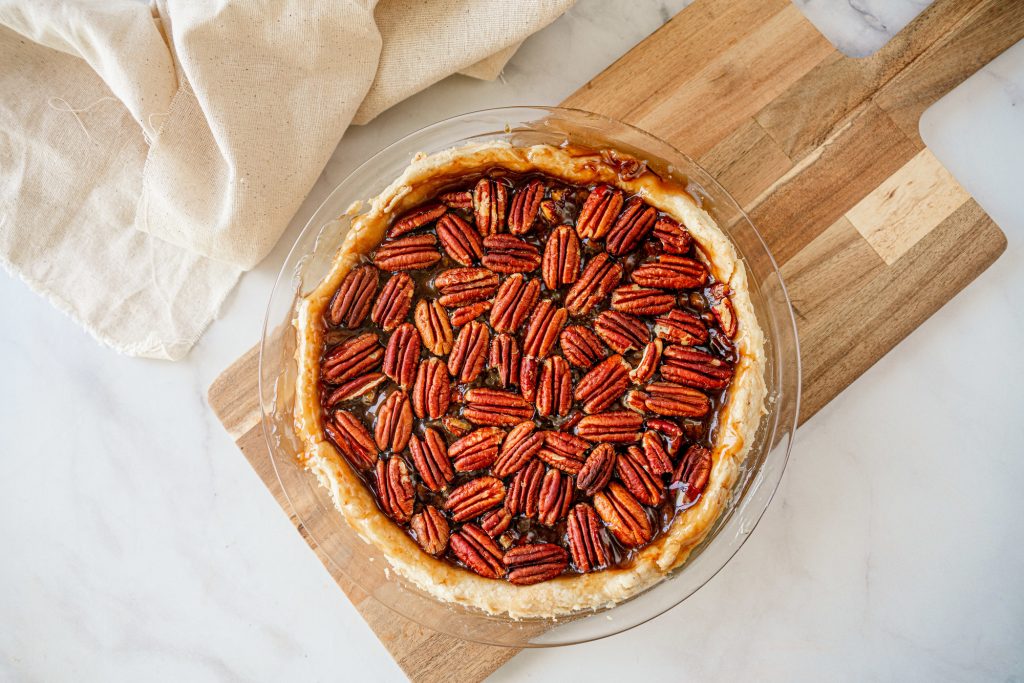 Take it out of the oven and reduce the heat in the oven from 400F down to 350F.
Once the Vegan Butter is melted in your pecan pie filling, go ahead and pour the filing into the pre-baked crust.
Now comes the fun part! If you have kids, enlist them to help because this is the best part.
Take the remaining 1 cup of pecans and arrange them on top of the pie. Just gently set the pecans, no need to press super hard or anything.
I suggest 1 cup of chopped pecans in the pie and 1 cup of pecan halves for the top, but you can modify based on how large your pie is. You may need more pecan halves for the top or less, depending on the size of your plate.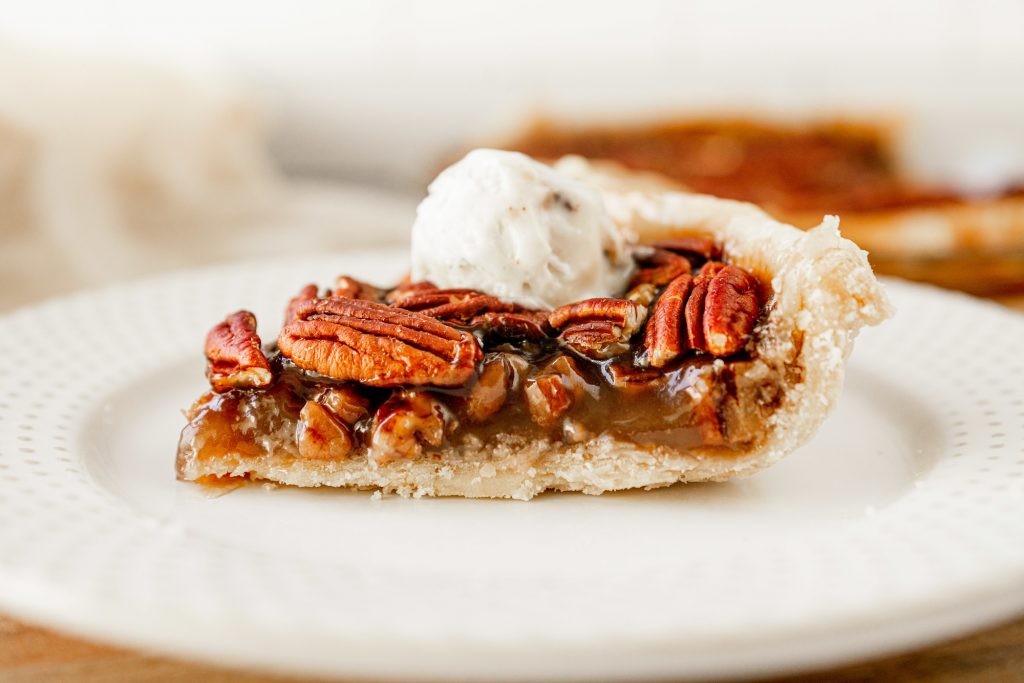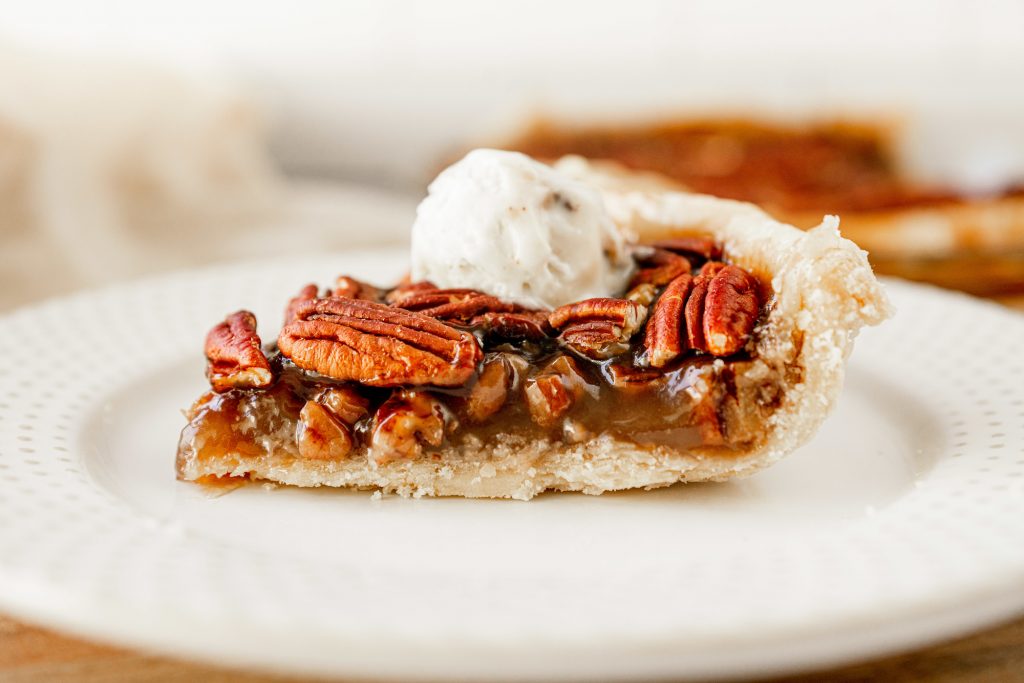 I try to NOT make the pecans uniform as this ends up looking better and prettier once the healthy pecan pie is done!
Bake the pie for 30 minutes and then cool on a cooling rack on your counter for about 1 hour.
You will see that the center will start to firm up during cooking and will continue to firm up during the cooling process.
After 1-2 hours on the counter, put the vegan pecan pie in the fridge to cool until chilled. It will really start to firm up in the fridge!
Serve topped with vegan ice cream or whipped cream of your choice.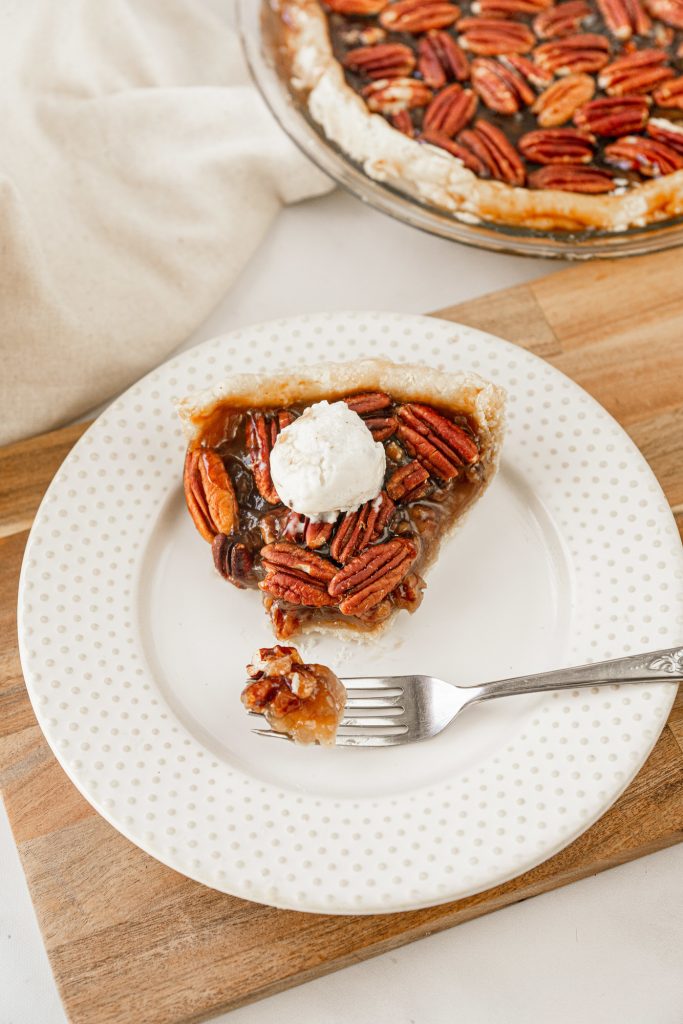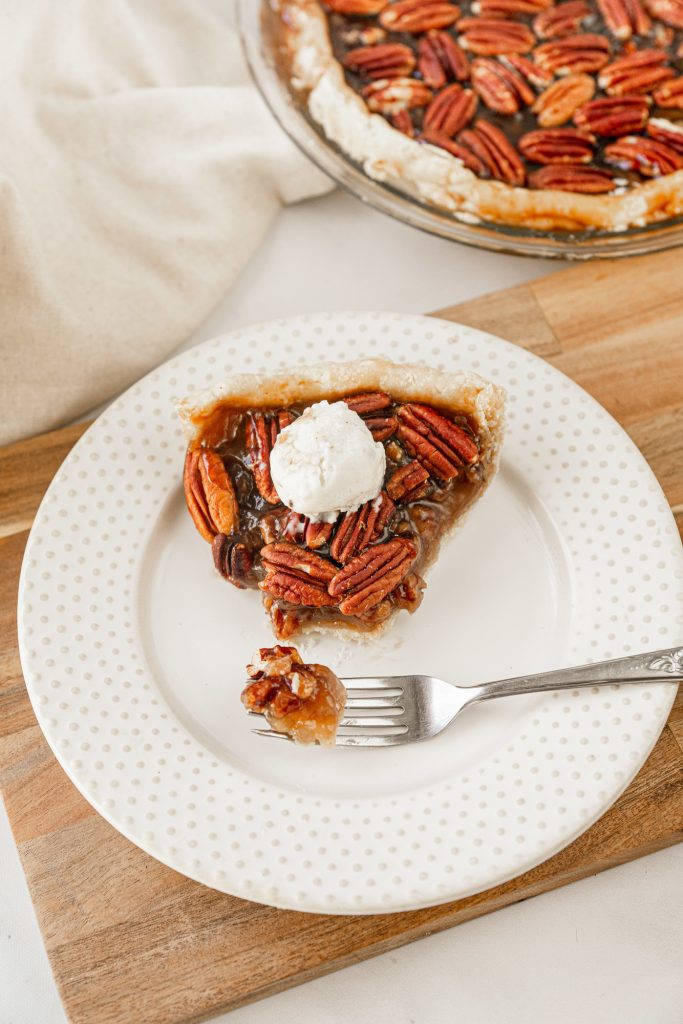 Storing And Making Healthy Pecan Pie Ahead Of Time
You can easily make this no corn syrup pecan pie ahead of your big day! Just pop it in a plastic baggie in the fridge for 1-3 days before serving!
Then, in order to store, I recommend keeping it in the plastic bag and eating within 2-4 days after baking.
The vegan pecan pie will store well in individual containers, but you can't really stack the slices so it won't fare too well in a plastic container with all the slices in one spot.
This pie is best served cold, so no need to reheat!
I love making the vegan pecan pie ahead of thanksgiving so there is one less thing to do. Store it in the back of your fridge and pop it out when it is dessert time.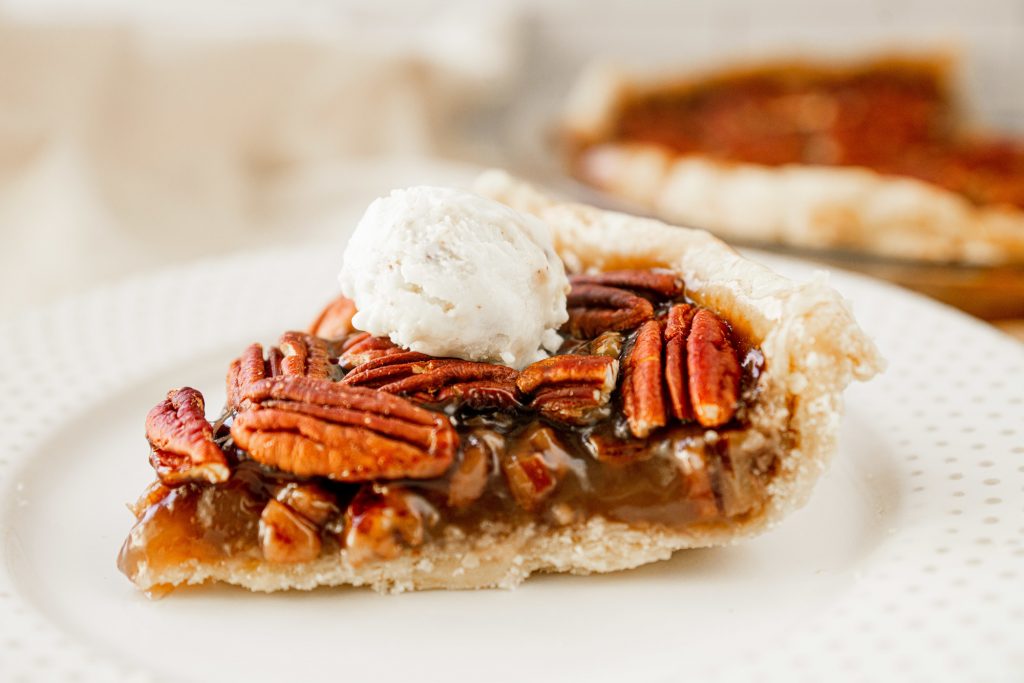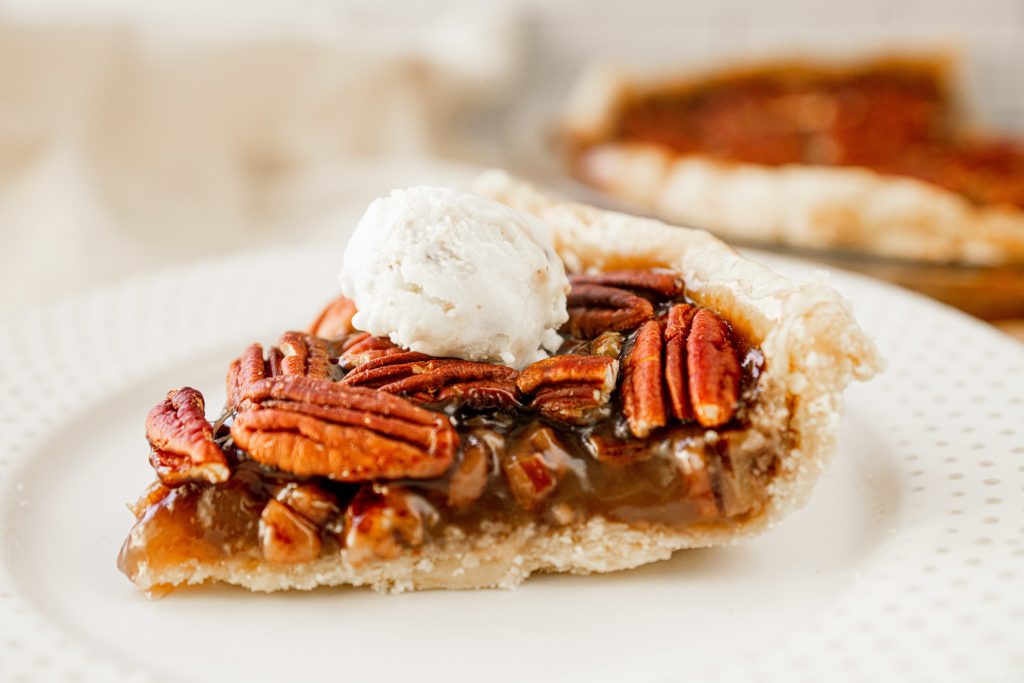 Did You Try This Recipe?
If so, I would love to keep in touch! I enjoy seeing photos and comments about the recipes that you make! You can follow me on Instagram and I will repost your goodies in my stories and comment on it too! Just tag me at @wowitsveggie and hashtag #wowitsveggie. I can't wait to see what you make!
Yield: 8 Servings
Classic Vegan Pecan Pie Recipe (No Corn Syrup!)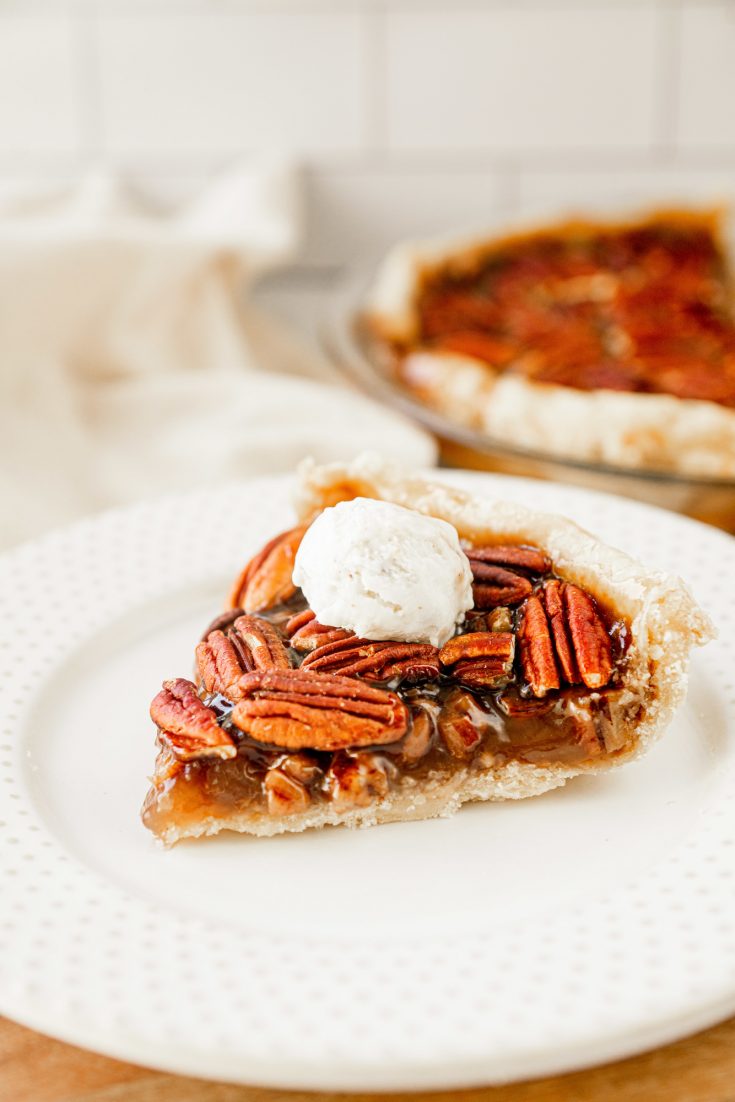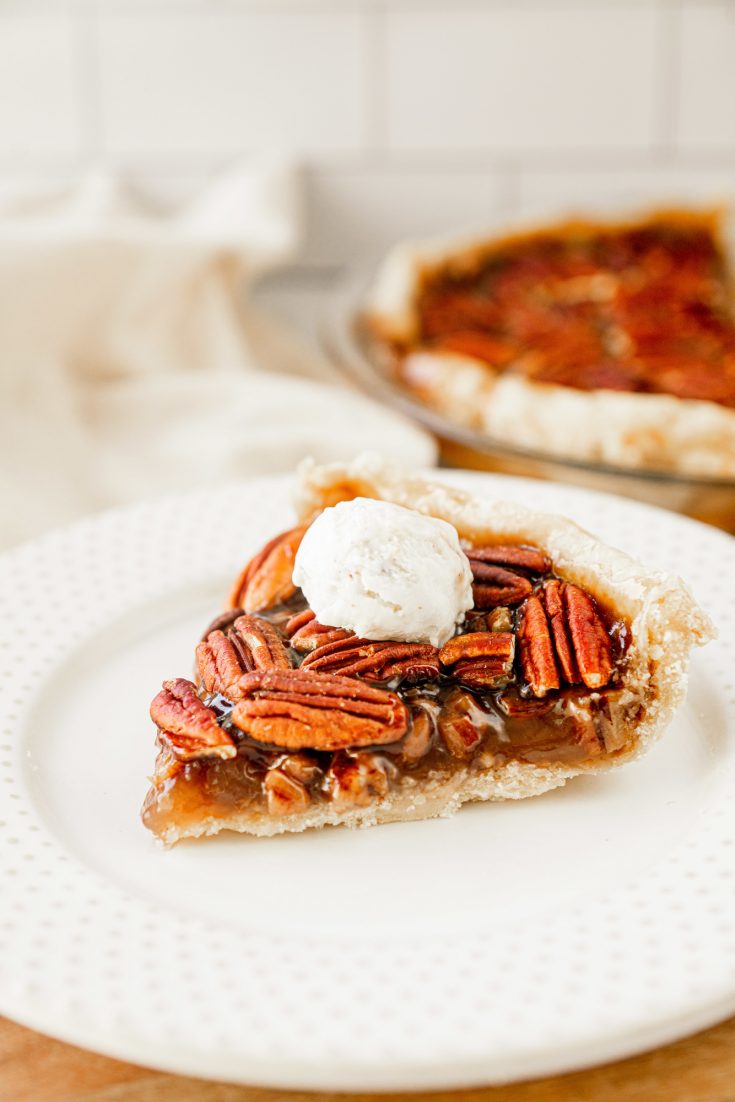 This vegan pecan pie recipe is super-rich and nutty! It doesn't use any corn syrup, but instead uses maple syrup which adds to the delicious fall flavor. There are a few steps, but this pecan pie is so easy to make and it will be the star of your dessert table.
Ingredients
1 9-inch Vegan Pie Crust (see my recipe!)
3 tablespoons cornstarch or arrowroot
1 cup water
1 1/4 cup pure maple syrup
1/2 teaspoon salt
2 tablespoons vegan margarine or butter
1 teaspoon vanilla extract
1 cup pecans chopped
1 cup pecan halves
Instructions
Preheat oven to 400F
Make my 4-Ingredient Vegan Pie Crust or the vegan pie crust recipe of your choice. Prick the bottom of the pie crust with a fork. Now you are going to prebake the crust. On a 400F oven, bake the pie crust until golden, about 10 minutes. Take the pie crust out and set aside.
Reduce oven temperature to 350F. Now make the pecan pie filling.
In a small bowl, combine cornstarch or arrowroot and 1/4 cup of water and set aside.
In a medium saucepan, add the remaining 3/4 cup of water and maple syrup and bring to a boil on high heat for 5 minutes. Then add salt and the cornstarch mixture and stir vigorously until the mixture thickens and becomes clear. This will happen pretty quickly and there is a noticeable change in texture and thickness.
Remove the mixture from heat and stir in the vegan butter, vanilla, and 1 cup of the pecans which should be chopped into small pieces. Stir until combined.
Pour the pecan pie filling into the prebaked crust. Arrange the other 1 cup of pecans [or as many as you need to fill the top of the pie] by laying them gently on top of the pie. I suggest NOT trying to stick to a uniform design for a better look.
Bake for 30 minutes.
Cool on your counter for 1-2 hours and then move the pie to the fridge to cool until fully chilled. The pie will firm up more and more during the entire cooling process.
Serve topped with vegan whipped cream or vanilla ice cream and enjoy!
Nutrition Information
Yield
8
Serving Size
1
Amount Per Serving
Calories

347
Total Fat

29g
Saturated Fat

5g
Trans Fat

1g
Unsaturated Fat

22g
Cholesterol

4mg
Sodium

245mg
Carbohydrates

53g
Fiber

3g
Sugar

32g
Protein

4g