Are you ready to try the best and easiest vegan eggnog recipe ever?
Making an eggnog recipe vegan is surprisingly easy and I am going to show you how right in this recipe.
My mom has been vegan for decades and eggnog is one of her favorite drinks.
Of course, brands like Silk do make dairy-free eggnog during the holidays, but they are loaded with a ton of bad ingredients. My mom usually buys this but sparingly.
I wanted to make her a vegan eggnog recipe that is quick and easy and also warming and delicious. It takes less than 5 minutes to whip up.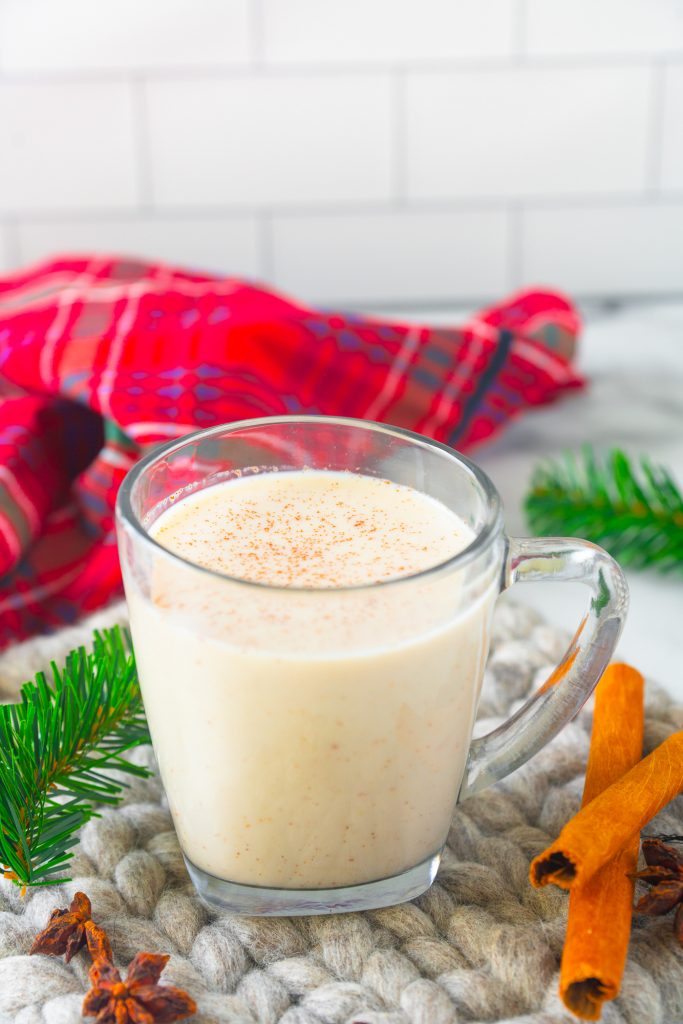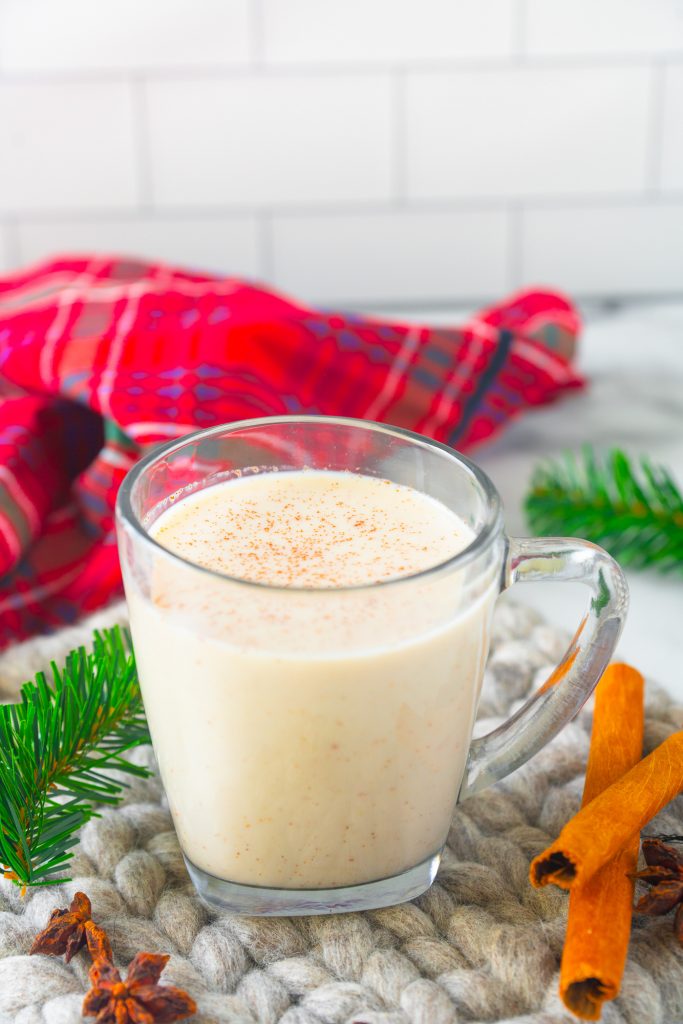 If you are making regular eggnog, it is actually kind of difficult and picky to make and requires quite a few steps. Who has time for that anyway? Not me! That is why I suggest making eggnog vegan at home.
I also know that a lot of vegan eggnog recipes use blended nuts and wanted to offer a nut-free alternative as I know not everyone can use nuts.
This dairy-free eggnog uses no eggs at all and contains no animal products.
The best part about this recipe is that you can sweeten and spice it to your tastes.
I start you off with the number of spices and sweeteners that I think works for the perfectly flavored dairy-free eggnog.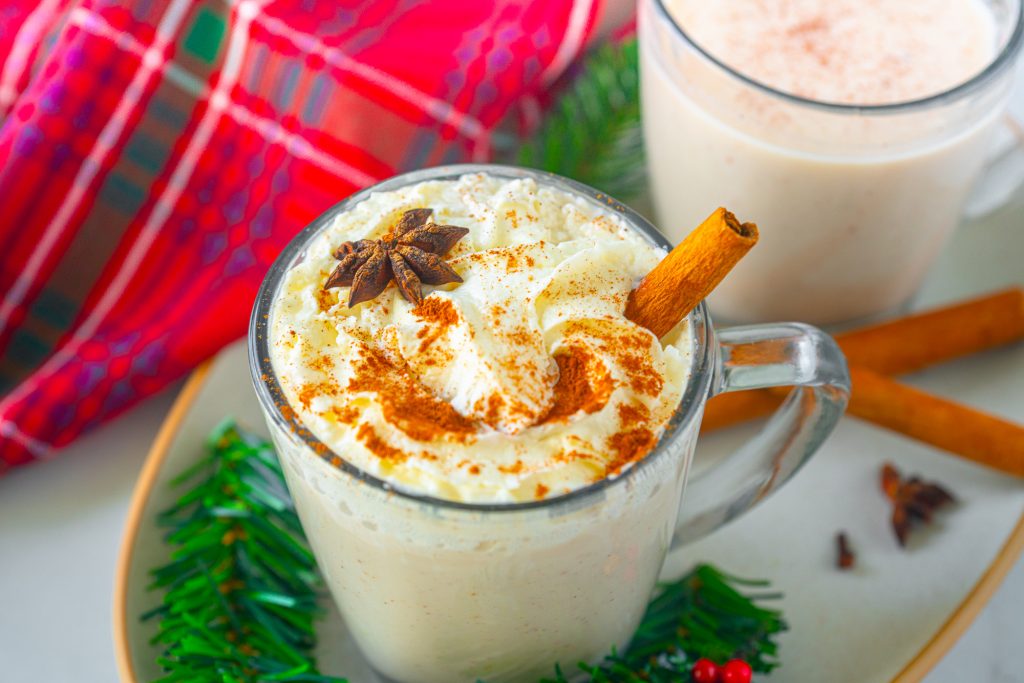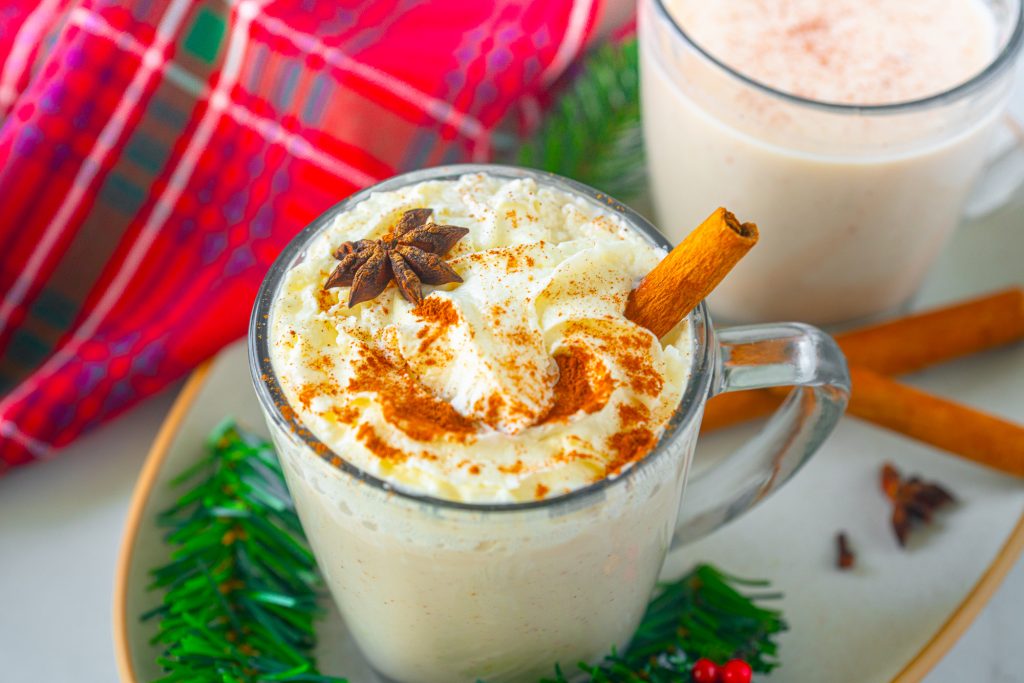 But everyone is different! I prefer a sweeter drink while my Mom is trying to lay off the sugar.
As a result, you can add more sugar 1 tablespoon at a time depending on your tastes.
Make this vegan eggnog recipe as a big batch and serve it at your next party along with some yummy Vegan Christmas Cookies.
I love dunking my Vegan Biscotti into it, but maybe I am just weird!
I hope you enjoy making this non-dairy eggnog as much as my Mom and I enjoy it!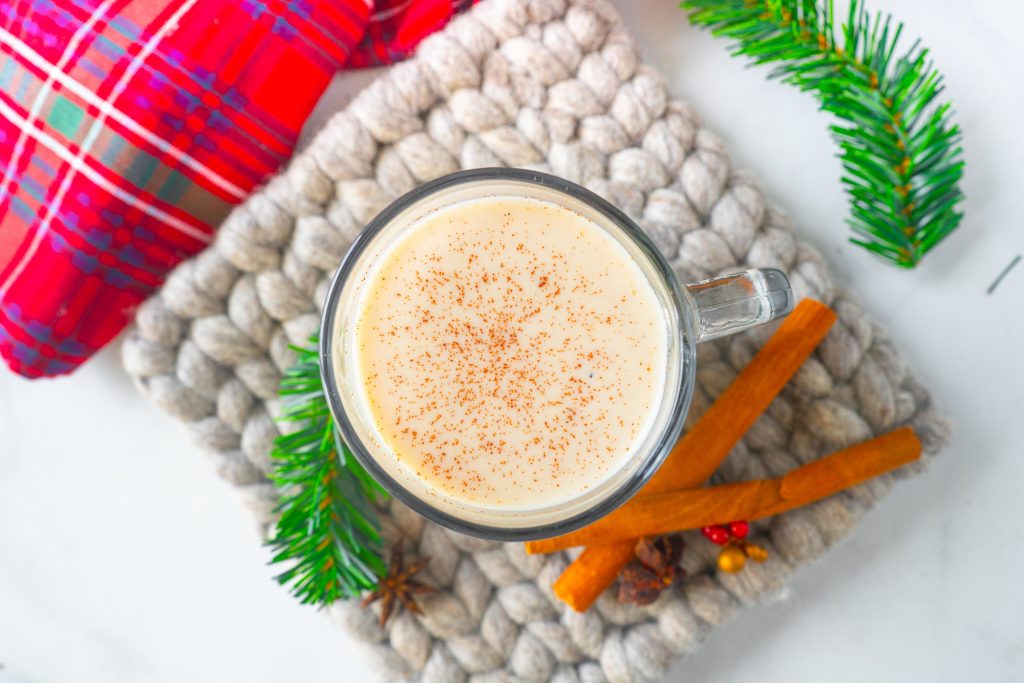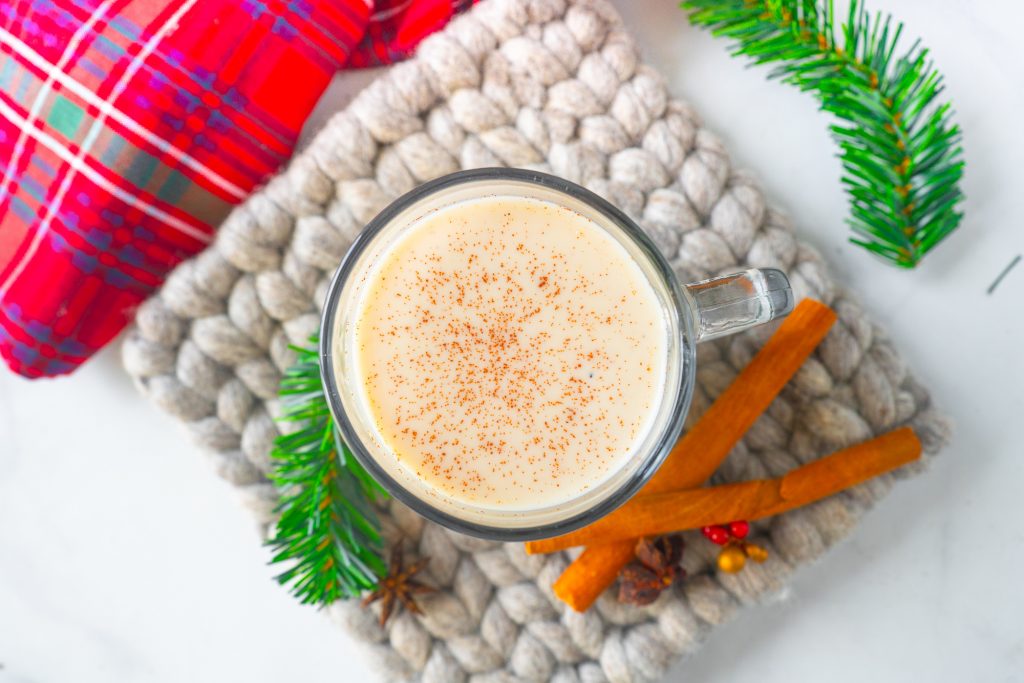 Why You Will Love This Easy Vegan Eggnog
It is super quick to make! Making this eggnog recipe vegan literally only take 5 minutes from start to finish to make. This is a super easy and fast recipe to make as a tasty treat whenever you are looking for something warm and yummy.
Perfect for new cooks. If you are new to cooking and want something that sounds fancy but is super easy, this is the recipe for you! It is truly hard to fail when making this tasty eggnog recipe vegan at home.
There are very few ingredients. The goal of this dish is to allow the flavors to shine! As a result, there are very few ingredients. This means that when you make eggless eggnog, you won't need to spend a lot of time shopping.
It is nut-free! Many dairy-free eggnog recipes use a lot of nuts. This recipe is nut-free so that everyone can enjoy it, even those with a nut allergy or intolerance. Of course, you can choose a nut-milk if you want, but you don't have to. I love this non-dairy eggnog with flax and oat milk.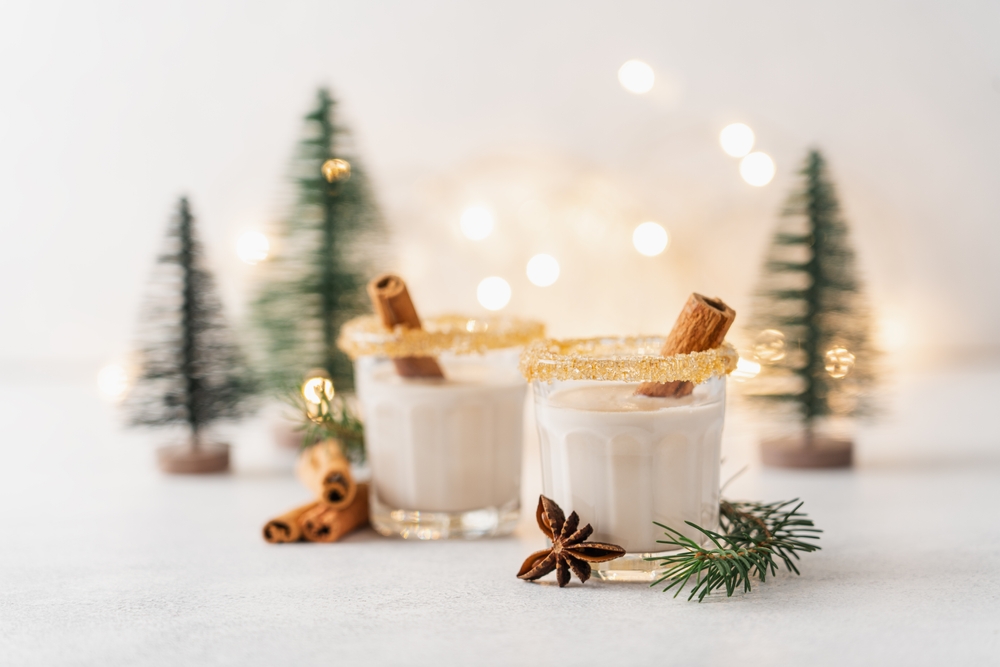 What Kind Of Milk To Use For Dairy-Free Eggnog
Of course, milk is the base of this spiced winter drink. But what kind is best when making eggnog vegan?
A lot of non-dairy eggnog recipes require blending and straining your own cashews which is essentially just making your own cashew milk.
If you are going the nut route, I recommend buying a thicker nut milk from the store. I recommend buying "regular" or "vanilla" depending on your taste preference.
For thicker nut milks, I suggest cashew, almond, and macadamia nut milk. I have used a variety of these for vegan eggnog and they make for a delicious and thick beverage.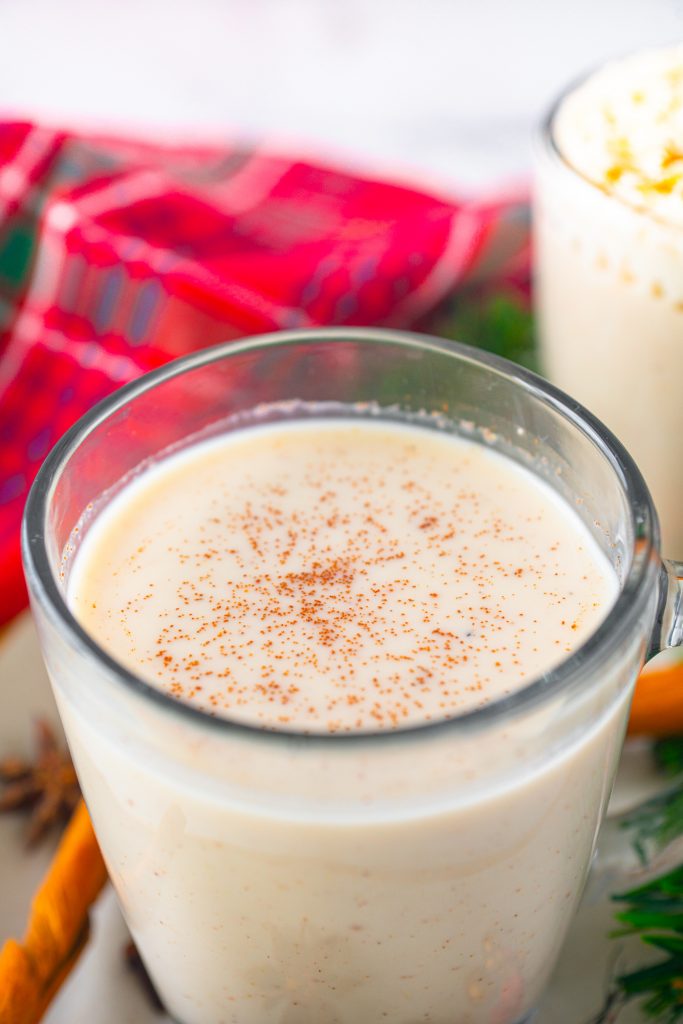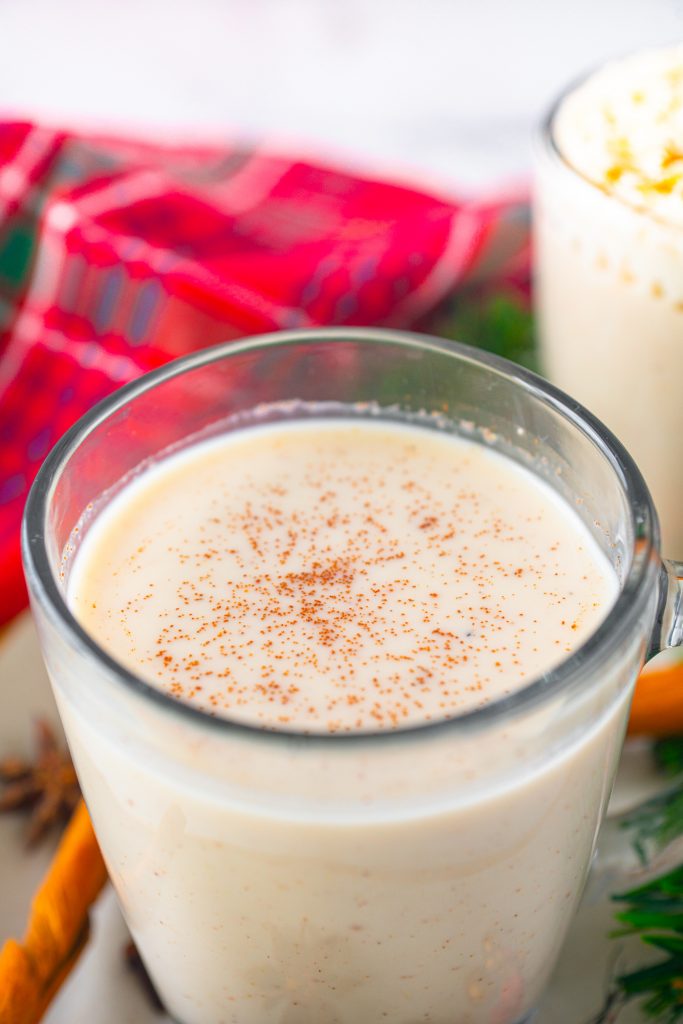 Now, if you are going the nut-free route which I often do to help my tummy issues, there are plenty of options.
I would 100% steer clear of rice milk as it is incredibly thin and will give your vegan eggnog recipe a watery consistency.
Instead, you are going to want to go with oat milk or coconut milk. Both of these are nut-free alternatives and they are thick and creamy and delicious. They really add to making the best dairy-free eggnog.
Just make sure you choose a thick and creamy non-dairy milk and you will be on your way to success!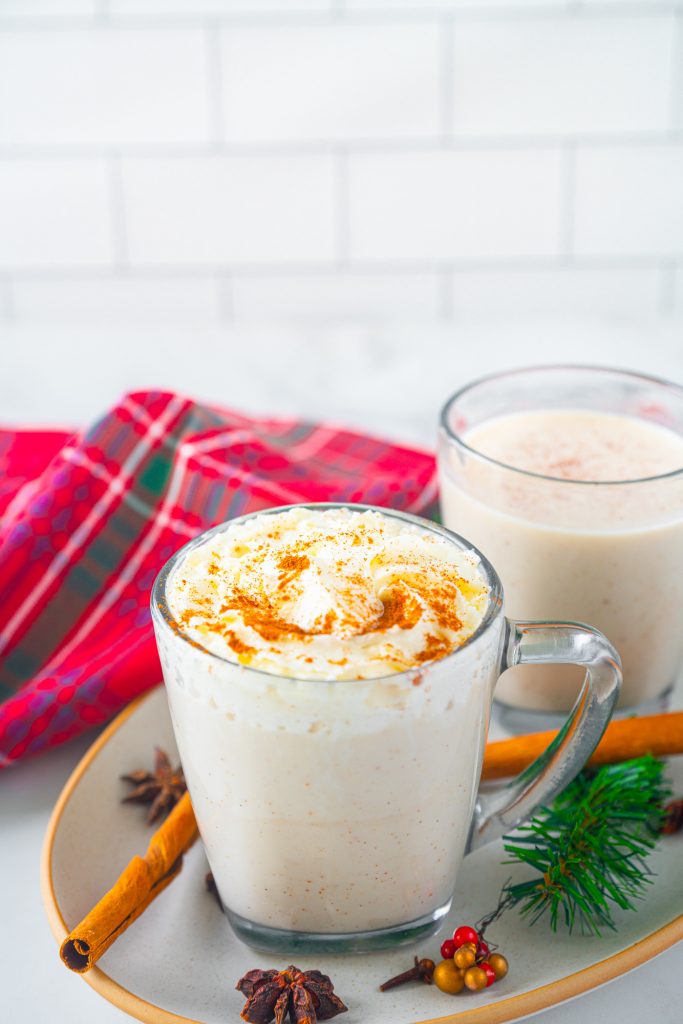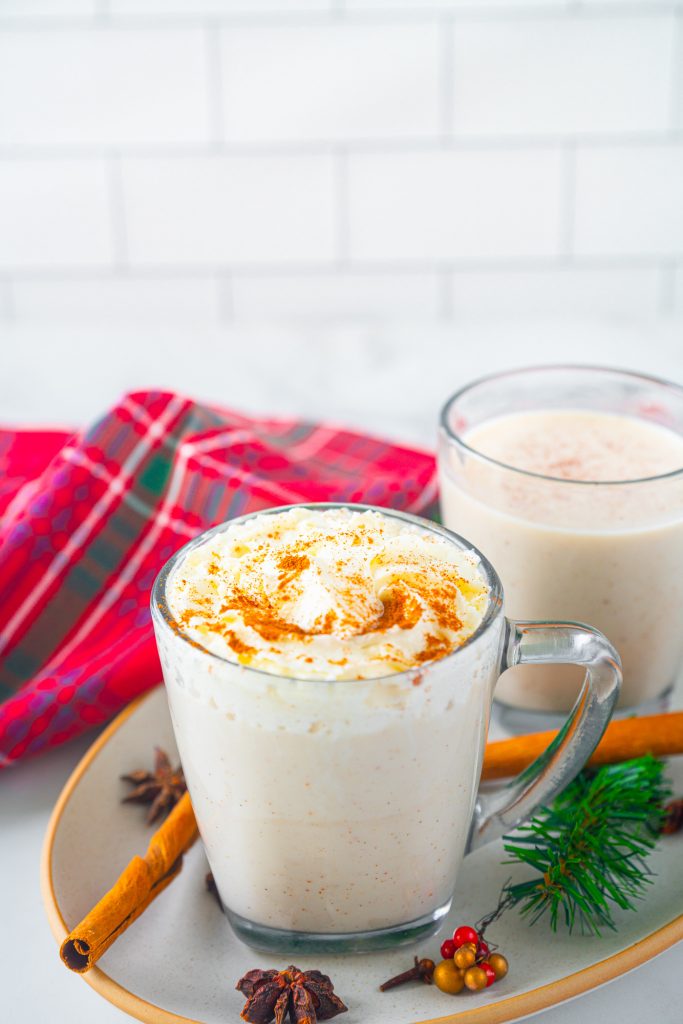 How To Make Eggnog Vegan
Making eggnog vegan is beyond simple and easy!
You are going to want to start by choosing the correct type of non-dairy milk as directed above.
Remember, you want a thick milk. There are plenty of non-dairy milks that are thick and nut-free such as oat and coconut so keep that in mind! For authentic dairy-free eggnog, this step is essential.
You are going to heat your milk over the stove on medium-low heat.
Next, you are going to add your spices, vanilla, and sweetener.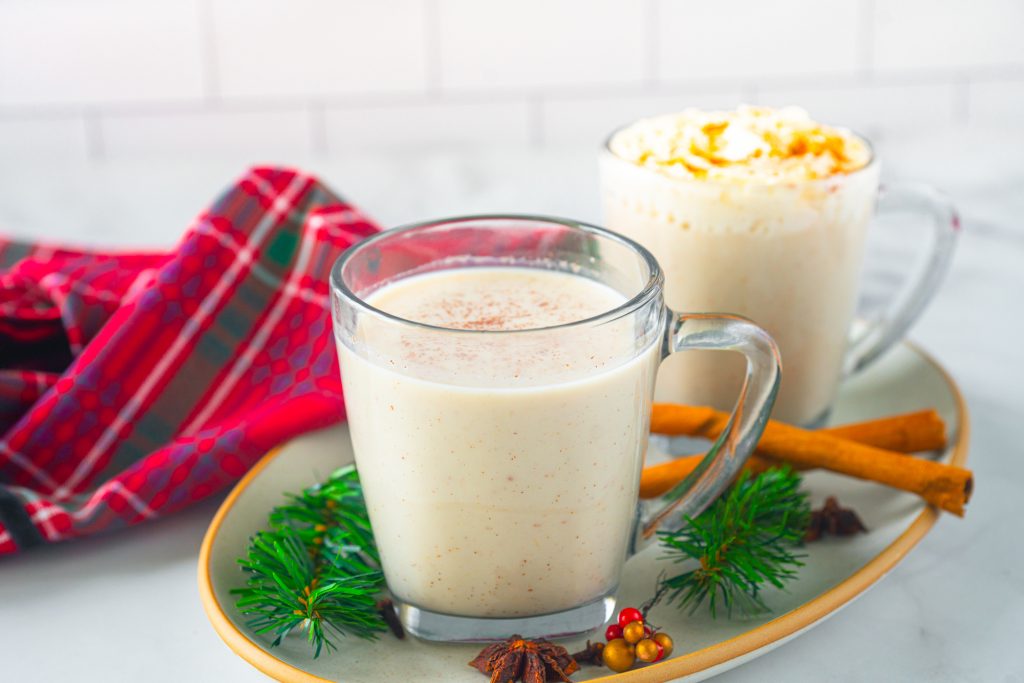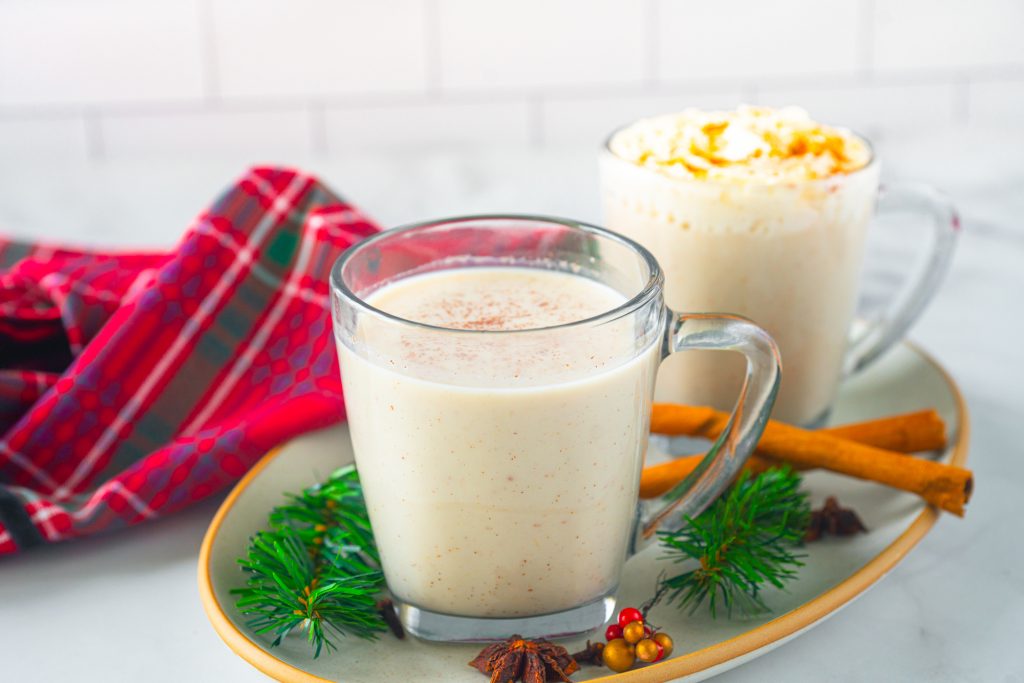 You can sweeten with whatever you want. Traditional vegan eggnog from the store has so much sugar in it that it is actually kind of wild.
I recommend using maple syrup to sweeten the egg-free eggnog as it adds a light and subtle maple flavor while adding the sweetener you need.
Of course, you can always sweeten using white or brown sugar and just make sure to stir until the sugar is dissolved.
Finally, you can use agave syrup or if you are one of the vegans who use honey, you can also use honey.
I have not yet tried to sweeten the eggnog with stevia, but my mom uses it all the time so I don't see why you couldn't use 1-2 scoops full of it as an alternative.
After you add your sugar, you are going to add your vanilla and then add your spices.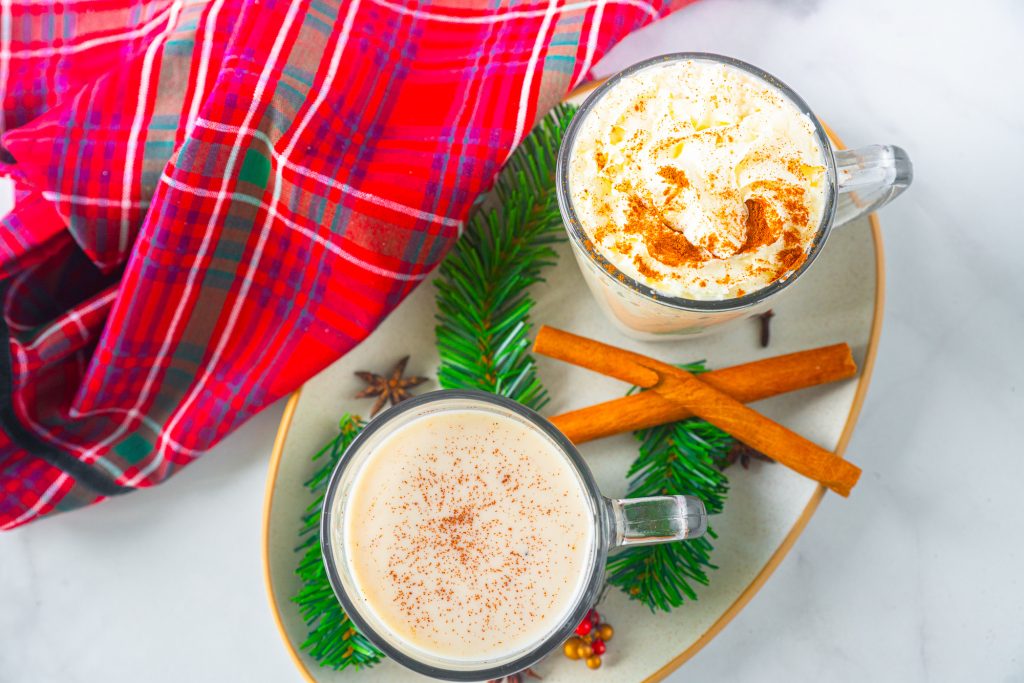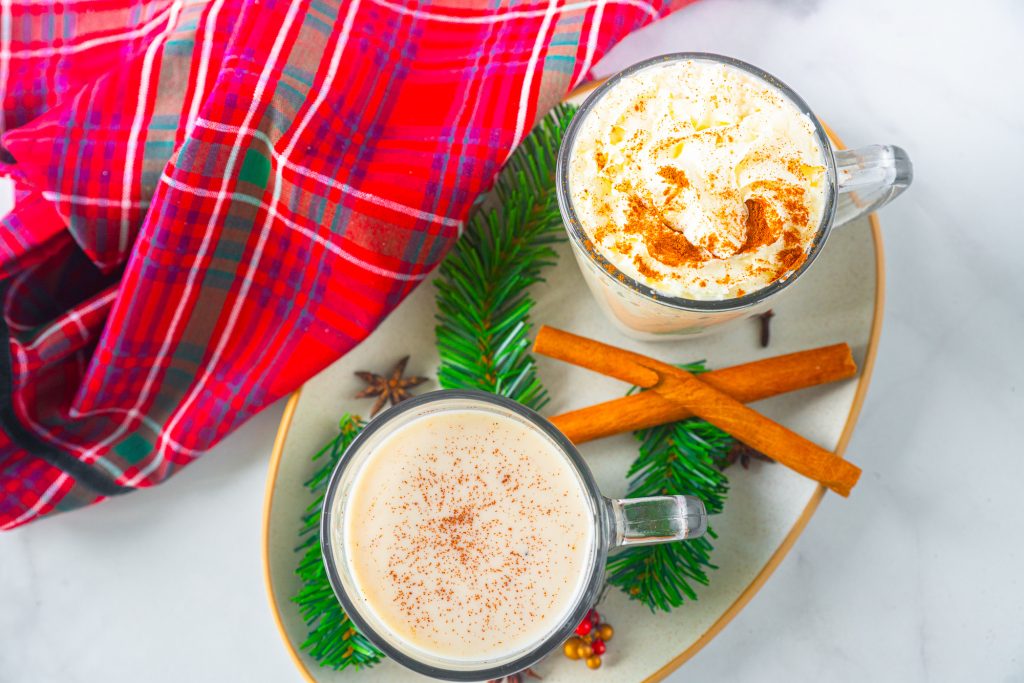 Adding the correct spices is incredibly important so that you get the perfect taste you are looking for.
I use cinnamon, nutmeg, ground ginger, and cloves. If you aren't a fan of cloves, feel free to leave them off!
A note about using cinnamon when making your dairy-free eggnog recipe….
Cinnamon is actually a bark. Yes, a bark like from a tree. As a result, it does not dissolve in liquid which is actually kind of wild.
You will see little pieces of cinnamon floating around in your vegan eggnog. This is normal! Do not worry about it, it is just that the cinnamon literally cannot dissolve in liquid because it is a bark!
Once you have combined everything and stirred it together, you are done! Don't forget to serve this with something yummy like Vegan Snickerdoodle Cookies!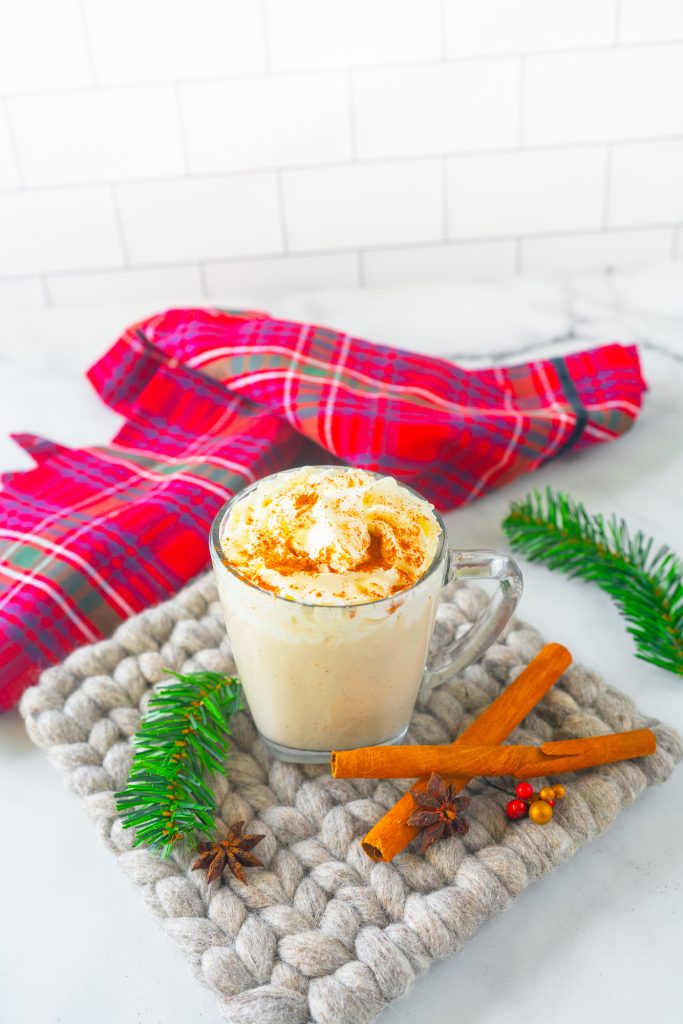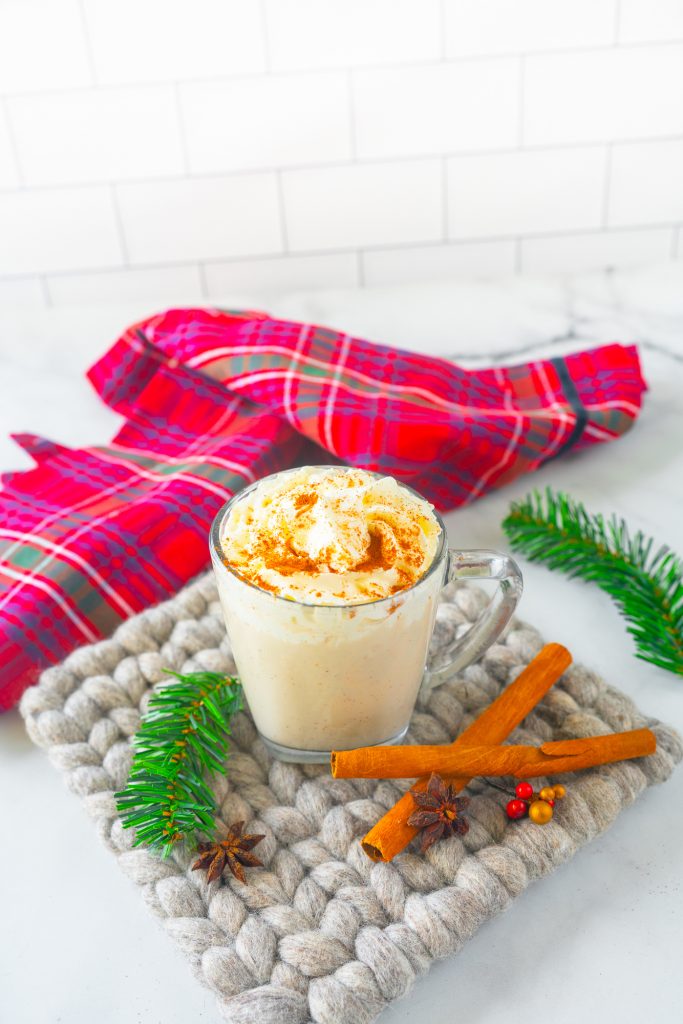 How To Serve Non-Dairy Eggnog
You can serve vegan eggnog both hot or cold!
If you want your non-dairy eggnog cold, you can simply put all your ingredients in a blender and blend until smooth and combined.
I think heating it on the stove allows the flavors to be more aromatic, but maybe that is just me!
If you want to serve it cold and drink it immediately, you can pour it over ice for a delicious iced beverage.
I love topping mine with some vegan whipped cream and a shake of cinnamon for good measure.
Feel free to be as creative as you want when drinking your vegan eggnog! There is really no way to go wrong!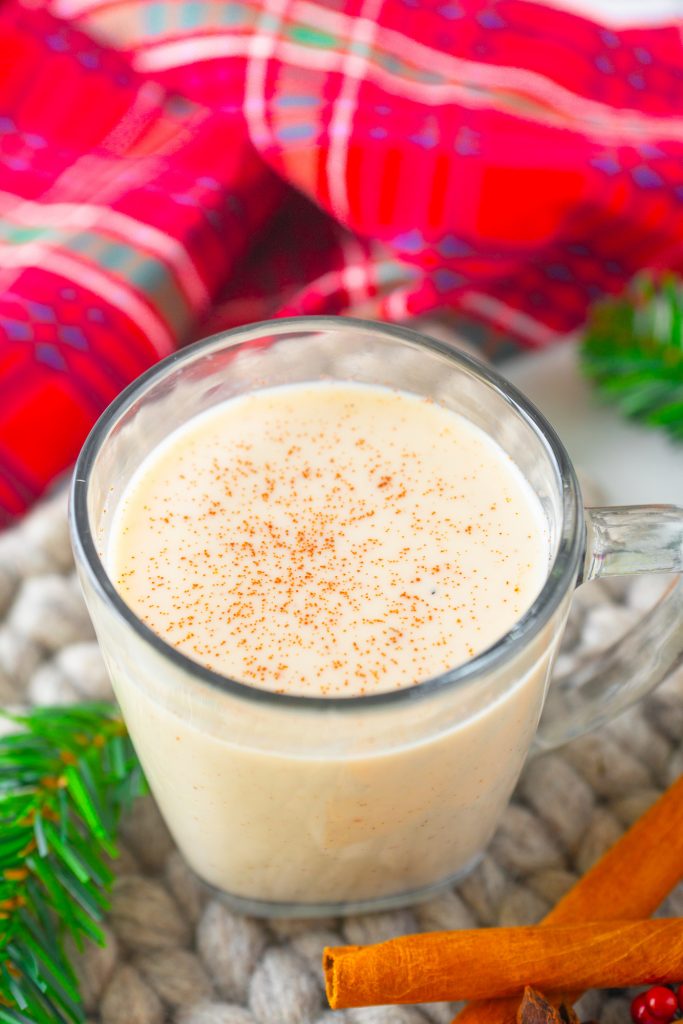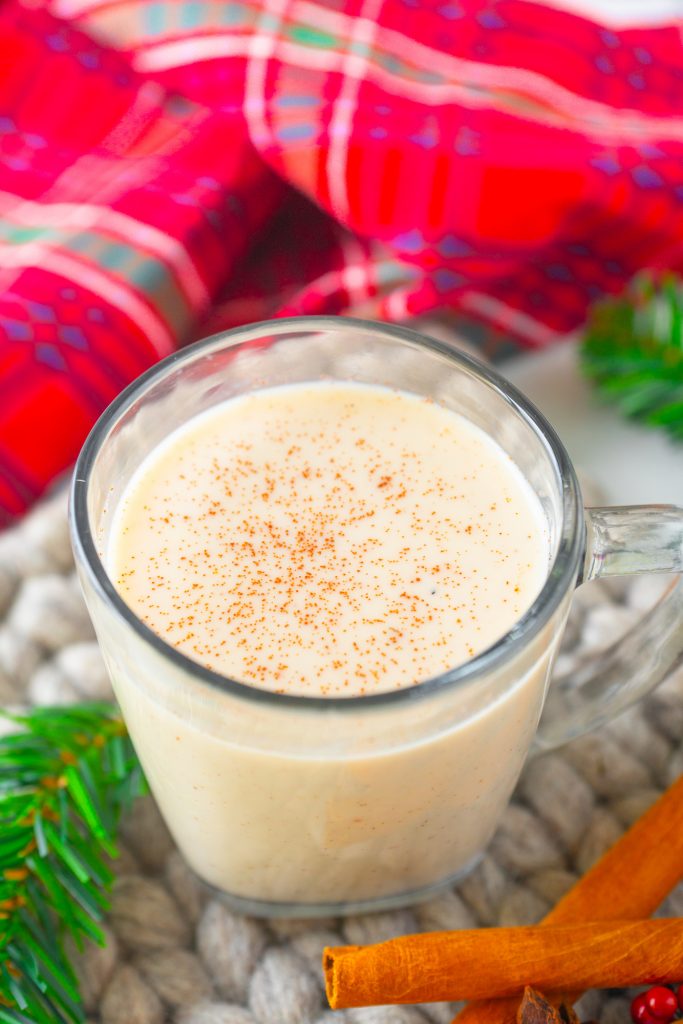 Did You Try This Recipe?
If so, I would love to keep in touch! I enjoy seeing photos and comments about the recipes that you make! You can follow me on Instagram and I will repost your goodies in my stories and comment on it too! Just tag me at @wowitsveggie and hashtag #wowitsveggie. I can't wait to see what you make!
Yield: 2 Servings
5-Minute Vegan Eggnog Recipe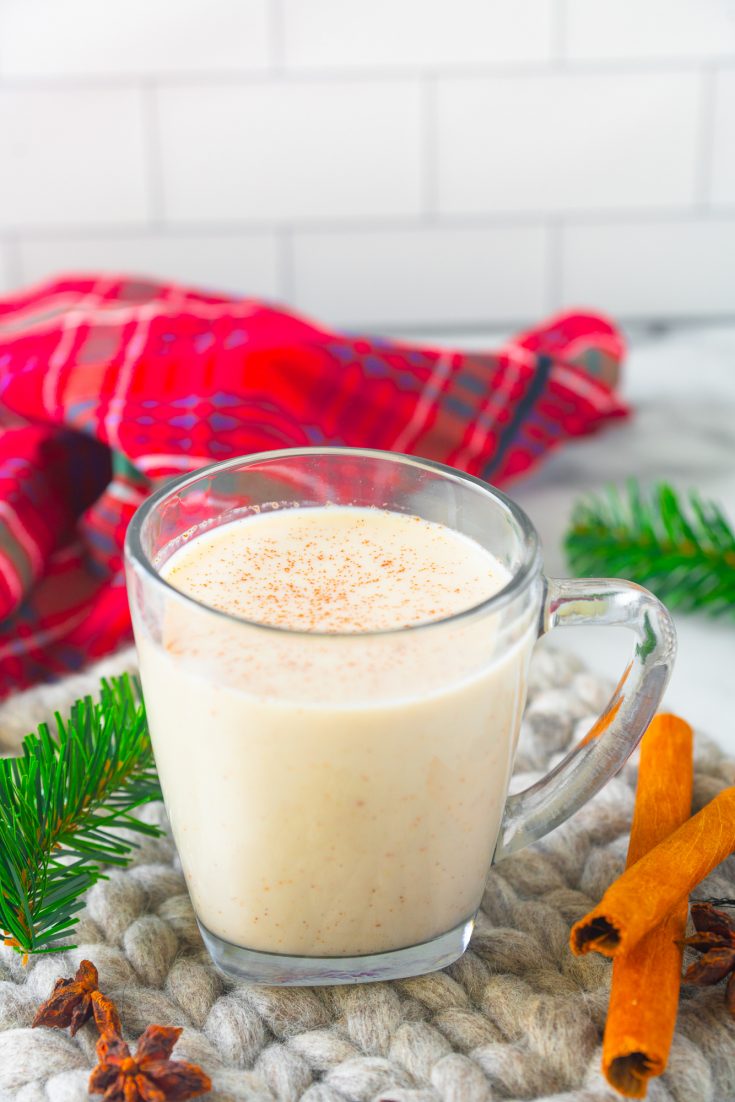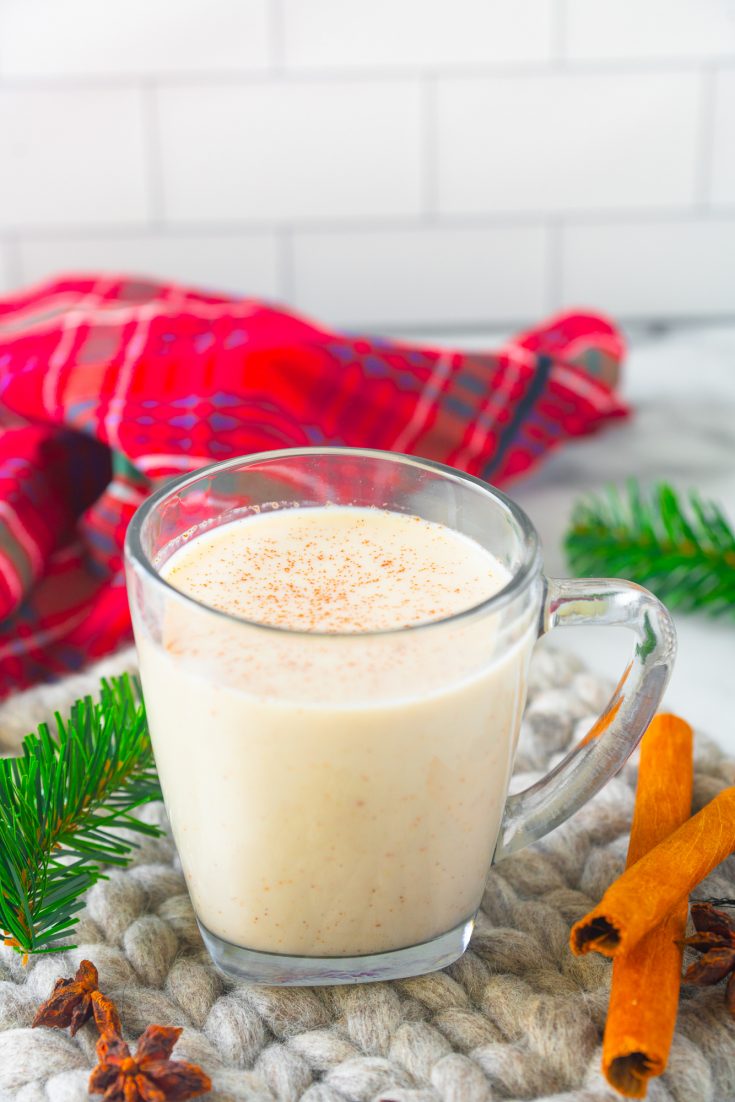 This vegan eggnog recipe takes less than 5 minutes to make and is so warming and delicious! You can easily make it nut-free by subbing in your favorite non-dairy milk such as oat milk or coconut milk. Just make sure the milk is thick! Serve this eggless eggnog hot or cold, and sweeten to your preference!
Ingredients
3 Cups Thick Non-Dairy Milk [Oat Milk/Coconut/Cashew/Macadamia/Almond]
3-4 tablespoons sweetener [maple syrup/sugar/agave + more to taste]
1/4 tsp ground nutmeg
1/4 tsp ground ginger
1 tsp vanilla extract
1/2 tsp cinnamon
1/4 tsp cloves [to taste]
Vegan whipped cream for topping
Instructions
Heat thick non-dairy milk in a small saucepan over the stove on low heat. I think heating on the stove gives the vegan eggnog a deeper flavor. You can skip this step and simply combine in a blender if you want.
Add all ingredients and stir until combined. If you are using granulated sugar, make sure that it is incorporated and liquified.
Serve hot or cold and top with vegan whipped cream and a cinnamon stick for swirling!
Nutrition Information
Yield
2
Serving Size
1
Amount Per Serving
Calories

102
Total Fat

18g
Saturated Fat

20g
Trans Fat

0g
Unsaturated Fat

13g
Sodium

34mg
Carbohydrates

28g
Fiber

6g
Protein

2.7g