This hot honey recipe is incredibly easy and delicious! If you haven't tried it yet, this is going to be the next big thing and it is easy to see why.
If you love the blend between a sweet and spicy flavor or anything with a kick, this is the recipe for you!
Similar to my Jalapeno Jelly Recipe, it makes the perfectly sticky sweet and spicy drizzle or dip for your favorite foods and can be used in so many ways.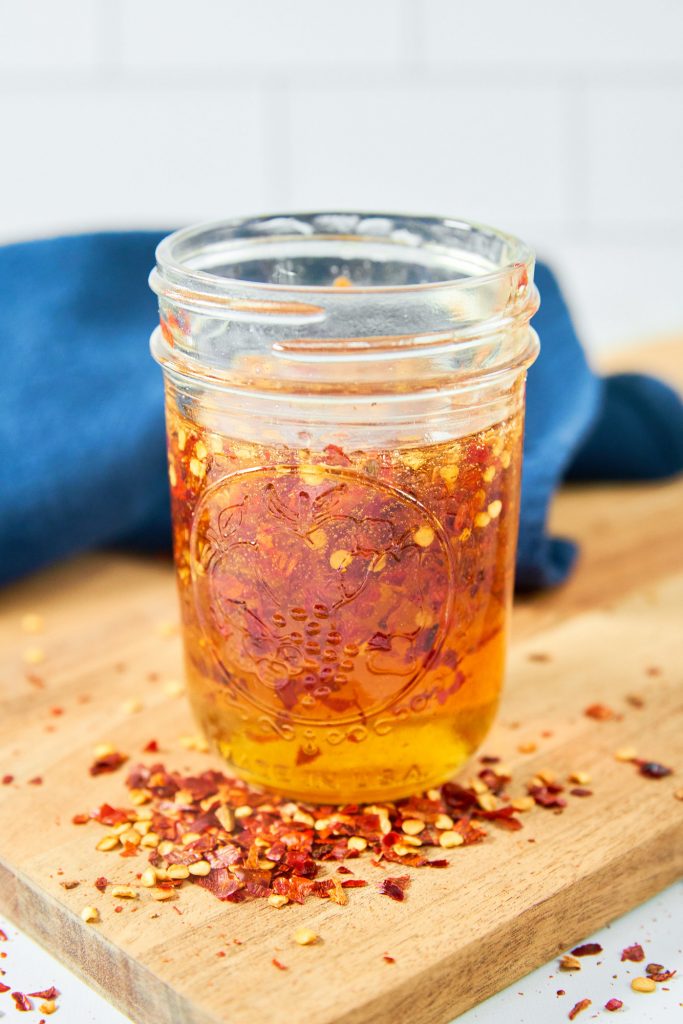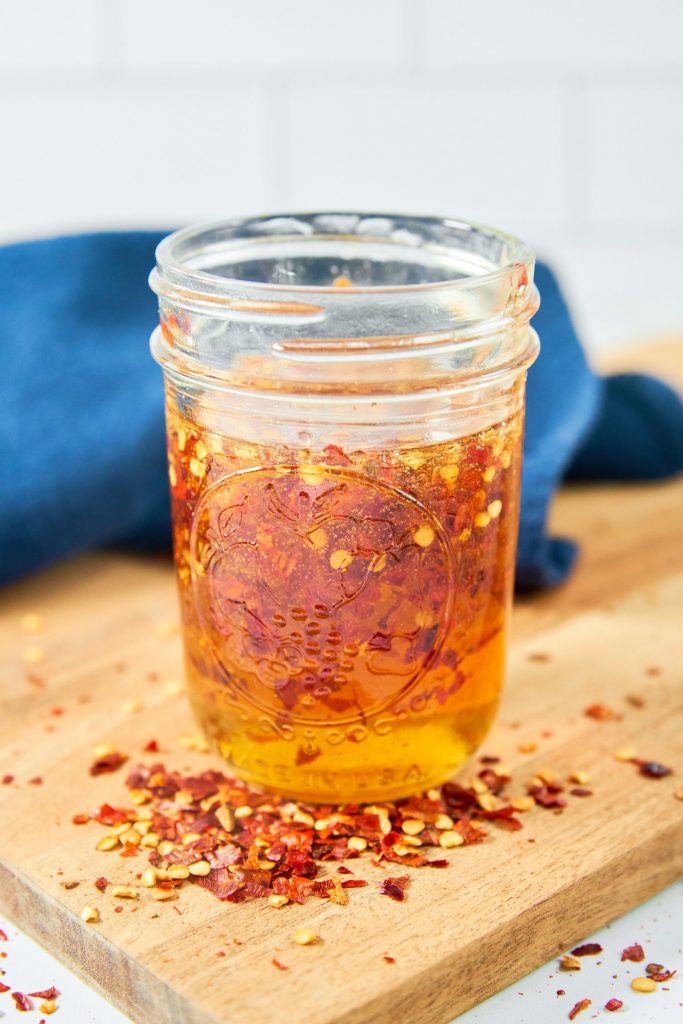 My favorite part about making this hot honey recipe is that it uses only 3 ingredients and whips up in literally minutes.
I would say that it takes less than 3 minutes to make the whole thing and you can use it for weeks to come.
The payoff is big and the taste is amazing, especially for those who love spicy things.
You can also gift this hot honey recipe during the holidays or for any other special events that you may have in your life.
Simply make the honey and place it in a jar with a label on it and a ribbion tied around it.
It is a cute presentation for the spicy honey lover in your family!
I hope you enjoy making this super easy hot honey recipe as much as I do!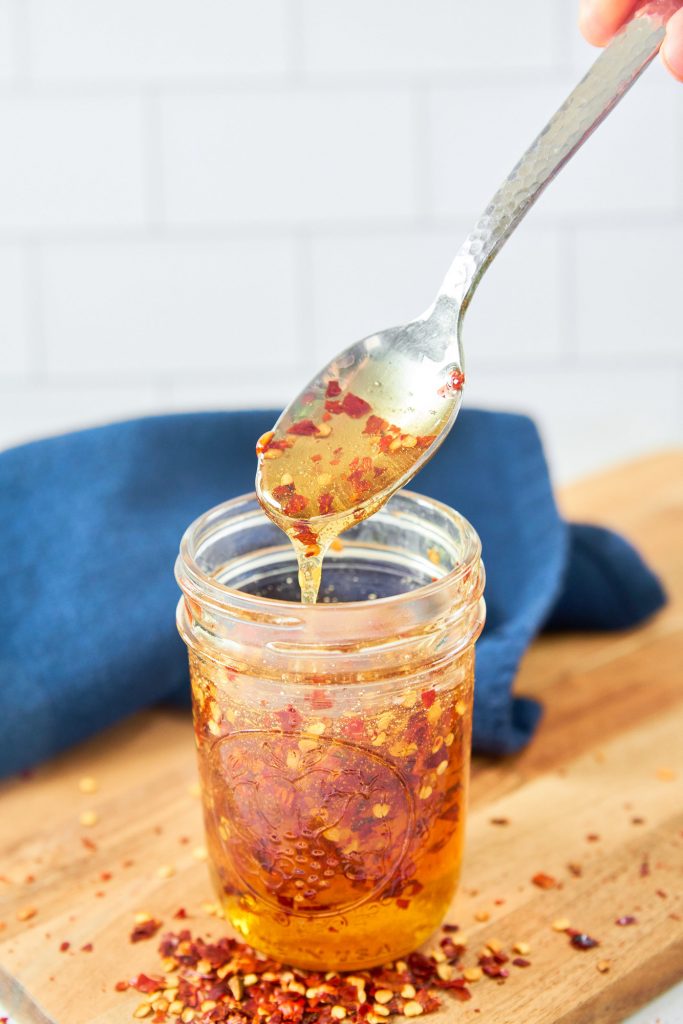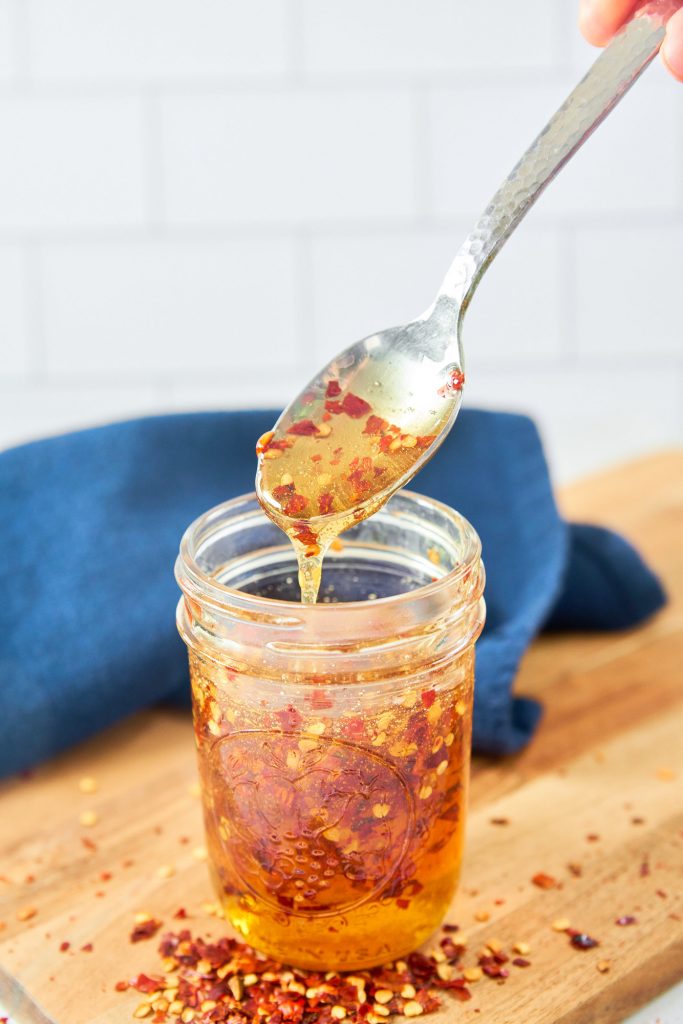 What Is Hot Honey?
Hot honey is basically honey mixed with a spice of some sort for some kick and some heat!
It is all the rage these days, and if you like hot sauce, you are going to love this!
You can drizzle it over your favorite foods, gift it, or even drizzle it over sweets if you want a really unique kick of flavor.
Many hot honey recipes use real chilies, you can totally do this, but you may want to strain the honey which makes the process take a little bit longer.
For my recipe, we use hot sauce and chili flakes for a quick and easy process.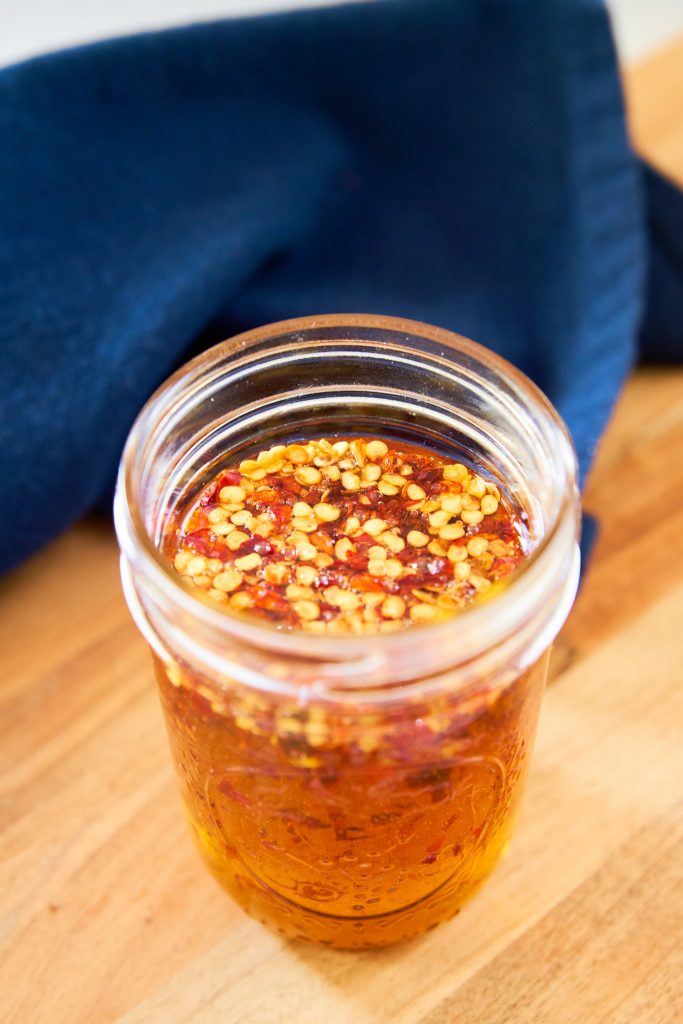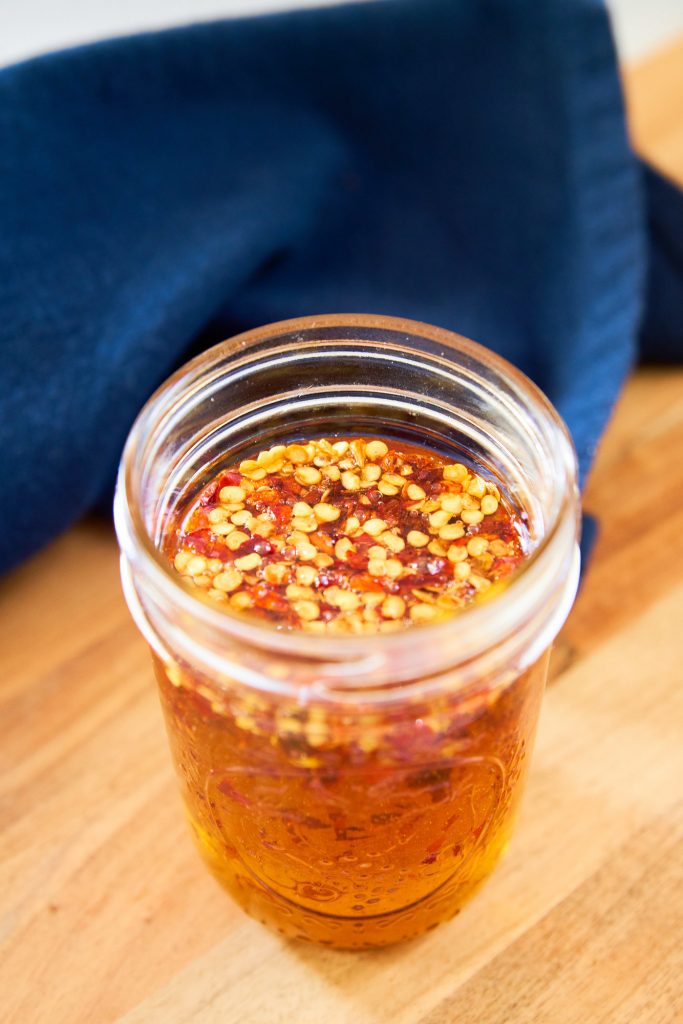 Why You Will Love This Hot Honey Recipe
No cooking skills required. There are no cooking skills required to make this! Literally put it on the stove for a little bit and it is done! If you can boil water, you can easily make this hot honey recipe!
Perfect for sweet and spicy lovers. If you love the blend between sweet and spicy, you will be obsessed with this recipe. It can be used to dress up any recipe.
Makes a great gift. Hot honey makes a great gift for the honey-lover in your life! You can put it in a cute jar and tie it with a bow and gift it for the holidays or any special event.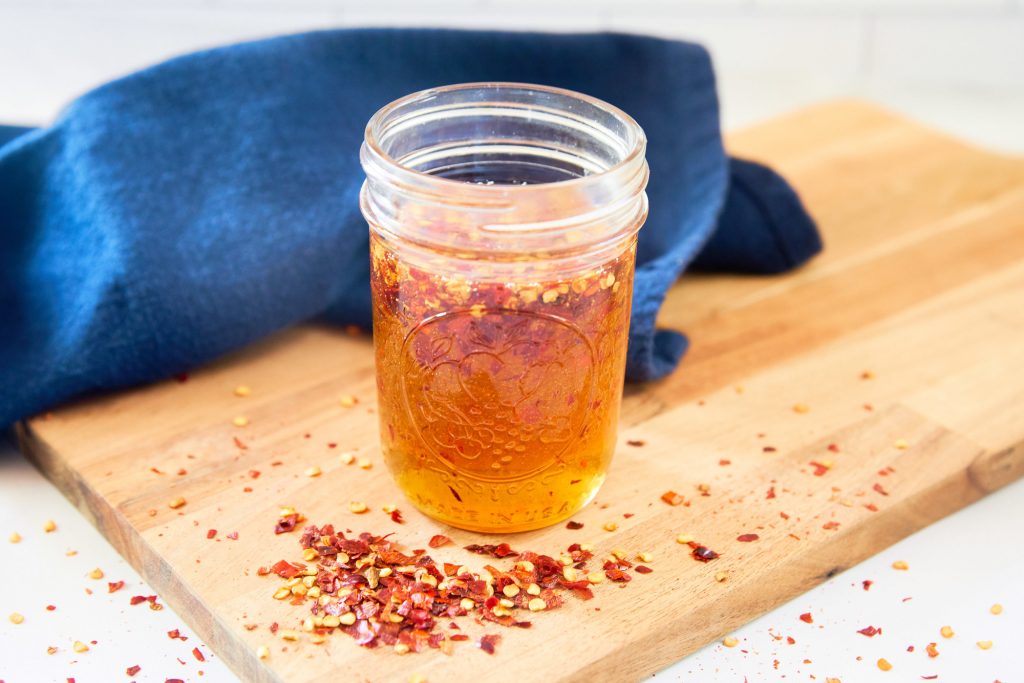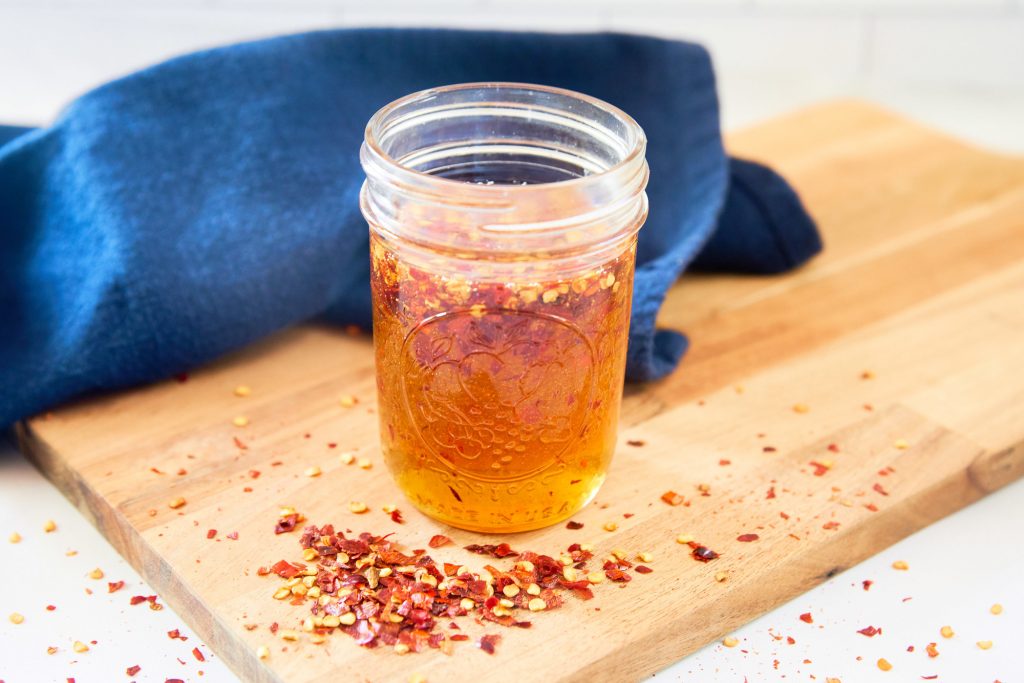 How To Make Hot Honey
Making hot honey is super easy and you can enjoy the delicious flavor for quite a while after the recipe is complete!
All you are going to want to do is pick out your favorite honey from the store. Of course, high quality honey with a light flavor works great.
We always suggest supporting a local bee keeper for the freshest honey. However, grocery store honey works just fine.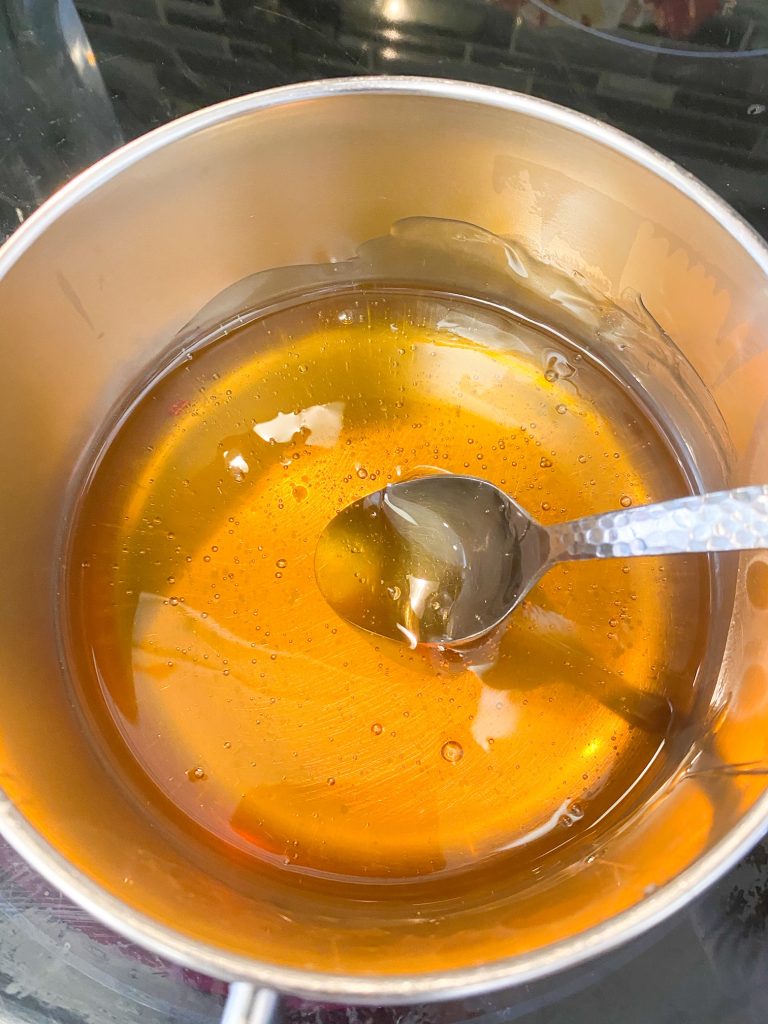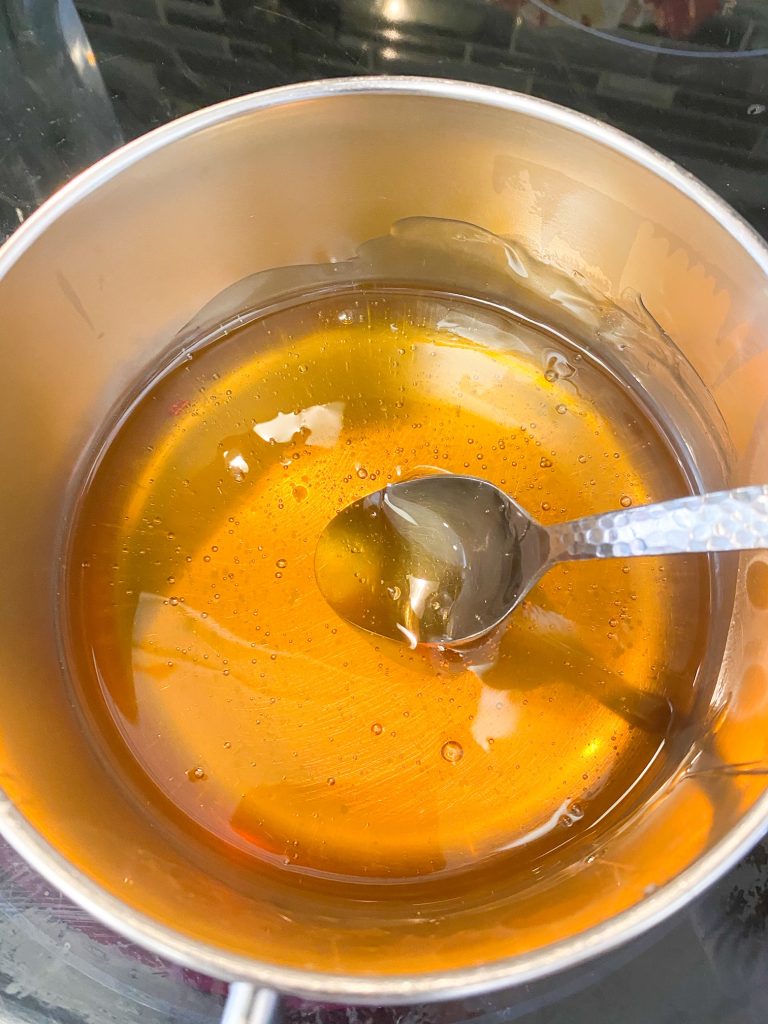 I do not recommend microwaving your honey to warm it up, I suggest doing it over the stove for best results.
Honey is very thick and sticky when you get it cold, but you can loosen it up when you heat it up and this is how you make this hot honey recipe.
Simply heat your honey on medium heat in a small saucepan and once it has loosened up a little bit, add the hot sauce of your choice and red pepper flakes.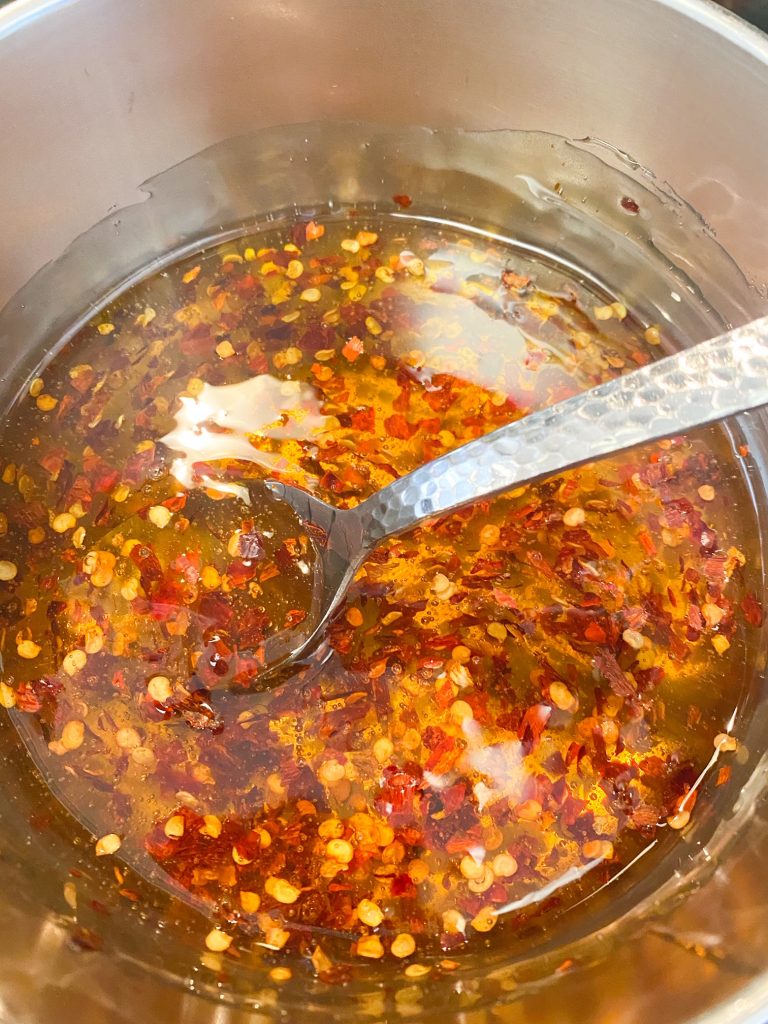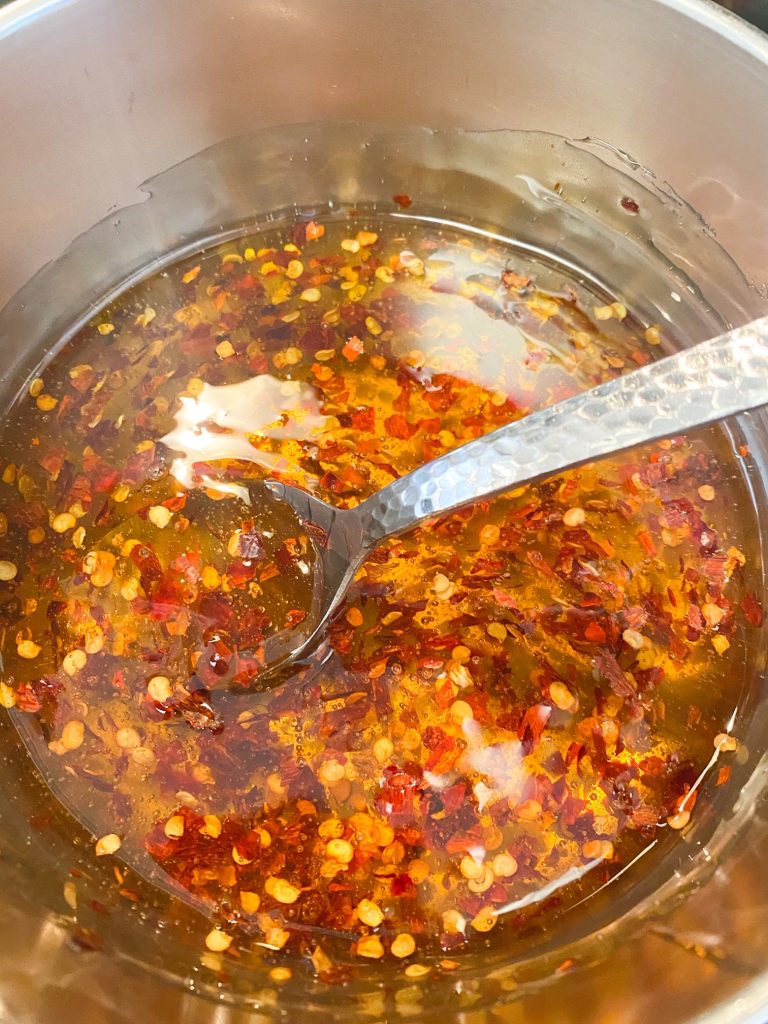 I suggest amounts in the recipe below, but it really depends on you.
Some people prefer a lot of red pepper flakes because it makes the honey really spicy. Some people like a lot of hot sauce added.
It is entirely up to you.
If you want a milder honey, I suggest straining out the red pepper flakes so you don't have to eat them when you use the honey as a drizzle.
Once all of the ingredients are combined on the stove, pour the hot honey recipe into a jar for gifting or storage and you are done!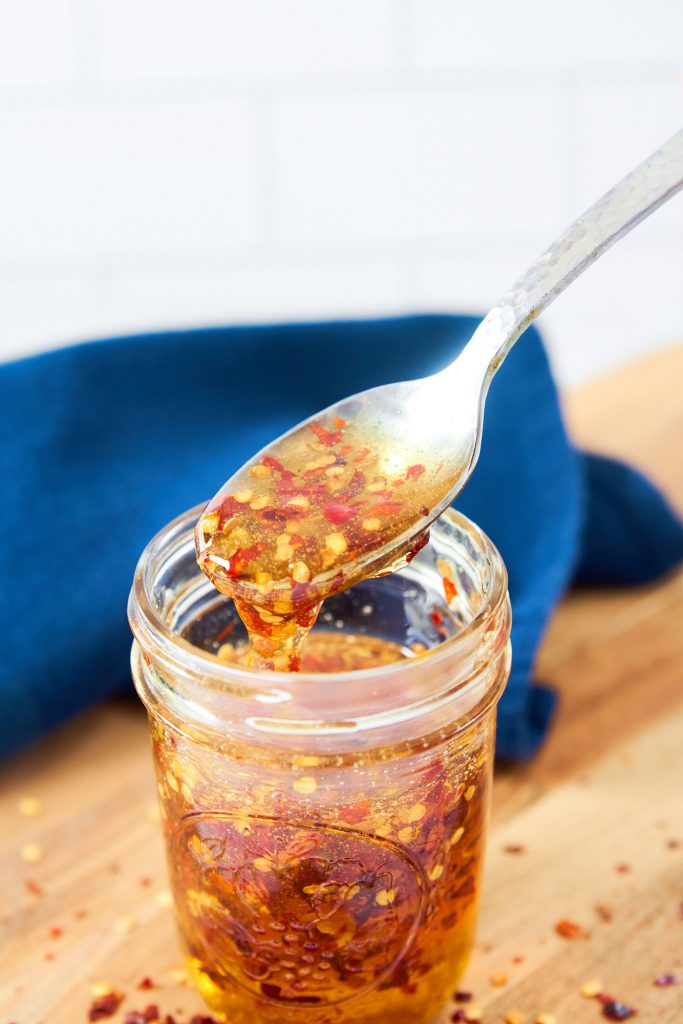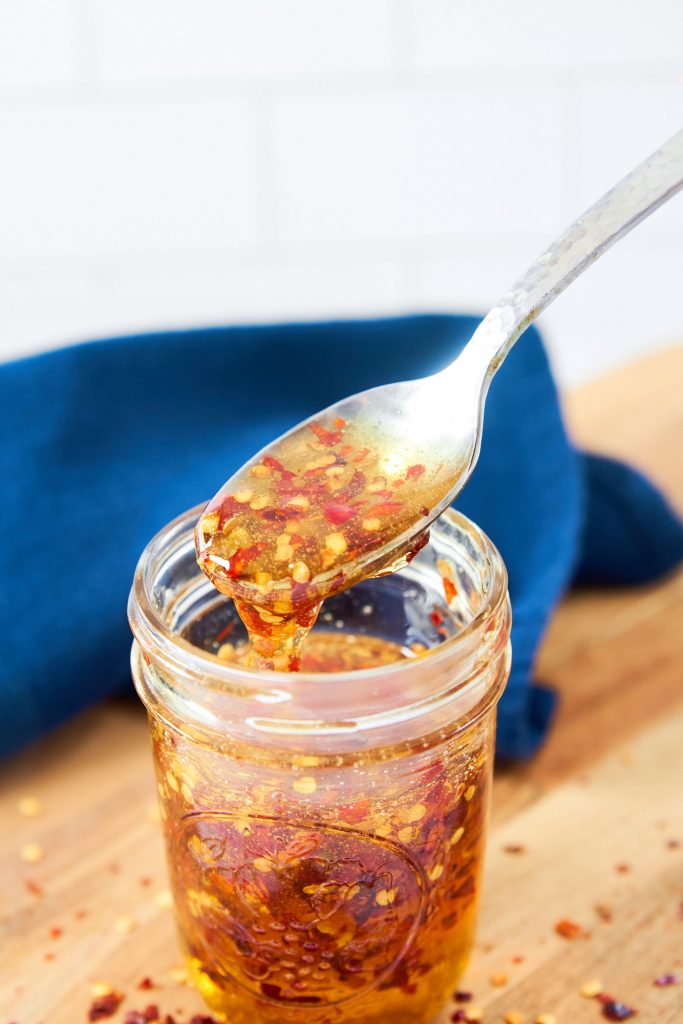 How To Use Hot Honey
Since hot honey is new on the scene, you may not know how to use it! That is okay, we are here to show you a few favorite ways.
You can really find infinite uses for this hot honey recipe as long as you like a kick of spicy, you will love it!
Some of our favorite ways to use spicy honey:
As you can see, there are a ton of ways you can use it. It makes any dish sound fancy and the depth of flavor adds something unique to home cooking.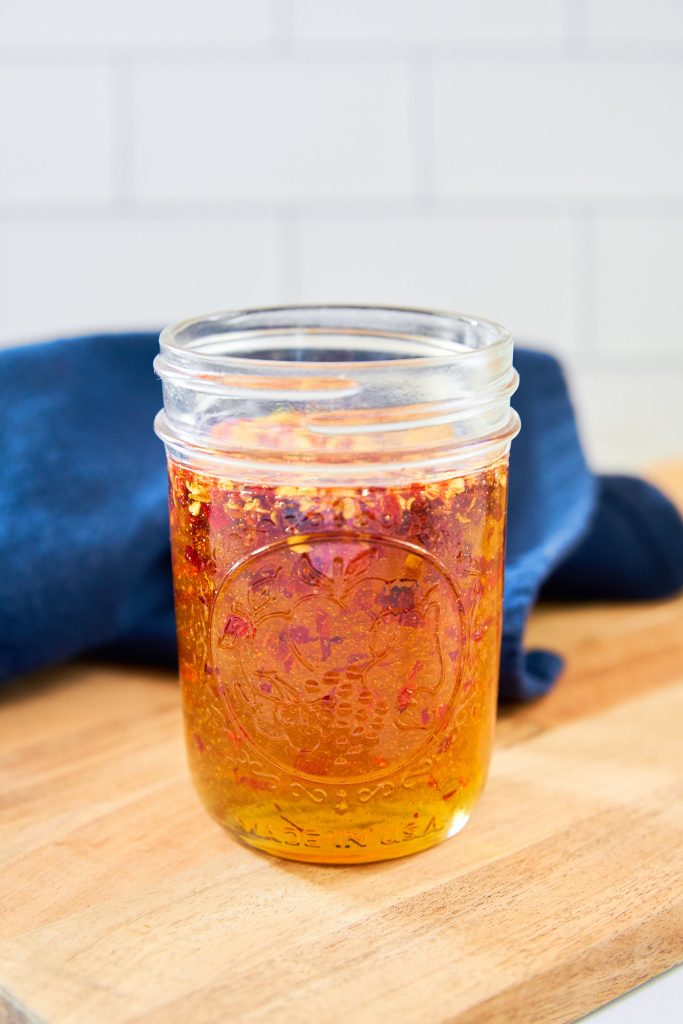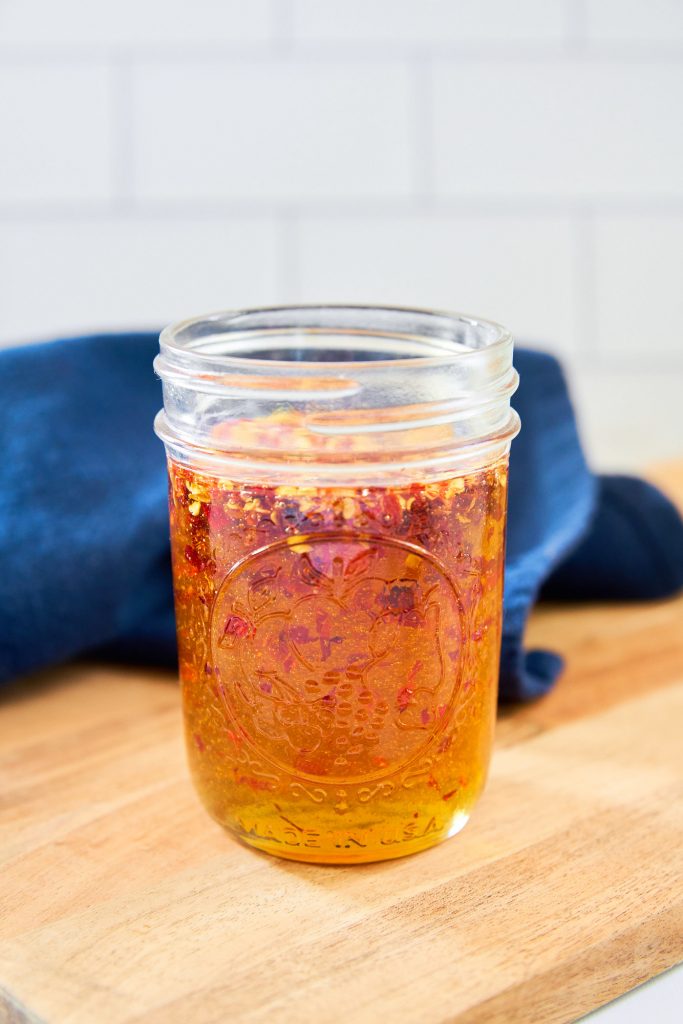 How To Store Hot Honey
The best way to store your honey is to keep it in a cool location away from direct sunlight.
A cabinet or something similar in your pantry works fine.
You want your hot honey to be stored in an air-tight container such as a mason jar.
I do not recommend storing the honey in any metal container as metal will oxidize and that isn't good for food!
The hot honey will last quite a long time on the shelf and you can use it in the same way that you use regular honey!
Did You Try This Recipe?
If so, I would love to keep in touch! I enjoy seeing photos and comments about the recipes that you make! You can follow me on Instagram and I will repost your goodies in my stories and comment on it too! Just tag me at @wowitsveggie and hashtag #wowitsveggie. I can't wait to see what you make!
Yield: 1 cup
3-Ingredient Hot Honey Recipe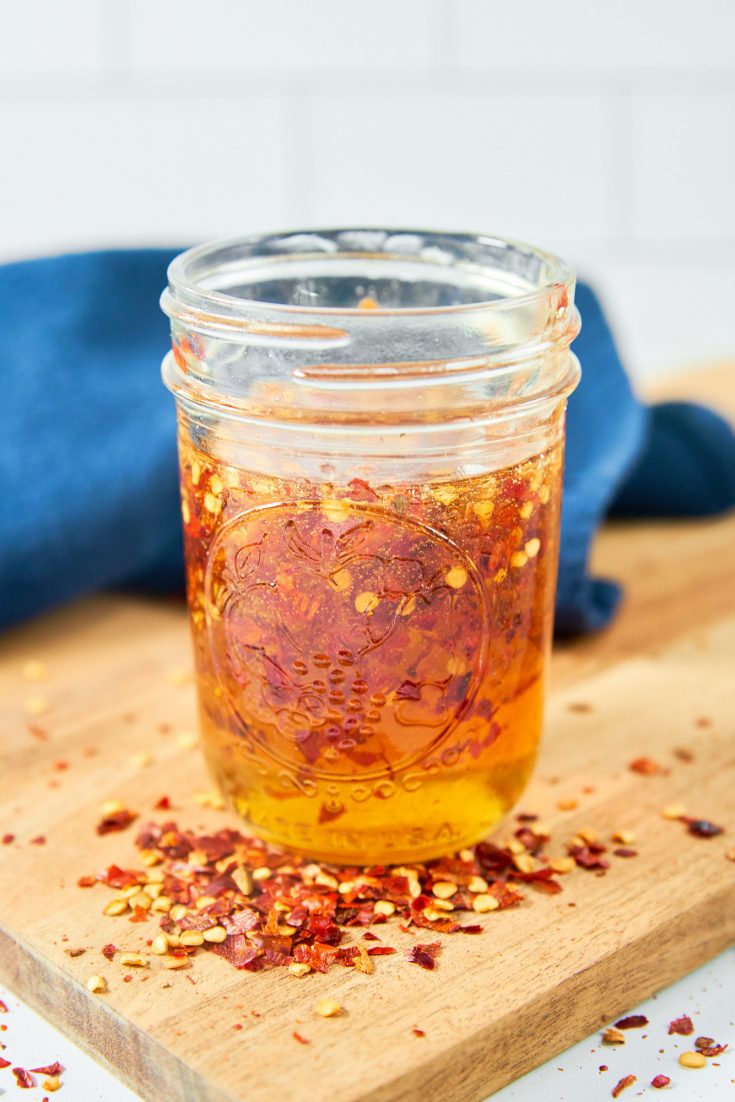 This hot honey recipe is so easy and delicious and will take your cooking to the next level. It requires just 3 ingredients and 3 minutes of your time and it will keep for months. It is the perfect blend between sticky, sweet, and spicy and makes a great gift.
Ingredients
1 cup honey
3 teaspoons red pepper flakes (more or less to taste)
3 teaspoons hot sauce of your choice
Instructions
Heat honey in a small pot over medium heat on the stove. Honey is naturally thick, but heating it will loosen it up.
Once honey is heated, stir in hot sauce and red pepper flakes until combined. Use more or less red pepper flakes and hot sauce according to your taste preference.
Pour into glass jars for storing and serving while warm!
Nutrition Information
Yield
16
Serving Size
1
Amount Per Serving
Calories

66
Total Fat

0g
Saturated Fat

0g
Trans Fat

0g
Unsaturated Fat

0g
Cholesterol

0mg
Sodium

24mg
Carbohydrates

18g
Fiber

0g
Sugar

17g
Protein

0g