If you have never tried Mexican street corn pasta salad, you are in for a real treat!
It is a combination between crunchy, creamy, citrusy, and delicious flavors. You can also add a kick of spicy if you are into that sort of thing!
Mexican street corn is known as Elote and it is corn on the cob covered in mayo or Mexican crema and then sprinkled with Cotija cheese, chili powder, and cilantro and other spices.
If you don't eat dairy products, don't worry! I have given a vegan corn pasta salad version below just for you!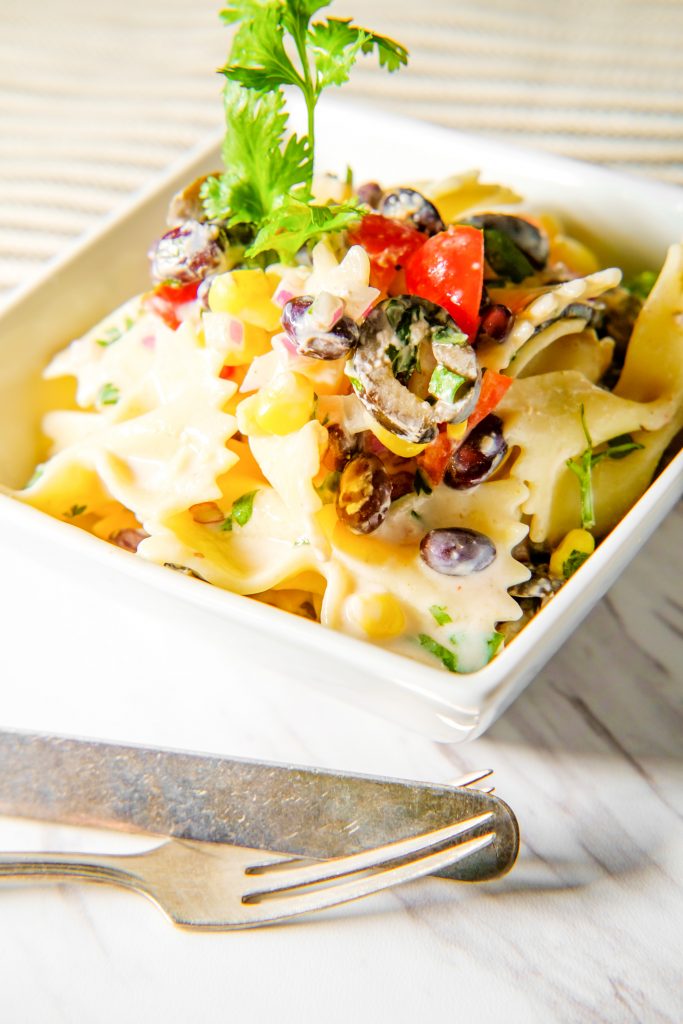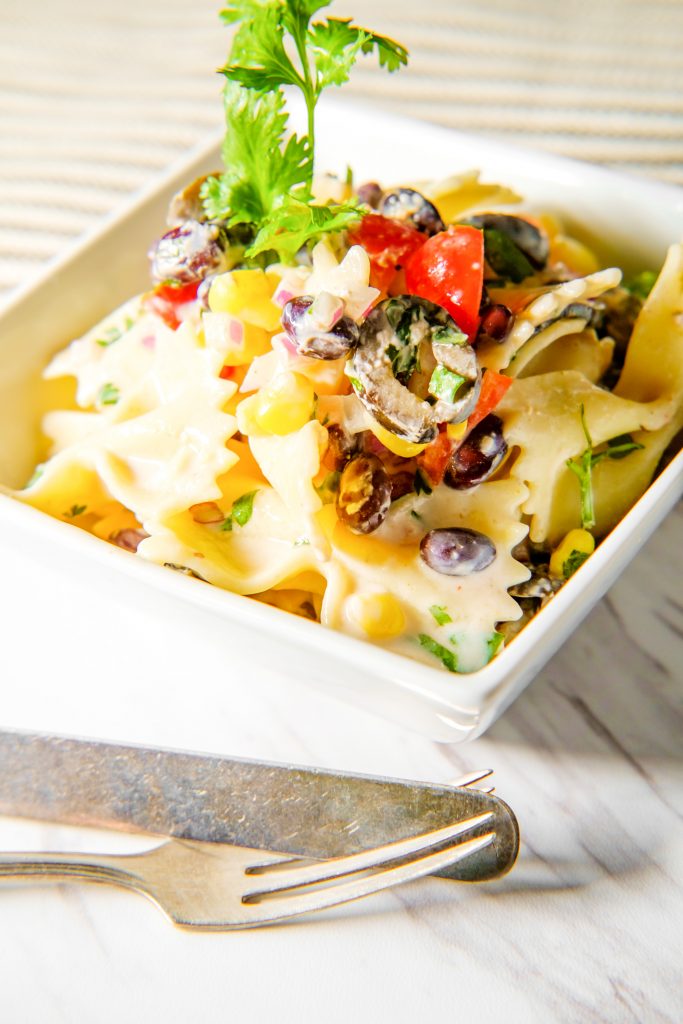 When reading this, please keep in mind that I am not Mexican and this is in no way meant to be an "authentic" version, it is just my simple take!
Making your own corn pasta salad is really easy to make and this no-frills recipe whips up quickly and tastes great, without all of the fuss that goes into making many recipes!
The best part about making this recipe is that you can customize it for your tastes and for who you are serving it to.
If you want to make this Mexican corn pasta salad gluten-free, simply use gluten-free noodles for an easy side your celiac friends can enjoy.
If you want to make this recipe vegan, I have included vegan modifications below so that people can enjoy a non-dairy corn pasta salad too!
If you are worried that this recipe is too spicy, you can control that aspect of it too so that all can enjoy.
The dressing tastes so delicious and that is the real star of this show.
What makes this Mexican street corn pasta salad so easy is the fact that it mainly uses ingredients you probably have around your house.
Sure, you may have to go out and grab one or two things, but it isn't too hard to find!
Of course, you can use whatever shape pasta you like, so cater to your own tastes.
I hope you enjoy making this corn pasta salad as much as I do. It is a fresh and unique take on the traditional pasta salad recipes you see at almost every cookout.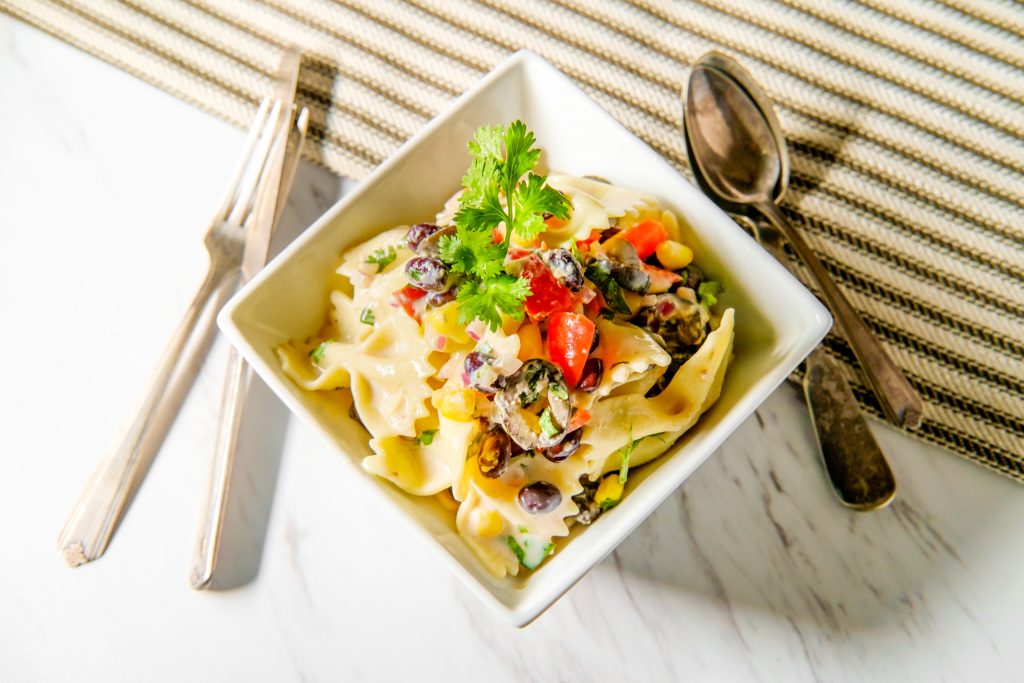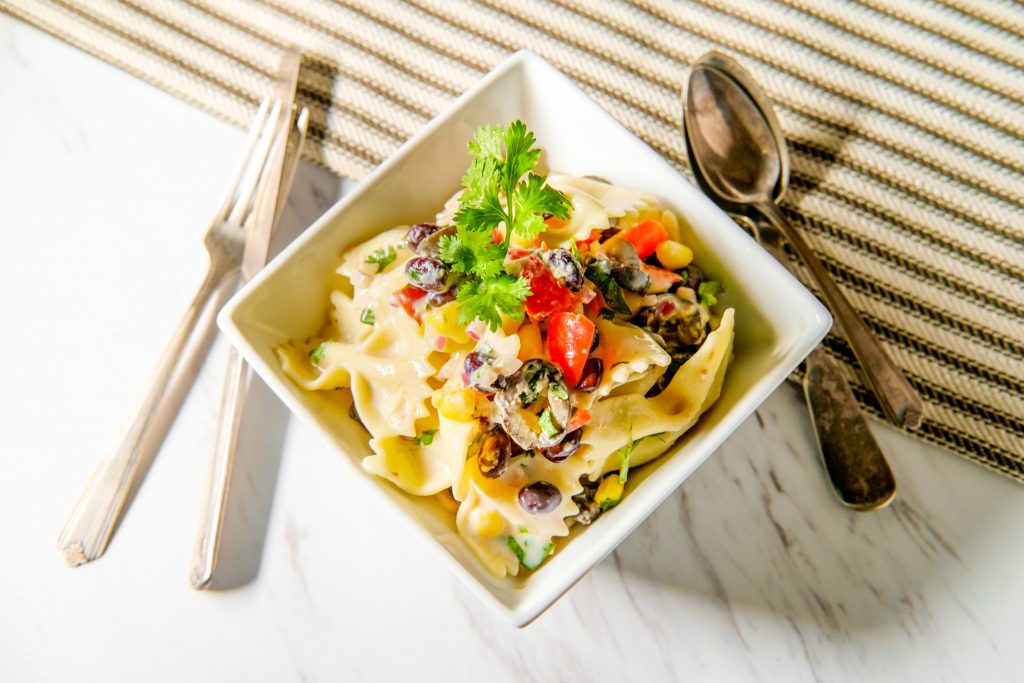 What Cheese To Use In Mexican Street Corn Pasta Salad?
I am not Mexican so I do not want to speak to what is "authentic" vs. what is not. I am going to leave that up to the experts.
When you read this recipe, I don't want you to think I am the be-all end-all of Mexican street corn pasta salad recipes over a person who is Mexican or has lived there for years.
That being said, as far as cheese goes, Cotija cheese is more authentically [take it with a grain of salt] used in Mexican street corn than other cheeses.
You can find Cotija cheese in grocery stores that have a fancier cheese section. If you are lucky to have a local Mexican market, you can probably find it there too.
If you can't find it or want to use something different, you can use Queso Fresco which is similar and works well.
You can find it in the cheese department of usually any grocery stores. If you can't find it, simply ask!
Any vegan alternative such as Vegan Feta works if you want to veganize this recipe!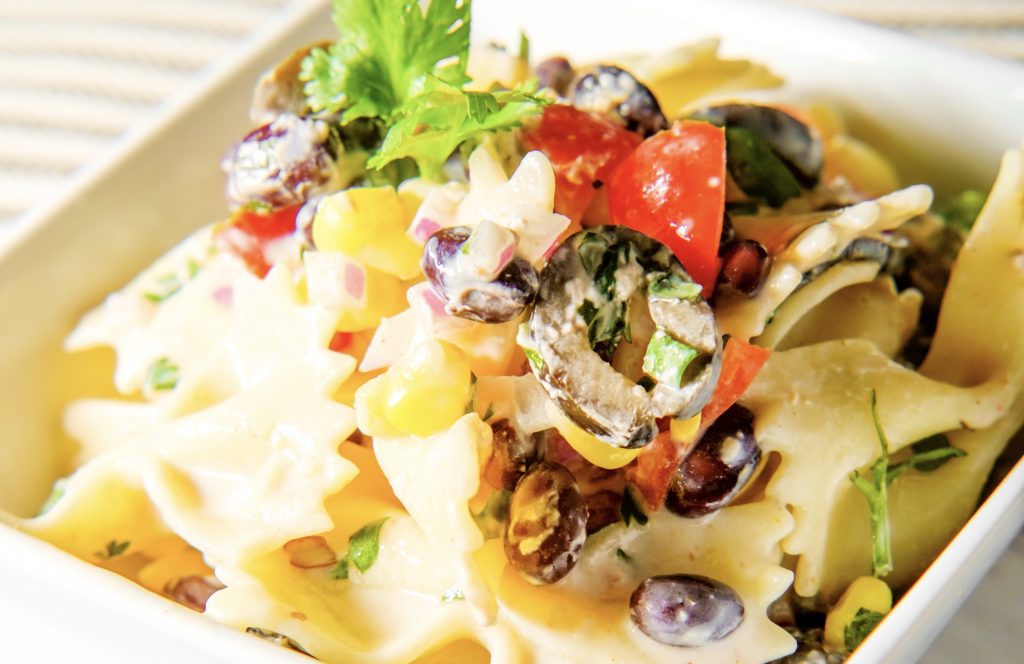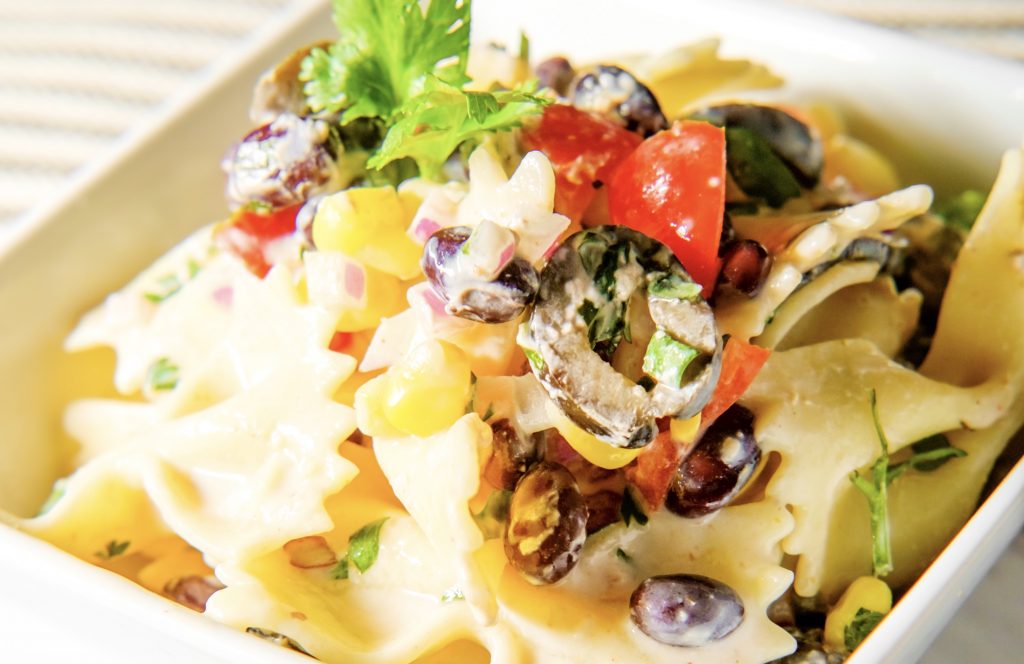 How To Make The Corn: The Easy Way
The easy way to make the corn is to simply used canned corn and to throw it in your bowl that you are mixing all of the ingredients together with.
This is the super simple and easy way to make this Mexican street corn pasta salad while spending very minimal time doing so!
How To Make The Corn: The Harder Way
When I say harder, I just mean the slightly more time consuming way!
If you want to put in a little effort and get out some amazing flavors from this corn pasta salad, you are going to want to cook the corn on the cob first.
You will coat your corn in spices and then wrap them in tin-foil and roast them in the oven.
This adds to the flavor of the corn pasta salad and gives it a really nice depth.
That being said, it DOES take a little bit longer to roast your own corn and then take off the kernels, but the result is super tasty and super worth it!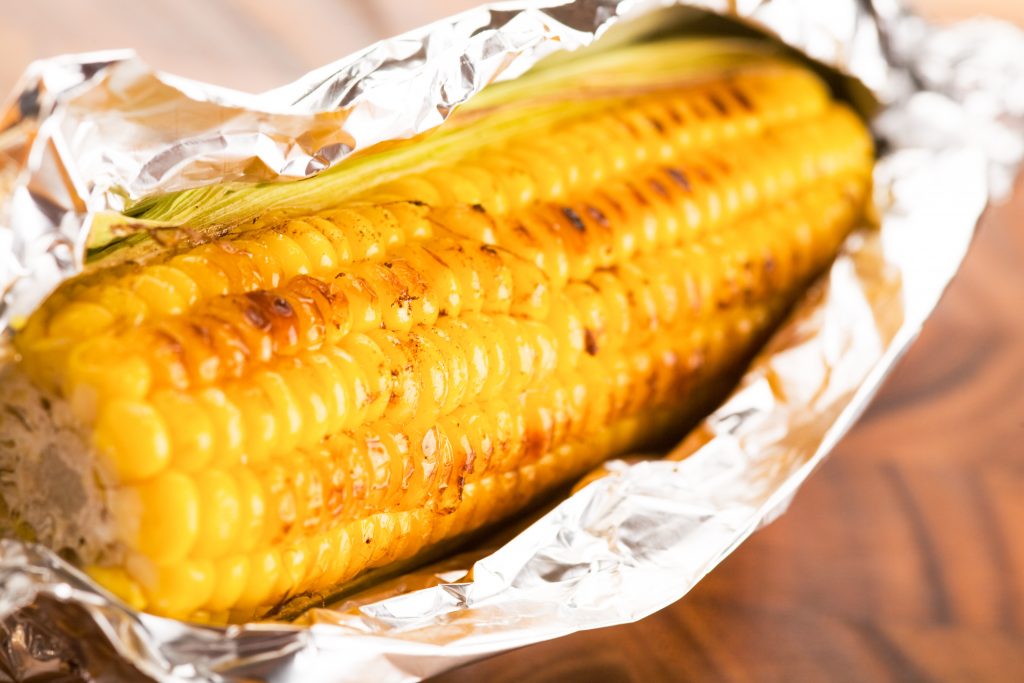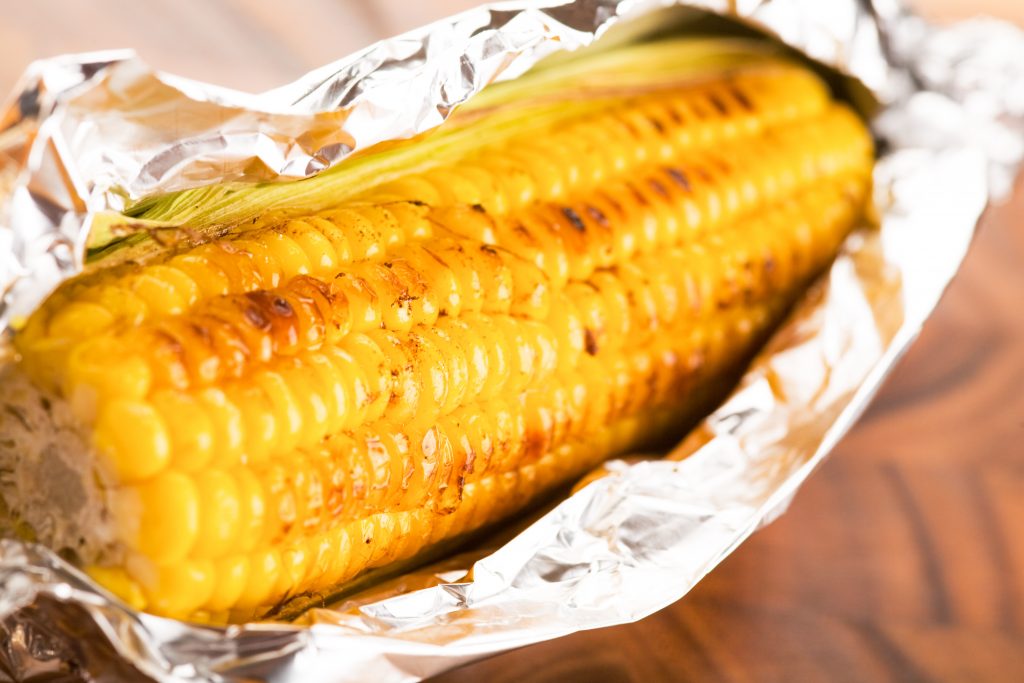 How To Make Mexican Street Corn Pasta Salad
If you are going to roast your corn, you want to start off by doing that. You can roast your corn and prepare your pasta at the same time!
When you are preparing your pasta, you can use any kind of pasta noodles that you prefer. I love bowties for personal preference and use them a lot.
Make sure you generously salt your pasta water with 2-4 tablespoons of salt. I know this sounds like a lot, but it makes a huge difference when making pasta dishes.
Drain your pasta and set it aside to cool. If you don't want to wait for it to cool naturally, you can wash the pasta in cold water in a strainer until it cools down.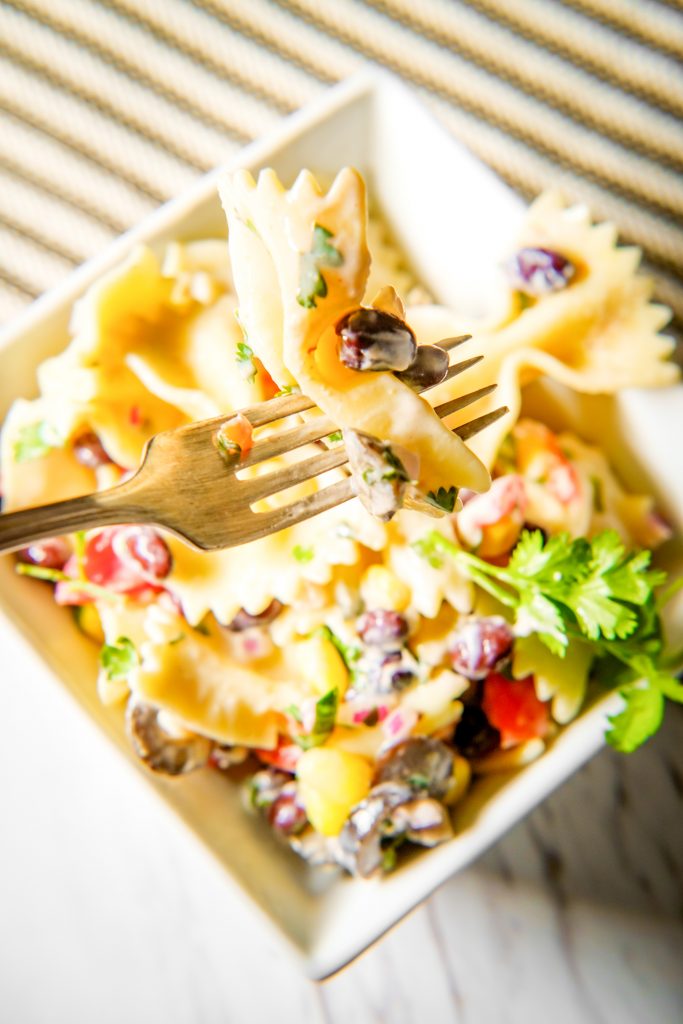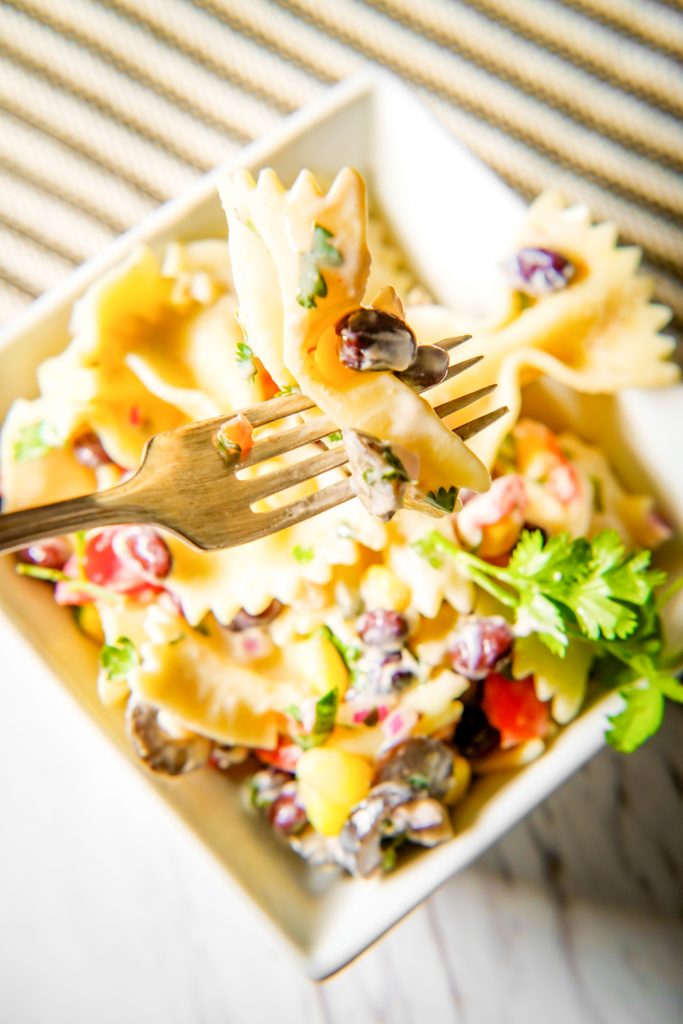 In another bowl, you will prepare your Mexican street corn pasta salad dressing. This is what packs the punch and brings the flavor to the party!
Set the dressing aside and chop the veggies.
When making corn pasta salad, you can add whatever veggies you like or leave out any you don't like!
For example, I always add olives, but loads of people hate olives so you can always leave those out!
Once the pasta is cooled and dried off a little in the strainer, place the pasta in a large bowl.
Then, add in your chopped veggies.
Finally, pour your dressing over the whole thing and mix together for your Mexican street corn pasta salad to come together!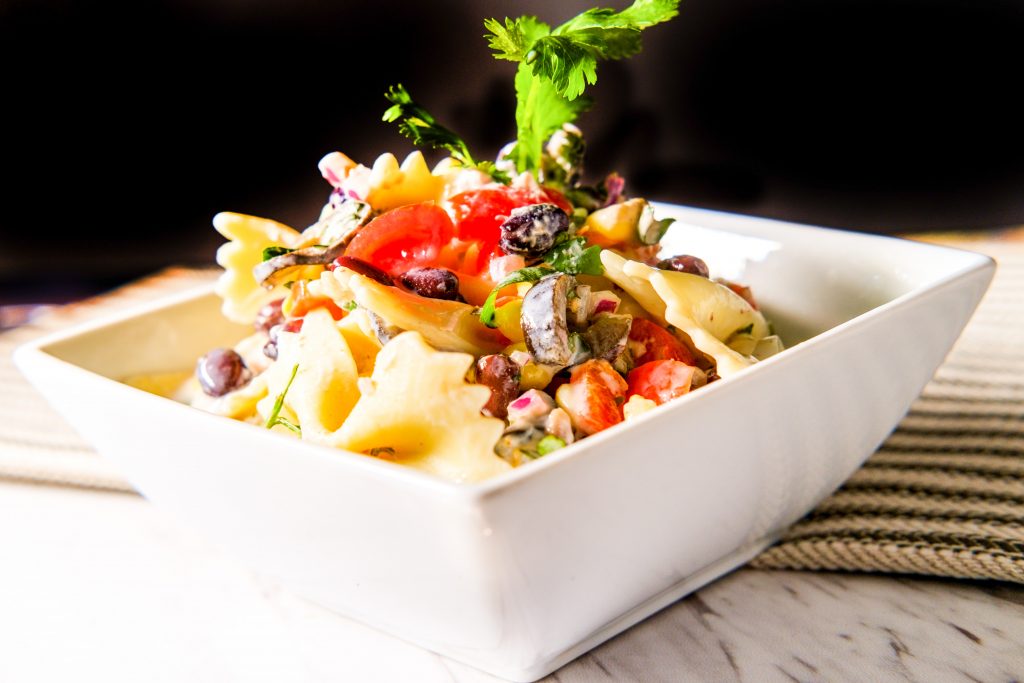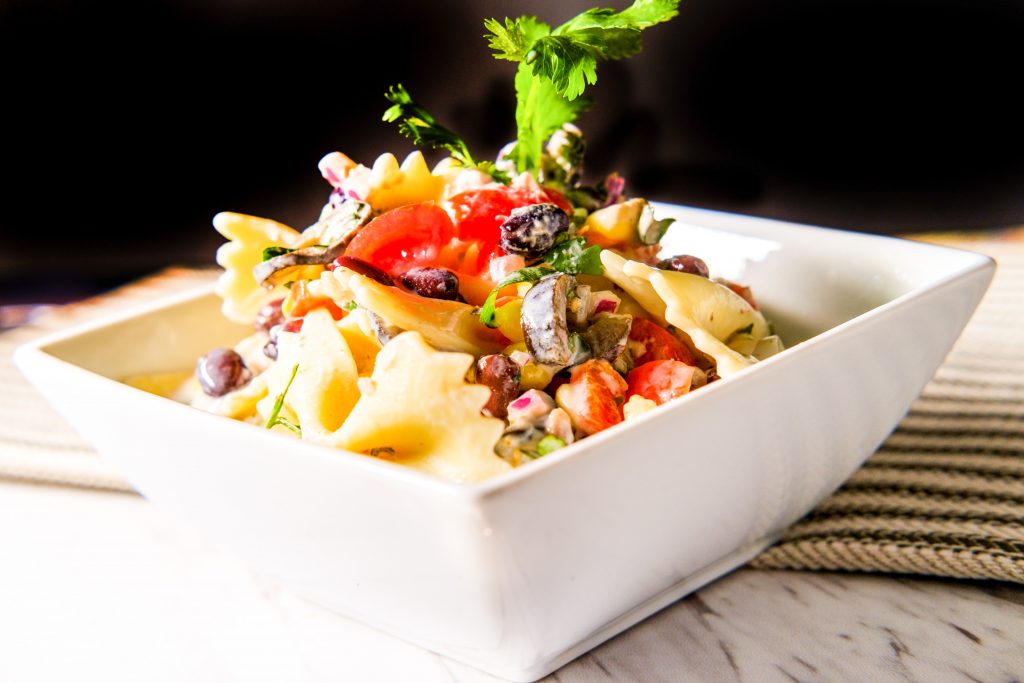 How To Store Corn Pasta Salad
If you are adding any additional fresh veggies that typically spoil such as avocado, you will want to eat it all in one sitting.
It isn't that avocado spoils, it is just that it becomes brown when left out and that just isn't cute!
You can make this Mexican corn pasta salad up to 3 days in advance and store it in an air-tight container in the fridge.
When it is time to serve, add more cheese crumbles and avocado and toss fresh.
Of course, you will want to serve this pasta salad cold!
How To Veganize Corn Pasta Salad
You can easily veganize this recipe by simply subbing out the vegan versions of the dairy items in this recipe!
For example, instead of regular mayo, use vegan mayo!
Instead of regular cheese, use vegan cheese. If you cannot find a Mexican-inspired vegan cheese, you can always use feta. It will change the flavor a little bit, but will still work well and hold up great!
Otherwise, you should be able to enjoy this recipe as-is other than a few simple substitutions to your preferred type of non-dairy product.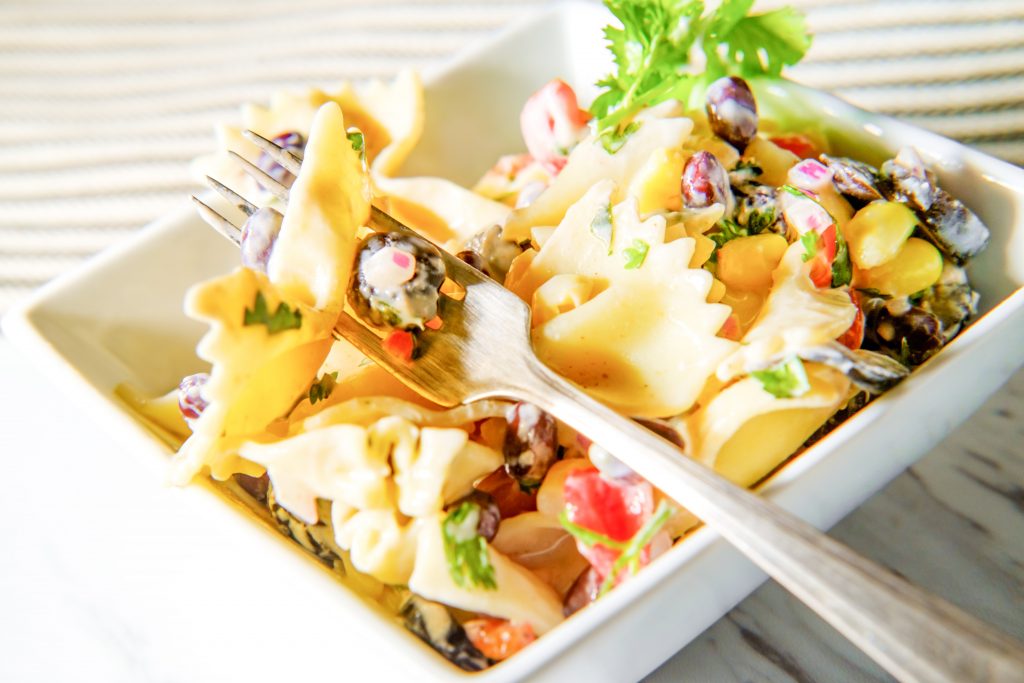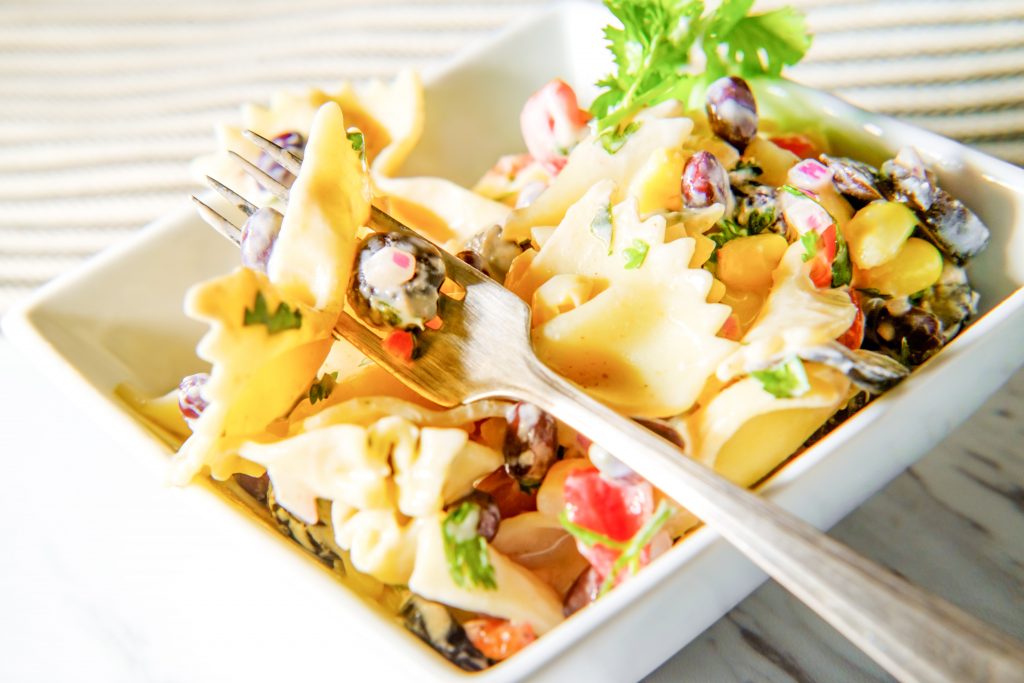 Did You Try This Recipe?
If so, I would love to keep in touch! I enjoy seeing photos and comments about the recipes that you make! You can follow me on Instagram and I will repost your goodies in my stories and comment on it too! Just tag me at @wowitsveggie and hashtag #wowitsveggie. I can't wait to see what you make!
Yield: 10 Servings
Easy Mexican Street Corn Pasta Salad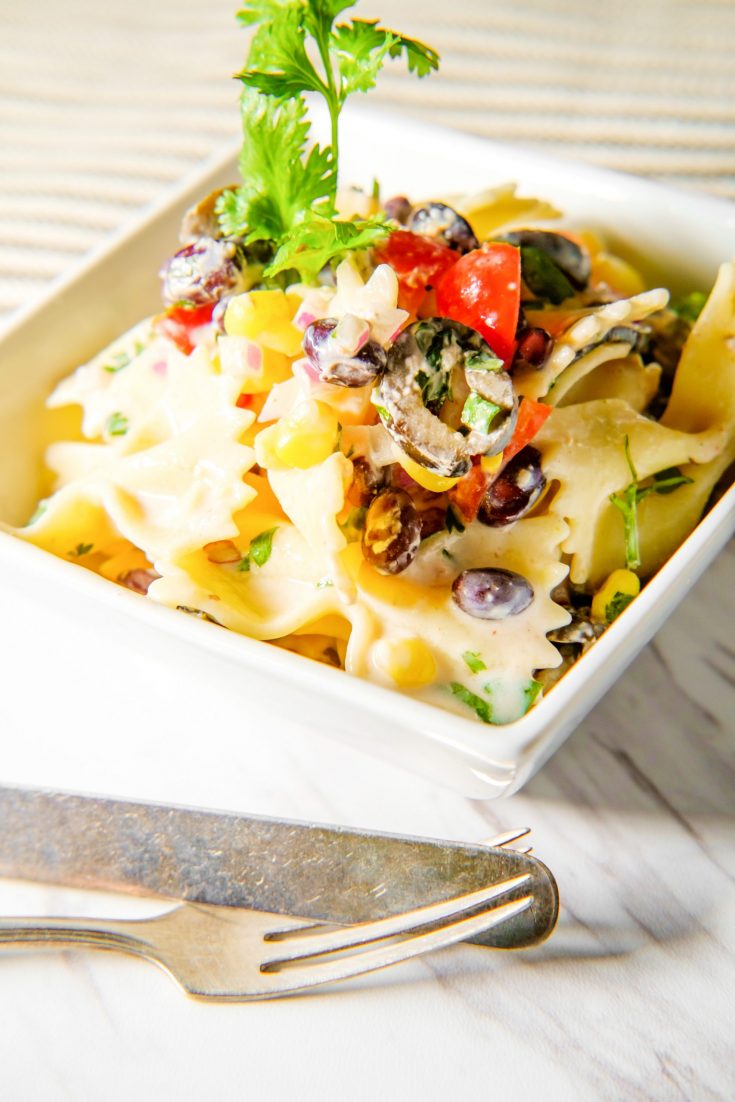 This Mexican street corn pasta salad is so easy and delicious to make! You can sub vegan cheese and vegan mayo for an easy non-dairy alternative and you can sub gluten-free pasta for a gluten-free treat that all can enjoy. It is the perfect blend between crunchy, creamy, tangy, spicy and delicious and will be a real hit at your next picnic.
Ingredients
For The Pasta Salad:
.
16 ounces pasta (any shape and can be gluten-free)
4 ears of fresh corn OR 2 (15 ounce) cans of corn, drained
1 cup black beans, drained
1 red pepper, diced
1 cup olives, chopped
1 small onion, diced
1 cup cherry tomatoes, cut
4 cloves of garlic, chopped
1/2 bunch fresh cilantro, chopped
2/3 cup cotija or queso fresco cheese (can use vegan cheese such as feta)
2 roughly chopped avocados
.
.
For the Dressing:
.
1 cup sour cream (can sub vegan sour cream)
3/4 cup mayo (sub vegan mayo)
1 teaspoon cumin
1 teaspoon chili powder (to taste)
1 teaspoon salt
1/2 teaspoon pepper
1/2 teaspoon smoked paprika
zest and juice of 2 limes
1 teaspoon hot sauce (to taste)
Instructions
If you choose to roast corn, rub with oil, chili powder, pepper, cumin and garlic powder and roast in tin foil at 425F for 20 minutes. Turn halfway. SKIP THIS STEP if you are using canned corn!
Boil your pasta water and cook pasta according to the directions. Make sure to add 2-4 tablespoons of salt to the boiling water before putting in the pasta. Cook pasta, drain and let cool.
While the pasta and corn (if roasting) are cooking, chop up all ingredients and set aside.
Prepare the dressing with the ingredients listed above in a bowl and mix until well combined. You can also use a food processor to blend all the ingredients, but hand mixing works just fine. Do a taste test and adjust spice and seasoning to taste.
Add pasta, corn, cotija, cilantro, and all of the chopped veggies to a large bowl. Pour the dressing over the pasta and toss until well coated. If you prefer, add roughly chopped avocado right before serving!
If you have any additional dressing, you can drizzle it over the salad when serving and garnish with more cilantro and avocados! Enjoy cold!
Notes
Please note, in no way do I claim for this to be an authentic Mexican recipe! This is just my take on it using similar flavors. For an authentic Mexican street corn pasta salad, please support a Mexican-owned food blog!