If you have never made jackfruit pulled pork, you are in for a real treat. The combination of sweet and tangy BBQ mixed in with jackfruit is a winner in flavor.
In fact, this vegan pulled pork recipe looks so close to the real thing, even meat eaters will love it. My boyfriend eats meat and LOVES vegan pulled pork.
If you have never worked with jackfruit before, I promise you it is so super easy. You don't have to use the fresh giant jackfruits you see at the store, you can use the canned variety.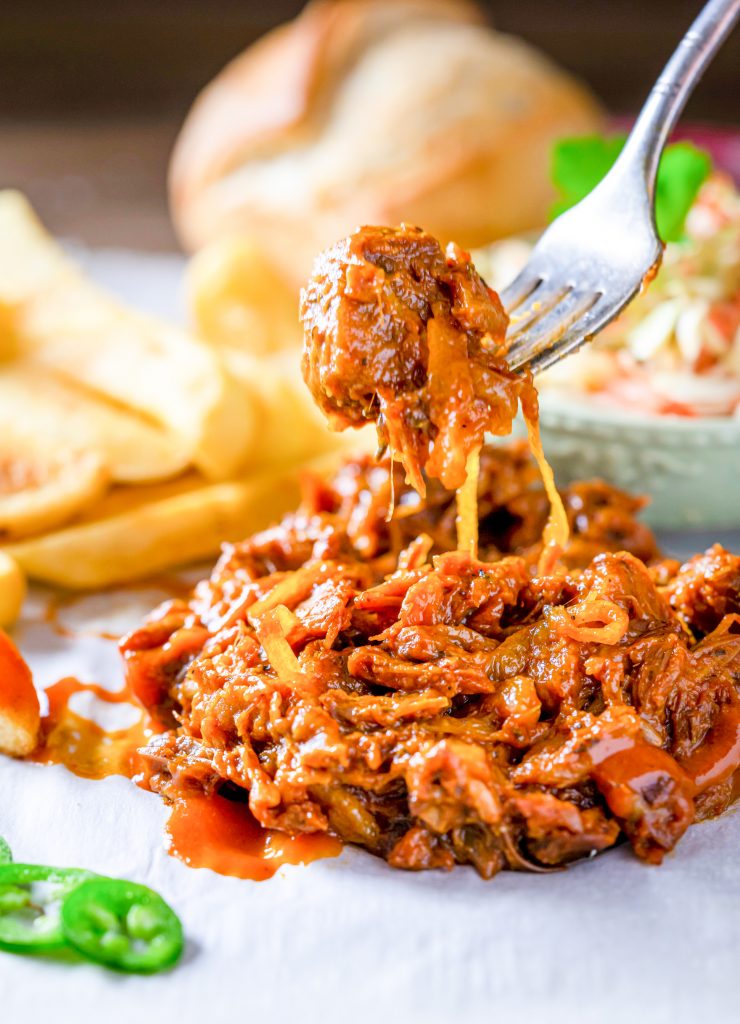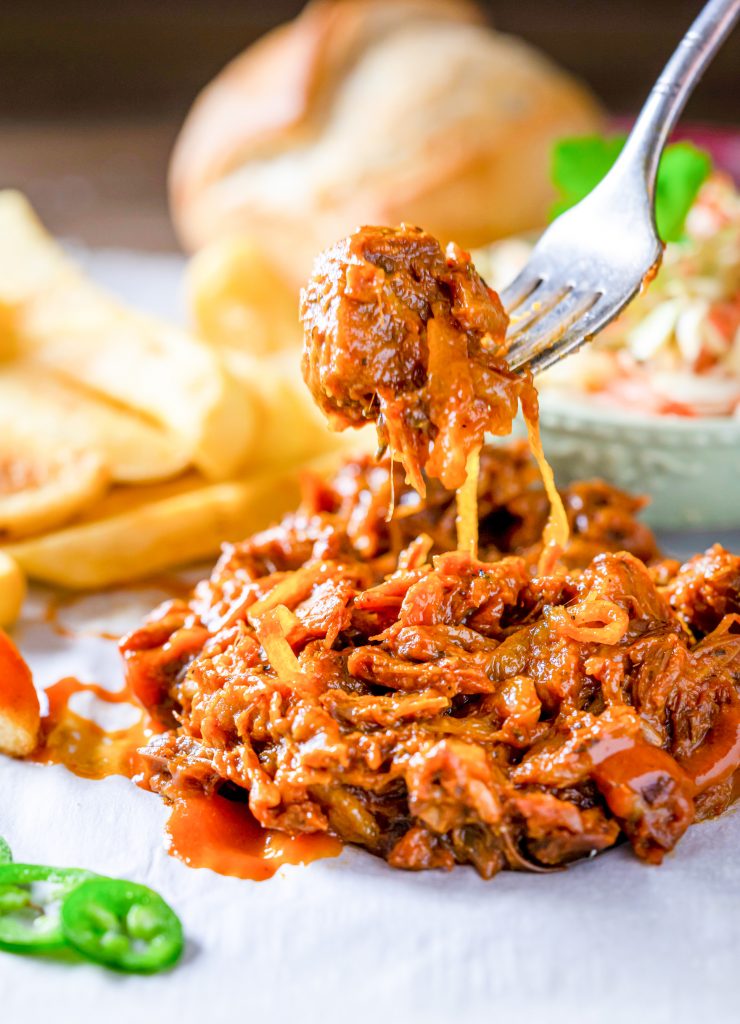 You also don't have to use the BBQ jackfruit to make a vegan pulled pork sandwich! You can stuff it in tacos, use it over a pasta, anything.
I will show you have to make the vegan pulled pork sandwich here, but you can go fly free and do whatever you want with this succulent recipe.
We will be using my Homemade BBQ Sauce recipe for the flavoring and then, if you are making the sandwich, you can use my Vegan Coleslaw Recipe which whips up in no time.
What I love about this recipe is that it comes together easily and it doesn't use the oven which means you can whip it up quickly after work.
Making pulled pork from jackfruit is something that every vegan cook [and even the non-vegans!] should know how to use so you can really up the ante in the cooking department!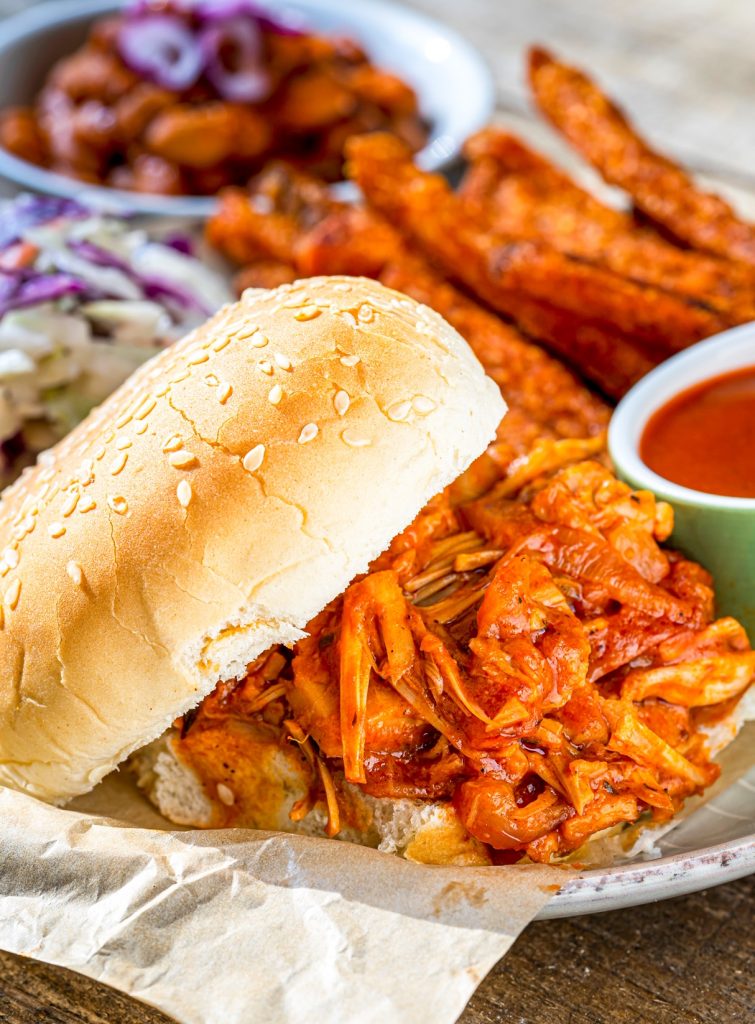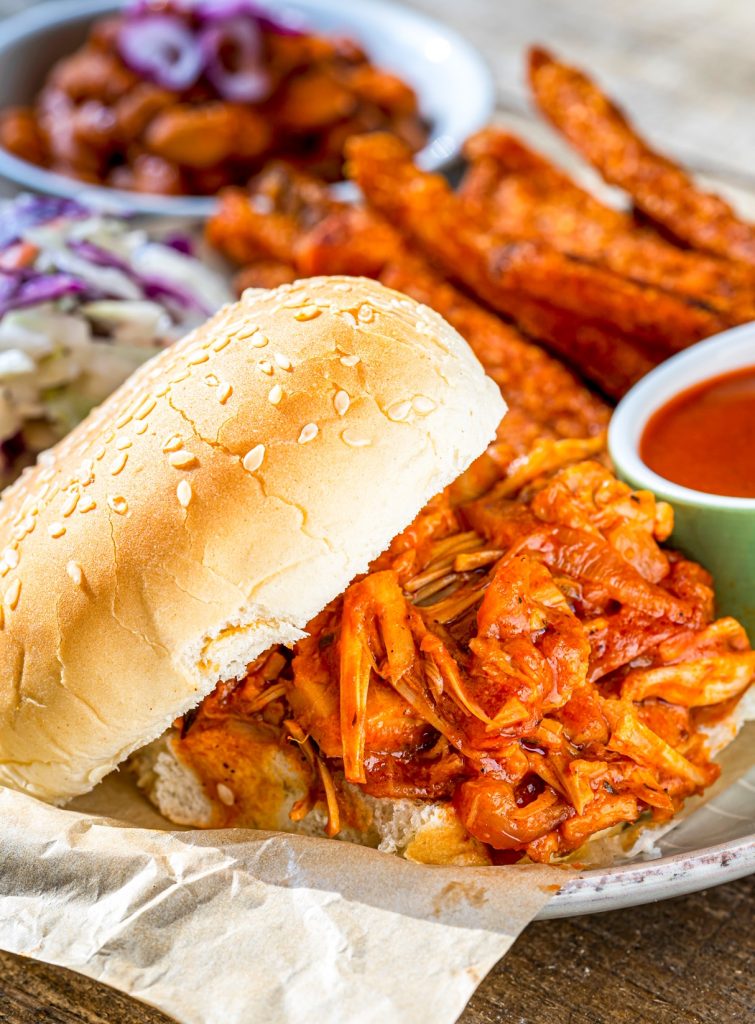 You Will Love Vegan Pulled Pork:
The flavors are out of this world! The jackfruit pulled pork is the perfect combination of flavors. Using my homemade vegan BBQ sauce and topping it with my homemade Vegan Coleslaw makes for a winning combo that you will crave again and again.
It consists of easy-to-find ingredients. Once you find your canned jackfruit, the hard part is done! The rest of the ingredients in this vegan pulled pork recipe are pantry ingredients or just a quick run to the grocery store away.
Versatile In so many ways! You can use this BBQ pulled jackfruit in so many ways. Of course, you want to eat it on a vegan pulled pork sandwich. You can stuff it in tacos, use it in our Vegan Shepard's Pie recipe for a meaty addition and more.
How To Prepark Jackfruit
If you have never worked with jackfruit before, you may have questions.
That is okay!
For this recipe, we are using canned jackfruit to make our lives easier.
If you are using a whole giant jackfruit, you want to slice it in half and remove the yellow pods and seeds from the skin and core and then continue from there.
Making vegan pulled pork using jackfruit from a can is so much easier and you can find it in most stores.
When using canned jackfruit, you want to make sure to rise the jackfruit well from the can, especially if it is in a brine.
Ideally, you want to avoid the kind that is packed in a brine.
I usually do this using a strainer in the sink.
Next, chop off the center of the core. These are the hard parts that you will feel with your hands on the individual pieces of jackfruit.
When getting jackfruit pulled pork from the store, you can EASILY tell when the hearts/hard parts haven't been cut off and it is a weird texture.
And that is all. Now you are ready to cook it.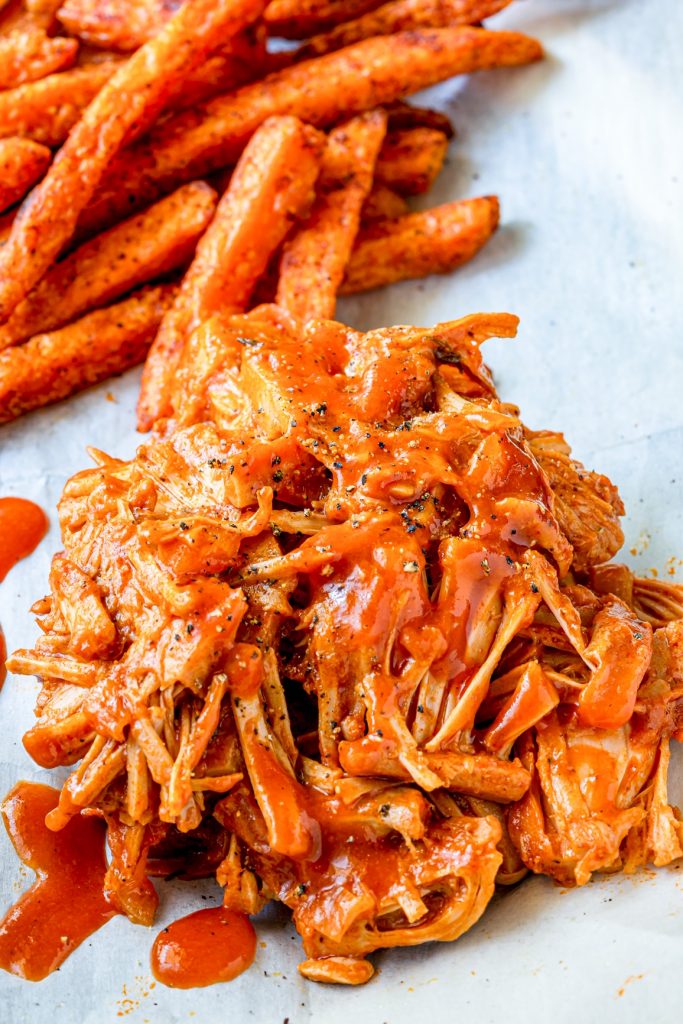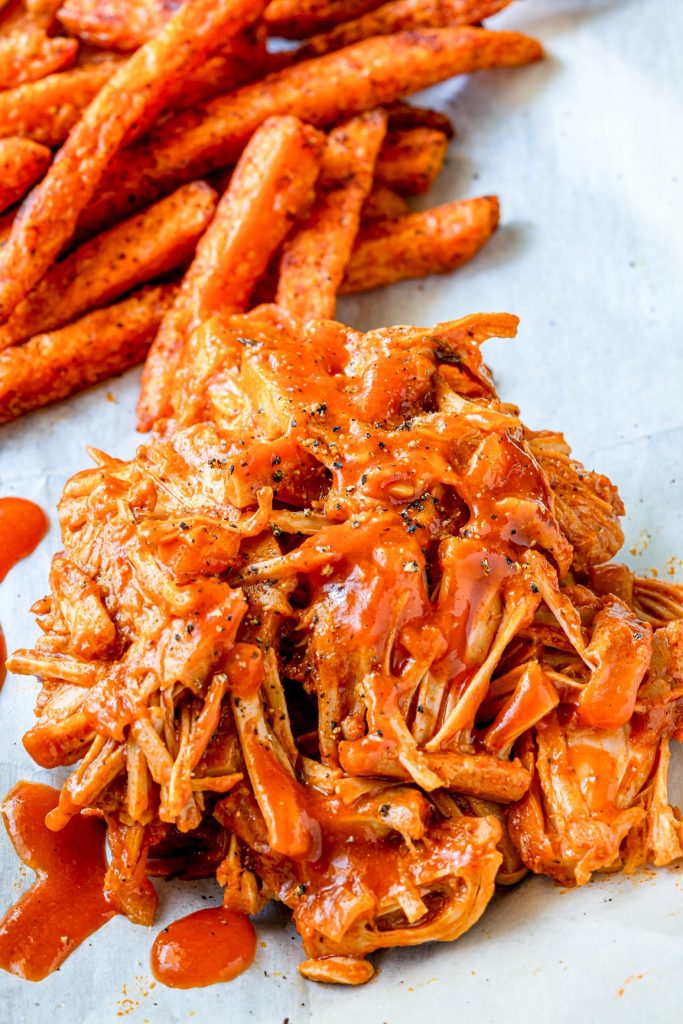 How To Make Jackfruit Pulled Pork
As I mentioned above, my recipe for jackfruit pulled pork only requires the stove, not the oven so it saves time.
You can also save additional time by using BBQ sauce from the store or coleslaw from the store.
I prefer to make my own and that is the basis for this recipe!
First you are going to heat your medium frying pan and saute garlic and onion until it is cooked, usually about 5 minutes.
Then, add the jackfruit that you prepared as above [drained and pulled apart with your hands] to the pan.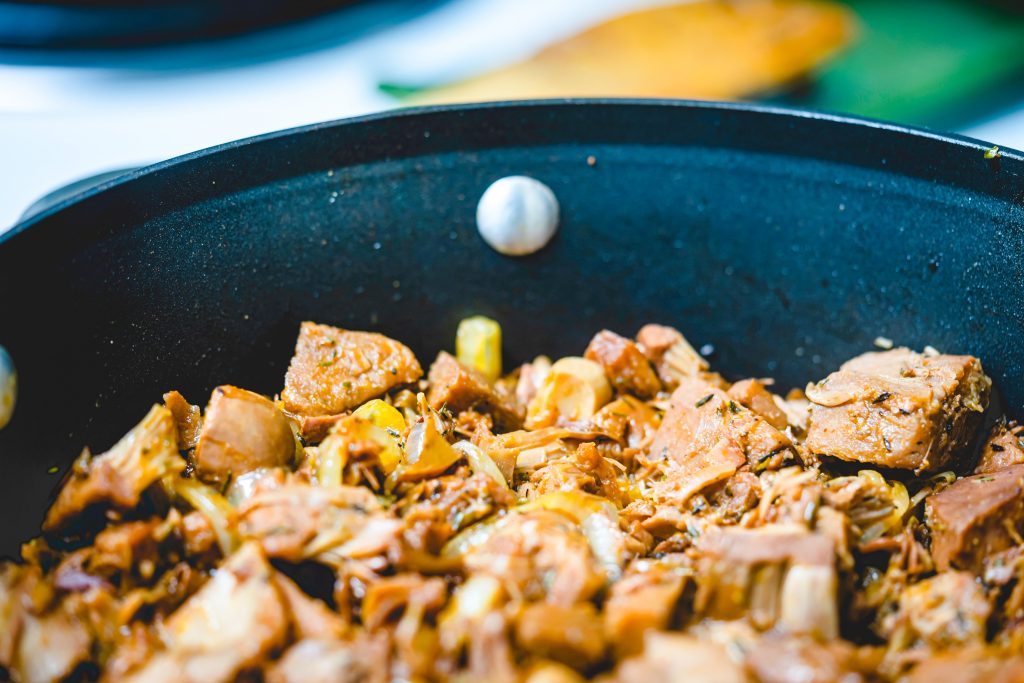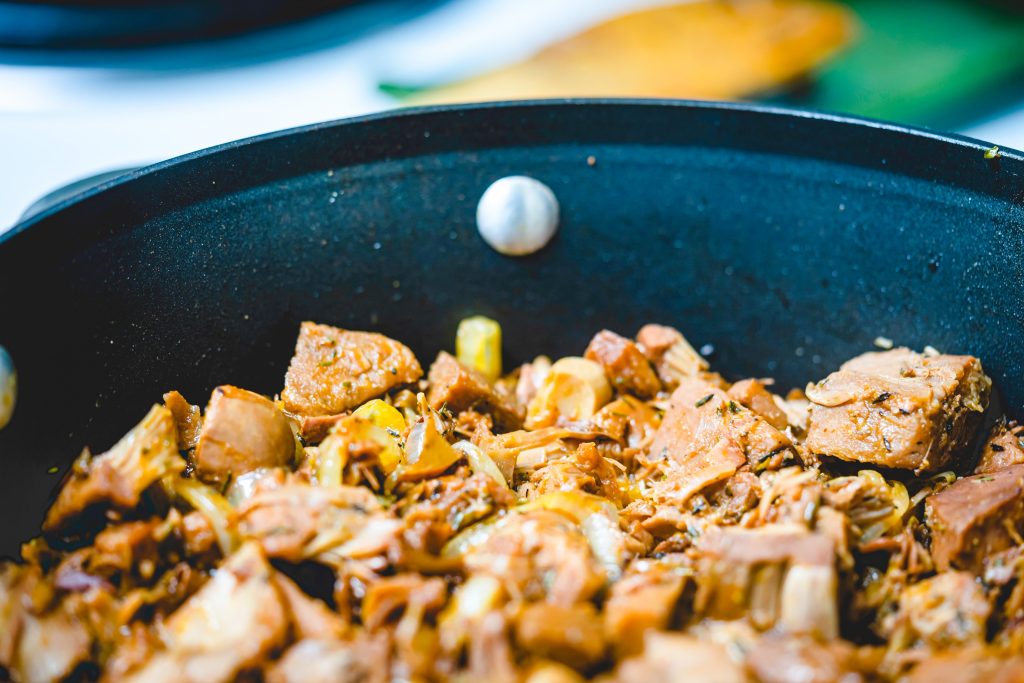 Stir it around a little bit so that the jackfruit is evenly distributed and gets hot. Add in your spices to help give a give to the recipe.
Next. add in your BBQ sauce and water and simmer for about 15-20 minutes, until the liquid evaporates a little.
Next, using a fork, shred the jackfruit so it looks like pulled pork. This is how you get that desirable vegan pulled pork look.
I like to preshred before I cook, but once the jackfruit is cooked, it shreds so much better.
At this point, you can add more hot sauce and salt and pepper to taste.
After you mash the softened jackfruit, turn the heat up to high and let it cook for another 5-10 minutes until liquid dries up and the jackfruit is cooked well.
It may stick to the pan or pot so make sure to turn it and stir once in a while.
And that is it! You just easily made vegan BBQ jackfruit pulled pork.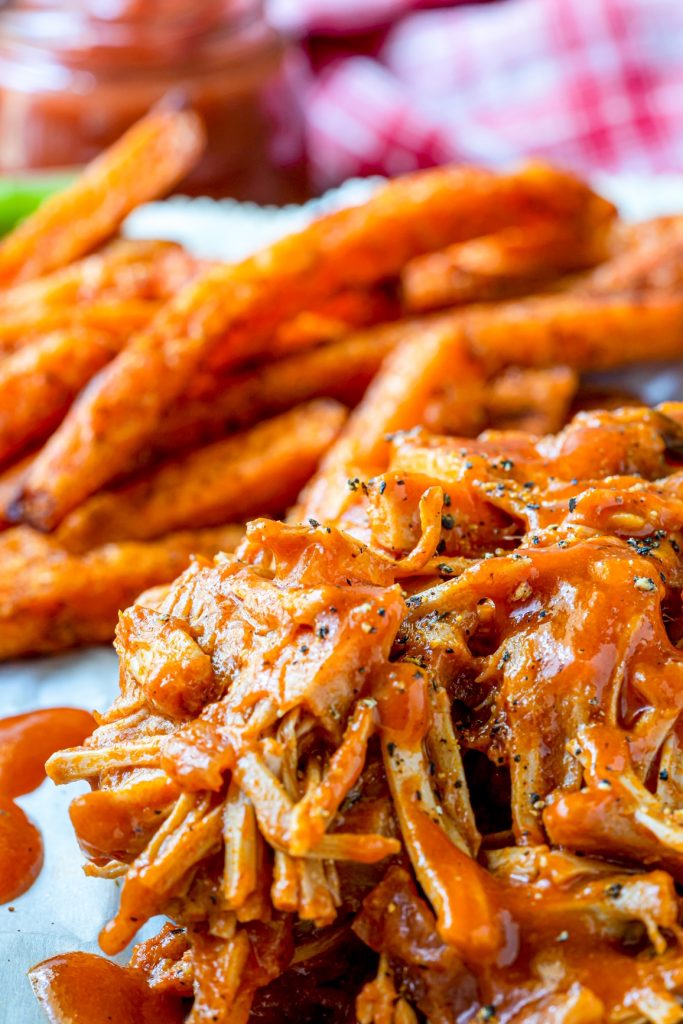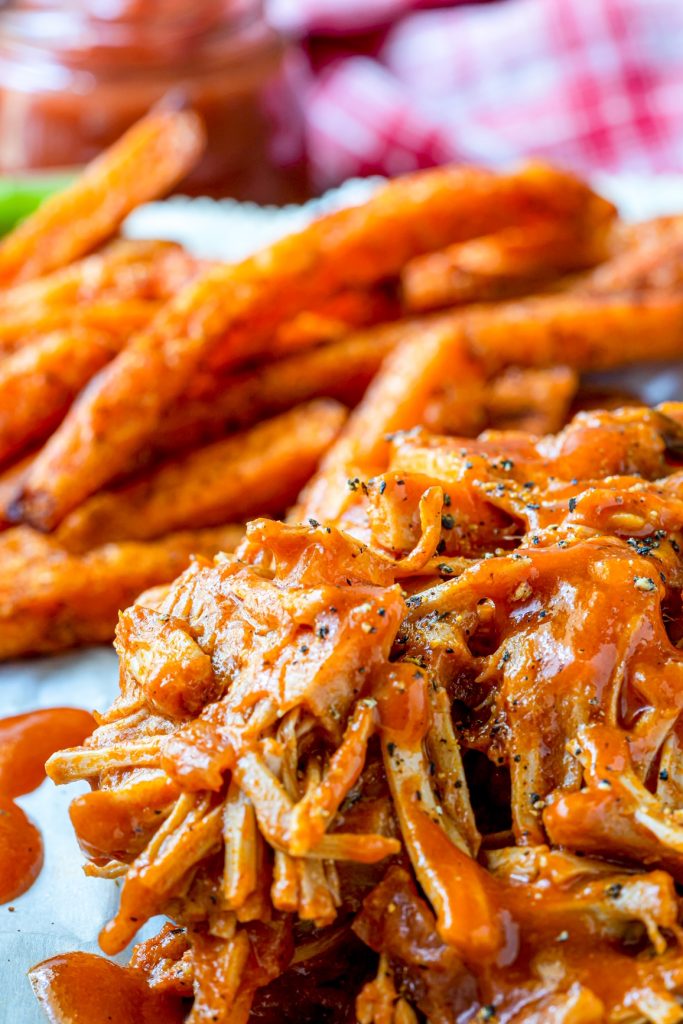 What To Serve With Vegan Pulled Pork
As vegans, we sometimes don't know how or what to serve with certain recipes!
That is okay! You can use BBQ jackfruit pulled pork in the same exact way you use regular pulled pork.
The most obvious way is to make a vegan pulled pork sandwich using bread, coleslaw, and the jackfruit pulled pork. But there are some other ways you may love too!
How to use BBQ jackfruit:
As you can see, there are quite a few ways to serve and enjoy vegan pulled pork. You can really let your imagination run wild with this one. If you find something that is different to what I suggested, let me know in the comments!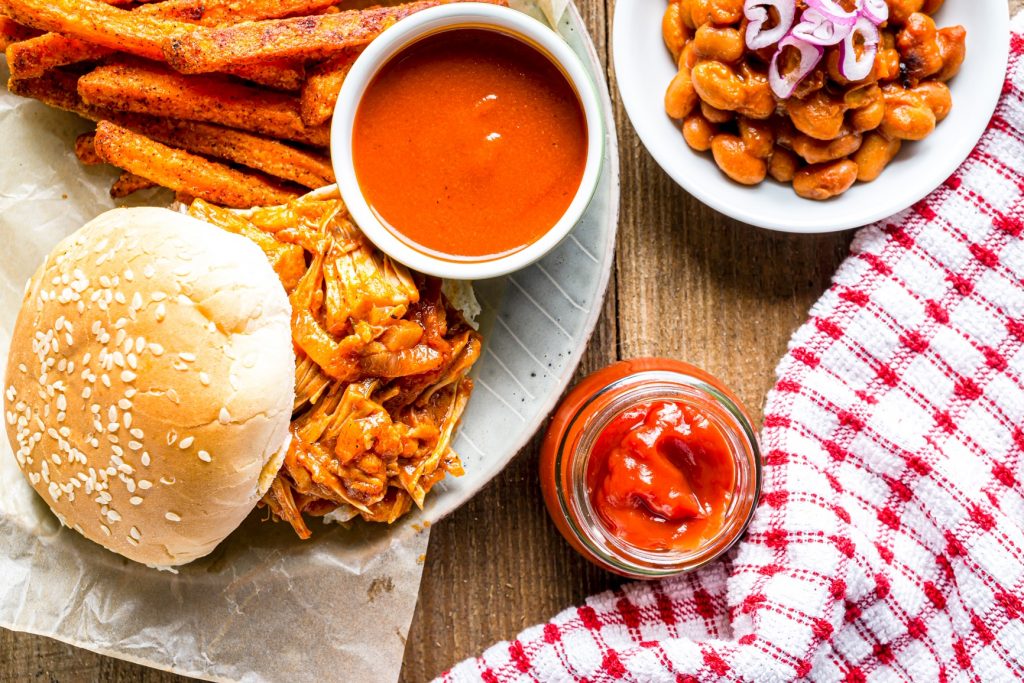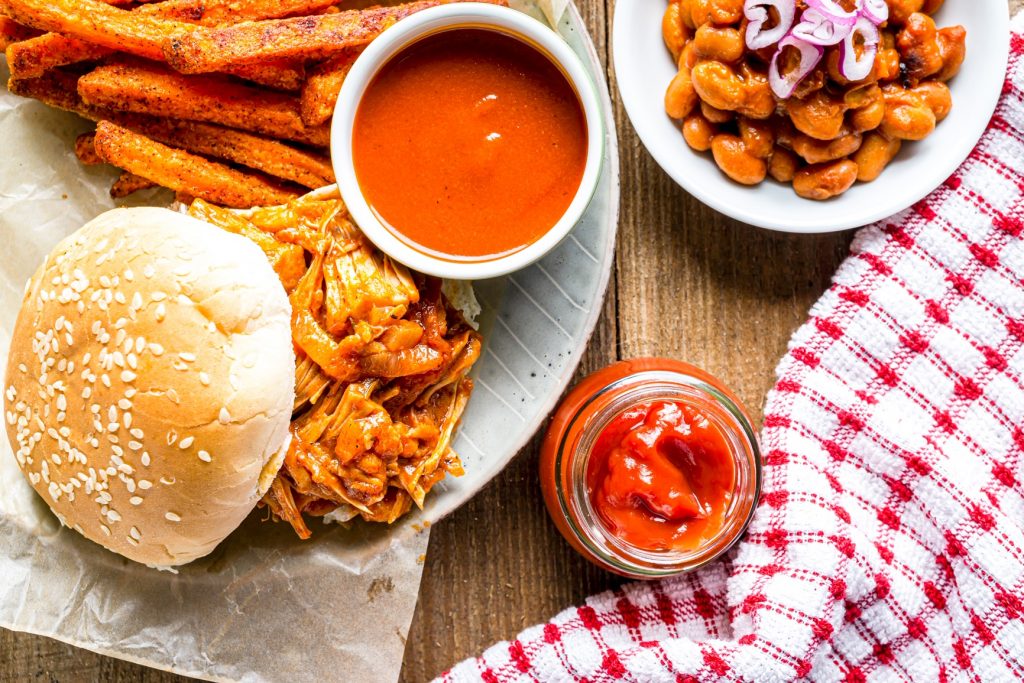 How To Store Jackfruit Pulled Pork
The thing I love about this BBQ pulled jackfruit is that you can make a big batch in advance and it keeps really well.
It is perfect for meal prep and pretty healthy too.
You can store the pulled pork jackfruit in the fridge in an air-tight container for 5.
To reheat, you can simply microwave it if you are in a rush or reheat it on the stove.
If you choose to reheat it on the stove, add in a little bit of water and a little bit more BBQ sauce to ensure that it is wet enough to reheat. Don't add too much, just a splash.
Vegan pulled pork also stores well in the freezer! In a freezer-safe container, you can store your BBQ jackfruit.
I suggest putting it into individual portions before you freeze so you can just take out what you need.
To reheat, let the jackfruit thaw in the fridge overnight and then reheat on the stove or in the microwave as directed above.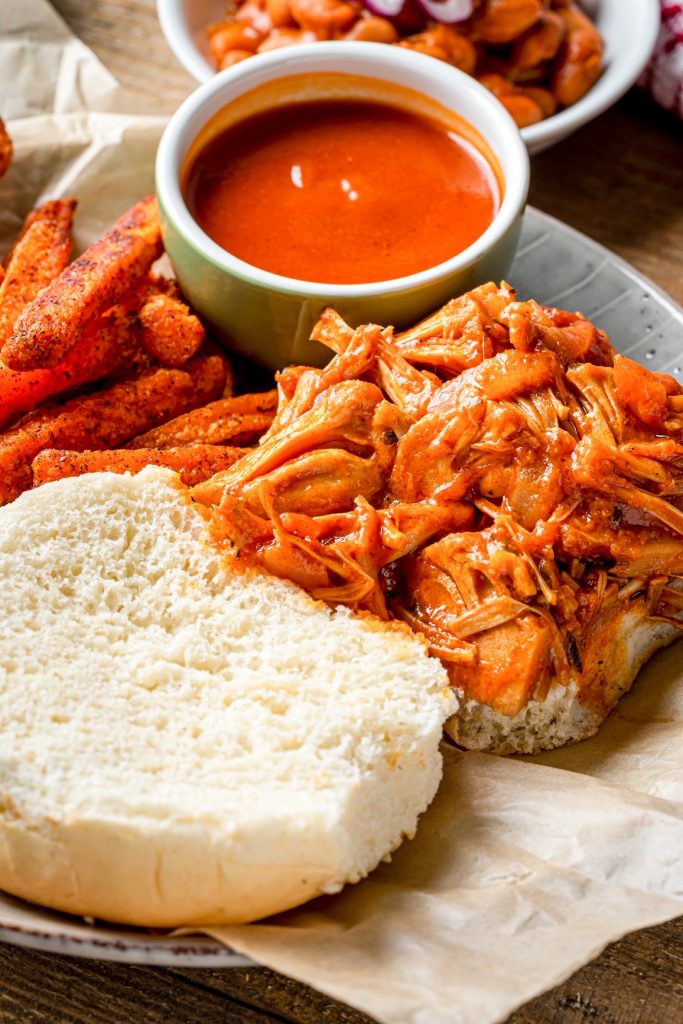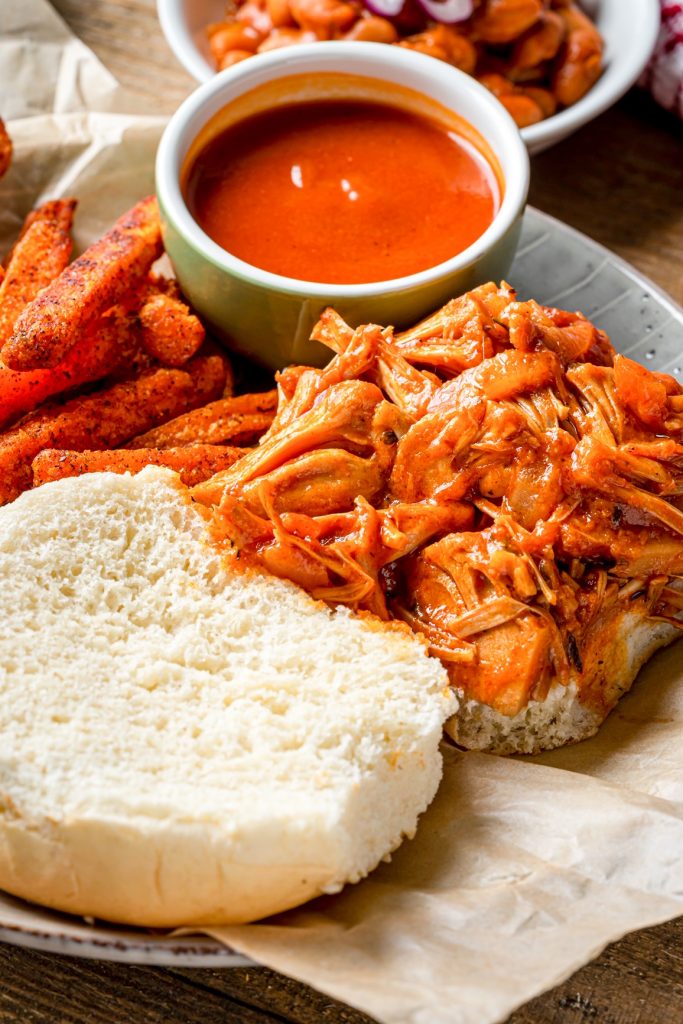 Did You Try This Recipe?
If so, I would love to keep in touch! I enjoy seeing photos and comments about the recipes that you make! You can follow me on Instagram and I will repost your goodies in my stories and comment on it too! Just tag me at @wowitsveggie and hashtag #wowitsveggie. I can't wait to see what you make!
Yield: 4 servings
Easy Jackfruit Pulled Pork (Vegan)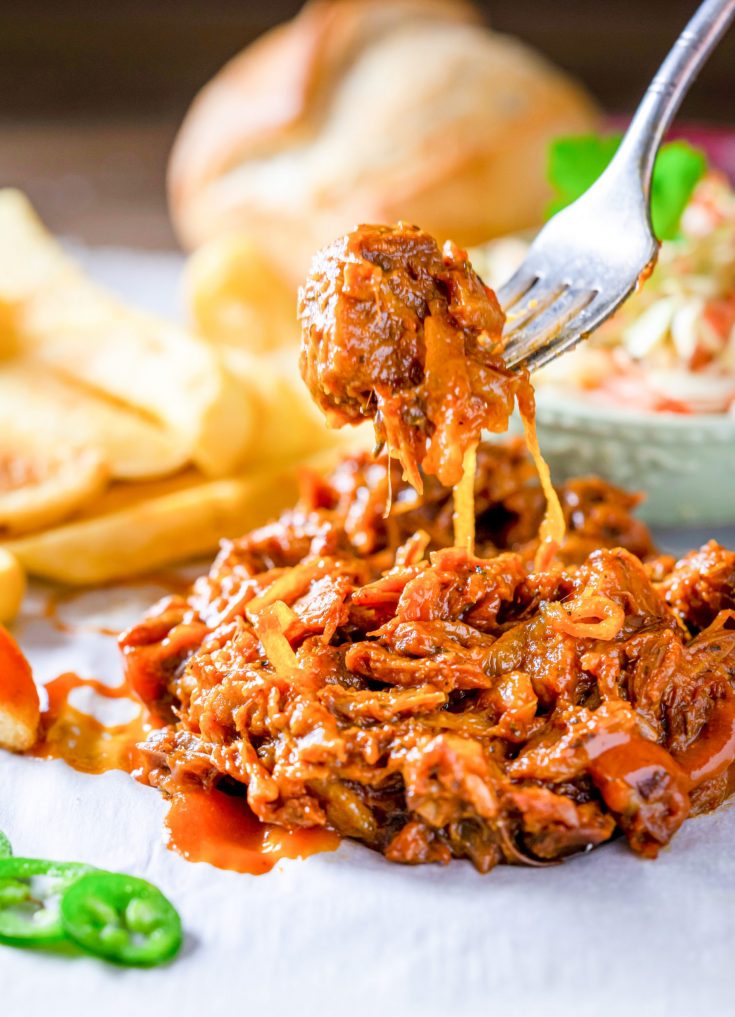 Making jackfruit pulled pork has never been easier! The best way to serve it? A vegan pulled pork sandwich. If you don't want that, the options are endless and the BBQ jackfruit can go in tacos, on salads and more.
This is the perfect marriage between sweet, tangy, and delicious and it will wow even the pickiest meat eater.
It is naturally vegan and gluten-free, just make sure to take into account how you serve it!
Ingredients
2 (20 ounce) cans of jackfruit (preferably not in brine)
1 onion, chopped
5 cloves of garlic, minced
1.5 cups BBQ sauce (homemade or store-bought)
1/2 cup of water
2 teaspoons smoked paprika
1-2 tablespoons chili powder (to taste)
1 teaspoon cumin
2 teaspoons salt
1 teaspoon pepper
Instructions
In a strainer, drain your cans of jackfruit and rinse. Cut off the hard parts or the "hearts" that you may feel on some of the pieces. If there is a really hard piece, it is noticeable when eating the BBQ jackfruit so try and cut off as much as you can. Using your hands or a fork, gently "shred" the jackfruit as much as you can before cooking.
In a medium pan or pot over medium heat, saute your garlic and onion for about 5 minutes or until fragrant.
Add in the jackfruit and all of the spices and saute for 2-3 minutes.
Pour in either Homemade BBQ sauce of storebought and the water. Cover with a lid and simmer for 15-20 minutes.
Remove jackfruit from heat and using a fork or a masher, shred the jackfruit to give it the vegan pulled pork look. You will shred it a little before cooking, but this really helps with the overall look and feel.
Return jackfruit to the stove and turn the heat up to high and remove the lid. Let the excess liquid boil off and reduce for about 5-10 more minutes and you are done!
Serve vegan jackfruit pulled pork with Vegan Coleslaw and on a bun for a traditional meal or try any variation you can think of and enjoy.
Nutrition Information
Yield
4
Serving Size
1
Amount Per Serving
Calories

258
Total Fat

2g
Saturated Fat

0g
Trans Fat

0g
Unsaturated Fat

1g
Cholesterol

0mg
Sodium

2273mg
Carbohydrates

60g
Fiber

5g
Sugar

45g
Protein

3g