If you are looking for vegan coleslaw, this is the perfect recipe for you!
It is creamy, classic, and perfect when chilled in the fridge a little bit before serving.
The difference between regular coleslaw and vegan coleslaw dressing predominantly lies in the use of the mayo.
For this recipe, you will be using vegan mayo to make the coleslaw creamy.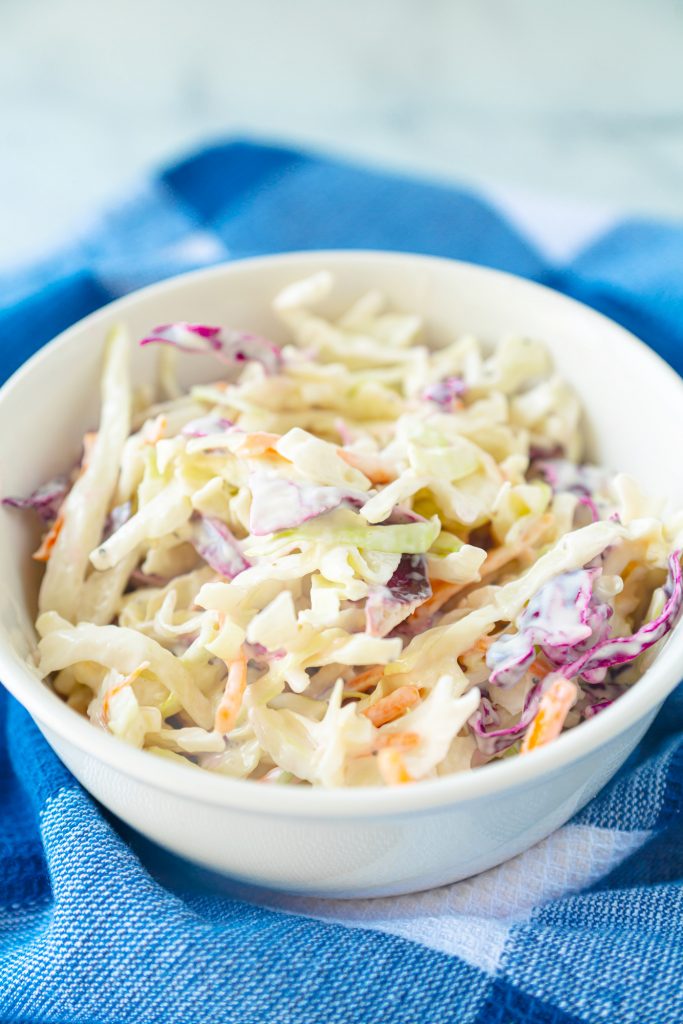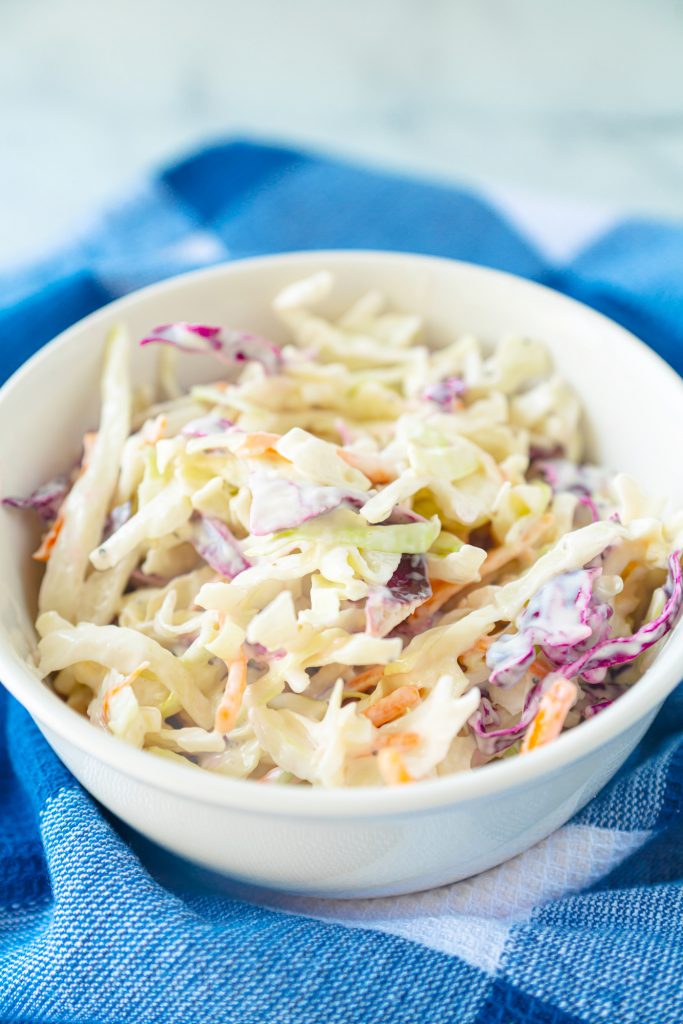 My favorite vegan mayo is Veganese and I have been using it for pretty much my entire life.
Alternatively, you can also make your own vegan mayo which is also quick and easy.
Many coleslaw recipes use celery seed, but you really don't need it to make this one taste like the delicious classic.
I wanted to make the recipe accessible so all you have to do is pick up the coleslaw cabbage mix at your local grocery store and whip it up without too much extra work!
Vegan coleslaw is perfect for summer and makes a great topping for my Vegan Sloppy Joes or you can serve it as a side to Vegan Portobello Burgers or Chickpea Burgers.
This recipe takes less than 5 minutes to make and will be the perfect side for your summer picnic or potluck!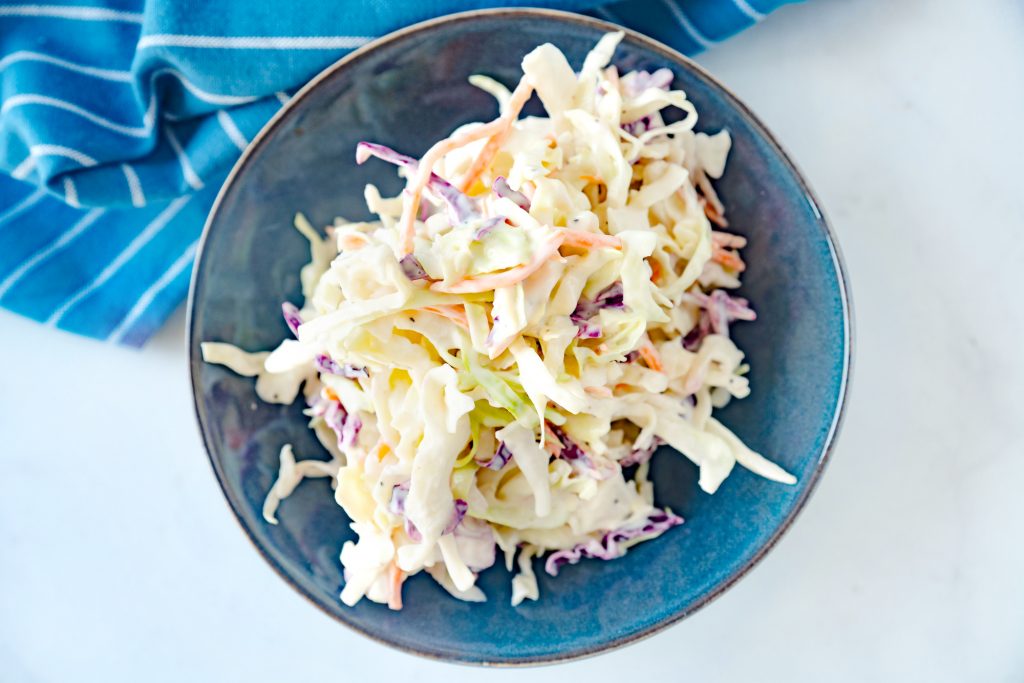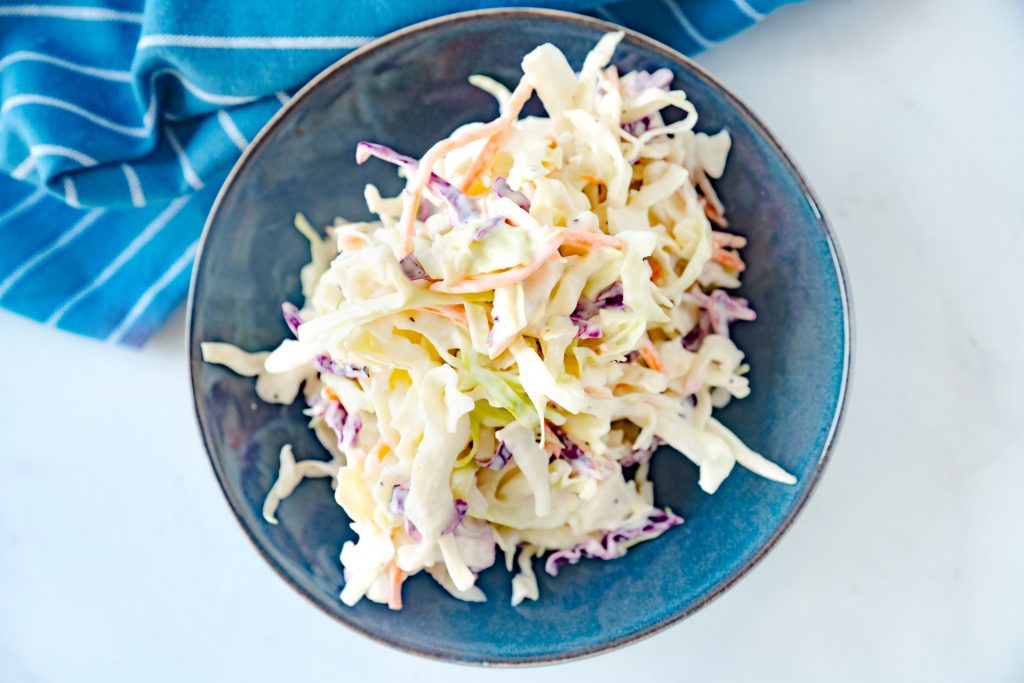 How To Make Vegan Coleslaw
Making vegan coleslaw is so super simple and easy! You can even get the kids in on helping you as there is no cooking required.
When shopping, you should get a bag of shredded coleslaw mix which usually has cabbage and carrots mixed in the bag.
Of course, you can shred your cabbage and carrots yourself, but if you want a true classic vegan coleslaw recipe, you are going to want to buy the bag from the store.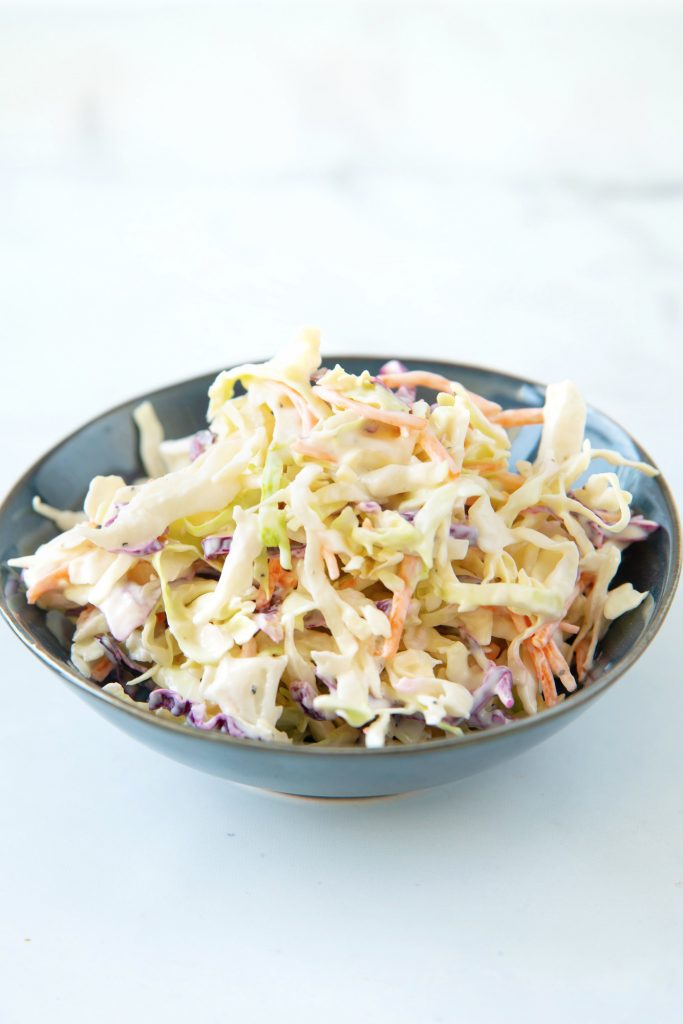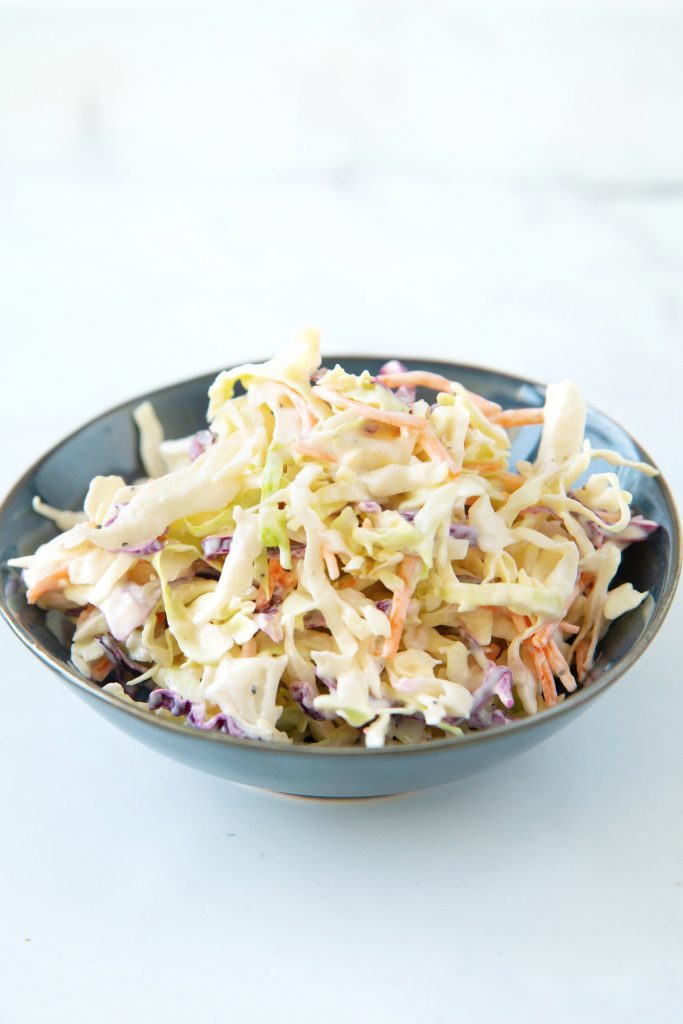 Next, it is essential to use two bowls when making this recipe.
One to portion out the coleslaw and one to mix the dressing.
You will NOT put the coleslaw mix in the bowl and pour the ingredients for the dressing over the top of it. This will result in a lumpy and bumpy mixture which is what you don't want!
Instead, you are going to want to mix the vegan coleslaw dressing all on its own and then combine the two.
In a medium bowl, add the vegan mayo, soy milk, sugar, salt, pepper, and lemon juice.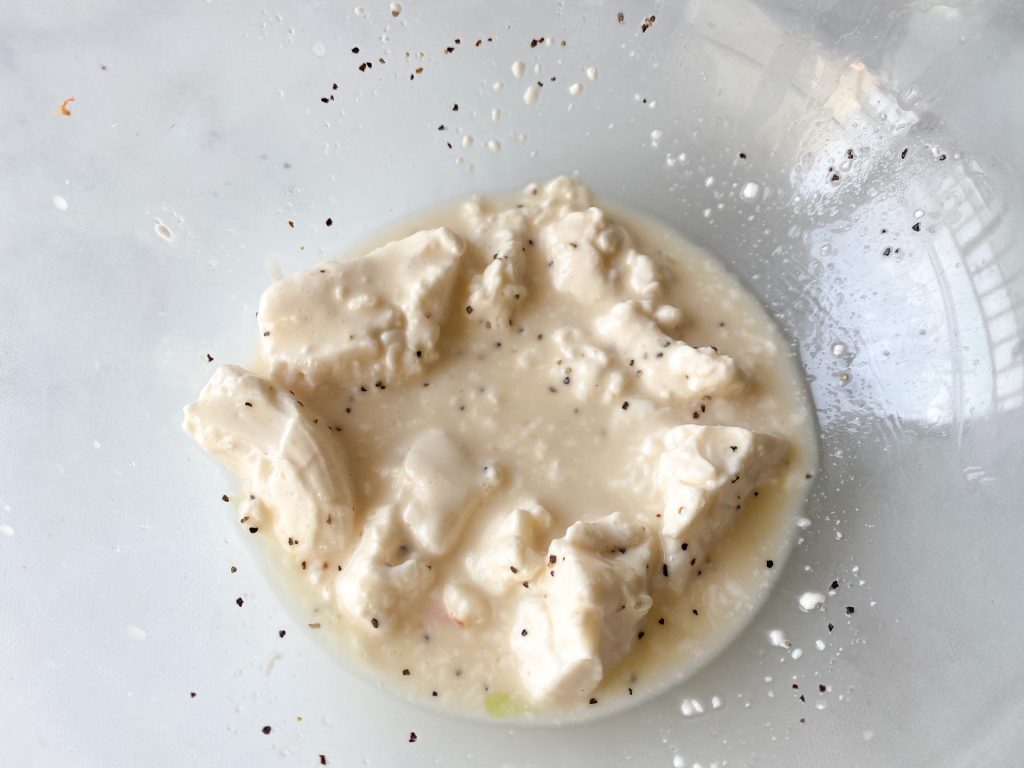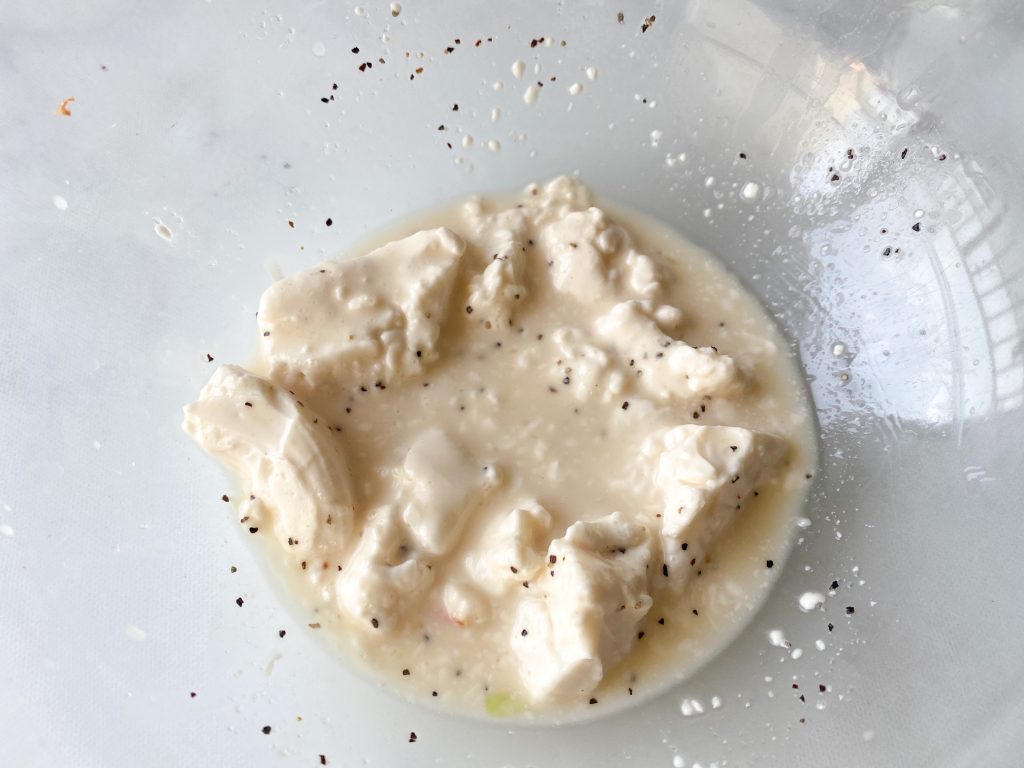 Use a fork or whisk to vigorously whisk until the mixture is combined and smooth.
The vegan mayo will naturally have lumps and bumps in it and this is what you don't want! You will want the mixture to be thick yet smooth.
Then, slowly add in the cabbage mixture to the mayo mixture and "fold" using a wooden spoon until the vegan coleslaw dressing evenly coats the cabbage.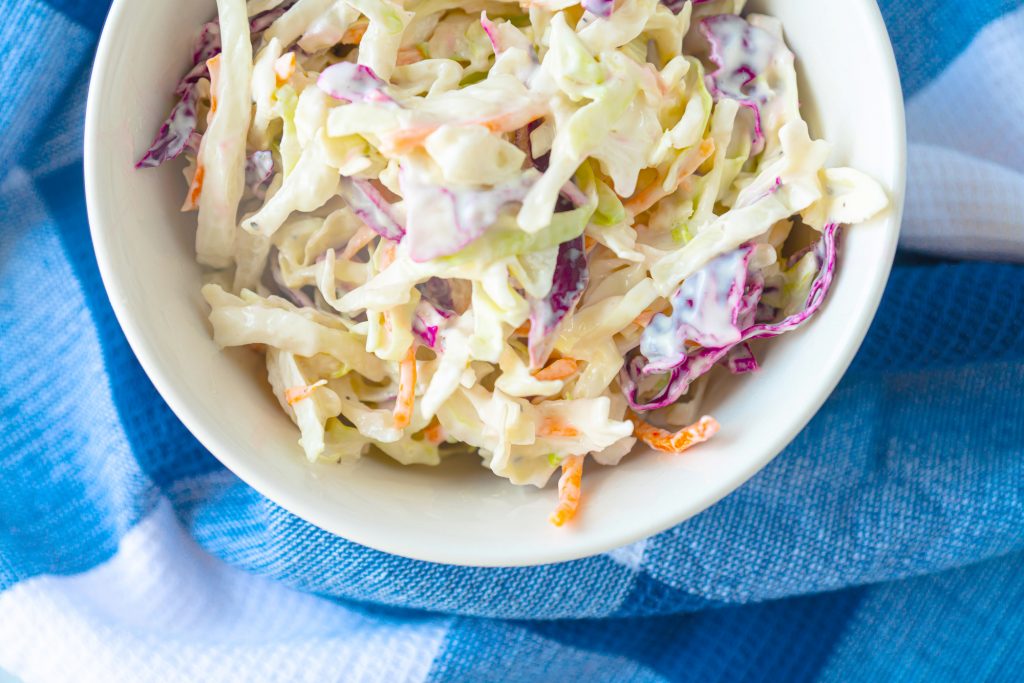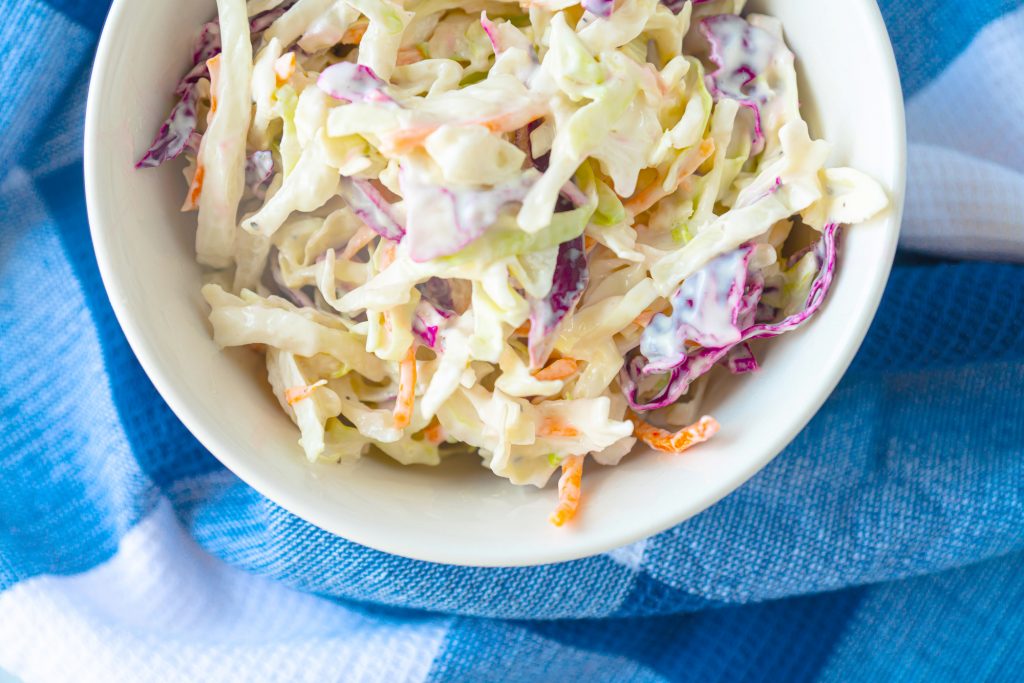 Make sure to toss it up from the bottom when combining so that every piece of covered!
The vegan coleslaw tastes even better after it chills in the fridge for a little bit, so you can cover it in an airtight container and store it in the fridge and then toss when you are ready to serve.
The coleslaw stores well in the fridge for 3-5 days so you can make it ahead of your potluck or picnic!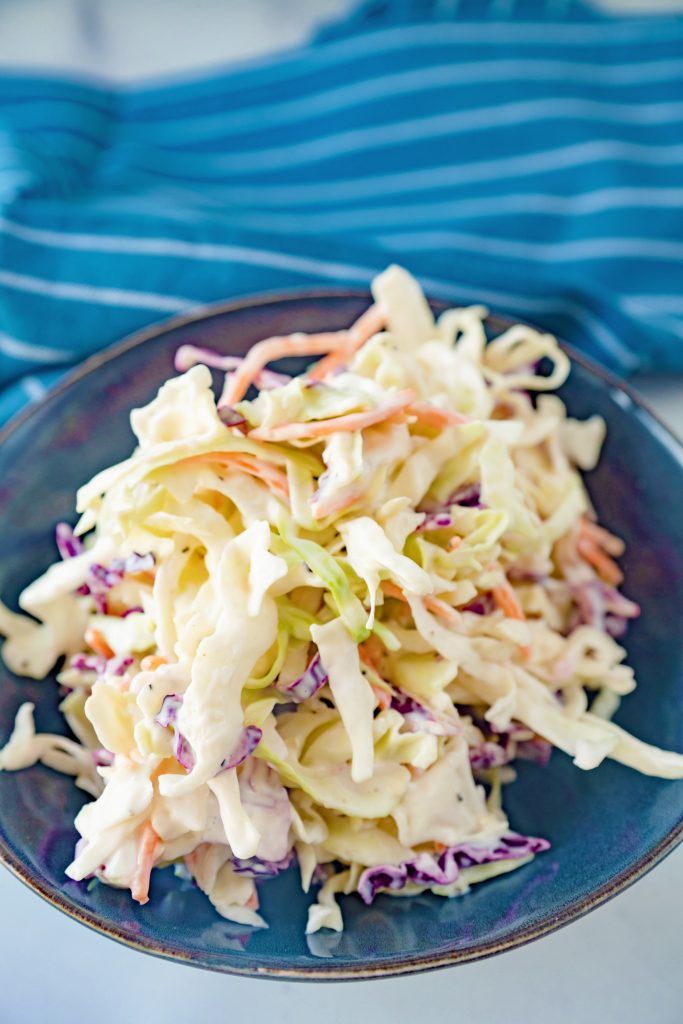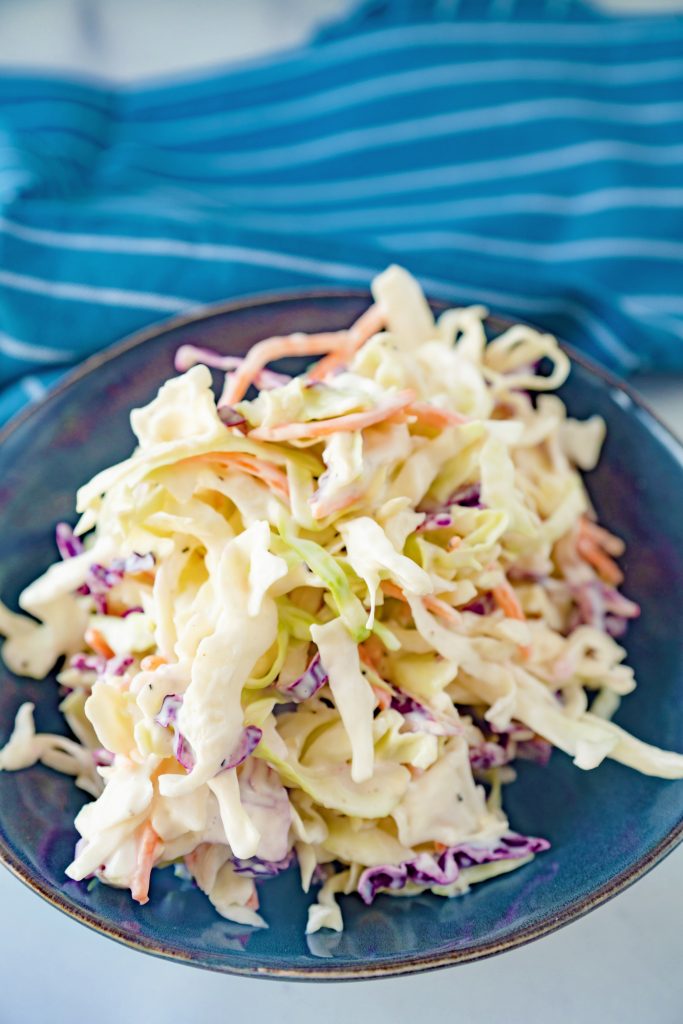 Did You Try This Recipe?
If so, I would love to keep in touch! I enjoy seeing photos and comments about the recipes that you make! You can follow me on Instagram and I will repost your goodies in my stories and comment on it too! Just tag me at @wowitsveggie and hashtag #wowitsveggie. I can't wait to see what you make!
Yield: 5 Servings
Easy Vegan Coleslaw Recipe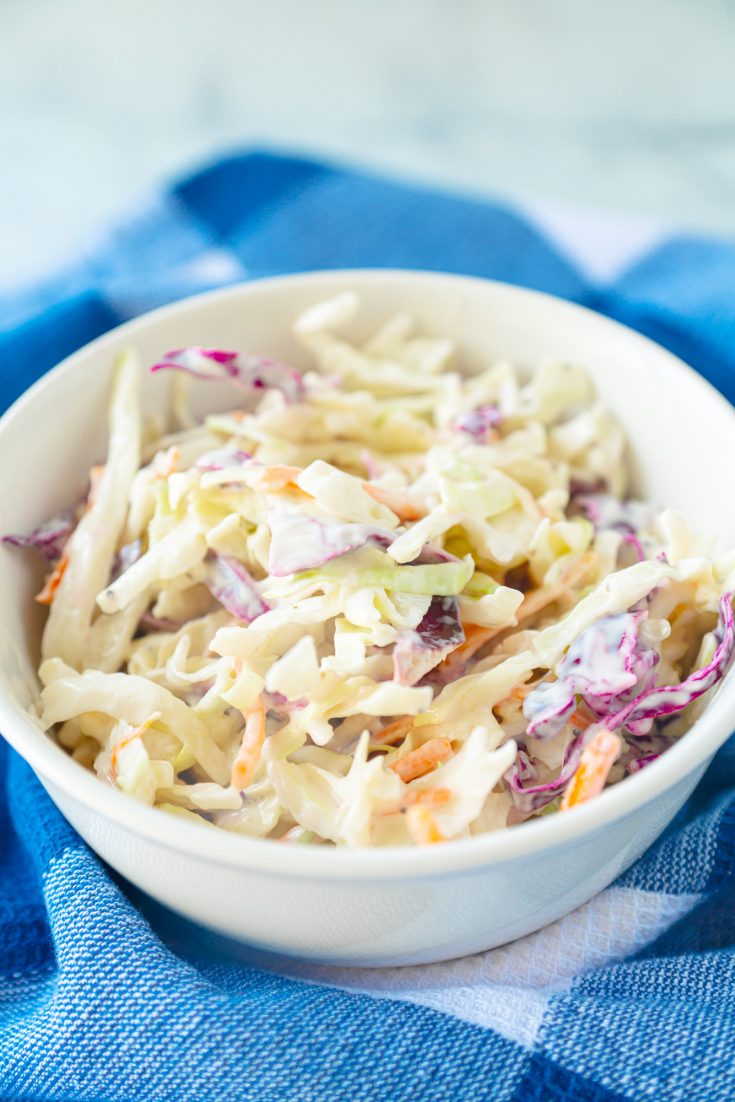 This classic vegan coleslaw recipe is easy and only takes 5 minutes to make! The longer it is chilled the better it gets. This is the perfect side for your summer picnic or a potluck any time of year!
Ingredients
5 Cups Coleslaw Mix
1/2 cup vegan mayo
1/2 cup non-dairy milk
1/4 cup of oil
1 tablespoon lemon juice
1 tablespoon sugar
1/4 teaspoon salt
pepper to taste
Instructions
Portion out coleslaw mix into one bowl and pour all the remaining ingredients into another large bowl.
Using a fork or whisk, combine mayo, non-dairy milk, oil lemon juice, sugar, salt and pepper until smooth and the mayo isn't lumpy.
Pour coleslaw mix on top of the dressing and use a wooden spoon to "fold" the cabbage into the dressing, tossing from the bottom up until all of the coleslaw is covered in the mayo mixture.
Serve chilled! For best results, chill in the fridge for 30-60 minutes.
Nutrition Information
Yield
5
Serving Size
1
Amount Per Serving
Calories

83
Total Fat

4g
Saturated Fat

0g
Trans Fat

0g
Unsaturated Fat

0g
Cholesterol

0mg
Sodium

131mg
Carbohydrates

8g
Fiber

1g
Sugar

3g
Protein

2g