Believe it or not, making your own vegan feta cheese is so easy and delicious!
You only need a few ingredients and you can use it in so many ways such as topping my Vegan Watermelon Salad or on sandwiches and more!
If you really want to make a greek-inspired meal, make sure to whip up my Greek Frappe Recipe too!
Of course, there are ways to make vegan feta by growing your own culture, but who has time for that? Not me!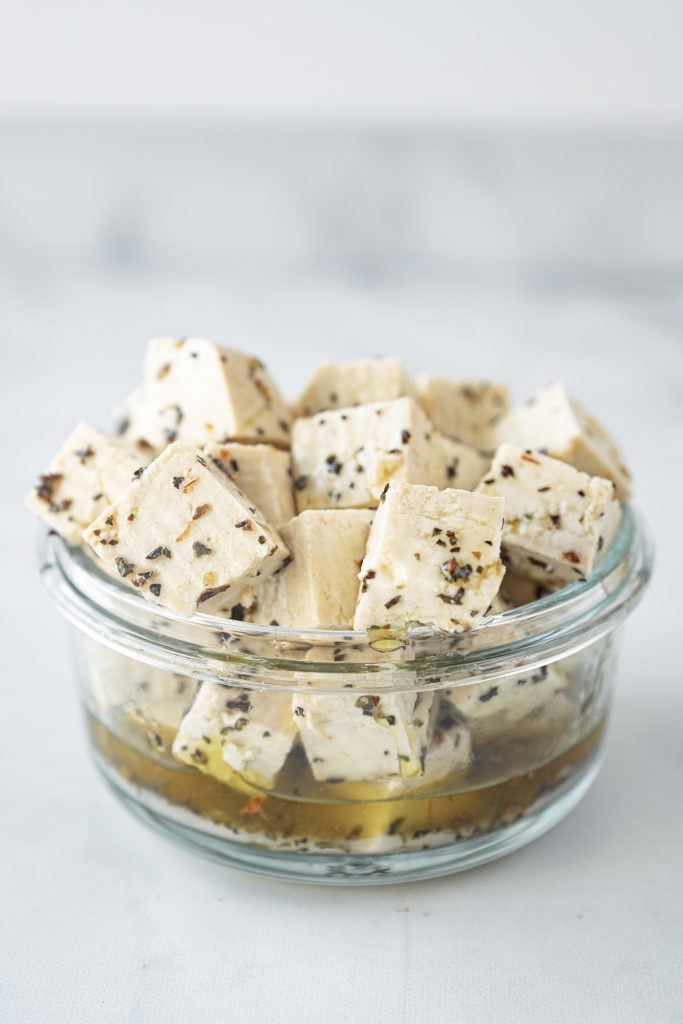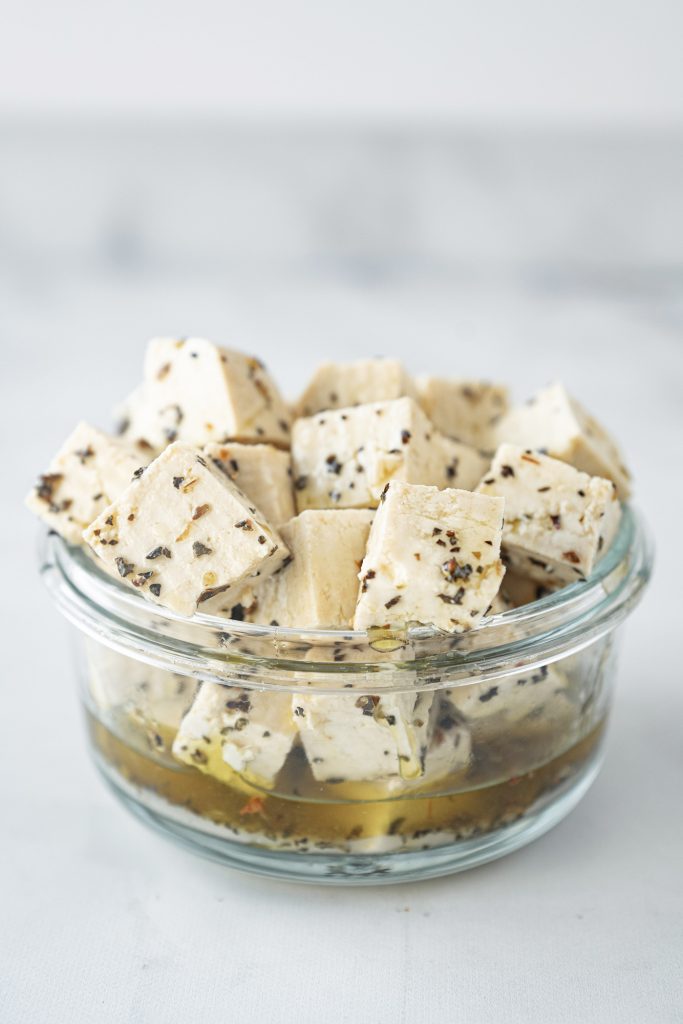 While I do love buying vegan feta cheese from time to time and Violife is my favorite brand, making it is just so simple and healthier too!
Enter tofu feta!
Yes, you are going to use uncooked tofu to make this vegan feta recipe!
The good thing about using uncooked tofu is that it has a very bland flavor so you can dress it up however you want!
The tofu is the base for the vegan feta cheese and then you get to use some spices and dressings to marinade and dress up the tofu!
Of course, there are recipes for making your own tofu that have a ton of ingredients and that is totally okay!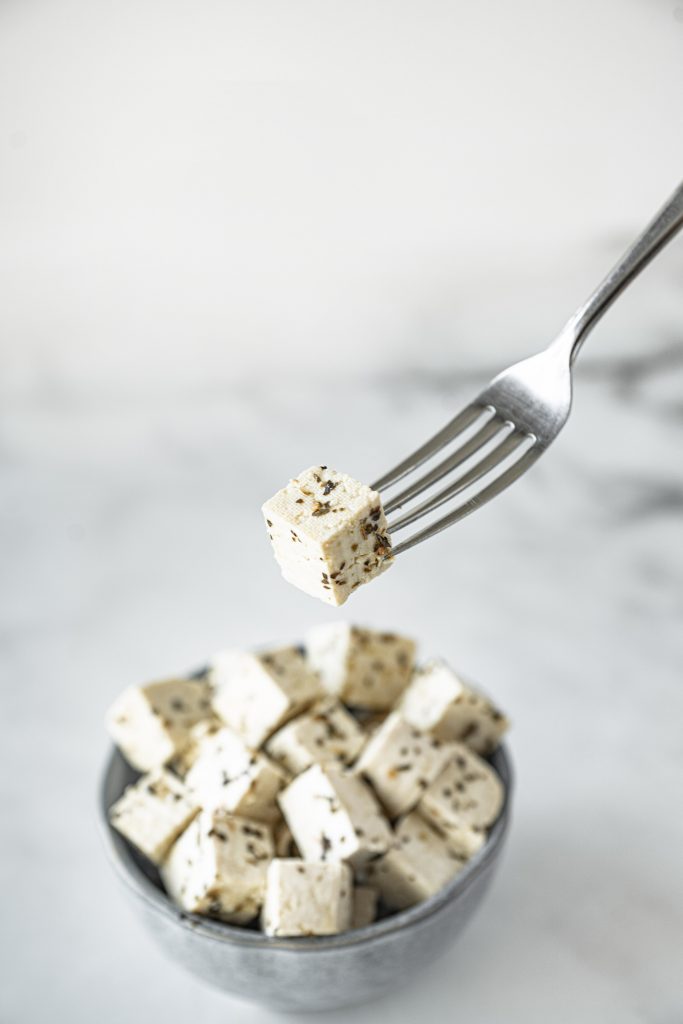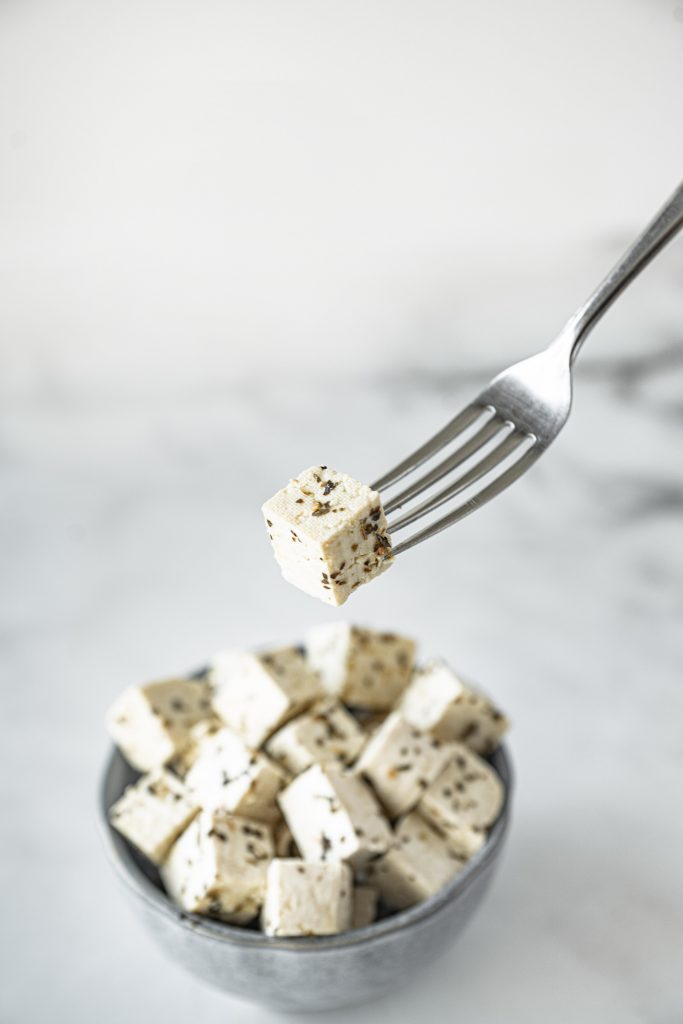 I wanted you to easily be able to make tofu feta in your spare time after work so that it is quick and doesn't take a long time.
This recipe uses household ingredients that you are most likely to have if you are a regular vegan chef!
Remember, the longer you marinade the vegan feta the better it will taste! If you only marinade it for 10 minutes it won't taste all that great as the tofu won't have absorbed the flavors!
The wait is worth it, I promise! The tofu feta starts to get its flavor after about 1 hour, but really tastes good after spending the night in the fridge!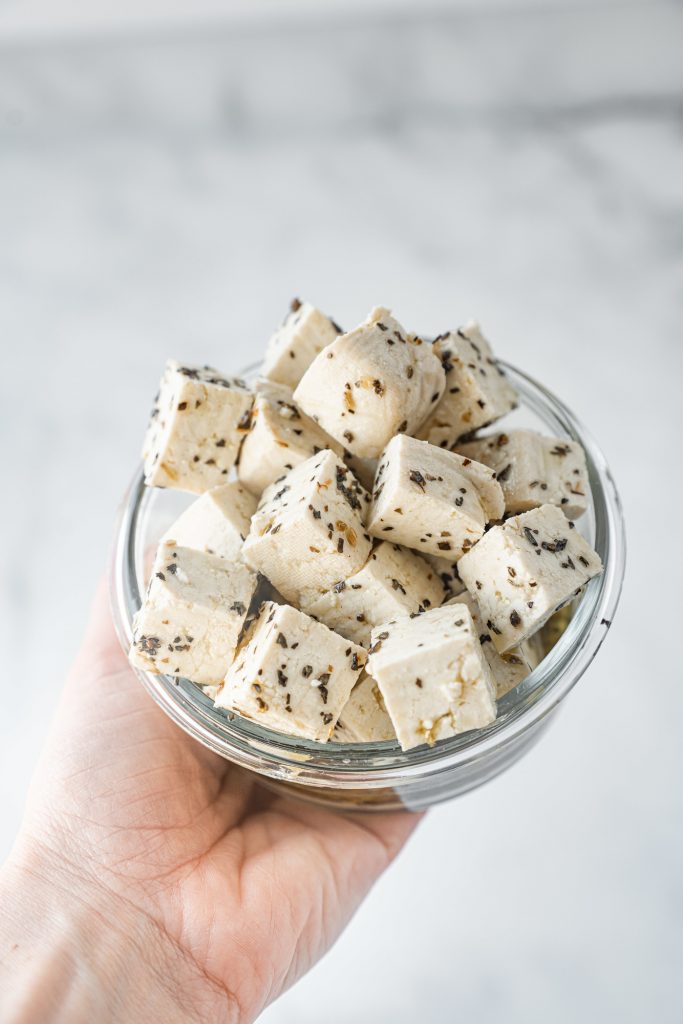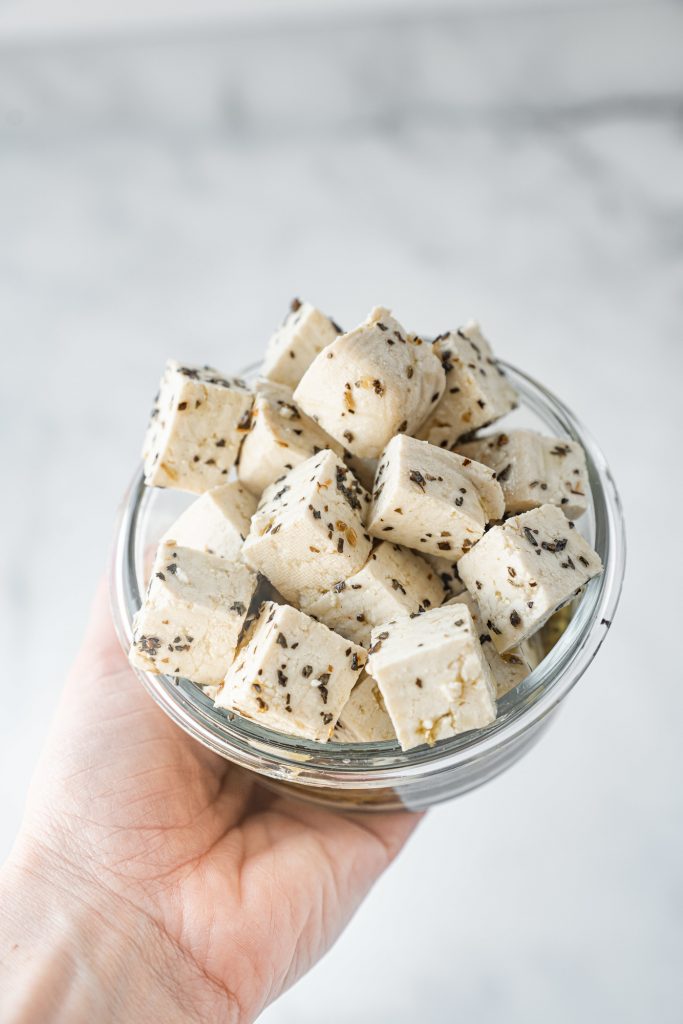 What Kind Of Tofu To Use For Vegan Feta
Selecting the proper kind of tofu to use for making vegan feta cheese is essential!
I first tried this recipe with extra firm tofu as I thought that would most resemble regular feta.
That was a huge mistake!
The extra firm tofu was too firm and didn't pick up the juices and flavors from the marinade as well as it should have!
As a result, when making the tofu feta, you should simply choose regular firm tofu!
If the firm tofu starts to gently crumble that is okay, regular feta cheese crumbles when you use it too!
Firm tofu absorbs the flavors of the marinade so much better than the extra firm did!
For best results, use firm tofu, not extra firm!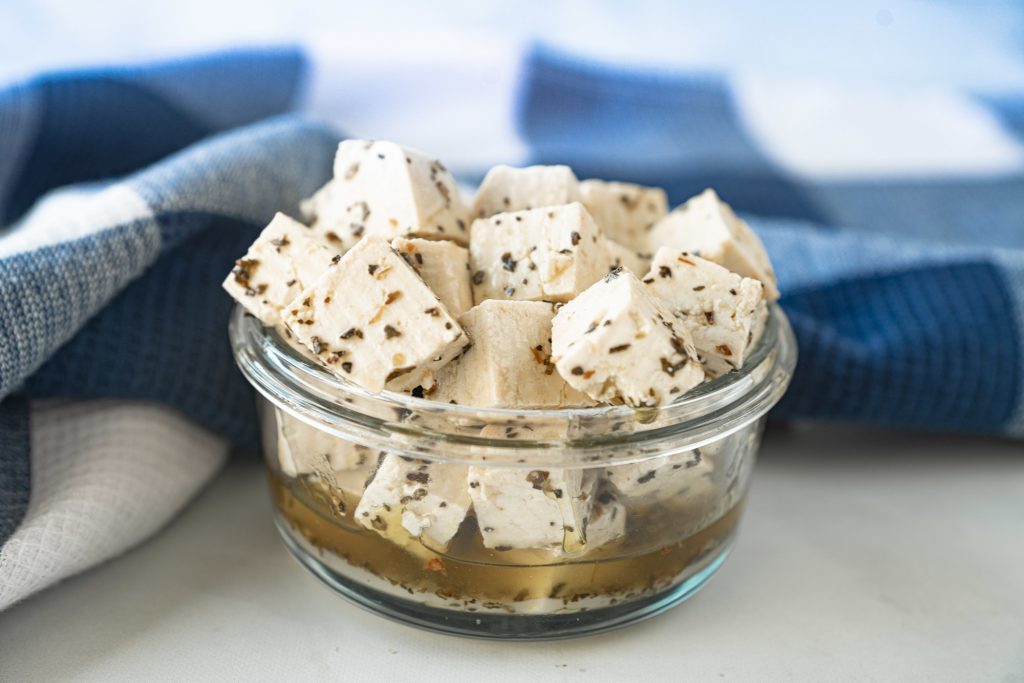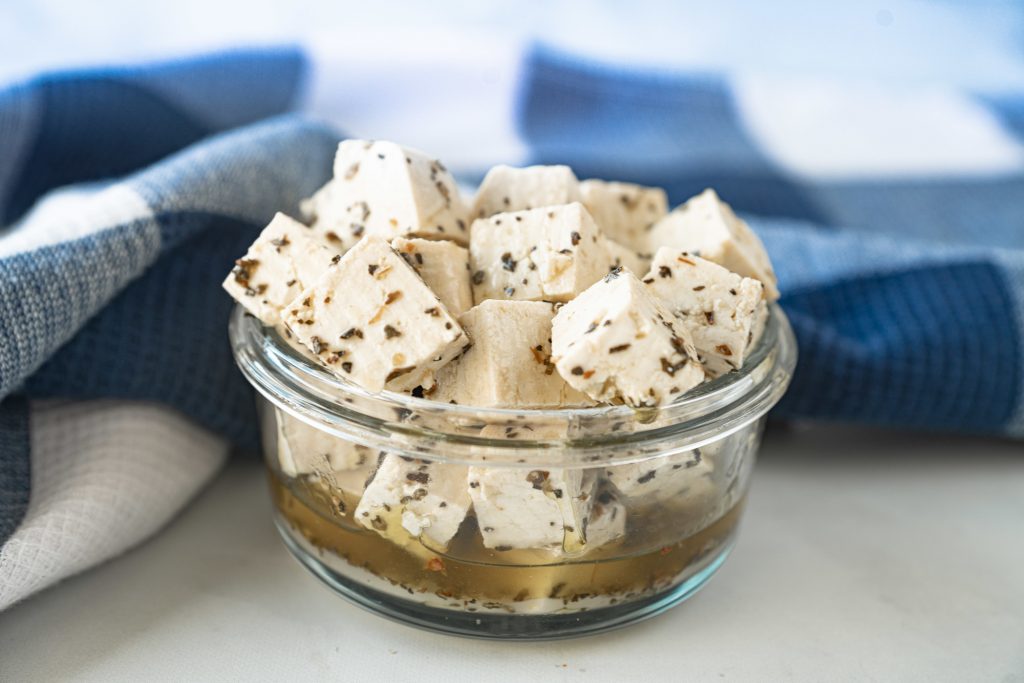 How To Make The Vegan Feta
Making the vegan feta cheese is literally so simple and just takes a few minutes, aside from marinating.
You can choose to crumble your tofu with clean hands like I did for my Vegan Egg Salad, or you can choose to cut it with a knife.
For this tofu feta recipe, I chose to cut it with a knife because I wanted nice squares, but you are free to crumble it like the egg salad recipe!
Once you prepare your tofu the way you want the feta cubes to come out, now it is time to marinade!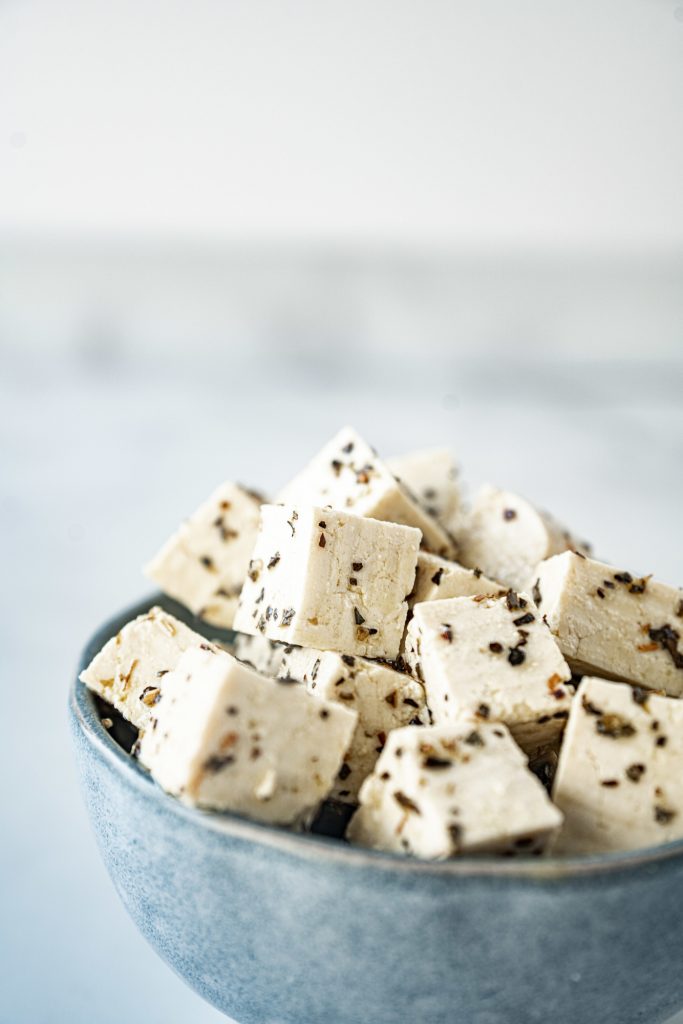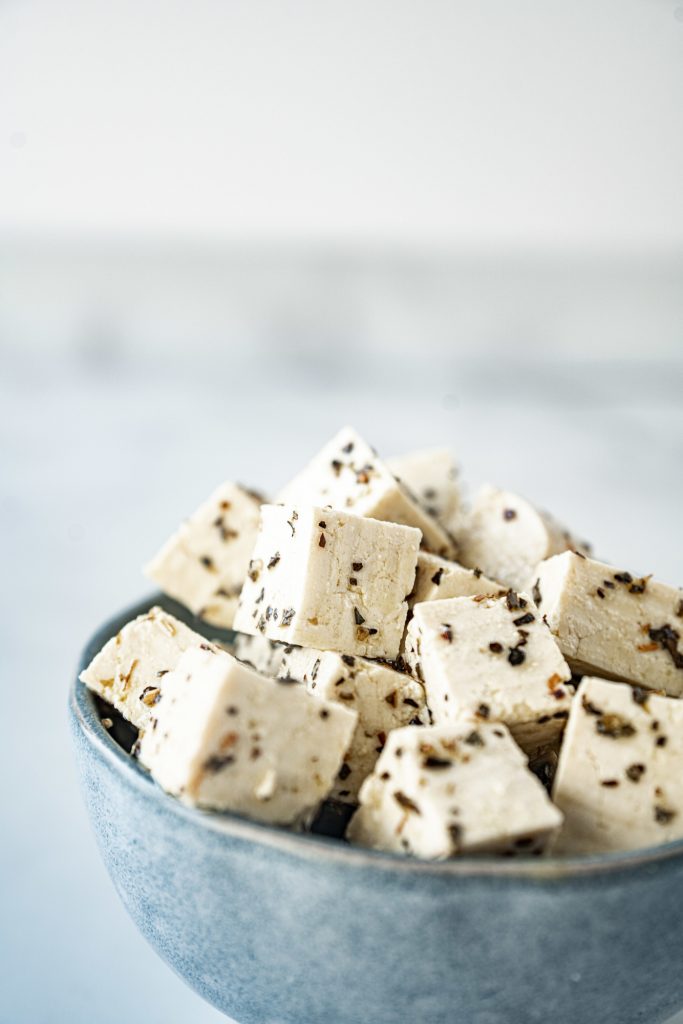 Next you are going to add the oil. I first tried this recipe with Olive Oil and I didn't love it.
Olive oil gives off a very strong color and flavor and made the vegan feta look yellow and smell like Italian cooking.
If it is all you have on hand, that is perfectly fine and it still works good, but a neutral oil works better!
I love using avocado oil as it tastes great, but coconut oil or any neutral flavor oil also works great for this recipe!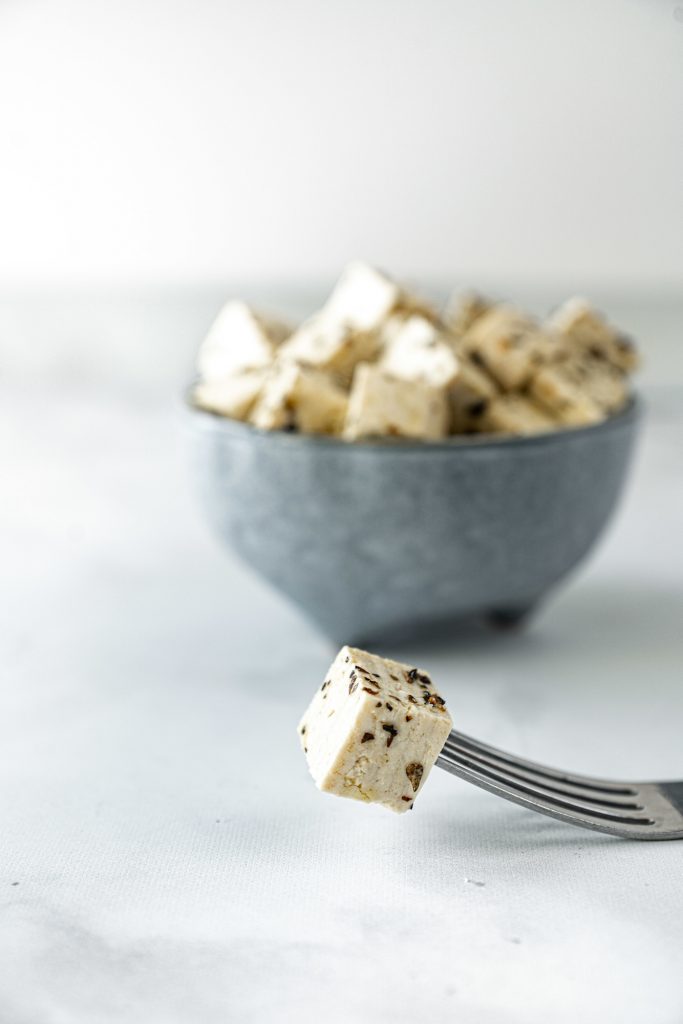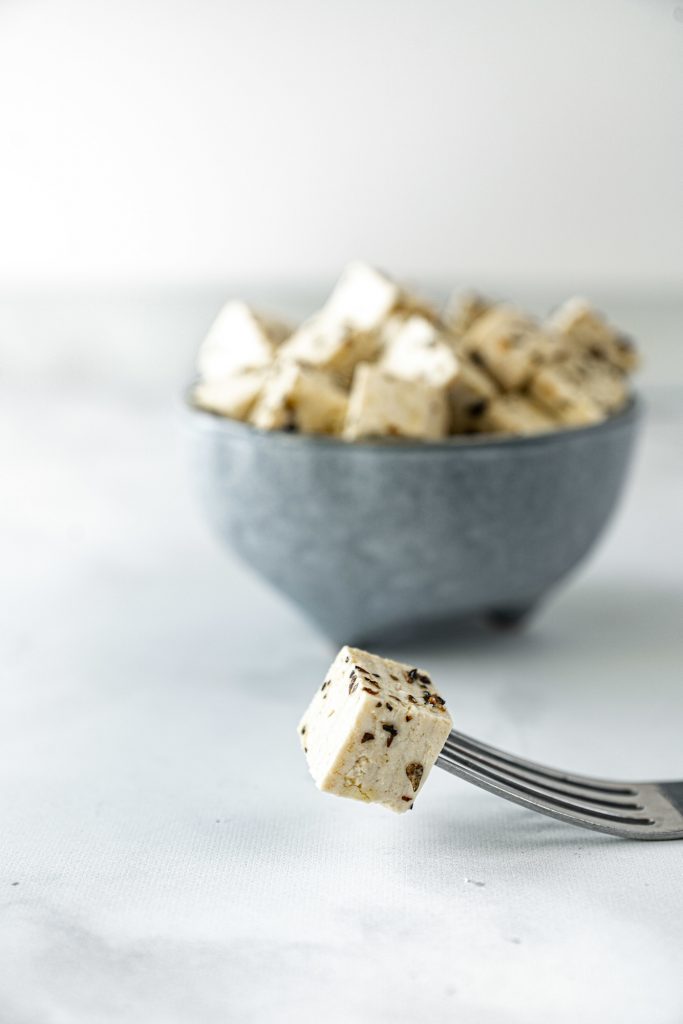 Add your oil, lemon juice, oregano, apple cider vinegar, and miso paste to the tofu and seal it in an air-tight container.
Season with salt and pepper to taste!
Now, let your tofu mixture marinade for at least an hour, more if possible, for the best flavor!
Then, eat directly from the container, on a salad, or however your heart desires!
The vegan feta cheese keeps in an air-tight container for up to a week in the fridge!
Did You Try This Recipe?
If so, I would love to keep in touch! I enjoy seeing photos and comments about the recipes that you make! You can follow me on Instagram and I will repost your goodies in my stories and comment on it too! Just tag me at @wowitsveggie and hashtag #wowitsveggie. I can't wait to see what you make!
Yield: 1 1/2 Cups
Easy Vegan Feta Cheese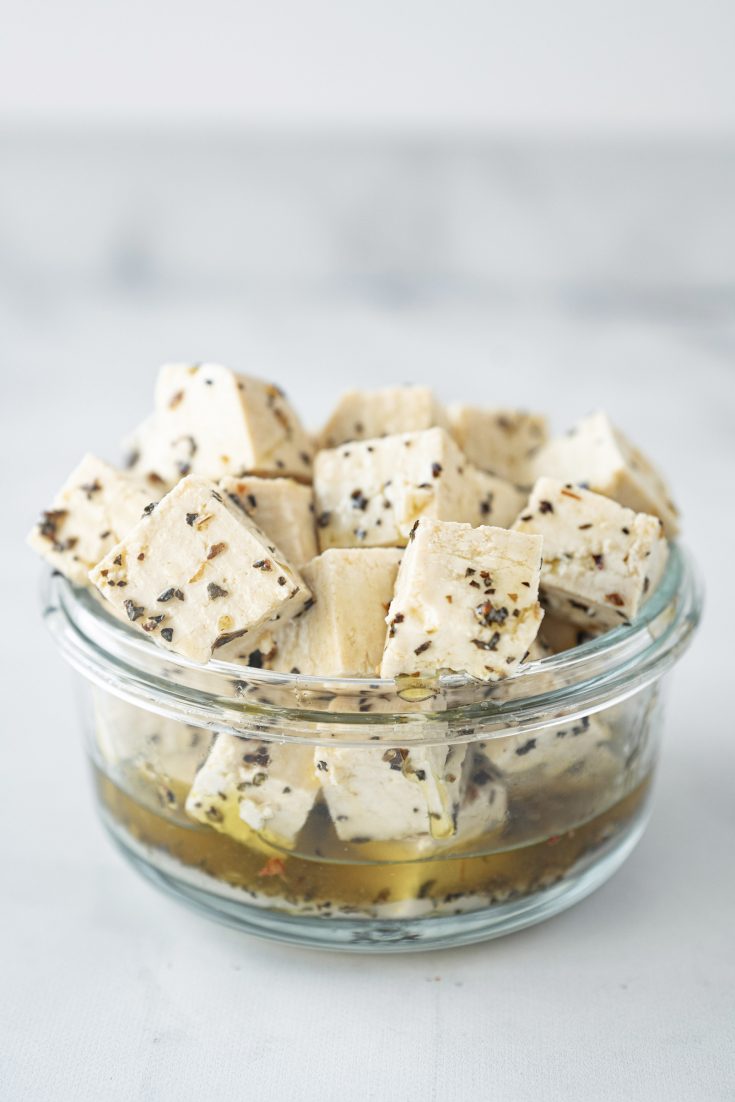 Learn how to make your own vegan feta cheese using just a few easy ingredients! The base is made out of tofu because you can really dress up the flavor of tofu as it is so neutral!
Make sure to let the tofu feta marinade so that you can really get a good flavor! You can top salads and more with this tasty vegan cheese.
Total Time
3 hours
5 minutes
Ingredients
1 Block Firm Tofu [Don't use extra firm as it won't absorb the flavors the same way]
3 tablespoons neutral oil (avocado/coconut/sunflower etc]
1 tablespoon dried oregano
1 tablespoon lemon juice
1 tablespoon apple cider vinegar
1 tablespoon white miso paste
Salt and pepper to taste
Instructions
Cut or crumble the tofu depending on your taste into a medium-size bowl. I usually cut my tofu so that it resembles cubes of feta.
Add in the oil and spices and mix until combine and all the tofu pieces are covered.
Let marinate for minimum 1 hour before eating. For best taste, marinade in the fridge overnight! The longer it marinates the better the vegan feta tastes!
Nutrition Information
Yield
6
Serving Size
1
Amount Per Serving
Calories

198
Total Fat

15g
Saturated Fat

5g
Trans Fat

0g
Unsaturated Fat

10g
Cholesterol

0mg
Sodium

200mg
Carbohydrates

10g
Fiber

3g
Sugar

6g
Protein

8g