This vegan burrito bowl is my go-to weeknight meal when I don't know what else to eat!
It is also my boyfriend's favorite thing that I make and he eats meat so that says a lot!
In this post, I am going to show you how to recreate my vegan burrito bowl for yourself! Top it with some Vegan Sour Cream and you are in for a real treat!
First, it only takes 10 minutes, maybe less, to whip up this vegan Mexican bowl. This is what I love about this recipe because I can easily make it after work when I don't feel like spending a lot of time.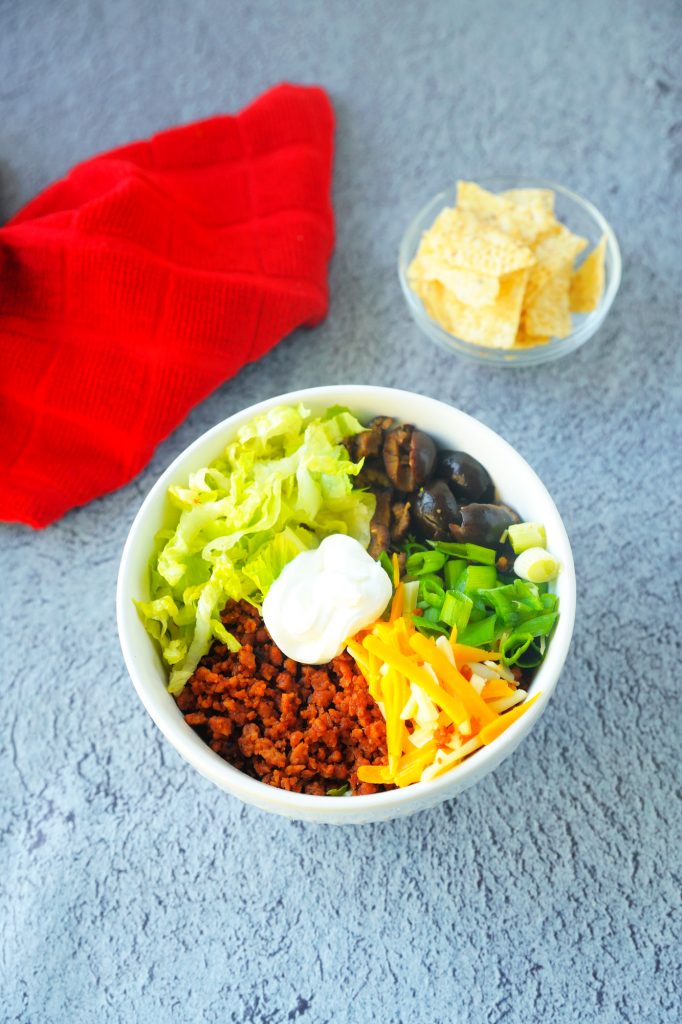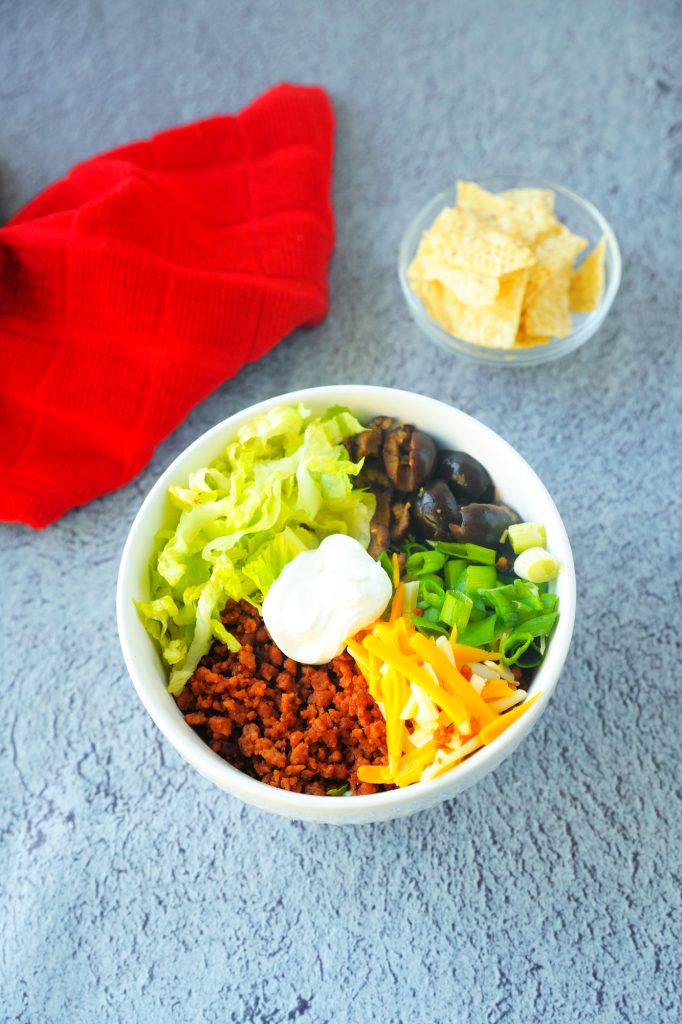 It also uses only one pan to cook up the vegan meat and the plate that you will eat it on so clean up is also quick and easy.
When making a vegan burrito bowl, it is important to season the food just as you would season any meat dish!
After all, the thing that makes the real difference in cooking is how you season your food, not exactly what you are seasoning.
Meaning, tons of meat eating friends have loved my vegan burrito bowl recipe simply because I seasoned and prepared it the same way they would!
I am not a fan of "obscure" vegan seasonings. I prefer to veganize popular recipes that are already tasty!
This is that recipe and I hope you will enjoy this recipe as much as everyone who has ever tried it! Eat it with one of our Sides For Tacos and you can make it a meal!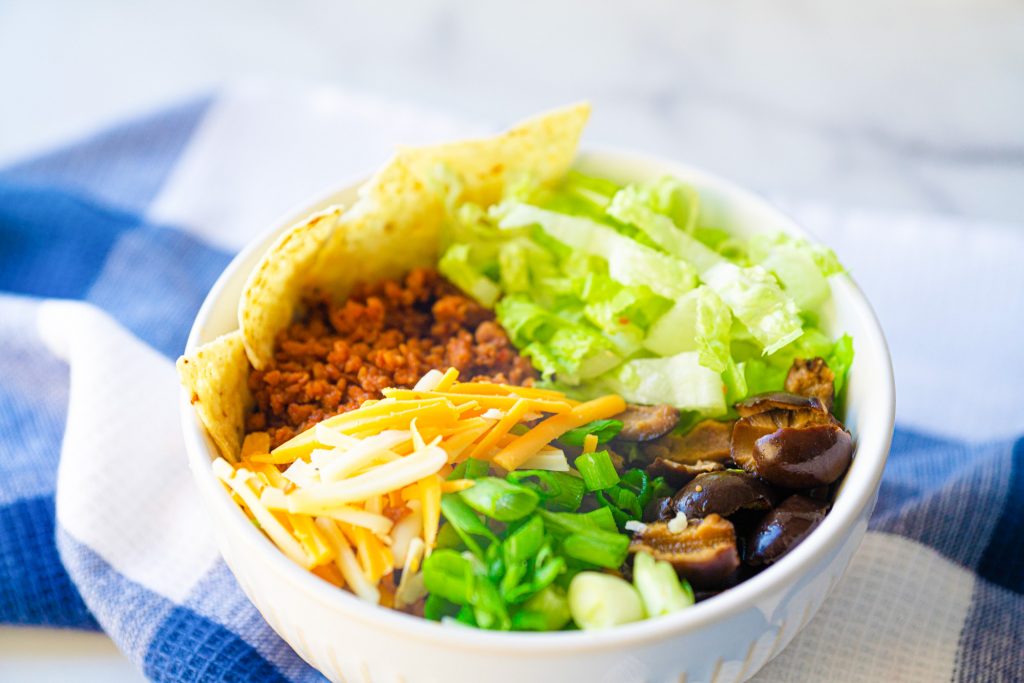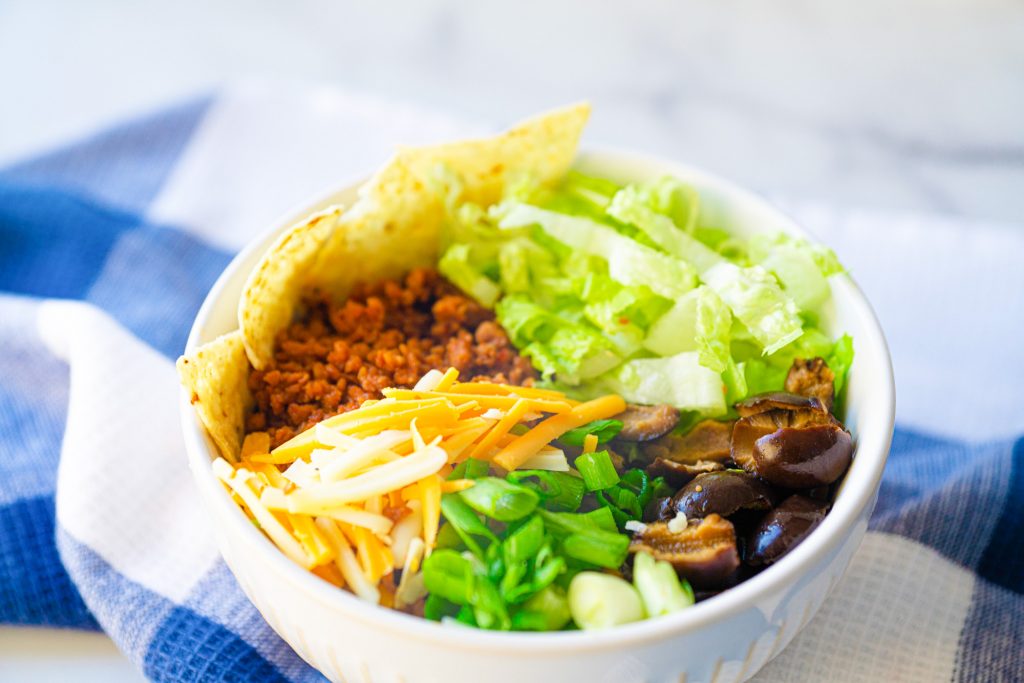 Essential Vegan Burrito Bowl Ingredients
Now, the fun part about creating your own vegan burrito bowl is that you can play around with the ingredients and add or take away things you love or don't like.
But there are a few things that you simply can't leave out if you want to make my version of this burrito bowl.
First, my burrito bowl doesn't have any beans! Of course, beans are a staple of vegan Mexican-inspired cooking, but you won't find them in this recipe!
I encourage you to try it my way, just one time, and then you can play around to your favorite flavors!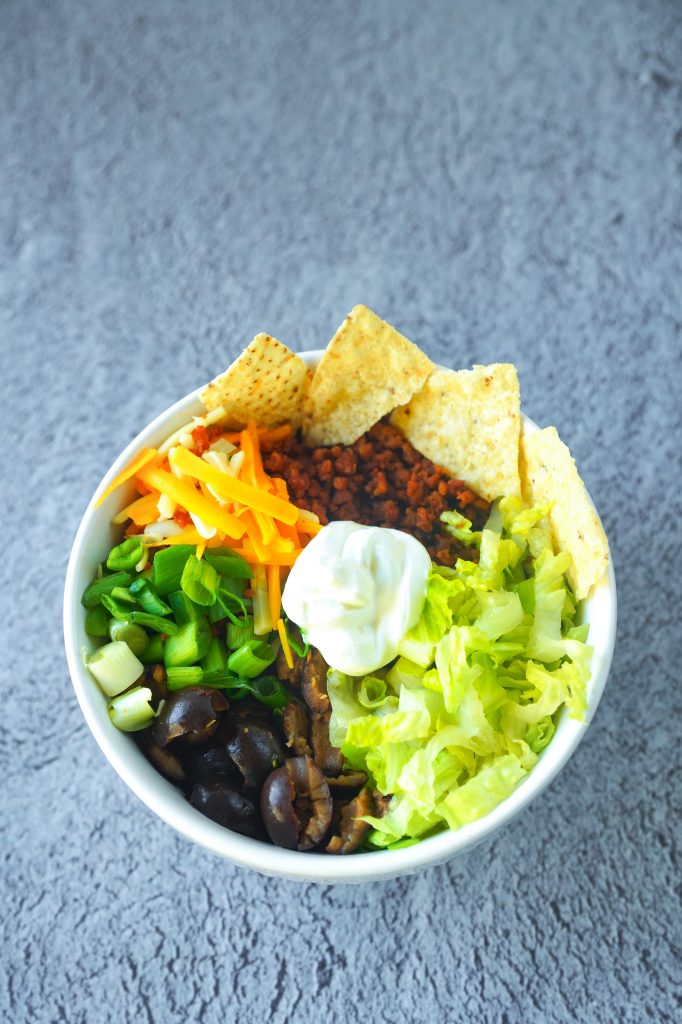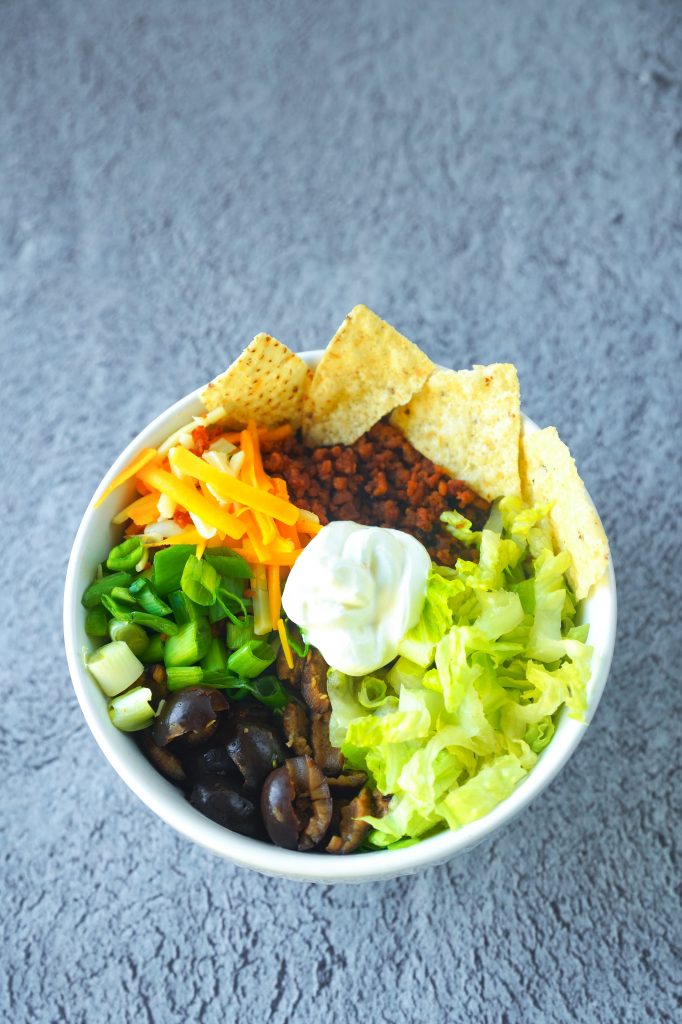 What you will use is vegan ground meat crumbles. I use Gardien Beefless Crumbles.
Of course, you can use whatever vegan ground meat your local grocery store has but I have found that the Gardien Beefless Crumbles crisp up in a fantastic way.
I know that this brand is often always out of stock because it is so good so any beefless vegan crumbles you can find work!
The next thing you are going to need is REGULAR taco seasoning. Go to the section of your store with taco seasoning and buy a packet.
I just use a mild taco seasoning, but you can use spicy if you prefer a kick!
Using taco seasoning really elevates your vegan burrito bowl and you should NOT skip it if you want to make my version!
You can choose whichever brand you like, the important part is just that you have it!
Finally, I do recommend vegan sour cream and vegan shredded cheese. You do NOT need either of these to make the burrito bowl taste amazing, but it does help!
If you want to leave off the cheese, that is okay, but I do recommend something "wet" like the sour cream or even guacamole to bind all of the ingredients together!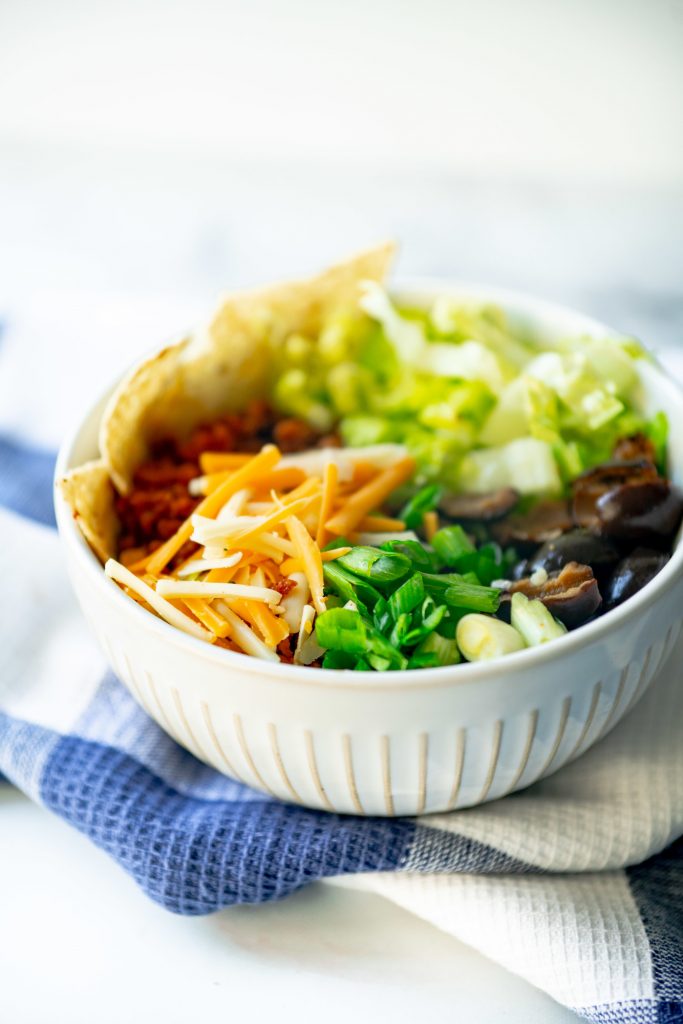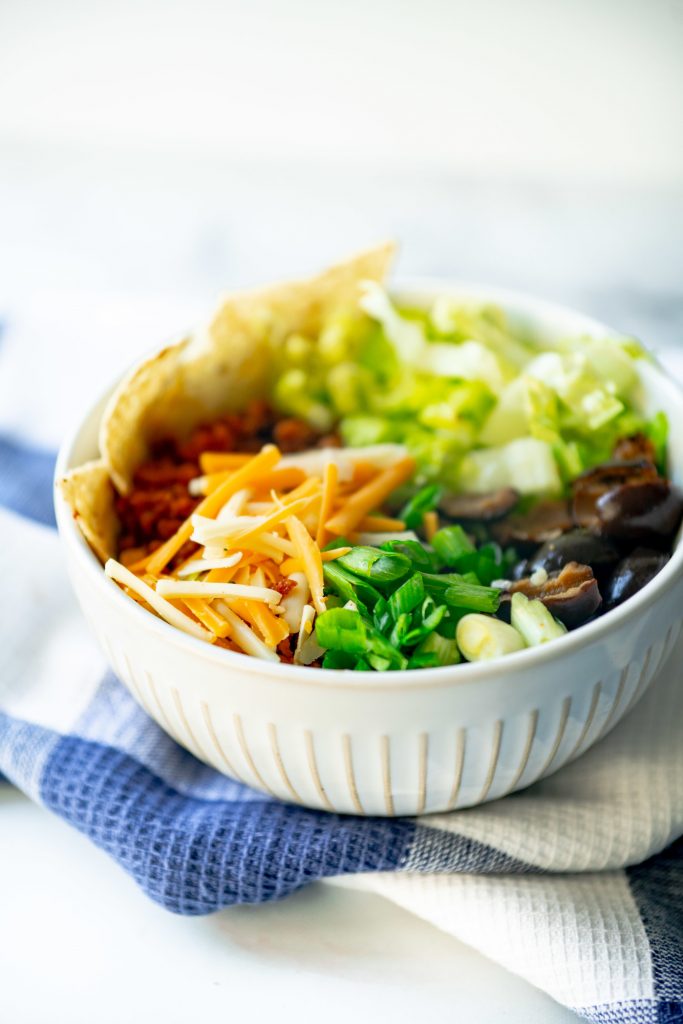 How To Make The Vegan Burrito Bowl
Making the vegan burrito bowl is so simple and easy!
First, you are going to want to heat a little bit of oil in a skillet and cook your vegan beefless grounds according to the package.
The kind I use are frozen, not refrigerated, but many beefless crumbles are refrigerated.
If you are using the frozen kind, let the defrost while cooking in the pan and the moment they are "soft" go ahead and add the taco seasoning.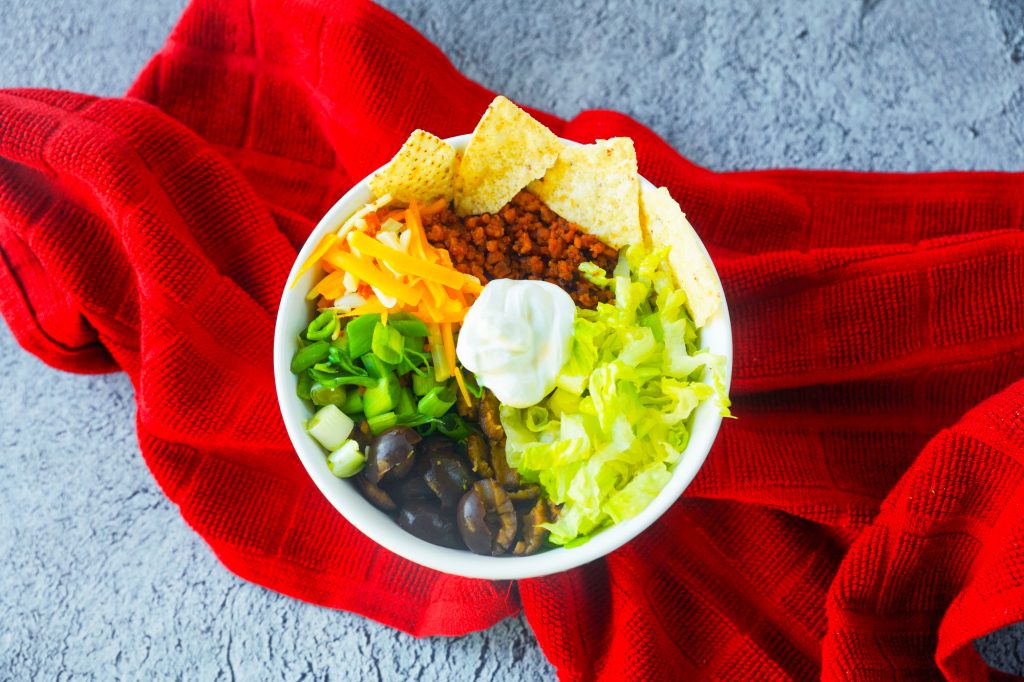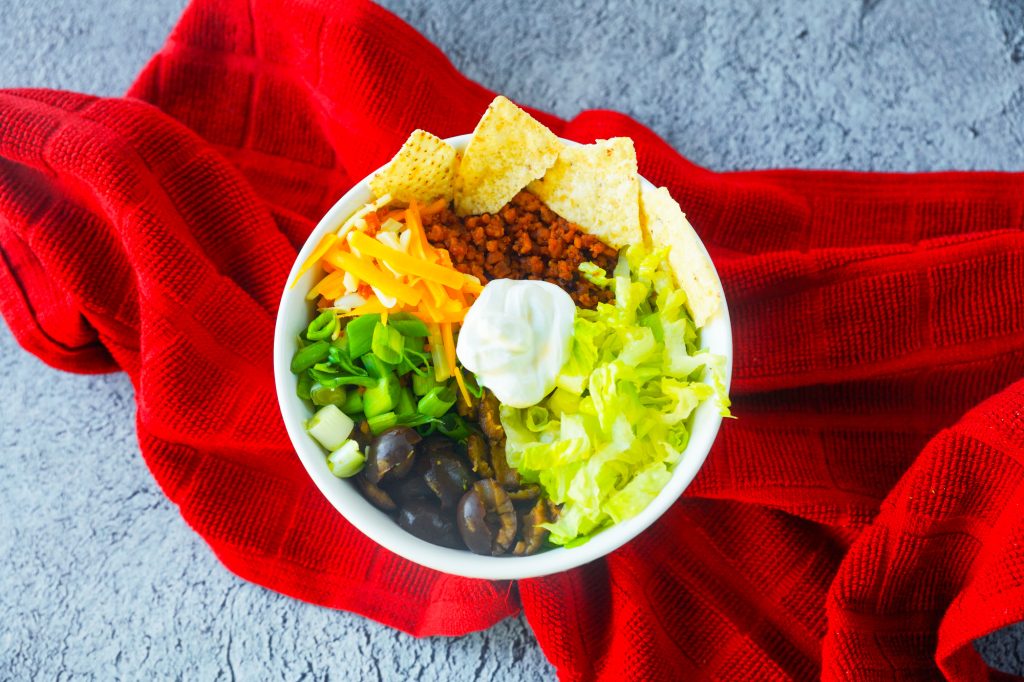 I modify based on the amount of beefless grounds I have used and to taste, depending on how much seasoning you like!
If you are using beefless grounds from the fridge, you can add in the taco seasoning within a few minutes of putting the crumbles on the pan.
Cook the beefless crumbles for about 5-6 minutes on high heat, that is usually all it takes!
Meanwhile, fill a bowl with your toppings!
I suggest lettuce, black olives, green onions, vegan cheese, vegan sour cream, corn, and tomato.
I usually do any variation of these ingredients depending on what I have on hand!
As you can see for these photos, I did not have corn or tomatoes on hand so I didn't use them!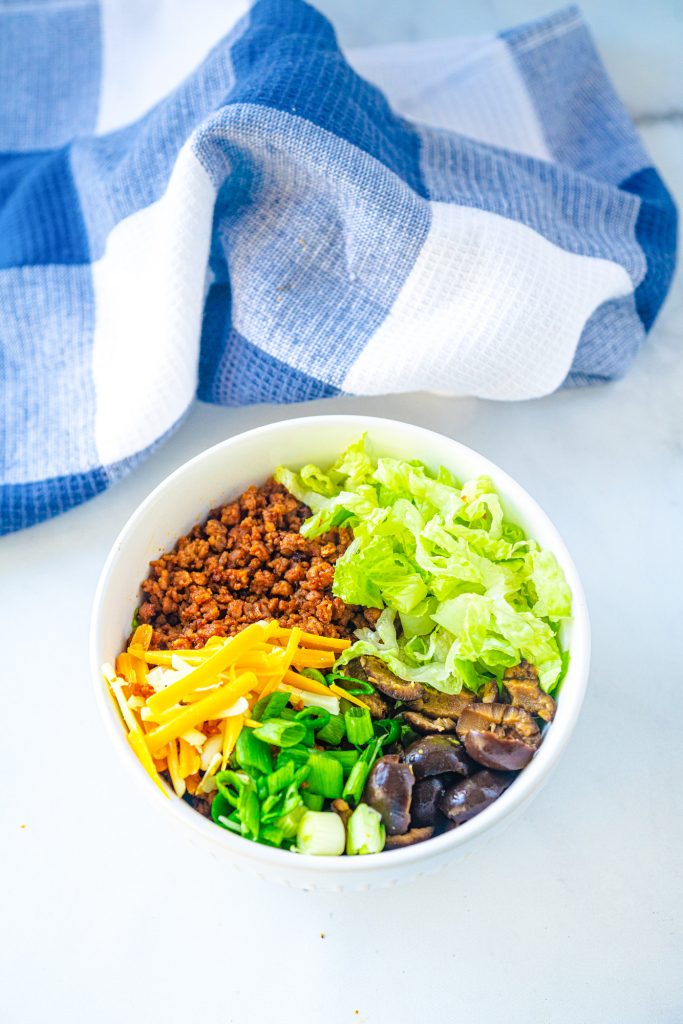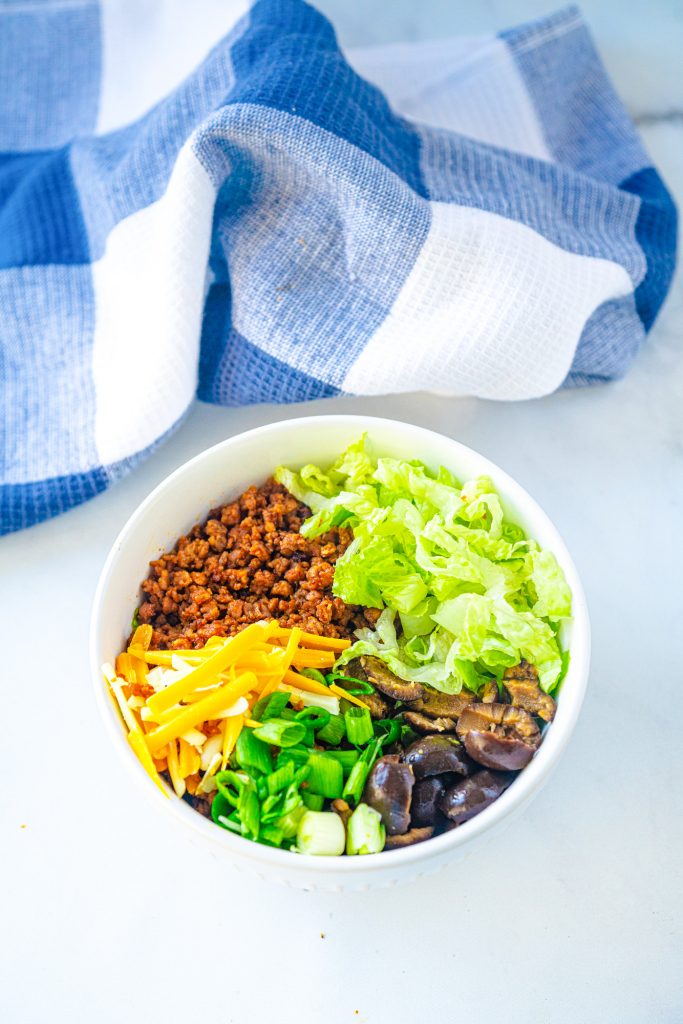 As soon as your beefless is cooked, you can go ahead and pour the crumbles over your veggies.
Alternatively, you can put your beefless crumbles down first and then add all of the veggies on top of it!
It is totally up to you and on how you want to eat it!
Then, add tortilla chips so you can dunk them and scoop up the meat or just eat them as a side!
You may even want to make some Vegan Queso to go along with it!
I do hope you enjoy making this quick and easy vegan burrito bowl as much as I do!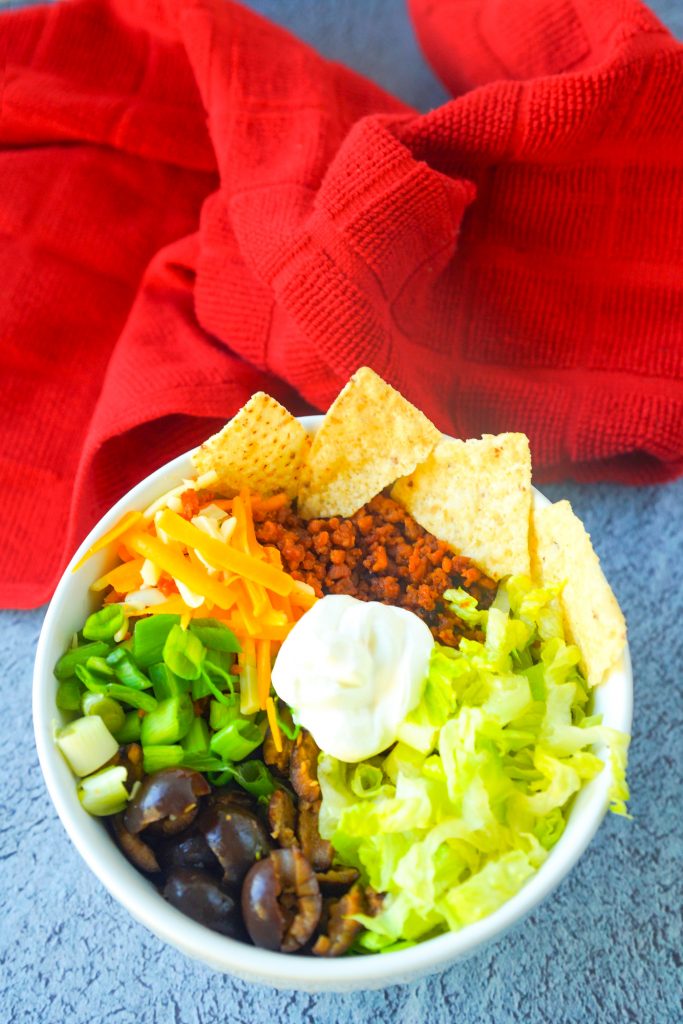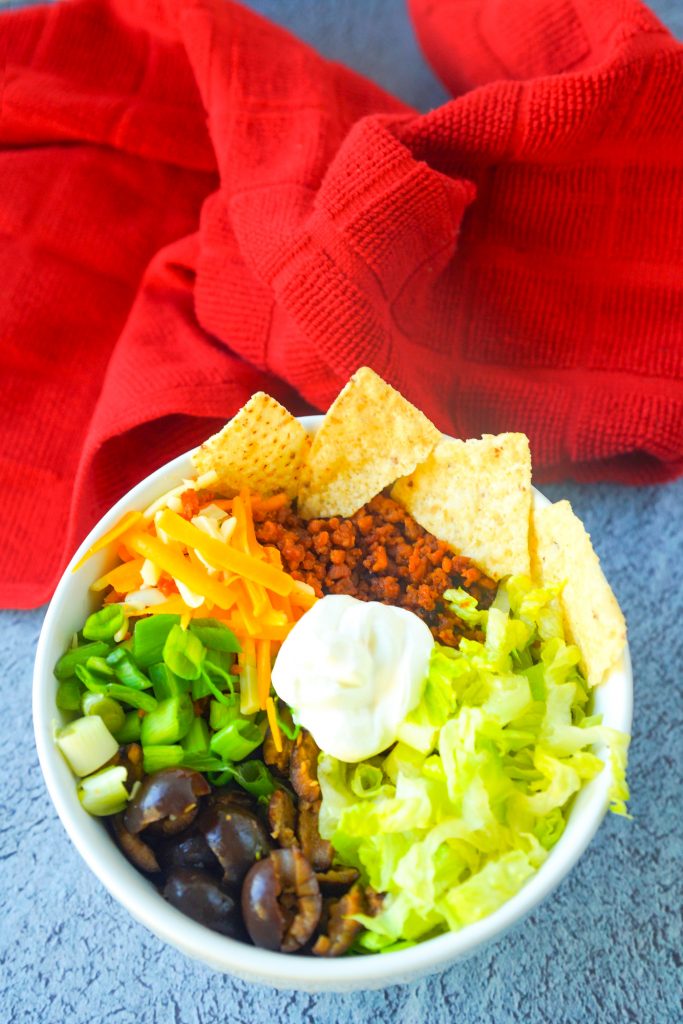 Did You Try This Recipe?
If so, I would love to keep in touch! I enjoy seeing photos and comments about the recipes that you make! You can follow me on Instagram and I will repost your goodies in my stories and comment on it too! Just tag me at @wowitsveggie and hashtag #wowitsveggie. I can't wait to see what you make!
10-Minute Vegan Burrito Bowl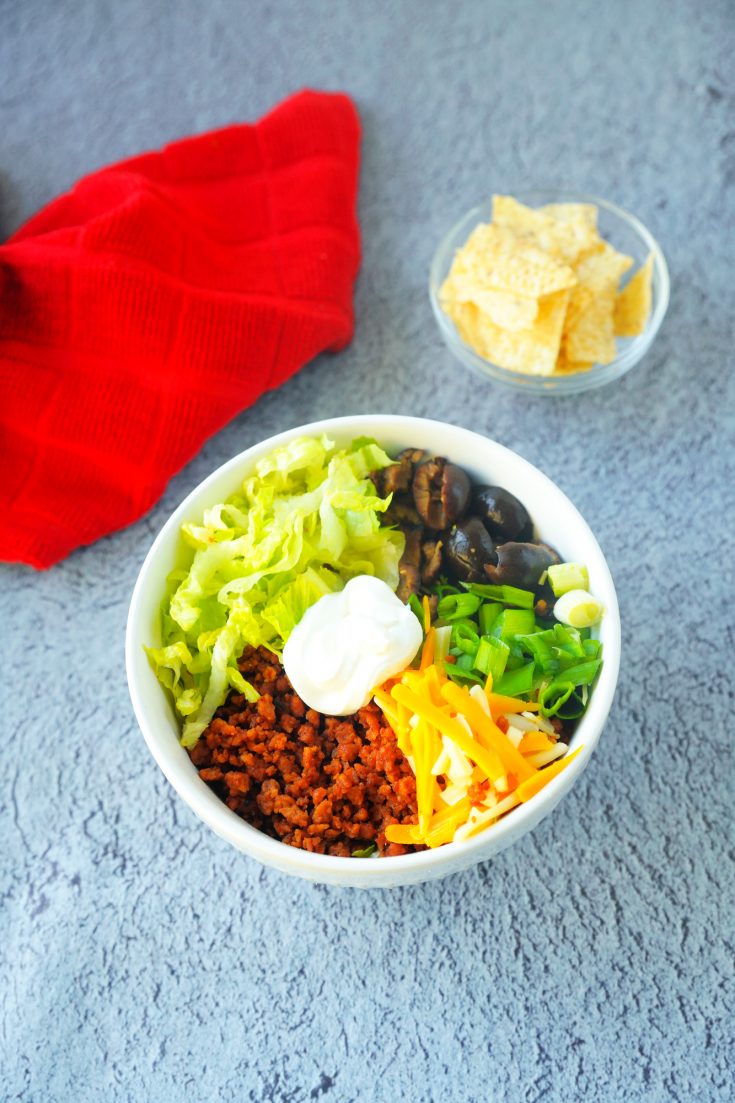 Learn how to create your own vegan burrito bowl! For this recipe, I don't give a serving size, so you can use as much or as little as you want and play it up to taste!
The only two things you really need for the burrito bowl are vegan beefless crumbles and regular taco seasoning!
I do urge you to follow my recipe one time and then you can feel free to play around going forward!
Ingredients
Vegan Beefless Crumbles [I use Gardein but any brand works]
Regular Taco Seasoning [found in the grocery store just 1 packet!]
Lettuce, chopped
Vegan cheese
Vegan sour cream
Black Olives
Green onions
Corn
Optional: Tortilla chips (for the side!)
Instructions
Cook beefless grounds according to the packaging in a skillet on high heat turning constantly so they don't stick! Any brand of beefless works but I use Gardein Brand and it is amazing!
As soon as your beefless grounds are warm, add in the taco seasoning. I usually do 1 tablespoon per person, but feel free to add more to taste! Cooking usually takes about 5 minutes.
While your beefless grounds are cooking, prepare your lettuce, corn, olives, green onions, corn, vegan cheese, and vegan sour cream in a bowl.
Top your bowl with the cooked vegan beefless crumbles and serve with a side of tortilla chips! You may even want to make Vegan Queso!