If you are looking for the best vegan queso recipe ever, you have come to the right place!
To make this vegan queso, you are going to need a few ingredients. I usually like to keep my recipes on this site very easy with minimal ingredients, but I promise all of the spices really add to the flavor!
I am obsessed with queso, but there is pretty much a 0% chance you are going to be able to find vegan queso at a regular Meixcan restaurant.
That doesn't mean you need to be left out on all of the fun!
If you read my site regularly, you will know that I am NOT a huge fan of using nutritional yeast as a "cheese" substitute. I think it falls flat every time.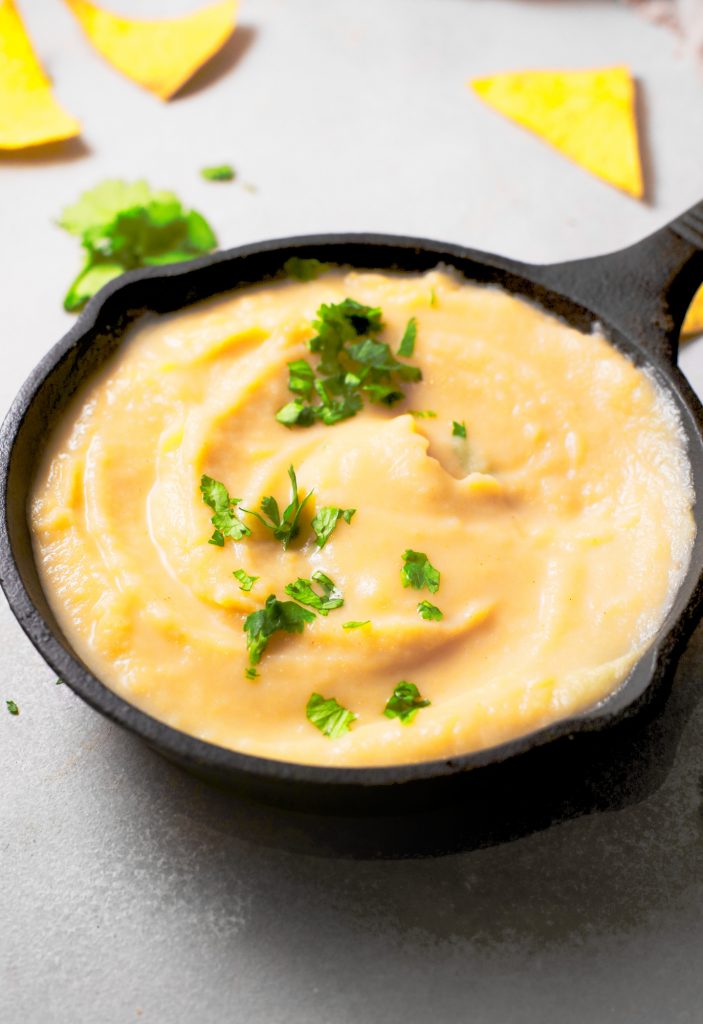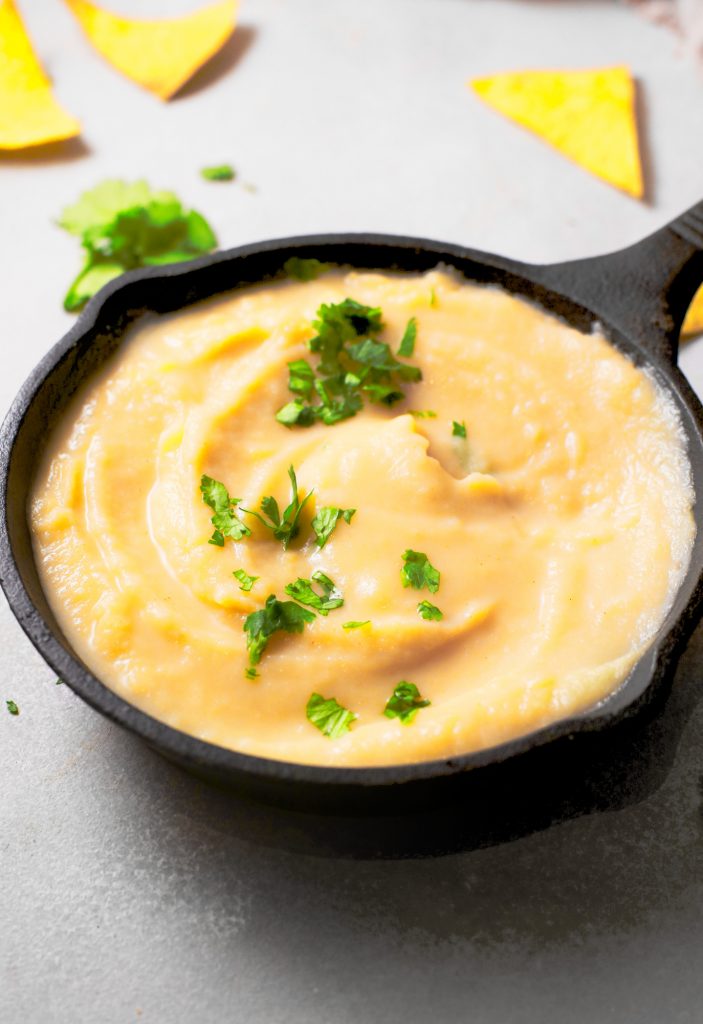 That being said, when making vegan "cheese" dishes, nutritional yeast is great to add IN SMALL DOSES!
That is why this vegan queso recipe uses just 1/4 a teaspoon. Just enough to give color and a tinge of flavor, but not enough to be annoyingly "fake."
This is the perfect "chips and dip" appetizer to serve with a group of friends or at a party.
It is always the first snack to go and it flies off the table!
If you have never made vegan queso before, don't be scared. It is so easy and so good and I give you step by step instructions on just what you have to do!
Go ahead and give this recipe a try the way I designed it and then play with the flavors to make it your own in the future!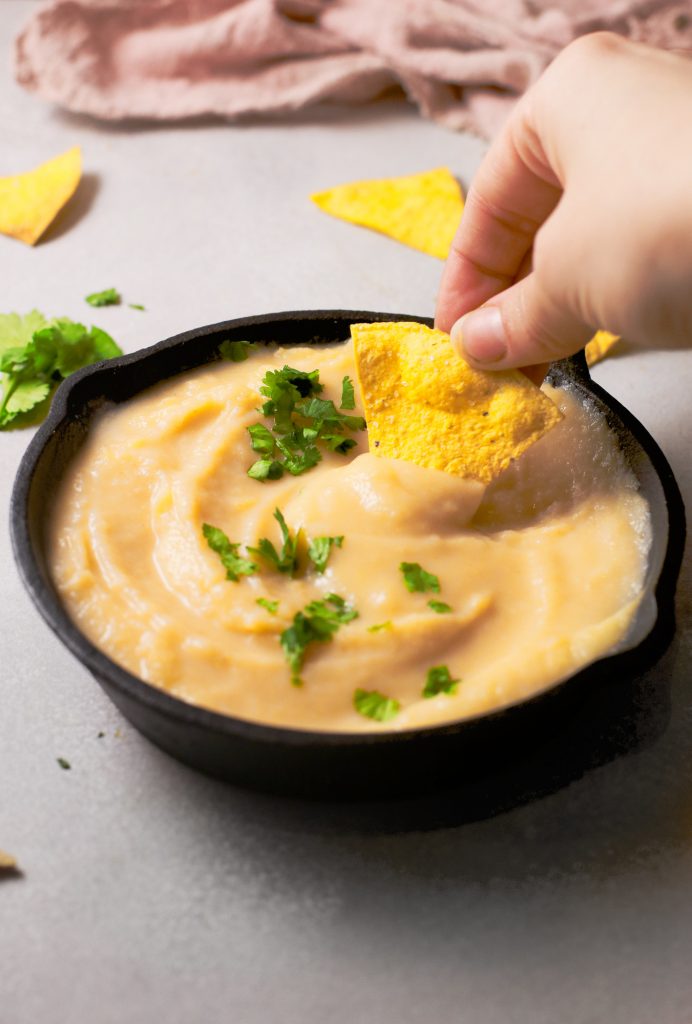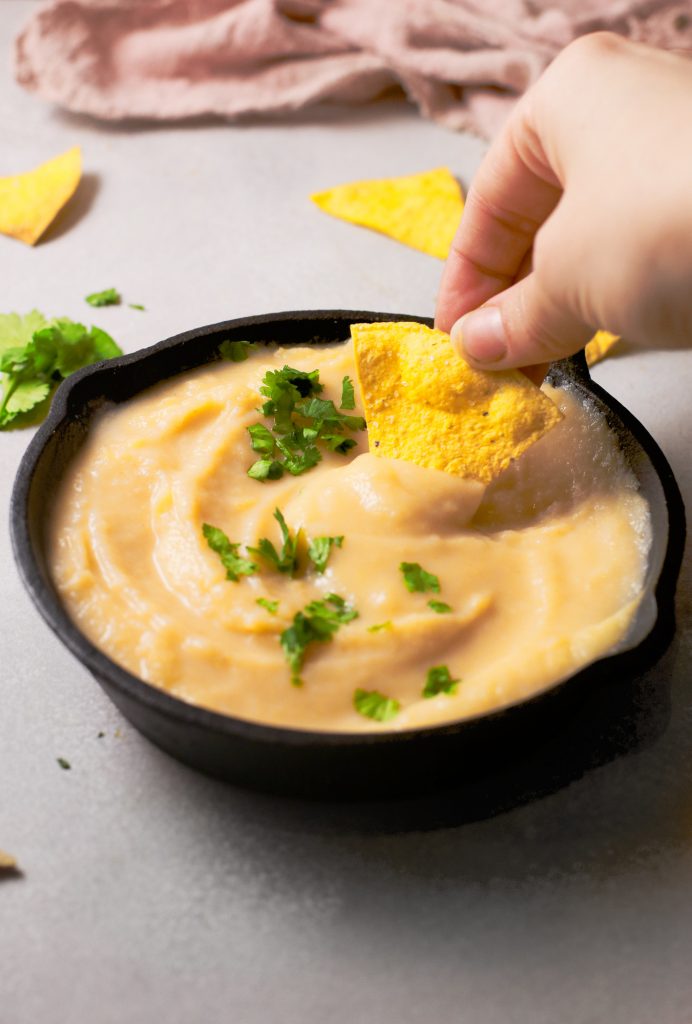 What Makes The Vegan Queso Creamy?
There are a few key ingredients that make the queso creamy.
First, and it should come as no surprise, cashews are used to make this creamy dip.
Cashews are commonly used to make vegan food creamy and they have a neutral taste so you won't be annoyed at the texture!
This vegan cashew queso is delicious and easy so take the leap and give it a try.
But the thing that makes this recipe creamy is my secret weapon.
My secret weapon is a potato! YES potatoes make food creamy and amazing!
It is also my secret ingredient in recipes with "cheese" such as my Baked Vegan Mac And Cheese.
Potatoes also have a neutral flavor and adding the potato and the cashews together make for a lovely and creamy vegan queso recipe!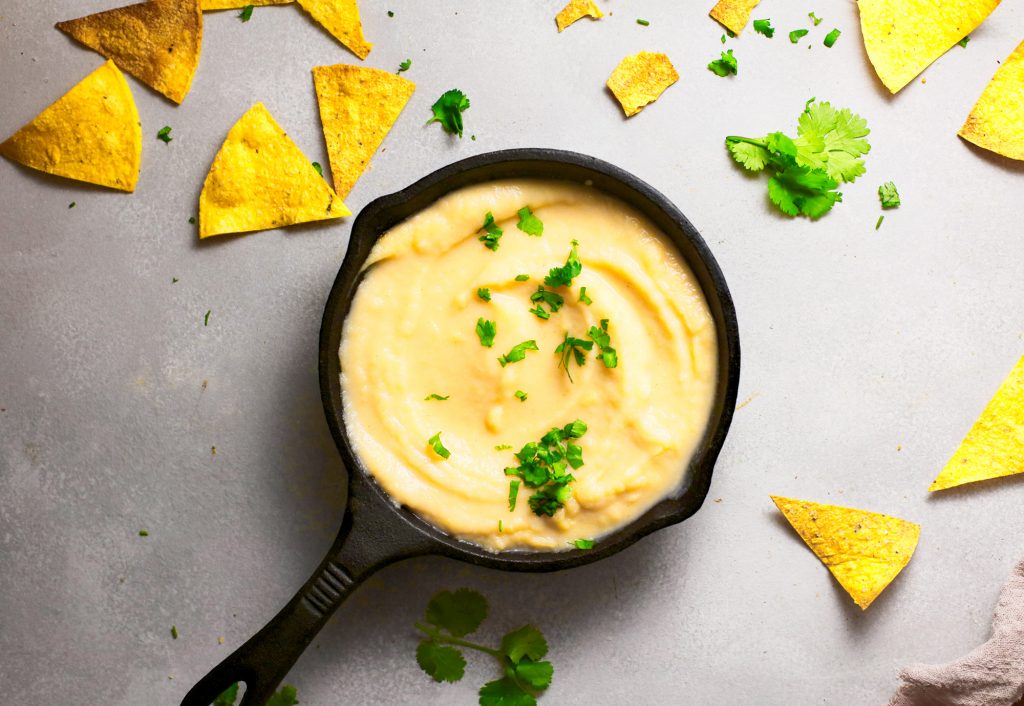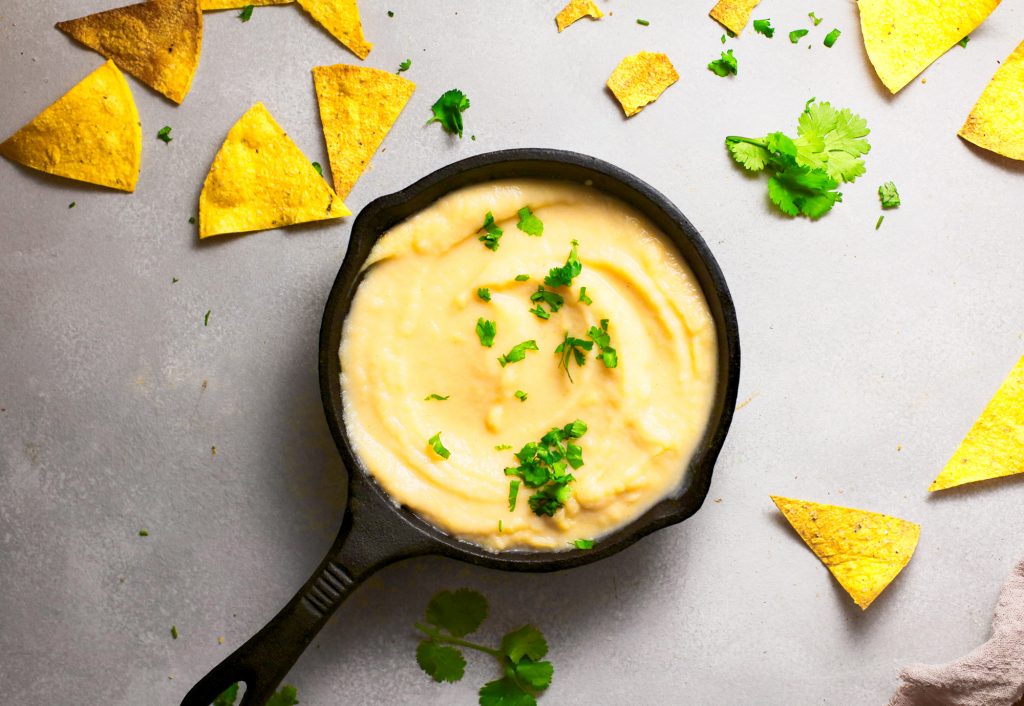 A Note On Soaking The Cashews
If you are using a high powered blender such as a Vitamix, there is no need to soak your cashews as the blender is strong enough to blend it.
That being said, if you are using a regular blender or just want to make things a little easier, you can soak your cashews in cold water for a little before you blend.
Even if you soak them for just 10 minutes, it can help you make things easier on a "regular" blender!
If you know you are making vegan cashew queso and you have a "regular" blender not a Vitamix or something similar, go ahead and soak the nuts!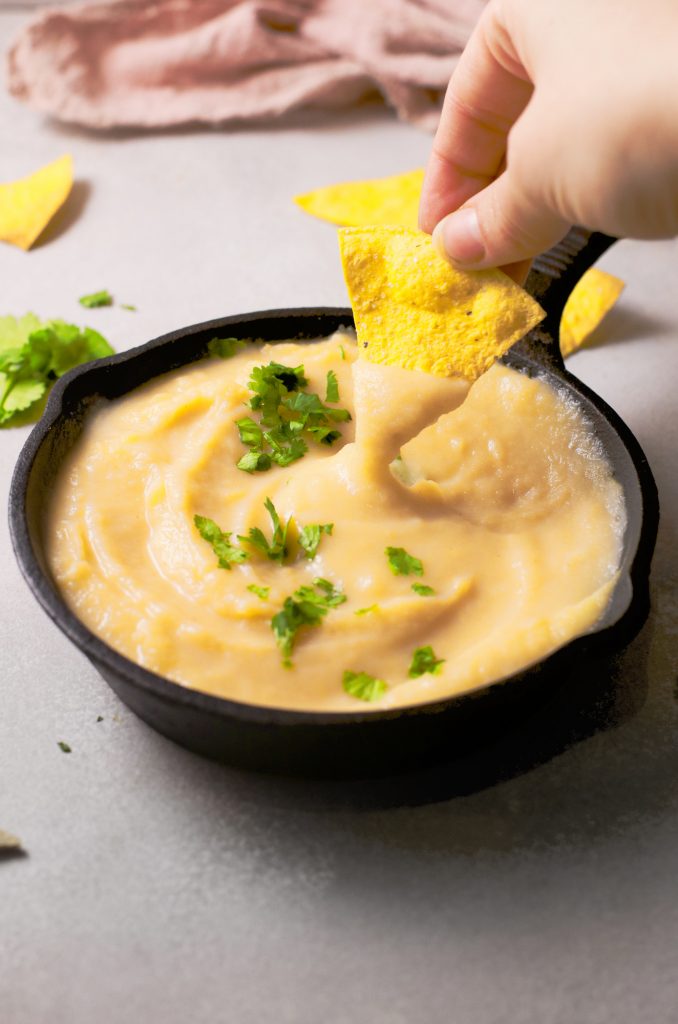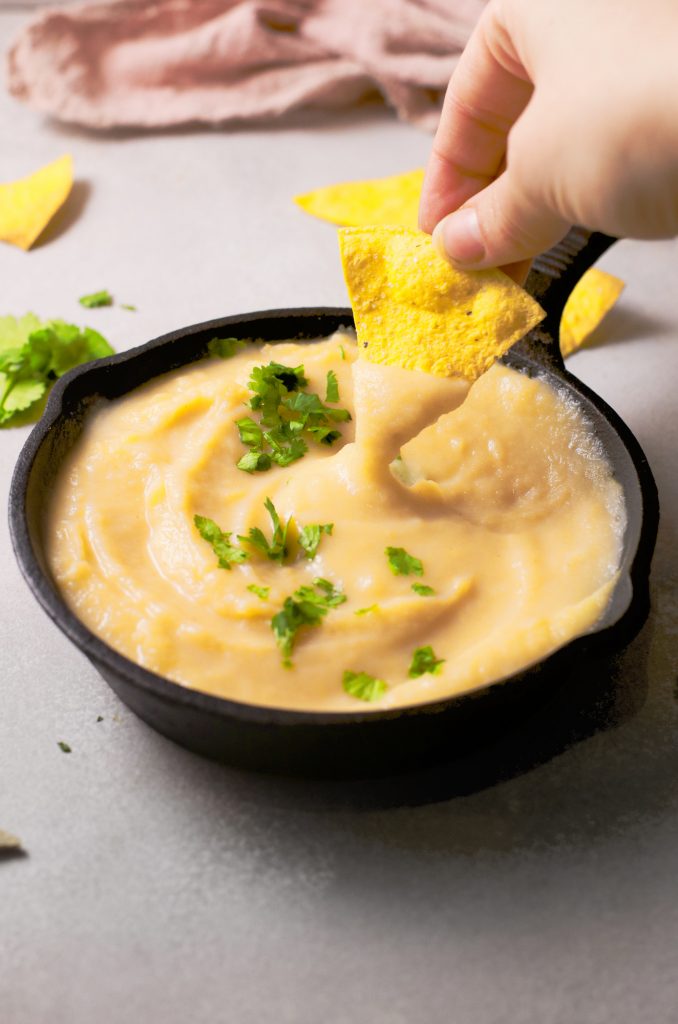 How To Make The Vegan Queso Recipe
Making the vegan queso is super easy!
All you have to do is begin frying onion on medium heat in oil until translucent. You want your onion to be savory and cooked, not raw.
Then you add in the shredded potatoes and garlic and cook for only 2 minutes. Just enough so that the potatoes are lightly cooked and the flavors are blended.
Now, you mix in your cashews, stock, spices, and hot sauce if using. Then simmer for 5 minutes.
Transfer the mixture to your blender and once it is in the blender, go ahead and add your vinegar, nutritional yeast and salt and pepper.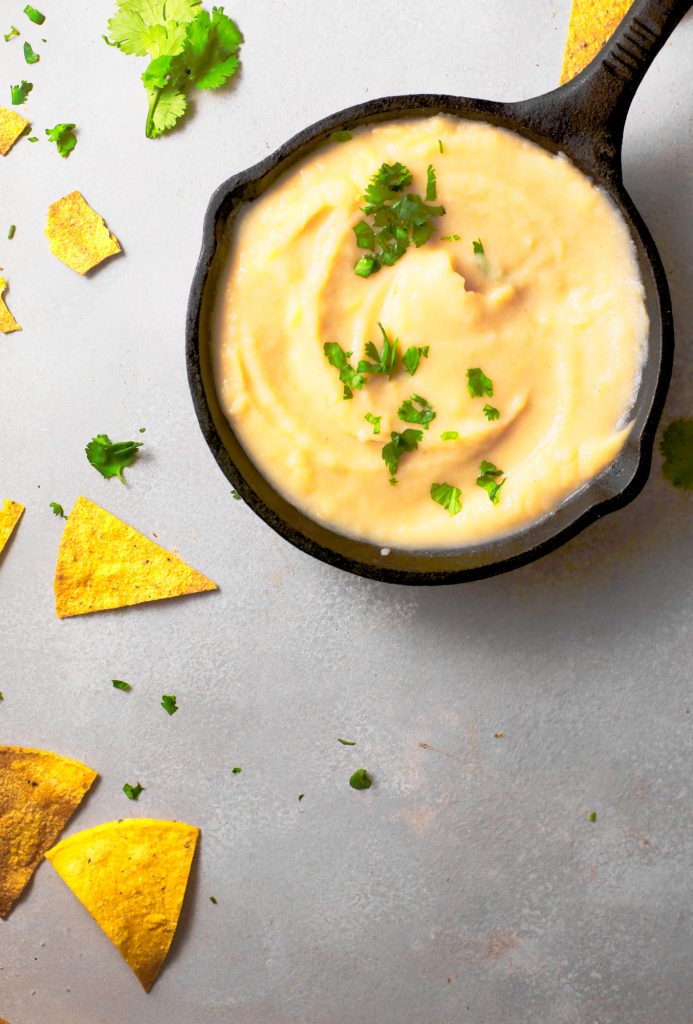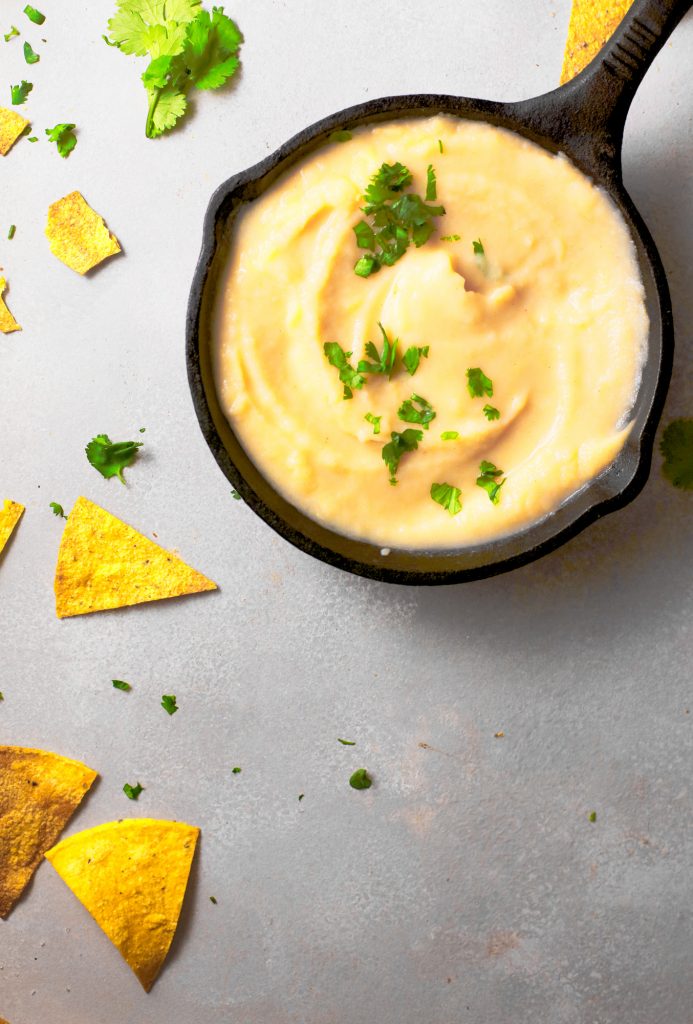 Then, pulse the mixture until creamy. Having a high powdered blender helps make the recipe creamy.
If you do not have a high powered blender such as a Vitamix [what I use] then you will want to pulse slowly and for a longer period of time so you don't overload your blender.
If your vegan queso mixture is too thick, add more water, 1/4 cup of water at a time. You can eyeball it and add more spices if you added too much water and want to make it even.
If you want to make this vegan queso recipe even better, bake it. I am not kidding!
Transfer it to a skillet or oven-safe pan and bake for 15 minutes on 350 degrees.
This will intensify the flavor even more!
It isn't a "must" but it really does elevate this recipe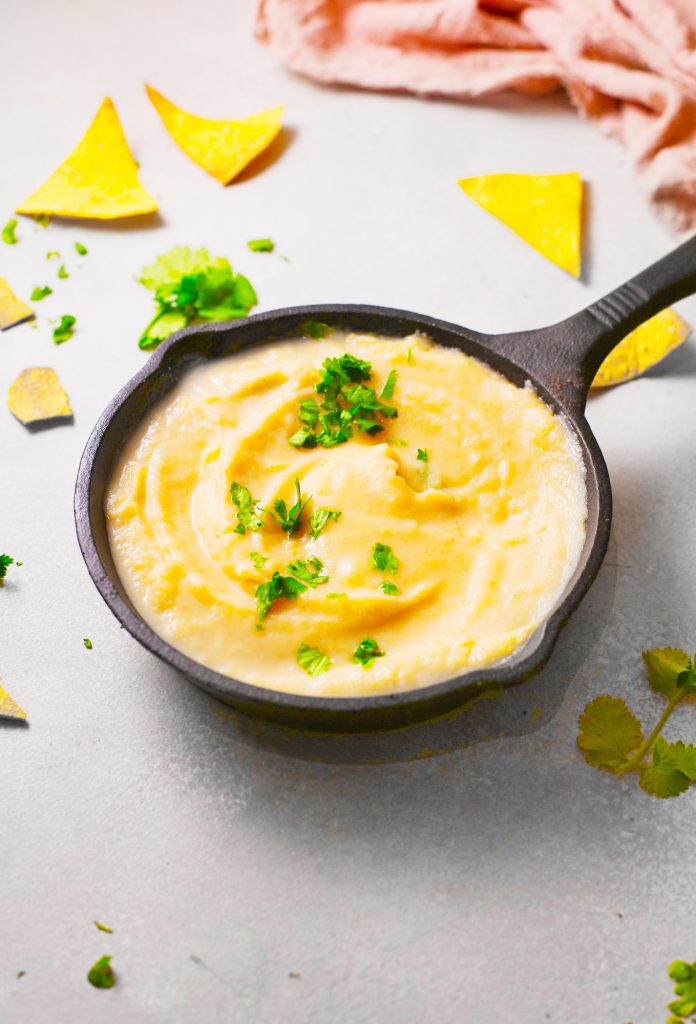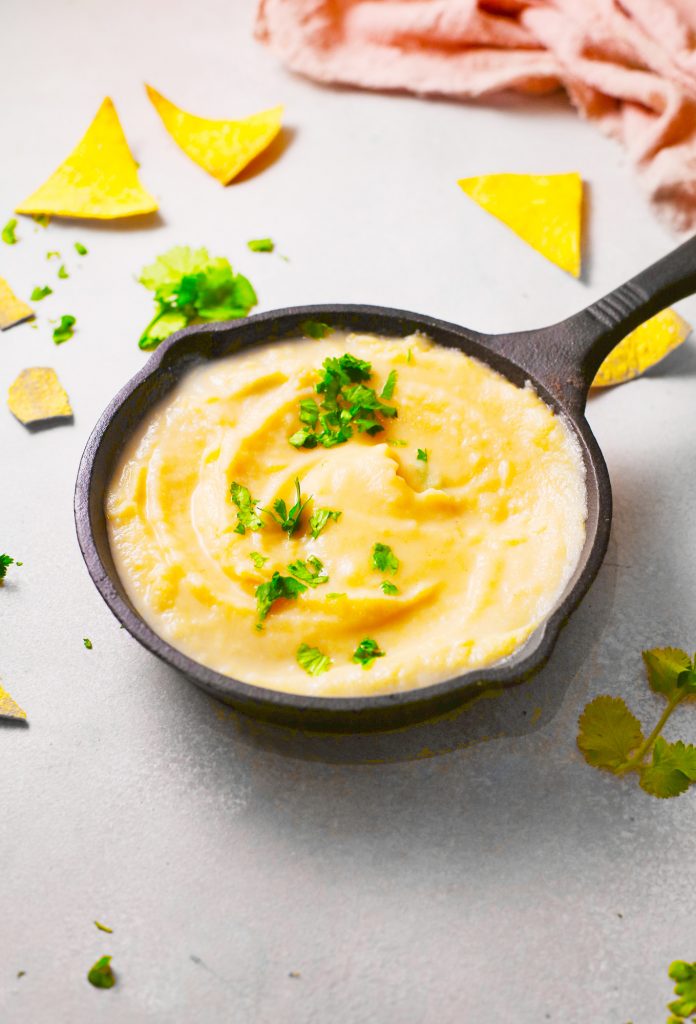 How To Store The Vegan Queso
Storing the vegan queso is quite easy!
If you want to make it in advance, it can be stored in the fridge for up to 5 days in an air-tight container.
In order to reheat, simply take it out of the fridge and reheat in a pot on medium-heat until warm!
You may need to add a little more water or broth if it is too thick after being in the fridge. Just add a little water and mix to combine. Feel free to add fresh spices too!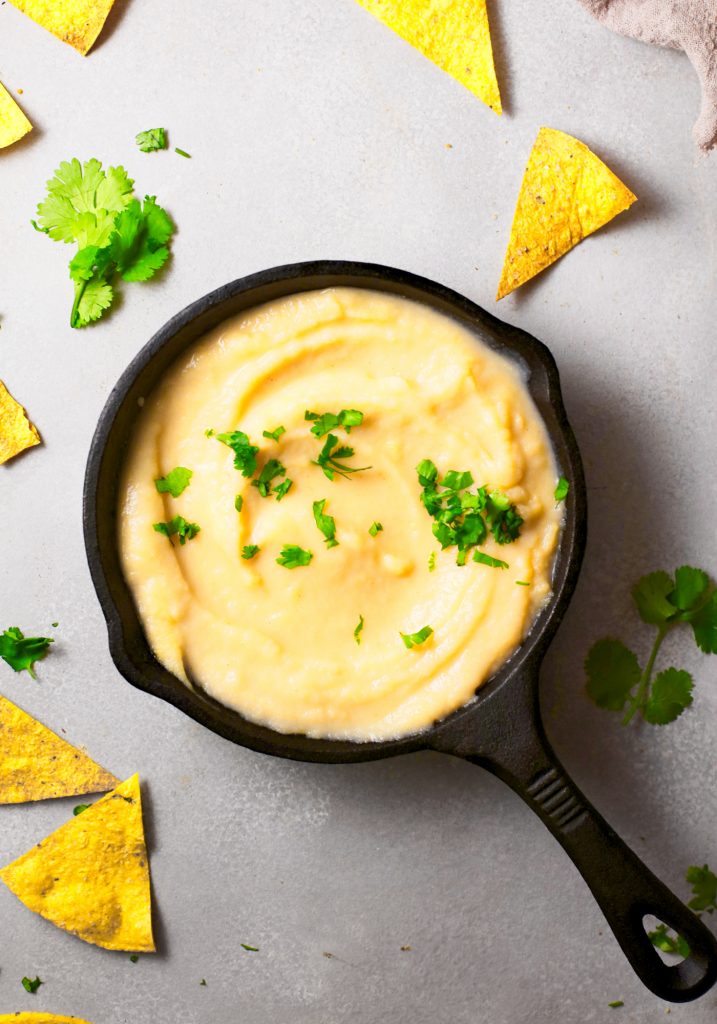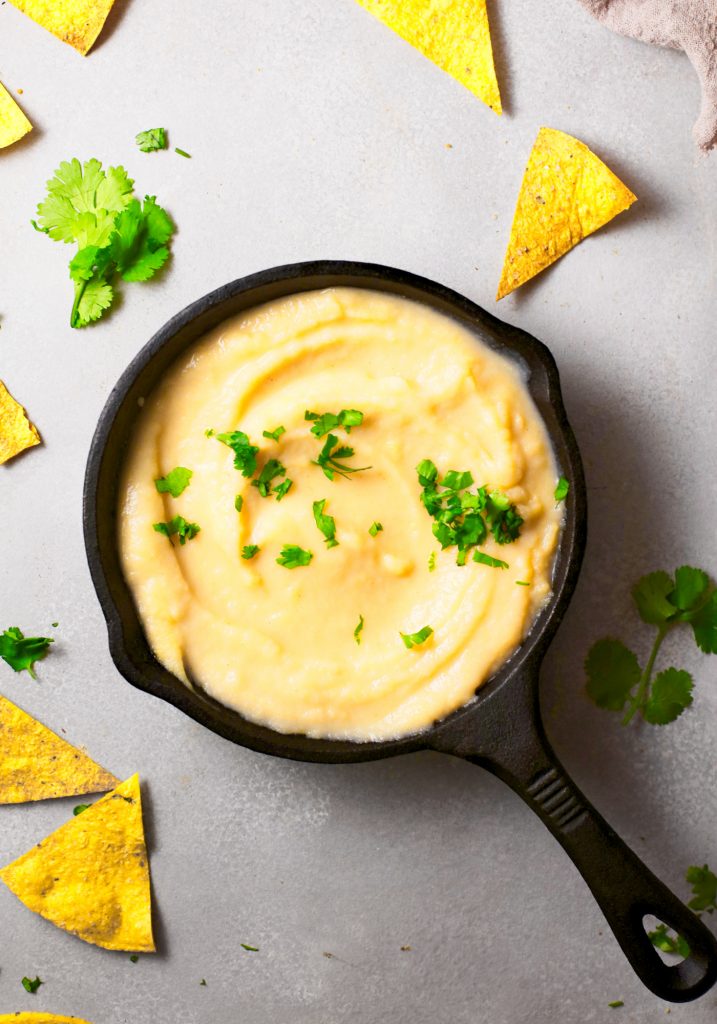 You can also store it in the freezer in a freezer-tight container for up to 1 month.
In order to reheat, let it thaw out a little on the counter and then reheat in on the stove on medium heat.
Enjoy this vegan queso with a delightful Vegan Burrito and a Frozen Watermelon Margarita!
Did You Try This Recipe?
If so, I would love to keep in touch! I enjoy seeing photos and comments about the recipes that you make! You can follow me on Instagram and I will repost your goodies in my stories and comment on it too! Just tag me at @wowitsveggie and hashtag #wowitsveggie. I can't wait to see what you make!
Yield: 4
Best-Ever Vegan Queso Recipe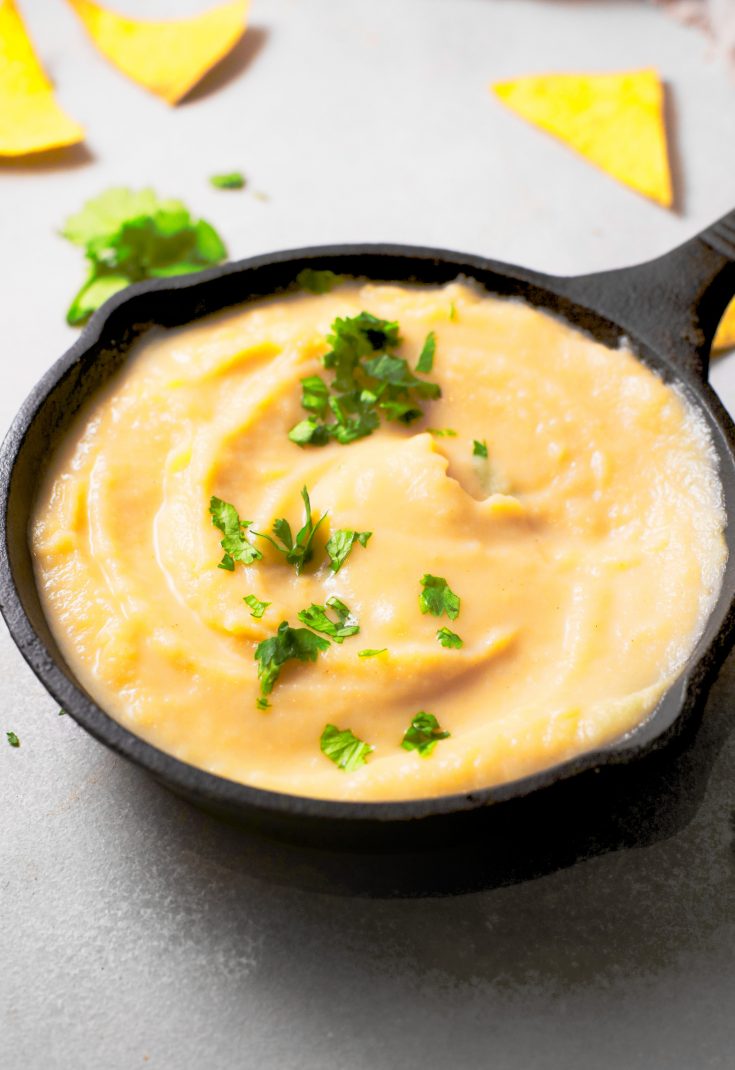 This vegan queso recipe is so easy and delicious! It will make the perfect side for taco night, or you can whip up a big batch and eat it as dinner with tortilla chips in front of the TV, I won't judge you!
The secret ingredient for a creamy texture is potato and the spices shouldn't be skipped for a tasty flavor!
Ingredients
3 Tbsp olive oil
1/2 Cup onion, chopped
1/2 Cup shredded potato
1 Clove garlic, minced
3/4 Cup soaked cashews
1 cup vegetable stock
1/2 Tsp paprika
1/2 Tsp chili powder
1/2 Tsp garlic powder
1/4 Tsp cumin
1/4 Tsp oregano
3 Tsp hot sauce
1 Tsp apple cider vinegar
1/4 Tsp nutritional yeast
Salt and pepper to taste
Instructions
Heat oil in a large pan over medium heat. Add the onion and cook until transparent, around 6 minutes.

Add the shredded potato and garlic clove and cook for 2 more minutes, until potato is lightly cooked and garlic is fragrant.

Mix in the cashews, stock, paprika, chili powder, garlic powder, cumin, oregano and hot sauce and simmer for around 5 minutes.

Transfer to a blender, add the vinegar, nutritional yeast and salt and pepper and pulse until creamy.

If the mixture is too thick add 1/4 more water. Add in more spices if necessary and blend for 1 more minute.
Optional: Transfer to a skillet and bake for 15 minutes at 350 degrees. I find that doing this intensifies more the flavors but it's definitely not a must.