If you are looking for an easy and delicious watermelon smoothie recipe, you have come to the right place!
Watermelon smoothies are SO tasty and whip up quickly. My mom has been making them for me since childhood.
The minute I see watermelon come into season and show up at the grocery store, I will buy a big one and make all the delicious watermelon recipes such as Vegan Watermelon Feta Salad and drinks galore!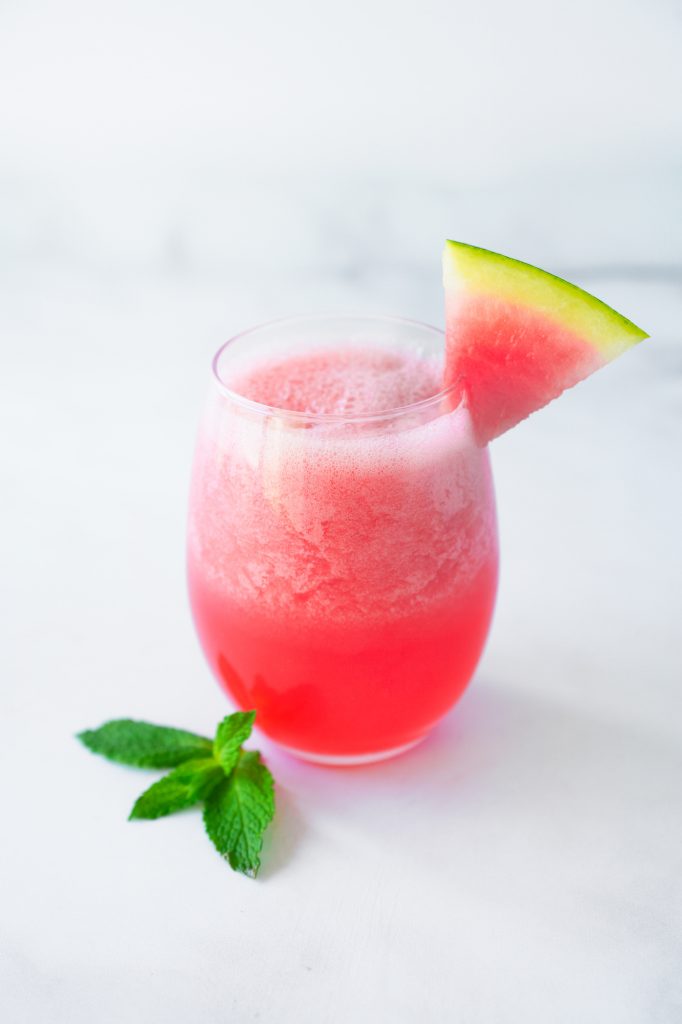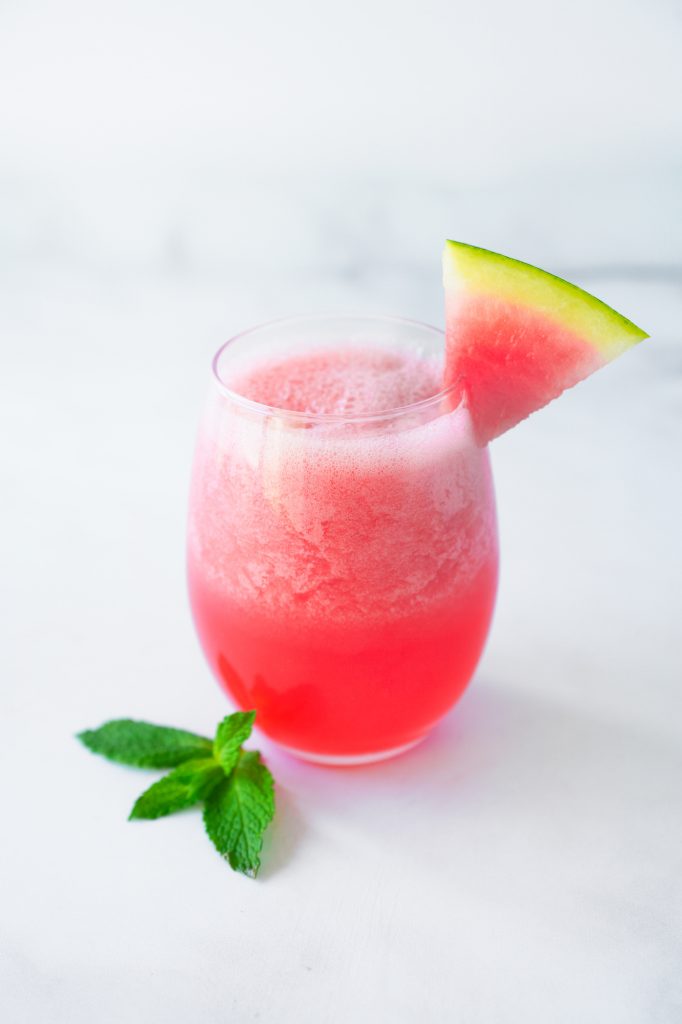 Watermelon is also very healthy for you too! It can help improve heart health, lower inflammation, relieve muscle soreness and more!
Even if you don't need help with any of those things above, watermelon smoothies are incredibly hydrating, more so than many other smoothie types as watermelon is filled with, water!
By adding a few more ingredients, you can even make our tasty Frozen Watermelon Margarita if you want an adult beverage!
I do not strain the pulp or seeds from this watermelon smoothie recipe. Many you find online will require straining, but I am going to let you in on a little secret.
The pulp is HEALTHY FOR YOU! So you can drink a delicious smoothie and enjoy the added benefits too.
Sounds like a win-win to me!
This easy watermelon smoothie recipe will become your go-to summer beverage, you can count on it!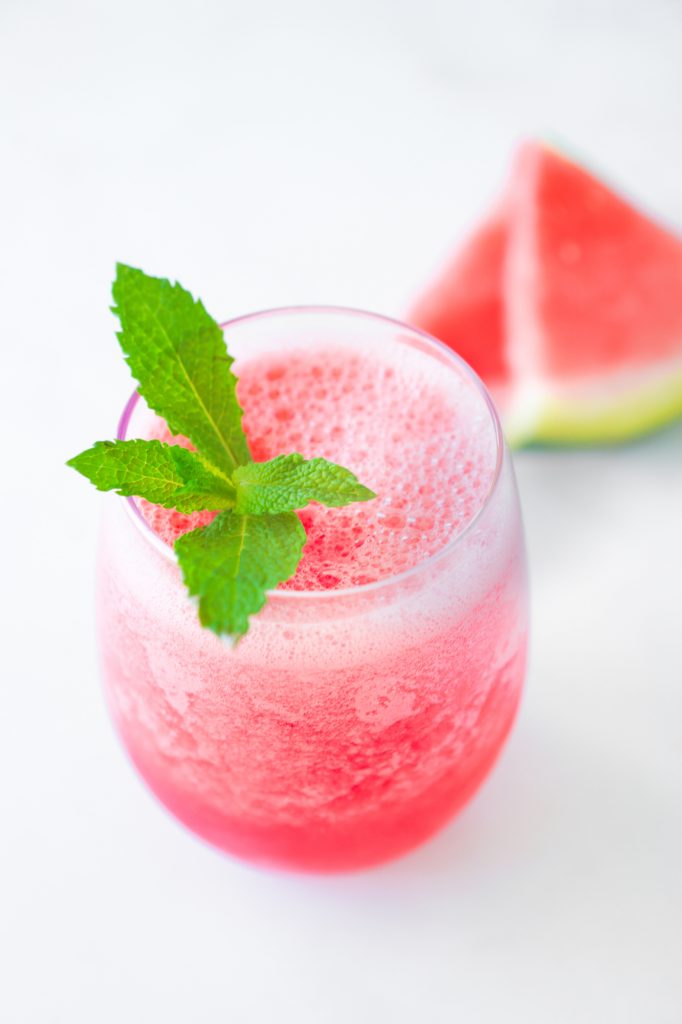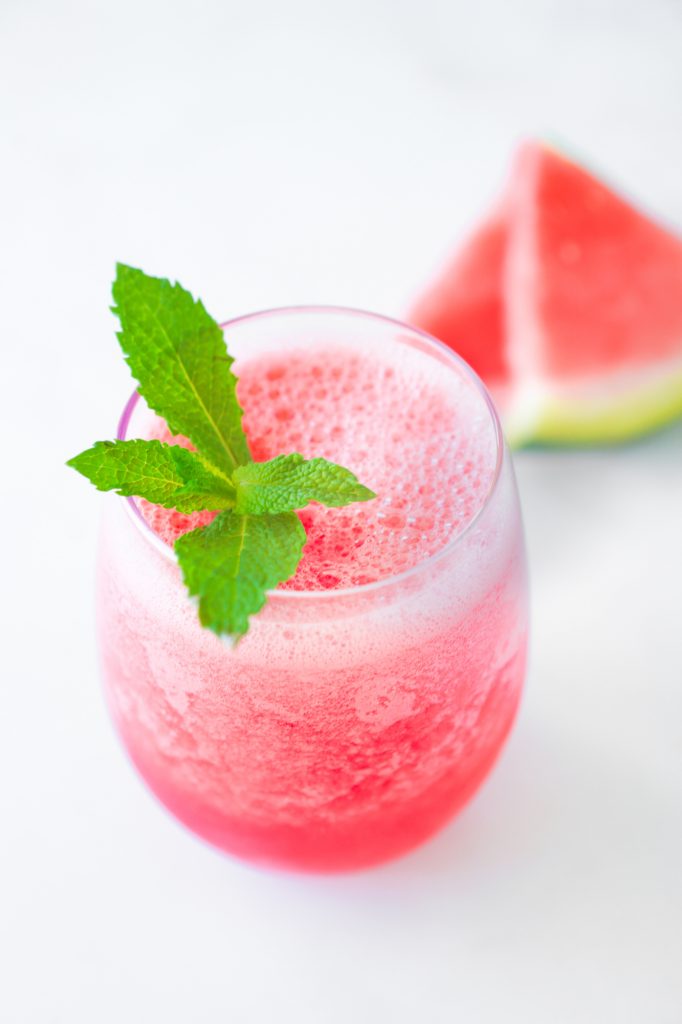 How To Add Sugar To Your Watermelon Smoothie
My watermelon smoothie recipe does not have any added sugar.
I believe that the watermelon is sweet enough on its own and it tastes amazing just the way it is.
If you don't believe me, you may want to add your own sugar.
If you want a sweeter watermelon smoothie, go ahead and add 1-2 teaspoons of either agave syrup or maple syrup.
You can go the pure sugar route if you prefer, but this is a healthier alternative.
I will repeat, this recipe does NOT need any added sugar!
If you do add sugar, add it one teaspoon at a time until your desired sweetness is achieved. You can always add more but you can't take any away!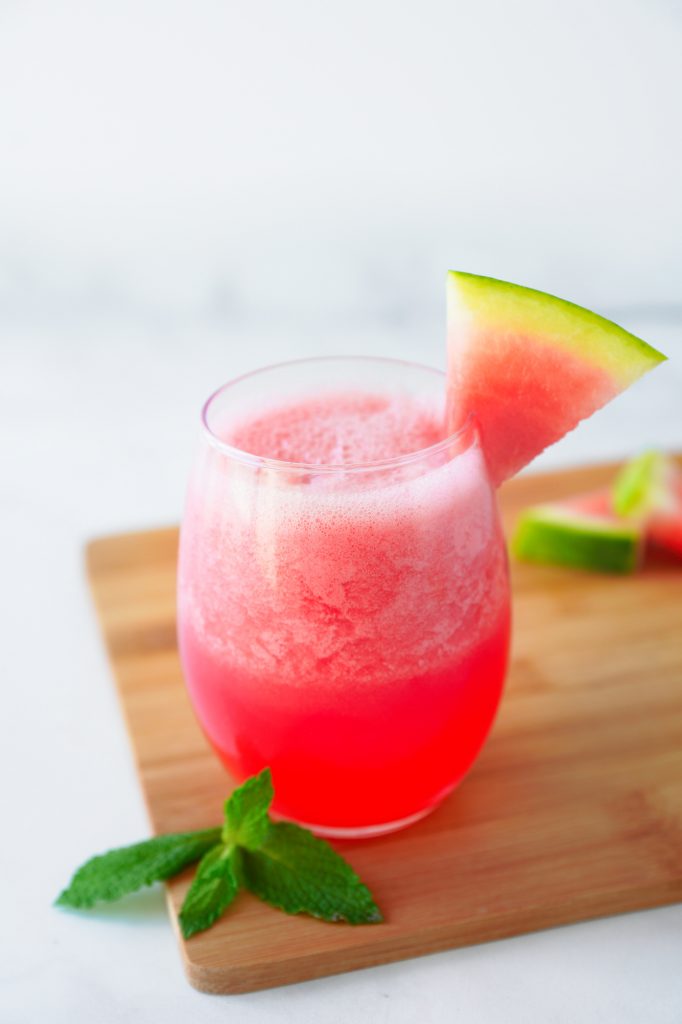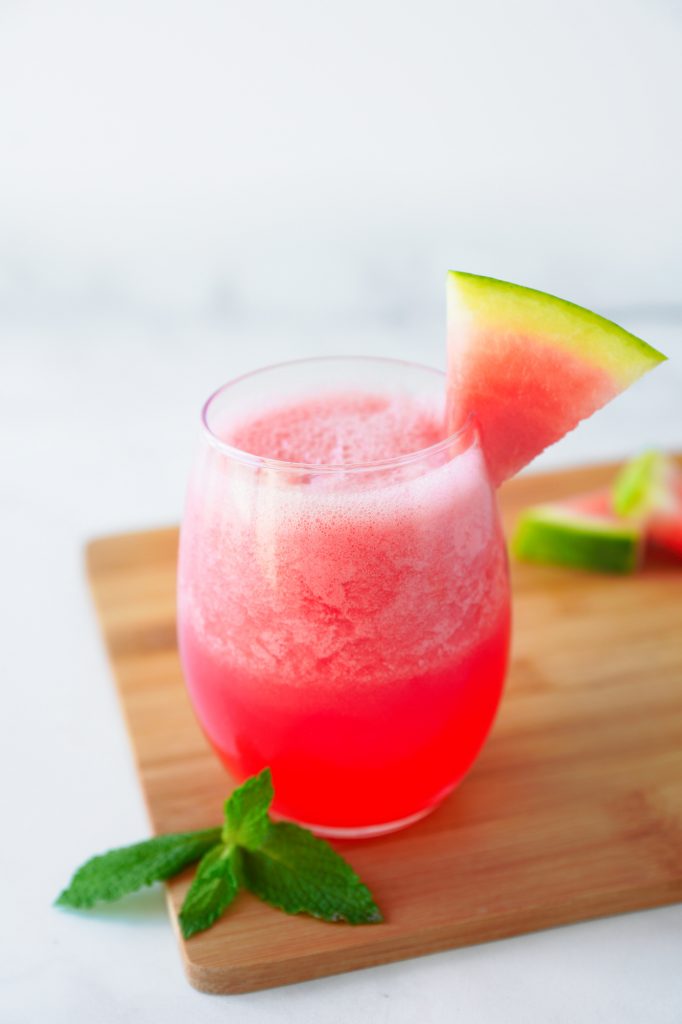 Flavor Mix-In Ideas
If you try the plain watermelon smoothie recipe, you may want to change it up next time, and why not?!
There are so many delicious summer fruit options that you can play with to make your drink taste great!
One option I love is a watermelon banana smoothie. If you are going to make a watermelon banana smoothie, you can choose the amount of banana you want in it!
This recipe calls for 3 cups of watermelon, so I would do between 1/2 to 1 full banana in the recipe. This will give it a very strong banana flavor and it will be creamy.
If you still want to try the watermelon banana smoothie for the texture and health benefits, but don't want a strong taste, try 1/4-1/2 a banana.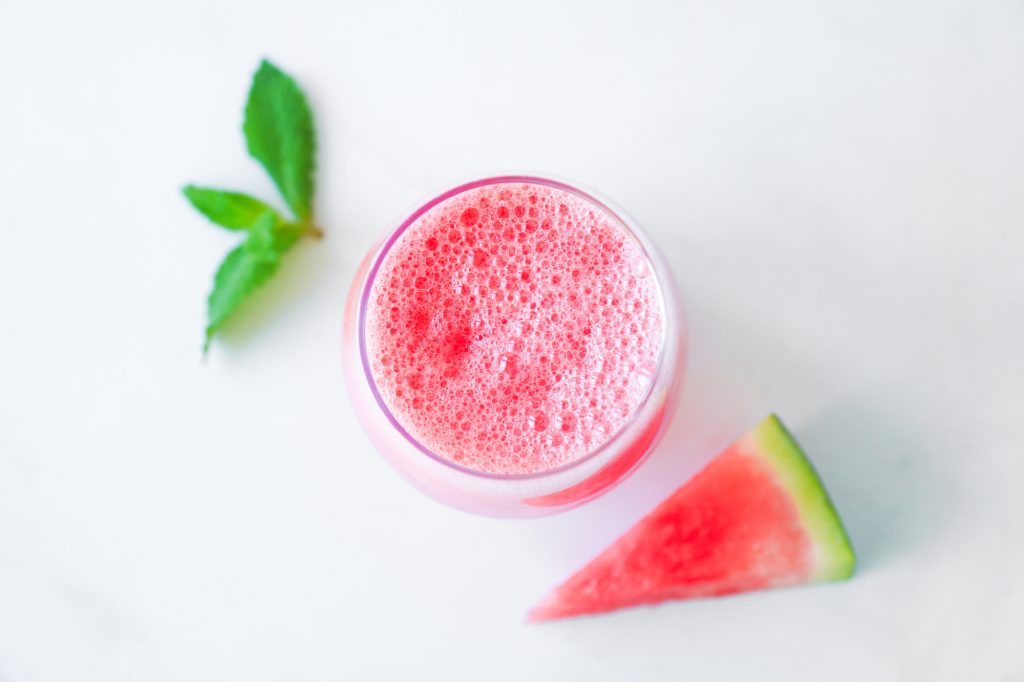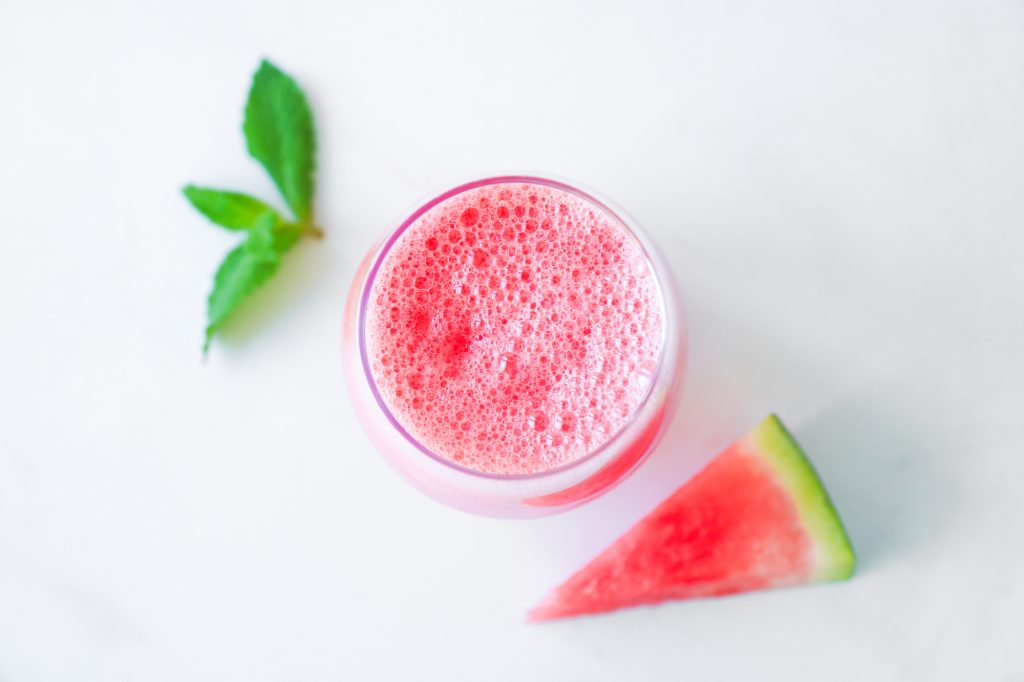 Another fun adaptation is a strawberry watermelon smoothie.
Strawberries add a tart and tasty addition and really elevate the taste.
If I am being honest, you may find the strawberry watermelon smoothie a little more tart and you may want to add sugar.
I personally do not, but everyone's tastes are different.
For 3 cups of watermelon, I would put in 5-10 strawberries, depending on how strong you want the flavor!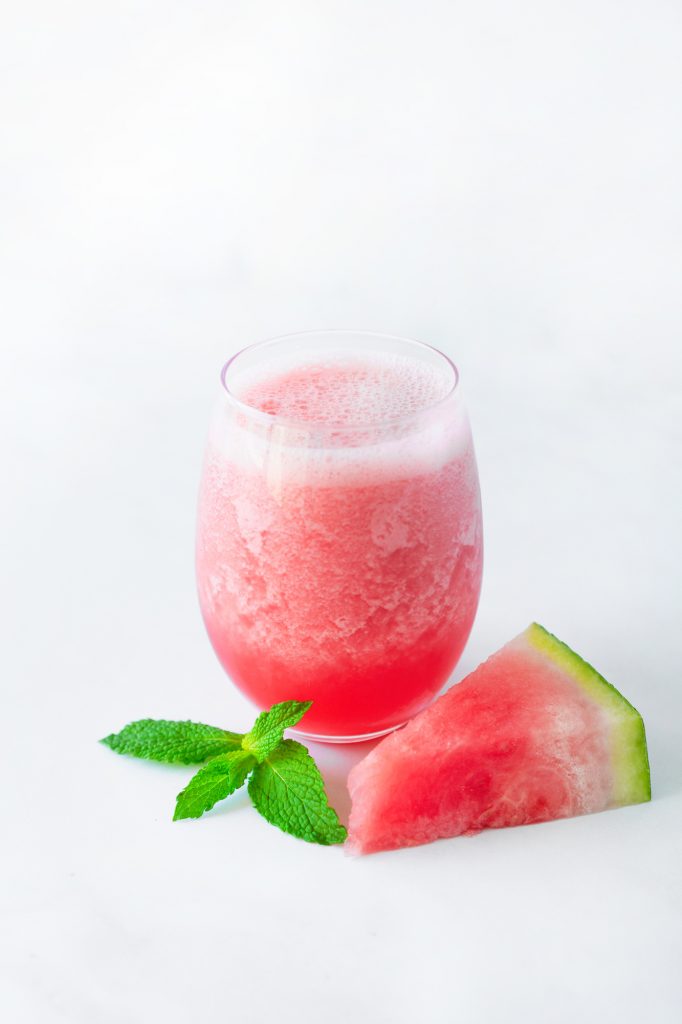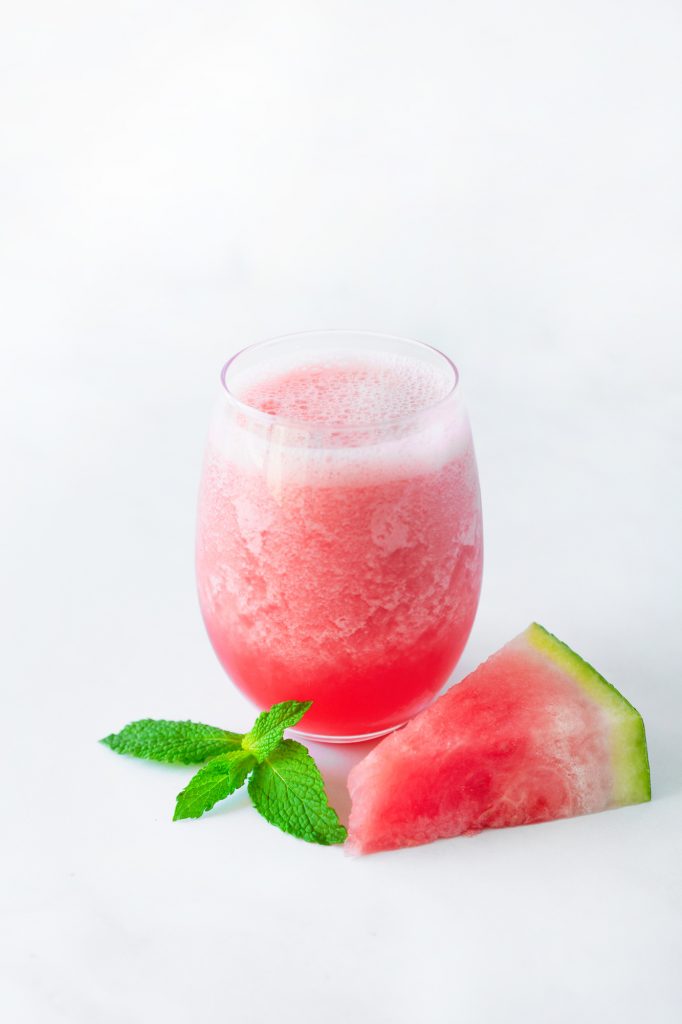 How To Make The Watermelon Smoothie Recipe
Making this watermelon smoothie recipe is so easy and fun!
This watermelon smoothie recipe doesn't require any additional work other than cutting the watermelon into chunks.
I use a Vitamix which is a very powerful blender. Luckily, watermelon practically falls apart so you don't need a super powerful blender to make this recipe.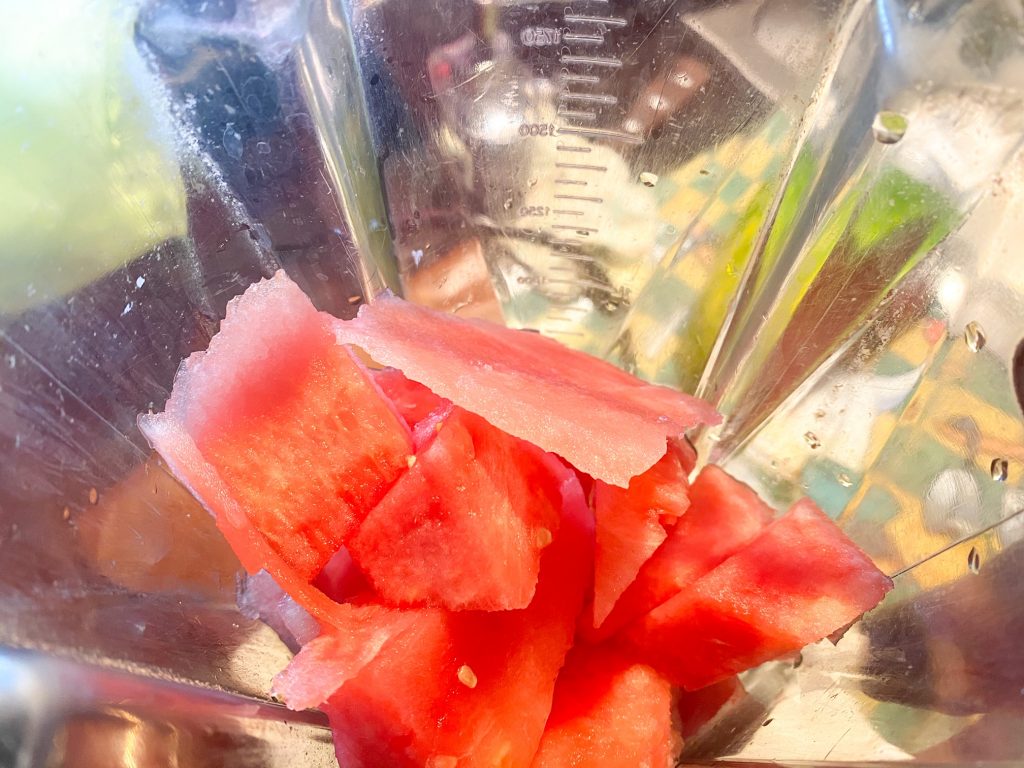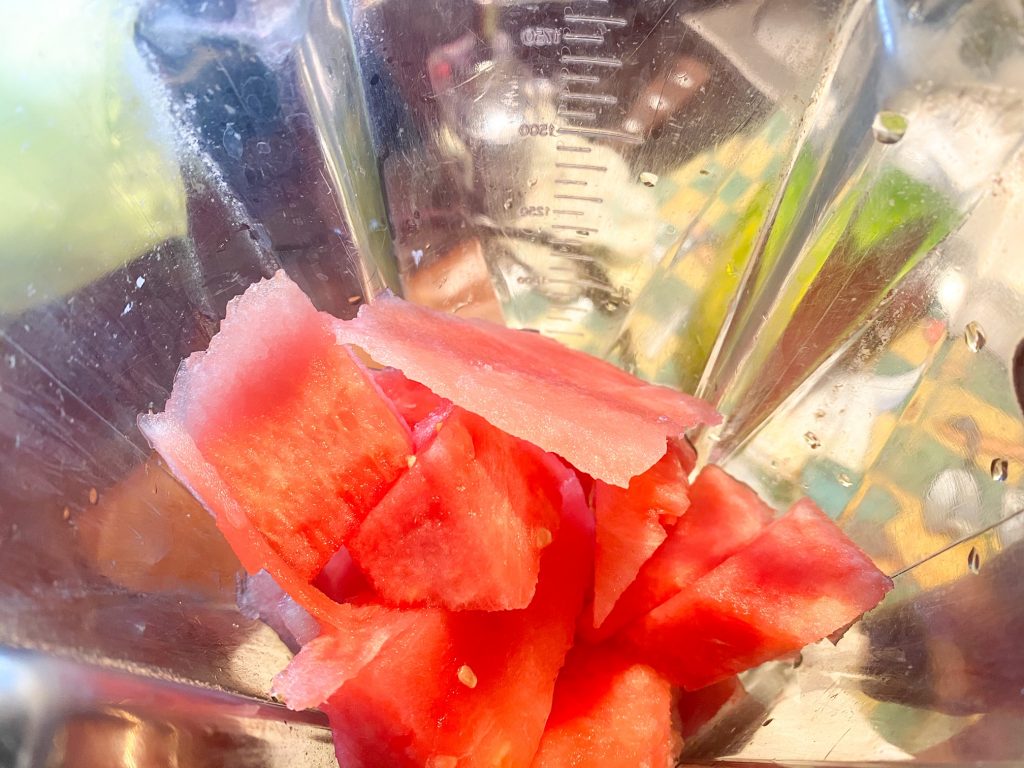 That being said, if you are going to be blending up a seeded watermelon, you will want to make sure the seeds are ground down, which you will want a powerful blender for!
I do use a few ice cubes to give this watermelon smoothie a delicious "frozen" texture. Just don't use too many so you don't dilute the smoothie.
You can also choose to freeze your watermelon chunks until they are hard like ice. I usually don't want to wait until they are frozen so I skip this step! If you want to be fancy, by all means go ahead and try it.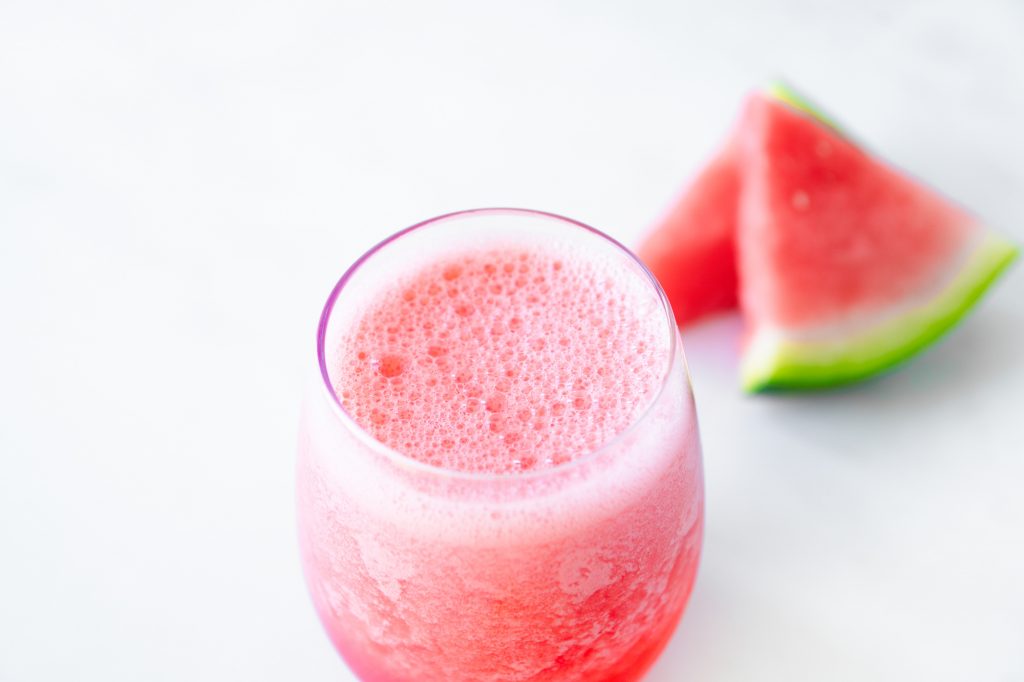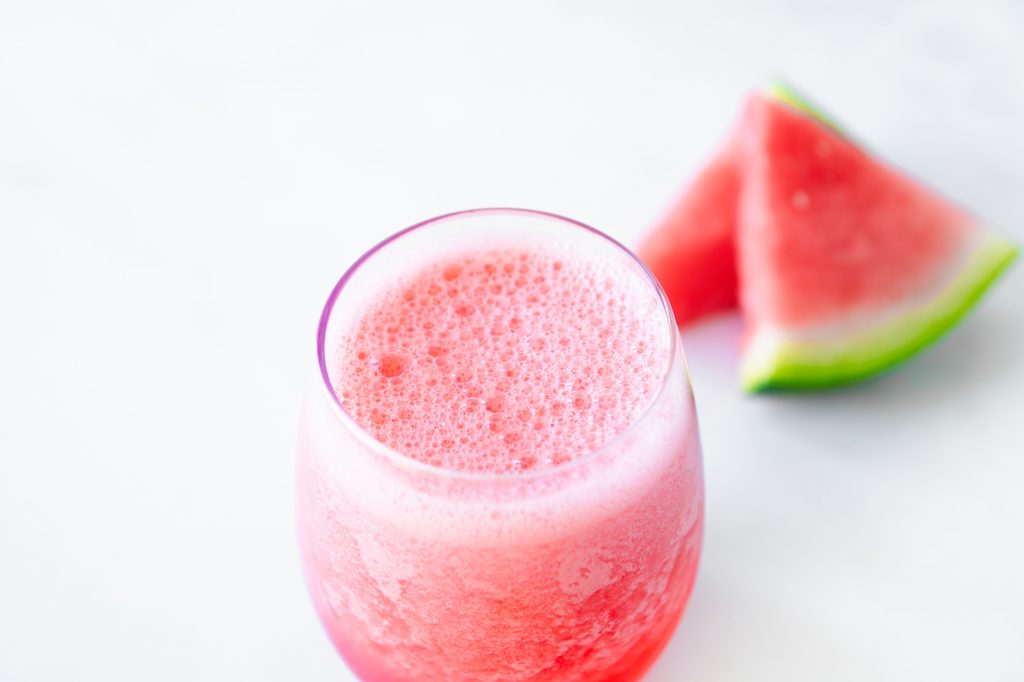 Add all of your ingredients to your blender and then give it a whir until it blends to that perfect consistency.
That is pretty much it!
That is why I say that this watermelon smoothie recipe takes just 1 minute to make!
Of course, feel free to add in any variations such as bananas or strawberries that you want.
Garnishing with mint makes this smoothie even cuter for serving!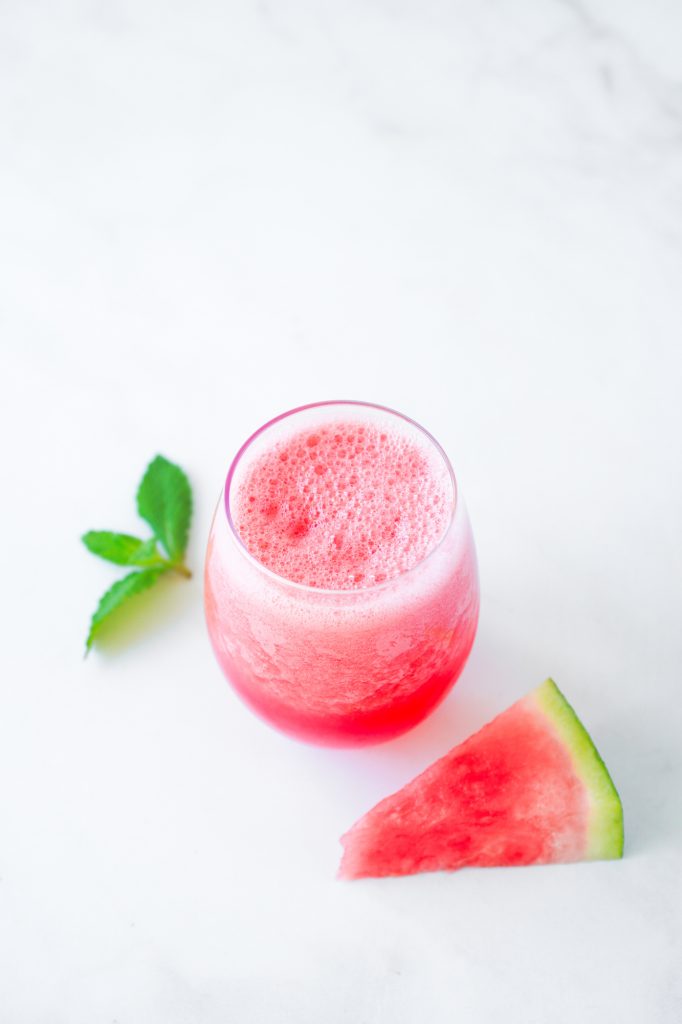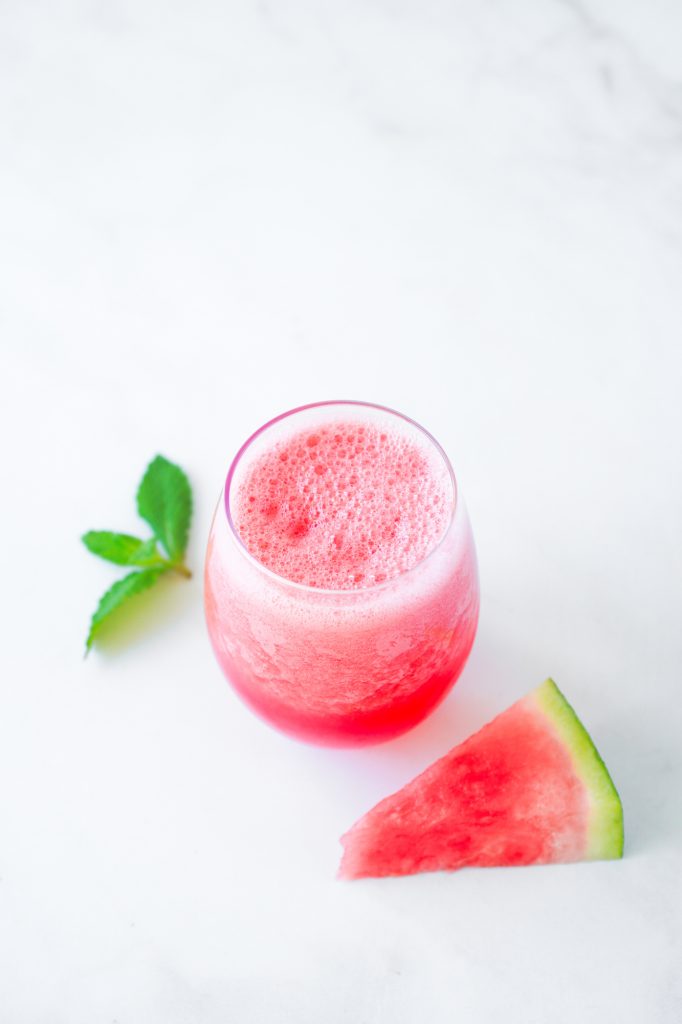 Did You Try This Recipe?
If so, I would love to keep in touch! I enjoy seeing photos and comments about the recipes that you make! You can follow me on Instagram and I will repost your goodies in my stories and comment on it too! Just tag me at @wowitsveggie and hashtag #wowitsveggie. I can't wait to see what you make!
Yield: 2 Smoothies
1-Minute Watermelon Smoothie Recipe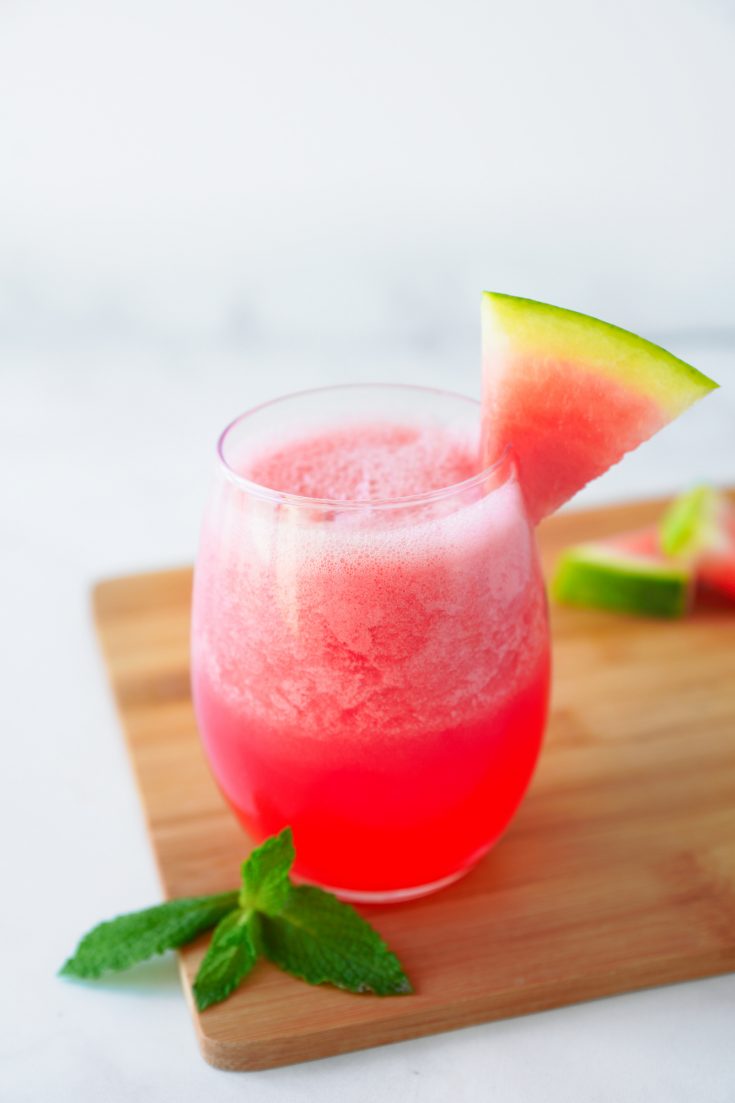 This watermelon smoothie recipe is so easy and whips up in just 1 minute!
The flavors blend perfectly and there is no added sugar. If you want a sweeter drink, feel free to add some, but it is perfect as it is!
This watermelon smoothie will surely become your new favorite summer beverage!
Ingredients
3 Cups Fresh Watermelon, Cubed
1 Cup Ice Cubes
1/4 Cup Fresh Squeezed Lime Juice
Optional: 4 mint leaves, torn and destemmed
Instructions
Cube fresh watermelon. No need to strain the pulp as it is healthy and helps to give the watermelon smoothie a creamy texture.
In a blender, add watermelon cubes, lime juice, ice, and mint. Blend until a frozen texture forms.
Serve immediately and garnish with a small watermelon slice and more mint, if you are using it!
Notes
You can add alternative mix-ins such as strawberries or bananas if you are looking to try different flavors.
If you don't have lime juice or mint on hand, you can simply blend just the watermelon and the ice and drink without anything else.
The lime really adds to the flavor and can usually be found anywhere, so leave off the mint if you are going to leave off one ingredient!