Maybe you have tried kung pao tofu as takeout or over a friends house, but now is your chance to easily make it at home!
This recipe for vegan kung pao tofu is so easy and will be one of the best tofu dishes you will ever eat!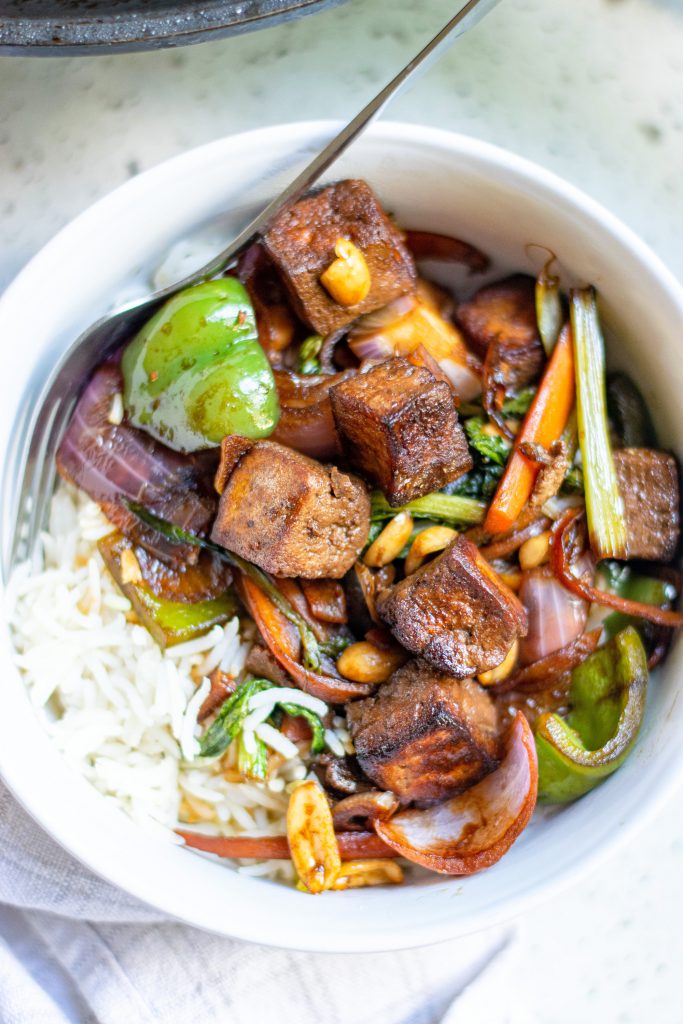 It is sweet and spicy mixed together with deliciously fried tofu and served with veggies and rice. What could be better?
Essentially, kung pao tofu is the vegan version of kung pao chicken and let me tell you, it is darn delightful and so good. Just looking at these photos makes me want to go make some up right now!
It is important to note that traditionally, like Kung Pao Vegetables, kung pao tofu is served in a spicy sauce. Spicy flavors are a hallmark of kung pao dishes.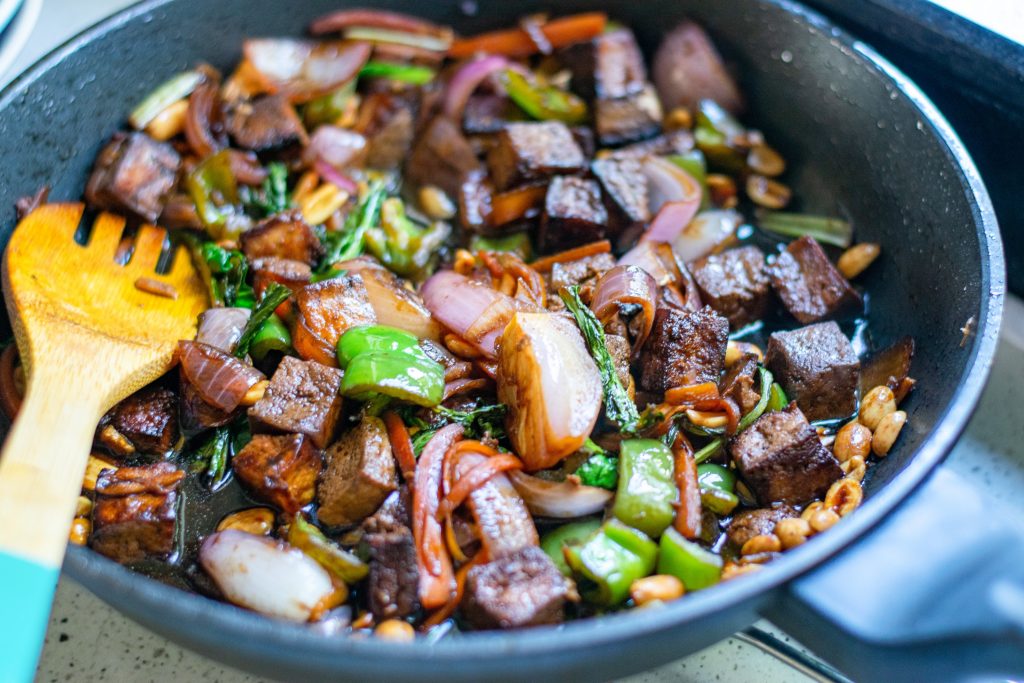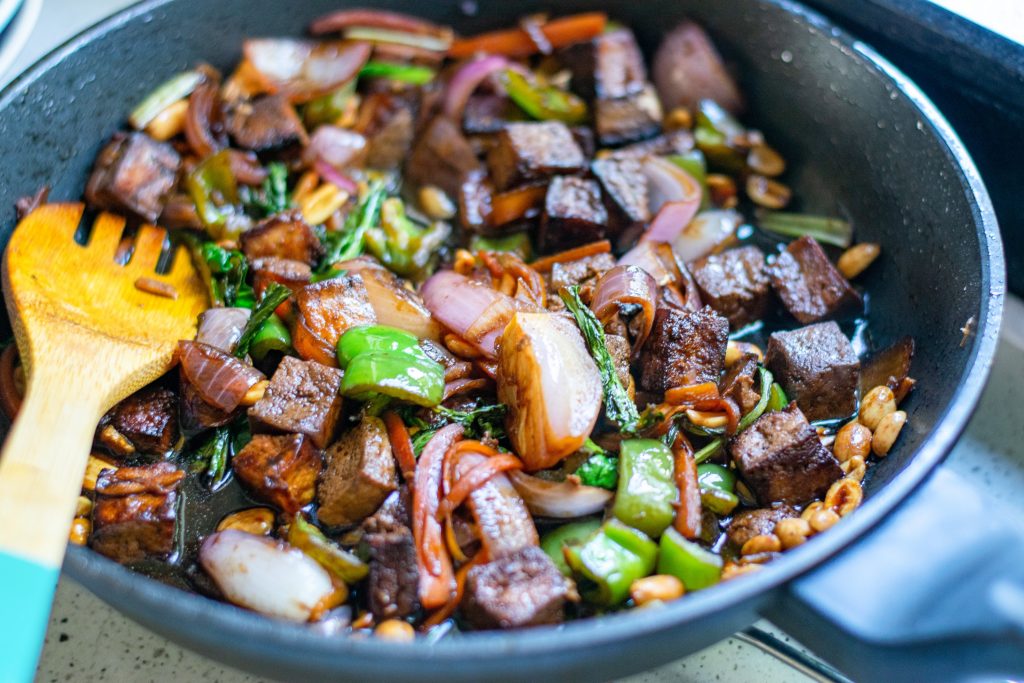 If you don't like your food spicy, you can make this recipe as-is and simply leave out the spices, that is totally up to you and I won't be judging you.
If you want a more mild or spicy flavor, you can always customize the heat in this dish to your taste!
This is the perfect tofu dish to serve to your friends or family who may be scared about trying tofu or aren't sure. The flavors are wonderful and who can pass up crispy tofu?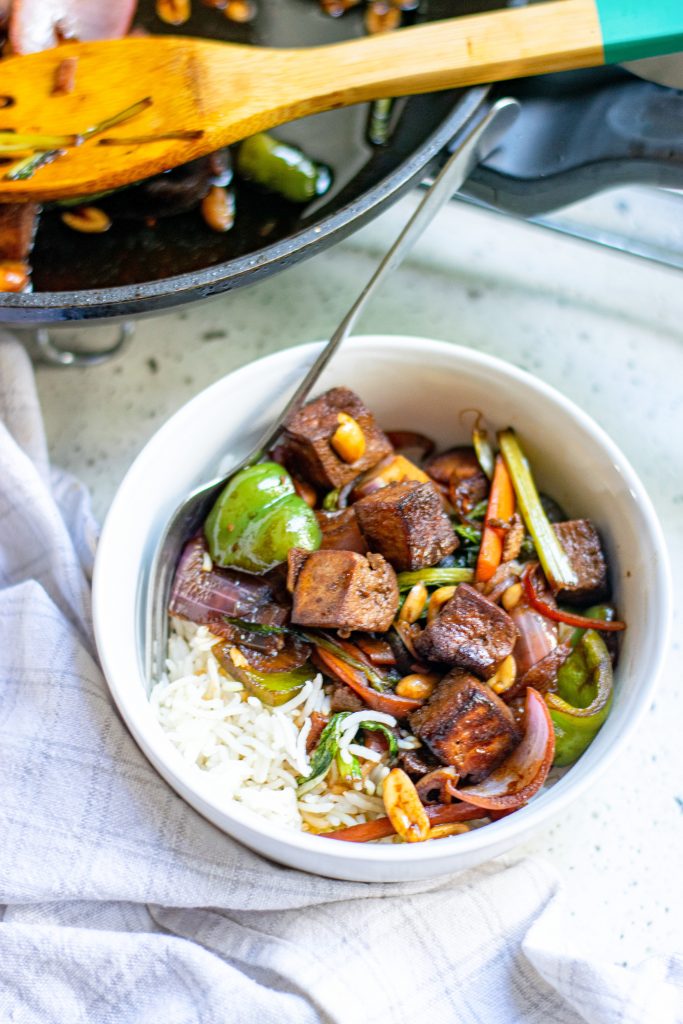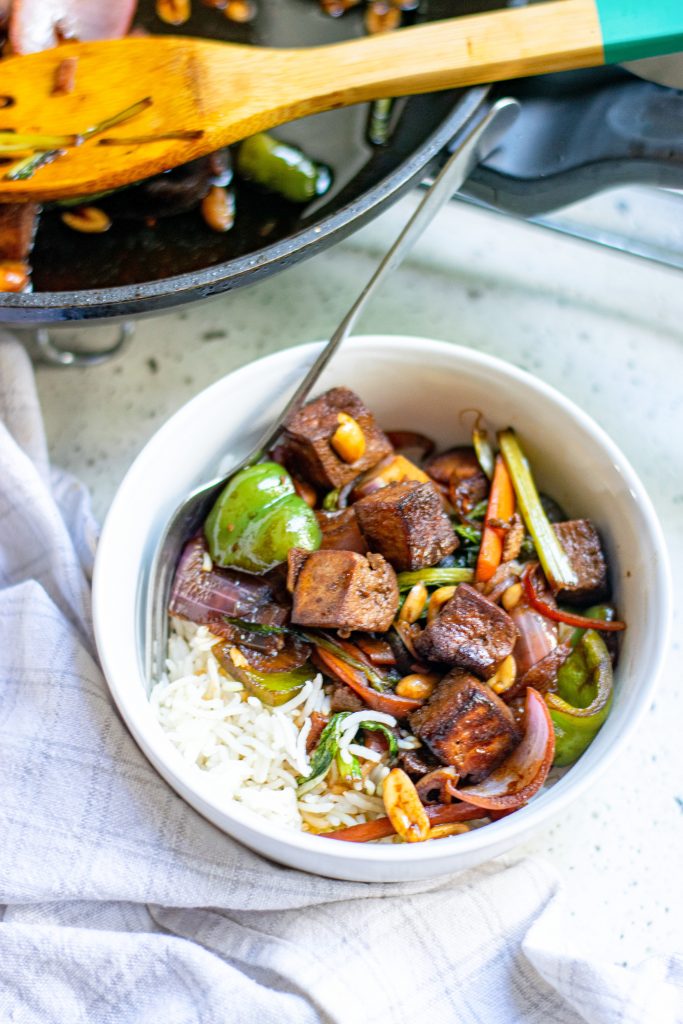 Preparing The Tofu
The first thing that you are going to do is drain all of the liquid from your tofu and then squeeze it out and dry it between a kitchen towel.
Fold it in the towel and give it a good squeeze.
Then, you can put your tofu underneath books or a heavy pot to help squeeze even more liquid out of it.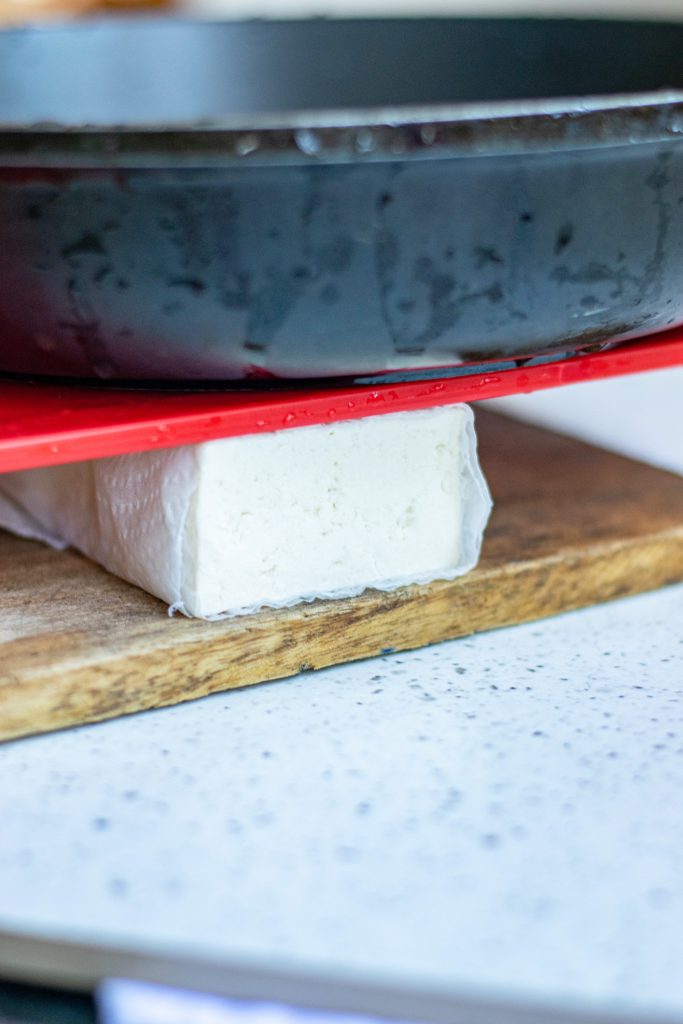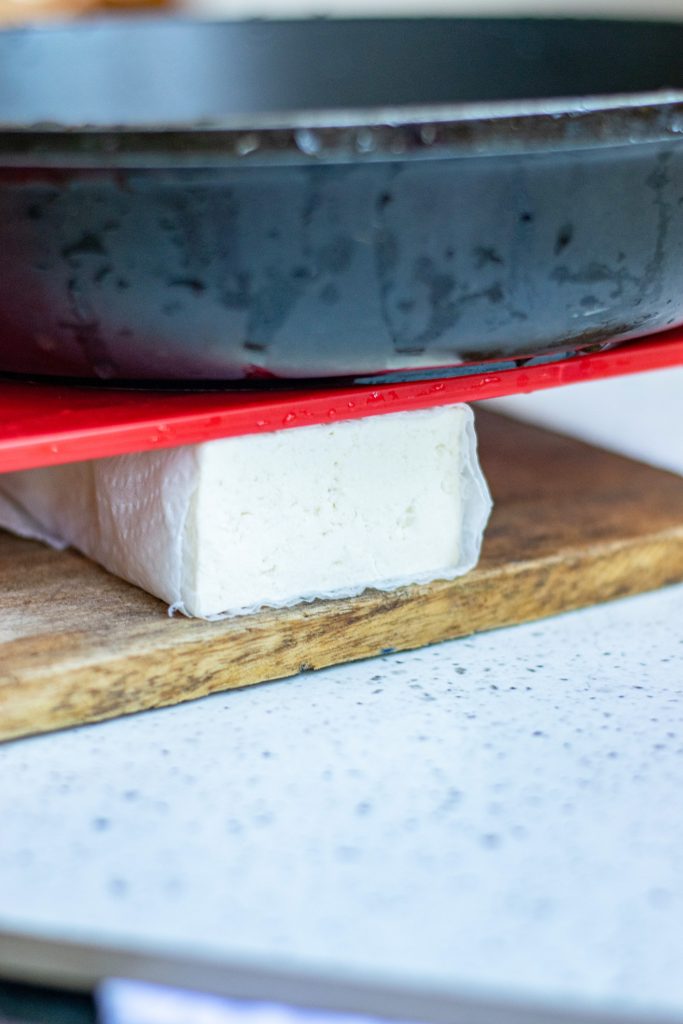 Pressing your tofu helps achieve a wonderful flavor when creating fried tofu dishes and helps the tofu keep its shape when cooking.
Next, you are going to want to marinate the tofu in the kung pao sauce for about 20 minutes. I know this sounds like a long time, but it really does help.
I make dishes like my Sweet And Sour Tofu where I simply cook my tofu with the liquid without a marinade, so if you are short on time, that is okay too!
Make sure to cut the tofu into bite-size pieces before you put it in the marinade.
The small pieces have a good surface area for the kung pao marinade to cling to which will allow your tofu to crisp up and will produce a tasty flavor!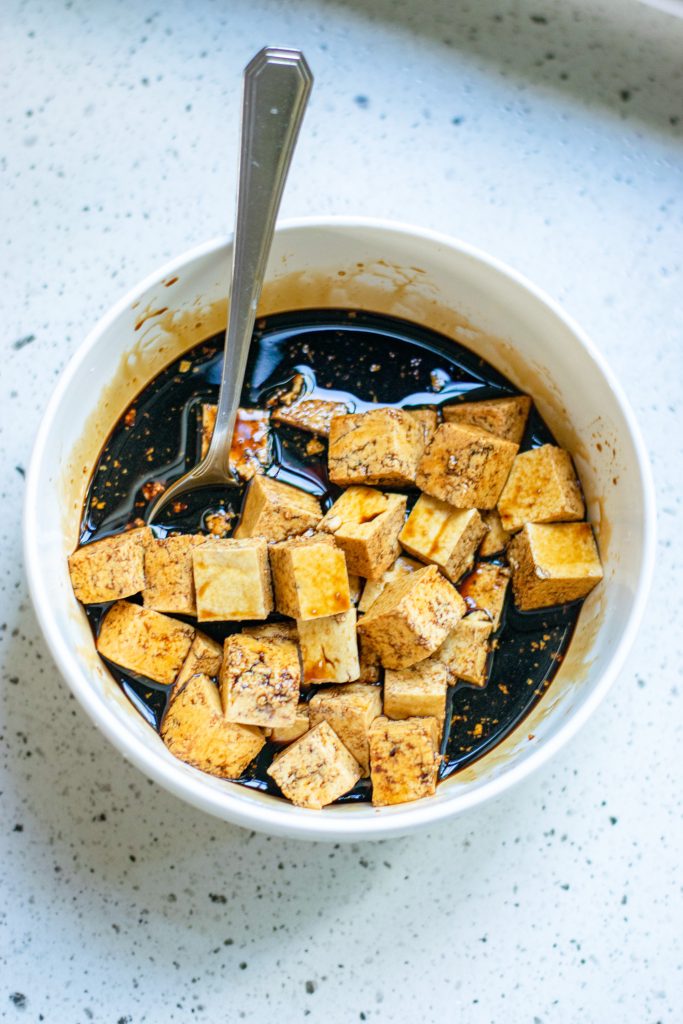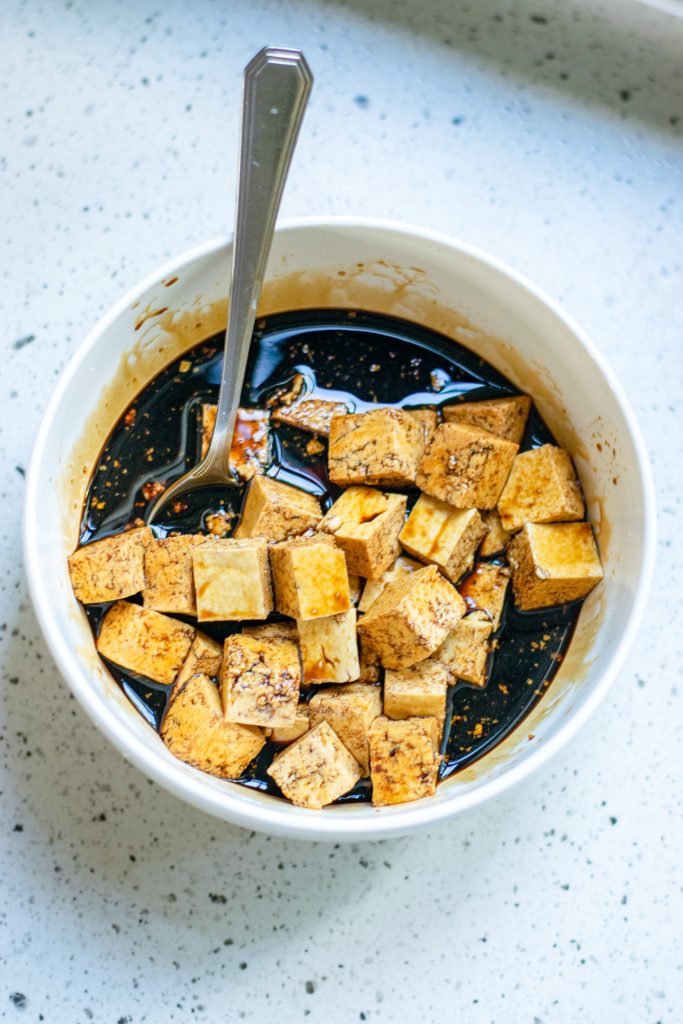 How To Make Vegan Kung Pao Tofu
Making kung pao tofu is so easy and quick! After you marinad the tofu, the process takes around 10-15 minutes, which is perfect for a quick weeknight dinner.
First, you are going go combine your soy sauce, rice vinegar, and sugar in a bowl and then drain and press your tofu as explained above.
Then, you are going to add your tofu to the kung pao marinade and let the cubes soak up all those tasty juices.
Then, you are going to heat a large pan and lightly brush it with oil. Remove the tofu from the oil and fry until it is lightly crispy or brown on each side.
It is important to not throw away the sauce! If you don't cook the tofu in the sauce, it will become crispy, not soggy, but you will use the sauce for later in this kung pao recipe.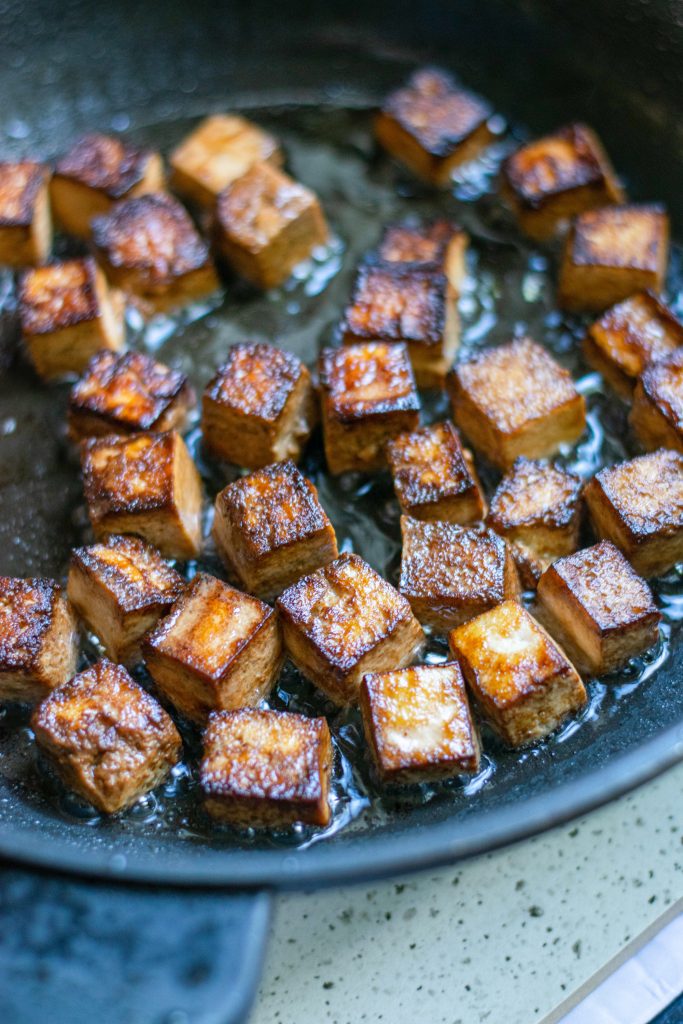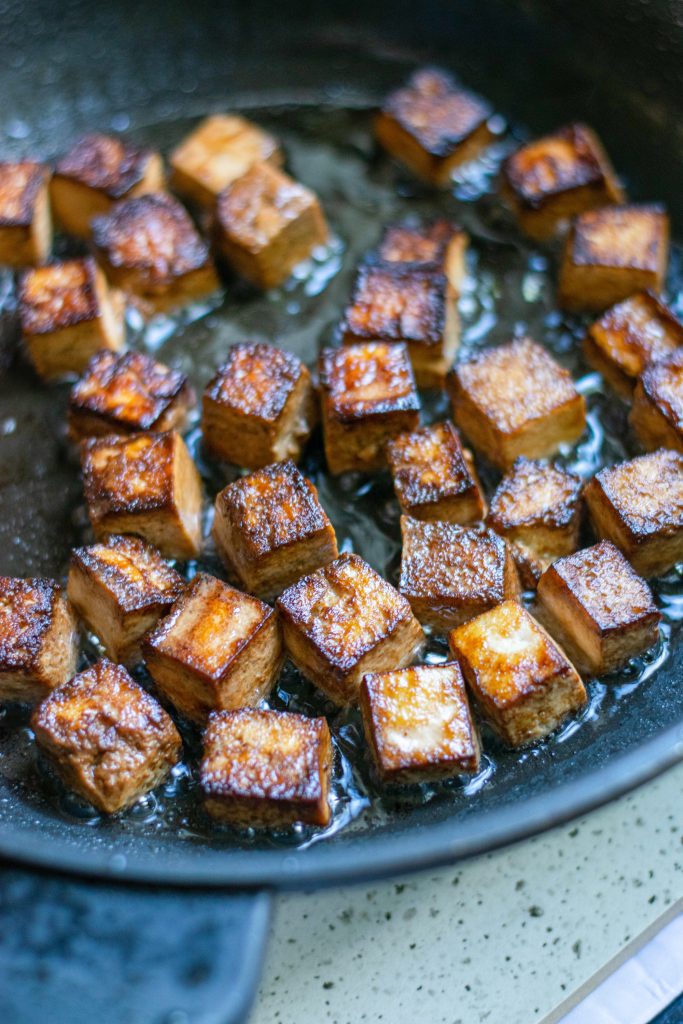 Transfer your tofu to a plate or bowl and use the same skillet again.
Next you are going to want to prepare your veggies.
Heat sesame oil over medium heat and stir fry onions, carrots, bell peppers, bok choy or whatever green leafy veggie you want to add, ginger, and garlic.
For your heat factor, you can add in dried red chilies, about 2-5 depending on how spicy you like your food, and red pepper.
Be careful because a little goes a long way. Of course, spiciness is a hallmark of kung pao tofu, but just keep this in mind if you prefer more mild foods.
Stir fry for a few minutes and then add the peanuts and re-add in the tofu. Combine until peanuts are aromatic and lightly cooked.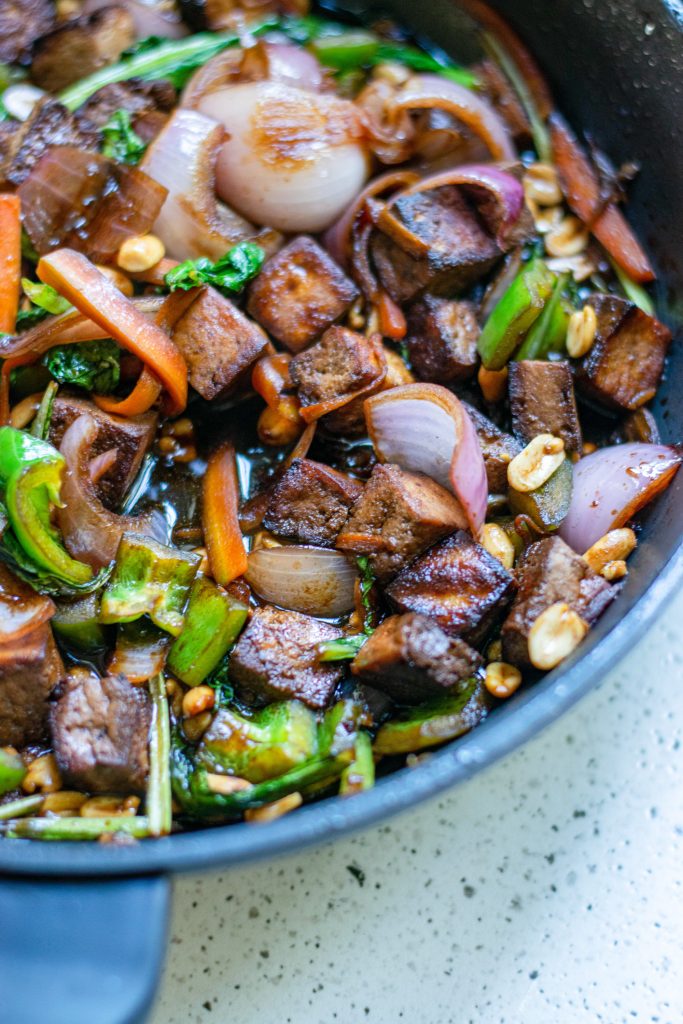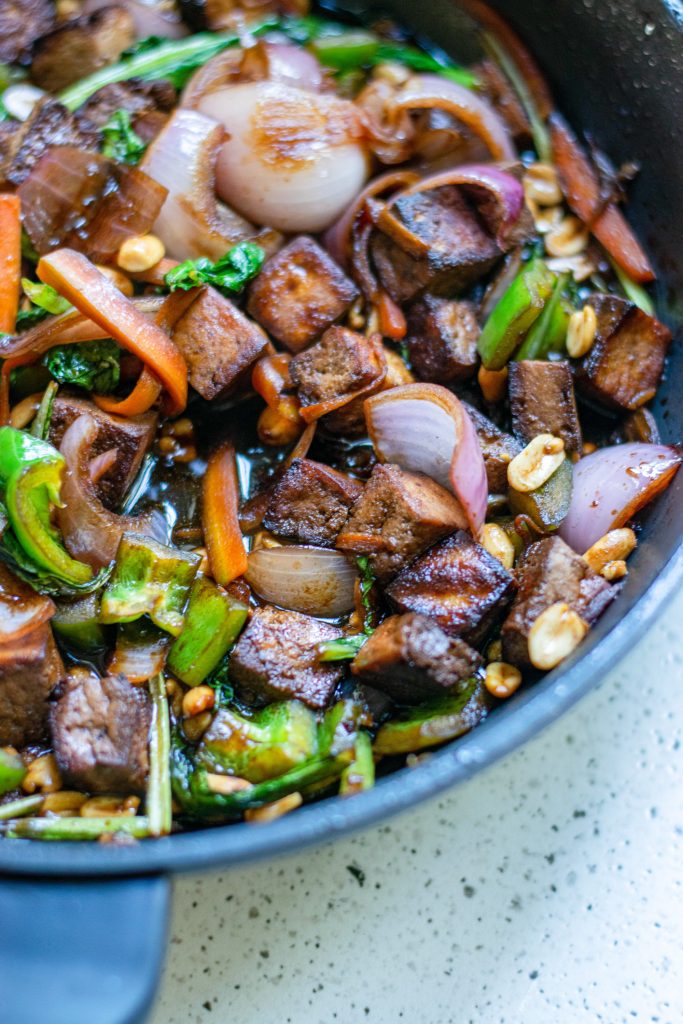 Sometimes I am not in the mood for peanuts so I leave them out and just eat this dish as-is.
Finally, add the vegan kung pao sauce and bring the entire pan to a simmer and cook until the sauce is thickened over the veggies and tofu.
Remove and serve the kung pao tofu over rice. Rice is the most delicious way!
If you are looking for even more flavor or if you prefer a saucier dish, serve with soy sauce, hoisin sauce, or sriracha sauce to add even more heat!
This delicious vegan kung pao tofu recipe can store in the fridge for 3-4 days. To reheat, use the microwave or add it to a skillet with a little extra soy sauce until warm throughout!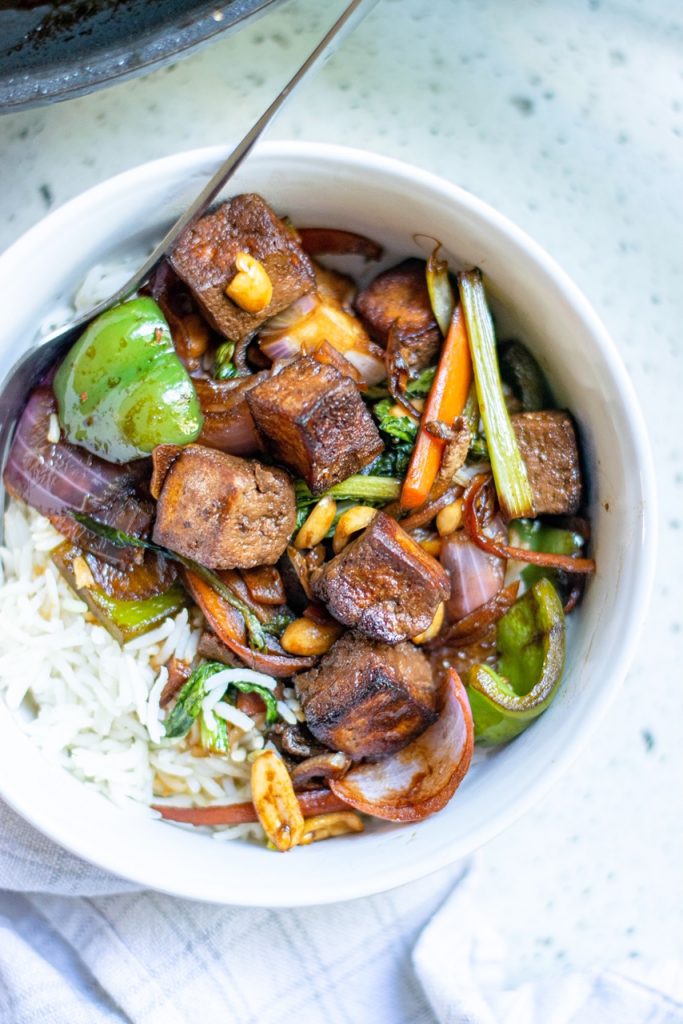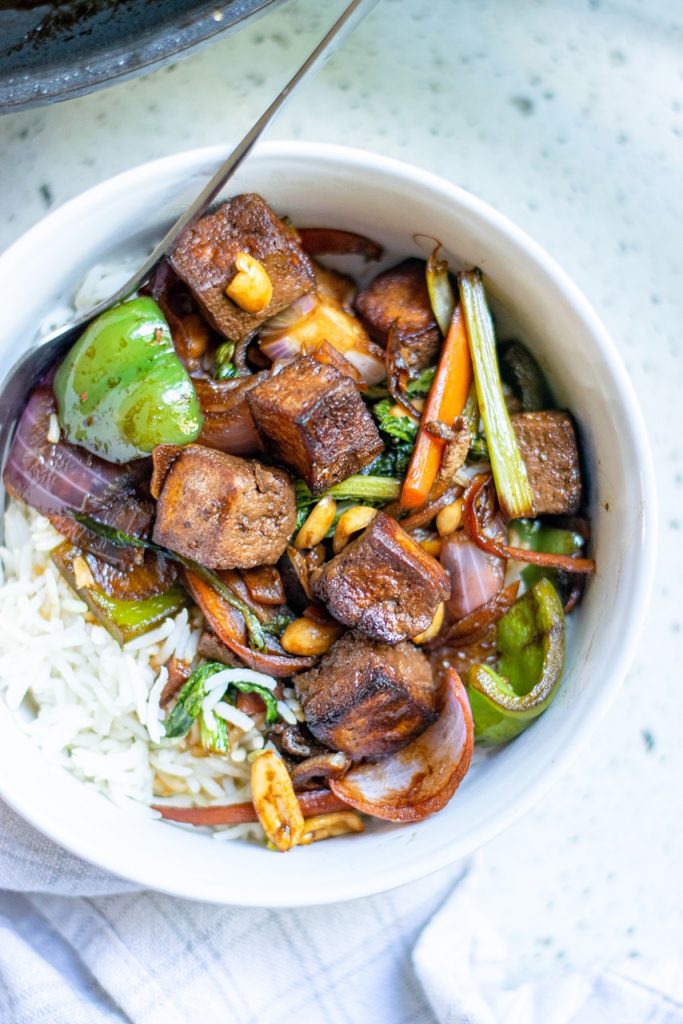 Did You Try This Recipe?
If so, I would love to keep in touch! I enjoy seeing photos and comments about the recipes that you make! You can follow me on Instagram and I will repost your goodies in my stories and comment on it too! Just tag me at @wowitsveggie and hashtag #wowitsveggie. I can't wait to see what you make!
Yield: 4 Servings
Best-Ever Kung Pao Tofu Recipe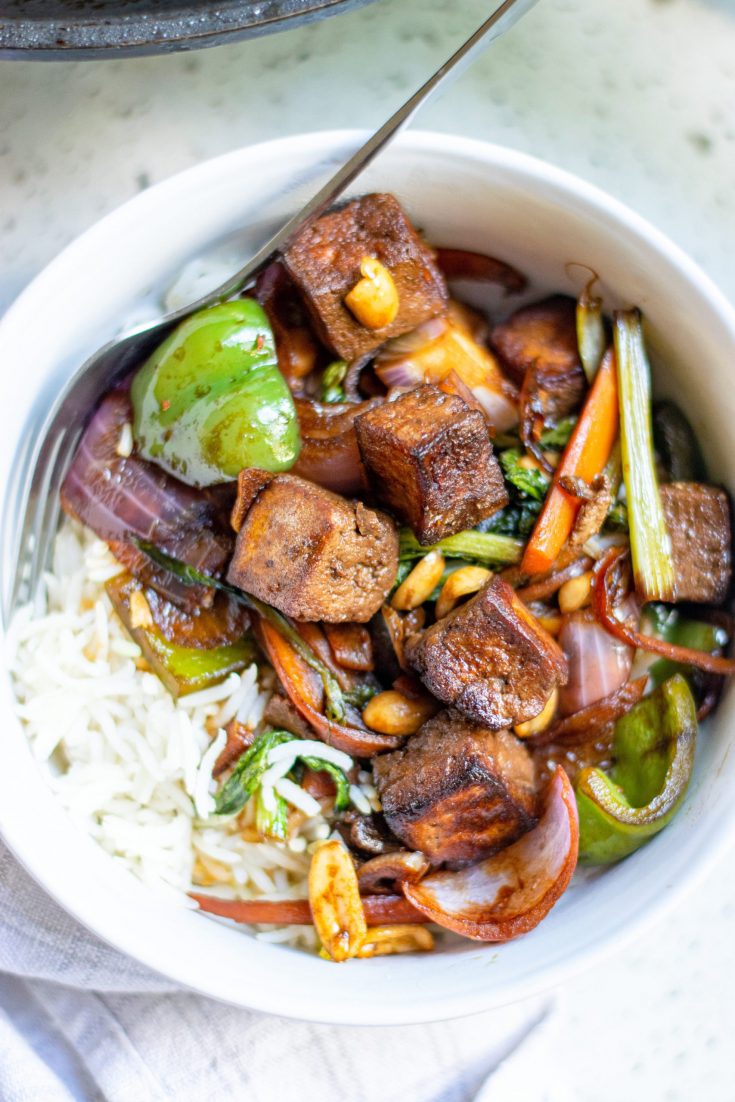 This delicious kung pao tofu recipe is better than takeout and you can make it right in your own kitchen! It is healthy and full of protein and is very easy to make.
Feel free to add or take away the red peppers depending on how spicy you want this kung pao recipe to be!
The kung pao is completely vegan and gluten-free so all can enjoy!
Ingredients
1 medium green bell pepper, cored, seeded and diced
1 medium carrots, peeled and finely sliced
1 bunch green leaf, roughly chopped
2-5 dried red chilies (adjust based on taste, leave out if you don't want it spicy)
1 block tofu
1 big onion, chopped
1/2 cup peanuts
1/2 cup soy sauce
1/3 rice vinegar
2 tablespoons brown sugar
2 tablespoons sesame oil
1 tablespoon ginger, minced
1/2 tablespoon garlic, minced
2 tablespoons oil
red pepper flakes (to taste if you want additional heat)
Instructions
1. Make Vegan Kung Pao Sauce: Combine soy sauce, rice vinegar and sugar in a bowl. Stir to combine and set aside.
2. Prepare Tofu. Drain tofu and then squeeze tofu using a dishrag to remove excess water then cut in cubes. Marinate in the Kung Pao sauce for 20 minutes. If you can't wait that long, marinate for at least 5 minutes to get some of the sauce in the tofu.
3. Heat a large pan with oil on medium heat. Remove tofu carefully from sauce then fry until crispy on each side. Don't throw away the sauce, you will use it later in this recipe. Once fried, remove tofu from heat and place on a plate.
4. Prepare your veggies. In the same skillet, heat sesame oil over medium heat. Stir fry onions and carrots until they begin to soften. Add bell peppers, green leaf, ginger, red chilies, red pepper flakes, and garlic.
5. Stir fry for about 2 minutes then add peanuts and tofu. Combine all together until peanuts are aromatic.
6. Now add Kung Pao sauce and bring to simmer until the sauce has thickened.
7. Remove and serve with rice.
Nutrition Information
Yield
4
Serving Size
1
Amount Per Serving
Calories

411
Total Fat

29g
Saturated Fat

4g
Trans Fat

0g
Unsaturated Fat

23g
Cholesterol

0mg
Sodium

1844mg
Carbohydrates

24g
Fiber

5g
Sugar

13g
Protein

20g