Drop what you are doing and make this vegan egg salad! Now, you may think I am crazy and wonder how tofu could ever taste like egg, but hear me out.
I LOVE regular egg salad with real eggs, I make it all the time when traveling and eat it a lot. I am vegetarian but eat vegan 90% of the time as my mom is vegan and this is what we cook at home.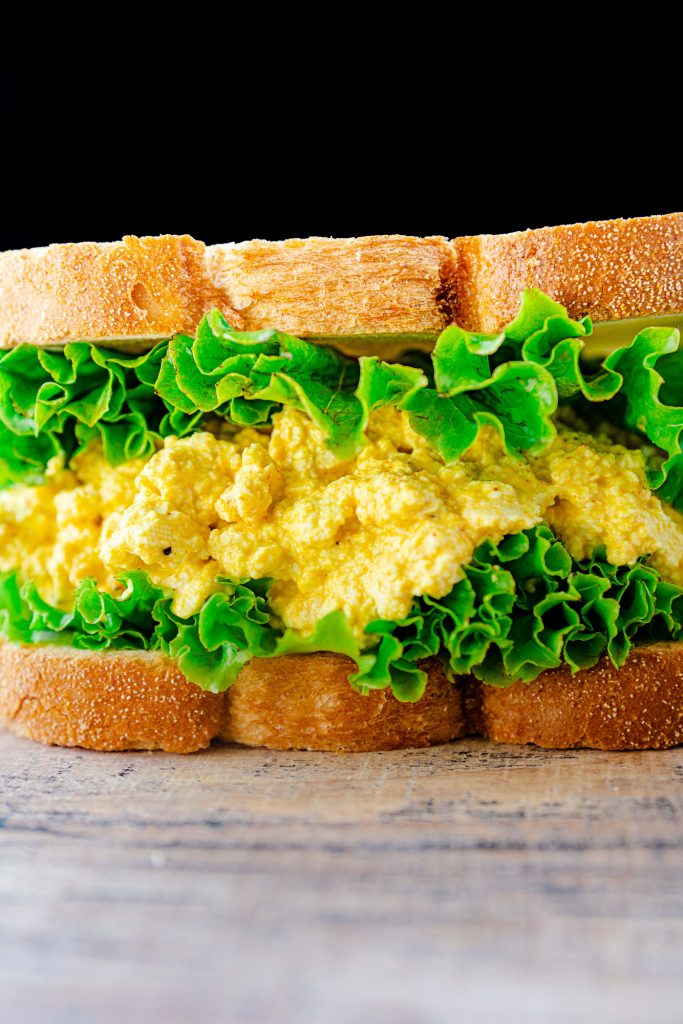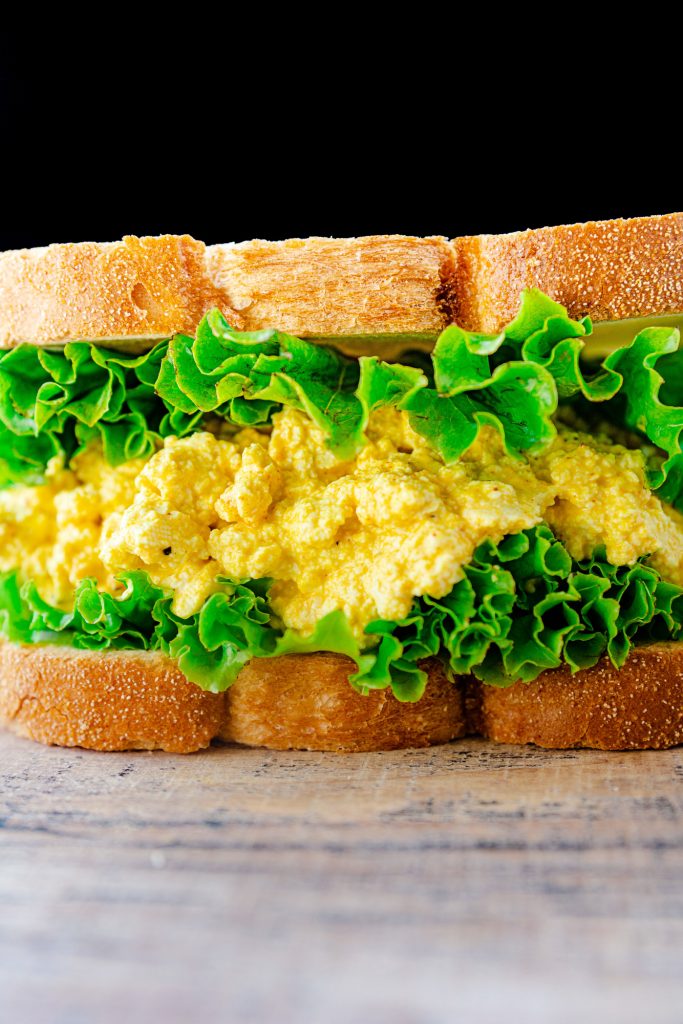 My mom hadn't had egg salad in years, so we tried to recreate it and let me tell you, it tastes exactly like the real thing, down to the smell, texture and everything.
Which may sound a little wild for something made with raw tofu. It sounds weird, but I want you to TRUST ME on this one, this tofu egg salad is SO good.
Before you read any further, I want you to stop, buy some Black Salt Powder, and then you can continue to read!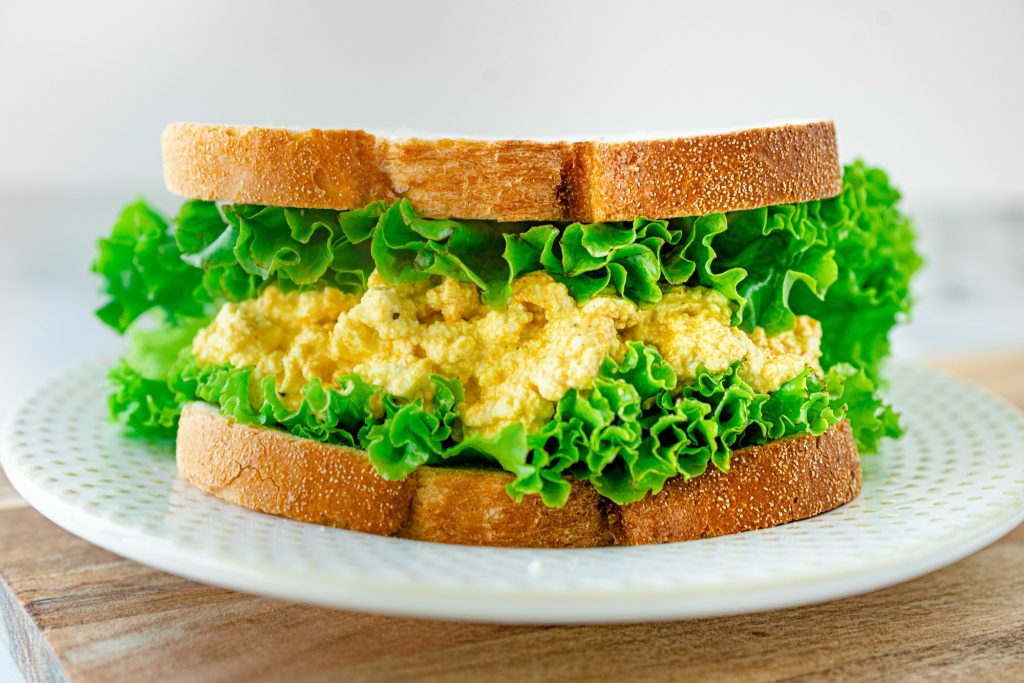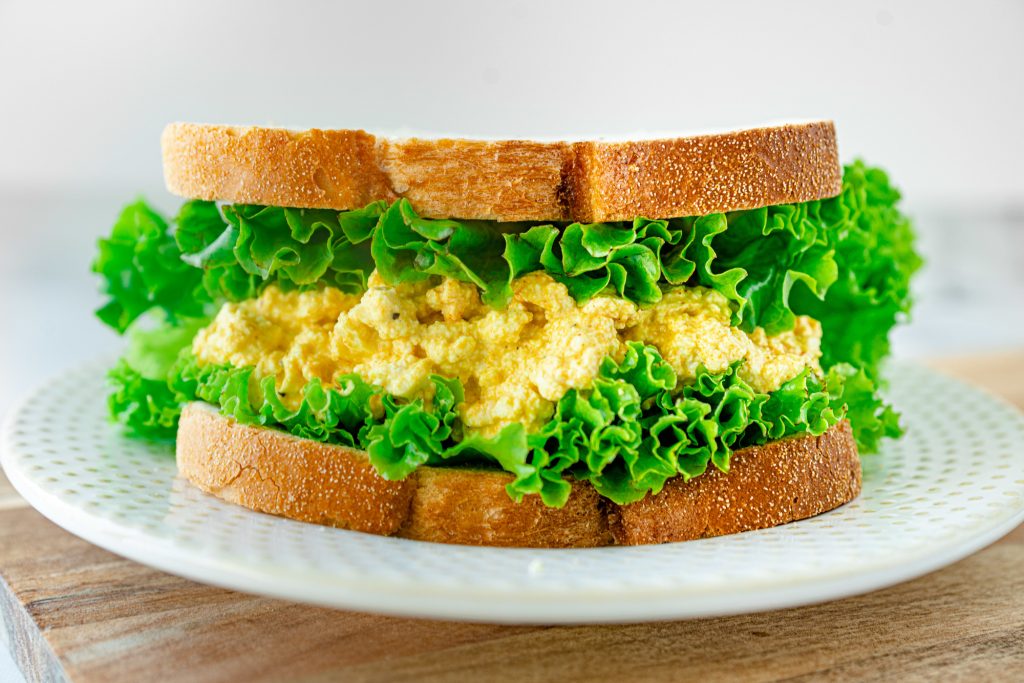 Black salt powder or Kala Namak is popular in Indian cooking and has a sulfuric smell and taste which makes your food taste exactly like eggs.
I put off Buying Black Salt Powder for many years and consistently made vegan "egg" dishes without it and was constantly let down by the taste. While it tasted great, it still didn't step in for real eggs.
Black Salt Powder and the seemingly weird combination of ingredients in this vegan egg salad recipe DO fit the bill and you can literally fool anyone with the outcome.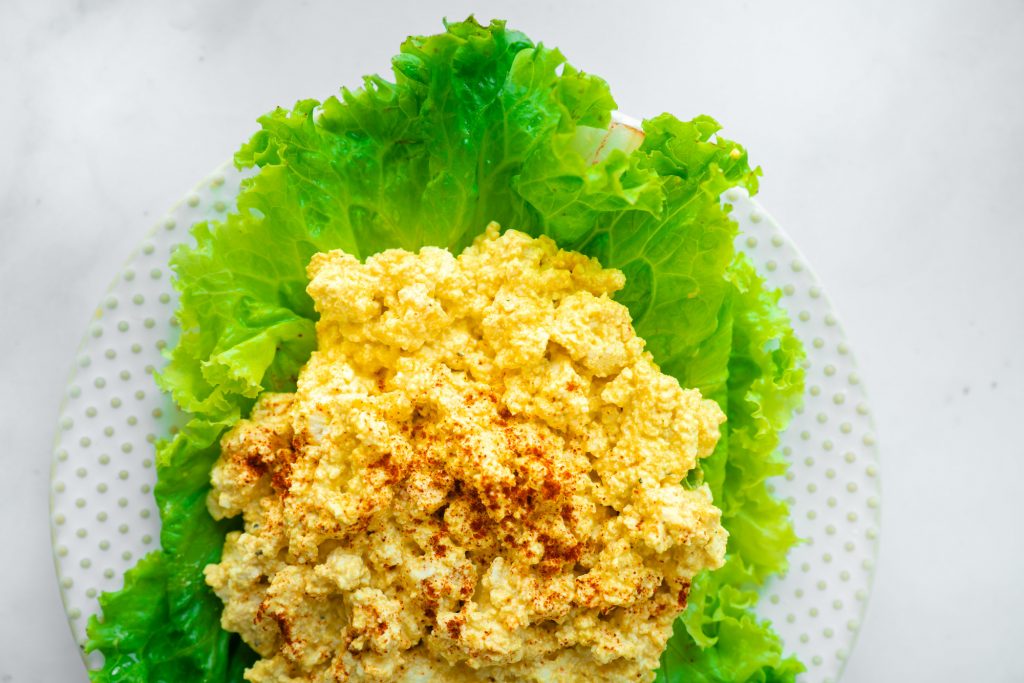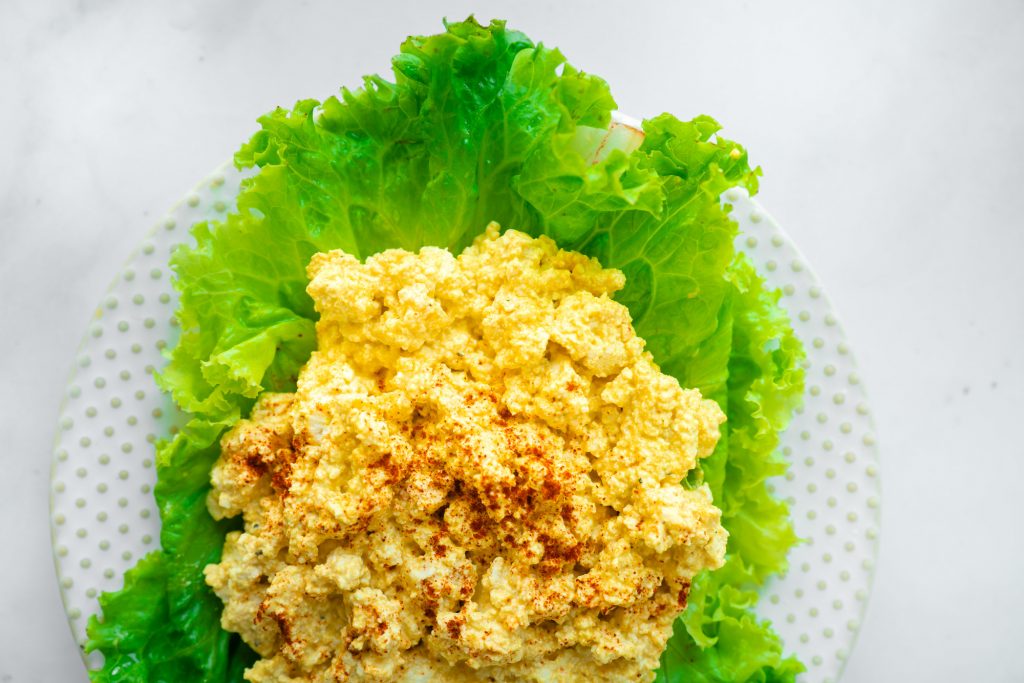 What Type Of Tofu To Use For Vegan Egg Salad
When making this tofu egg salad recipe, you aren't going to want to just use any tofu.
Tofu comes in many forms, from super firm, to very soft almost like jello! It is an incredibly versatile food, but for this recipe, you are going to want to choose the right type.
You are going to want to choose firm tofu in order to mimic the consistency of eggs. You could also choose extra firm, but it will give the vegan egg salad a slightly different texture.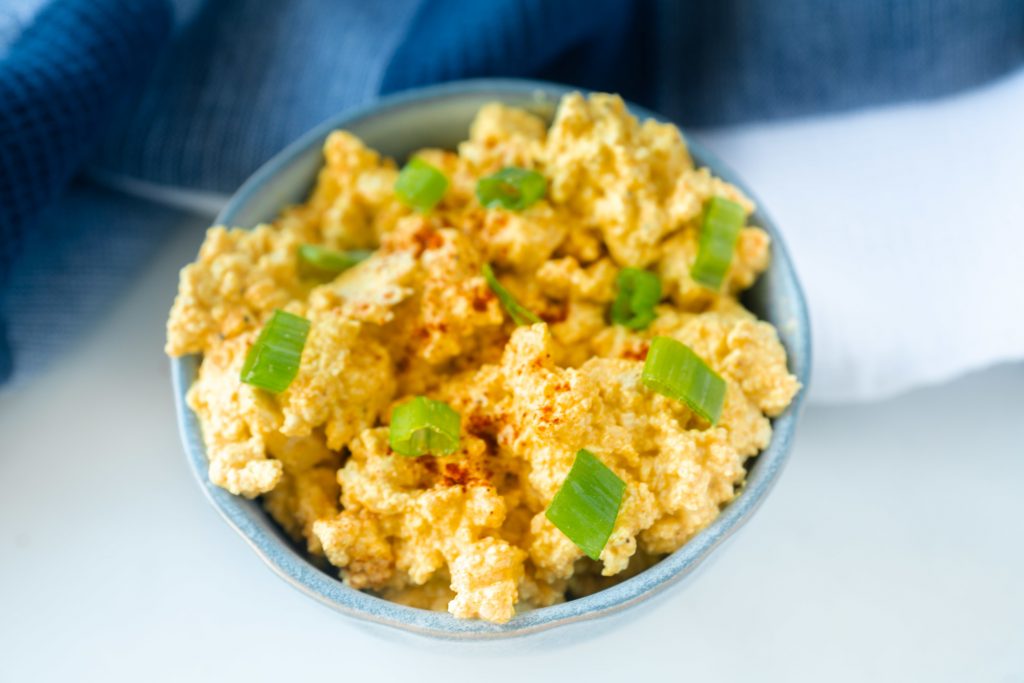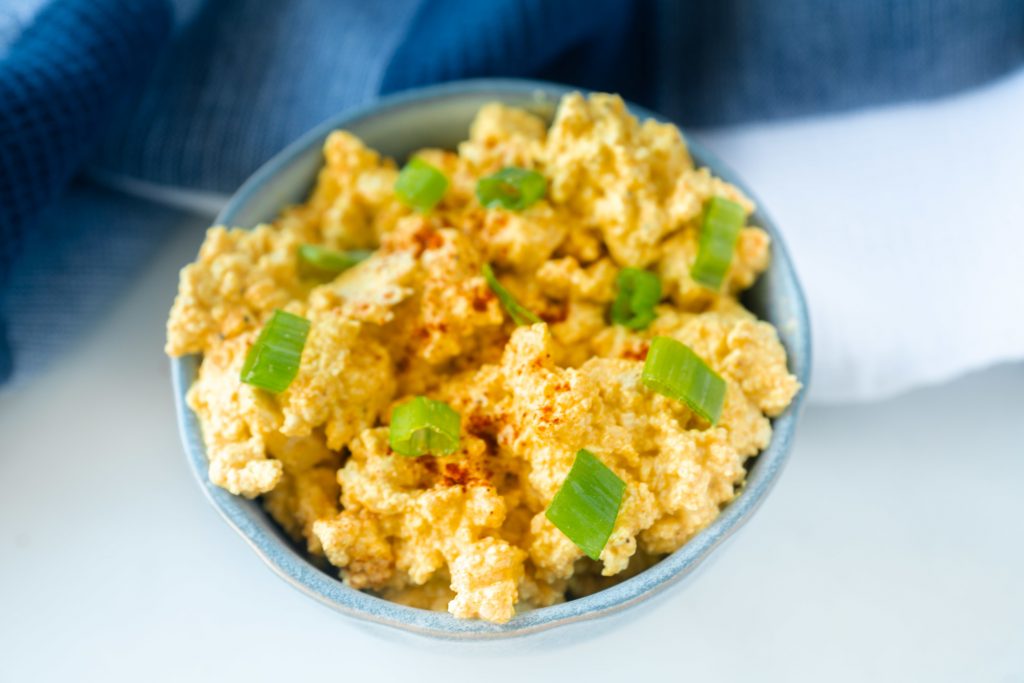 The extra firm tofu will be slightly firmer [ahah] and the firm tofu will crumble a little better.
That being said, my mom swears she can't taste the difference when I have made it with both types.
Next, you are going to want to press your tofu. Essentially, drain the tofu out of the water that it is in and wrap it in a dish towel.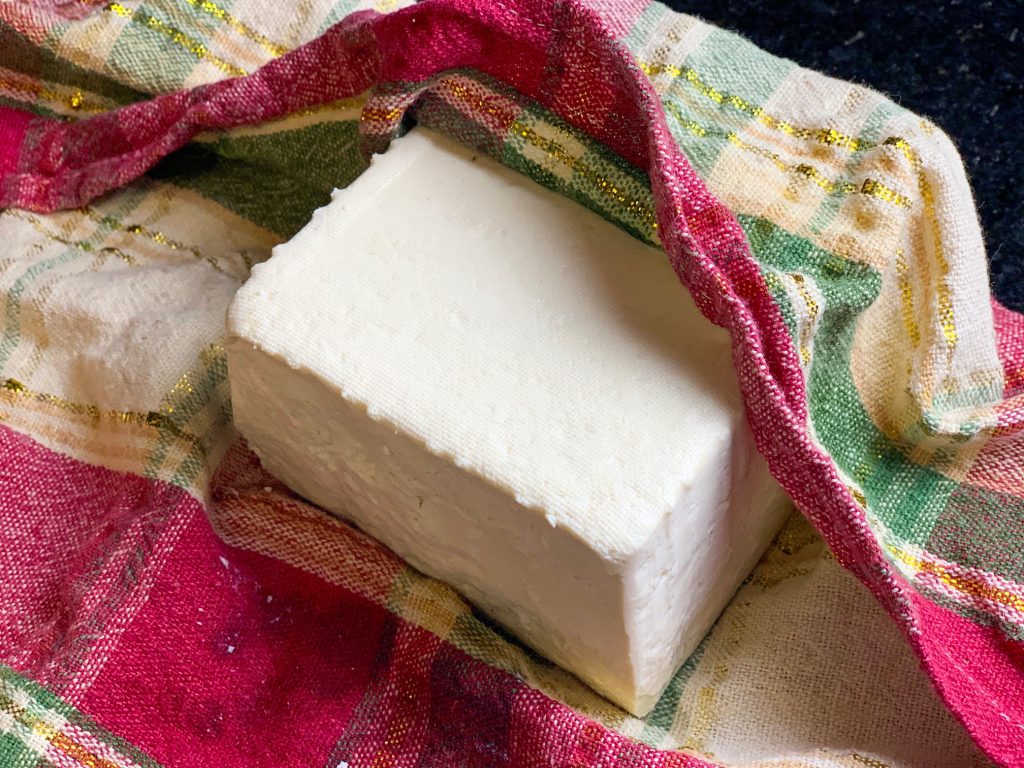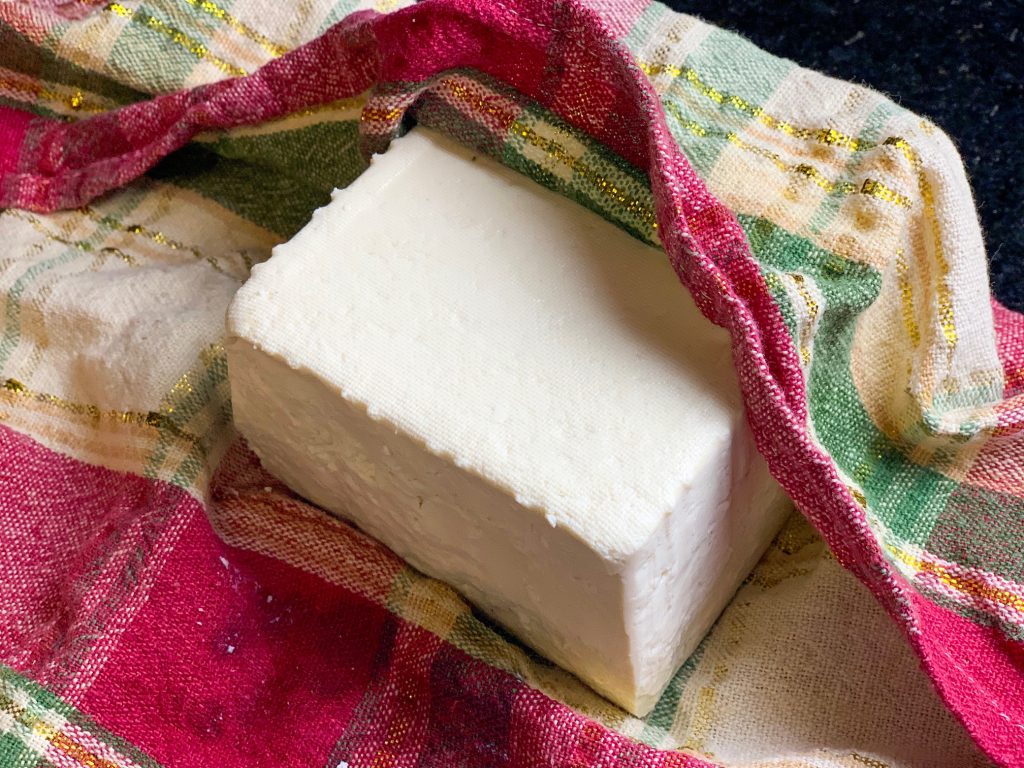 Then, use your hands and squeeze out any of the remaining water. You can also put a heavy item such as a pan or books on the tofu to help press it.
For this vegan egg salad, I just squeezed out the tofu with my hands, it was pretty simple!
Finally, you are NOT going to want to cut the tofu with a fork. You are going to want to wash your hands and then crumble it with your fingers.
This is going to give the tofu egg salad a nice and uneven consistency. Regular egg salad doesn't have even squares of tofu, so why should eggless egg salad?
Then, dump it all in a bowl and you are ready for the next step!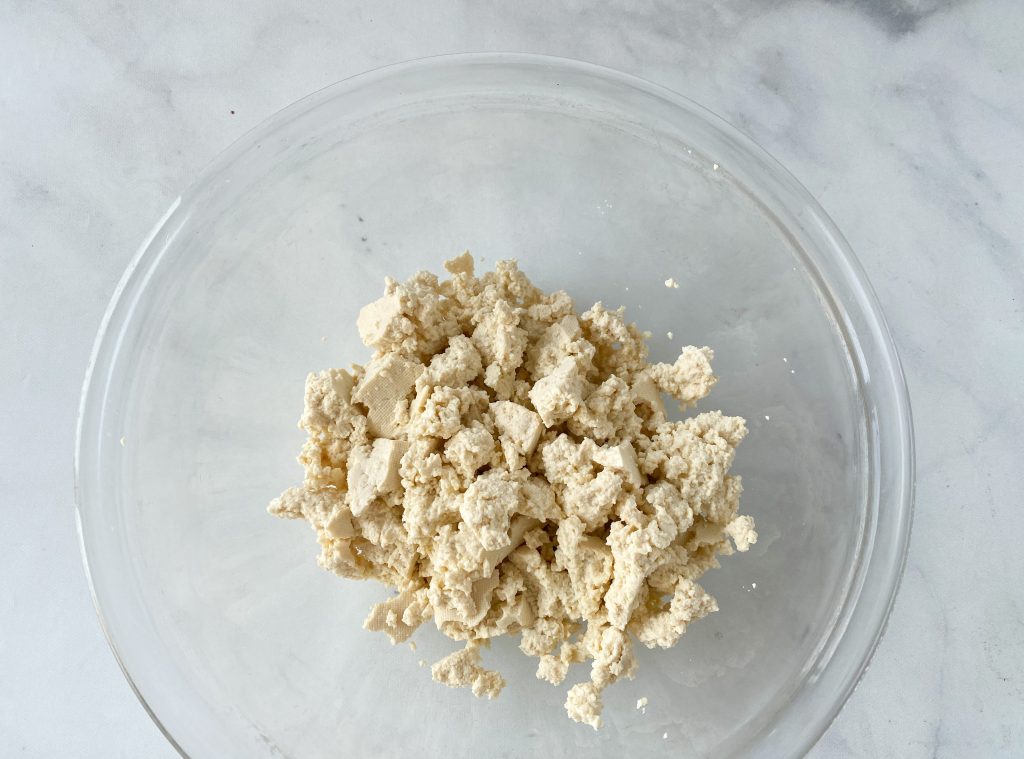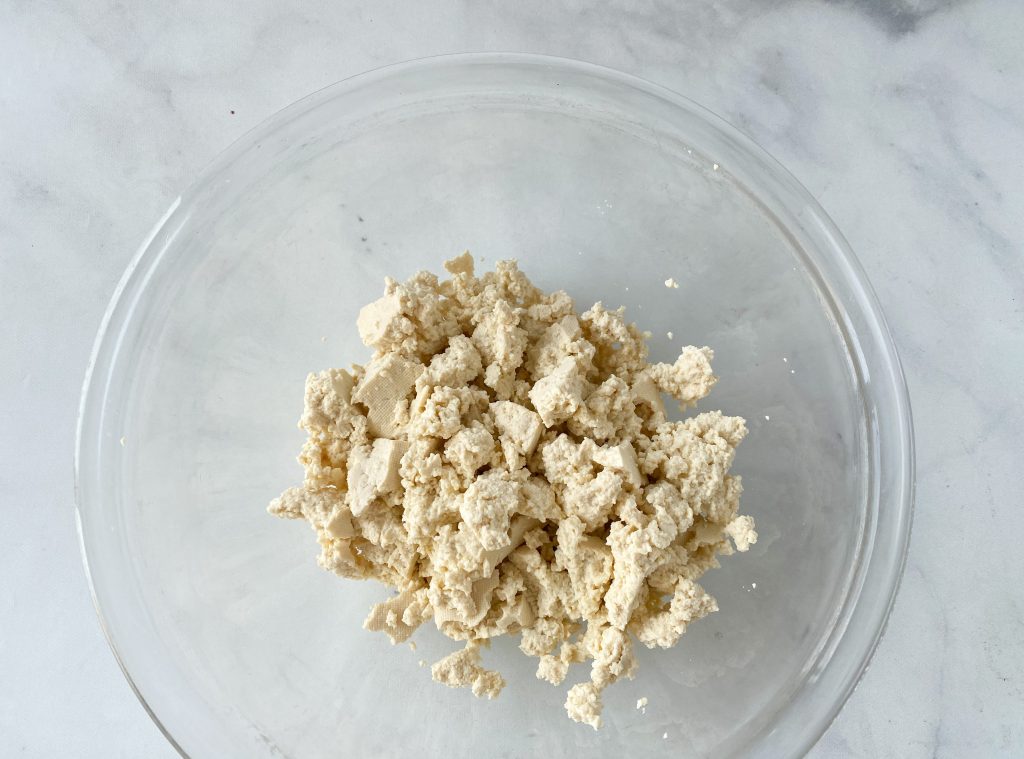 What About This Black Salt? Is It Really Necessary?
YES!!!! DO NOT MAKE THIS RECIPE WITHOUT BLACK SALT POWDER!
I travel to Iceland quite often and actually have real volcanic black salt from Iceland. My mom and I tried it and yeah, doesn't smell or taste like rotten eggs.
The minute you order Black Salt Powder from Amazon or get it from your local Indian grocery store, you will see why I say don't bother making this vegan egg salad recipe without it.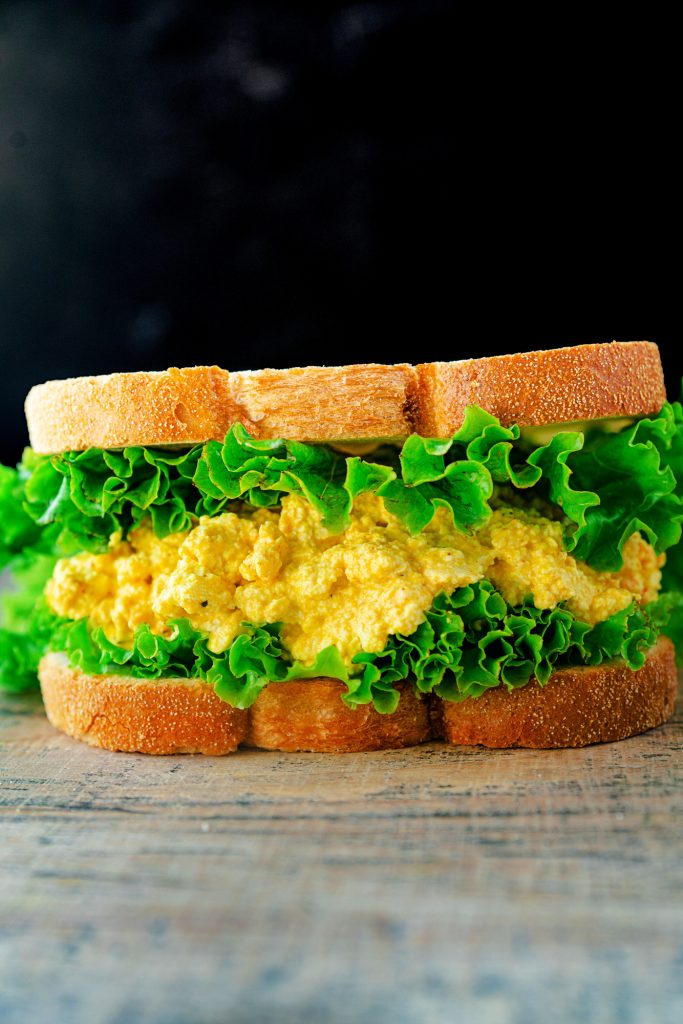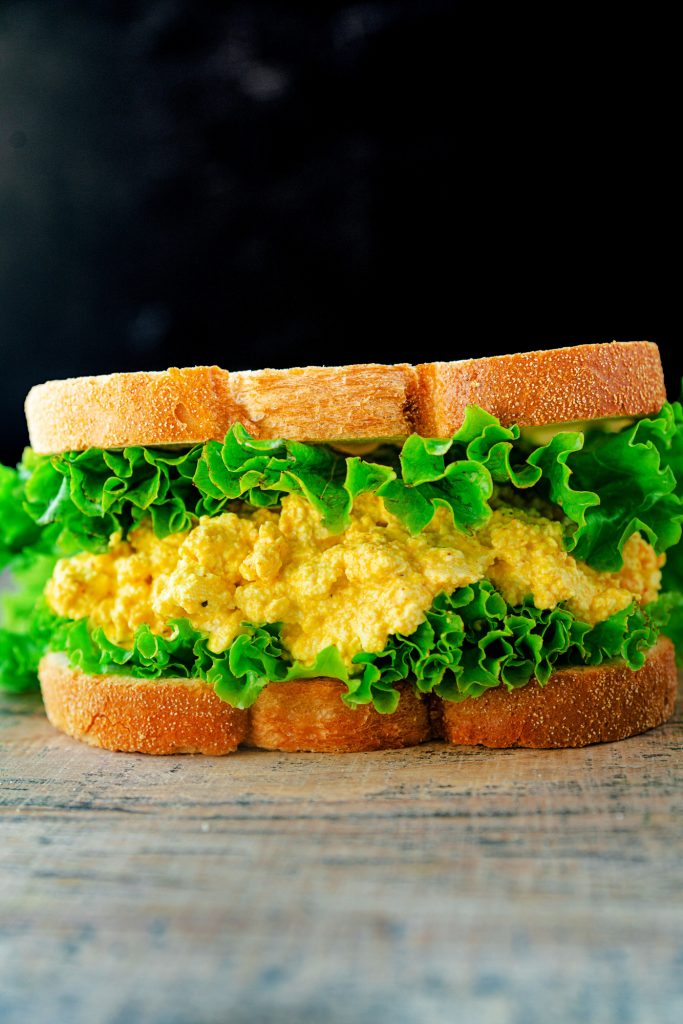 I had put off order it for a long time, and my local Whole Foods thought I was wild when I asked for it, but it really is worth the couple bucks and a few days wait!
Kala Namak is popularly used by vegans and vegetarians in Indian cooking, and it is the perfect way to dress up tofu dishes to make them taste like real eggs.
Again, you will think I am a totally wild and "weird" vegan until you try it and see that it actually does taste and smell strongly of sulpher.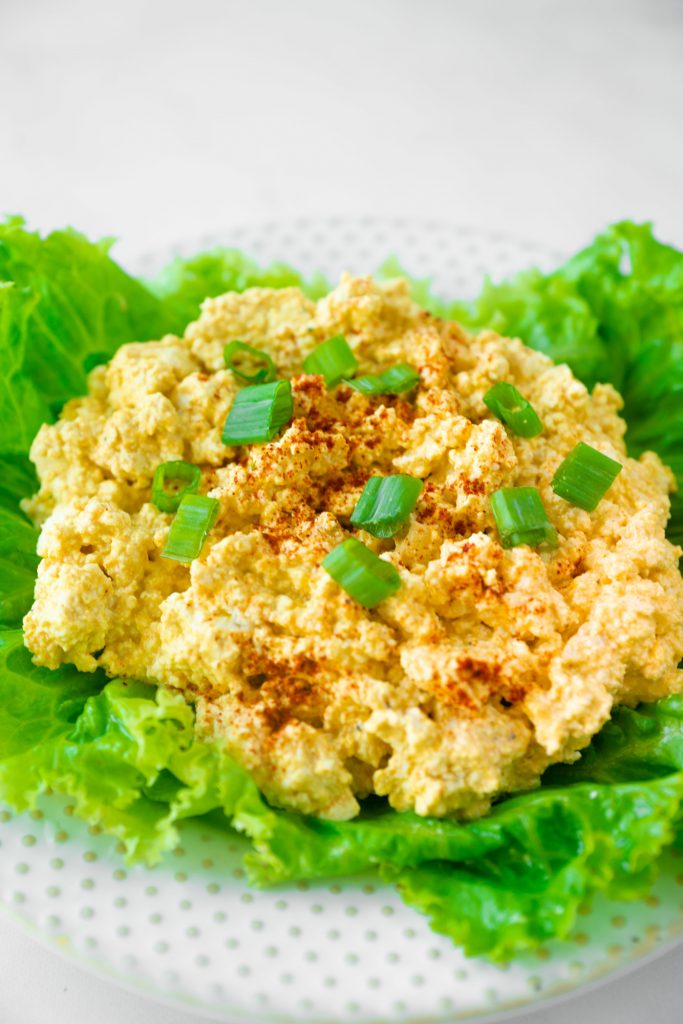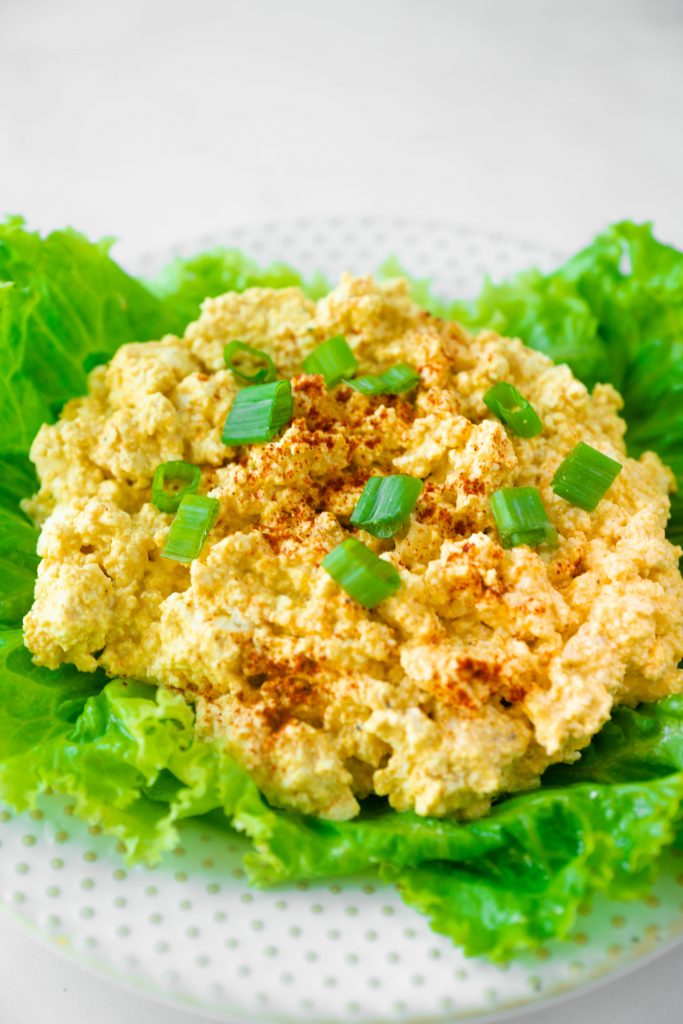 Once you follow this recipe, you can add as much Black Salt Powder to taste, depending on if you like a strong or lighter flavor.
Finally, Black Salt Powder is actually pink, not black! Don't ask me why it is called Black Salt when it isn't even black!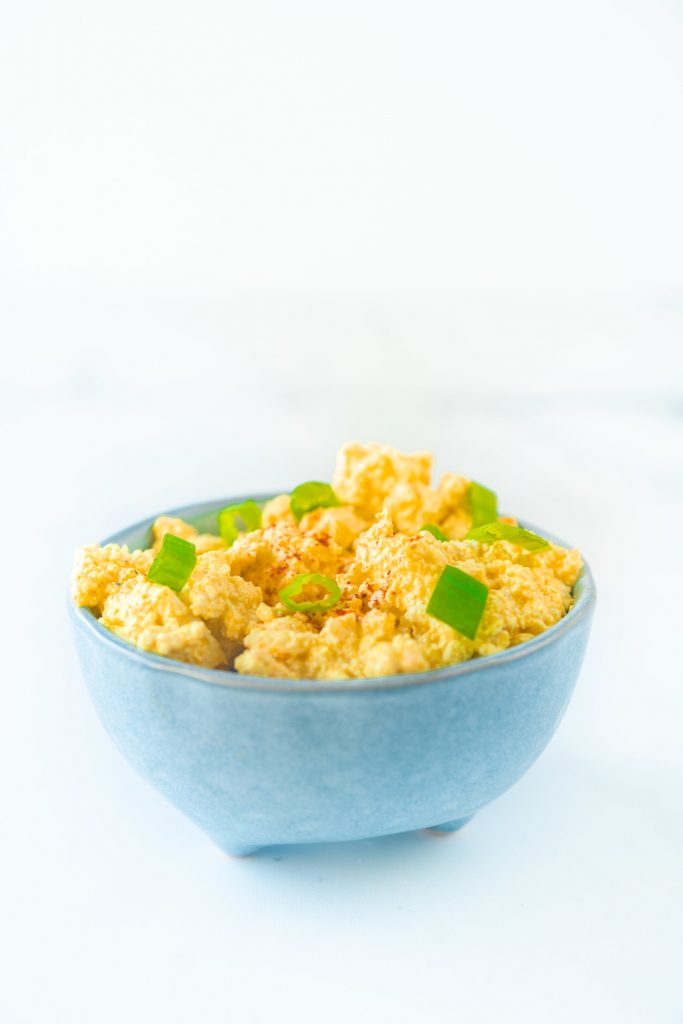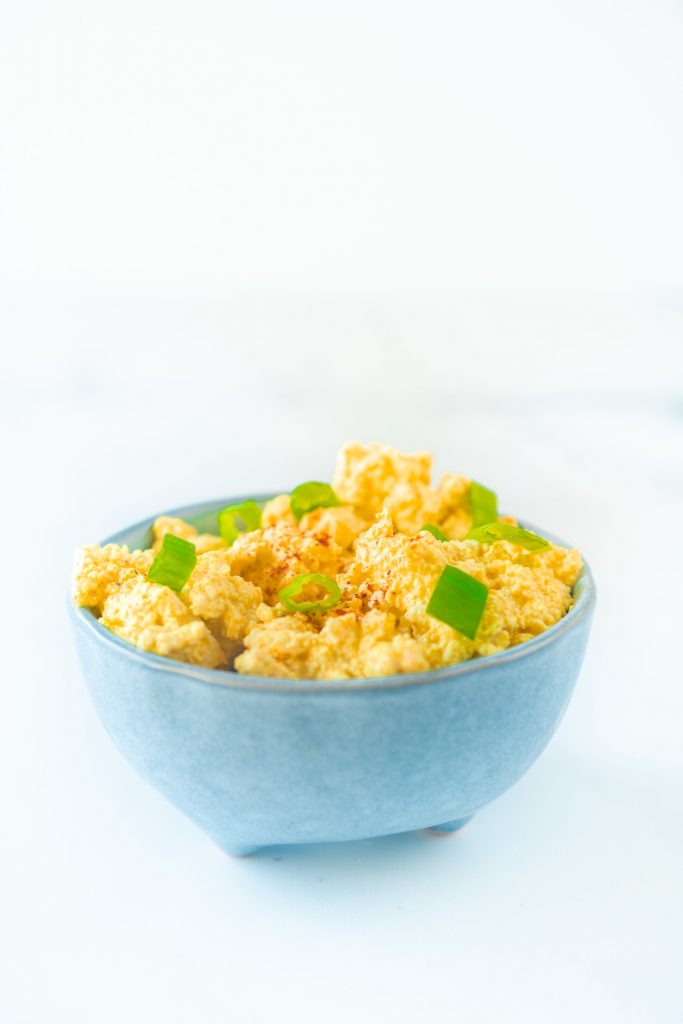 How To Make The Vegan Egg Salad
Making the vegan egg salad is so easy!
First, prepare your firm or extra firm tofu as I explained above. Press it and then using clean hands, crumble it into a large bowl.
Next, you are just going to want to add all of the spices, including the Black Salt Powder, to the bowl and then mix to combine.
There is really no need to use your fork to mash the tofu egg salad like you would with regular egg salad, just use a wooden spoon to "fold" the ingredients together until the tofu is evenly covered.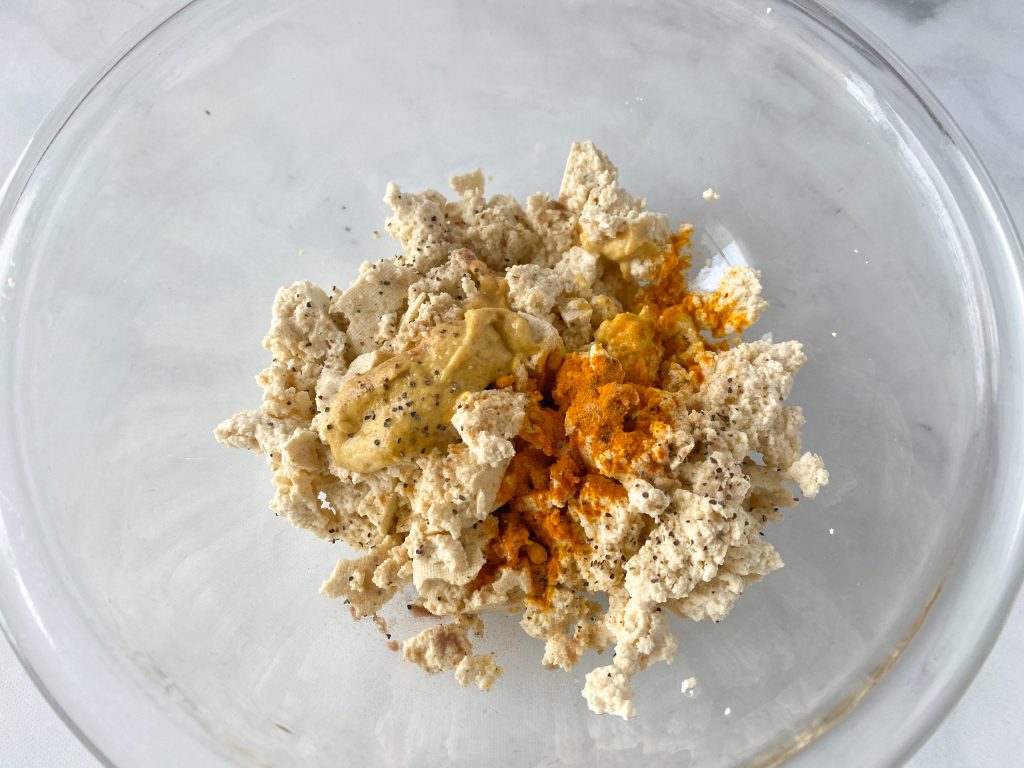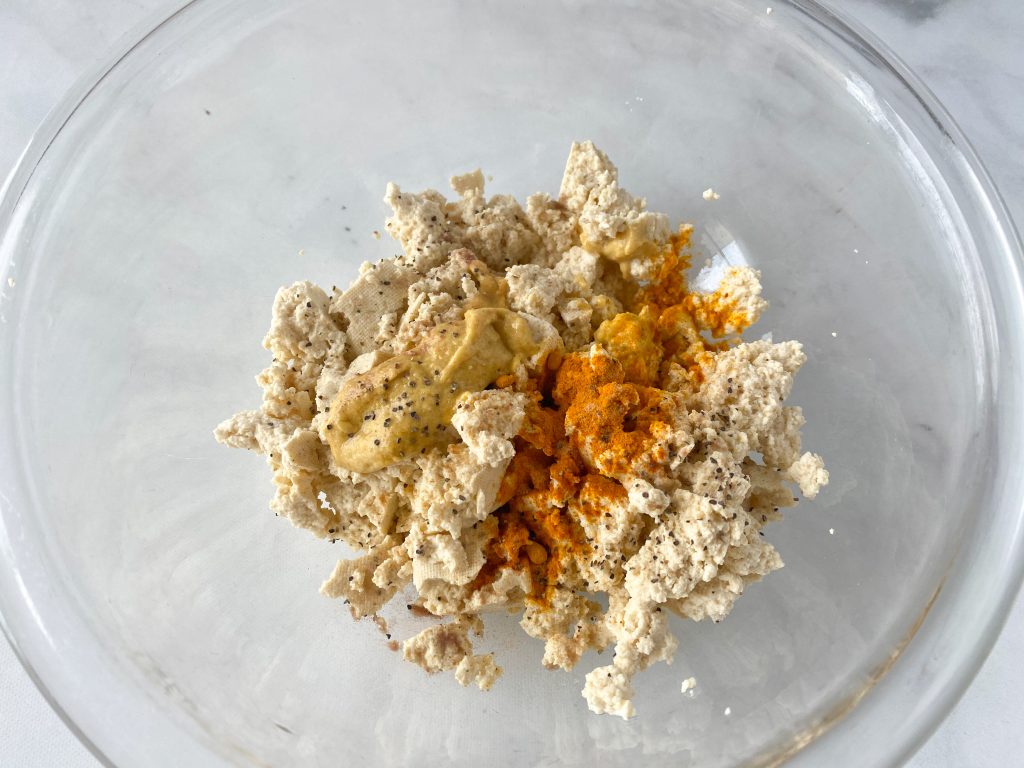 You can feel free to add in mix-ins such as onions or green onions to the vegan egg salad, depending on your taste.
Now, and this is important, a little goes a long way! A little mustard tastes good, too much mustard tastes funky.
If you put in too much of one ingredient, add a little more vegan mayo and stir it together to balance out the flavor.
For example, if you put in too much mustard, add in more Black Salt and Turmeric to balance out the flavors.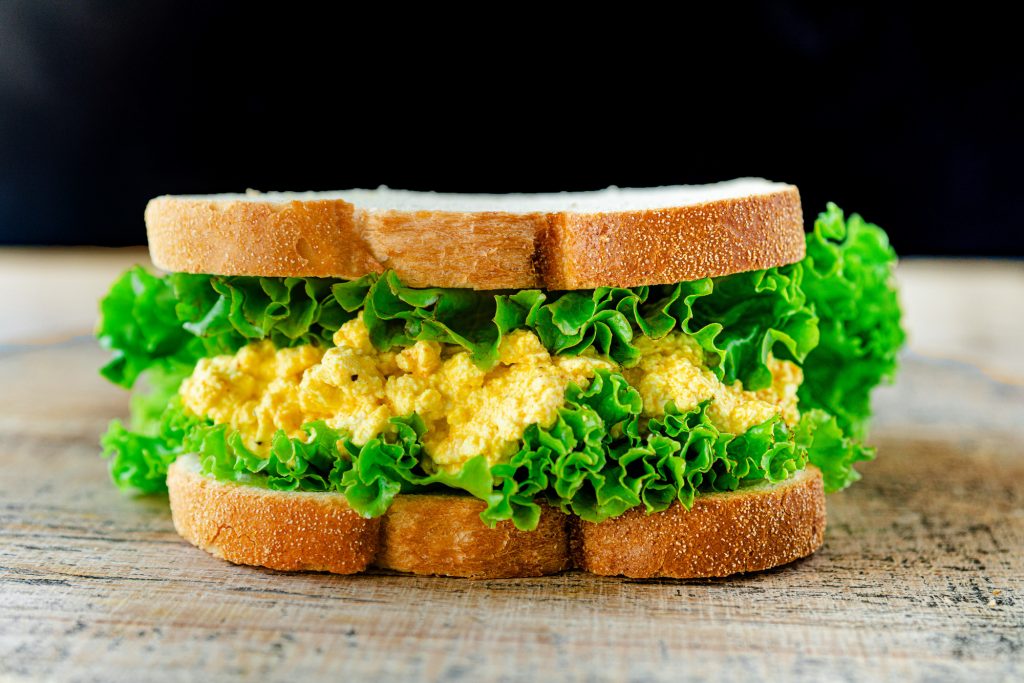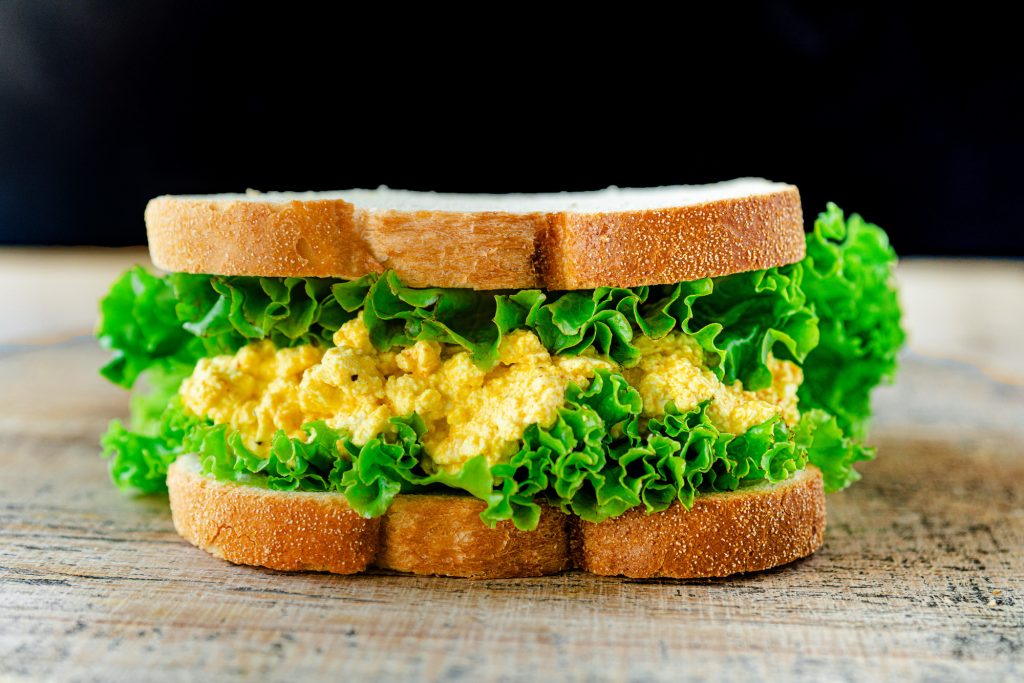 When making this vegan egg salad, it is important to do a quick taste test once the flavors are combined.
This recipe is near perfectly proportioned, but everyone is different and everyone likes different things.
While your tofu egg salad is still in the mixing bowl, you can then decide if you want to add more flavors!
And that is it! You just made vegan egg salad and it tastes and smells exactly like the regular kind!
Every time I make this recipe, I can't get over how "exact" it smells and now I travel with a little black salt powder in a plastic baggie so I can make this on the go!
Feel free to eat this however you like, maybe in a vegan egg salad sandwich, on a bed of lettuce, or just straight from the bowl like my mom likes to do!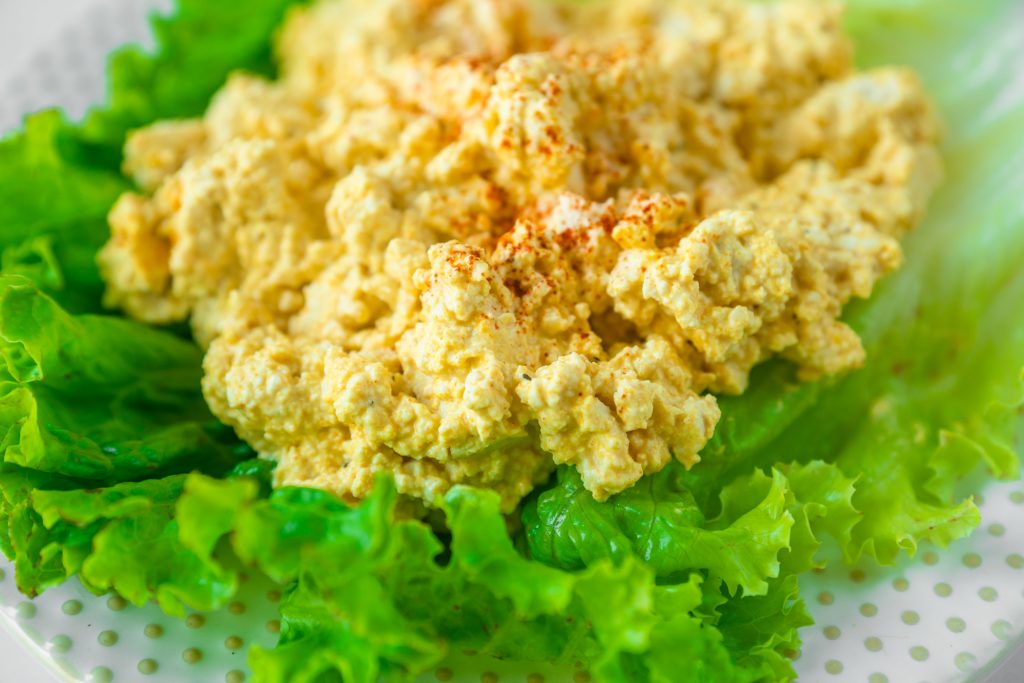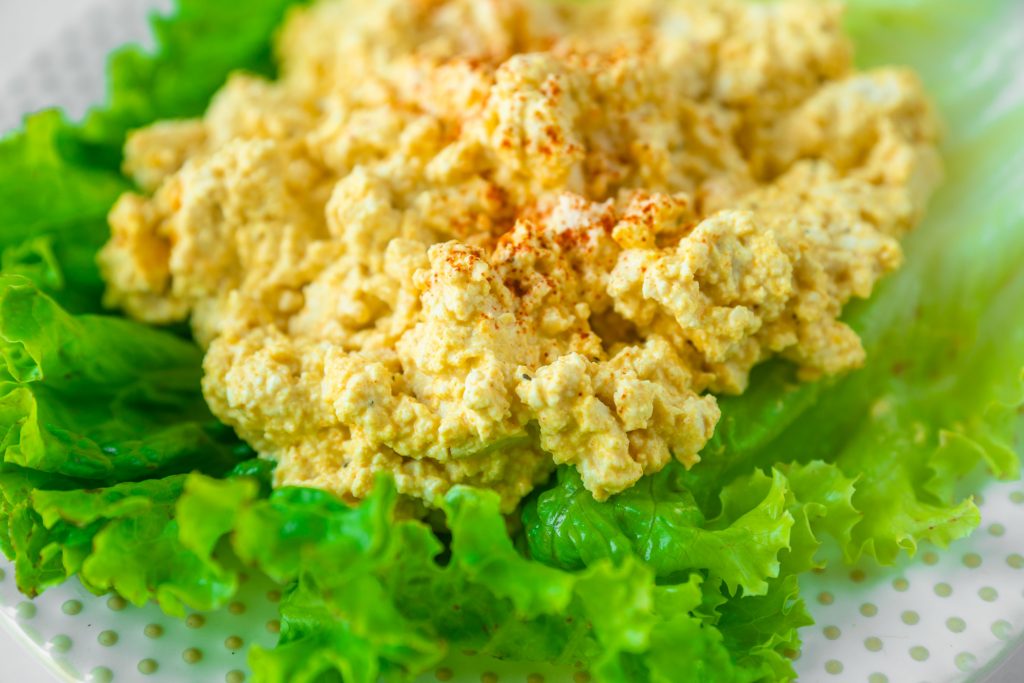 Storing The Tofu Egg Salad
The tofu egg salad keeps wonderfully in the fridge!
Simply store it in an air-tight container for between 3-5 days! This is the perfect recipe for meal prepping as you can easily make a huge batch.
It keeps really well and since you eat the vegan egg salad cold, all you have to do is take it out of the fridge, put it between two slices of bread, grab your potato chips [the way I love to eat it!] and head out the door!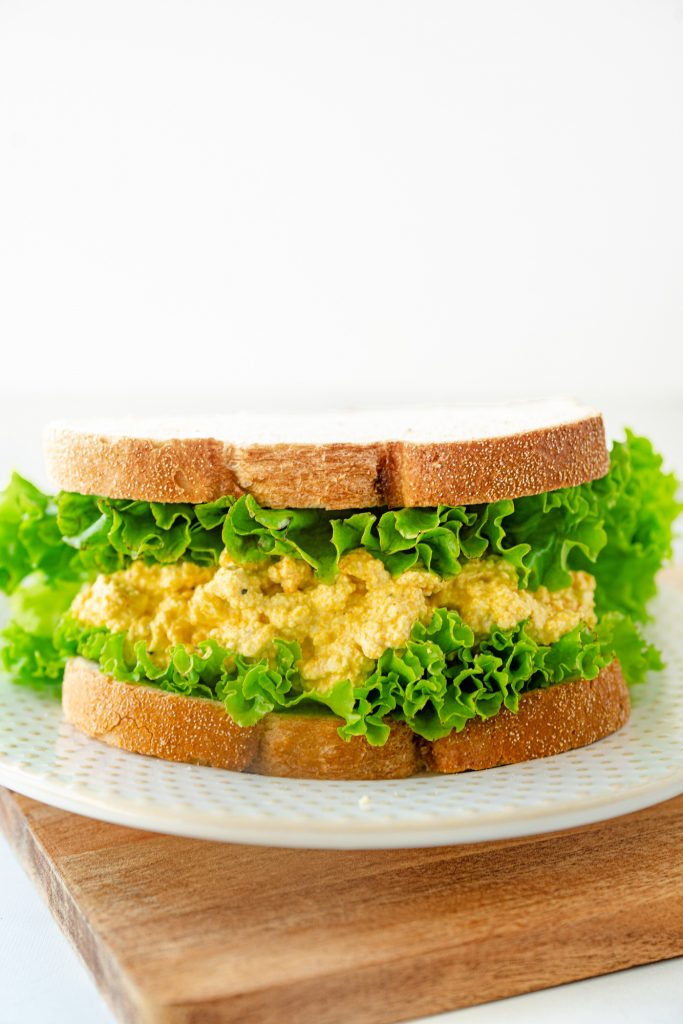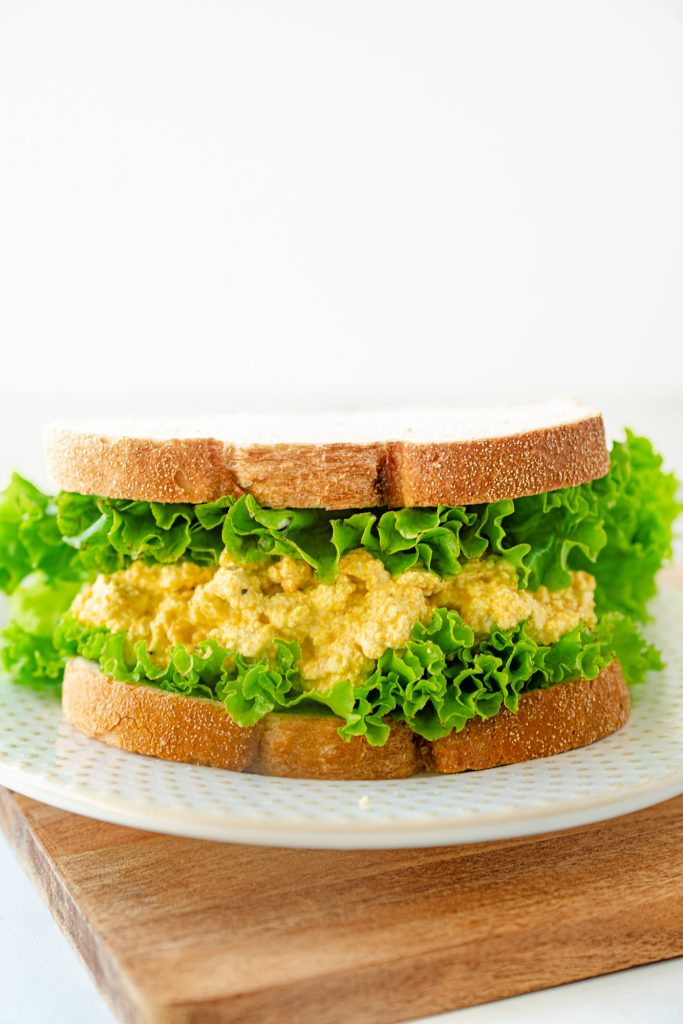 Did You Try This Recipe?
If so, I would love to keep in touch! I enjoy seeing photos and comments about the recipes that you make! You can follow me on Instagram and I will repost your goodies in my stories and comment on it too! Just tag me at @wowitsveggie and hashtag #wowitsveggie. I can't wait to see what you make!
Yield: 3 Servings
Incredible Vegan Egg Salad (So Realistic!)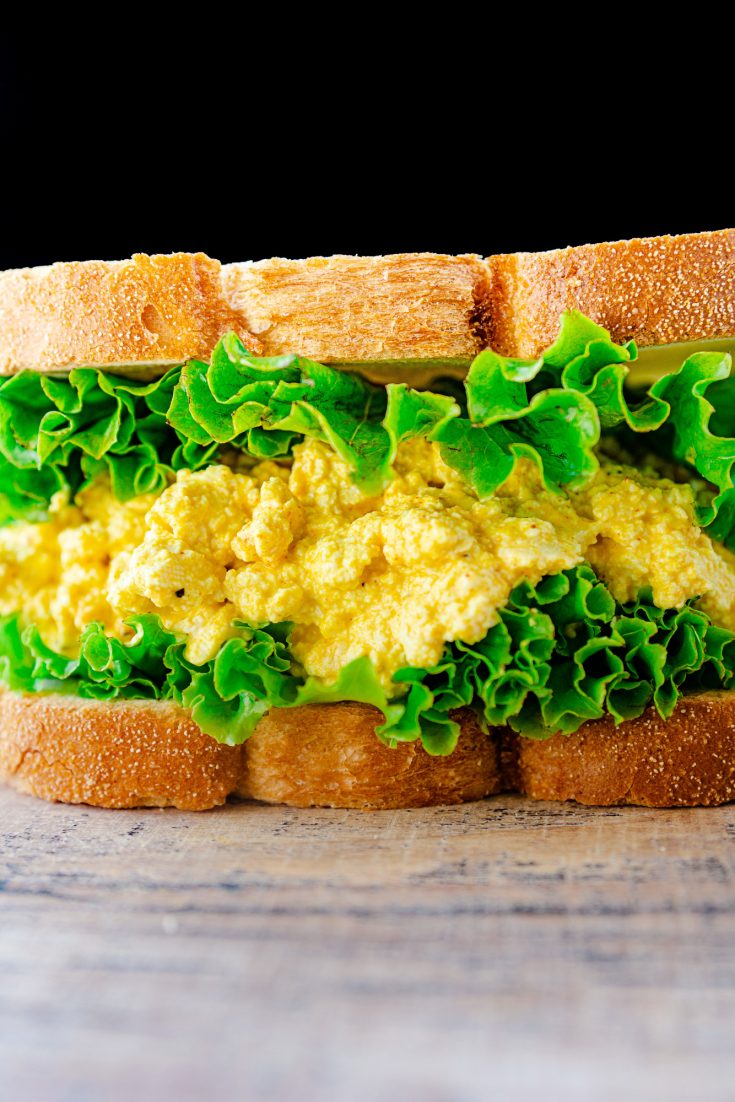 This vegan egg salad is so incredibly realistic and delicious! It is quick and easy to make and the use of Black Salt Powder makes it taste exactly like real egg salad.
I know this sounds crazy, but this really does taste and smell exactly like "real" egg salad. This recipe for tofu egg salad is perfect for meal prep or when you want a simple and filling lunch or dinner.
Ingredients
1 Block Of Firm Tofu, Drained
1/4 Cup Vegan Mayo
2 Teaspoons Dijon Mustard
1/8 Teaspoon Black Salt Powder [more to taste]
1/4 Teaspoon Turmeric Powder [more to taste and more for a yellow color]
Pinch Of Pepper
Pinch Of Salt
Optional: Chopped Onion or Green Onion
Instructions
Drain your tofu and wrap it in a kitchen towel to press out the extra liquid. Using clean hands, crumble your tofu into a large bowl.
Next, add vegan mayo, mustard, turmeric, Black Salt Powder, pepper, and paprika on top of the crumbled tofu.
Using a wooden spoon, fold the mixture together until combined. Take a small taste and adjust flavors according to your preference. If you want the vegan egg salad to be more yellow, just add a little more turmeric. Be careful not to add too much mustard or else the vegan egg salad will have a strong mustard flavor. If it does, add more black salt powder to balance it out.
Serve on a bed of lettuce or between two slices of bread. Use a little more paprika for garnish!
Nutrition Information
Yield
3
Serving Size
1
Amount Per Serving
Calories

235
Total Fat

17g
Saturated Fat

3g
Trans Fat

0g
Unsaturated Fat

13g
Cholesterol

0mg
Sodium

293mg
Carbohydrates

9g
Fiber

2g
Sugar

4g
Protein

16g