This easy vegan chili mac is the perfect thing to whip up when you want something hearty yet quick!
If you love Vegan Chili then you are sure to love this vegan chili mace and cheese.
Delicious spices, beans, veggies, and vegan cheese mixed with macaroni or the pasta of your choice.
This chili mac recipe also has my secret step to making it amazing!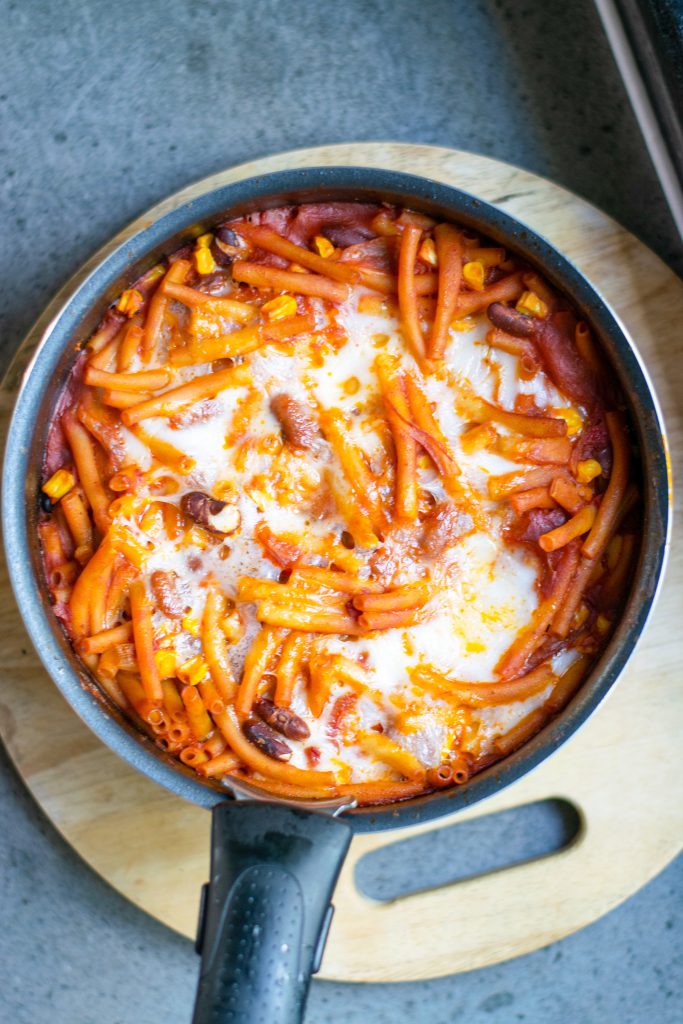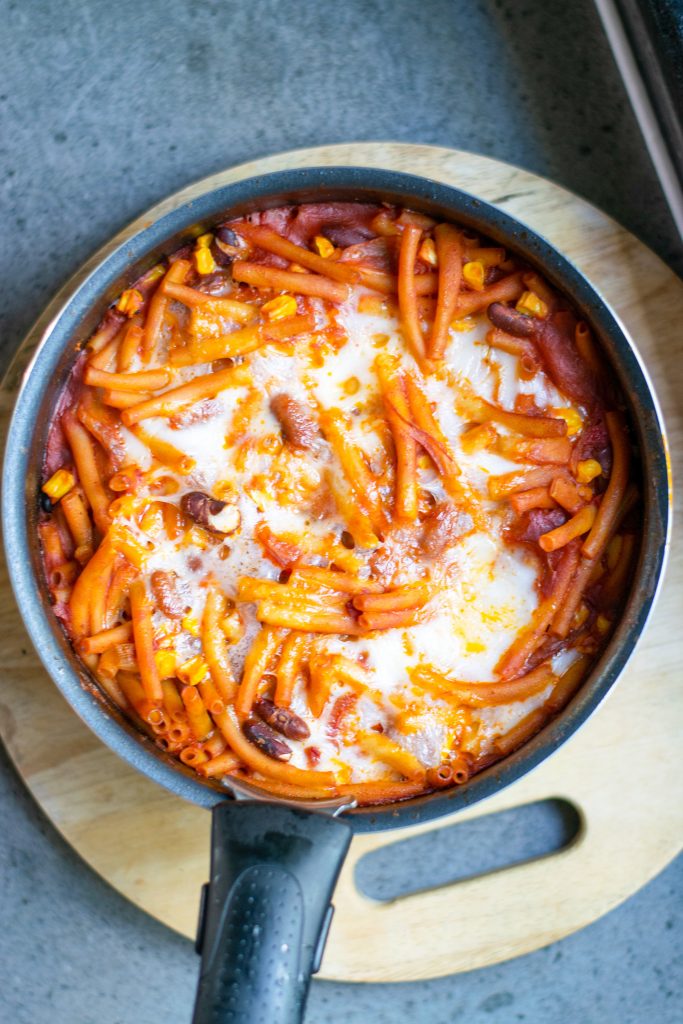 First you cook it on the stove, and then you pop it in the oven to bake it to give it a cheesy and melty texture!
There are a few things that I love about this recipe and the first is that it cooks up using only one pot.
That makes cleanup so quick and easy. If you are really hungry or just making it for yourself, you can eat it straight from the pot, and I'm going to pretend like I have never done that [news flash: I have!]
The second is that this vegan chili mac is protein-rich yet filled with flavor, so if you are looking for easy ways to get your protein while being vegan, this is it!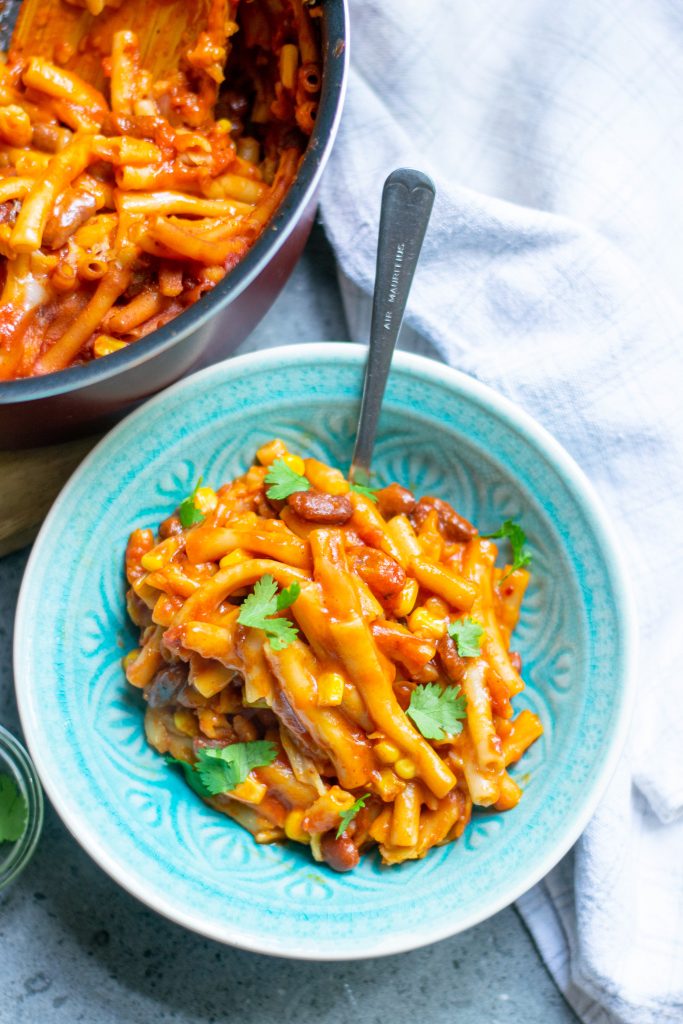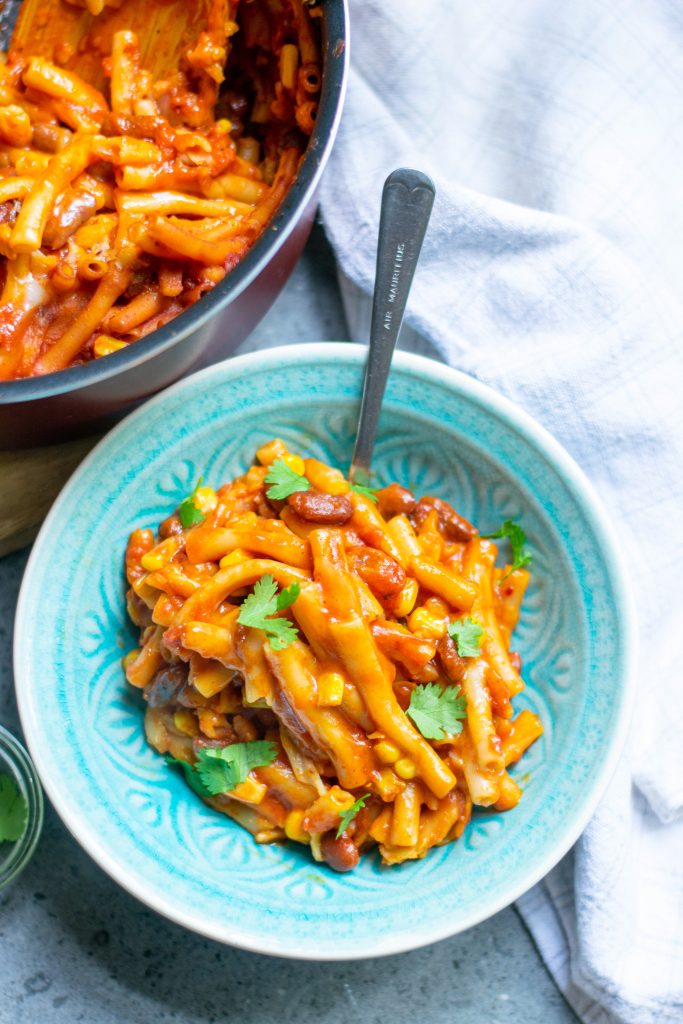 It is also a great Vegan Recipe For Kids as kids love the vegan cheese mixed in with the pasta.
If your kid isn't a huge fan of regular chili as in the soup, maybe the words "mac and cheese" in the name of this recipe and the little elbow pastas will convince them otherwise!
You also get to play around with the toppings! Perhaps it is a dollop of vegan sour cream, some green onions, some avocado, or even some tortilla chips if you want to go heavy on the carbs.
Finally, as I said above, this vegan chili mac recipe is so easy to make. If you don't have a lot of time, this is the perfect recipe for you.
I hope you enjoy it as much as I do!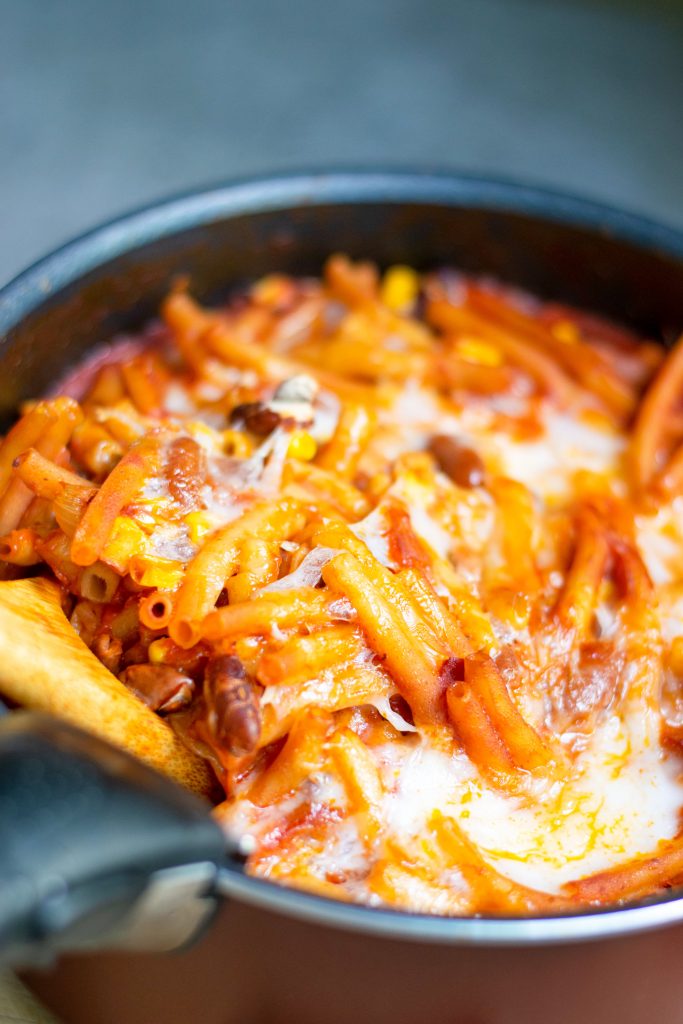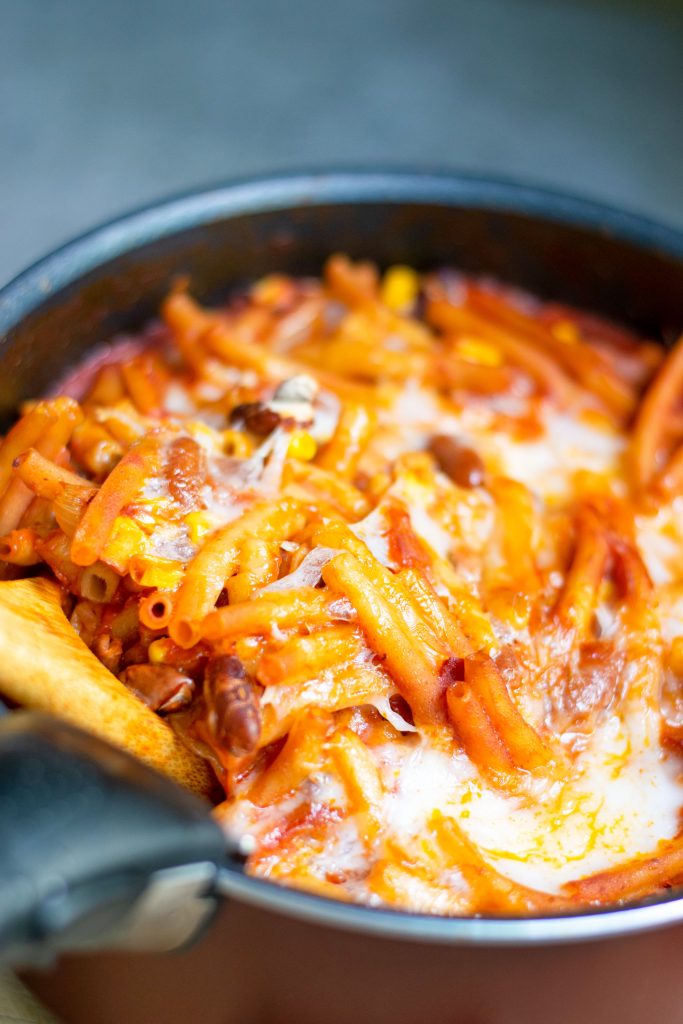 How To Make Vegan Chili Mac
Making vegan chili mac using one pot is super simple!
It is literally taking me longer to write this post and prepare these photos than it takes to make this recipe!
All you are going to do is heat a large pot over the stove on medium heat and then fry your onion and garlic until they are translucent.
Next, add vegetable broth or water and add the remaining ingredients other than the tomato paste and agave.
If you don't have vegetable broth, don't worry. I make almost all of my Vegan Soups with just water because I am lazy like that.
They turn out fine! If you do have broth on hand you want to use, go for it, but just don't feel obligated if you don't have the time.
Once everything is combined, you are going to bring the mixture to a boil and boil it for about 10-15 minutes so that the flavors can blend.
Then, you are going to add the tomato paste and agave syrup.
To get the flavor of this vegan chili mac correct, you are going to want to wait to add the tomato paste and agave/maple syrup. Don't do it too early!
Cook for about 3-5 minutes more or until your pasta is just done.
When your pasta is just done, remove your pot and put it in the oven!
YES!!!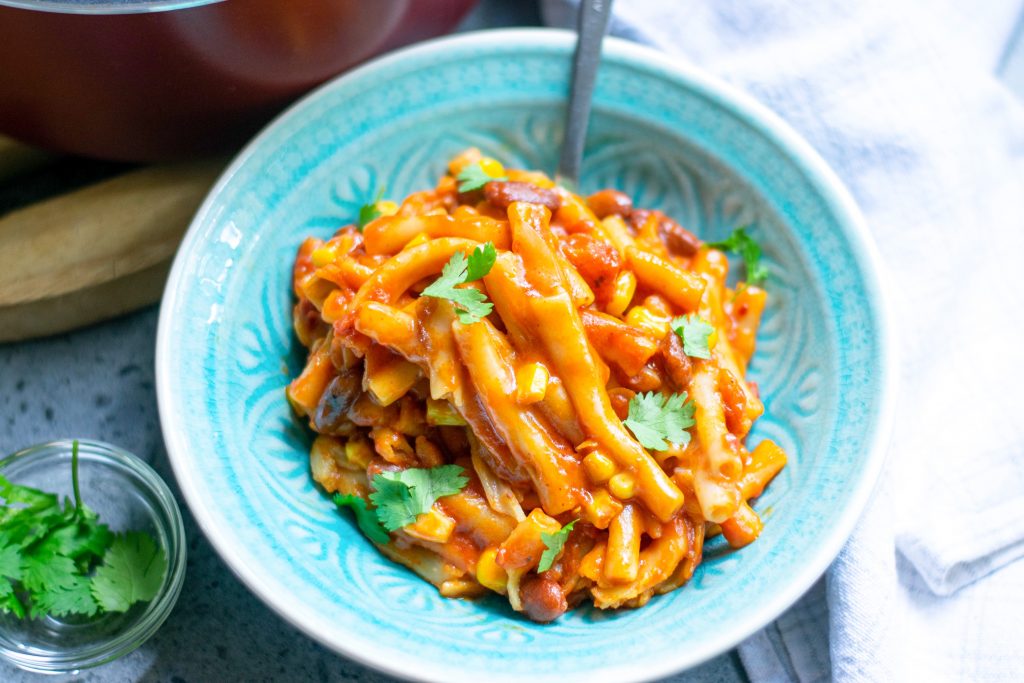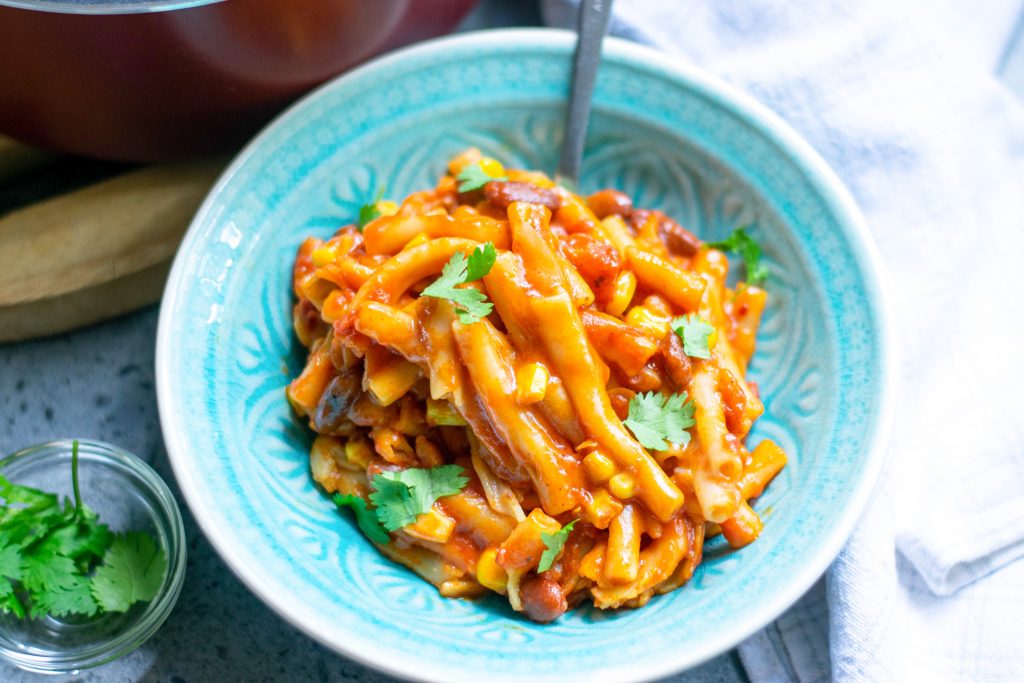 Baking your vegan chili mac really adds to the flavor and gives the vegan cheese a wonderfully melted quality.
You can put your pot directly in the oven with a cookie sheet underneath of it in case there are any drips.
Just sprinkle as much vegan cheese as you want over the top of your pot and bake the pot for 5-10 minutes or until the cheese melts.
Serve the vegan chili mac hot! Just take it out of the oven and let it cool down for about 5 minutes. This recipe works best when warm.
And that is it!
You can store the one pot chili mac in the fridge for 2-3 days.
I haven't tried freezing it, so if you want to try it, you are going to have to keep an open mind!
I hope you love this hearty and delicious chili mac recipe as much as I do! Don't forget to bake it for the best taste.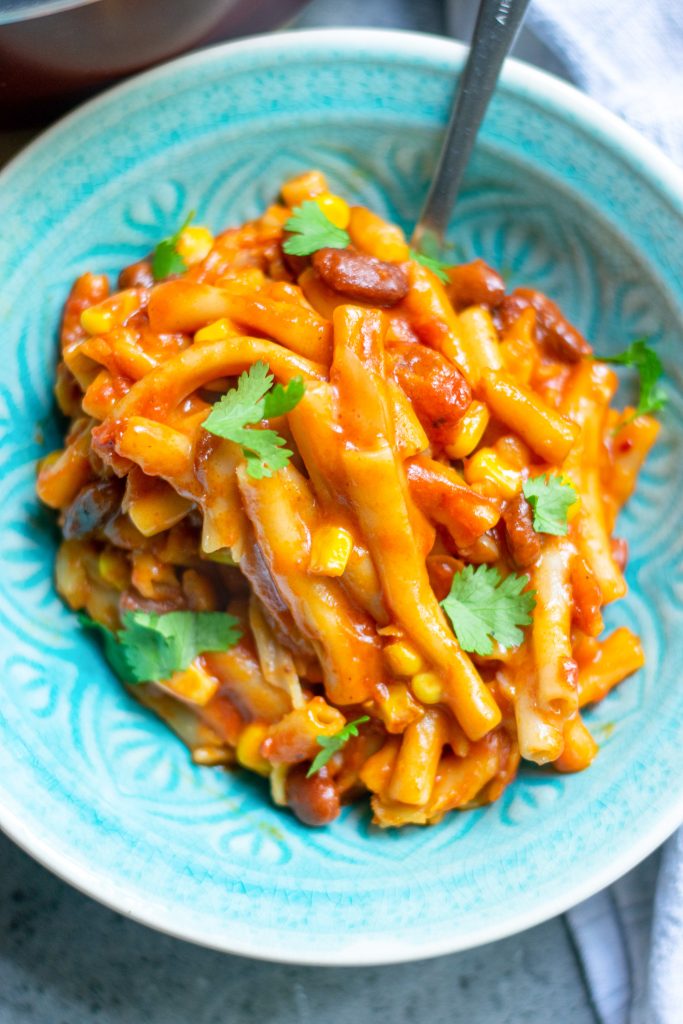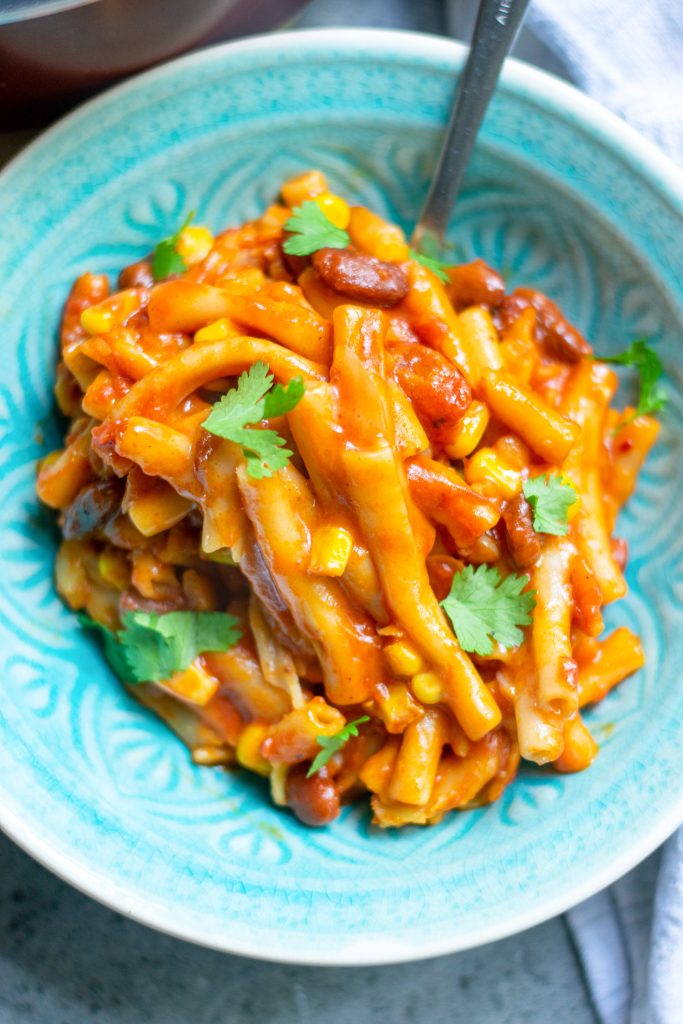 Did You Try This Recipe?
If so, I would love to keep in touch! I enjoy seeing photos and comments about the recipes that you make! You can follow me on Instagram and I will repost your goodies in my stories and comment on it too! Just tag me at @wowitsveggie and hashtag #wowitsveggie. I can't wait to see what you make!
Yield: 6 Servings
Easy One-Pot Vegan Chili Mac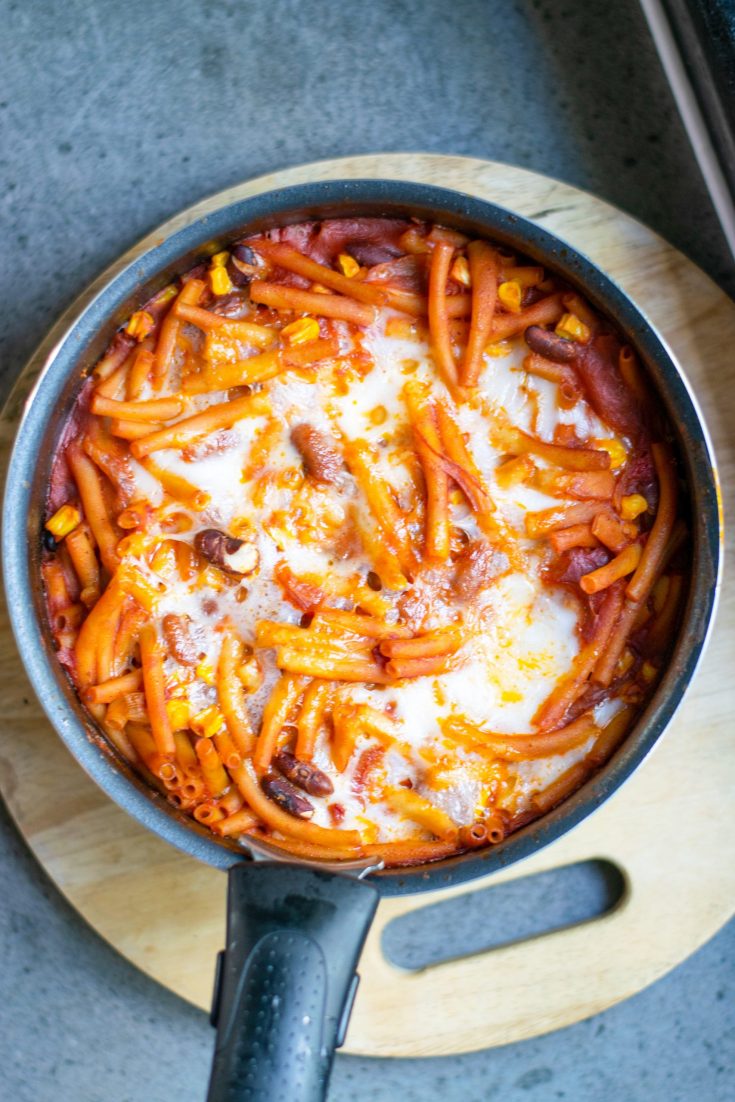 This cheesy vegan chili mac recipe is easy and cooks up in just one pot! The key to making the best chili mac is to make it on the stove and then pop the pot in the oven!
Double baking the vegan chili mac really elevates the flavor and allows the vegan cheese to melt in a nice and even way!
This one-pot vegan meal is rich and comforting and I know you are going to love it.
Ingredients
10 ounces (280 g) pasta (macaroni), uncooked
1 (14 ounces/395 g) can diced tomatoes
1 (15 ounces/440 g), kidney beans, drained and rinsed
1 cup (140 g) corn, drained and rinsed
1 cup (250 ml) tomato paste
4 cups (1000 ml) vegetable broth or water (water works fine!)
1/4 cup fresh cilantro, chopped
1 medium onion, chopped
4 cloves garlic, chopped
1 tablespoon chili powder
1 teaspoon cayenne pepper
2 teaspoons cumin powder
1 1/2 teaspoons salt
3 tablespoons agave syrup or maple syrup
2 tablespoons oil of your choice
vegan cheese (enough to cover the top of your pot)
Instructions
1. Preheat oven to 180°C/356°F.
2. Heat a large pot with oil on medium heat and fry onion and garlic until tender and translucent then add spices to bring out the flavors.
3. Add vegetable broth or water and then stir then add all other ingredients except tomato paste and agave/maple syrup. Combine well. Bring to a boil then turn the heat to low and cook for 15 minutes.
4. Add tomato paste and agave/maple syrup. Stir well and cook for another 5 minutes on low heat. Do not add the paste and syrup before the 15 minutes of simmering from step 2.
5. Pasta should be cooked by now if not leave for 2 or 5 minutes more.
6. When pasta is just cooked, remove pot and transfer on a baking tray or cookie sheet Add vegan cheese on top and bake for 10 minutes in oven until cheese melt.
7. Let the vegan chili mac cool down for 5 minutes then serve immediately.
Nutrition Information
Yield
6
Serving Size
1
Amount Per Serving
Calories

223
Total Fat

8g
Saturated Fat

1g
Trans Fat

0g
Unsaturated Fat

6g
Cholesterol

5mg
Sodium

972mg
Carbohydrates

30g
Fiber

4g
Sugar

15g
Protein

9g