These vegan garlic brussels sprouts are slathered in garlic and olive oil and then roasted in the oven for the best side ever!
Brussels sprouts are in season from September to March in the USA if you want to try them when they are at their peak.
Of course, you can usually find brussels sprouts at your local grocery store any time of year, but why not pick them up when they are fresh, succulent, and delicious!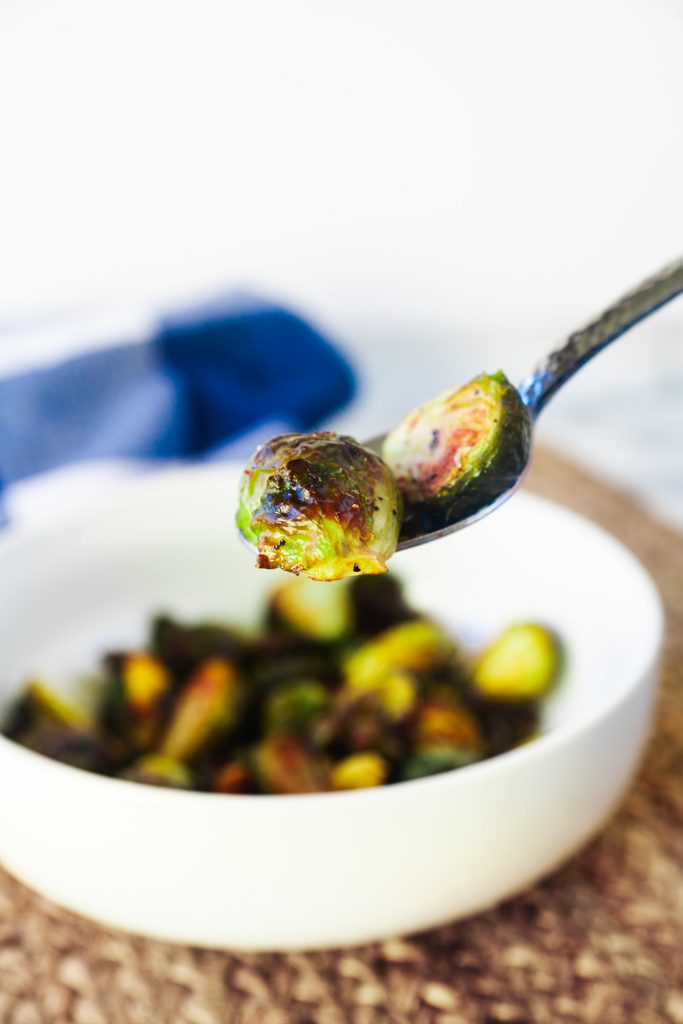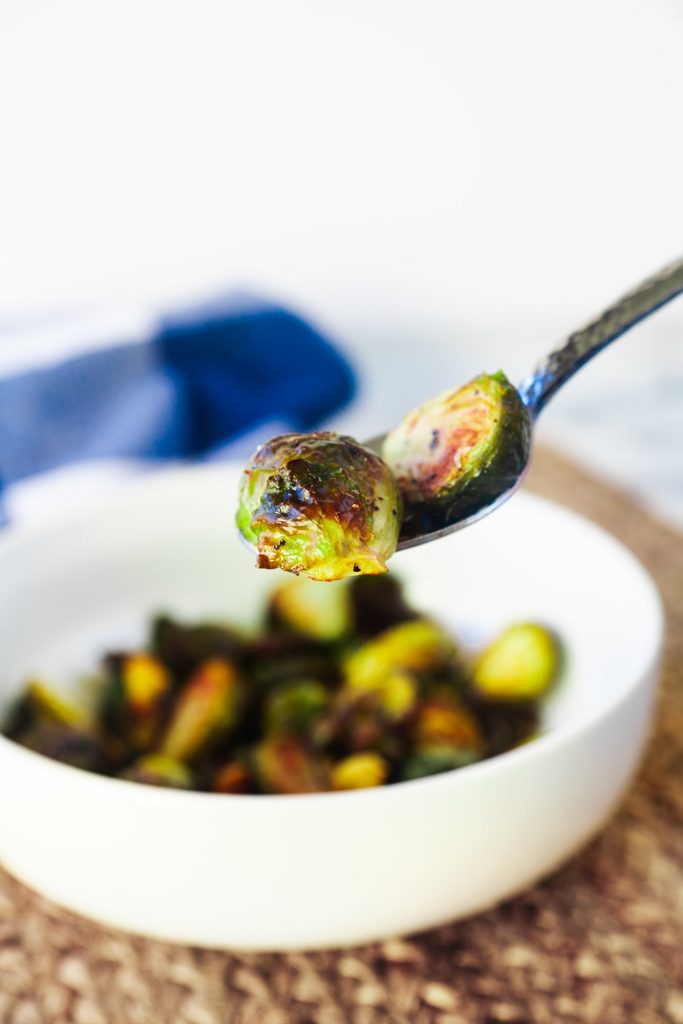 This is actually my Mom's oven-roasted vegan brussels sprouts recipe that she has been making for more than 20 years.
It has always been a hit at parties with family and friends, and people would request her to bring it and it would fly out of the pan.
Whether you are looking for a side for your Vegan Thanksgiving Dinner or just want a healthy way to amp up your main meal, brussels sprouts are a great way to do it!
This vegan brussels sprouts is quick and easy and can be made in advance and just popped in the oven when it is time for your party or dinner.
Feel free to customize the brussels sprouts recipe to your tastes by playing with spices, glazes, and adding veggies and seasoning to your choice!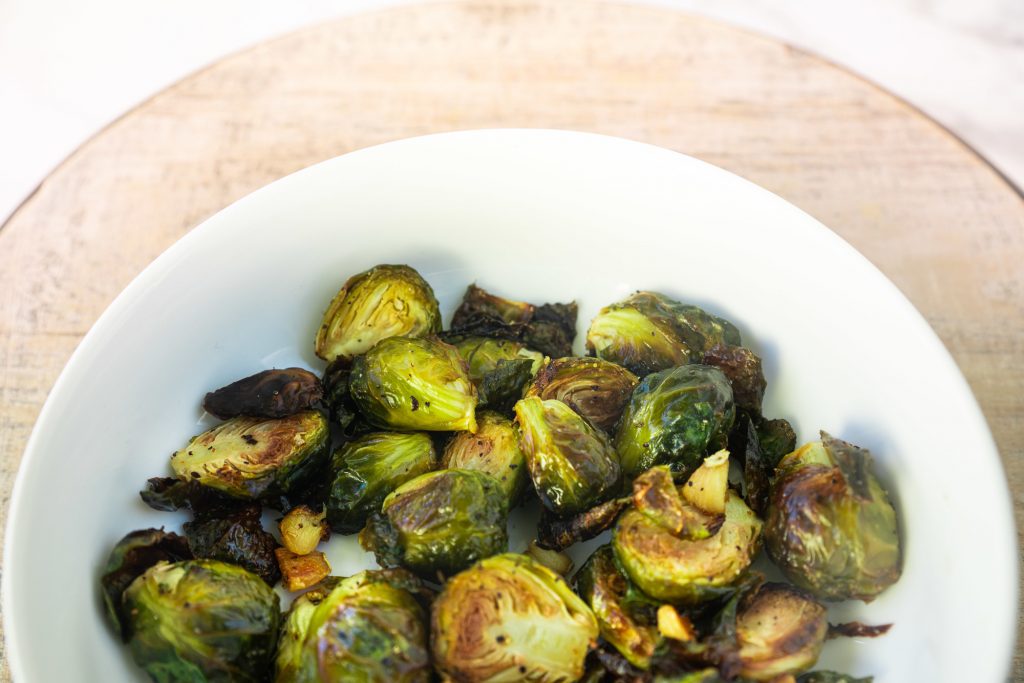 How To Roast Vegan Brussels Sprouts
If you have never roasted your own brussels sprouts before, don't worry! The process is so simple and easy to do.
Add in a little garlic and you are in for a real treat.
When making this vegan brussels sprouts recipe, the first thing you want to do is make sure you are choosing healthy looking veggies!
When you are picking them out from the store, you want to make sure that they are a bright green and firm.
You want to feel the brussels sprouts to ensure that they are firm! You also want to try and choose brussels sprouts that are around the same size, so they roast evenly.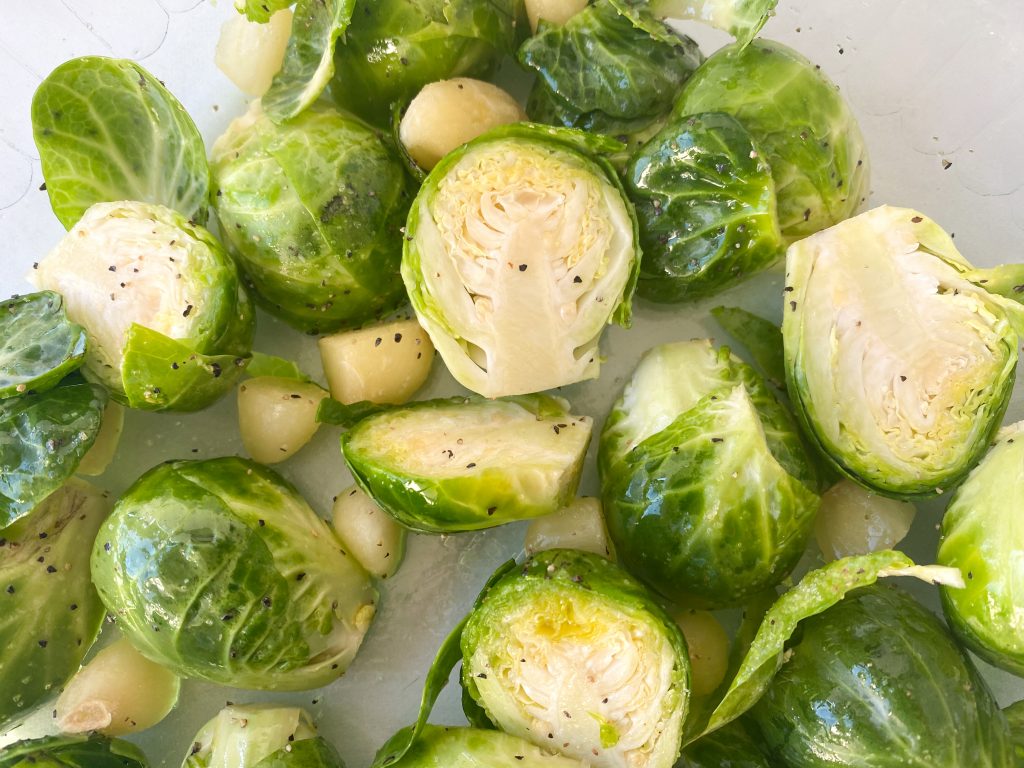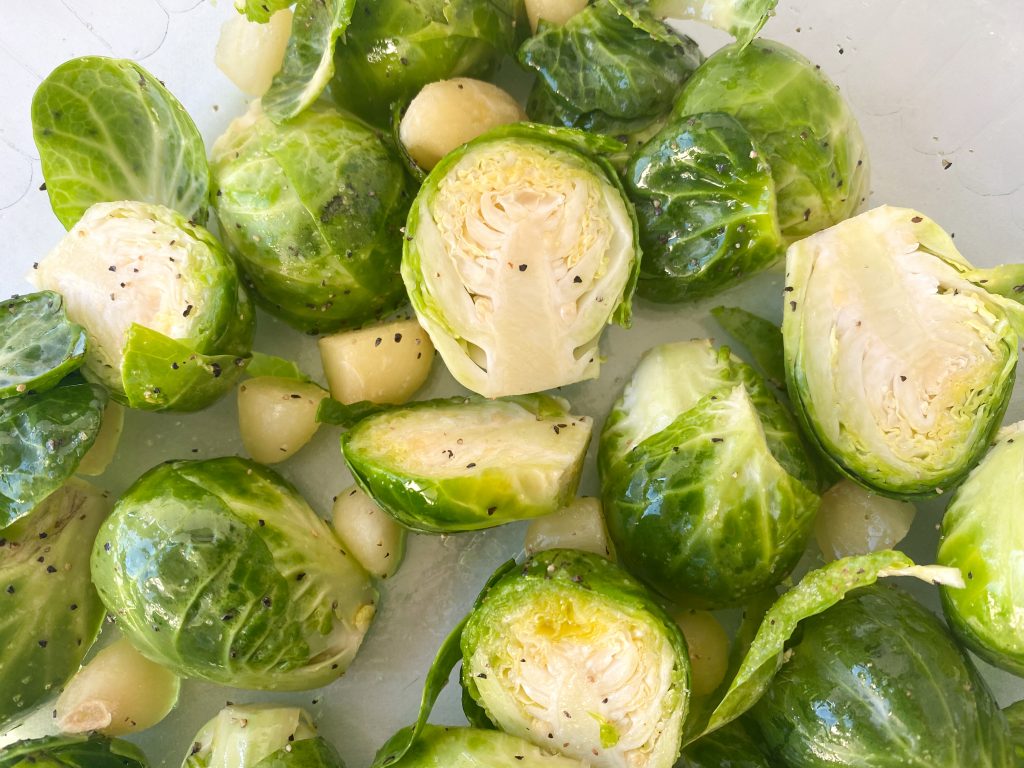 When you bring them home, first you are going to want to cut the core off.
To do this, slice off the bottom part of the brussels sprouts so that the core is removed.
Then, you are going to want to slice each sprout in half so that you get a more even roasting surface area.
You want to ensure that you cut the brussels sprouts lengthwise, from bottom to top, so that they will touch the pan while baking and give you that wonderful caramelized flavor.
Next, slice 4-6 cloves are garlic.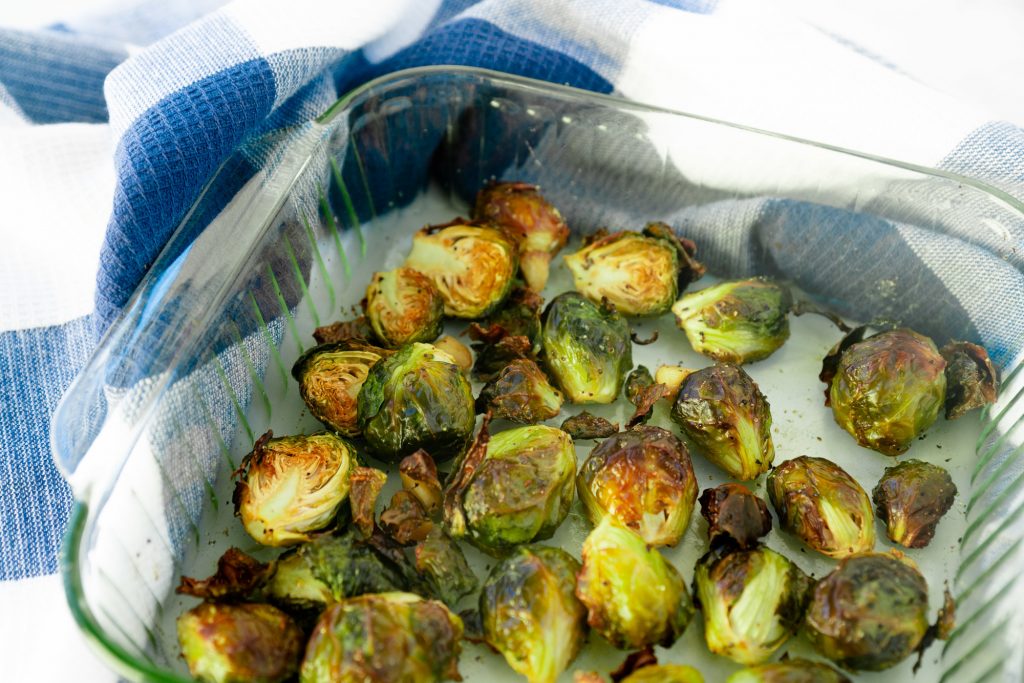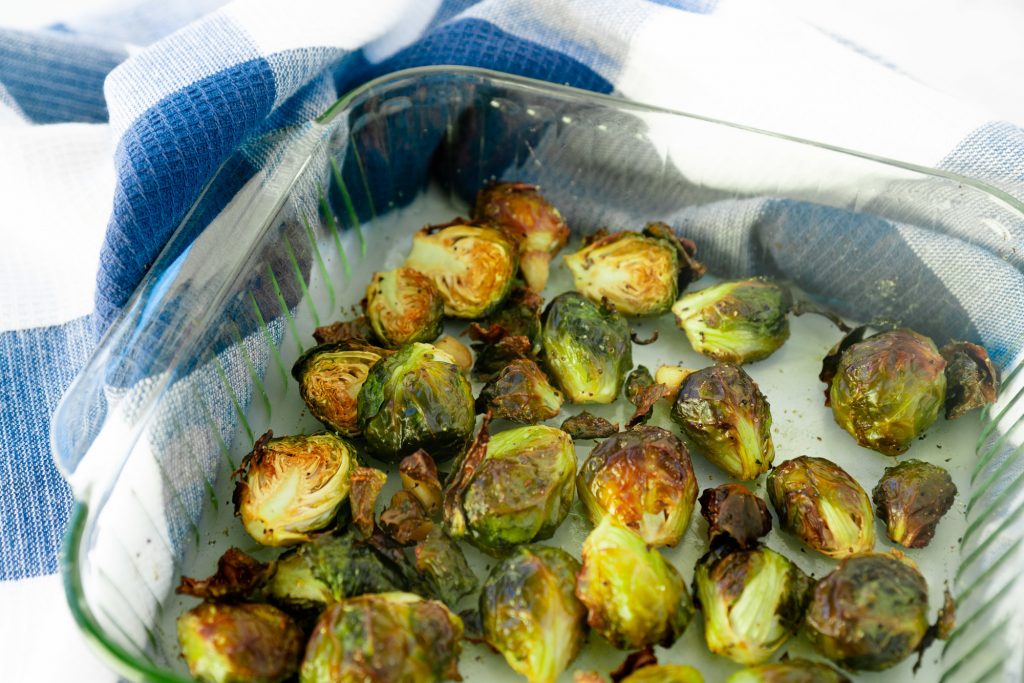 To make this vegan brussels sprouts recipe even more flavorful, you can take one of the cut edges of garlic and wipe it over the flat edge of the brussels sprouts.
Depending on how many brussels sprouts you are making and how much time you have, you can do this with multiple garlic cloves and all of the sprouts.
Spreading the cut garlic clove on the brussels sprouts intensifies the flavor even more.
Either way, you are going to want to cut your garlic cloves in half and combine them with the brussels sprouts.
Next, take olive oil, or the oil of your choice, and lightly toss with the brussels sprouts until they are coated.
Now you are going to season.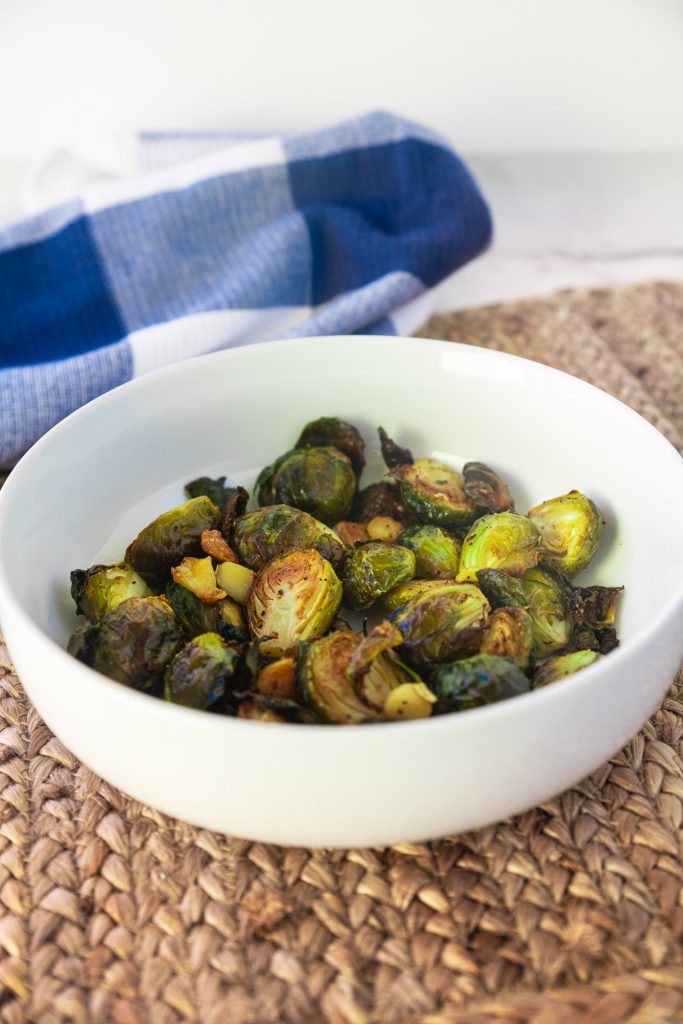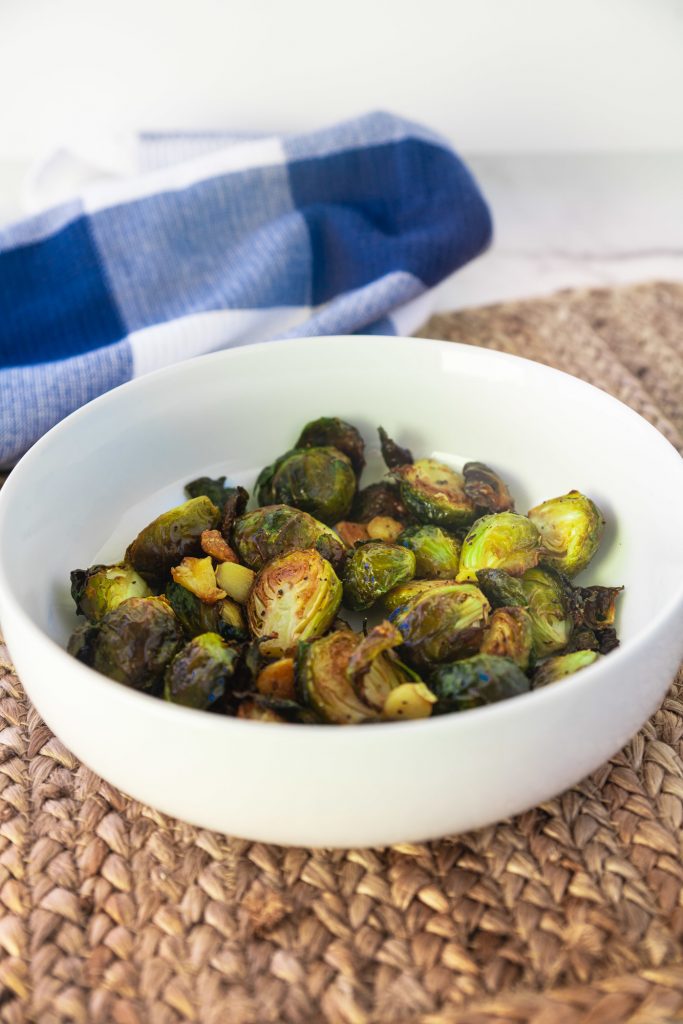 I love seasoning with salt, pepper, and an Italian spice blend.
You can use whatever you have on hand such as rosemary, thyme, basil and more.
If I am feeling like adding even more flavor to my vegan brussels sprouts, I will add a shake or two of Seasoning Salt from the grocery store!
It is a blend of spices including garlic and onion powder, paprika and more.
You will then bake your brussels sprouts and garlic in the oven and you will turn them or mix them with a spatula or wooden spoon every 20 minutes.
You will roast the vegan brussels sprouts for about 45 minutes and you will turn 1-2 times during the process, at 20 minutes and at 35 minutes.
And that is it! You just made your own delicious garlic roasted brussels sprouts!
Enjoy as a side to your favorite dish.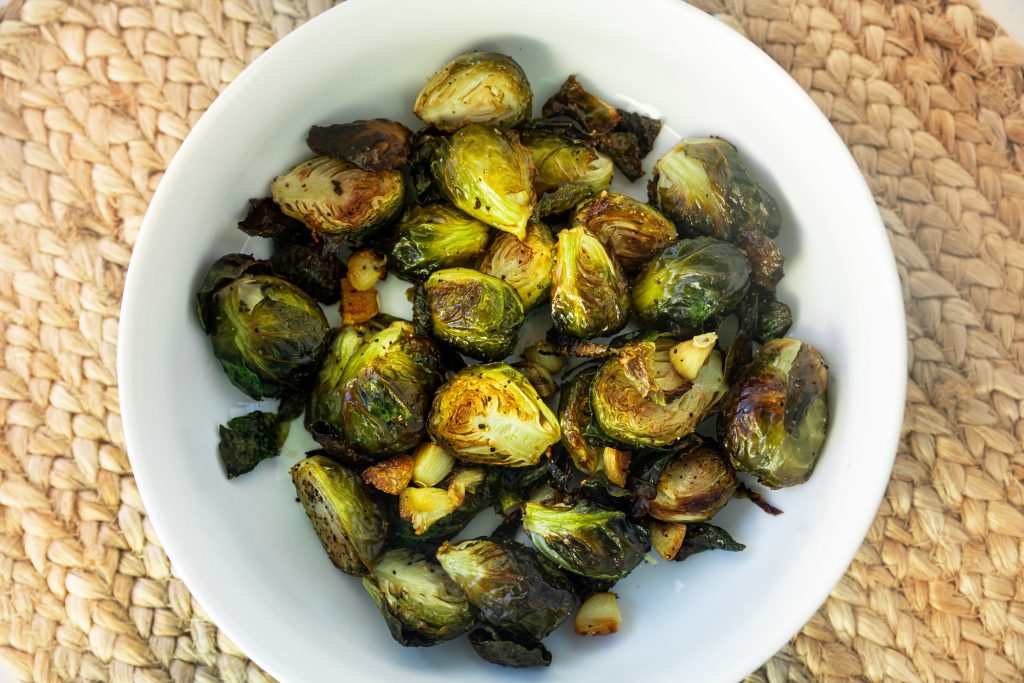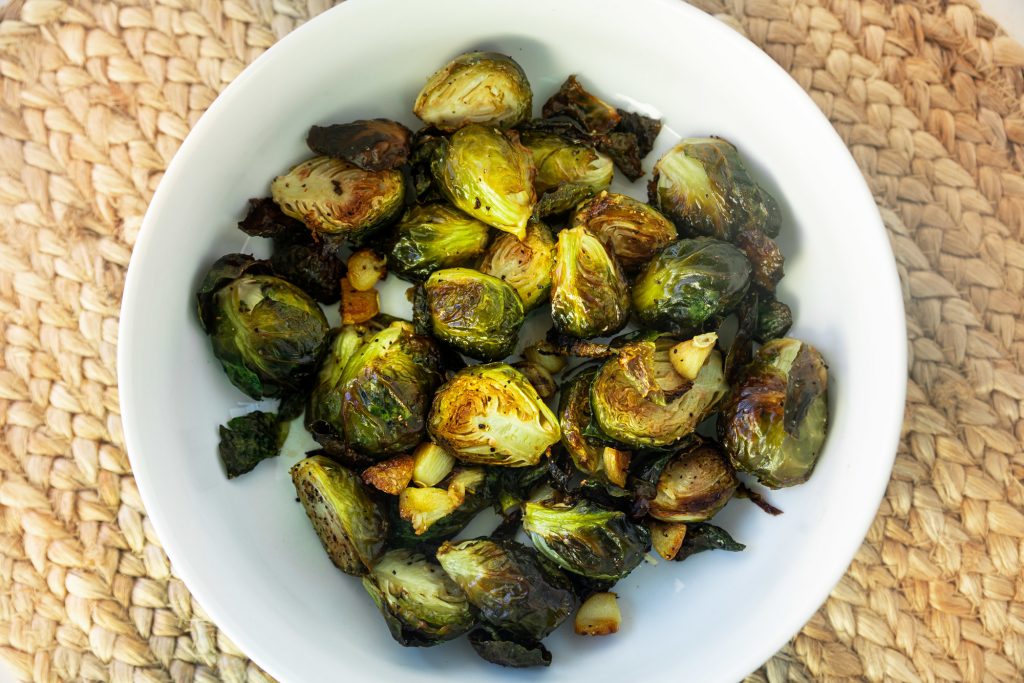 Roasted Brussels Sprouts Variations
There are so many ways you can spin vegan brussels sprouts! The options are truly endless!
Here are a few of my favorite ways in case you want to play up this classic brussels sprouts recipe.
The first way you can mix-up this recipe is by using a balsamic glaze and going heavy on the Italian spice mix.
When preparing the brussels sprouts, just add in 2-4 tablespoons of balsamic
Add in a little lemon juice and you are ready to go for a delicious Italian-inspired brussels sprouts recipe!
If you would prefer Asian-inspired brussels sprouts, toss your sprouts in sesame oil and then add 1-2 tablespoons of teriyaki or soy sauce, depending on what you have on hand!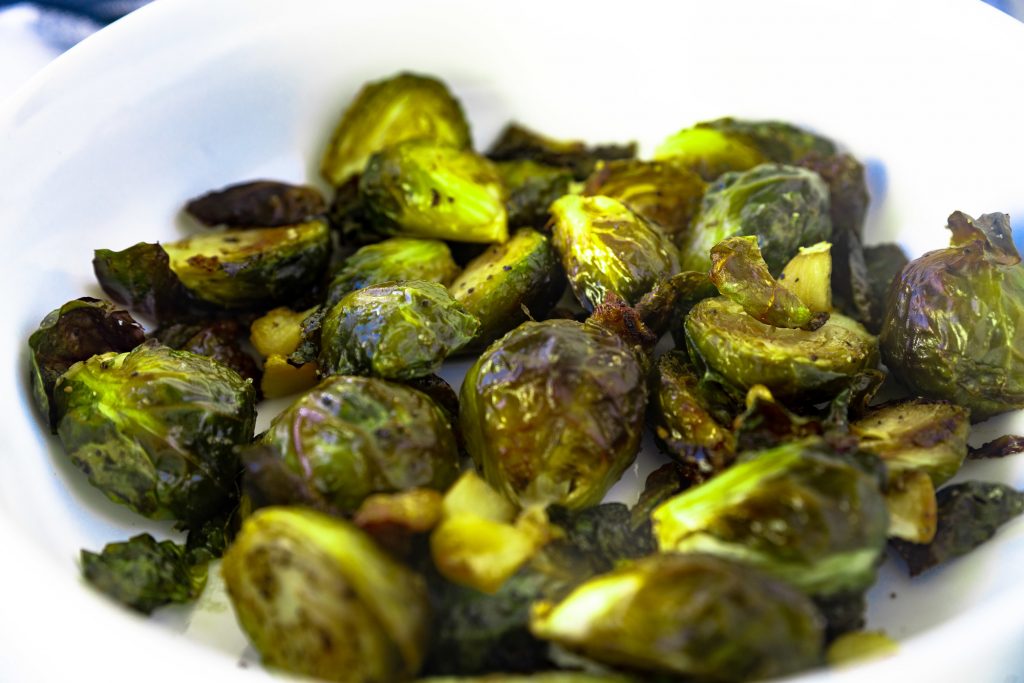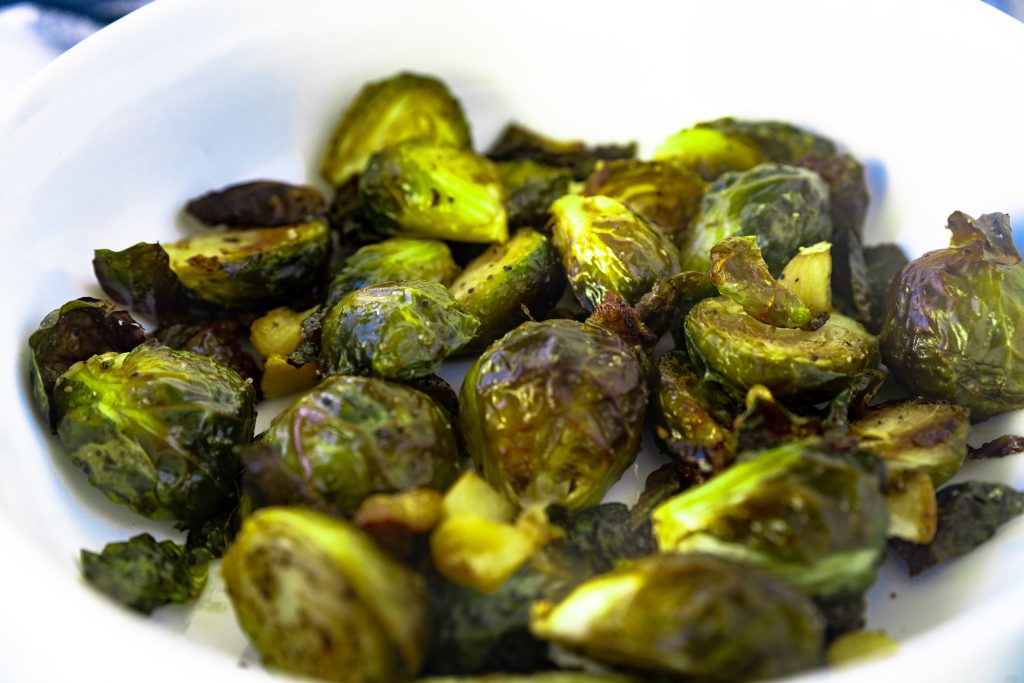 Finally, if you are looking for a sweet and succulent version, you can make maple-glazed brussels sprouts by adding a pinch of cinnamon and 2-4 tablespoons of maple syrup.
When adding the sauces, add a little before you roast and the rest after you are done so that the flavors are fresh and tasty!
There are so many ways you can change up this vegan brussels sprouts recipe so you can make it your own tasty creation!
Did You Try This Recipe?
If so, I would love to keep in touch! I enjoy seeing photos and comments about the recipes that you make! You can follow me on Instagram and I will repost your goodies in my stories and comment on it too! Just tag me at @wowitsveggie and hashtag #wowitsveggie. I can't wait to see what you make!
Yield: 4 Servings
Roasted Garlic Vegan Brussels Sprouts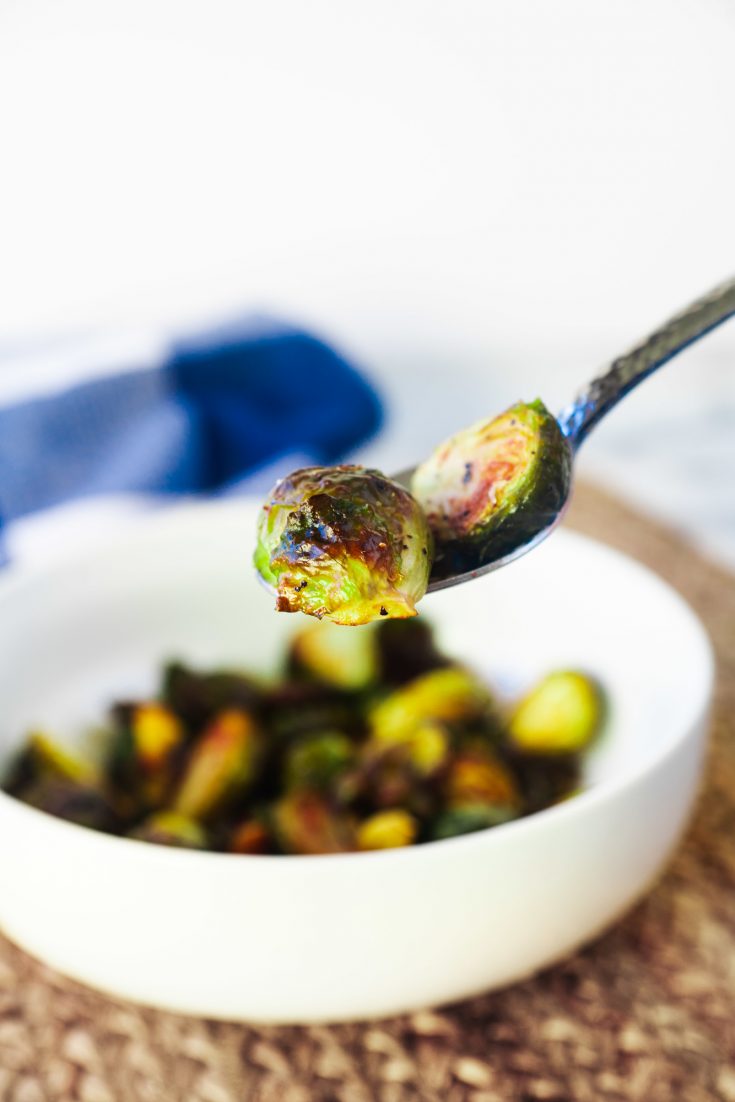 This garlic-roasted vegan brussels sprouts recipe is savory and flavorful. It is sure to be a hit at your next party or gathering and tends to fly off the serving platter!
Feel free to mix up the recipe with your own spices and sauces if you want to try something new!
Ingredients
1 pound brussels sprouts
10 garlic cloves, halved
2 tablespoons olive oil (or oil of your choice)
1 teaspoon salt
1/2 teaspoon pepper
1 teaspoon Italian spice blend
Instructions
Preheat oven to 375F
Cut the core off of your brussels sprouts and then slice them lengthwise down the middle, from top to bottom. Slice your garlic cloves in half.
Toss brussels sprouts and garlic cloves in oil, salt, pepper, and spices and spread in a baking dish in a single layer. Be careful not to overcrowd.
Roast brussels sprouts in the oven for 45 minutes, taking care to turn/stir the sprouts 1-2 times throughout the roasting process.
Eat immediately while they are hot or use them cold in salads or wraps!
Nutrition Information
Yield
4
Serving Size
1
Amount Per Serving
Calories

113
Total Fat

7g
Saturated Fat

1g
Trans Fat

0g
Unsaturated Fat

6g
Cholesterol

0mg
Sodium

554mg
Carbohydrates

11g
Fiber

3g
Sugar

2g
Protein

3g