When I tell you this is the best vegetarian breakfast casserole I have ever eaten, I am not kidding!
It is actually a family recipe that my boyfriend makes and it is vegetarian as-is!
The first time he made it for me I was obsessed! I love vegetarian egg casserole spin offs and this is one of the best.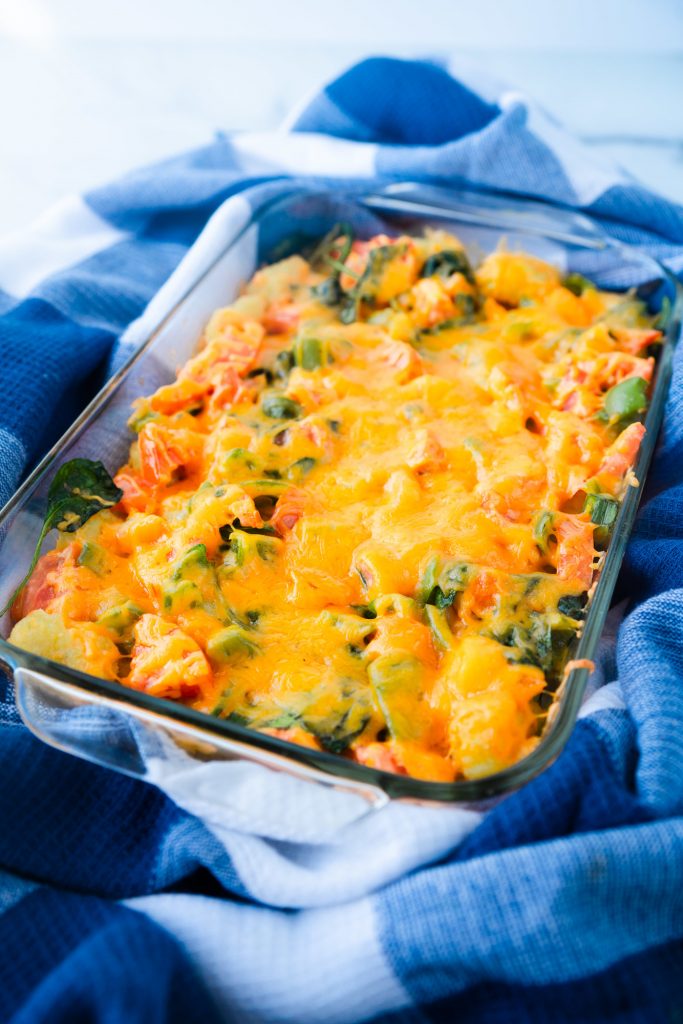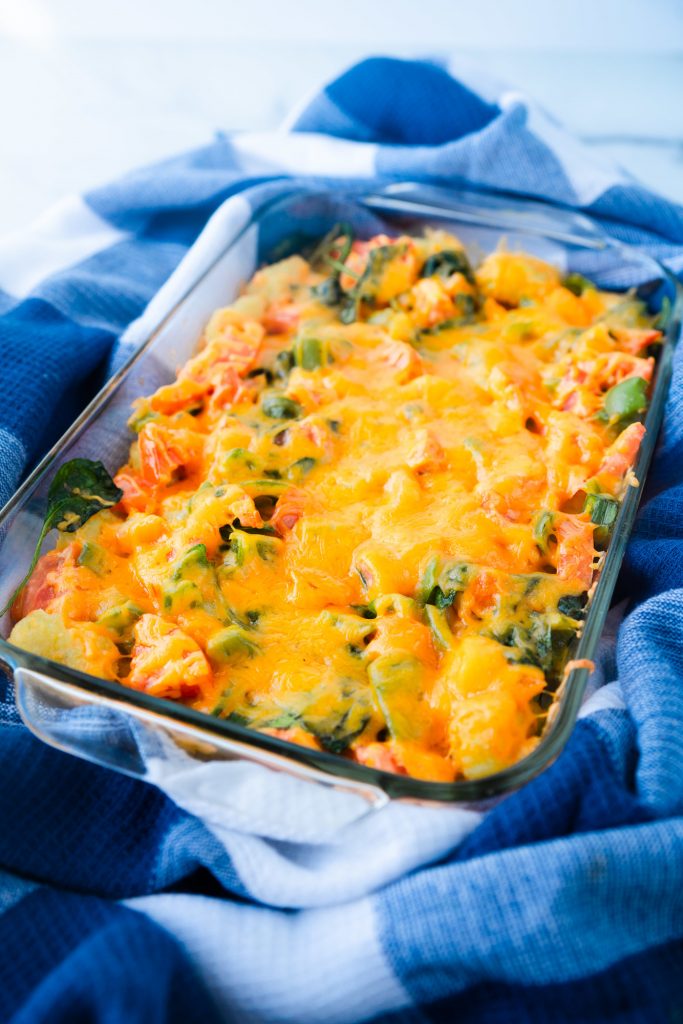 While this is supposed to be a meatless breakfast casserole, I am going to be honest.
I usually make and eat this for dinner because there is nothing better than breakfast for dinner.
I can even eat an entire half a pan myself. Sometimes I make it in a smaller dish and eat the whole thing. Wild, I know!
My favorite part of this vegetarian breakfast casserole is the tater tots. I don't know why, but I am obsessed with tater tots.
More than french fries, more than regular potatoes! Tater tots are just so delightful and this vegetarian tater tot casserole hits the spot.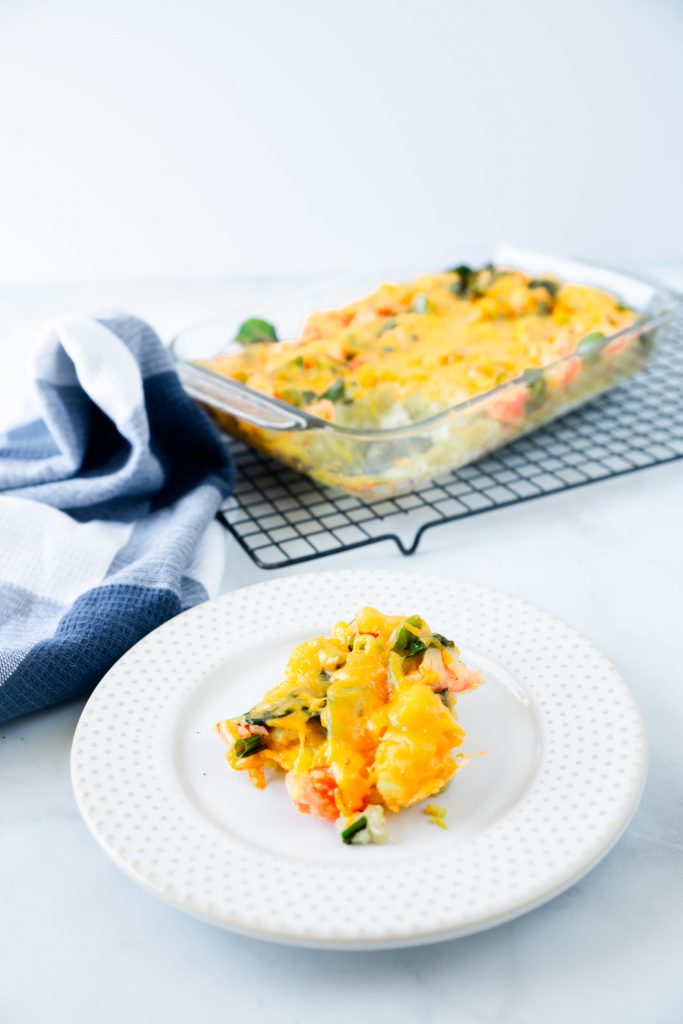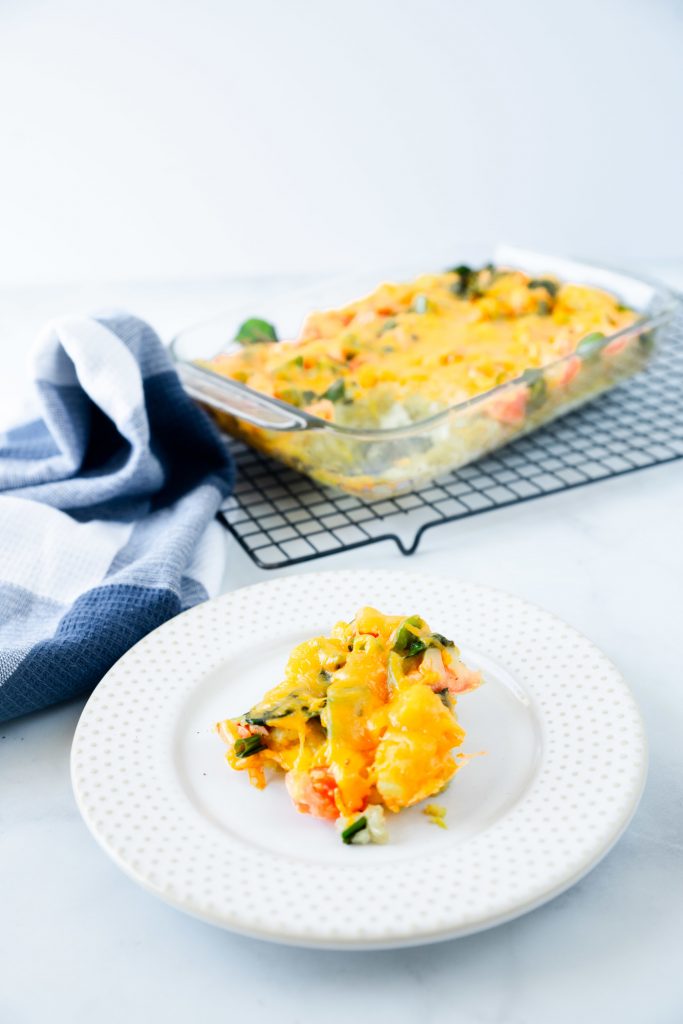 There are also eggs, cheese, and fresh veggies mixed in.
I will start you out with some suggestions for your veggies but you can use whatever types of veggies you want or like.
The vegetarian breakfast casserole recipe does not use vegan ground beef crumbles, but you are free to add some if you want.
Making the veggie egg bake is done in a few steps, but it is simple and fast to put together.
It cooks up quickly and is a delight to eat. Make some for the whole family and you will be wishing you saved a whole recipe just for you!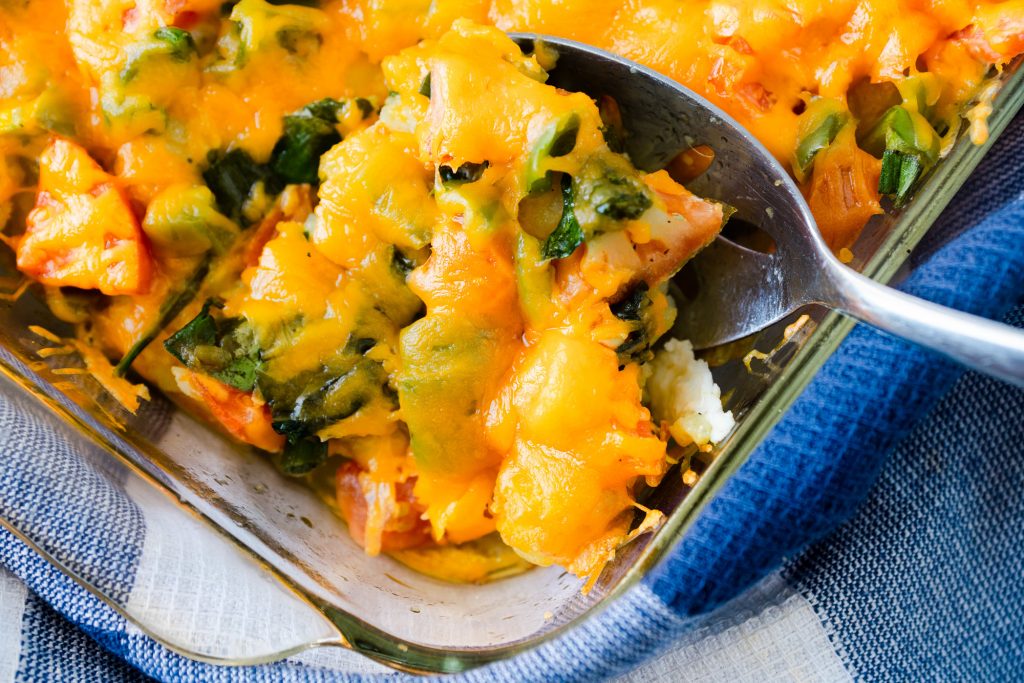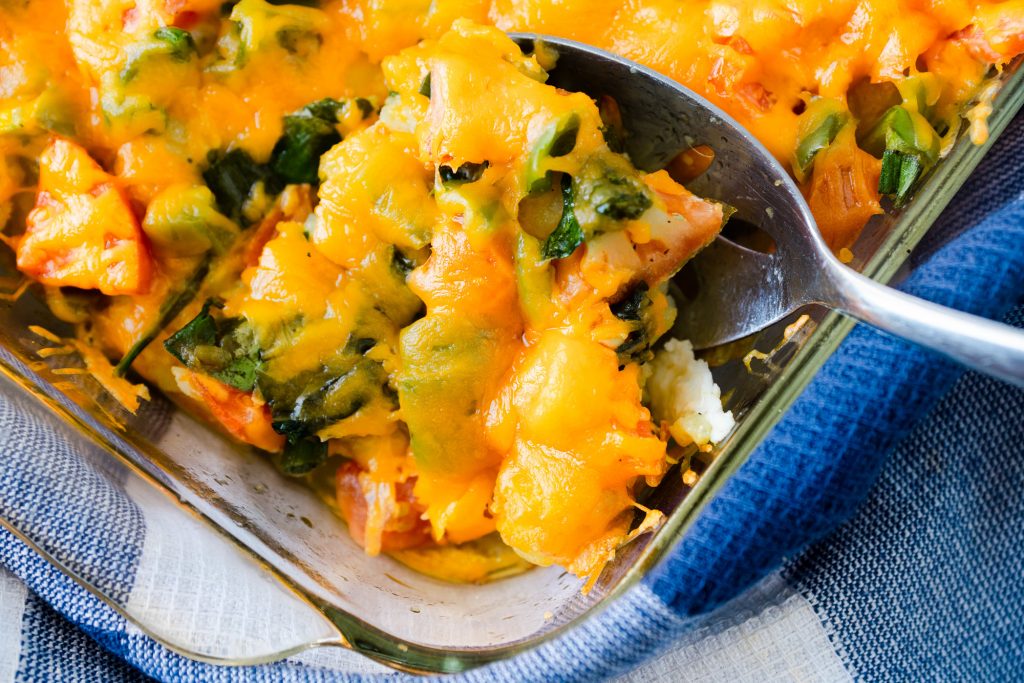 How To Make The Vegetarian Breakfast Casserole
Making the vegetarian breakfast casserole is so simple! You can even get the kids involved to help you with some of the easier steps.
First, you are going to need a big bag of tater tots. You can get them from the regular grocery store, any kind it doesn't matter!
I know that hash brown casseroles are popular, and I even have a Vegan Hash Brown Recipe, but I do think that tater tots work the best as that is how this veggie egg casserole was designed.
First, you are going to want to get your tots and arrange them in a baking dish.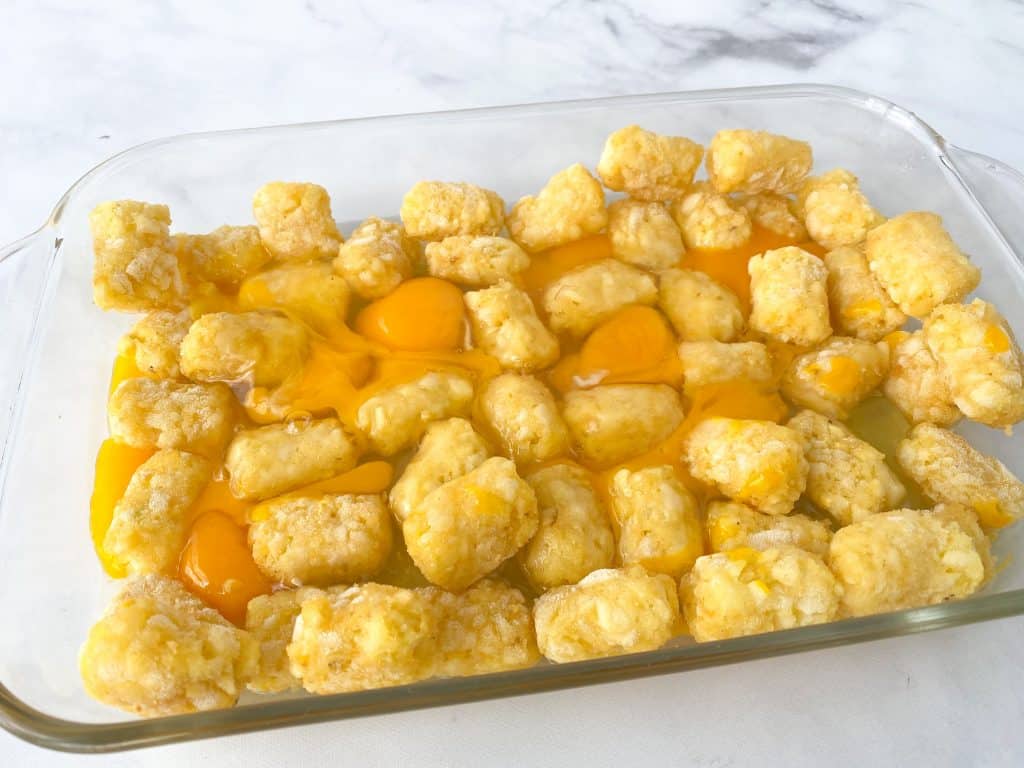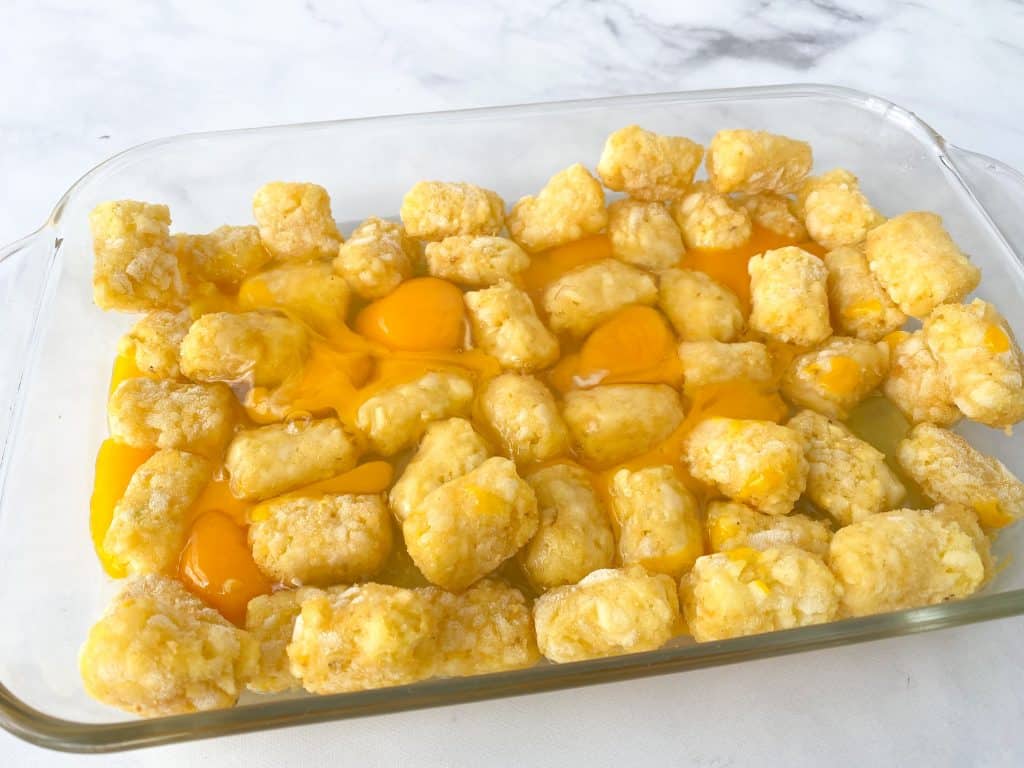 You can lightly grease the baking dish with oil, but my boyfriend doesn't even do that.
You can lay the tater tots on their sides or try to stand them on end if you want to be really fancy.
I have found that standing the tater tots on end is very difficult and takes a lot longer. They will be covered in cheese anyway, so they don't have to look pretty.
Arranging the tater tots if a good job for young kids to help when making the vegetarian breakfast casserole.
Next, you are going to crack one egg per person eating the veggie egg bake into the casserole dish.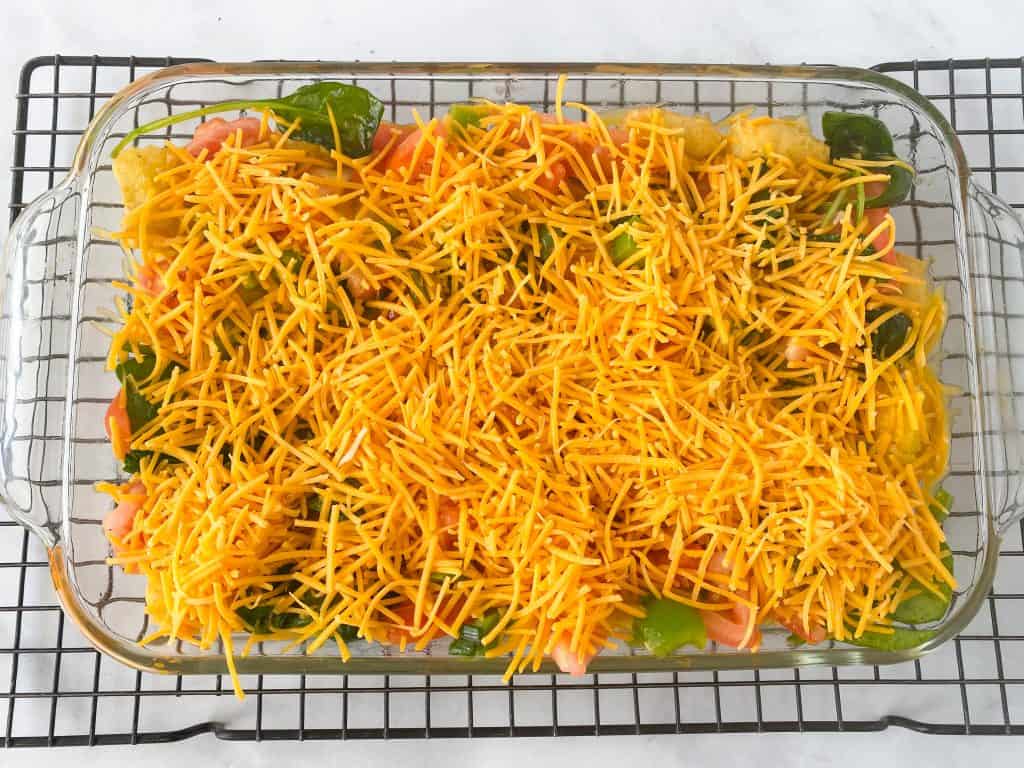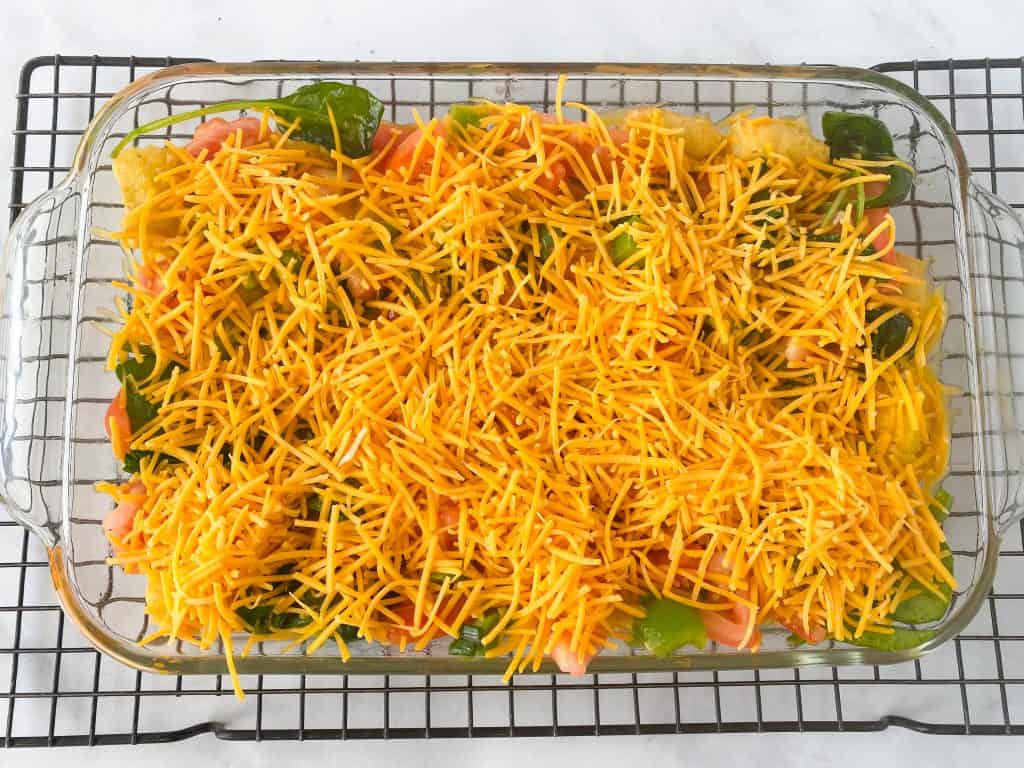 For this recipe, I used 5. You can determine how many eggs you are going to use depending on how large your casserole dish is.
When my boyfriend makes the vegetarian egg casserole just for me, he uses 2-3 eggs and a smaller dish.
When he makes it for his family, he uses 5-8 or one per person, depending on how hungry everyone is.
When cracking the eggs, make sure to form little wells with the tater tots for the eggs to go inside during the baking process.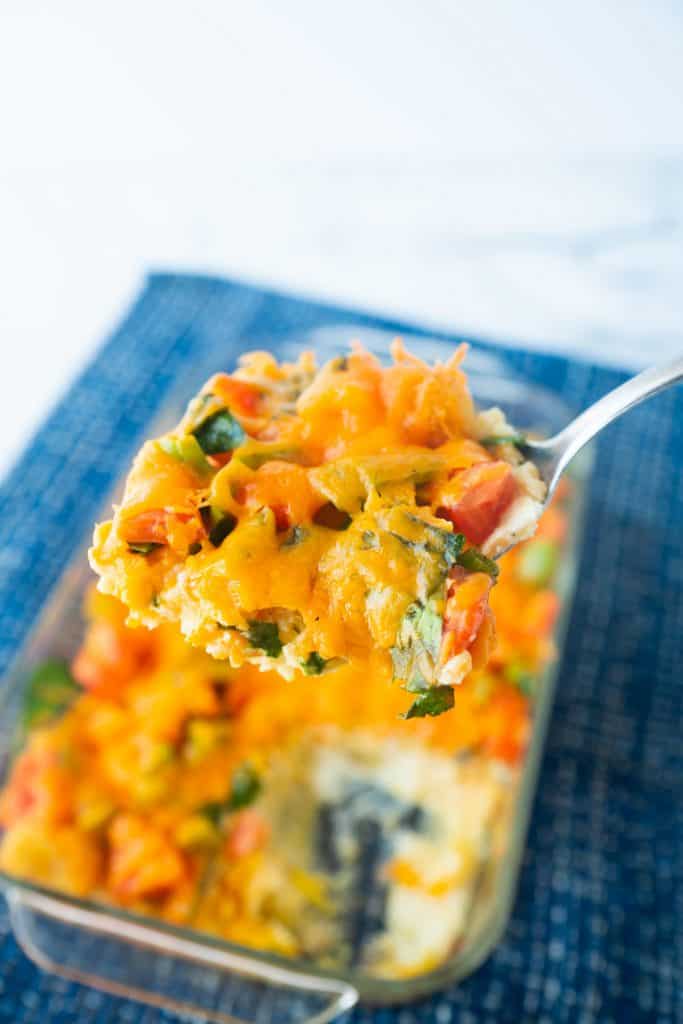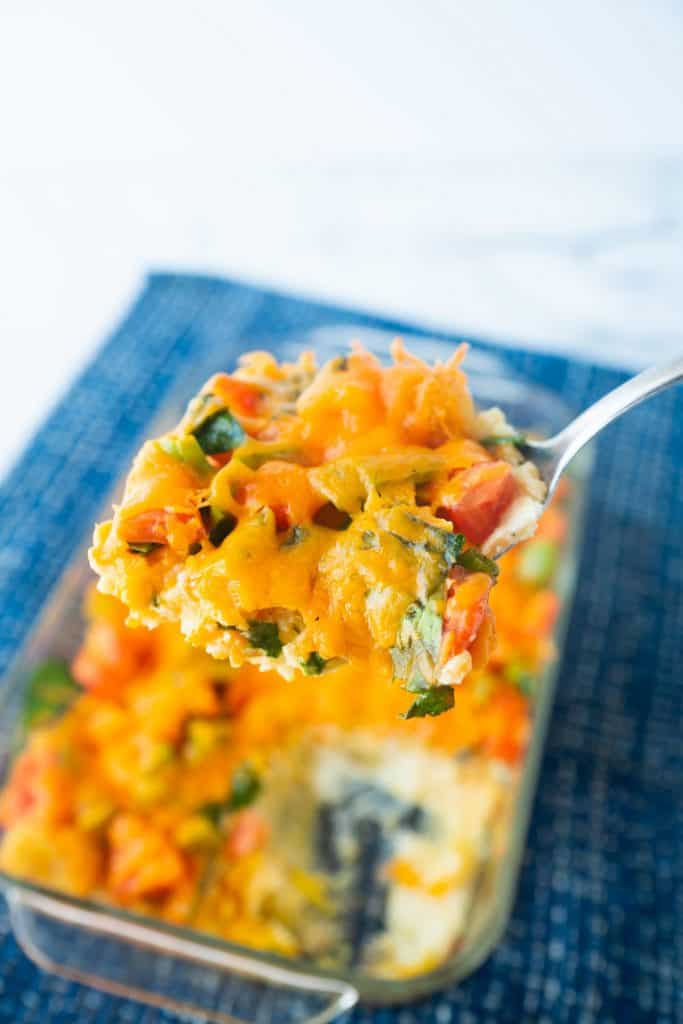 Next, bake the tater tots and eggs until the eggs are firm, about 15-20 minutes on 400 degrees.
While the eggs are baking, you will prepare your filling.
When we make this veggie egg casserole, we use spinach, onion, peppers, and tomatoes.
We have also used mushrooms so if you are a mushroom fan go ahead and throw those in too!
You will saute your veggies on the stove in a little bit of oil until the spinach is wilted and the veggies are tender, about 5-8 minutes.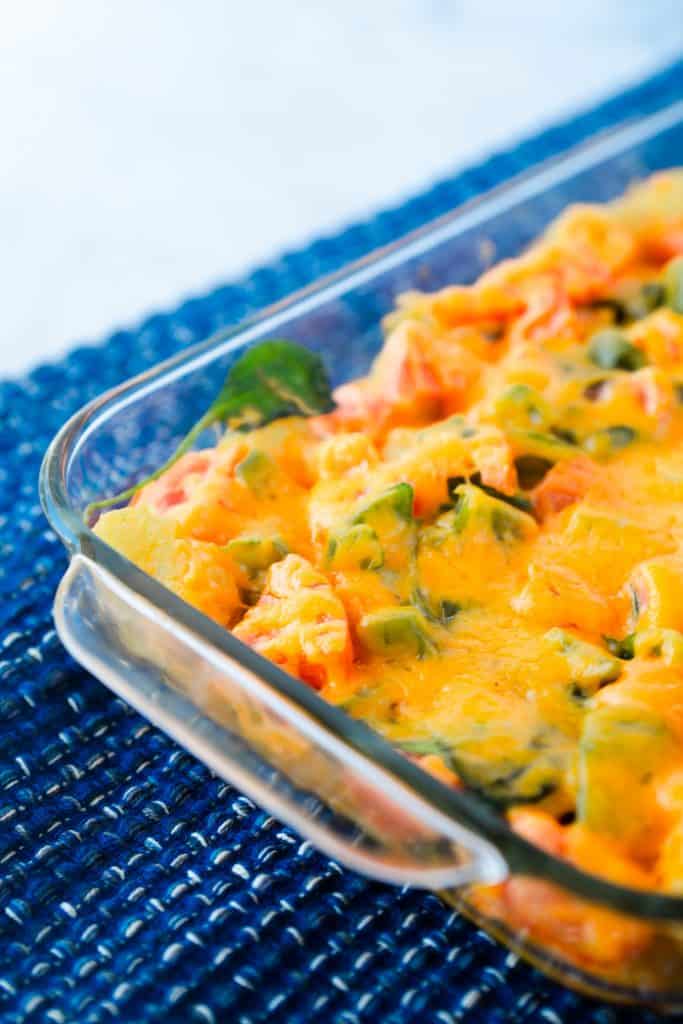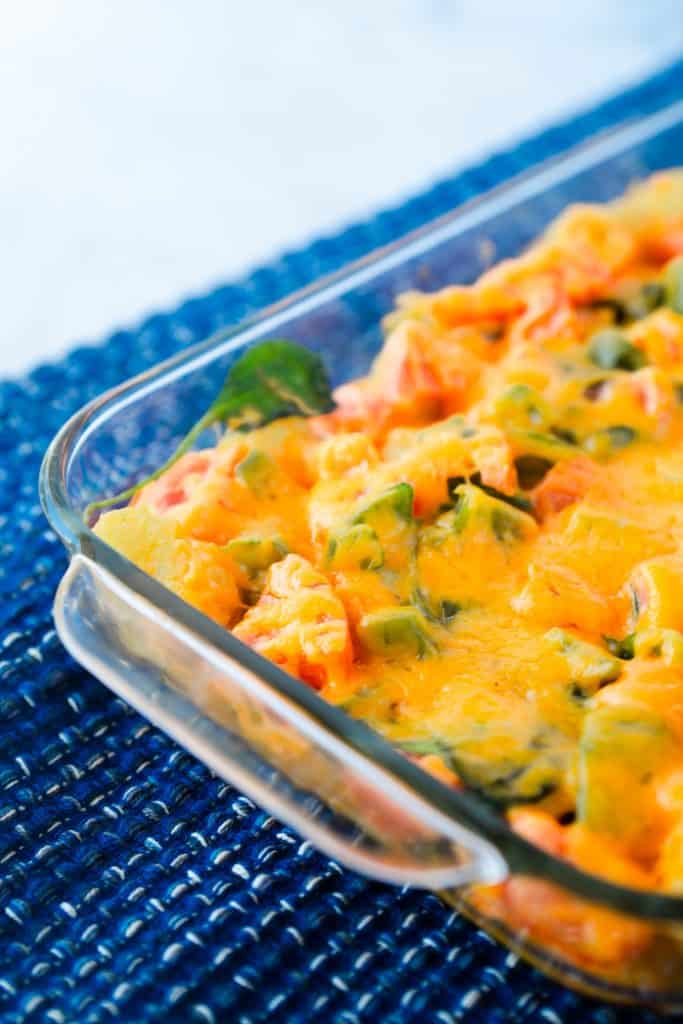 Once the eggs are firm and the veggies are tender, take the vegetarian breakfast casserole out of the oven.
Pour the sauted veggies on top of the tater tots and eggs and then sprinkle with fresh cheese on top.
Pop the vegetarian breakfast casserole back into the oven and bake until the cheese is melted!
Let the casserole cool down on the counter for about 5-10 minutes and then serve!
That is it! That is how to easily make the best veggie egg casserole you will ever eat!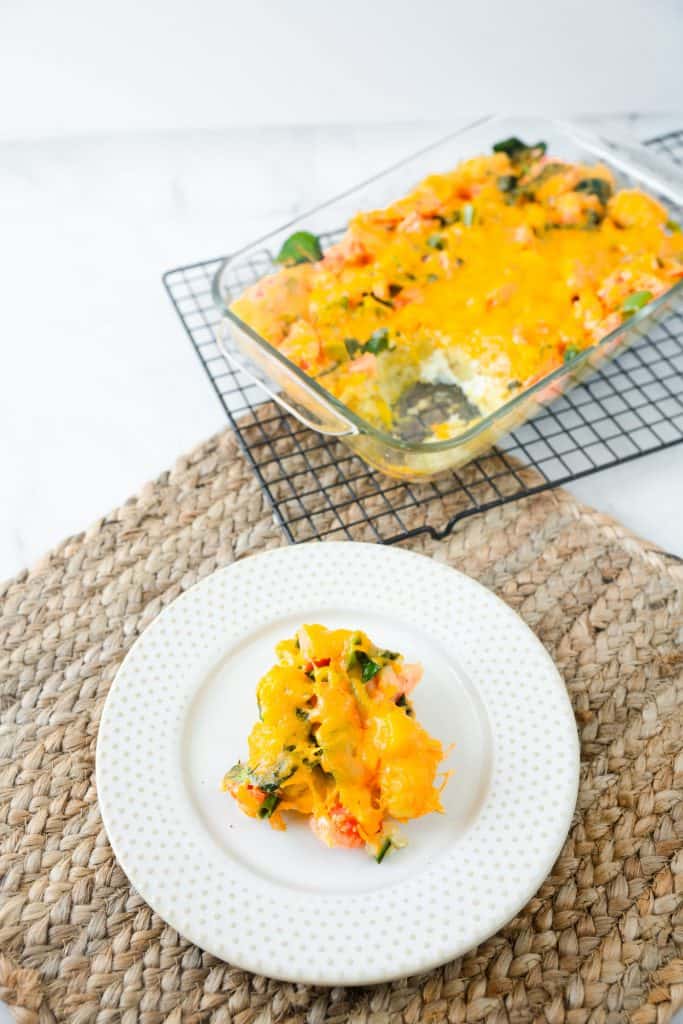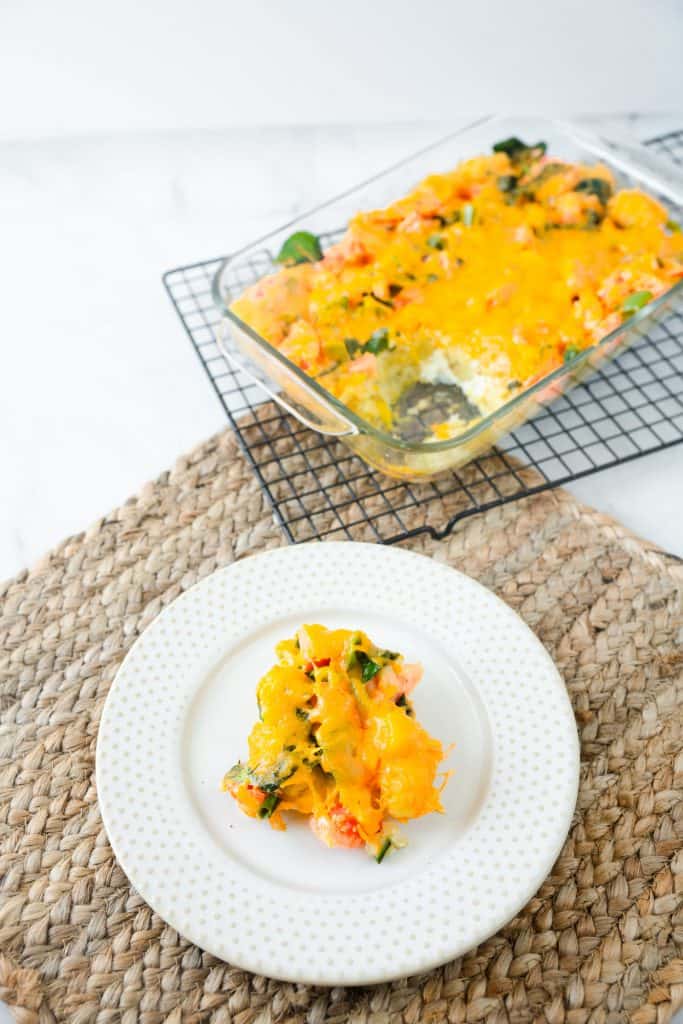 How To Store The Veggie Egg Casserole
You can make the vegetarian egg bake in advance and eat it throughout the week.
Cook the whole thing and let it cool down completely.
Then, you can slice it and store it in containers, one slice at a time, if you are looking to meal prep.
Otherwise, I recommend putting the casserole dish in a plastic bag or taking the veggie egg bake out of the pan and putting it in an air-tight container in the fridge.
To reheat, just pop the casserole slice in the microwave and sprinkle with a little salt.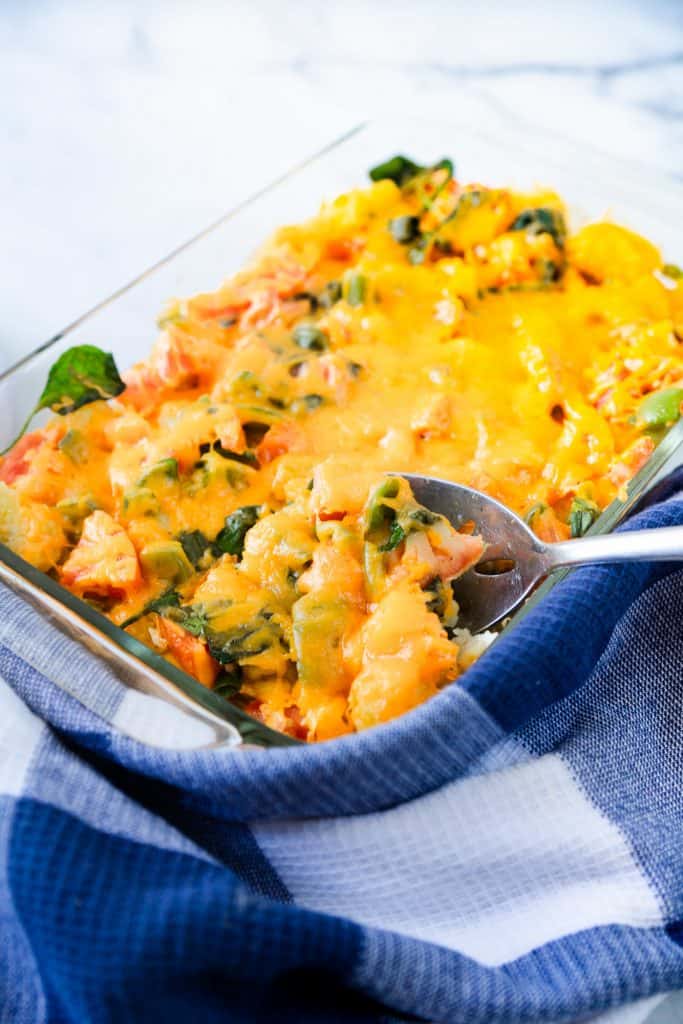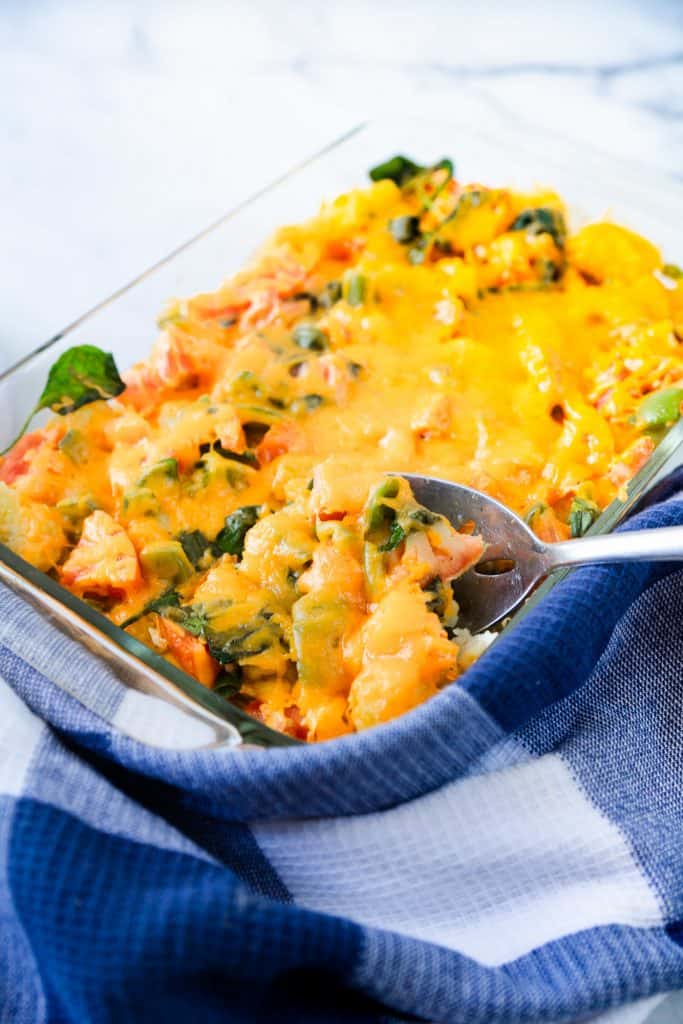 If you don't like using the microwave, you can reheat in the oven or In A Toaster Oven until the vegetarian breakfast casserole is warmed throughout.
The casserole keeps for 3-4 days in the fridge.
I have never tried freezing the meatless egg casserole so I cannot offer any insight as to how it holds up in the freezer!
Did You Try This Recipe?
If so, I would love to keep in touch! I enjoy seeing photos and comments about the recipes that you make! You can follow me on Instagram and I will repost your goodies in my stories and comment on it too! Just tag me at @wowitsveggie and hashtag #wowitsveggie. I can't wait to see what you make!
Yield: 5 Servings
Easy Vegetarian Breakfast Casserole With Tater Tots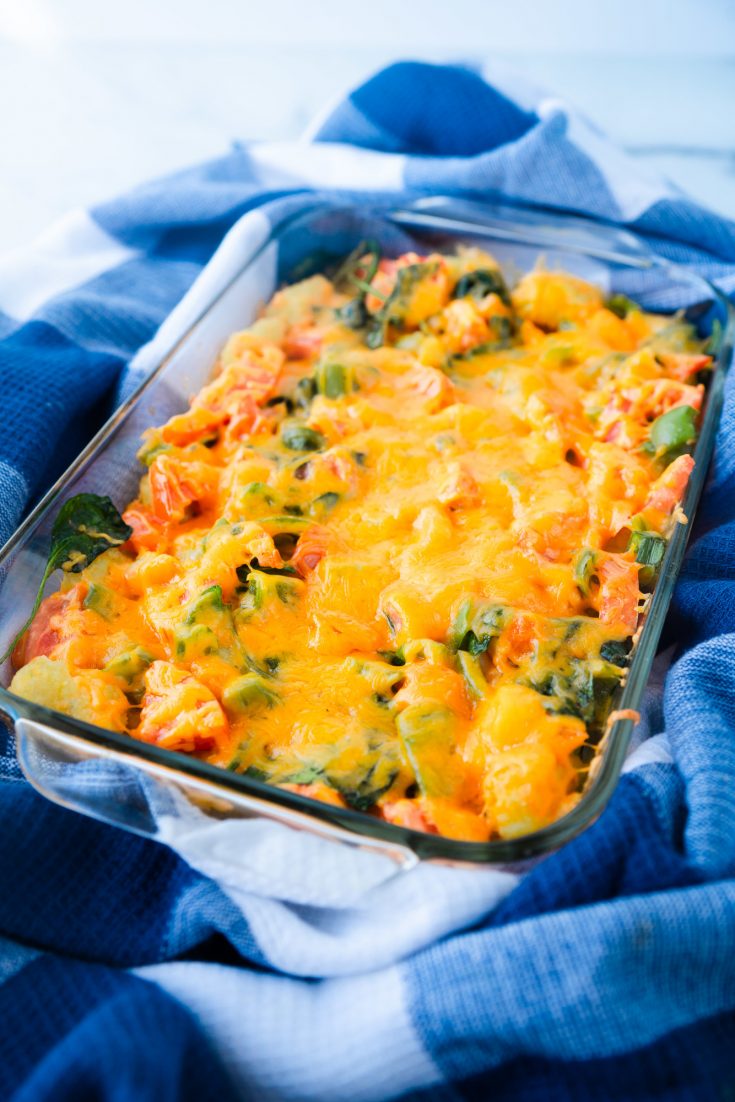 This vegetarian breakfast casserole is cooked with tater tots, eggs, and fresh veggies! It is so tasty and the best part is that you can make it ahead and eat it throughout the week!
It is an easy veggie egg bake that even kids can help make. I like to make a whole dish to eat myself for dinner, because why not?!
Ingredients
1 pound tater tots (or enough tots to fill your casserole dish)
1-2 eggs for everyone who will be eating the dish. (for this recipe I used 5 eggs)
1 medium onion, chopped
1 bell pepper, chopped
4 cups fresh spinach, tightly packed
8 plum tomatoes, cut in half
grated cheddar cheese, to cover your casserole dish
salt to taste
Instructions
Preheat oven to 400F.
Arrange your tater tots in your casserole dish until the bottom and sides are covered. Modify based on the size of your dish.
Make small wells in the tater tots and crack in 1-2 eggs per person eating the dish.
Bake the tater tots and eggs in the oven for 15-20 minutes or until the eggs are starting to cook.
Meanwhile, on medium heat, saute onion, tomatoes, peppers, and spinach until the veggies are just tender, about 5-6 minutes. Season with salt and pepper to taste.
Take the vegetarian breakfast casserole out of the oven and top with the sauted veggies. Sprinkle the entire dish with as much shredded cheese as you want.
Bake the casserole until the cheese is melted, about 5-10 minutes.
Let the dish cool for a few minutes and then serve! To make in advance, let cool completely and then store in the fridge in an air-tight container.
Notes
Adjust your veggies, tater tots, and eggs based on how large or small your casserole dish is and how hungry your family is!
Nutrition Information
Yield
5
Serving Size
1
Amount Per Serving
Calories

334
Total Fat

16g
Saturated Fat

5g
Trans Fat

0g
Unsaturated Fat

10g
Cholesterol

93mg
Sodium

755mg
Carbohydrates

38g
Fiber

5g
Sugar

5g
Protein

12g