If you are looking to learn how to make easy vegan butter, this is the recipe for you! It tastes great and is wonderfully smooth and creamy.
This is my Mom's recipe that she has been using for years! While we do eat butter or margarine from the store, she prefers to make her own for a variety of reasons.
As a result, this recipe for vegan butter was born!
You are going to love making this recipe as the butter is spreadable and yummy.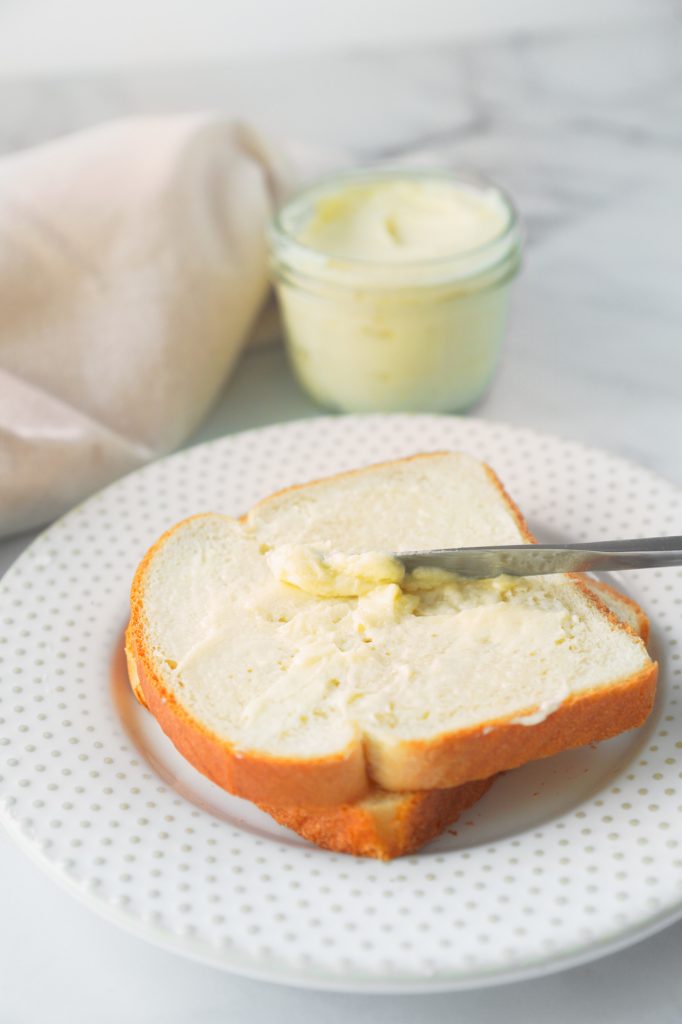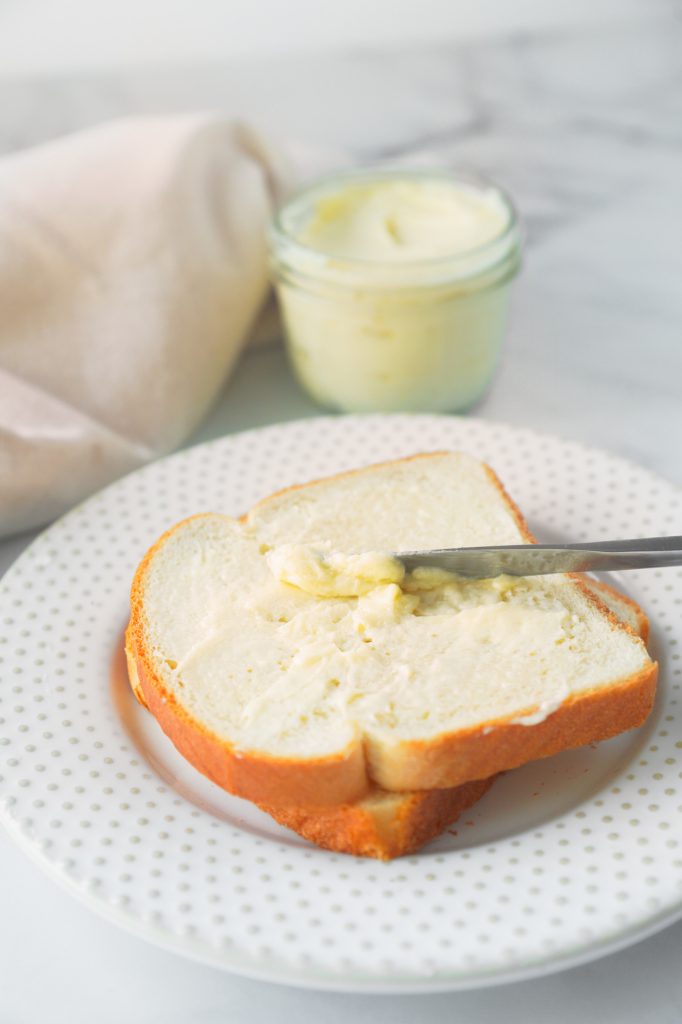 It is perfect for baking, frying if you prefer to use butter, spreading on toast and more!
You can even melt it and pour it over Vegan Popcorn to make a buttery and delicious version.
You can use this homemade vegan butter substitute any way you would use regular butter in cooking!
It is even that light yellow color that regular butter is!
The best part? Making your own butter is EASY. It takes just 6 ingredients and only about 10-15 minutes of your time.
This recipe for vegan butter is very forgiving so if this is your first try, don't worry about it! I promise you are going to do great!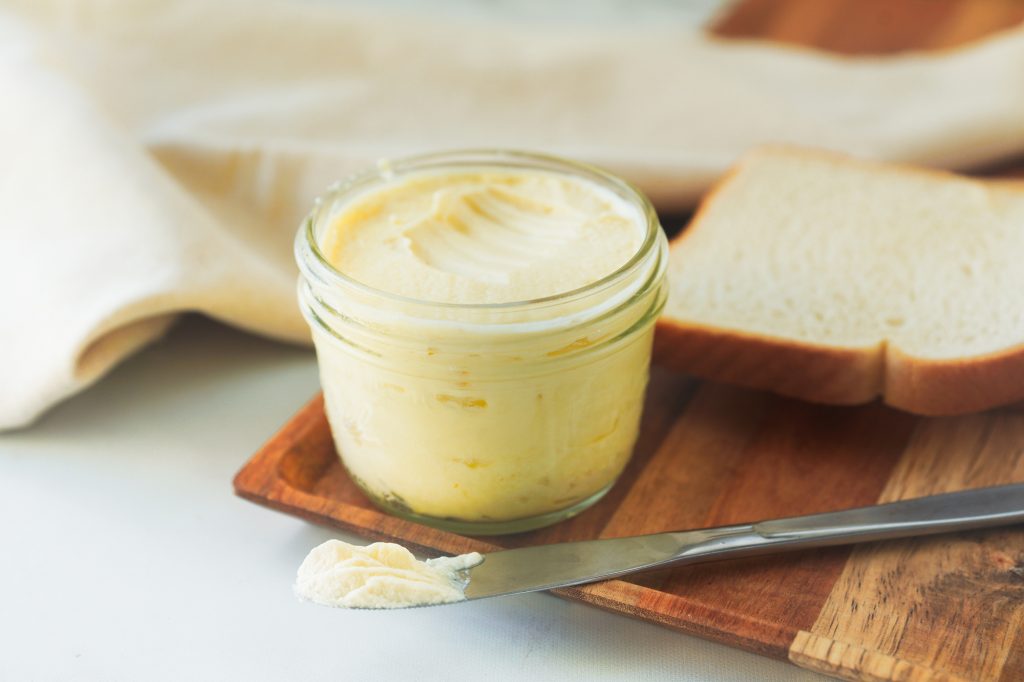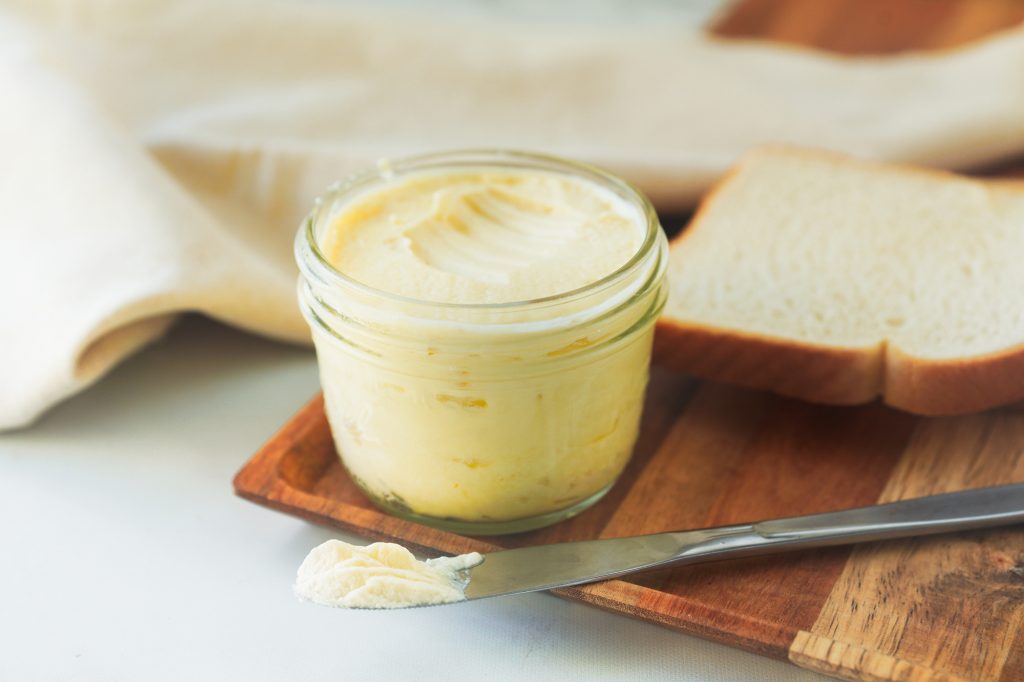 What Is Vegan Butter?
Vegan butter is just that, butter but without any animal products.
In stores, it is called margarine, but margarine, while it tastes great, is actually super unhealthy and uses a lot of weird ingredients.
This butter recipe is very smooth, creamy and spreadable, and a wonderful imitation for regular butter.
The vegan butter tastes just as good as store-bought butters but keeps longer and is healthier for you too!
Margarine and butters you buy from the store may not have a lot of desirable ingredients. The list is often long and questionable things are put in.
This is why this recipe for vegan butter comes in handy! So you know exactly what you are putting in your body.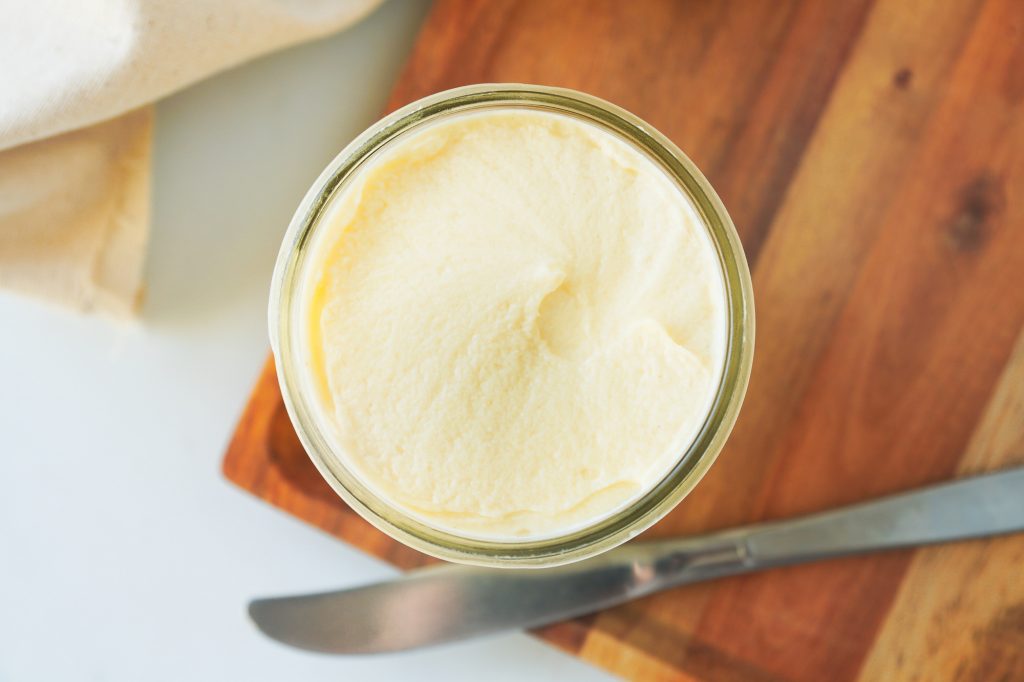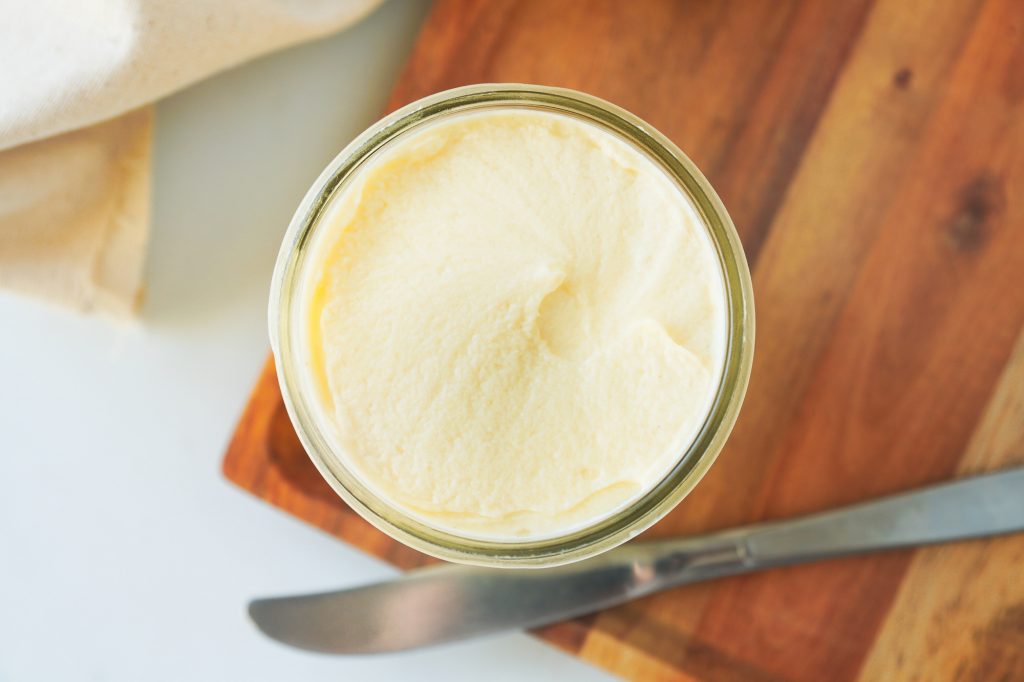 Why Make Your Own Vegan Butter?
The first reason is that vegan butter from the stores often use palm oil.
In case you didn't know, palm oil is VERY VERY bad for the environment and tons of animals are killed and habitats destroyed every year.
We are plant-based to save the animals, so we don't want to eat palm oil unless it is responsibly sourced.
If you still want to buy vegan margarine or butter from the store, make sure that they use responsibly sourced palm oil so that animals aren't being harmed.
In addition, homemade vegan butter lasts longer when you make it yourself!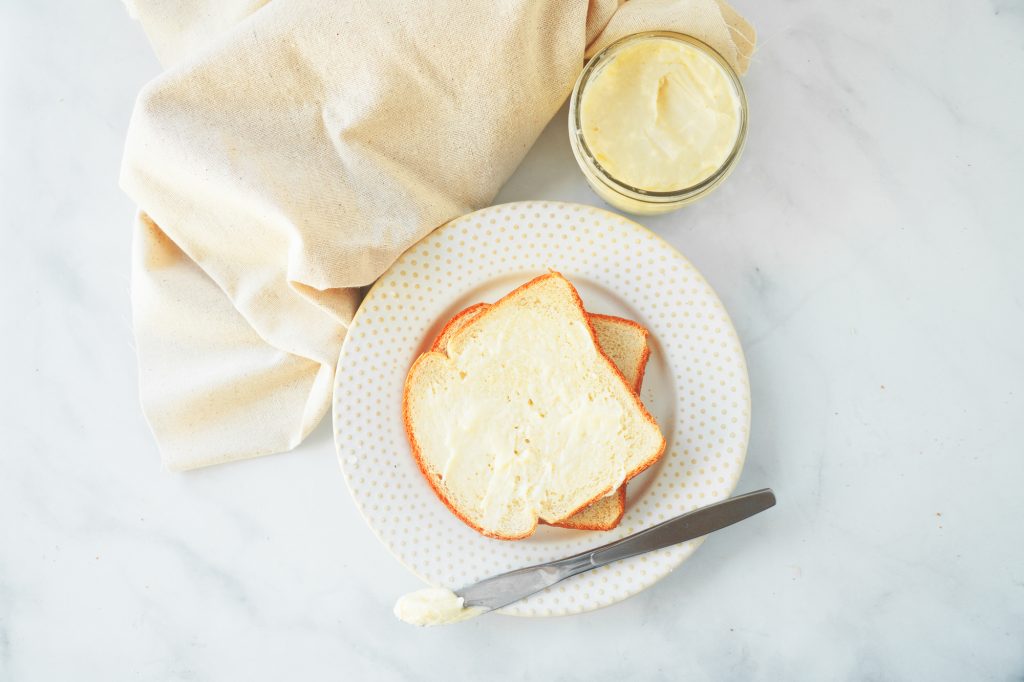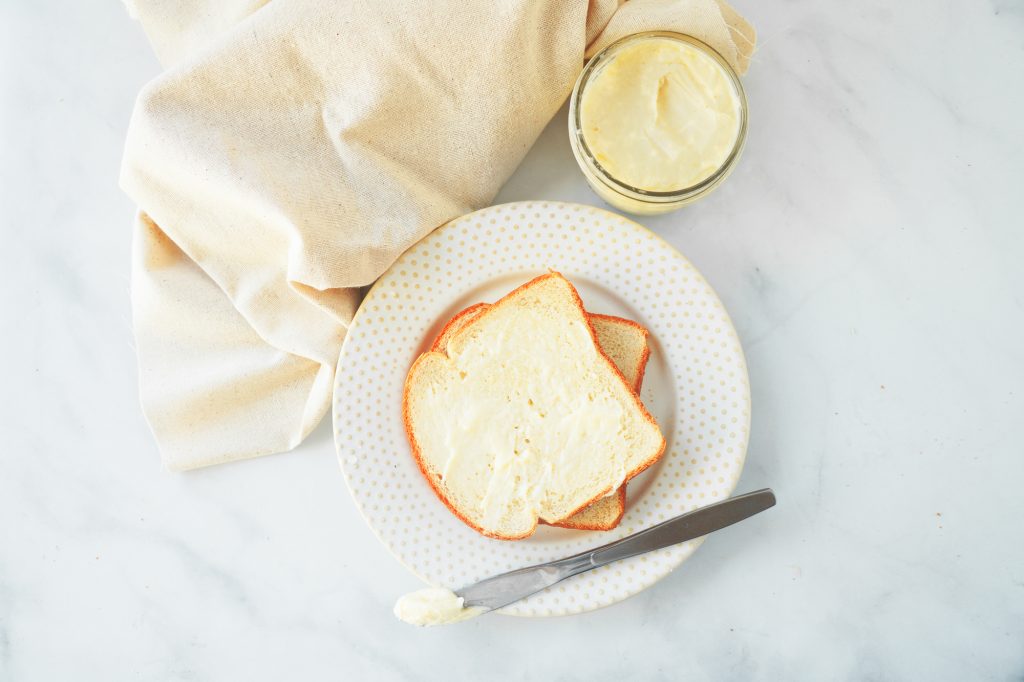 DIY vegan butter is also cheaper at the end of the day!
Yes, you have to invest in the soy lecithin or sunflower lecithin which is a little more expensive than usual, but you can make so many recipes from just one bottle!
This homemade butter recipe uses just 1 teaspoon of liquid lecithin, so you know that the bottle is going to last for a very long time!
You can also double or triple this batch when baking vegan cookies!
This is a cheap and healthy way to use a lot of vegan butter without it being entirely bad for you.
Finally, a lot of countries may not have vegan butter options at the store. This is a great way to easily learn how to make it yourself!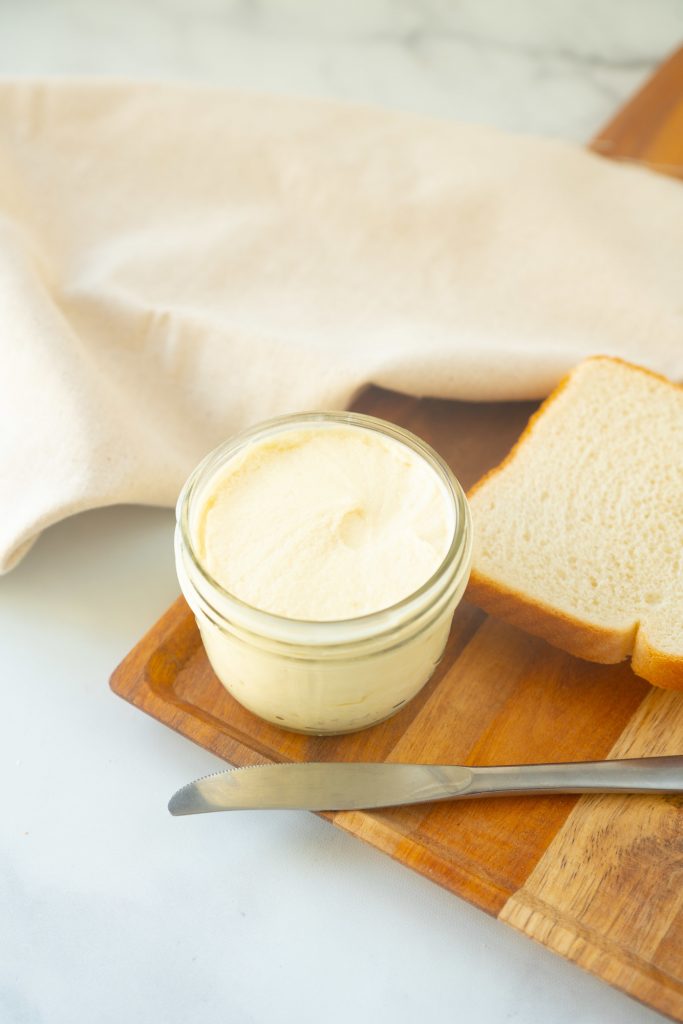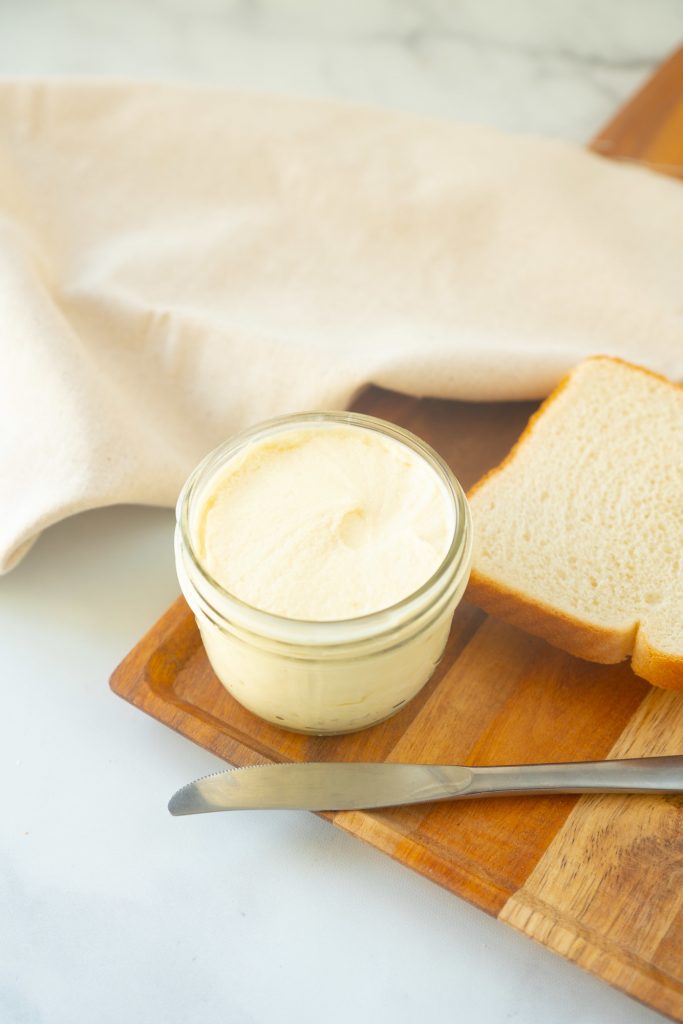 How To Use Vegan Butter
You can use vegan butter in so many recipes!
Personally, I am not a fan of using butter in frying or when Making Grilled Cheese, but some people love it!
I tried this vegan butter recipe for frying and it behaved wonderfully.
It is also SO spreadable on breads and scones. If you want to spread it well, just leave it out of the fridge for a few minutes.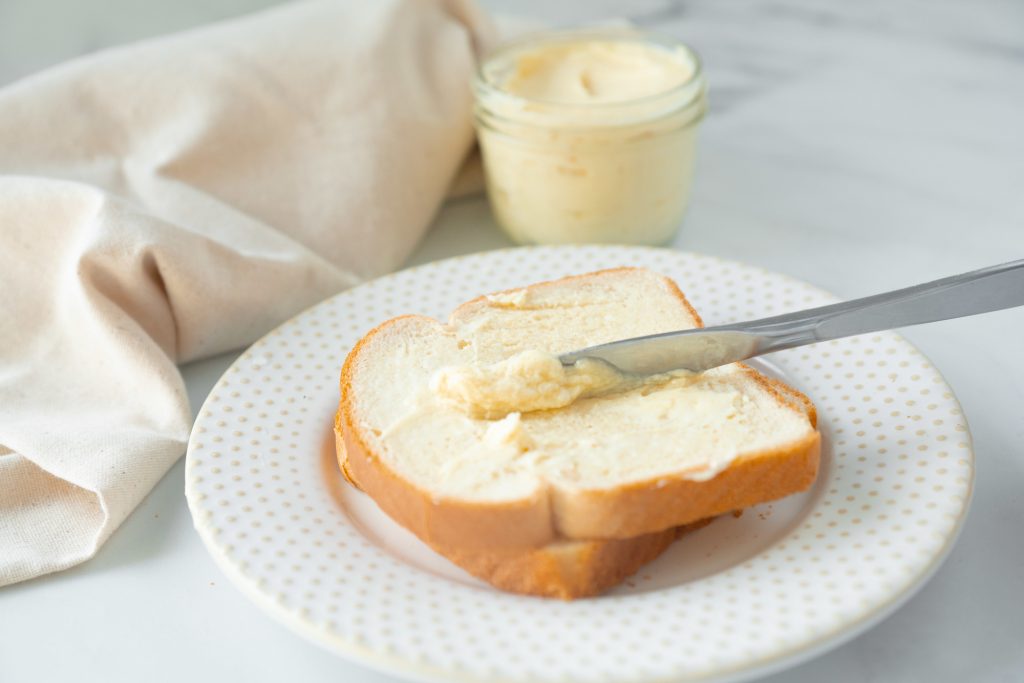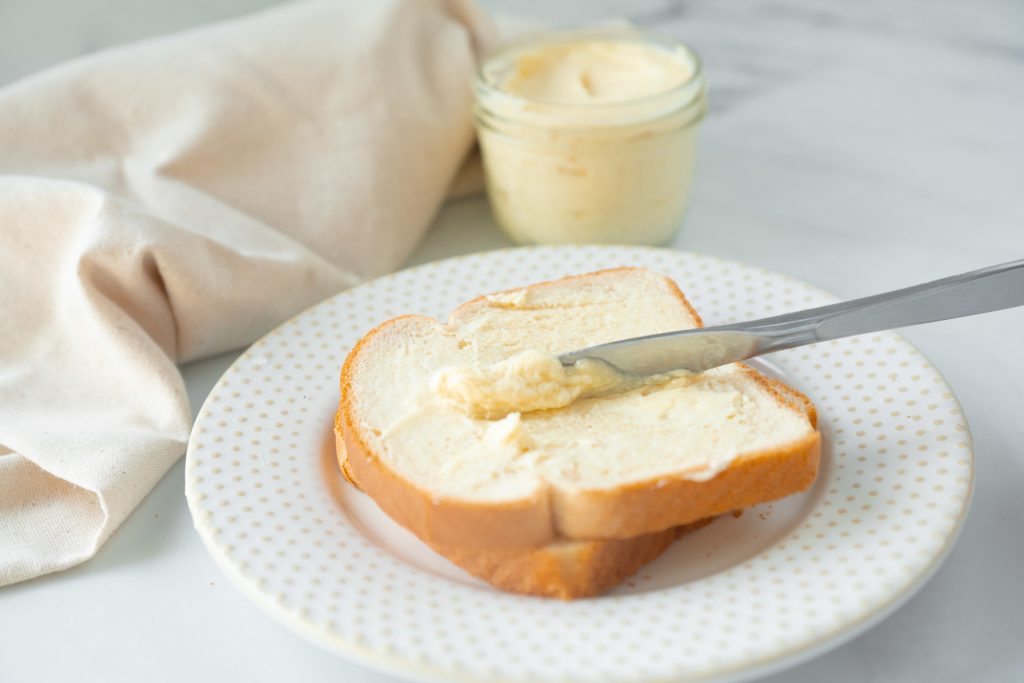 At the bottom of this post, I show you exactly what to do to make a harder butter recipe vs a more spreadable one, so you know how to customize it to your tastes!
The recipe for vegan butter is perfect for baking as it is more solid, especially if you take it out of the fridge.
This butter is perfect when making recipes such as my Vegan Oat Crumble Topping or Vegan Apple Crisp which both require cutting in butter for the topping.
I do not recommend using it for frosting as the coconut oil will get very hard in the fridge causing your icing to get hard.
Instead, I recommend my Vegan Buttercream Icing Recipe which is tasty and whips up well!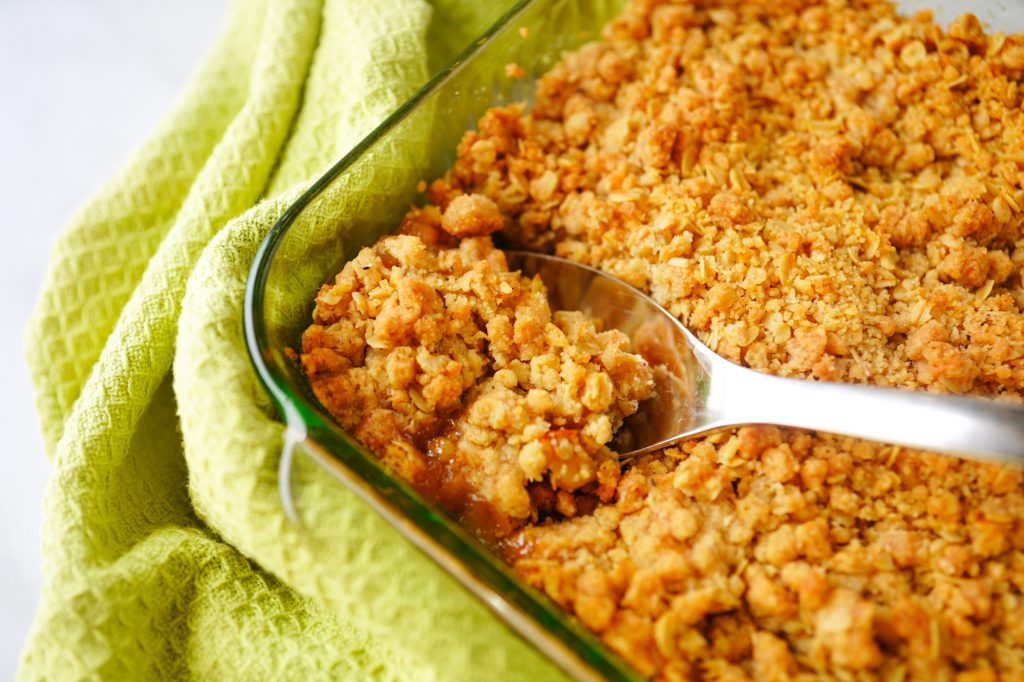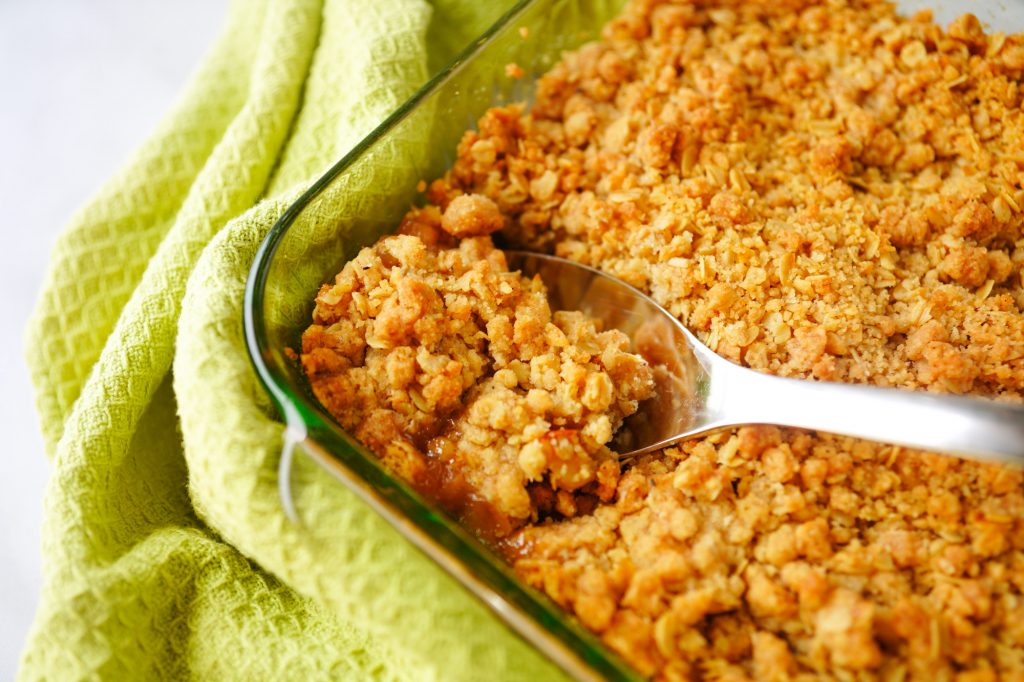 How To Make Easy Vegan Butter
First, you are going to want to find liquid soy lecithin or liquid sunflower lecithin.
This is how we have best been able to make vegan butter easily over the last 15 years of my life.
This Is The Exact Soy Lecithin that I use for this recipe.
I bought mine from Whole Foods and weirdly, it was in the skincare section, NOT the cooking or baking sections.
You can buy the same Soy Lecithin I have From Amazon for a reasonable price considering vegan butter from the store costs $5.
If you are trying to stay away from soy, you can also use Liquid Sunflower Lecithin in this recipe for vegan butter.
Once you have all of your ingredients, you are going to combine soy milk, apple cider vinegar, and salt in a small bowl and whisk it together.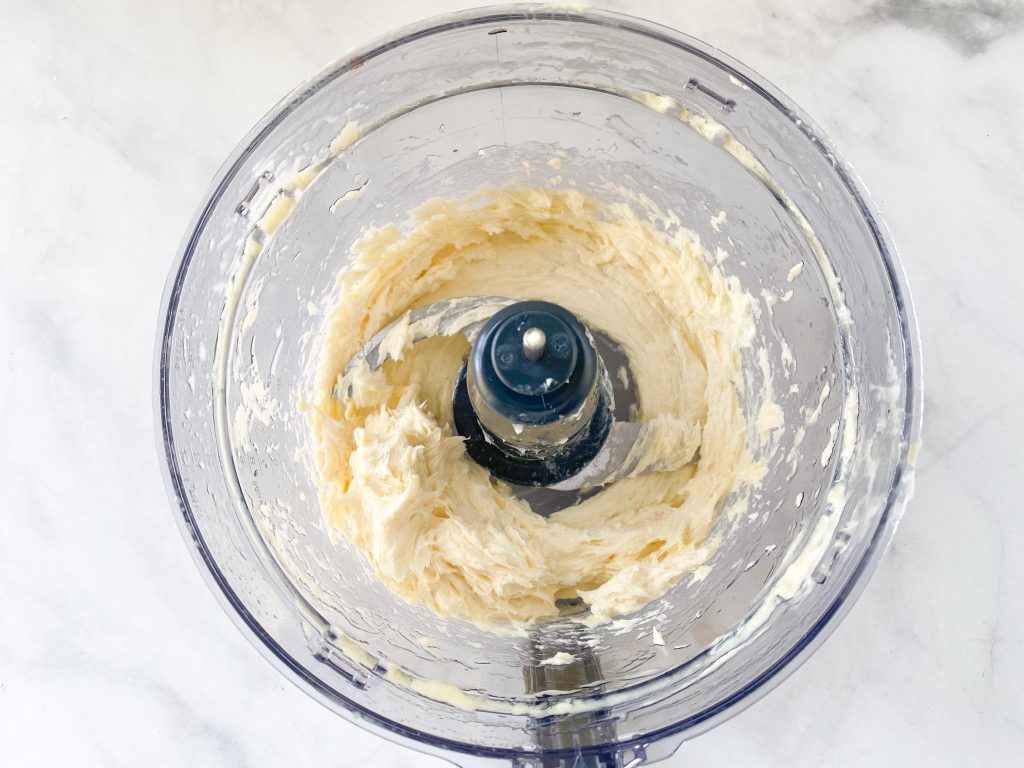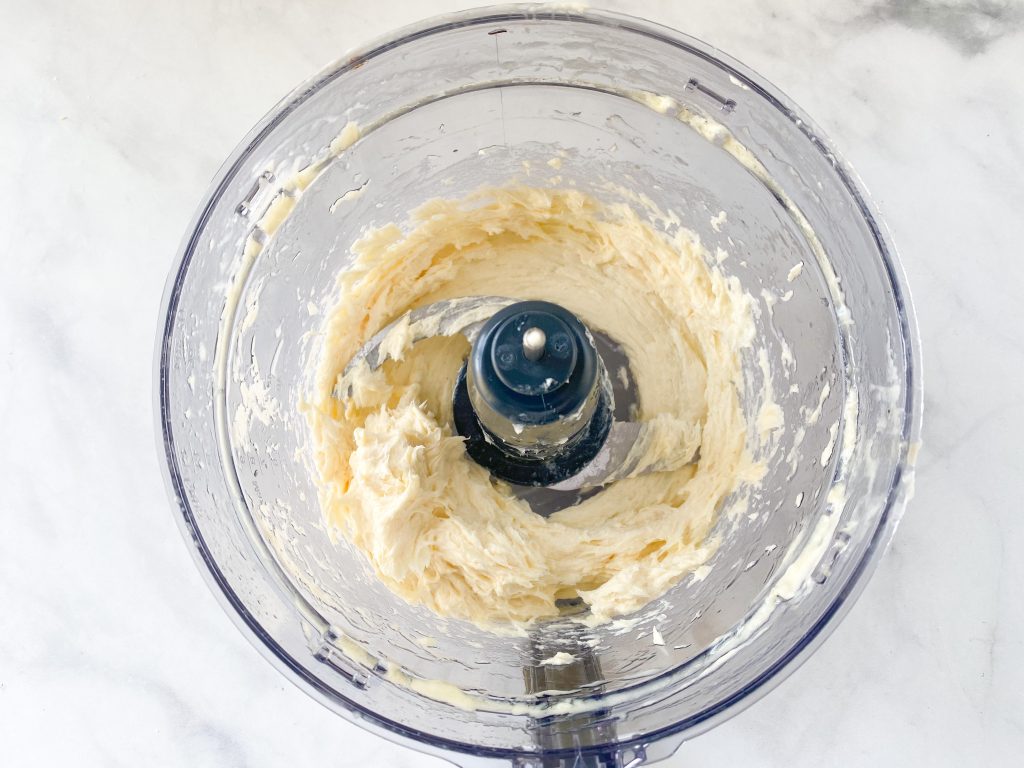 Then you are going to set the mixture aside until it curdles. I know this sounds weird but it is necessary for making the butter come out right!
Next, you are going to want to melt your coconut oil in the microwave or on a small pan on the stove over low heat.
You want to ensure that your coconut oil is barely melted and just at room temperature.
Measure out the amount of melted coconut oil that you need and put that along with your other oil (I use avocado oil) to the food processor.
Now the secret to making spreadable and tasty vegan butter is letting the mixture become solid as soon as you can after it is mixed.
This is why it is important for your coconut oil to be at room temperature, or as close as you can get it, before mixing it with your remaining ingredients.
Now, add your soy milk/coconut oil mixture, soy or sunflower lecithin, and xantham gum to the food processor.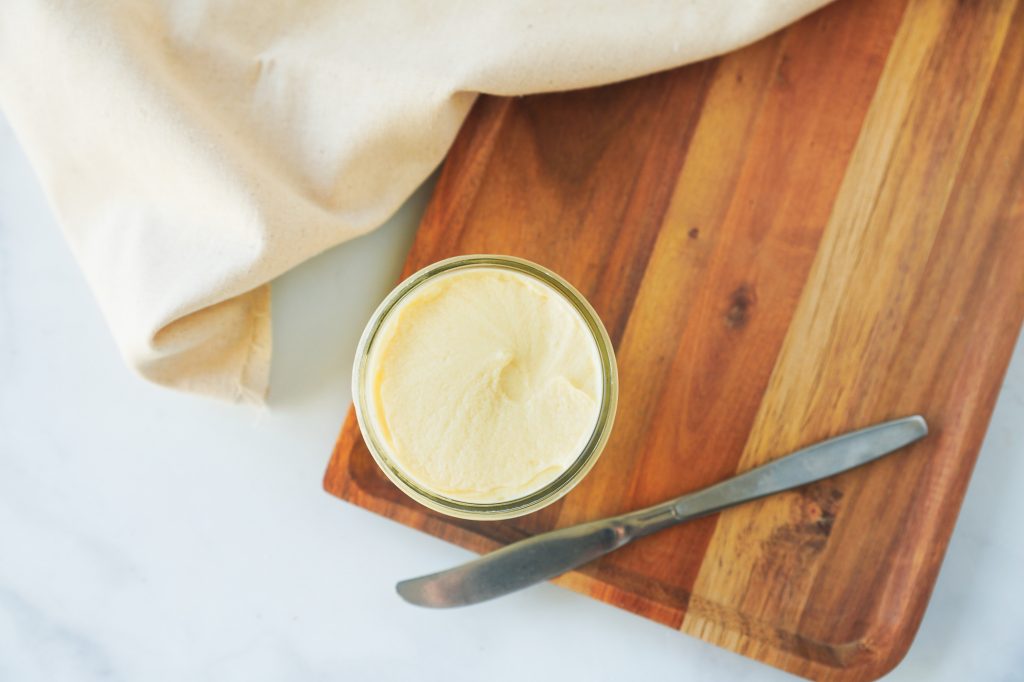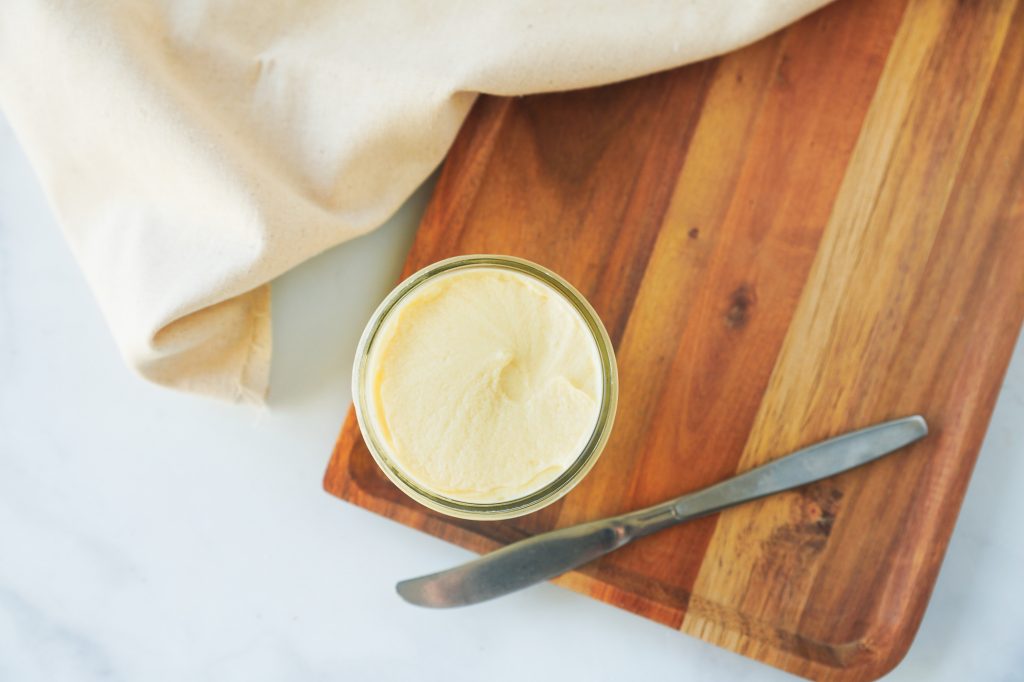 You are going to want to blend the ingredients for vegan butter together for about 2 minutes and you will scrape down the sides about halfway through.
Finally, pour the butter mixture into whatever mold you are going to be using and let it set in the fridge or freezer.
You can use a small glass jar, an ice cube mold, a long glass storage container, basically whatever you have on hand!
And that is it! You just made easy vegan butter and it wasn't scary and didn't take a long time!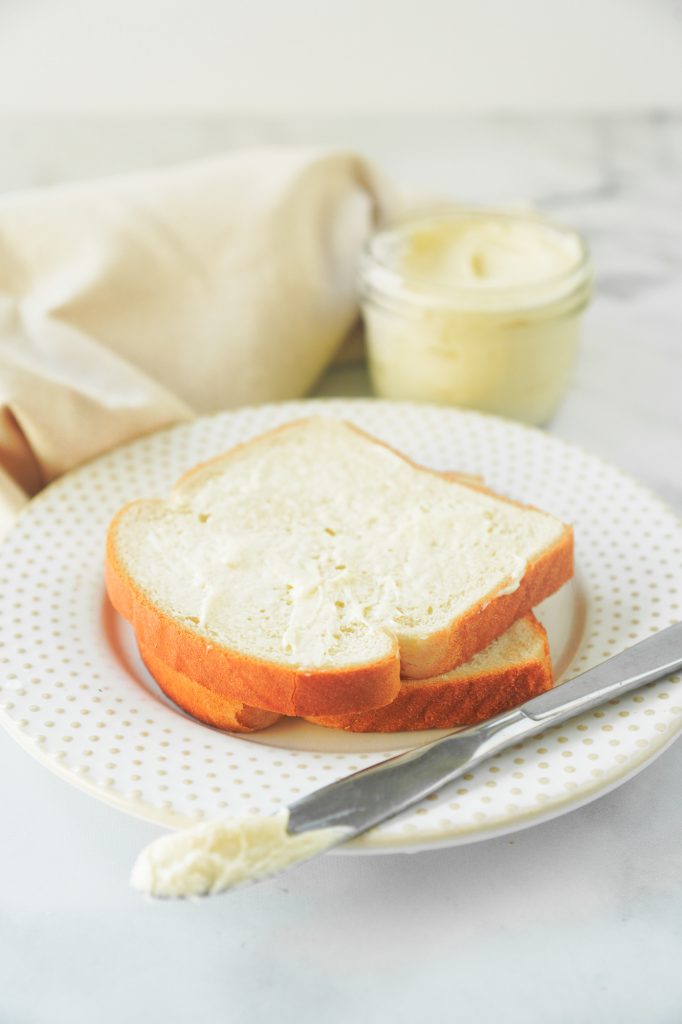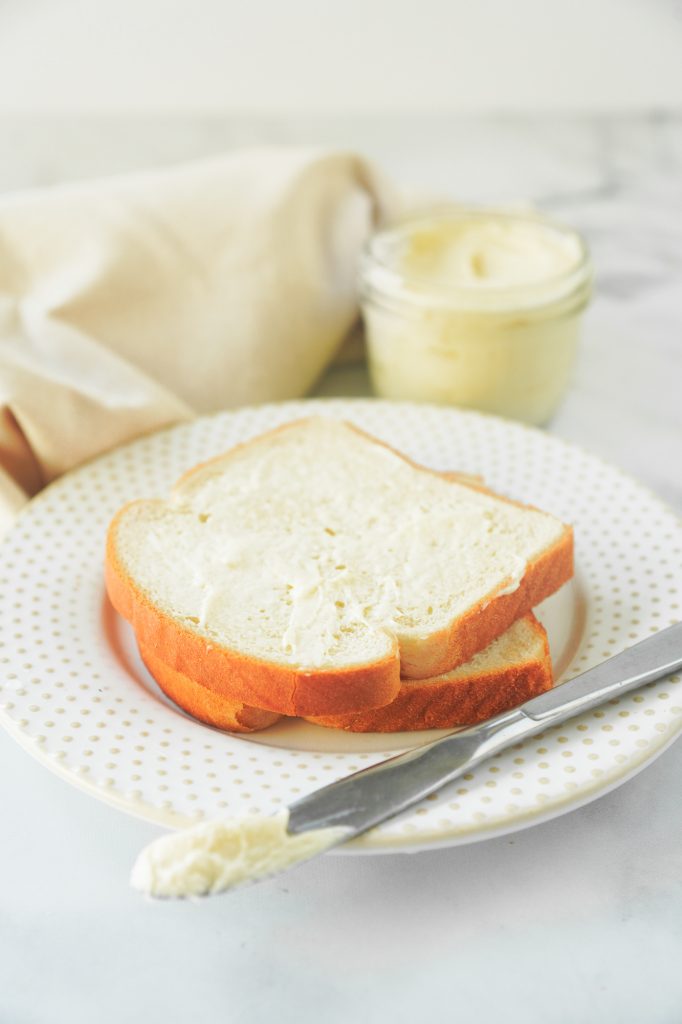 How To Store The Homemade Vegan Butter
You can store the vegan butter recipe in an airtight container in the fridge for up to 1 month.
If you want to store it in the freezer, you are going to want to store it in a freezer-tight container and it can be frozen for up to one year.
If you are using an ice cube mold to solidify your butter recipe, you are going to want to wrap the mold in plastic wrap if you want to store it in the freezer.
If you store the butter in the freezer, just take it out in advance of using it so that it has time to come to room temperature!
Did You Try This Recipe?
If so, I would love to keep in touch! I enjoy seeing photos and comments about the recipes that you make! You can follow me on Instagram and I will repost your goodies in my stories and comment on it too! Just tag me at @wowitsveggie and hashtag #wowitsveggie. I can't wait to see what you make!
Yield: 1 Cup Or 2 Sticks Of Butter
Easy Homemade Vegan Butter Recipe
This homemade vegan butter recipe is so easy and delicious! It is created to mimic your favorite brand of storebought butter.
You can use the vegan butter anywhere butter is called for, including spreading on bread, using for baking, frying and more!
It works especially well in cooking, tastes great, and is quite affordable in the long run!
Ingredients
1/4 cup + 2 teaspoons non-dairy milk
1 teaspoon apple cider vinegar
1/4 + 1/8 teaspoon salt
1/2 cup + 2 tablespoons + 1 teaspoon refined coconut oil, melted (it MUST be refined coconut oil!)
1 tablespoon regular oil (I use avocado but you can use safflower, sunflower, anything)
1 teaspoon liquid soy or sunflower lecithin (must be liquid!)
1/4 teaspoon xanthan gum
Instructions
Add non-dairy milk, apple cider vinegar, and salt in a small bowl and whisk until combined. Let the mixture sit for about 10 minutes or until curdles form. Do not skip this step!
Melt the refined coconut oil in a microwave or on the stove until it is just melted and close to room temperature. This is important for making smooth vegan butter.
Measure out your coconut oil and add your "other" oil to the food processor along with it.
Add the curdled soy milk mixture, xanthan gum, and soy lecithin to the food processor and blend for 2 minutes. Scrape down the sides after 1 minute.
Pour the vegan butter mixture into whatever mold you want and let set, about 1 hour.
Notes
This recipe for vegan butter creates a more solid butter which is great for baking. To create a more spreadable butter, let the butter sit outside of the fridge until it achieves your desired texture.
If you don't want to wait, swap out 1 tablespoon of coconut oil with 1 additional tablespoon of the "other" oil such as avocado/sunflower/canola whatever you choose!
Making smooth vegan butter depends on your mixture becoming solid as soon as possible after it is blended! This is why you must ensure that your coconut oil is as close to room temperature as you can before mixing with the remaining ingredients!
If you use unrefined coconut oil, which you can do, the vegan butter will have a very strong and very distinct coconut taste which I do not recommend.
If you want to add some color, add 1/8 teaspoon of turmeric to this recipe during the final food processing stages!