This is the best easy vegan chili recipe you will ever eat!
My boyfriend's mom Denise is a master chili maker and everyone always loved her recipe!
I asked her how hard it would be to veganize her recipe and it turns out it is the easiest thing ever! All you have to do is take out the meat and the chili recipe is vegan as-is!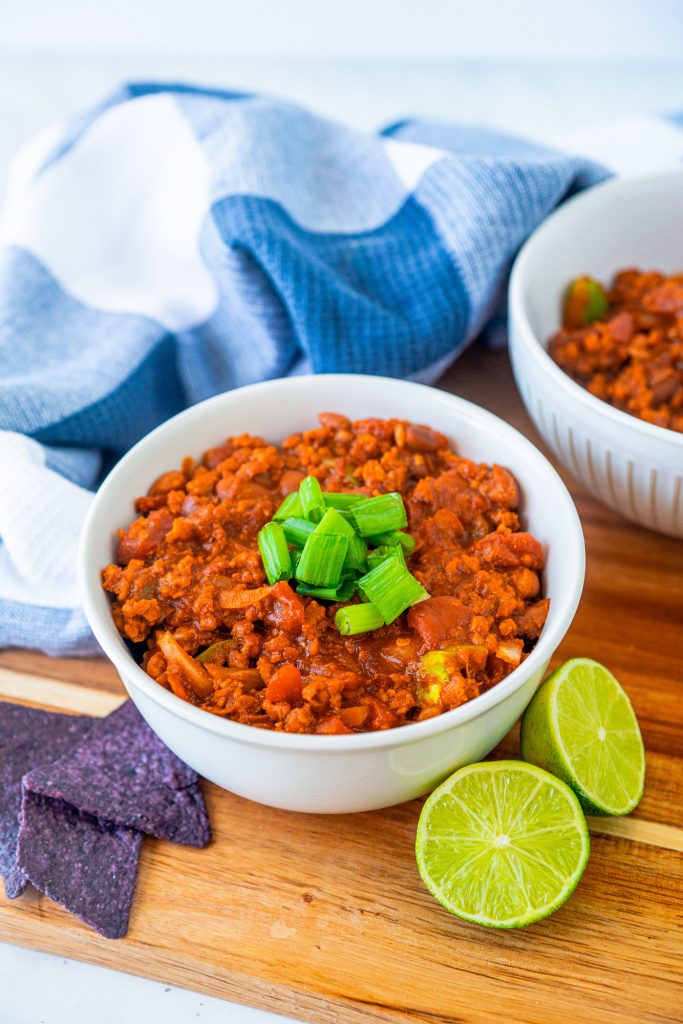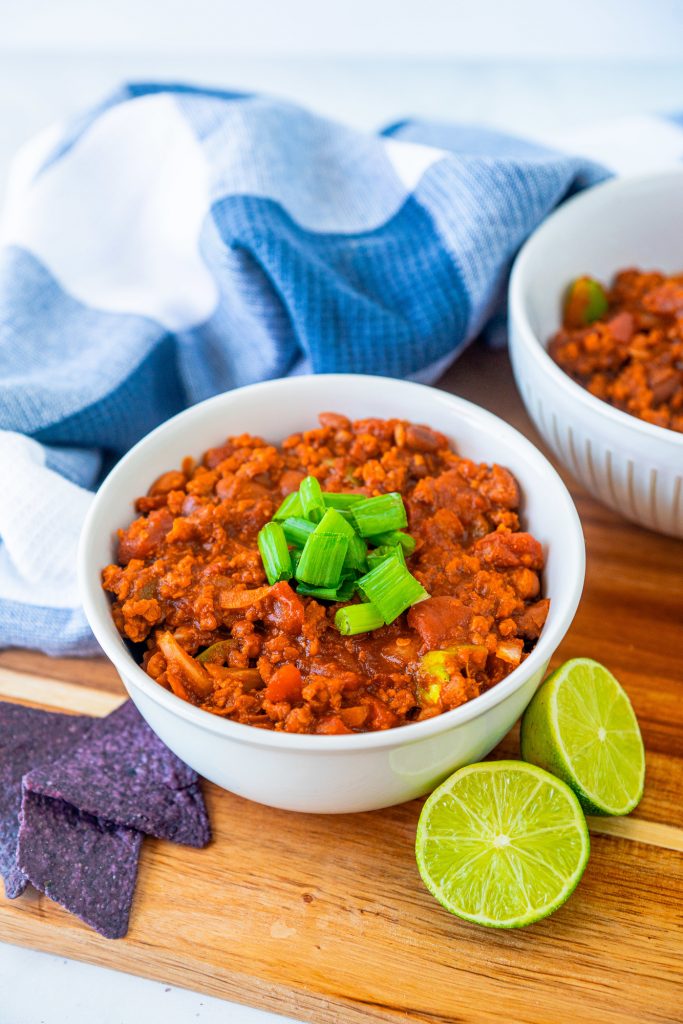 I was so excited that I was able to veganize Denise's famous chili recipe because everyone raves about it.
This is truly the best vegan chili recipe you will ever try! It is so flavorful and the mix of ingredients really brings the perfect taste together.
My boyfriend's Mom works as a teacher and needed something quick and easy to make after work. You can rest assured that this easy vegan chili whips up in a flash!
The entire recipe is made in one pot so you can keep the cleaning to a minimum as well!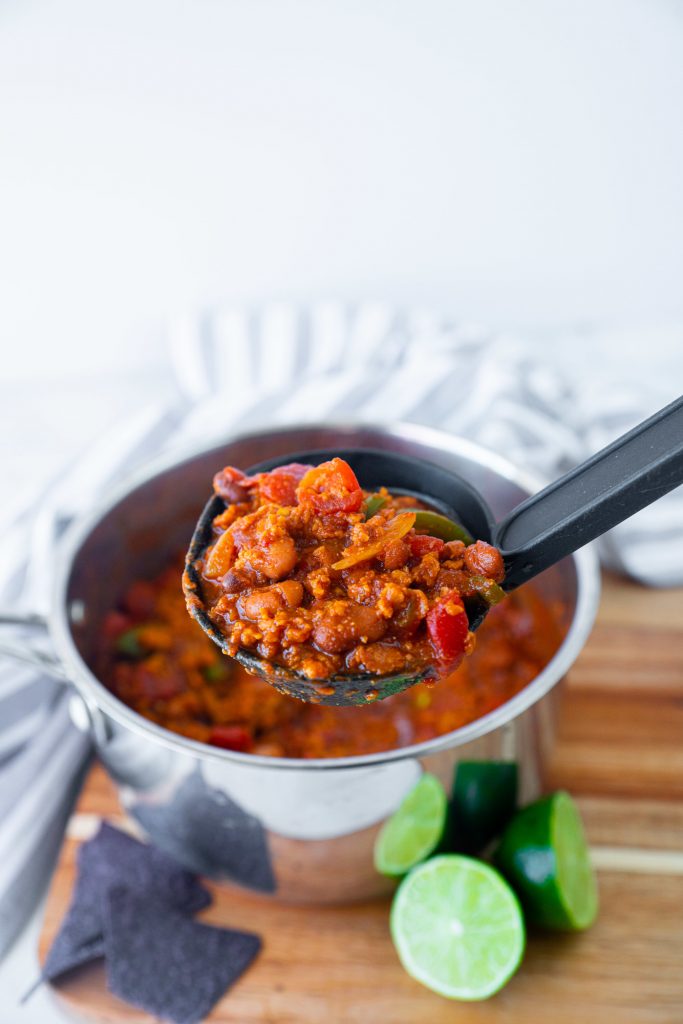 I know a lot of vegetarian chili recipes have a list of ingredients as long as my arm. That isn't how Denise designed it!
The ingredients for vegan chili are super easy and the list is short so you don't have to spend a long time sourcing odd ingredients of spices!
When making the vegetarian chili, you are able to customize the "heat" or spice factor depending on your tastes.
I am not a fan of spicy food, but lots of people are and I have made it both ways! Just leave off the red pepper flakes for less heat!
You can serve it over rice or with tortilla chips, which is what I prefer because I am addicted to dunking!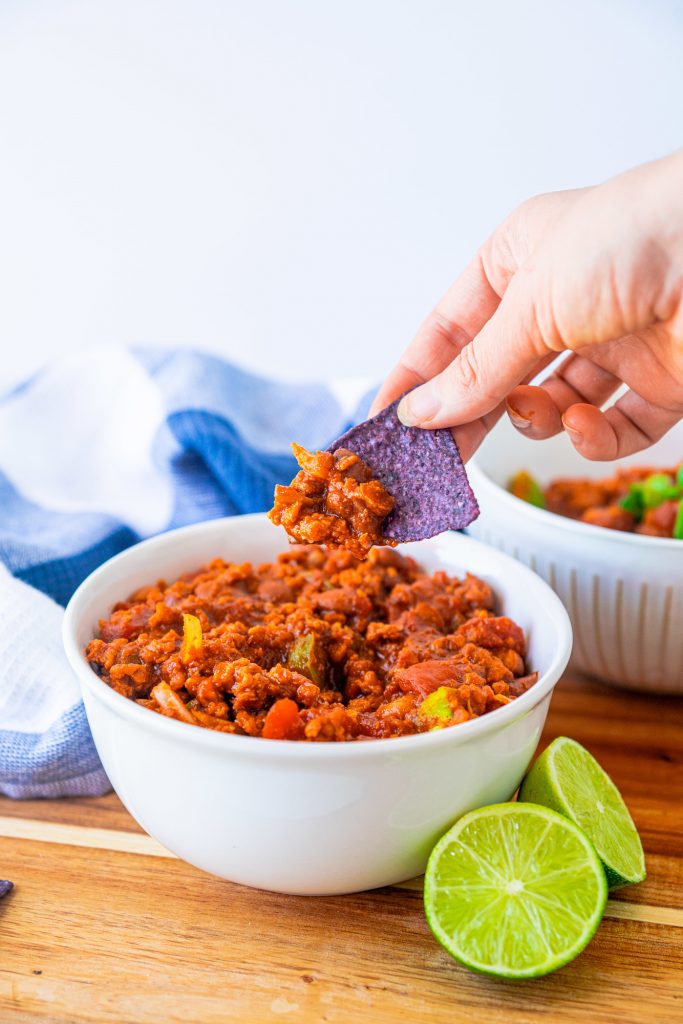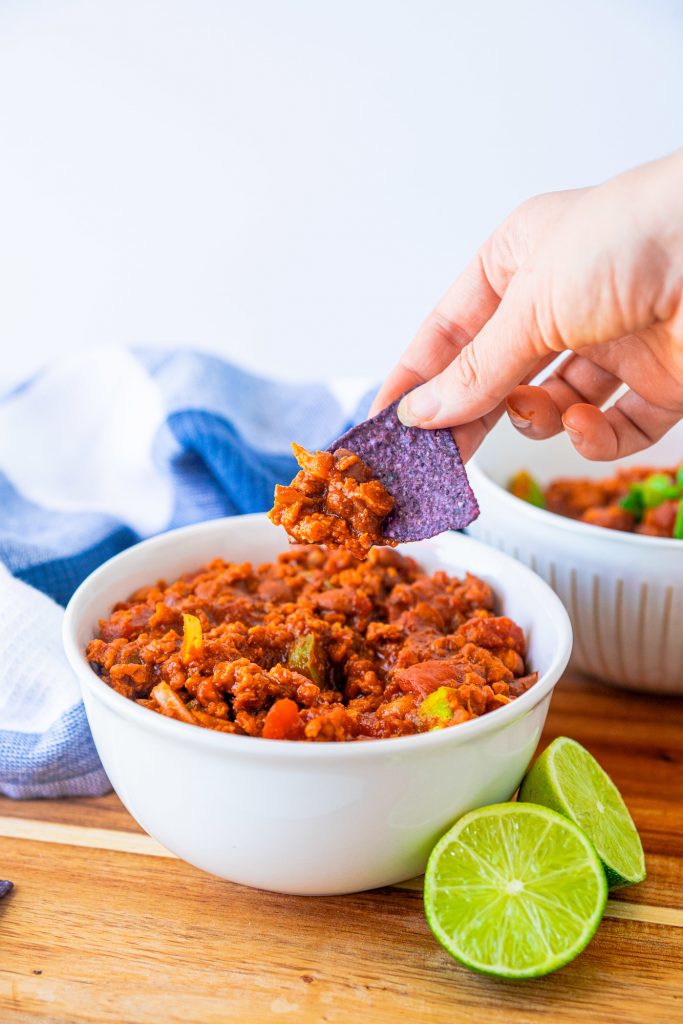 Easy Vegan Chili Ingredients
The reason that this vegan chili recipe is so easy is because there aren't many ingredients!
First of course, you are going to use beans! Any red beans work like kidney beans or "chili" beans. You can also use black beans but kidney beans work best.
Next, you are going to need canned diced tomatoes. This is an important ingredient for vegan chili because you are going to use the liquid from it for your stock!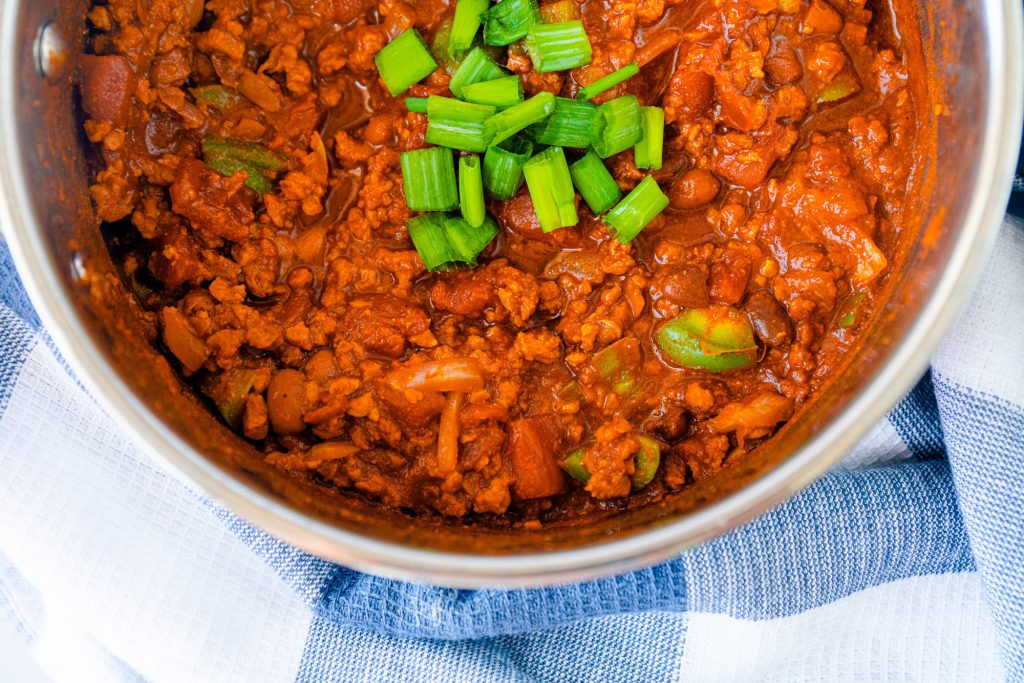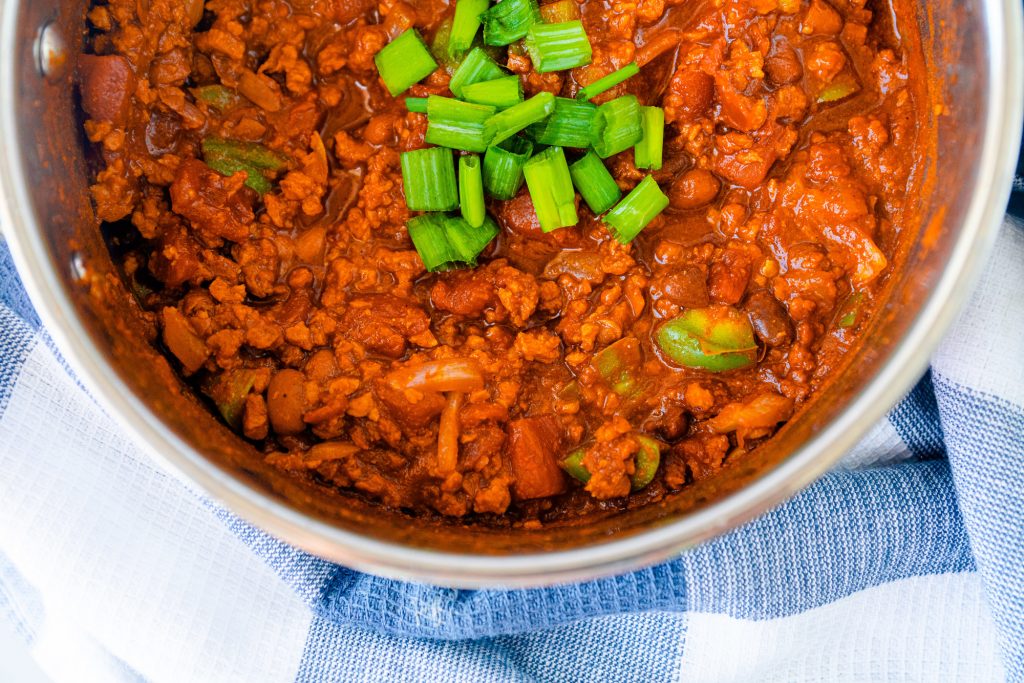 You are going use chopped green peppers and onions. If you aren't a fan of green peppers, modify for whatever kind of pepper you like the best, good be red or yellow!
Of course, you are going to need chili powder and a whole lot of salt! Denise's secret spice addition is cumin!
I thought adding cumin was a little odd, but it added a depth of flavor to the vegetarian chili that was really amazing! Don't leave this out as it is really great!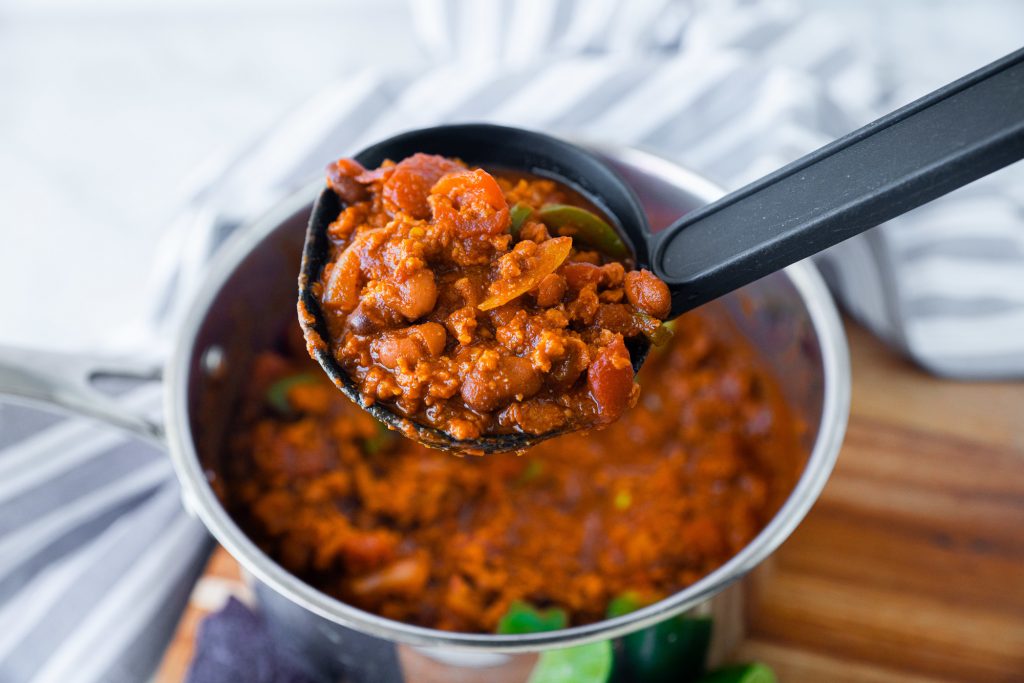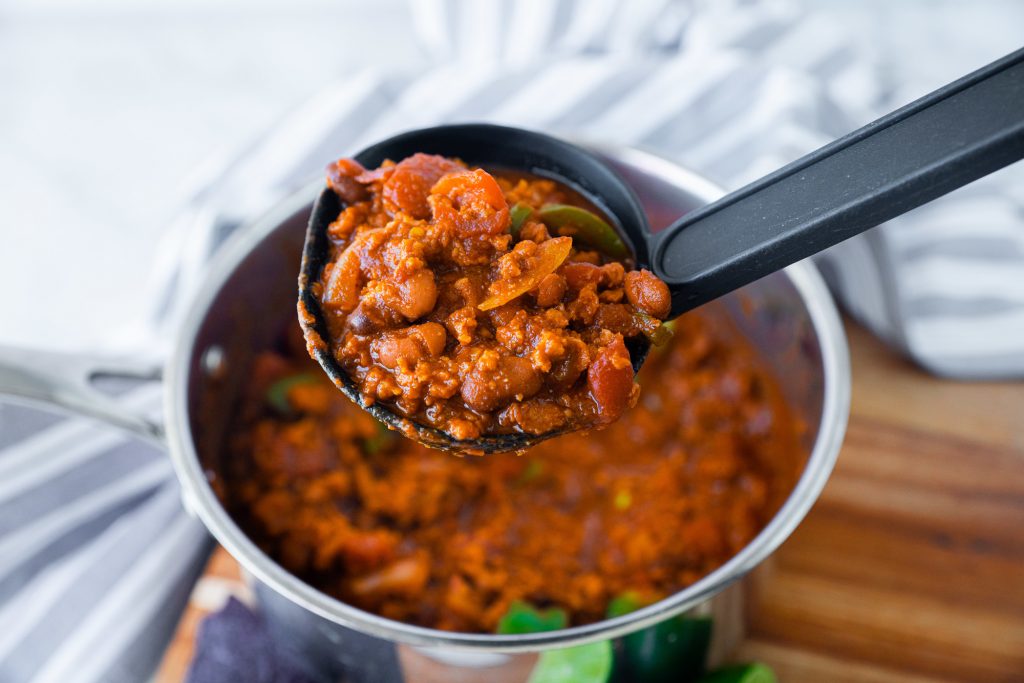 How To Make The Best Vegan Chili Ever!
Making the best vegan chili recipe is so quick and easy! When Denise showed me how, I was shocked at how fast it was done and how fast the flavors came together.
First you are going to take a medium-sized pot and turn the stove to medium heat.
Then, you are going to add the vegan meat crumbles to the pan and stir for a couple seconds until they are warm.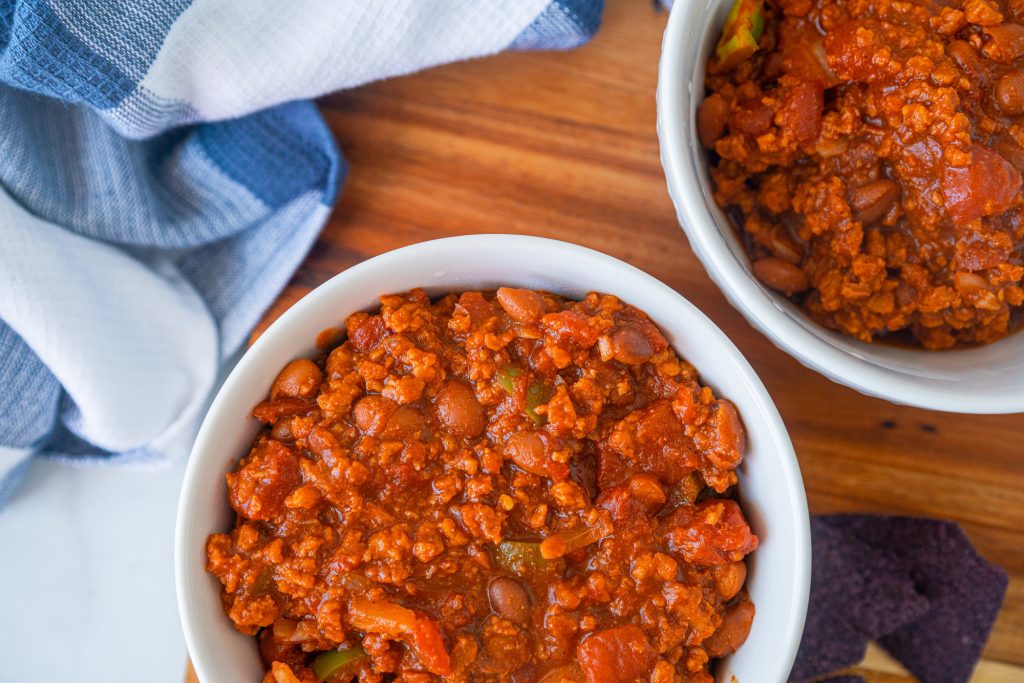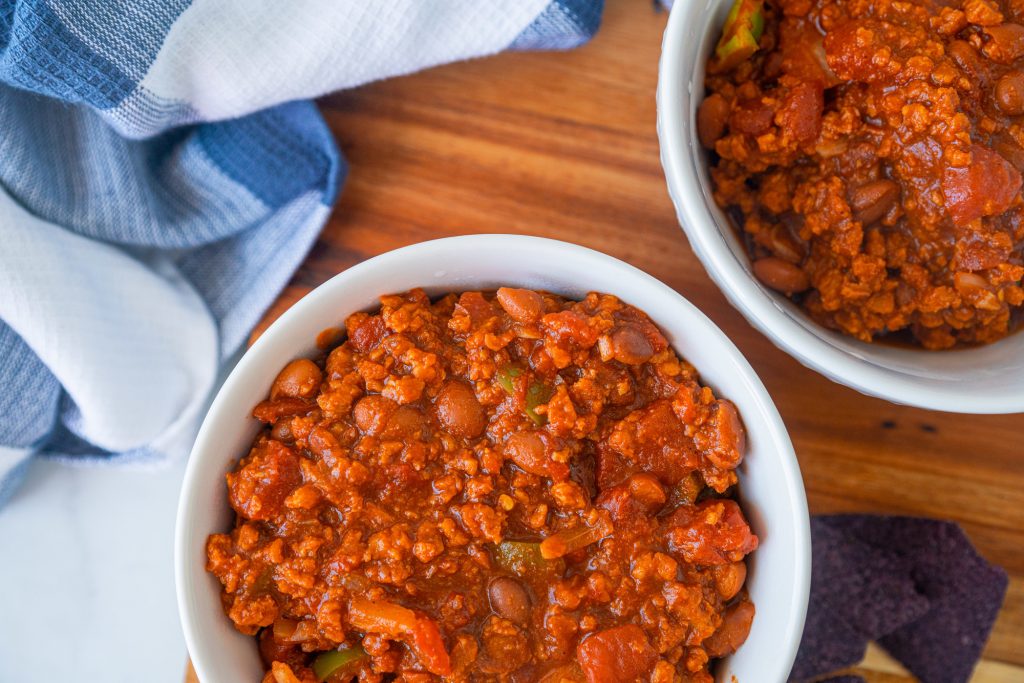 I use Gardein brand frozen fake "beef" crumbles and it is pretty much the best thing ever, but any vegan beef crumbles work wonderfully for this recipe!
You are then going to add the can of crushed tomatoes, INCLUDING THE WATER! You do NOT want to drain the can!
Next, you are going to add the red beans and you do not want to drain that can either!
This vegan chili recipe is made more flavorful by NOT using stock or broth! It is flavored and gets its liquid from the liquid inside the canned ingredients.
Now, add your chopped onion and green peppers.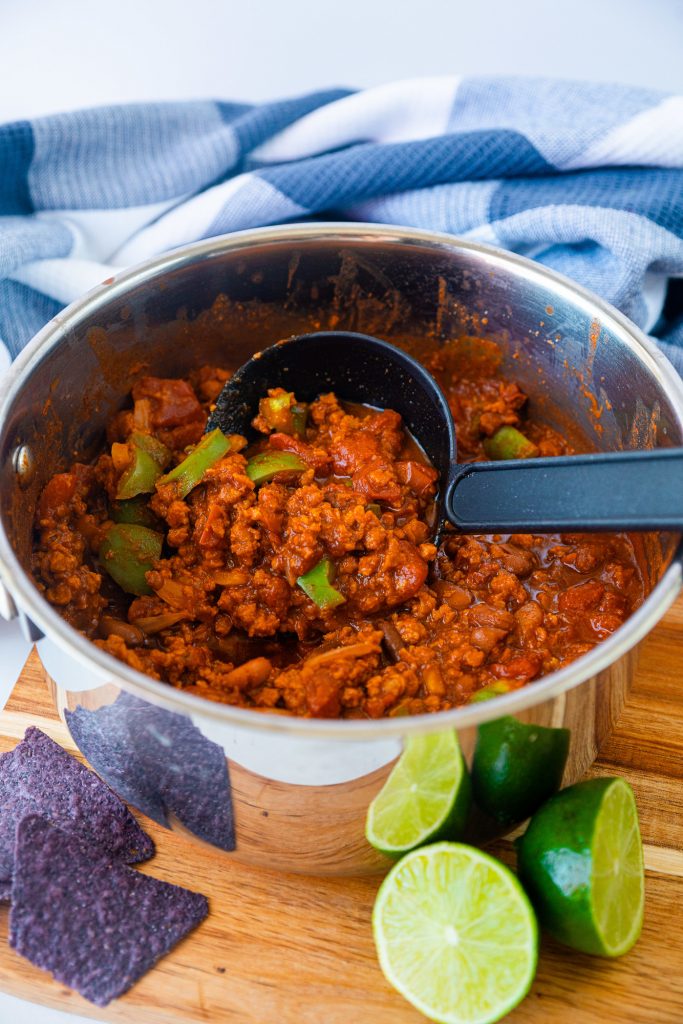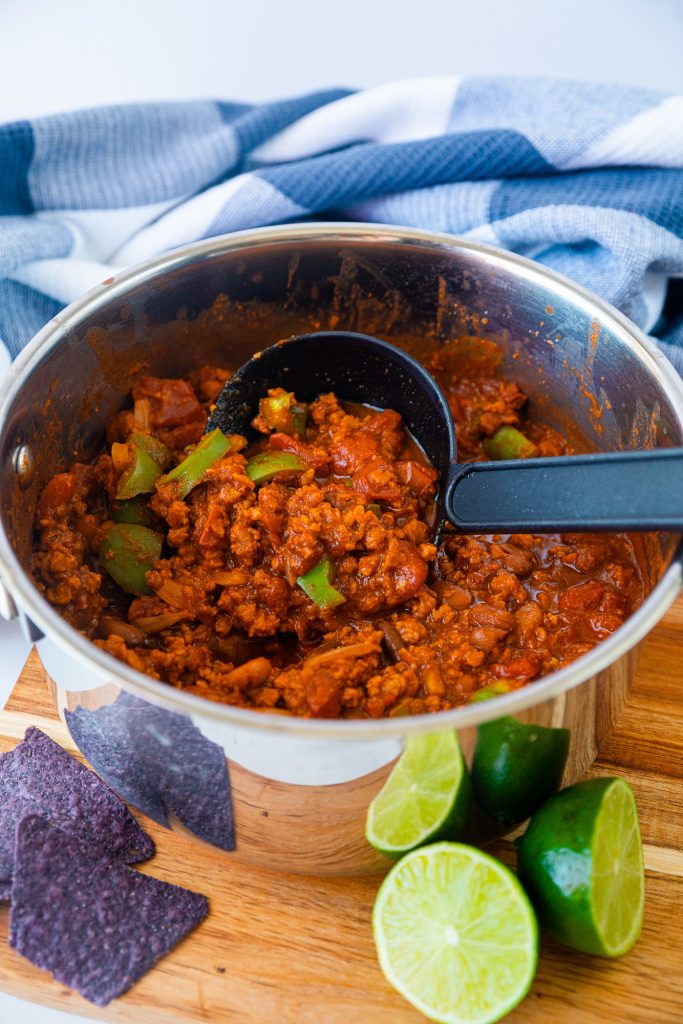 Denise doesn't saute the onions or peppers in advance so that the flavors can meld into the soup. Trust me, don't saute them and the flavors for the soup are so tasty!
Finally, add in the cumin, chili powder, and any red pepper flakes you may want to add.
Let the vegan chili cook on medium-heat for about 5-10 minutes, just so the flavors can combine.
If you think the vegetarian chili looks too dry, you can add a little bit of water, but this really is a thicker chili recipe!
I don't recommend adding water, but if you want to, add it 1/4 a cup at a time until your desired consistency is achieved. Make sure to adjust your spices to taste.
And that is it! That is all you have to do to make Denise's best vegan chili recipe.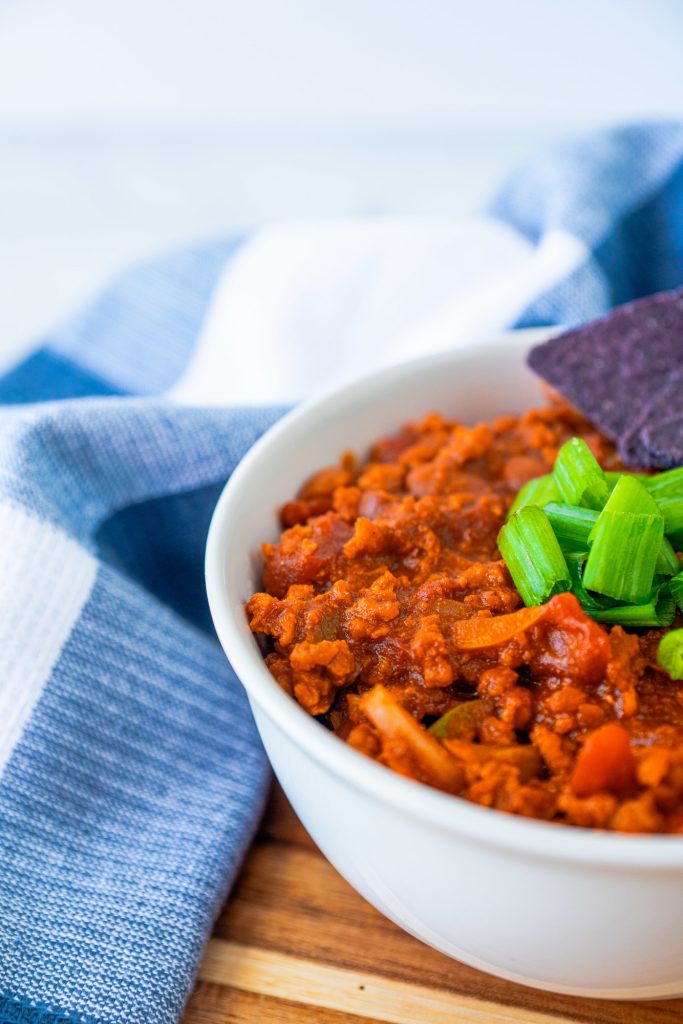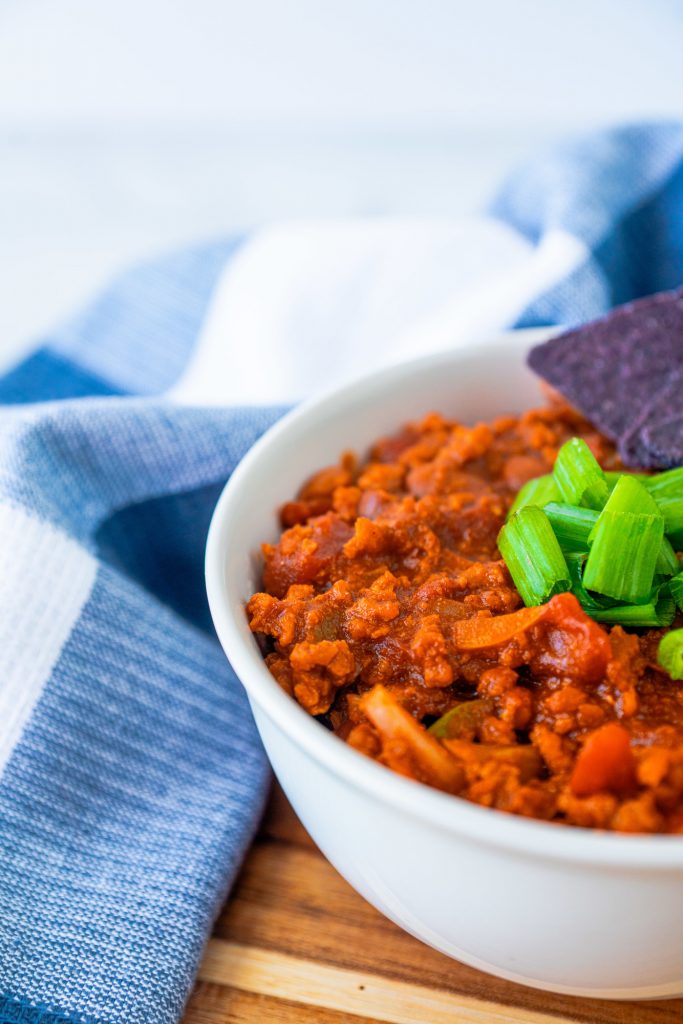 Vegan Chili Toppings
We all know that the best part of chili is the toppings!
Some of my favorite vegan chili toppings are:
green onion tops
shredded vegan cheese
sliced avocados
vegan sour cream
tortilla chips for dipping
cilantro
vegan sour cream
Use any or all of these delightful flavor combinations when customizing this vegan chili recipe to your tastes!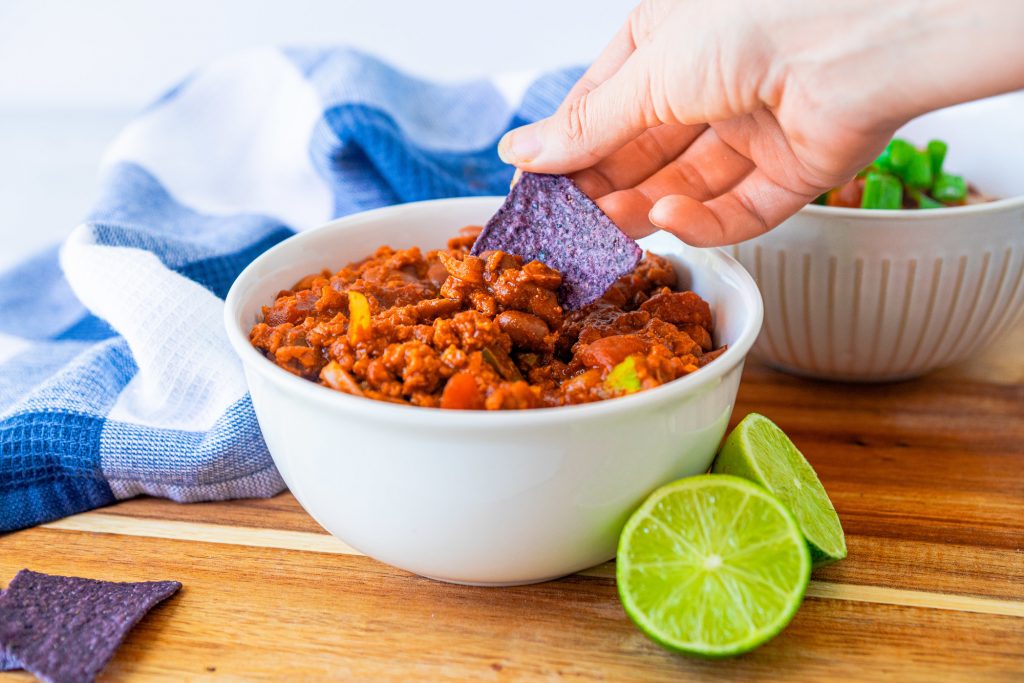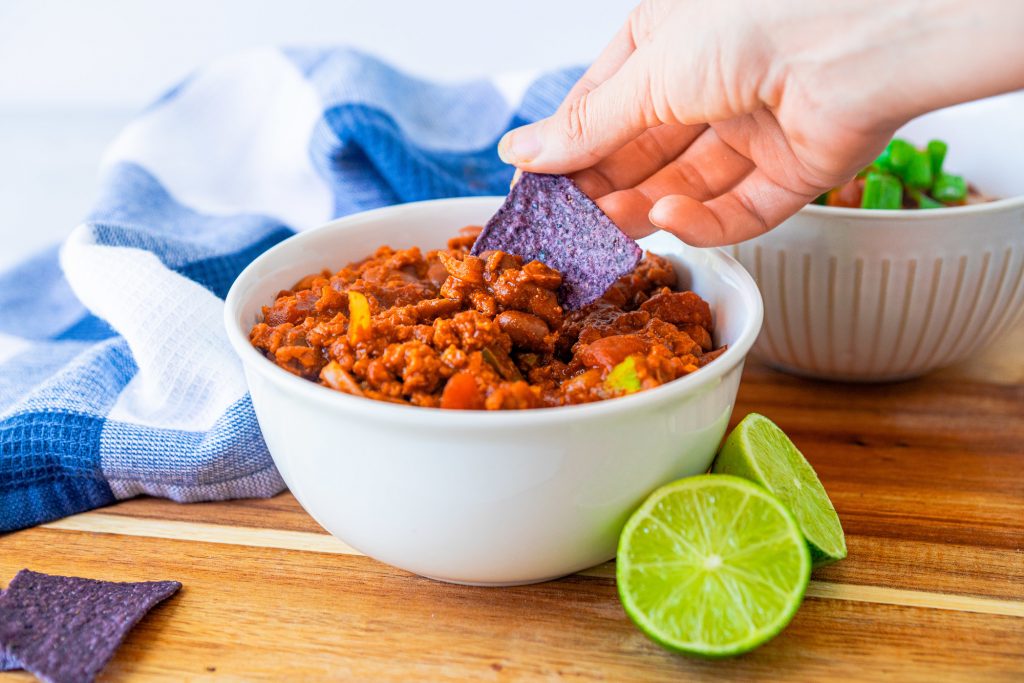 Vegetarian Chili Toppings
Vegetarians, you can use the dairy version of the vegan products above for topping your chili!
Personally, I am vegetarian, but live in a vegan home. I would use dairy cheese and dairy sour cream for mine, but the choice is up to you!
Some amazing vegetarian chili toppings are:
grated cheddar cheese
sour cream
queso
green onion tops
sliced avocado
chipotle sauce
tortilla chips
Feel free to play around with your toppings! They are truly the best part of vegetarian chili!
If you loved this recipe, you will love my Vegan Chili Mac! There are different add ins and you get to bake it for a crispy cheesy topping!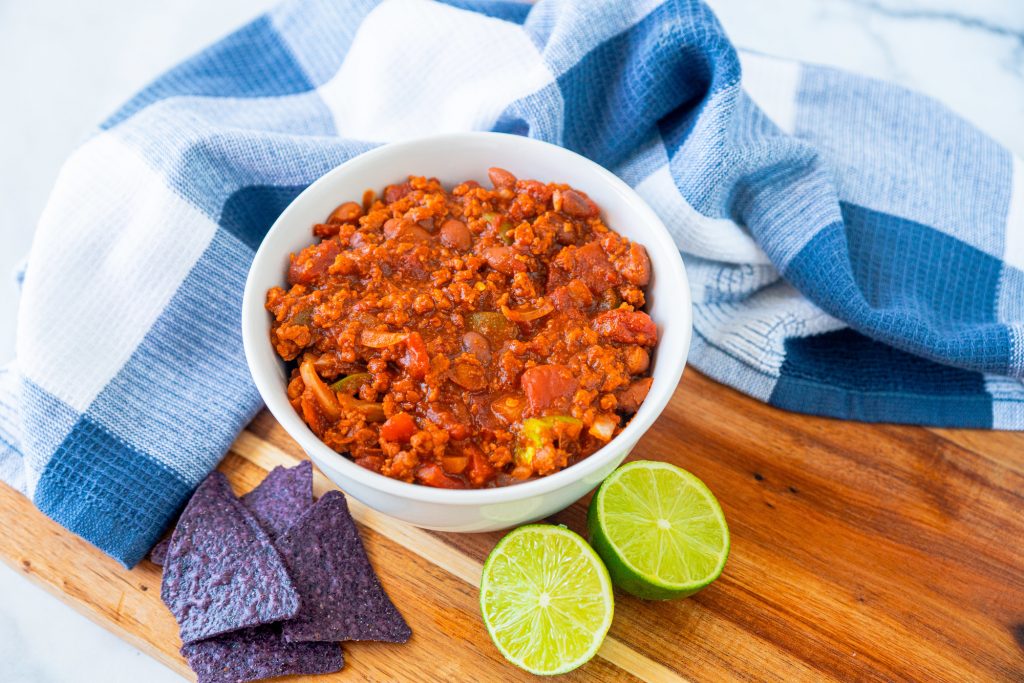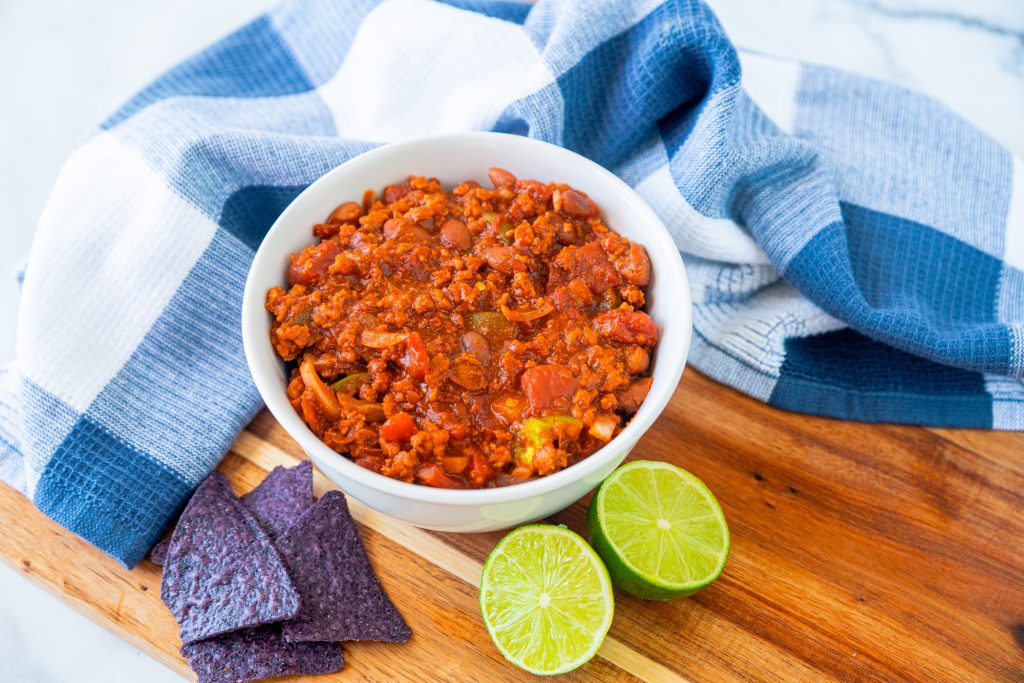 Did You Try This Recipe?
If so, I would love to keep in touch! I enjoy seeing photos and comments about the recipes that you make! You can follow me on Instagram and I will repost your goodies in my stories and comment on it too! Just tag me at @wowitsveggie and hashtag #wowitsveggie. I can't wait to see what you make!
Yield: 4 Servings
Mom's Easy Vegan Chili Recipe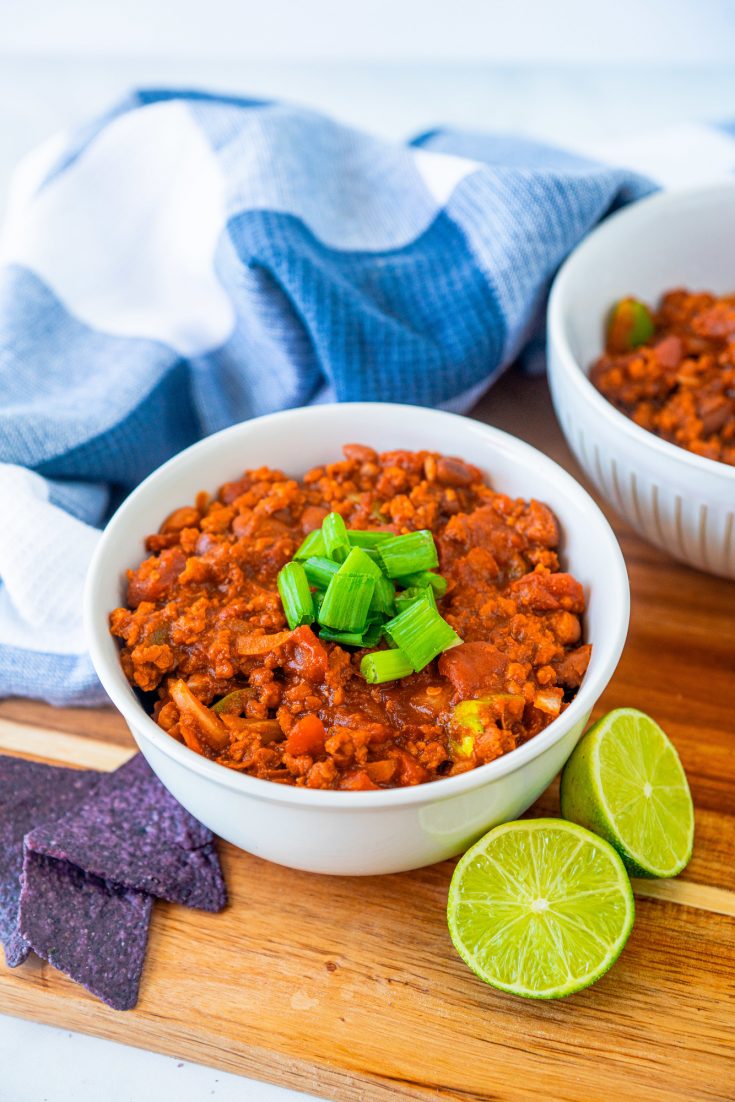 This is the best easy vegan chili recipe you will ever try! It whips up in just one pot and takes just 20 minutes to put together!
You can use either vegan or vegetarian chili toppings to customize this soup to your choice.
It is hearty and delicious and makes for the perfect quick meal after work!
Ingredients
1 small onion, chopped
1 green bell pepper, chopped (can use whatever bell pepper you like)
3 cups vegan ground beef
1 28 oz can of diced tomatoes with liquid (the large can!)
1 can of red beans (kidney or chili beans)
2 tablespoons chili powder (more to taste)
2 teaspoons cumin
red pepper flakes and salt to taste
Instructions
Heat a medium pot over medium heat on the stove and stir in vegan beef grounds until warm.
Add in diced tomatoes and red beans, including the liquid, and stir until combined, about 1-2 minutes.
Next, add chopped onion and green peppers and all of the spices.
Stir and cook for 5-10 minutes until combined and flavors meld together.
Serve with your favorite vegan chili toppings or over rice.
Notes
This recipe makes for a thick vegan chili. If you prefer a thinner chili, add in vegetable broth or water, 1/4 a cup at a time until you reach your desired consistency.
This vegan chili recipe serves 4 in medium bowls or 2 in large bowls. You can double it if you are feeling very hungry!
Nutrition Information
Yield
4
Serving Size
1
Amount Per Serving
Calories

245
Total Fat

7g
Saturated Fat

1g
Trans Fat

0g
Unsaturated Fat

6g
Cholesterol

0mg
Sodium

1145mg
Carbohydrates

26g
Fiber

9g
Sugar

7g
Protein

27g