If you are looking for the best vegan bao buns, this is it!
I am OBSESSED with bao buns, but it is SO hard to find vegan ones when out. Most are filled with a variety of meats so I never get to have one!
Enter homemade vegan bao buns that you can easily make yourself!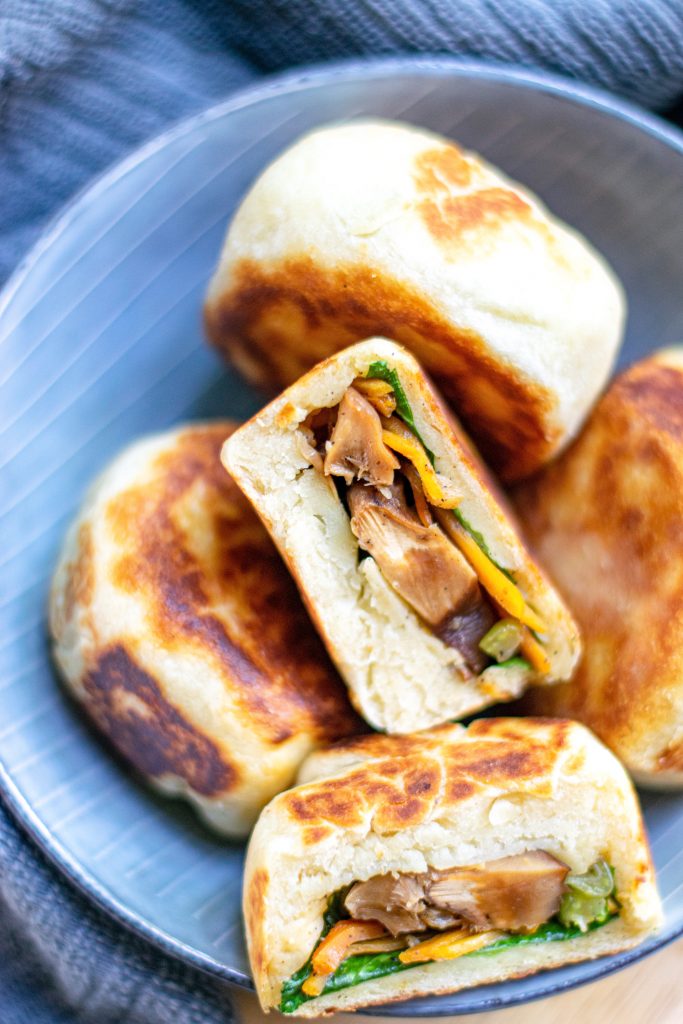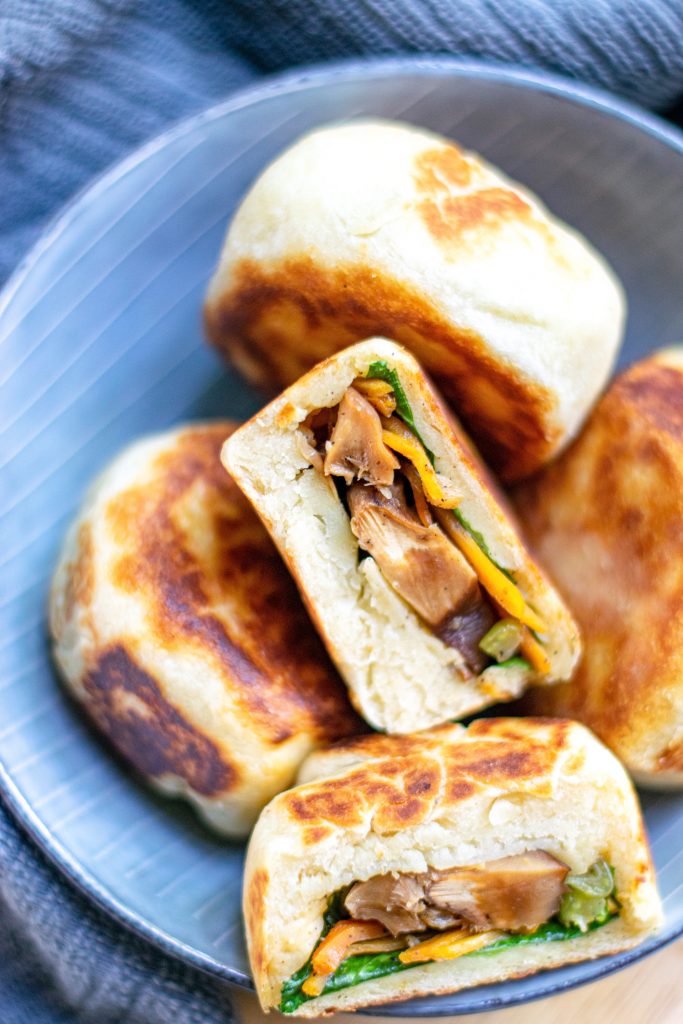 In case you aren't familiar, bao (pronounced bow) is savory filling wrapped inside a sweet white dough.
Sometimes these buns are steamed and sometimes they are pan fried, depending on where you are getting them.
For this recipe, we are going to be pan frying them in a little bit of oil since not everyone owns a bamboo steamer, which is essential so the bao buns don't stick together!
The best part about making vegan bao buns is that you can customize the flavors and the vegetables that are inside however you want!
For my vegan bao bun recipe, I include delicious veggies such as shiitake mushrooms, bok choy, carrots and more!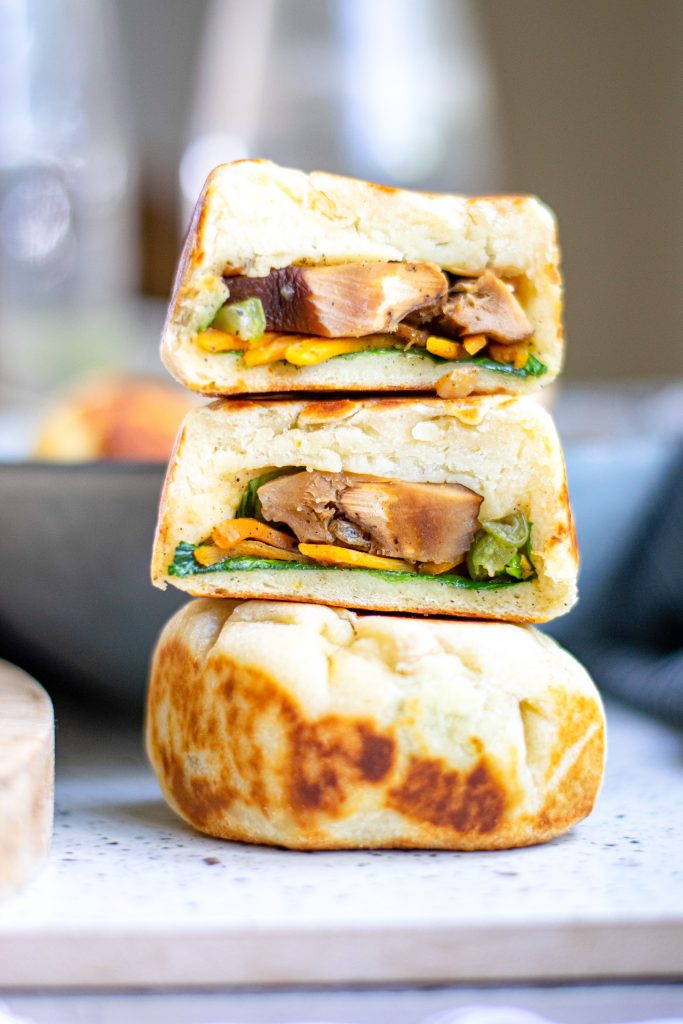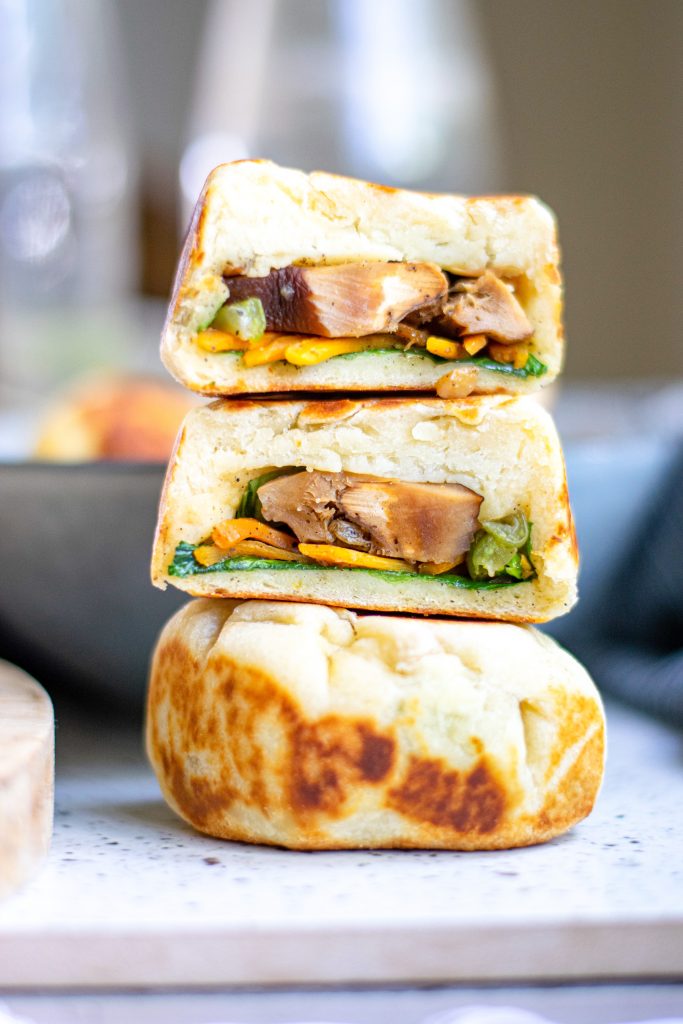 These are simple ingredients that you can usually find at your local grocery store or Asian market, if you are lucky to live nearby one.
If you don't have shiitake mushrooms on hand, go ahead and use any mushroom that you have as the taste is still similar.
The veggie bao buns are quick and easy to make and you can actually whip them up when you come home from a busy day at work.
While the dough has to rest a little bit, it isn't long! The resting period for the bao bun dough is just while you are preparing the veggies!
I hope you enjoy making these tasty vegan bao buns and stuffing them with whatever your heart desires!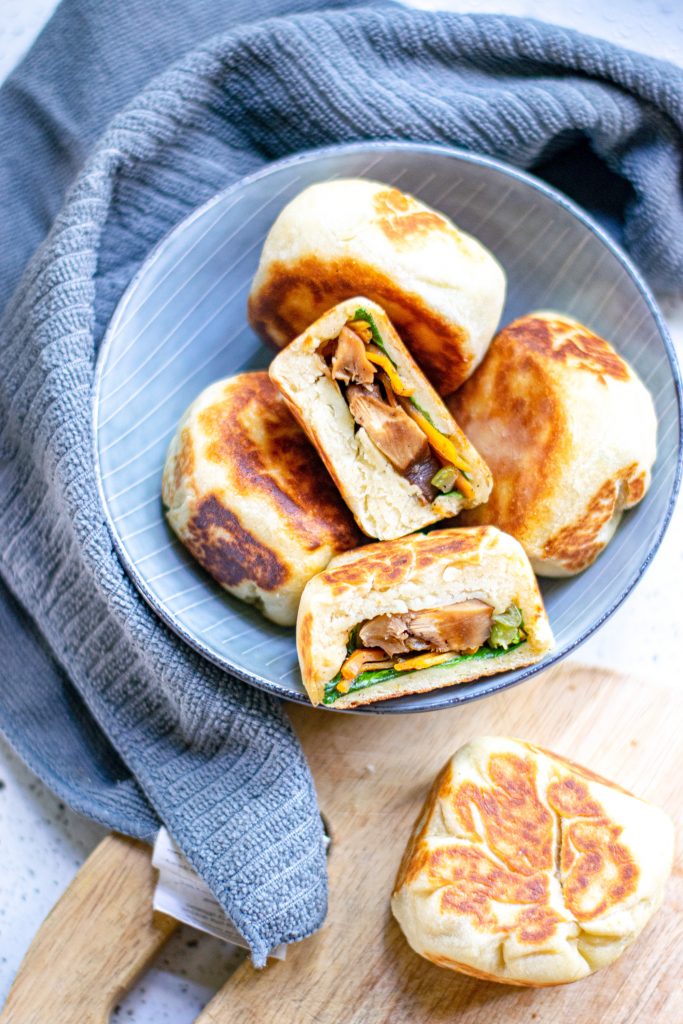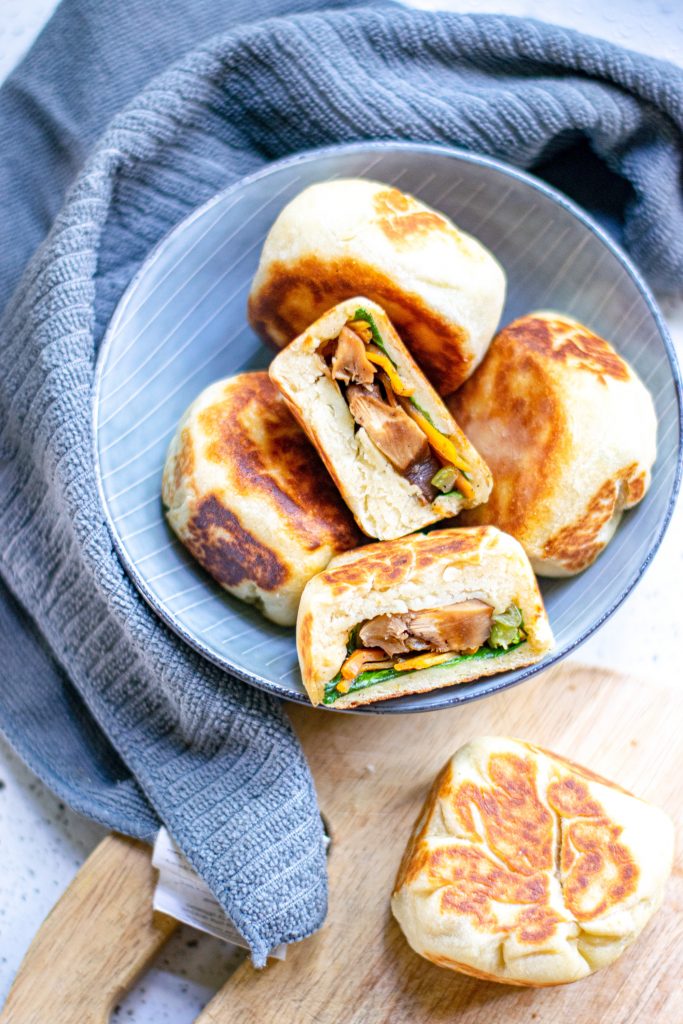 Steaming Vs Frying The Veggie Bao Buns
If you are going to make bao buns, there are generally two ways, steamed and fried.
Vegan steamed buns are very popular, but in order for the dough to not stick, you have to use a Bamboo Steamer basket.
While they aren't expensive, they are something you may or may not have on hand.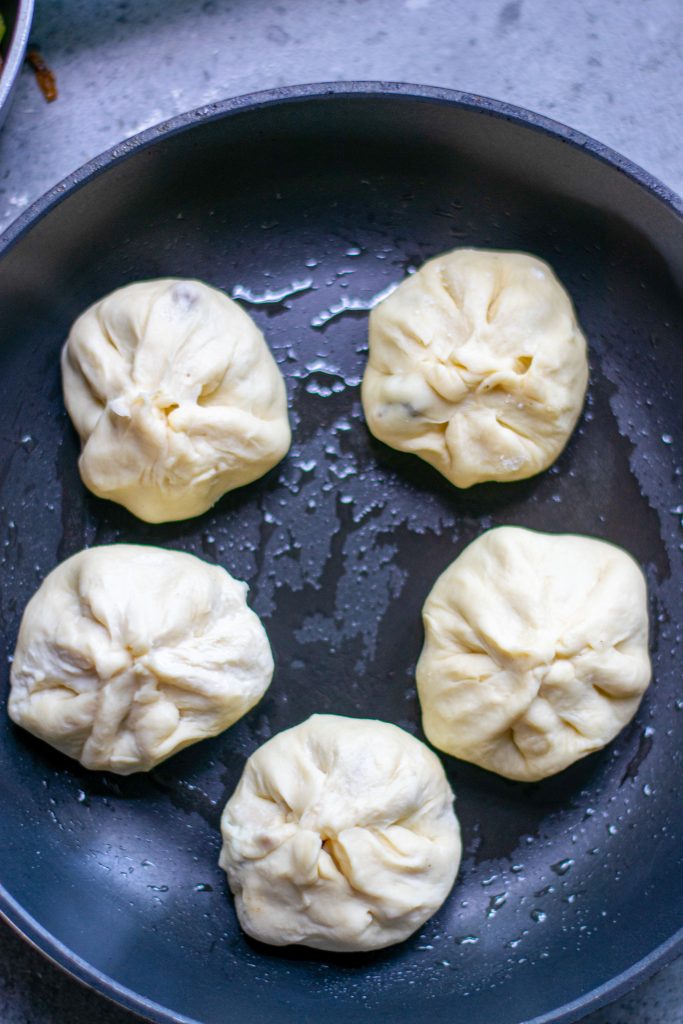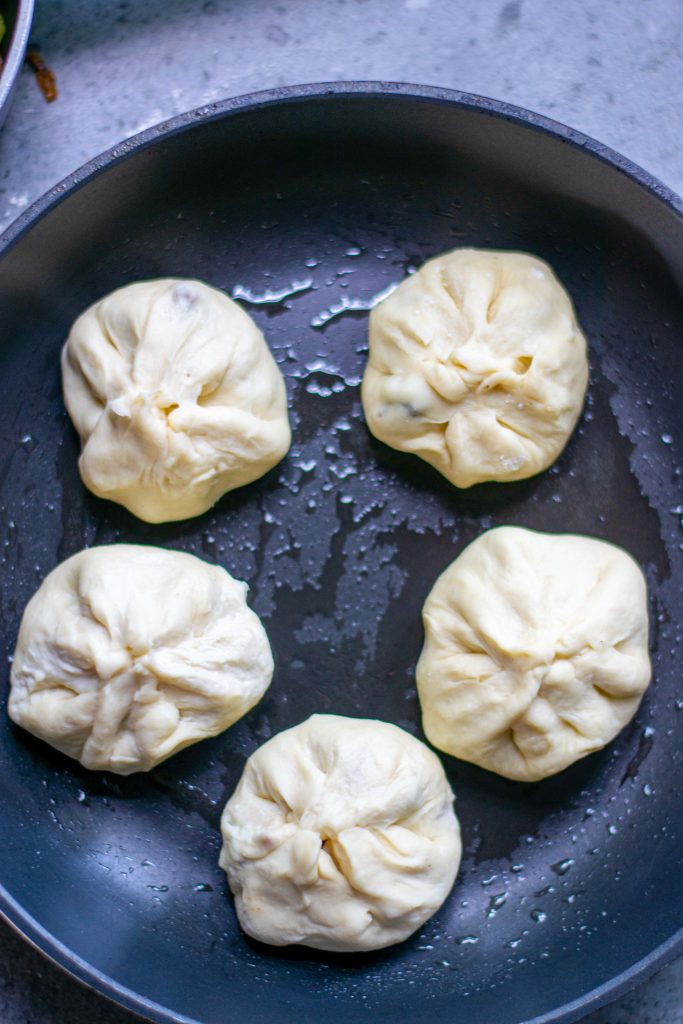 If you do have a bamboo steamer, go ahead and steam your buns instead of frying them, if that is the taste you prefer!
Otherwise, I created this vegan bao buns recipe to be easily accessible to people who may or may not have a bamboo steamer.
Lightly pan frying the buns still tastes fabulously delicious and you are in for a real treat.
I only use a small amount of oil, so if you are worried about oil content don't worry, there isn't too much in this recipe!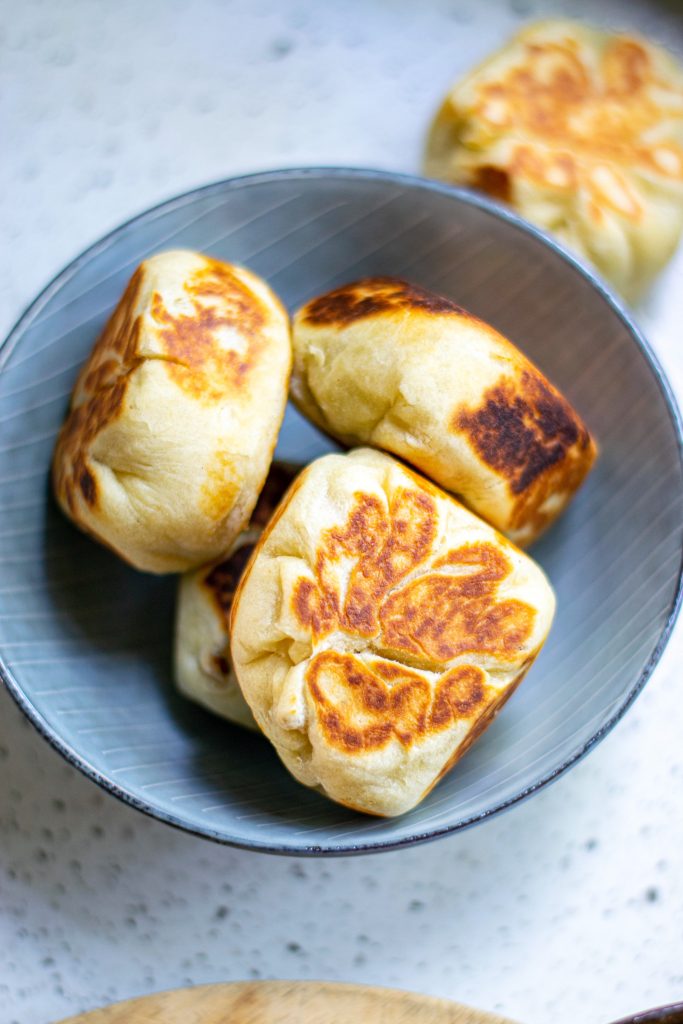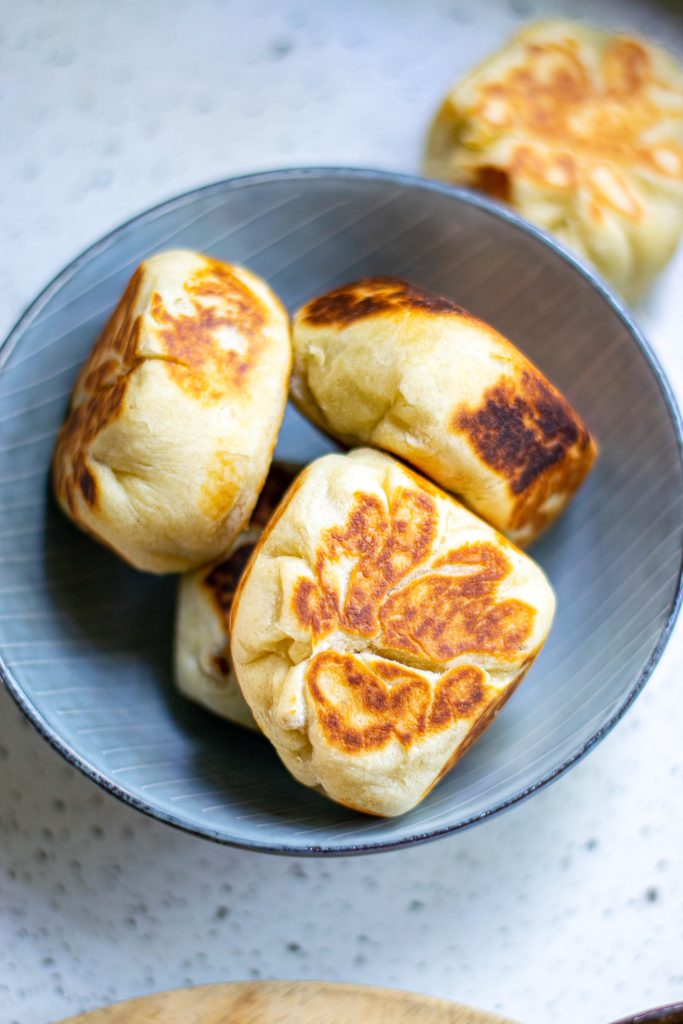 How to Make The Vegan Bao Buns
Alrighty! There are two parts for making your own vegan bao buns.
First, you are going to make the bun dough and then you are going to make the filling. It is so super simple!
To make the dough, you are going to combine flour and salt and then pour hot water and oil in the middle.
Then, use a wooden spoon to mix the wet and dry ingredients together until the water has cooled down to the touch.
After the water is cool enough to touch, use your hands and knead for 2 minutes. Set a timer so you know how long you have done it for.
I also like putting on a 2-minute song so that you can have something fun playing for the length of time you have to knead.
If the vegan bao bun mixture is sticky, add a little more oil.
Then, you are going to set the dough aside while you work on the veggies.
For the filling, simply add all of your desired veggies to a frying pan with a little bit of oil on medium heat.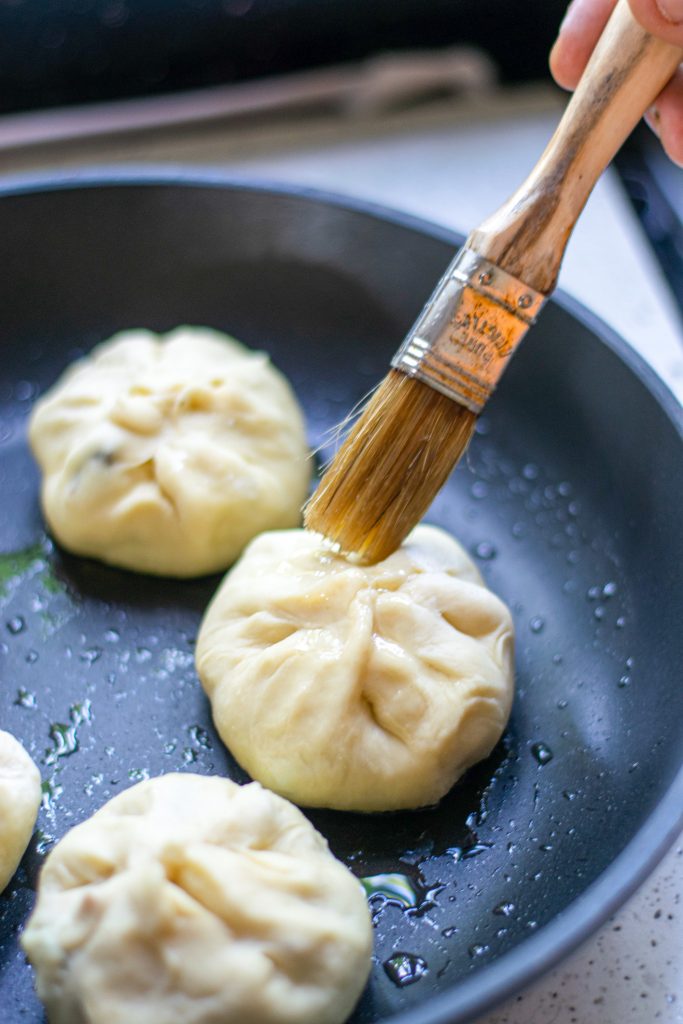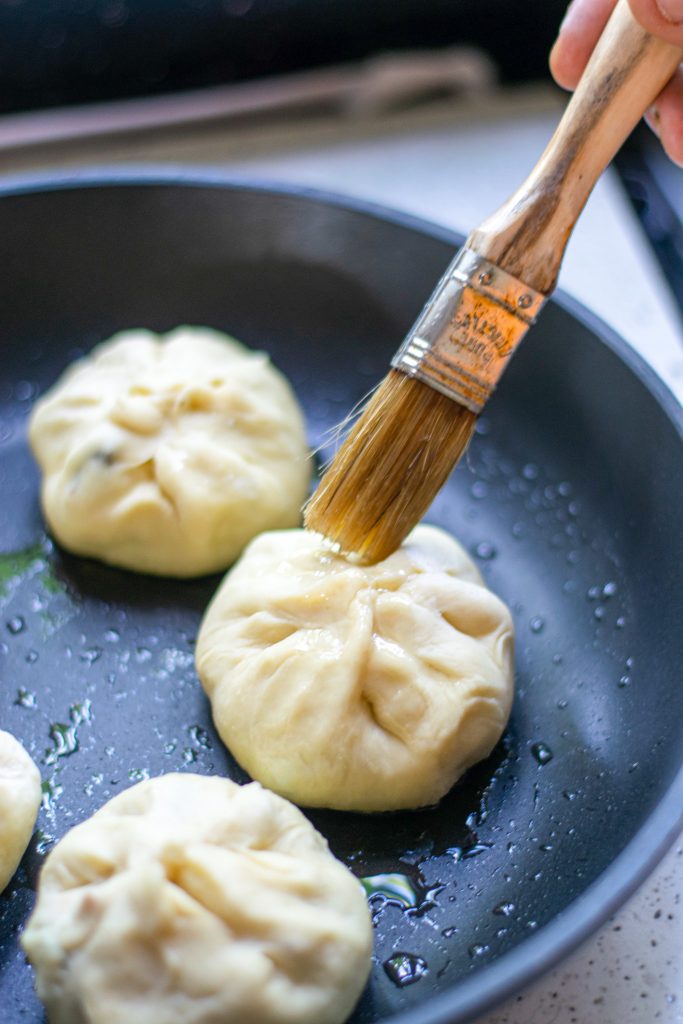 Stir fry for a few minutes until lightly cooked. If you are using bok choy, do not add it at this point!
Remove your veggies from the frying pan and let them cool down.
In order to roll out the bao bun dough, flour your workspace and divide the dough into 5 balls.
Roll each ball into a flat round shape so it is roughly 1/2 an inch thick. You will want it to be strong enough to hold its shape and not fall apart.
Add the vegetable filling in the center by first adding a leaf of bok choy or whatever greens you are using.
Then, fold the bun up by bringing all of the pieces of dough together at the top.
Pinch with your fingers to seal the bun before frying.
Then, heat your frying pan with a little more oil and place the vegan bao buns in the pan with the pinched/sealed side facing up.
Cook until your veggie bao buns are golden brown and crispy on one side, and then carefully clip them over.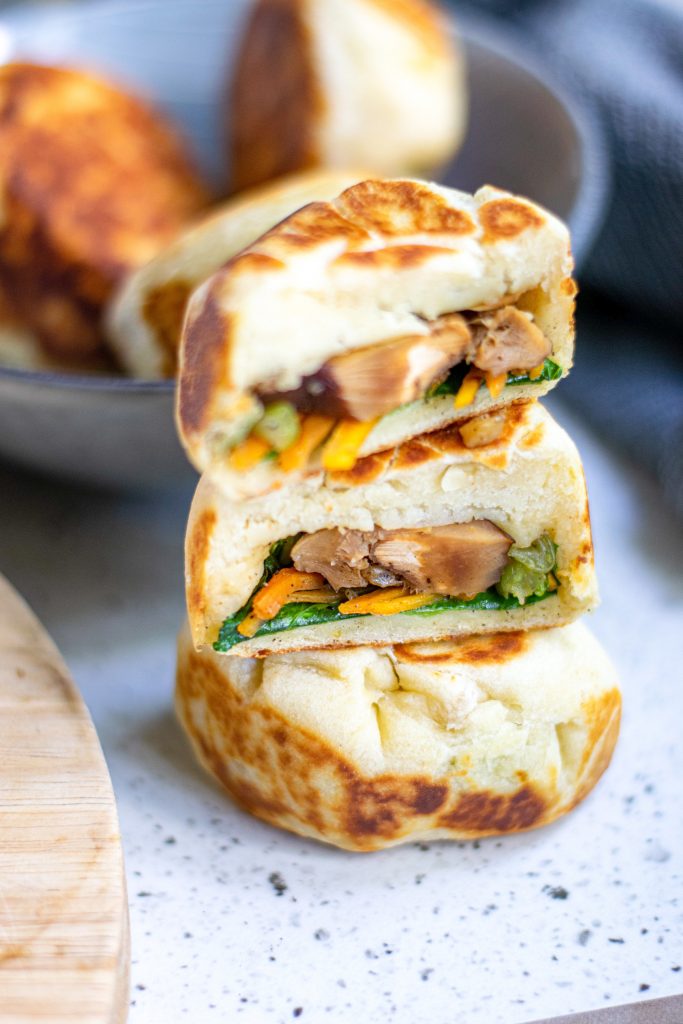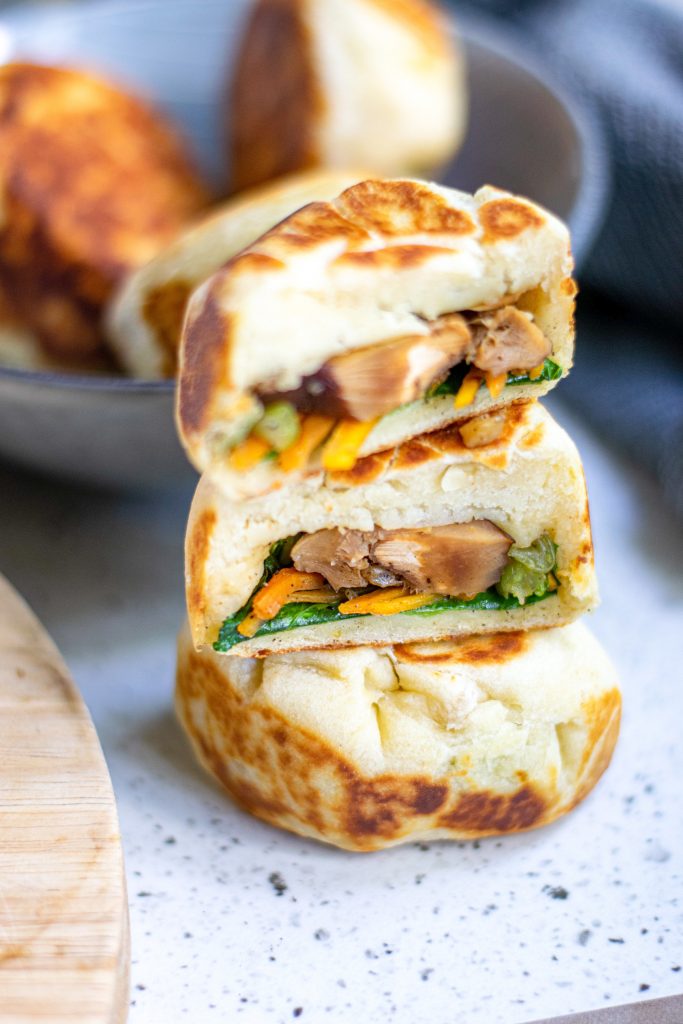 If you want to cook the sides, use tongs to gently hold them on their side or push them closely together so that they hold each other up while frying.
If you are steaming your vegan bao buns, place your steamer over a pot of boiling water and steam for about 5-8 minutes.
You can store the finished bao buns in the fridge in an air-tight container for 3 days! They are very tasty even when cold!
For serving, you can dip them in soy sauce or hoisin sauce and enjoy!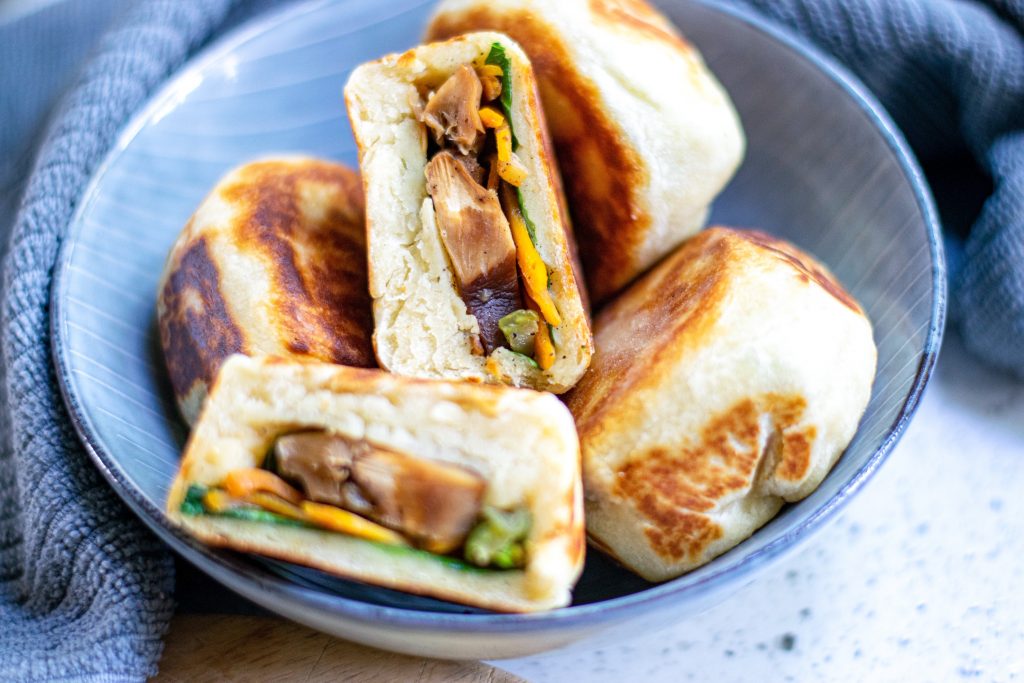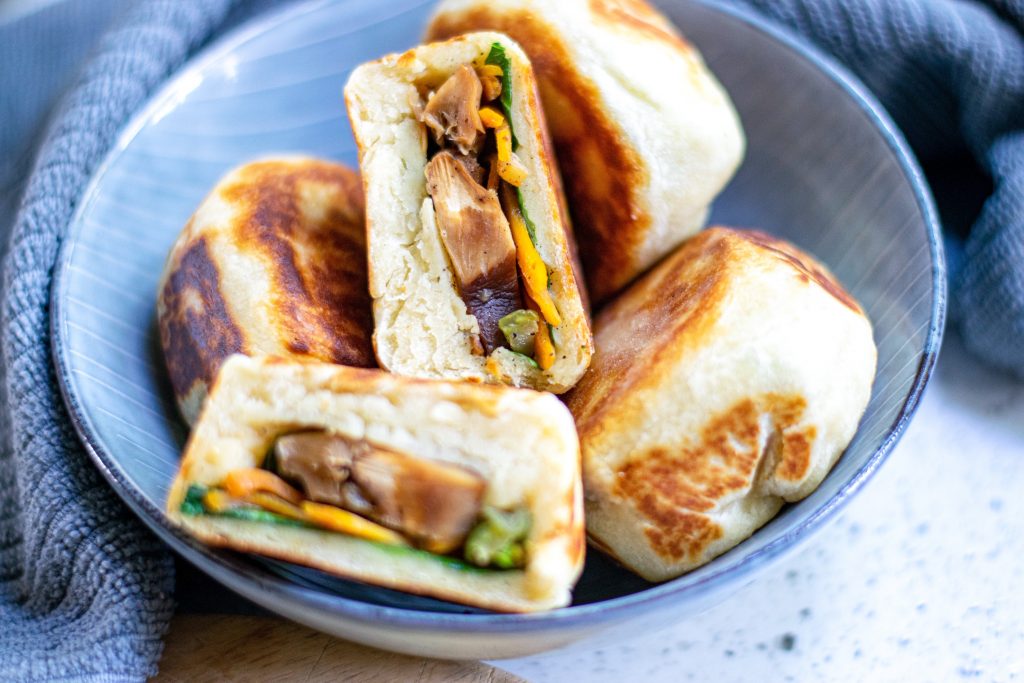 Did You Try This Recipe?
If so, I would love to keep in touch! I enjoy seeing photos and comments about the recipes that you make! You can follow me on Instagram and I will repost your goodies in my stories and comment on it too! Just tag me at @wowitsveggie and hashtag #wowitsveggie. I can't wait to see what you make!
Yield: 5 Buns
Best-Ever Vegan Bao Buns With Vegetables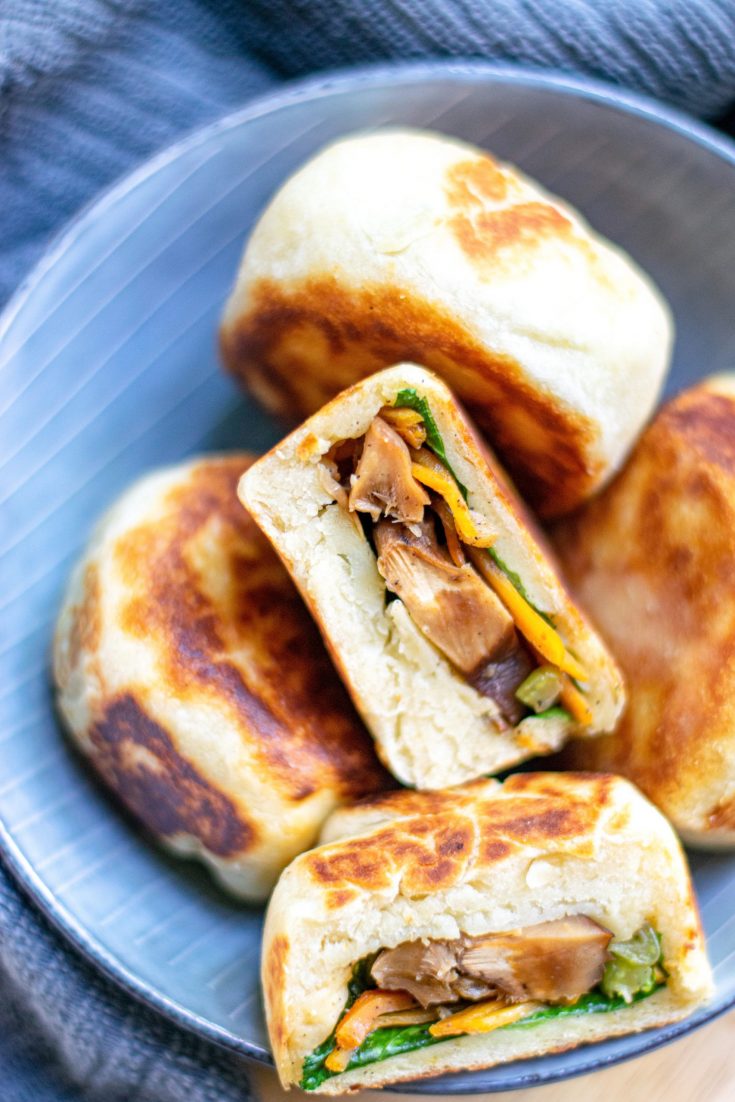 These vegan bao buns are savory and delicious! They are lightly pan-fried and easy to make.
You can also steam them for 8 minutes in a bamboo steamer instead of frying, but frying gives the veggie bao and delicious and crispy texture!
Ingredients
Bun Dough Ingredients
1 1/2 cups self-raising flour, more for the working space
3/4 cup hot water
4 tablespoons oil
1 teaspoon of salt
Fillings Ingredients
3 shiitake mushrooms, sliced (or any mushrooms)
1 head bok choy, chop the stems
2 small carrots, sliced
1/4 a small onion, sliced
2 garlic cloves, chopped
2 + 2 tablespoons oil
1/2 teaspoon black pepper
salt to taste
soy sauce and hoisin sauce for serving
Instructions
1. Prepare your dough. In a large mixing bowl, add flour, salt and create a well in the center of the flour. Pour hot water and oil. Mix with a wooden spoon until the water is a bit cold then with your hands. Knead for about 2 minutes. If sticky add more oil. Cover and leave on the side while preparing the fillings.
2. Prepare fillings. Heat a pan with 2 tablespoons oil and medium heat. Fry onion, garlic and carrots until tender then add shiitake and bok choy stems (save the bok choy leaves for later), add salt and pepper. Let cook for another 2 minutes. Remove from heat and let it cool down.
3. Flour your workspace and divide the dough into 5 balls. Roll each ball flat in a round shape with a rolling pin. Try to make the dough 0.5 inches thick, if possible.
4. Add filling in the center by first placing the bok choy leaves and adding the rest of your veggies. Then fold the bun up and around the filling making sure to seal the top by pinching with your fingers. Repeat until all buns are assembled.
5. Heat 1 tablespoon oil in a large nonstick pan over medium heat. Place buns in the pan with the pinched-side up. Cook until golden brown and crispy then flip them over, carefully. Cook also the other side golden brown and crispy. Then do the same with side. Bring the buns close to each other to as support while cooking the sides.
6. Serve warm or cold with dipping sauce.
Nutrition Information
Yield
5
Serving Size
1
Amount Per Serving
Calories

308
Total Fat

17g
Saturated Fat

1g
Trans Fat

0g
Unsaturated Fat

15g
Cholesterol

0mg
Sodium

1239mg
Carbohydrates

33g
Fiber

2g
Sugar

2g
Protein

5g