If you are new to making Kung Pao vegetables, you are in for a real treat!
Kung Pao vegetables are so easy to make and whip up in just 10 minutes. This is the perfect weeknight dinner when you are in a rush and want something healthy and satisfying.
A hallmark of Kung Pao dishes is their spicy nature. That is entirely the point of the dish!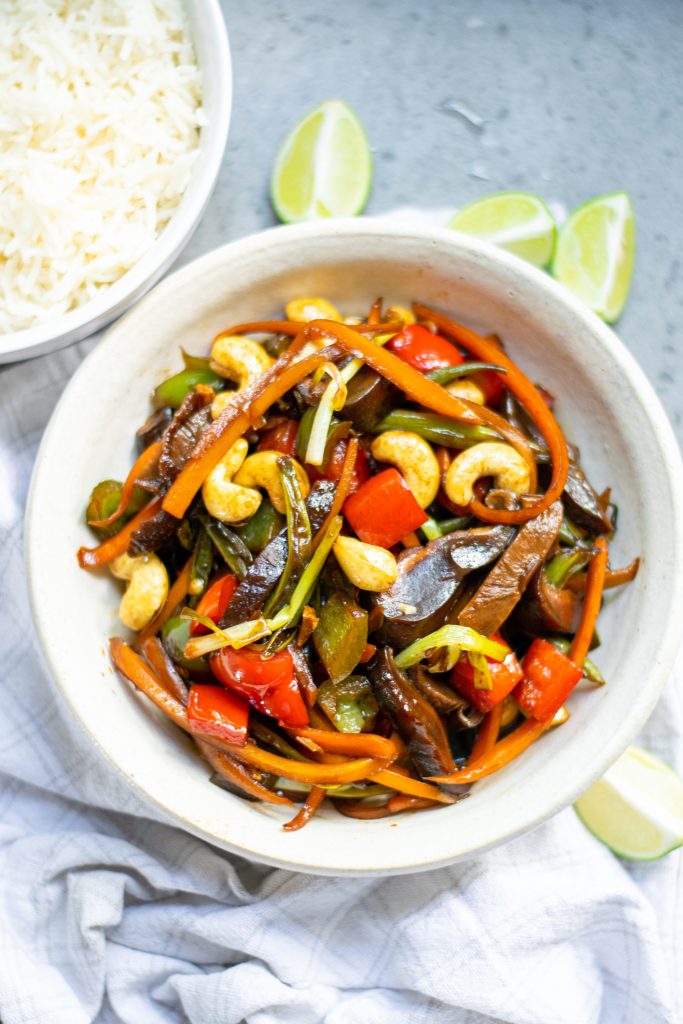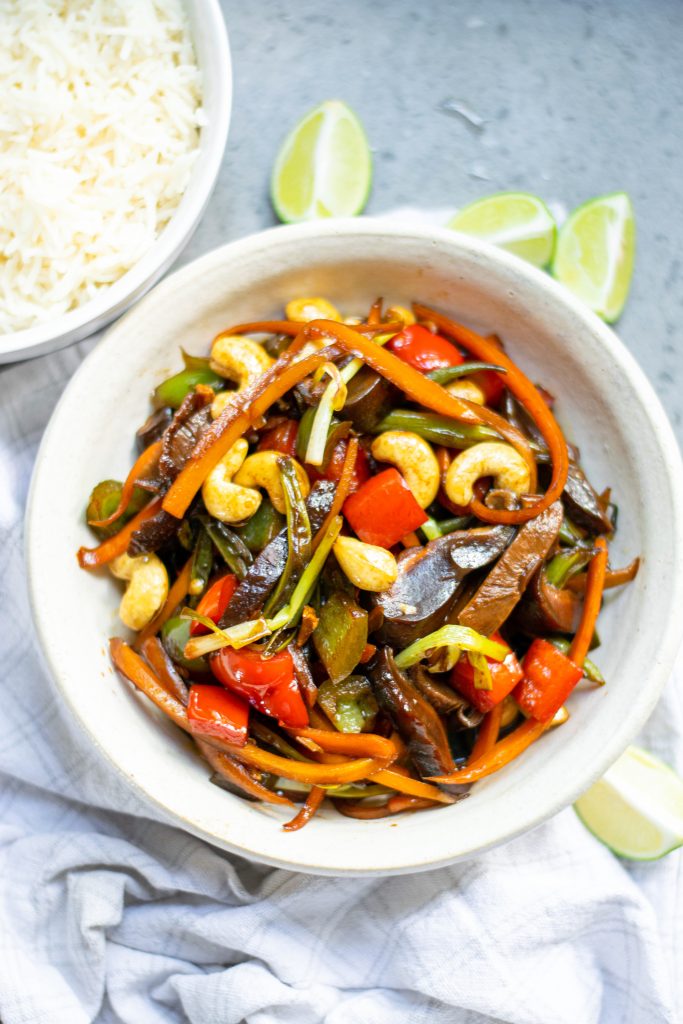 Personally, I am not a huge fan of spicy foods, I know I know, I am lousy and weird! That being said, I loved this recipe and you can modify how spicy you want it to taste!
These Kung Pao vegetables taste just great without the spiciness, so if you don't love it, you can leave it off!
I just want everyone to be able to enjoy this dish with the heat to their taste. This is the same method I use with my Kung Pao Tofu dish!
Just know that usually, most Kung Pao dishes are indeed served with hot sauce or red pepper.
One of the best parts about making Kung Pao vegetables is the fact that you can eat a bunch of hearty veggies for a colorful and healthy dish.
Of course, you can use whichever vegetables you have on hand as the most important part is the Kung Pao sauce, but I recommend some hearty favorites in this recipe.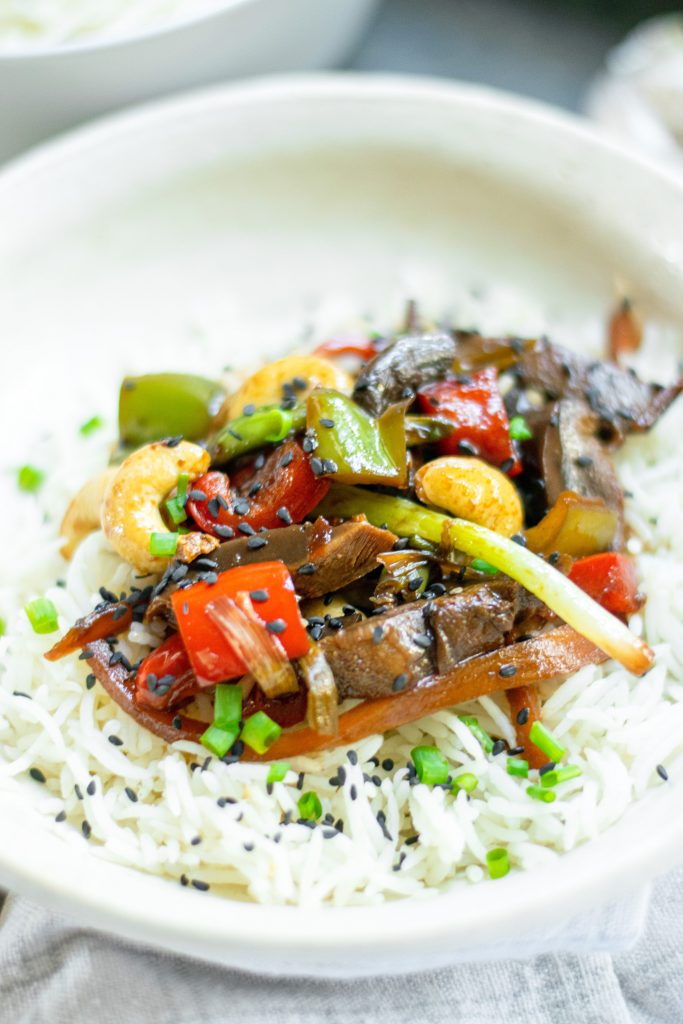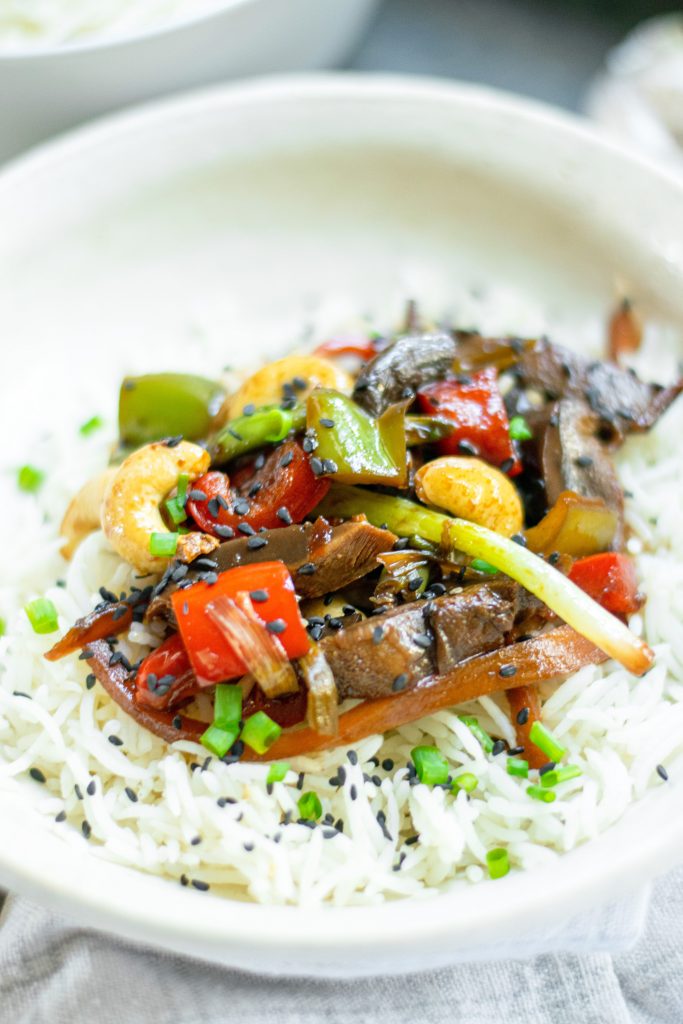 A Quick Note On The Veggies
Then making Kung Pao veggies, one thing to keep in mind is the size of the vegetables.
You want your dish to cook evenly. Although you will only be stir frying for a short time, you don't want one vegetable to overcook while another is undercooked.
For example, you will want to roughly chop the mushrooms and bell peppers into the same general size. They cook at around the same speed, with the bell peppers taking slightly longer.
The cashews actually go in last, which will give crunch to the dish. If you want to make nut-free Kung Pao vegetables, go ahead and leave out the cashews.
Otherwise, know that while you want the veggies to be stir fried and cooked, the cashews will be a bit crunchier!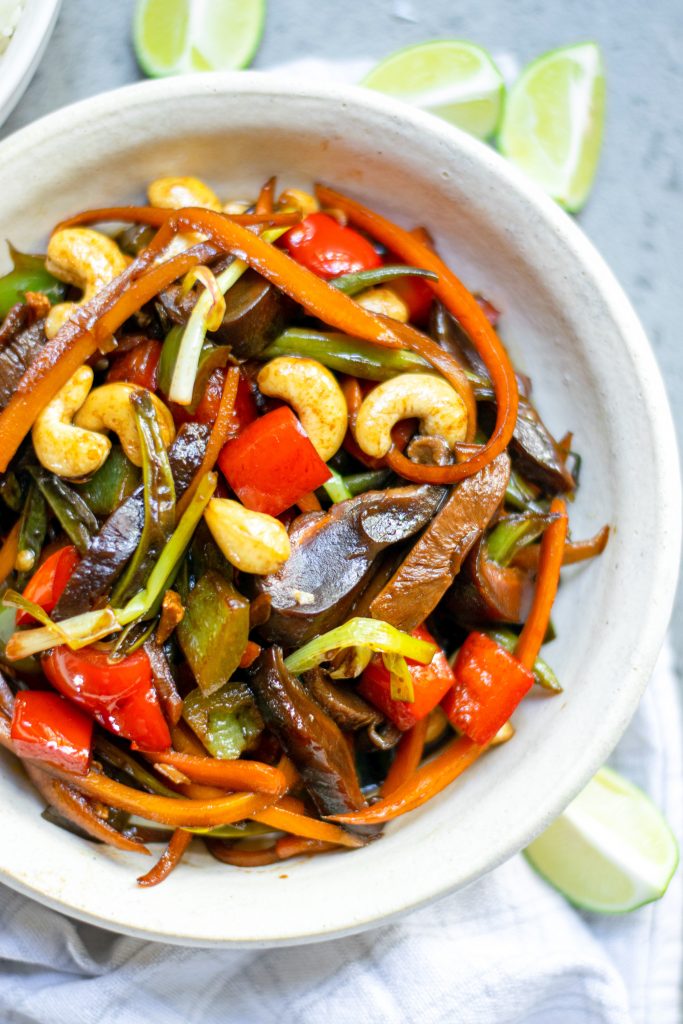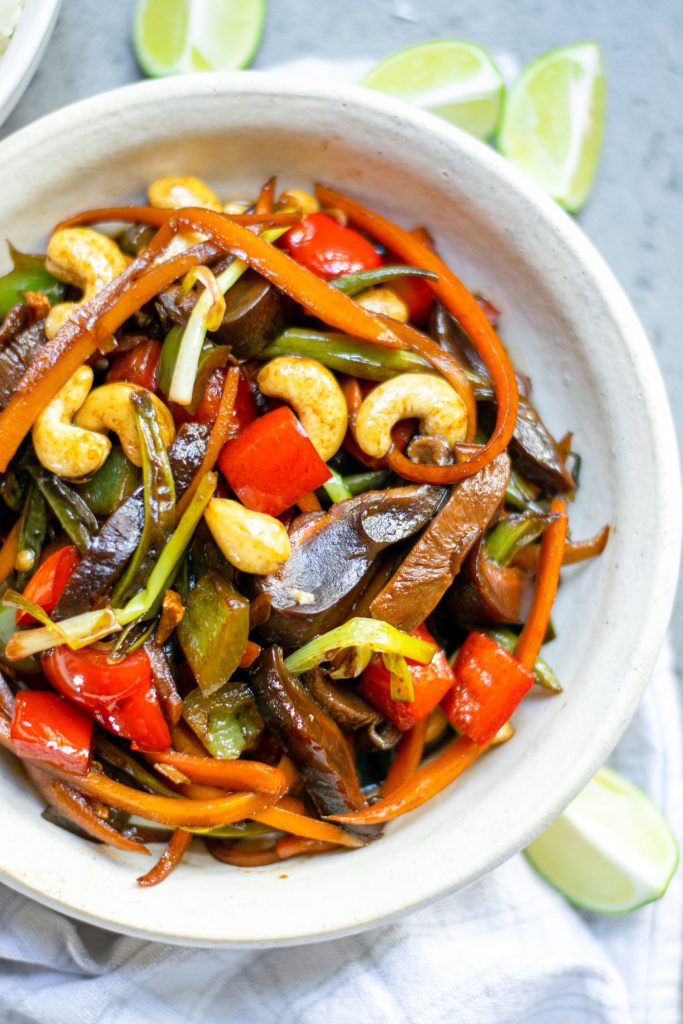 How To Make Kung Pao Vegetables
Making Kung Pao vegetables has never been easier of healthier! This is a vegan Kung Pao dish and if you leave out the cashews, it can be nut-free too.
This recipe for vegetable Kung Pao whips up in just 10 minutes and is hearty and filling while being light on cholesterol and all the bad things you shouldn't eat all the time!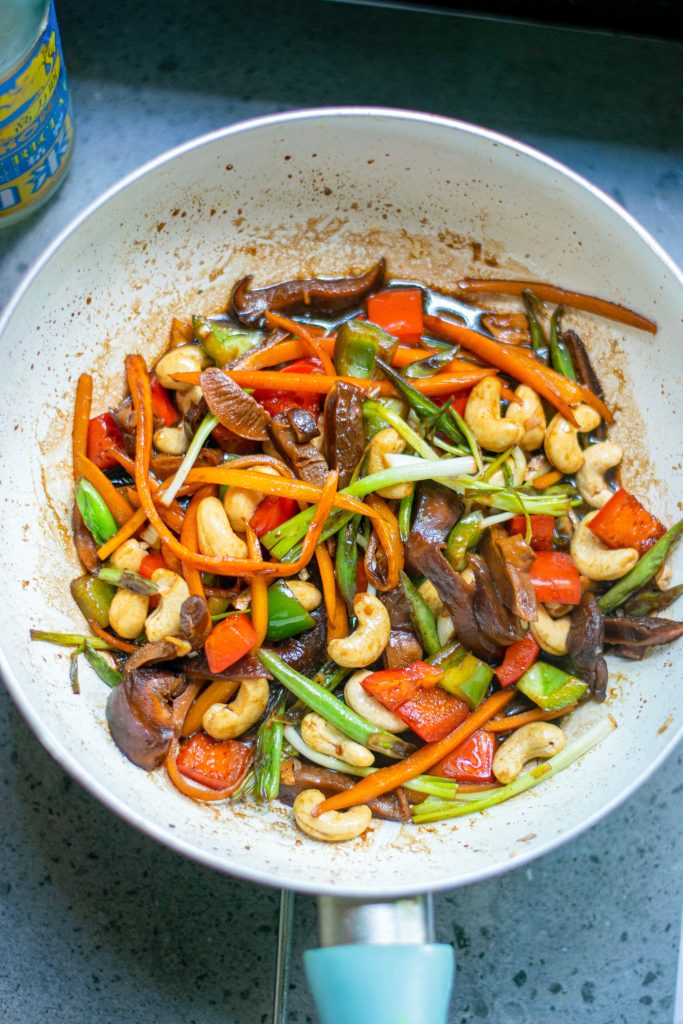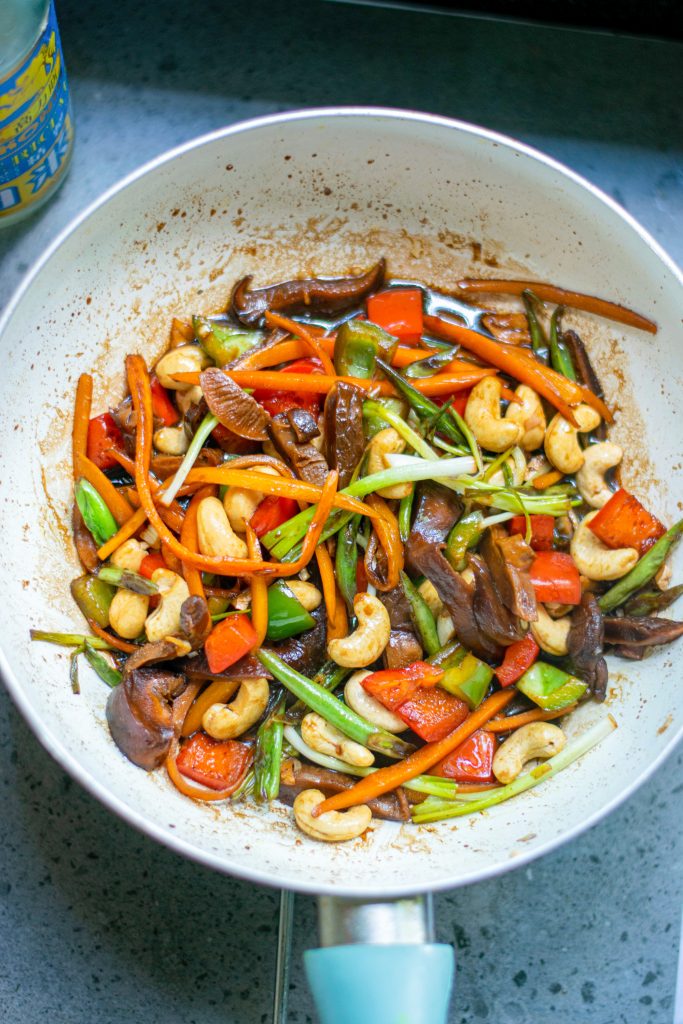 First, you are going to want to make the Kung Pao sauce. You will combine your soy sauce, rice vinegar, sugar, and ginger in a bowl.
If you want to add the heat to your dish, add in 1-2 tsp of chili sauce like Sriracha to the Kung Pao sauce.
If you want a thicker Kung Pao vegetable sauce, go ahead and add a little cornstarch.
I don't always have cornstarch or arrowroot on hand so this recipe is designed to work without it. I just wanted to recommend a quick tip in the event you want to add it yourself.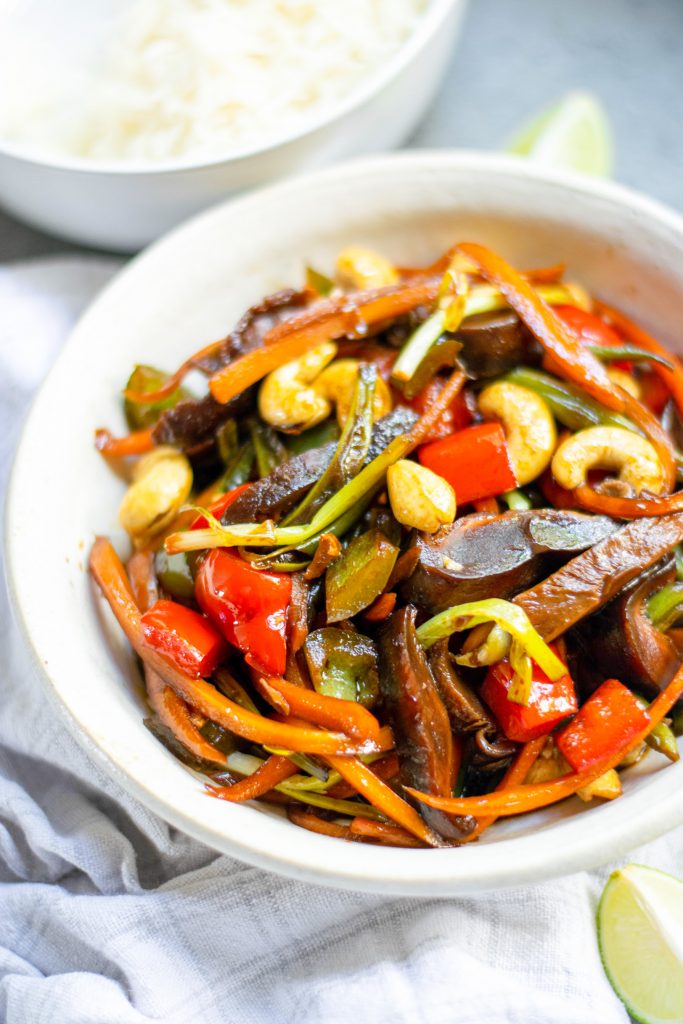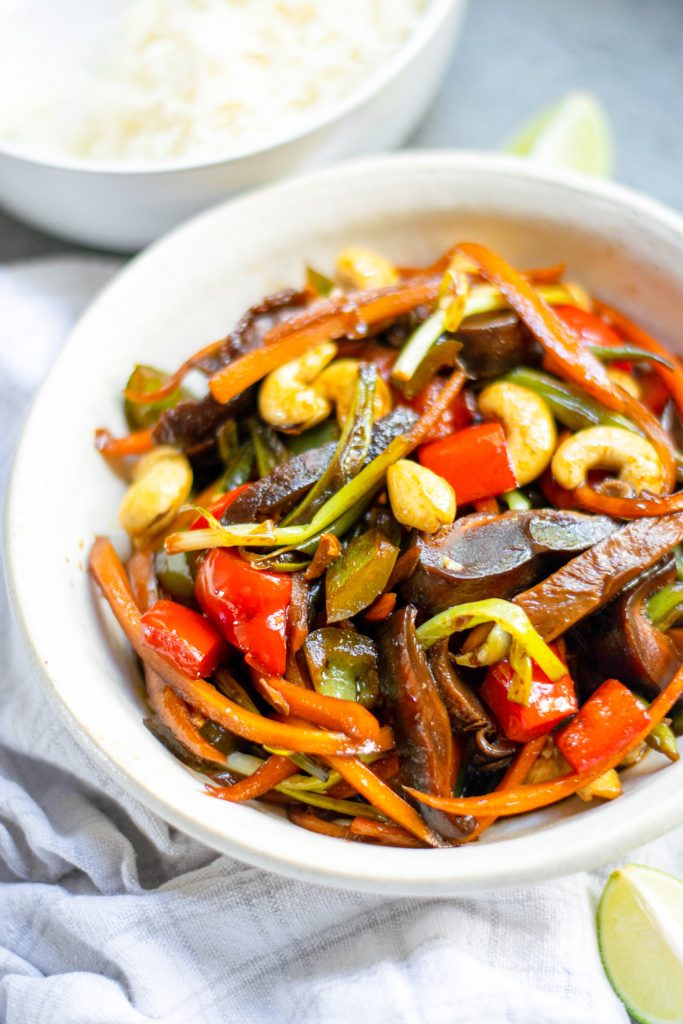 Next, prepare your vegetables.
In a large skillet or wok, heat sesame oil over medium heat. I highly recommend NOT skipping the sesame oil as it really adds flavor and depth to the vegan Kung Pao.
Stir fry your green beans, carrots, bell peppers, shiitake, and garlic until soft. This usually takes about 2-3 minutes.
Then, add your cashews and green onions and stir into the pan until combined and fragrant.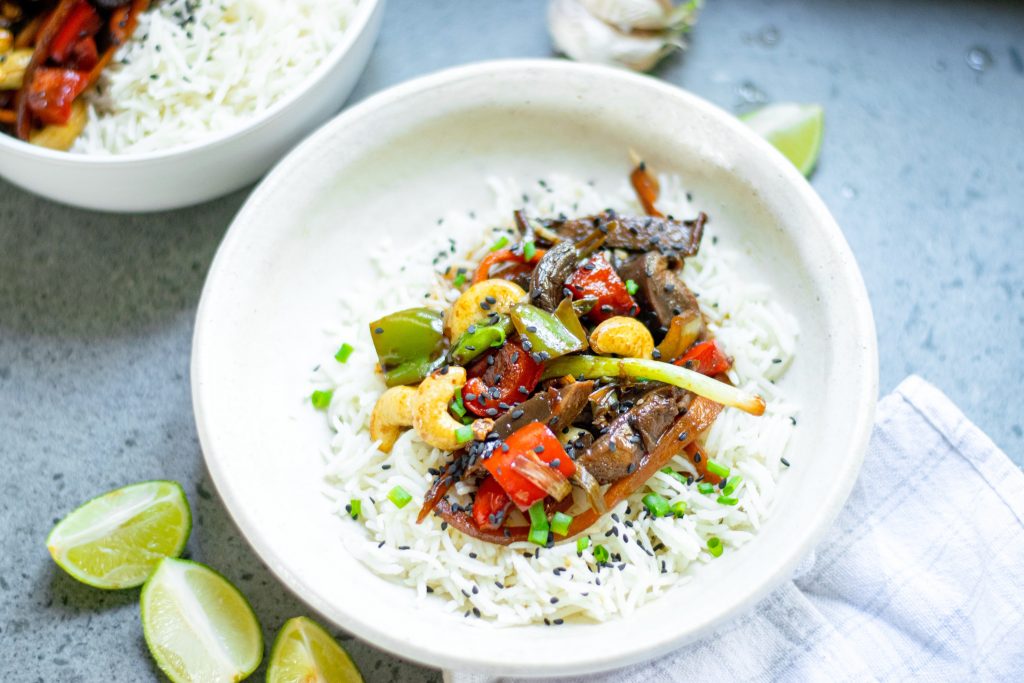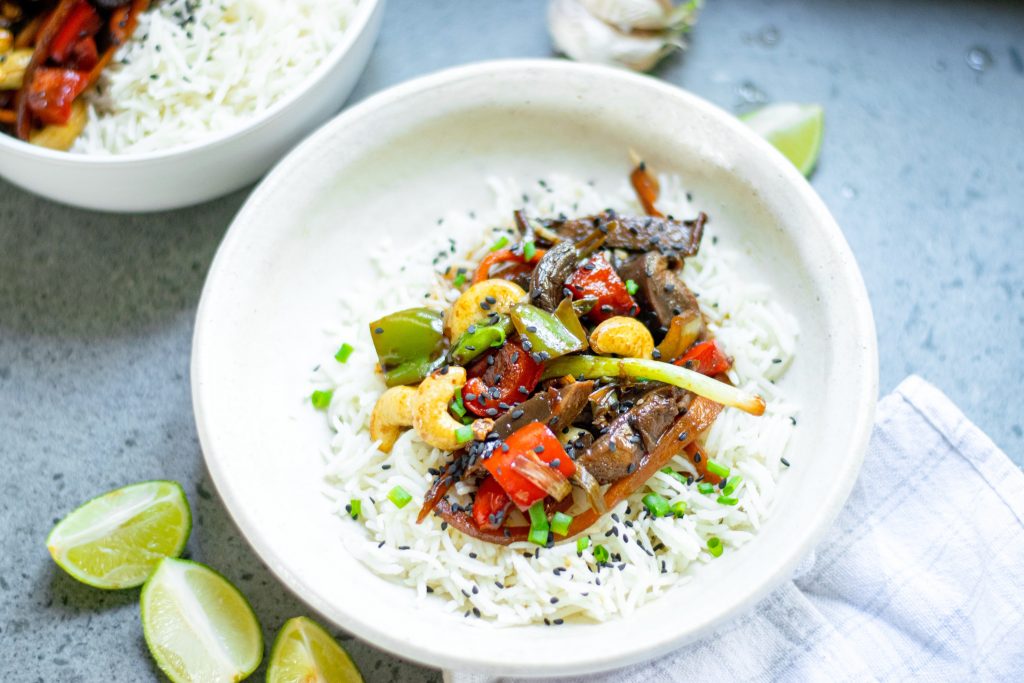 Season the entire mixture with crushed red pepper, if using, and stir to combine.
Next, add the Kung Pao sauce that you prepared earlier and bring the entire mixture to a simmer.
Continue to simmer and stir until the Kung Pao sauce has thickened. This should take about 3-5 minutes.
Meanwhile, you can boil or prepare your rice while you are working on the Kung Pao vegetables.
Once the sauce is thickened, serve over rice, which I do recommend preparing slightly in advance or alongside this recipe to make things faster!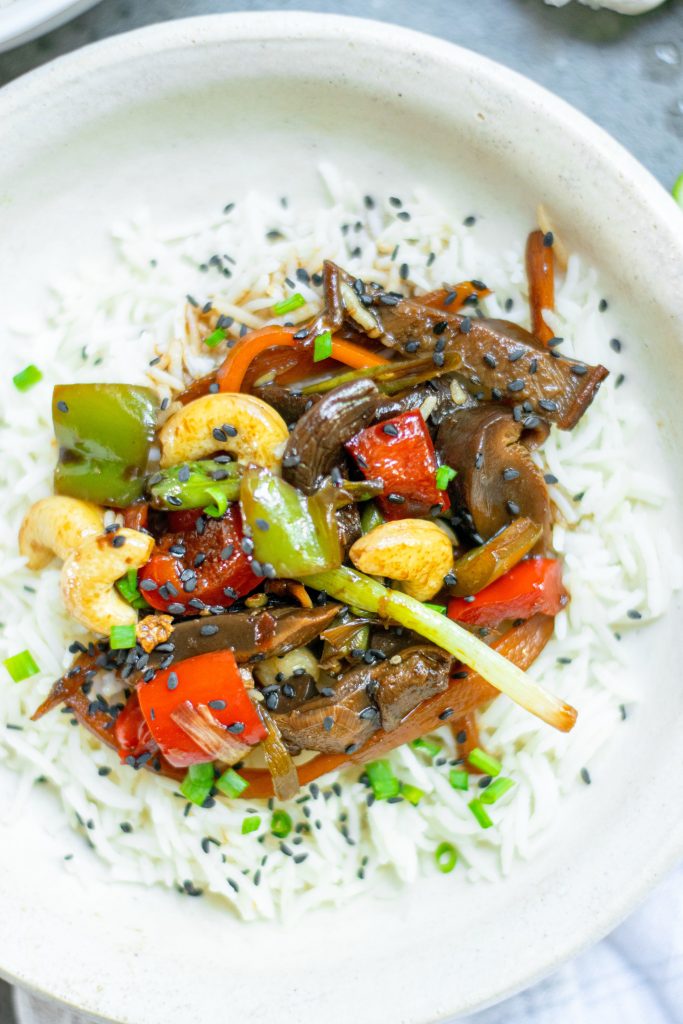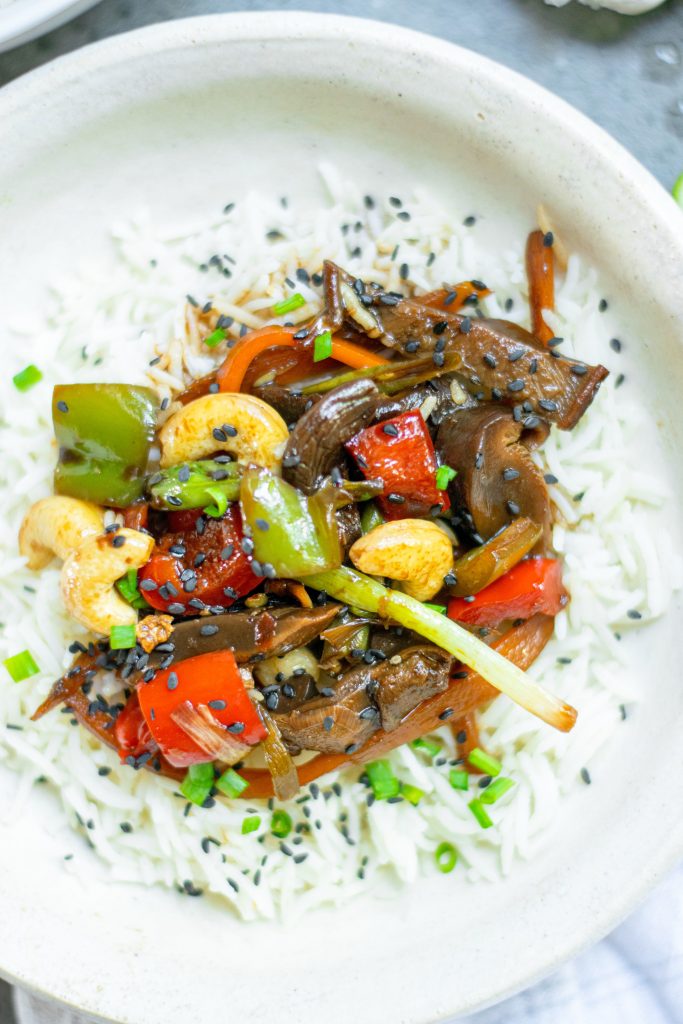 How To Store And Reheat The Vegetable Kung Pao
The Kung Pao vegetables can be stored in an air-tight container in the fridge for 3-4 days.
I do not recommend freezing them as fresh veggies that are in season work the best.
In order to reheat, you are going to want to add the vegetable Kung Pao to a skillet on medium heat and toss until warm.
You can also heat in the microwave, but it will not heat as evenly as doing it on the stove.
If your Kung Pao sauce is too thick, I recommend reconstituting with a little bit of broth, water, or extra soy sauce!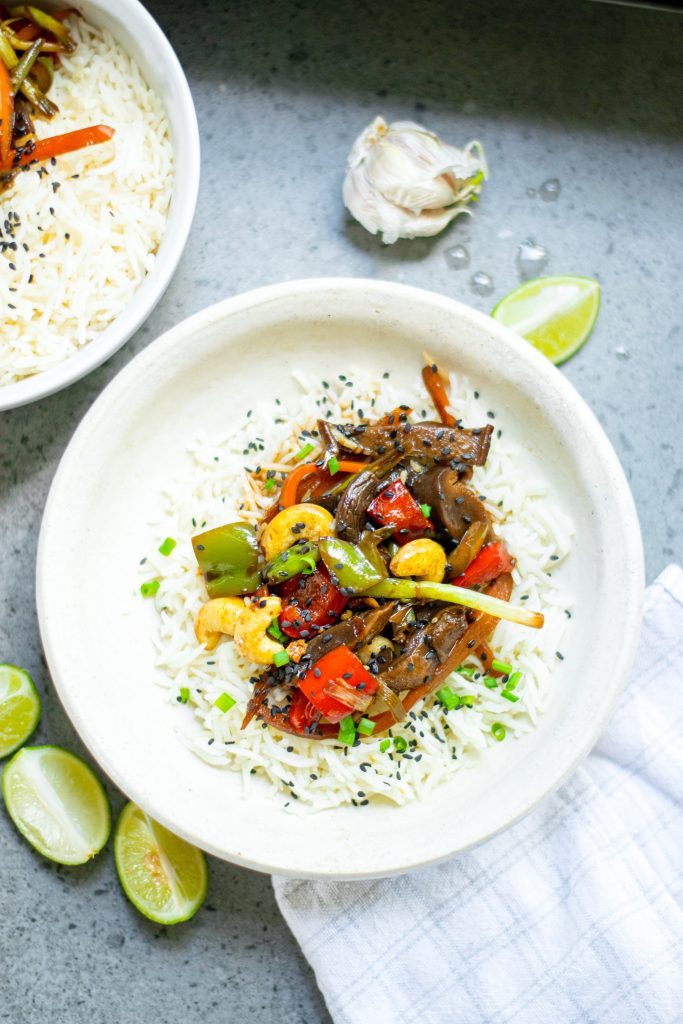 Did You Try This Recipe?
If so, I would love to keep in touch! I enjoy seeing photos and comments about the recipes that you make! You can follow me on Instagram and I will repost your goodies in my stories and comment on it too! Just tag me at @wowitsveggie and hashtag #wowitsveggie. I can't wait to see what you make!
Yield: 4 Servings
10-Minute Kung Pao Vegetables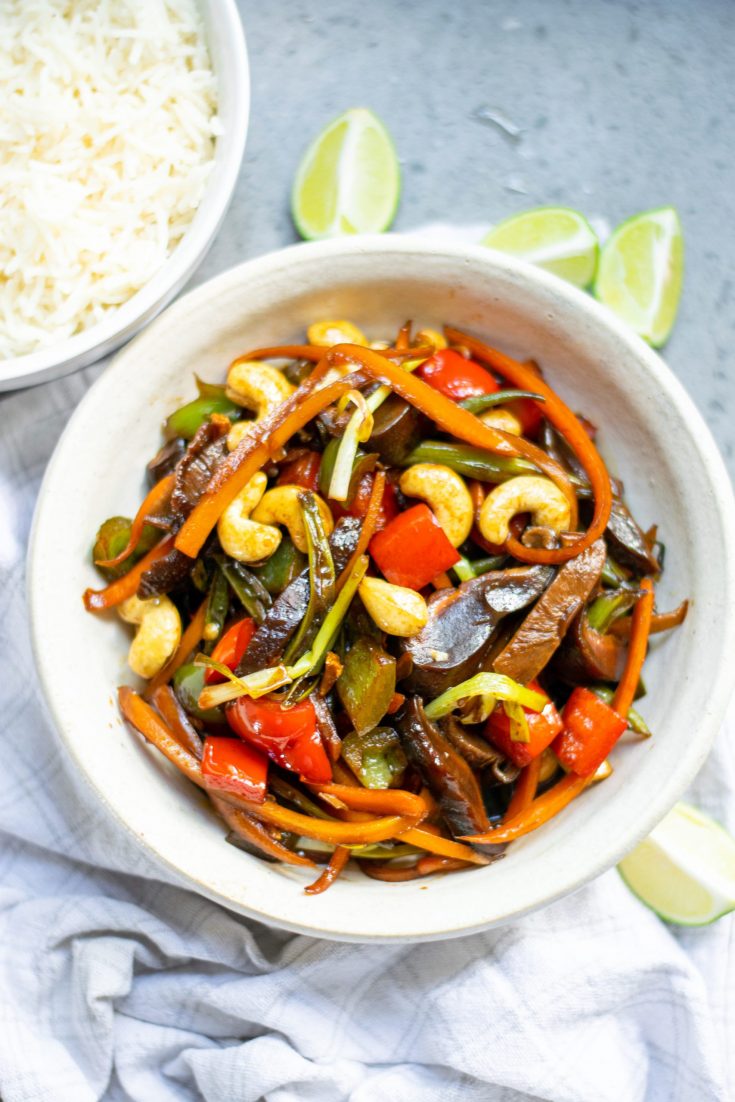 This easy Kung Pao vegetable recipe is so delicious and flavorful! It cooks up in just 10-minutes, making it the perfect meal when you are in a rush but still want something healthy and filling.
Ingredients
1 medium red bell pepper, diced
1 medium green bell pepper, diced
2 medium carrots, peeled and sliced
1 bunch green onion, cut
4 shiitake mushrooms, sliced (or mushrooms of your choice_
1/3 cup green beans, chopped
1/2 cup cashews
1/2 cup soy sauce
1/3 rice vinegar
2 tablespoons brown sugar
2 tablespoons sesame oil
1 tablespoon ginger, minced
1/2 tablespoon garlic, minced
1-2 teaspoons chili paste such as sriracha
Red pepper flakes to taste
Instructions
1. Make Kung Pao Sauce: Combine soy sauce, rice vinegar, sriracha, ginger, and sugar in a bowl. Stir to combine and set aside. Omit the sriracha or chili paste if you don't want the Vegetable Kung Pao to be too spicy.
2. Prepare your veggies. In a large skillet, heat sesame oil over medium heat. stir fry green beans and carrots until they begin to soften. Add bell peppers, shiitake, ginger and garlic. Shake red pepper flakes to taste. Omit if you don't want the dish too spicy.
3. Stir fry for about 2 minutes then add cashew and green onions.
4. Now add Kung Pao Sauce and bring to simmer until the sauce has thickened.
5. Remove and serve with rice.