If you are looking for an easy vegan bolognese recipe, you have come to the right place!
Not only is this bolognese sauce recipe easy, it is healthy and delicious too!
There are many vegan bolognese recipes that call for tofu or walnuts/ground nuts. My recipe is all easy ingredients that you may have around your house.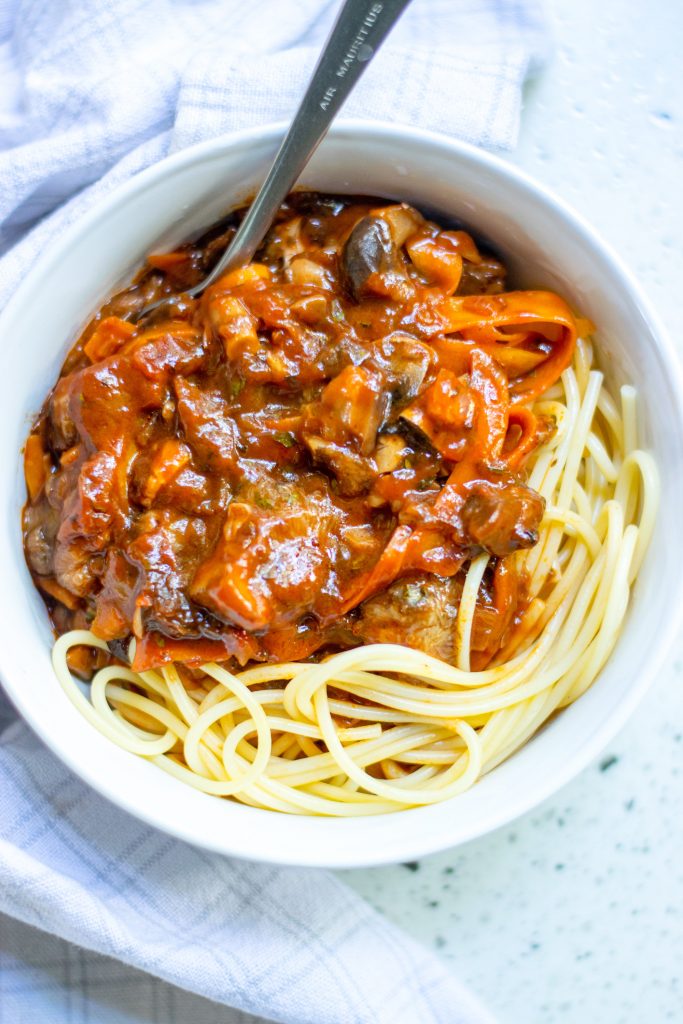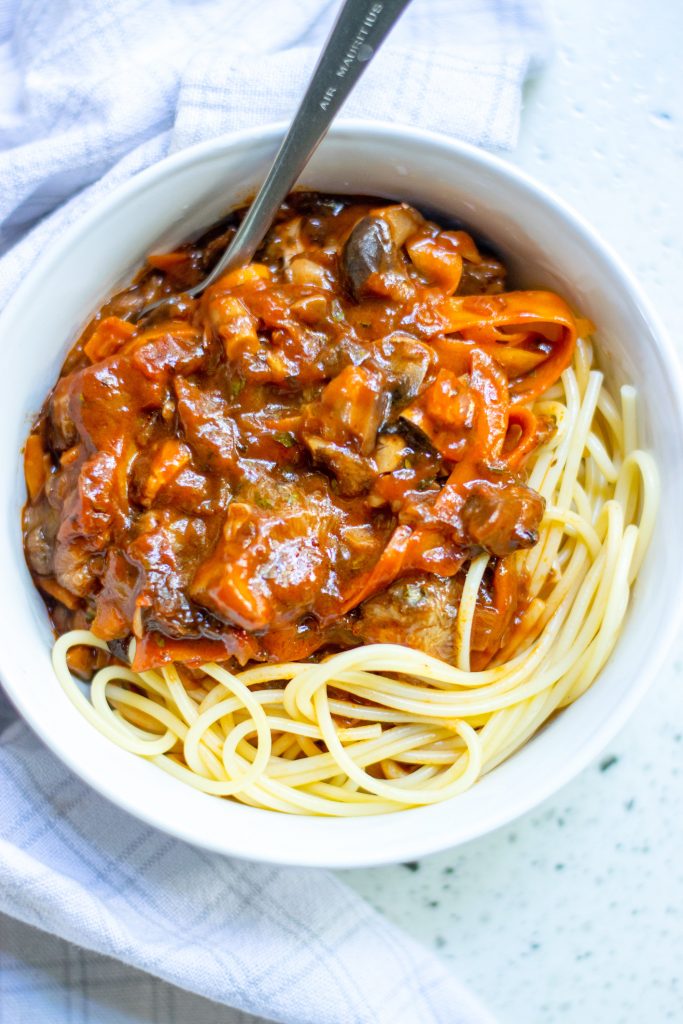 Of course, you can modify by adding fake meat or tofu if you want and I show you how to below, but it tastes fantastic and hearty just the way it is!
This is a great Vegan Recipe For Kids or for those of you who aren't a huge fan of the weird texture of mushrooms.
Once it is all cooked down and blended together in the vegan bolognese sauce, you aren't able to taste the normal "mushroom" texture and it is a real crowd pleaser.
If you are feeding picky eaters, you will have an easier time passing off this delicious vegetarian bolognese pasta!
It is hearty, meaty, and delicious. It whips up quickly and will surely become one of your favorite easy vegan recipes to make when in a pinch!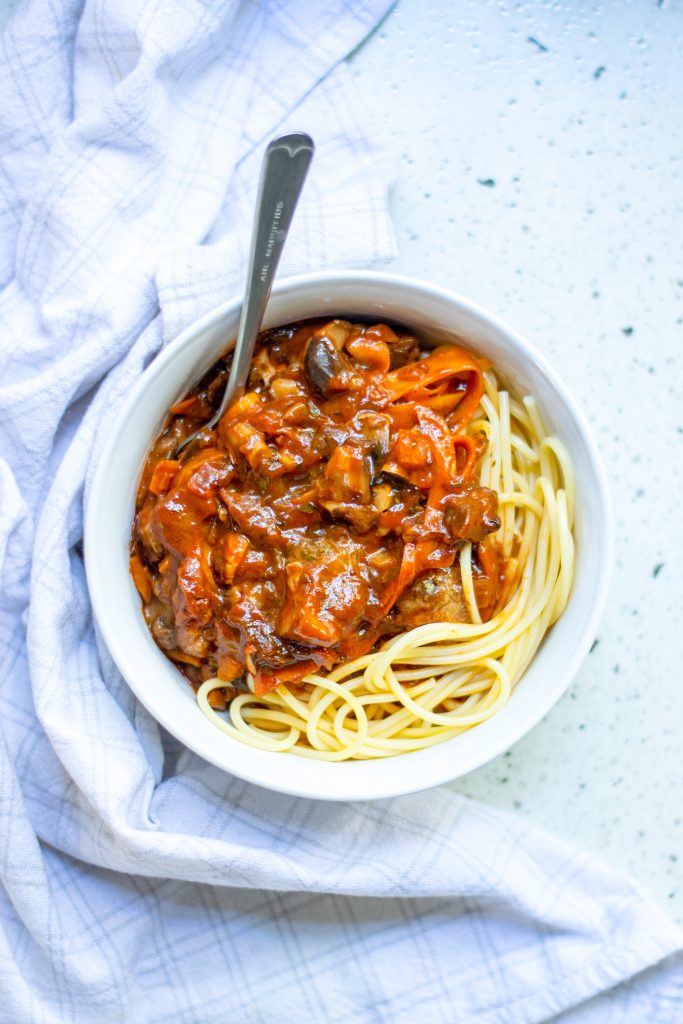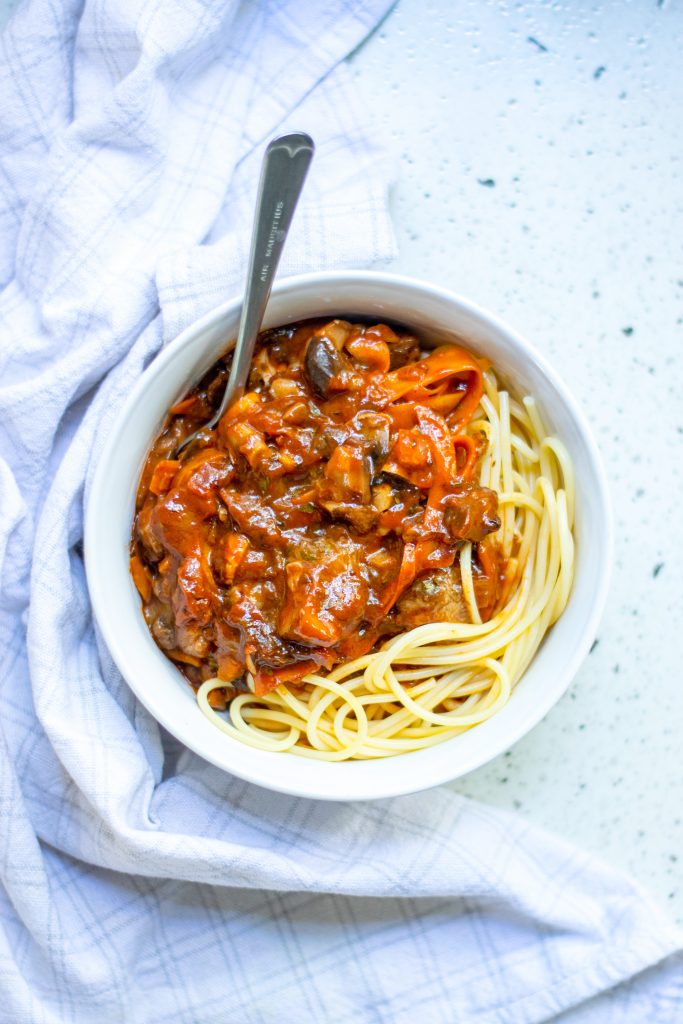 What Is In The Vegan Bolognese Sauce
I made this a nut-free vegan bolognese sauce so that anyone can have it!
Many bolognese sauce recipes call for walnuts or other types of nuts mixed with crushed tofu or fake ground meat.
I have nothing against "fake" meat or tofu, they are actually two of my favorite vegan products to eat, but sometimes you want something a little different.
I am excited that this is a vegan AND nut-free bolognese sauce so that even more people get to try it.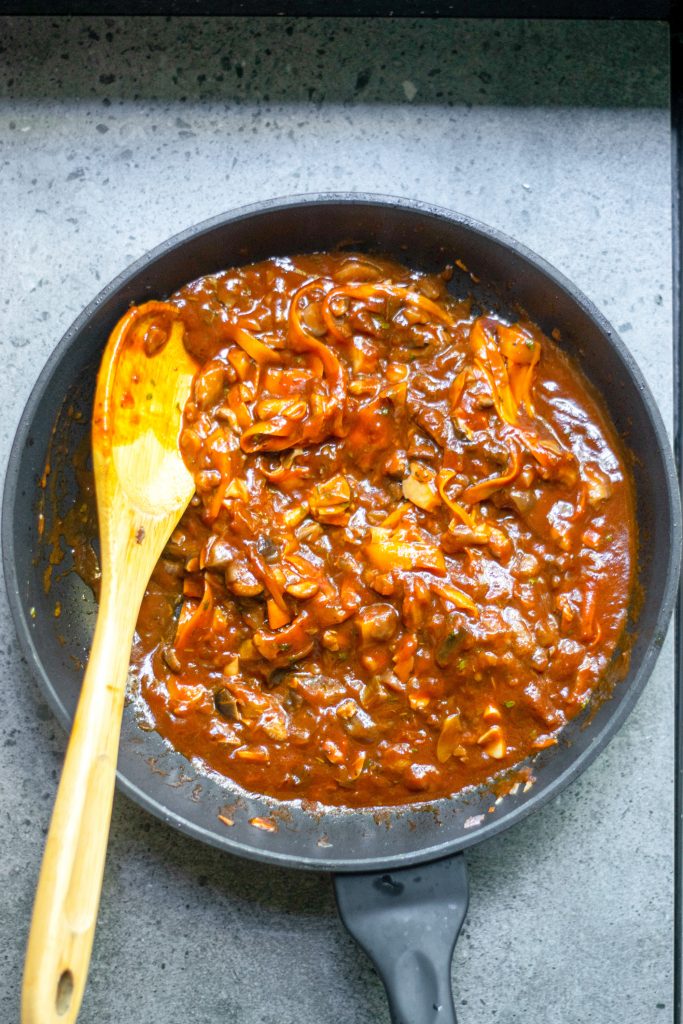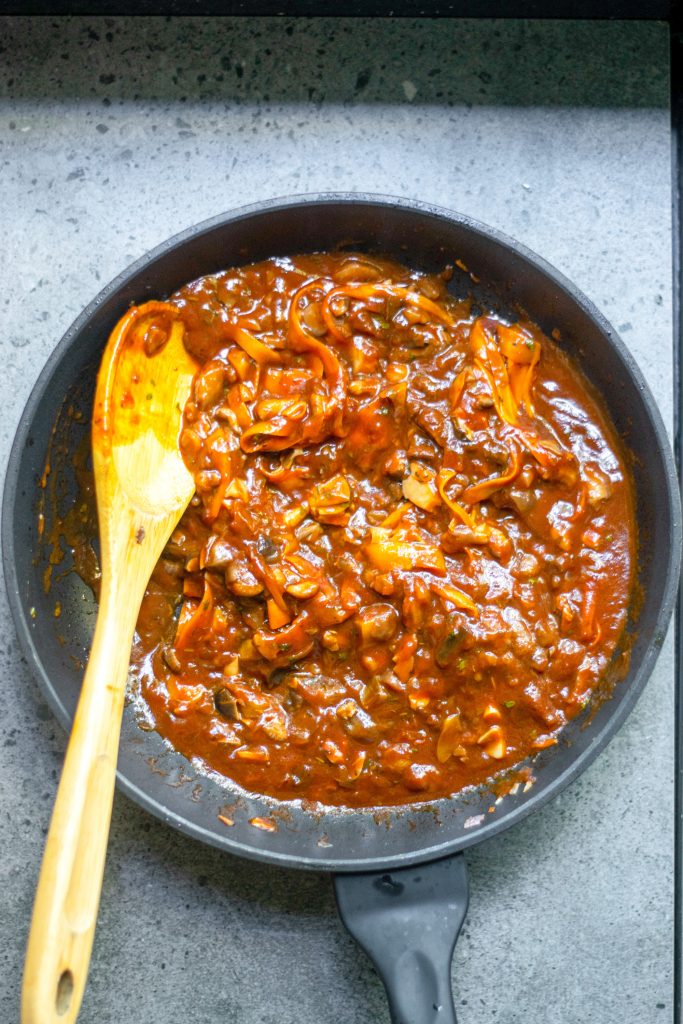 That gives this vegan bolognese sauce a "meaty" flavor are the mushrooms mixed with the carrots.
I do not peel my carrots, so don't waste your time as I want this to be as quick and easy a meal as possible for you!
If you do have time, use a vegetable peeler and cut the carrots into ribbons. This adds for a lovely texture and combines well with the mushrooms for the meat of this dish.
If you hate mushrooms but you still want to try this vegan bolognese sauce, do an even swap of the mushrooms for the vegan ground meat or crushed up tofu to fill the amount.
I do understand that not everyone likes mushrooms, so it is an easy substitution to make. I can say, the mushrooms make for a wonderfully meaty bolognese sauce, though!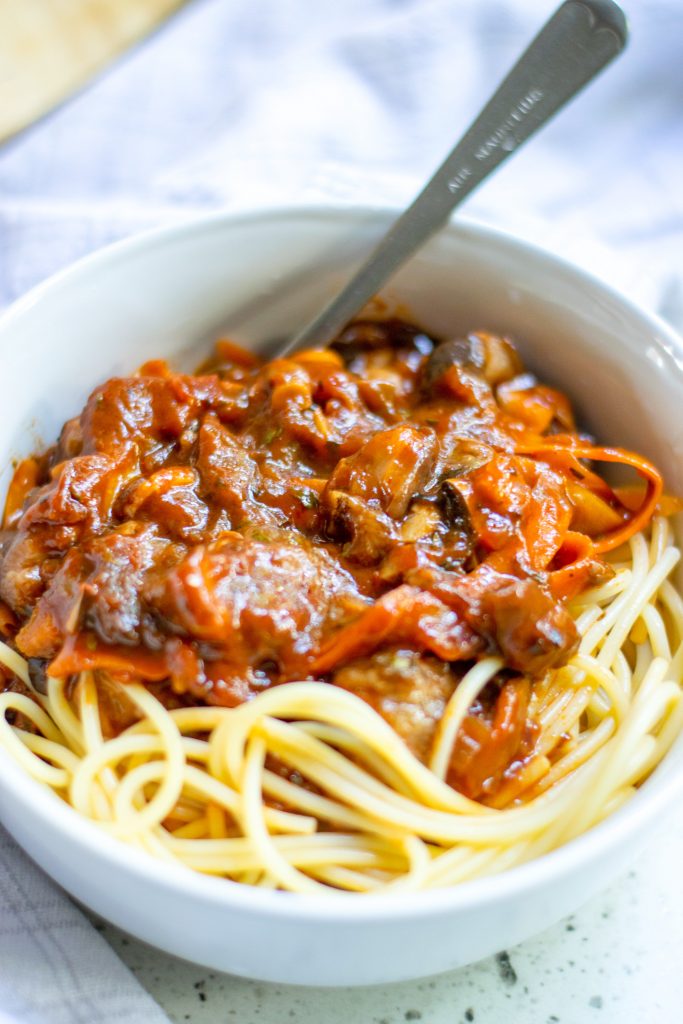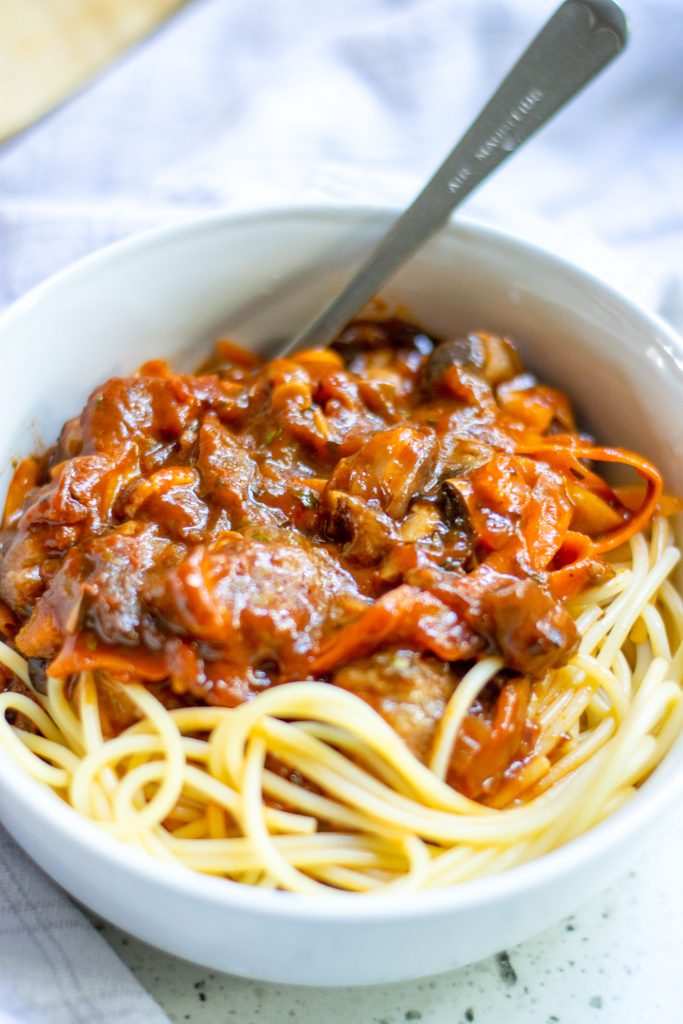 How To Make The Vegan Bolognese Recipe
The vegan bolognese sauce whips up in under 10 minutes, once you cook the pasta!
You are going to want to cook enough pasta for 3 people, as this recipe serves three. Feel free to make a little more or fully double the bolognese recipe.
You can use any pasta you want, but traditionally bolognese sauce is served over spaghetti or flat fettuccine style pasta noodles. Feel free to play around and use anything you have on hand.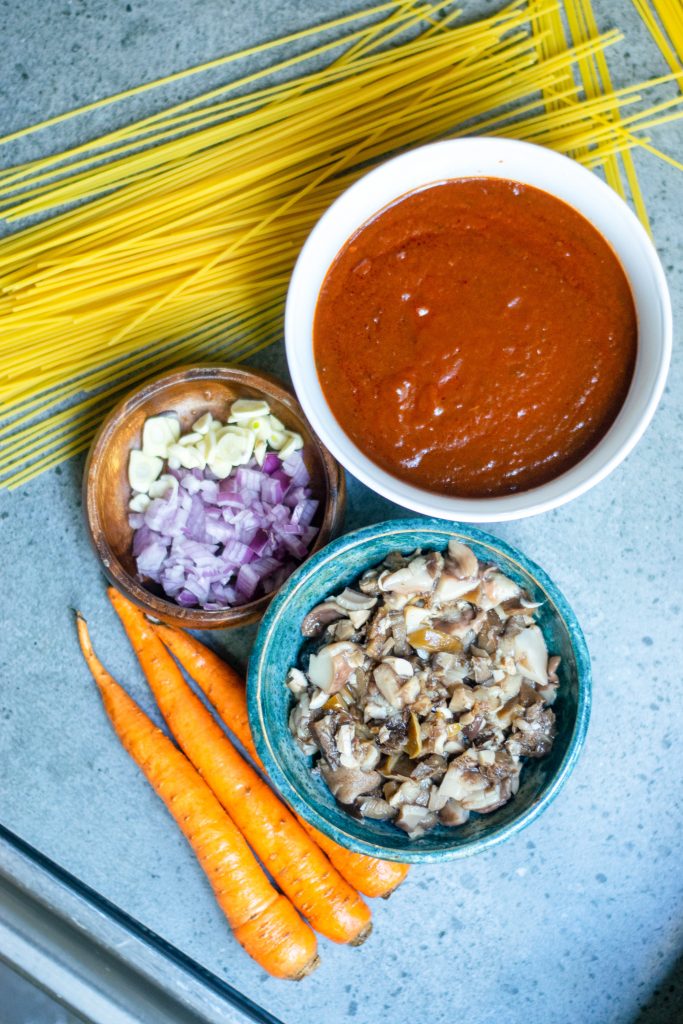 Next, all you are going to do is fill a pan with water and boil the mushrooms for 5 minutes and drain.
Then, you are going to stir fry the onion, garlic, and carrots and cook until tender.
If you are subbing in tofu or vegan ground meat, you will skip the boiling step and add your protein to the pan for a quick fry.
Then, add the spices, agave or maple syrup, and mushrooms and cook for a few minutes until soft.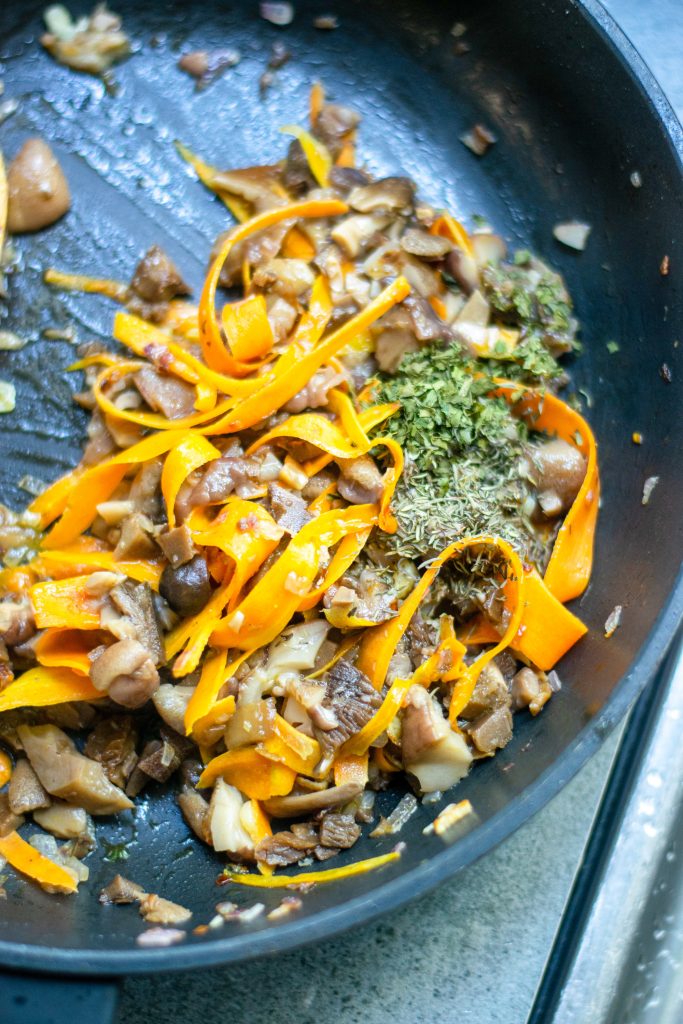 Finally, pour the tomato puree into the skillet and cook until the ingredients are combined and the sauce is thick.
This usually takes about 5 minutes.
Be sure to generously salt to taste.
It literally takes less than 10 minutes to make this vegan bolognese sauce and you can substitute the protein of your choice if you aren't a mushroom fan.
Easy, hearty, and delicious!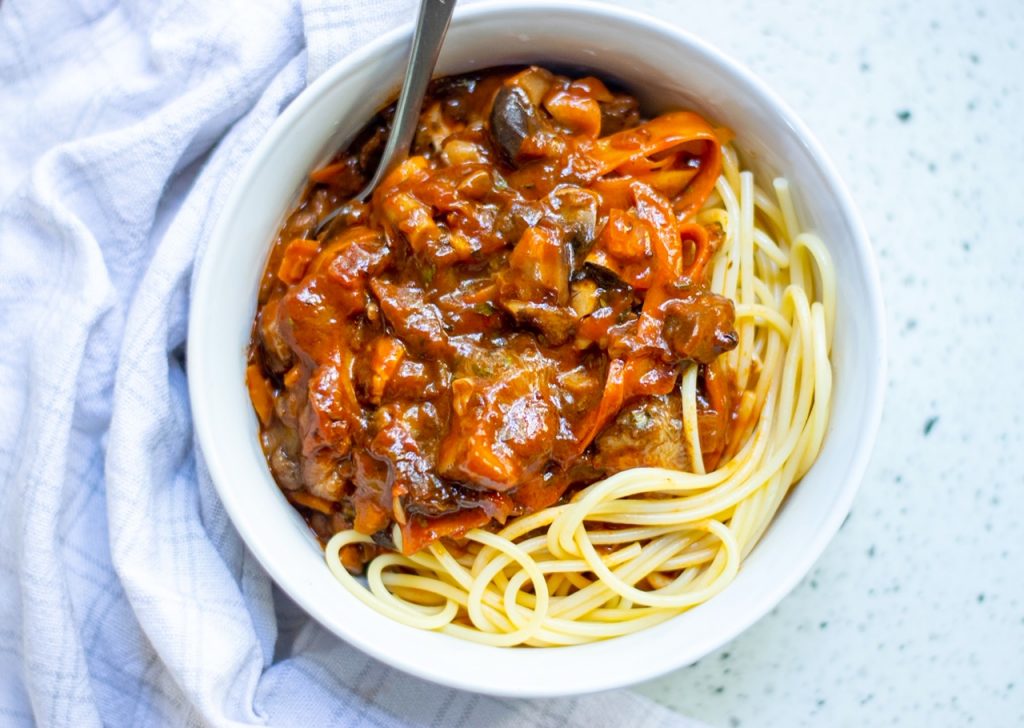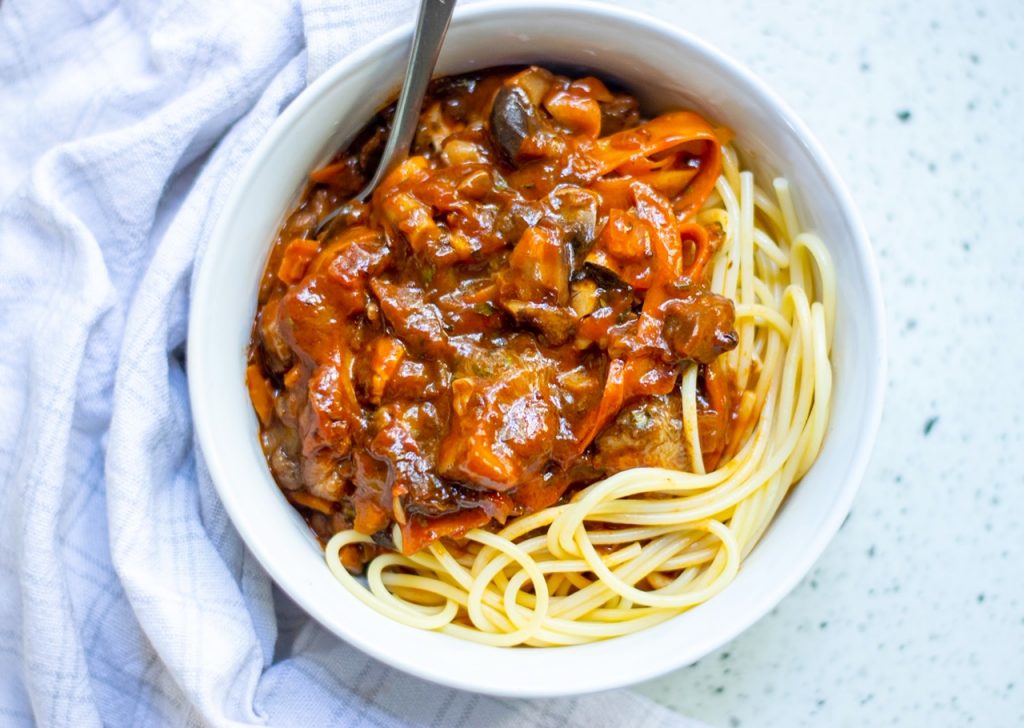 How To Store The Vegetarian Bolognese
The vegetarian bolognese sauce is perfect for meal prep!
It can be stored in an air-tight container in the fridge for 4-5 days or in a freezer-safe container in the freezer for up to 1 month.
To reheat, you are going to add contents to a saucepan and stir until combined and warmed throughout.
While you are warming the sauce, boil a fresh batch of pasta and serve the vegan bolognese over the pasta.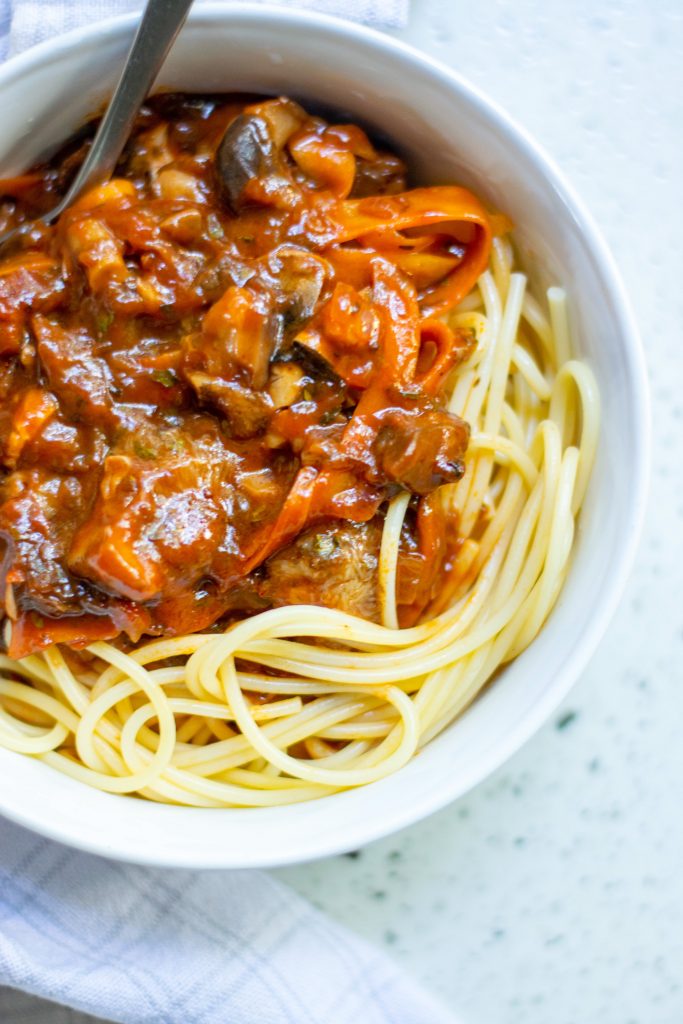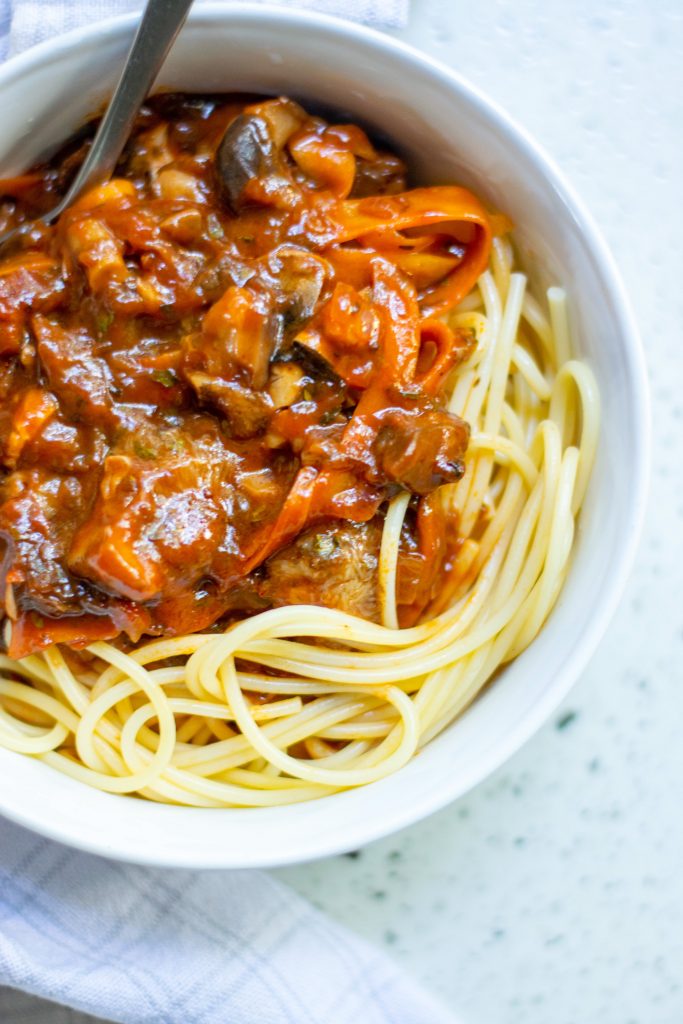 If your bolognese sauce is too thick after being in the fridge or freezer, go ahead and add a tiny bit of water to thin it out!
Only add a little water at a time so that the mixture doesn't become too thin! You can always add more but you can't take any away! f you loved this recipe, you may also like my 1-Pot Vegan Tomato Sauce too!
Did You Try This Recipe?
If so, I would love to keep in touch! I enjoy seeing photos and comments about the recipes that you make! You can follow me on Instagram and I will repost your goodies in my stories and comment on it too! Just tag me at @wowitsveggie and hashtag #wowitsveggie. I can't wait to see what you make!
Yield: 3 Servings
Easy Vegan Bolognese Sauce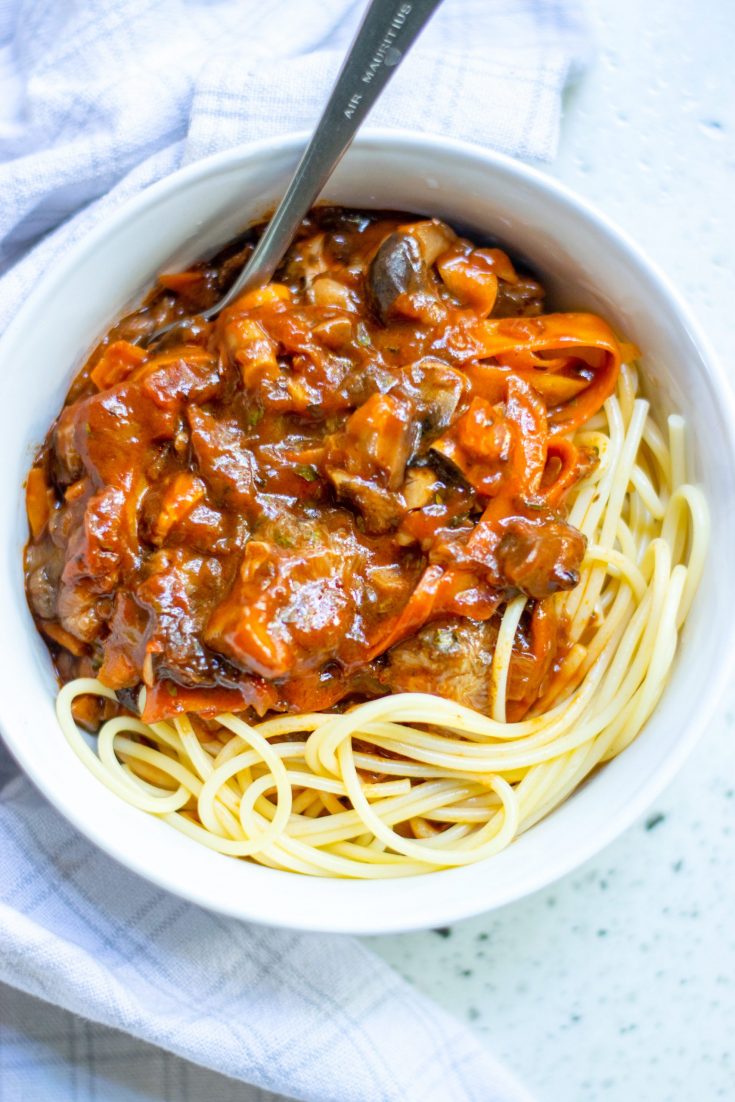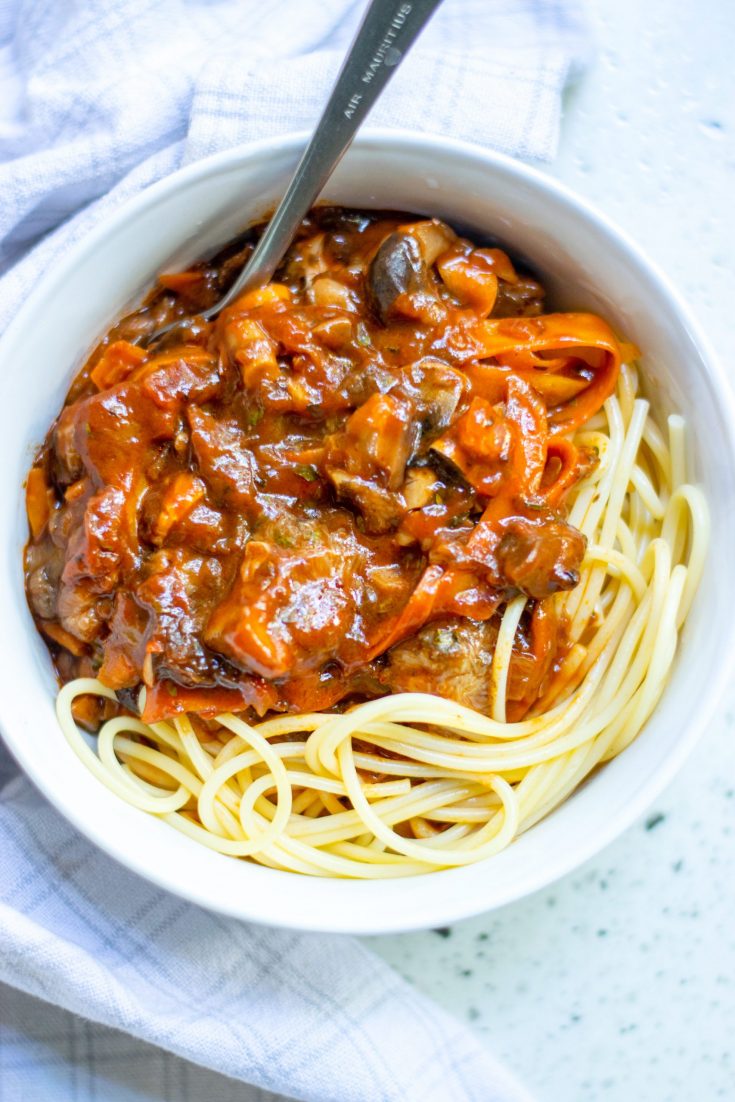 This vegan bolognese sauce is meaty and delicious! It is the perfect hearty topping for pasta and cooks up very quickly.
If you aren't a mushroom fan, you can sub in vegan meat crumbles or crushed tofu to customize your vegan bolognese to your taste!
This is the perfect comfort food after a long day at work!
Ingredients
1 cup mushrooms, chopped
1 1/3 cups tomato paste
3 carrots, preferably cut in ribbons (chopped or shredded is fine)
1 small onion, finely chopped
2 garlic cloves, finely chopped
2 tablespoons olive oil
1 tablespoon dried parsley
1 tablespoon dried thyme
1 tablespoon agave syrup or maple syrup
3 servings of spaghetti (or pasta type of your choice)
salt to taste
Instructions
1. Cook 3 servings of spaghetti.
2. Fill a saucepan with 2 cups of water and bring mushrooms to a boil for 5 minutes then drain. Skip this step if you are making the vegan bolognese without mushrooms
3. Heat a nonstick skillet with oil on medium heat. Stir fry onion and garlic. Cook for about 1 minute then add carrots. Cook until tender. (If you are using vegan meat crumbles or tofu, add them now to the frying pan)
4. Add parsley, thyme, agave/maple syrup and mushroom and cook for another 2 minutes. Pour tomato paste in the skillet. Cook until the sauce is a bit thick about 5 minutes then add salt to taste.
5. Serve with spaghetti or any pasta of your choice.
Notes
This vegan bolognese sauce stores well in the fridge for 4-5 days and in the freezer for 1 month. You may have to add a little bit of water if it is too thick when you are reheating. Reheat over the stove.
If you don't want to use mushrooms, you can sub vegan meat crumbles or tofu. Just use 1 cup of the vegan protein of your choice in place of the mushrooms.