This is the best vegan BBQ sauce recipe you will ever taste! Just the smell of it alone will ensure you will never go back to buying the packaged kind from the store!
Homemade vegan barbecue sauce is so versatile and can be used in so many recipes. You are going to love it!
I created this recipe using all whole-food ingredients so that you can have the tastiest and best vegan BBQ sauce ever!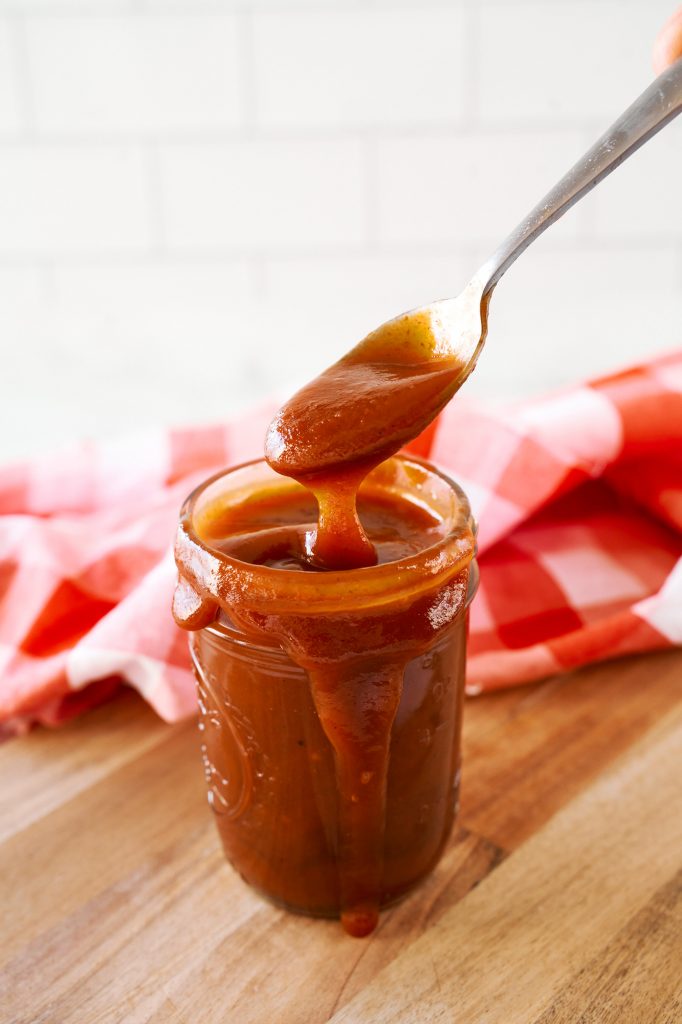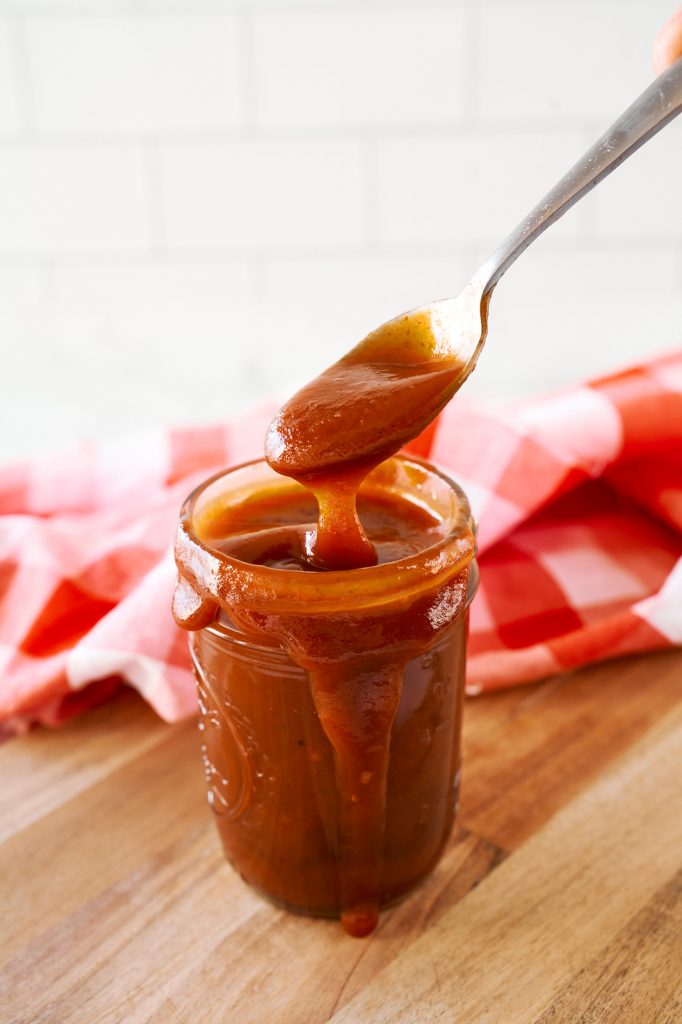 For example, instead of onion powder, we use real onions. Instead of garlic powder, we use real garlic. No slight against using powders, I use them all the time, but sometimes you just want the best flavor possible and nothing beats the real thing!
You can use this recipe for vegan BBQ sauce as a starting point to make your own sauce the way you want.
You know your tastes! You know if you like something sweeter, so add a little bit more sugar. You know if you like something spicier, so add some more spice to kick up the heat!
This healthy vegan barbecue sauce is way better than the stuff you buy at the stores because it doesn't contain high fructose corn syrup or any bad additives mean to make the sauce shelf stable.
You can eat this sauce and enjoy a guilt-free meal knowing that you are in charge of everything that goes into it!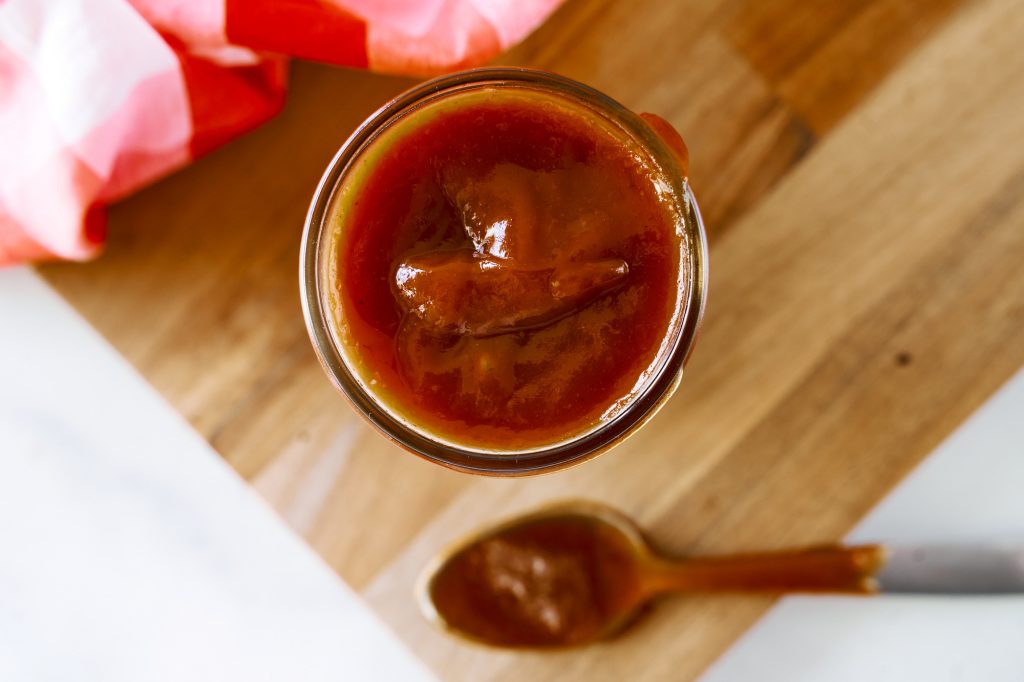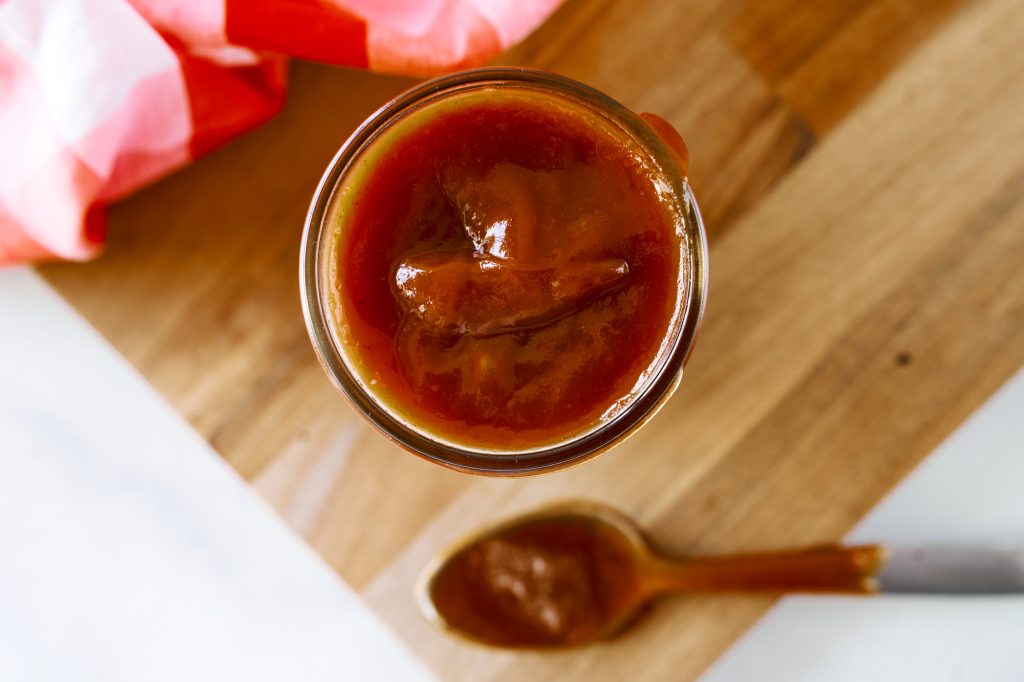 Is BBQ Sauce Vegan?
The short answer is no, the BBQ sauce you get from the store isn't vegan.
Many people think that BBQ sauce is naturally vegan, but this couldn't be further from the truth! This is why I developed this easy recipe so you can enjoy it on the cheap with no animal products.
Most store bought BBQ sauces use either honey, anchovies, or both. Don't ask me why tiny fish are being used inside of a BBQ sauce but they are. Honey is obviously used for sweetening.
Some BBQ sauces contain other additives and ingredients made from ground animal bones used during processing of the additives as well. If you don't know what to look for, you may totally miss this too.
The best and safest bet is to make your own homemade BBQ sauce that is 100% vegan and super tasty!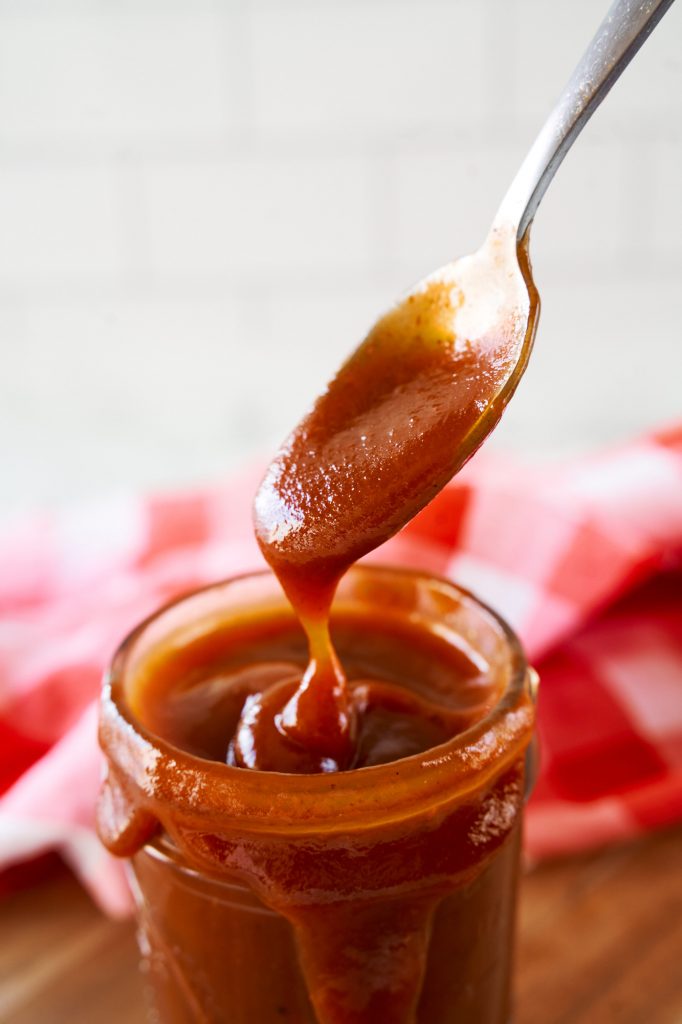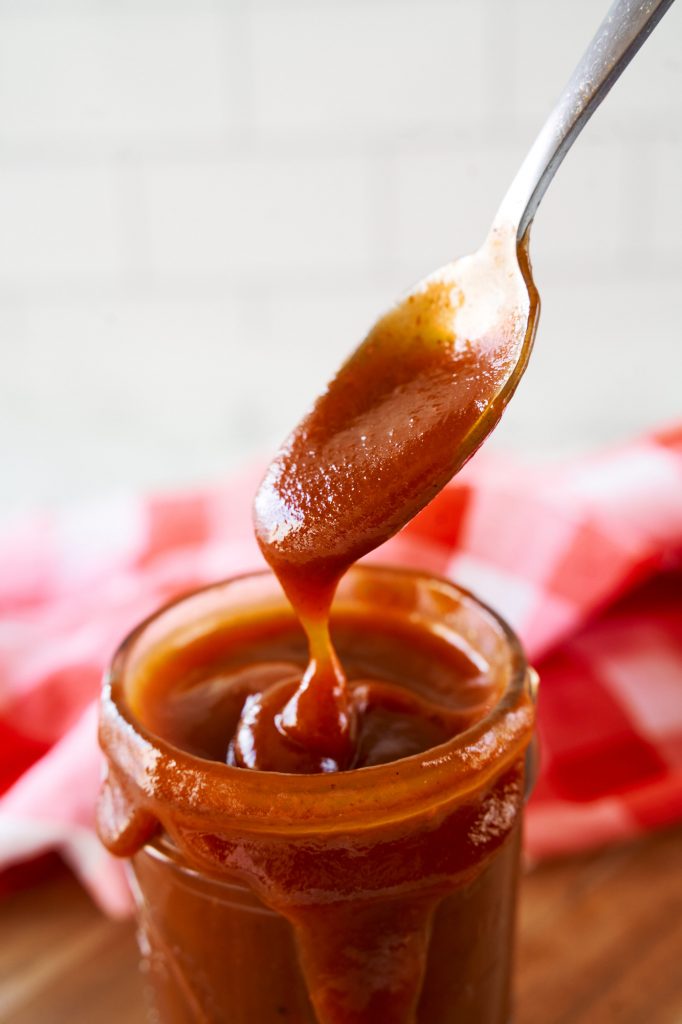 How To Make Homemade Vegan BBQ Sauce
This recipe for vegan barbecue sauce is pretty quick and easy! The only thing that takes a little time is sauteing the veggies as you must cook them until soft.
First, you are going to heat oil over medium heat and add your onion, bell pepper, garlic, and chilies. If you don't like hot peppers, leave the chilies off the recipe!
As I said above, making your own BBQ sauce is super easy to customize!
Saute and cook until softened which usually takes about 5 minutes.
Then, stir in the tomatoes, sugar, vinegar, salt, and oregano and cook for about 5-7 minutes longer until all of the flavors are well combined!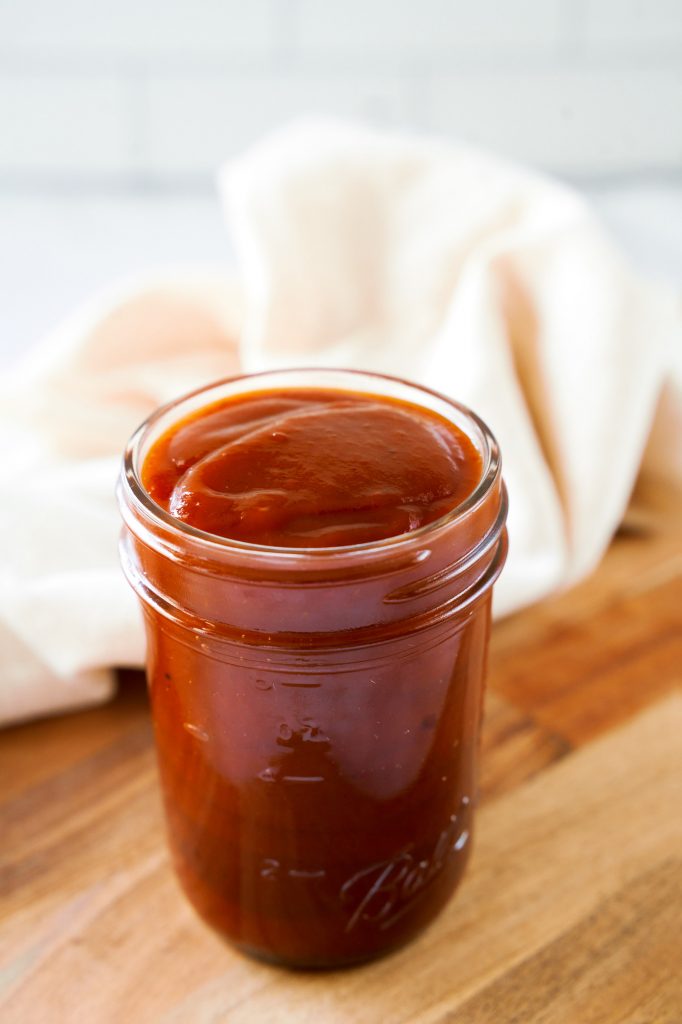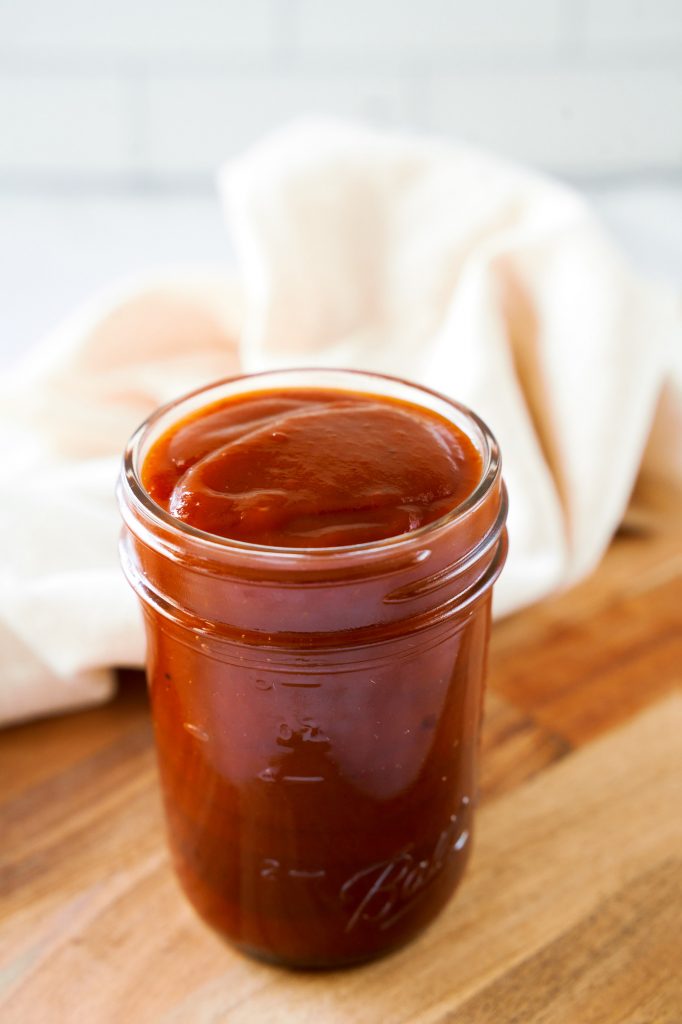 Now, simply transfer the vegan BBQ sauce mixture to a blender or food processor.
Puree until smooth, just like you would do a soup recipe.
Return the sauce to the pot and bring to a boil over high heat.
Once it boils, reduce the heat to low and cook until thick which takes about 20 minutes.
After the vegan barbecue sauce has thickened, stir in the liquid smoke if you want to use it.
Serve warm if you are eating it immediately!
I know this sounds a little more labor intensive than all of the other quick and easy vegan BBQ sauce recipes out there, but it is well worth it to get that low and slow cooked flavor of goodness!
Making your own BBQ sauce without ketchup is incredibly easy and just takes a little bit of your time!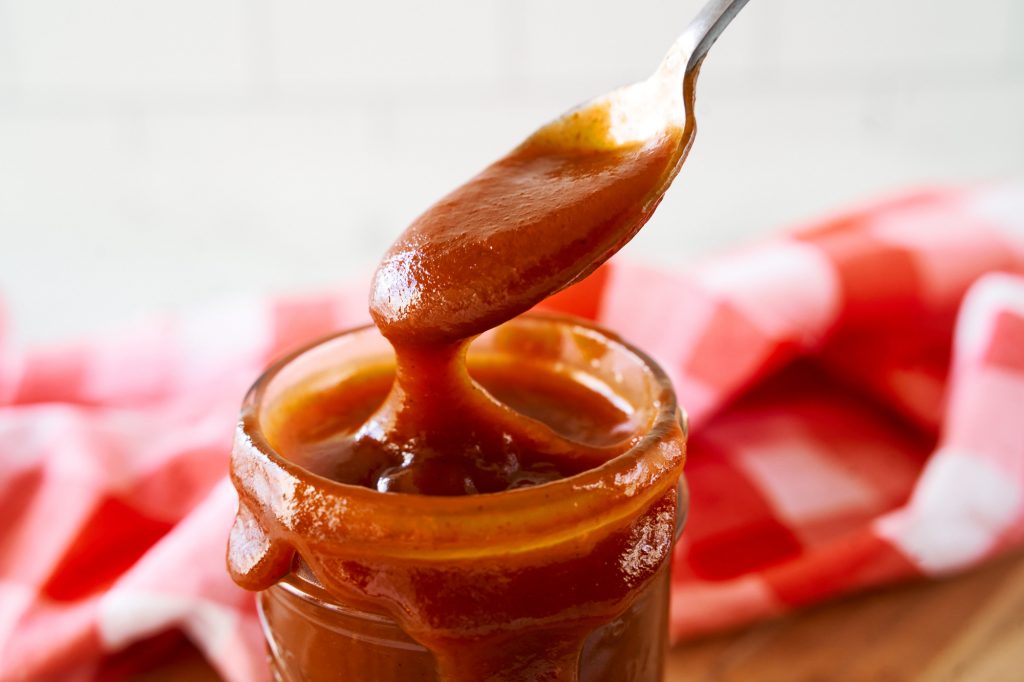 What To Eat With Vegan Barbecue Sauce
There are so many ways to use BBQ sauce in vegan cooking! The options are truly endless!
To give you some ideas, here are a few suggestions on how you can use it!
Use it as a pasta sauce for a vegan pasta
Use it in place of ketchup for Veggie Burgers
Top your Vegan Meatloaf with it instead of ketchup
Dip your fries or Potato Wedges into it.
Use it to top a baked potato
Use it as a marinade for baked tofu
Grill your veggies in it
As you can see, these are just a few of the many ways you can incorporate BBQ sauce into a vegan diet! I promise you that making it yourself will change your vegan cooking forever!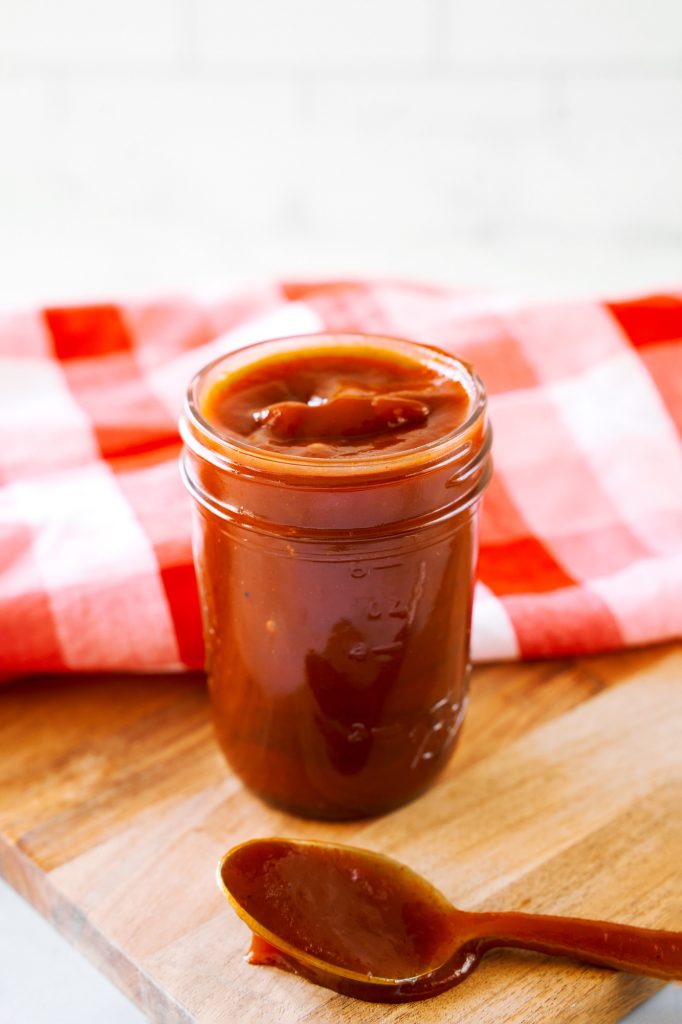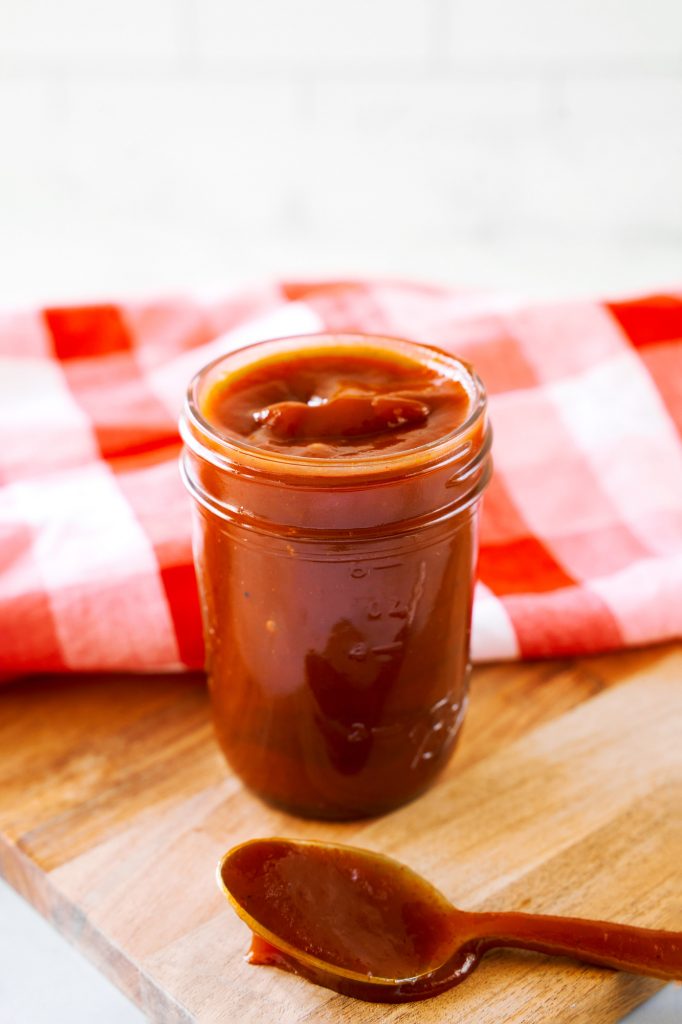 How To Store Homemade BBQ Sauce
This vegan BBQ sauce can store well in the fridge for 4-6 days in an air-tight container.
Many people like to eat BBQ sauce cold, so if you like cold sauce, go ahead and take it straight from the fridge and eat it right away.
If you prefer your barbecue sauce to be warm, simply reheat the sauce in a small pan over low heat until warmed throughout for best results.
I have not frozen this sauce and don't recommend it! I wouldn't store the sauce for over 7 days though as it starts to get a little funky but it is amazing up until then!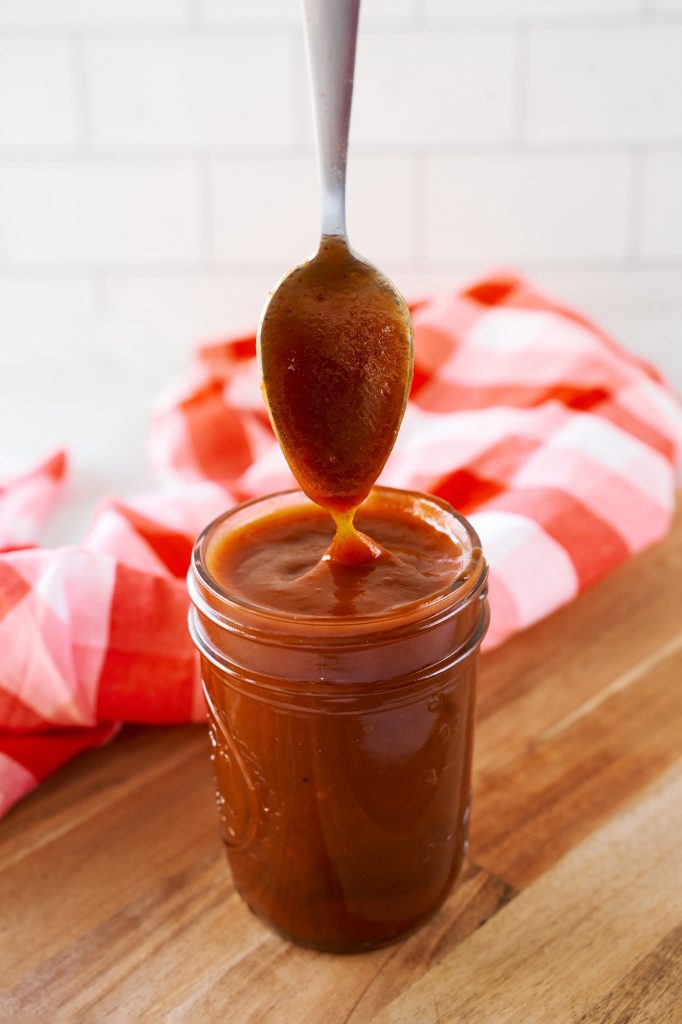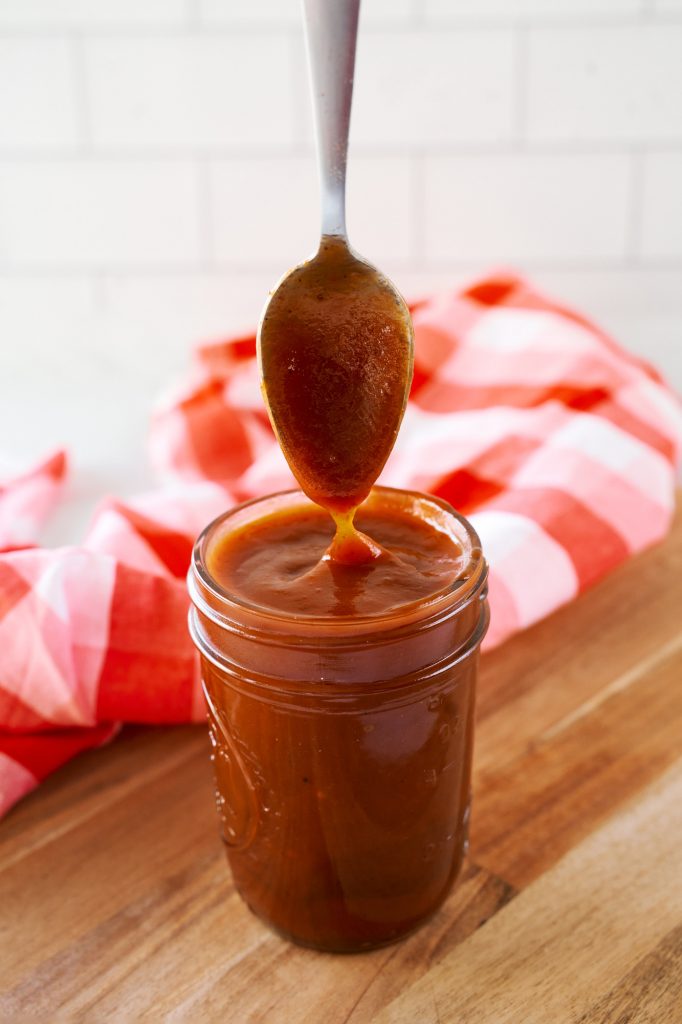 Did You Try This Recipe?
If so, I would love to keep in touch! I enjoy seeing photos and comments about the recipes that you make! You can follow me on Instagram and I will repost your goodies in my stories and comment on it too! Just tag me at @wowitsveggie and hashtag #wowitsveggie. I can't wait to see what you make!
Yield: 2 1/2 cups
Best-Ever Vegan BBQ Sauce Recipe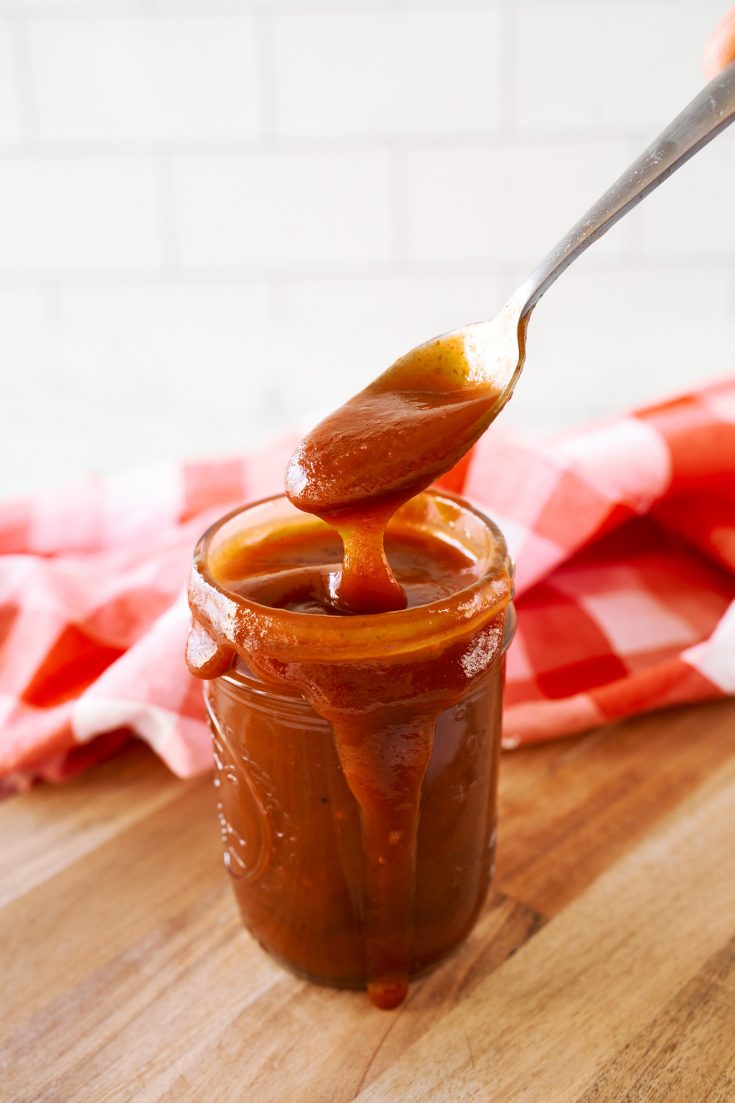 Learning how to make your own vegan BBQ sauce will change your life! This recipe is filled with the good stuff and none of the bad that you find in traditional store-bought sauces.
Use this vegan barbecue sauce recipe as a starting point and customize it to your tastes. More sugar? More heat? Fix it just the way you like it!
Ingredients
1 medium onion, chopped
1 medium red bell pepper, chopped
3 cloves of garlic, chopped
1-2 fresh hot chilies, chopped [optional]
1 14.5 ounce can of crushed tomatoes
1/2 cup sugar
1/4 cup apple cider vinegar
1 teaspoon salt
1/2 teaspoon oregano
1/2 teaspoon liquid smoke [optional]
oil for cooking
Instructions
In a medium pot, heat oil and saute your onion, garlic, bell pepper, and chiles until soft and cooked. This usually takes about 5-7 minutes.
Next, add in your crushed tomatoes, sugar, apple cider vinegar, salt, and oregano and saute for 5 more minutes until well combined.
Transfer to a blender or food processor and puree until very smooth. There should be no lumps or bumps left.
Return the vegan BBQ sauce to the pot and bring to a boil over high heat.
Reduce the heat to a low simmer and cook for about 20 minutes until the BBQ sauce thickens. If using, stir in the liquid smoke.
Serve the barbecue sauce either hot or cold, depending on your preferences.
Nutrition Information
Yield
48
Serving Size
1
Amount Per Serving
Calories

18
Total Fat

0g
Saturated Fat

0g
Trans Fat

0g
Unsaturated Fat

0g
Cholesterol

0mg
Sodium

62mg
Carbohydrates

4g
Fiber

0g
Sugar

3g
Protein

0g