This vegan thousand island dressing recipe is so super simple and the end result is so tasty!
This recipe is a vegan take on the creamy classic and it is so delicious!
Regular thousand island dressing is far from healthy, but this vegan version takes all of the good stuff and leaves out all of the bad.
The key to making delicious vegan versions of popular foods is to season and prepare it the same way or similar.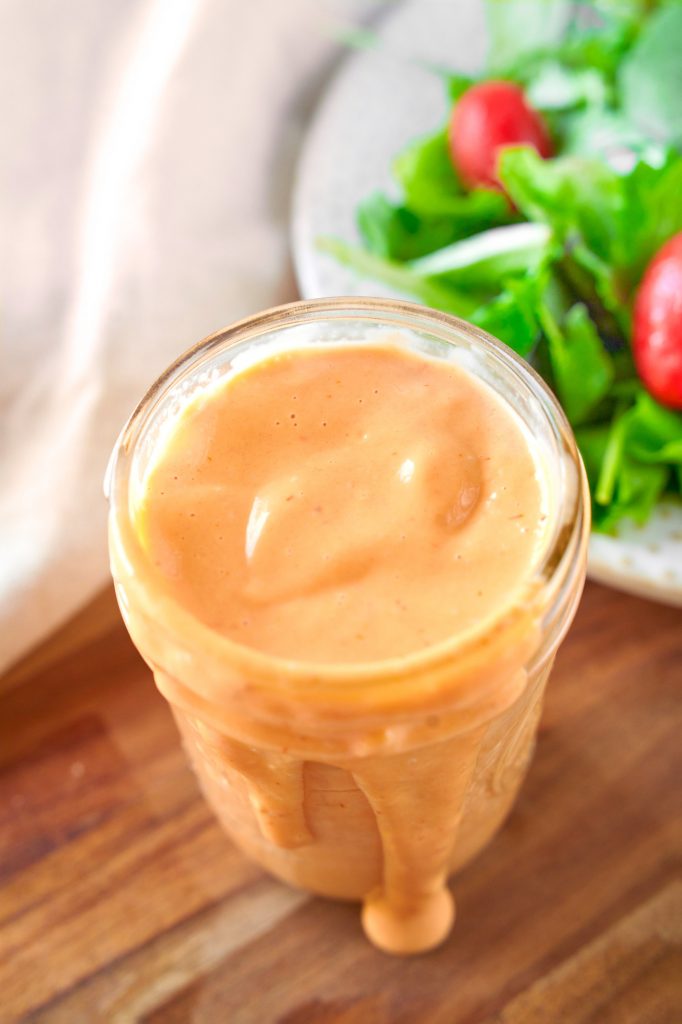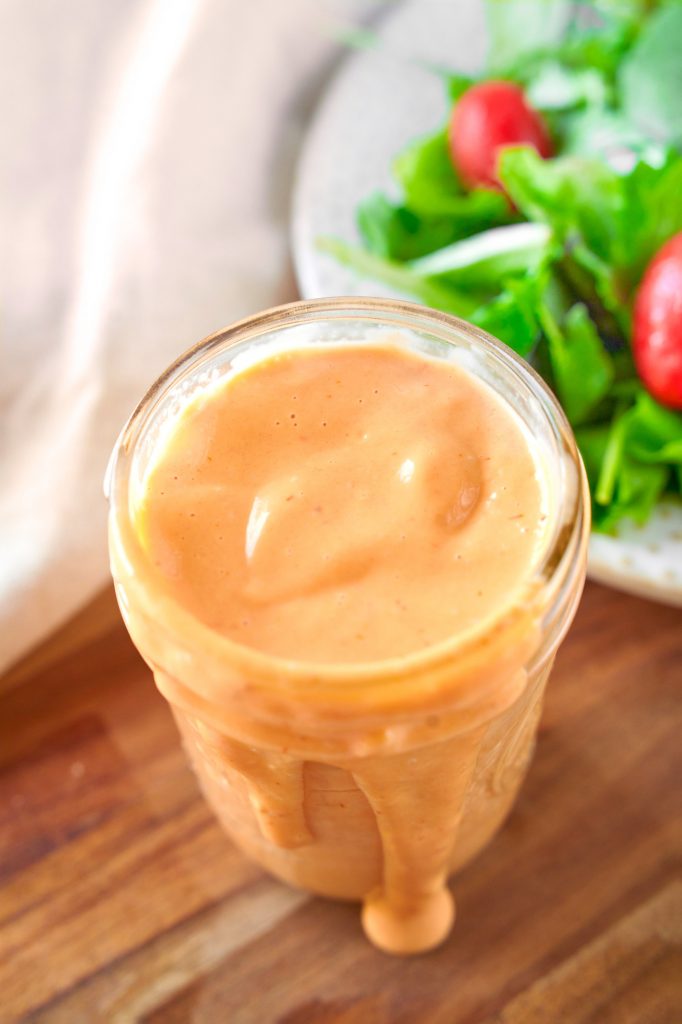 After all, it usually isn't the animal products or the meat we love, it is the flavors and seasoning.
That often comes from expertly seasoning a recipe and that is exactly how this vegan thousand island dressing recipe tastes so good!
The end result is sweet, tangy, and creamy all together at one time.
My favorite part about vegan thousand island dressing is that it takes literal minutes to make!
I really want to say that it takes 1 minute to make, but you do have to gather the ingredients so I will estimate high and say 3 minutes, but for sure under 5 minutes!
It is the perfect salad dressing to put on a Vegan Chopped Salad and it is a great way for kids to eat their veggies.
Most thousand island dressings that you can get from the store use high fructose corn syrup and a whole host of other bad preservatives and ingredients. They have to do this to make it shelf stable for so long!
By making your own salad dressing, you are able to only put in the good stuff and leave out the bad stuff with no issues! You know 100% what is going into the recipe!
There is no vegan mayo in this homemade thousand island dressing so if you are trying to stay away from it, this is the recipe for you!
I hope you enjoy making and eating this delicious salad dressing as much as I do.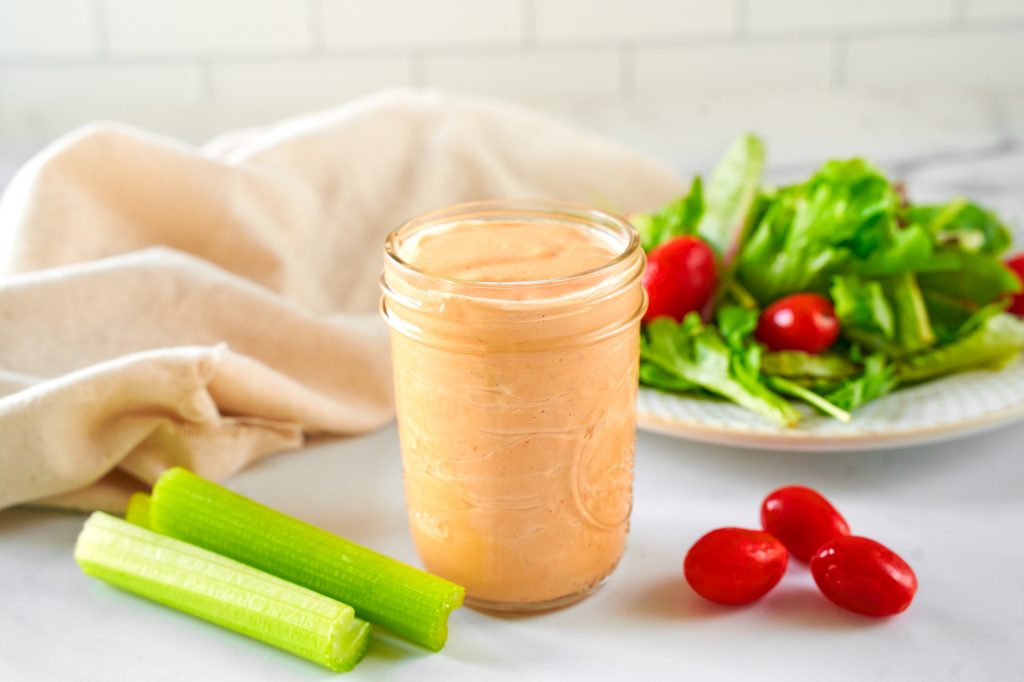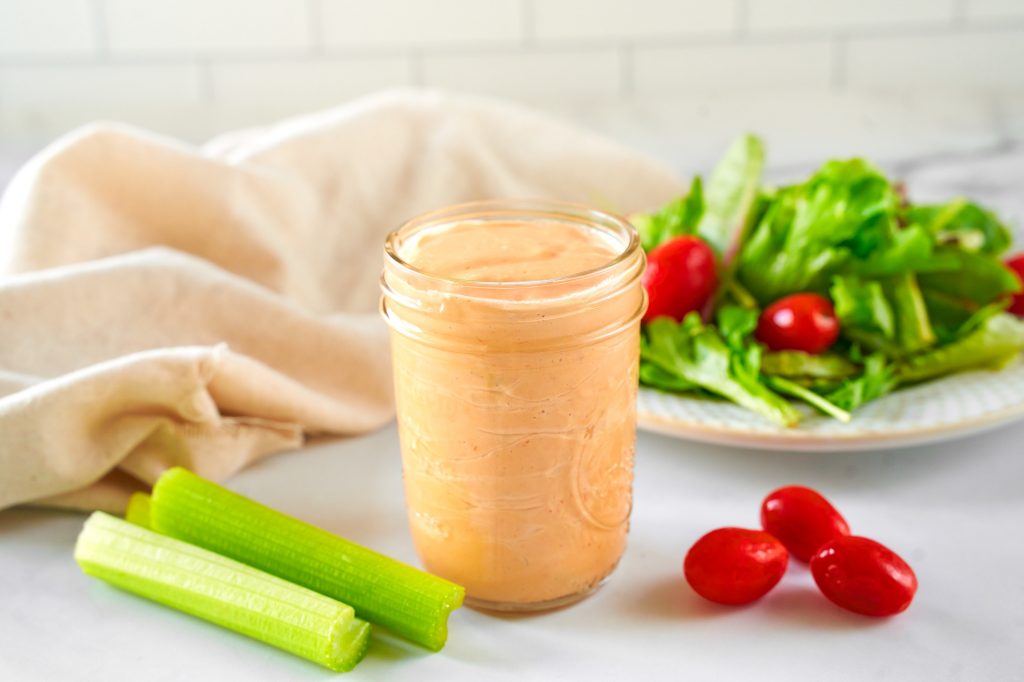 Is Thousand Island Dressing Vegan?
The short answer is no, thousand island dressing is not naturally vegan.
The long answer is that thousand island dressing uses eggs and mayonnaise which of course consists of eggs in general in order to make it. Some thousand island dressings use both or one or the other.
Store bought thousand island dressings may also use non-vegan ingredients to color the dressing such as food dye and other preservatives that come from animal products.
Making your thousand island dressing yourself is an easy way to ensure that it is 100% vegan!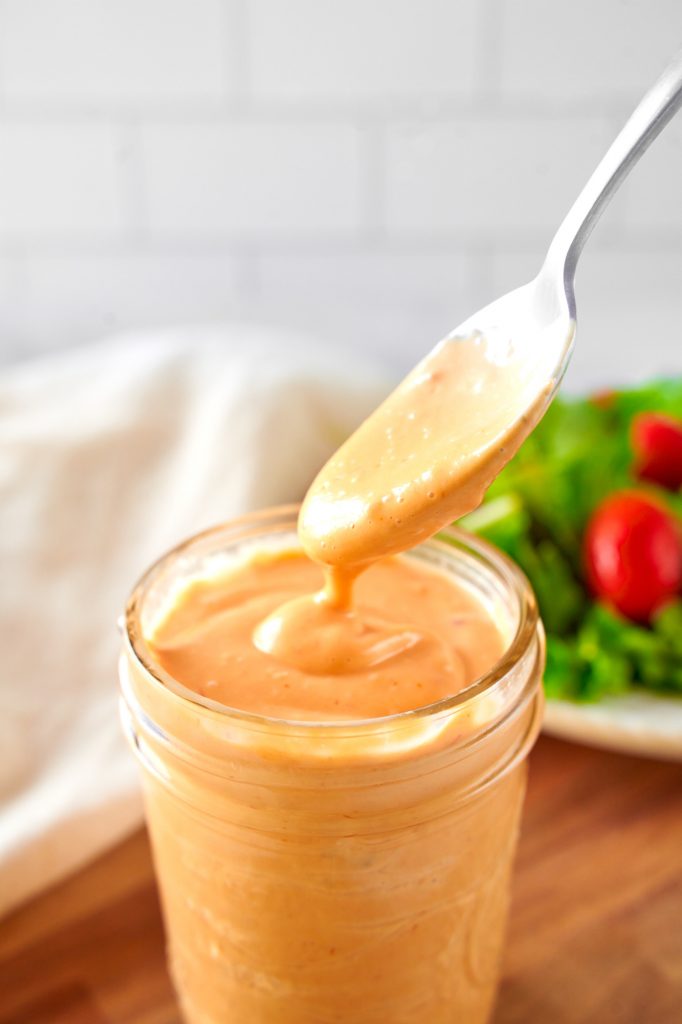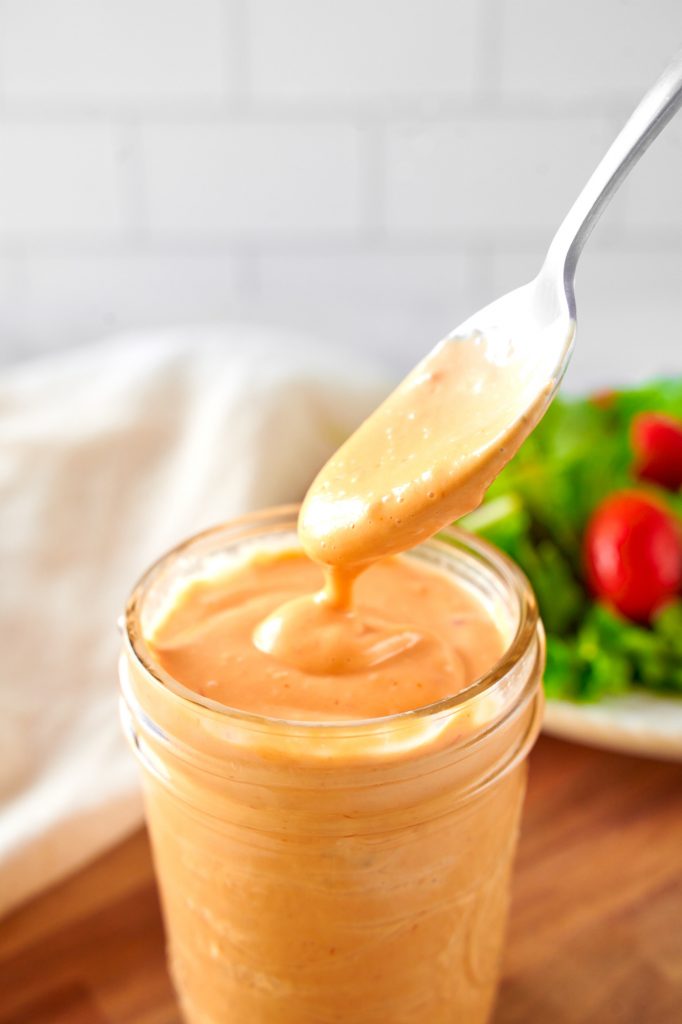 How To Make Vegan Thousand Island Dressing
I wish I could stress enough how easy it is to make your own vegan thousand island dressing!
This recipe is super simple and takes just minutes.
First, we use 9 ingredients to spice and flavor this recipe.
Most of the recipes you will have around your house, but you will probably have to buy sweet pickle relish as most people don't have it on hand. If you do, kudos to you!
Then, all you do is blend together the silken tofu, ketchup, oil, onions, garlic, salt, olives, and paprika until smooth and creamy. Then add in the relish and fold to combine.
If you want a chunkier thousand island dressing, you can fold in the relish so that there are some chunks and pieces.
If you want a smooth dressing, throw every ingredient into the blender or food processor and puree until completely smooth.
The choice is up to you and you can modify based on your tastes.
For extra chunky dressing, don't puree the olives either!
Serve cold and enjoy!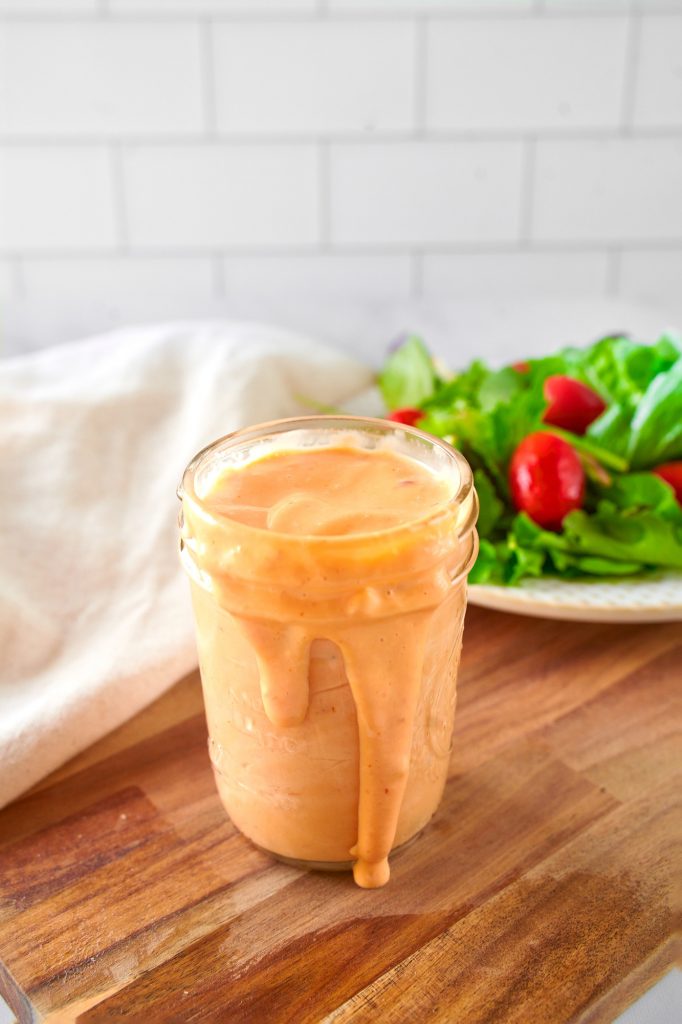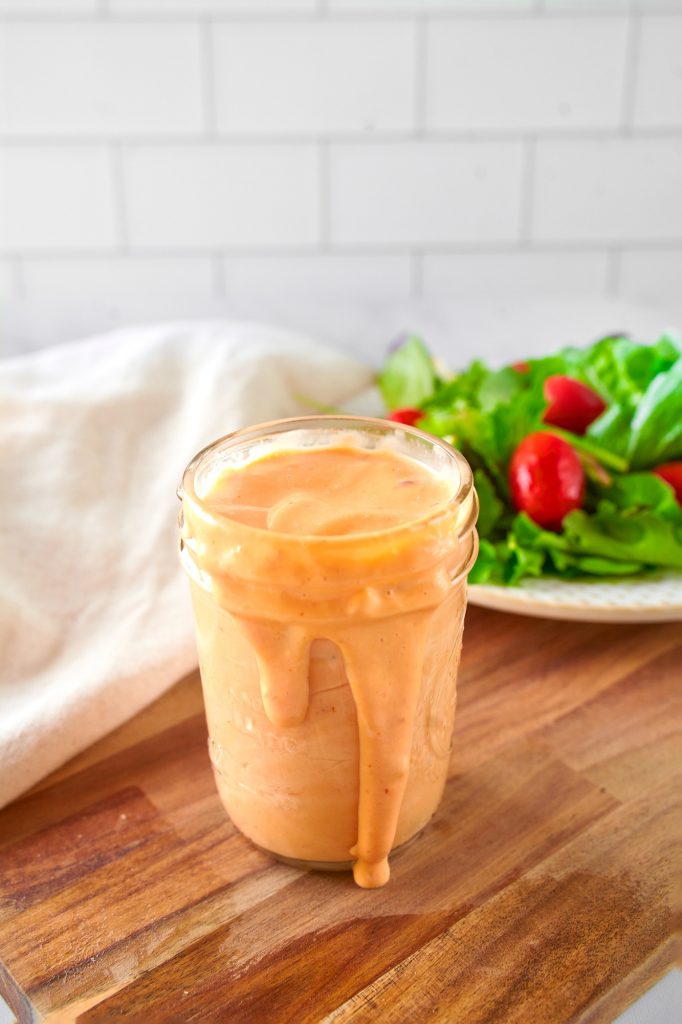 How To Serve Vegan Thousand Island Dressing
There are many ways to eat vegan thousand island dressing beyond putting it on top of salads.
I think that many vegans just don't use mayo-based dressings as much so many not be so familiar with how to use them. There are so many possibilities!
Here are some of my suggestions:
There are so many ways to use this vegan thousand island dressing recipe. You just have to be creative! It works best on salads, drizzled on sandwiches as a special sauce, and more!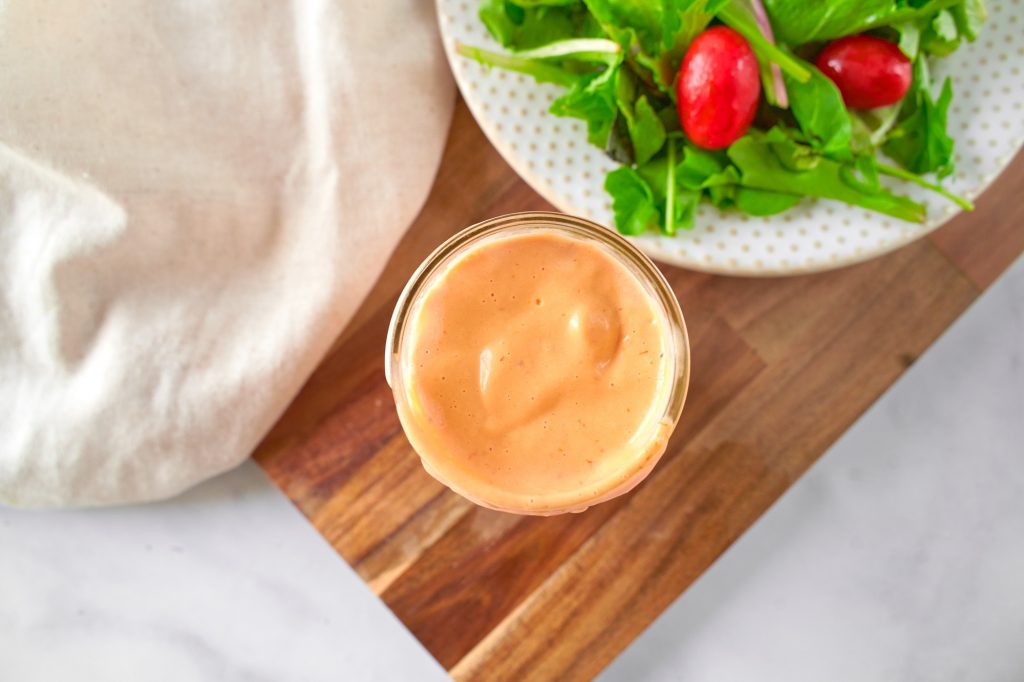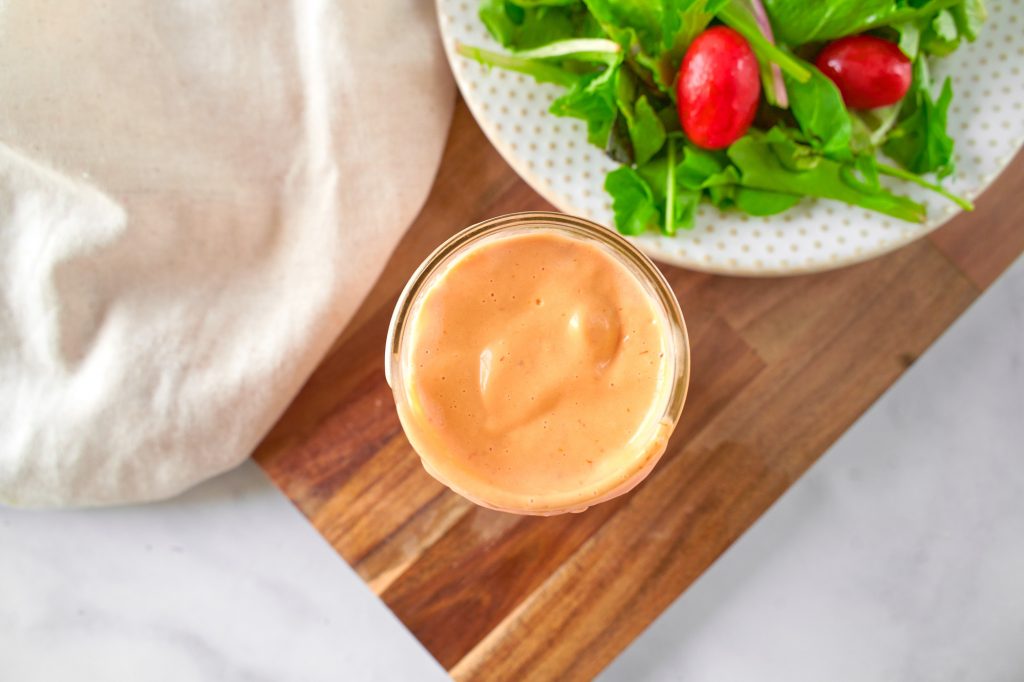 How To Store Homemade Thousand Island Dressing
This homemade thousand island dressing stores well in the fridge for 5-7 days.
Make sure to store it in an air-tight container such as a mason jar which is my preferred way to store it.
You can eat it cold or you can reheat it in a saucepan on the stove if you are using it as a dip or a special sauce for a Vegan Burger Recipe!
Either way, there are endless ways to enjoy this easy and healthy salad dressing!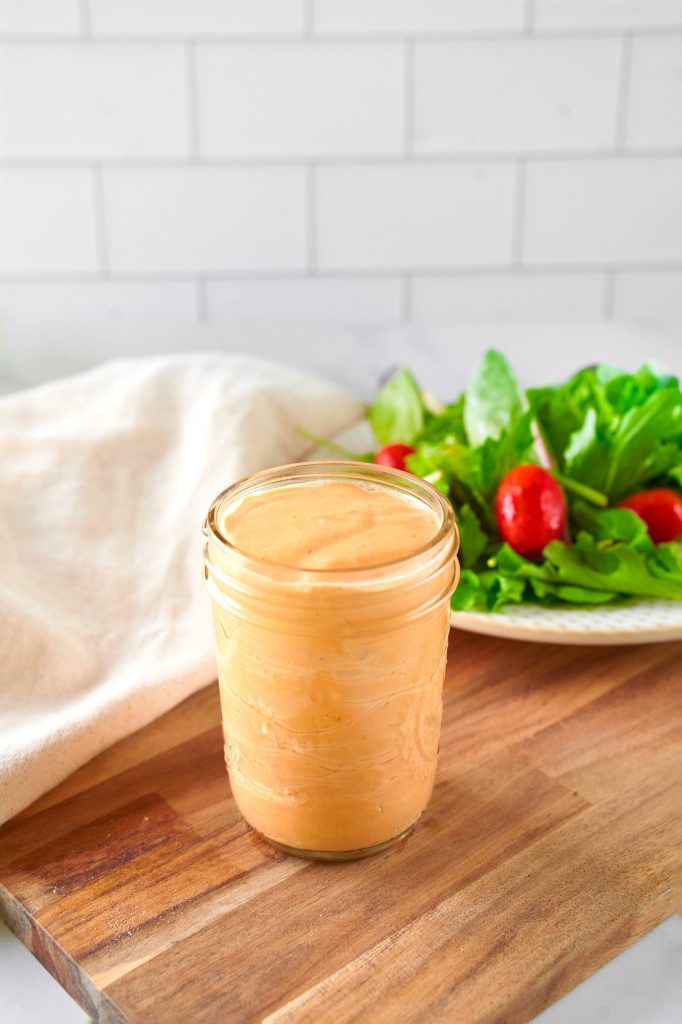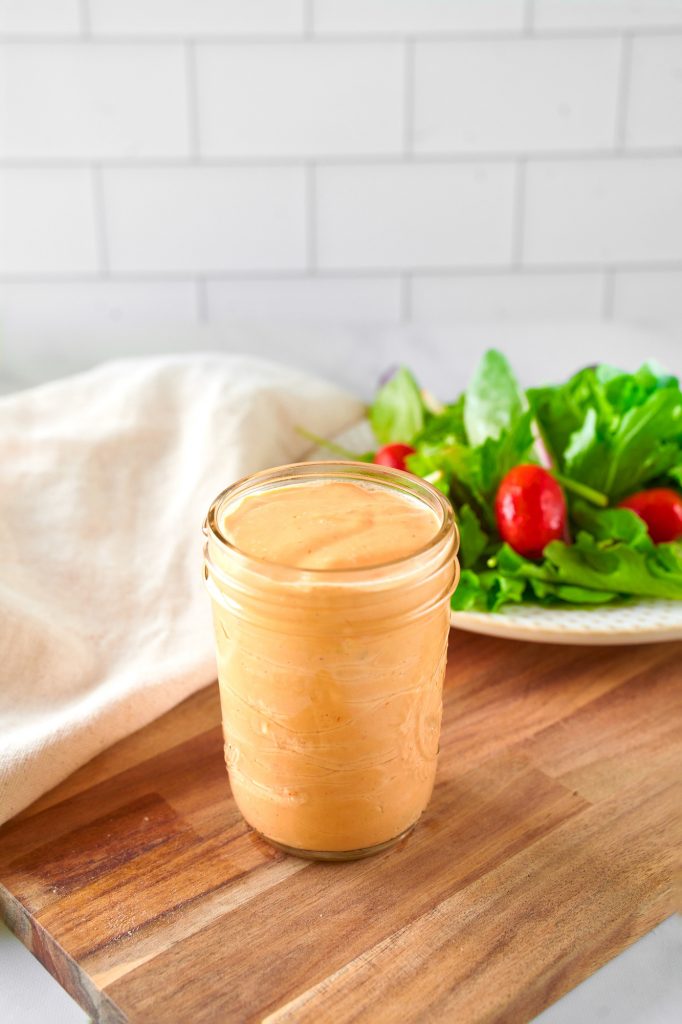 Did You Try This Recipe?
If so, I would love to keep in touch! I enjoy seeing photos and comments about the recipes that you make! You can follow me on Instagram and I will repost your goodies in my stories and comment on it too! Just tag me at @wowitsveggie and hashtag #wowitsveggie. I can't wait to see what you make!
Easy Vegan Thousand Island Dressing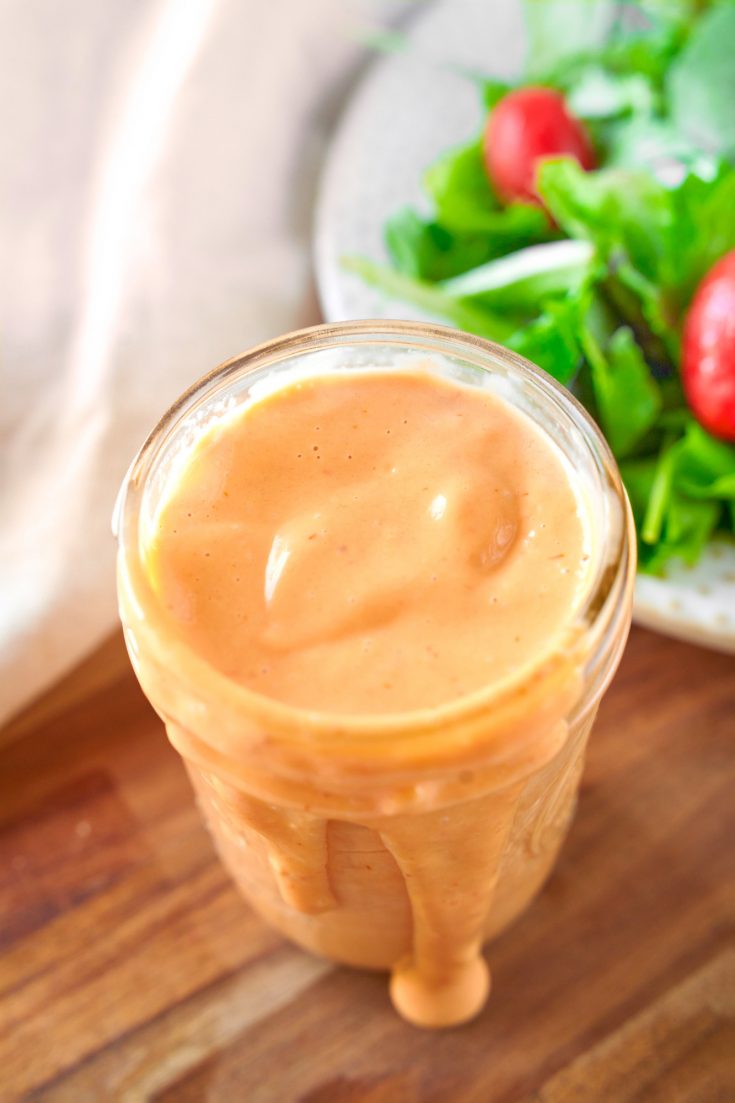 This vegan thousand island dressing is a healthy take on the creamy classic! It takes all the good flavors and leaves out all of the bad ingredients. It whips up in less than 5 minutes and is such a versatile sauce and dressing!
Ingredients
8 ounces soft or medium tofu
1/2 cup ketchup
2 tablespoons oil
1/2 small onion, chopped
2 garlic cloves, chopped
1/2 teaspoon salt
3 teaspoons sweet pickle relish
2 teaspoons sugar [optional]
3 teaspoons great olives, chopped
1 teaspoon paprika
Instructions
In a blender or food processor, add all ingredients other than sweet pickle relish and blend until smooth.
Fold in the relish until mixed throughout.
For a smooth vegan thousand island dressing [pictured], blend all ingredients together until pureed. For a chunky thousand island dressing, blend all ingredients other than olives and relish and then fold into the dressing.
Serve warm or cold!