This vegan ranch dressing recipe is so delicious! It is tangy, cool, and fresh and makes the perfect salad dressing or dip!
You can even use it as a spread on your favorite vegan sandwich!
The thing that I love most about this vegan ranch dressing recipe is that it whips up in less than 3 minutes!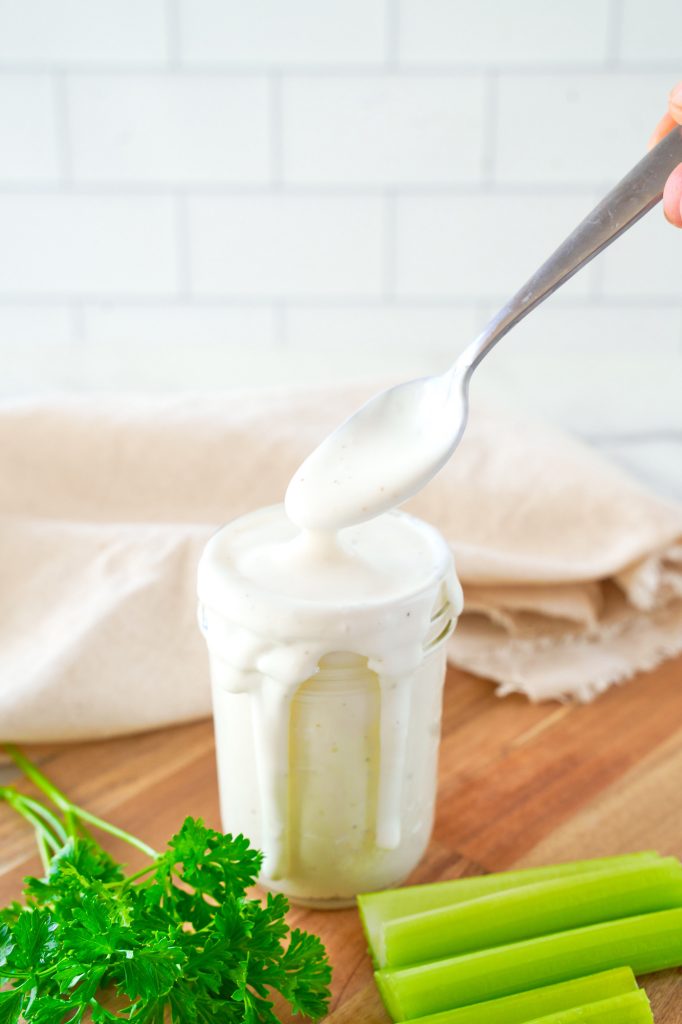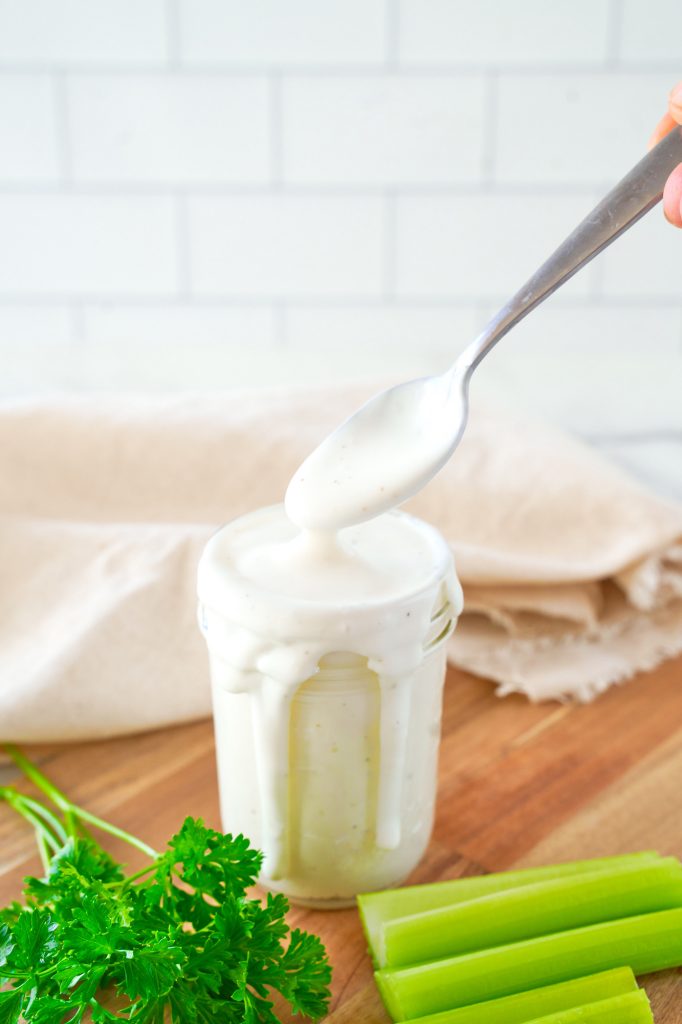 I really want to say that it takes 1 minute to make your homemade vegan ranch, but you do have to gather all of the ingredients so we are going to round up and say 3 minutes!
Regular ranch dressing is far from healthy, which is why making your own is so good!
You can take the good parts and leave out all of the bad!
The key to making delicious vegan replicas of popular recipes is to season them the same way!
That is why this vegan ranch dressing recipe goes hard on the seasonings and spices. So you can achieve that perfectly cool-meets-tangy flavor that you crave!
In addition, most ranch dressings you buy from the store use high fructose corn syrup and a lot of other harmful preservatives. They have to do this to make it shelf stable and to last so long!
Making your own delicious vegan ranch dressing ensures that you 100% know what is going into this recipe!
I hope you enjoy making and eating this vegan ranch recipe as much as I do!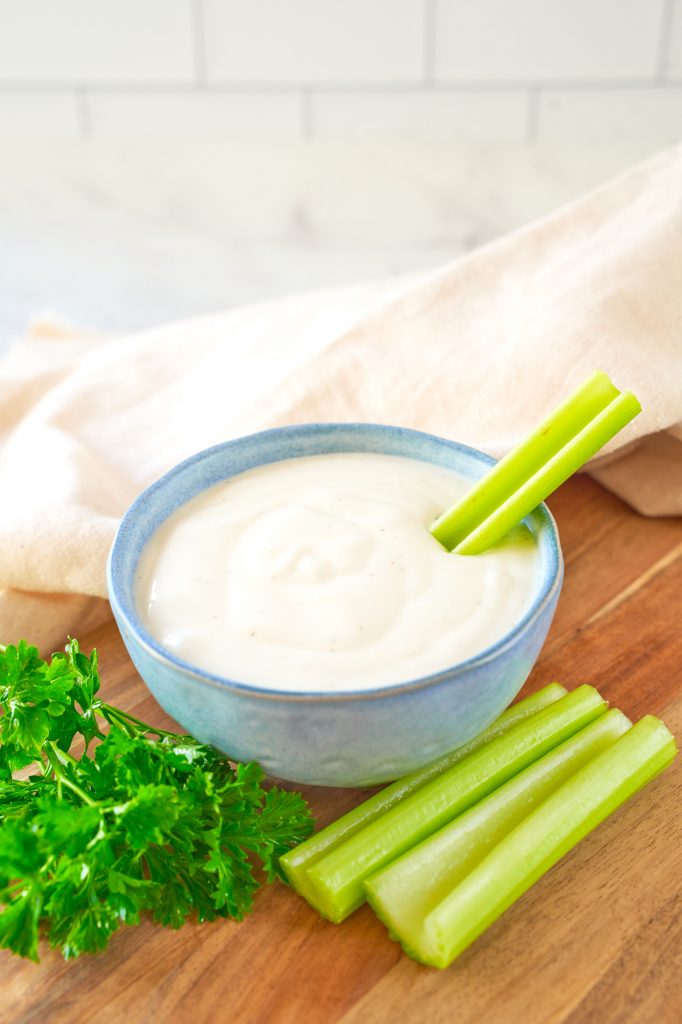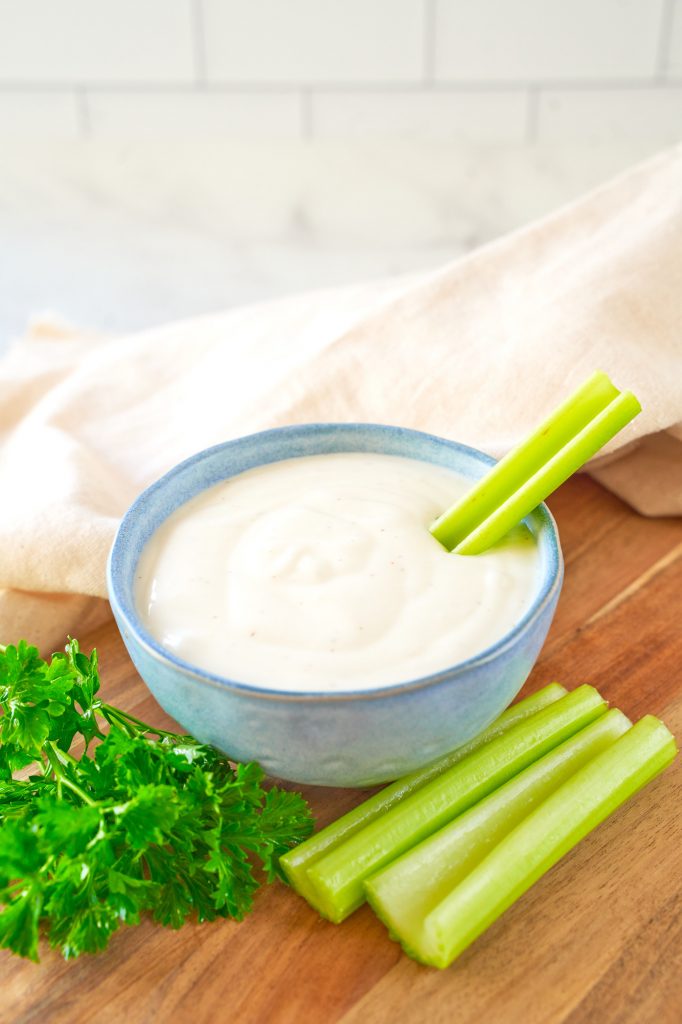 Is Ranch Dressing Vegan?
The short answer is no, regular ranch dressing is far from vegan!
The long answer is that regular ranch dressing has a whole ton of dairy and animal products in it making it super not vegan!
These include mayo [which includes eggs], sour cream, buttermilk, yogurt and more.
In addition, there are also additives for coloring and preservatives that may not be vegan as well and if you don't know what you are looking for you wouldn't know.
Vegans can't eat regular ranch from the store unless it is from a vegan company, and even then the bottled kind is high in a lot of bad ingredients and kind of unhealthy!
Making your own vegan ranch dressing ensures that you 100% know exactly what is going in the recipe so that you can eat guilt-free!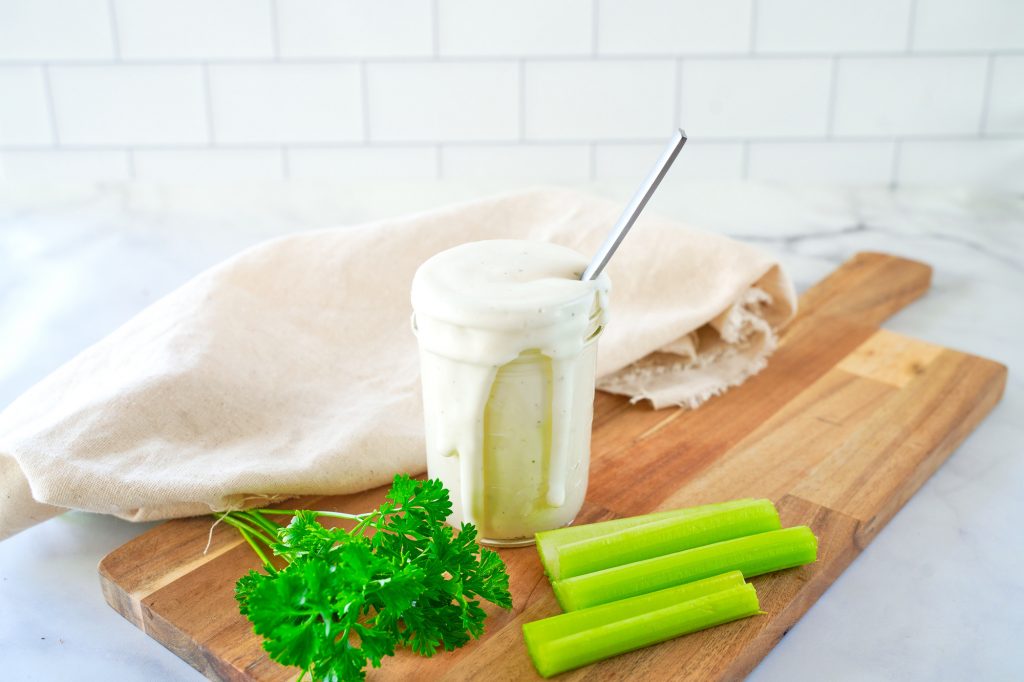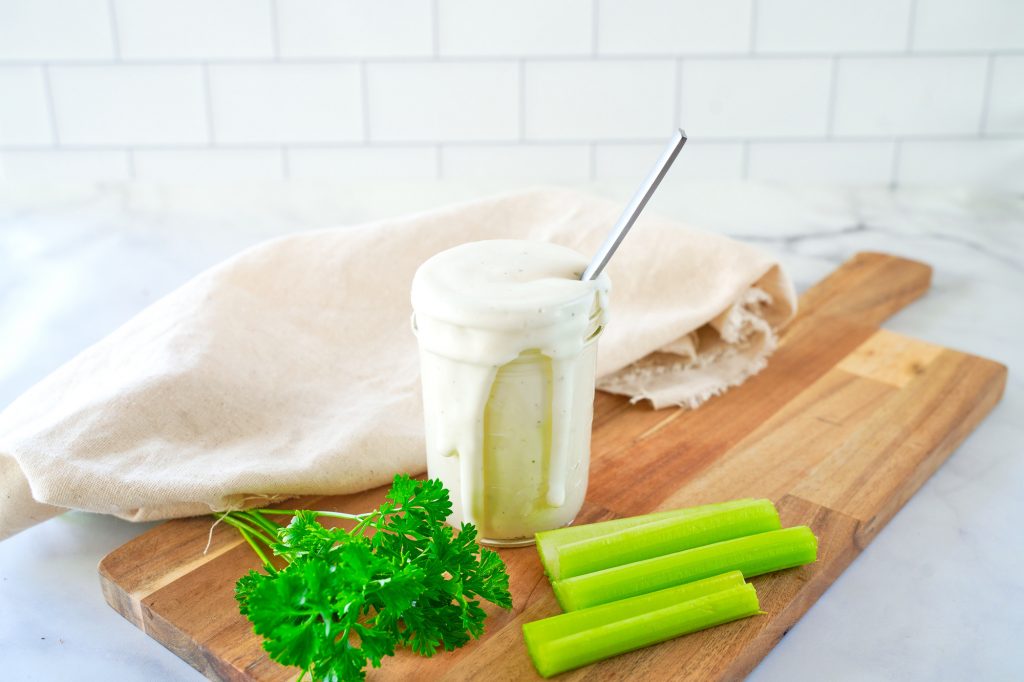 How To Make Vegan Ranch Dressing
I cannot stress enough how easy it is to make this vegan ranch dressing recipe!
As I said above, it takes literal minutes to make! The longest time will be to gather the ingredients that you need to make your vegan ranch.
You will probably have most of the ingredients around your house if you are cooking vegan recipes regularly, but you may need to get the dried dill as that is more of the "odd" addition!
The main component of this dairy-free ranch is vegan mayonnaise and Vegan Sour Cream.
You can use store bought vegan mayo and vegan sour cream, or you can learn to make your own using recipes like my Vegan Sour Cream.
Either way, both will yield a delicious result and you are in for a real treat.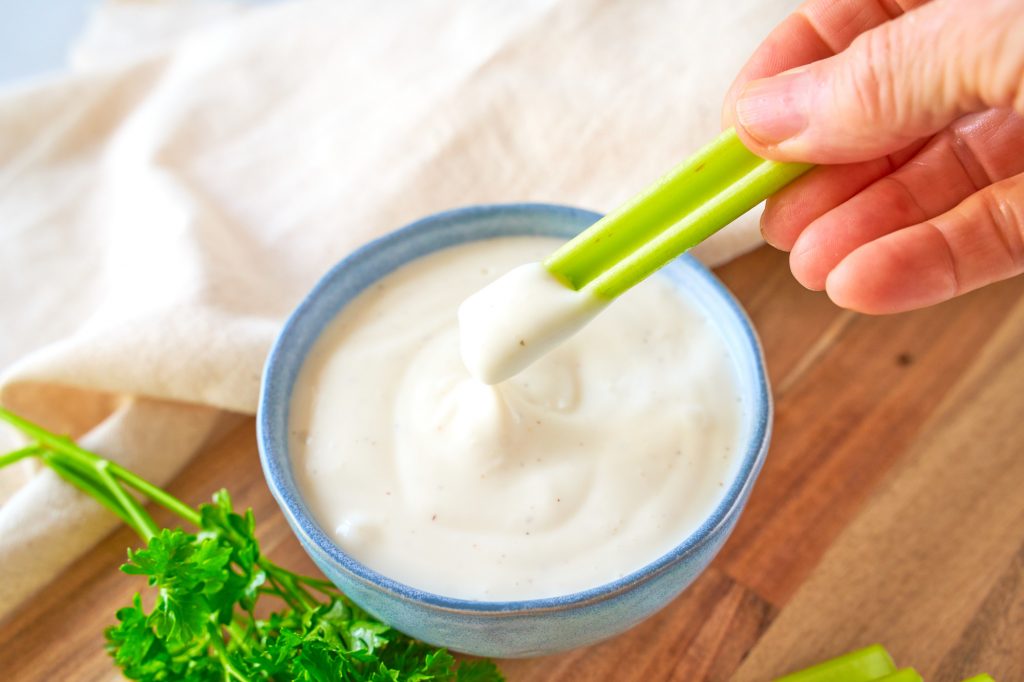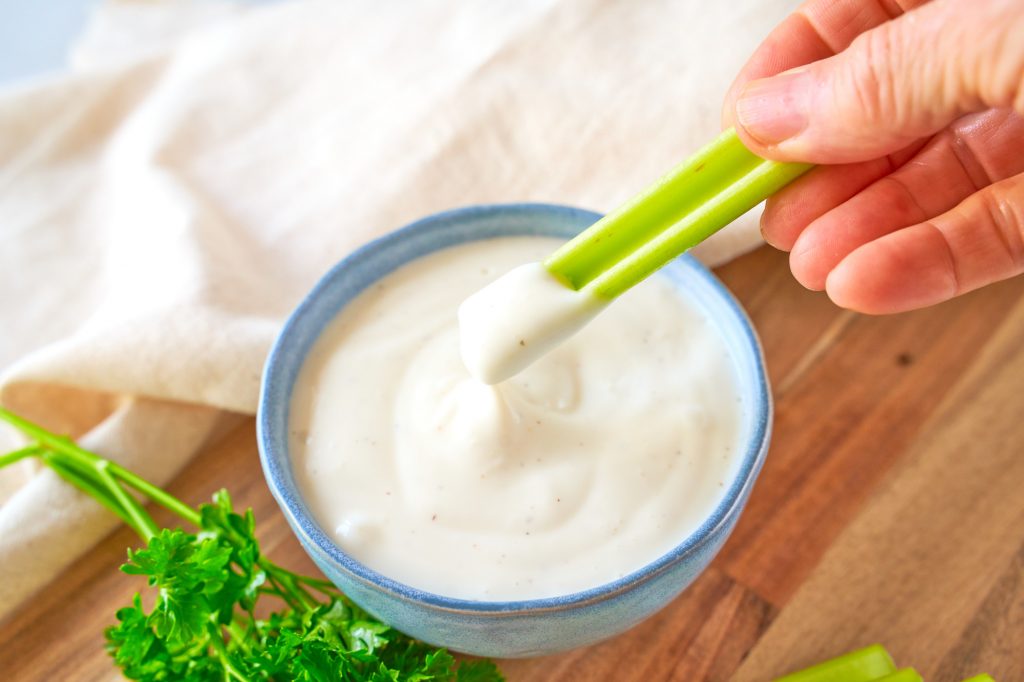 All you have to do is put all of the ingredients and spices into a blender and puree until well blended and combined.
If you don't like the consistency for whatever reason and you want a thinner non-dairy ranch, you can add 1 teaspoon of plant milk at a time and puree until the consistency is achieved.
Ranch is a thicker type of dressing so this recipe naturally does not have any non-dairy milk.
However, everyone likes different things, so you can thin it out a little bit with a tad bit of vegan milk. Just be careful not to add too much milk or else it will be runny!
When pureeing the vegan ranch recipe, you want to make sure that you puree until well blended and combined.
Then, do a taste test. You can add more spices if necessary. If you prefer more garlic, add in a little more garlic, if you prefer more dill, add in more dill!
Then, you can serve and enjoy!
As you can see, learning how to make your own vegan ranch dressing recipe is super simple and very easy to do!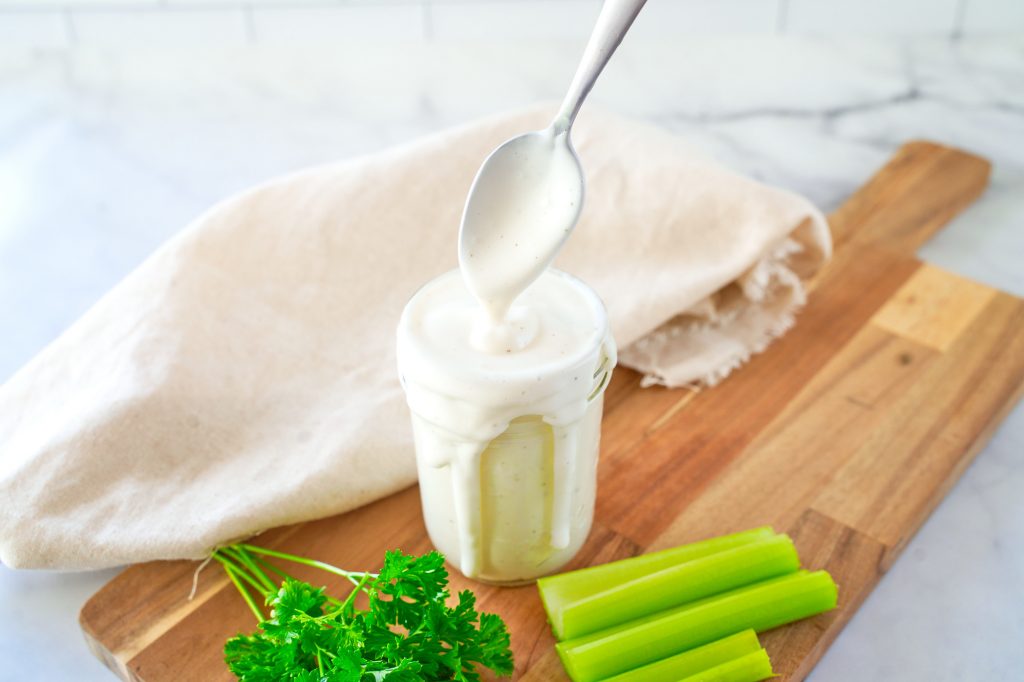 How To Serve Vegan Ranch
Believe it or not, there are quite a few ways to serve vegan ranch dressing! Of course, you can always put it in a bowl and make it a vegan ranch dip, but you can also be creative!
I have started you off with a few suggestions on how to serve dairy-free ranch.
I know vegans don't typically use ranch as often as non-vegans so it may be hard to think of ways, but I promise it is a versatile dressing and dip and perfect for many recipes!
Here are a few of my favorite ways to use this vegan ranch dressing recipe:
As you can see, there are literally so many ways you can incorporate ranch dressing into vegan cooking! Non-vegans do it all the time, and there are truly so many ways!
This vegan ranch dressing recipe will easily become a staple in your kitchen!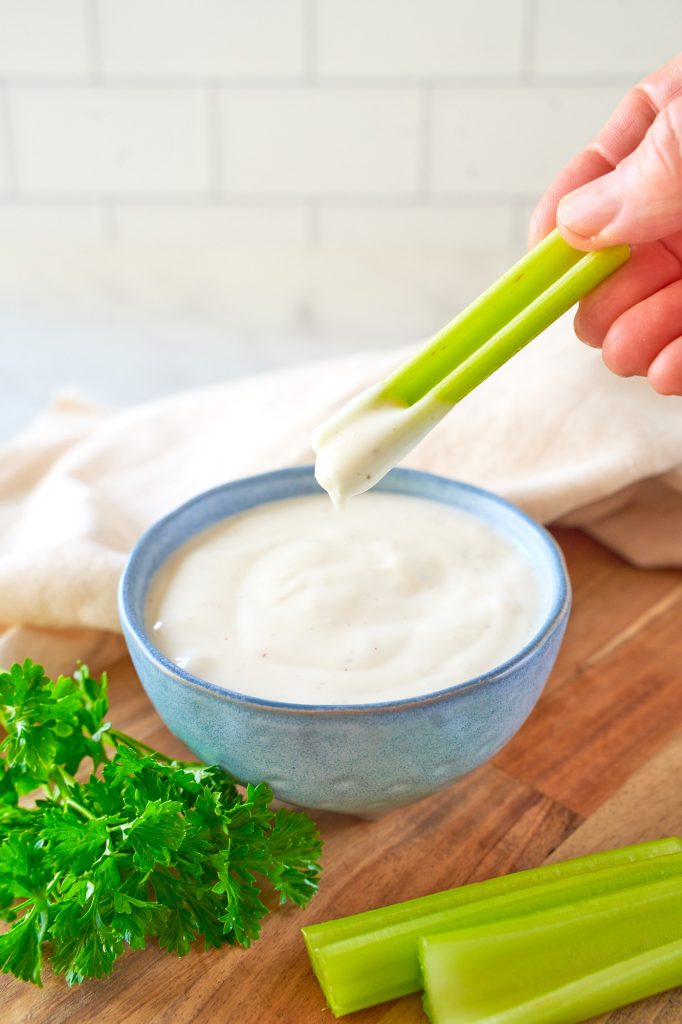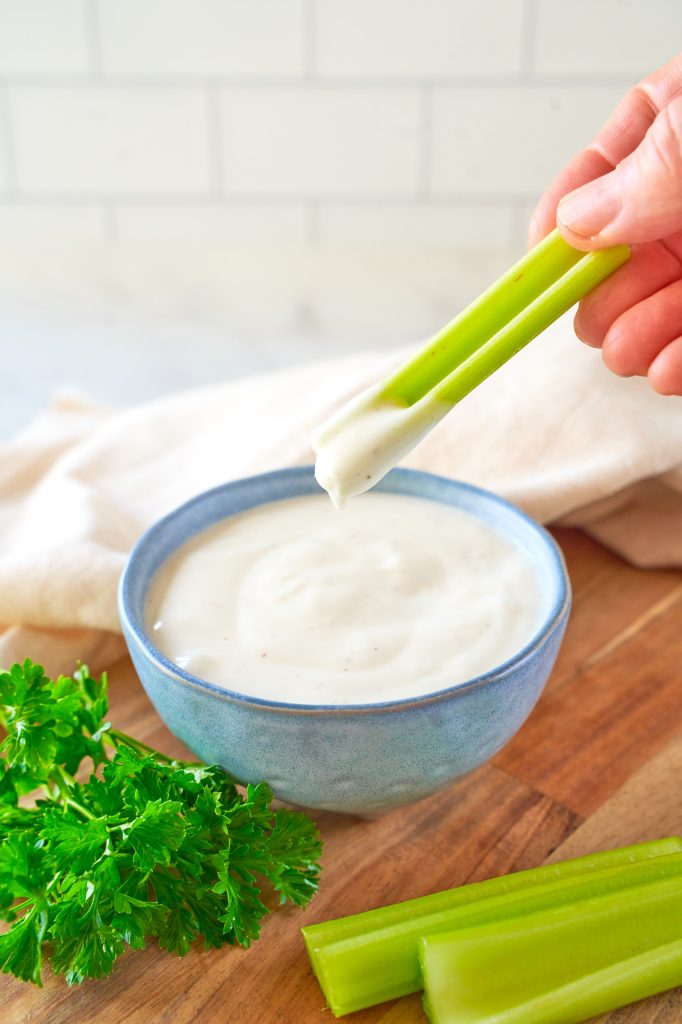 How To Store This Vegan Ranch Dressing Recipe
One thing I love about this vegan ranch recipe is that it stores so well!
You can store it in an air-tight container in the fridge for up to 2 weeks!
That way, you can make a batch and continue to use it throughout the week.
I often find myself doubling this recipe so I can have non-dairy ranch for weeks to come. I will admit, I am a junkie for adding lots of sauces on things so I like to make a lot so I can use as much as I want!
I have not tried freezing the vegan ranch, but if you do, I would be curious to know the outcome!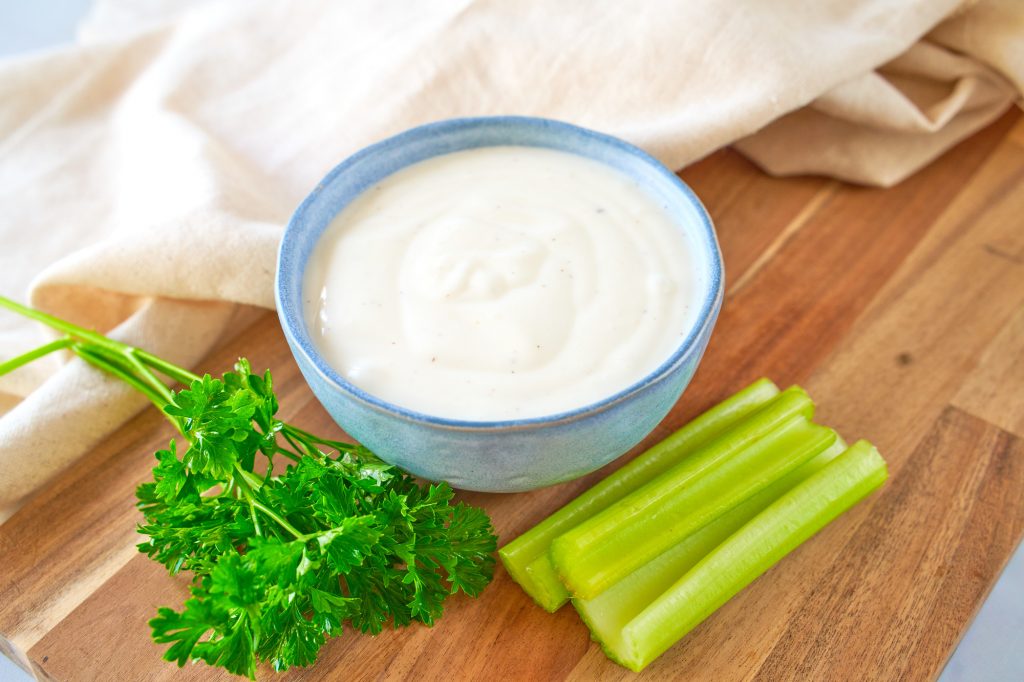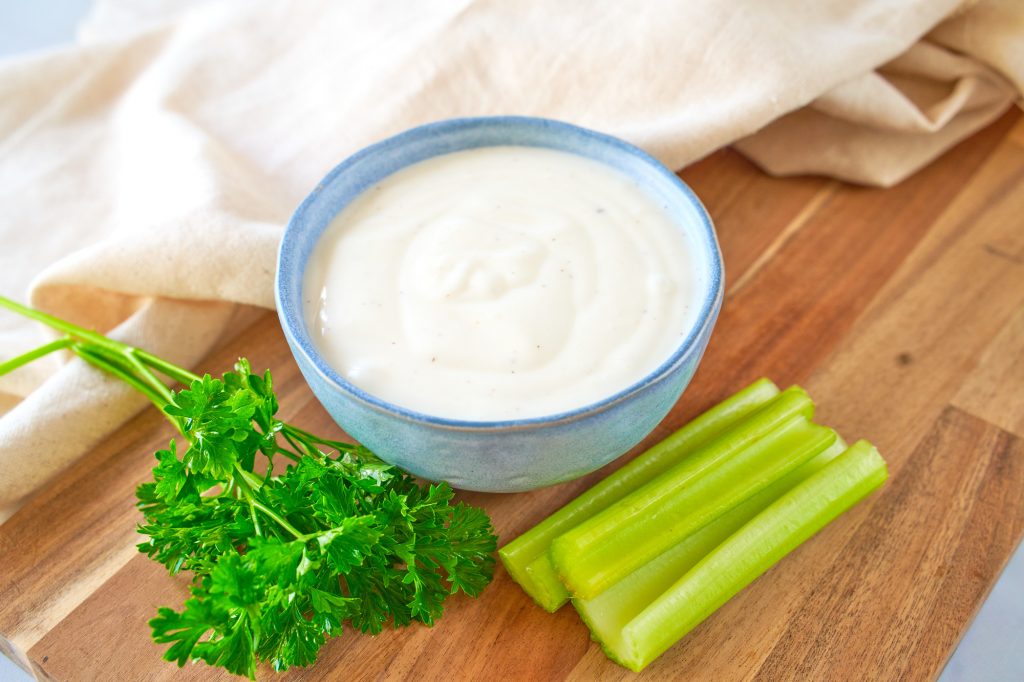 Did You Try This Recipe?
If so, I would love to keep in touch! I enjoy seeing photos and comments about the recipes that you make! You can follow me on Instagram and I will repost your goodies in my stories and comment on it too! Just tag me at @wowitsveggie and hashtag #wowitsveggie. I can't wait to see what you make!
Yield: 1 1/2 cups
3-Minute Vegan Ranch Dressing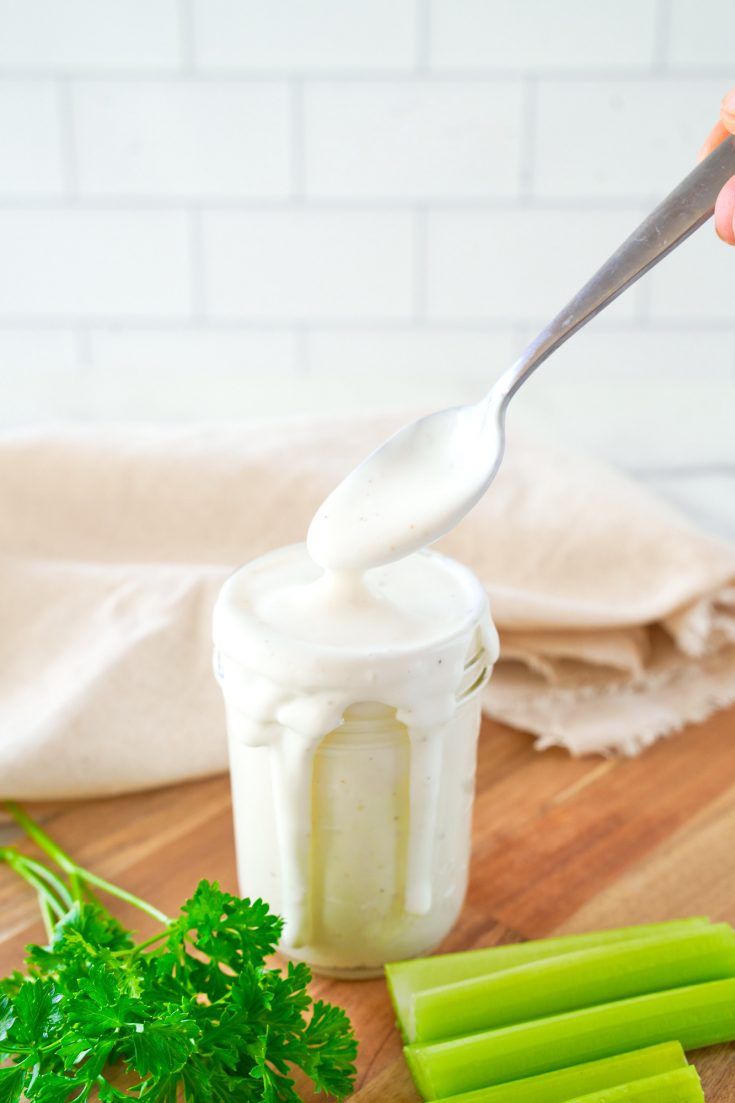 This vegan ranch dressing recipe is the perfect blend of cool, tangy, and fresh! There are so many ways that you can use vegan ranch, from spreading it on sandwiches to dipping things into it and using it on salads! You can make it into a vegan ranch dip or just use it as a regular dressing. It takes minutes to make and will become a staple in your vegan kitchen.
Ingredients
1 cup vegan mayonnaise
1/2 cup vegan sour cream
1/2 tsp dried parsley
1/2 tsp dried dill
1/2 tsp garlic powder
1/2 tsp onion powder
1/4 tsp cumin
1/4 tsp salt
1/8 tsp pepper
Instructions
Add all ingredients to a blender or food processor and puree until smooth and creamy. If your vegan ranch is too thick, you can add a little non-dairy milk, 1 teaspoon at a time, until it reaches the desired consistency. You can also mix the ingredients by hand, but I find that using the blender gets out all the lumps and bumps often found in vegan sour cream.
For chipotle ranch, add in 2 chipotle peppers in adobo sauce and make sure they are finely diced. Either fold in the diced peppers or puree them until smooth.
Serve either cold or warm! This vegan ranch recipe stores for up to 2 weeks in the fridge!
Nutrition Information
Yield
24
Serving Size
1
Amount Per Serving
Calories

56
Total Fat

5g
Saturated Fat

2g
Trans Fat

0g
Unsaturated Fat

4g
Cholesterol

0mg
Sodium

62mg
Carbohydrates

2g
Fiber

0g
Sugar

1g
Protein

0g