This vegan caviar recipe is so easy and delicious and the end result makes one of the pretties appetizers ever!
Making your own vegan caviar is actually super simple and the process is sinfully easy!
There are many ways to make vegan caviar, but some are very labor intensive and time consuming.
This recipe will show you how to make it using just a few ingredients and less than 10 active minutes of prep time!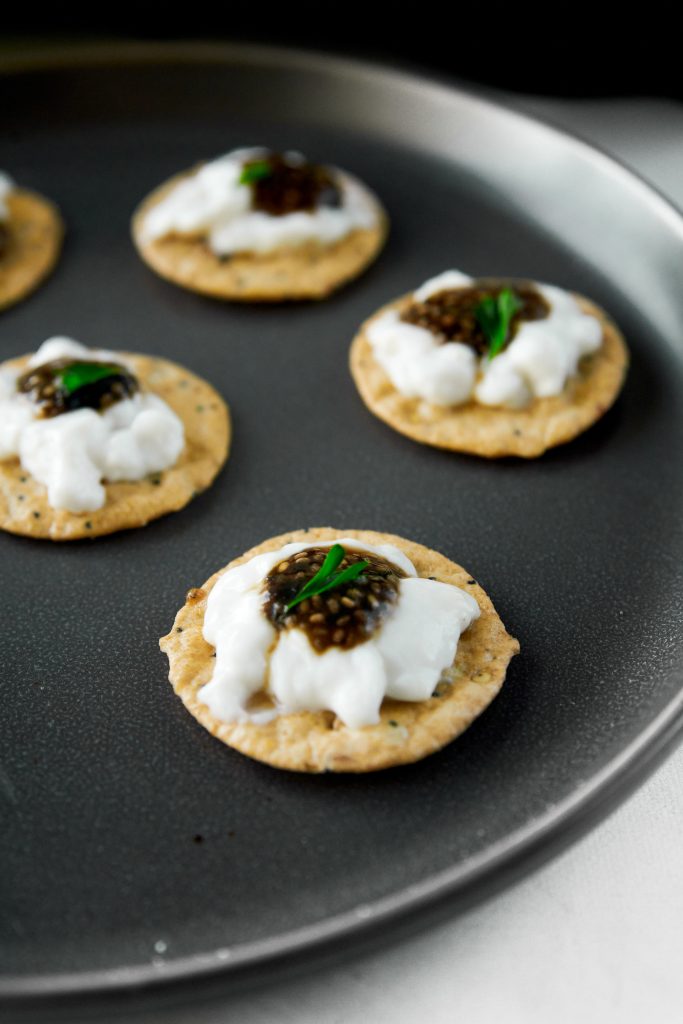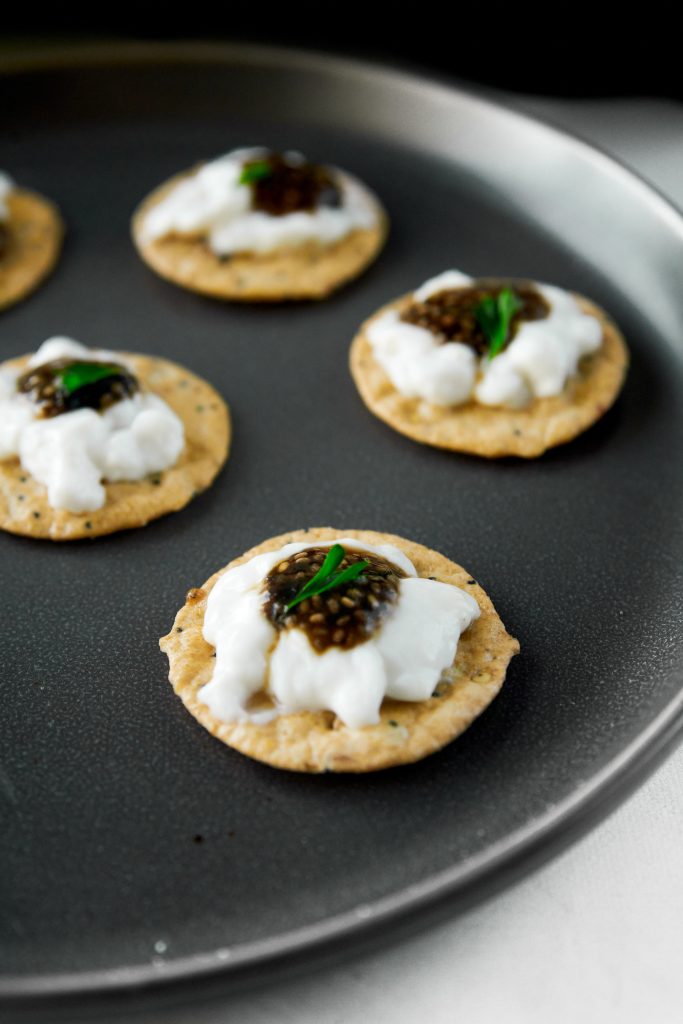 The main reason that I love this vegan caviar recipe is that it really does taste just like regular caviar.
It has the same fishy flavor, the same squishy texture, and it is even black in color so it makes for a really nice, easy, and affordable imitation!
The taste is very strong and salty so you only need a little bit when serving or else the flavor is overwhelming. Again, just like real caviar!
It is also pretty healthy too! Chia seeds are high in Omega-3 fatty acids, ginger is anti inflammatory, and the nori/seaweed includes calcium, copper, iron, magnesium, manganese, phosphorus, potassium, selenium, zinc and then some!
Finally, it only takes 5 ingredients to make and it is super simple and easy.
I love serving vegan caviar on Christmas or New Years or your favorite fancy holiday!
You can also serve it as part of your Vegan Mother's Day Brunch or anything else when you are looking to get super fancy and fun.
Regular caviar is cost prohibitively expensive and overfishing is a huge problem in our oceans.
Vegan caviar is very affordable, very sustainable, and the end result is just so tasty and visually appealing too!
I hope you enjoy serving this at your next get together or just eating it when you feel like celebrating alone in your own home!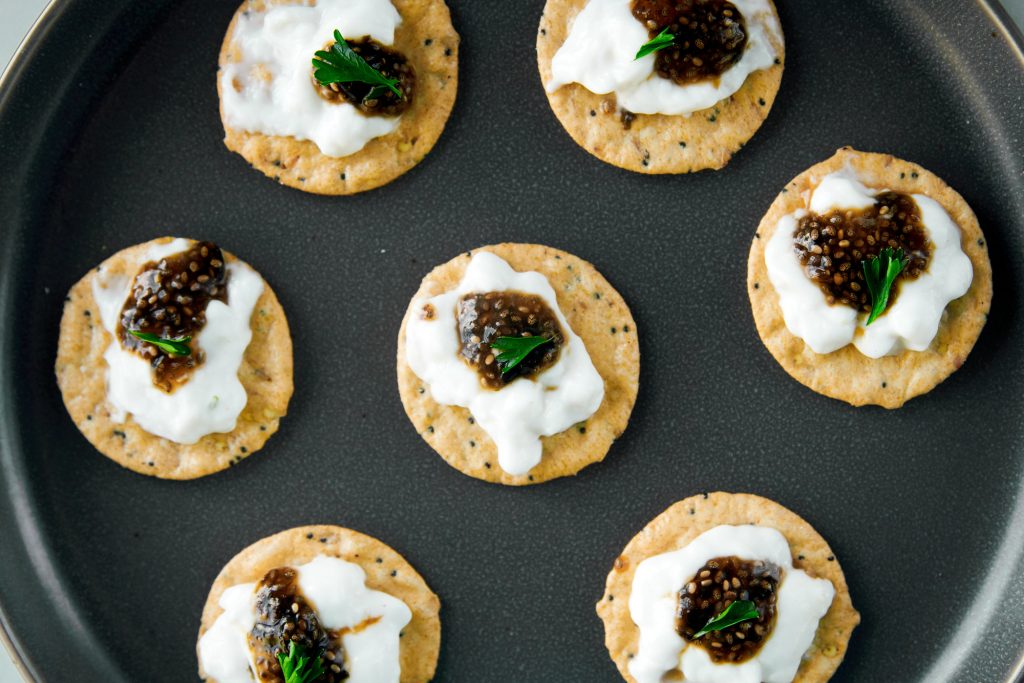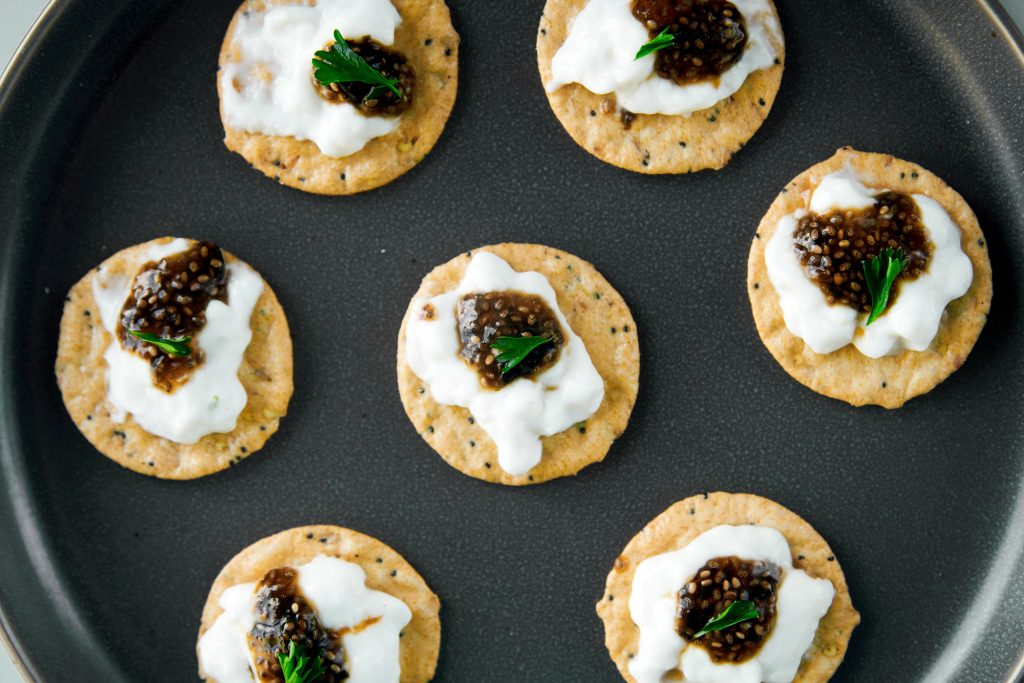 How To Make Vegan Caviar
Making vegan caviar is so incredibly simple!
First, you are going to start with a bowl and put your water into the bowl.
Next, you will add your ginger and your soy sauce.
Use a whisk to mix these ingredients together. The soy sauce and ginger layer over each other really well and give a nice depth of flavor to the finished result!
Next, you are going to crumple up a sheet of sushi nori.
Sushi nori or the seaweed that is wrapped around sushi can be easily found everywhere and I love using it to give vegan recipes that "fishy" flavor with no fish in sight!
For example, I love using it for my Vegan Clam Chowder and it gives it a pretty authentic taste!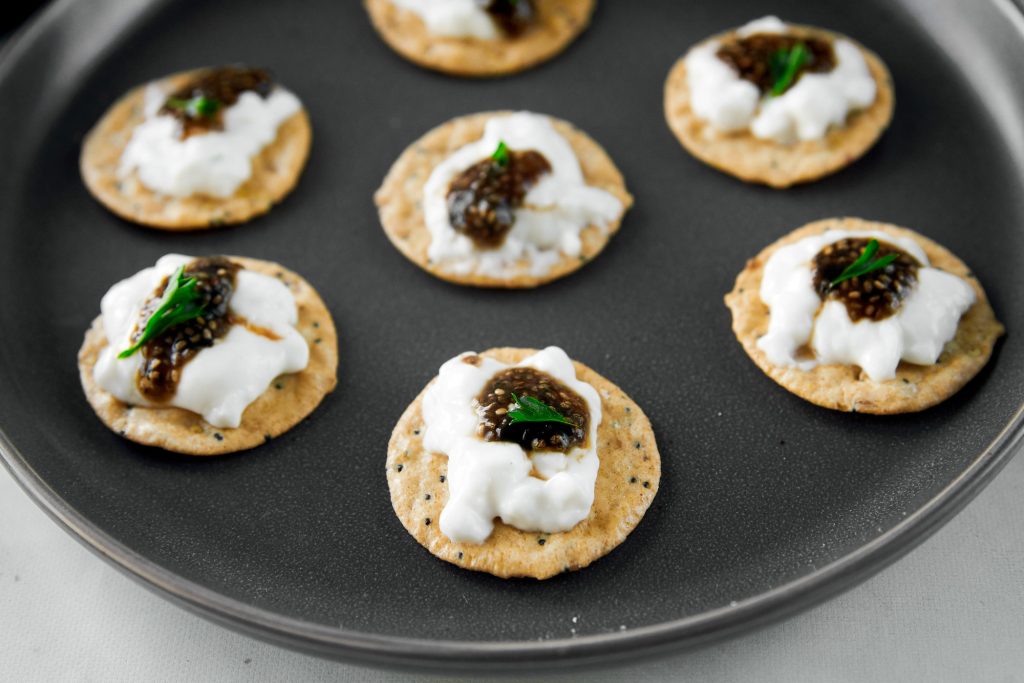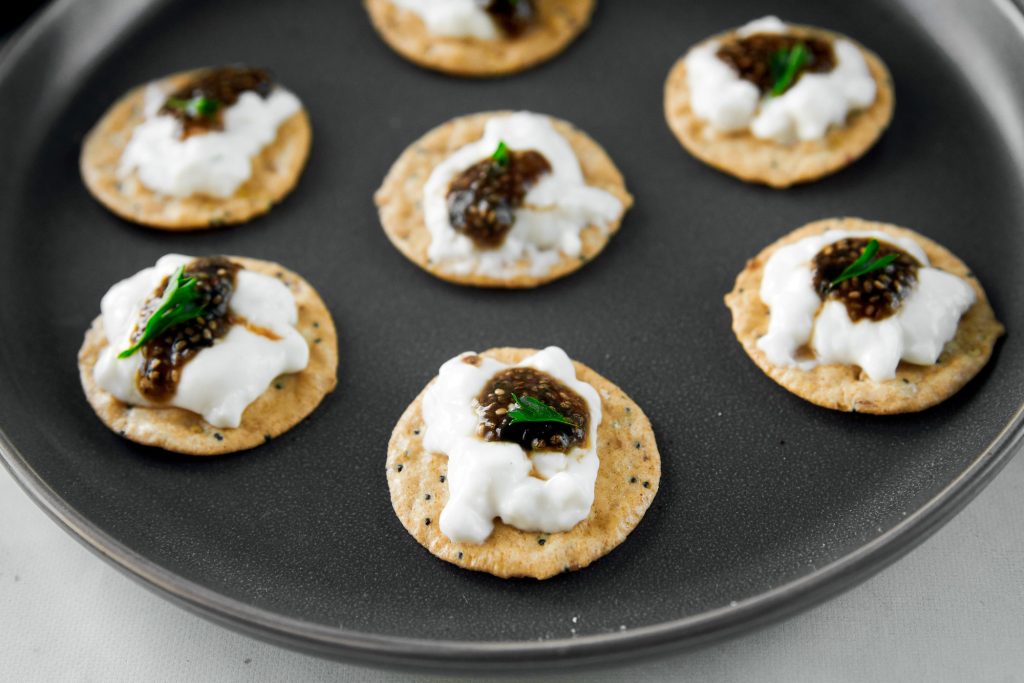 Now that you have crumpled up the sushi nori and combined it with the rest of the liquid, you have two options.
You can put your clean hands in the mixture and continue to break it apart until it is in tiny pieces.
Or, you can pop that liquid mixture in the blender to puree the sushi nori until it is liquid and all ripped apart.
I have done both methods when making vegan caviar.
The difference of blending up the liquid is that there won't be any clumps at all and it will be very smooth.
However, I did the "ripping apart with my hands" method for the photos you can see here so the difference isn't too much visually!
Once you have either well mixed/torn apart the nori or blended it up, now it is time to add the chia seeds!
Add the chia seeds and use a whisk or wooden spoon to make sure that they are completely submerged and at least wet. They will still be floating at the top so just make sure they are mixed throughout a little bit.
Now, set aside until the mixture magically gels. This usually takes between 1-2 hours.
I usually find that it is ready to go within 60-90 minutes!
As soon as the mixture grows in size and is more like a gel than water and is very thick, your vegan caviar is ready for serving!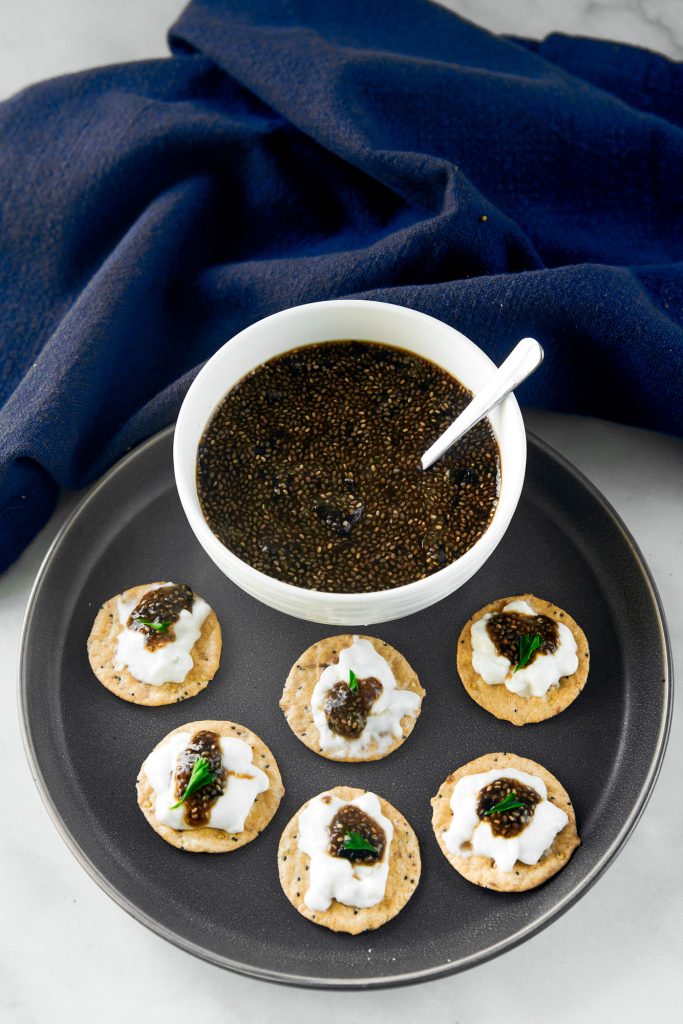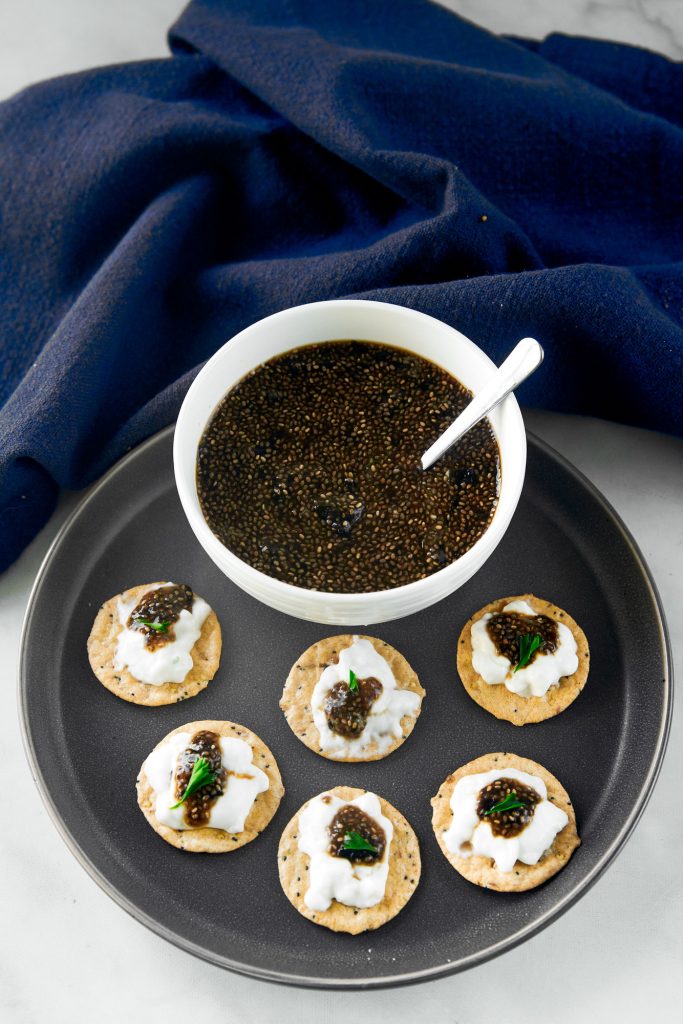 How To Serve Vegan Caviar
You can serve vegan caviar the same way that you would serve regular caviar!
Since I assume most of us have either been vegan/vegetarian our whole lives, or probably not fancy enough to regularly consume caviar otherwise [def me!] I am going to give you a few ideas!
First, you will have the vegan caviar in a small bowl with a small spoon so that people can spoon it out. You can also plate the appetizers before people come!
Here are a few ways you can serve vegan caviar:
Plain! On a spoon all by itself. Regular caviar is often eaten in small bites without any additions. However, I love to play it up!
Spread Vegan Sour Cream on a cracker and then top it with vegan caviar.
Eat it with chopped onions and fresh herbs
Spread vegan caviar on dry toast or with a little Vegan Butter
Serve it with vegan white chocolate
Keep in mind that caviar is supposed to be the pièce de résistance of your dinner or party! So you should treat vegan caviar the same, even if it isn't as expensive or hard to find.
There are some pretty interesting ways of serving caviar so why not pretty up your caviar and serve it the same way? Your friends will think you are fancy!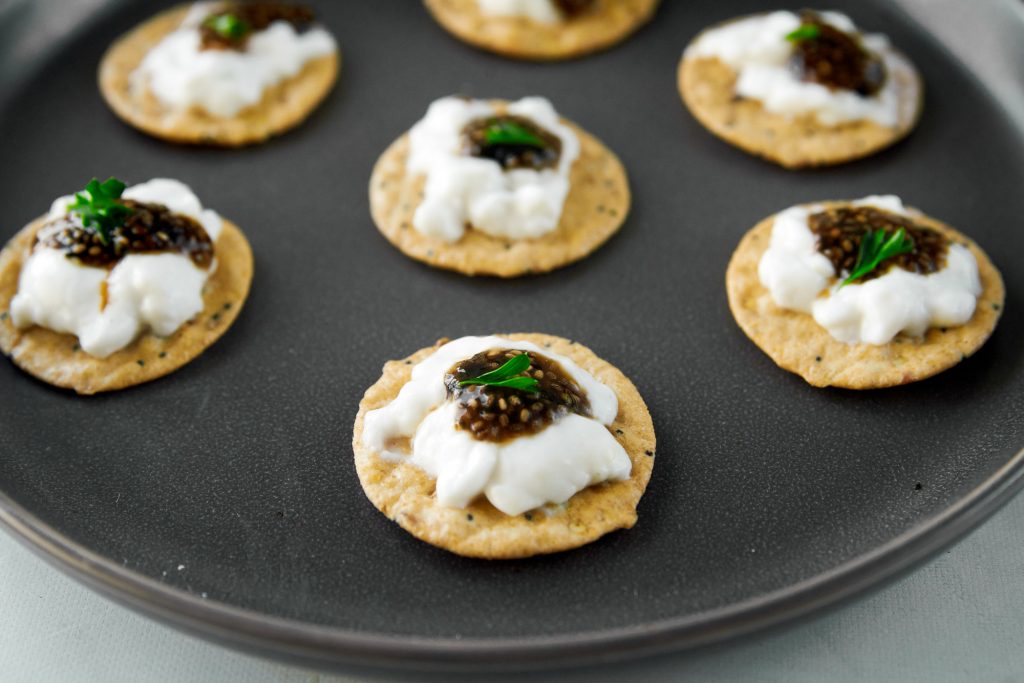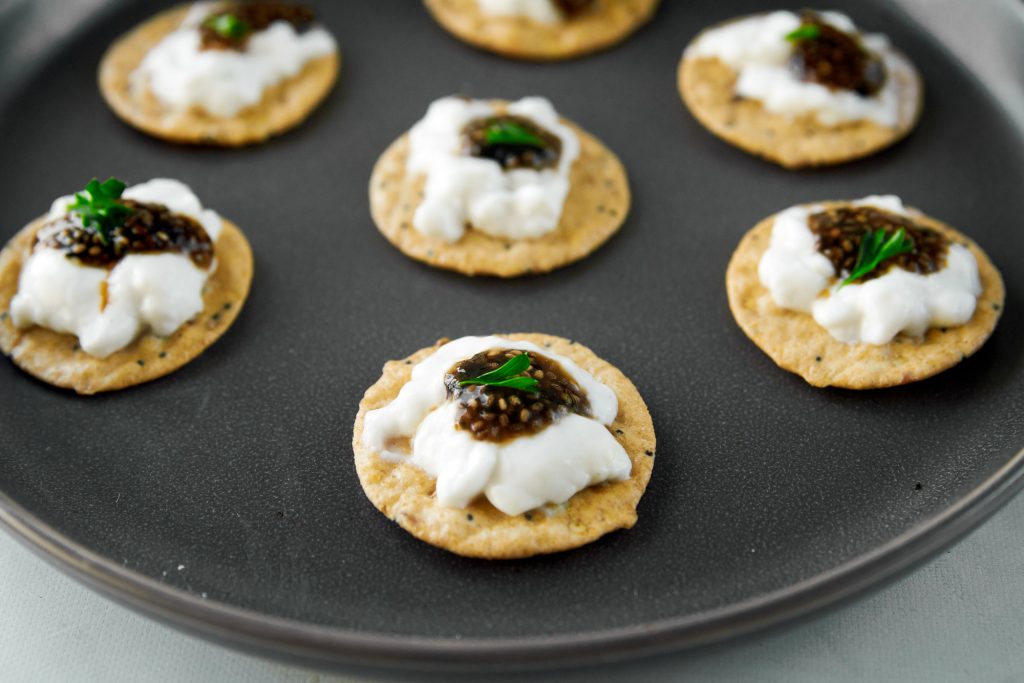 How To Store Vegan Caviar
This vegan caviar will keep in an air-tight container in the fridge for 5-7 days.
I would not recommend freezing this recipe, but if you do, please comment and let me know how it turned out!
This is a great recipe to make a day or two in advance of your party or get together. The longer it sits the better it gets as the flavors meld together and the liquid continues to get absorbed by the chia seeds!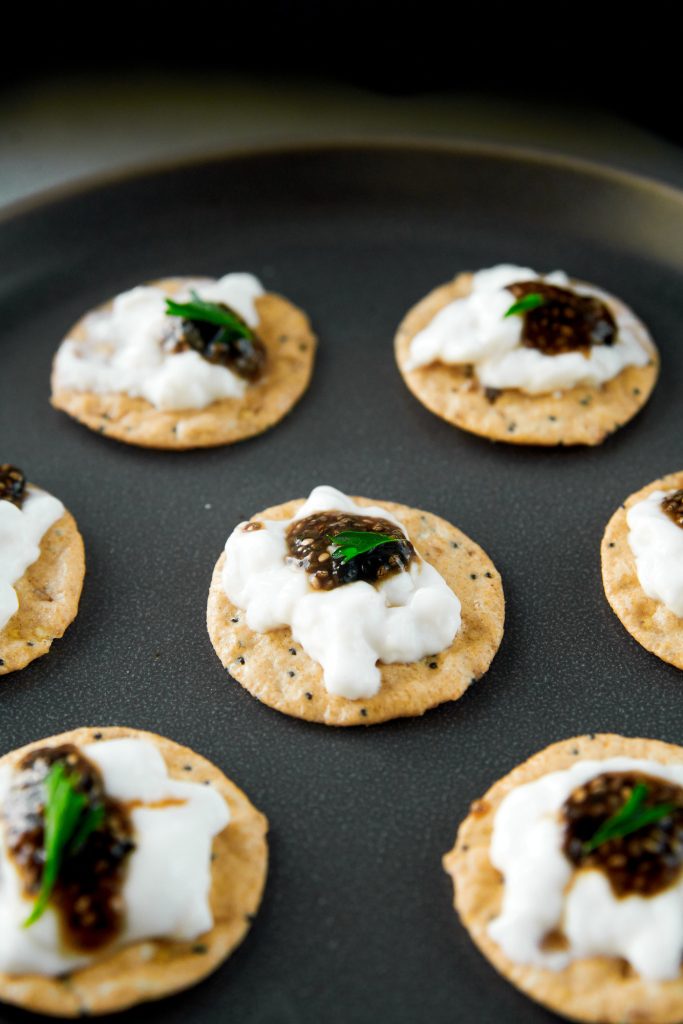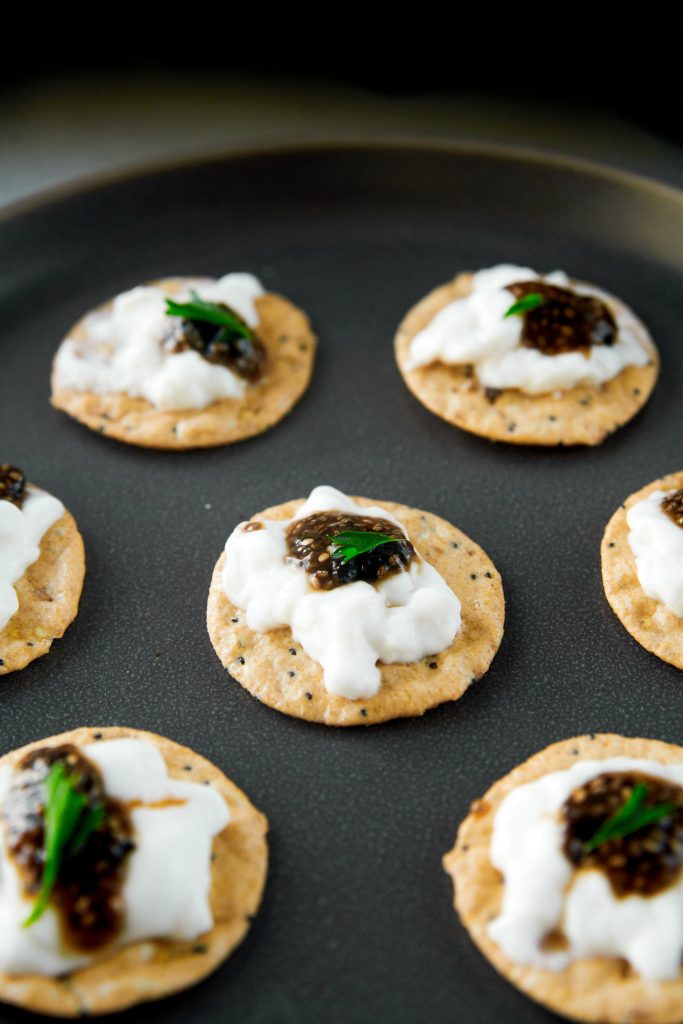 Did You Try This Recipe?
If so, I would love to keep in touch! I enjoy seeing photos and comments about the recipes that you make! You can follow me on Instagram and I will repost your goodies in my stories and comment on it too! Just tag me at @wowitsveggie and hashtag #wowitsveggie. I can't wait to see what you make!
Yield: 1 cup
5-Ingredient Vegan Caviar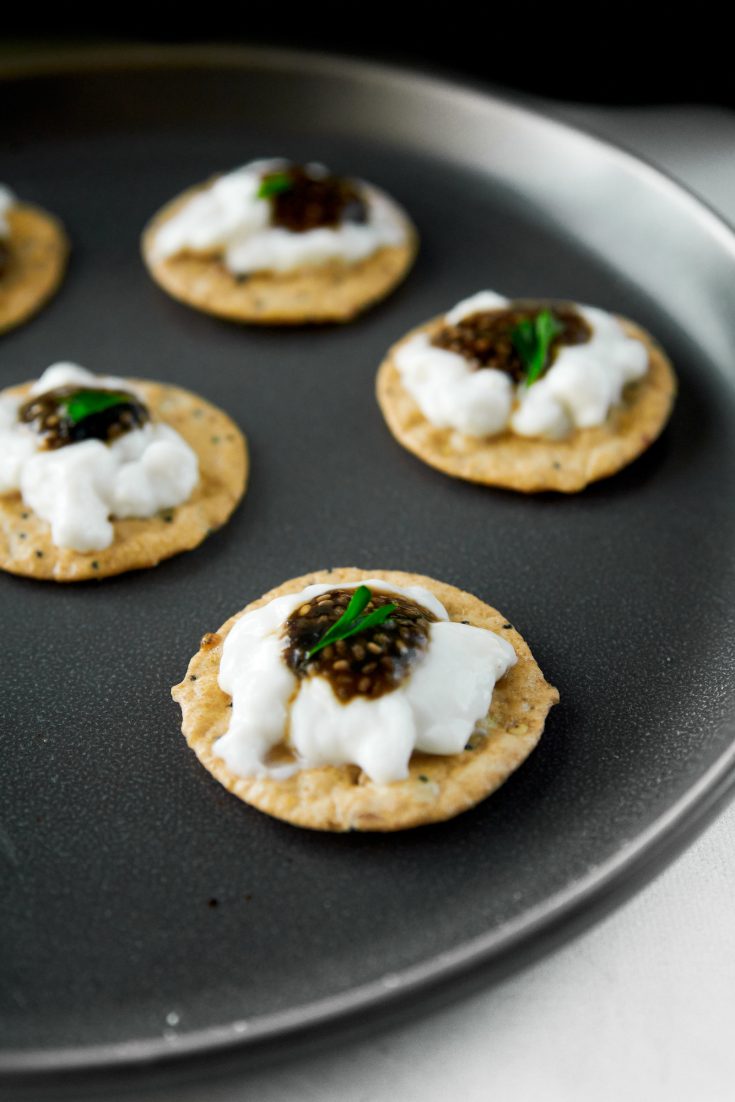 This vegan caviar recipe will make you feel all fancy and cultured and it just takes 5 ingredients! It is filled with nutrients and is very low in calories! Make sure to serve it in a nice plating to impress your friends!
Total Time
1 hour
10 minutes
Ingredients
1 cup water
1/4 cup soy sauce
1/4 tsp ginger
1 sheet of sushi Nori
4 tablespoons chia seeds
Instructions
In a medium bowl, combine water, soy sauce, and ginger. Whisk together until combined.
Using your hands, crumple up the sushi nori sheet and place it in the liquid. Use a whisk to stir until combined. To break apart the sushi nori and ensure that it is liquid, place this mixture in the blender and puree until smooth and combined. Alternatively, you can place your clean hands in the water/soy sauce mixture and break it apart further. You do not want huge clumps of the nori in your vegan caviar.
Next, add in the chia seeds. Stir until combined and the chia seeds are a little wet.
Set aside for 1-2 hours or until the chia seeds have absorbed the liquid and have grown in size. The mixture will now be more of a gel than a liquid and that is how you know it is done!
Serve vegan caviar on lightly buttered or dry toast, unsalted crackers, on crackers topped with Vegan Sour Cream, and more!
Nutrition Information
Yield
16
Serving Size
1
Amount Per Serving
Calories

39
Total Fat

2g
Saturated Fat

0g
Trans Fat

0g
Unsaturated Fat

2g
Cholesterol

1mg
Sodium

254mg
Carbohydrates

4g
Fiber

1g
Sugar

0g
Protein

1g