This vegan sour cream recipe is so creamy and delicious.
The best part? It takes less than 5 minutes to make! I honestly think it takes more like 3 minutes but I wanted to overestimate to give you a little extra time.
It uses only 6 ingredients and the flavor is super realistic to the real thing!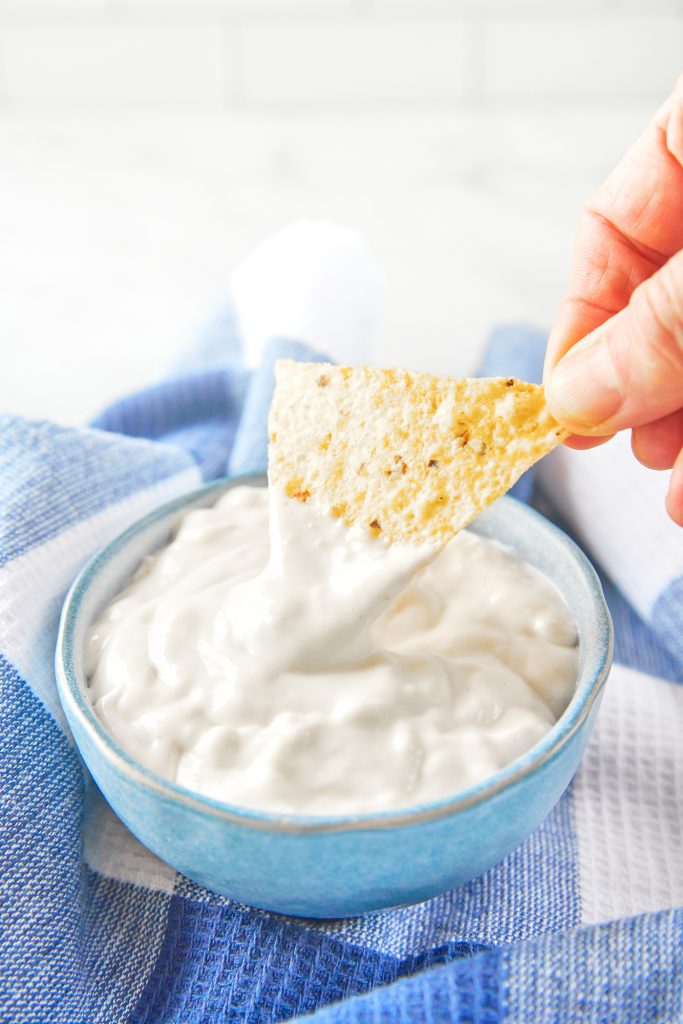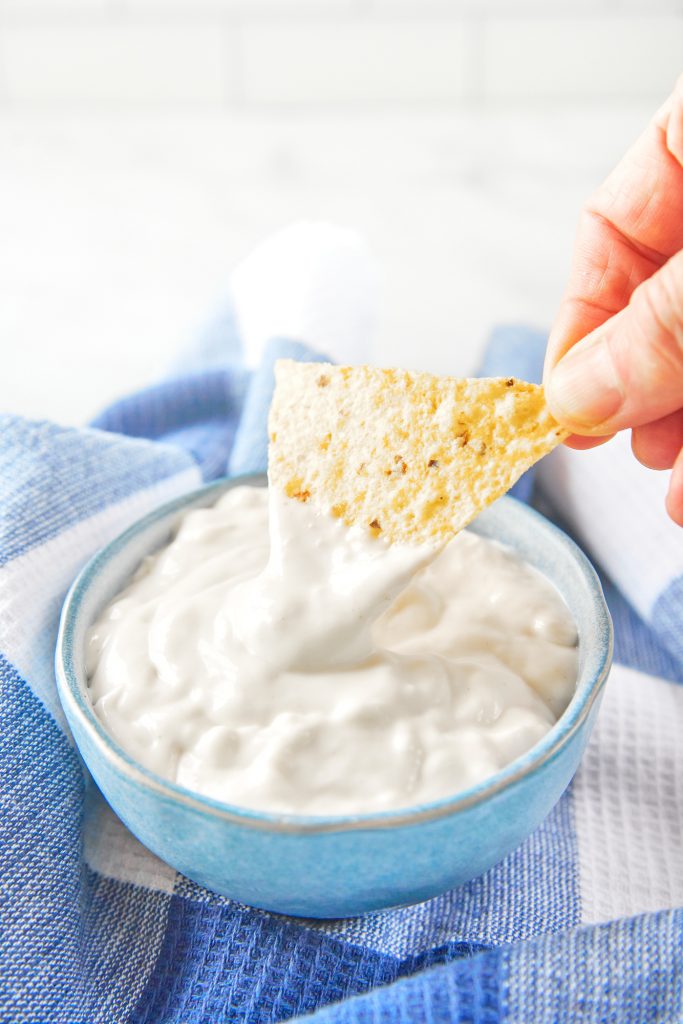 Outside of the house, I don't eat vegan [I will eat some dairy] which is why this website has mostly vegan but also some vegetarian recipes.
I absolutely love sour cream. I am a sour cream fiend. I slather GOBS AND GOBS of it on Vegan Burritos and more.
So what's a girl to do when suddenly in her late 20's she gets and allergy test and finds out she is highly allergic to both cow's milk and goat's milk?
Time to try out the different vegan sour cream brands! I found out that I loved forager sour cream but it is a hefty $7 a pop and I can use an entire container in two meals!
That was an expensive vegan sour cream eating habit that I didn't want to kick because I love the stuff!
Enter making my own vegan sour cream recipe that is way cheaper and contains less additives than the kind you buy at the store.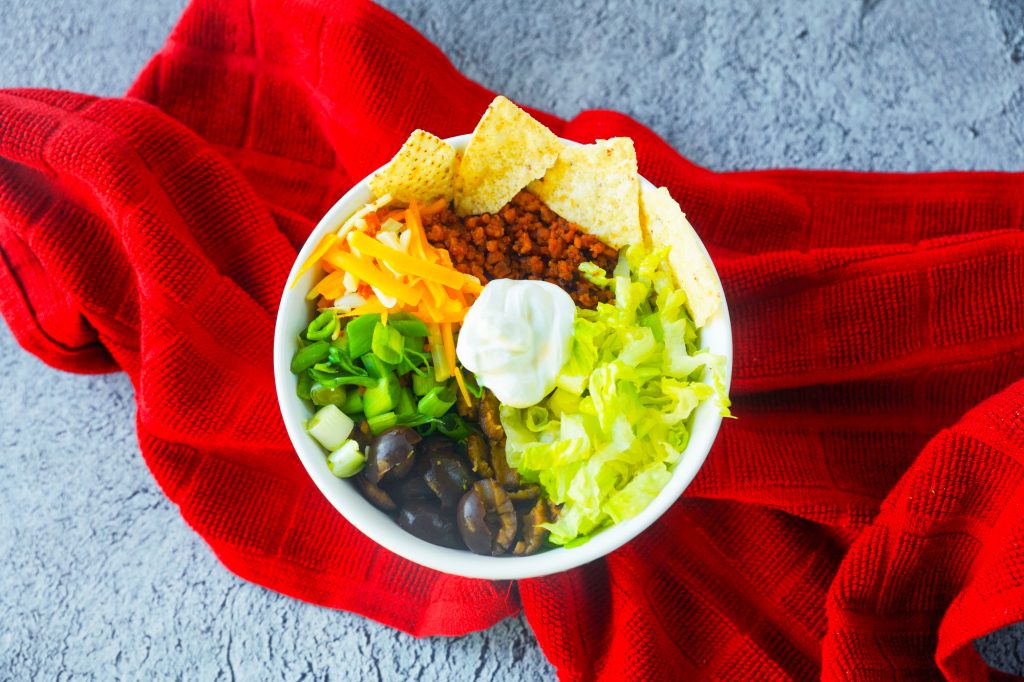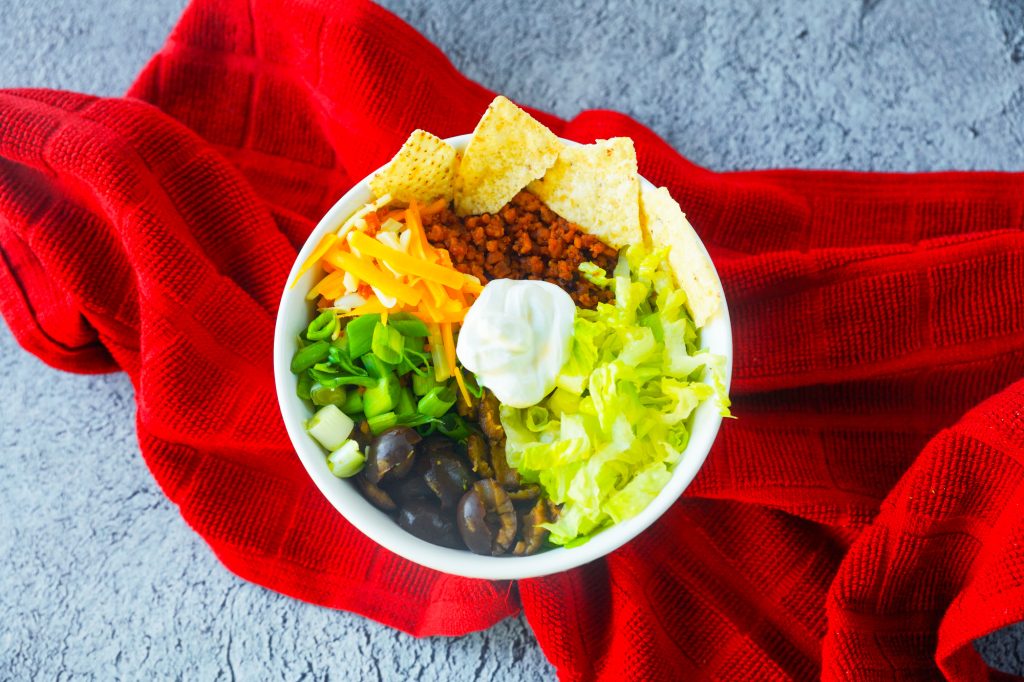 I am a huge sour cream lover of the dairy sort. If a vegan product falls short in flavor I would let you know [I am not a fan of most vegan cheeses], but vegan sour cream truly tastes 95% like the real thing!
It is a good enough imitation that I still eat gobs and gobs of it and as I said before, dairy sour cream was my weakness. So for me to create a recipe and find an easy vegan sour cream, you can trust that it is tasty and good!
This is a cashew sour cream, but cashews are only a small part of it. I know a lot of vegan sour cream recipes call for a lot of cashews and that is fine, but mine only calls for a small amount as I wanted something easier to digest.
The other main ingredient is tofu. I think a lot of people sleep on tofu when creating recipes these days, but it really is the greatest and works really well.
The tofu also allows the vegan sour cream to hold its shape really well when you slather it on your tacos and top your Vegan Burrito Bowl with it.
As you can tell, this recipe is my ode to vegan sour cream and I hope you love it as much as I do!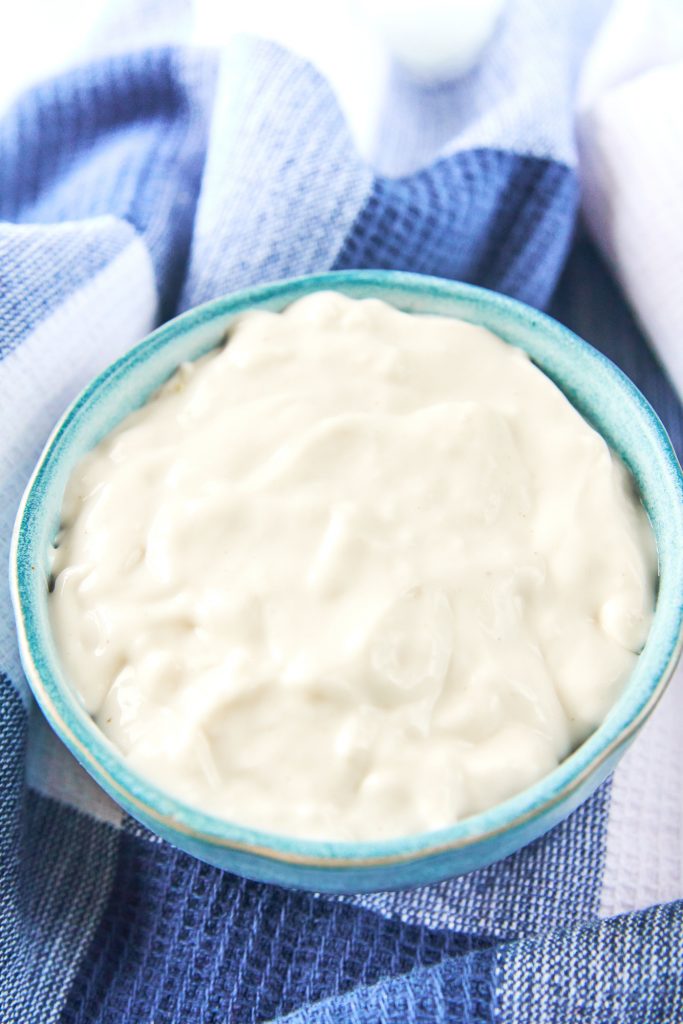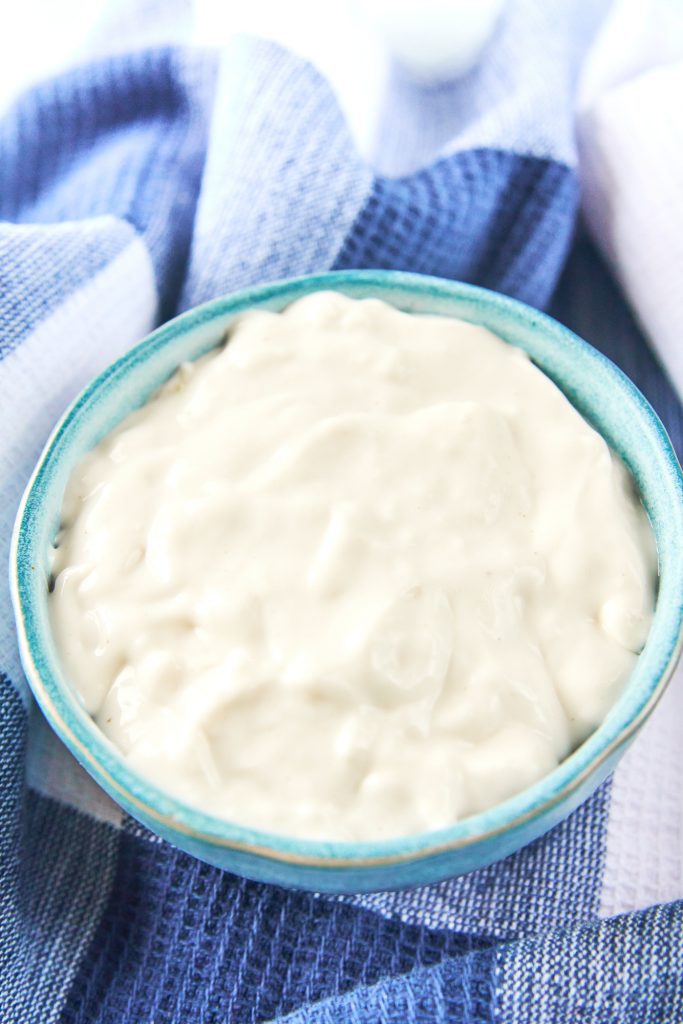 What Kind Of Tofu To Use For Vegan Sour Cream
Believe it or not, you can actually use any kind of tofu!
I have made vegan sour cream with silken tofu and everything all the way up to extra firm tofu.
I think one of the two extremes works the best. Either silken tofu or extra firm tofu.
If you only have medium-firm tofu on hand, that is fine, you can still make your sour cream recipe with this and it will still come out good!
You do want to make sure that your firm tofu is drained and well pressed for best results. You don't want any of the tofu brine to seep into the flavors of the best vegan sour cream you will ever eat!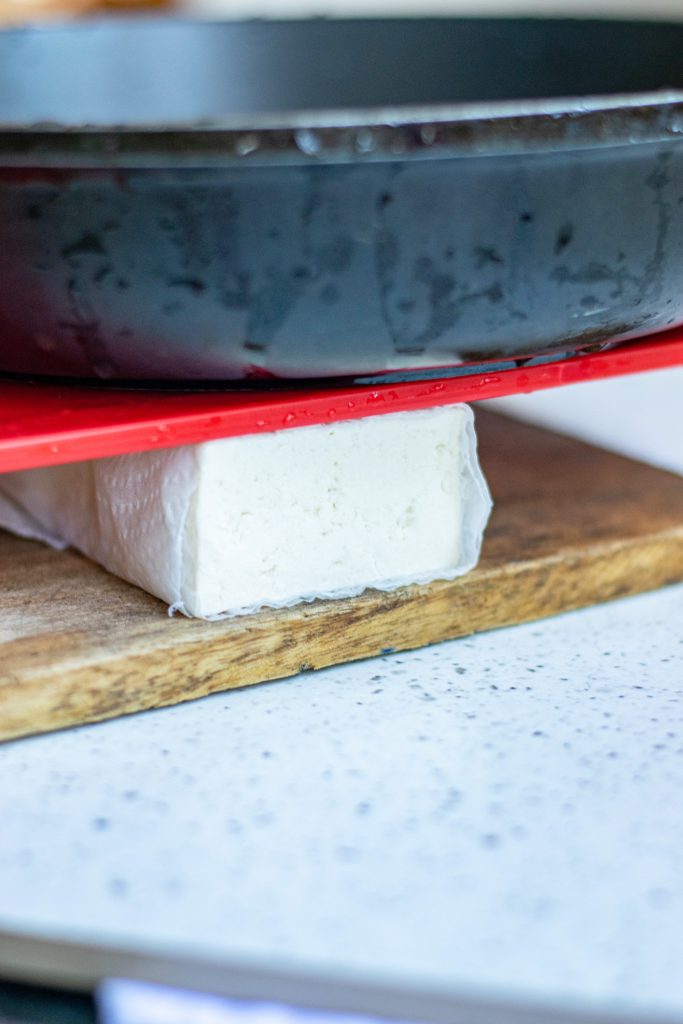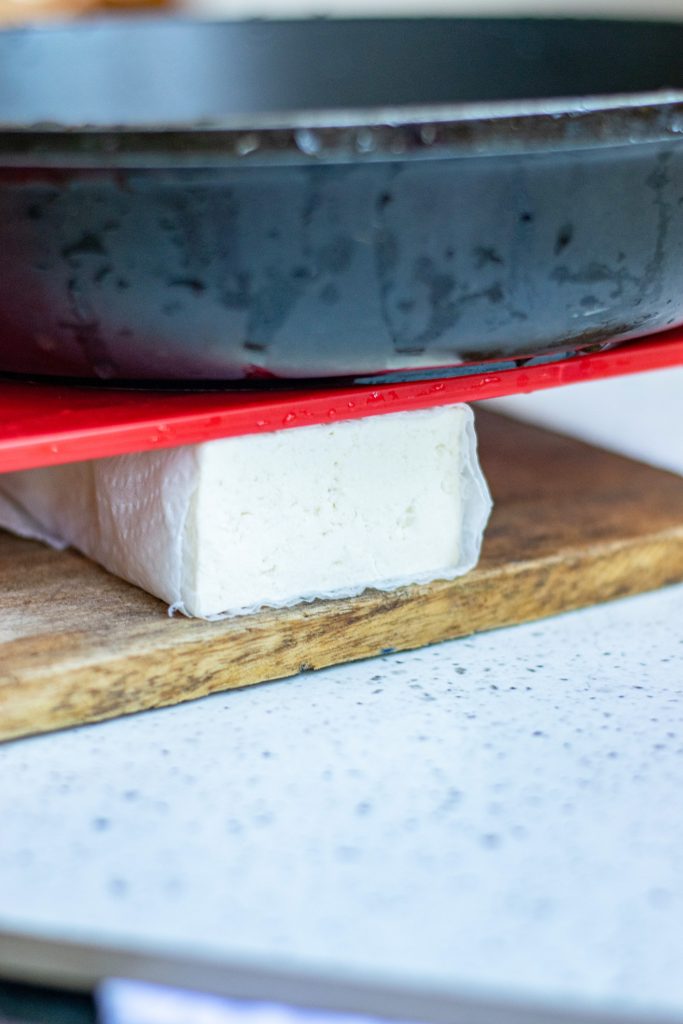 How To Prepare The Cashews For Dairy-Free Sour Cream
While this recipe for non-dairy sour cream isn't predominately cashews, it does have some cashews in it and they will need to be prepared properly for best results.
First, there is no need to soak your cashews!
You will need a high powered blender or food processor in order to grind the cashews into a fine poweder.
I use a Vitamix Blender and so it is already very high powered.
I put the cashews in first and then blend them up until they are very fine and not coarse.
When making dairy-free sour cream, make sure to prepare the cashews correctly or else it will give the sour cream a weird consistency!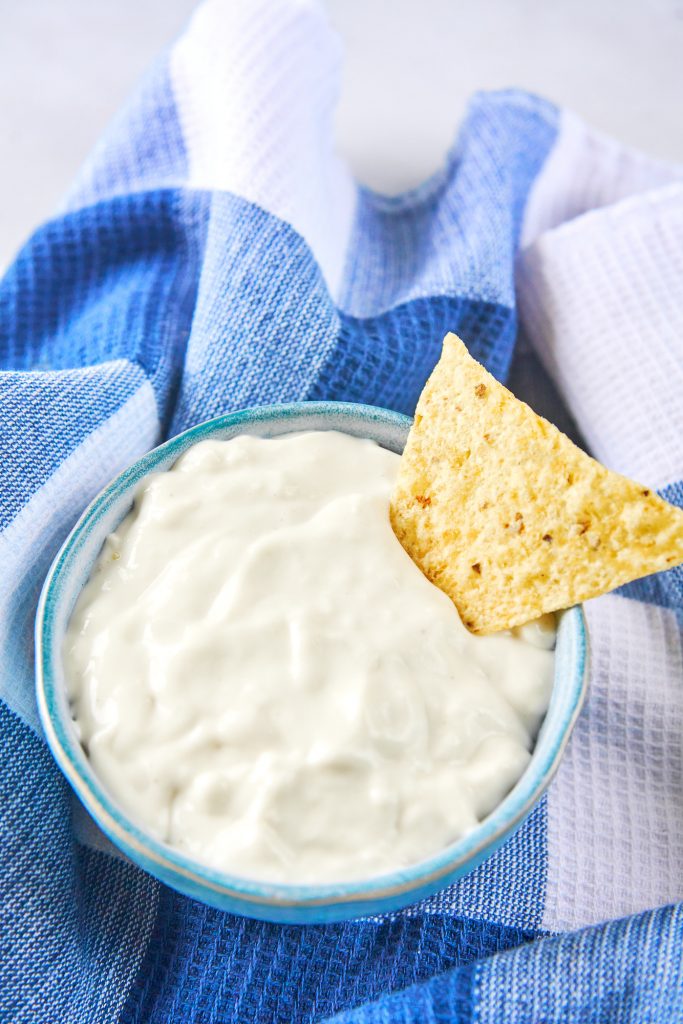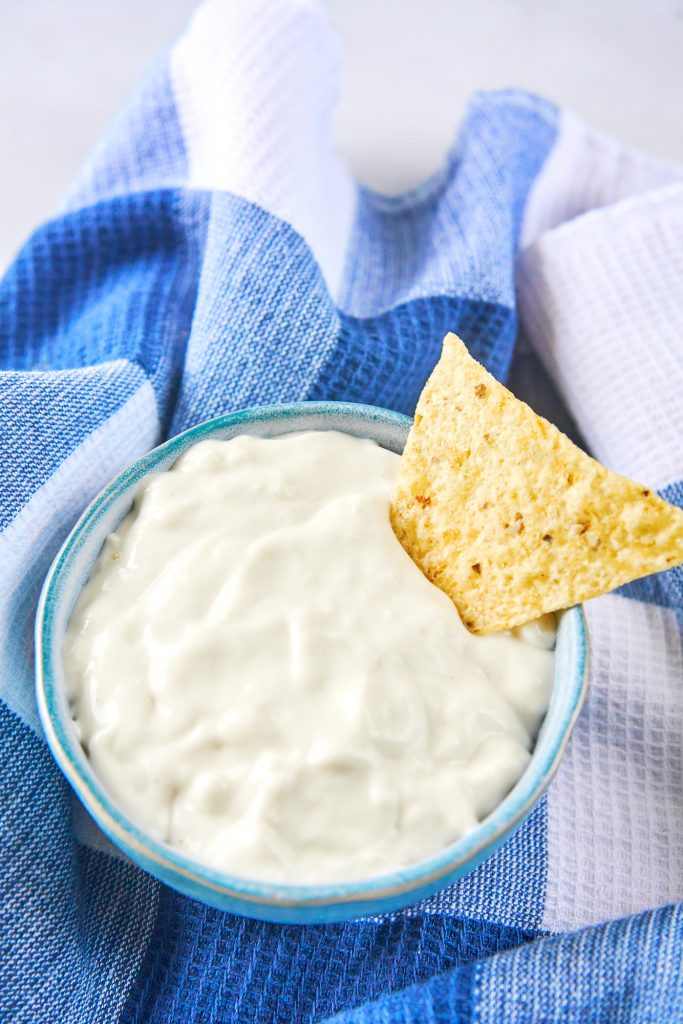 How to Make Vegan Sour Cream
Making this vegan sour cream recipe couldn't be easier if it tried!
With only 6 ingredients and less than 5 minutes of your time, it is a great newbie recipe if you are just starting out with making your own vegan basics.
As I said above, once I found out I was allergic to milk, this is a saving grace from me having to spend $7 a pop on vegan sour cream brands that I would eat in two sittings!
First, you are going to want a high powered blender. If you don't have a blender, a food processor will work too.
I want to caution you against trying to make non-dairy sour cream with a regular blender as it will have a hard time giving you the creamy nature that you are looking for.
First, you want to grind your 1/4 cup raw cashews in the blender or food processor until they are ground into a find powder.
Then, you want to add your remaining ingredients which are your tofu, white rice vinegar, lemon or lime juice [both work well], white miso, and oil.
I love the white miso and lemon juice in this recipe as they give it that acidic and "sour" taste we all crave! And the combination of the tofu and kick of cashews gives us that creamy texture.
Then, you are going to puree and blend until it is very very smooth and creamy.
You will have to stop, wipe down the sites with a spatula, and continue in most cases.
You want to make sure that everything is incorporated very well.
And that is it! You just made vegan sour cream and it took less than 5 minutes!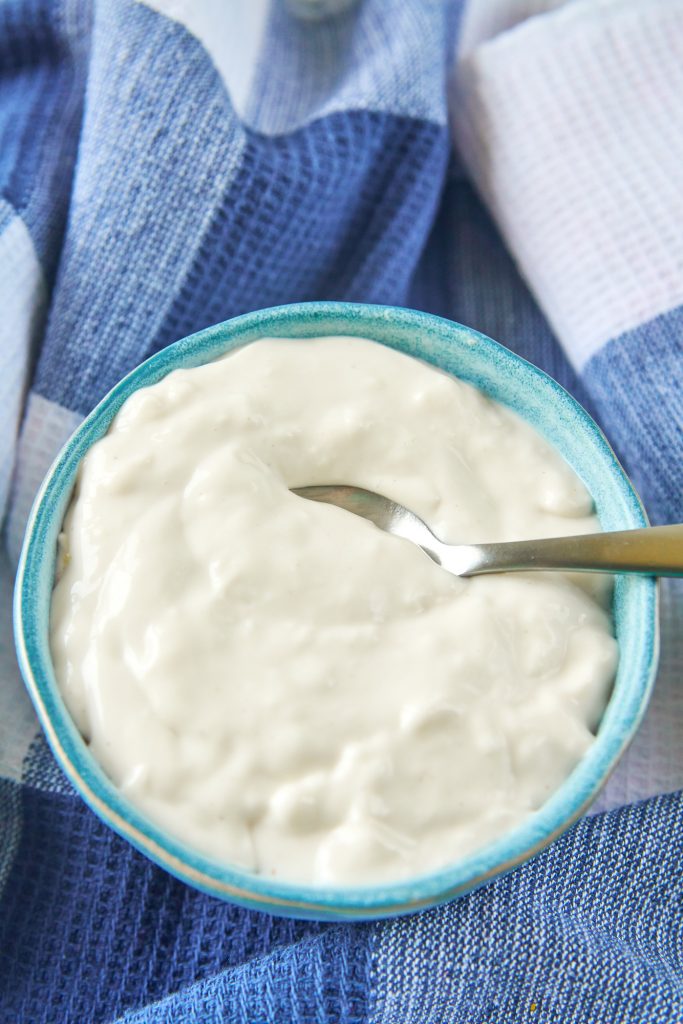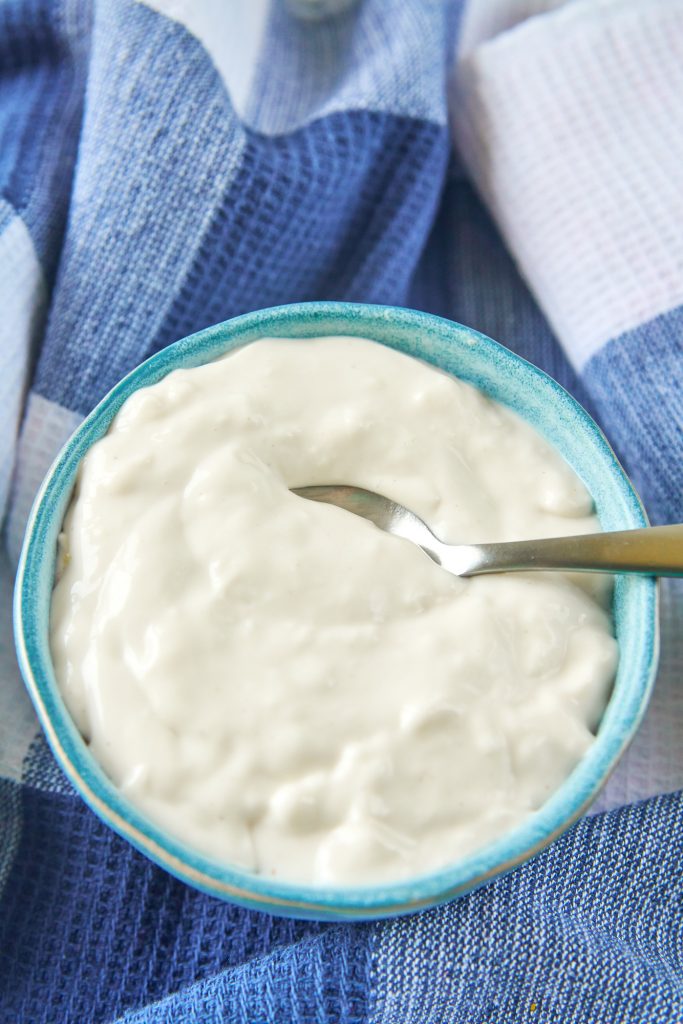 How To Store Vegan Sour Cream
This vegan sour cream recipe can keep in an airtight container in the fridge for up to 7 days.
This is pretty good considering the vegan sour cream brands I used to buy would only keep up to 10 days once opened, and they had a lot of preservatives in them!
I usually eat mine pretty fast and it rarely lasts up to 7 days, but I have kept my homemade recipe up to 10 days as well.
It doesn't exactly go bad, but the texture does start to get a little funky. You won't get sick or anything, but I don't recommend it.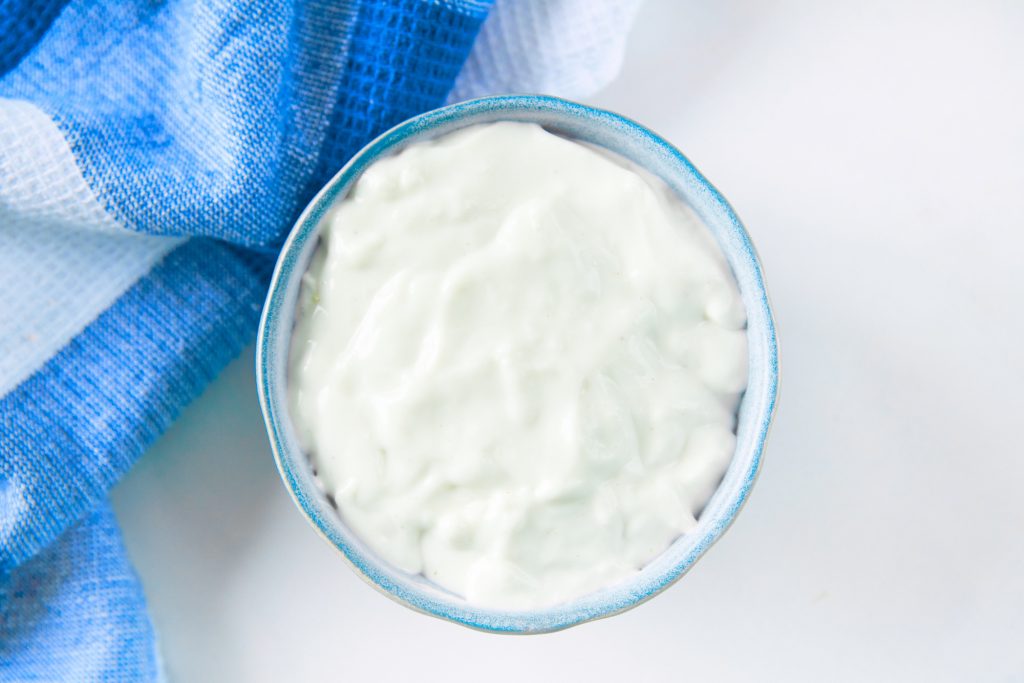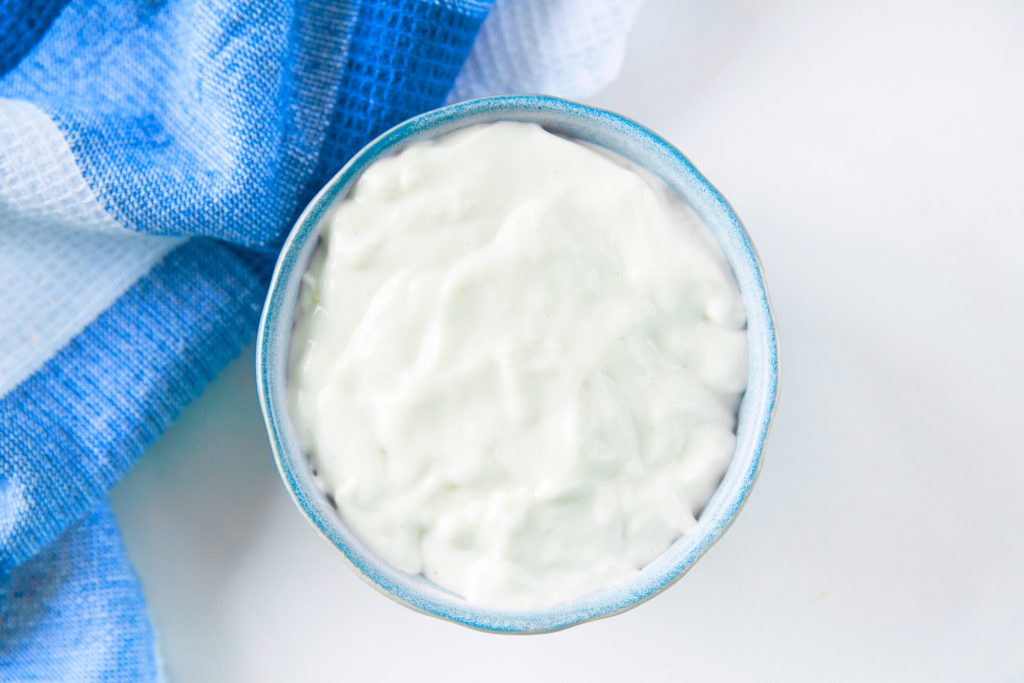 How To Use Vegan Sour Cream
You can use vegan sour cream the same way you use regular sour cream!
The options are truly endless. Dairy-free sour cream is great for baking, topping things with, swirling into sauces, adding on top of soups and more.
Here are a few suggestions to get you started!
Dollop it on a Vegan Burrito Bowl
Slather a Vegan Burrito with it
Top potato pancakes with it
Dip chips in it
Dip veggies in it
Add it to salad dressings
Add it in sauces
Use a swirl to add into soups
There are so many ways to use cashew sour cream that I could write a whole post on just that! But I will spare you and let you fly free to try it yourself.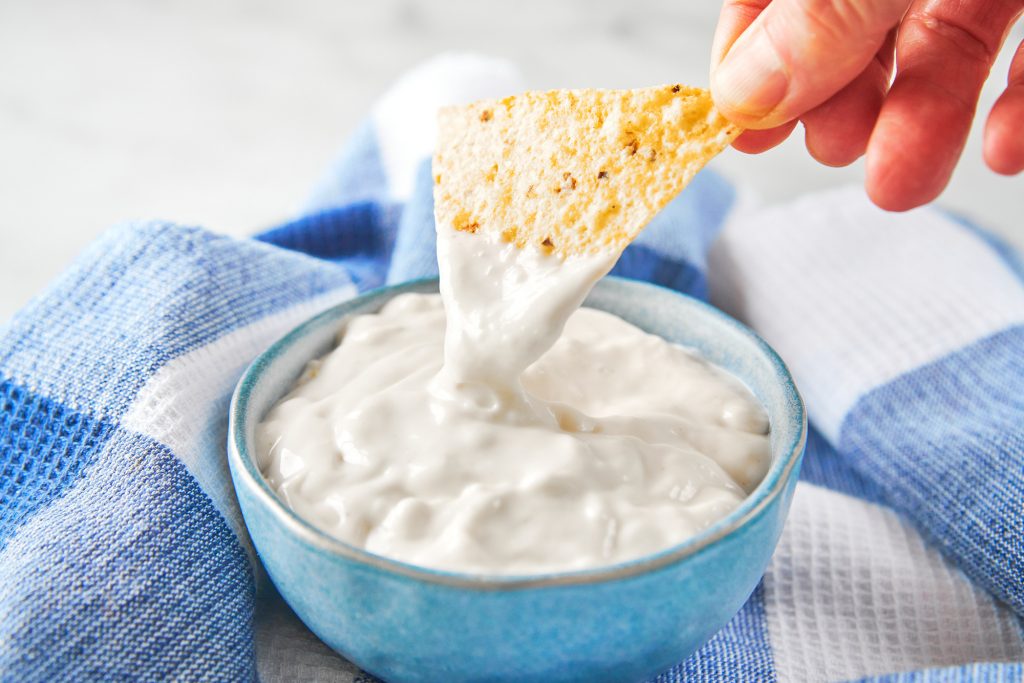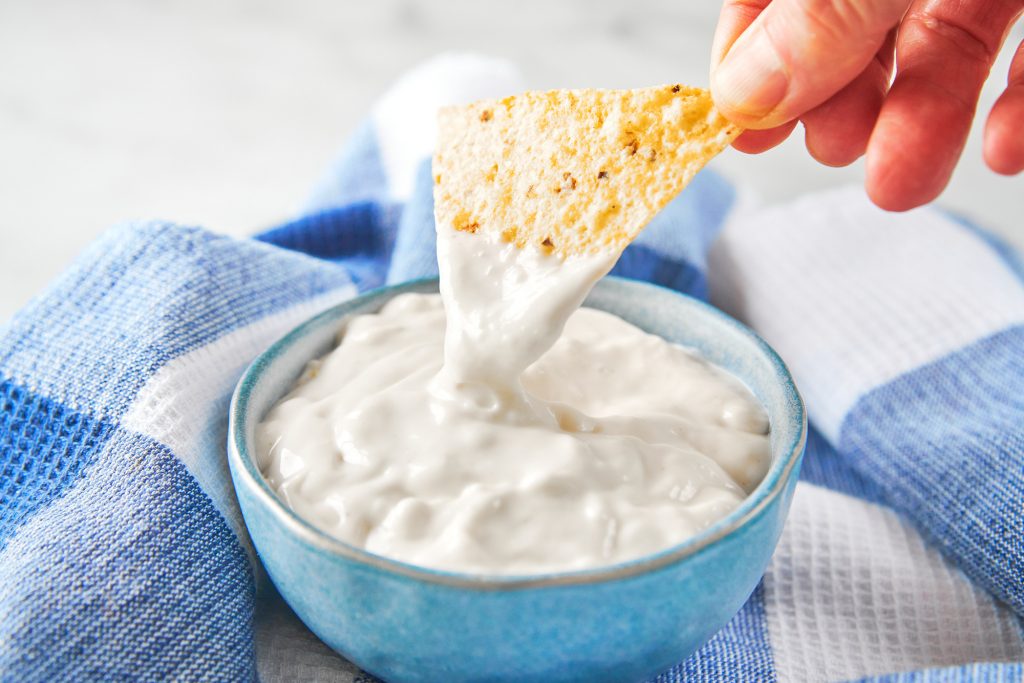 Did You Try This Recipe?
If so, I would love to keep in touch! I enjoy seeing photos and comments about the recipes that you make! You can follow me on Instagram and I will repost your goodies in my stories and comment on it too! Just tag me at @wowitsveggie and hashtag #wowitsveggie. I can't wait to see what you make!
Yield: 1 1/2 cups
5-Minute Vegan Sour Cream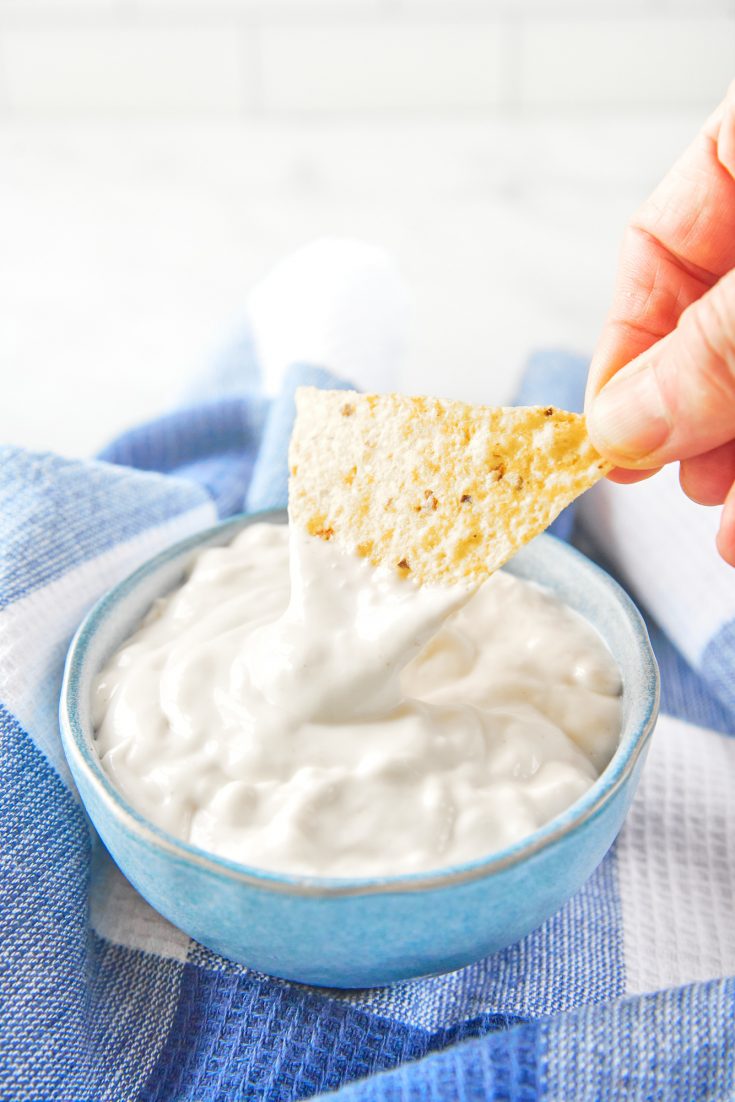 This vegan sour cream recipe is so easy and delicious! It uses only 6 ingredients and takes less than 5 minutes to make. As someone who used to be obsessed with dairy sour cream before becoming allergic to milk, I can tell you that this vegan sour cream is a 95% match to the dairy kind and I still slather it on everything with reckless abandon!
Ingredients
7 ounces (198G) extra-firm tofu drained and pressed (can also use silken tofu but no need to drain)
1/4 cup raw cashews
1 tablespoon white rice vinegar
1 tablespoon lemon or lime juice
1 tablespoon white miso
1 tablespoon oil
Instructions
Using a high powered blender or food processor, blend the cashews until they are a fine powder.
Then, add the remaining ingredients and puree until very very smooth and creamy. You may have to scrape the sides down and continue to puree. You want to make sure that you blend all of the ingredients until very creamy.
Serve however you want! Vegan sour cream can store in the fridge for up to 7 days!