If want an easy vegan stuffing recipe, there is nothing like Grandma's home cooking!
As I have said in many other posts on this site, my Grandma was FAR from vegan. But many of her recipes such as Vegan Apple Pie and this stuffing recipe were "accidentally vegan."
How this stuffing is vegan, I really don't know, but here it is and it is so darn good! This is a really simple way to make stuffing vegan, so read on and I will show you how.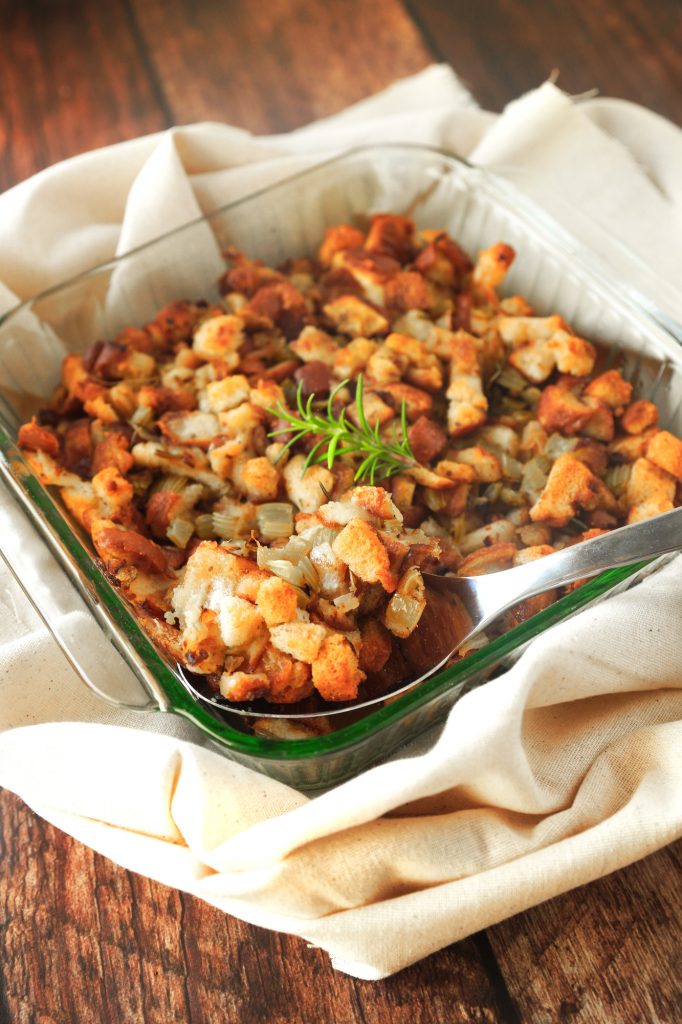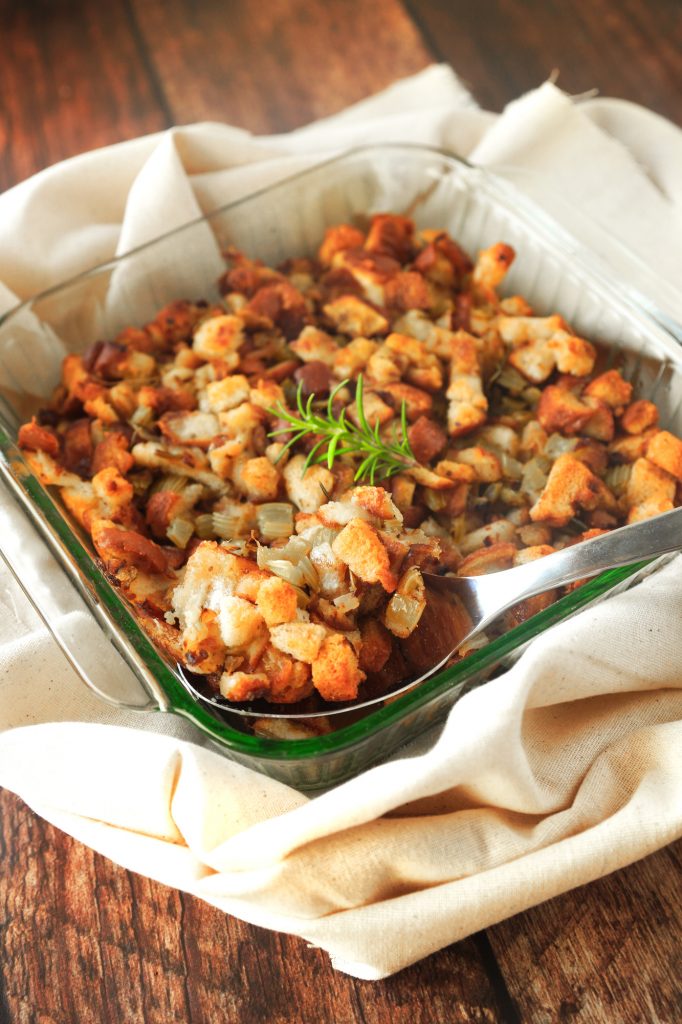 You can see my Grandma's handwritten recipe card below so you know that I am not lying!
I have added some slight modifications as we will NOT be putting this inside of "the bird" as Grandma has said. If you want to make this vegan gluten-free stuffing you can use your favorite gluten-free bread too!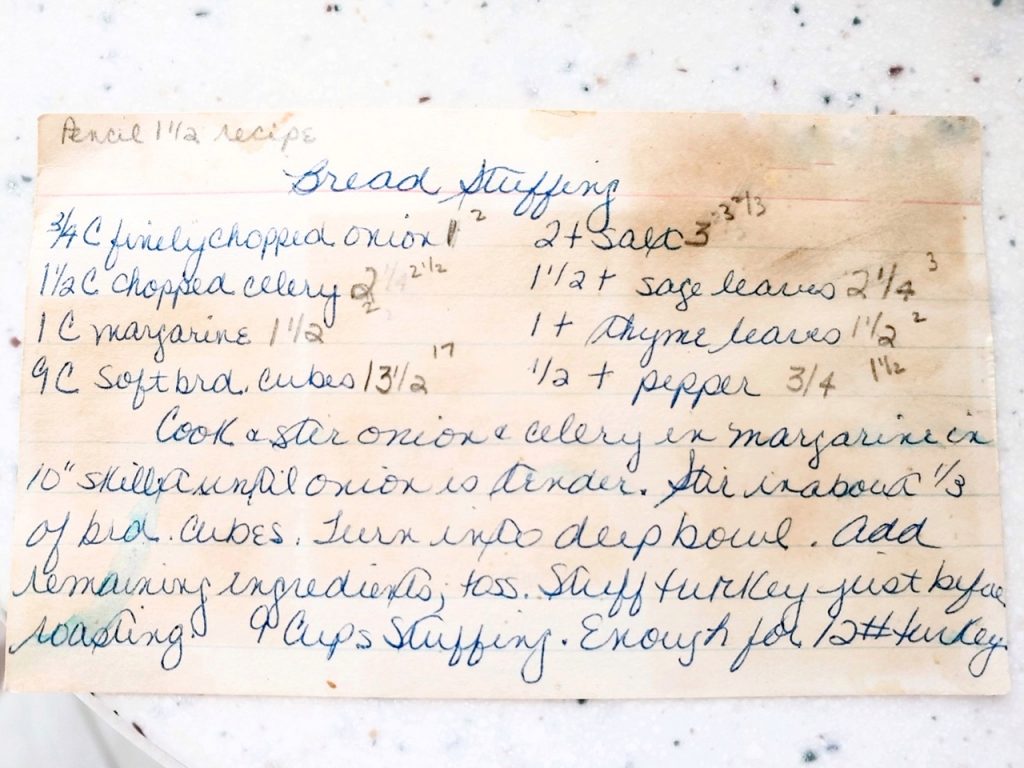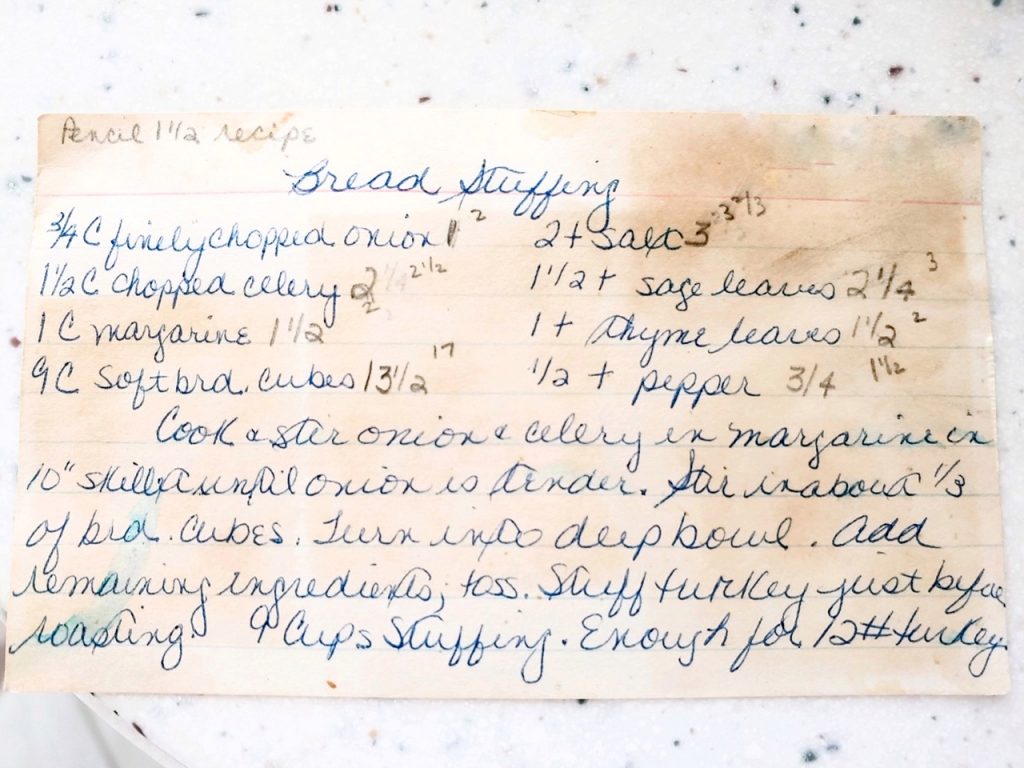 As a result, we will need to give this vegan stuffing recipe something to make it "wet" and soggy so that it can crisp up in the oven.
I know that creating all of the yummy Vegan Thanksgiving Recipes takes time, which is why I am happy that this vegetarian stuffing cooks up so quickly!
It really only takes about 10 minutes of active time before you pop it in the oven to cook for about 30-40 minutes or until golden brown.
When seasoning the vegan Thanksgiving stuffing, I highly recommend NOT skipping the thyme. You can generally modify the other spices, but the thyme MUST go in!
Bonus if it is fresh thyme from a branch, it is so delicious.
Make this vegan stuffing recipe for your next Thanksgiving or Christmas dinner and your whole house will be smelling just like Grandma was right there!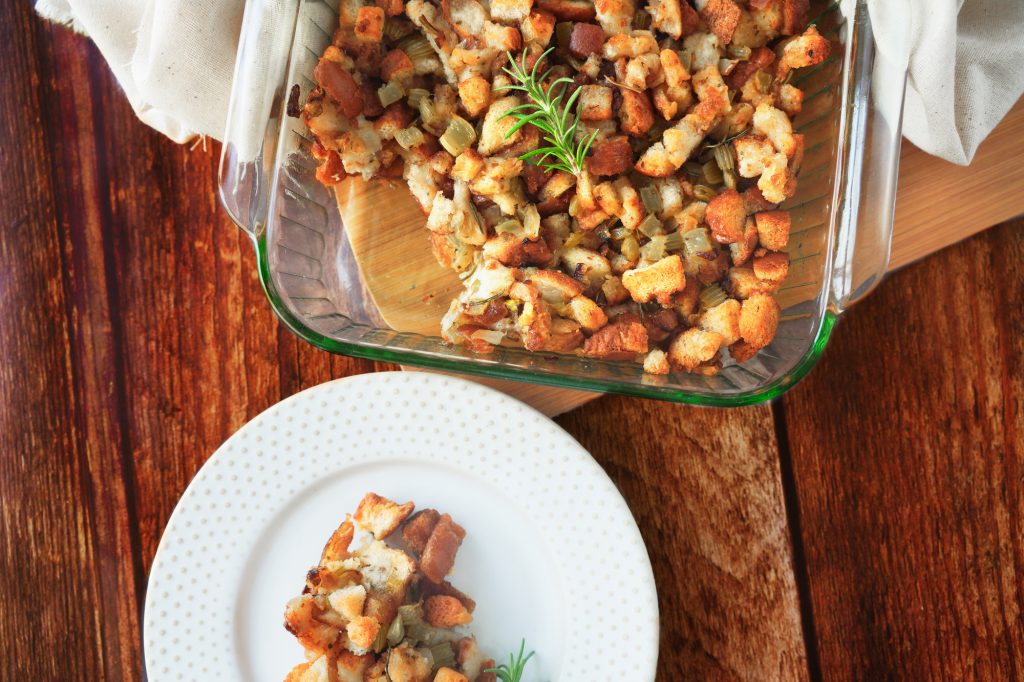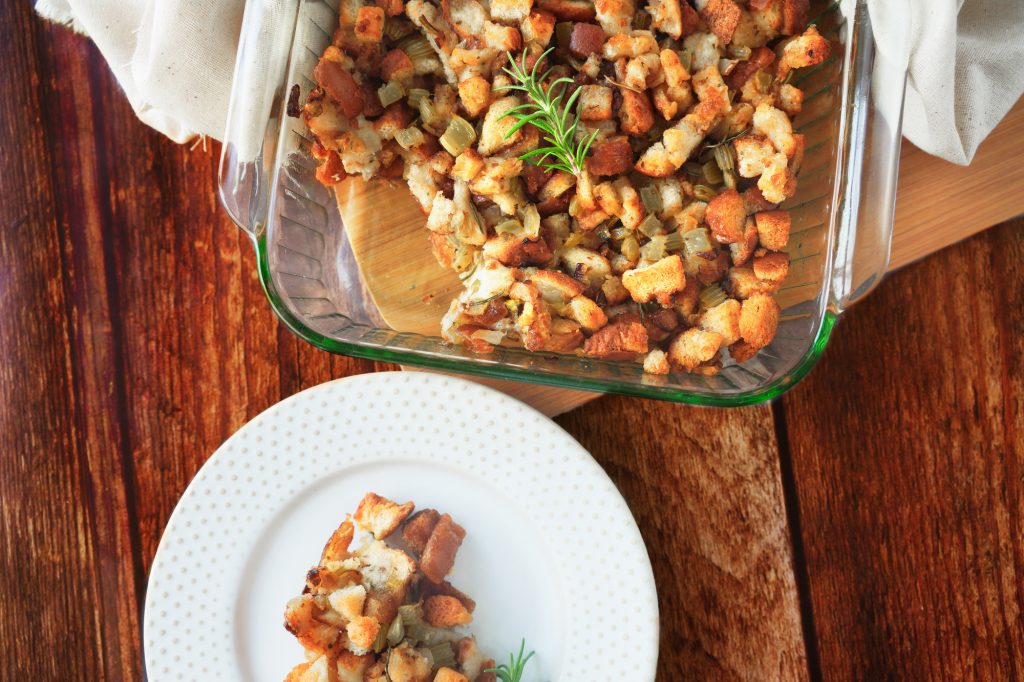 Why You Will Love Making Thanksgiving Stuffing Vegan
Perfect for new cooks. If you are new to cooking and want to give something easy a try, offer to bring the stuffing! Making stuffing vegan is extremely easy and nobody will ever know there is no meat in it. This is always a crowd favorite on Thanksgiving.
There are very few ingredients. The goal of this dish is to accent your main dish. You can serve it alone, with gravy, or as a side to something such as Vegan Meatloaf or Vegan Potpie! As a result, there are very few ingredients. This means that when you make your stuffing vegan at home, you won't need to spend a lot of time shopping.
It is healthier than bagged stuff. This isn't medical advice, but making vegan Thanksgiving stuffing at home is better [in my opinion] than buying it from the store in a bag. Fewer additives, more flavor! Plus, you can be sure that it is 100% vegan.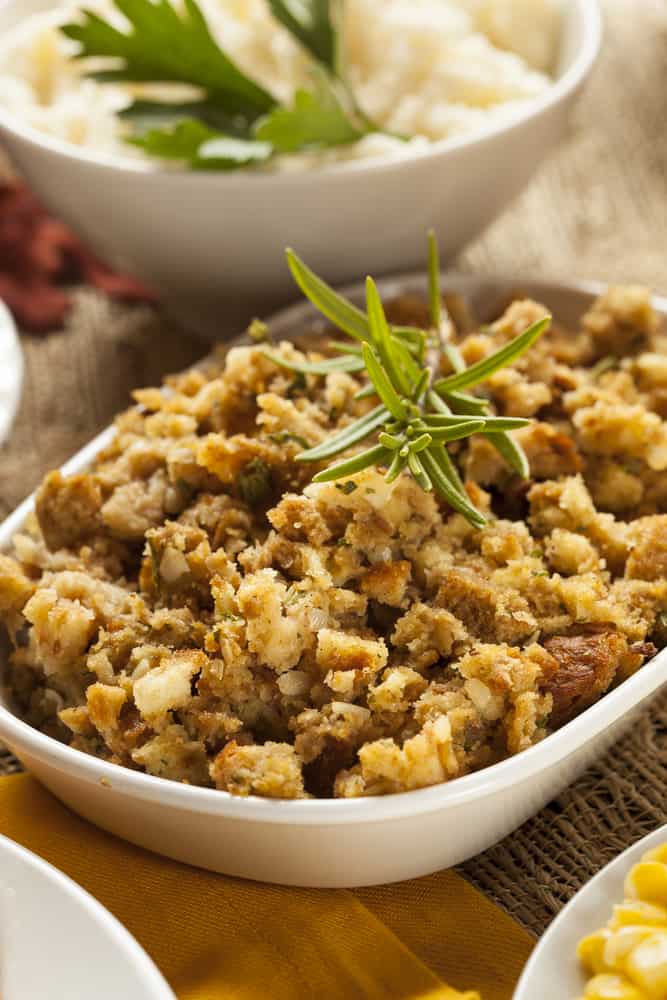 Preparing The Bread Cubes For The Vegan Stuffing
First, Grandma liked to use the crappiest white bread. Think Wonder Bread, the kind you can buy at the store for like 70 cents.
No, it is not healthy and it is actually the worst, but it also tastes good and you can splurge on the holidays. Of course, make sure the bread you use is vegan, as some store-bought breads use eggs.
This vegan Thanksgiving dressing recipe will work with any bread you want and you can choose a baguette or fresh homemade bread you may have on hand, depending on taste.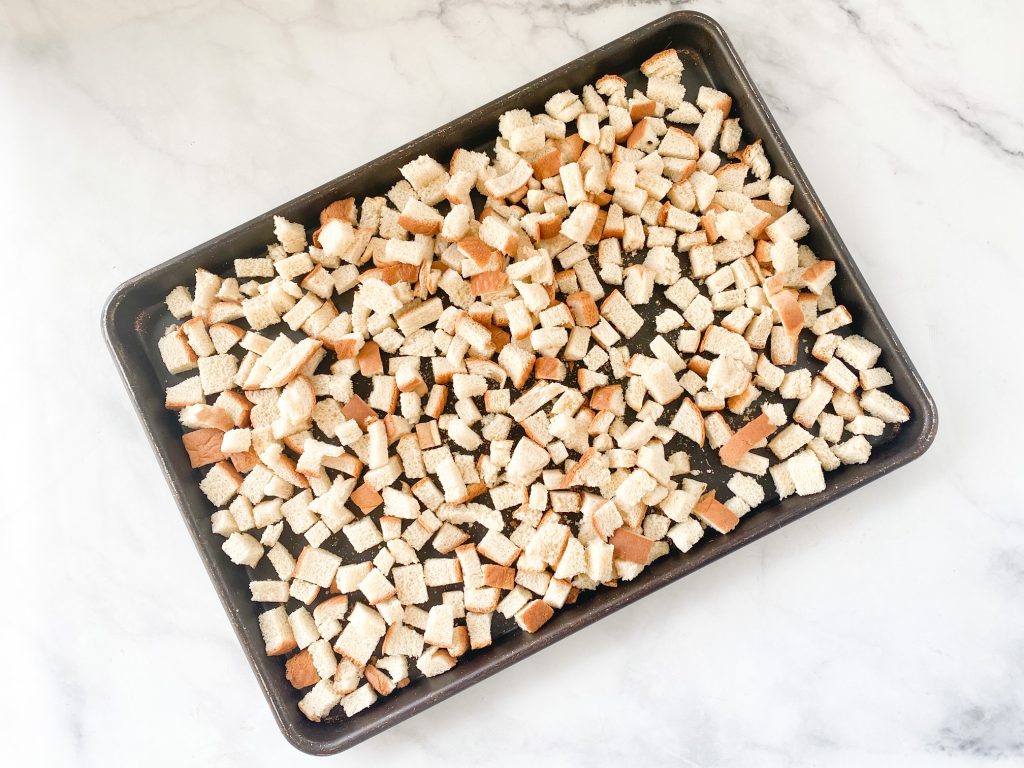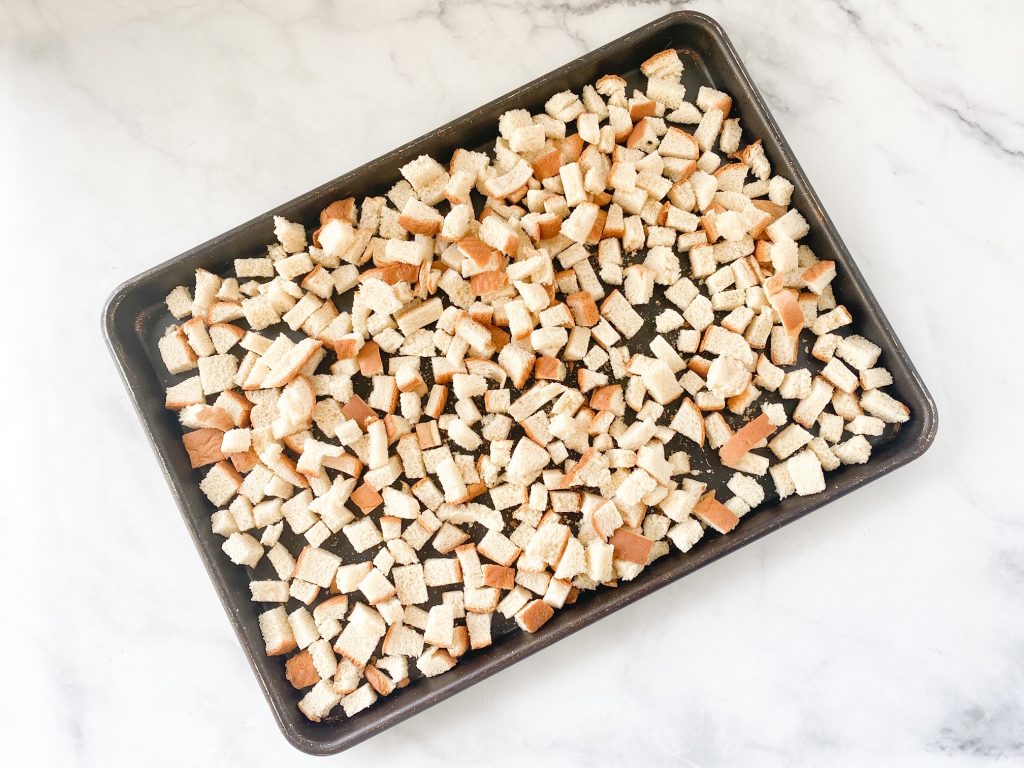 The most important part is to use a sharp bread knife to cut the bread into TINY squares.
I stack 3-4 slices and then cut them length-wise and then width-wise until I get small squares.
If your squares are still too large, you can tear them with your hand. The bread cubes should be about 1/2 inch in size, 1 inch is too big! If you want the best vegan stuffing, your bread has to be small.
Then, take out as many cookie sheets as you have and let the bread cubes dry overnight.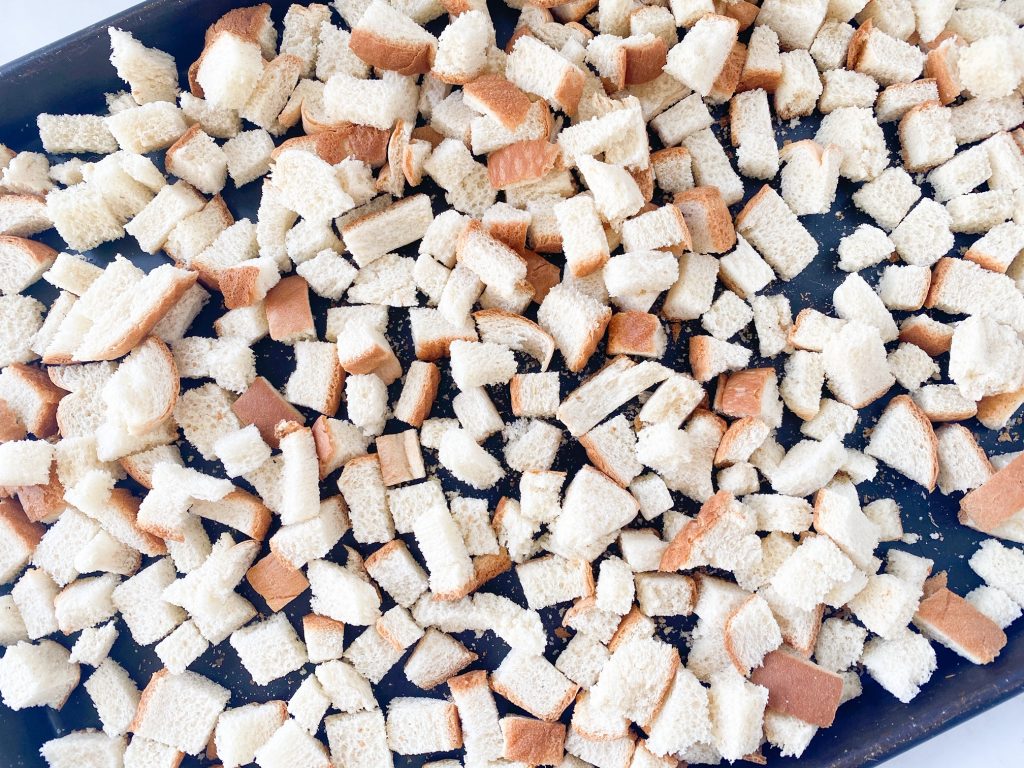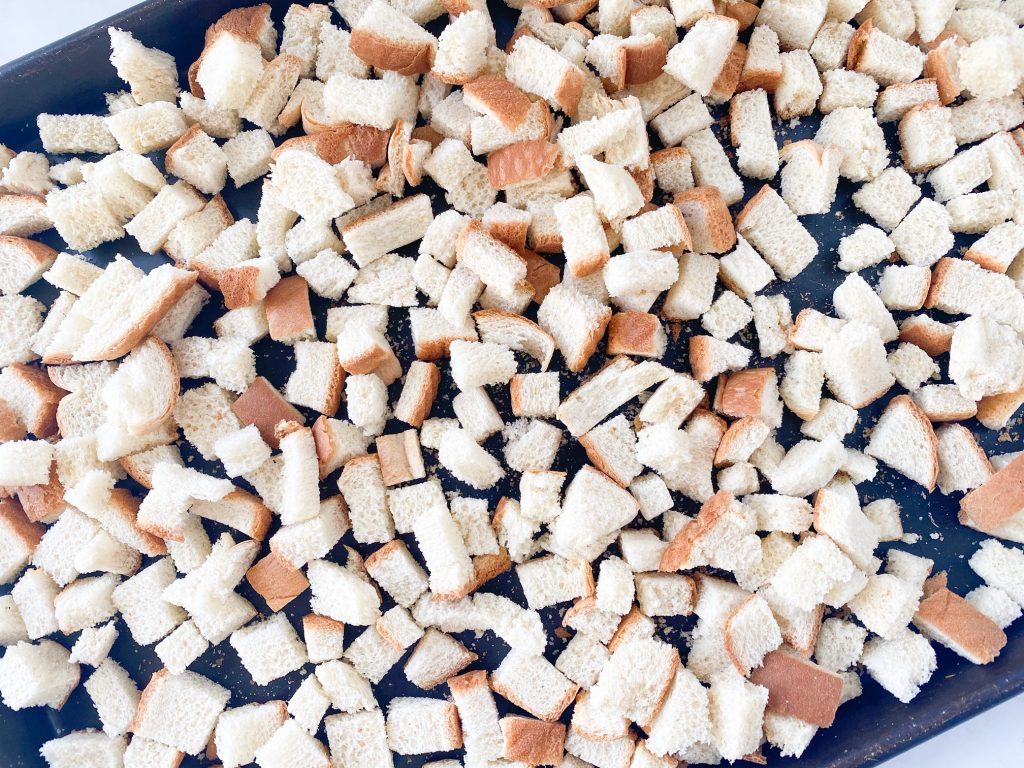 I have vivid memories of my Grandma doing this on the dining room table when I was growing up!
Your bread cubes should be evenly spread and should not be in a mound or on top of each other.
You do want to ensure that you are using day-old bread for this vegan stuffing recipe.
It is a good idea to prepare the bread the night before, but however you categorize "day old" bread should be fine.
In other terms, the bread should be stale and like a soft crouton. I know it is weird but it works!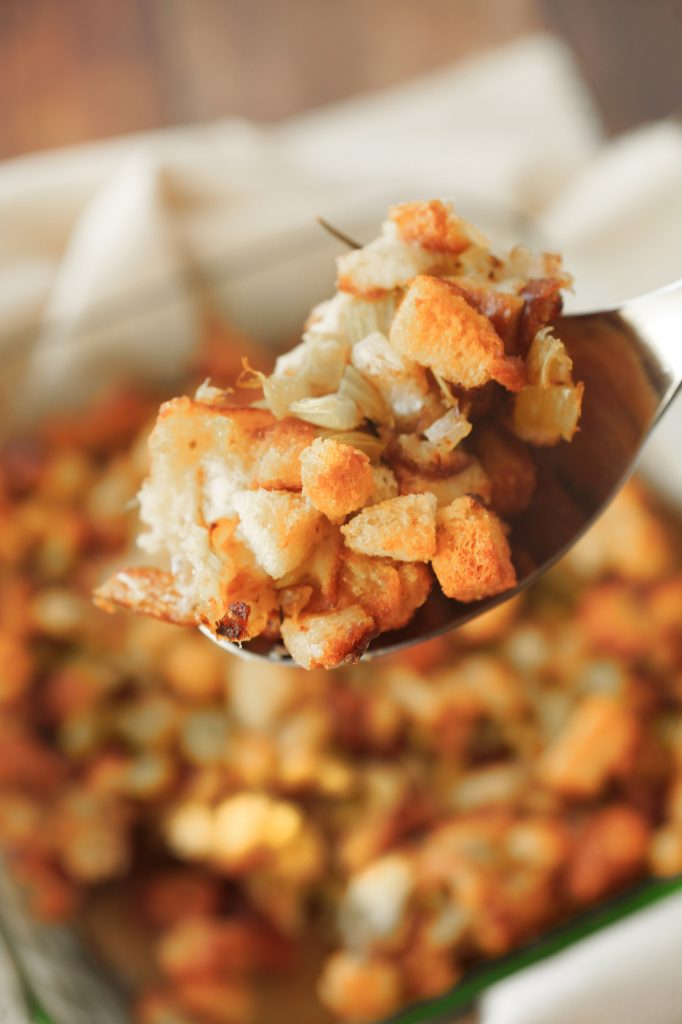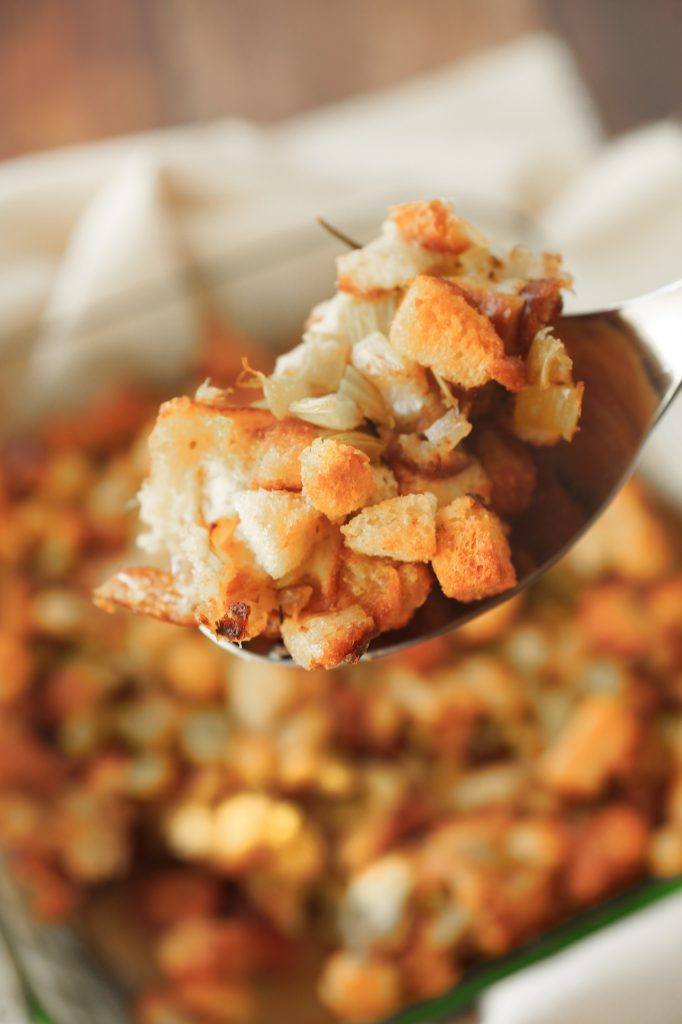 How to Make Thanksgiving Stuffing Vegan
Making Thanksgiving stuffing vegan is so easy, even a child could help.
How do I know? Because I was that child helping my Grandma make it!
Anyway, after your bread cubes dry and are slightly stale, you are going to want to heat oil in a large frying pan.
Grandma calls for butter and although there are Vegan Butter options, I am not a fan of cooking with butter.
I prefer cooking with oil so I subbed oil for butter. If you don't like too much oil, go ahead and use vegan butter or margarine instead.
You will saute your celery and onion slices for a few minutes until translucent and fragrant. This is the staple for vegetarian stuffing and will make things taste so good!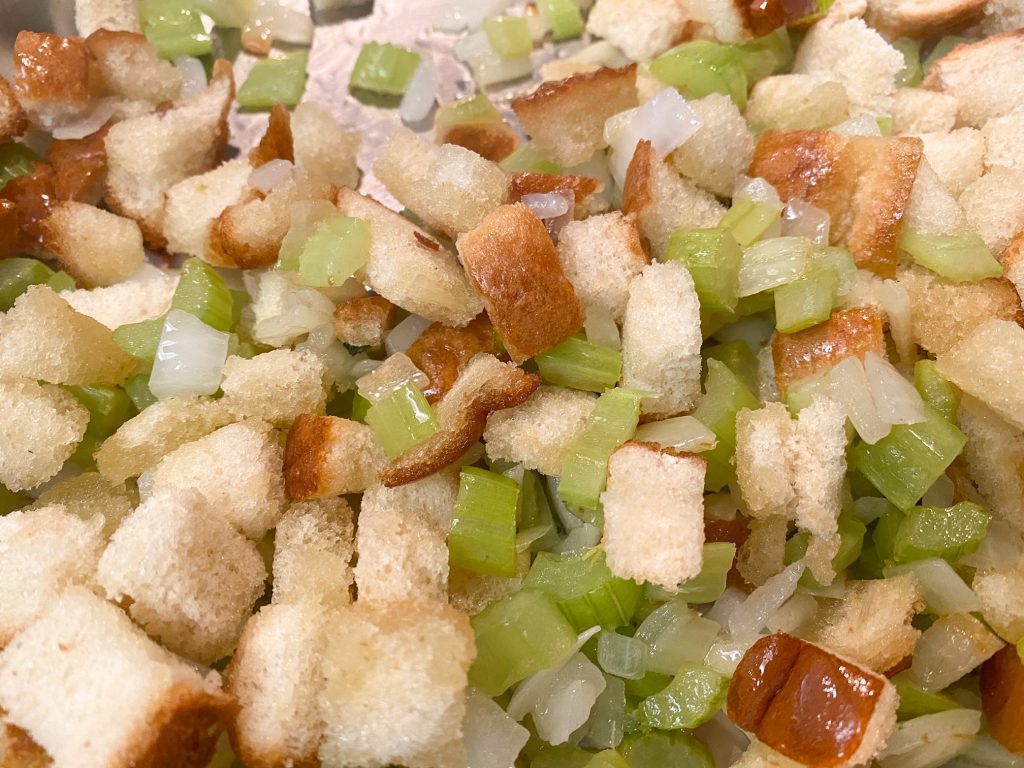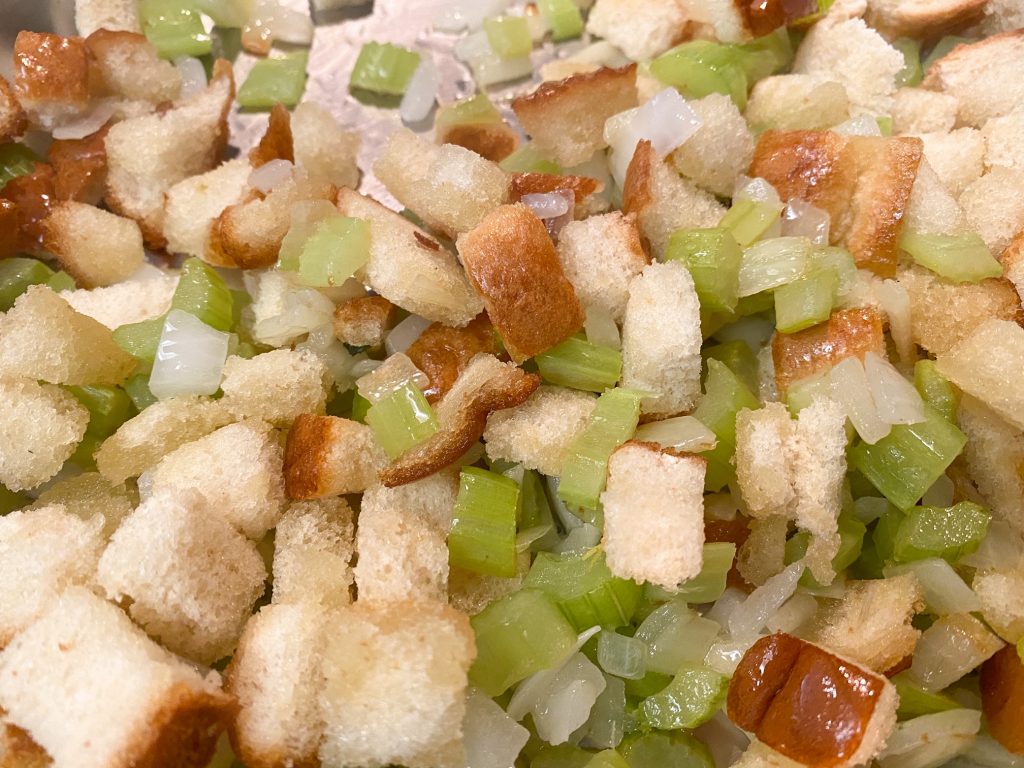 Next, you are going to stir in 1/3 of the bread cubes, so if you are using the 9 cups of bread cubes, you are going to want to stir in 3 cups into the mixture on the pan.
Then, season with your salt, thyme, and whatever other spices you have on hand and want to use.
Stir until combined and the bread is wet but not too soggy.
Next, transfer the egg-free stuffing to a bowl and toss with the remaining day-old bread cubes until evenly combined.
Now, you will slowly pour in 1-1 1/2 cup of either water or vegetable stock until the whole mixture is wet and slightly soggy, but not falling apart.
When pouring in the vegetable stock/water, use a 1/3 or 1/4 measuring cup to slowly combine. This way, you can stop if needed as different types of bread hold liquid differently.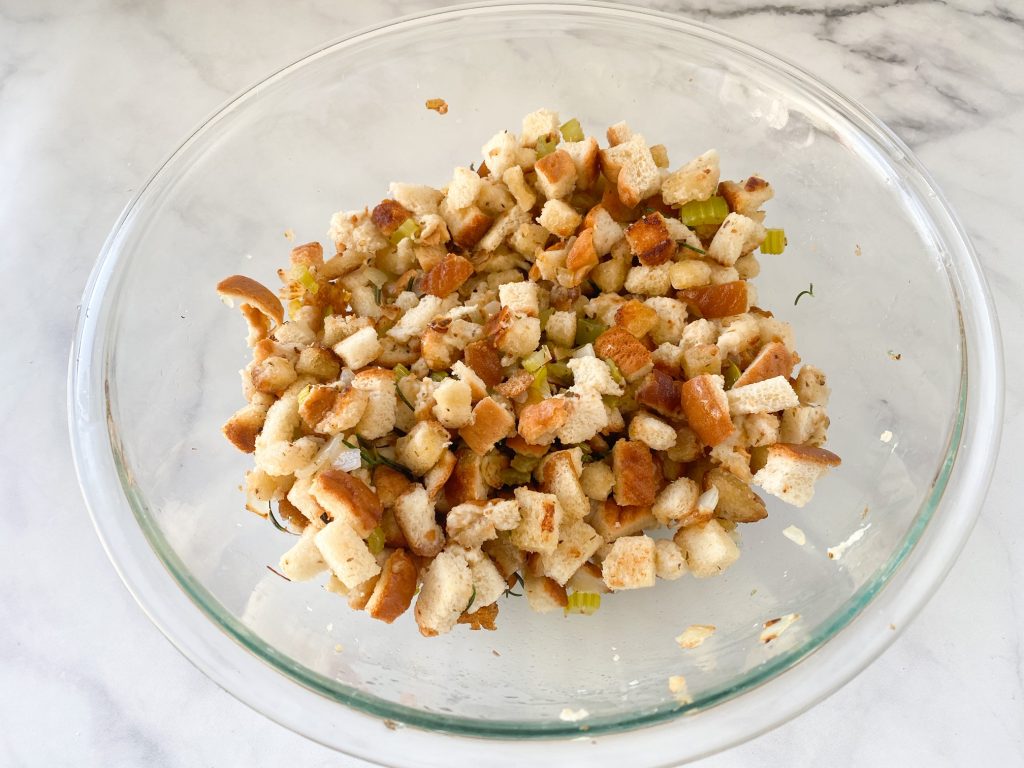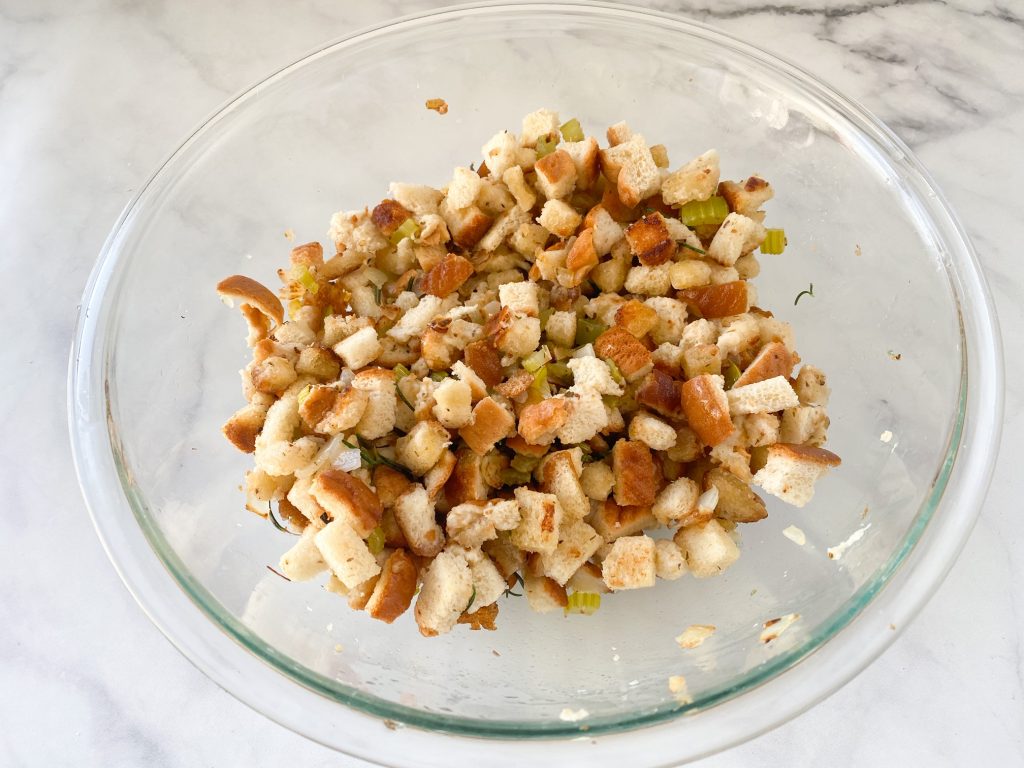 You want your bread cubes to be evenly coated and wet, but not so soggy that they don't hold their shape.
I have used both water and vegetable stock when making vegan stuffing. If you don't have vegetable stock on hand, don't worry. It still tastes good with just water!
Finally, pour the mixture into a baking dish and bake covered for 30 minutes and uncovered until golden brown, about 10-15 minutes more.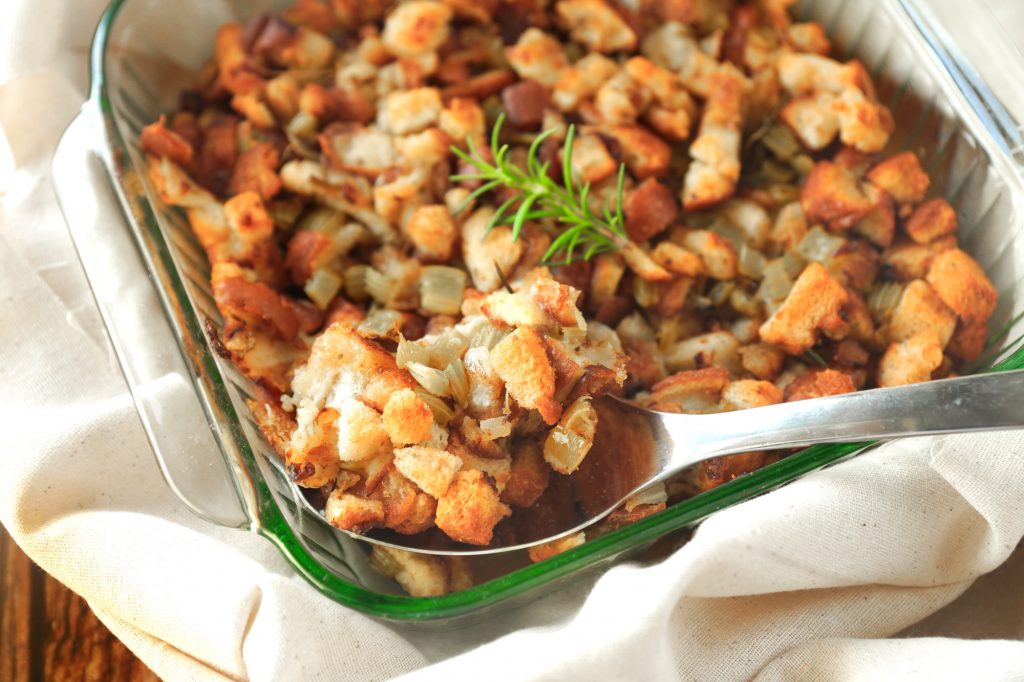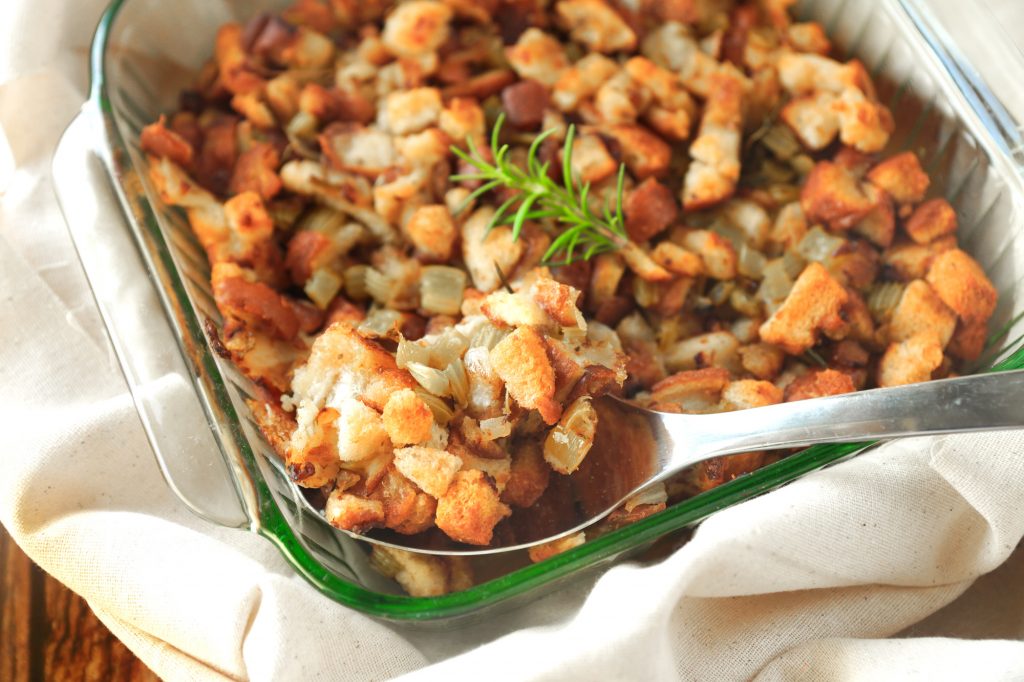 With only a few simple steps, you will be on your way to having one of the best vegan stuffing recipes you have ever tasted.
Serve with Vegan Gravy And Vegan Mashed Potatoes on the side!
How To Make The Vegan Stuffing In Advance
I get it, Christmas and Thanksgiving are busy times! Sometimes you just want to make your recipes in advance!
You can totally make the vegetarian stuffing in advance! All you have to do is do "part 1" of this recipe and leave part 2 aka the actual baking part until the day that you want to cook it!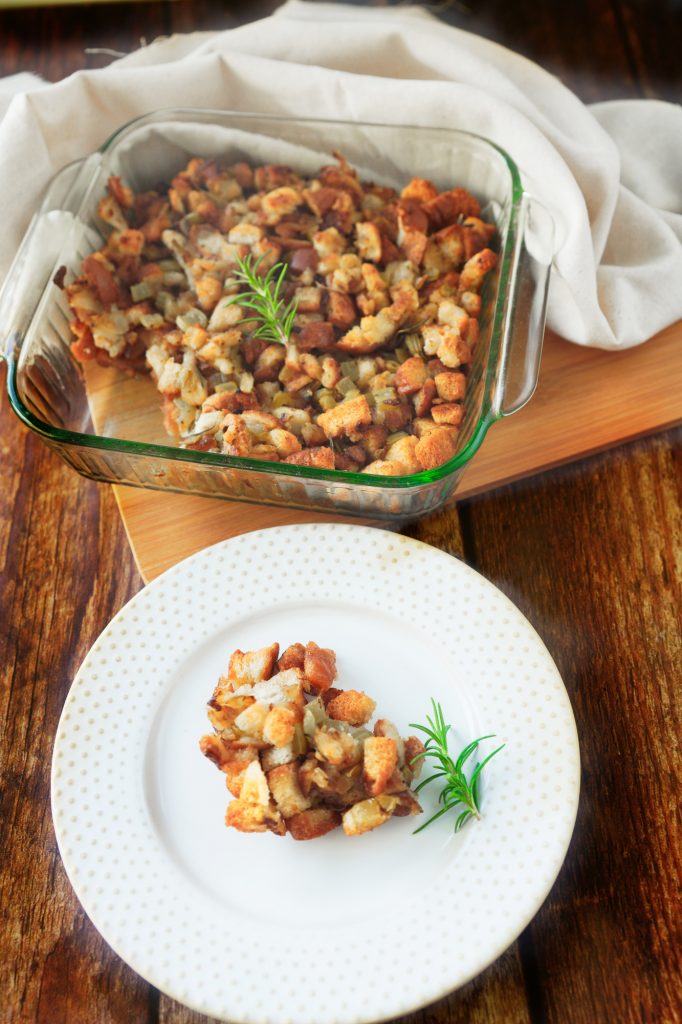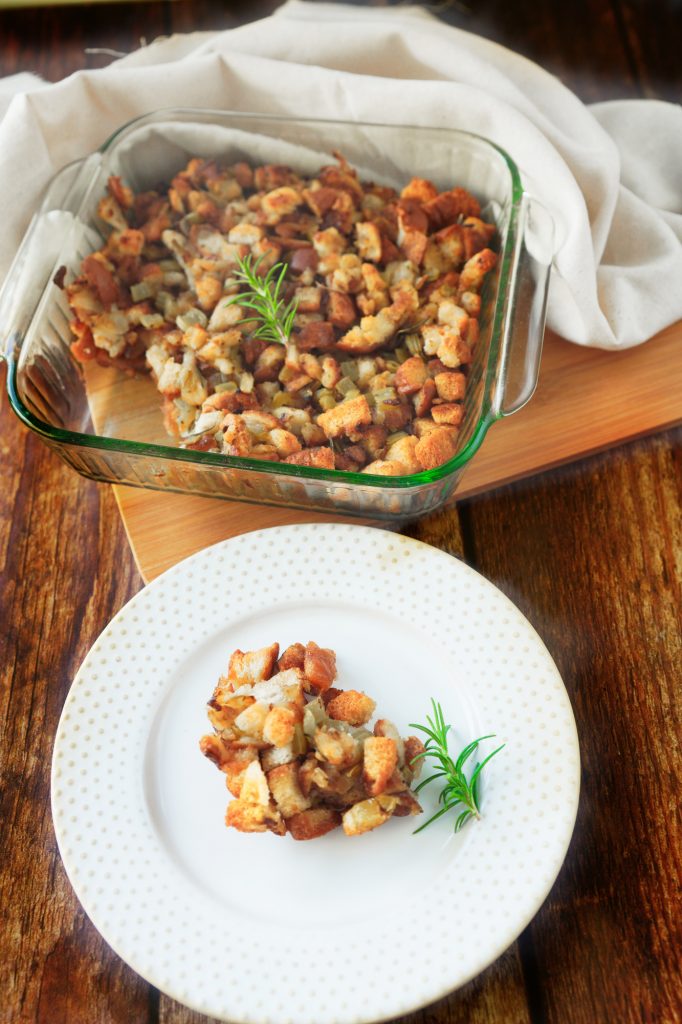 I recommend only keeping it in an air-tight container in the fridge for 1-2 days. Anything longer will make it not taste fresh and it will be soggy and weird.
Before you bake it, take it out of the fridge and let it come to room temperature on the counter! I hope you enjoyed learning how to make vegetarian stuffing and that you will enjoy this dish at your next Thanksgiving.
Did You Try This Recipe?
If so, I would love to keep in touch! I enjoy seeing photos and comments about the recipes that you make! You can follow me on Instagram and I will repost your goodies in my stories and comment on it too! Just tag me at @wowitsveggie and hashtag #wowitsveggie. I can't wait to see what you make!
Yield: 1 8x8 Dish
Best-Ever Vegan Stuffing Recipe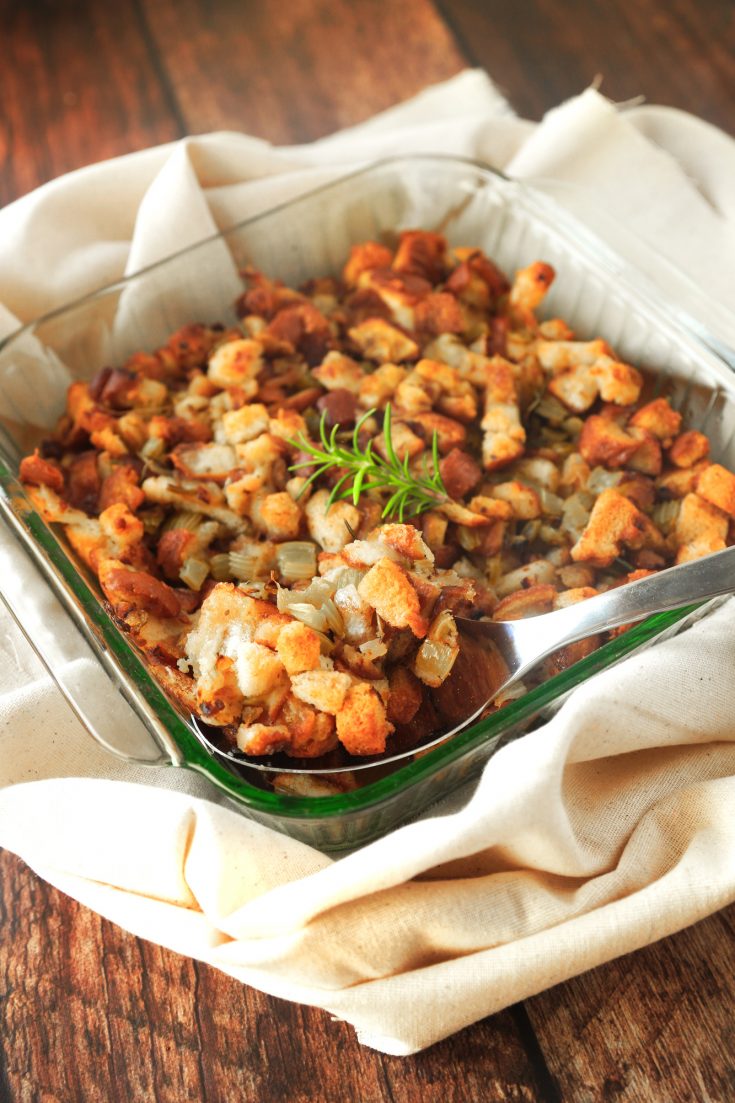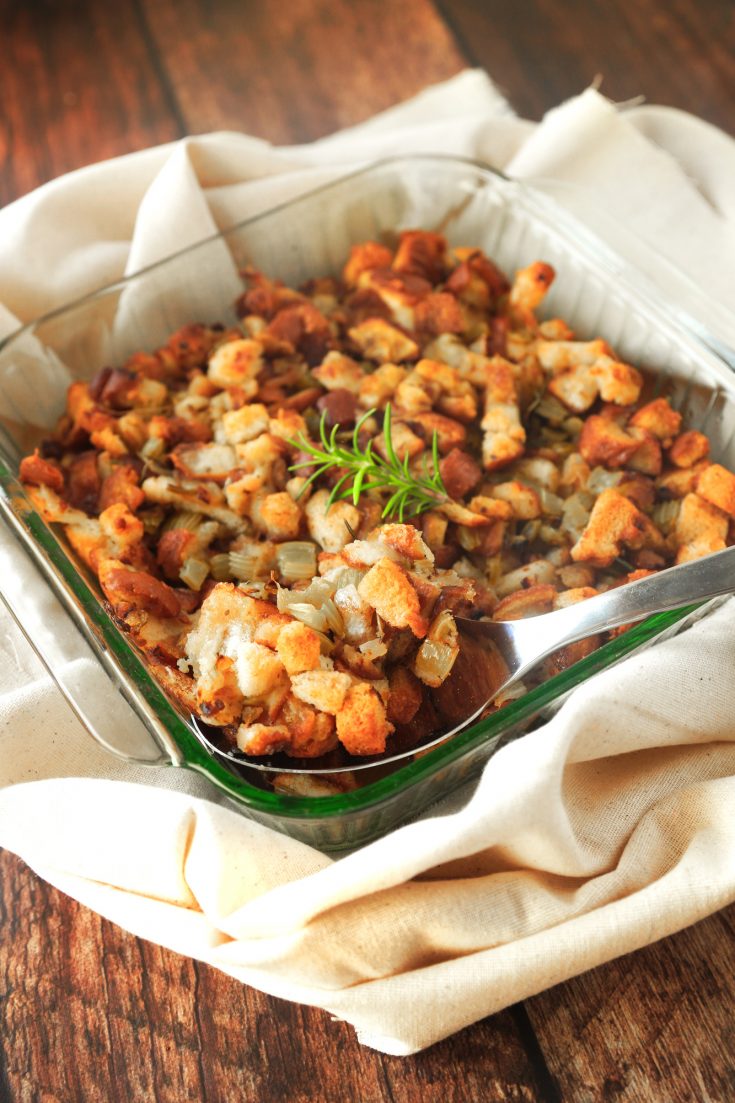 Learn how to make this easy vegan stuffing recipe, delicious, just like Grandma used to make it!
This is my Grandma's recipe for decades and it is "accidentally" vegan as-is which is amazing!
It is hearty and flavorful and makes the perfect side dish for Christmas or Thanksgiving!
Ingredients
9 Cups Stale Bread (Any kind)
1 Cup Margarine Or Oil (I use oil)
3/4 Cup finely chopped onion
1 1/2 cup chopped celery
2 teaspoons of salt
2 teaspoons thyme or 2 fresh sprigs of thyme
1 1/2 teaspoon sage or Italian spice blend
1 1/2 cups water or vegetable broth
Instructions
The night before, roughly chop bread into 1/2 inch cubes (or small cubes) and place on cookie sheets to dry overnight. This recipe calls for "stale bread" so this is a good way to achieve that taste.
Preheat oven to 350 degrees
In a large frying pan, heat oil or vegan butter and saute onions and celery until fragrant. Mix in 1/3 of the breadcrumbs and stir to combine. If you are using this recipe, that is 3 cups of breadcrumbs, but modify based on if you are doubling.
Add remaining breadcrumbs to a large bowl and pour the mixture from the frying pan to the dry breadcrumbs and mix to combine.
Next, incorporate the water or vegetable stock until the mixture is evenly coated and slightly wet but not drenched. Pour the mixture in 1/3 or 1/4 cup at a time. You want the bread to be slightly soggy but not falling apart.
Transfer the vegan stuffing mixture to a baking dish and bake covered for 30 minutes and then uncovered for 15 minutes or until top is golden brown!
Remove from oven and allow to cool for a few minutes before serving. Enjoy!