This is the best vegan apple crisp recipe you will ever eat! I know that is a bold proclamation but it is true! Since you can't even tell this recipe is vegan by taste alone, this may just be the best apple crisp recipe ever!
First, it only uses 5 ingredients. Nothing fancy or crazy and it is so easy to make! I want you to LOVE making dessert, not dread it because of the amount of ingredients that you have to get together.
The 5 ingredients for this easy apple crumble are things you will have around your house. If you have to go out and buy something, I will honestly be surprised as they are pantry staples!
It also uses my delicious Vegan Crumble Topping which you are going to LOVE!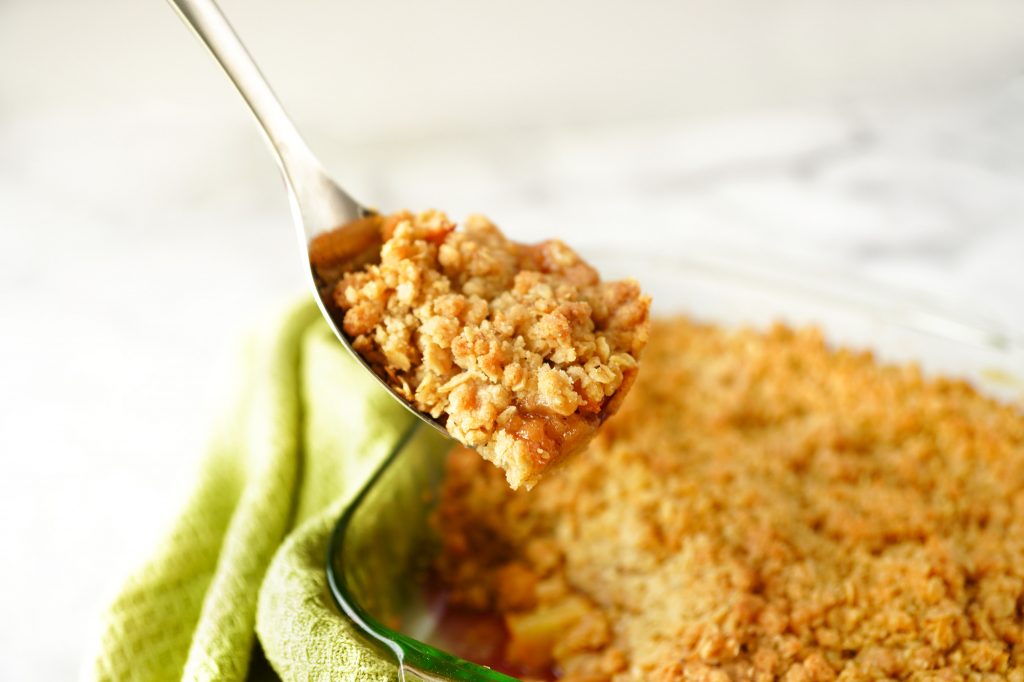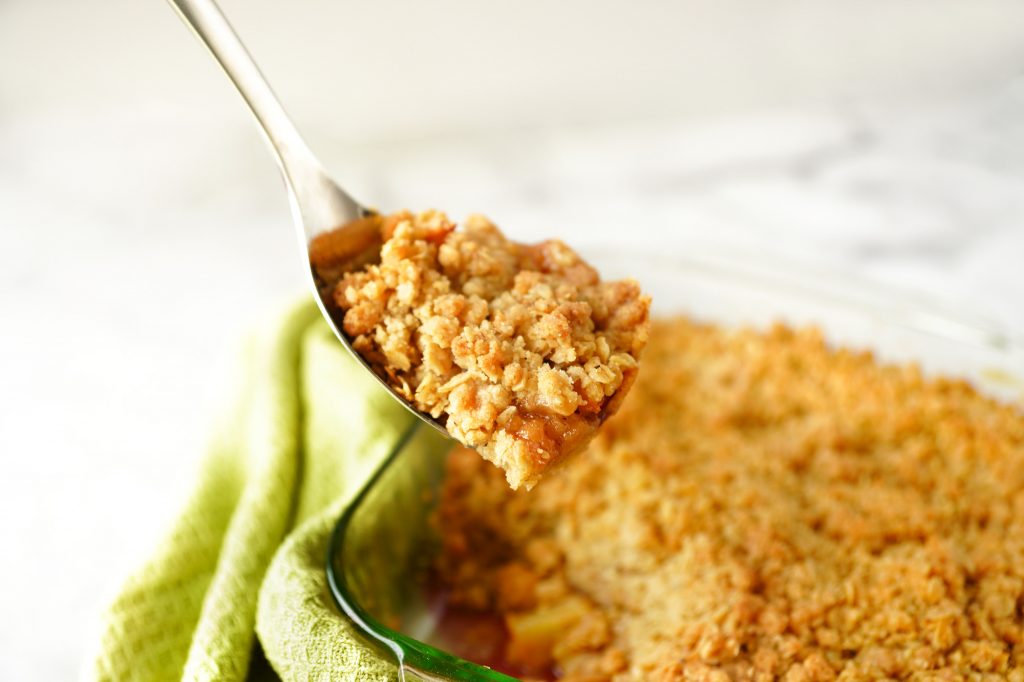 Second, the crumble topping is just so so good! It crisps up beyond belief and is so crunchy yet sweet!
To make things easier, I DO NOT sugar the apples that are the inside of the vegan apple crisp! I KNOW! You are going to think I am wild.
I want you to trust me! The vegan apple crisp topping is so sweet, you do NOT need to add more sugar to the apples. You don't need to add anything to them unless you want some cinnamon.
Please listen to me on this! This is already a very sweet vegan apple dessert and if you sweeten the apples it will be overwhelming and take away from the flavor of the dessert!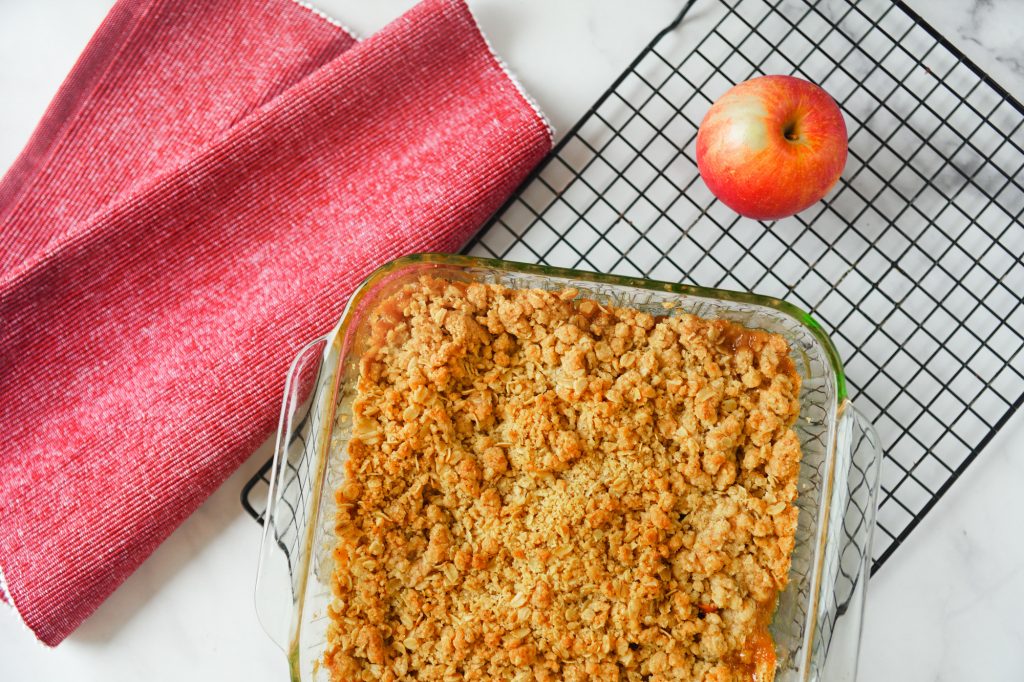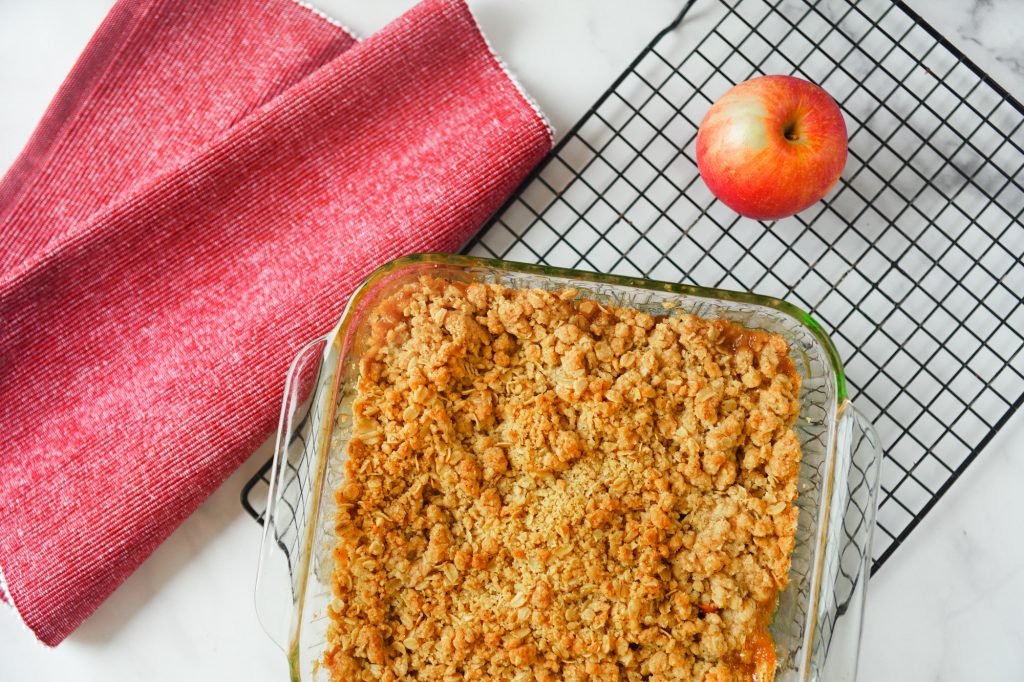 Vegan Apple Crumble Vs Vegan Apple Crisp: What Is The Difference?
When I was writing this recipe, I really needed to figure out what to call it, a crisp or a crumble? I did deep research on many website. I looked at old cookbooks. I asked friends.
What it came down to is that you really can't tell the difference between an apple crisp and an apple crumble recipe. They are pretty similar!
In some cases, a vegan apple crumble will NOT use an oat topping, while an apple crisp will, but I have seen PLENTY of crumble recipes that use oat topping.
I know this isn't quite the answer you are looking for, but it is the only answer I found!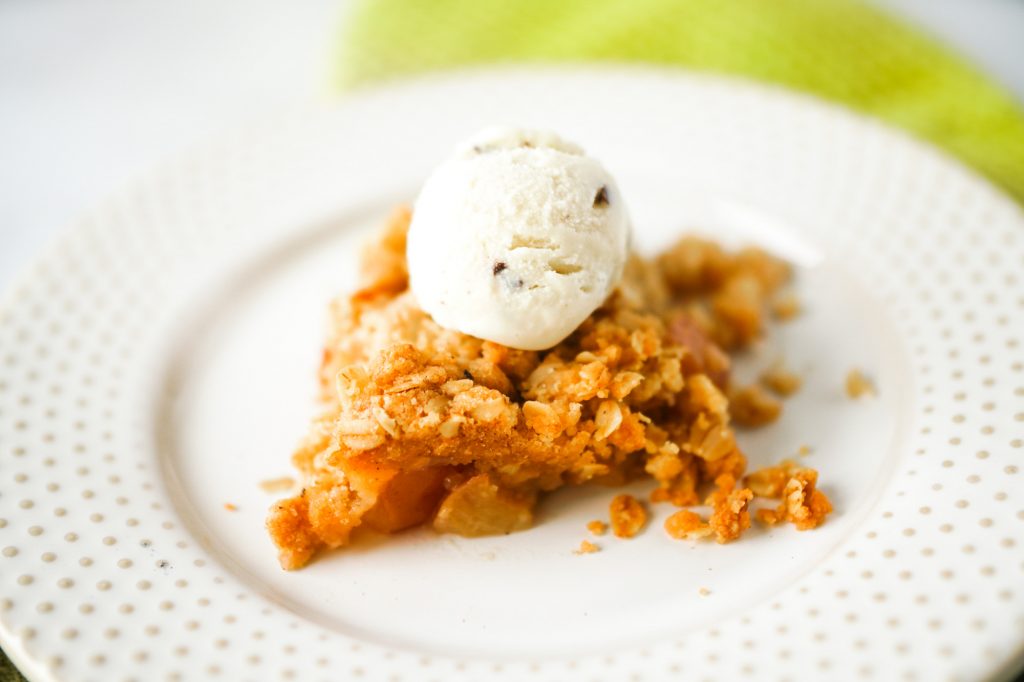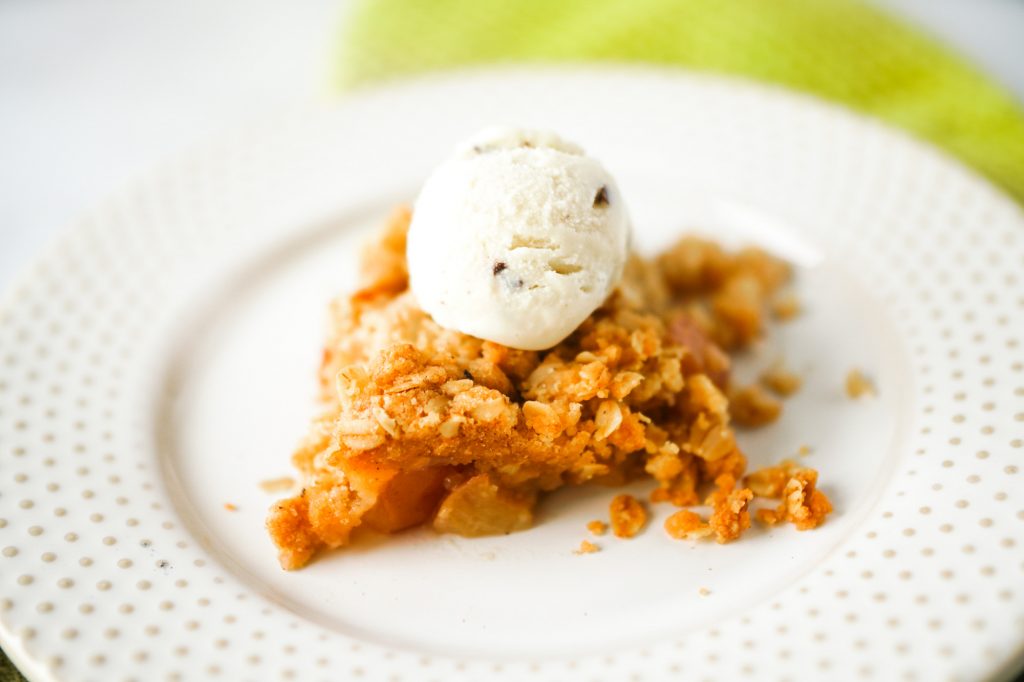 What Kind Of Apples To Use For The Vegan Crumble
The answer is "any apples that you have on hand." Again, the entire purpose of this website is to help you EASILY create delicious vegan and vegetarian treats!
How can you do that when I suggest that the ONLY kind of apple that works for this recipe is some obscure type?
NOPE! You can use ANY apple. You do NOT have to use granny smith or green apples. I use red apples that come from a bag in the organic section of Whole Foods.
Literally any apples work. The apples that are on sale. The apples that are in your fridge. Whatever type of apples you like the best!
This vegan apple crisp recipe is easy-peasy! The best apples for this recipe are the ones that you have!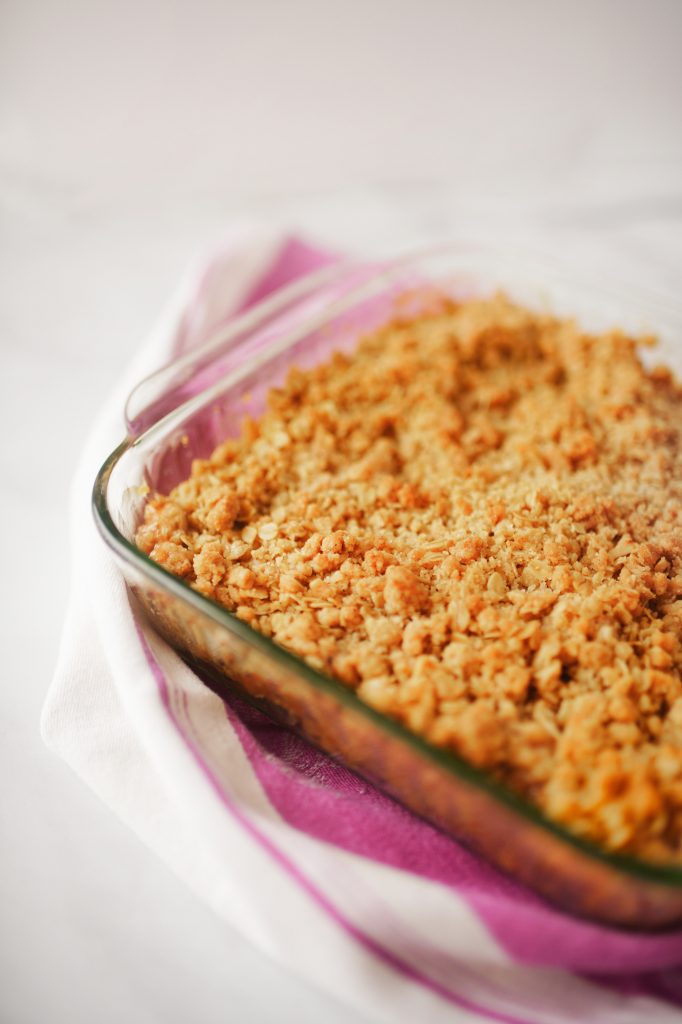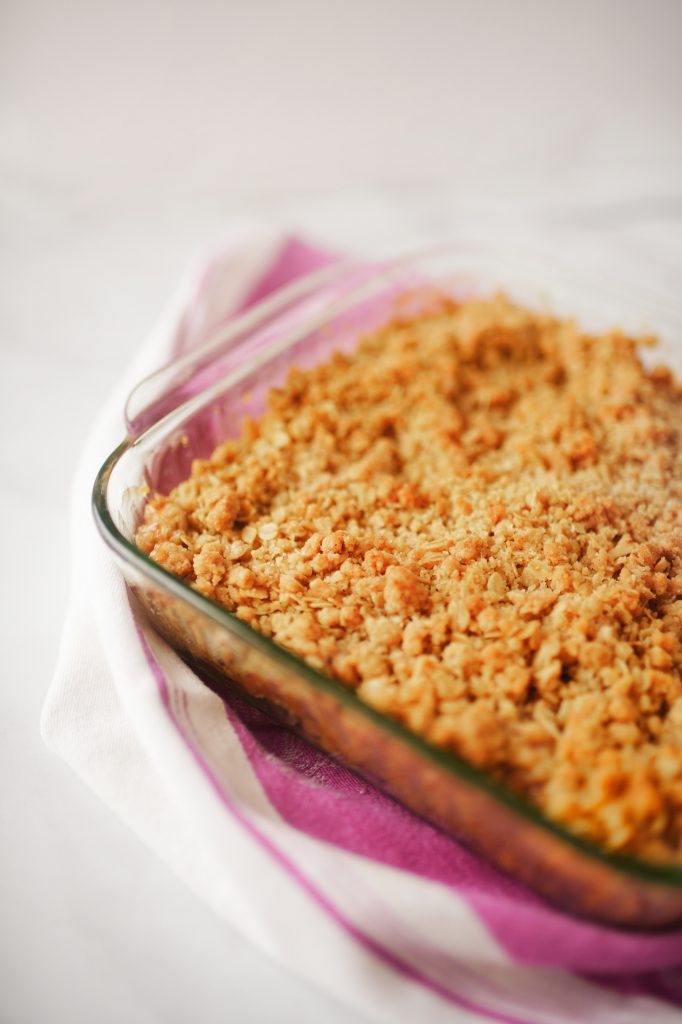 How To Make The Vegan Apple Crisp Gluten-Free
It is super simple to make the vegan apple crisp gluten-free! All you have to do is use your favorite gluten-free flour and make sure you are using gluten-free rolled oats!
That is it! That is how you can easily make a gluten-free apple crumble. Just those two quick substitutions. This is actually one of my favorite tasty gluten-free desserts!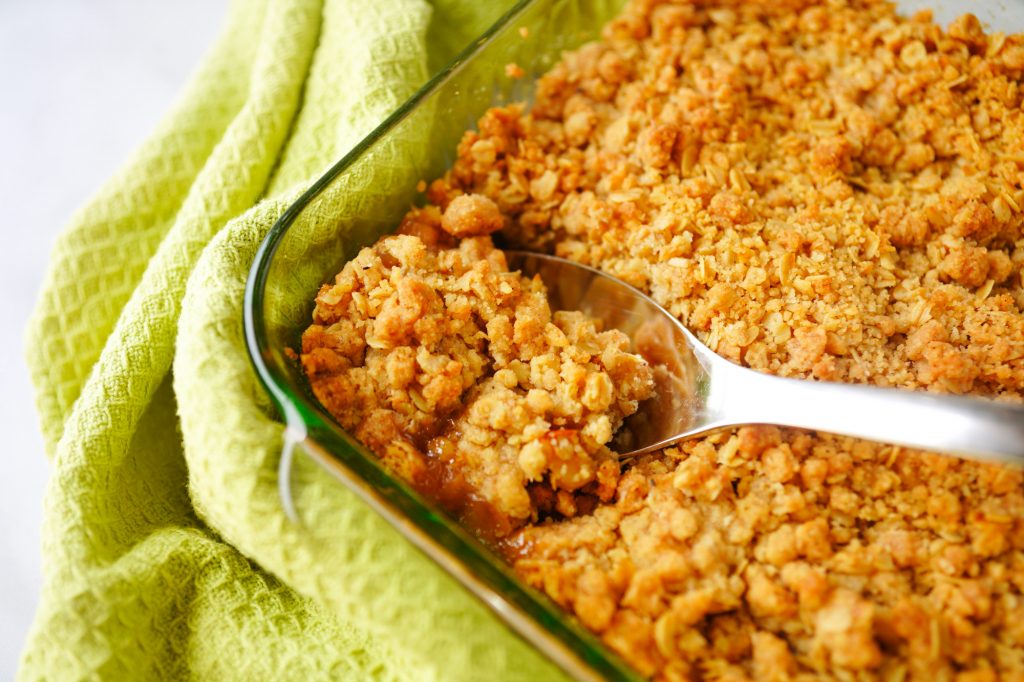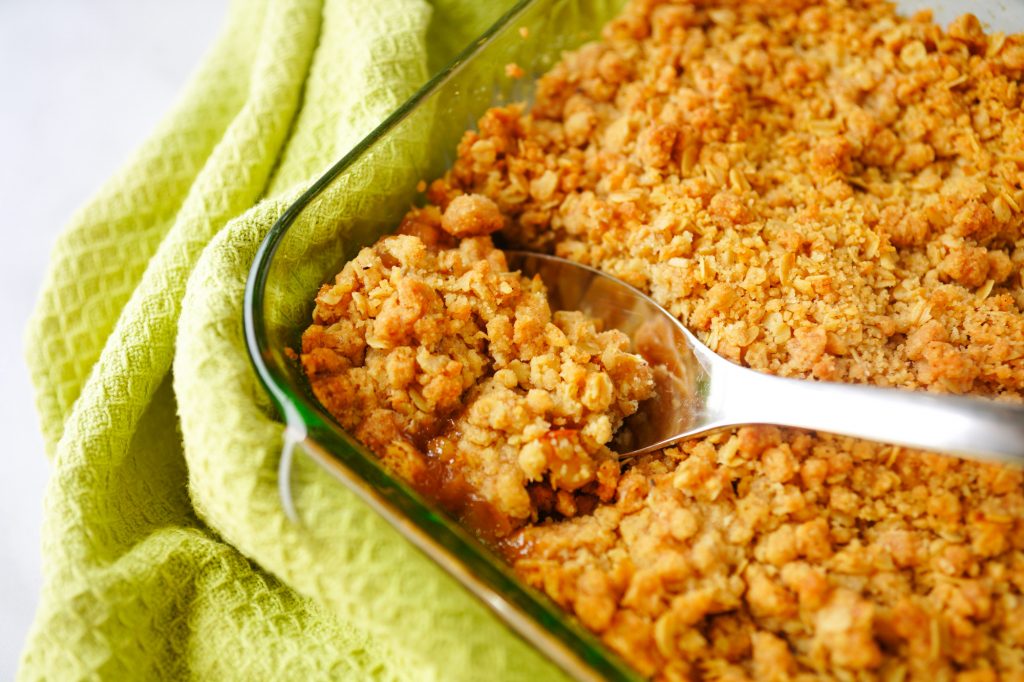 How To Make The Vegan Apple Crisp Recipe
Making the vegan apple crisp recipe is actually sinfully easy! First, you are going to wash and cube your apples.
YOU WILL NOT SKIN THEM! Repeat that after me! No skinning the apples!
Why would you want to deny yourself the most nutritious part of the apple? This vegan crisp recipe is already filled with sugar so a little redemption via the apple skins never hurt you!
Next, you are going to make the oat crumble topping. Simply toss your flour, sugar, oats, and cinnamon [if you choose] in a bowl.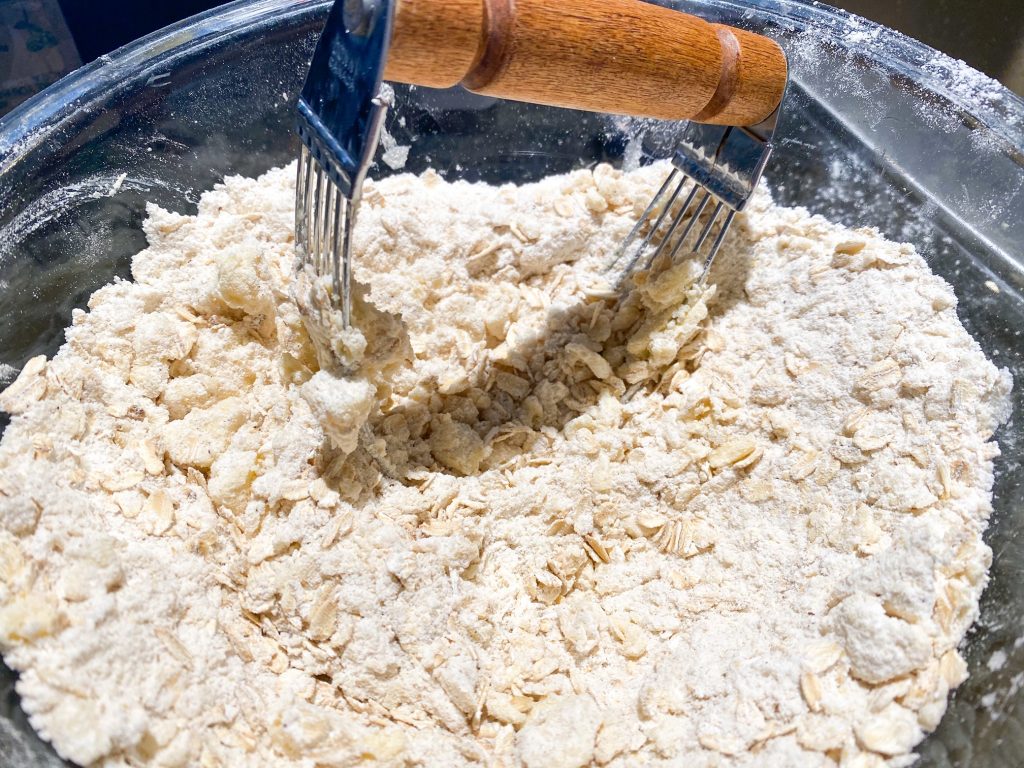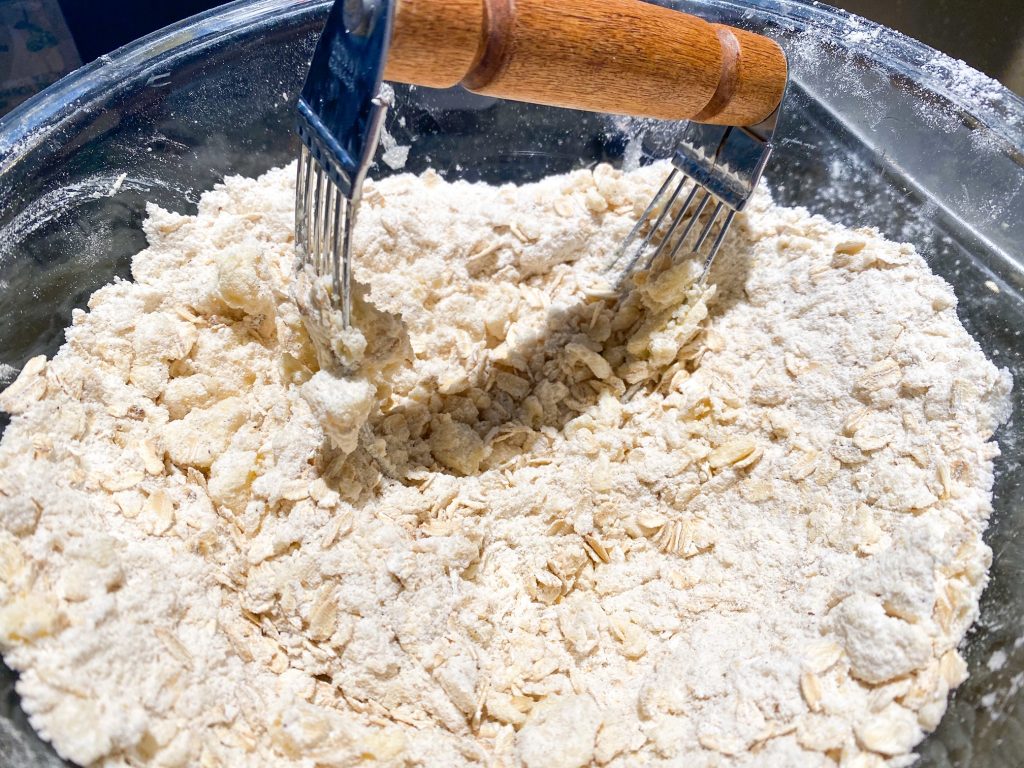 Then, you are going to take COLD BUTTER and cut it into the flour mixture. I just use a fork for this process.
I have used a butter/pastry cutter before which is designed to do this job and it makes it harder!
You can even use my Homemade Vegan Butter recipe if you want to make your own! It is super quick and easy to do too!
You will "cut" the butter until it forms a "gravel" texture and is evenly spread throughout the flour mixture. You want everything to be very lumpy!
The lumps are the cold butter pieces and they will melt to help make the perfect vegan apple crisp topping.
Then, you simply spread your apples evenly in the bottom of an 8×8 baking pan. If you want, you can spice your apples with cinnamon, but I suggest avoid adding extra sugar.
Once your apples are in your baking dish, you will pour the oat crumble over the top. That is it, you are done!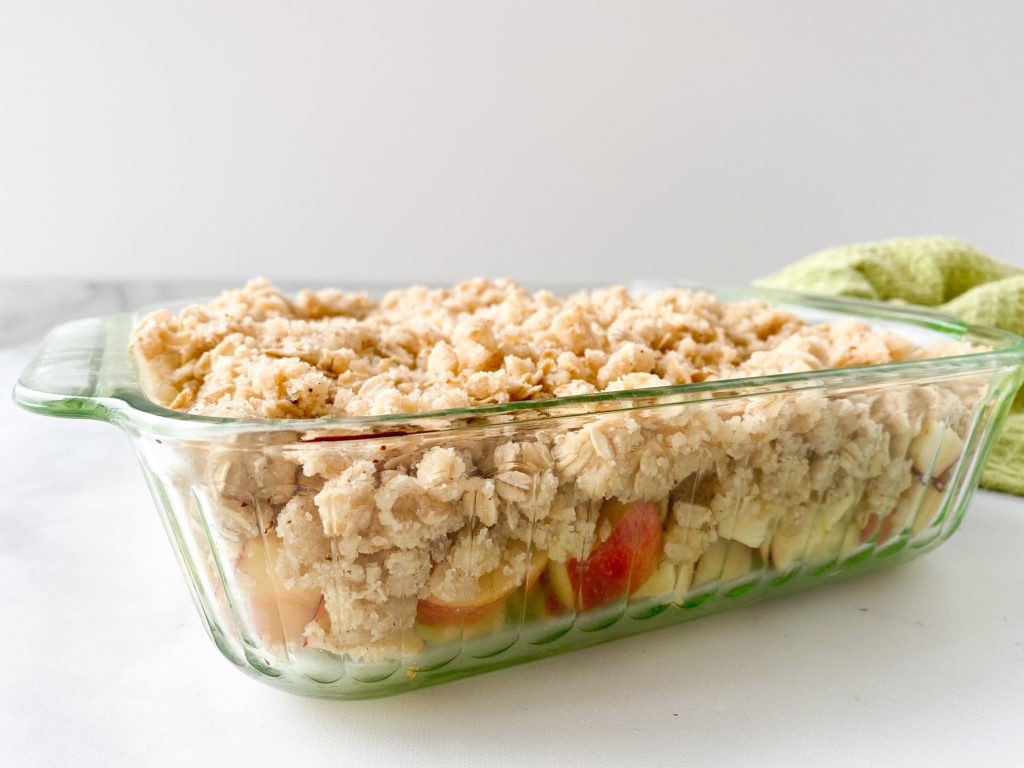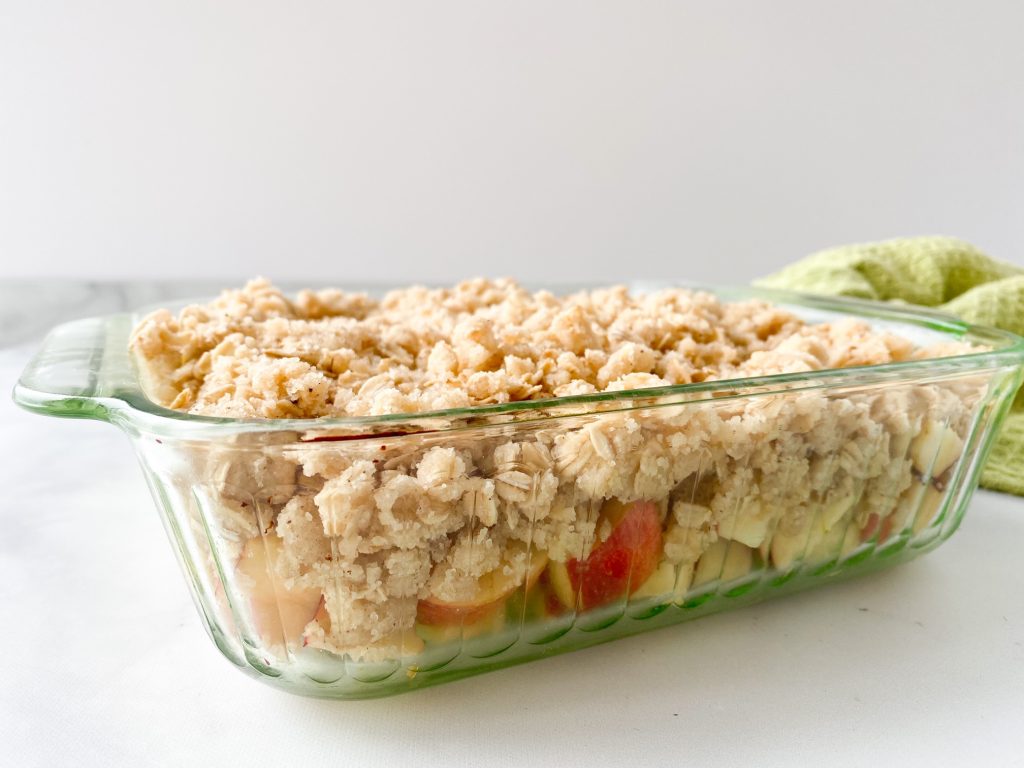 You will bake it for 30-40 minutes or until bubbly!
That is all it takes to make the most delicious and easy vegan apple crisp! Just a few simple steps and you are ready to enjoy!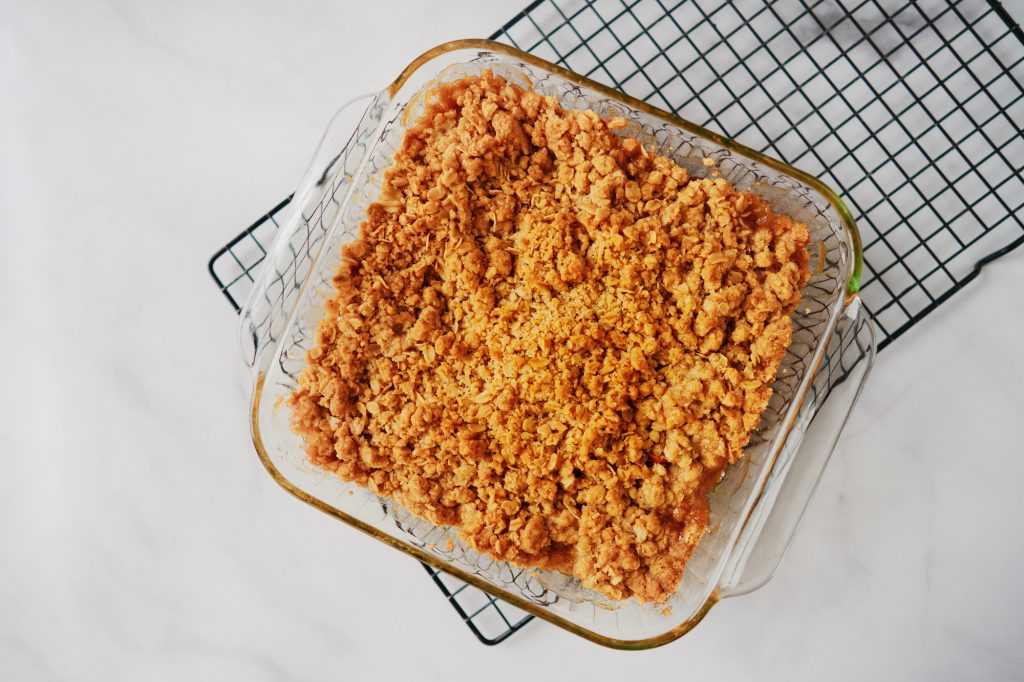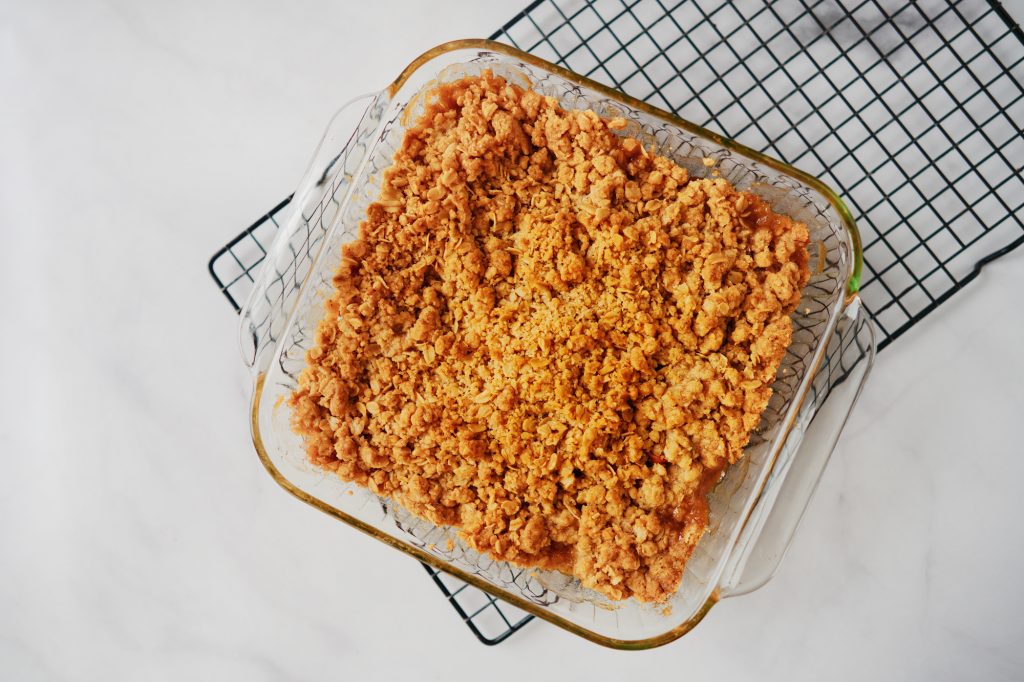 How To Store The Vegan Apple Crumble
Storing the vegan apple crumble is super easy! You can store it covered by a kitchen towel on the counter for 1-2 days.
Then, you can store it in an airtight container in the fridge for 3-5 days. It makes for a yummy sugary breakfast and it is actually quite amazing cold!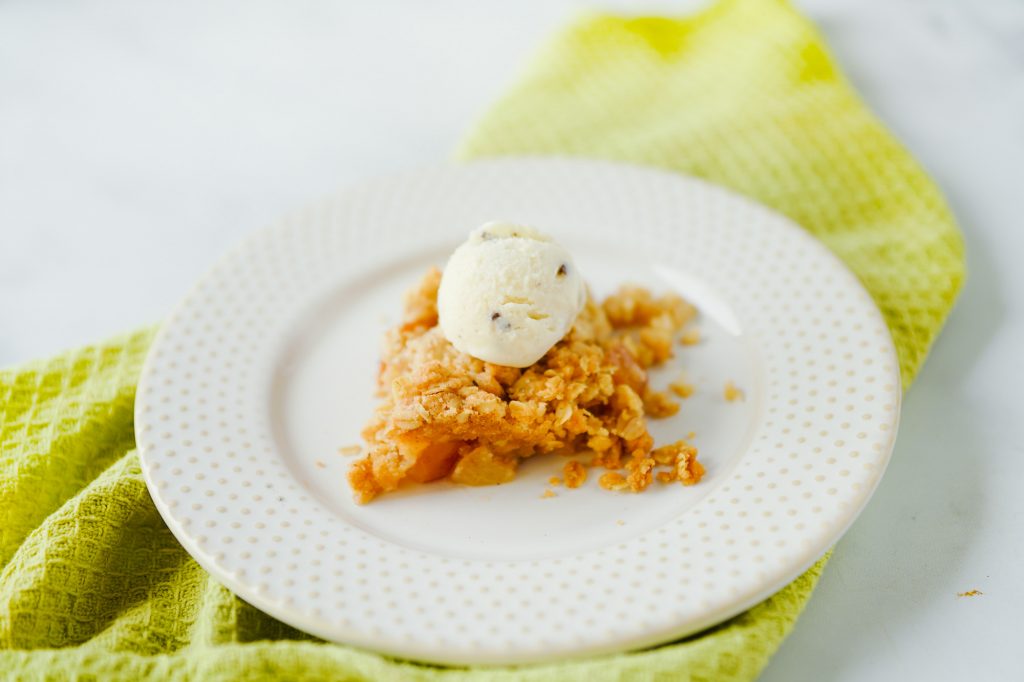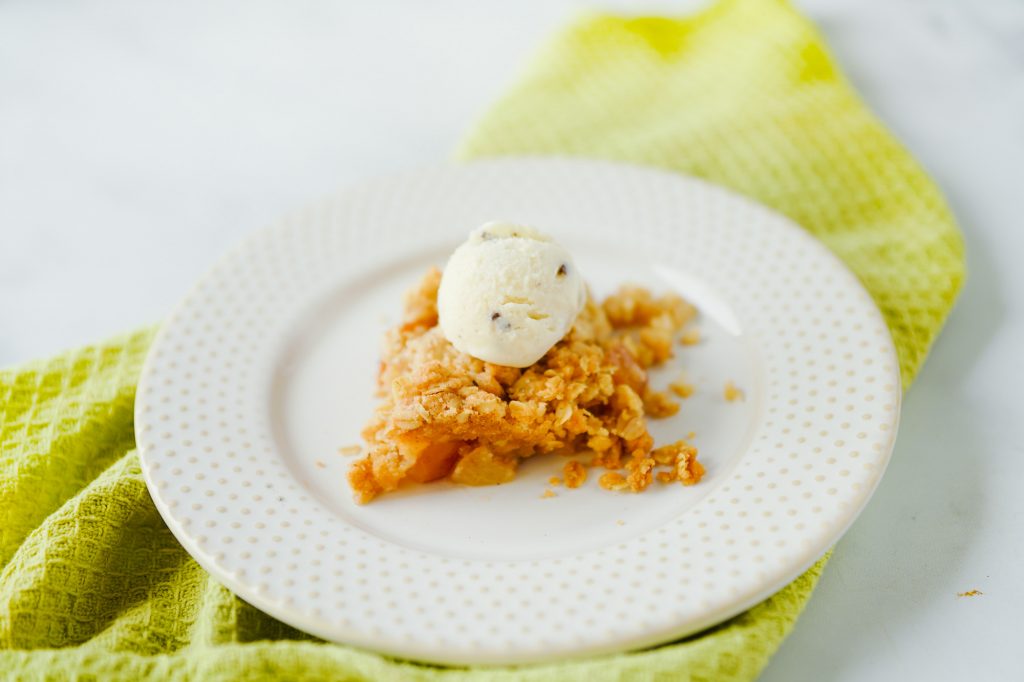 Finally, you can store it in the freezer for 1 month. You want to make sure to cut each individual piece of the vegan apple crisp and then freeze it on a baking sheet.
Once the pieces are frozen, you can then store them in an airtight container in the freezer for up to 1 month.
Yield: 8x8 Baking Dish
5-Ingredient Vegan Apple Crisp Recipe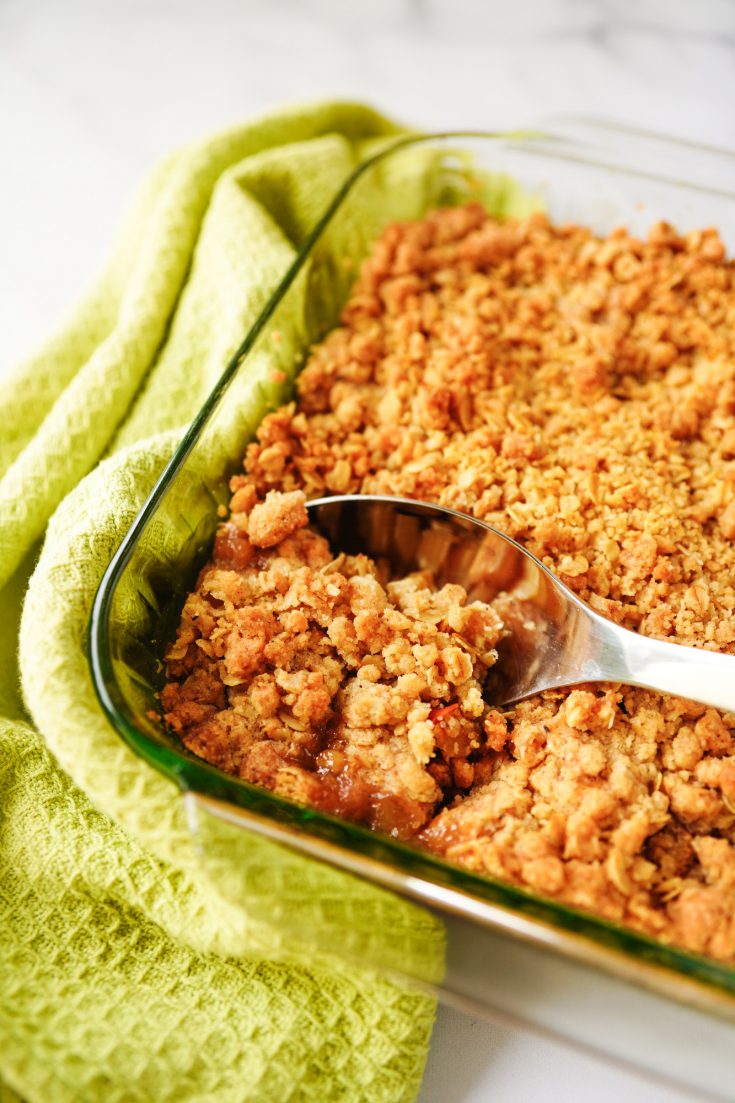 This vegan apple crisp recipe is so delicious and easy to make! The vegan apple crumble is gluten-free and oil-free and uses just 5 ingredients to make. It is flavorful and makes the perfect dessert for any time of year!
Ingredients
Chopped Apples [Until you fill an 8x8 square pan]
1 Cup flour [gluten-free works]
1 cup sugar
1 cup old-fashioned oats
8 tablespoons cold vegan butter/margarine
Optional: salt and cinnamon to taste
Instructions
Preheat oven to 350 degrees F.
Chop apples into cubes until they fill the bottom of a 8x8 baking dish. Do not worry about the type of apples or about skinning them.
Toss flour, sugar, oats, salt and cinnamon in a large bowl until combined.
Cut butter into the flour mixture using a fork until the butter forms small gravelly clumps. You want the mixture to be clumpy!
Pour the oat crumb mixture over the apples and bake on 350F for 30-40 minutes or until bubbly.
Serve with vegan ice cream or vegan whipped cream! The vegan apple crisp is delicious both hot and cold!
Nutrition Information
Yield
9
Serving Size
1
Amount Per Serving
Calories

284
Total Fat

12g
Saturated Fat

7g
Trans Fat

1g
Unsaturated Fat

5g
Cholesterol

27mg
Sodium

147mg
Carbohydrates

42g
Fiber

2g
Sugar

24g
Protein

3g