If you are looking for the best and easiest vegan glazed carrots recipe, this is the one for you!
Most maple glazed carrot recipes are baked, which takes a long time from start to finish. It can also be hard to make glazed carrots vegan at home, but I am going to show you how, right here in this very easy recipe.
These tasty vegan maple glazed carrots can be whipped up quickly and are cooked on the stove. This makes it easy to prepare a savory side when you don't have an over. [Yes, many people do not have an oven so no judging here!]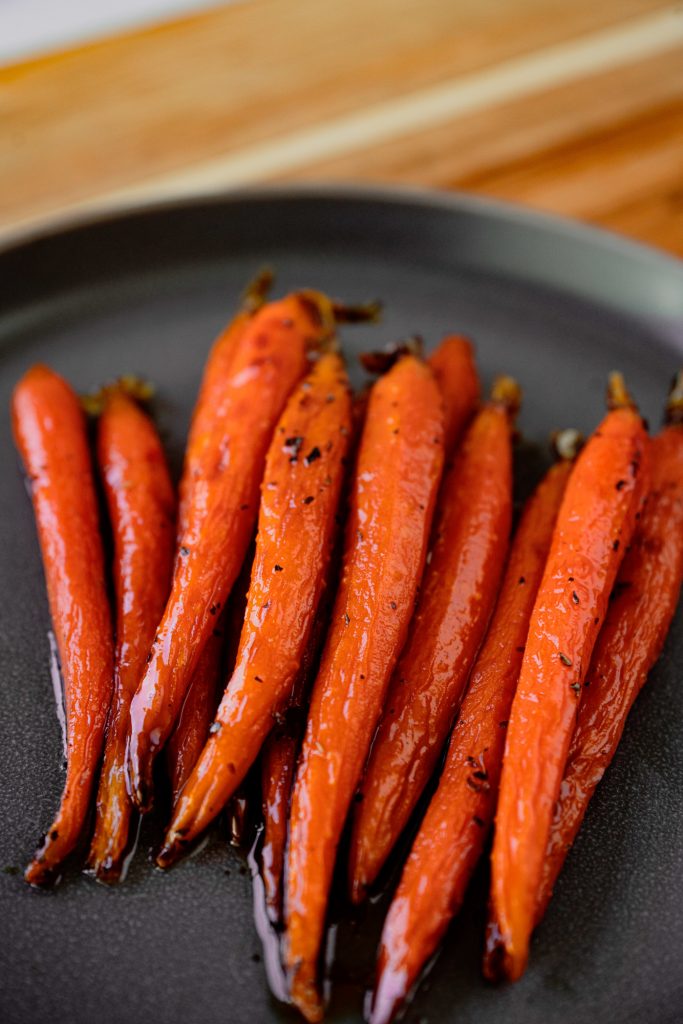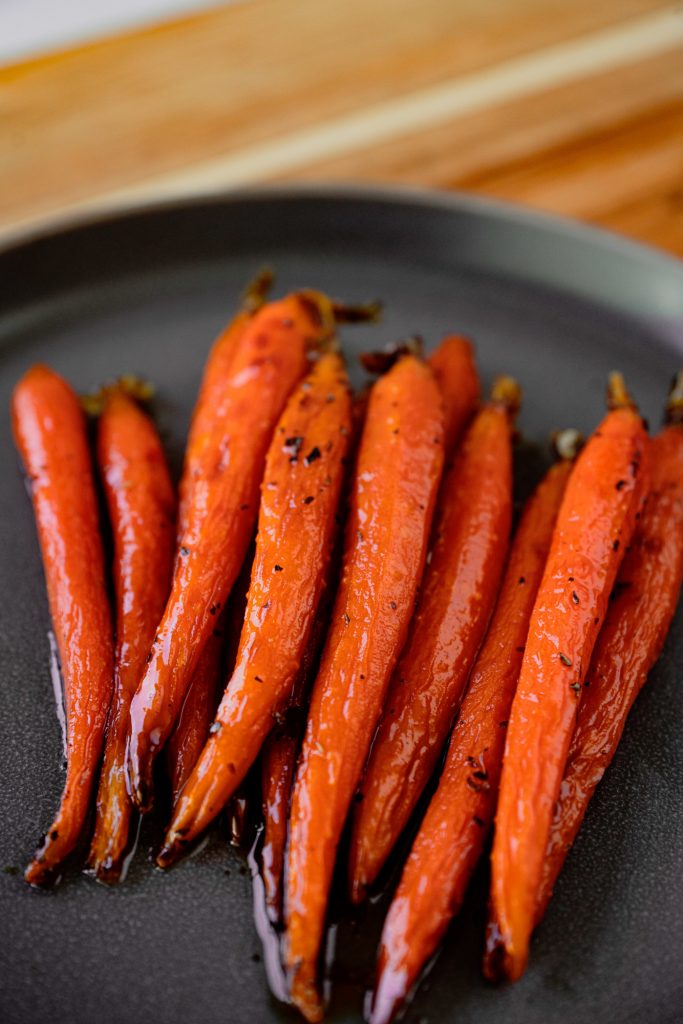 If you are looking an easy and simple side dish for an event such as Vegan Thanksgiving that doesn't take a long time at all, here is how you do it!
This recipe is also oil-free if you choose to cook the carrots using regular butter or Vegan Butter instead of oil!
If you are looking for glazed carrots without butter, you can sub in oil. It is up to you and I have done it both ways!
I know you are going to love these vegan maple glazed carrots and that they will be a lovely accompaniment to any meal.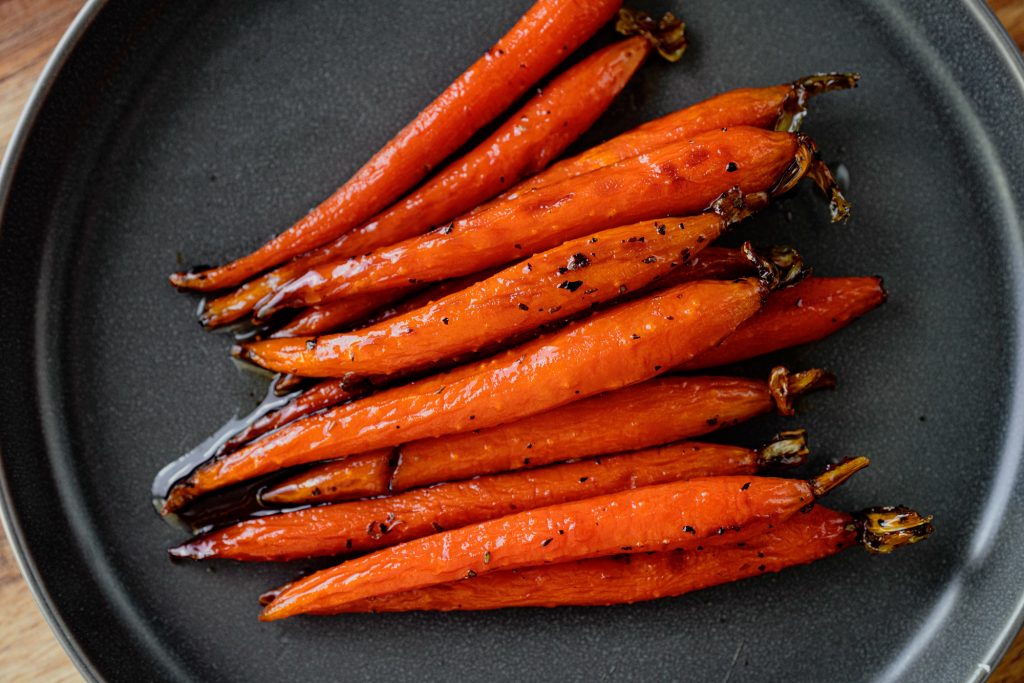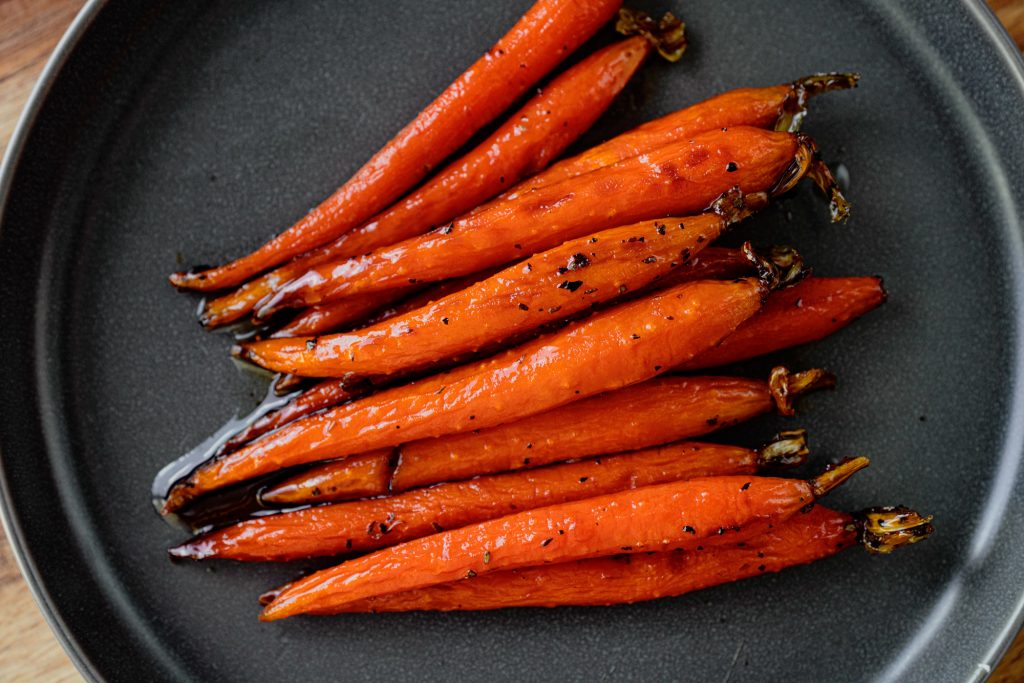 Why You Will Love These Vegan Glazed Carrots
They are super quick to make! These vegan glazed carrots literally only take 10 minutes from start to finish to make. This is a super easy and fast recipe to make as a side dish for any dinner as it practically cooks itself.
Perfect for new cooks. If you are new to cooking and want something that sounds fancy but is super easy, this is the recipe for you! It is truly hard to fail when making this tasty maple glazed carrots vegan at home.
There are very few ingredients. The goal of this dish is to allow the flavors of the carrots and the maple to shine! As a result, there are very few ingredients. This means that when you make your glazed carrots vegan at home, you won't need to spend a lot of time shopping.
Kid approved! For whatever reason, kids usually love carrots, even if they don't like the green veggies. Add in sugar? Most kids I know are down and really love this recipe which makes it perfect to serve a crowd.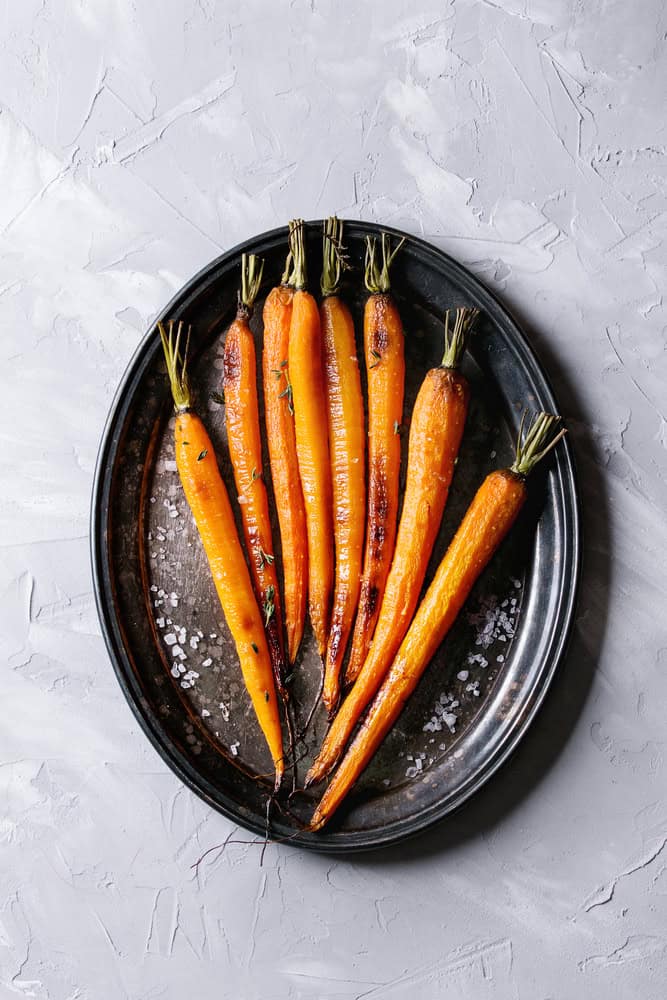 What Kind Of Carrots To Use
When making these vegan glazed carrots, you can use any kind of carrots! From baby carrots to whole carrots, it really doesn't matter!
You can even chop them into disks of slices if you want to go that route and toss them in your favorite dish, I'm not judging!
For this vegan maple glazed carrots recipe, I use whole carrots. The ones for these photos were pre-peeled from my local Asian grocery store, but I don't recommend peeling the carrots!
I don't peel my food when cooking and you don't have to either! Especially something as simple as carrots whose peel is hardly noticeable!
Either way, if you want to make vegan glazed carrots using small baby carrots, carrot disks, full-size carrots, whatever, the recipe still comes out tasting pretty much the same!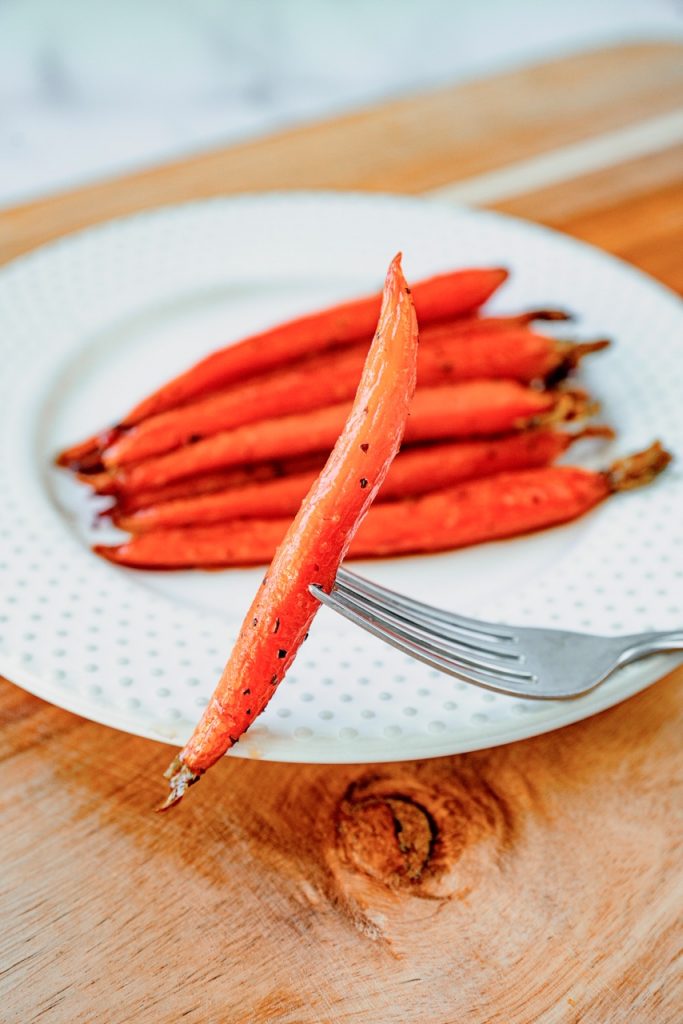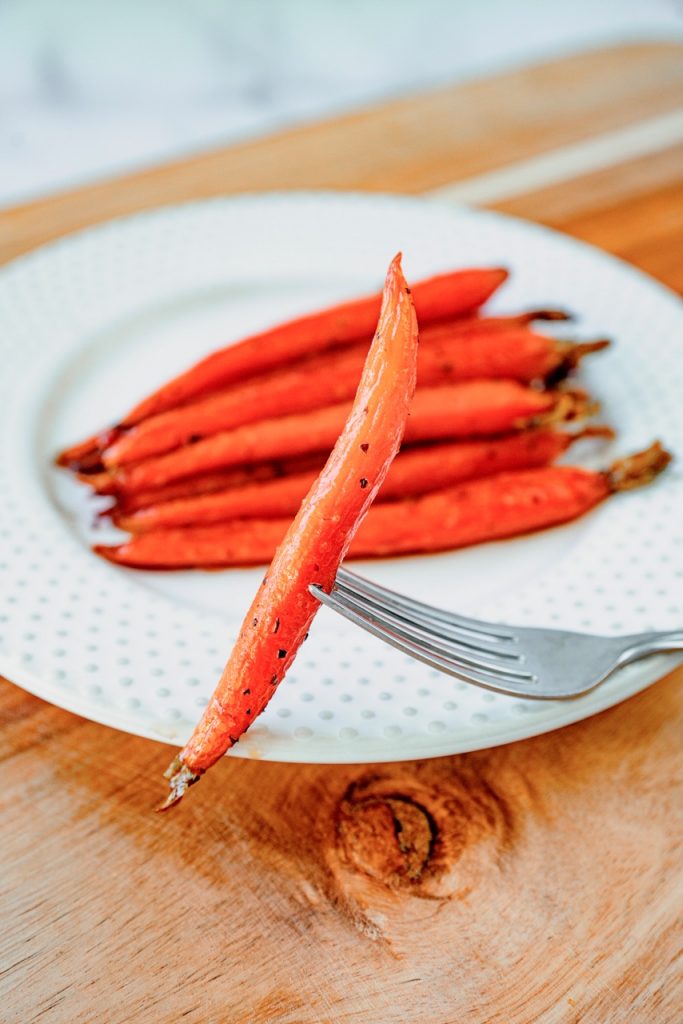 How To Make Vegan Maple Glazed Carrots
Making these vegan glazed carrots is so simple and easy!
First, you are going to quarter your carrots, lengthwise, if you are using full-size carrots. Again, no need to peel in my book, but you do you!
If you are using baby carrots, of course just skip this step.
Next, melt your butter [if using] or oil [if you prefer] and saute your onion and parsley flakes until the onion is tender and translucent.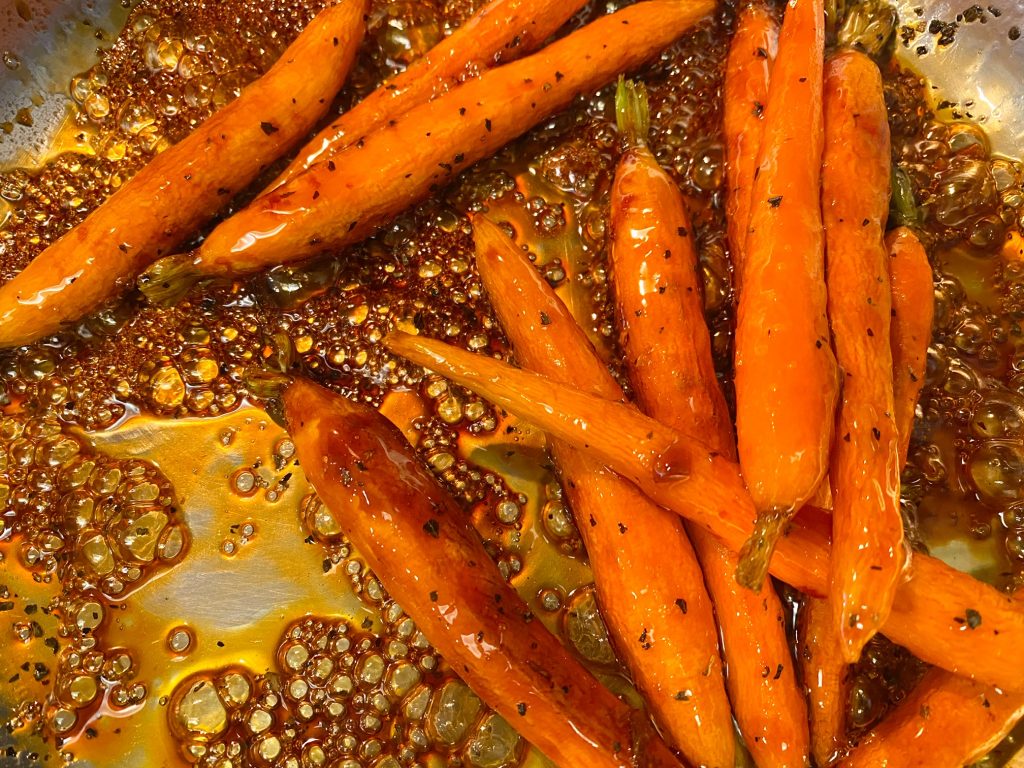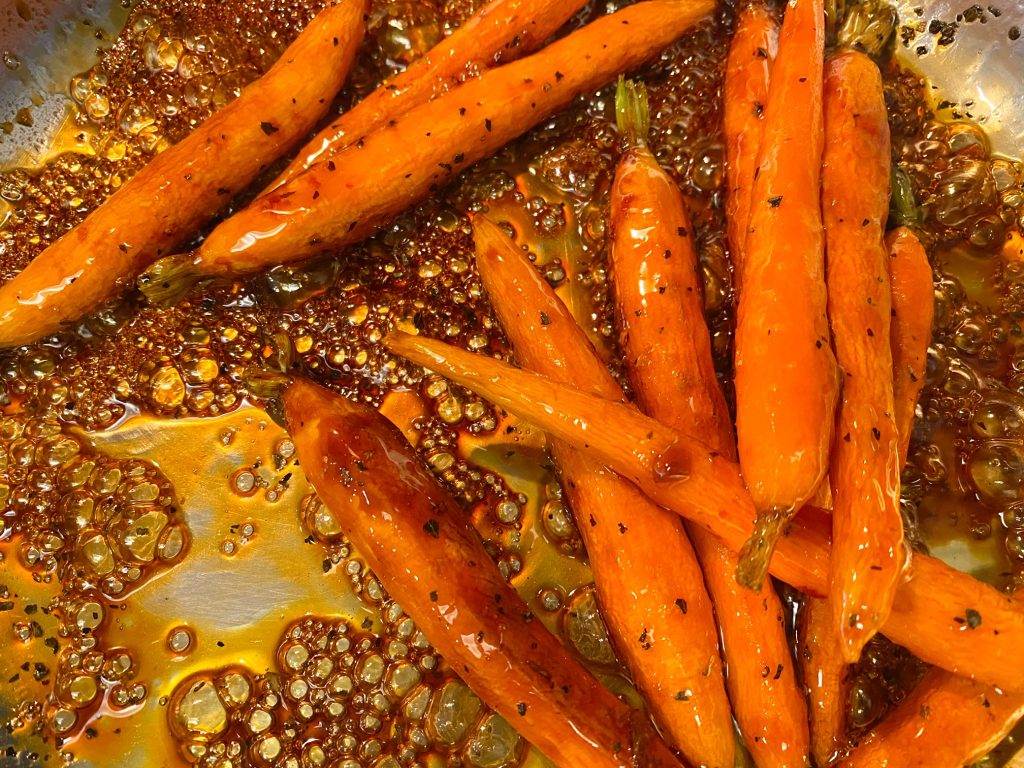 This usually only takes a few minutes.
Next, pop your carrots onto the pan and lightly fry for a few moments before pouring the maple syrup into the pan.
Depending on how many carrots you are using, you may need to adjust the amount of maple syrup to fit your carrots.
Meaning, that sometimes you may need a little bit more!
Then, reduce your heat to medium-low and cover your pan so your vegan glazed carrots can cook until tender.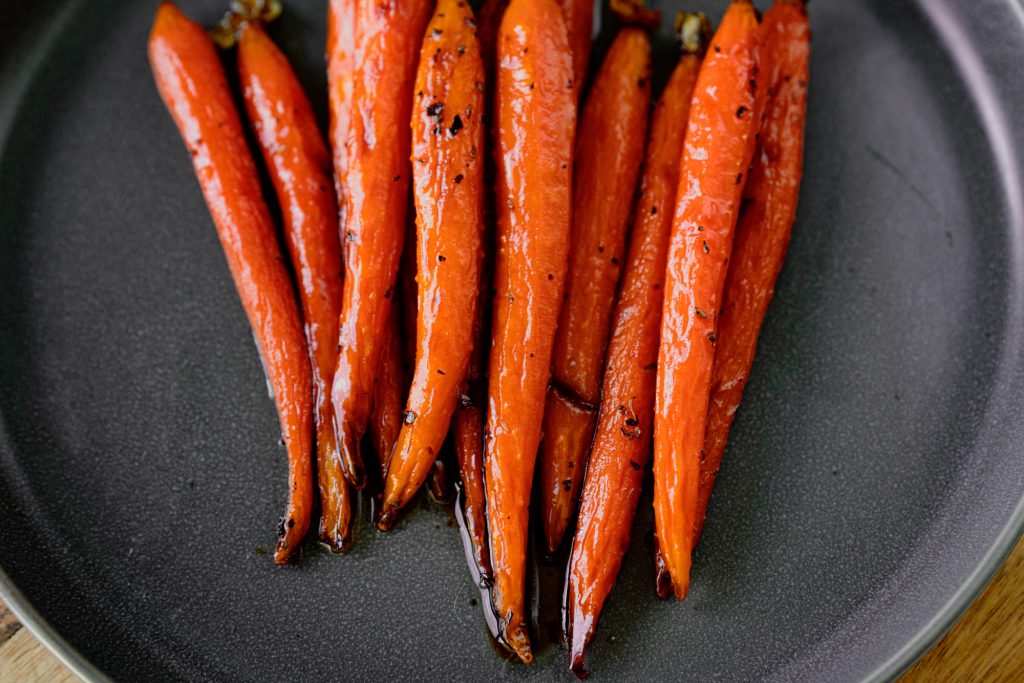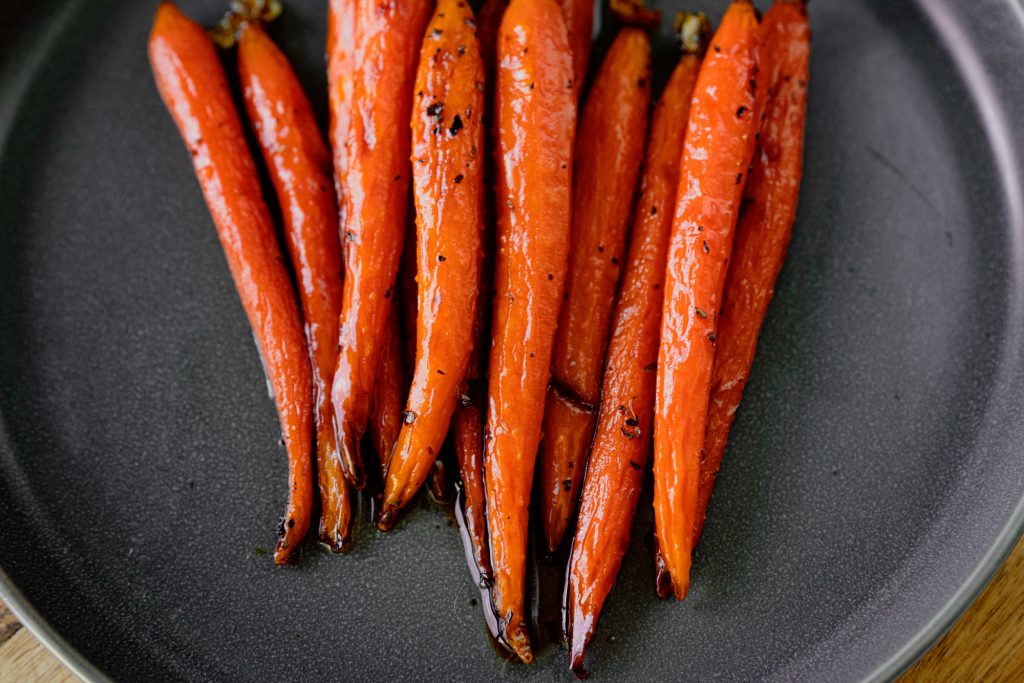 Make sure to stir occasionally.
The maple syrup will begin to get bubbly. If your carrots still aren't done, go ahead and add a tad bit more maple syrup which will help deglaze the pan.
You can also add a little more butter/oil if necessary!
And that is it! You just made maple glazed carrots vegan quickly and easily on the stove!
Again, I have nothing against vegan maple roasted carrots, but sometimes roasting just takes too long and you just want something quick and easy.
These carrots keep well in the fridge and are tasty cold and chopped up on a salad!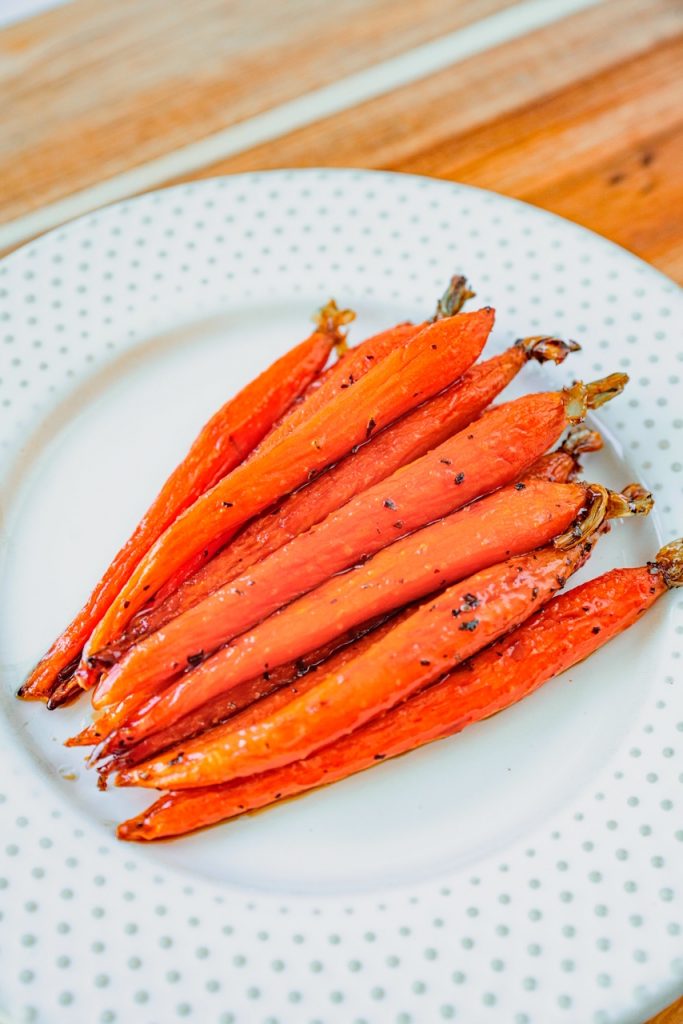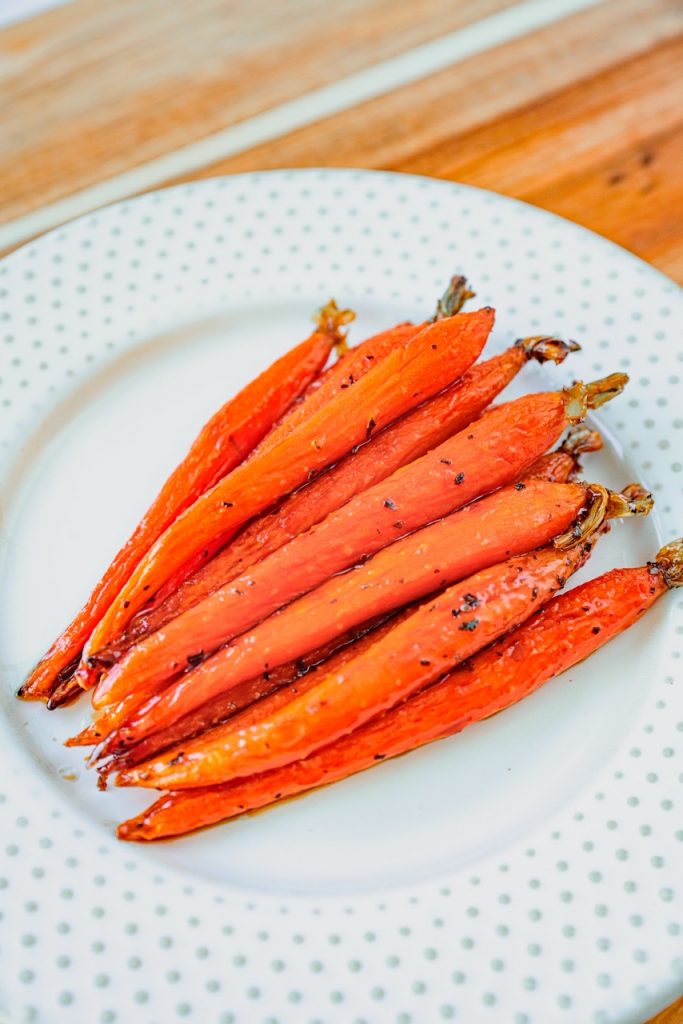 Did You Try This Recipe?
If so, I would love to keep in touch! I enjoy seeing photos and comments about the recipes that you make! You can follow me on Instagram and I will repost your goodies in my stories and comment on it too! Just tag me at @wowitsveggie and hashtag #wowitsveggie. I can't wait to see what you make!
Yield: 4-6
10-Minute Vegan Maple Glazed Carrots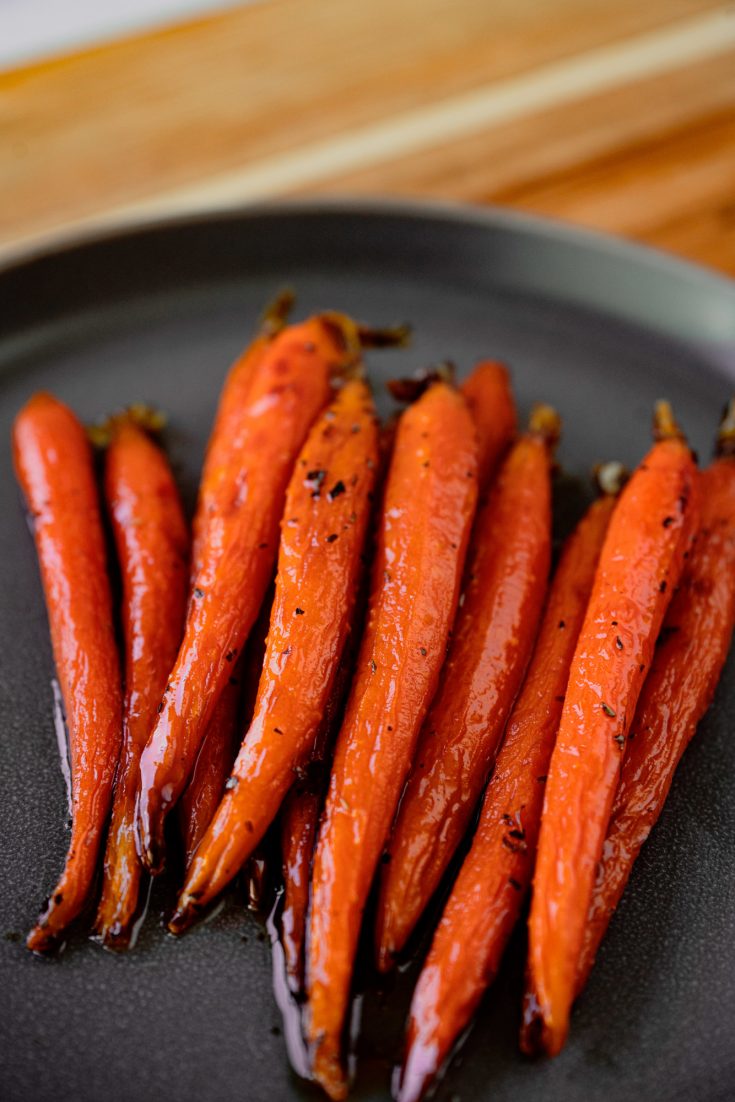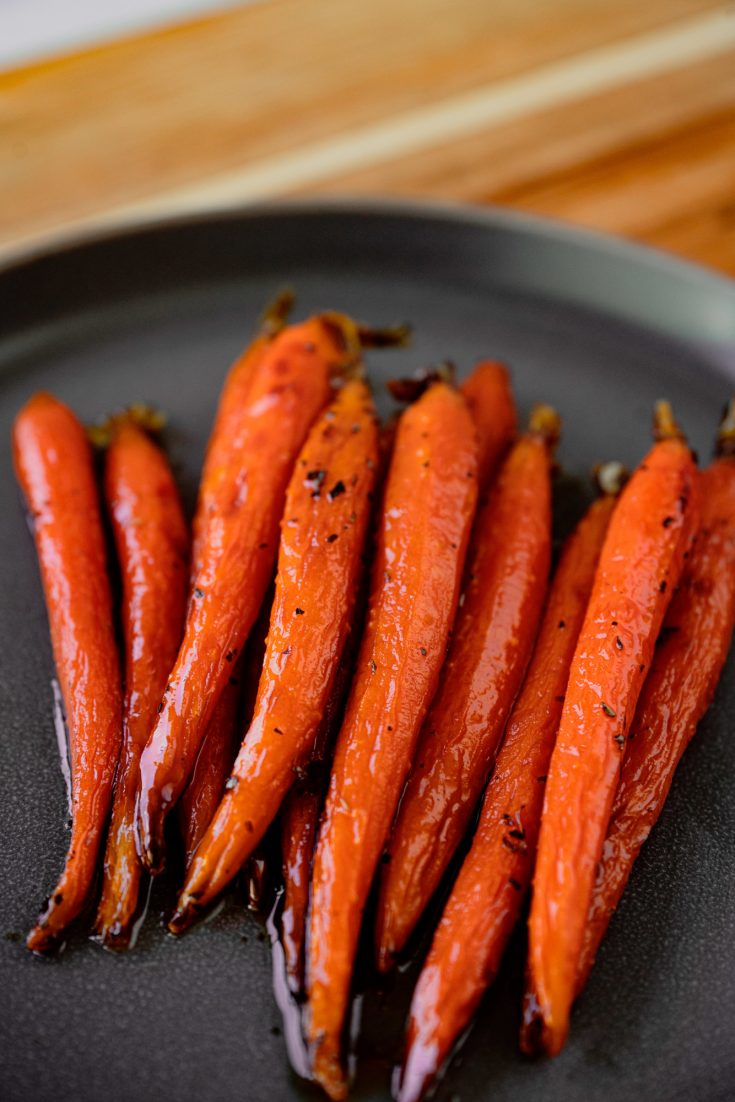 These delicious maple glazed carrots are also vegan, oil-free, and gluten-free! Unlike their roasted counterparts, they are cooked on the stove which allows them to come together as the perfect side dish in about 10 minutes!
Ingredients
6-8 medium carrots, quartered lengthwise (or carrots of your choice)
1/2 onion, chopped
1 teaspoon dried parsley
3 tablespoons vegetable stock or water
1/4 cup maple syrup (more to taste)
3 tablespoons vegan butter or oil
Instructions
In a large frying pan on medium heat, melt your vegan butter or oil if you prefer to use oil instead. Saute your onion and dried parsley until the onion is translucent and aromatic.
Add in your carrots and vegetable stock or water. Saute for a few minutes until carrots begin to cook.
Stir in maple syrup and reduce heat to medium-low. Stir until carrots are coated in the maple syrup. Cover and cook until the carrots are tender, stirring occasionally. Your maple syrup will become bubbly. If carrots are not cooked enough, add in more maple syrup or butter/oil 1 tablespoon at a time.
Serve immediately!
Nutrition Information
Yield
6
Serving Size
1
Amount Per Serving
Calories

132
Total Fat

8g
Saturated Fat

4g
Trans Fat

0g
Unsaturated Fat

4g
Cholesterol

15mg
Sodium

106mg
Carbohydrates

15g
Fiber

2g
Sugar

11g
Protein

1g