Learn how to make your own vegan pumpkin spice frappuccino in just a few minutes!
Pumpkin spice frappuccino's cost big bucks at the coffee shops, and the only place you can get an authentic one is at Starbucks, otherwise it is called a frappe or something similar.
If you want to make your pumpkin spice frappuccino vegan, it is going to cost extra as non-dairy milk always costs more money these days!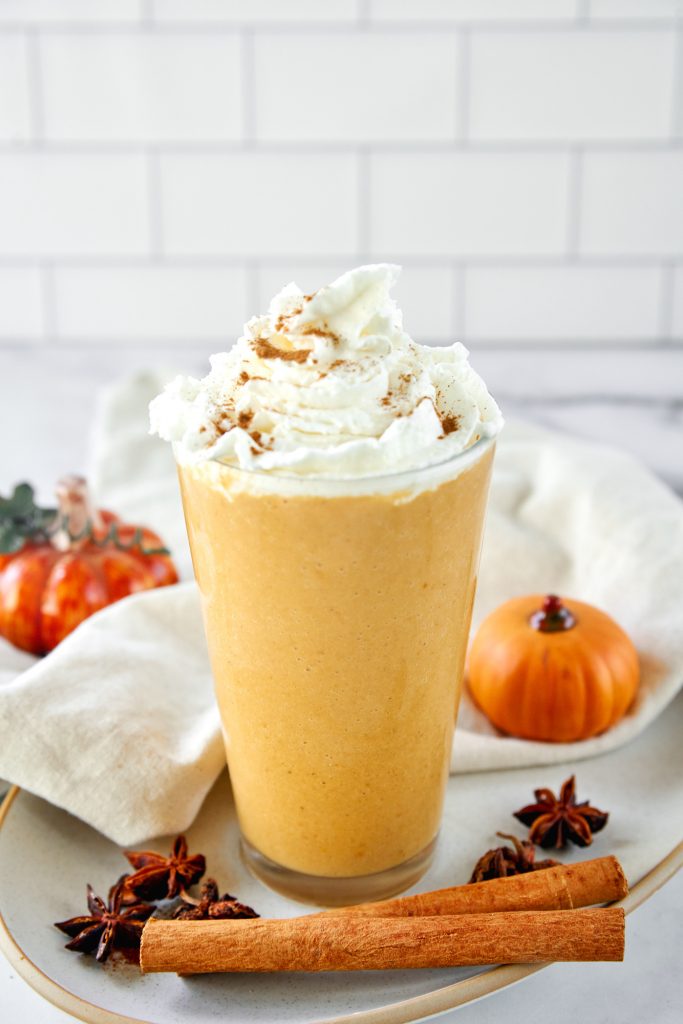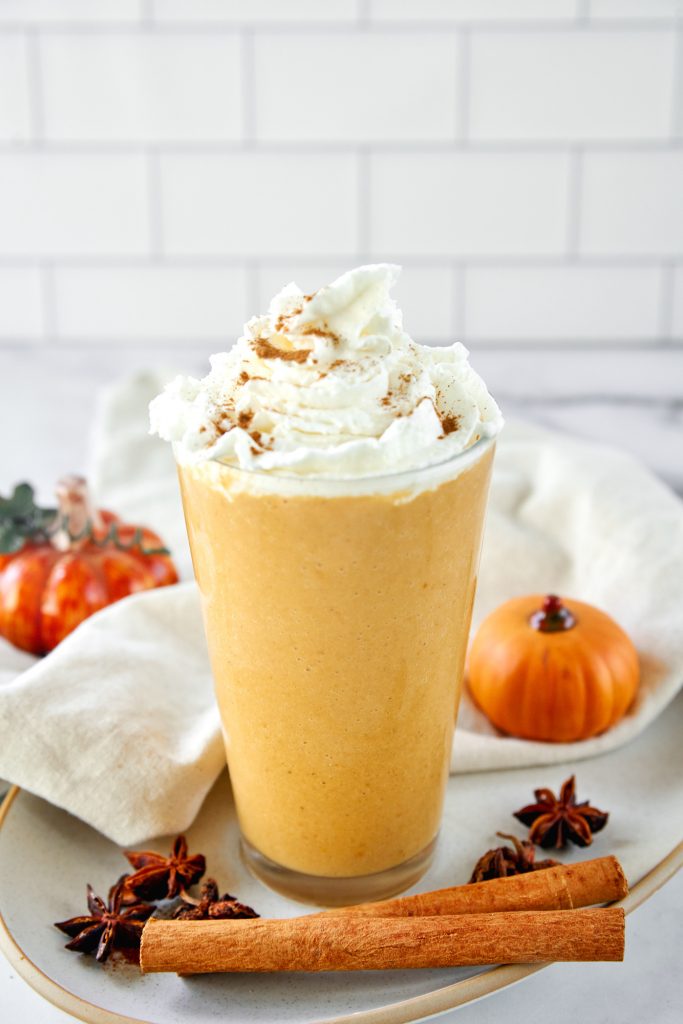 When you learn to make your own vegan pumpkin spice frappuccino at home, you are not only saving tons of money, you know exactly what goes into each and every sip!
This is an easy Starbucks Copycat pumpkin spice frappuccino customized to your tastes!
Did you know that until recently, Starbucks didn't even use real pumpkin in their pumpkin spice frappuccino? It is true!
Of course, there are ton of additives in the Starbucks version and there is also a lot of sugar.
I keep the sugar content on the lower side for this recipe, but that is so that you can add more to taste!
You can always add more sugar, but you can't take it out once it is in, so that is why I designed this vegan pumpkin spice frappuccino recipe in this way!
This recipe follows my very easy and tasty Vegan Pumpkin Spice Latte recipe, but instead of drinking it hot with caramel sauce, we will blend it up and drink it cold and icy!
I am a huge fan of cold beverages, much more than hot, probably because I live in Florida, so this copycat Starbucks pumpkin spice frappuccino is totally my speed!
I wanted to use my Pumpkin Spice Latte as a base because it just makes things so much easier when you already know how to do one recipe! You can just make a few modifications and you are well on your way to success in just a few moments!
Once you try it, I know that my vegan Starbucks Copycat pumpkin spice frappuccino recipe will be one of your new favorite drinks!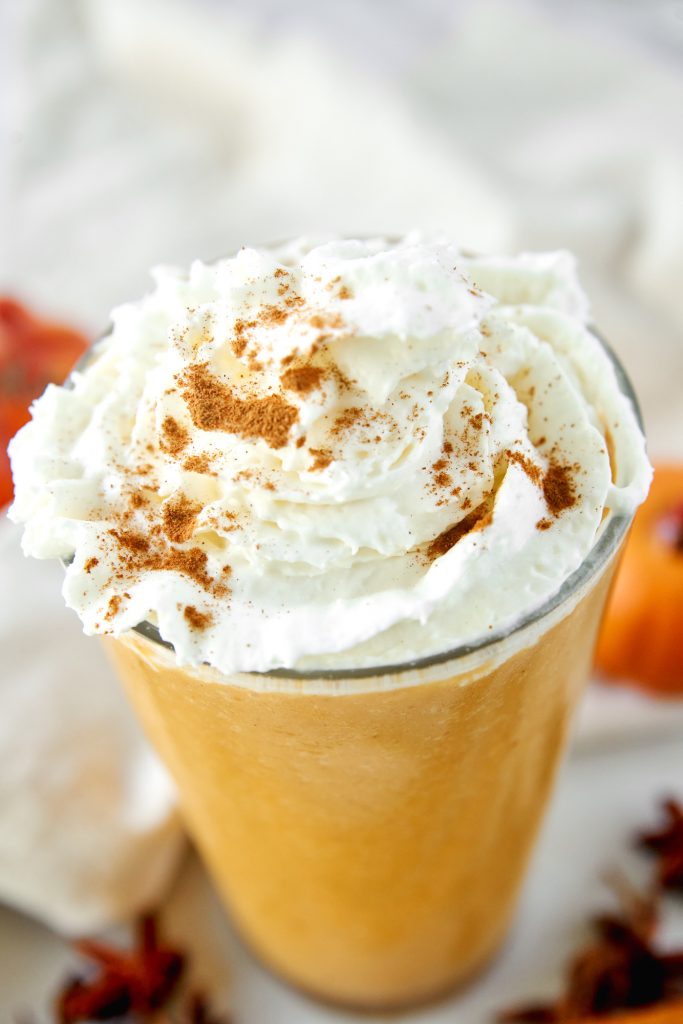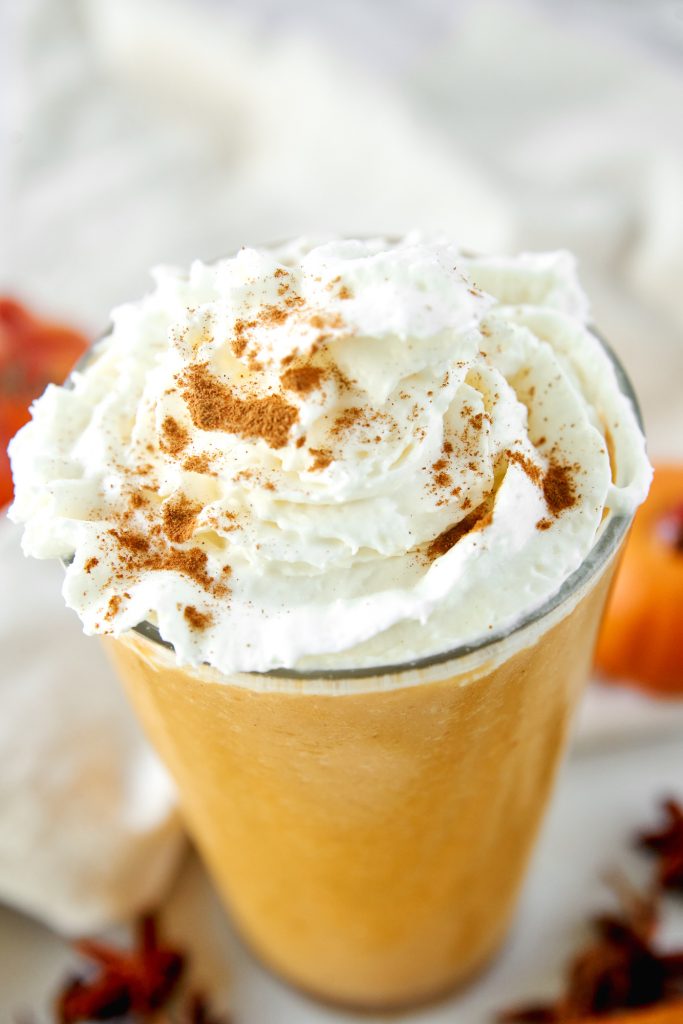 How To Make The Copycat Pumpkin Spice Frappuccino
I wanted to make this vegan pumpkin spice frappuccino as easy as possible to make!
You do have the option to use cold brew coffee or any cold coffee that you can buy from the store or brew the night before.
But if I am being honest, I don't ever think that far in advance!
Instead, you can simply brew the coffee mixture the minute you are ready to make the pumpkin spice frappuccino and just blend it with ice to cool it down.
Will this "water it down?" Maybe slightly, but it is a huge time saver in my opinion and that is what this site is all about!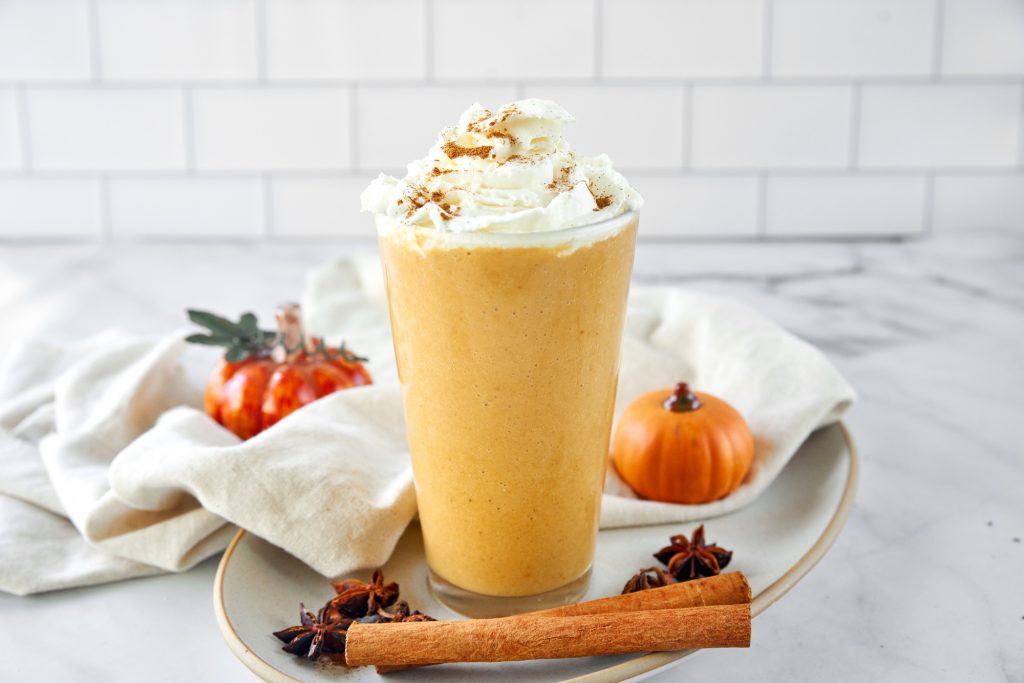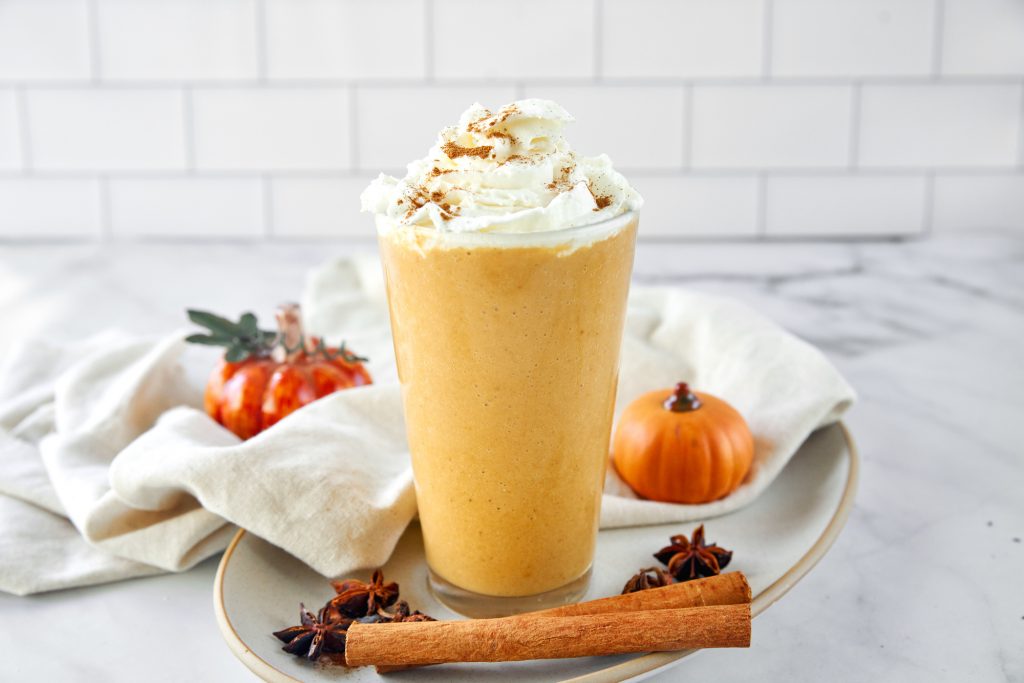 First, put your ice cubes in a blender and pulse a few times just to start breaking them up! Sometimes the ice will get chunky and clumpy and you want to avoid that so pre-blending the ice a little bit is helpful!
To make this recipe, you are going to want to combine pumpkin puree, maple syrup, sugar, pumpkin pie spices, coffee, and non-dairy milk in a blender!
Now, pulse and blend until smooth and creamy with no lumps.
I also like to add vegan creamer but if you don't have any on hand that is okay!
Your ice may get clumpy and stick to the sides. That is okay. Stop blending, scrape down the sides, and then start again on a slower setting.
Repeat until you have a nice a smooth pumpkin spice frappuccino!
Pour into a tall glass and garnish with some vegan whipped cream and a drizzle of my Vegan Caramel Sauce. Don't forget to serve this with something yummy like Vegan Snickerdoodle Cookies!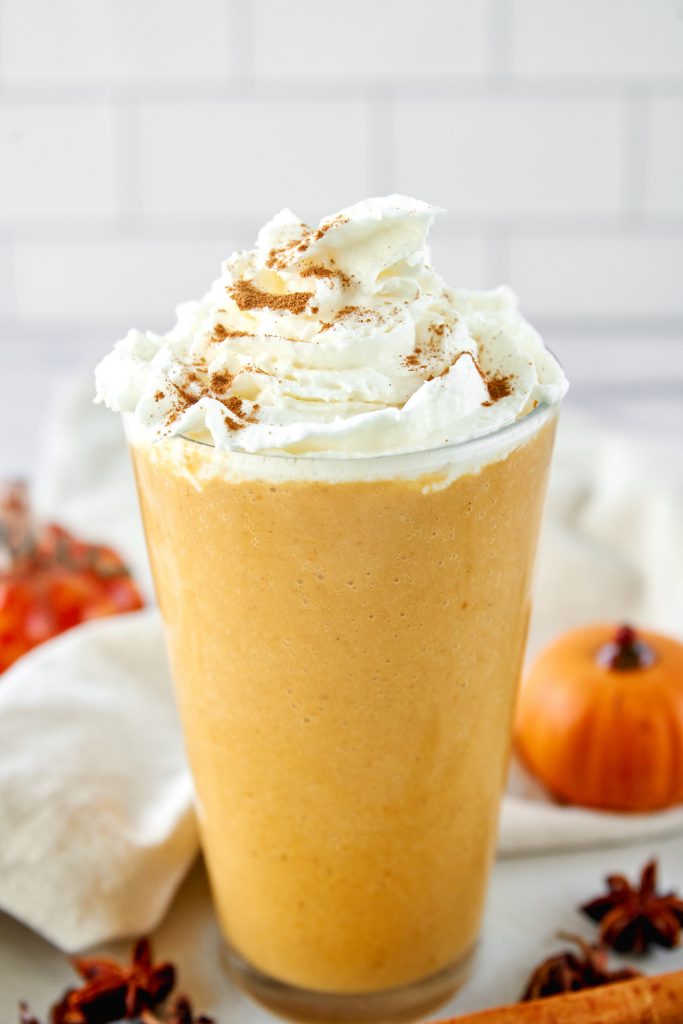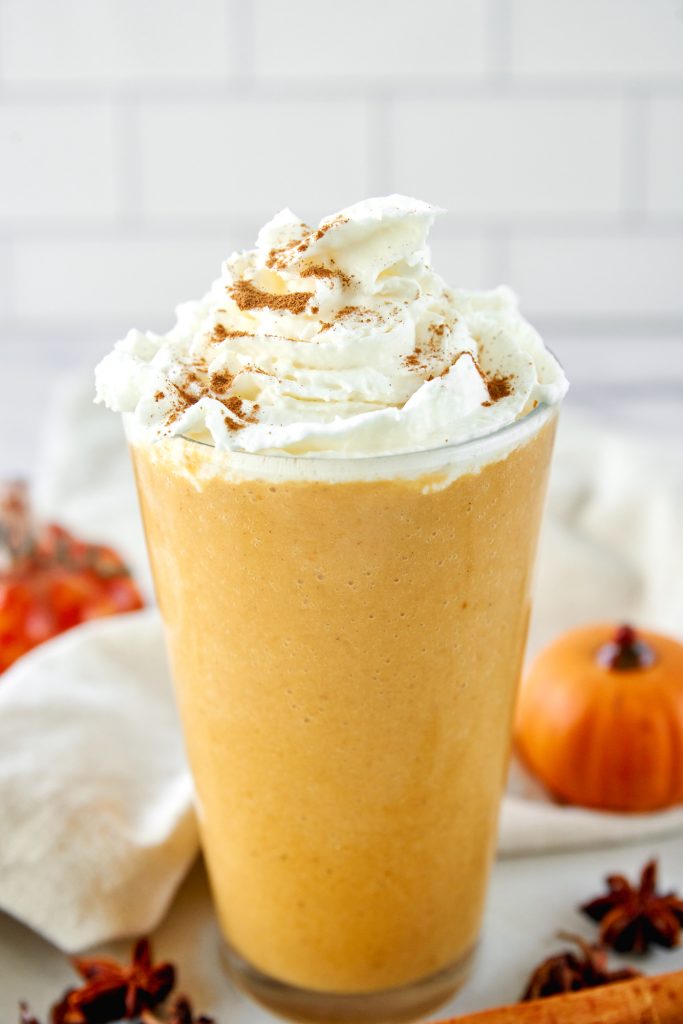 Is There Caffeine In The Pumpkin Spice Frappuccino?
There is caffeine in this pumpkin spice frappuccino because we use regular coffee or espresso.
However, you can 100% make this recipe using only decaf coffee and it still comes out tasty just without the buzz you get from caffeine.
This is an easy way to make a decaf pumpkin spice frappuccino for kids or for those of you who can't handle caffeine.
I actually handle caffeine pretty poorly, so I often make mine with decaf! It comes out perfectly fine. Psssst! If you love this recipe, you may like my Fudgy Vegan Pumpkin Brownies!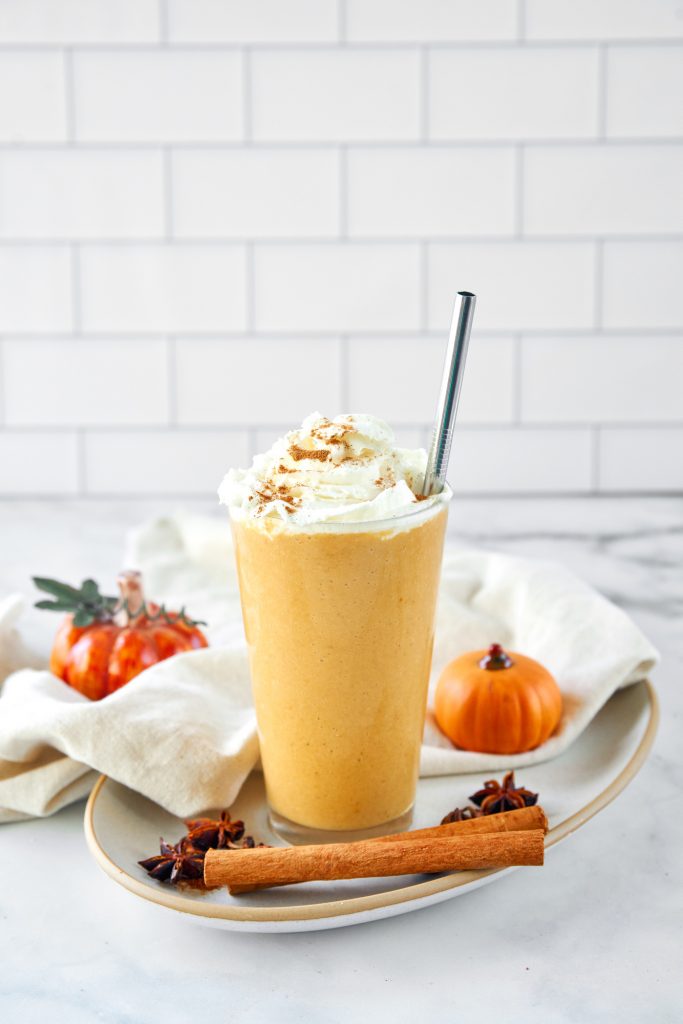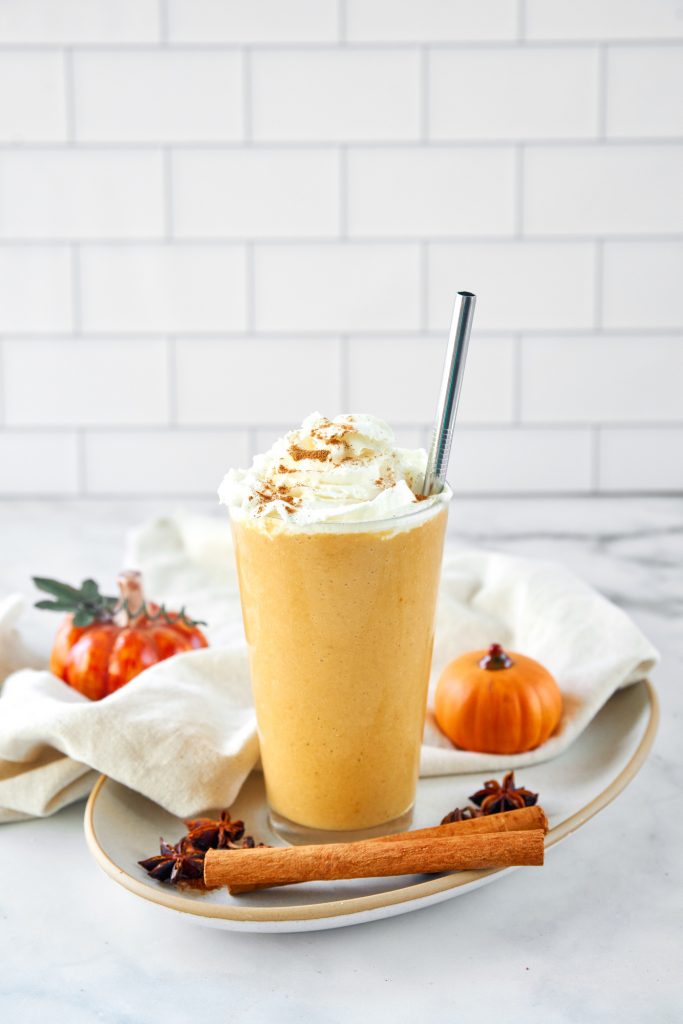 Did You Try This Recipe?
If so, I would love to keep in touch! I enjoy seeing photos and comments about the recipes that you make! You can follow me on Instagram and I will repost your goodies in my stories and comment on it too! Just tag me at @wowitsveggie and hashtag #wowitsveggie. I can't wait to see what you make!
Yield: 2 pumpkin spice frappuccinos
Vegan Pumpkin Spice Frappuccino (Starbucks Copycat)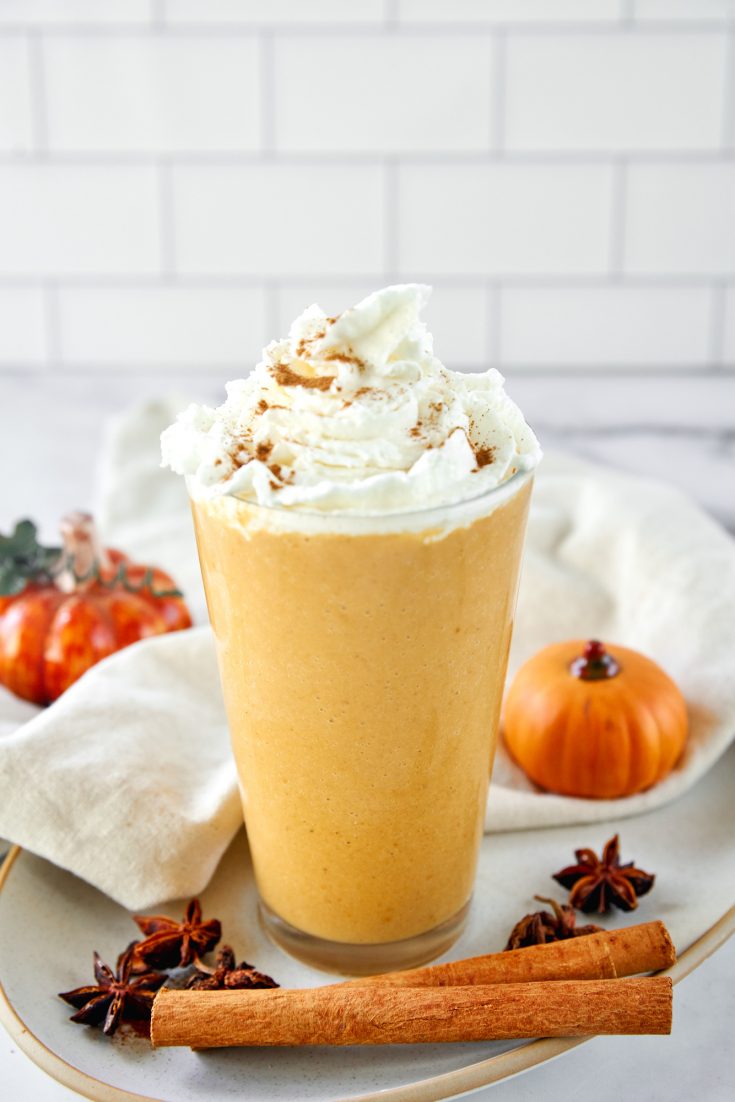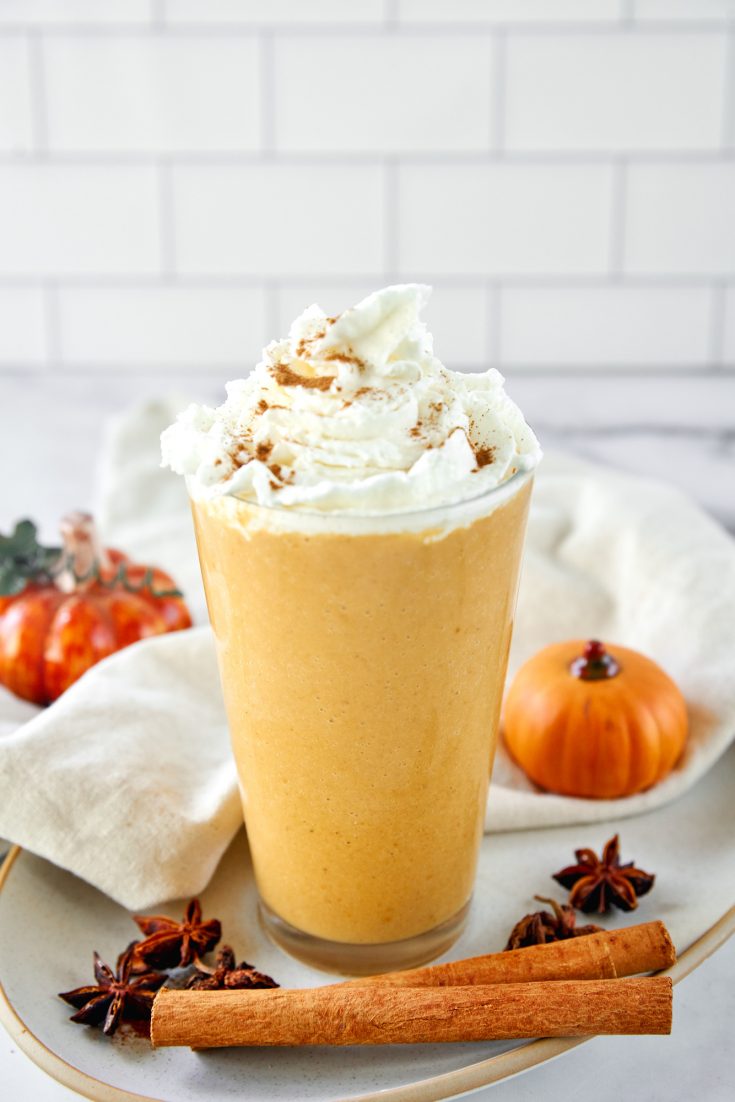 These vegan pumpkin spice frappuccino is a copycat of the Starbucks favorite! It is so easy to make but uses healthy ingredients and you can control the amount of sugar that you want to put in it! You can use decaf if you want to make this pumpkin spice frappuccino kid-friendly too!
Ingredients
4 tablespoons canned pumpkin puree
4 tablespoons maple syrup (or to taste)
2 tablespoons sugar (or to taste)
2 cups non-dairy milk
1 cup coffee or 2-4 shots espresso or 4 teaspoons instant coffee
1 teaspoon pumpkin pie spice
2 cups ice
4 tablespoons vegan creamer (optional)
vegan whipped cream, vegan caramel sauce, and cinnamon for topping
Instructions
If you did not make and chill your coffee in advance, that is okay! You may need more ice if the coffee is piping hot!
Add your ice to a blender and pulse a few times to start breaking it up. Add more ice a little bit at a time but don't puree completely.
Add in all the ingredients other than the toppings and blend on high until smooth like a smoothie. The ice may clump up on the sides of the blender. This is okay. Stop blending, scrape down the sides, and blend on low. Continue until your pumpkin spice frappuccino is nice a smooth and creamy.
Pour into tall glasses and garnish with vegan whipped cream, cinnamon, and Vegan caramel sauce if desired!
Nutrition Information
Yield
2
Serving Size
1
Amount Per Serving
Calories

146
Total Fat

4g
Saturated Fat

1g
Trans Fat

0g
Unsaturated Fat

2g
Cholesterol

22mg
Sodium

51mg
Carbohydrates

30g
Fiber

2g
Sugar

25g
Protein

9g