Learn how to make your very own chai frappuccino right at home in your own kitchen!
This spiced and creamy cold beverage is perfect for any time of year. If you don't like warm drinks, this can be your go-to fall beverage!
Chai frappuccinos at coffee shops are often pretty pricey, especially when you get into larger sizes. If you want to veganize your chai, it is going to be even more money to use non-dairy milk.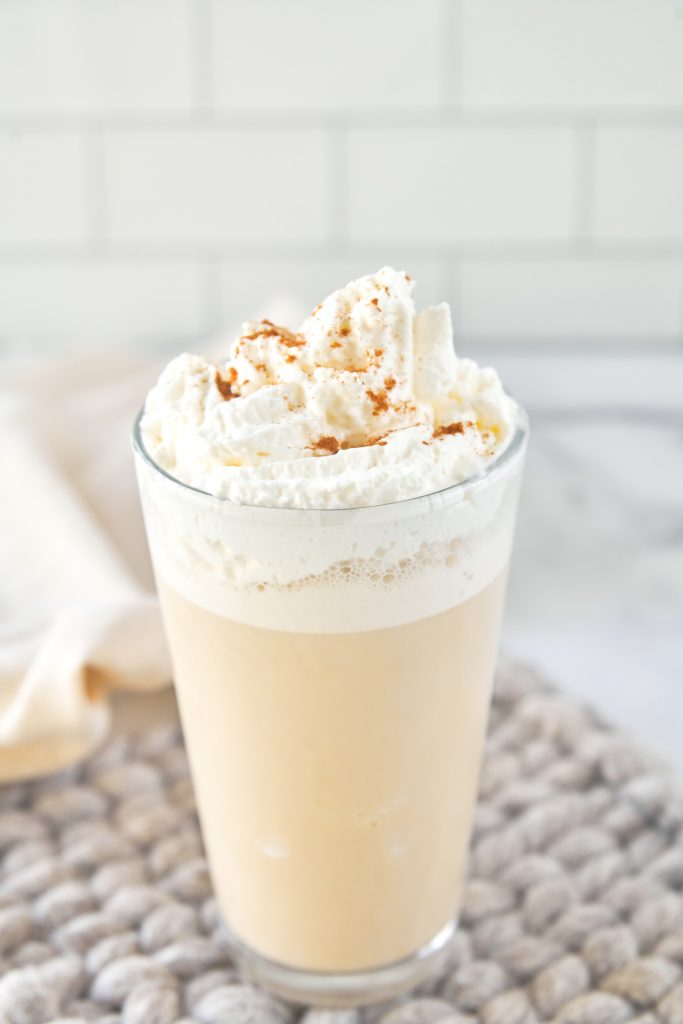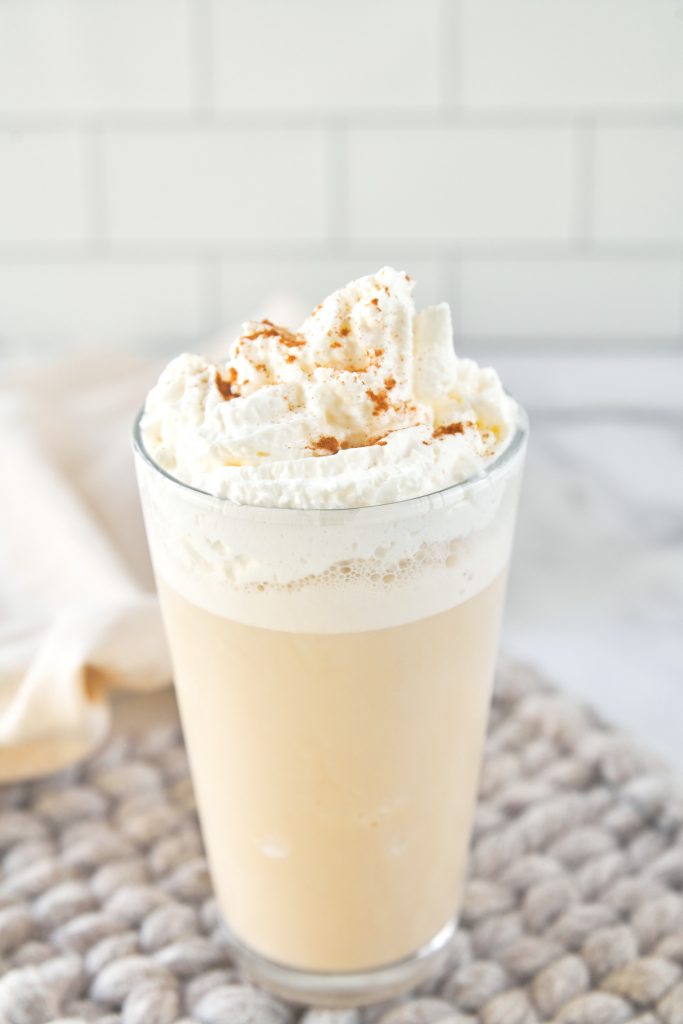 In fact, chai frappuccinos are specifically patented to Starbucks only as they own the frappuccino name. Anywhere else you will be getting a "frappe" or something with a similar name.
This icy beverage at Starbucks is actually called Chai Creme Frappuccino.
My secret weapon to making a creamy vegan chai frappuccino is to use a splash of non-dairy creamer.
I know that non-dairy creamer isn't an option everywhere, and that is okay! But if you have it on hand, I highly recommend using it as it really adds to the amazing flavor of this vegan chai frappuccino!
This is an easy Starbucks copycat chai frappuccino and actually uses my very simple Vegan Chai Latte recipe as a base. All we do is make this one cold instead of hot!
If you follow my website, you know that I am all about speed and ease with vegan and vegetarian cooking.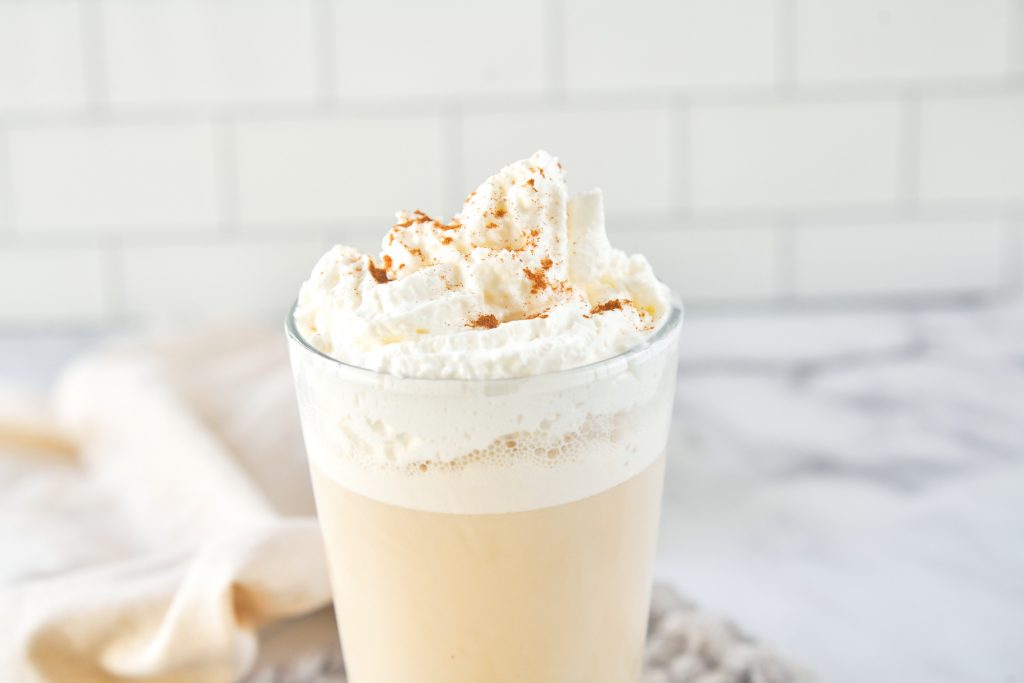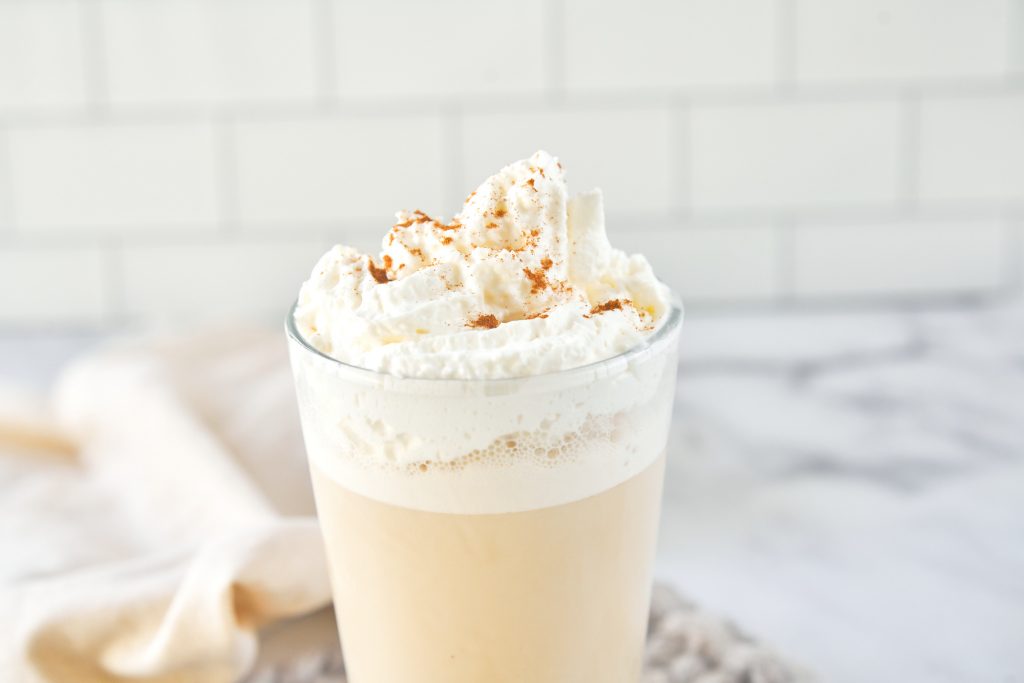 As a result, we will not be making our own homemade chai blend using spices from around our home.
I know this is the lazy way, but I want you to have a quick and easy chai frappuccino when you are in a pinch!
Instead, we will use chai teabags that you can find at your local grocery store.
I recommend reading the labels to ensure that you are using higher quality chai for making this recipe.
Since I live in Florida and don't love hot beverages, this Starbucks copycat chai frappuccino is one of my favorites, even when I am looking for Cozy Fall Recipes, and it is vegan too.
I know that you are going to enjoy it as much as I do!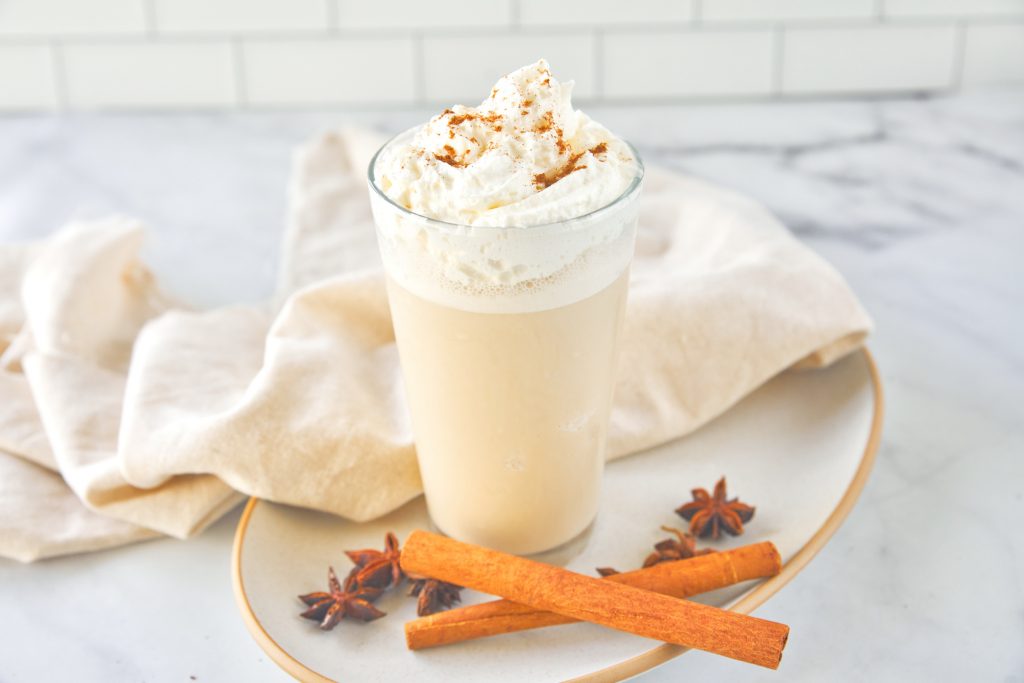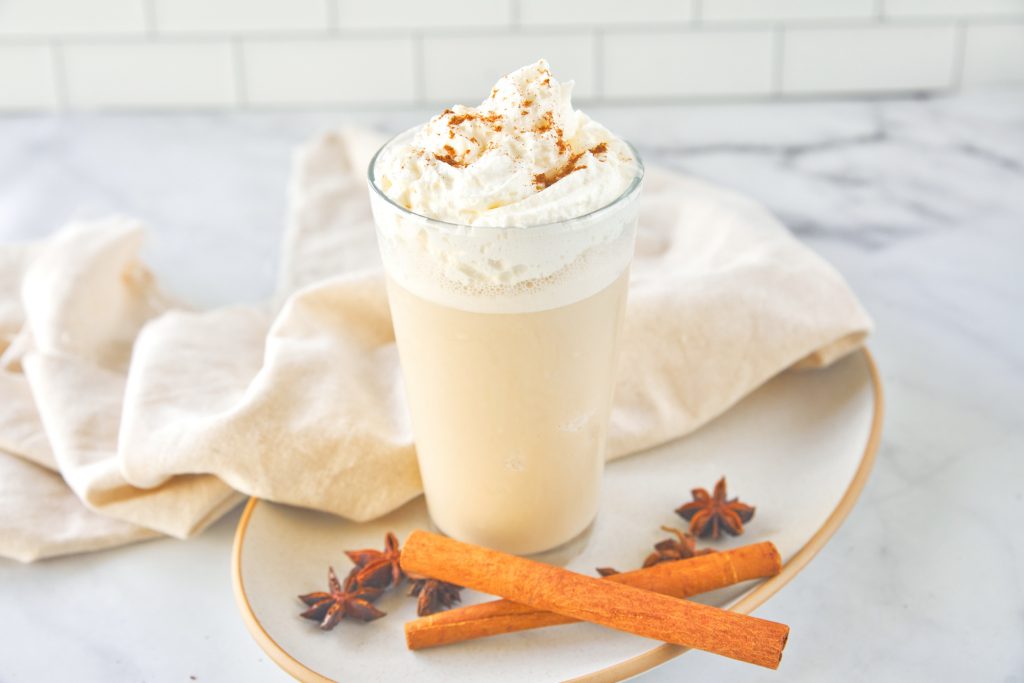 Does This Vegan Chai Frappuccino Have Caffeine In It?
The short answer is yes! This copycat chai frappuccino does have caffeine in it.
Whether you are getting your chai frappuccino at Starbucks or making this copycat recipe at home, you will be consuming caffeine.
That is because this recipe uses black tea leaves. If you are making your own chai with a spice mix, you will use black tea leaves.
If you are making my recipe here with a chai teabag, the teabag will have black tea mixed into it as well.
I just want you to be aware that this is a caffeinated beverage in the event you want to make this recipe for kids or you yourself don't handle caffeine well.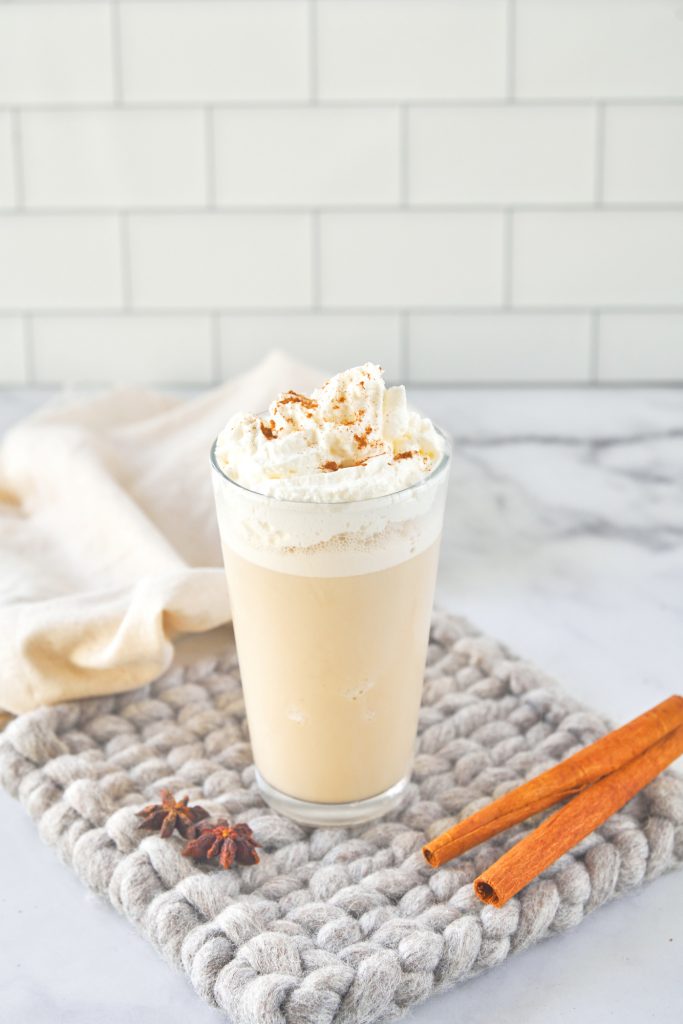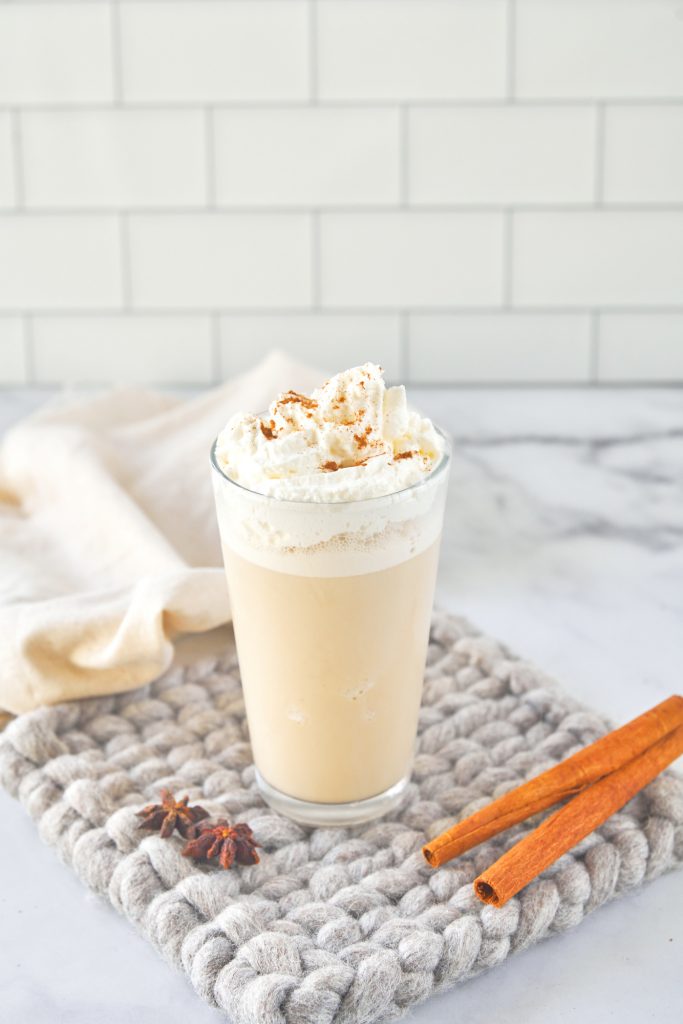 How To Make This Starbucks Copycat Chai Frappuccino
Starbucks honestly charges so much money when you can easily just make a chai frappuccino at home, and it is vegan too!
If you know you want to make this recipe in advance, go ahead and steep your tea the night before and keep it in the fridge so your tea is cold.
If you don't do this, that is okay!
You want to steep your chai for 5-10 minutes until the water turns a dark brown. If you steep your chai the day you are making this chai frappuccino, just know that you may have to use a little more ice when blending the beverage as some ice may melt.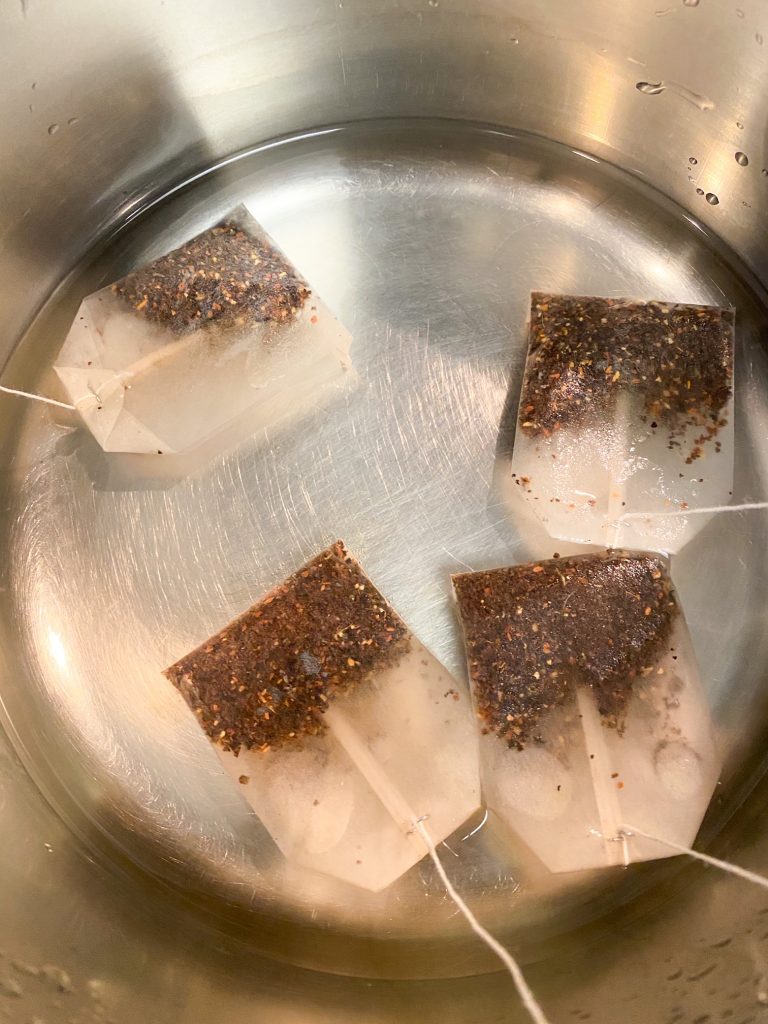 Will this "water it down?" Maybe slightly, but nothing too crazy and you can always add a little more ice with no worries at all!
In a blender, add your ice and pulse for a few moments so that the ice can start to break up.
You can start with a little bit of ice and slowly add more ice so that your blender doesn't have to run too hard!
Next, add your steeped chai mixture, your thick non-dairy milk, your maple syrup, your sugar, a splash of vanilla, and your non-dairy creamer on top of the ice.
Since chai frappuccinos are sweeter than chai lattes, I have added a little sugar to this recipe as well as the non-dairy creamer which adds sweetness.
This is a sweeter beverage, but that is how chai frappuccinos are designed to be made!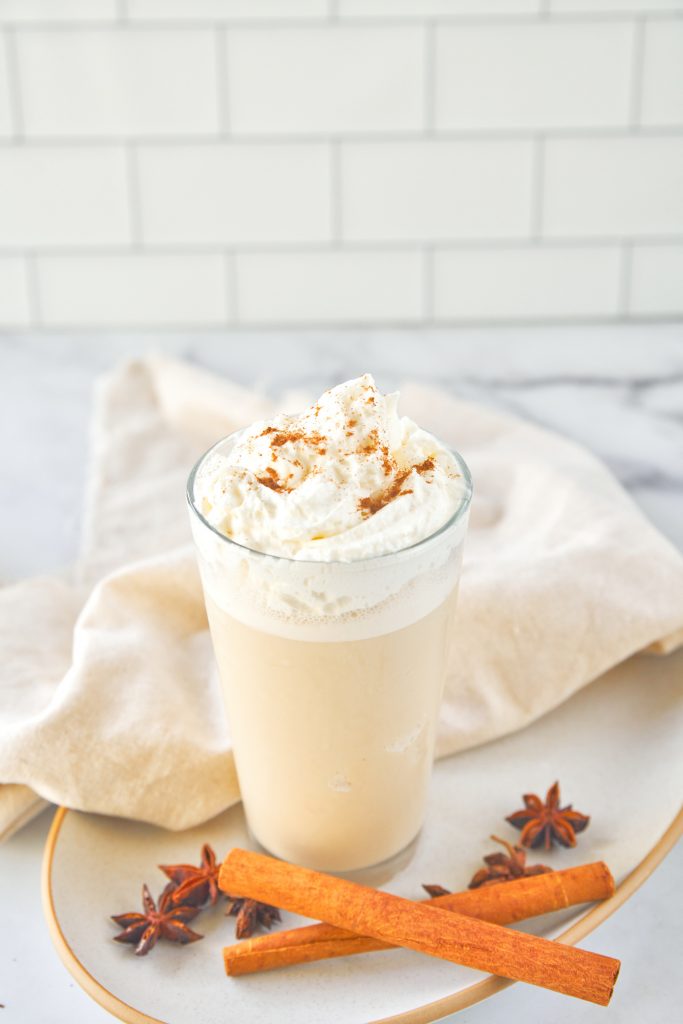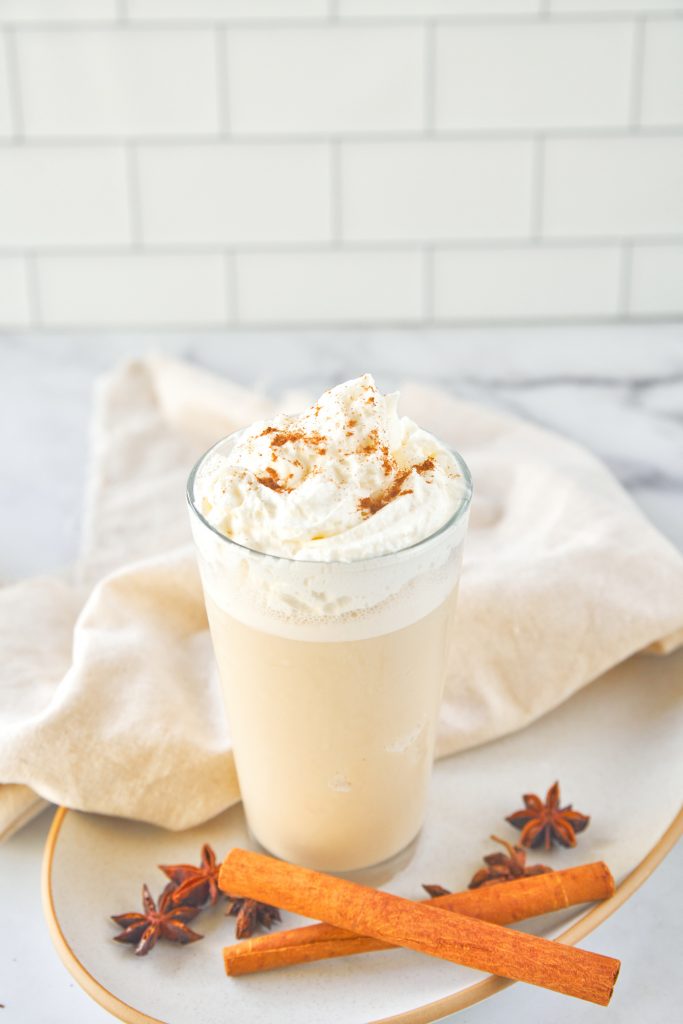 Once all of your liquid ingredients are on top of the ice. Puree on high until there a smooth and creamy mixture that is like a smoothie.
When you are blending, your ice may get stuck on the sides and your blender may stop working.
This is okay! Stop blending, scrape down the sides with a spatula, and then blend on low.
If it happens again, go ahead and scrape down the sides again and repeat until you have a smooth and creamy mixture.
Pour into tall glasses and garnish with some vegan whipped cream and a dash of cinnamon for the ultimate vegan chai frappuccino! Don't forget to serve this with something yummy like Vegan Snickerdoodle Cookies!
Did You Try This Recipe?
If so, I would love to keep in touch! I enjoy seeing photos and comments about the recipes that you make! You can follow me on Instagram and I will repost your goodies in my stories and comment on it too! Just tag me at @wowitsveggie and hashtag #wowitsveggie. I can't wait to see what you make!
Yield: 2 chai frappuccinos
Vegan Chai Frappuccino (Starbucks Copycat)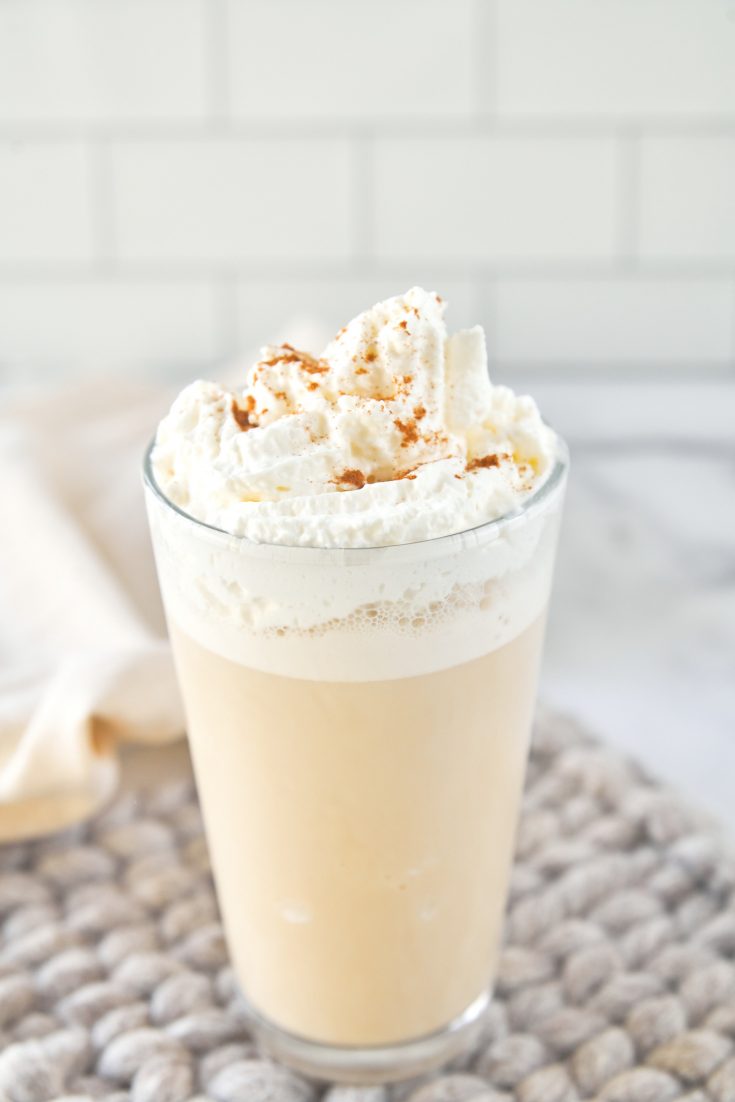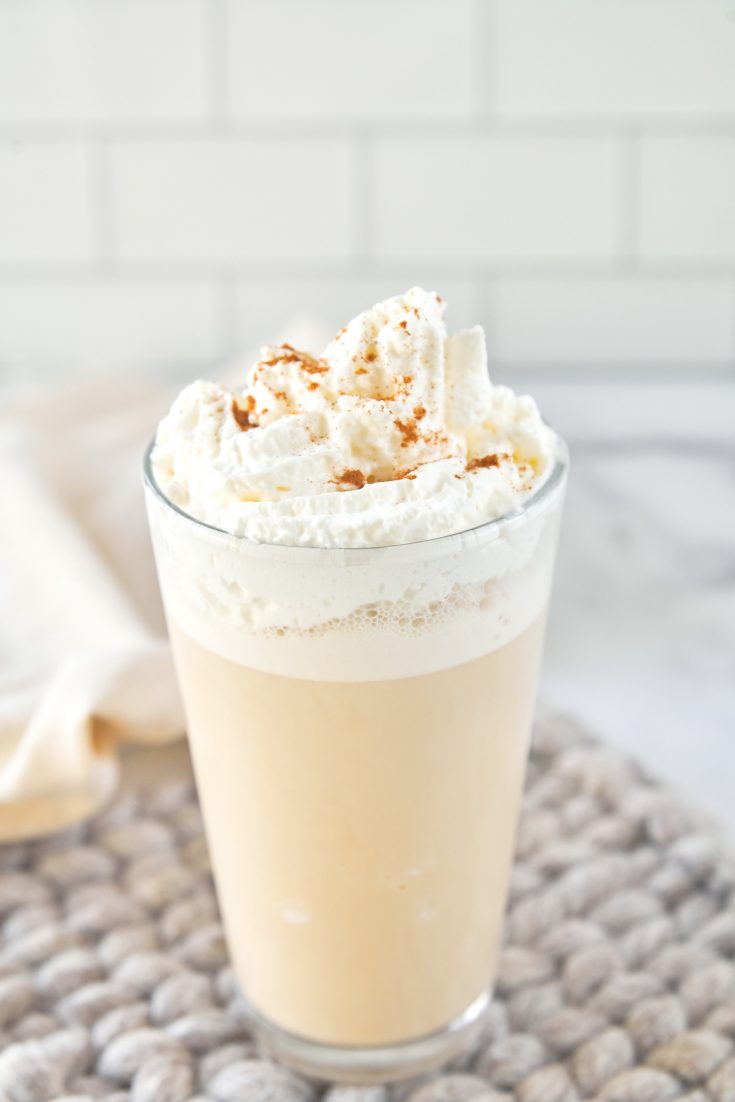 This vegan chai frappuccino is an affordable and delicious Starbucks copycat recipe! It is spiced to perfection and creamy and cool just like your favorite drink. You can control the sweetness to taste as well as the milk content based on your preferences!
Ingredients
2 chai teabags
2/3 cup water
4 tablespoons maple syrup (or to taste)
2 tablespoons sugar (or to taste)
2 cups non-dairy milk
1 teaspoon vanilla
2 cups ice
4 tablespoons vegan creamer (optional)
vegan whipped cream and cinnamon for topping
Instructions
Heat water over high heat in a small pot and bring to a boil. Add chai teabags and steep for 5-10 minutes until the water turns dark brown. You can save time and do this step in advance and keep the chai in the fridge for an even easier recipe. Making it the day-of is simple and the hot chai doesn't hurt the recipe too much.
Add ice to a blender and pulse a little at a time until all ice is added and lightly ground.
Then, add in chai and all the ingredients. Blend until smooth and creamy like a milkshake or smoothie. The ice may clummp on the sides of the blender. This is okay. Stop blending, scrape down the sides, and blend on low. Continue until your chai frappuccino is fully blended with no clumps.
Pour into tall glasses and garnish with vegan whipped cream and cinnamon.
Nutrition Information
Yield
2
Serving Size
1
Amount Per Serving
Calories

247
Total Fat

9g
Saturated Fat

6g
Trans Fat

0g
Unsaturated Fat

2g
Cholesterol

22mg
Sodium

51mg
Carbohydrates

57g
Fiber

1g
Sugar

25g
Protein

9g