These vegan matcha cookies are so delicious and take just 20 minutes to make!
The only thing better than matcha cookies is white chocolate chip matcha cookies.
I love adding a little flair to my sweets and I wanted to keep the flavors light and tasty so I chose vegan white chocolate chips instead of dark chocolate and the combination was fantastic!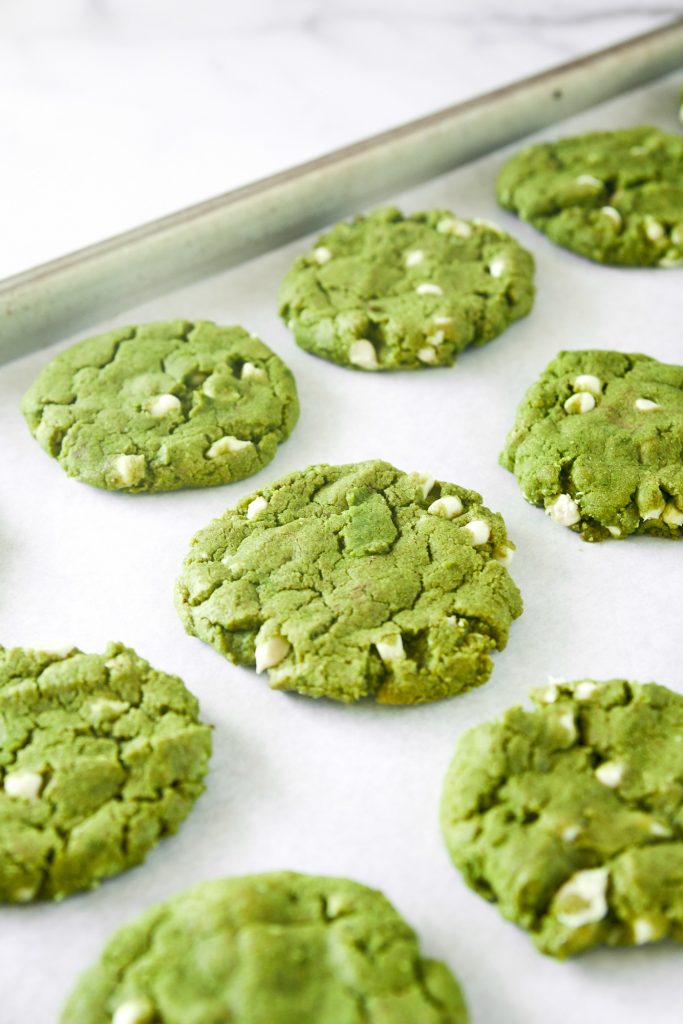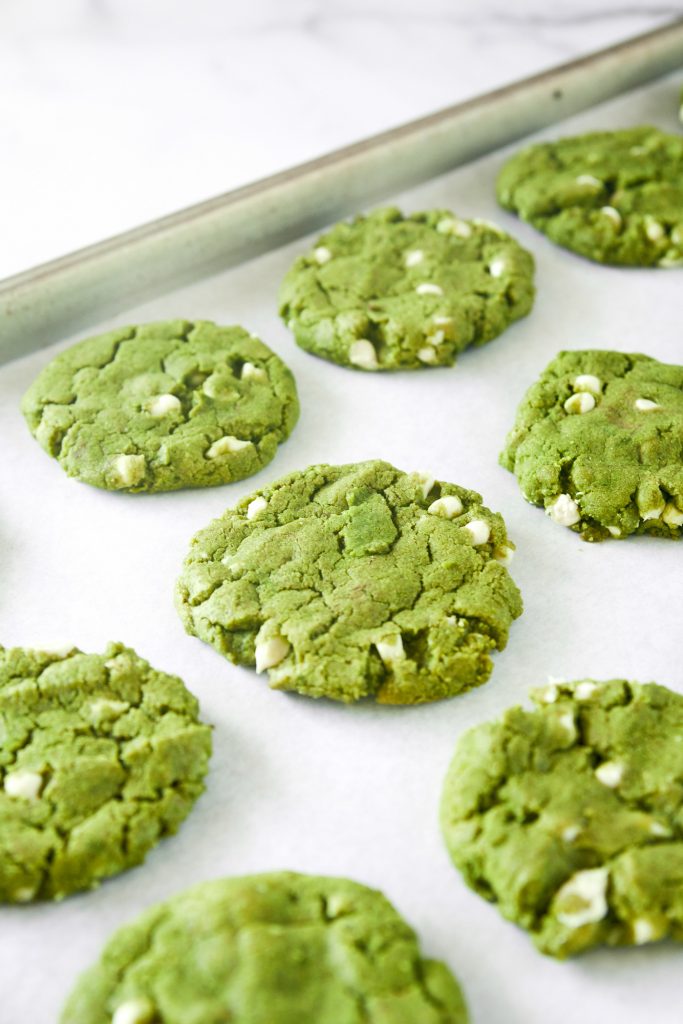 Matcha is all the rage these days and it is easy to see why!
It tastes delicious and adds a nutty and unique flavor while adding health benefits too!
Matcha actually has a variety of health benefits and it is rich in antioxidants, but let's be real, most people love it for the addicting flavor and interesting twist that it adds to usually "normal" recipes.
I even have a Vegan Matcha Cake as well as a Vegan Whipped Matcha drink recipe if you want to continue the matcha madness well after this recipe!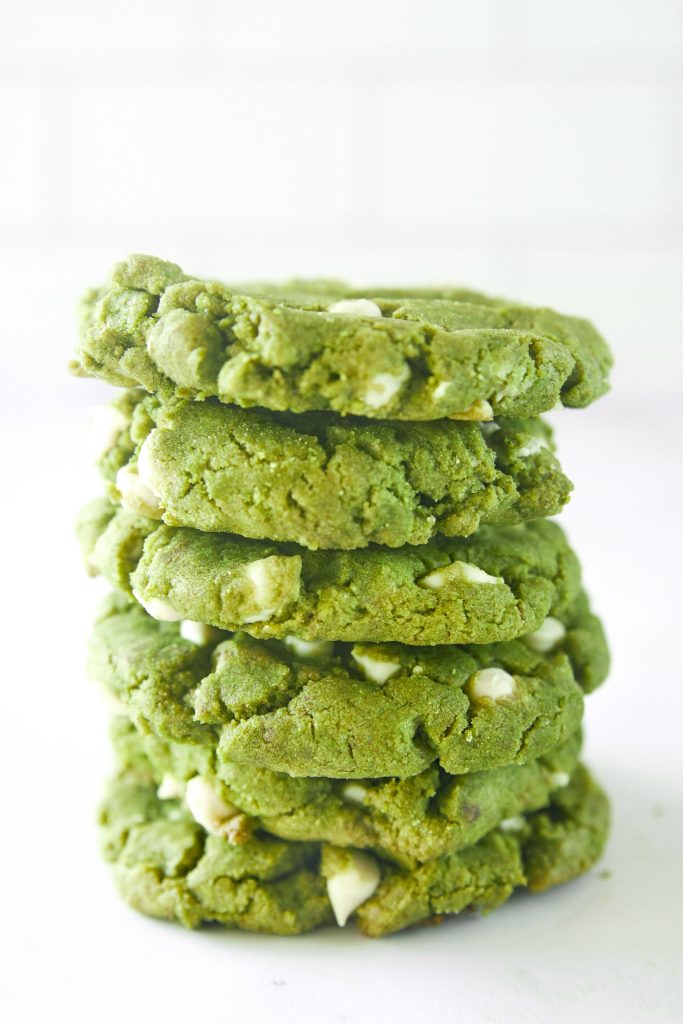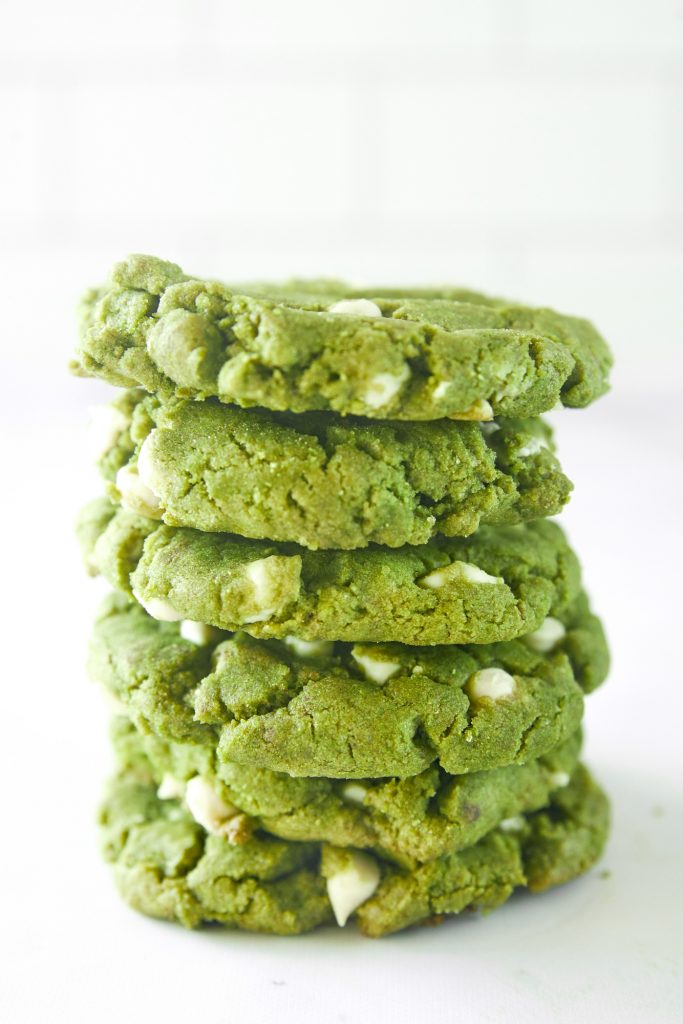 These cookies only take 10-12 minutes to cook and the whole recipe can be done from start to finish in 20 minutes or less!
If you are in a rush but still want healthy matcha cookies, this is the easiest and best recipe that you are going to love.
These are big tasty vegan matcha cookies that are perfect for any time of year!
They make amazing Vegan Christmas Cookies because they are green like Christmas, but you can also serve them for Mother's Day Brunch or any afternoon tea style party as the light flavor lends well to these events!
Once you make these vegan matcha white chocolate cookies, you may want to play around and add in your own flavors!
Maybe you will love to add in dark chocolate chips. Possibly some nuts or dried fruit! The sky is the limit when making your own version of my green tea cookies!
I hope you enjoy making this recipe as much as I do. It is flavorful and delicious and everyone that has tried it has loved it!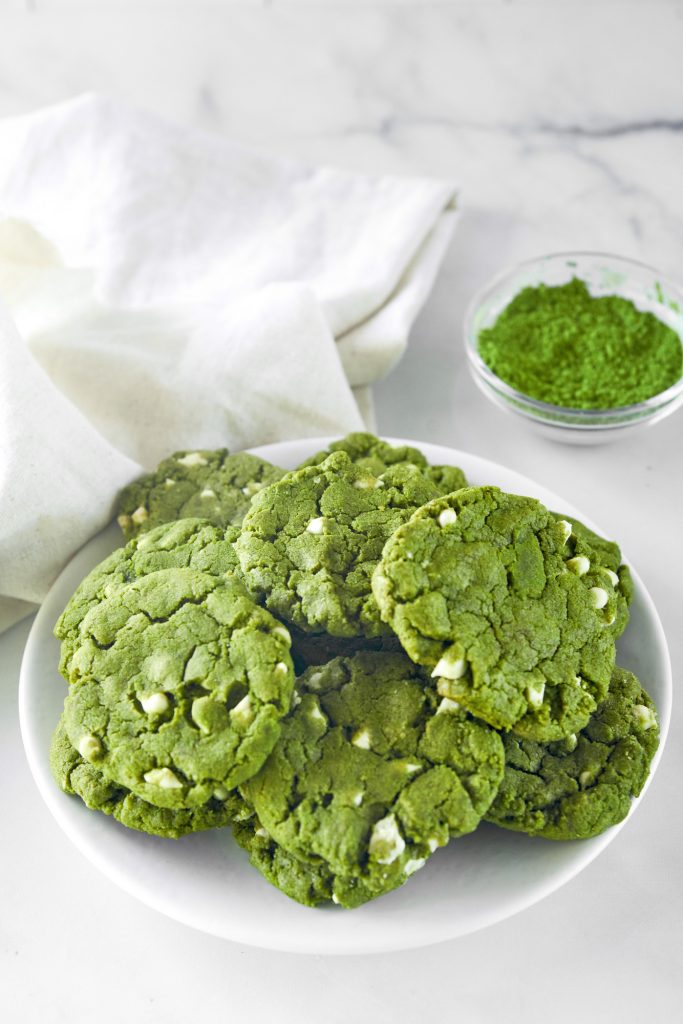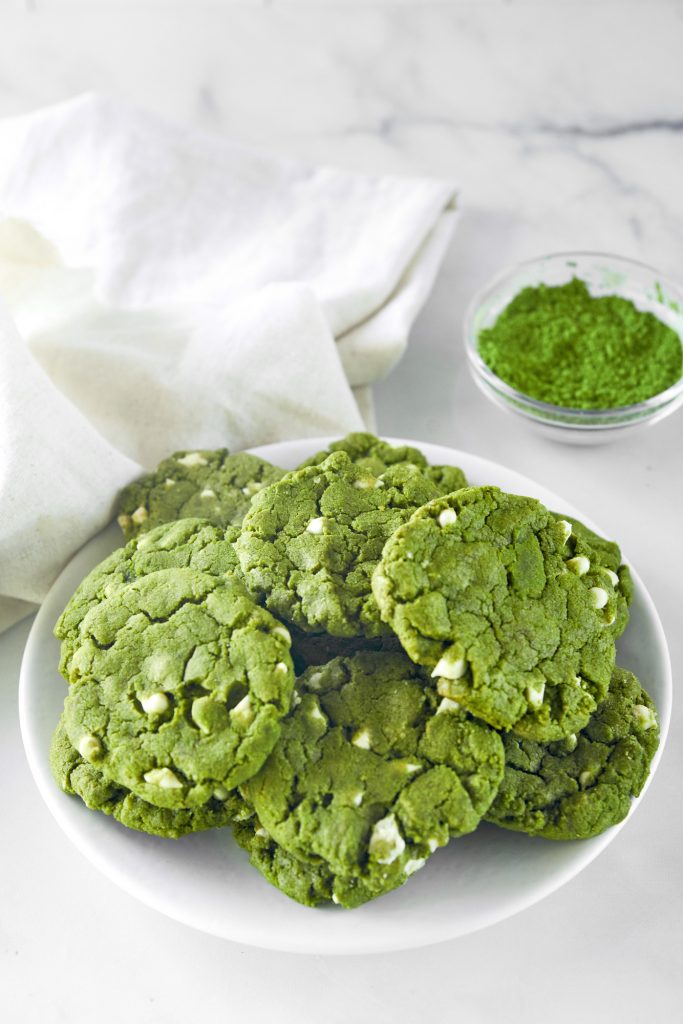 Where To Buy Vegan White Chocolate Chips
When you read the title of this, you may be confused how these can be vegan matcha white chocolate cookies as white chocolate chips that are vegan seem impossible to find.
This isn't true anymore and they are actually quite easy to source!
Did you know that you can easily find plenty of Vegan White Chocolate Chips On Amazon!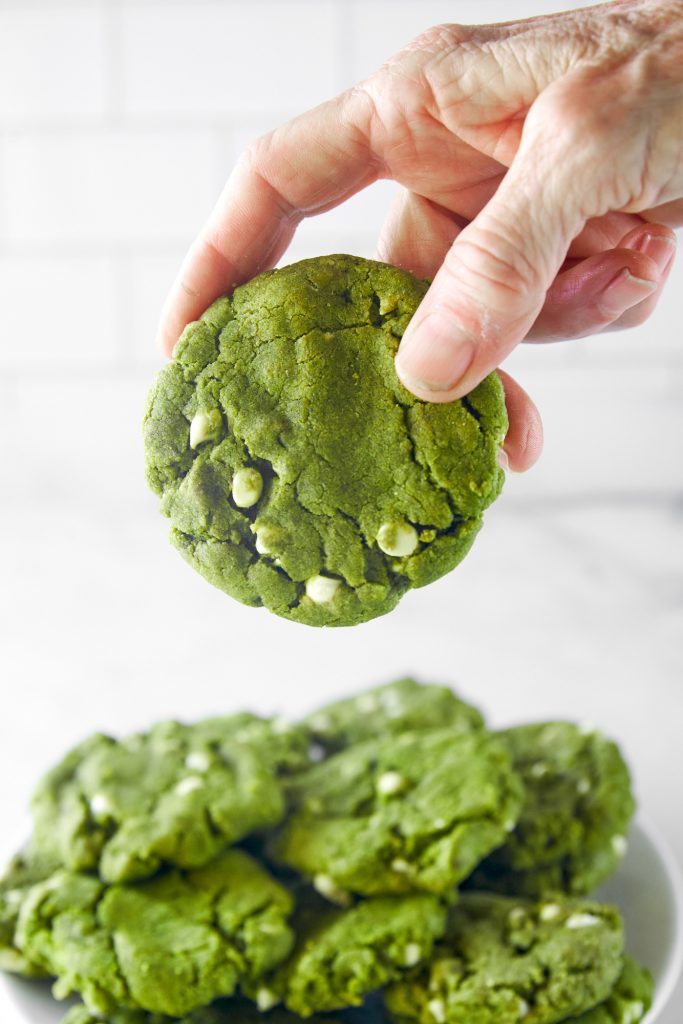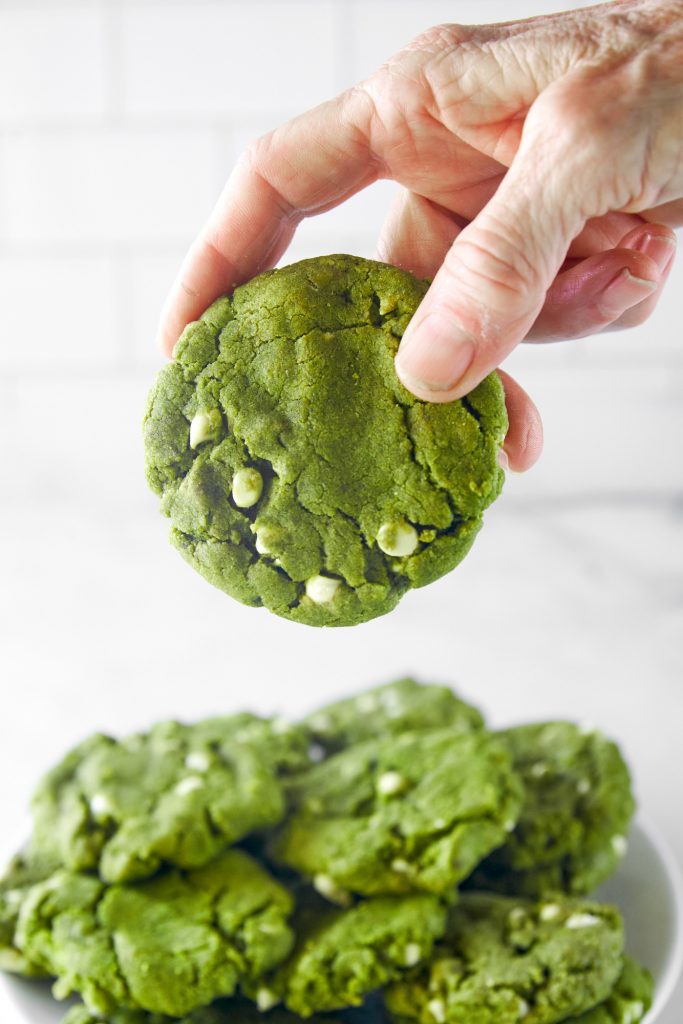 But did you know that WALMART and your regular grocery store has vegan white chocolate chips too?!
Nestle makes a brand called "Simply Delicious" and they are a vegan line of White Chocolate Chips!
These are your two best bets! To try and order some vegan white chocolate chips from Amazon or Walmart!
Sometimes Whole Foods or your local grocery store will also carry vegan white chocolate chips as well so you just have to ask or look at the ingredients!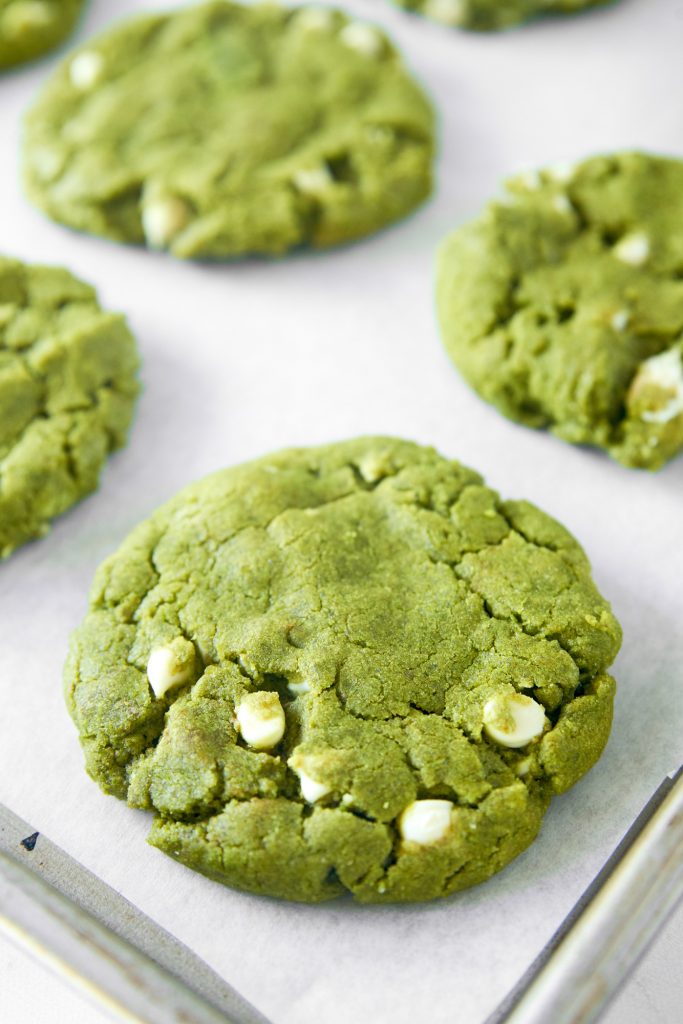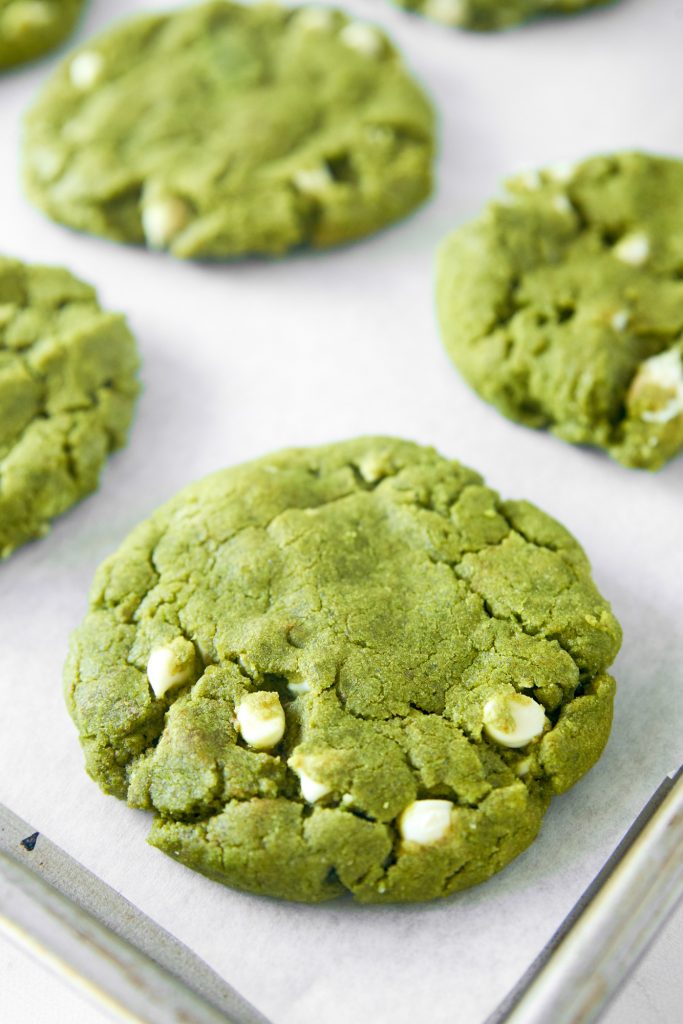 Where To Buy Your Matcha
In case you didn't know, matcha is kind of expensive, so just a warning so you know what you are getting into!
That is okay though, you will want good quality matcha in order to make this vegan matcha cookies healthy and delicious.
When choosing your matcha powder, you want to make sure that you are buying culinary-grade powder and not the kind meant for other uses.
You may be able to find matcha at your local grocery store and certainly at your local health food store. If you have an Asian market nearby, you can find good quality matcha there too.
My local Walmart Supercenter actually carries some pretty decent matcha so you may want to look at yours!
If you can't find any locally, you can easily order it online! Two brands I love are Organic Jade Leaf Matcha Powder and Kiss Me Organics Matcha Green Tea Powder.
Both of these are organic and culinary-grade and perfect for baking these green tea cookies.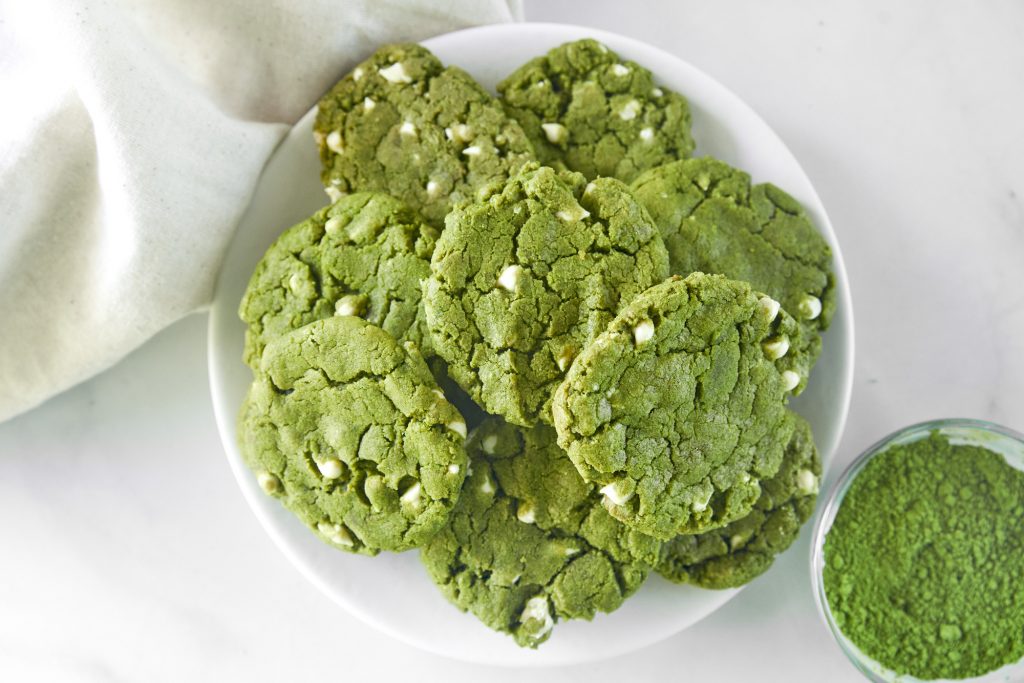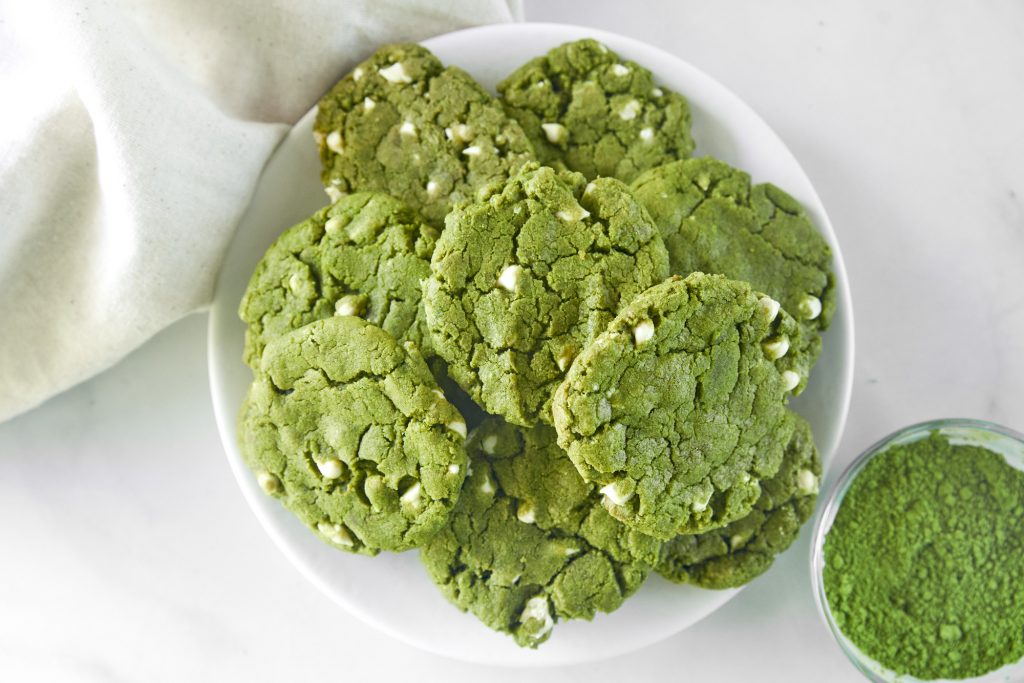 Tips For Working With Matcha
Matcha is pretty easy to work with, but there are a few things to know in order to get the best results when making these matcha white chocolate cookies!
One thing to keep in mind is that matcha is actually fairly bitter on its own and of course, you don't want bitter cookies [unless you do!]
When testing this recipe, I put in WAY too much matcha and it made the cookies very bitter with a very strong matcha taste. It wasn't sweet at all and the end result wasn't the best.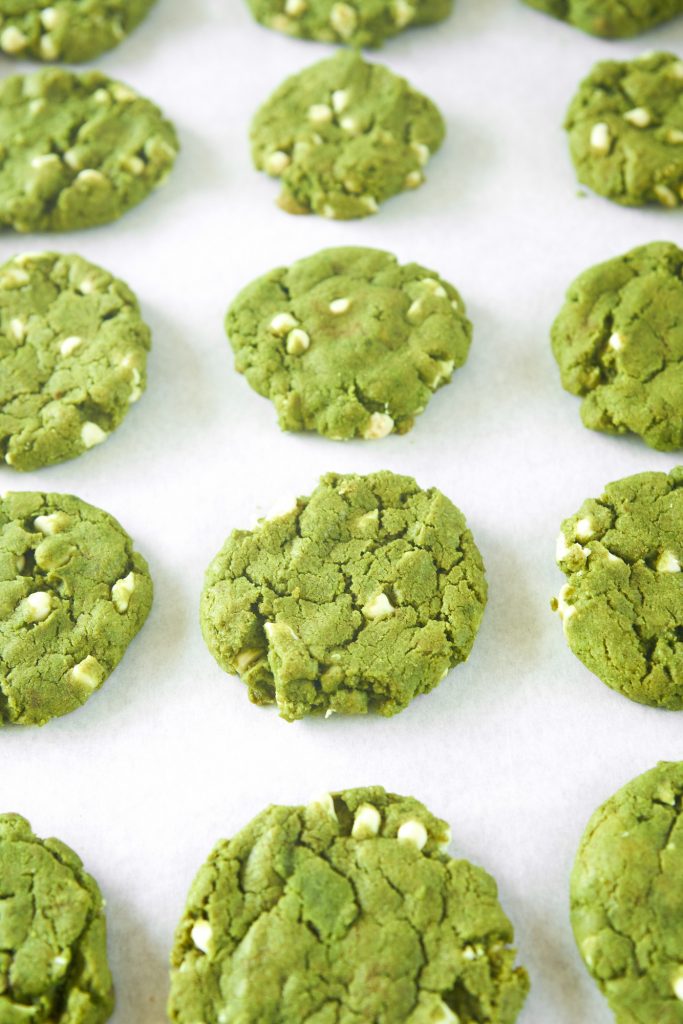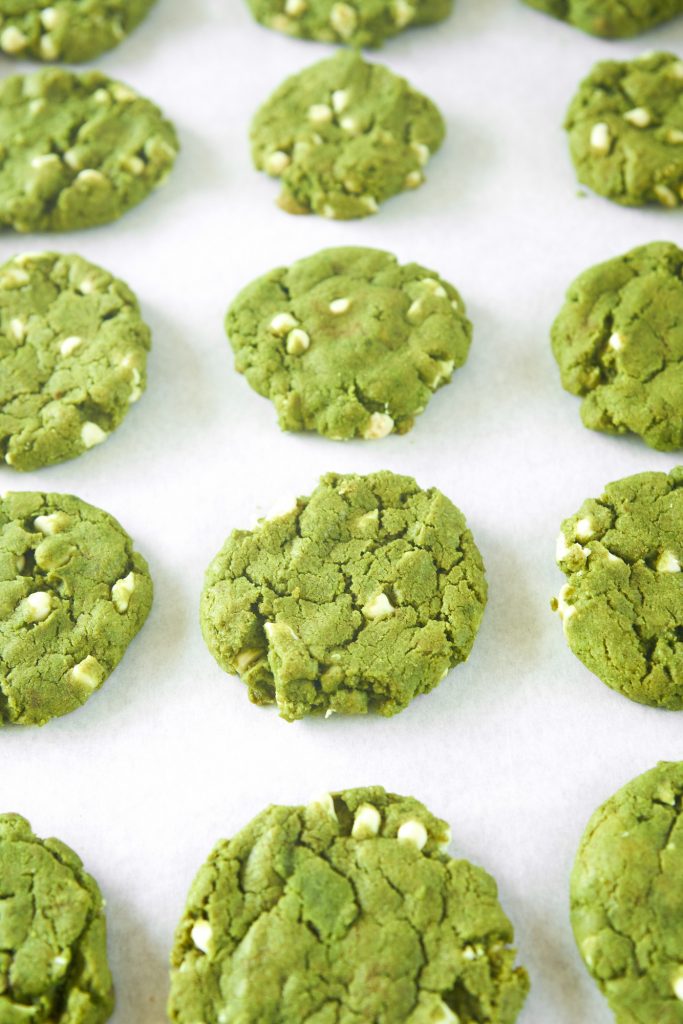 Personally, I wanted my vegan matcha cookies to have bright green color because the green color is one of the best parts along with enjoyable taste.
I finally figured out the perfect balance between matcha, sugar, and the rest of the ingredients!
If you want to add even more matcha or use less matcha, make sure to remove or add some of the sugar so that your flavors are an even match and a light and pleasing flavor instead of something overwhelmingly bitter or sweet.
It is also important to strain your matcha when you get the powder! Use a fine mesh strainer or sieve and use your spoon or shake the strainer so that all the clumps are out.
If you bake with clumps of matcha, you will bite into a bitter chunk and the cookies also won't be too smooth.
Since matcha is expensive, you want to make sure to store it properly.
Store it in an airtight container in a cool dark place. You can store it in the fridge if you don't use it all that often, but if you are going to use it daily or make drinks out of it often, you can store it in a cool dark cabinet.
Humidity will make your matcha clumpy, and I would know as I live in Florida and it is about as humid a place as they come!
For the safest storing options, store the matcha in your fridge.
For the safest storing options, store the matcha in your fridge.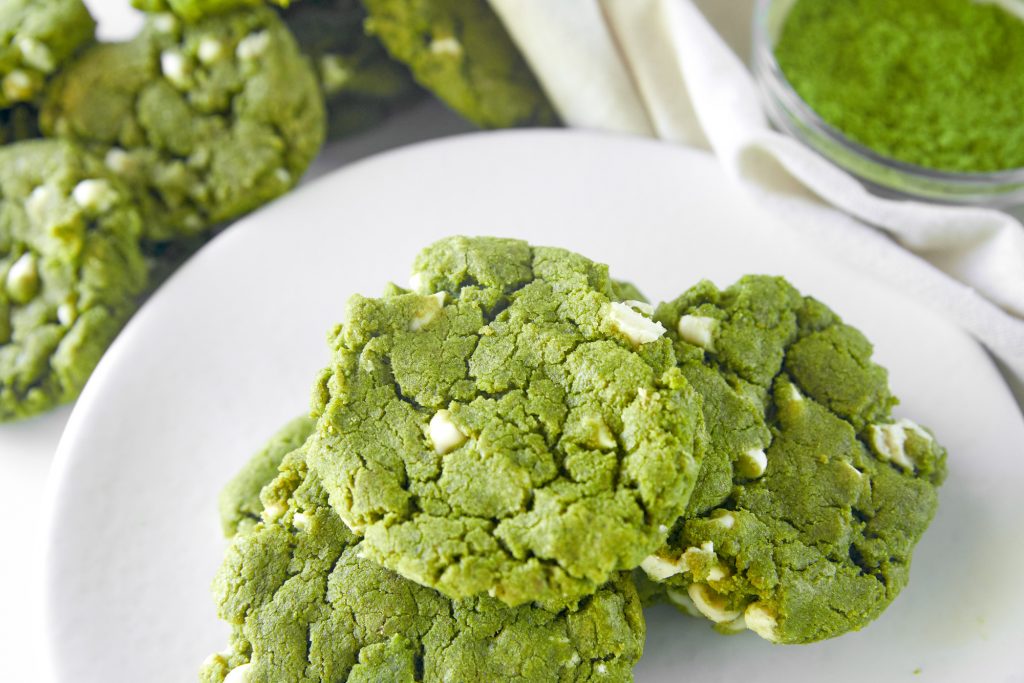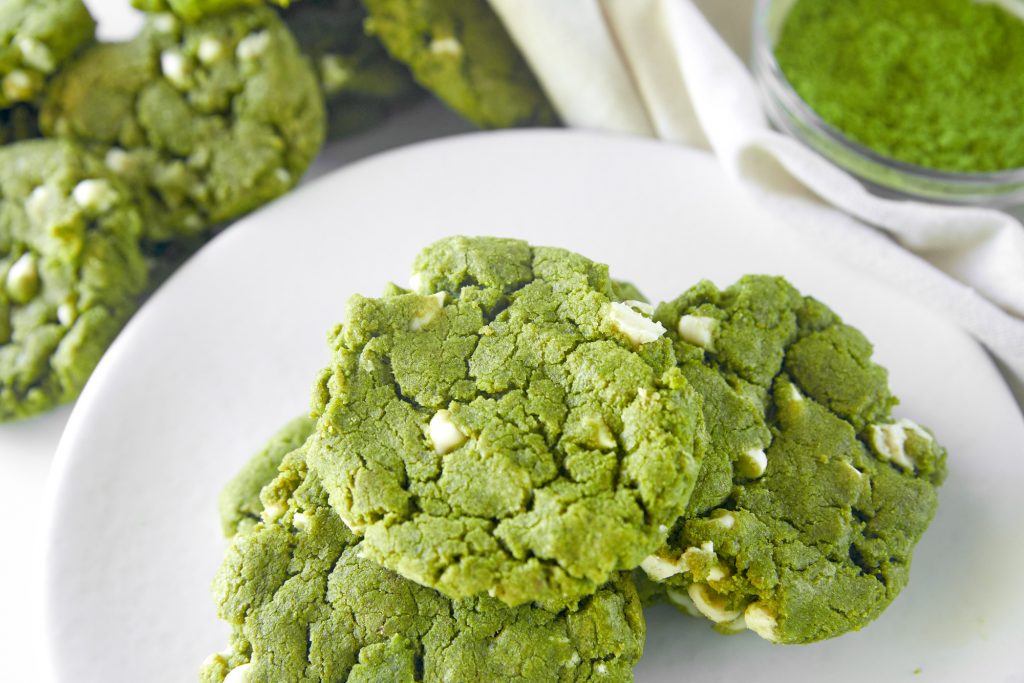 How To Make The Vegan Matcha Cookies
Making these vegan matcha cookies is so simple! As I said above, it takes less than 20 minutes from start to finish!
And you don't want to overbake or else they will come out too hard and not right!
First you are going to make sure that you sift your matcha. You can even use a whisk to make sure it is fine and not clumped together. This is important so that there aren't chunks of matcha in the cookies!
Next, you are going to combine your dry ingredients in a big bowl and use a spoon to mix them together. Sprinkle in your matcha powder and stir to combine so that your dry ingredients will have a light green color.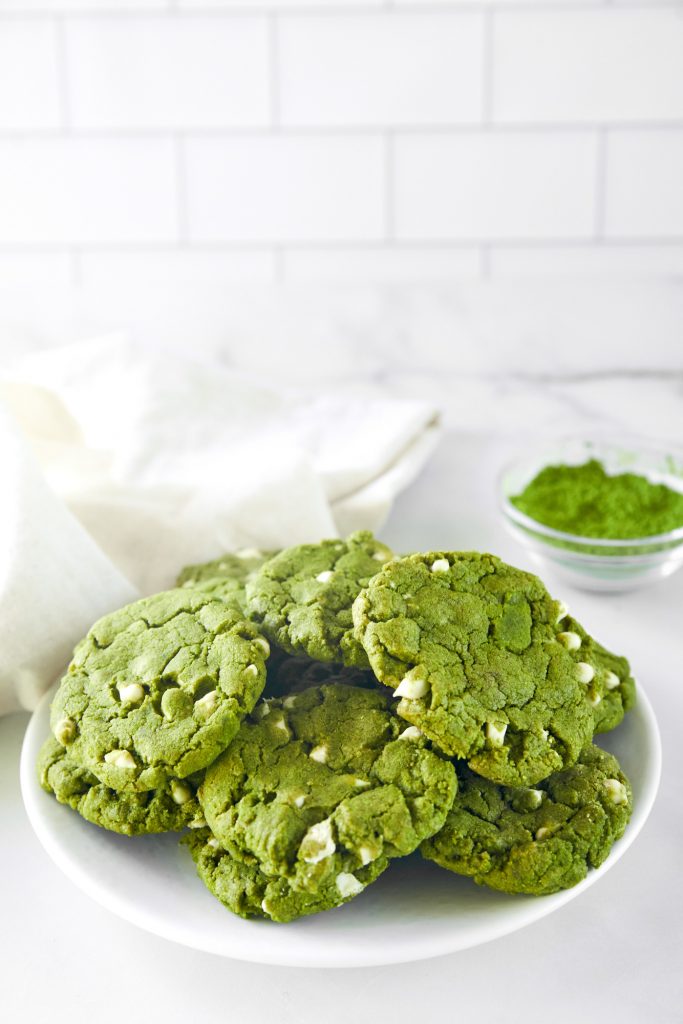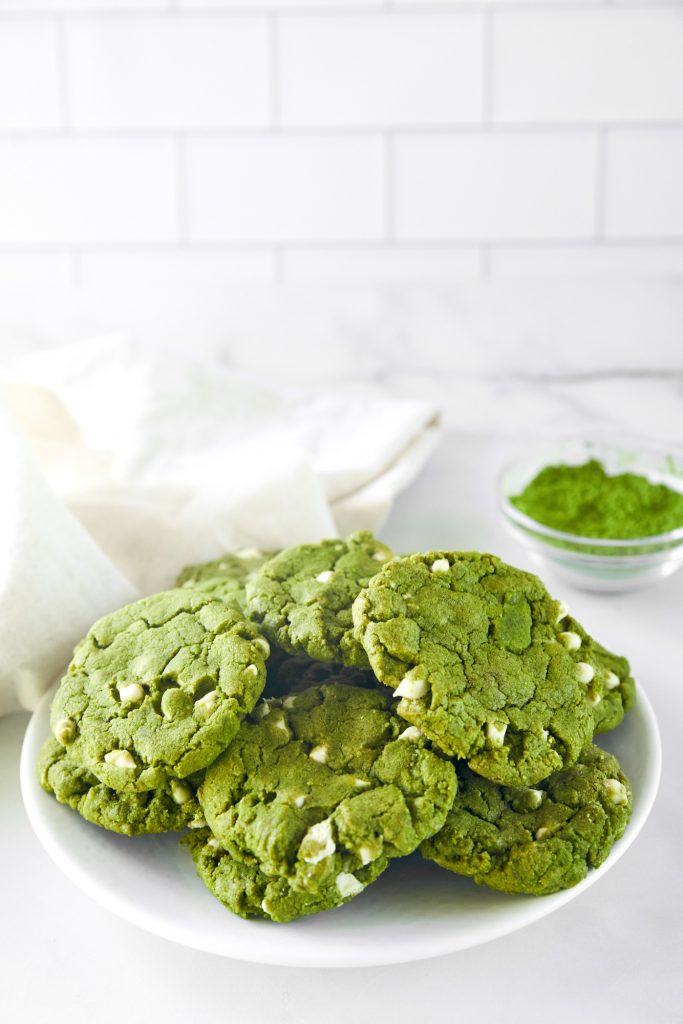 Then, you are going to take a medium size bowl and put your wet ingredients into it and mix them together.
Combining your wet ingredients before putting them with the dry will help everything meld better.
Now, combine your wet ingredients with your dry ingredients and mix until just barely mixed.
Before it is too mixed, you want to add your vegan white chocolate chips.
Use a wooden spoon to "fold" the white chocolate chips into the dough so they are evenly distributed.
Do not combine the wet and try and make a dough and then try to add the white chocolate chips or the dough will become tough and easy to work with.
Barely combine and then add the white chocolate chips before finishing it up if you want nice textured vegan matcha cookies!
Then, line a baking sheet with parchment paper or a Silpat and get ready to dollop your cookies!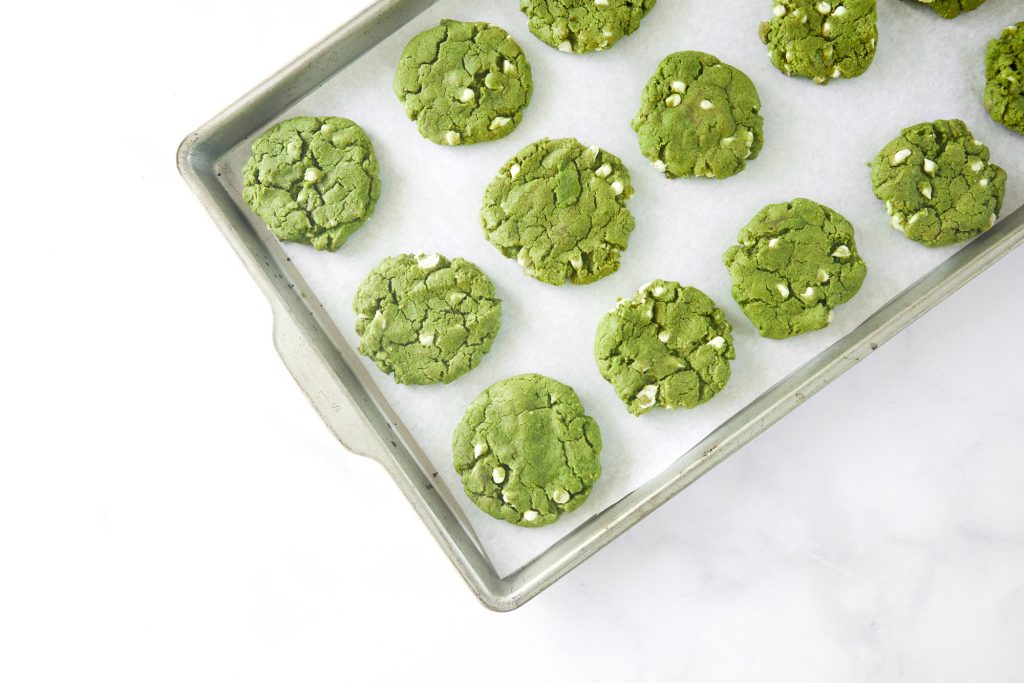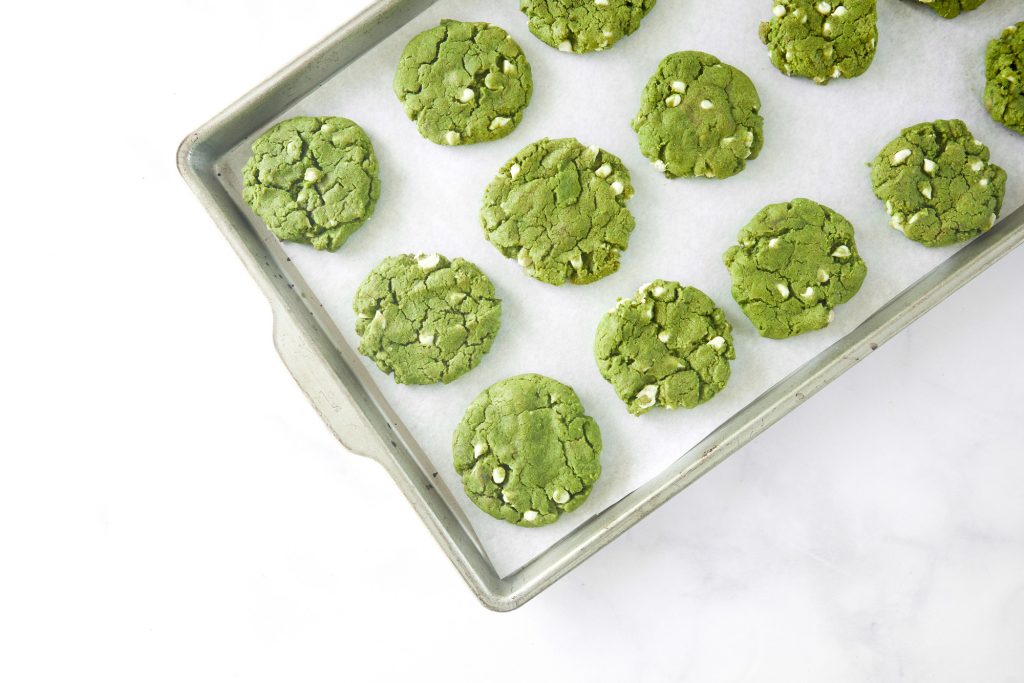 For these vegan matcha white chocolate cookies, I use a large cookie scoop, about 1 inch across.
If you do not have a cookie scoop, you can use a large spoon and just eyeball it. You may get slightly more or slightly less than 20-24 cookies.
Just make sure that they are all roughly the same size, no matter what you choose!
Your green tea cookies should be a few inches apart so that they don't overlap when cooking.
Now here is the SUPER IMPORTANT PART!!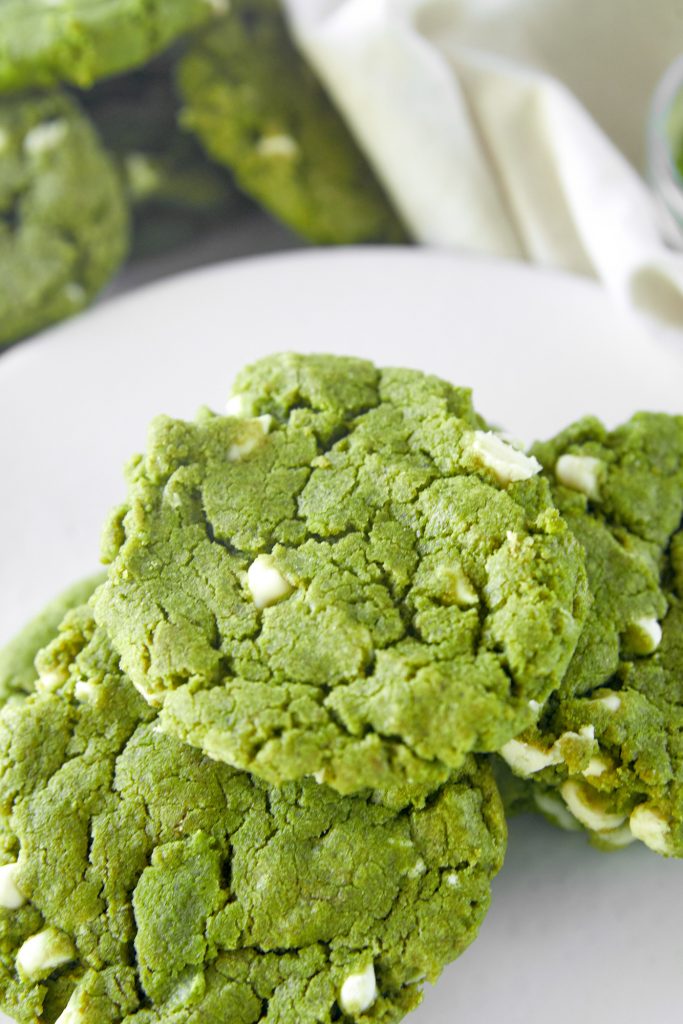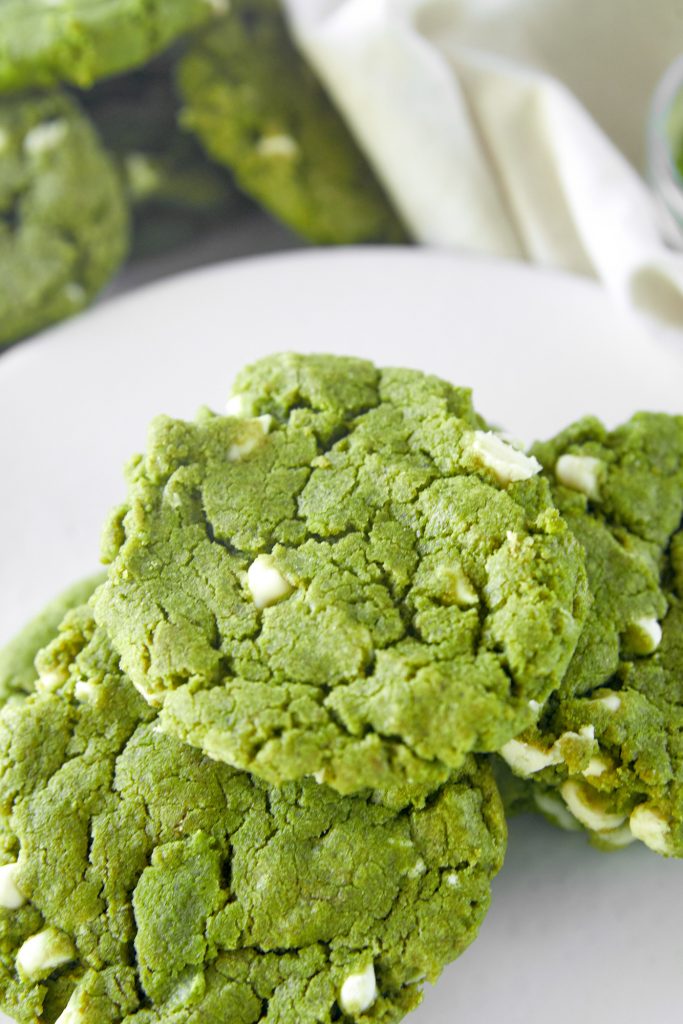 You are going to want to use your clean hands to PRESS DOWN ON THE COOKIES TO MAKE THEM FLAT!
You don't want to smoosh them totally down, but you want to make them flatter rounds instead of a large mound.
If you do not do this, your vegan matcha cookies will be shaped like a mound instead of a flat cookie.
The matcha cookies will spread during baking, but not as much to make a flat cookie! It is very important to use a spatula or the back of a spoon to flatten them before cooking so they come out nice and large!
Then, you simply bake them for 11 minutes until just golden and done! Be careful not to overcook!
The green tea cookies may not look done or "golden brown" as they are green, but trust me, no more than 12 minutes! Then let them "bake" on the pan for 1-2 minutes before transferring them to a cooling rack!
This is a super easy way to make tasty vegan matcha white chocolate cookies! Don't forget to eat it with a side of Vegan Matcha Ice Cream!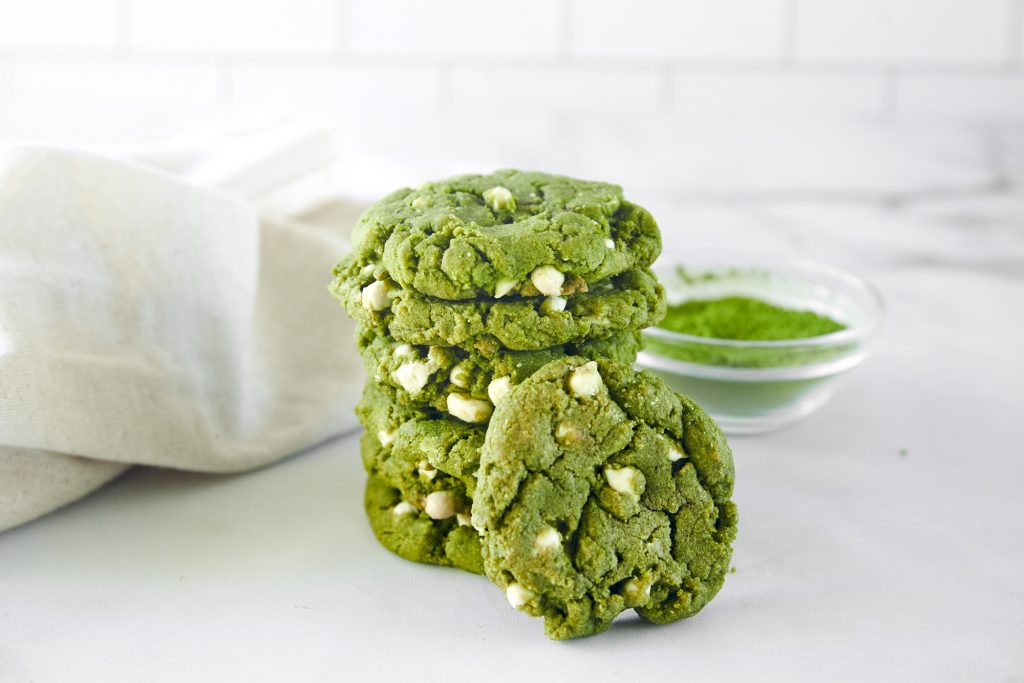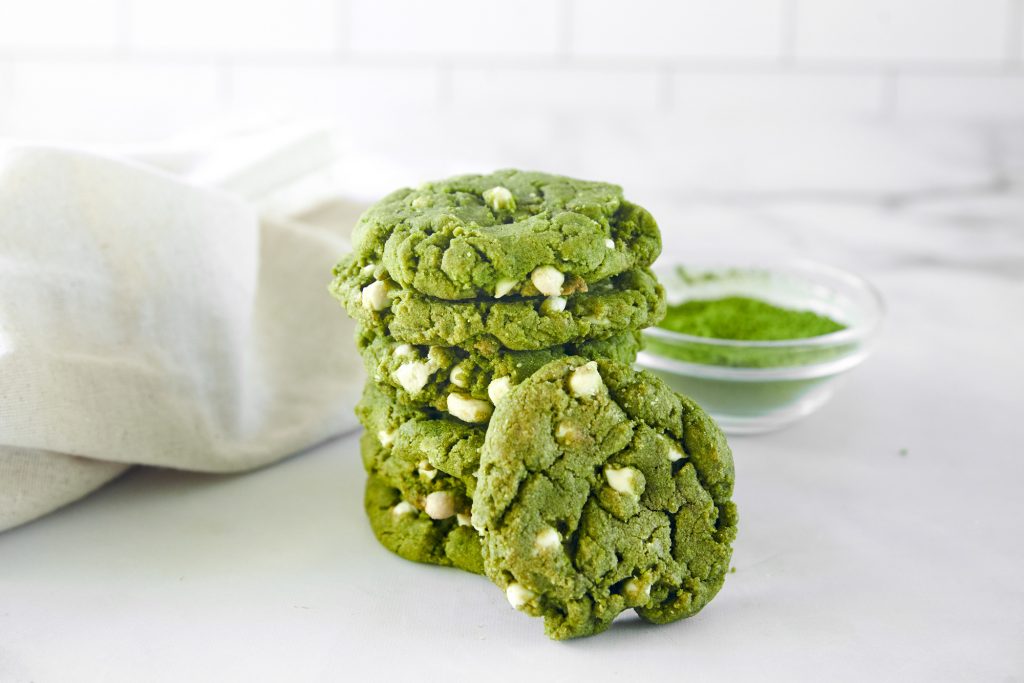 How To Store The Vegan Matcha White Chocolate Cookies
The thing I love about these vegan matcha cookies is that you can make a big batch and they store super well!
You can make a ton in advance and then store them for the future!
First, the vegan green tea cookies can last on the counter in an air-tight container for 2-3 days. I wouldn't store any longer than that or else they will start to taste funky.
Then, you can transfer them to the fridge for up to 7 days.
That being said, you can FREEZE the vegan matcha cookies for MONTHS! 1-2 months in a freezer-tight container. This is my preferred storing method as they taste as fresh as the day you made them!
To eat, all you have to do is take the green tea cookies out and let them thaw on the counter for about 10-20 minutes until you can eat them!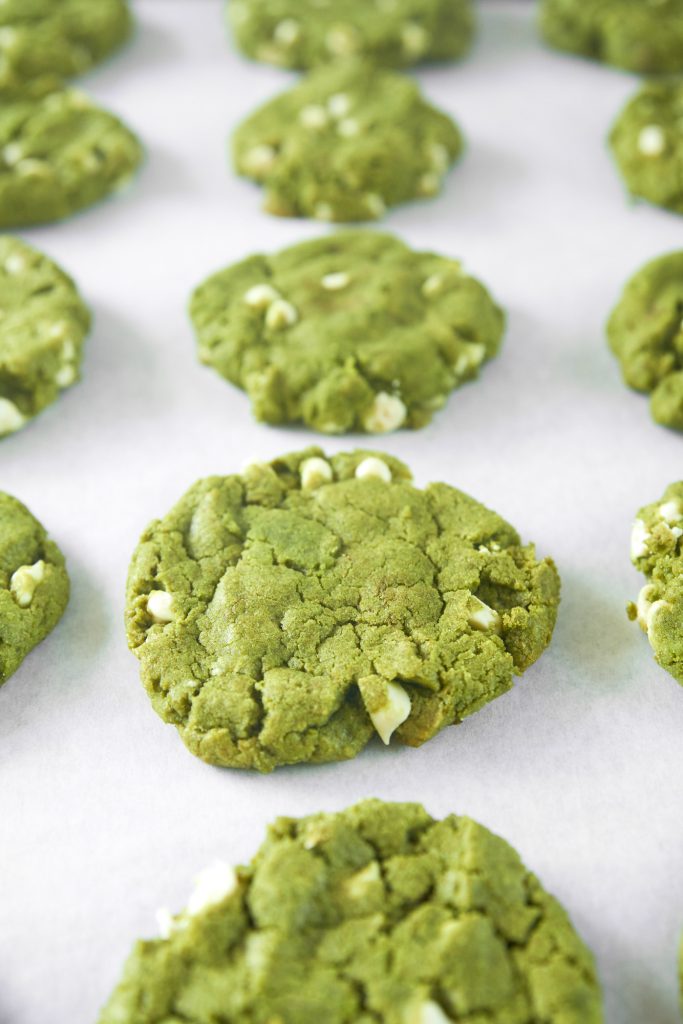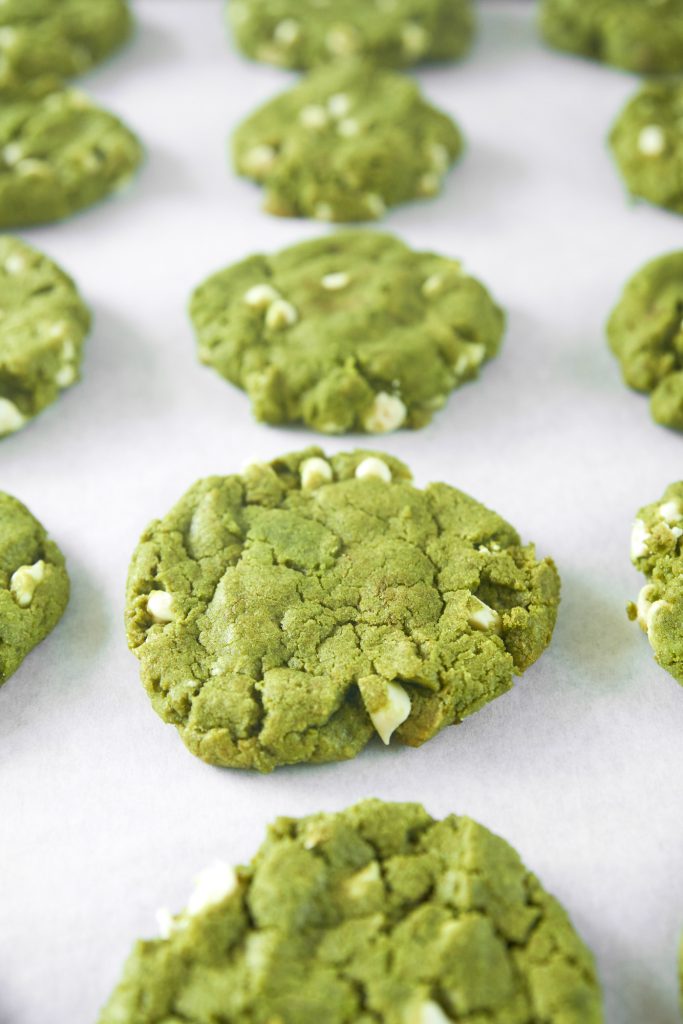 Did You Try This Recipe?
If so, I would love to keep in touch! I enjoy seeing photos and comments about the recipes that you make! You can follow me on Instagram and I will repost your goodies in my stories and comment on it too! Just tag me at @wowitsveggie and hashtag #wowitsveggie. I can't wait to see what you make!
Yield: 20-24 large cookies
20-Minute Vegan Matcha Cookies With White Chocolate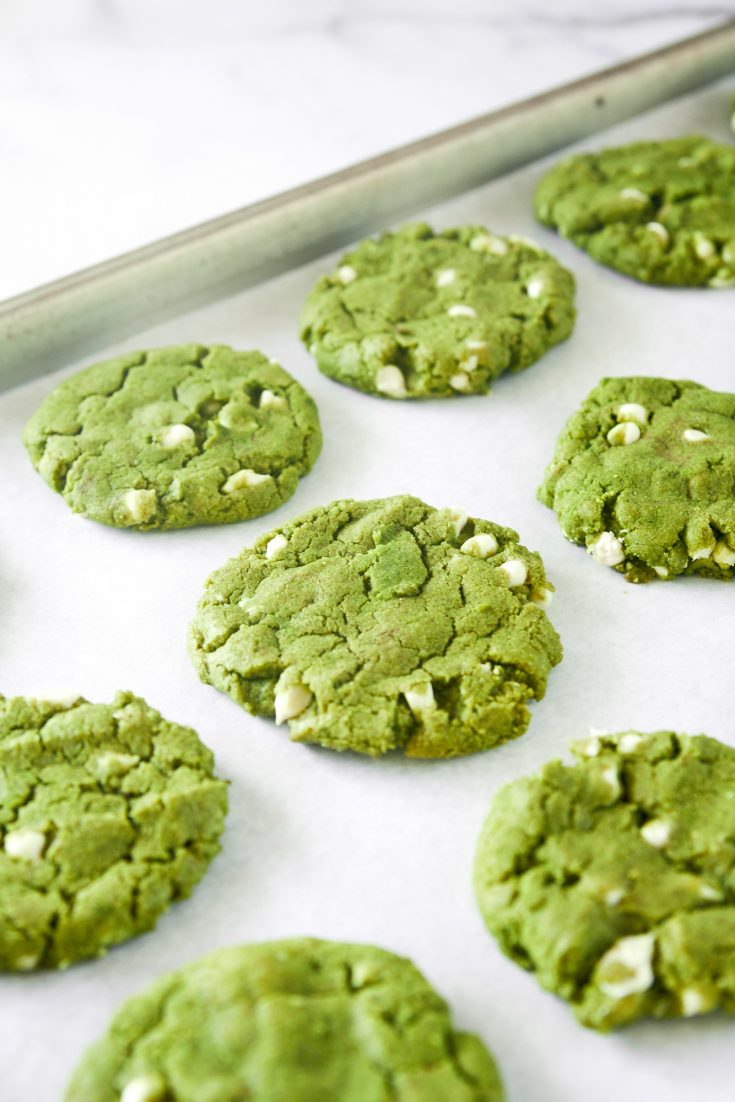 These vegan matcha cookies with white chocolate chips are so delicious and take just 20 minutes to make! The flavors of the matcha and vegan white chocolate blend together for the perfect cookie!
The vegan green tea cookies store well in the freezer for 1-2 months so they are easy to make in advance and then you can thaw whenever you want a treat!
Ingredients
2 cups flour
2 tsp baking powder
1 tsp baking soda
1/2 cup sugar
1.5 tablespoon matcha powder
1/2 tsp sea salt
2/3 cup maple syrup
2 tsp vanilla extract
1/2 cup oil [any kind]
2/3 cup vegan white chocolate chips
Instructions
Preheat oven to 350 F
In a medium bowl, add flour, baking powder, baking soda, sugar, matcha powder and salt. Use a fork to combine. Make sure to use a whisk or to sift your matcha powder so that it doesn't clump before you combine it.
In another bowl, combine maple syrup with vanilla and oil and stir until well combined.
Add the wet mixture to the dry and stir using a wooden spoon once or twice only!
Then, add in the vegan white chocolate chips. You want to make sure to add in the chips at the beginning of mixing the wet and dry ingredients or else the mixture will get tough. Use a wooden spoon to fold until the vegan white chocolate chips are combined but don't overmix.
Line a baking sheet with parchment paper and use a 1-inch cookie scoop to make the matcha cookies. If you don't have a large cookie scoop, use a big spoon and eyeball it. Just make sure the cookies are uniform in size. You should have about 20-24 when done correctly.
*Important Step* Now, using your clean hands, "smoosh" the vegan matcha cookies down so that they are flat. If you skip this step, they will not flatten very much during baking. This helps ensure you have that large flat cookie shape you desire!
Bake the green tea cookies for 11 minutes. Do not overcook! Since they are green it may be hard to tell when they are done. Bake them for no more than 12 minutes at the most!
Let them cool on the cookie sheet for 1-2 minutes and then transfer them to a cooling rack!
Enjoy!
Notes
Store these vegan matcha white chocolate cookies on the counter in an air-tight container for 2-3 days.
Store in the fridge for up to 7 days.
Store in the freezer for 1-3 months.
These are great cookies to make ahead for the holidays!
Nutrition Information
Yield
24
Serving Size
1
Amount Per Serving
Calories

145
Total Fat

6g
Saturated Fat

1g
Trans Fat

0g
Unsaturated Fat

5g
Cholesterol

1mg
Sodium

147mg
Carbohydrates

21g
Fiber

0g
Sugar

12g
Protein

1g