Learn how to make your own vegan chai latte in just a few minutes!
This spiced and warm beverage is perfect for any time of year but especially during fall and winter when you are looking for something to warm you up and a cozy drink.
Chai lattes at coffee shops are often kind of pricey and if you want to veganize it by adding plant-based milk, it is usually an additional 60-90 cents at least!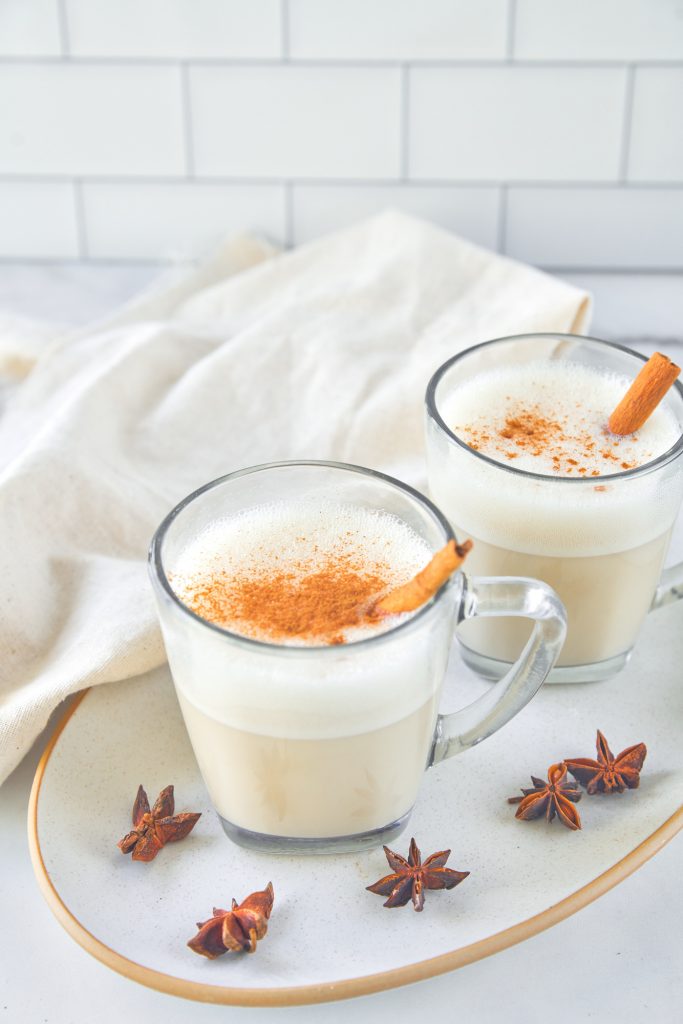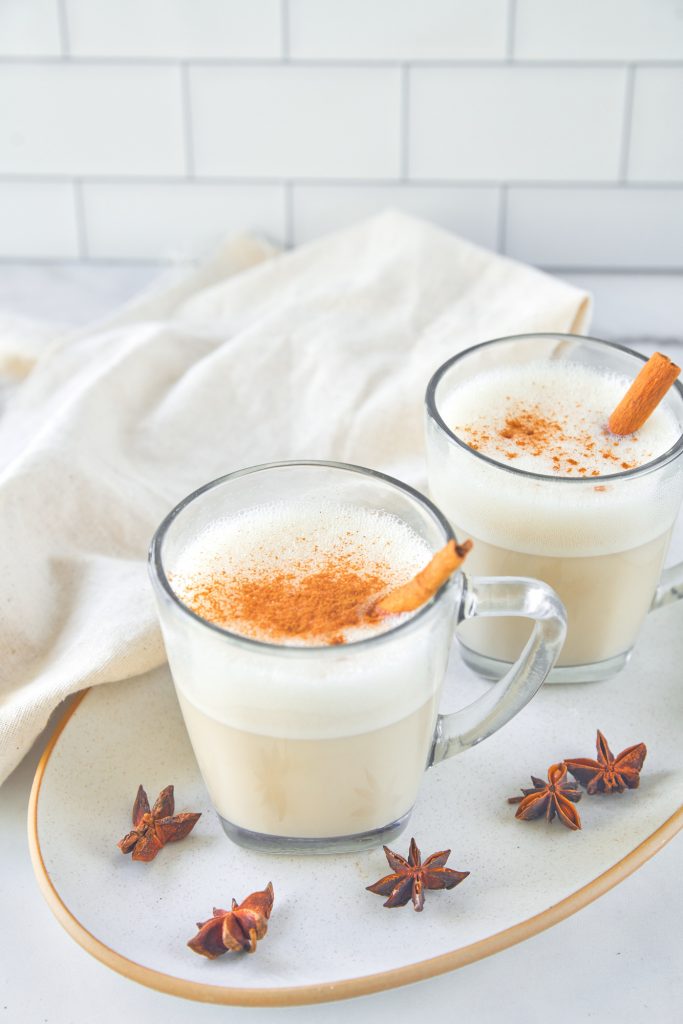 Making your own vegan chai latte at home will save you lots of money and it is super easy and delicious to do!
This is an easy Starbucks Copycat chai latte that is also veganized to your tastes.
If you follow my website, you know that I am all about the speed and ease of vegan and vegetarian cooking.
As a result, we will not be making our own homemade chai blend using spices from our spice cabinet.
I know this is seen as the lazy way by some, but I want my vegan chai latte to be easily accessible when you are in a pinch.
Instead, we will be using chai teabags and your local grocery store is bound to have some.
I recommend reading the labels and ensuring that you are buying higher quality teabags or else the homemade Starbucks copycat chai latte will taste cheap and not as good as it otherwise could.
Of course, you can make your own chai spice mix to use for this recipe, but for the sake of time and speed, this is not what I am going to suggest.
This is the vegan chai latte for those in a rush but who want something warm and delicious!
I hope you enjoy as this is one of my favorite Cozy Fall Recipes, although you can enjoy it any time of year!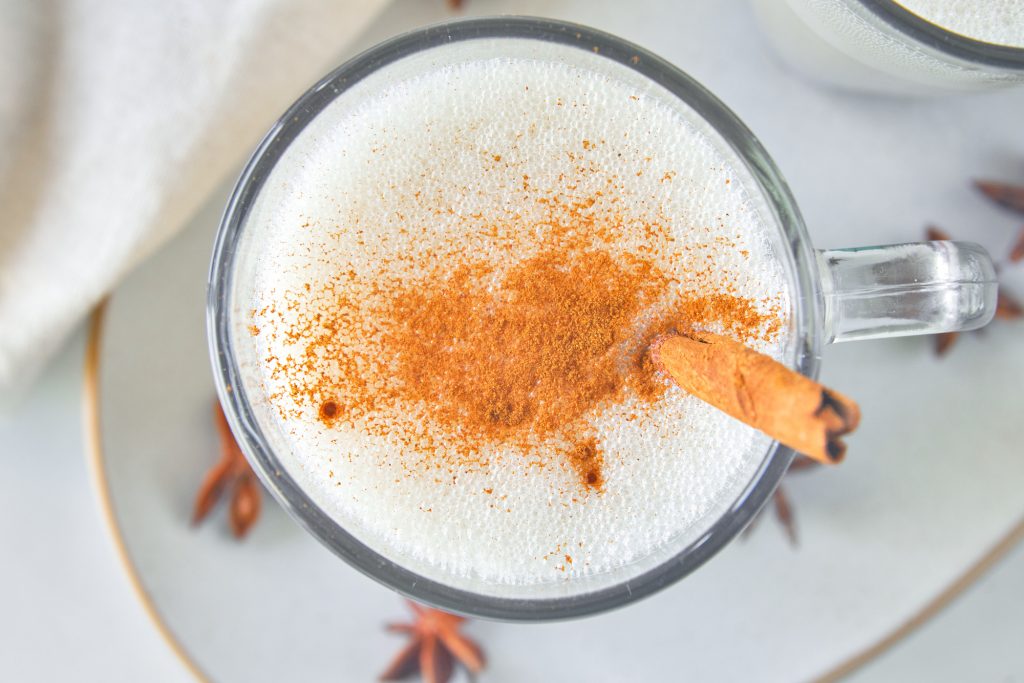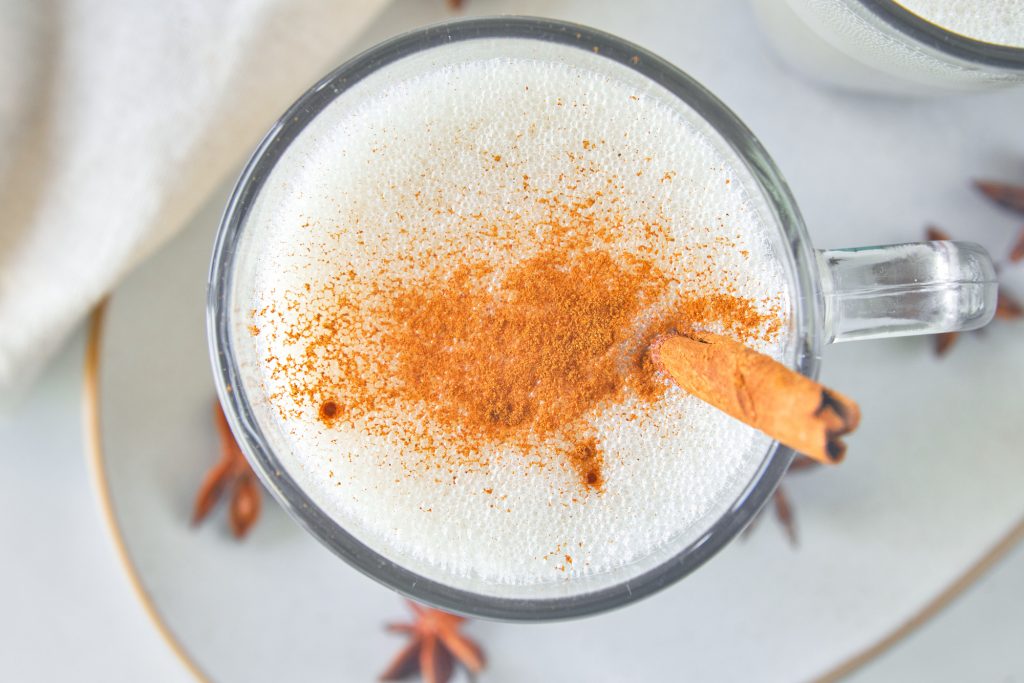 Do Chai Lattes Have Caffeine In Them?
The short answer is yes, this vegan chai latte will have caffeine in it.
Whether you are getting your chai latte at the coffee shop or you are making this Starbucks copycat chai latte at home, you will be consuming caffeine.
This is because the recipe uses black tea leaves. If you are making your own with a spice mix you will use black tea leaves and if you are making mine with a chai teabag the teabag will have black tea mixed into it.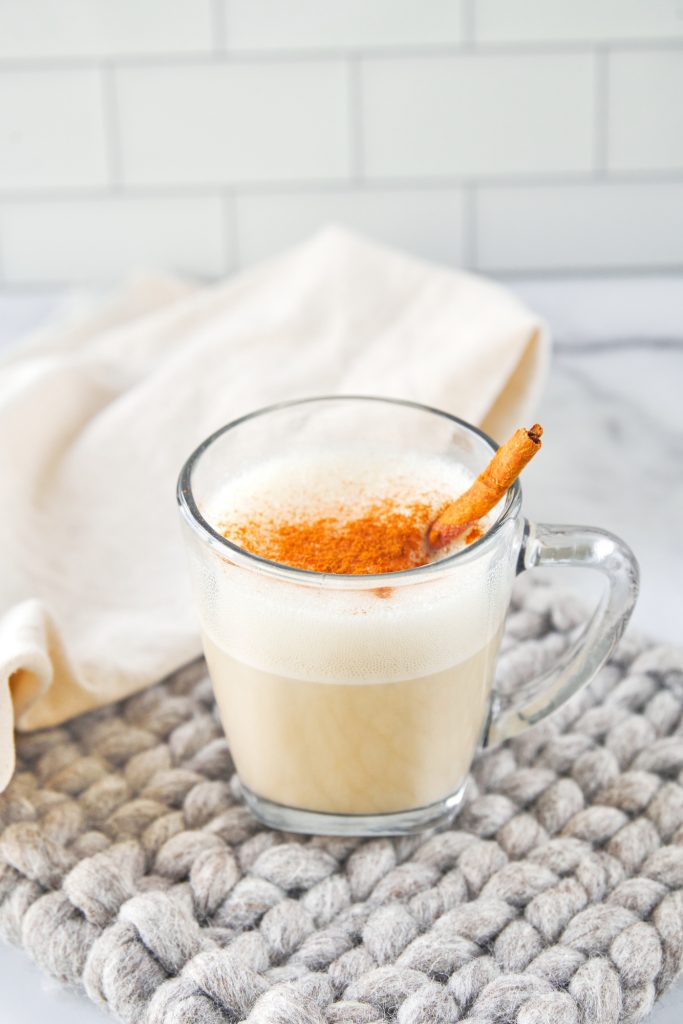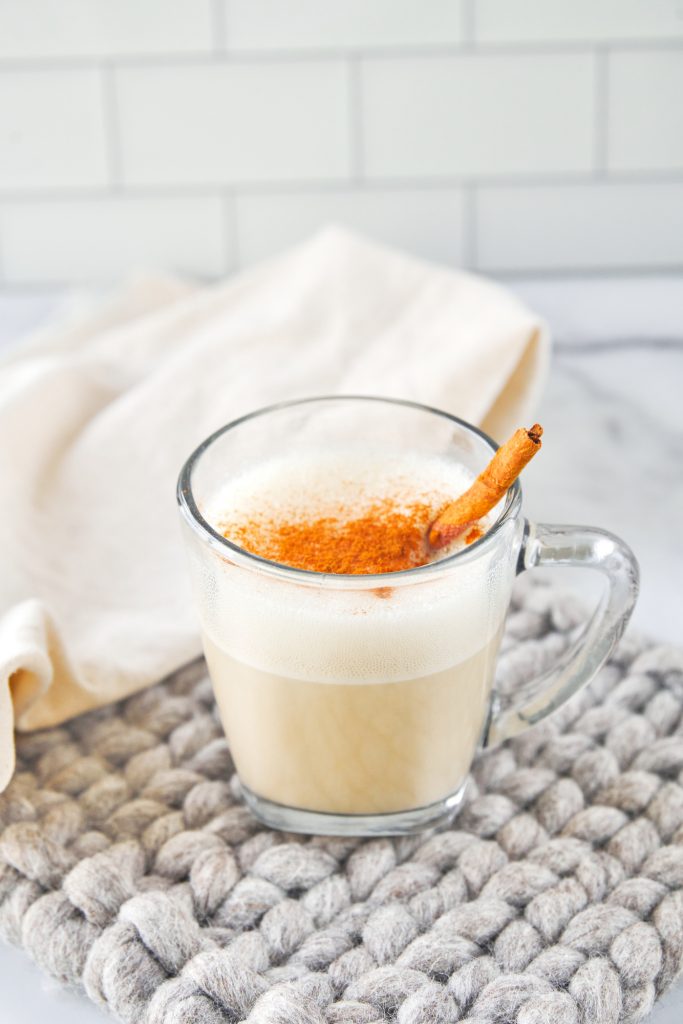 How Much Sugar Is In Vegan Chai Lattes?
If you get a vegan chai latte from Starbucks or another coffee shop it is often laden with tons of sugar. They use plain sugar or a sugary syrup to sweeten it.
The good thing about making your vegan chai latte at home is that you can adjust the sweetness to your taste.
We also naturally sweeten this copycat chai latte with maple syrup instead of pure sugar.
I think the maple syrup adds a nice flavor to the spicy nature of this warm drink.
Of course, you can always use stevia or pure sugar but you will want to start out small and adjust to taste by adding a little bit at a time. You can always add more sweetener but you can't take it away!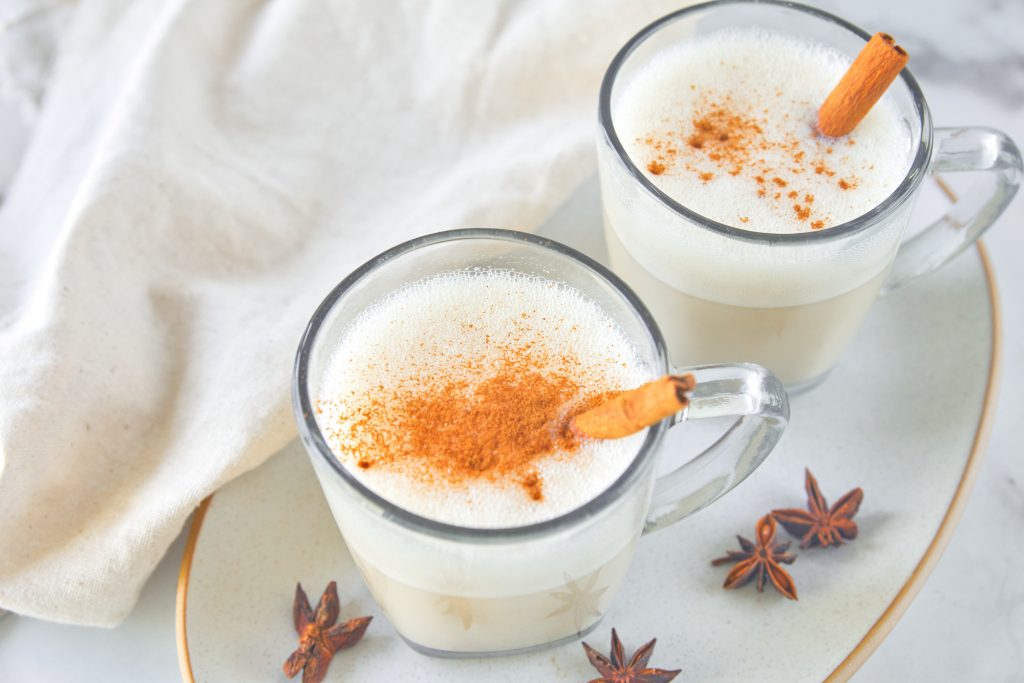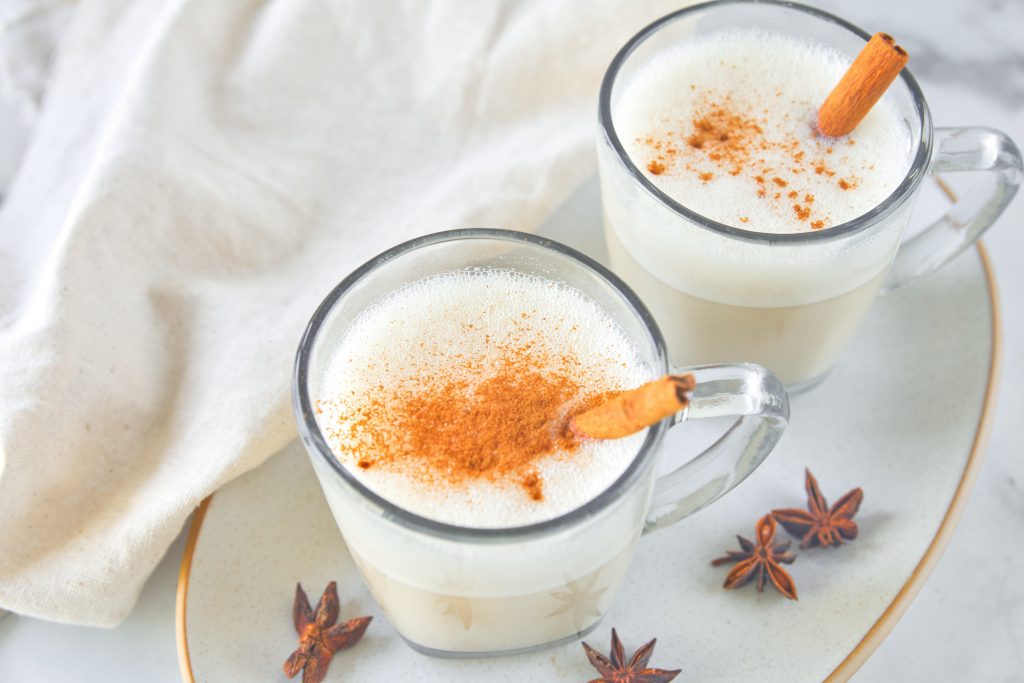 Best Non-Dairy Milk For Making Vegan Chai Latte
You can use any non-dairy milk you like when making this Starbucks copycat chai latte.
That being said, I think thicker plant milks work better as they lend a nice and creamy nature to this delicious beverage.
For example, I avoid using rice milk as it is very thin, almost like water, and will water down the chai latte. If you only have rice milk on hand, that is okay, but I do prefer thicker plant milks.
Some thicker plant milks that I love are oat milk, cashew milk, almond milk, flax milk, coconut milk, and just regular soy milk.
I cook with oat milk and flax milk a lot and these are a great nut-free option for making your vegan chai latte!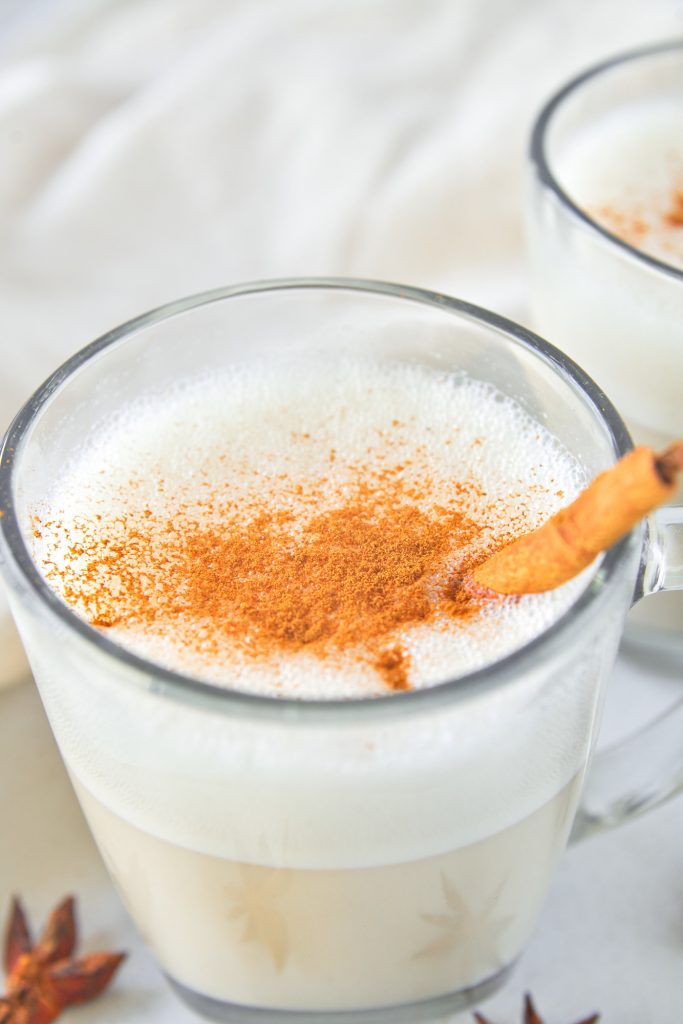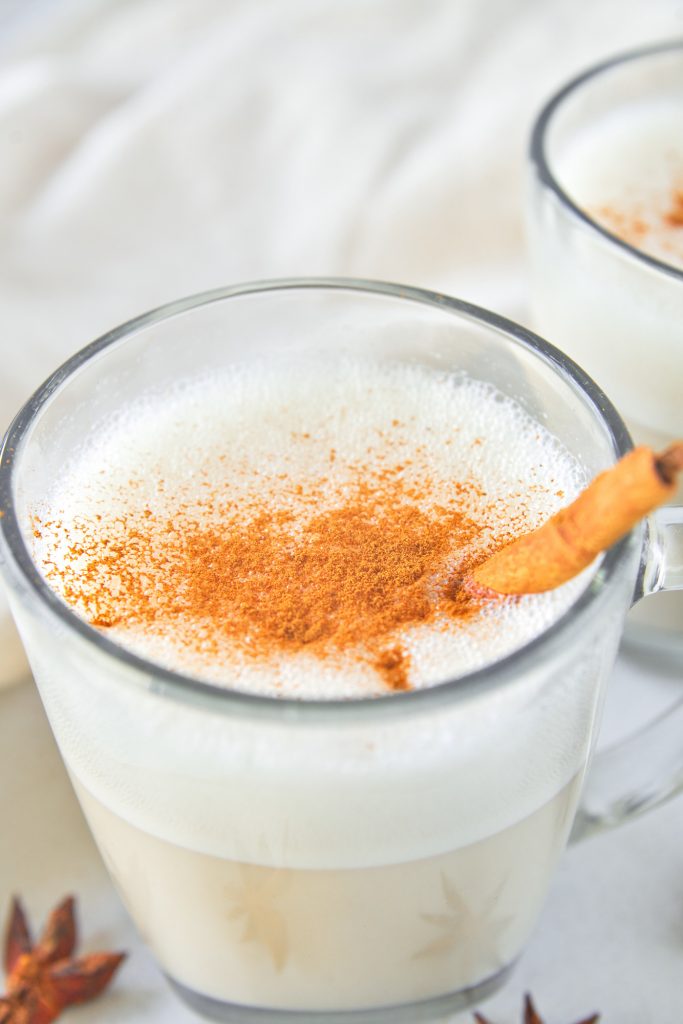 How To Make The Starbucks Copycat Vegan Chai Latte
Starbucks honestly charges SO MUCH MONEY for something we can simply veganize and make at home! Plus, they charge extra for non-dairy milk.
In a small pot, you want to bring your water to a boil and then add in your chai teabag and steep it for about 5-10 minutes until the water is a dark brown.
Confession: sometimes I boil chai just to fill the house with the wonderful aroma and I am not even kidding!
Anyway, back to the recipe!
Next, add your non-dairy milk and your maple syrup and reduce the heat to low to warm the milk without making the chai boil.
If you want, you can add in a tiny drop of vanilla or use vanilla non-dairy milk to take this vegan chai latte to the next level.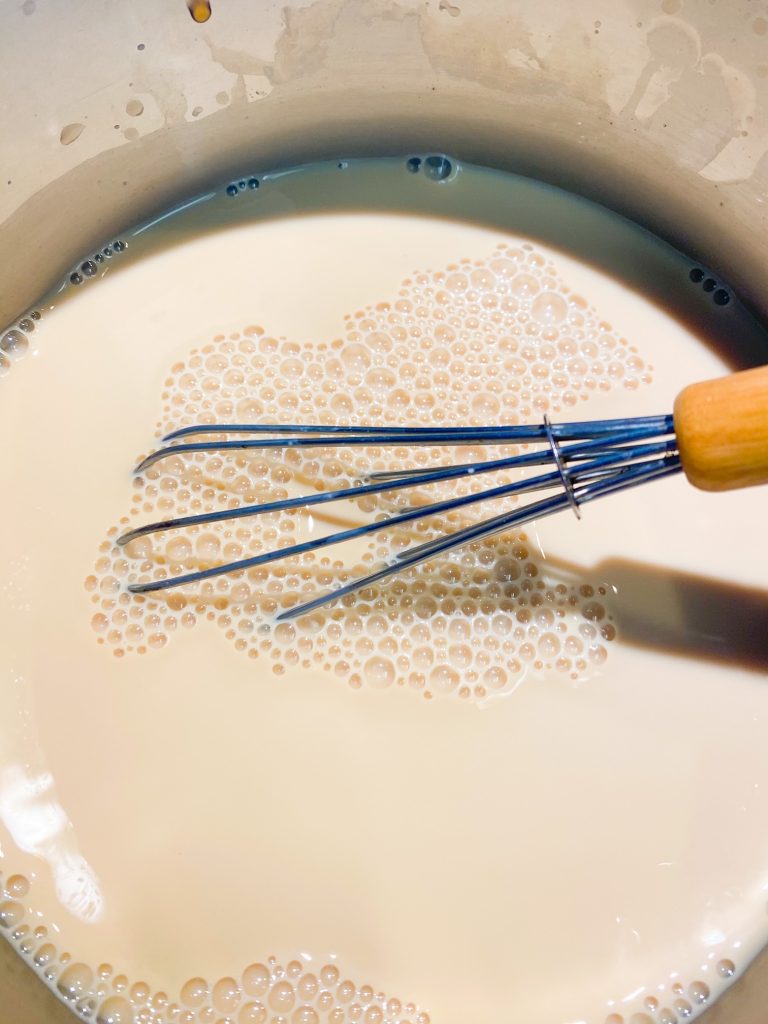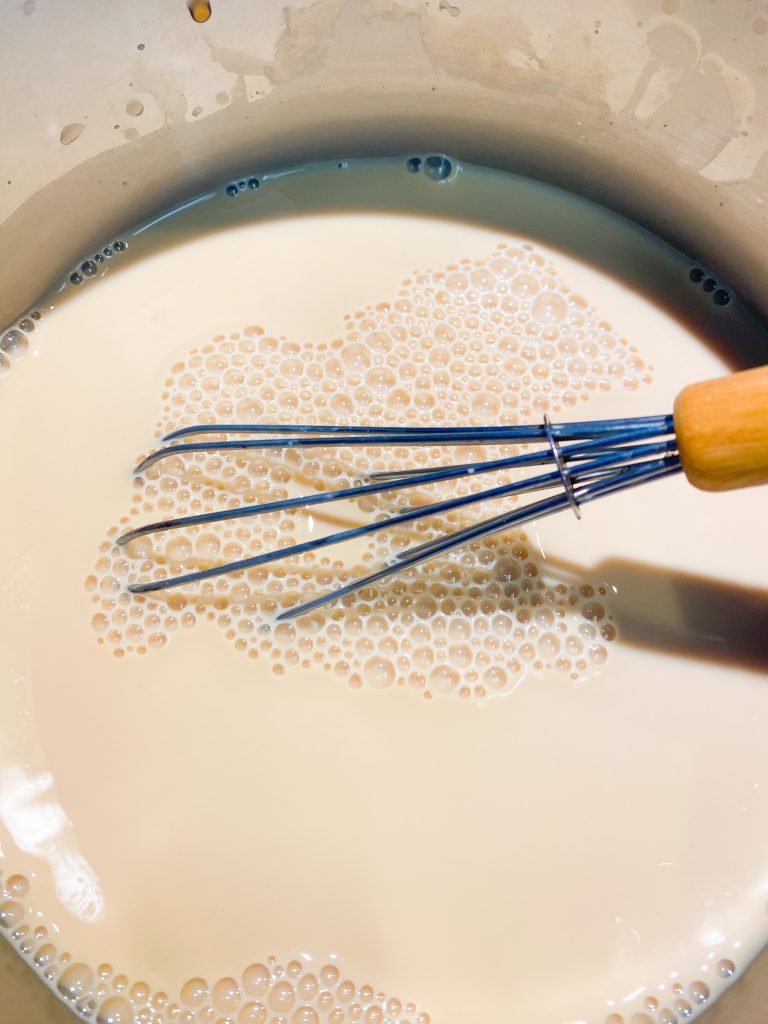 Of course, the best part about lattes is the frothy top!
Most of us don't own a milk frother, and hand whisking is a huge pain and takes forever.
To get a really amazing froth, pop the chai mixture into the blender and blend on high for a couple seconds.
This will provide the fluffiest froth that you didn't know non-dairy milk can have!
Transfer your vegan chai latte to cups and serve with a sprinkle of cinnamon or nutmeg on top.
Alternatively, you can also add vegan whipped cream, but it isn't necessary!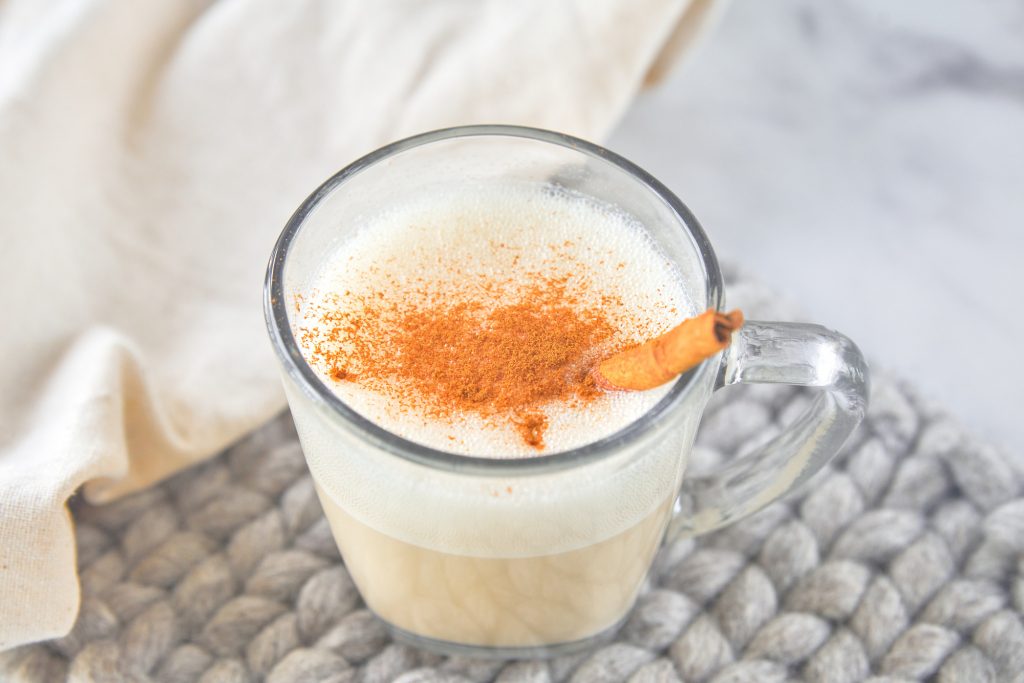 Did You Try This Recipe?
If so, I would love to keep in touch! I enjoy seeing photos and comments about the recipes that you make! You can follow me on Instagram and I will repost your goodies in my stories and comment on it too! Just tag me at @wowitsveggie and hashtag #wowitsveggie. I can't wait to see what you make!
Yield: 2 servings
Easy Vegan Chai Latte (Starbucks Copycat)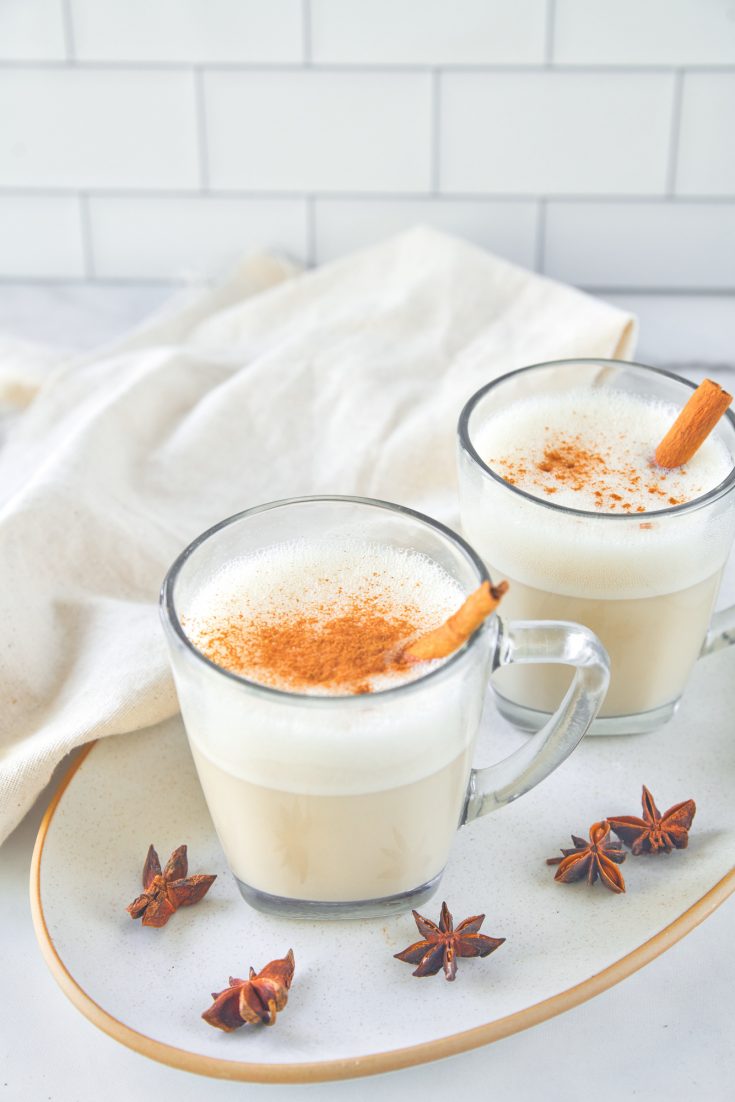 This vegan chai latte is an affordable and delicious Starbucks copycat recipe! It is spiced to perfection and you can control the sweetness and the milk content based on your preferences! Perfect for cozy weather.
Ingredients
2 chai teabags
2/3 cup water
1 1/2 cups thick non-dairy milk [oat/cashew/almond/flax milk]
2 tablespoons maple syrup [or to taste]
Splash of vanilla [optional]
Cinnamon for garnish
Instructions
Heat water over high heat in a small pot and bring to a boil. Add chai teabags and steep for 5-10 minutes until the water turns a dark brown.
Turn the heat down to low and stir in the non-dairy milk, maple syrup, and optional vanilla until milk is warmed throughout.
To give the vegan chai latte a nice froth, pour the mixture into the blender and blend on high for a few seconds. This is a wonderful way to get non-dairy milk to froth up nicely.
Pour into mugs and top with cinnamon for serving.
Nutrition Information
Yield
2
Serving Size
1
Amount Per Serving
Calories

170
Total Fat

4g
Saturated Fat

2g
Trans Fat

0g
Unsaturated Fat

1g
Cholesterol

15mg
Sodium

93mg
Carbohydrates

25g
Fiber

1g
Sugar

22g
Protein

6g